Christian home decor
The process of decorating a house in the spirit of Christian belief can involve the use of various religious images and symbols throughout the available space, or the employment of sacred guiding principles in the design, like those of self-sufficiency and simplicity. The religious feel can also be present through seasonal house decorations that mark the key celebrations of the Christian world: Christmas and Easter. Either way, Christian home décor should always look tasteful and evoke calmness, reminding dwellers of their connection with the Divine.
Personalize your indoors with Christian wall quotes
When the daily havoc leaves you blurred, having inspirational quotes from the Bible at hand can make you feel grounded and optimistic; so go ahead and personalize your house with stenciled scriptural verses! Written in handsome typography on a blank spot, maybe above the fireplace or in the dining room, such holy stanzas can truly transform into Christian wall art pieces that enhance the charm of the entire interior design; moreover, they will provide reasons for constant contemplation and deep introspection.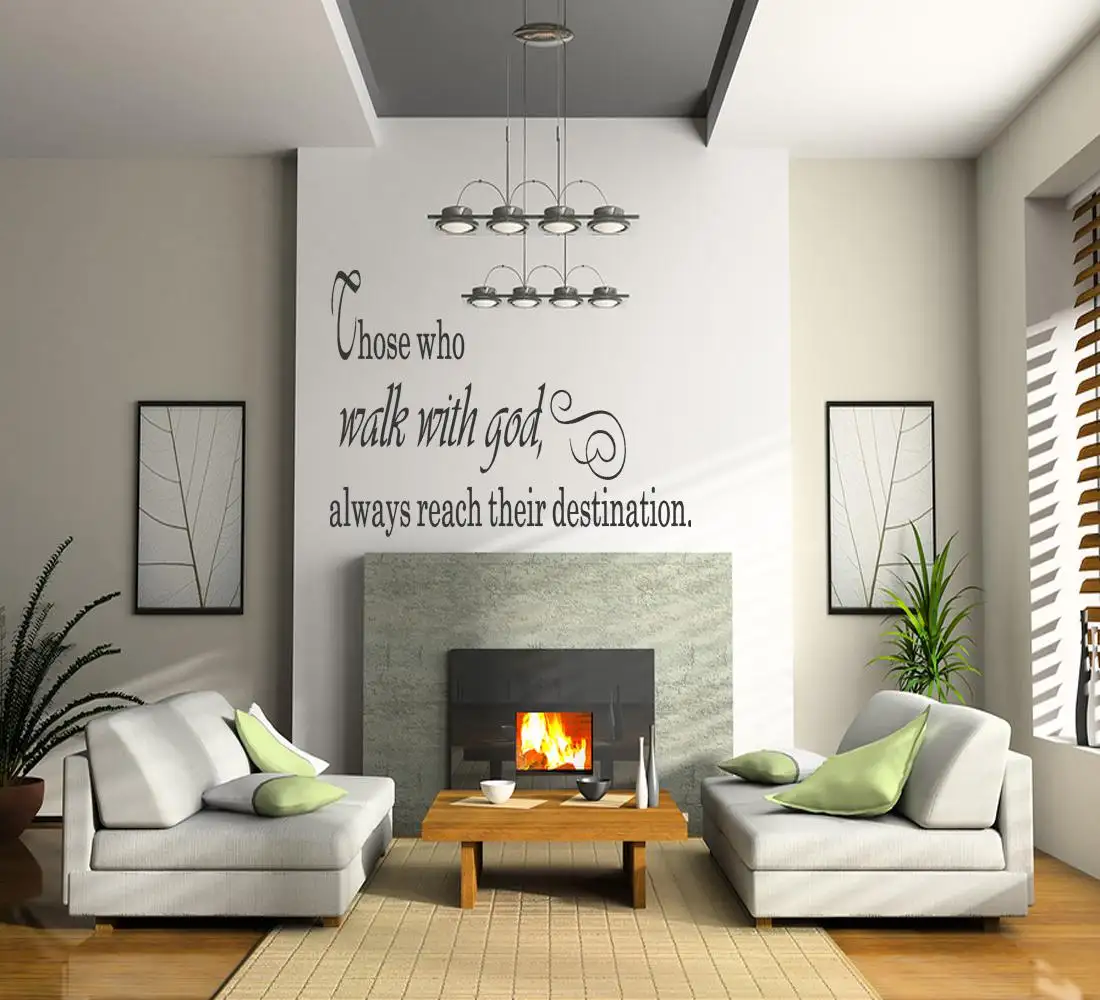 This type of religious wall décor will also look great in your child's nursery or above your bed, especially if it comes with a watercolor effect; inscribing a prayer in such important spaces and reading it before going to sleep can make you and your little one feel more faithful and at peace with yourselves.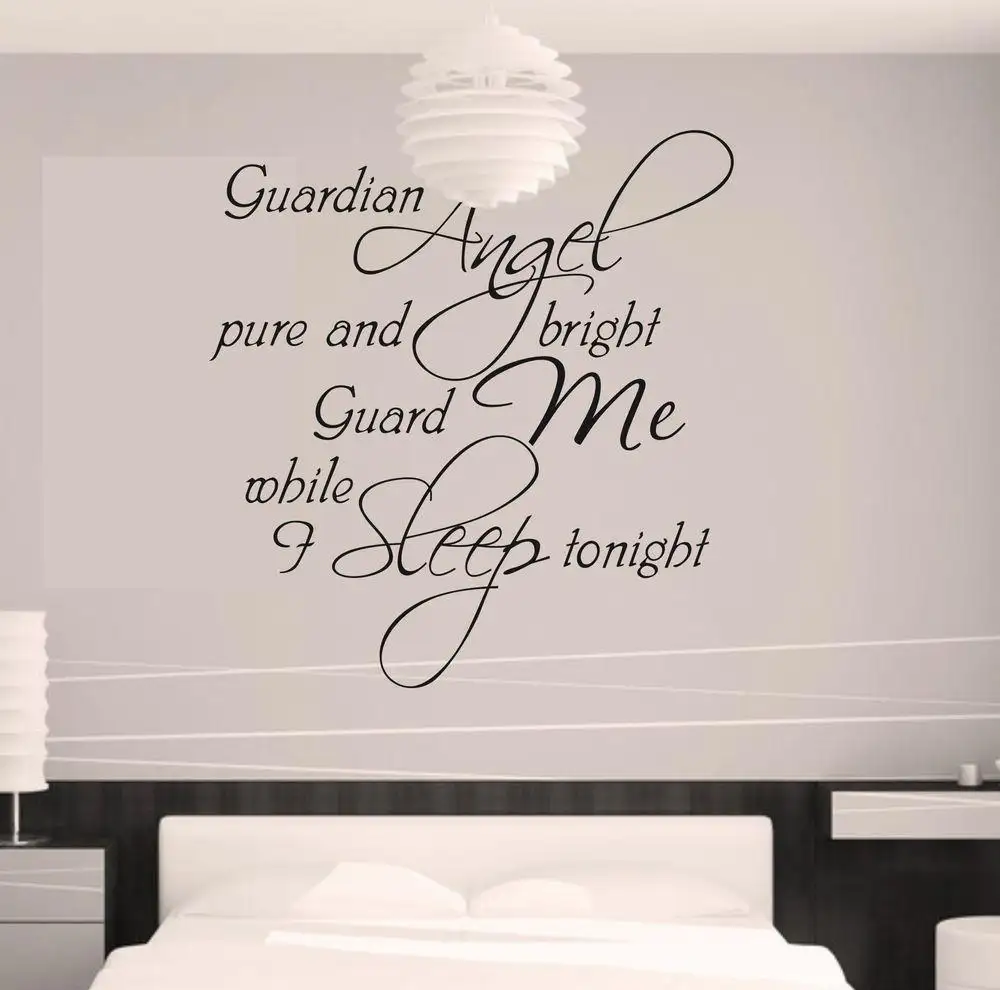 Additionally, Christian quotes offer a great chance to craft your own religious home décor pieces – in other words, your own 'writing on the wall'. Another simple way to put up your favorite Biblical words of wisdom is to take a wooden rectangle frame, dress it in a cotton canvas secured with staples (a white piece of bedding will do just fine) and use water-based acrylic paint to write. When it is ready, hang it next to other art pieces or lean it against the wall if it is a larger item. Nothing gets more personal than that!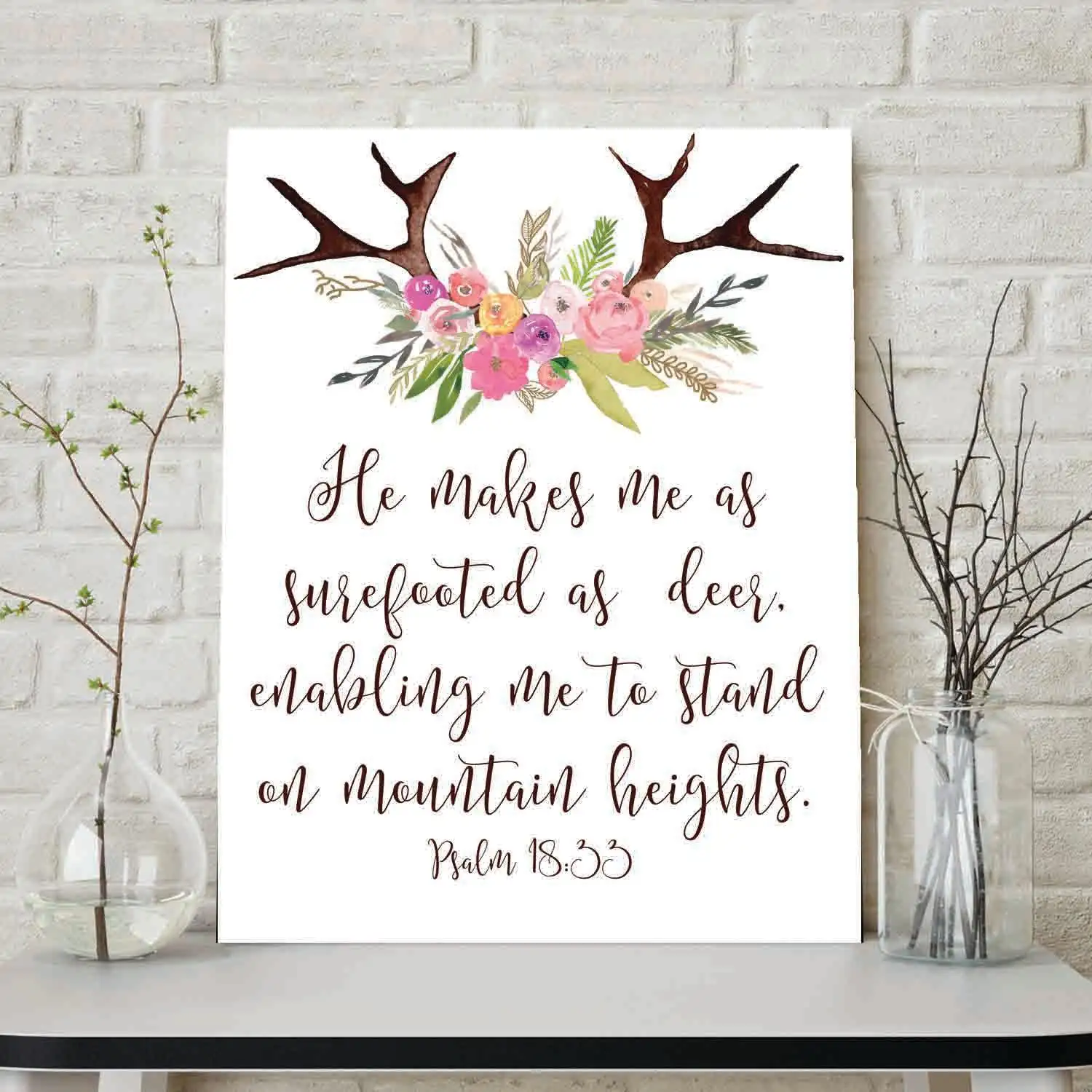 The kitchen area can also be decorated using quotes from the Holy book. Instead of a written menu on your chalkboard, try inserting your verses of choice; the words can always be changed, reflecting your mood or hopes. A hefty cutting board can make another great canvas for your Christian artwork with scripture verses; simply prop it against the splash and there you have it! You can get as creative as you want, experimenting with handsome letters and Christian symbols, like the cross or the ichthys.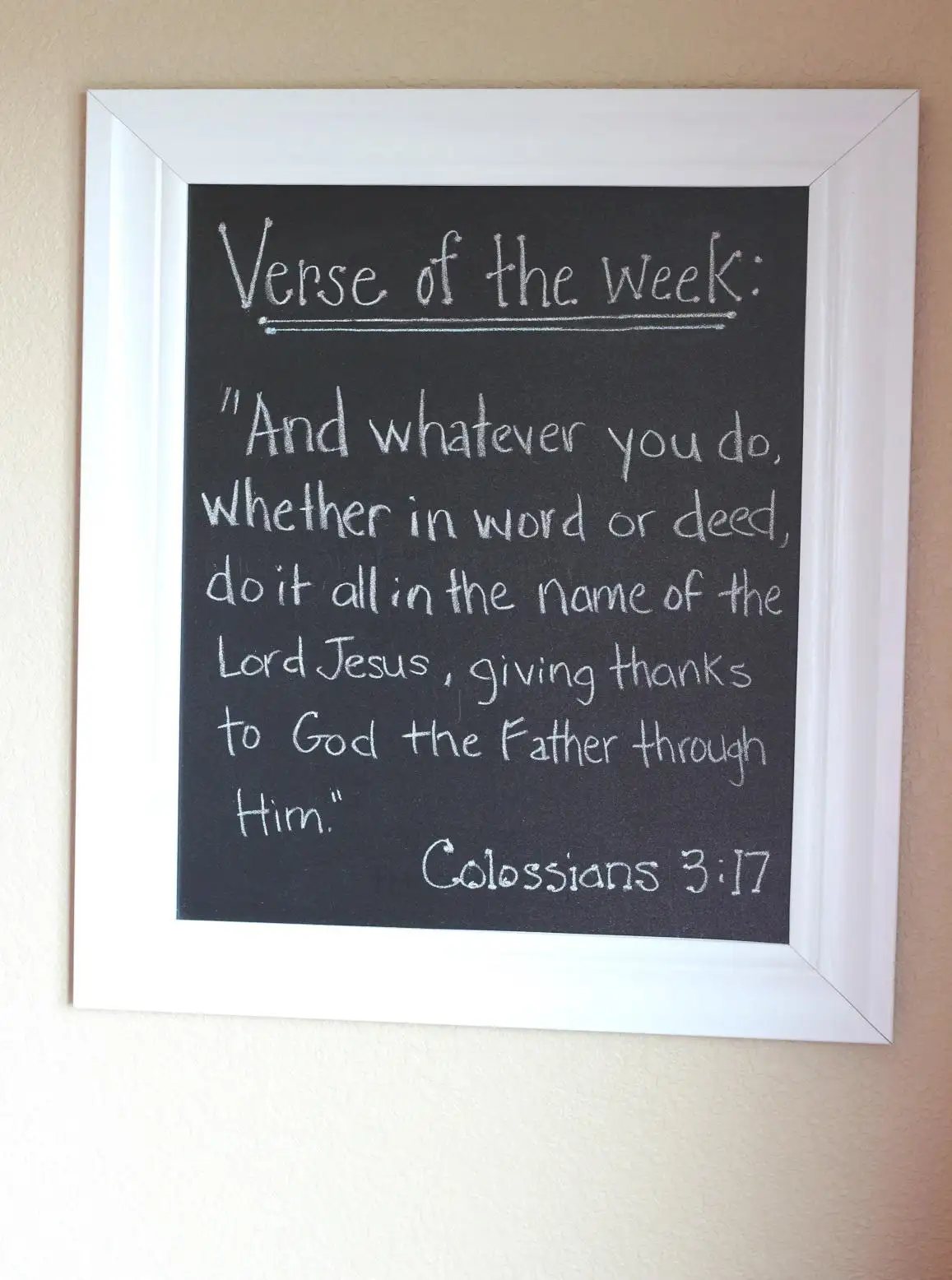 Another delightful way to integrate inspiring religious quotes into your home décor is by using Christian wall plaques. In order to keep things aesthetically pleasing and avoid tacky pieces, opt for plates made of natural materials, like clay, slate or wood, with delicate finishes and neutral colors.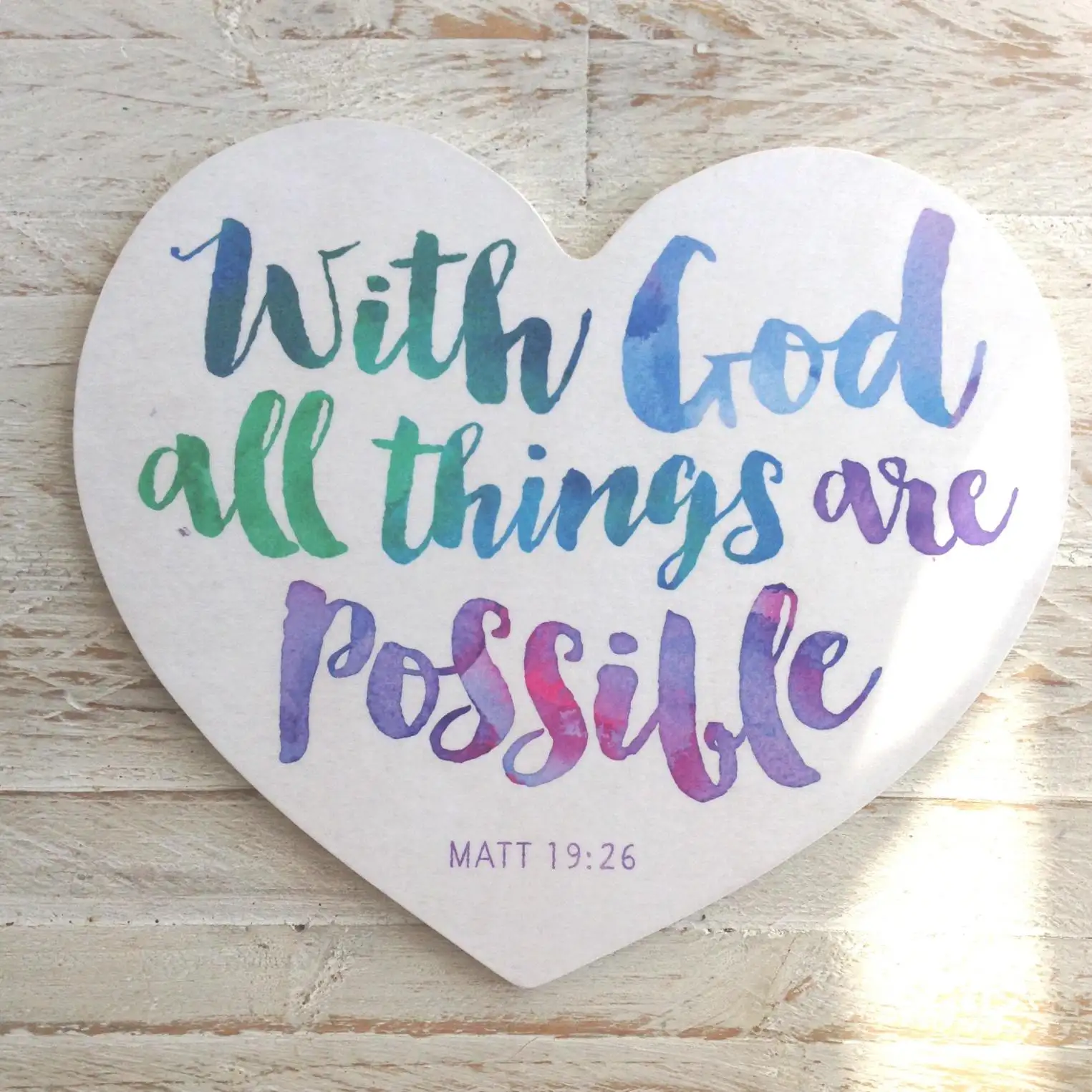 A modern take on Christian wall decals
Any contemporary home design would do with some eye-catching graphic art. Bold single letters and visually-appealing arrangements can turn a religious wall decal into a modern décor statement. So compose your own and print it on an adhesive piece of paper for a customized item, or buy ready-made Christian wall stickers with a strong pictorial or decorative component.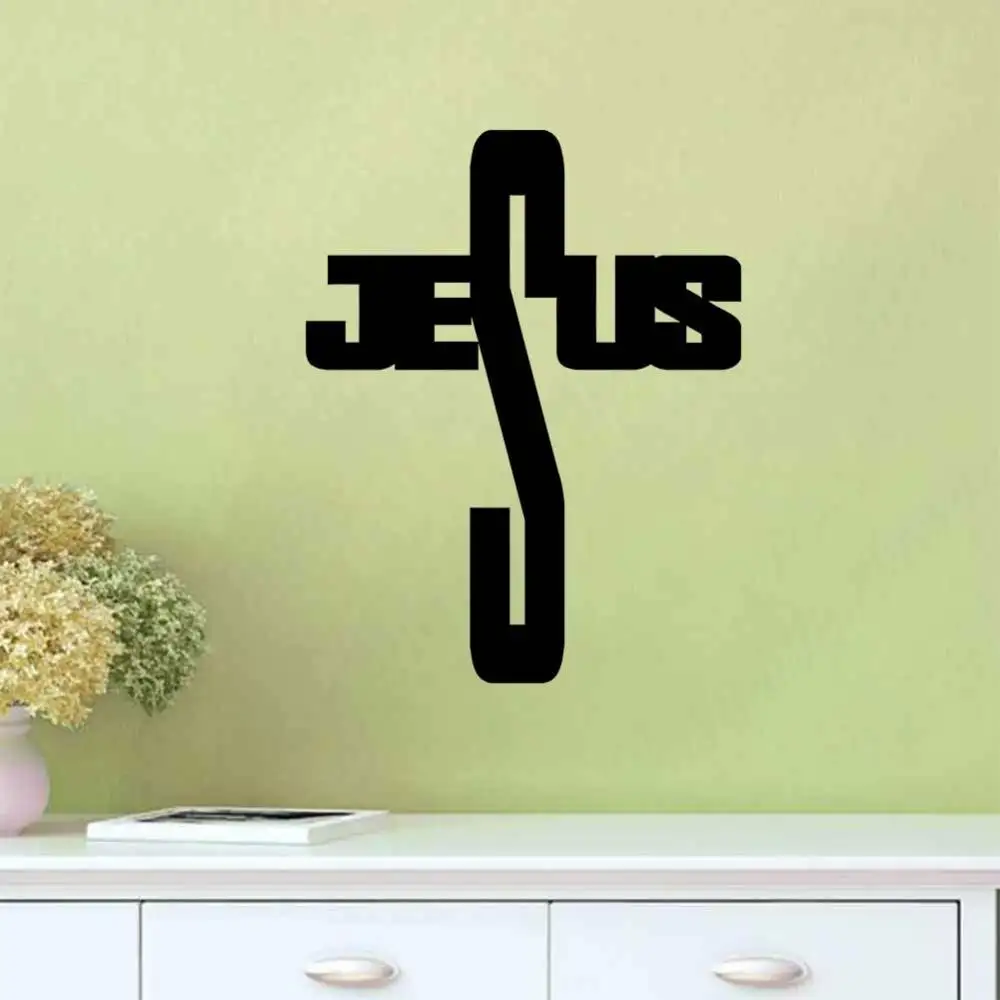 DIY decorative pillows with religious motifs
Pillows can be decorated with custom religious messages in order to add a figurative component and express your Christian belief at the same time. Either used on the living room sofa or on the bed, you can give them a personalized look with iron-on letters.
For a simple, yet tasteful design, single words with a strong religious meaning or short guiding principles (i.e. composed of two or three words at most) will look neat. To give extra sophistication to this DIY project, you can pick striped pillow cases and apply the cloth decals using their geometric pattern as background. Decide on the words, pick the necessary letters and follow the instructions on the decal package; before ironing them on, use a ruler as guidance to make sure the end result is perfectly aligned.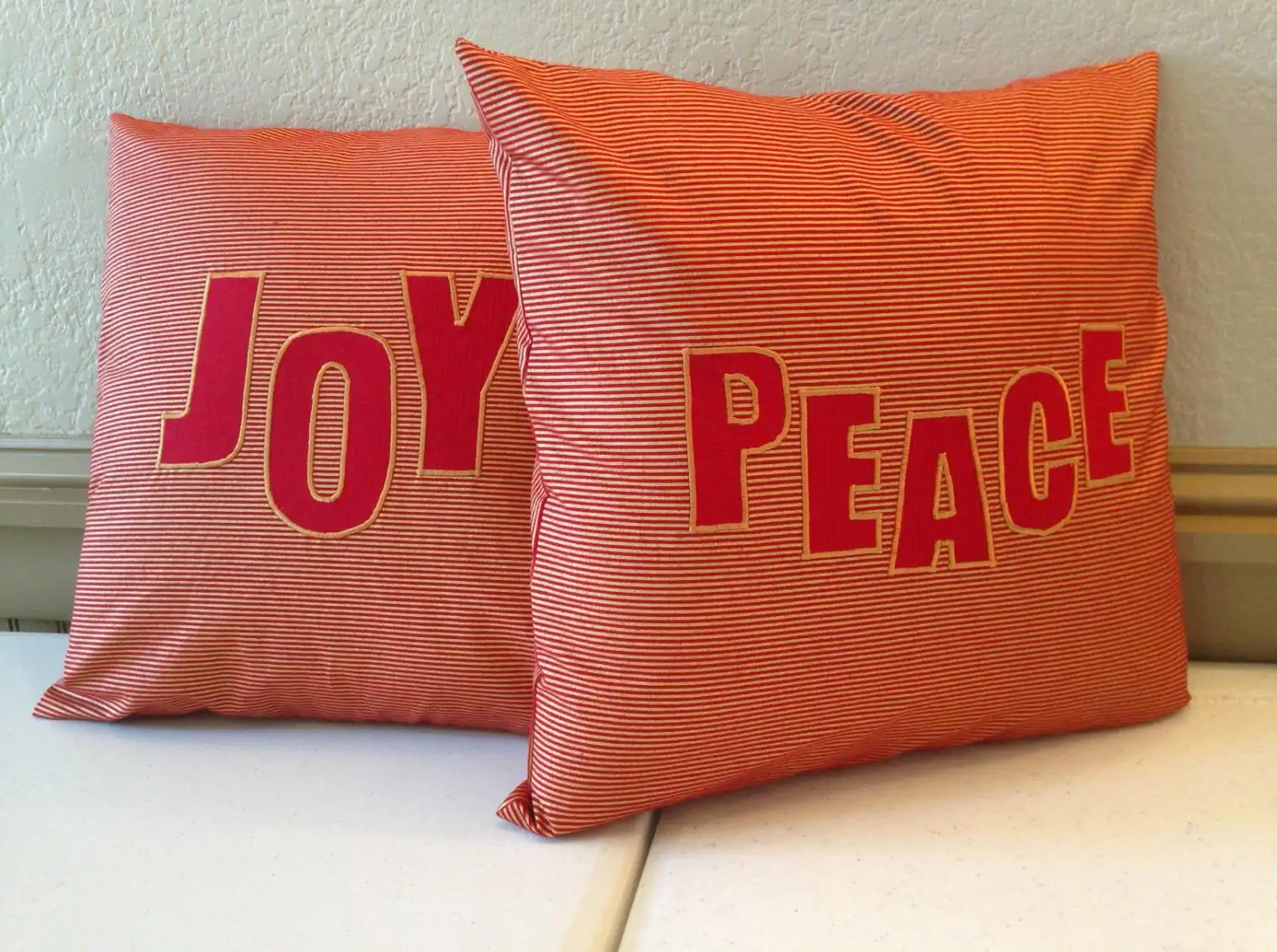 Stencils and fabric markers also provide an easy way to create unique religious pillow decorations. Make your own letters or Christian symbol templates using a plastic foil, measure to find the middle of the pillow case and tape the stencils on the fabric; finally, color the inside with the marker and remove the foil to see the end result.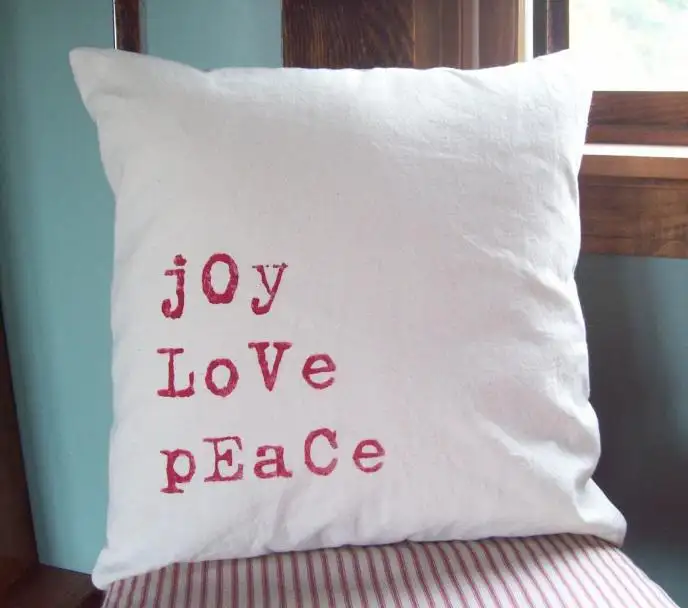 Religious home décor and urban art can also come together in a project focused on decorative pillows, with the help of graffiti. Pick a white pillow case, three or four complementary color sprays and stickers with your religious symbols of choice. This time, they have to be made of removable foam or fabric, in order to take them out at the end. First, position the stickers as you want them and lightly spray one layer of color at a time over the area, allowing it to dry; the final step is to remove the glued templates and admire your contemporary take on Christian art. The area where the letters / symbols were glued will remain white, being surrounded by a colorful graffiti background.
Christian home décor using religious trinkets
Religious trinkets such as icons, little statues, rosary beads and crucifixes have a calming effect, as constant reminders of one's faith. Used sparsely and placed in appropriate spaces within the house, these items can look stylish and effortlessly channel your inner strength every time you lay your eyes on them.
For example, a small antique statue of Jesus or Virgin Mary placed next to a pile of books and a chic-looking lamp shade can make a wonderful composition on your nightstand or reading-corner table.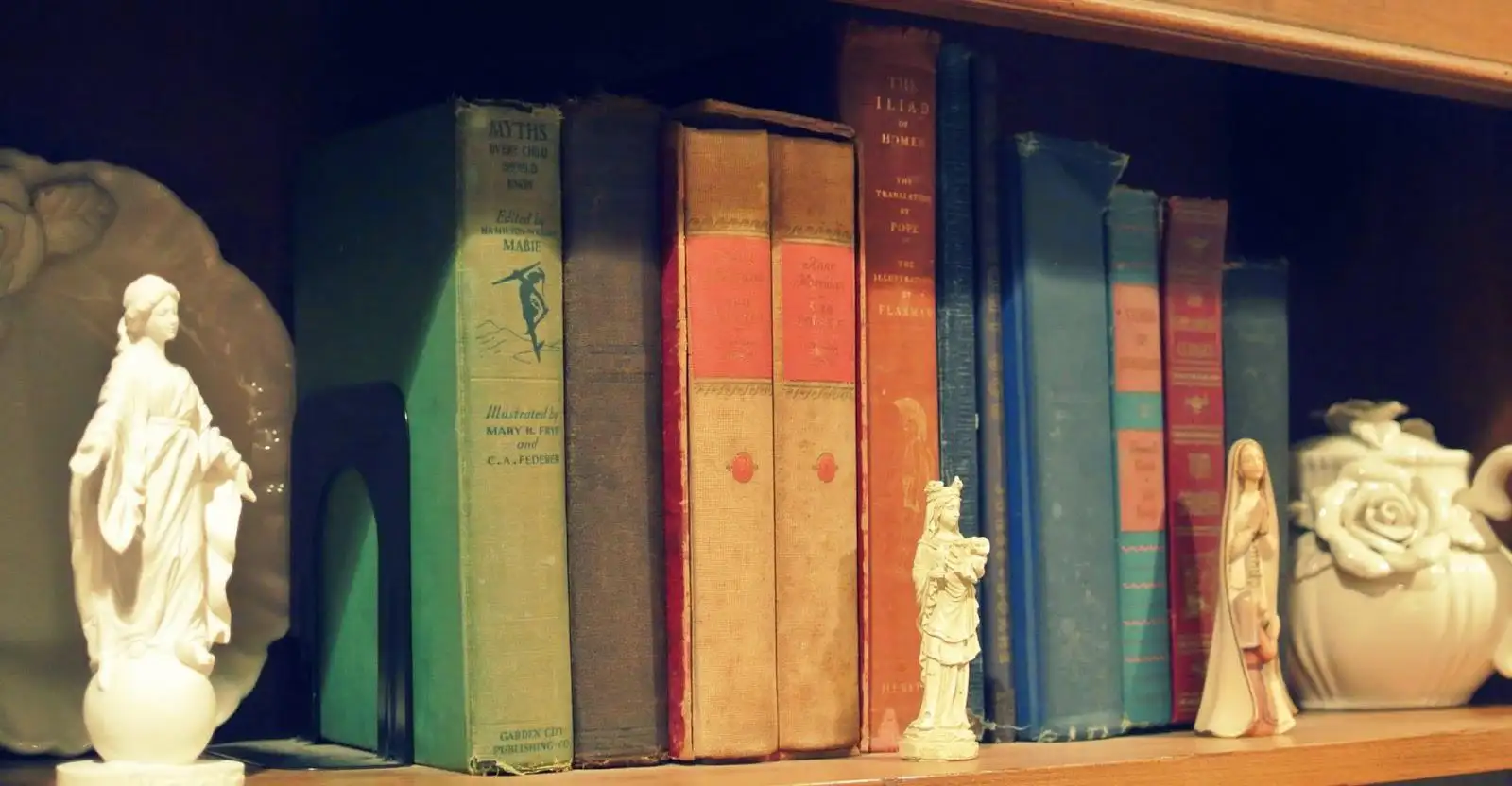 Display your collection of rosary bracelets and necklaces on one of your lounge walls using a wall jewelry stand. Do you gather religious iconography? Hang your prized paintings on a blank spot just as you would do with other pieces of art, throw some comfortable pillows on the floor and a couple of sheep skins and you will end up with a relaxing praying corner, where you can sit and gather your thoughts during rainy days.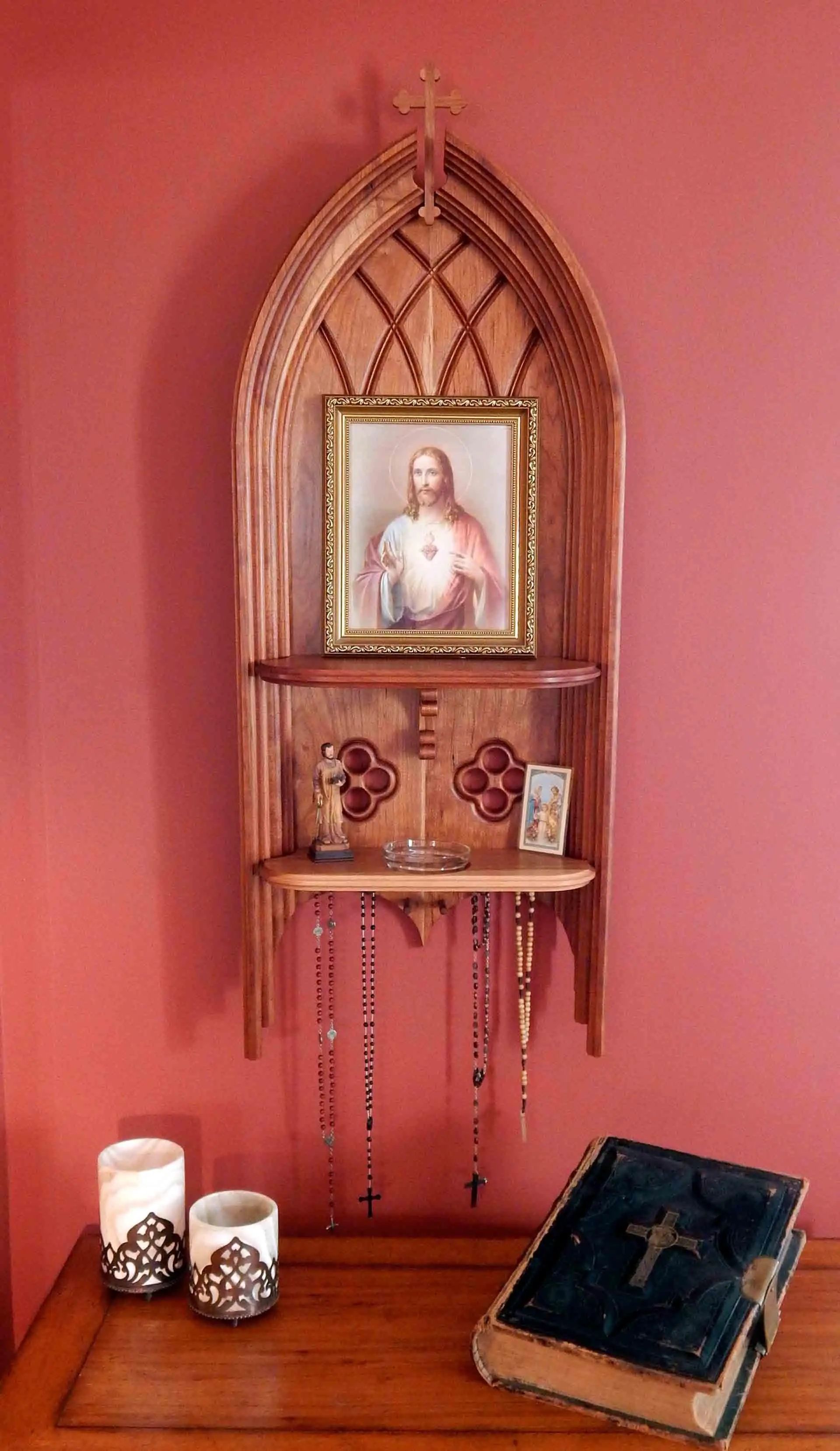 What's more, the window sill or a library shelf can be excellent places to display your collection of vintage crucifixes. Even life-size Christian statues can look great in a shabby chic house with lots of mismatched furniture and traditional rugs.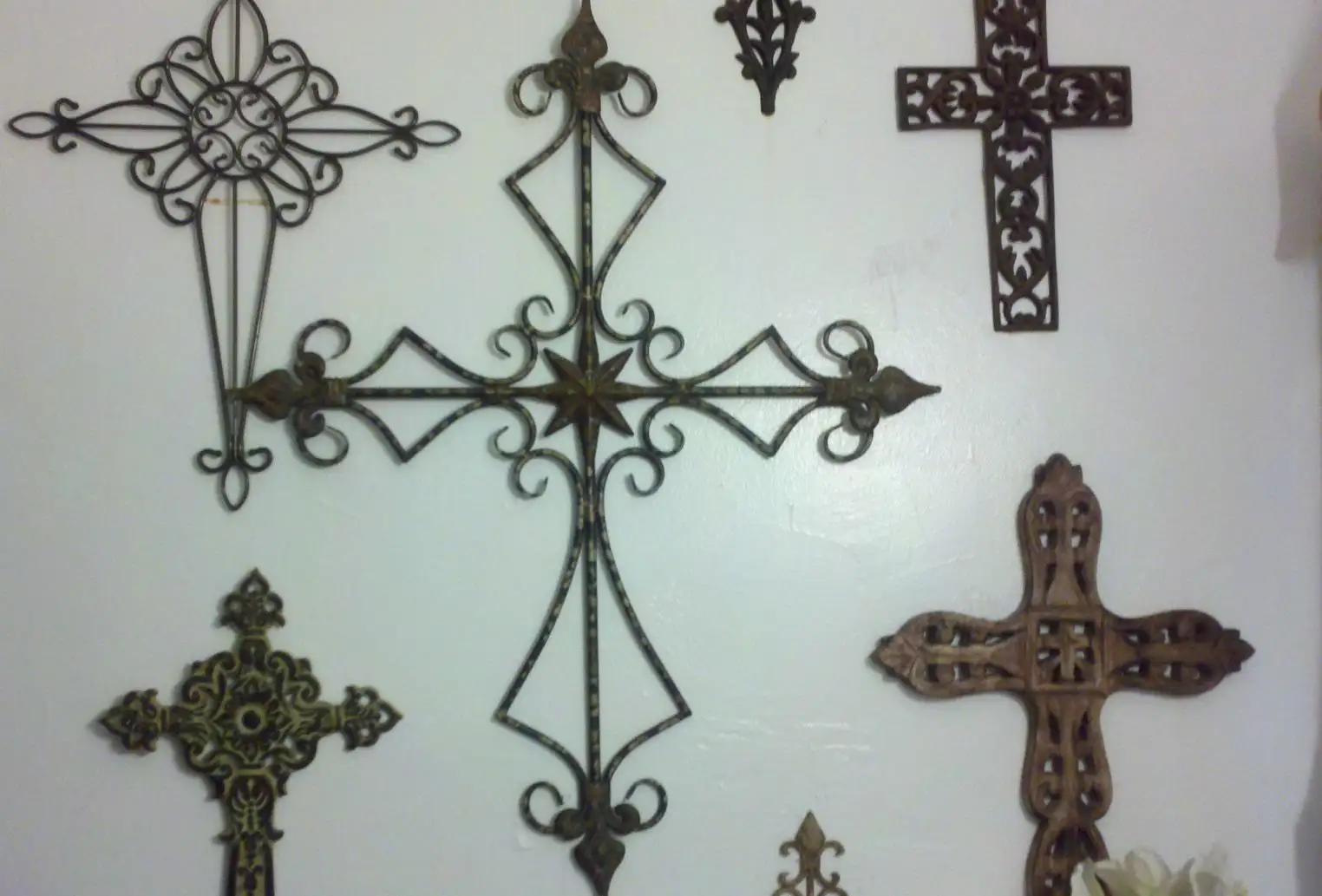 Shaker-style furniture for a simple and purposeful décor
A wonderful way to get back to the basics of interior design while celebrating life's simplicity is to decorate using Shaker-inspired furniture. This religious sect created unique wooden pieces that embodied its members' belief in making use of what God gives you, with minimum waste and no ornamentation. An honest and utilitarian approach governed their craftsmanship, resulting in minimalist pieces with timeless appeal, like the Shaker rocking chair or classic cupboards. Simple lines and natural materials also remind us of how little we need to feel at home, just as the Bible suggests; therefore, opting for unsophisticated, yet purposeful furniture items will place you closer to the key aspects of life. Not to mention they are highly versatile and are likely to stick with you during future redecorations.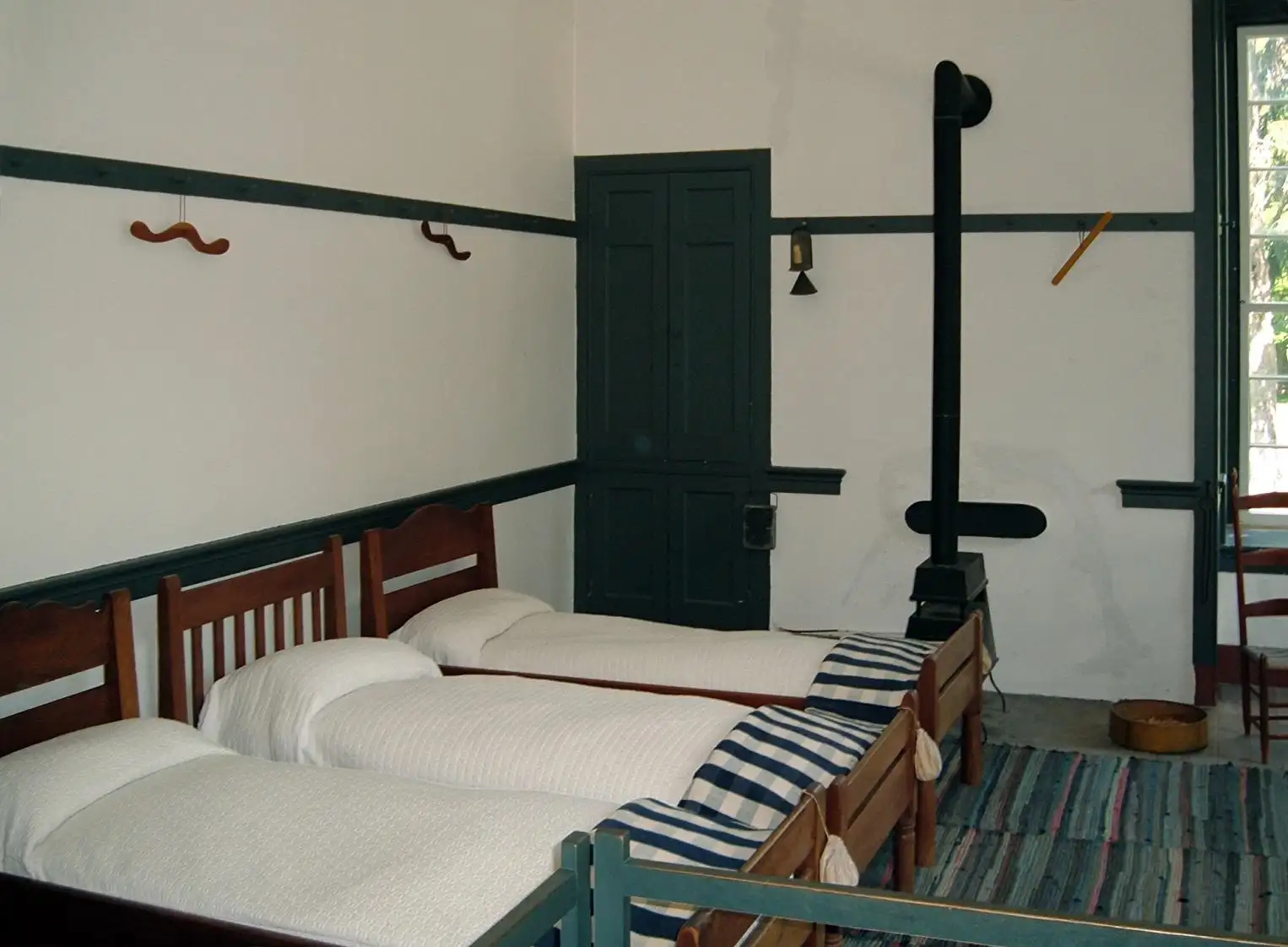 Monastic refectory tables
Religious home décor can also translate into using monastic handcrafted elements, such as refectory tables. Made of a massive wood table top and two connected trestles, they are sturdy and full of character, being able to complement both traditional and more modern décors. Their Christian symbolism has to do with the medieval monks' ritual of eating in silence, an act of respect and humbleness towards the food given by God. Such a monumental furniture item will surely transform into the center piece of your dining room. It can certainly be purchased from antique shops, along with stylish time marks that remind of its history, or it can be built using original Middle-Age designs. Either way, your refectory table will become a token of gratitude towards the Divine.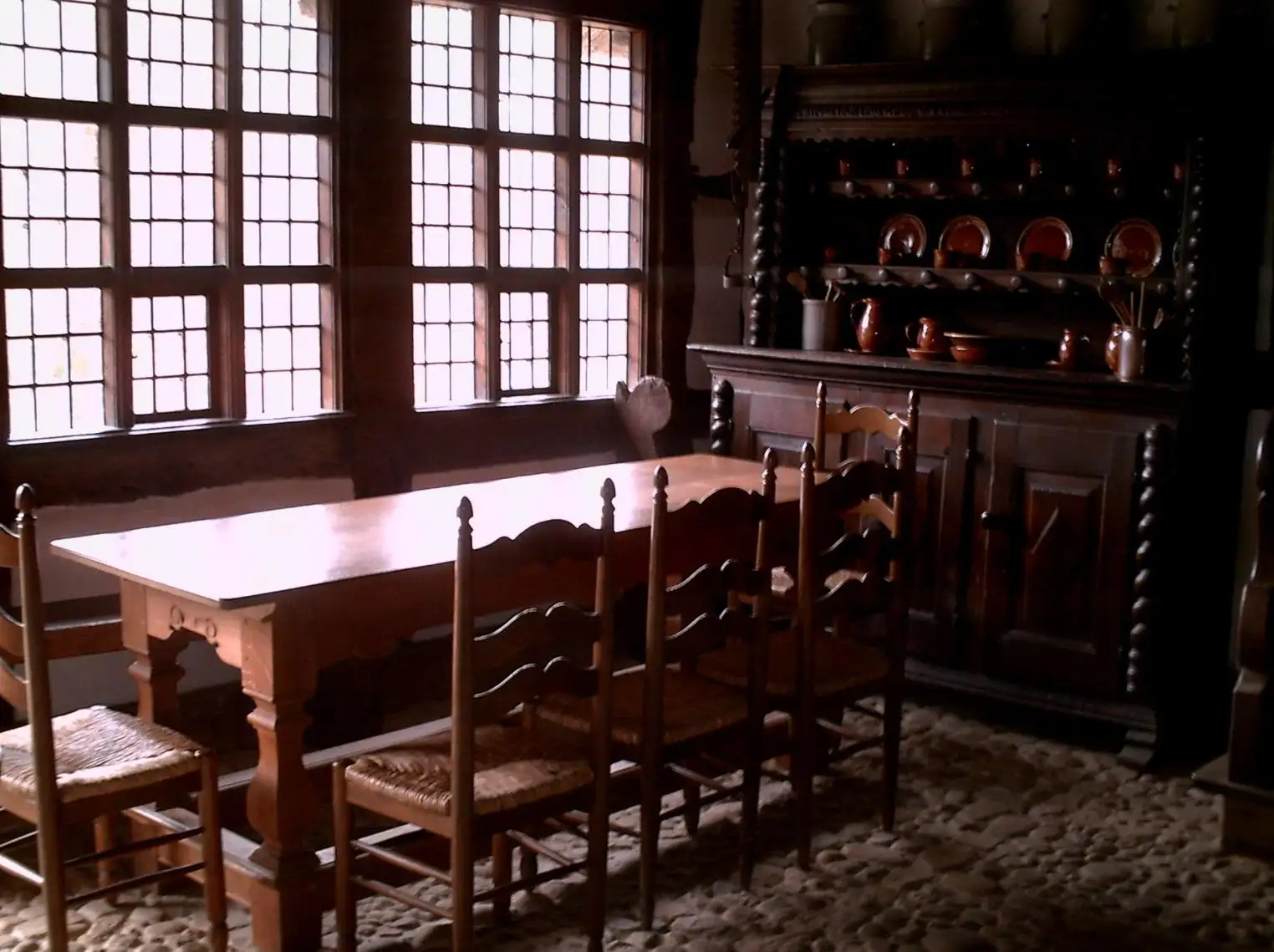 Add drama using Christian wall tapestry
Bringing a charming forgotten-era look, Christian wall tapestries will create a wonderful focal point in a room. As they often depict Biblical scenes that tell a meaningful story about the relationship between humans and the Deity, you can choose a piece that fits your beliefs. Visually, tapestries will add depth and a sense of intellectual refinement, as long as a tasteful subdued palette is used, without loud colors or over-embellished margins. They can be hung on a dining room or living room wall, to create a sense of drama, or even over the bed, instead of a regular headboard; the same decorating principles apply as with any wall carpet: a tall piece will heighten the space, while a horizontal landscape one will make the wall seem wider. Either way, such an exquisite item will always be a conversation starter for your visitors.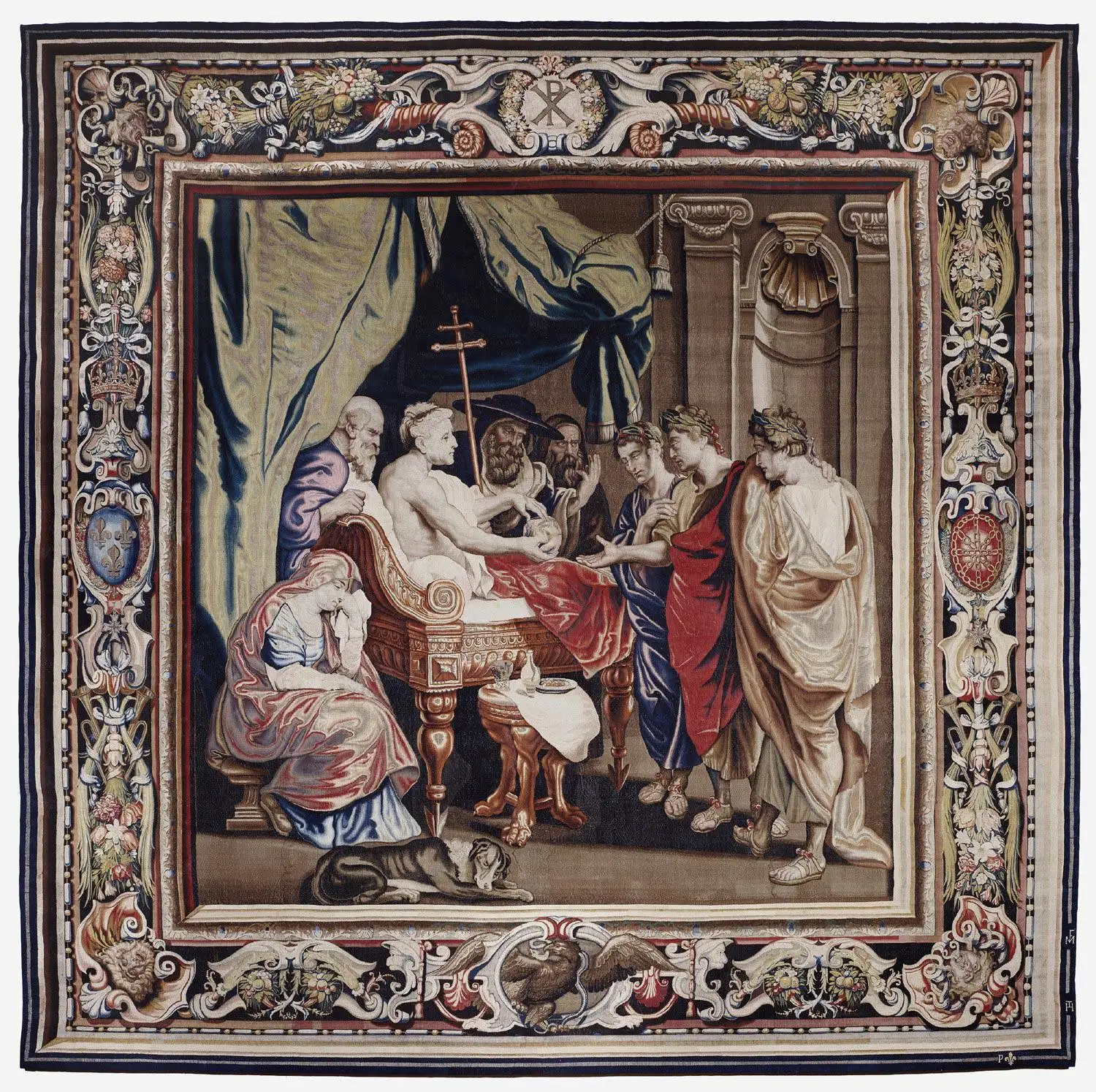 Cathedral-like windows: stained glass
One impressive feature of Christian cathedrals is the stained glass windows. Mysterious and extraordinary at the same time, this decorative element can certainly be integrated in your religious home décor. A round or odd-shaped window can be delicately decorated in this way, but the glass of the entrance door or a regular window will also look refined. And if this artistic technique is not available to you, a similar level of elegance and beauty can be achieved by purchasing a window film depicting biblical scenes or holy symbols.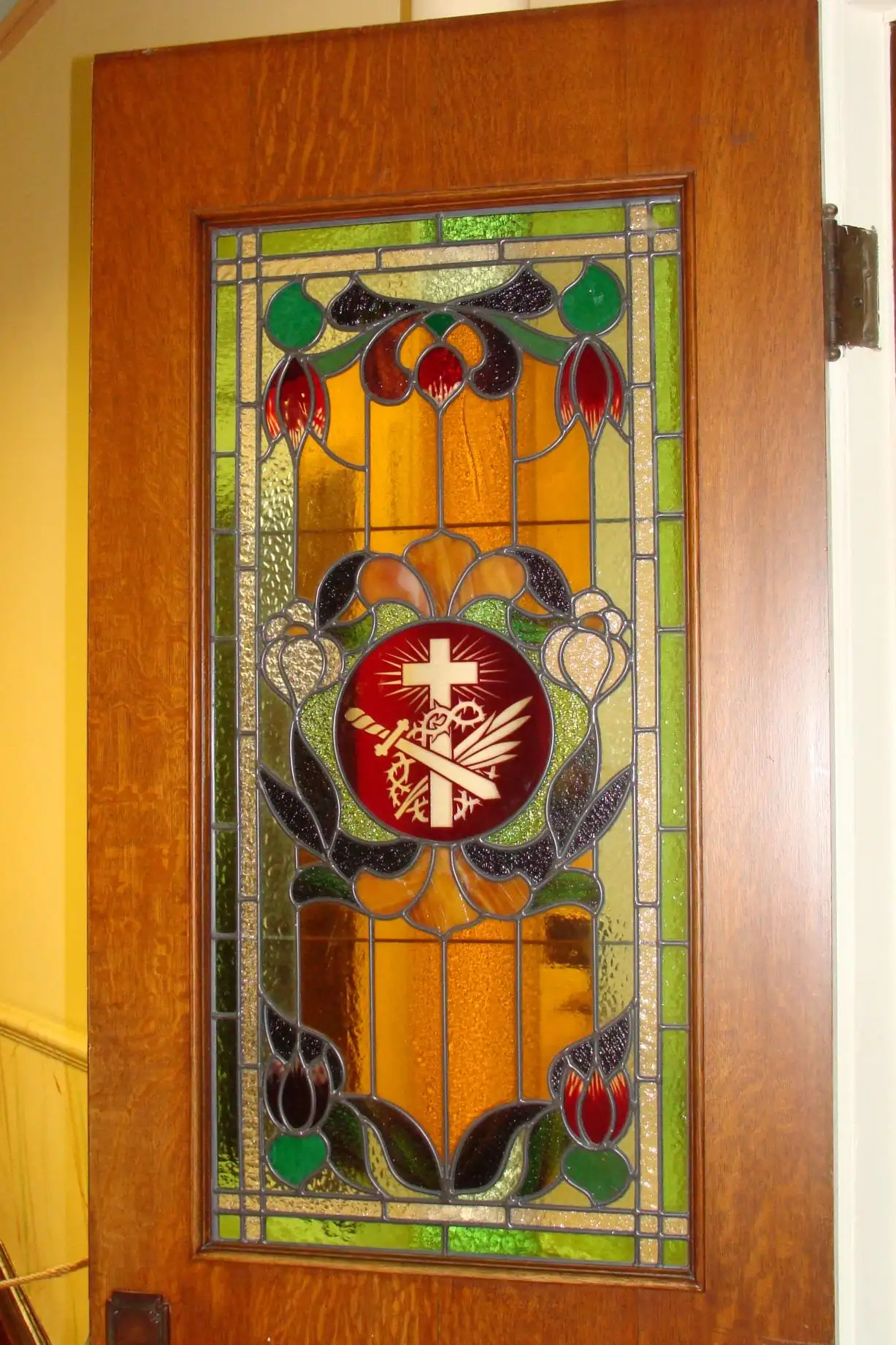 Christian decorations associated with Easter
Easter is viewed as one of the most important celebrations of Christianity and there are a few decorative deeds associated with it, as part of specific religious rituals. A well-known one is centered on coloring eggs with intricate patterns using beeswax (a very popular custom among Eastern European nations, in particular) or natural dyes. In some communities, painting eggs in red signifies a commemoration of the blood Jesus shed on the cross. So why not embedding these precious traditions within your house? A bunch of these ornamental items gathered in a woven basket will beautifully serve as a dinner center piece during the Holy Week, or as an attractive seasonal décor feature.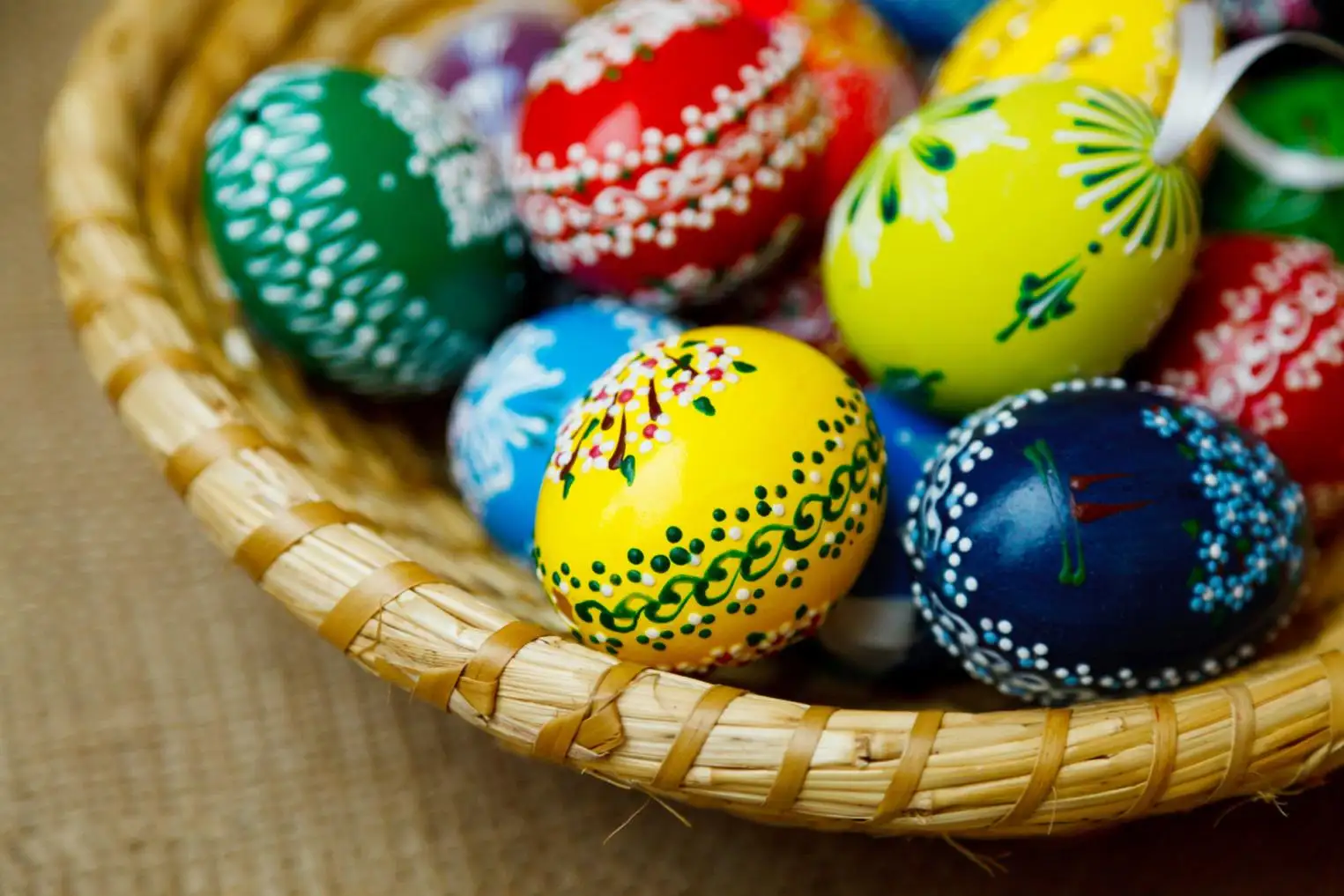 An attractive variation of this Easter practice is found in Sweden, where people hang the embellished eggs on a tree branch brought inside their house, along with colorful feathers; this idea might also inspire your next hands-on project the following spring.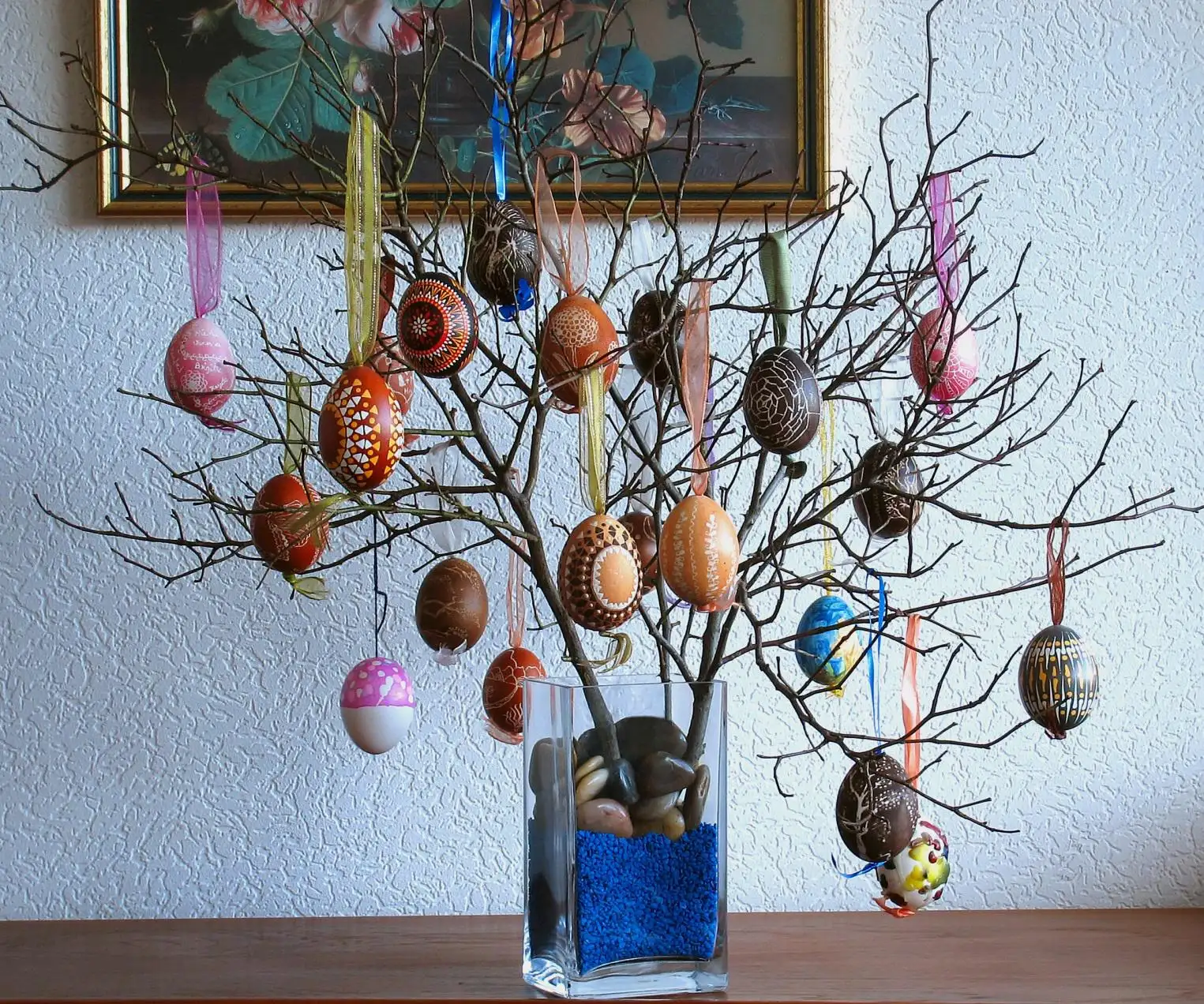 Christian Christmas décor
There is no secret that the much cherished celebration of Christmas is often preceded by an elaborate home redecoration in the Christian world. Both traditional and modern trimmings are attentively placed within the dwellings in order to express our joy, and hail the birth of the Savior more than 2000 years ago. But in order to keep your Christmas décor looking more Christian and less commercial, stick to the essentials without overdoing it. Not only will your house interior look more tasteful and less cluttered, but, in this way, you are also more likely to stick with the guiding principles of Christianity: simplicity and modesty.
The Christmas tree plays, by far, the central role in this popular festivity. Thanks to its evergreen nature, it is believed that it symbolizes the eternal life granted by God in heavens. Preserve its natural beauty indoors and honor its meaning by purchasing a potted version that can be later planted outside. Sometimes, a simple set of lights draped around its branches will be just enough to make it look festive. If you still want to go for additional trimmings, then the ones filled with Biblical significance are ideal for a Christian Christmas décor: a tiny angel figurine will remind of archangel Gabriel, the divine messenger, while the star that is often placed on top of the tree will echo the star of Bethlehem.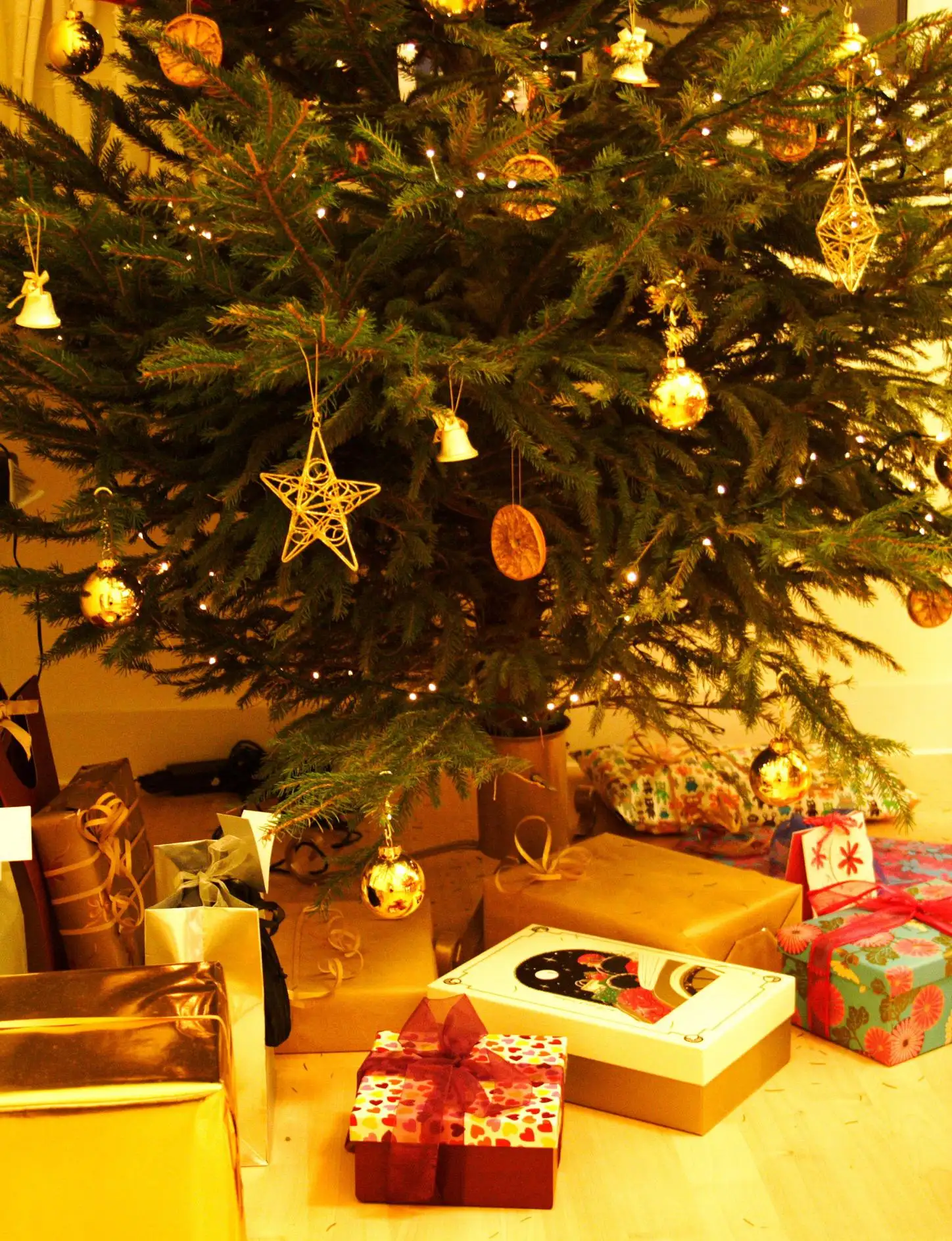 Having a miniature Nativity scene is also a widespread tradition. You can opt for a colorful, detailed version or for more modern minimalist statuettes, depending on your taste.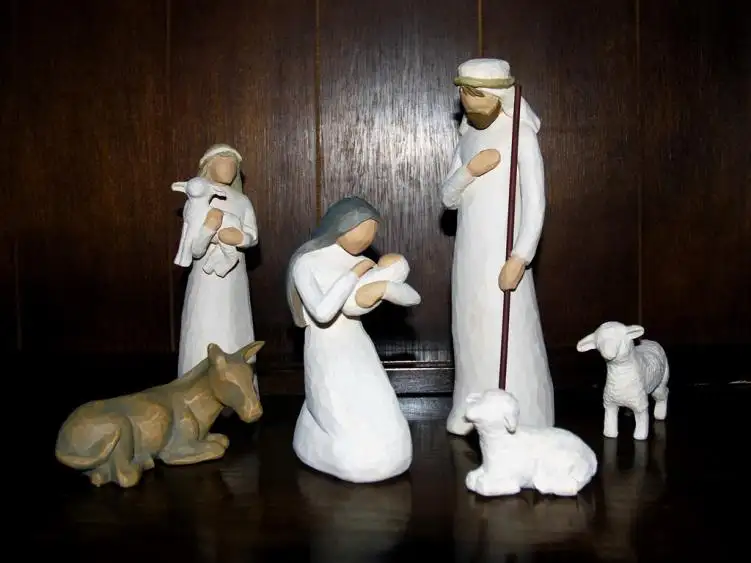 To sum up, Christian home décor should enrich the character of a space by inspiring pious living, prayer and introspection. The key principle is to harmoniously blend religious décor objects with the overall style of the space, resulting in a tasteful dialogue between all existing pieces.