How To Decorate A French Country Home
As you discover various house styles, keep in mind that the indoor and outdoor appearance of your dwelling shows your personality and life values. Inspired by the laid-back, rural way of life, a lot of people across the world enjoy recreating an easygoing French country lifestyle inside their abodes. If you also appreciate the elegance of simple lines, style your home with French country décor.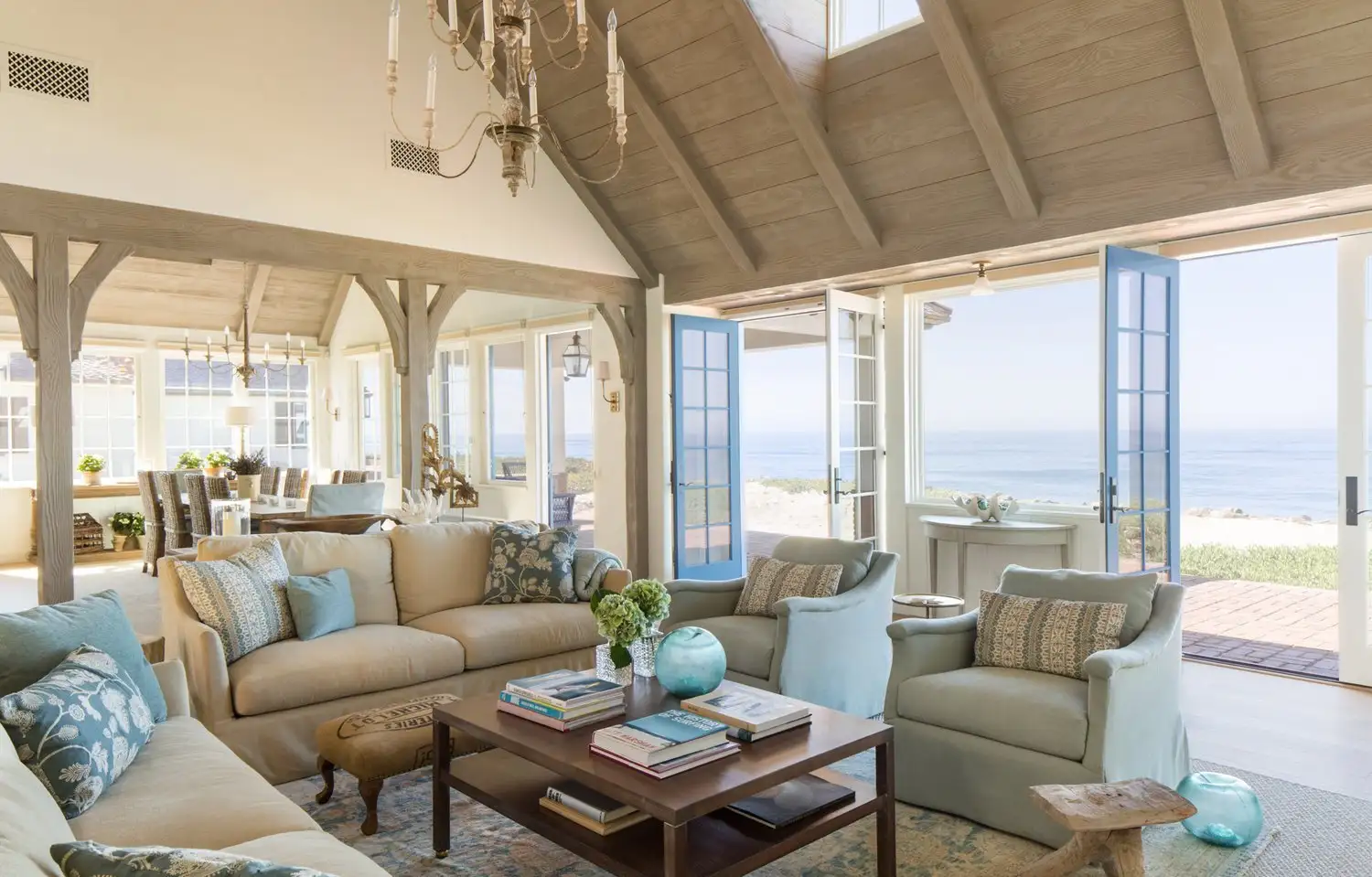 French Country Design Room By Room
Whether you decorate your abode in a classic French country style or prefer to mix it with modern-, vintage-, or rustic-looking accessories, be consistent in making interior decisions. Follow a general design concept and pay attention to chic details to make your home graceful.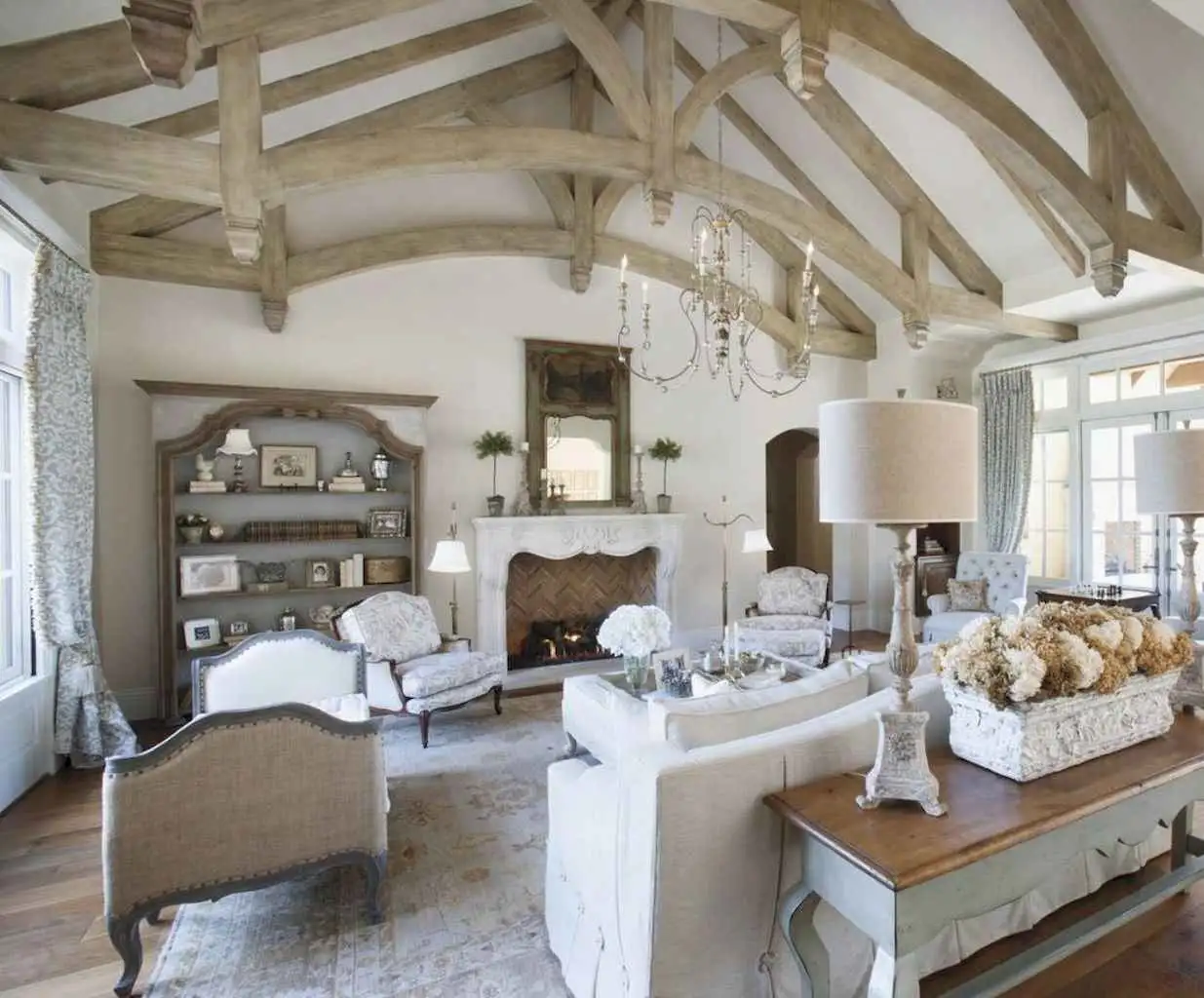 French Country Living Room
To decorate a welcoming living room, focus on choosing the requisite furnishings to spend quality time with your family and enjoy fun activities in the most comfortable atmosphere. Decorate your living room with both functional and attractive furniture, such as a soft upholstered sofa with throw pillows, a set of plush armchairs, coffee table, and lovely décor accessories. Both glass and Chinese porcelain vases with cut-flower bouquets, wooden craft items, gold-framed mirrors, and vintage chandeliers fit in a French country living room as well.
For architectural features, both plaster walls and raw wooden ceiling beams emphasize the graceful character of a French living room. Such elegant décor gives you warm feelings, especially when you're sitting in the front of a fireplace and just enjoying the moment.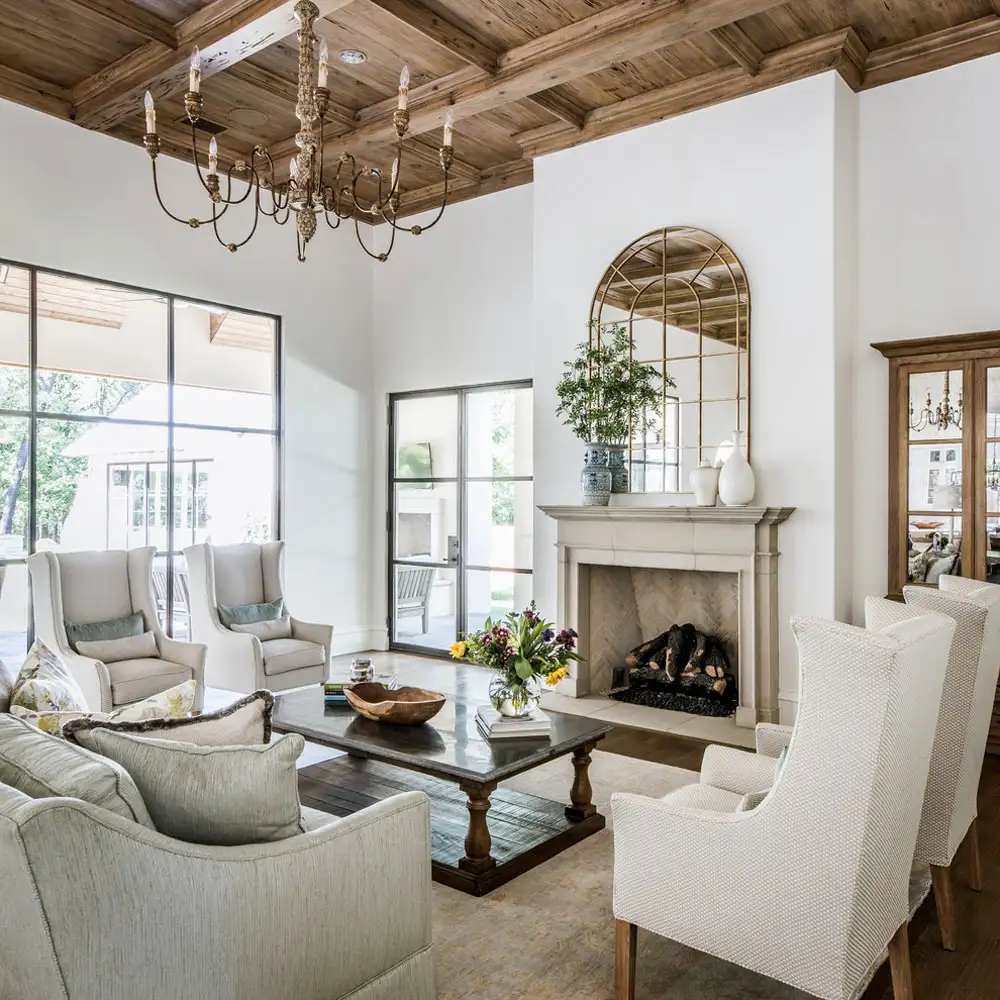 Christmas French Country Living Room Décor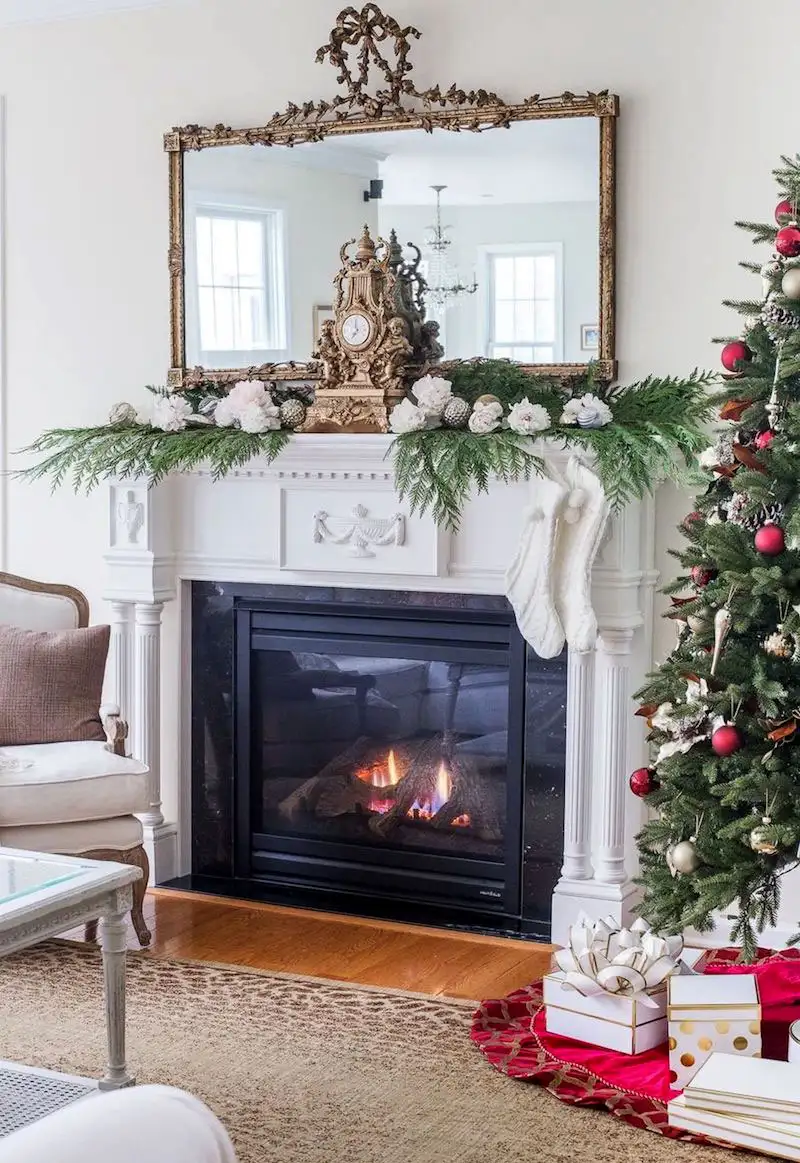 A French country living room has a fairy appearance when Christmas is coming. When you decorate your Christmas tree and fireplace, display all your festive creativity to make your house look Christmassy. To warm up your living room during the Christmas season, use traditional flower and pinecone decorations, as well as hand-crafted and traditional Christmas-themed ornaments.
French Country Bedroom
When you decorate your master bedroom in a French country style, choose a bed with a chic headboard, chests of drawers, bedding, and accent pillows. Organize a comfortable seating area to drink a cup of coffee and read an inspirational book. Take into account both vintage- and antique-themed beds related to old-world styles, such as sleigh, Victorian, and canopy beds. If you have a limited budget, visit local flea markets to purchase these pieces. If your budget is unlimited, you can find a chic old-world bedroom set at antique and vintage shops.
If you prefer traditional décor solutions, choose a modern French country bedroom set with curved edges. Opt for bedside lamps as great additional lighting.
Focus on inspirational décor accessories, such as a wreath on the wall over your bed, candles on the bedside table, floral arrangements in glass vases, and green plants in cute pots. These breathtaking accents will complete the beautiful appearance of your French country dwelling.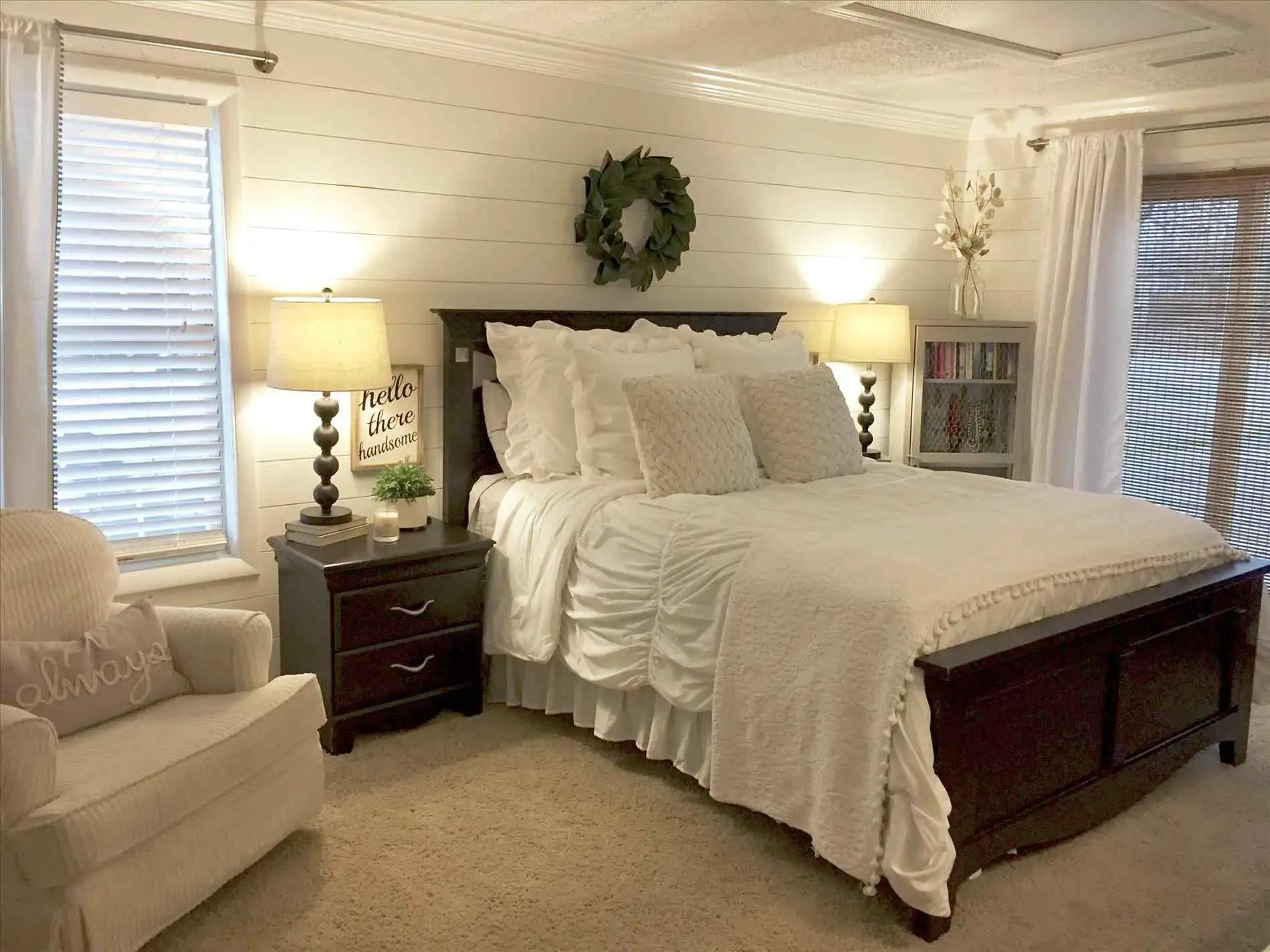 If you decorate a teen's bedroom for your daughter, you can create a youthful appearance of the room in a French country style. Pay attention to magnificent details which display the beauty of youth inside your daughter's bedroom.
It's better to buy furniture pieces to adequately store clothes, shoes, and accessories, to keep her bedroom tidy and uncluttered. When you consider furniture sets, choose that one which includes a bed with drawers underneath, wardrobe, chest of drawers, and nightstands. If you think that just a mirror over a chest of drawers is enough for her to do her make-up, such a solution can fit in a bedroom of a teenager. But if you want something more, opt for an elegant dressing table (also called a toilet table) or make-up vanity. Choose warm colors in medium to low intensity, chic patterns, and natural fabrics for wall coverings and furnishings.
Of course, bouquets of fresh flowers will fill up her bedroom! This means you'll have to buy magnificent vases to keep them in. Also, opt for French-style lamps, beautiful wall art, airy window treatments, lovely knick-knacks, and delicate details to complete the bedroom design.
French Country Kitchen Décor
When we talk about kitchen design in a French country style, it has to be a large separate room with a door. Of course, when it comes to buying kitchen furniture and gadgets, innovations should be considered, because you need a high-quality kitchen island and cabinet, stove and cooktop. Don't be shy about blending old-fashioned pendants with modern track lighting.
A French style kitchen is full of magnificent tableware, such as plates, cutlery, and cups, for decorative accents. Use a lot of jars to store herbs and spices or just for aesthetic pleasure.
When you decorate your ceiling, add crown molding to emphasize the distinctive character of a French style. Also, think about decorating oven hoods with crown molding. It's charming, isn't it?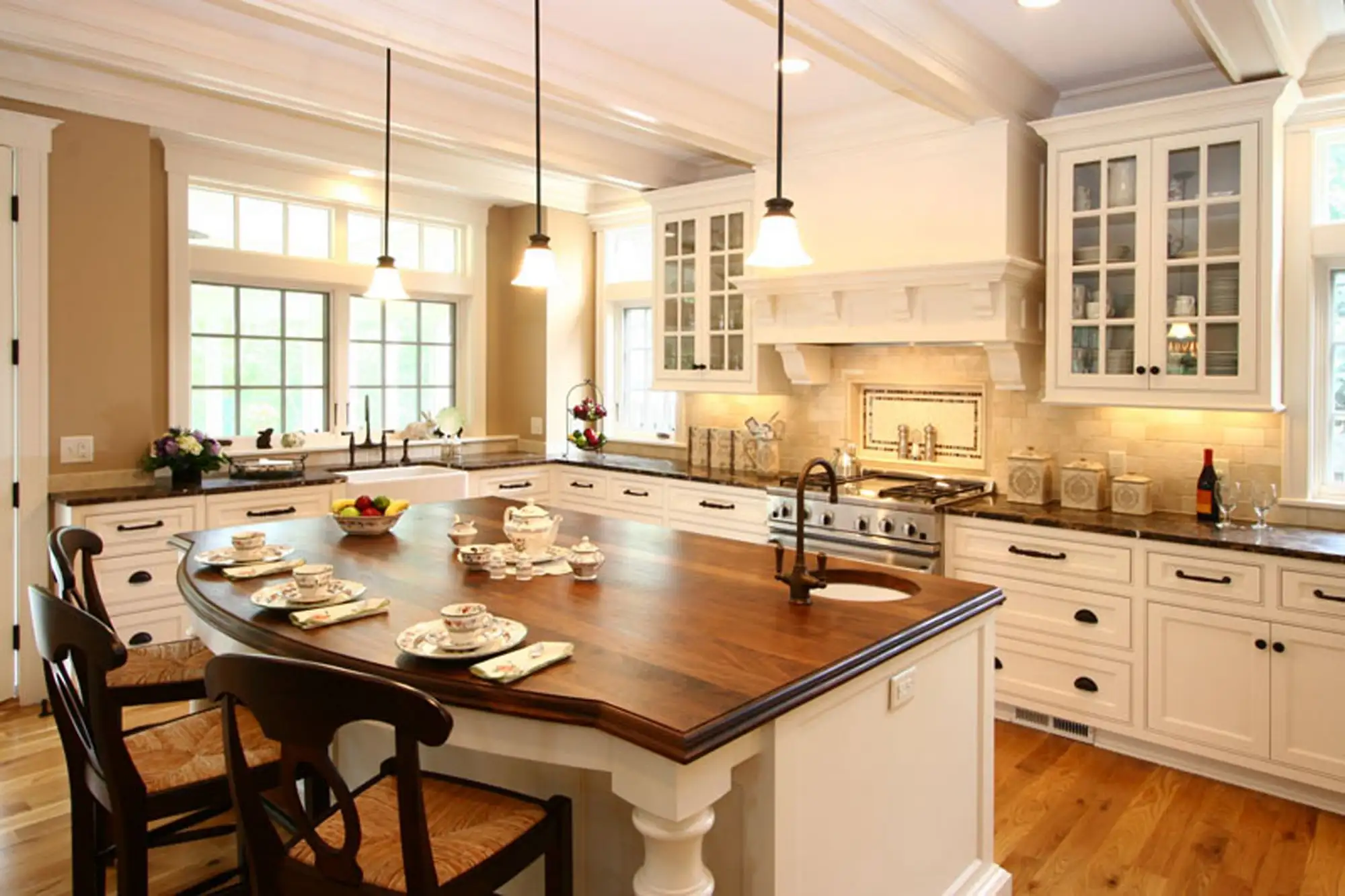 French Country Bathroom
When you decorate or make-over an eye-catching bathroom in a timeless French country style, pay attention to every detail to create a relaxing space where it's a genuine pleasure to take a bath. Choose a freestanding tub, traditional poufs and chairs with fabric accents, an elegant vanity, and bath cabinets. Pastels are the best color choice to create a cute appearance and emphasize the soft lighting. When you consider various lighting solutions, mix old and new following a modern French design concept. A combination of a candelabra and sconces with track lighting allows you to read a good book when you relax in the tub.
Use traditional French details in your bathroom, such as hooks for towels or sconce holders made of iron or gold to add metal accents. Use glass jars for hygiene products and cosmetics. Put a bouquet of fresh flowers in a vase to inhale the divine scents there.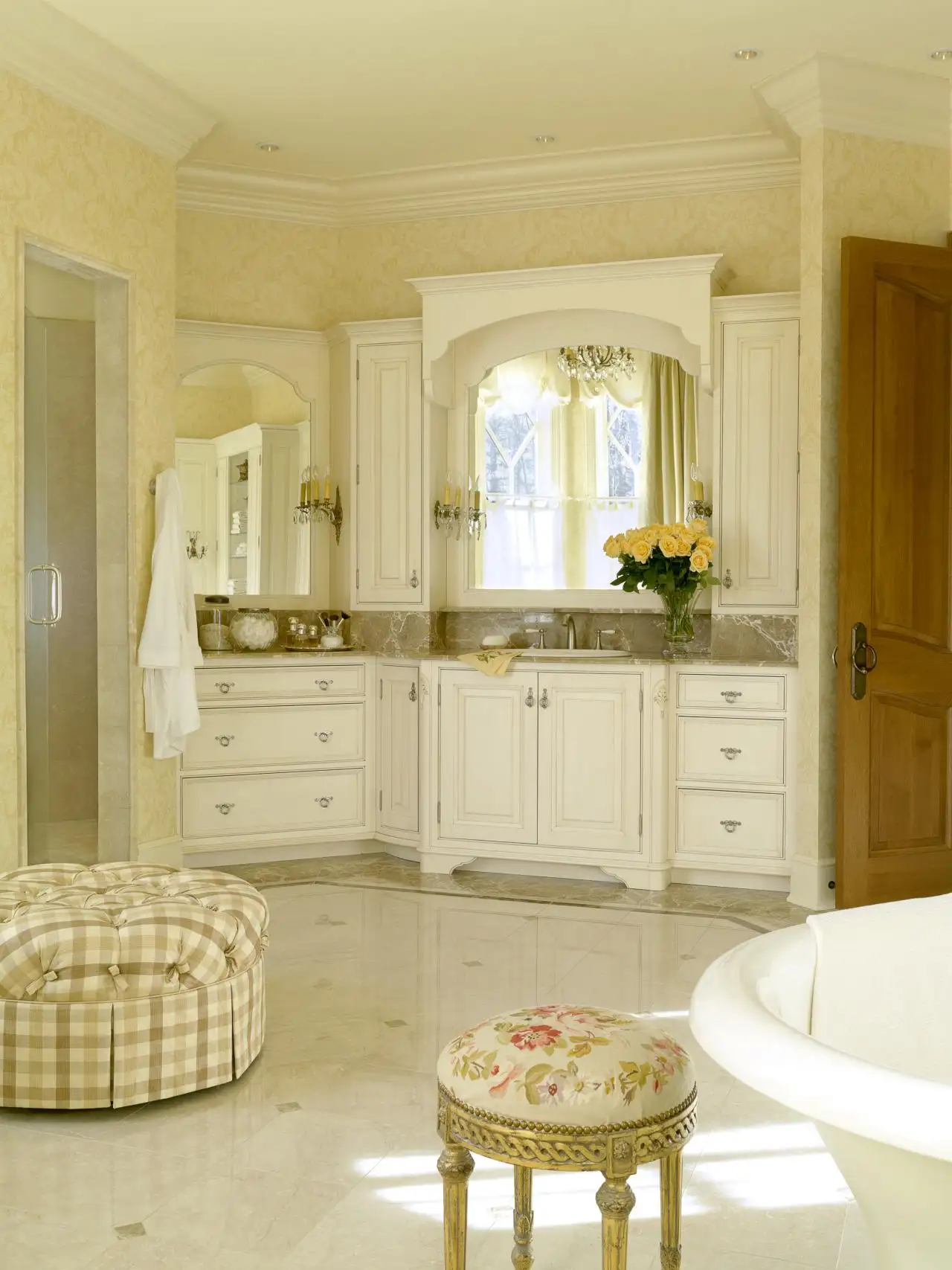 French Country Office Décor
A home office is a place where you need to be inspired to work and focus on important deals. A French country office has to be comfortable enough and well-thought-out in details to push you to work harder and relax less when you're there. Decorate your working space with a high-quality office cabinet, table, and chair for you, and armchairs for your customers or partners.
If you like vintage and antique elements, use them to enhance an old-world charm. Place a clock in the room to emphasize the value of time. For instance, a mantel clock finished in aged iron fits in your home office in the best way. Choose a cabinet decorated with crown molding details. Hang or shelve sculptures, paintings, and other works of art. Use old picture frames, shabby book covers, elegant clay pots for natural plants, and other décor accessories to lift your mood.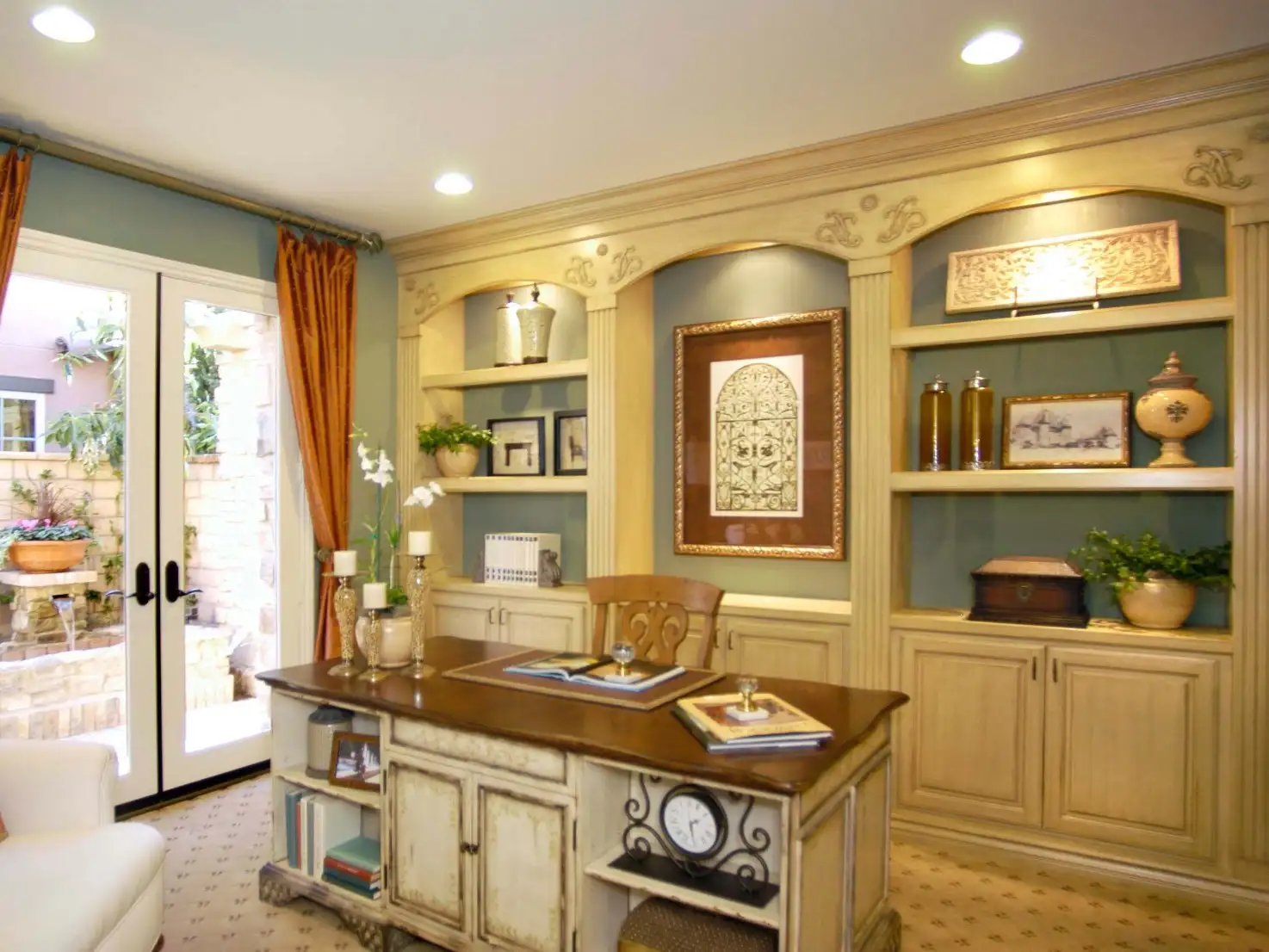 French Country Dining Room Décor
When you consider various dining tables, choose a large one with a waxed or low-sheen finish. Rectangular, round, or oval shapes fit with a French country style in the best way. Carved details and curved lines add elegant accents to a dining table and chairs.
An armoire is a significant element of a dining room decorated in a French country style. Such an old-fashioned closet organization option is the perfect functional storage for tableware sets, pots, and pans. Bon appetit!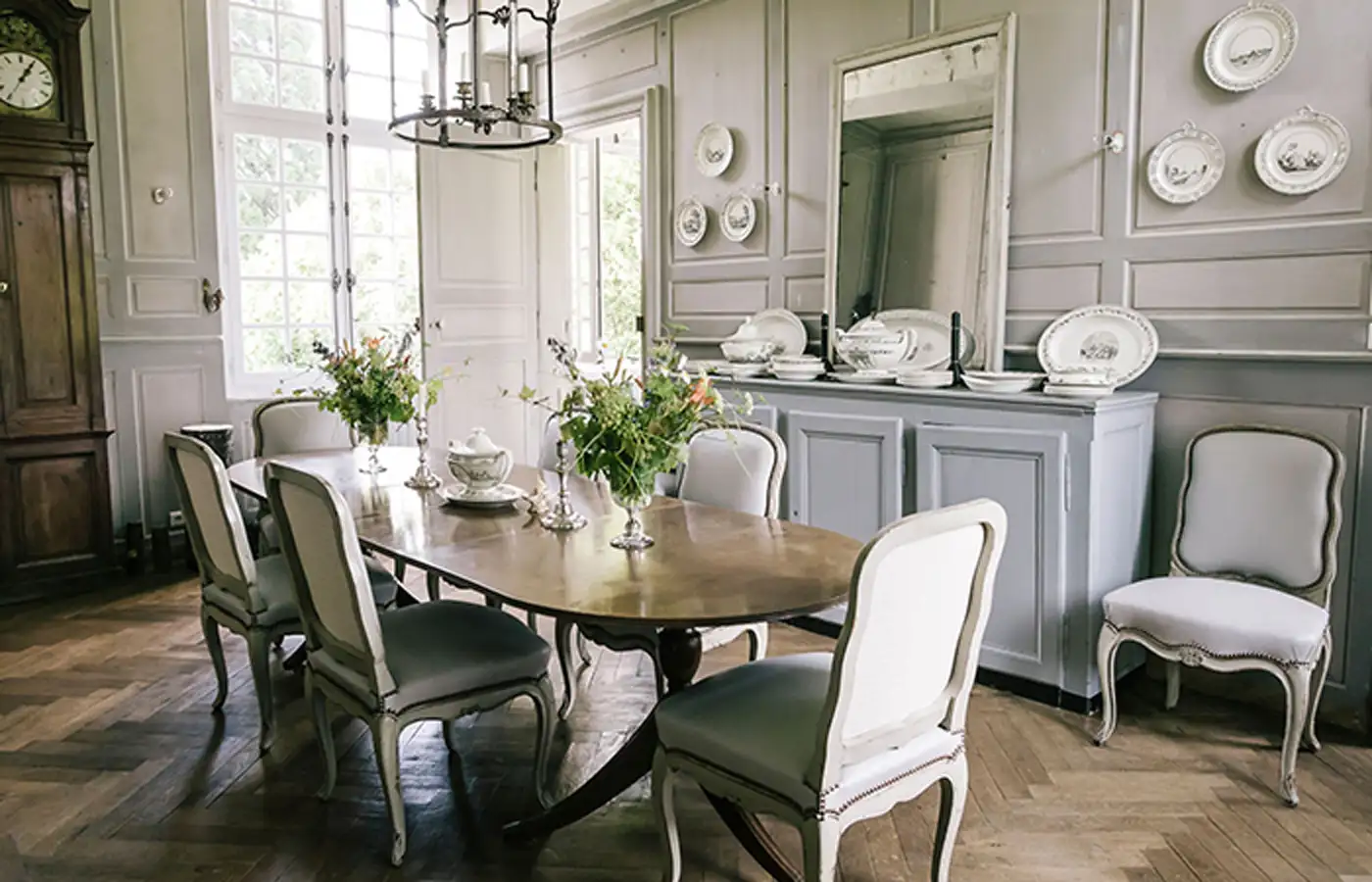 French Country Outdoors Décor
Spruce up your traditional backyard or/and front porch and create a French country relaxing space to get inspired by nature every day!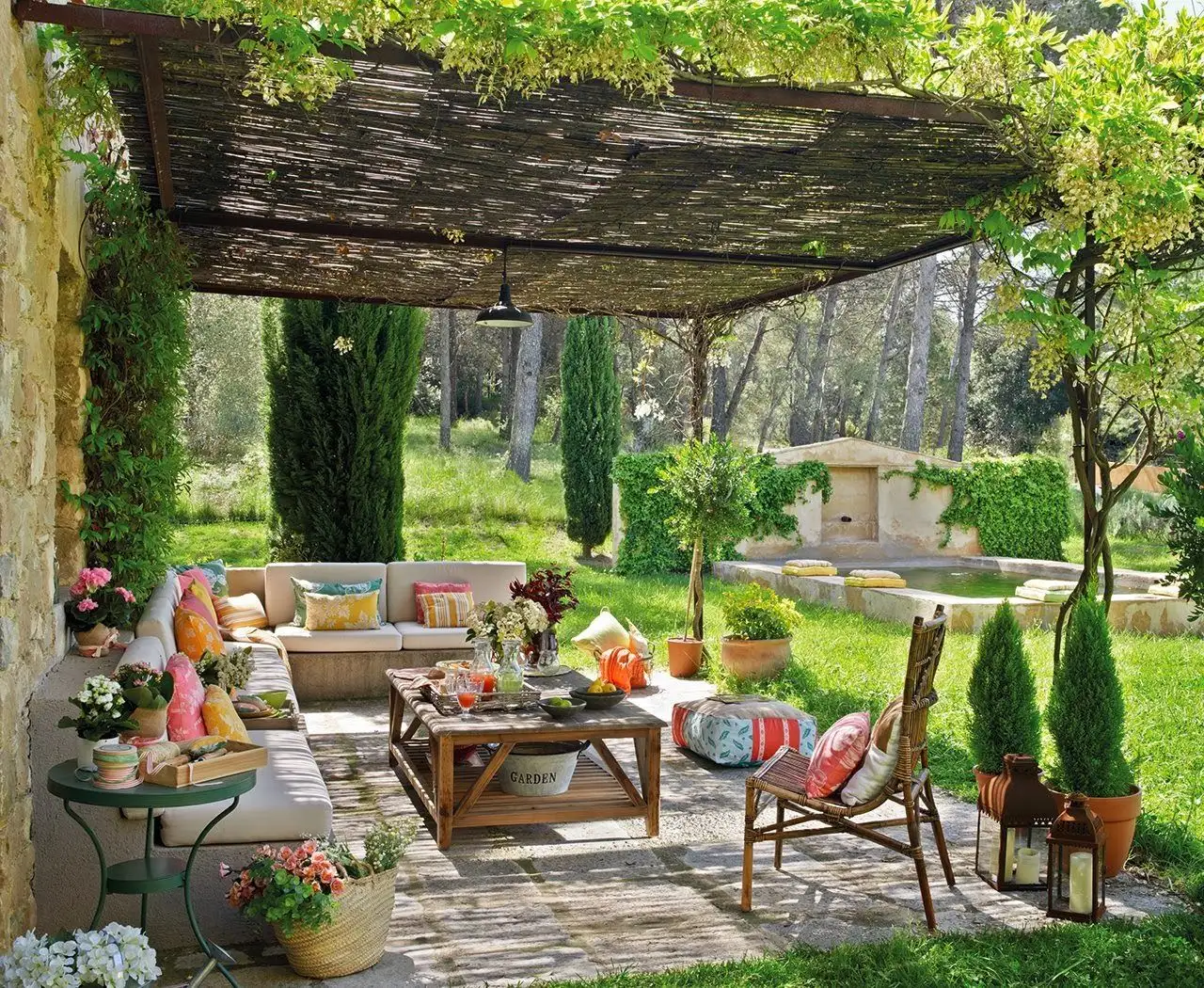 French Country Porch Décor
Make your porch a versatile outdoor place to host all your outdoor activities. Whether it is a cold rainy day or a wonderful sunny day, you have to organize an inviting area with lovely French accessories to enjoy your life! For furniture, place a set of rocking chairs, a vintage- or rustic-looking table, and stools. Of course, a French country style porch should be covered with a lot of flowers, such as lavenders, violets, or roses, and greenery including ivies and potted green plants.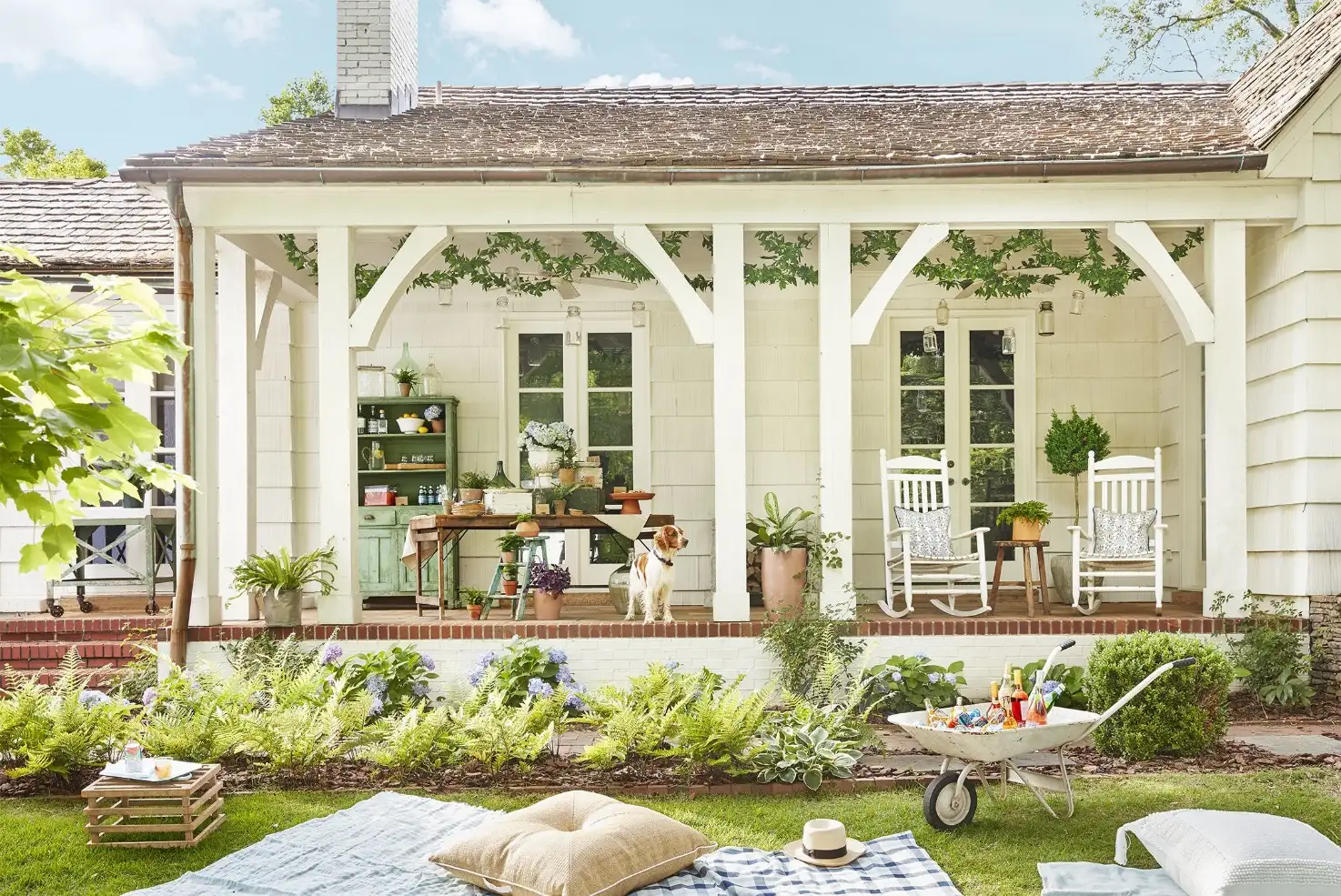 French Country Patio Décor
What could be better than relaxing on the patio? Only relaxing on your own elegant French country patio! Both green plants and bright flowers liven up a patio as well as a porch. Place a pair of rocking chairs of different sizes for you and your child, or for you and your pet if you prefer a furry companion and want to make outdoor space pet-friendly. Pay attention to magnificent French details. You could install vintage sconces, place a retro toy car, hang a welcoming wreath on the front door or/and aged horseshoe over it to catch good luck!