Modern Farmhouse Kitchen Ideas
To decorate your kitchen in a farmhouse style with modern accents, integrate rustic features. Don't be shy about using your personal signature to add character to your country house. It's all about:
warm feelings
vintage items
industrial-style lighting
painted cabinets
open shelving
plenty of wooden details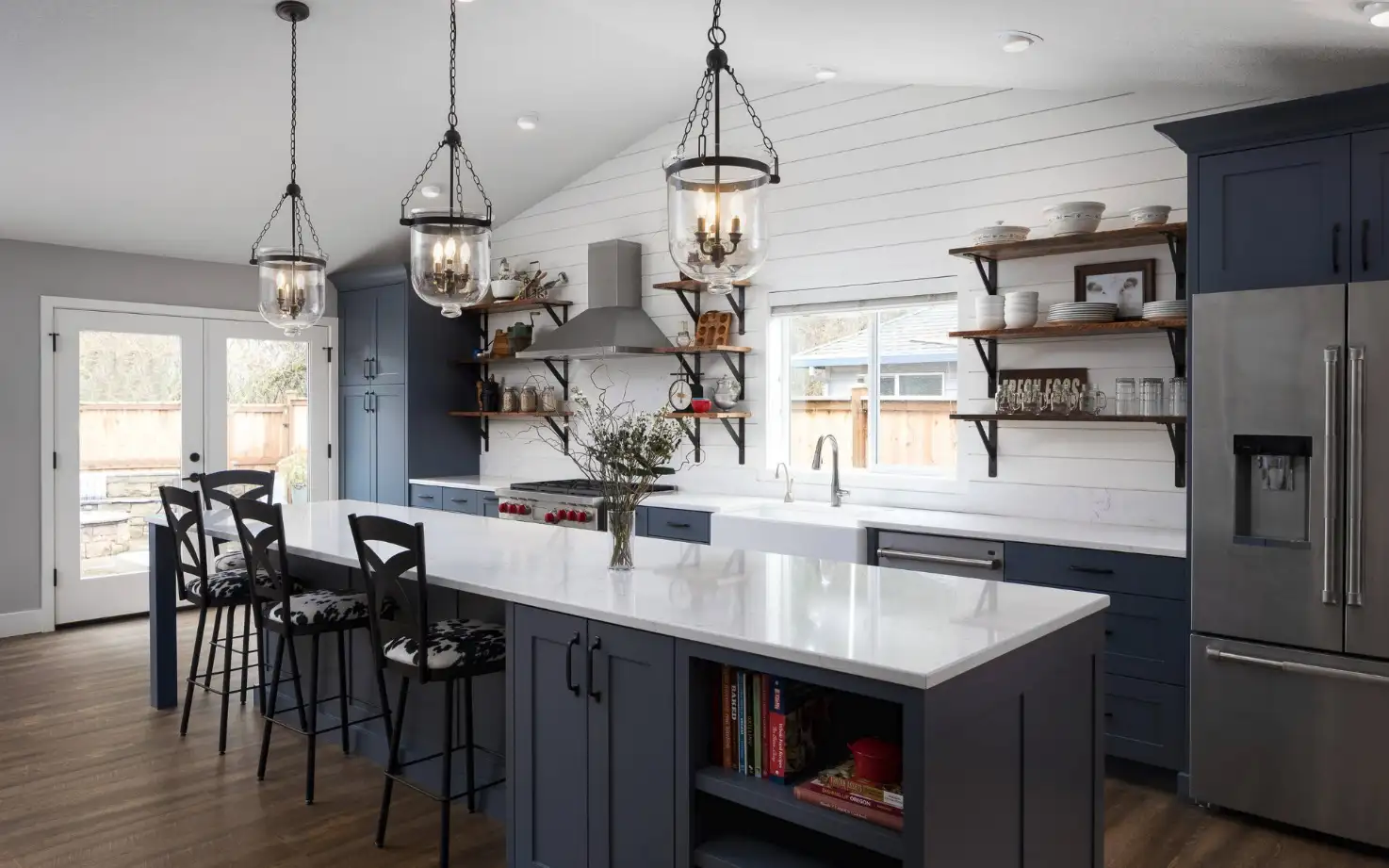 Organic Vibes
With an eco-friendly concept, you can bring farmhouse style to your kitchen. Think about using such elements:
exposed wooden beams
natural materials (cherry, oak, maple, and pine are common choices)
a bouquet of fresh flowers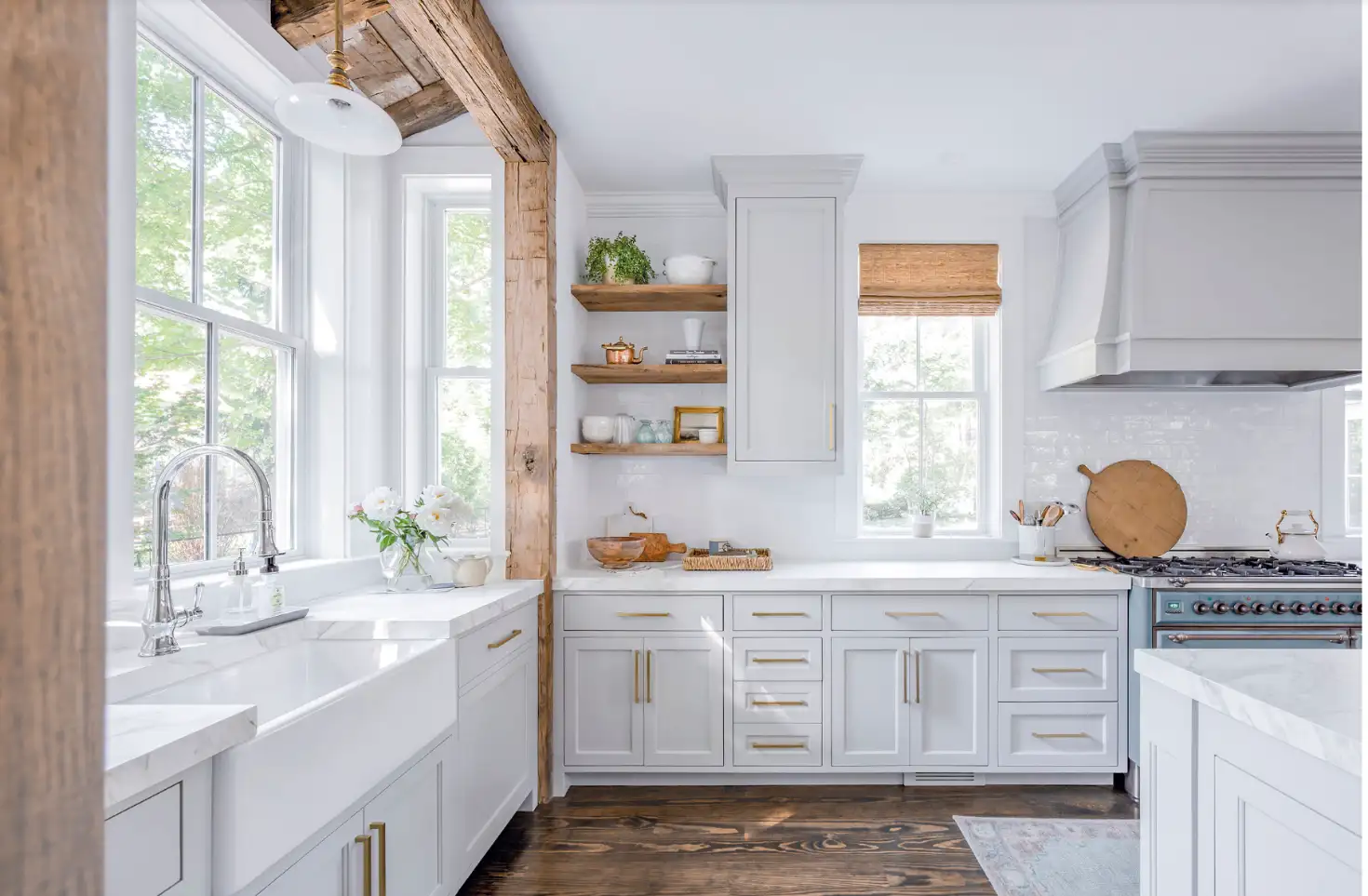 Green Plants
To bring a breath of fresh air to your kitchen, green plants are must-have. If you use plenty of them, your cooking space will be airy, with a magnificent atmosphere.
Stick with symmetry to emphasize the orderliness of your kitchen. Also, it's a great way to display your true personality inside your apartment.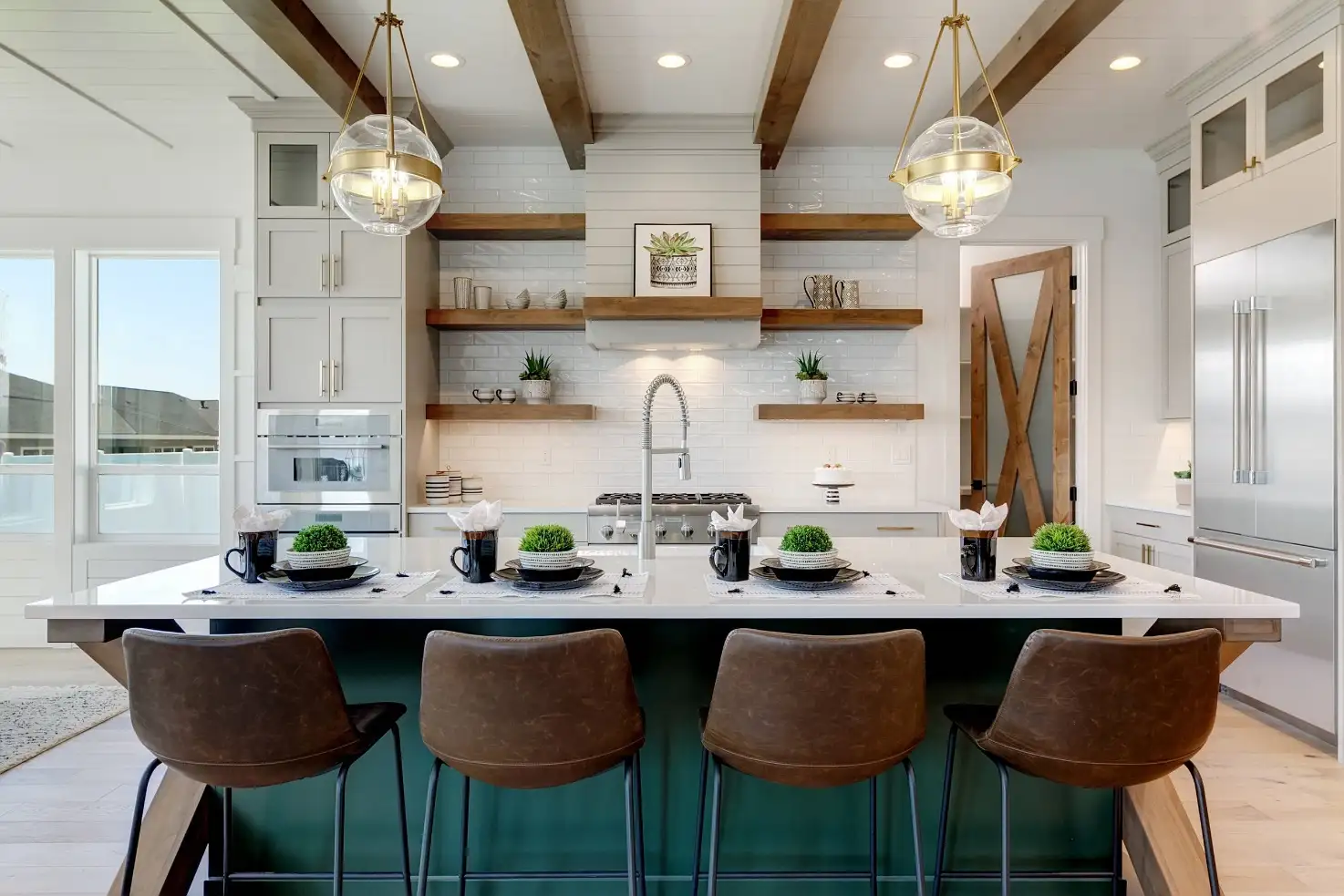 Sinks Are Important
Farm-style sinks are deep and large, with a wide basin to have enough space to wash family-size utensils and appliances. They are made of porcelain or stainless steel. A country sink can be modern or vintage. Either way, this stylish and functional device is a great option for the main focal point of the entire kitchen.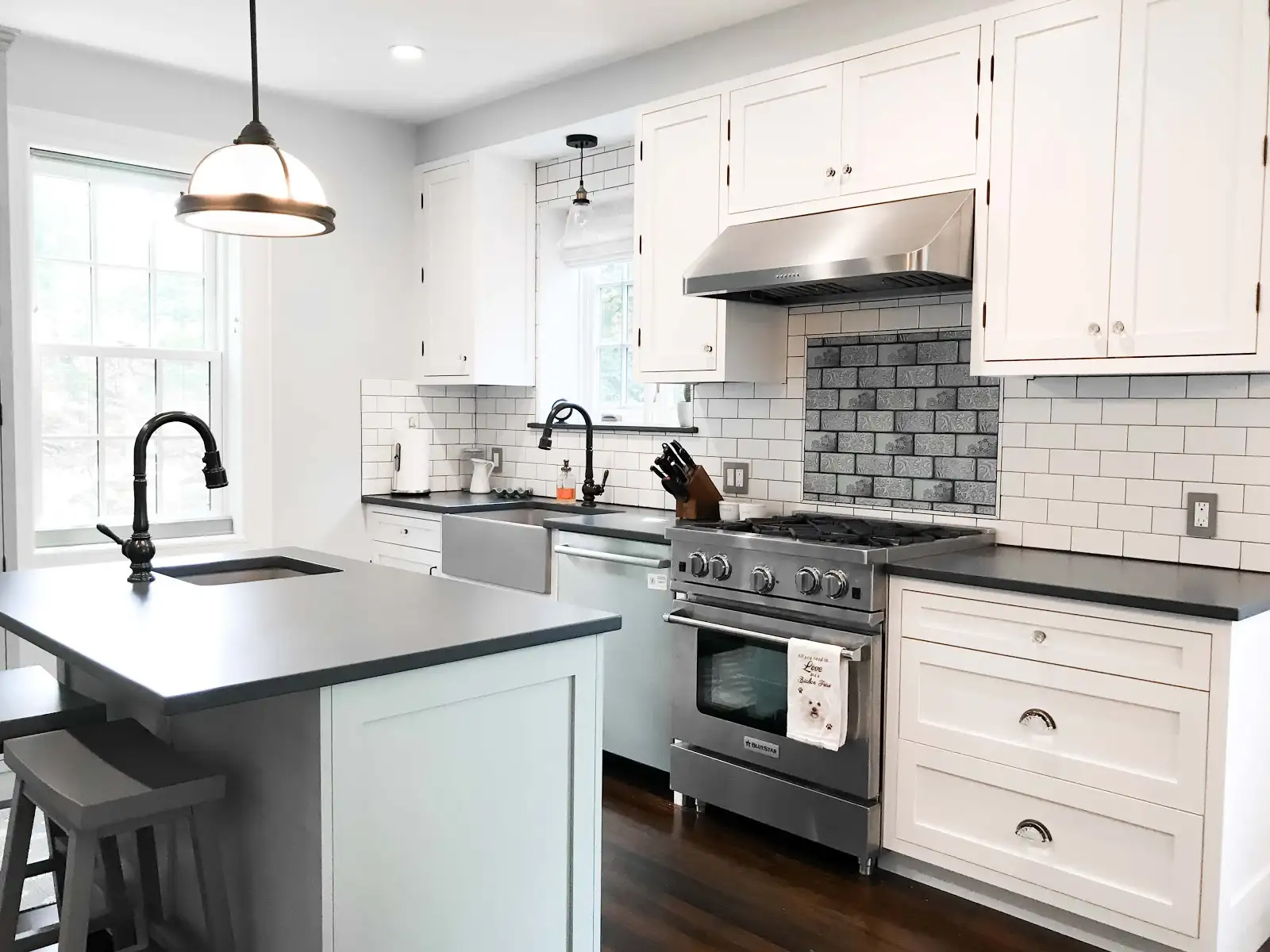 Lovely Kitchen Island
To display your cook books and other inspirational knick-knacks, choose a kitchen island with open shelves. Also, think about industrial lighting to complete the homey appearance of your kitchen.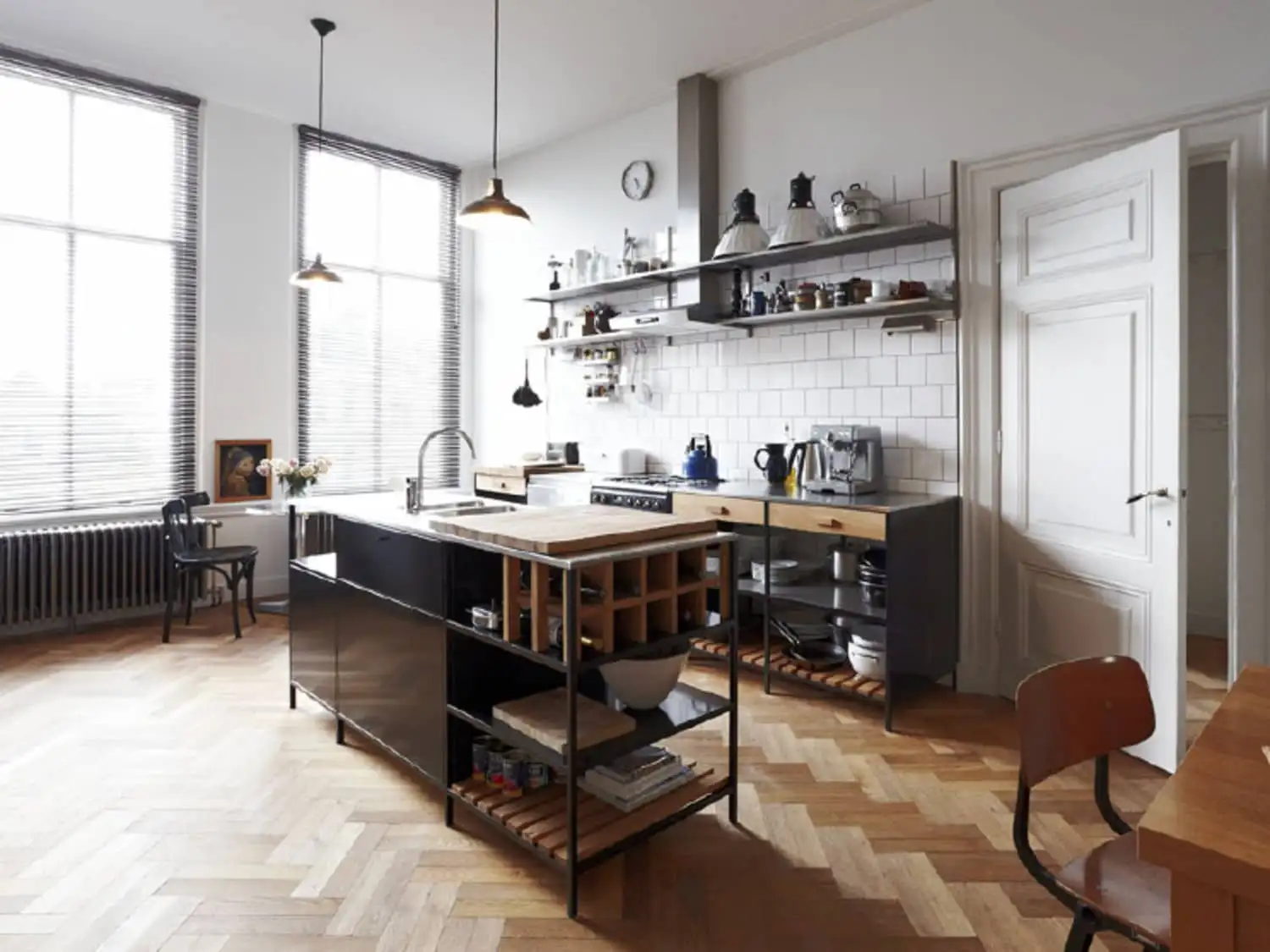 Modern Farmhouse Colors
When we talk about modern farmhouse colors, opt for black, white, and brown hues. This contemporary twist makes your kitchen décor stylish and glossy!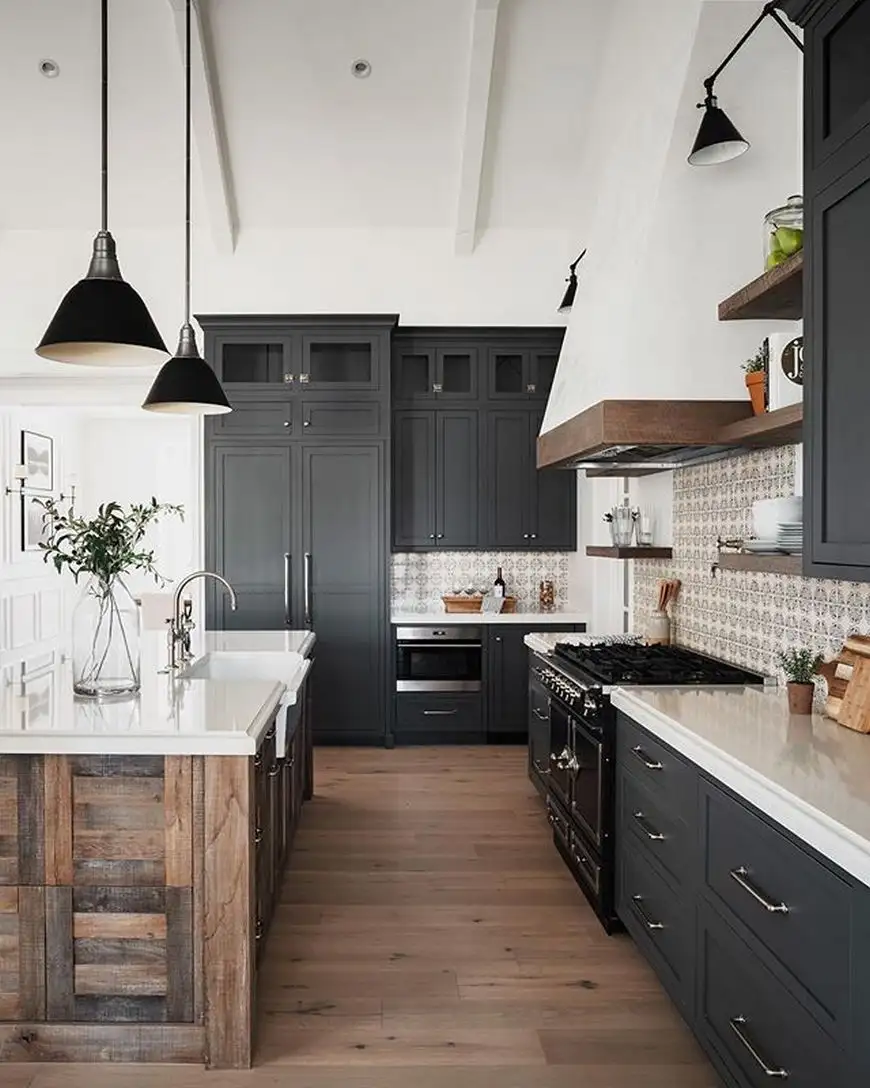 Nautical-Themed Kitchen Cabinet
To bring coastal-inspired touches to the kitchen of your dreams, purchase a blue cabinet. This nautical-themed detail makes your cooking space lovely, with a thoughtful character. If you rely on a soft blue palette, you'll imbue beach vibes to your kitchen. What could be better than to cook in a cozy ambience with vacation thoughts?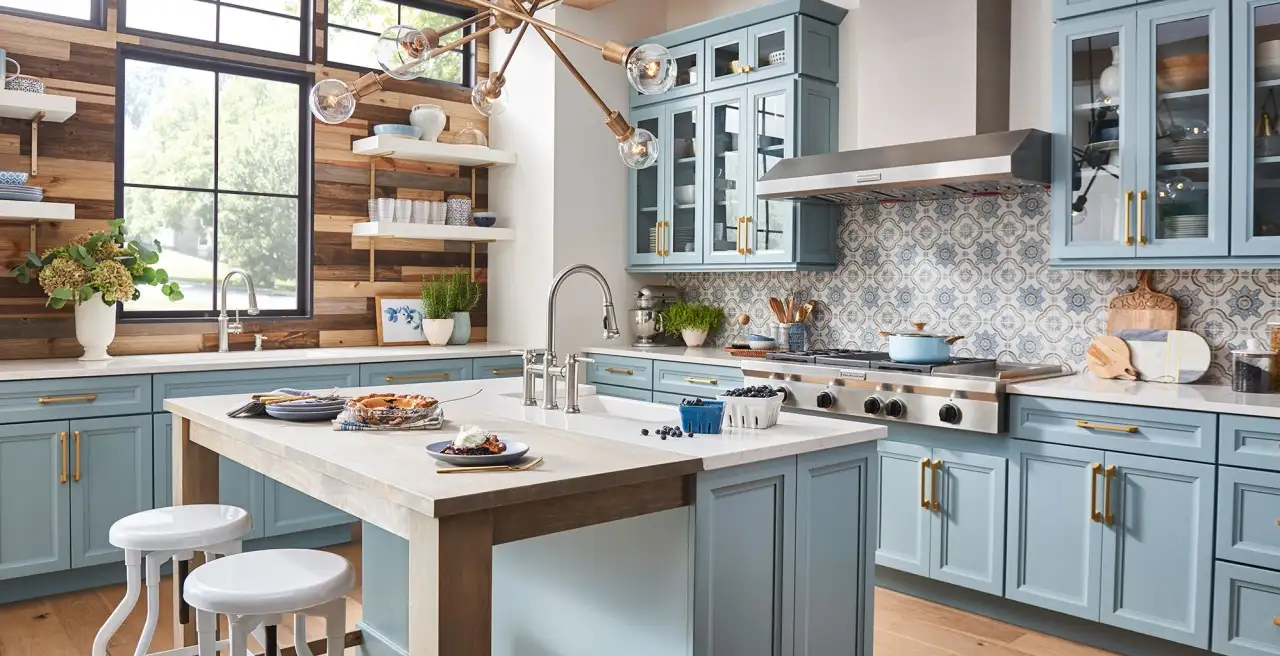 Blend Metals
Jazz up copper and stainless steel with distressed, vintage metals to emphasize the elegant character of your farmhouse kitchen. Such blends display how past can meet present in the most charming way.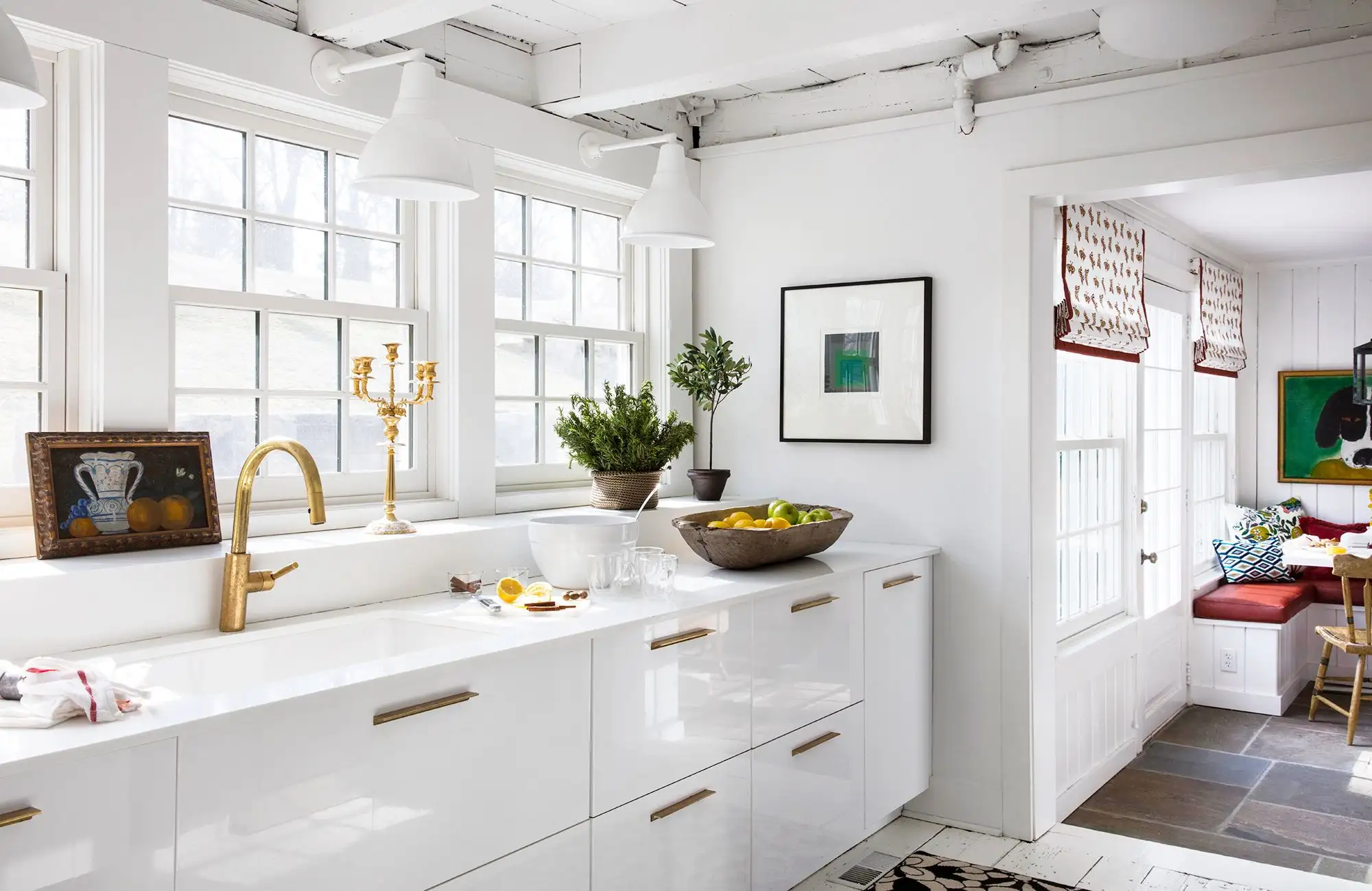 Minimalist Approach
Whether your kitchen is spacious or tiny, declutter your space and fill it with useful kitchen appliances and utensils. With a minimalist concept, it's an easy task! Keep in mind the minimalist principle "less is more" and simplify your farmhouse kitchen.
Organize your cooking space in the most functional way to feel the pure aesthetics of simplicity. It's truly graceful!
Wooden Details
Wooden elements are functional and attractive. Exposed beams, a range hood, and a wooden kitchen island bring warmth to your cooking space.
Exposed wooden beams are the rustic elements which can add a charming flair to any kitchen. If you use them, you'll maintain the beauty of country aesthetics.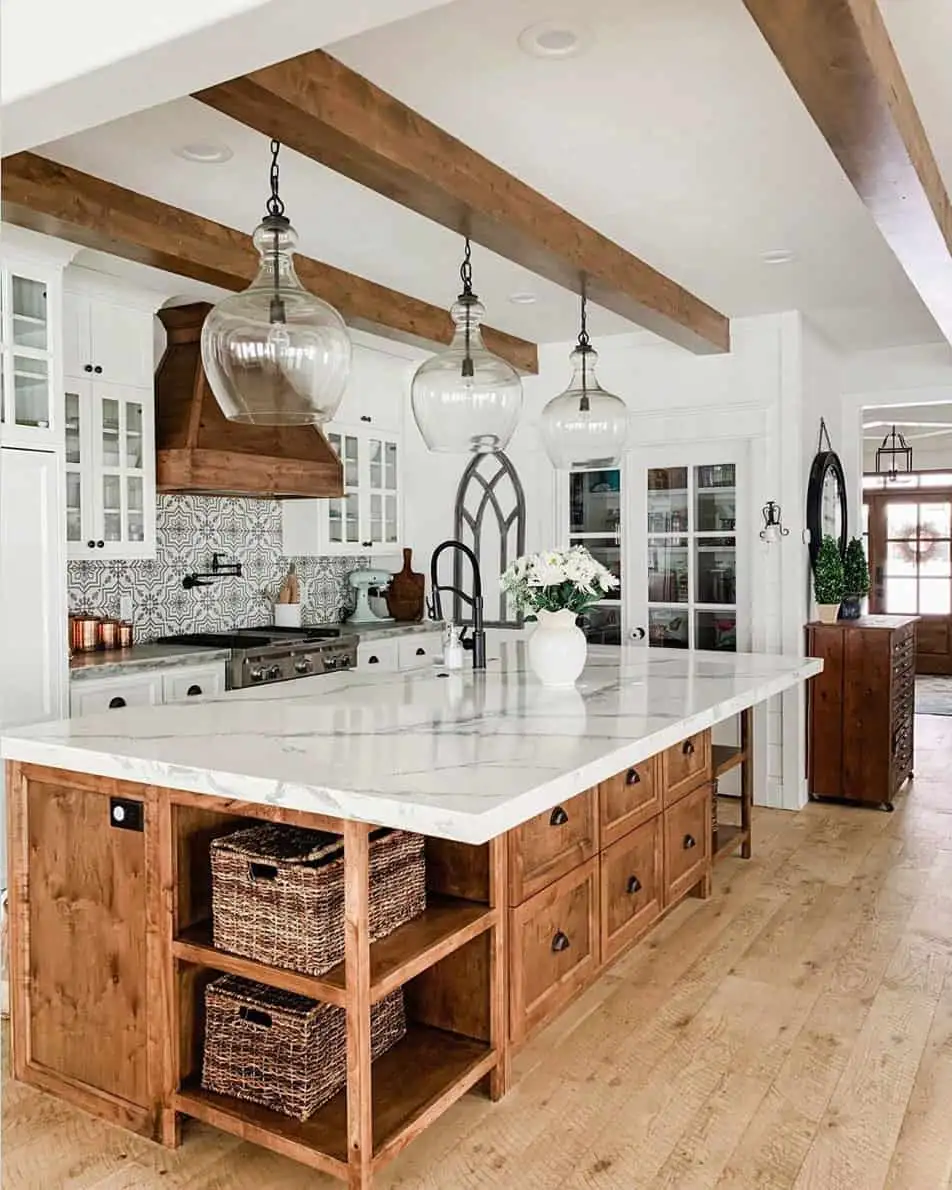 A wooden range hood emphasizes the character of your kitchen. It can add drama to your cooking space.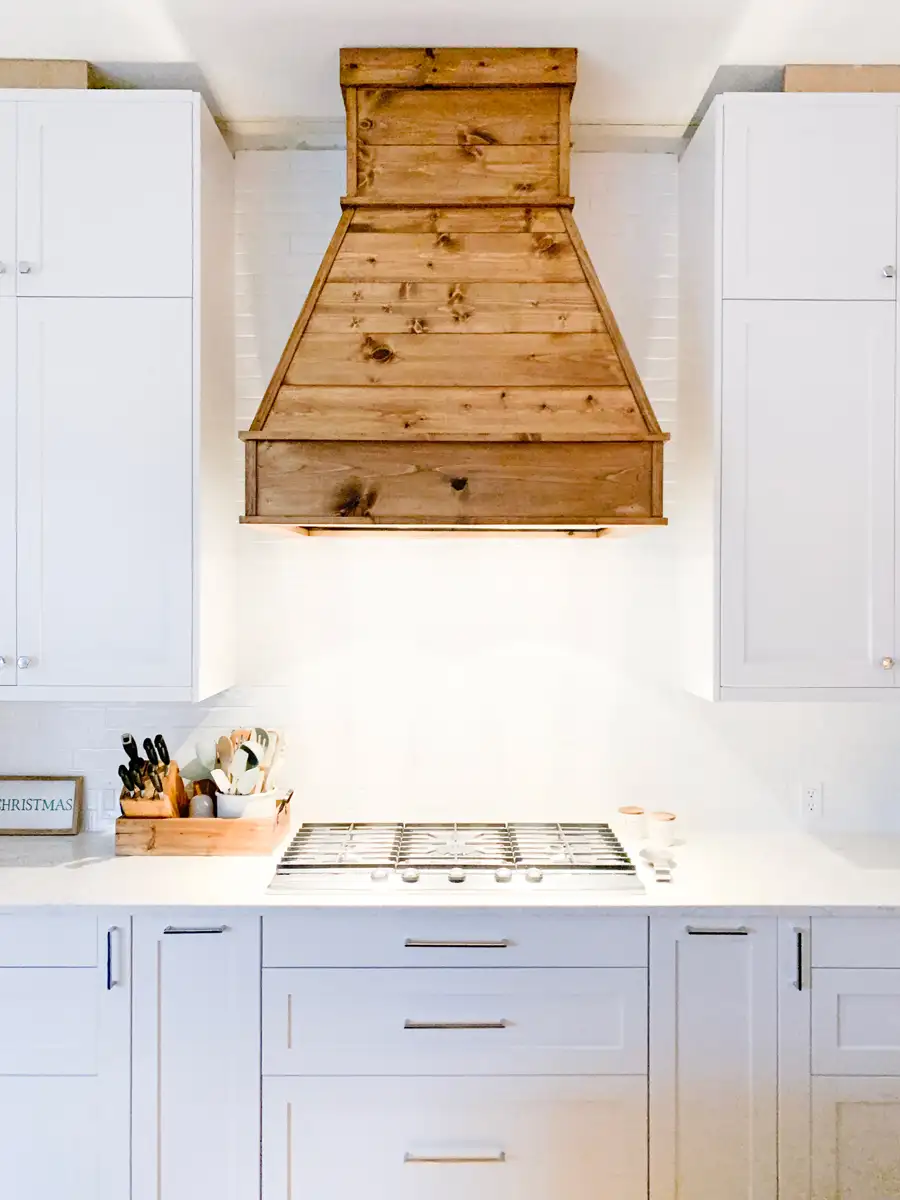 Copper Industrial Touches
To illustrate a robust industrial spirit, use copper elements inside your kitchen. A copper sink and copper lighting are a great combination to make your modern farmhouse cooking space look powerful.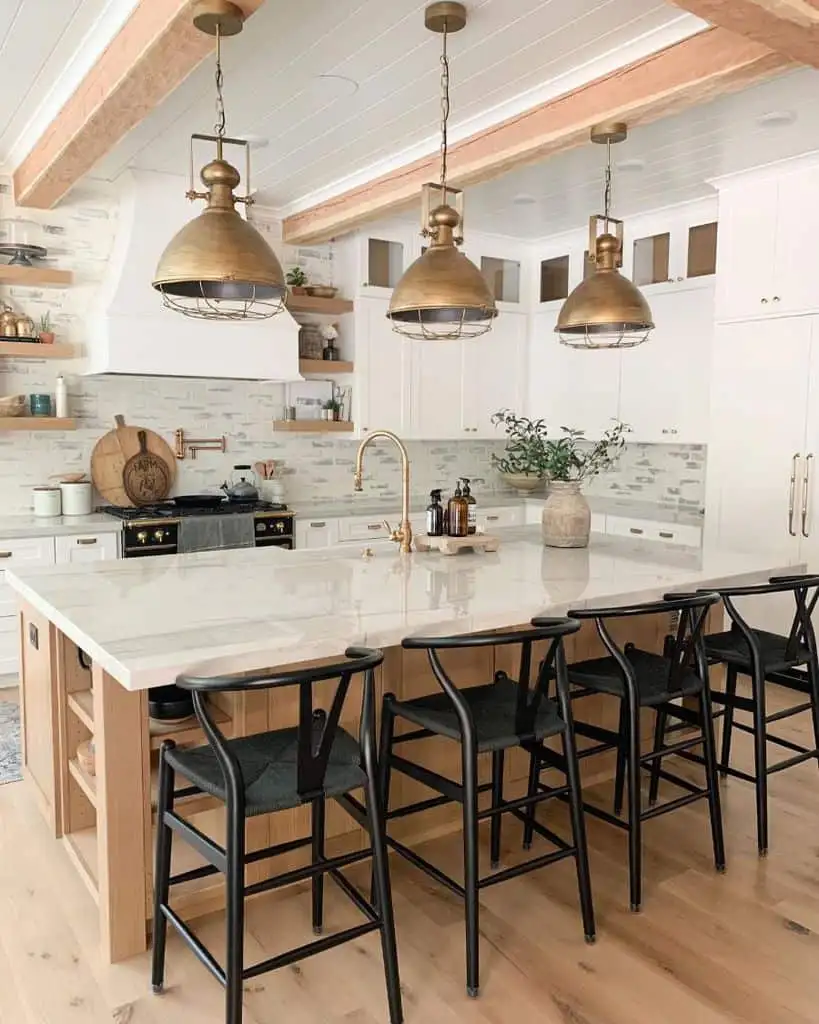 Choose A Bright Kitchen Cabinet
To spruce up your kitchen, think about purchasing or painting existing kitchen cabinets in a bold hue. For instance, yellow is a great choice to make your space sunny and welcoming!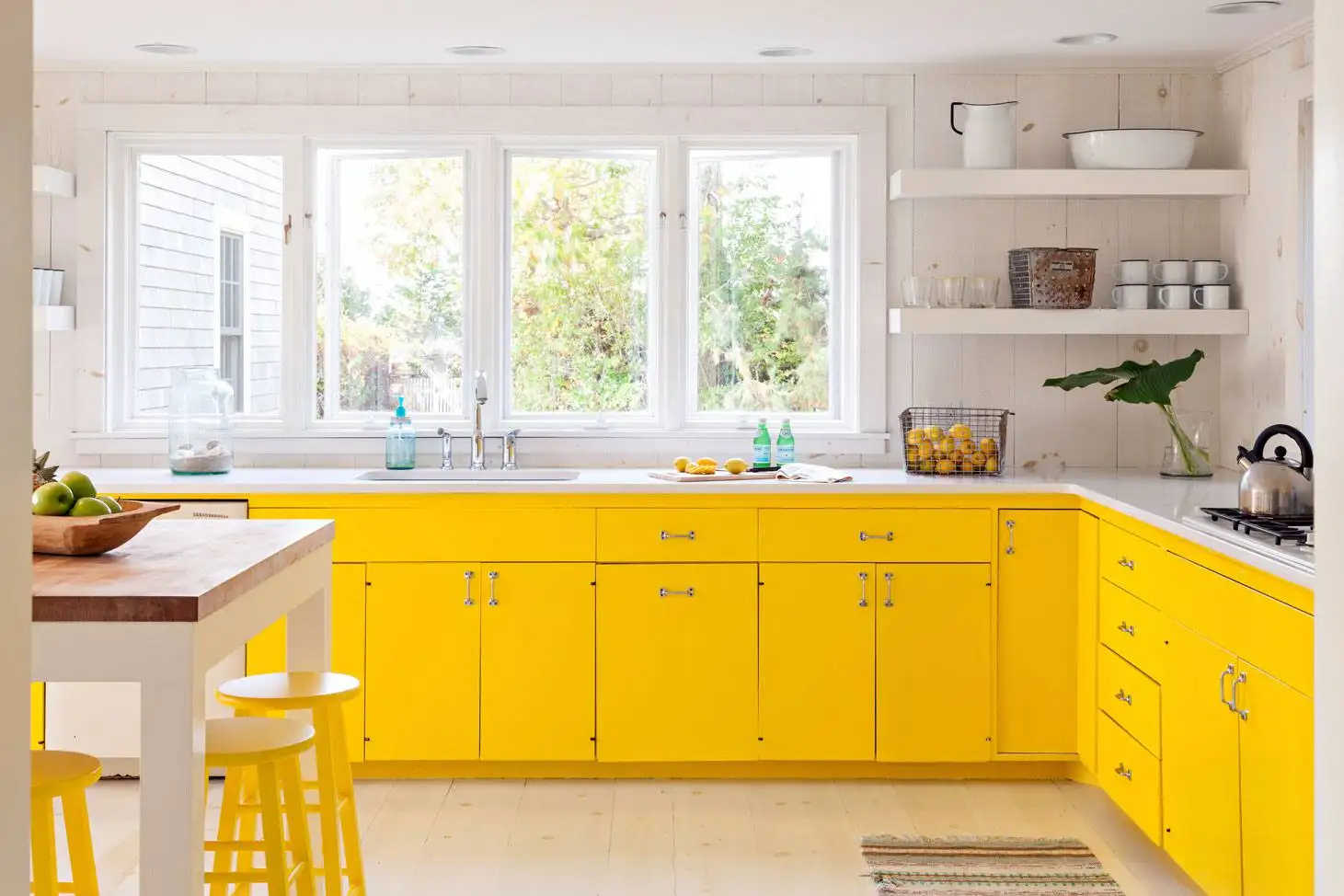 Welcoming Look
Details make your modern farmhouse interior inviting. When you consider various elements to add these details to your modern kitchen, think about:
porcelain dinnerware
graceful vases
Scandinavian-inspired plaid
elegant chandeliers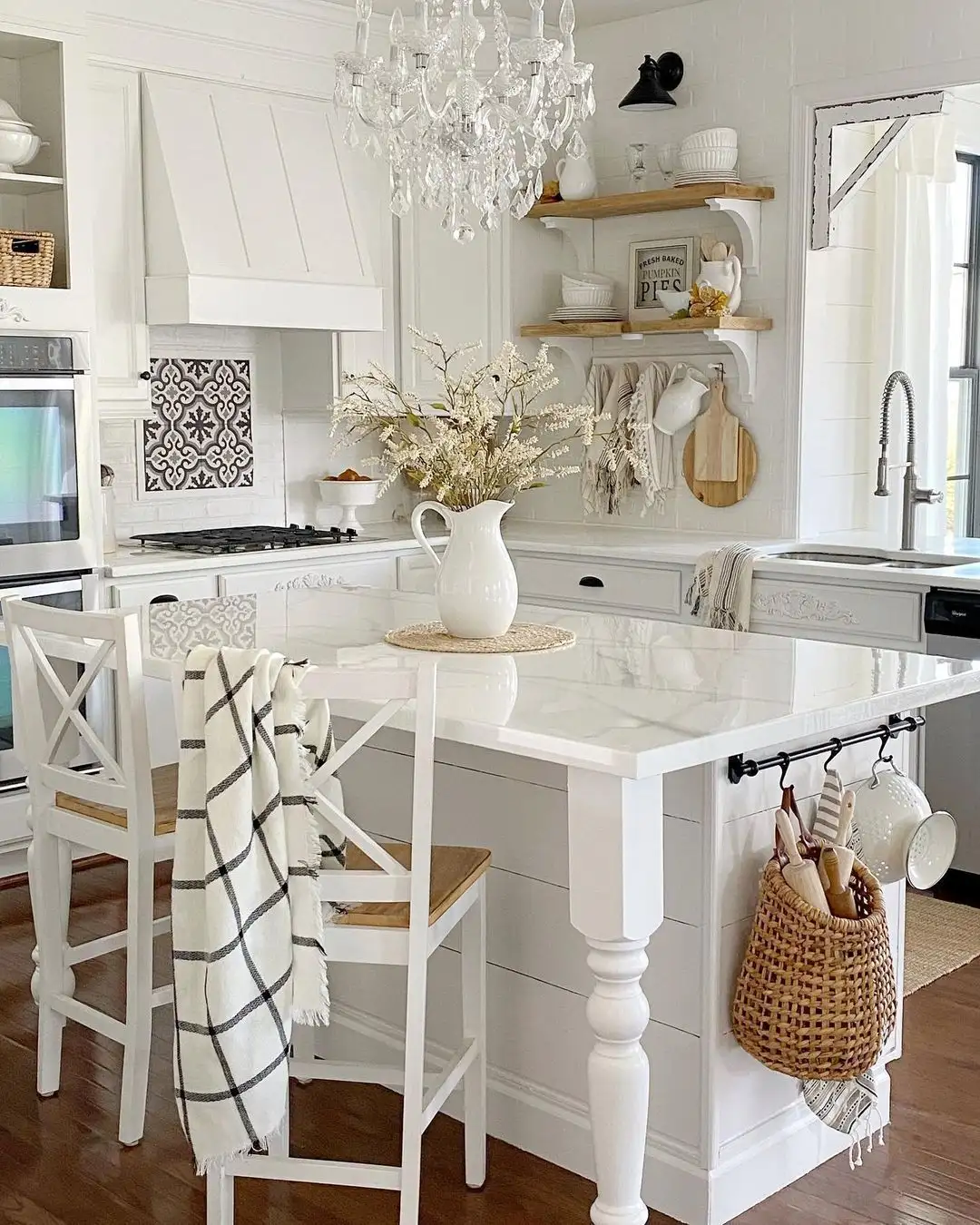 Patterned Floor Tiles
To add an exotic flair to your modern farmhouse kitchen, use patterned floor tiles. This colorful solution makes your cooking interiors more attractive and pleasant.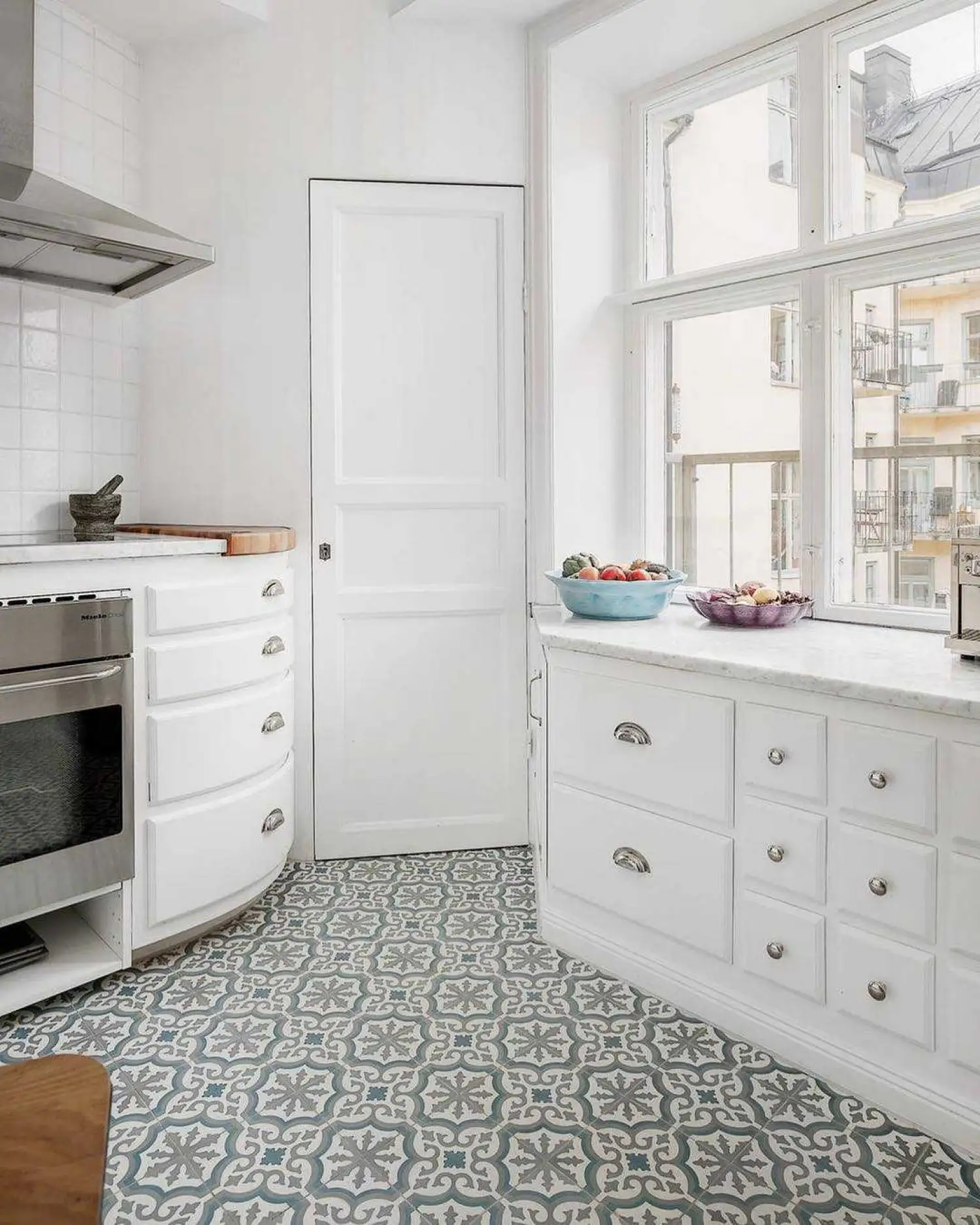 Use Wall Art
Cover your walls with pictures or photos to liven up your modern farmhouse kitchen. For instance, black and white motifs add a charming touch to your cooking space.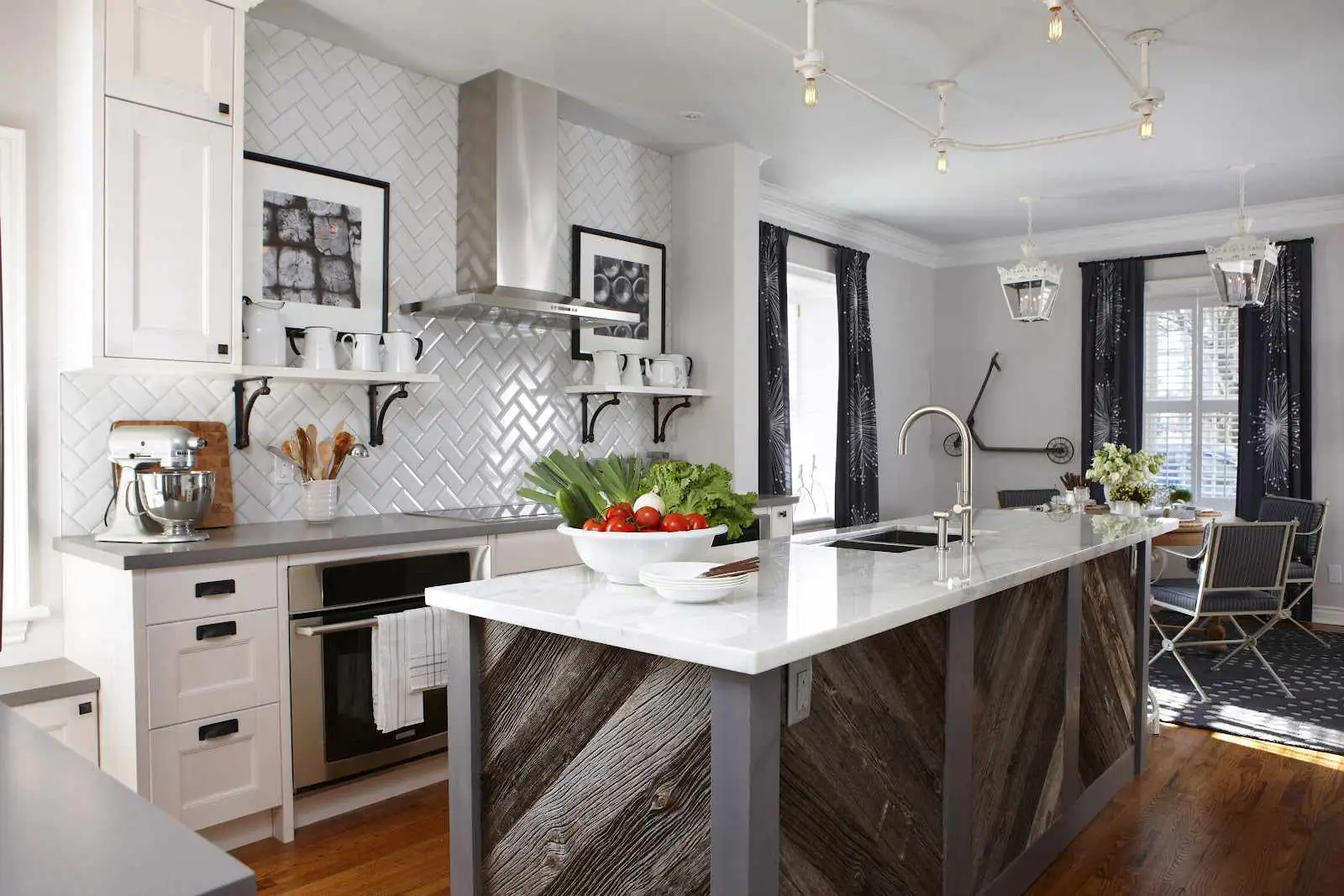 Subway Tiles
To imbue urban vibes and make your kitchen more casual, use ceramic subway tiles. They fit well with modern farmhouse style and complete the lovely appearance of your cooking space.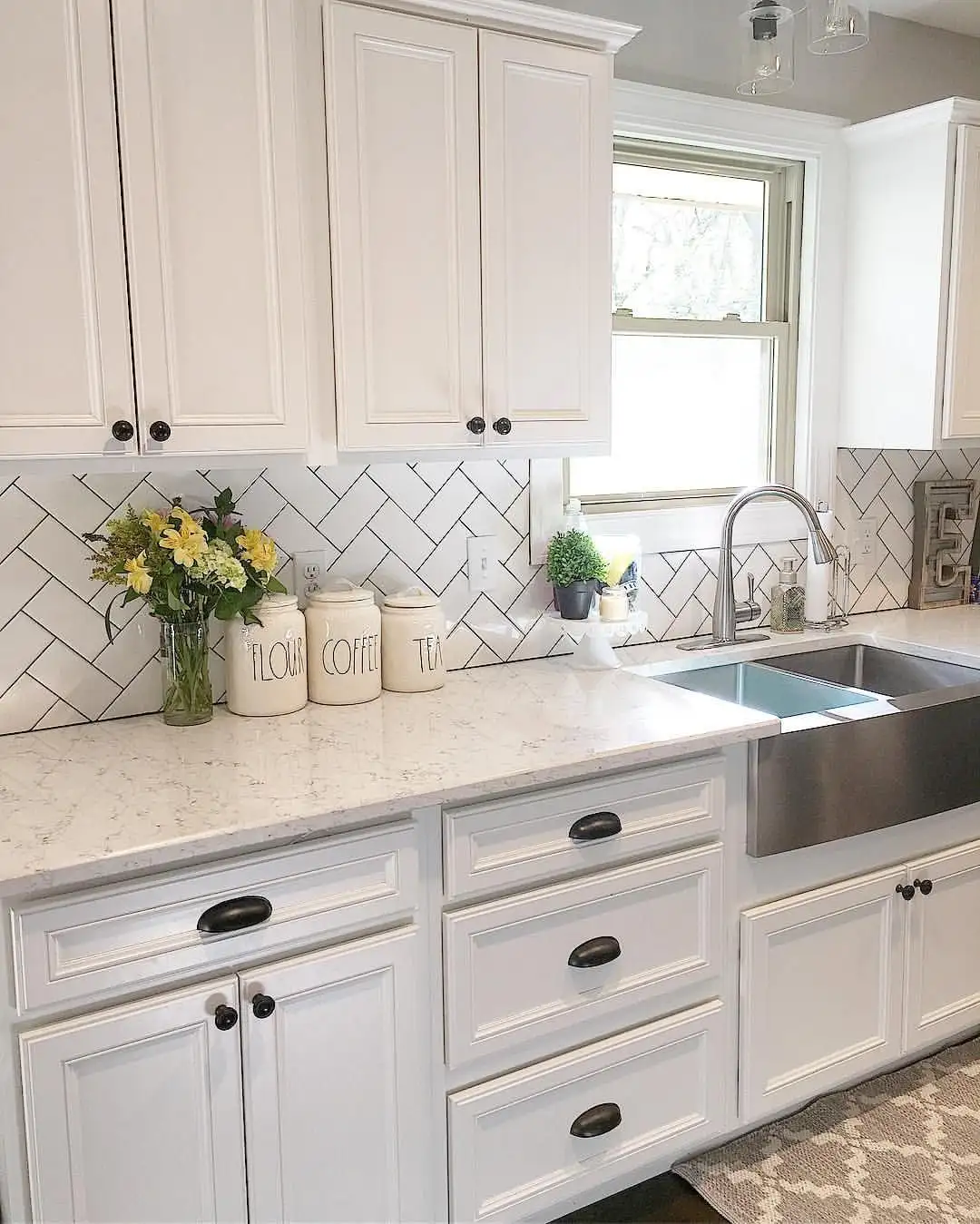 Sleek Look
With modern appliances and utensils, it's easy to create a sleek, chic kitchen. You can add vintage accents to emphasize the timeless character of your kitchen design.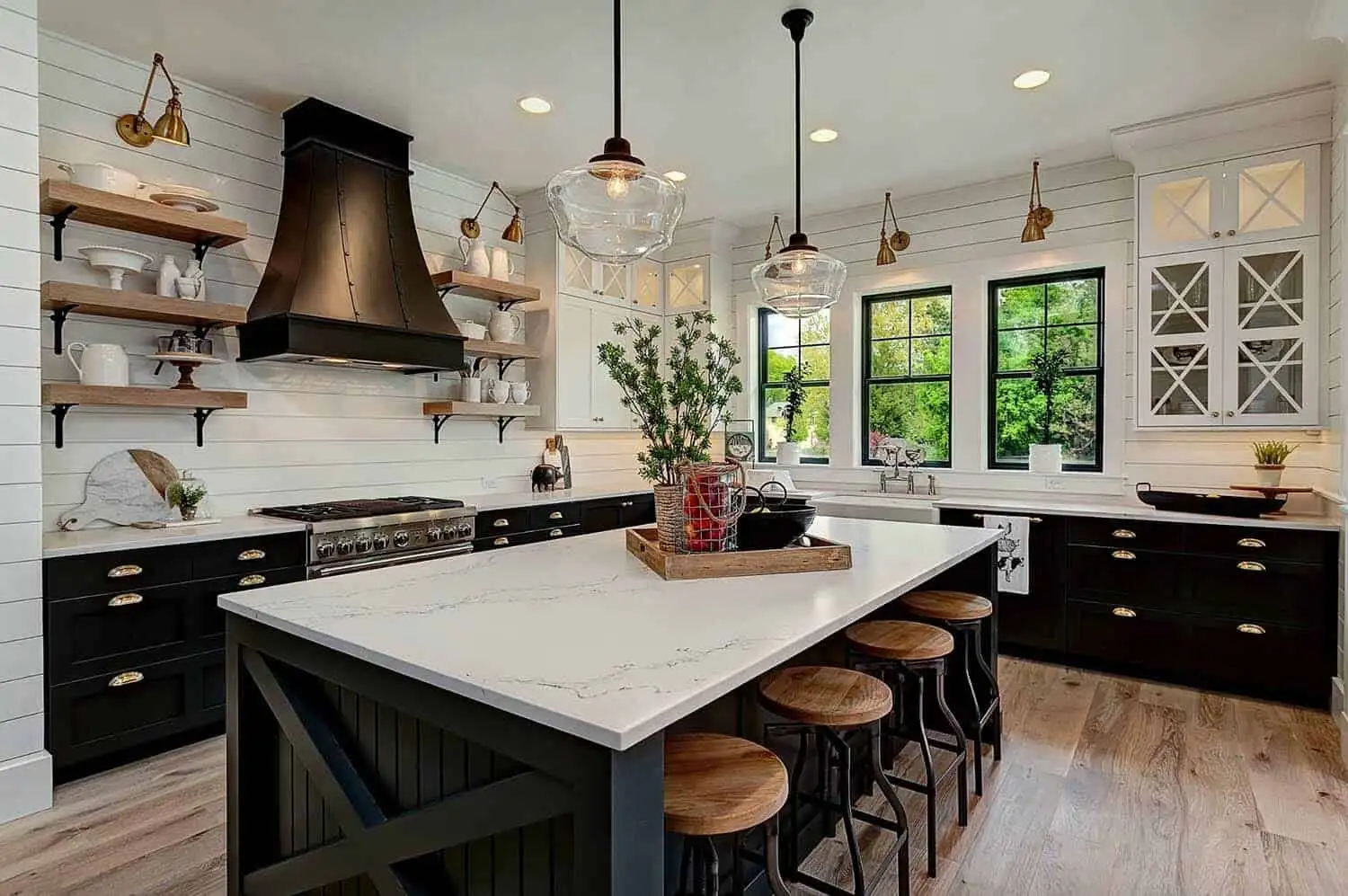 Vintage Table
Integrate a well-loved, old-world table into your modern farmhouse kitchen to make it even more charming. Also, that's a great way to create the main focal point of the entire cooking space.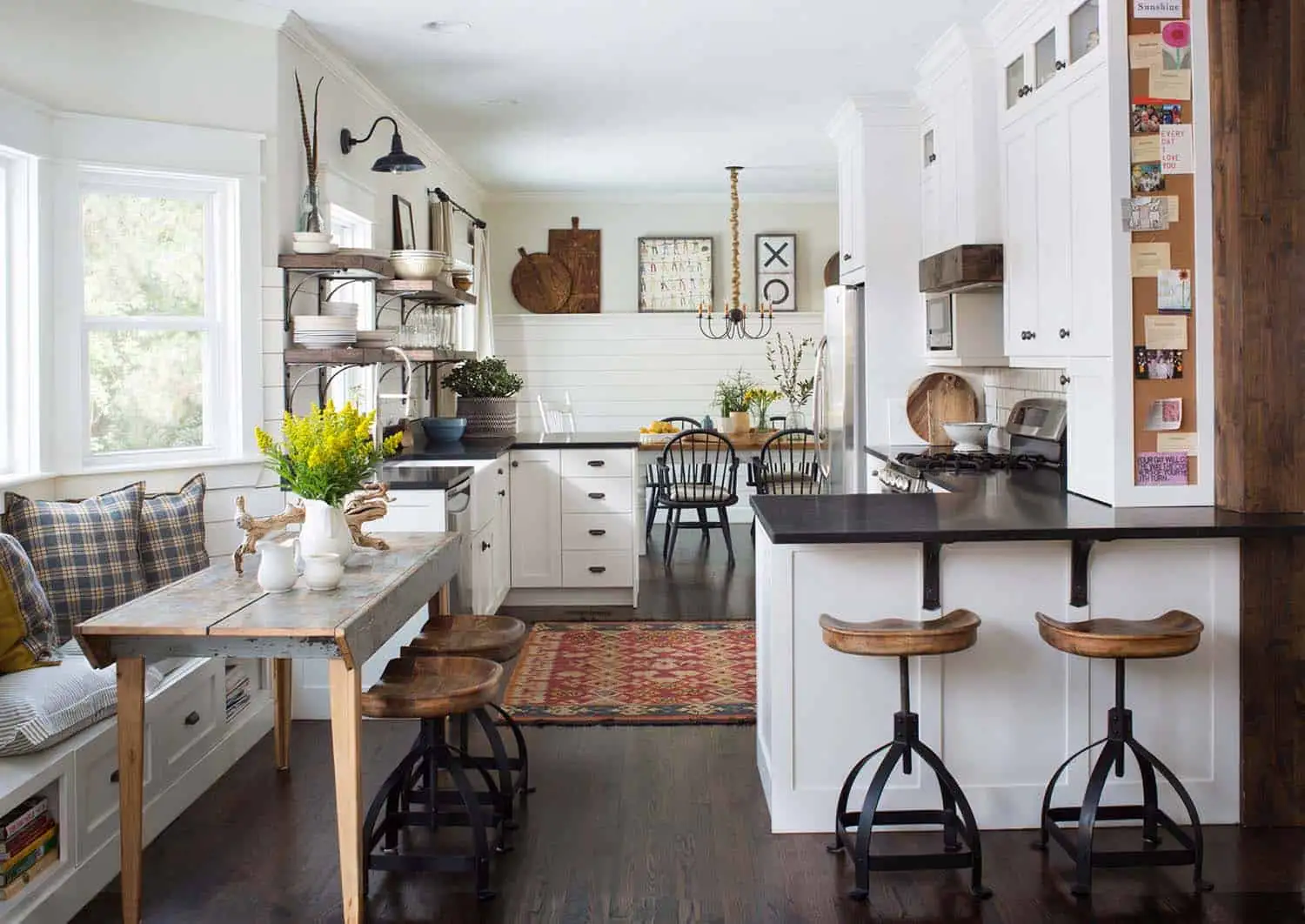 Old-World Kitchen Cabinet
To give a farmhouse kitchen old-fashioned appeal, think about installing a vintage cabinet. If you choose a wooden option, you make your interior more earth-friendly.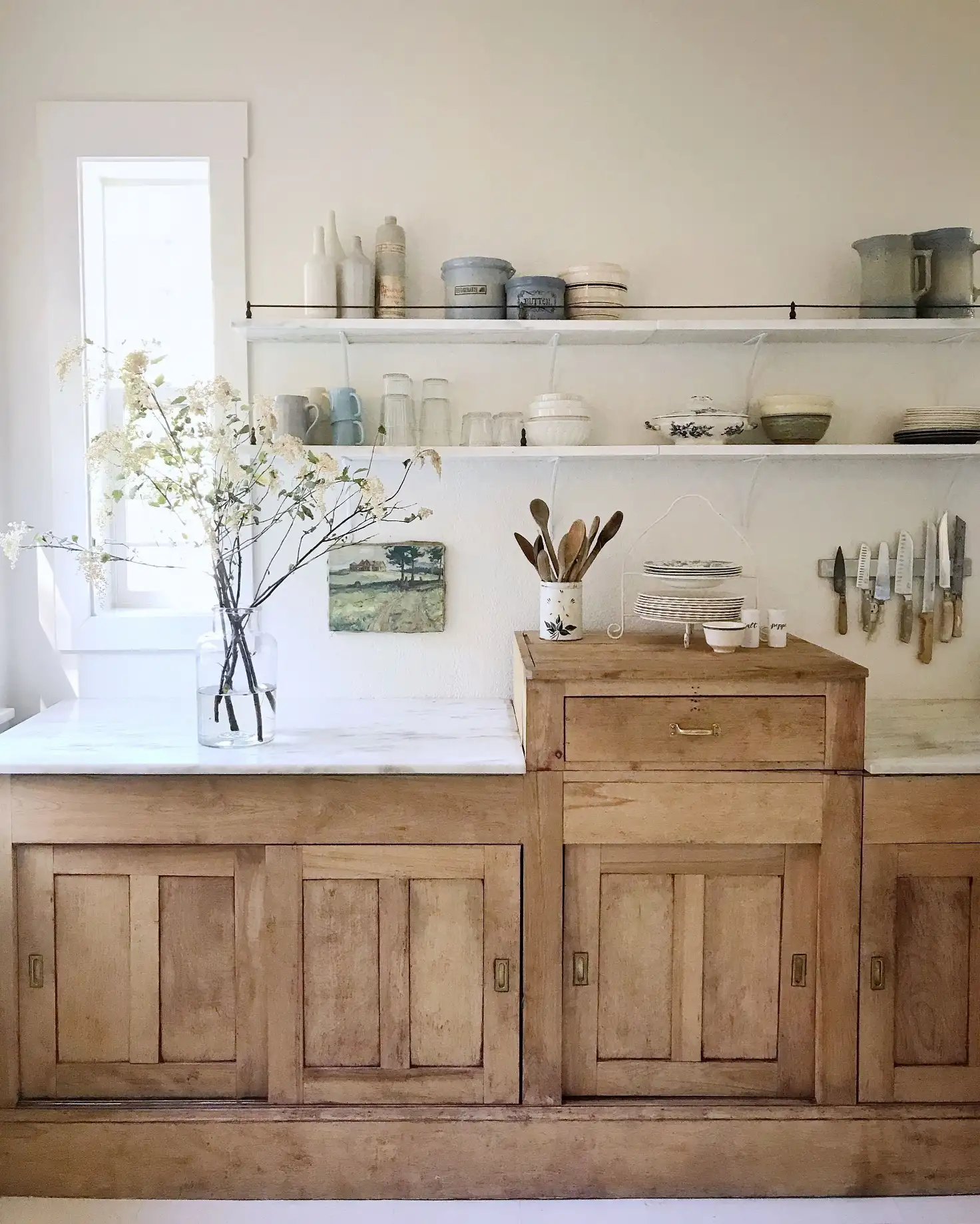 Scandinavian Touch
Open shelving, a minimalist approach, and a monotone scheme gives your farmhouse kitchen a modern look with a crisp Scandinavian edge. With this Nordic twist, you'll feel free and light inside your cooking space.
Stylish Scones
New farmhouse sconces in a modern style give a pleasant feel to your kitchen. Think about black options to make your cooking interiors elegant.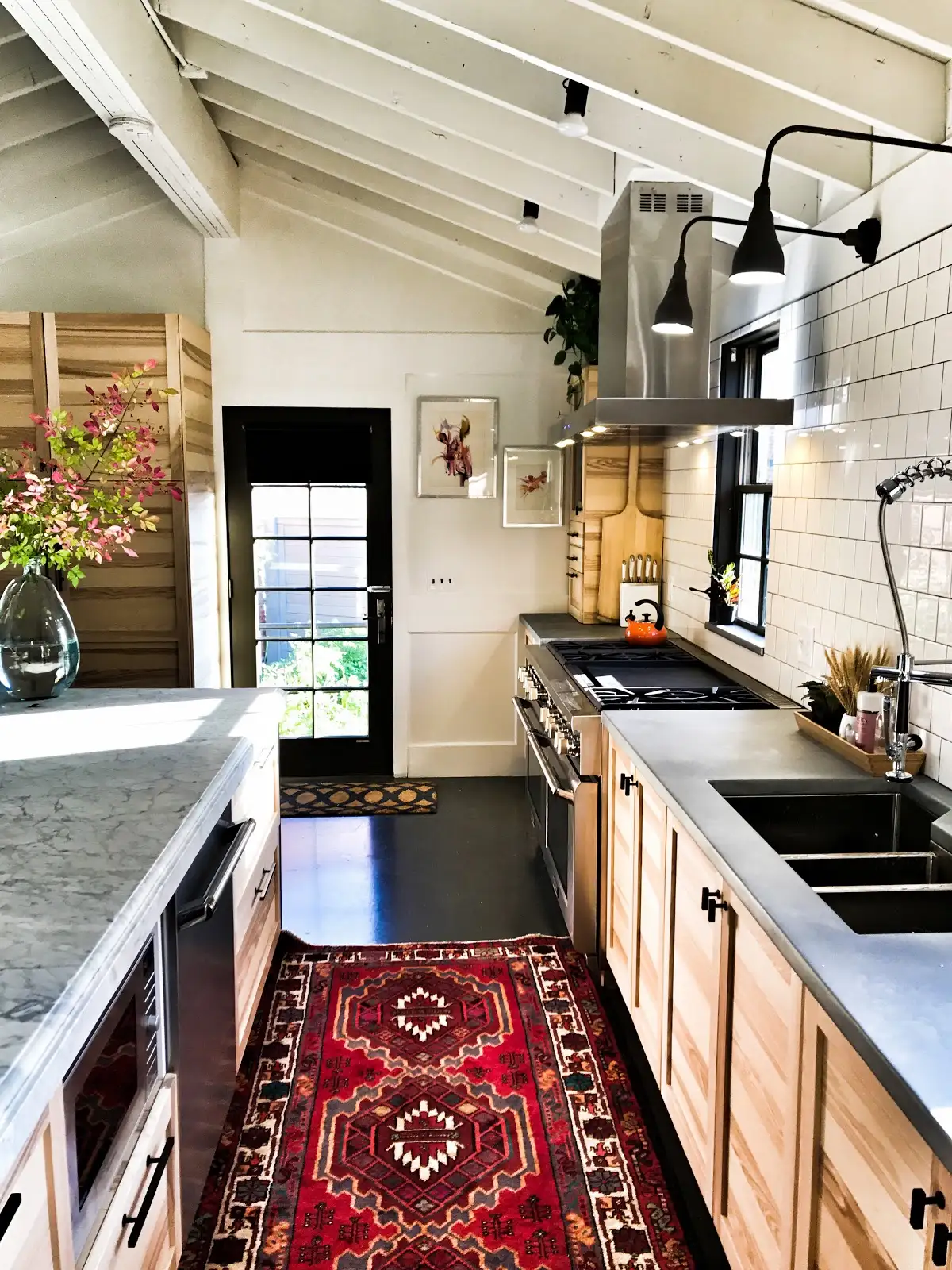 Butcher Block Island
When we talk about farm-styled elements, a butcher block island is a must-have. It brings rural vibes to your farmhouse kitchen with a modern flair.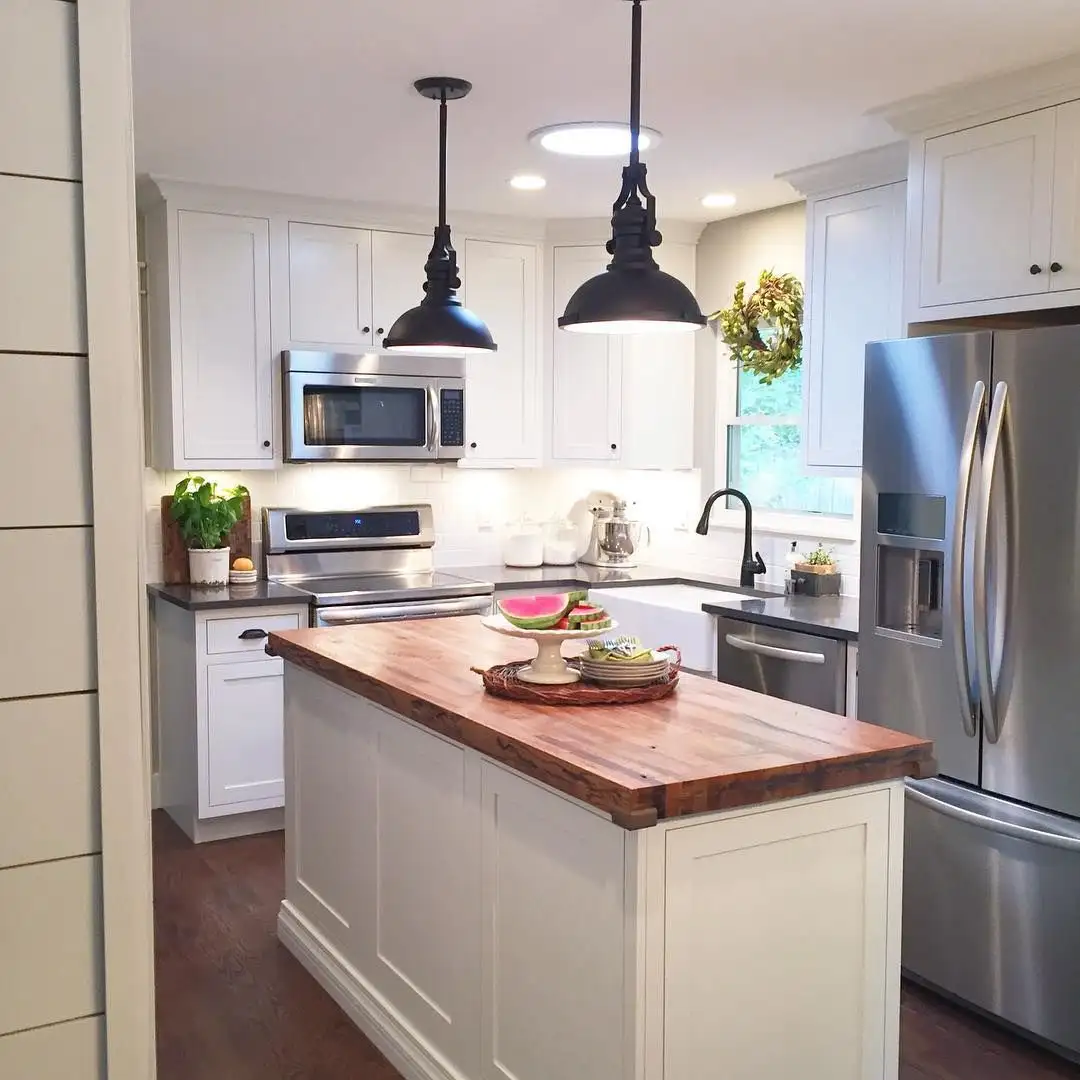 Large Kitchen
If you're lucky enough to have enough space to organize the kitchen of your dreams, don't be shy about doing it! A large kitchen island, a capacious cabinet, and plenty of space to relax are the details which can make your space comfortable and multi-functional.
Remember that a window seat within a large kitchen is the great place for guests to relax when entertaining, reading, and enjoying the view. Think about plenty of accent pillows on the bench to create dramatic interest inside your kitchen.