Spacious Loft Decorating Ideas
A loft is a modern urban style defined by an open-floor plan without almost any internal walls, except the walls separating a bathroom.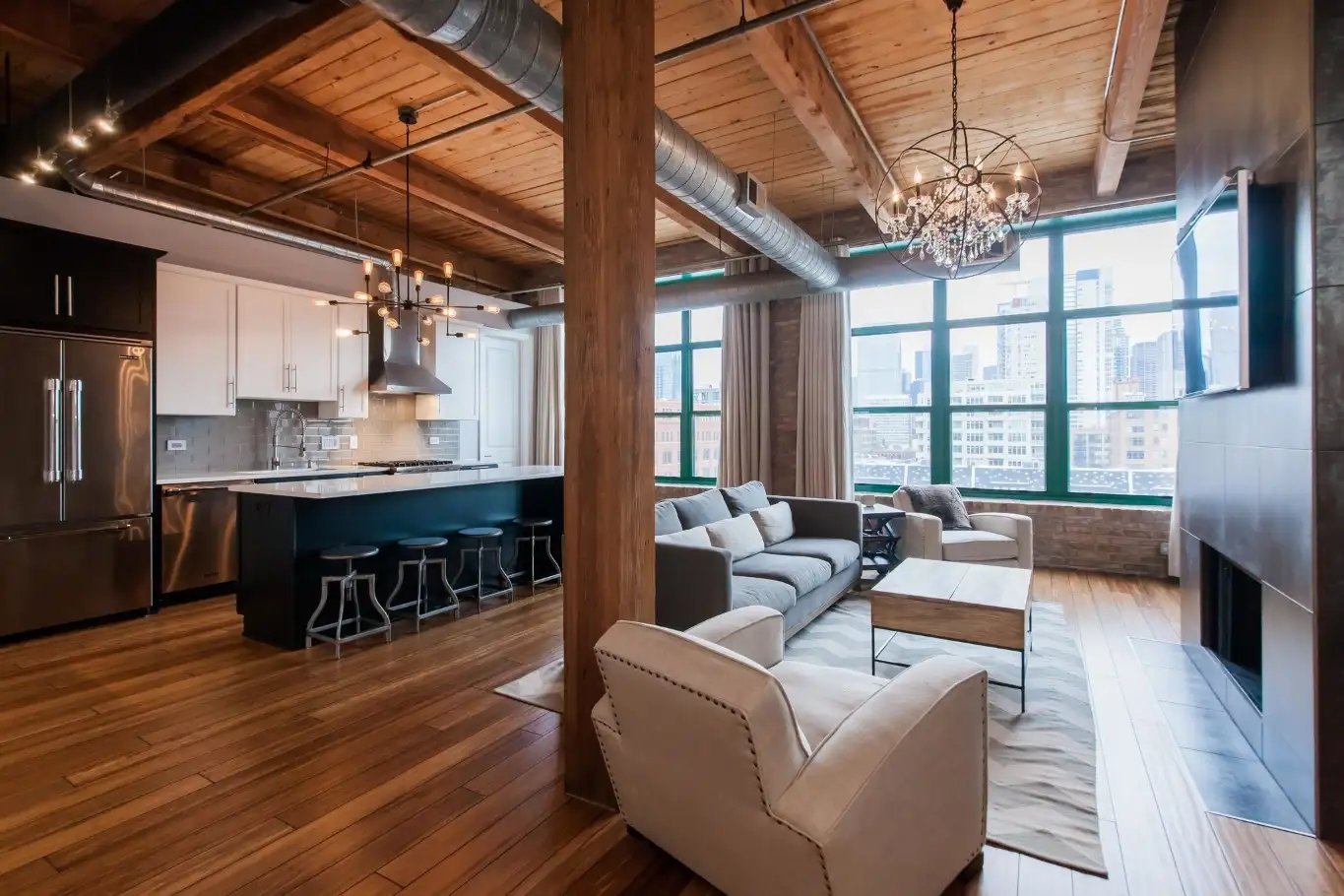 What Is A Loft Apartment?
Technically, a loft isn't a style. It's just an attic, a room at the top of a building under the roof. Practically however, over time, a loft became more than just an attic; it's a defined style and type of an apartment.
Loft homes became popular in the mid-20th century in New York's Tribeca, Soho, and other commercial districts when large industrial spaces, such as warehouses and old factories, were adapted for residential living. These converted apartments are also called "hard lofts."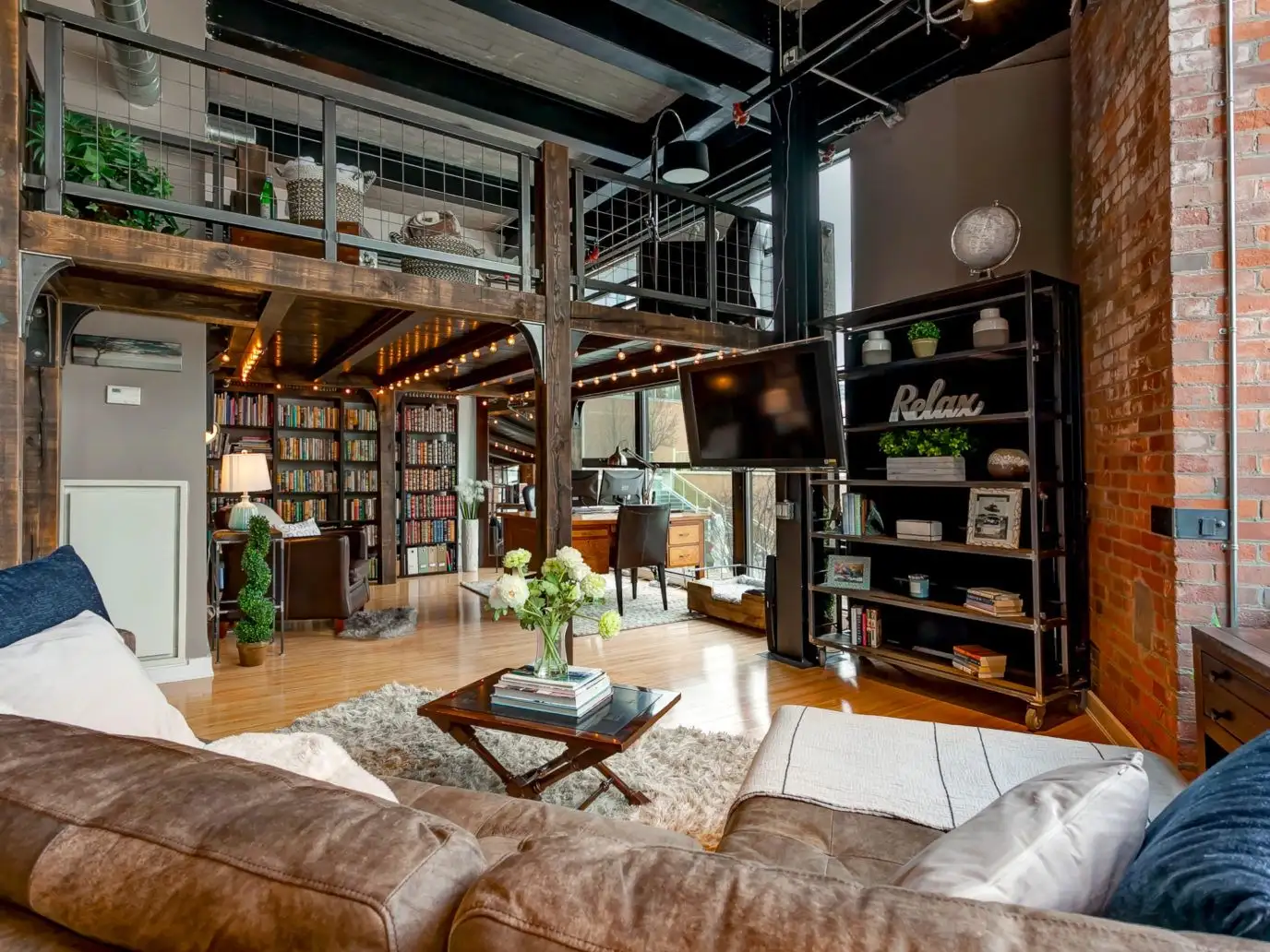 Eventually, loft interior design became the new black. As a result, loft buildings were constructed as residential dwellings to provide both a wide-open feeling and an industrial look. These apartments are called "soft lofts."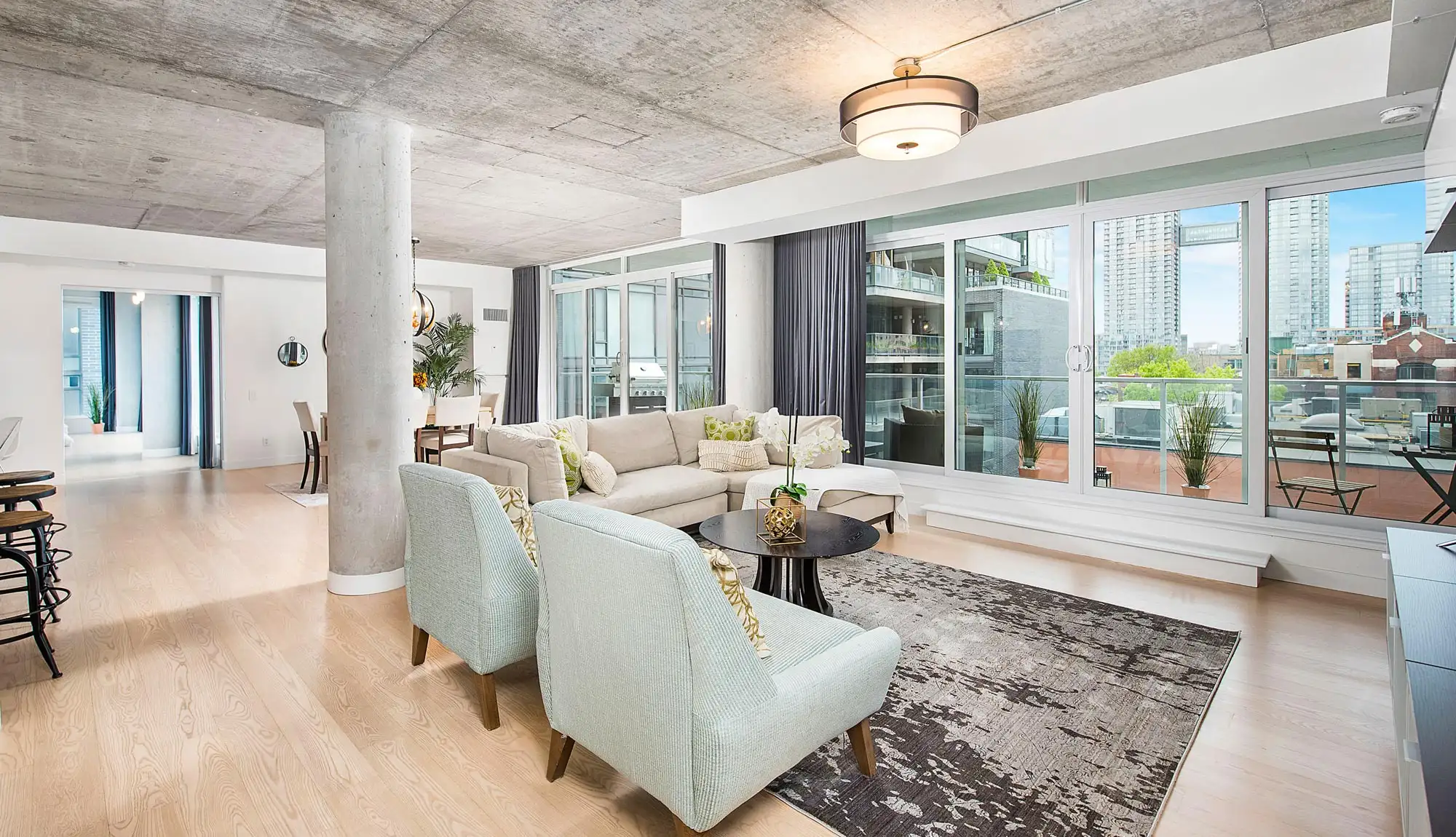 Designing An Apartment With An Overhead Loft Area
If an apartment is composed of an upstairs/overhead loft area and main living space on the first floor, it's another type of a loft home. Usually such a mezzanine is the placement for a bedroom, but also you can opt for a home office, library or something else. An overhead loft area doesn't have a sufficient ceiling height which causes inconvenience for residents.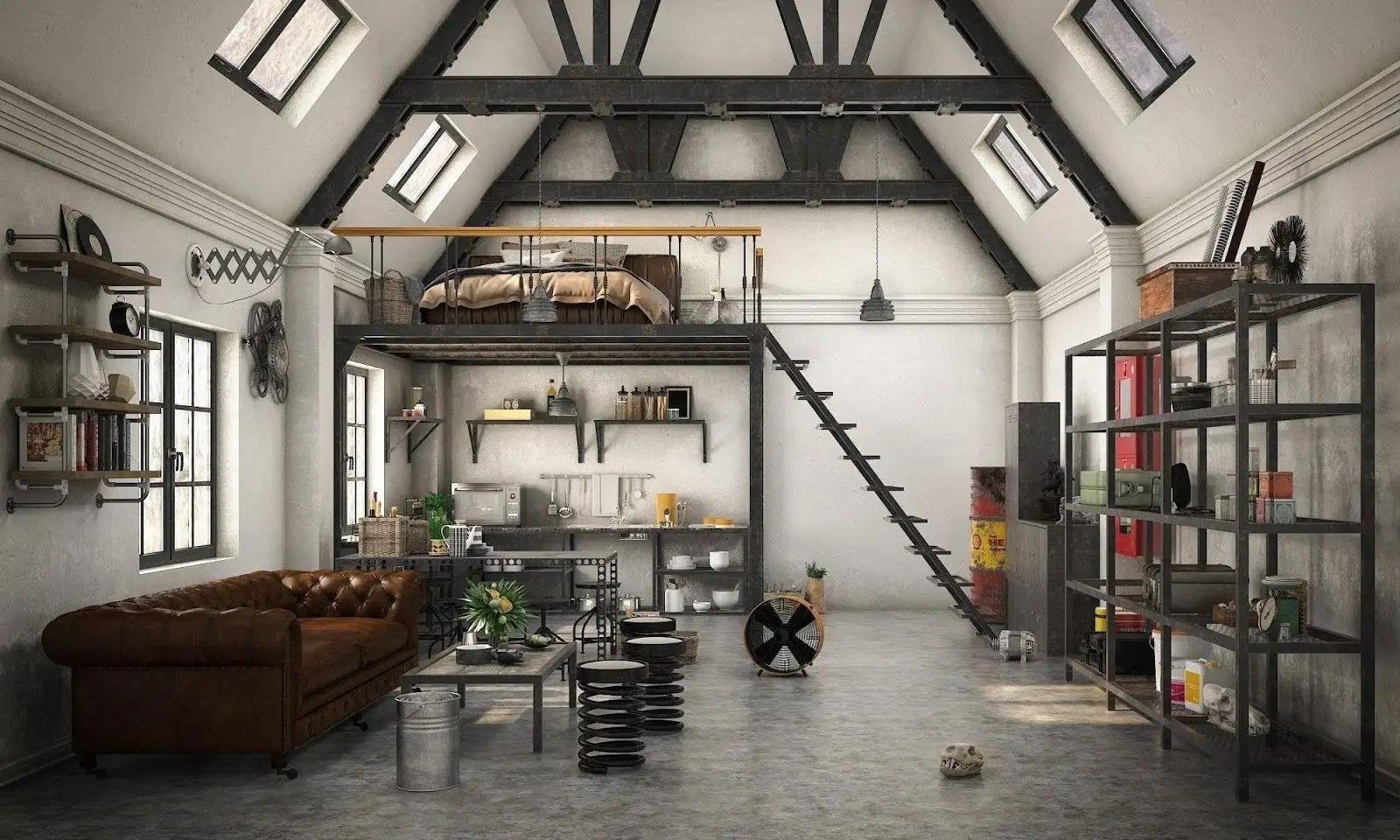 Loft Vs. Industrial Style
The key elements of industrial style are essential for a loft apartment. Nowadays, industrial and loft interiors are so related that often some designers talk about the development of loft industrial style. It features the original cement walls and floor, bare pipes and wires, and high ceilings with raw architectural structures including a staircase, exposed beams, and poles. Concrete or metal stairs and neutral-themed art pieces bring out cool brick walls.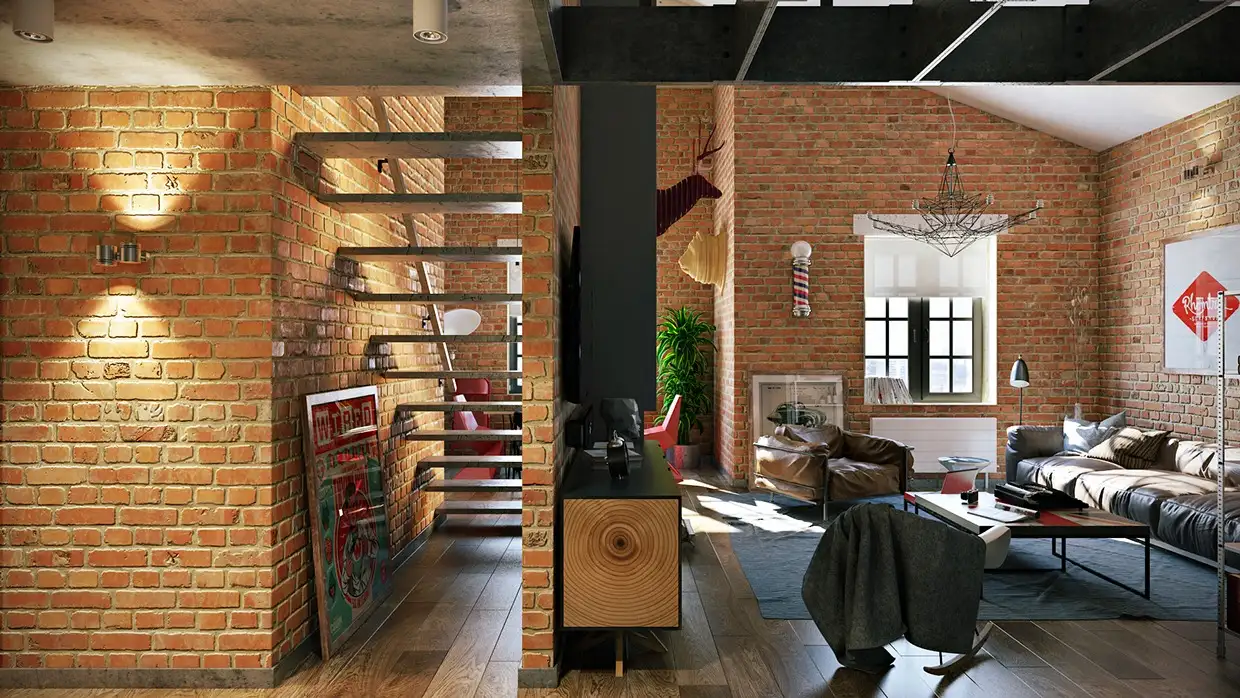 What Else?
You can show off your personal freedom without limits when you create a spacious layout in your open-concept loft apartment. Floor-to-ceiling windows bring enough natural light and give a fresh breath to all your family.
For colors, blend cold and neutral hues to emphasize the strong character of urban loft space. Wood, metal, and glossy leather materials fit with a loft style perfectly.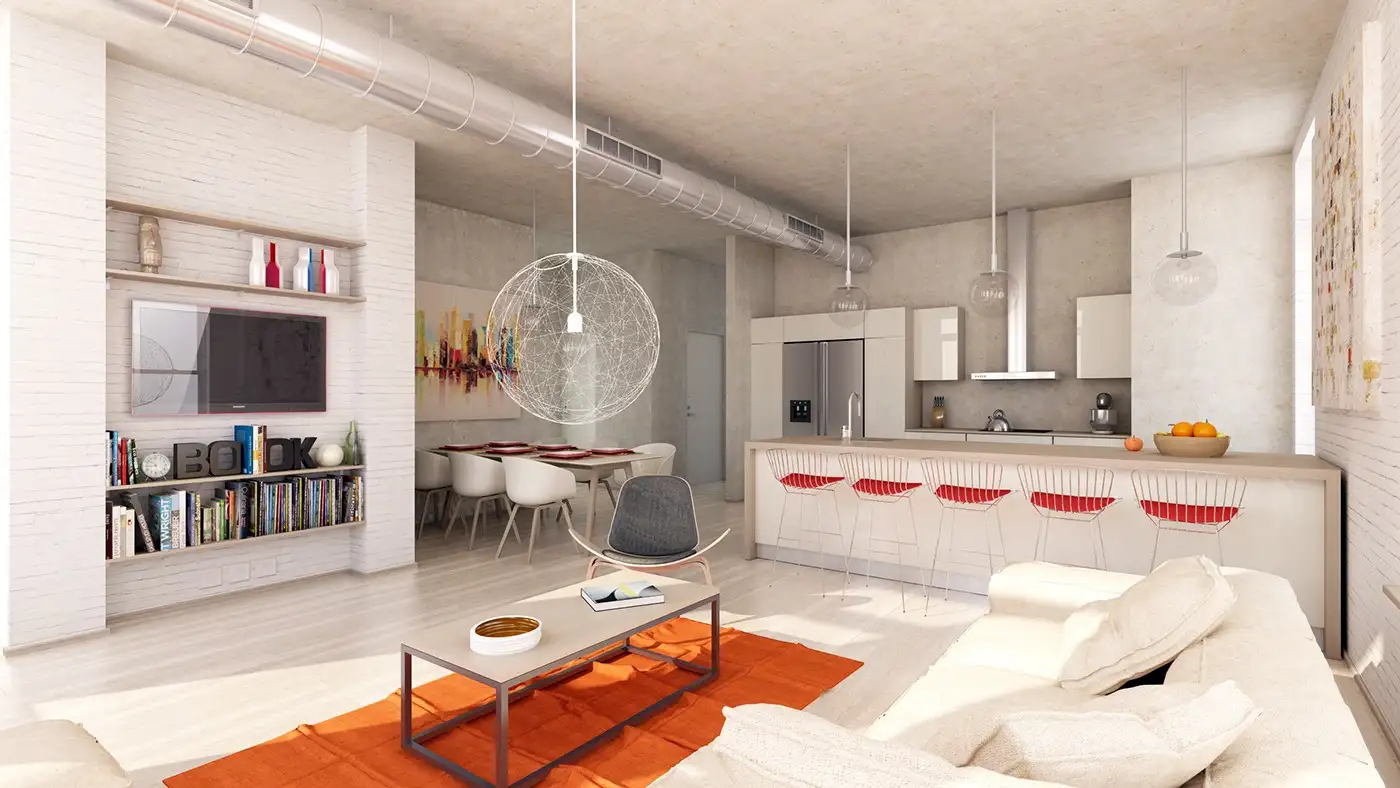 What About Space Separation?
Furniture pieces and glass items are used to visually separate space into different zones, such as living room, bedroom, and kitchen areas.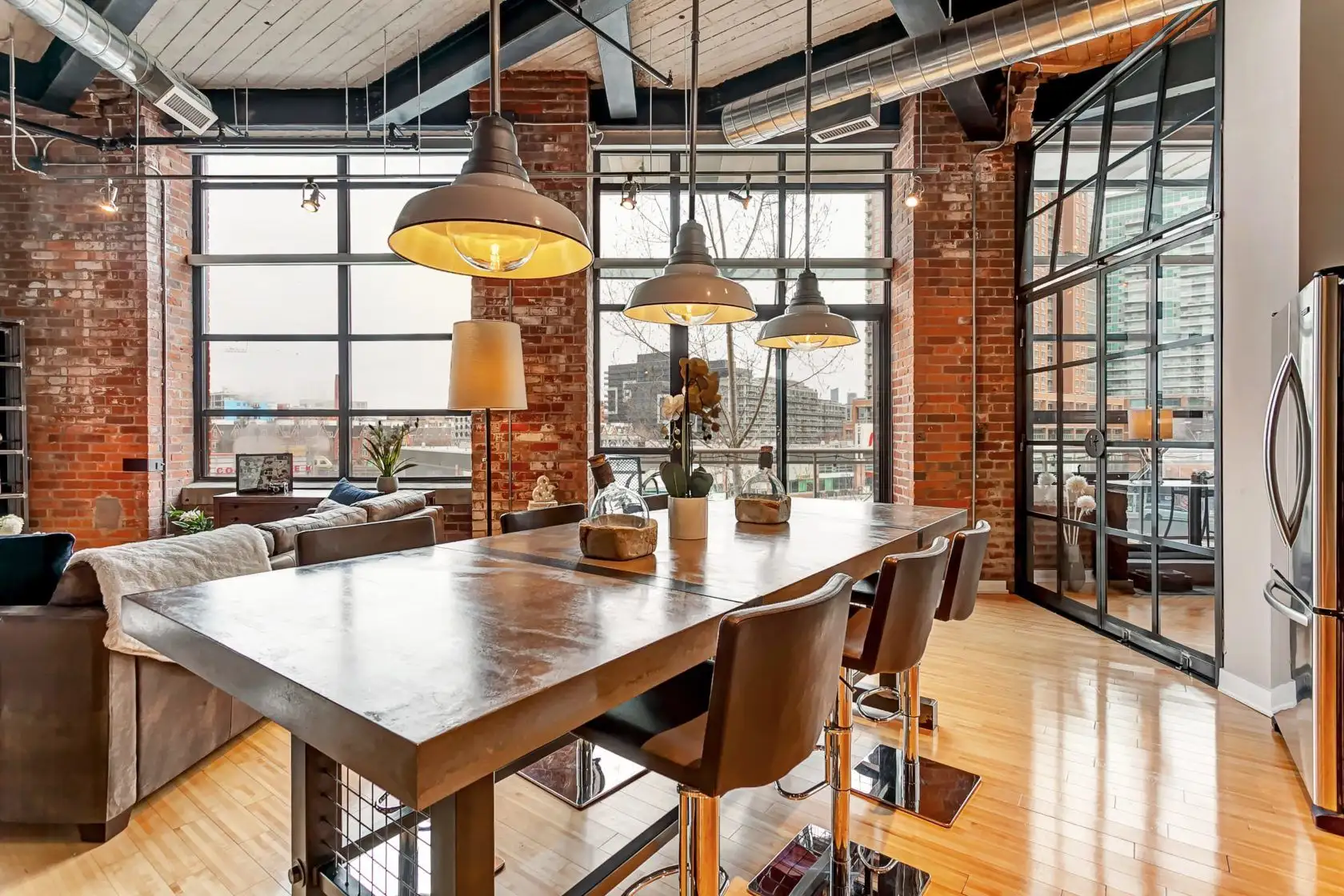 Installing partitions, temporary screens, and rolling walls works well for families with children to attain privacy when it's needed. If that is not enough for some couples, it's acceptable to put up additional walls to separate the master from the kids' bedroom.
But as a result of such a separation, an apartment loses those spacious loft aesthetics.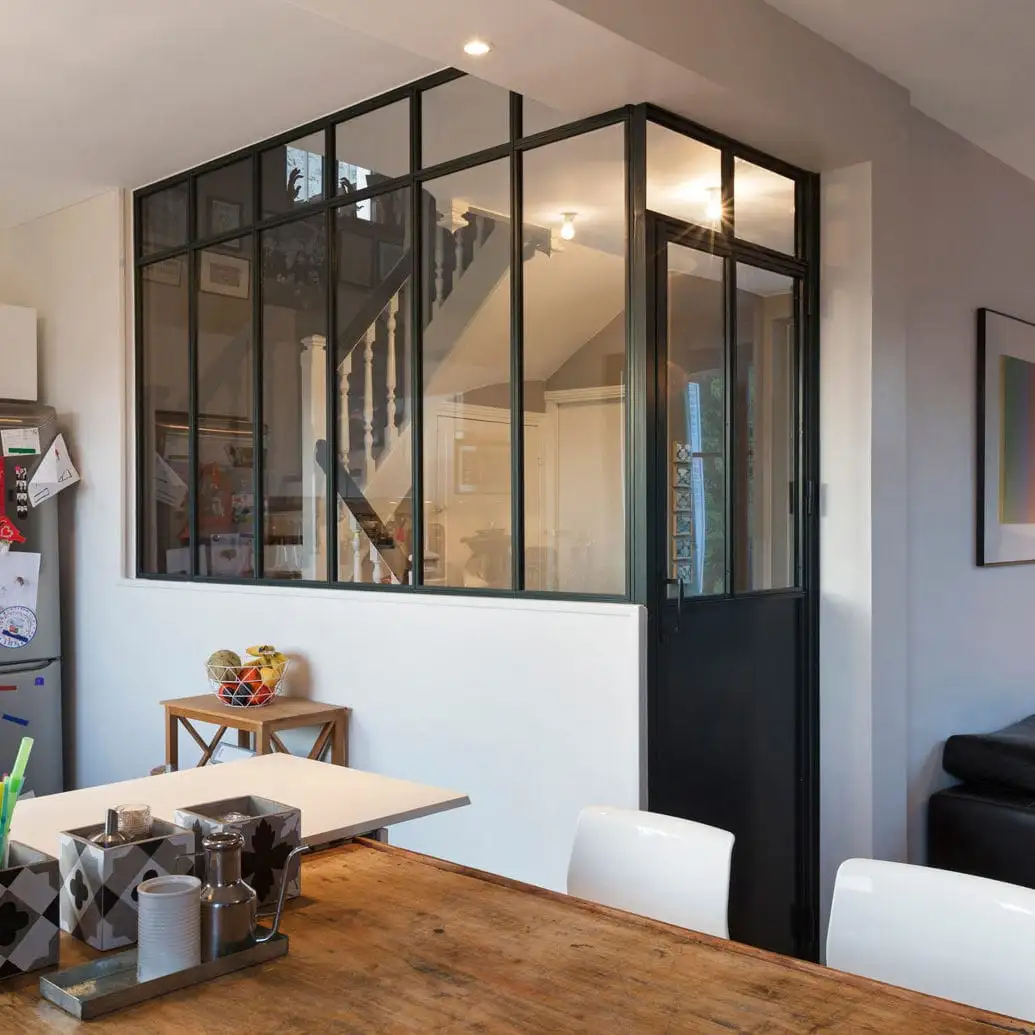 Loft Living Room
With a wide assortment of colors, patterns, and textures it's easy to create a breathtaking appearance of any loft living room. Don't forget about playful art accents to brighten up your interior.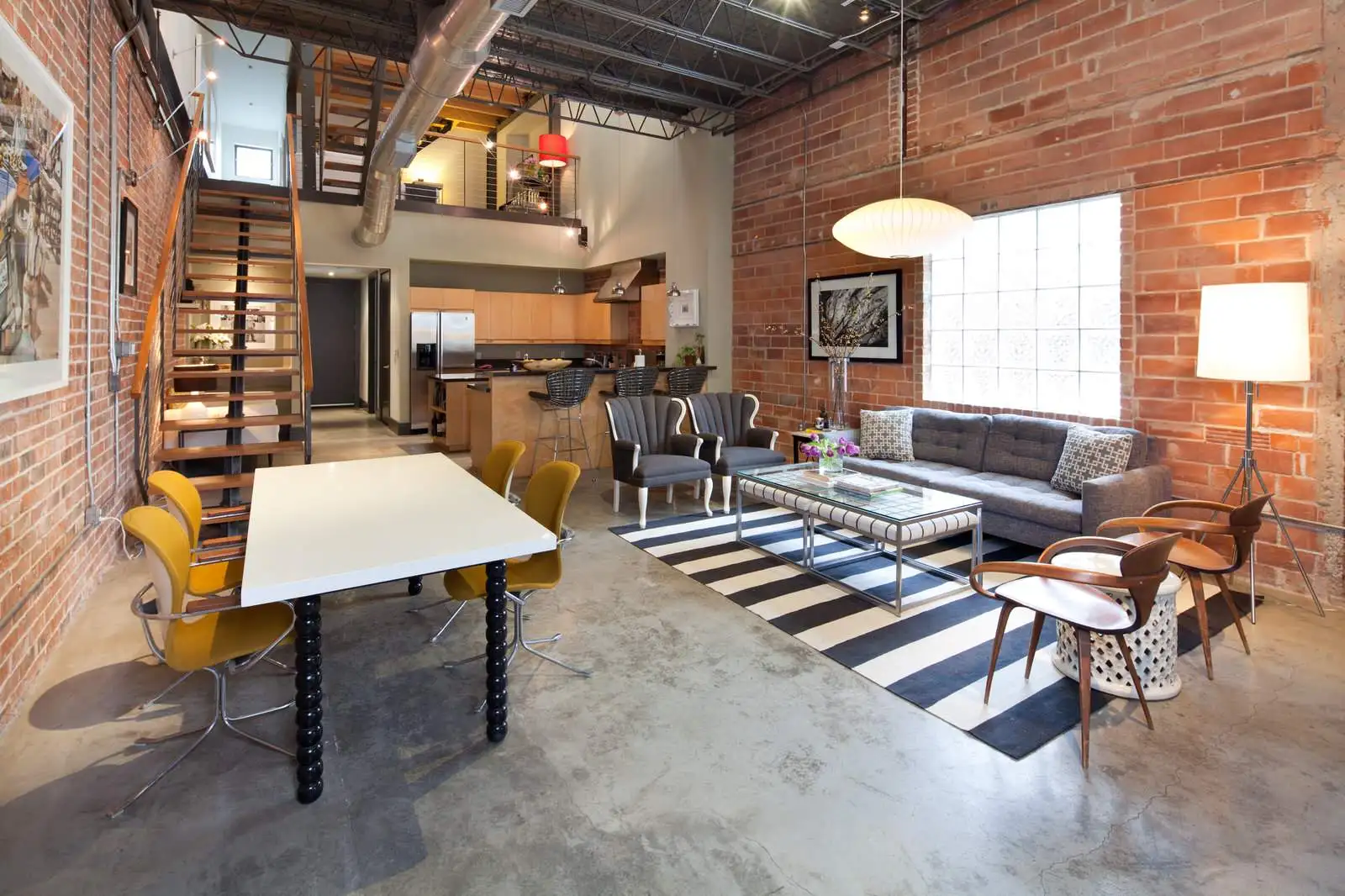 With the increasing popularity of loft spaces, a lot of apartments were built or make-over as "loft-like" homes. An open-plan living room with entertaining, cooking, and dining areas in the dwelling, along with an attic, could be identified as a modern loft or just a living room in a "loft-like" house.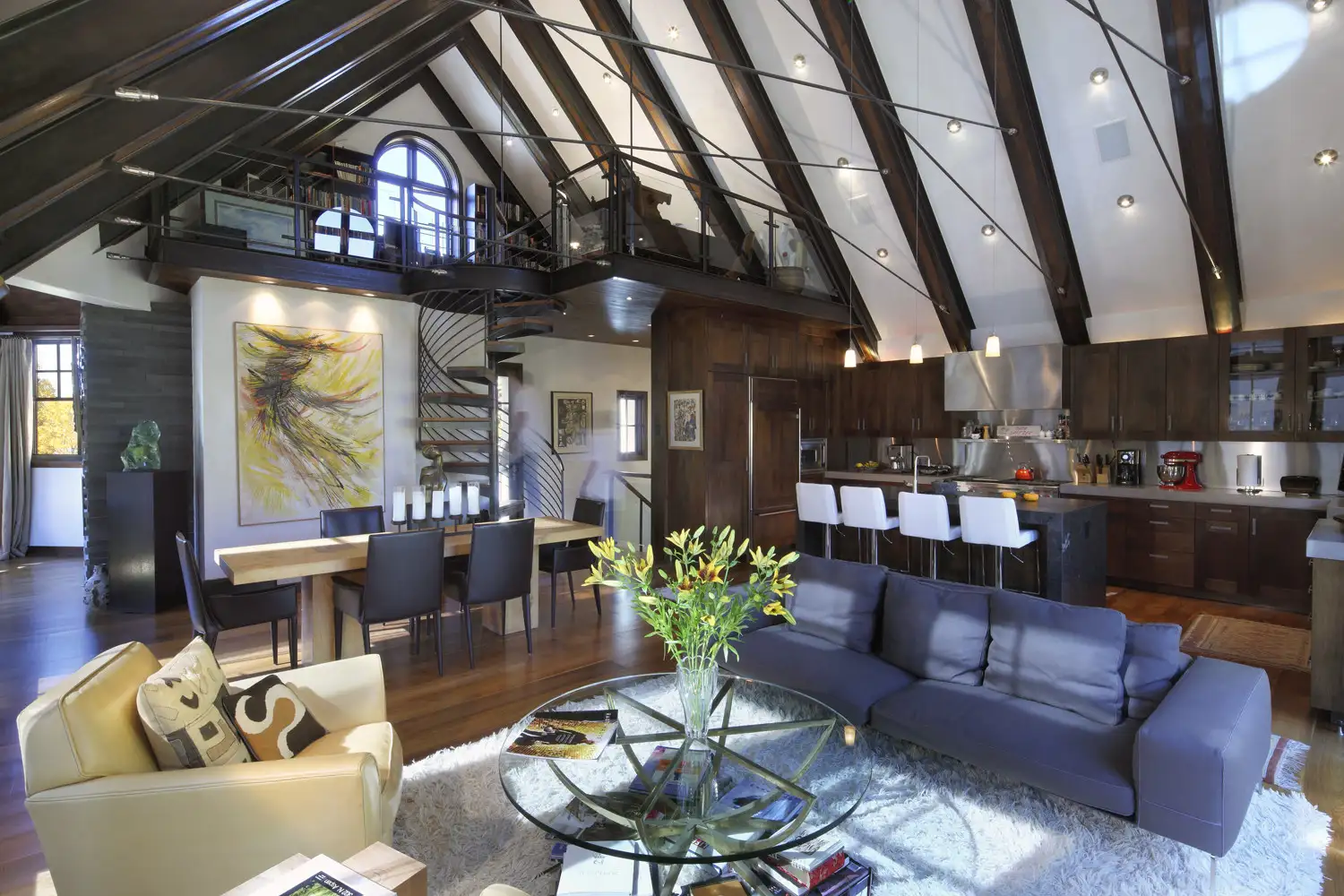 Loft Bedroom Ideas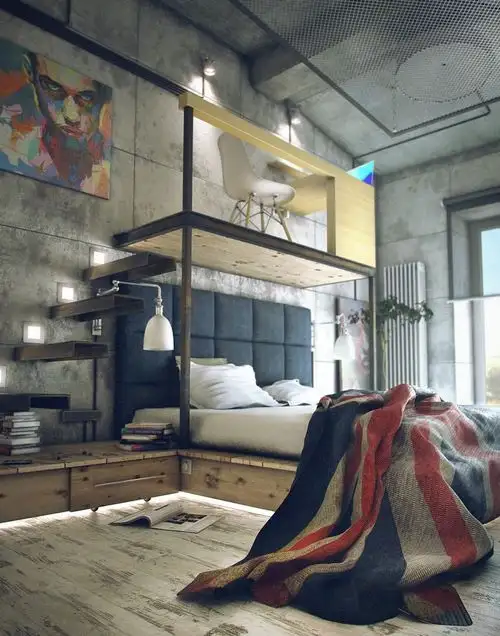 When you decorate a loft bedroom, try to organize something more inspirational than just a loft sleeping area with a bed.
A Classic Loft Bedroom
Lifestyle details are important when you decorate your soothing space to feel free, relax, and have a good night's sleep. Raw brick walls, an open shelving system, and reclaimed wooden furniture create a stylish look in a loft apartment. Metal accents complete the urban appearance of such a casual bedroom.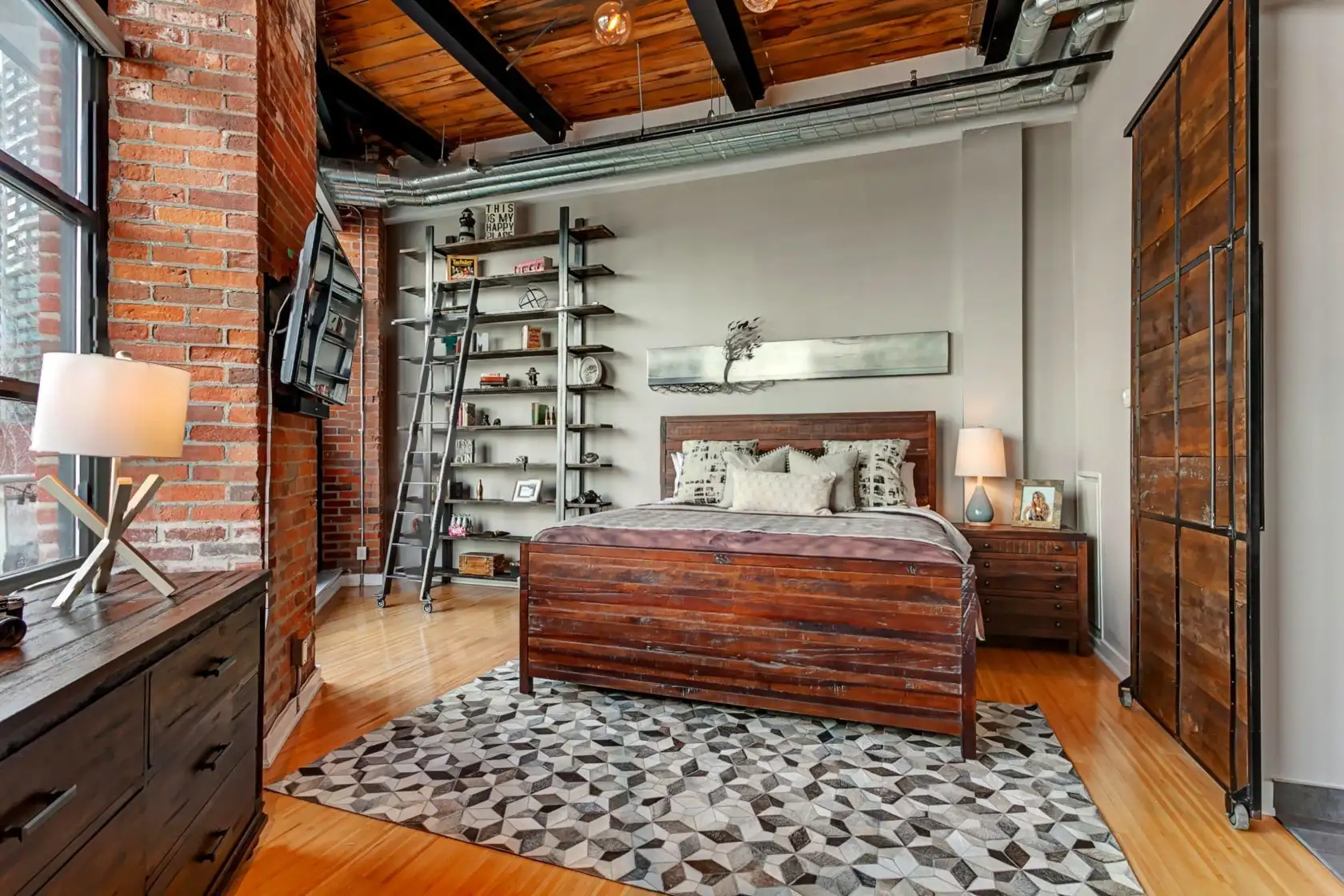 A Bedroom Decorated For A Couple
Don't be shy about buying a large bed to provide the highest level of comfort for you and your spouse. Also, huge beds enhance loft aesthetics, because loft apartments are spacious. To warm up such a bedroom and create a romantic ambiance, choose warm colors and soft textures for bedding. Also, that's a great way to create a contrast between a bed and other bedroom design elements, including hardwood flooring, exposed beams, pipes, and fittings.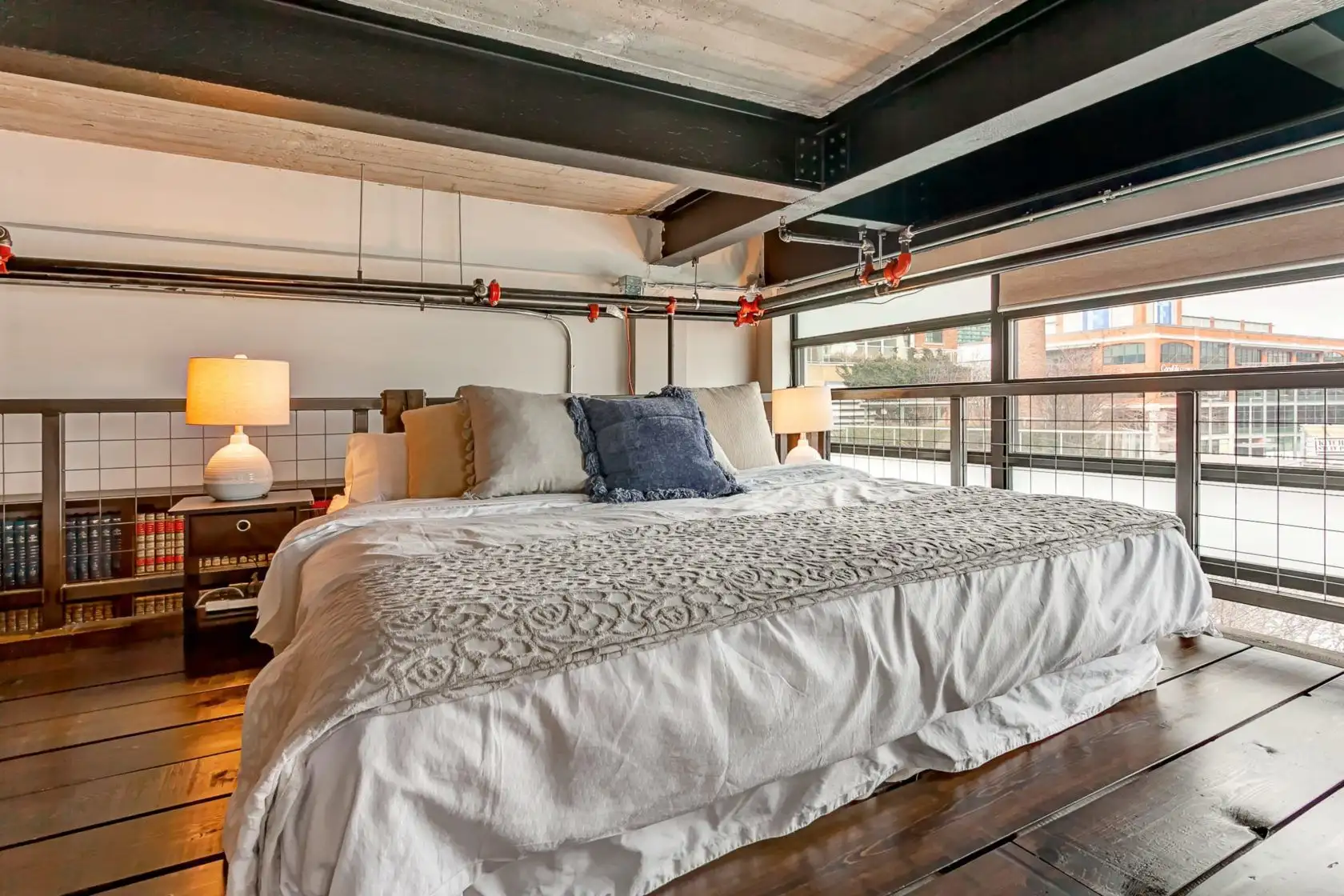 Dormer Bedroom
If the placement for your bedroom is an attic, such a room is also called a loft bedroom. Dormer bedrooms feature low ceilings, skylights, and dormer windows. It's better to install roller shades or blides for the skylights and choose blackout curtains for dormer windows to enhance light control.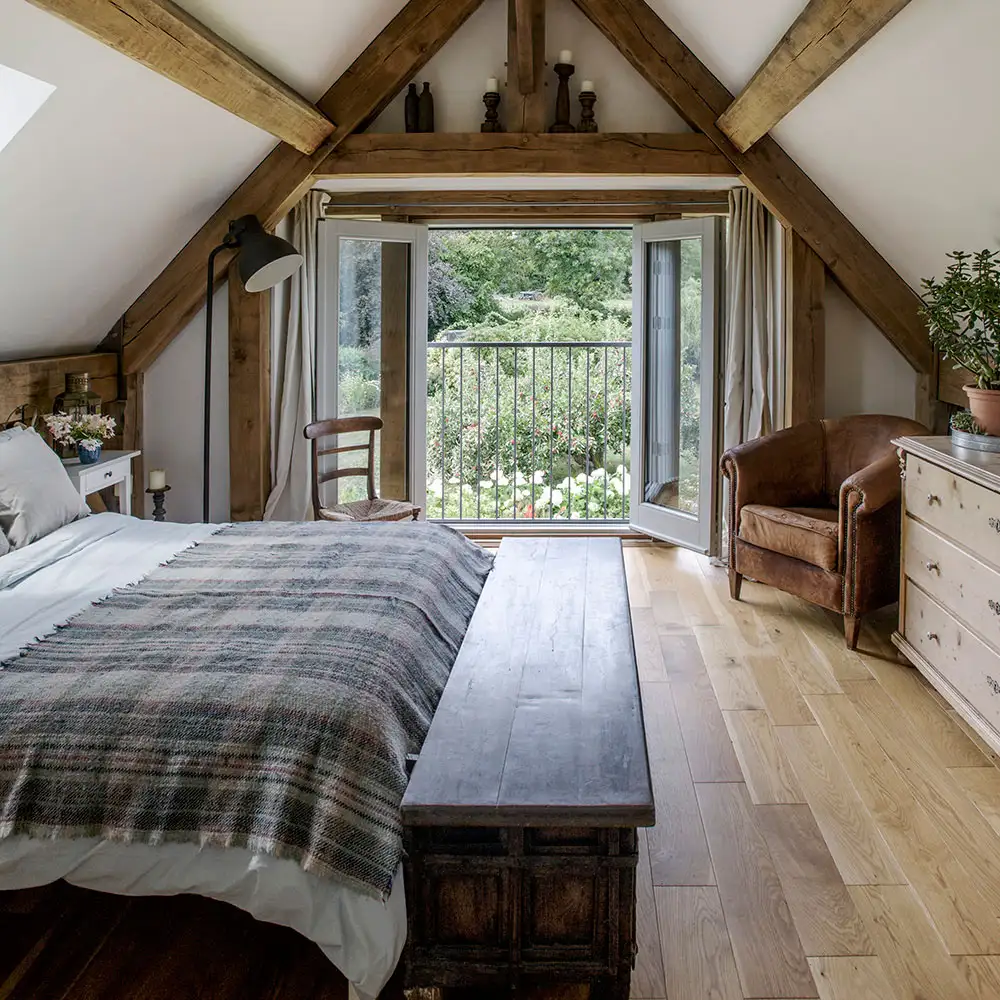 Teenage Loft Bedroom Design
A loft bedroom, with its strong spirit and ambience of freedom, is a cool option for teens, especially for boys. When you decorate a teen's bedroom, collaborate with your son, taking into account his hobbies and tastes. Such a connection strengthens the bond between you and your youngster. Also, designing his bedroom helps your son feel like a valued part of your family.
Focus on his desires and interests, from choosing furniture to wall art pieces. Don't be afraid of provocative wall décor, such as yield and/or stop traffic signs, to emphasize that this bedroom is decorated just for him and you have to respect his privacy.
For window treatments, choose blackout curtains to protect your son from excessive natural light. Also, that's a great way to emphasize the dramatic character of a loft bedroom.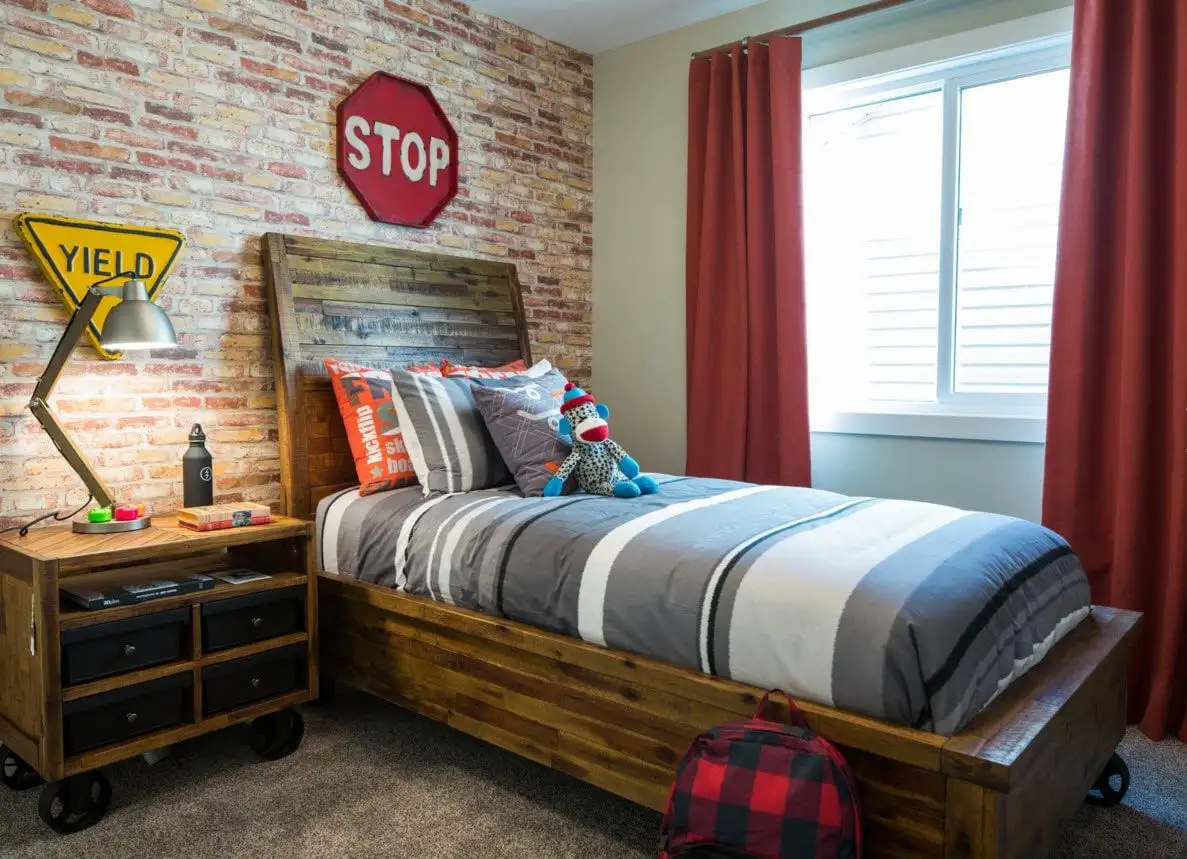 Wall Décor Ideas For A Loft Apartment
Hanging wall art is a great way to create the main focal point of any room and complete the decoration of a loft apartment. Whether you like abstract pictures or unusual compositions, spice up your interior and make every detail perfect.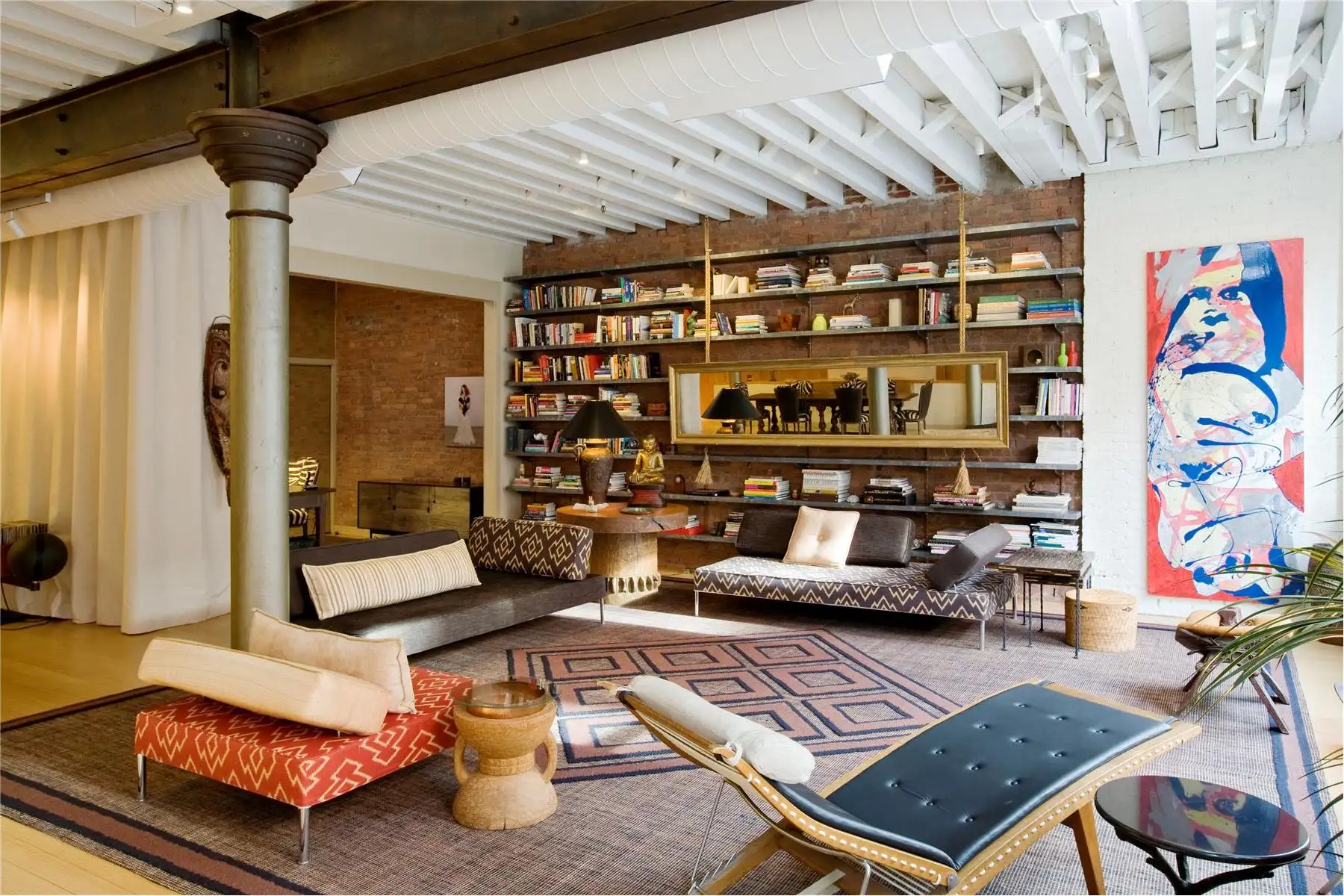 Wall Clocks
Think about creating a DIY composition with various types of clocks, showing their internal clock mechanisms to display the transience of life inside your loft apartment. You'll be inspired by your home to live a more fulfilling life!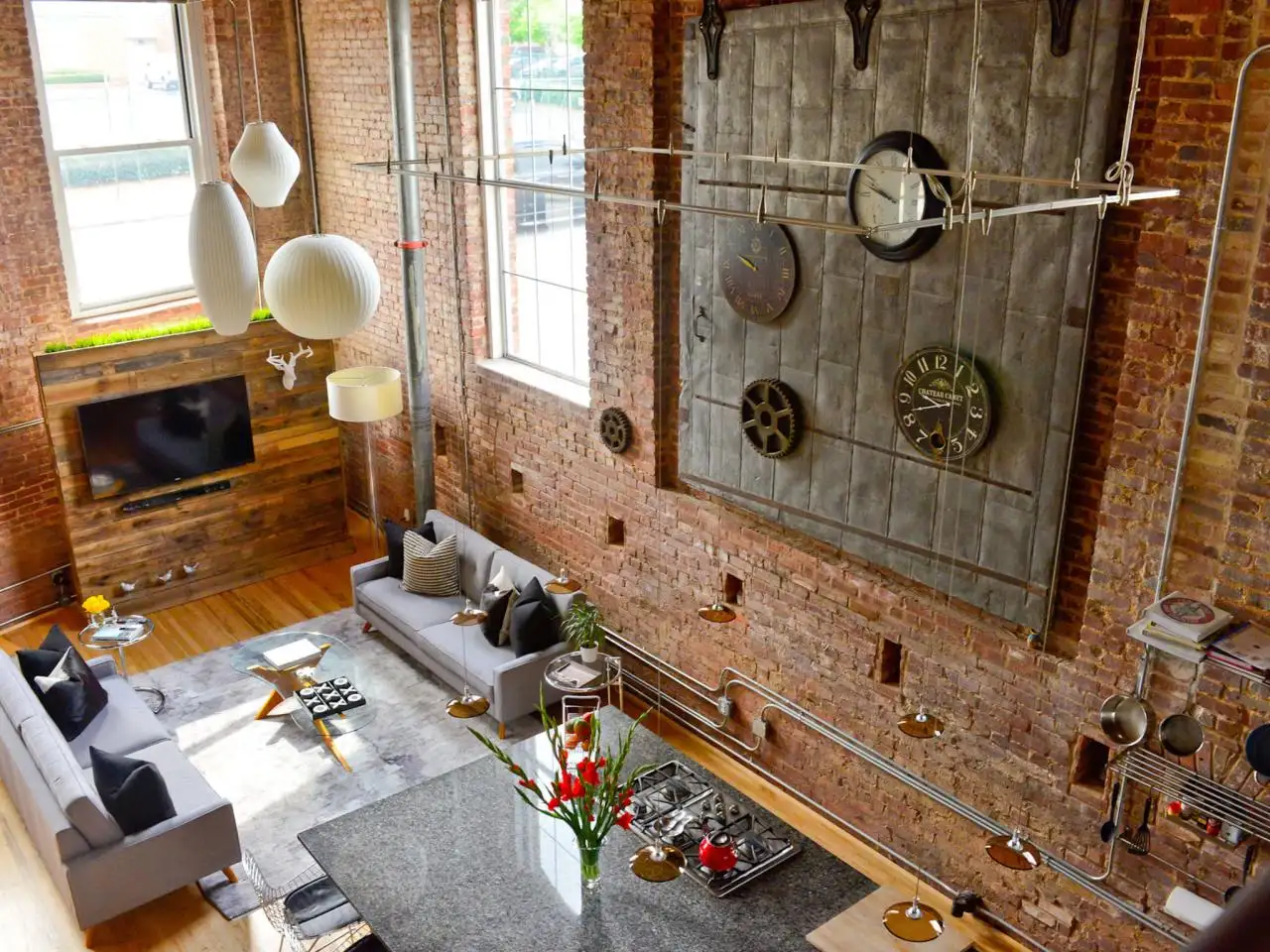 Create A Photo Gallery
Black-and-white photos fit well with raw brick walls and complete an outstanding look for a loft apartment. With such wall décor you can show your vital values, the most important moments from your life, and/or just display something optimistic which makes you smile. Choose creative frames of different sizes in a classic style to emphasize your clarity and confidence.
What could be better than a homey ambience? If you integrate horn wall décor elements with black-and-white photos, you'll add a Scandinavian touch and complete your magnificent photo gallery in an unusual way. With Nordic stylish décor items, you'll bring hygge to your loft abode.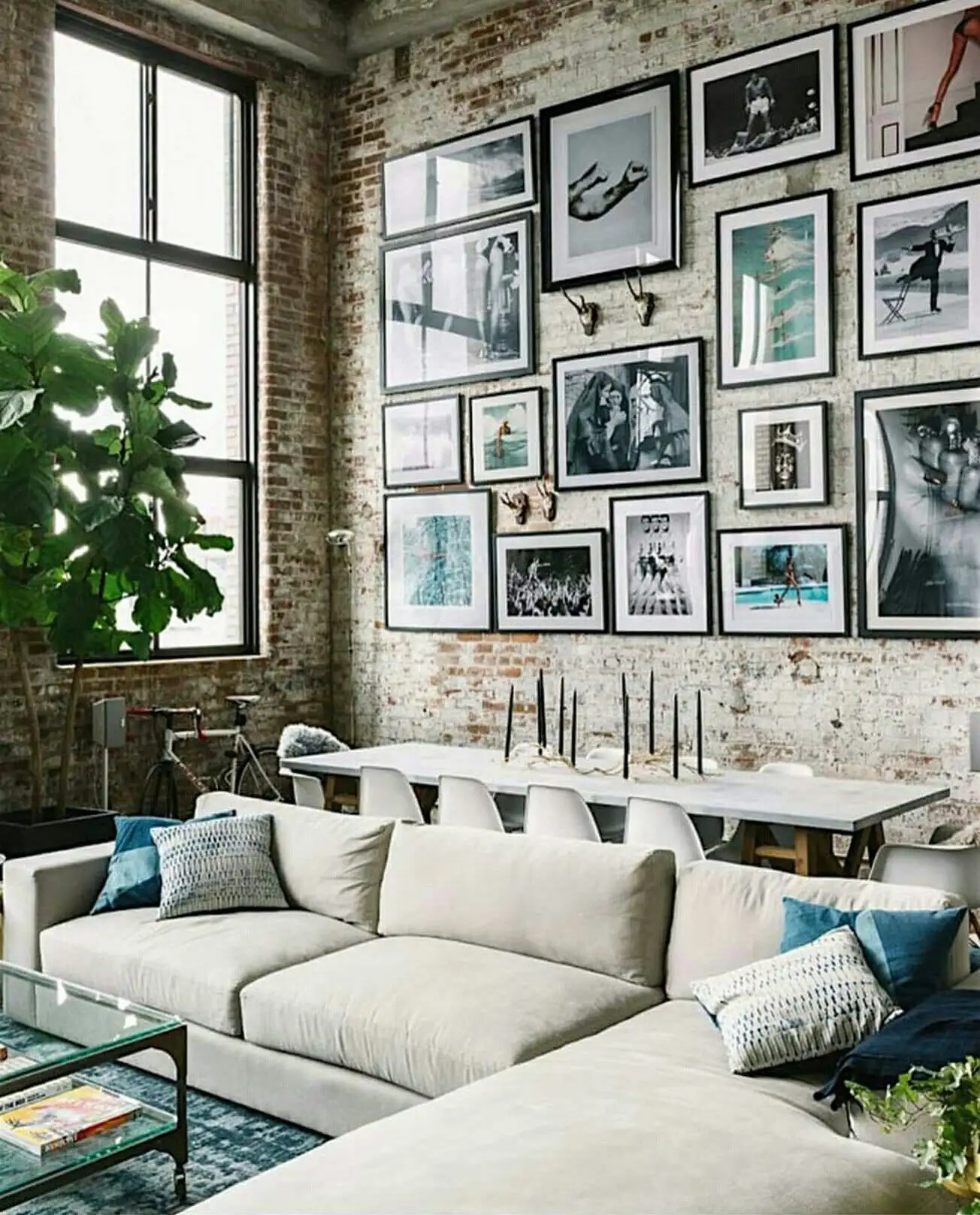 Stylish Wall Art
Hang posters or framed-canvas artwork with your favorite prints to enhance the robust character of your loft apartment. Also, you can install a creative light fixture on the other wall to show that useful items can also be delightful and attractive.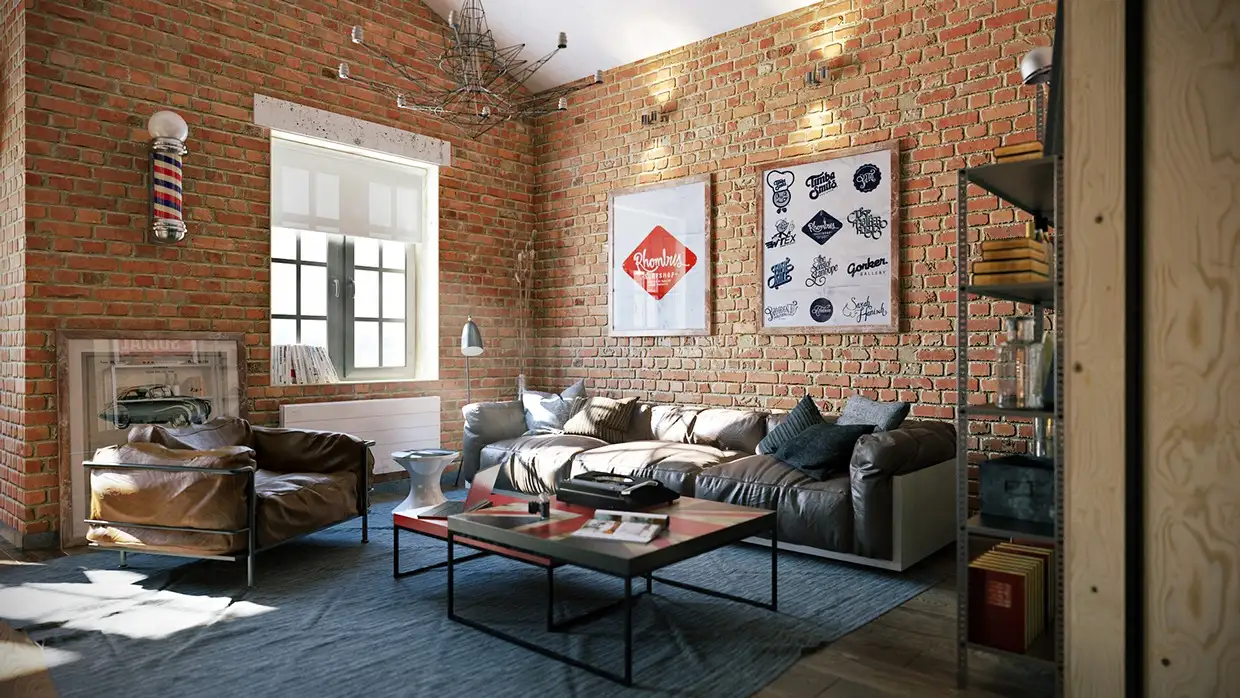 Use A Vehicle As Wall Décor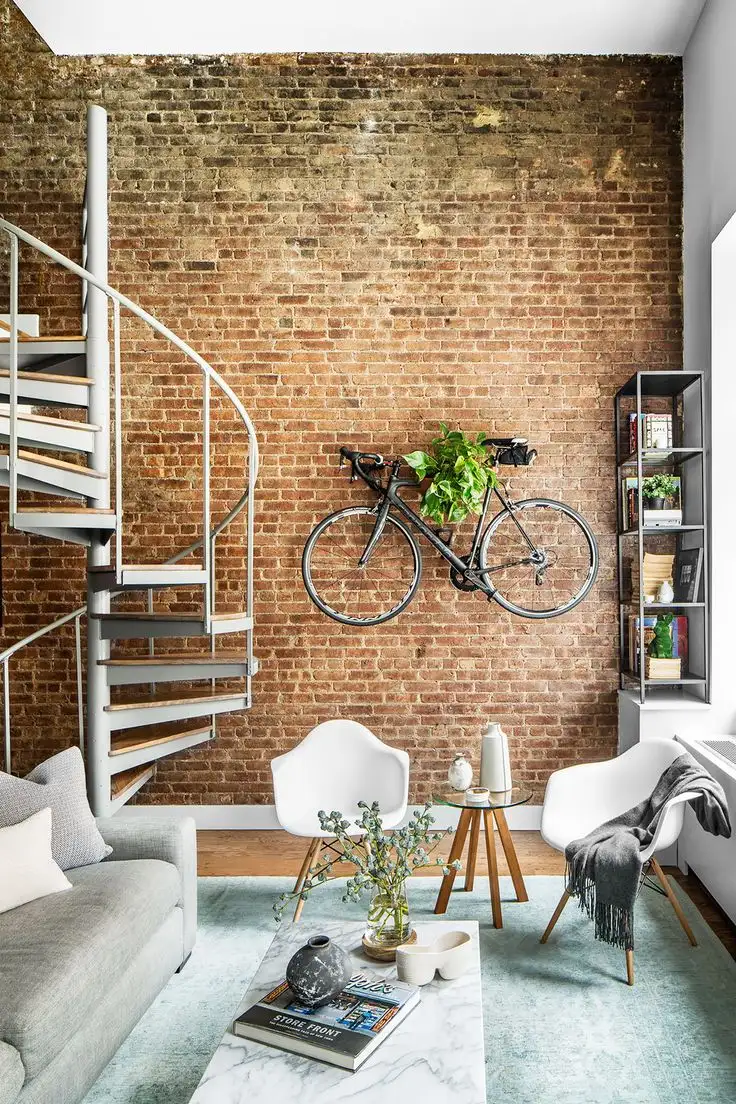 Do you like to ride bikes? Of course, it's healthy! Also, you can use it as a decorative element by just hanging it on the wall when you get back home! The bicycle looks perfect on the raw brick wall and spares space on the floor.
It displays a vital state of wellness and well-being inside your loft apartment.
A Mix Of Styles
Feel free to integrate architectural or décor elements of other house styles into your loft apartment. When you blend styles, pay attention to colors. For instance, using earth hues of heavy rustic furniture pieces is a great way to create accents in a loft apartment.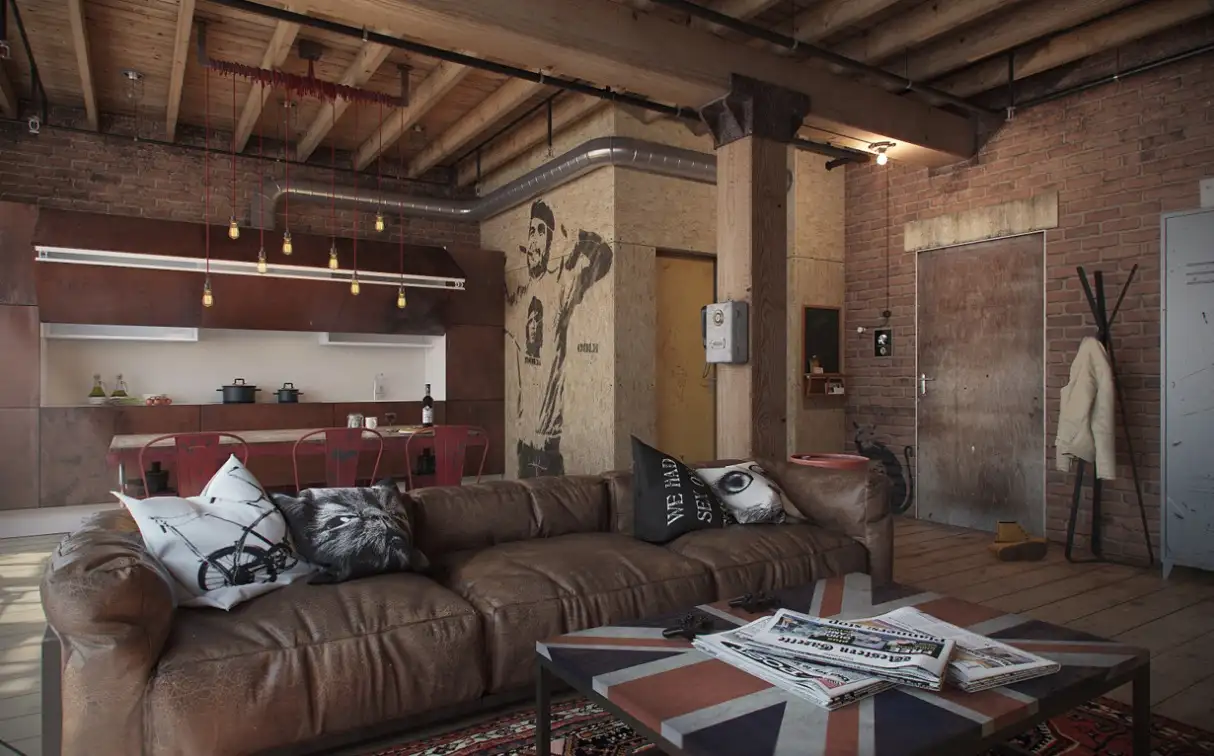 Scandinavian Loft Interior Design
You can decorate your home in a Scandinavian style in the "loft-like" attic apartment. Gray-based neutrals, plenty of green plants, natural materials, wooden details, a perfect fireplace… it's all about magnificent Nordic décor in a spacious loft apartment.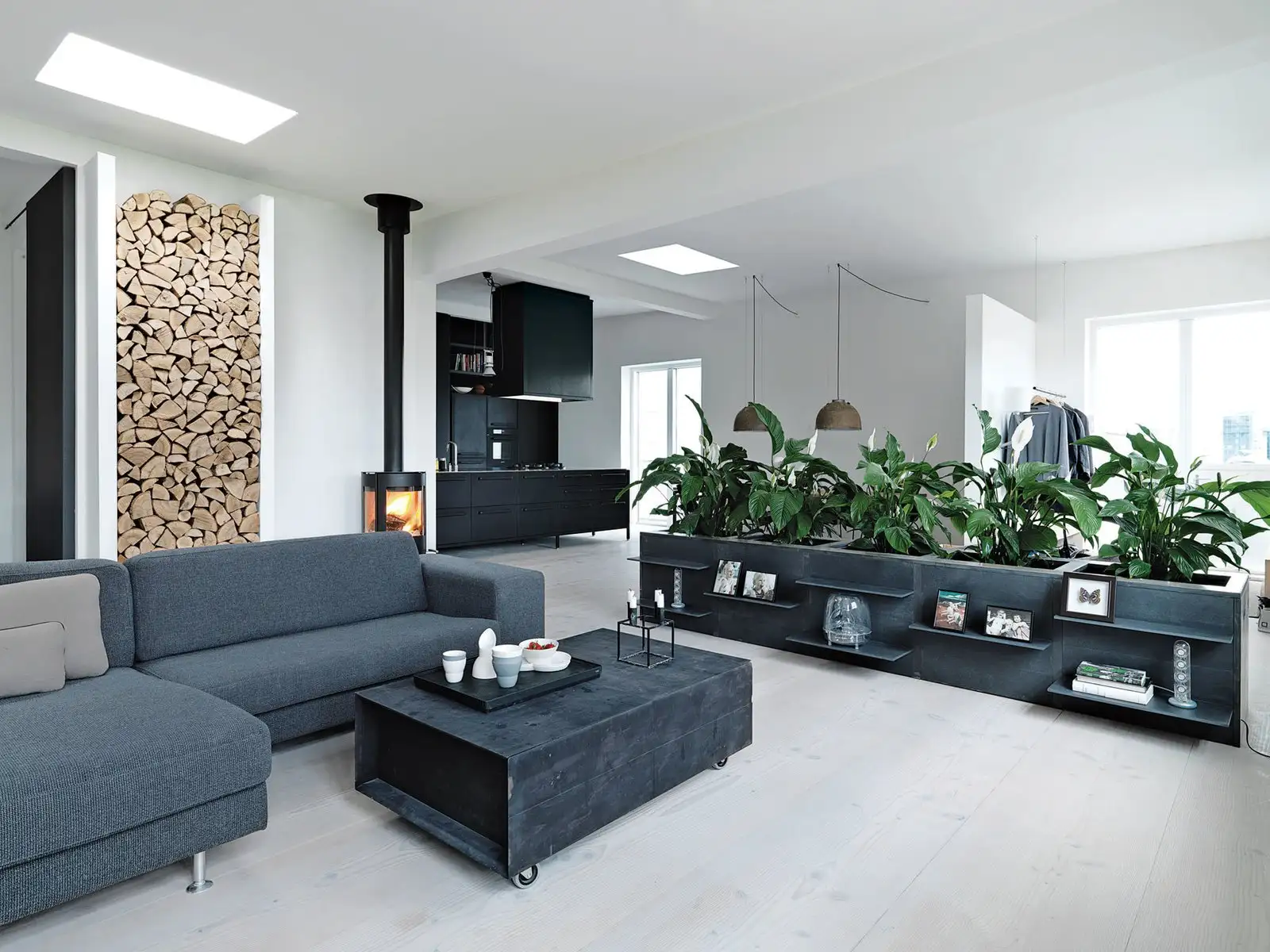 Farmhouse Loft Design
An inviting country style house, like many others, can have a loft sleeping area on the second floor. Of course, it's more like an open attic room with a low ceiling, but having an additional bedroom always sounds great! Don't you agree?