Stunning Kitchen Island Ideas
If you need additional storage and counter space in the kitchen, install an island as the main focal point of the entire room. Kitchen islands are designed in various styles and colors. Choose one which fits with your kitchen style to keep a harmonious look.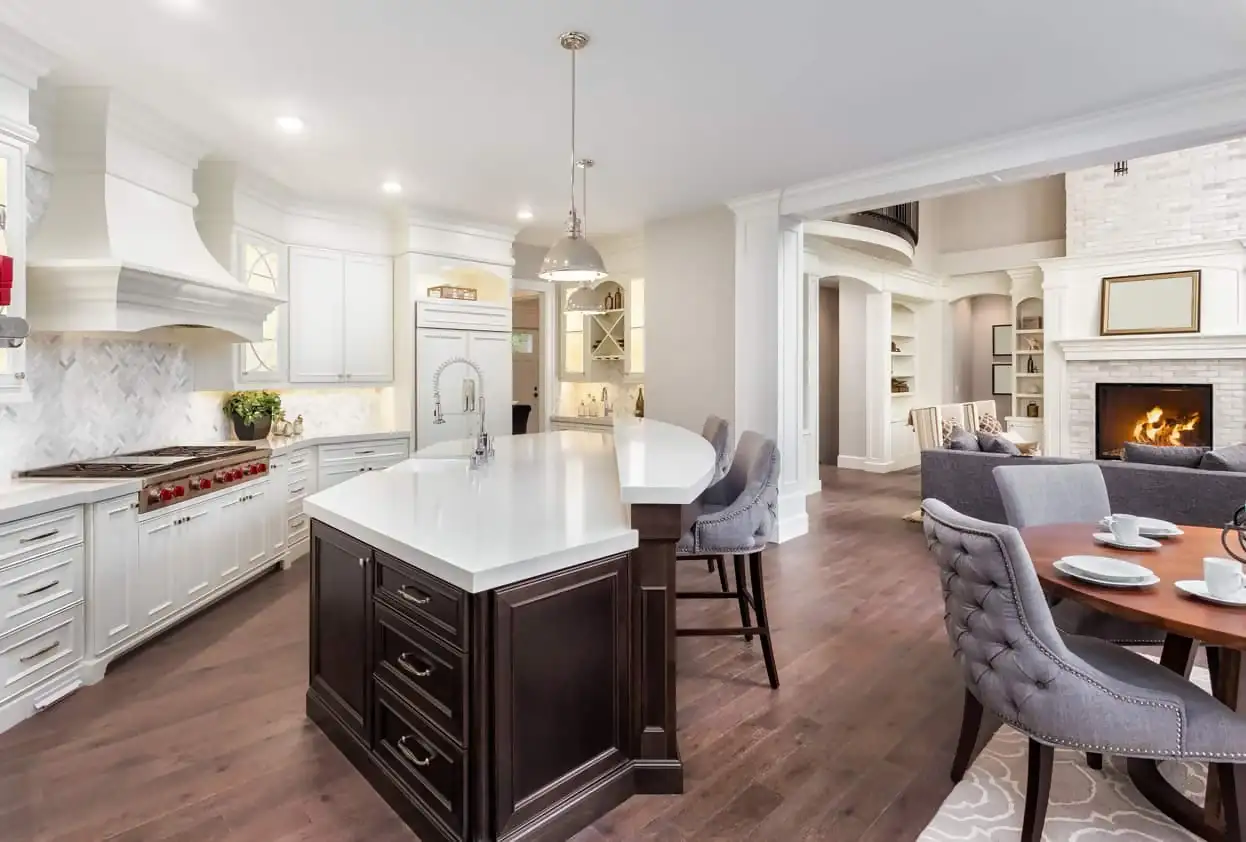 The Essentials Of The Kitchen Island
Liven up your home with the cooking and relaxing space of your dreams! Create a general layout to place your magnificent kitchen island with enough counter and storage space in the best way. Install useful appliances and enjoy your paradise!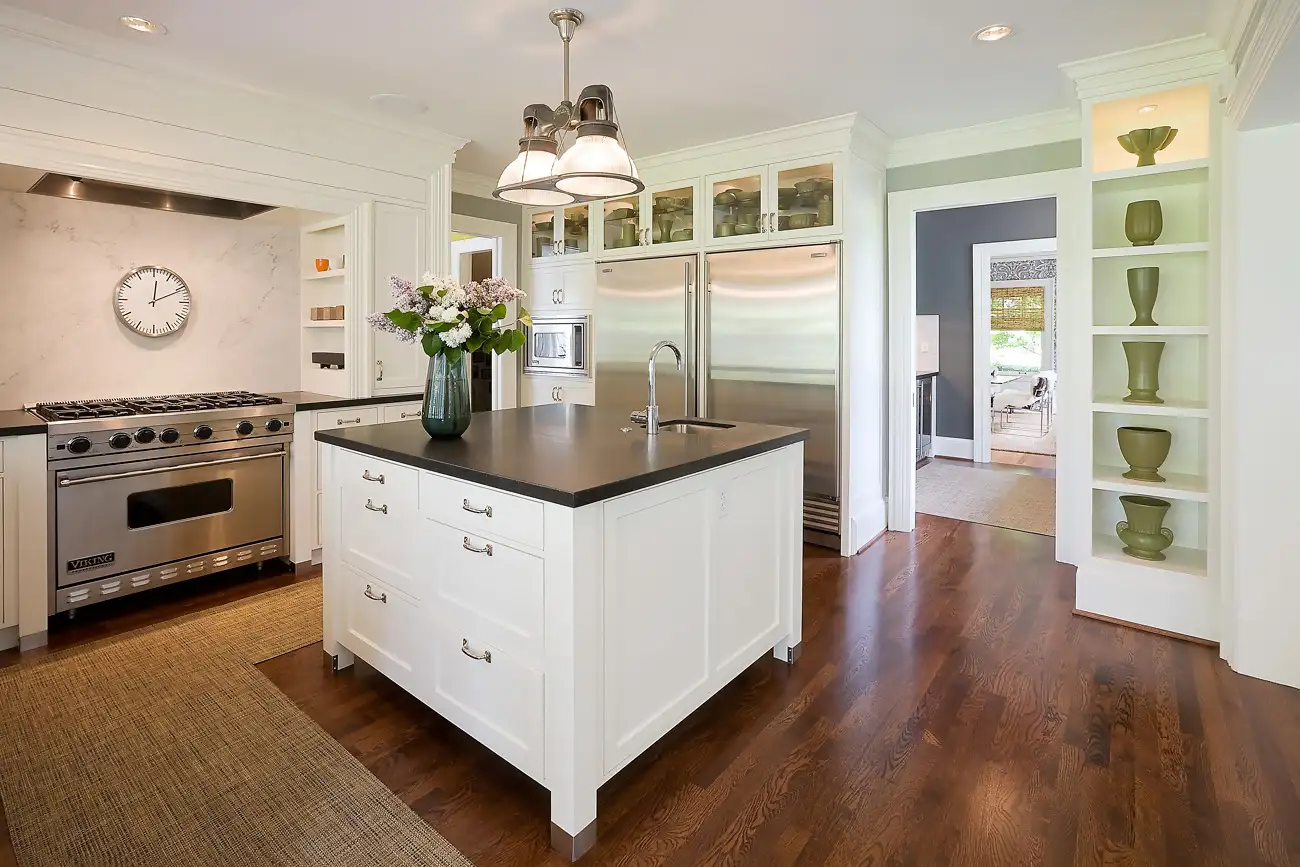 Kitchen Layout
When it comes to decorating your kitchen, start with creating a general layout. A kitchen layout is the floor plan that depicts every furniture piece and appliance, such as a kitchen island, cabinets, countertops, table, fridge, and stovetops, all in the right places.
There are various types, shapes, and sizes of kitchen islands, including fully functional models with electricity and water, extra seating places, additional countertops, or even just carts (small kitchen islands with limited functionality and usability). Don't forget to take into account the size of your kitchen to help you choose the right one.
According to the National Kitchen and Bath Association, at least 36 inches should be provided for walkways between the kitchen island and main counter. If your counter space includes a large kitchen area with various appliances, such as a sink, stove, dishwasher or/and additional countertops, the work aisle should be 42 to 48 inches wide.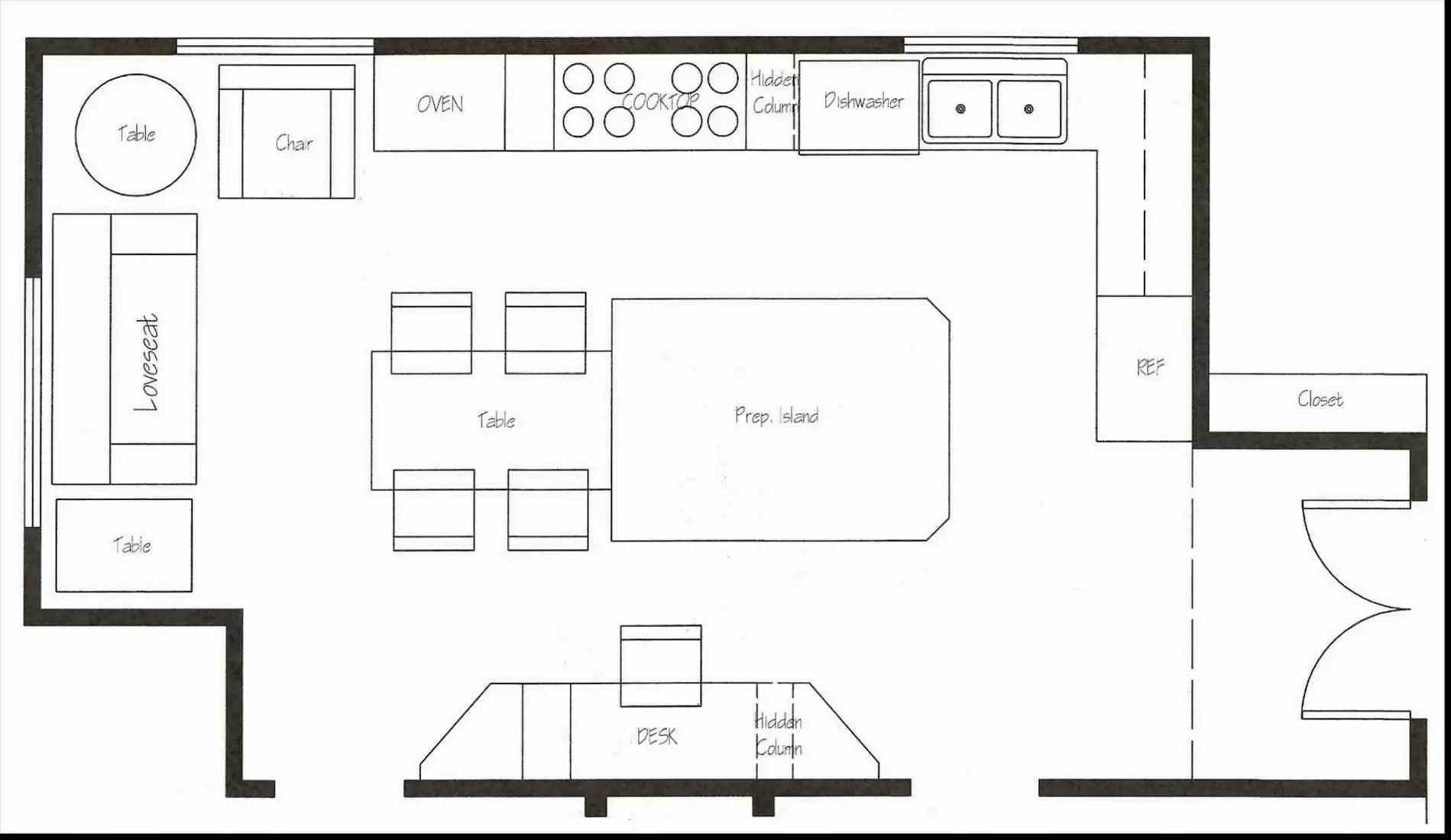 More Counter Space
After installing a kitchen island you'll have more counter space in the kitchen. As a result, you could prep food where you want and then eat delicious meals.
Create a color contrast between the countertop and other furniture pieces. For instance, you could mix a black kitchen island countertop with a white or light gray cabinet. This combination looks stylish and attractive!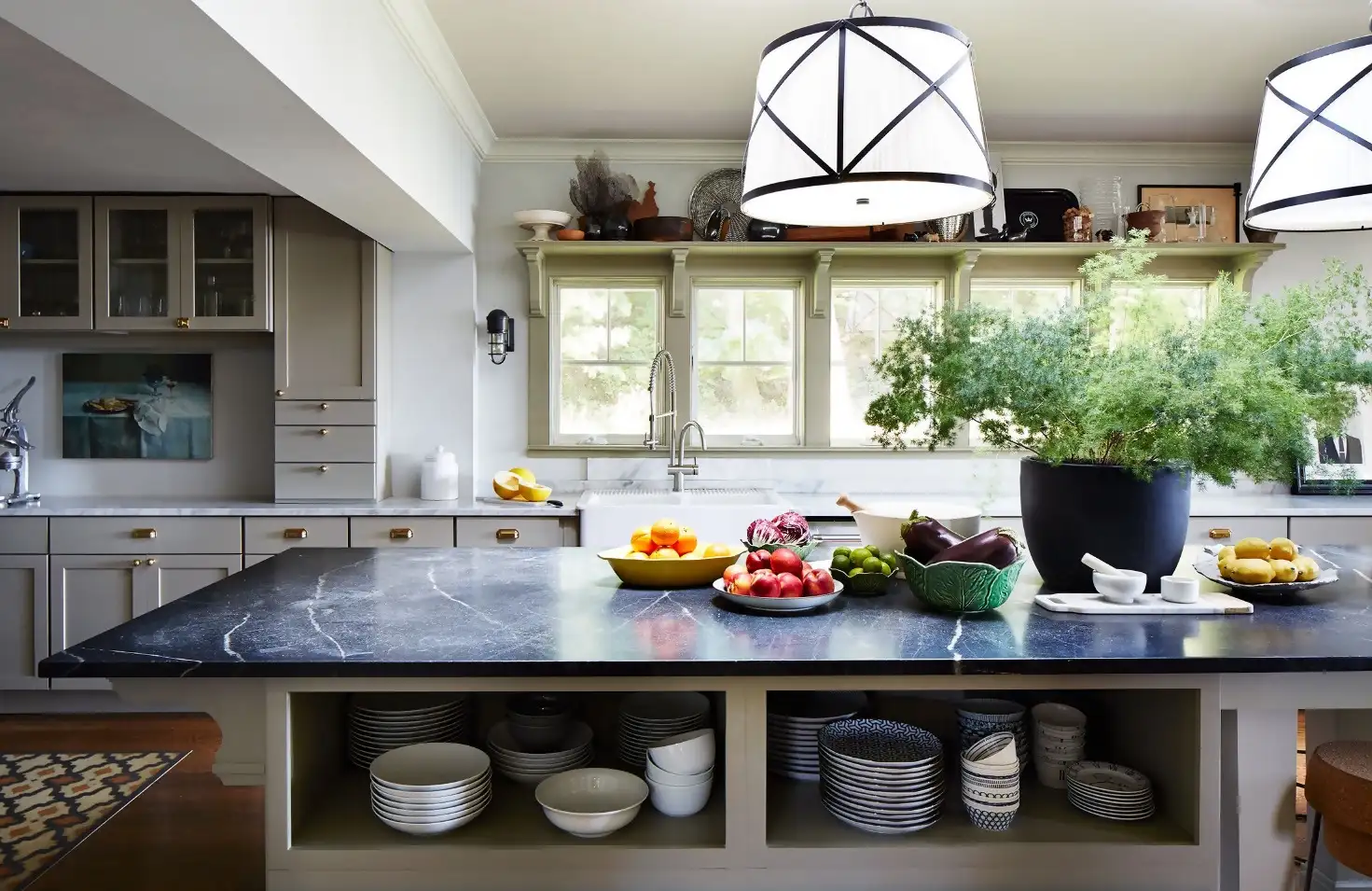 Kitchen Island With Seating
Think about casual bar-seating to emphasize the practical side of the kitchen island. That's a great way to create a snack bar for both family and guests. Place comfortable bar stools under a worktop.
Play with colors and materials. Mix a white solid-surface countertop with brown wooden bar stools with gray fabric upholstered seating.
Solid-surface countertops are made of polyester, dense acrylic, or a combination of both. It is a repairable and low-maintenance material type but not scratch- and heat-resistant.
Appliances
Install basic appliances, such as a sink, stovetop, wine refrigerator, under-counter refrigerator, and/or microwave, to increase the functionality of the working area.
Incorporating a sink is a smart and practical solution. You wash your hands, dishes, and fruits regularly. Using an additional sink, you have more options. If two people cook in your family, each will have a separate cooking area with a sink. Installing a stovetop is a great way to have a fully functional kitchen island for both cooks.
Take into account some complicated elements of incorporating kitchen appliances: ventilation (choose a downdraft or overhead ventilation system) and plumbing (the necessity for extra space for in-cabinet pipes).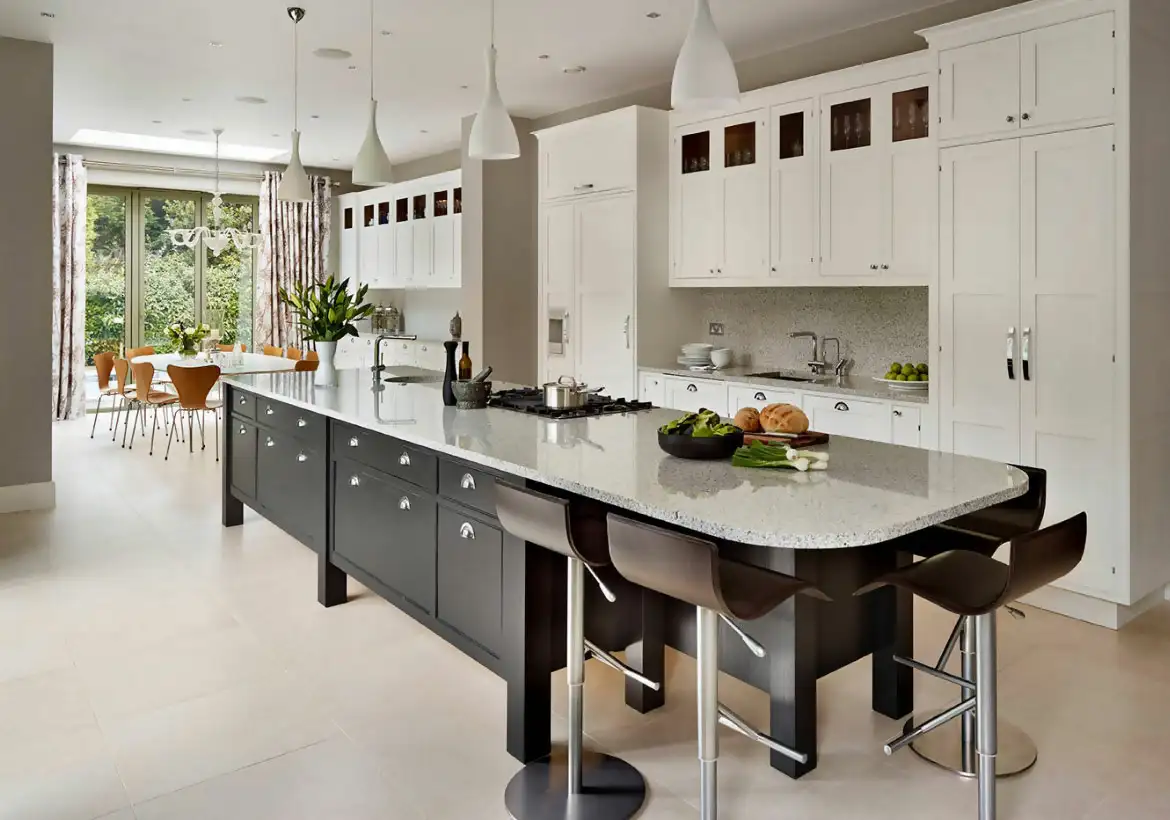 Maximize Utility With A Multi-Level Island
If you install a kitchen island with more than one level, this design solution immediately shows its multifunctionality. Creating a difference in the height of the kitchen island is a great way to separate space into different zones. This means you'll have two separate areas: the top level will be used for cooking and the lower one for eating.
What About More Storage?
Of course, everybody needs a lot of storage space. It has both functional and aesthetic sides. When you hide your utensils and appliances, you declutter your kitchen!
There are various options for storage space inside a kitchen island. For instance, a combination of a closed cabinet for pots and pans and hidden appliance storage inside your kitchen island is a brilliant design solution!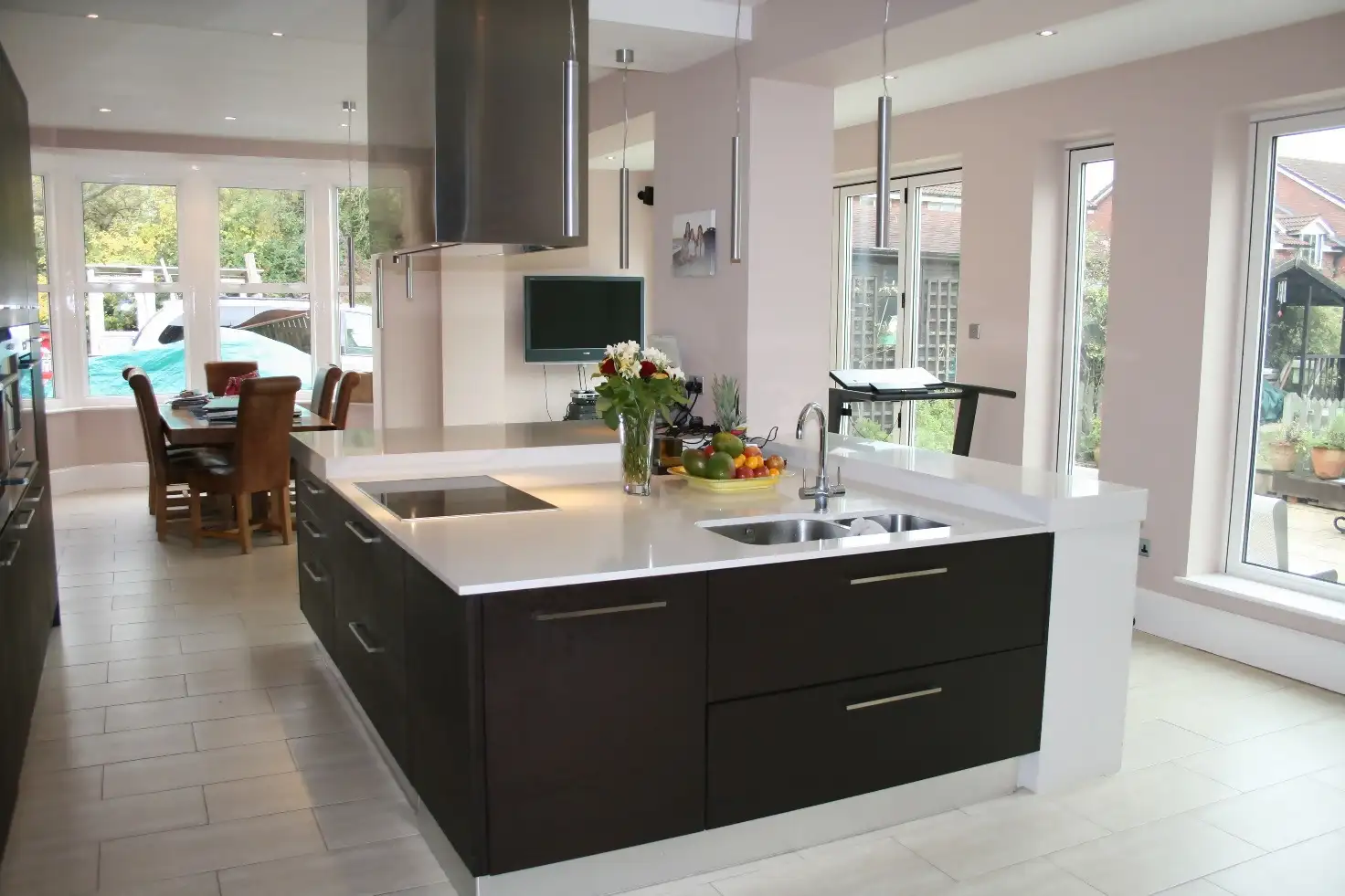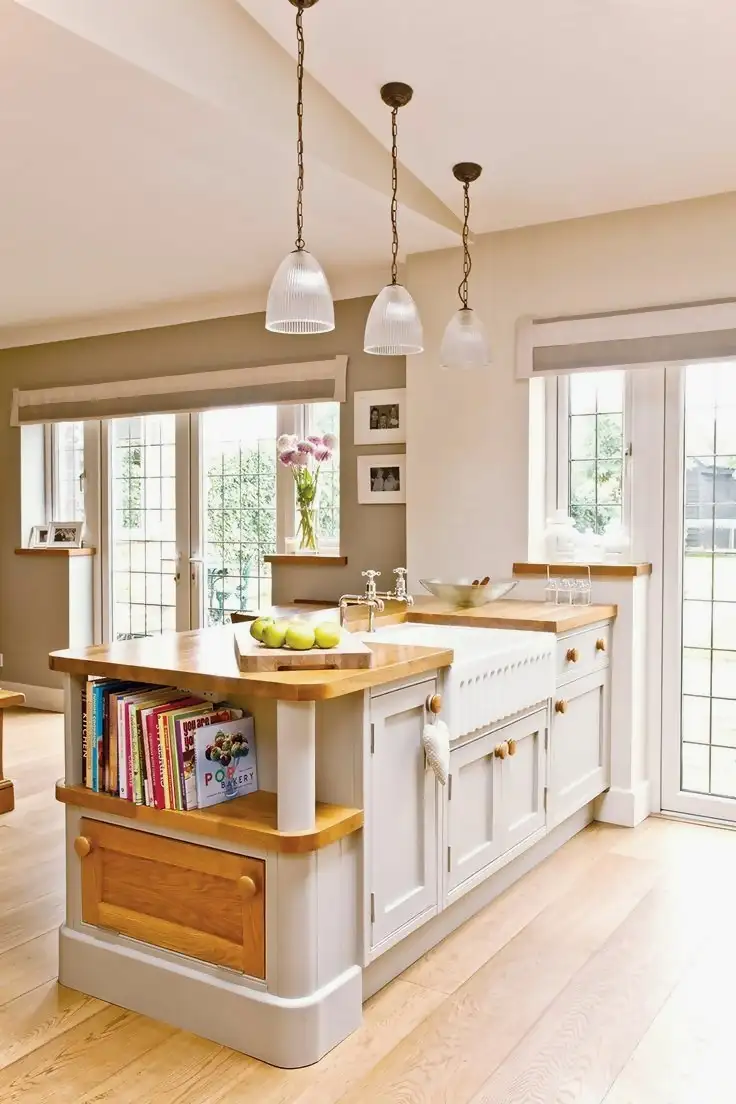 Also, think about open shelves to display your cook books or other décor elements of pride.
If you are a connoisseur of wine, display your love of this fragrant beverage in your kitchen. Wine stimulates the appetite and plays on flavor notes. Choose a kitchen island with a built-in wine rack and discover wines of Southern France, Spain, Italy, Chile, and other countries with your meals.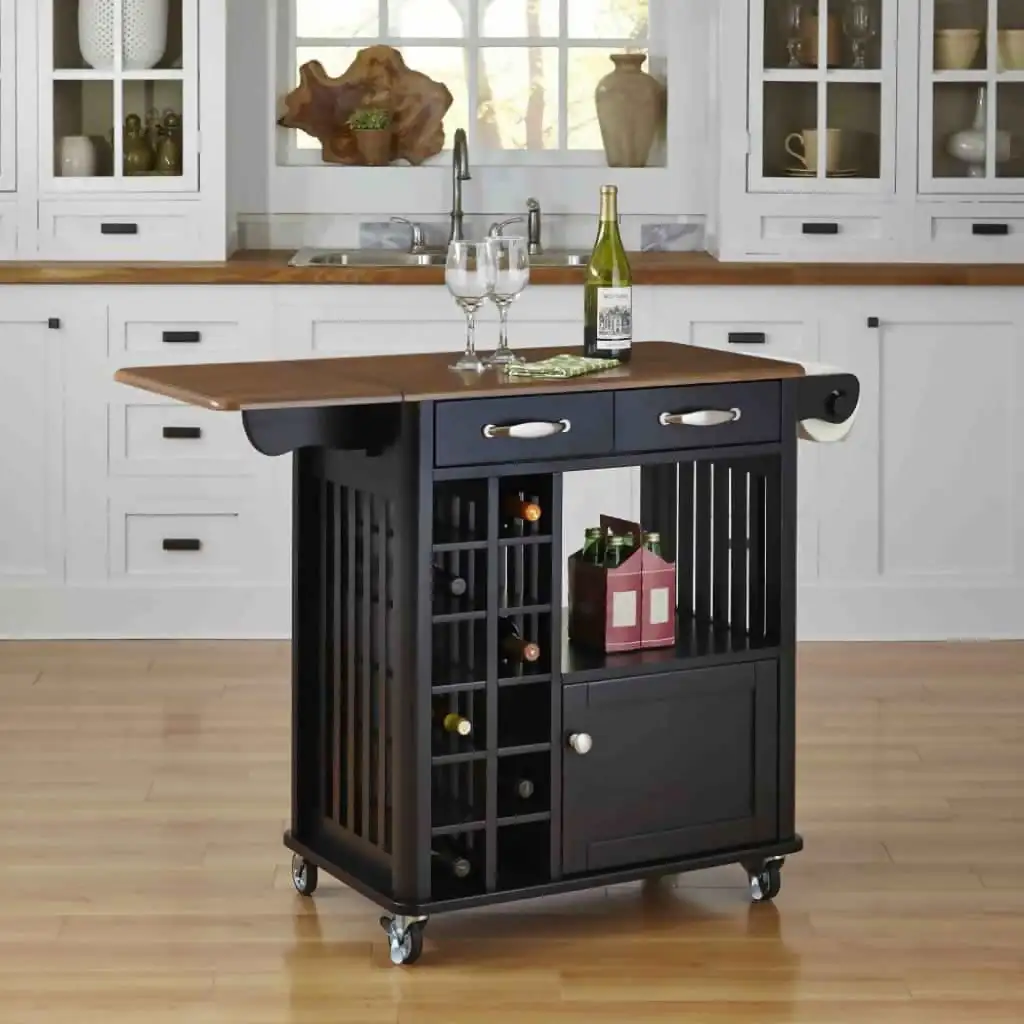 Basic Types Of Kitchen Islands
There are various models of kitchen islands: from budget-friendly and simplistic to expensive and fully functional types. Also, you need to choose between portable and non-portable kitchen islands. To make such a decision, take into consideration the size of your kitchen. If you have enough space, choose a fully functional type of kitchen island.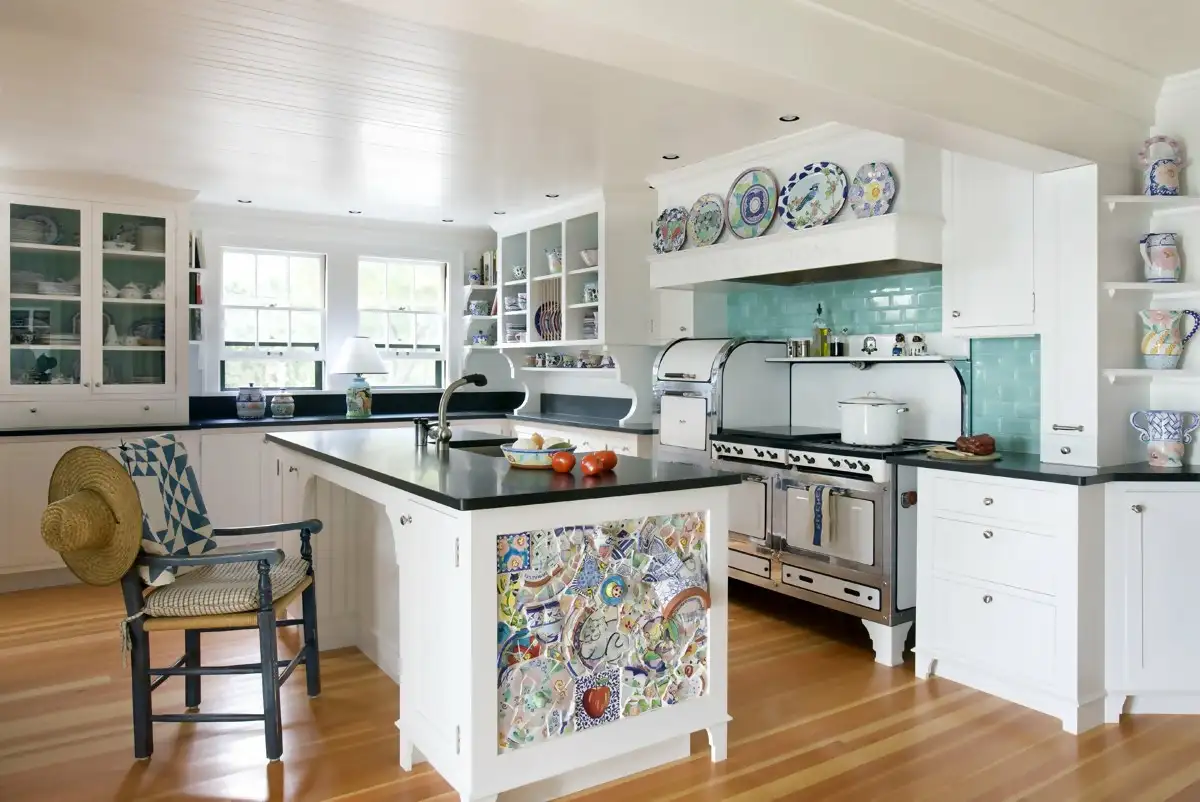 If your kitchen is too small, choose a portable kitchen cart. In this case, it will be a good choice, because sometimes you'll need to move the island out of your kitchen to have more cooking space.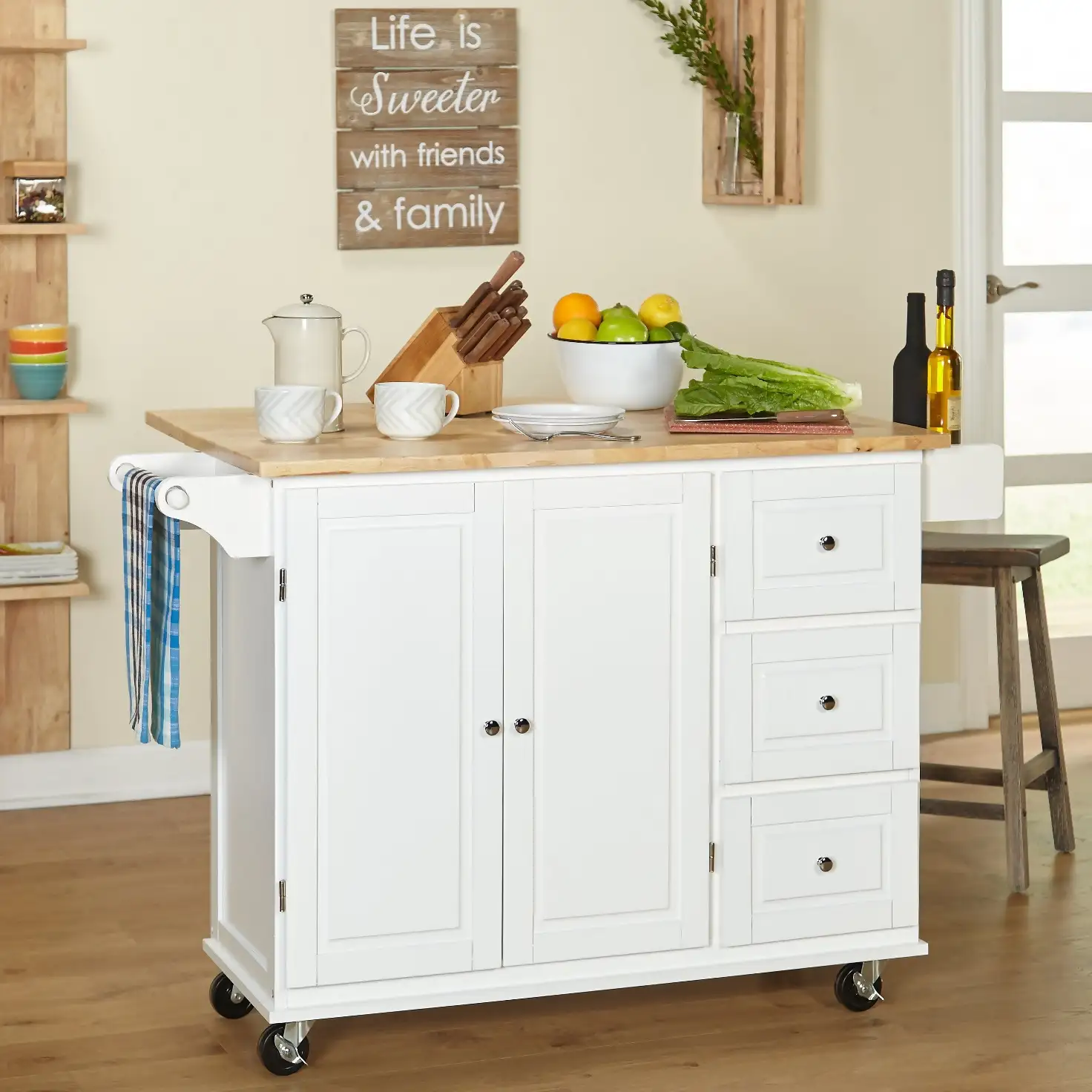 Rolling Cart
A rolling cart is the simplest type of a kitchen island. It's a budget-friendly prep area which is easy to move in and out.
In general, the mobility of the rolling kitchen island promotes instability because wheels tend to become unlocked systematically. It could roll when you least expect it.
But when we talk about advantages, thanks to the mobility element, you could easily move a rolling cart from the kitchen to the laundry room. Such multifunctionality is useful to consider, isn't it?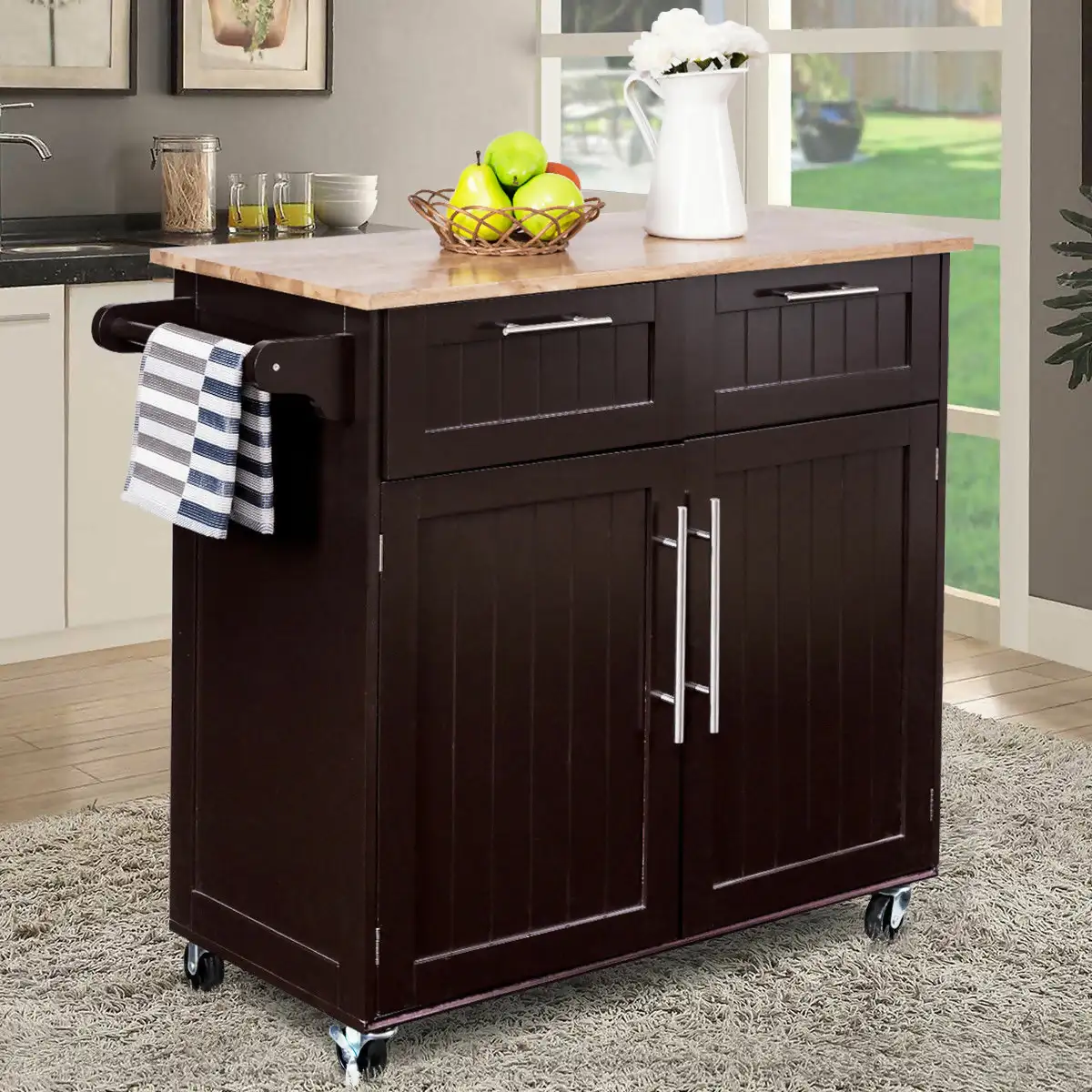 Small Non-Movable Kitchen Island
A non-portable kitchen island is a stable type because it features an absence of wheels on the bottom. This island model doesn't have the annoying tendency to slide away as a rolling cart does while you're cooking. So, it will be simple for you to make something delicious for the family.
Four feet long is the maximum length of such a kitchen island. It fits with a small kitchen in the most perfect way.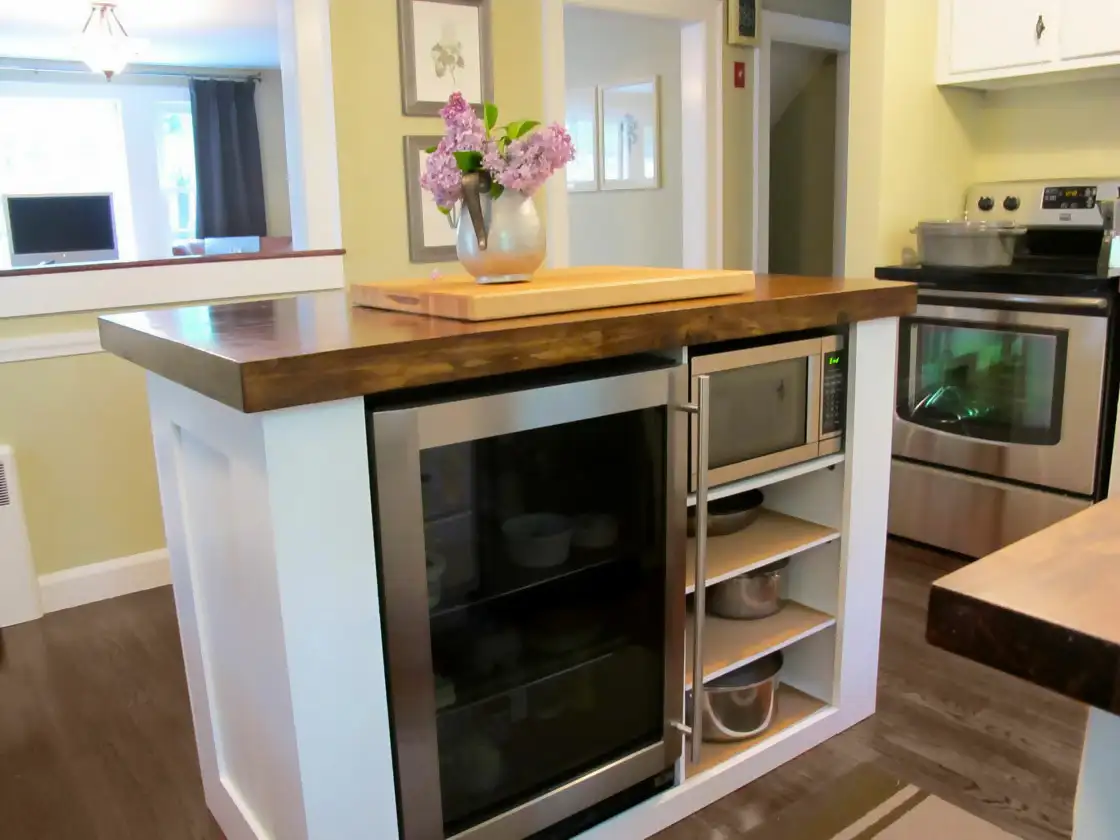 Island Table
If you place a normal table with four legs and a flat top in the center of your kitchen, it can be classified as a kitchen island. Of course, it's just an extra flat surface to prep food without additional appliances. But using a table as an island is a great way to add a tasty touch in your kitchen. For instance, if you incorporate a rustic style table in a contemporary kitchen, you'll create a stylish combination. Complete this modern design with bar stools and a shelf under a worktop for useful kitchen utensils to create more than just a table.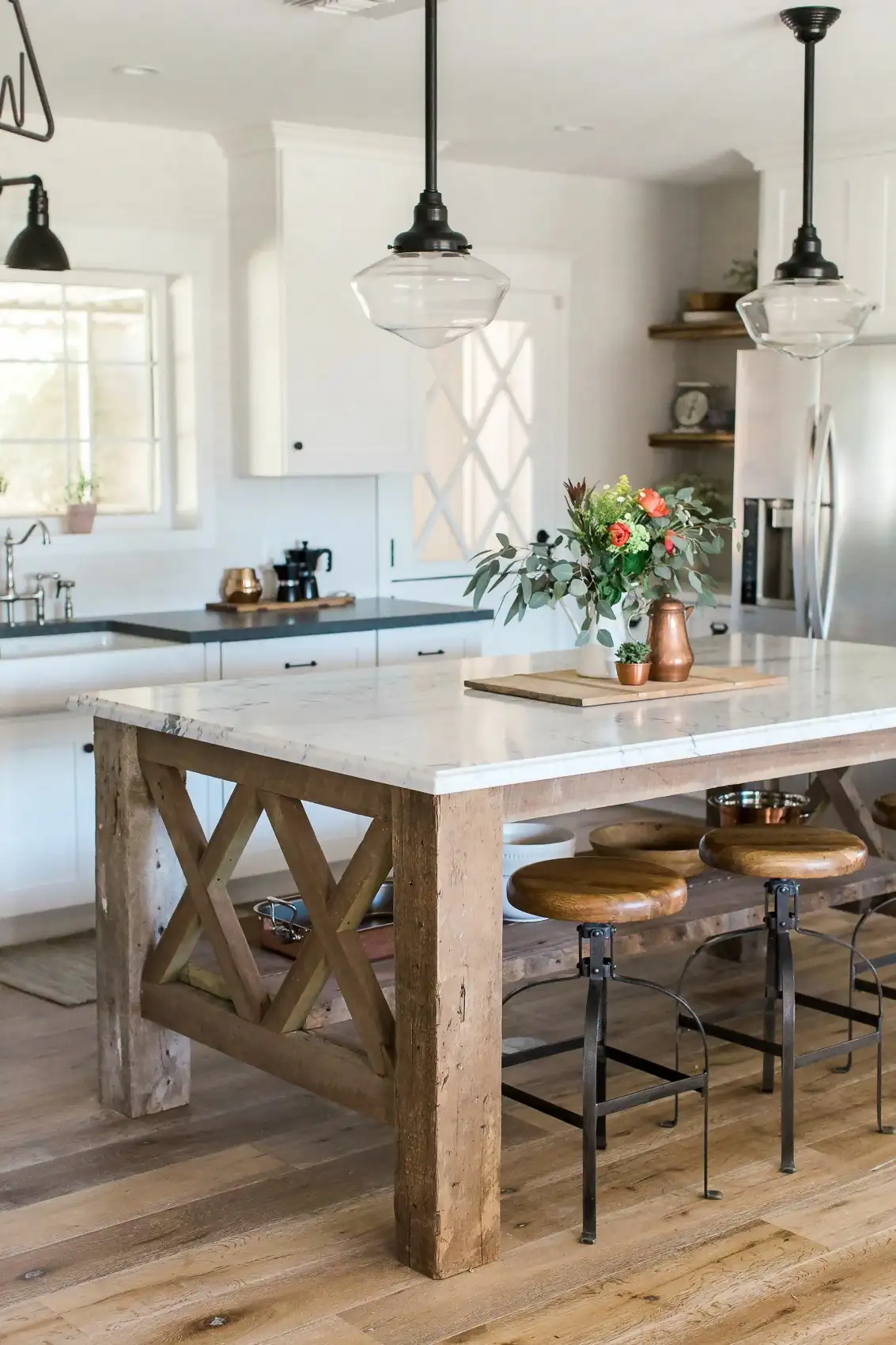 If you like unusual décor solutions, think about a modern table without four legs. A flat top could be incorporated in a stone block on each side.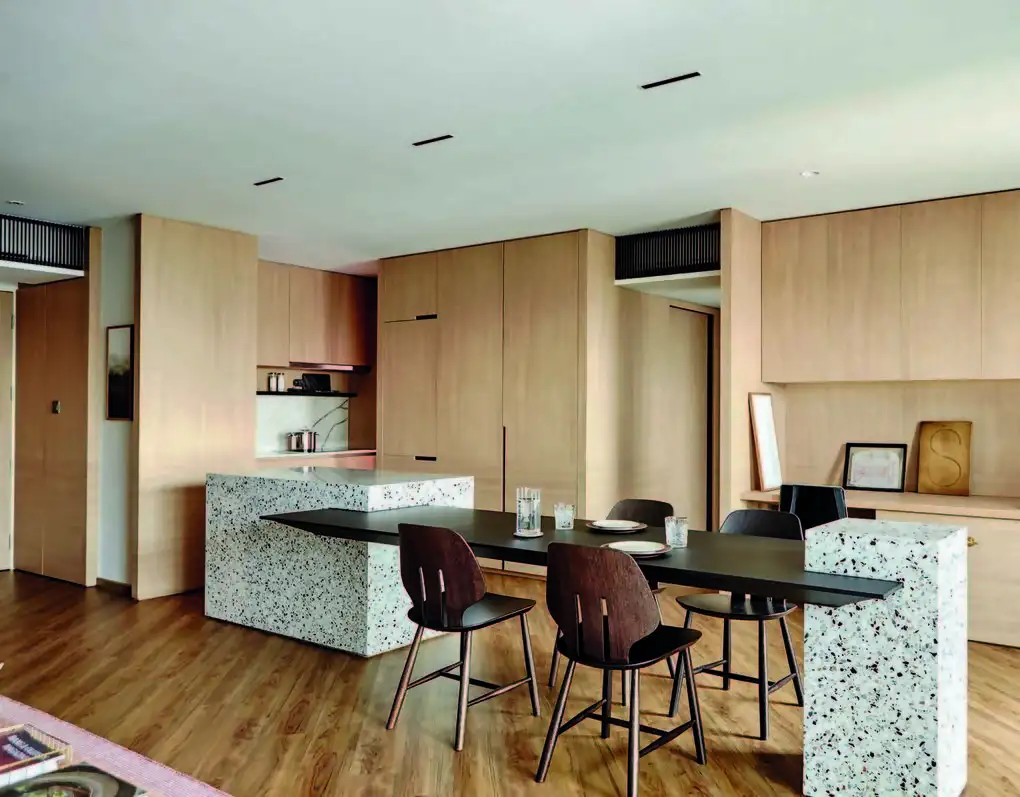 Kitchen Island With Countertop
If you want a kitchen island as an additional eating space for both your family and guests, think about a model with a storage cabinet for various appliances and a worktop. It's a multifunctional solution, because you could both cut veggies and eat there. Such a kitchen island doesn't include the ability of using electricity and water which will greatly reduce your costs.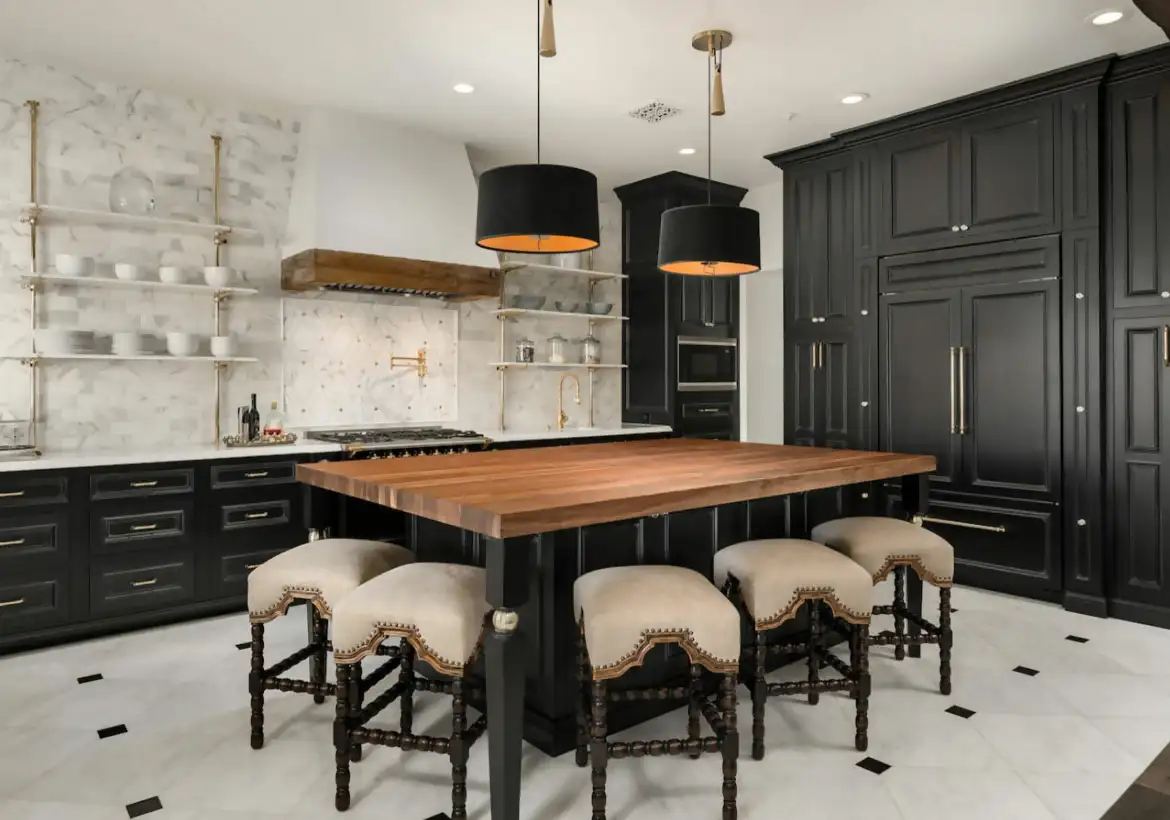 Functional Kitchen Island With Electricity And Water
A fully functional kitchen island features the availability of electricity, a sink, drainage, and countertop. This freestanding kitchen island is both functional and expensive. So, be ready to have both additional working space and costs for plumbing!