The elements of Venetian interior design
Venice is the city of romance, so it is only right that Venetian interiors be inspired by the beautiful charm and exotic glamor of its splendor. Venetian interiors are grand, scrupulous and offer a great wealth of detailing in a small span of space. Venetian interiors in the contemporary world are an amalgamation of old and new; inspired from tradition, but executed in modern sensibilities. However, these neo-Venetian interiors still continue to incorporate the elements that had defined the style in the first place; including the color schemes, utilization of large spaces, arches and loggias.
History of Venetian interiors
Venetian interiors are a combination of several classical styles. The Renaissance era saw the rebirth of various classical arts, including architecture and interior design. It was during this time that Florence and Venice became the very center of the European Renaissance movement. Venice was renowned for its striking inspiration and influences from the classical Greek and Roman styles. However, it was not only these particular styles that impacted the Venetian style of interiors. The Venetian interior style also has touches of Gothic, Byzantine and Ottoman styles with small influences of Baroque and Rococo. It is the integration of all of these styles, and their specific components that make up the gist of Venetian interior design.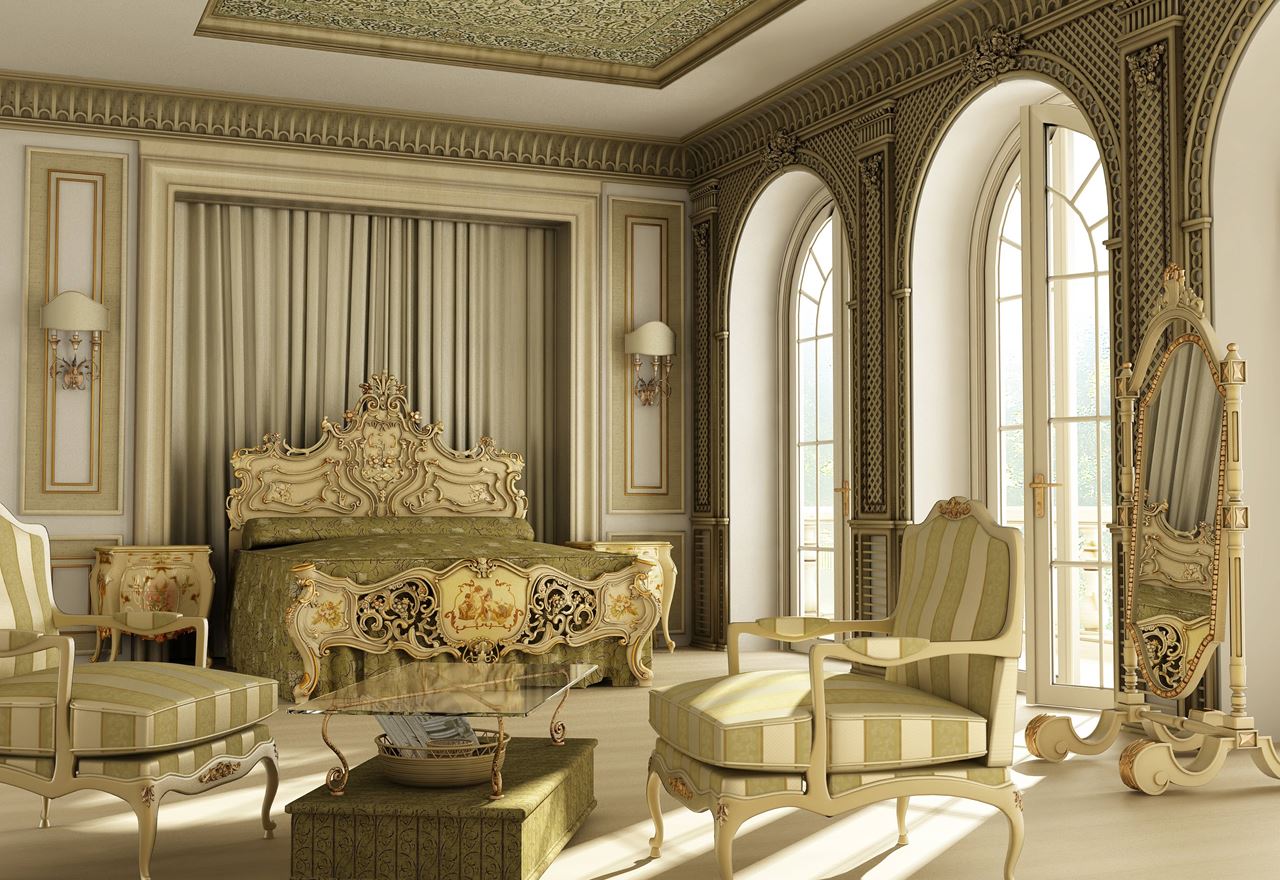 Components of Venetian interior design
Venetian interiors are a combination of various design styles. This means that there is a dubitable inconsistency in the articulation of this style. The city of Venice itself is said to be the birthplace of unique architectural styles because of its peculiar circumstances – as building homes above canals is a rare phenomenon indeed. So the spaces and elements that make up Venetian interiors are different than the usual space designs that have become the norm.
Tall spaces in Venetian interiors
Venetian interiors are grand in aesthetic. This means that their proportions are certainly different from the regular contemporary and modern interiors that have defined our generation. The physical space manipulation of a Venetian interior design requires the area to seem large, spacious and tall at the same time. The tallness, combined with all the other ornate elements of Venetian interior design, make the space seem balanced, rather than stuffy and overbearing. The tallness of a Venetian interior could be carried out by using double height spaces along with intrinsic design elements like pilasters, columns and tall windows.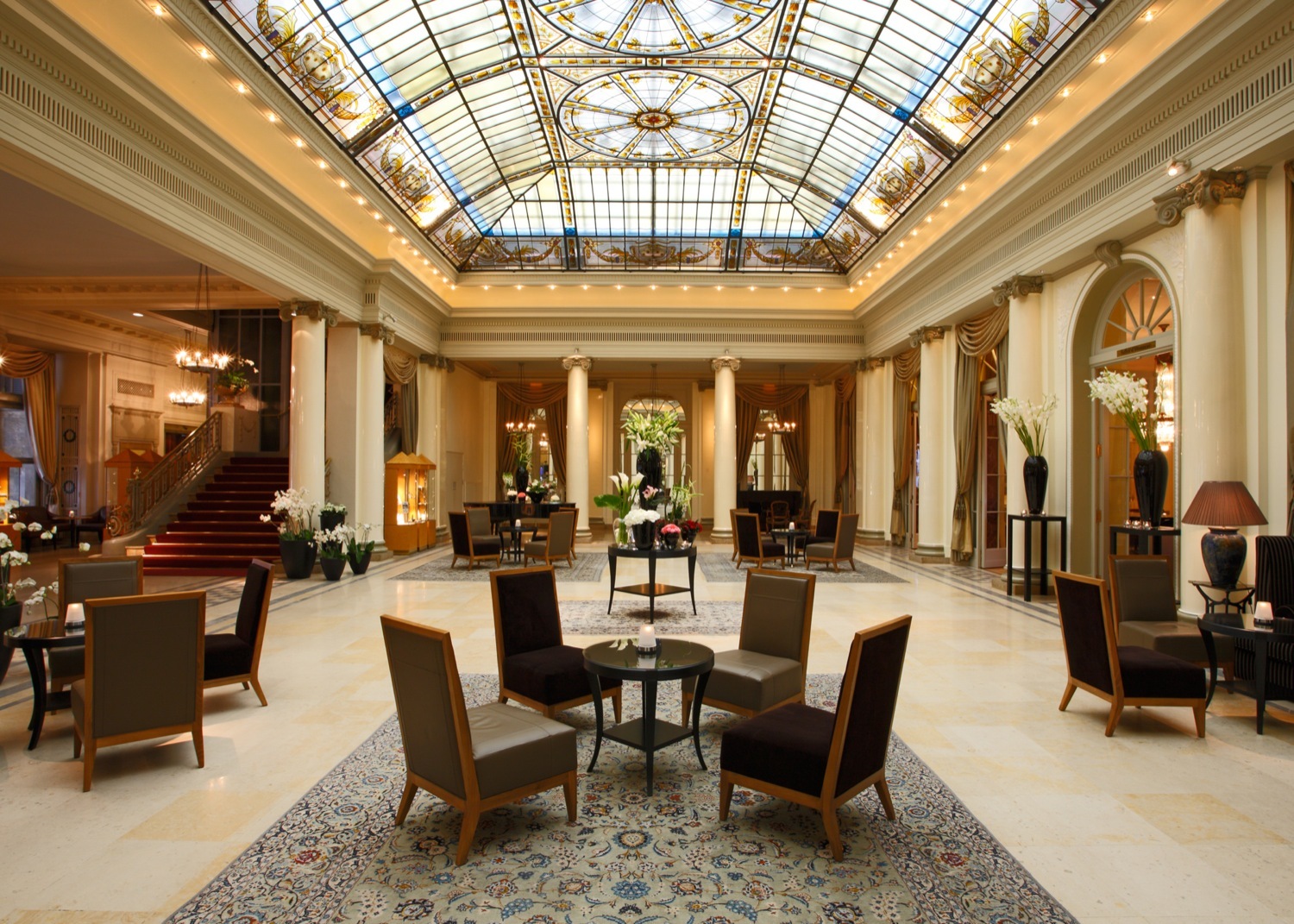 Simple barrel arches in Venetian interiors
Arches are a core part of Venetian interior design. Barrel arches are simple, semi-circular toppings to a normal window or door portal. Sometimes, they are fitted with fanlights. In context of Venetian interior design, arches reinforce the idea of traditional style. They have been derived from the classical interior elements of Greek and Roman architecture. A simple barrel arch, with its surrounding pilaster and carvings are the epitome of traditional aesthetic. As such, they have become one of the more prominent features for identifying a Venetian interior design.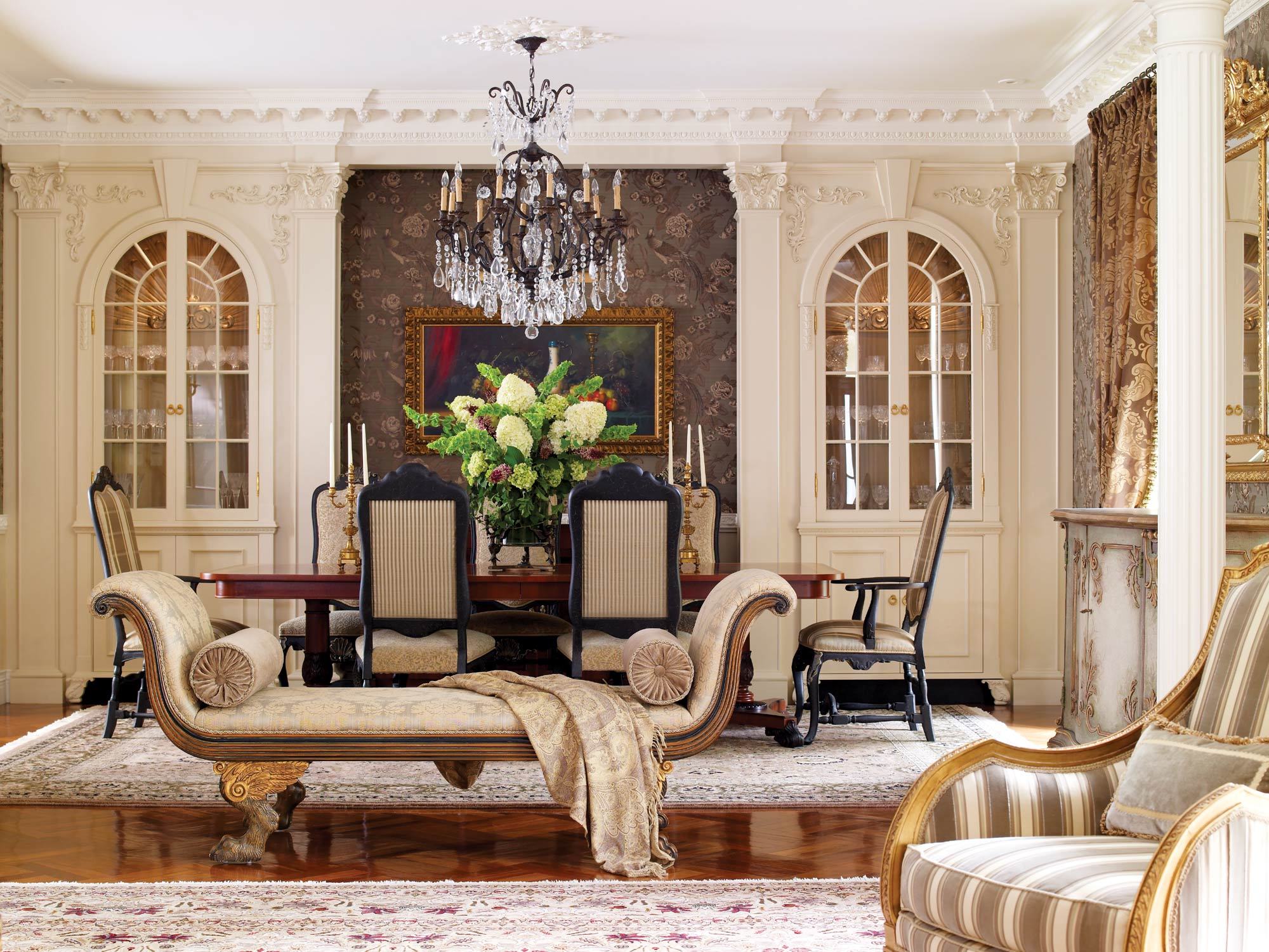 The gothic lancet arch in Venetian interiors
There have been many touches of Gothic style features in Venetian interior design. The most prominent of them might have been the use of height, but the Gothic lancet arch is a close second. The Gothic lancet arch consists of a tall window body with a pointed arch at the top, almost in the shape of a lance. This arch is another traditional feature that sets Venetian interiors apart from their modern and contemporary counterparts. However, the addition of a lancet arch in a neo-Venetian setting could be carried out in more stark and simpler aesthetics. It could have all the arabesque design features within the window grill in the arch, but the surroundings would be more unadorned and straightforward.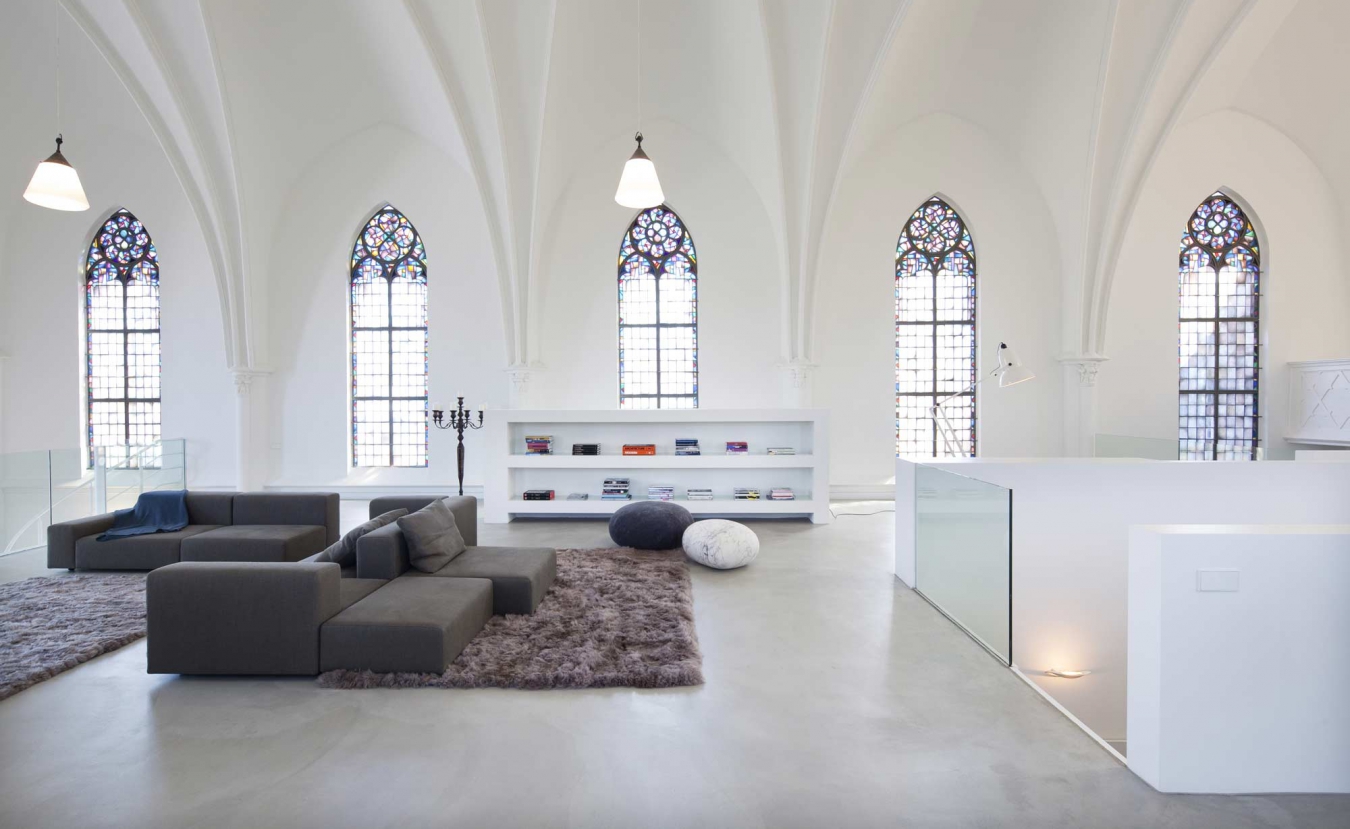 Central hall in Venetian interiors
During the 14th and 15th centuries, the element of a central hall was added to the layout of a Venetian interior design. This central hall was called a portego. It is wide and spacious, square in form and layout, often with wainscoting as wall design elements and a central seating space with a chandelier hanging down from the very middle of the ceiling. Like all Venetian interiors, the portego was tall in height, which makes it seem almost cavernous. This adds to the grand aura of the ambiance. It also makes the interior seem opulent and capacious.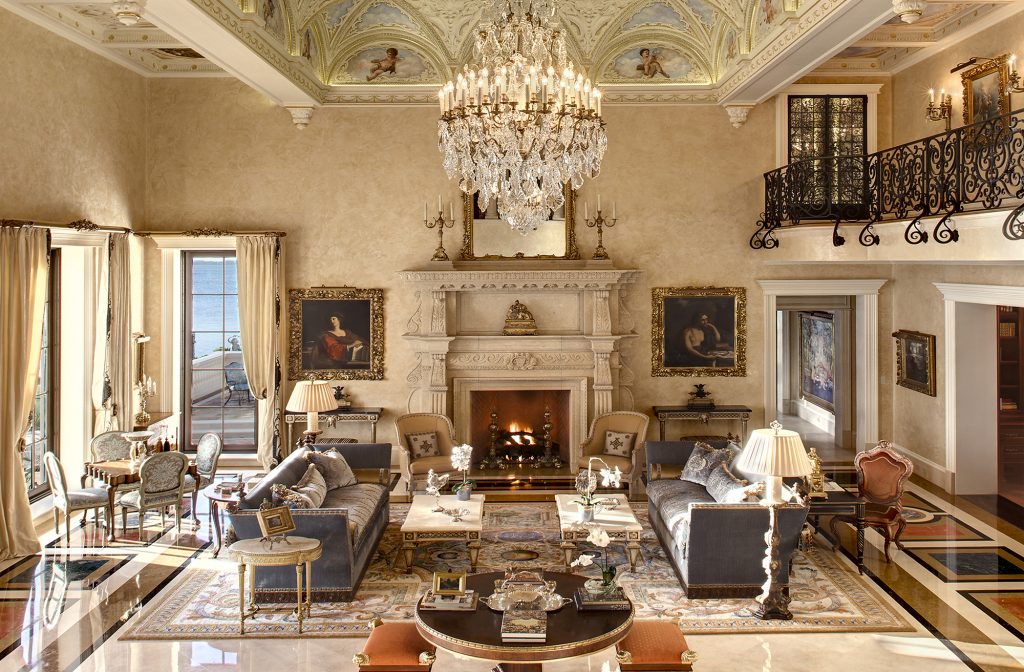 Loggias in Venetian interior design
A loggia is a gallery or a room attached to the house with one or more open sides, and looks out upon a garden or open space. Loggias are an important part of Venetian interiors. The city of Venice has splendid views of canals, and Venetian interiors often made use of well design loggias to incorporate these views in their interiors. A Venetian loggia is elongated in layout, and has an arcade of arched columns on the open side of the layout, almost like a portico. The loggia is tall and spacious, with outdoor furniture as part of its seating design.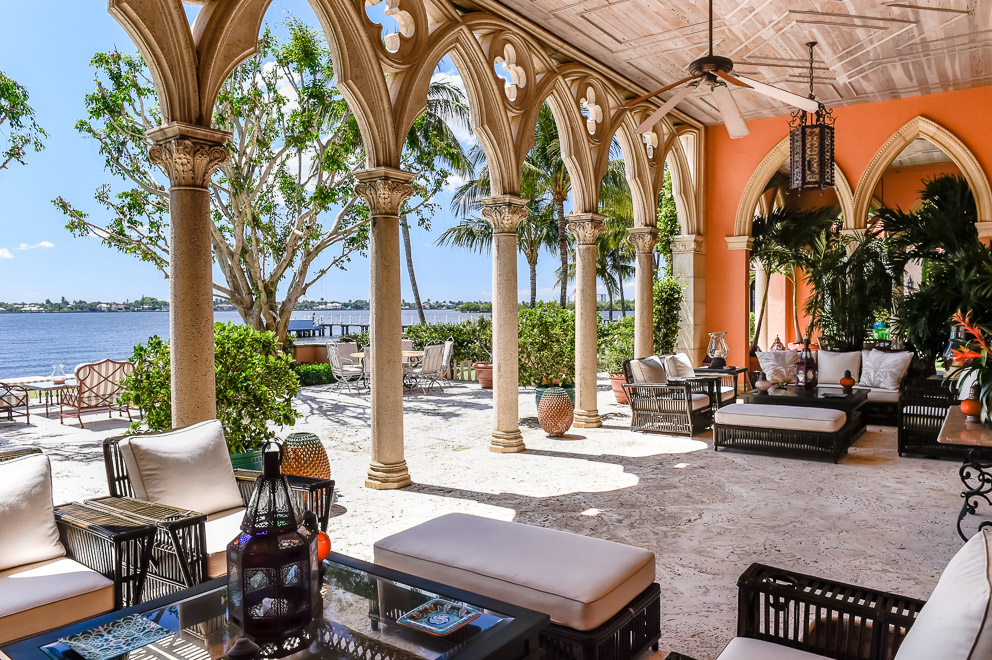 Ceilings in Venetian Interior Design
Venetian interior designs are a combination of a number of design styles. So when it comes to ceiling design, there is no one single rule set in stone. There are several types of ceiling designs in the Venetian interior genre, but all have that certain traditional ambiance in common.
Simple Venetian plastered ceiling
Venetian plasters are one of the main components of Venetian interior designs. They come in varying colors and textures, so a simple, layered application on a vast ceiling is a commonly found interior aspect. To add a bit of glamor to the simplicity of such a ceiling, an elaborate chandelier is hung in the middle. This can add a dramatic lighting effect to the straightforward design of this kind of a Venetian ceiling.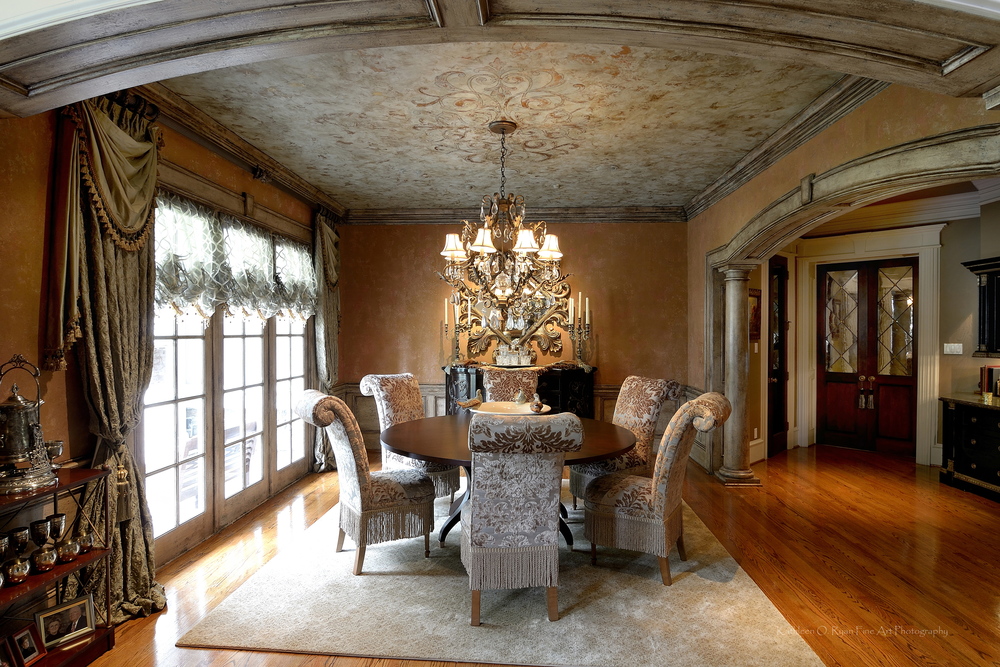 Coffered Venetian ceiling
A coffered ceiling consists of hollowed tiles surrounded by a grid pattern of beams designed in a cornice formation, creating a decorative pattern. The coffered ceilings in Venetian interiors have been inspired from the Renaissance aesthetic. The ceilings are heavily ornamented, and look dashing in the tall and spacious layout of a Venetian interior.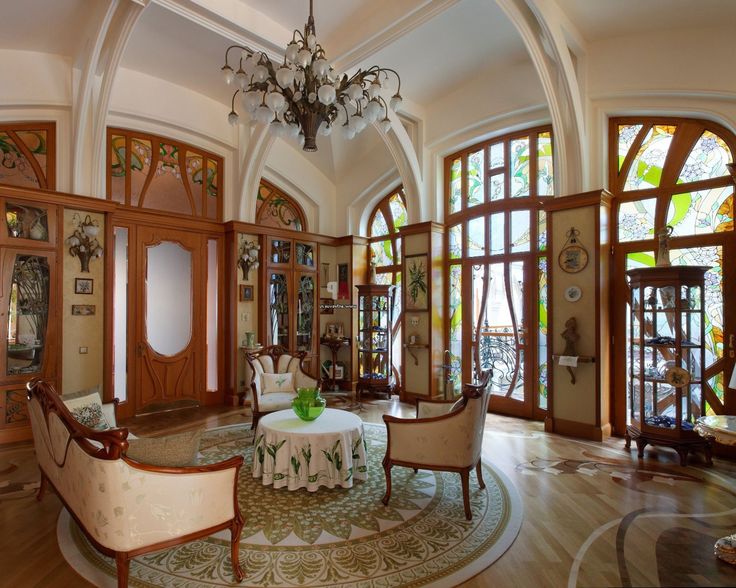 Painted Venetian ceilings
A part of Venetian interior design is influenced from the Baroque and Rococo movements; the painted ceiling was a salient feature of design in these styles. These kinds of ceilings in Venetian interiors have arabesques and other floral or decorative patterns painted atop the ceiling in pastel and gold colors.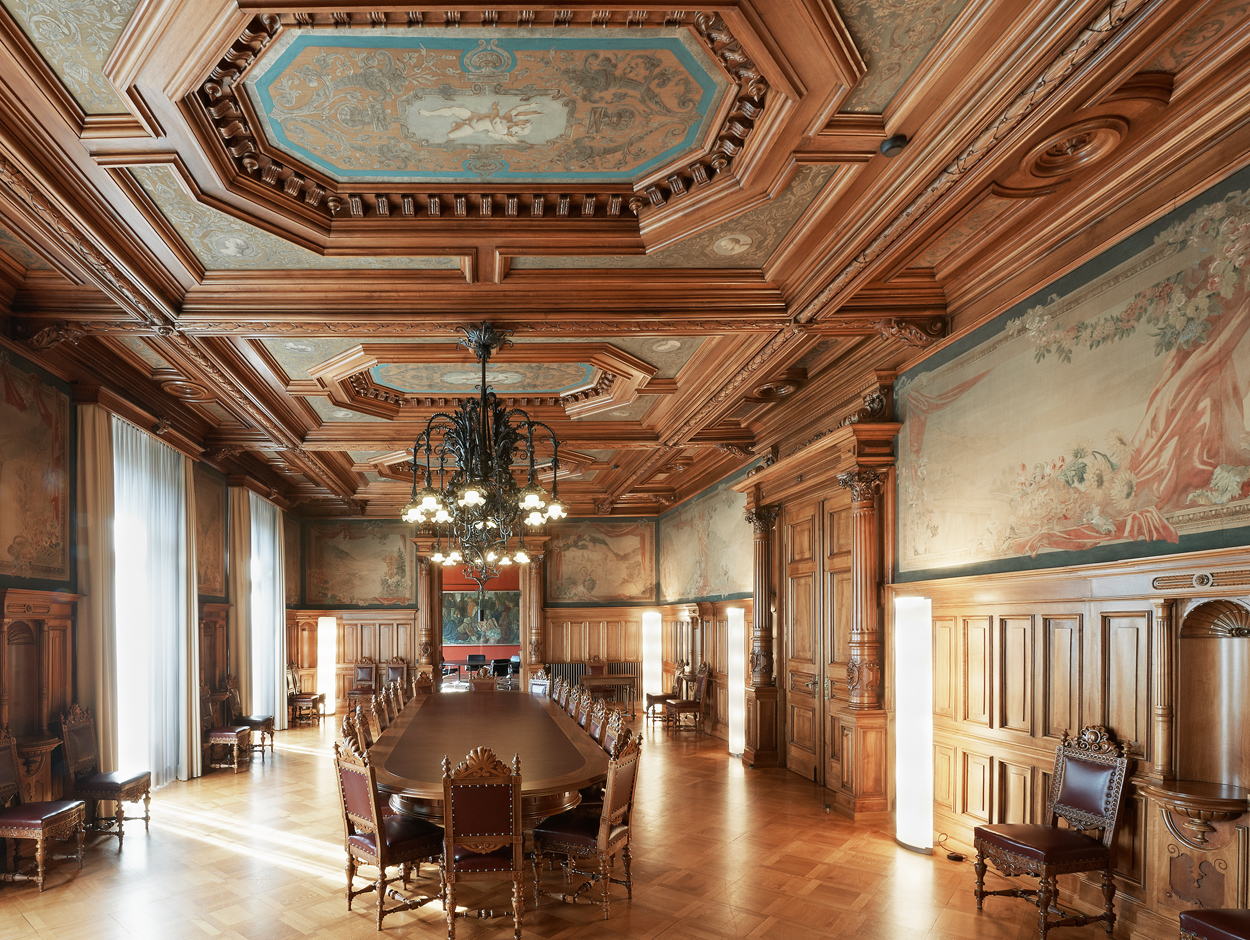 Color Scheme of Venetian interior design
The color palate of the Venetian interior design runs the gamut of the warm end of the color wheel spectrum. Venetian interiors use rich colors like burgundy, dark reds, bright blues and muted yellows and tans. This makes the overall impact of the Venetian interiors warm and rich. The muted color schemes are used to imitate natural colors. The brighter colors are usually articulated through the furniture, drapes and floor furnishings, while the softer colors are incorporated in the walls, trimmings and accents.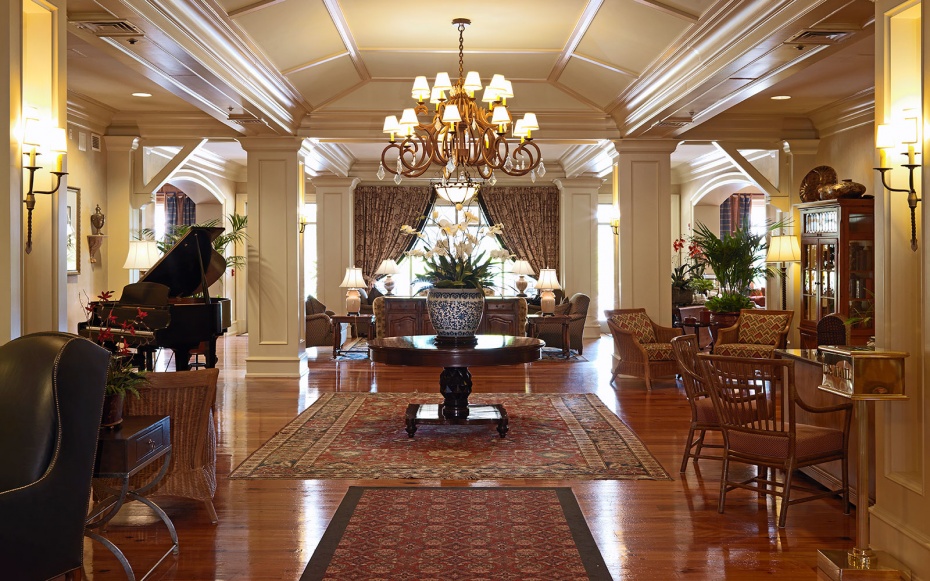 Light in Venetian Interior Design
The lights in Venetian interiors are used to ramp up the tradition and drama of the overall ambiance. The light source emanates a soft, golden glow, which enhances the rich color scheme of the interior. There are two ways in which lighting can be used in Venetian interiors.
Wall fixtures
Many Venetian interiors have lighting fixtures that are attached to the wall. These are especially present in neo-Venetian interiors, and are designed in elaborate, traditional styles. The wall fixtures create dramatic light and shadow plays within the space, which leans the Venetian interior in a more Baroque setting.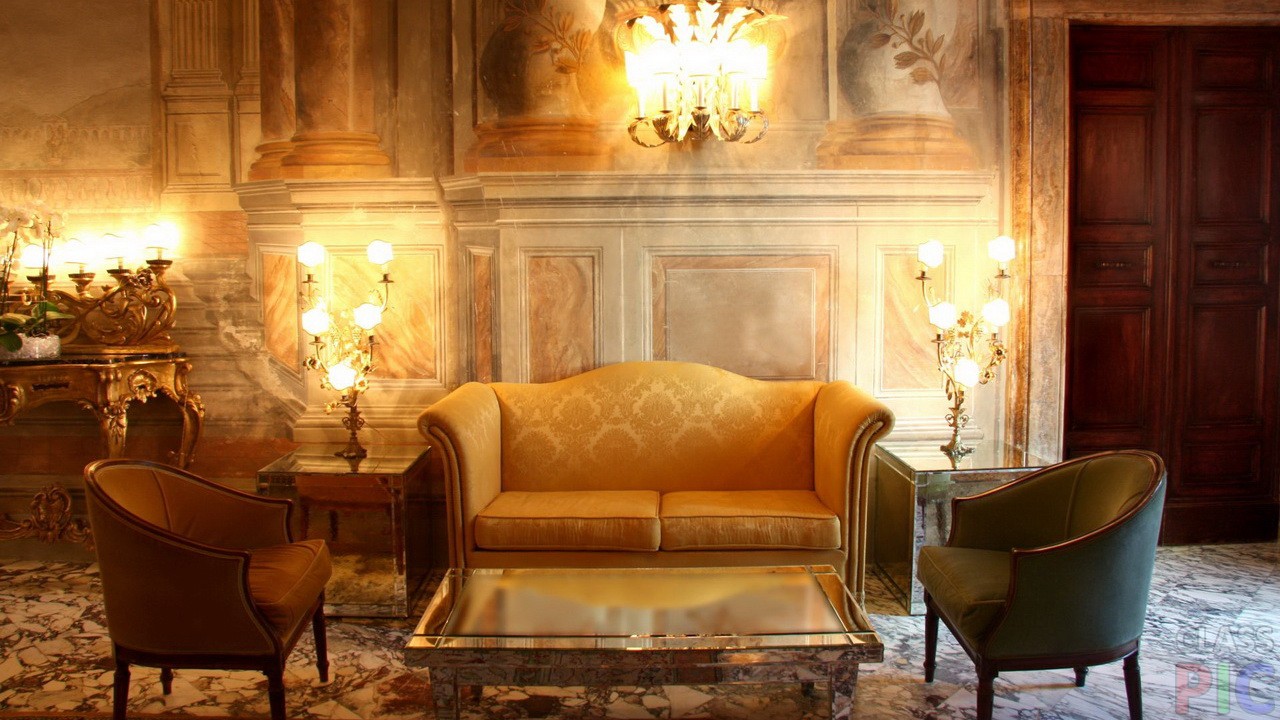 Chandelier
The chandelier is a more common lighting fixture in Venetian interior design. It is used as a centerpiece, and usually dangles over the center of the room, above the main seating area. The lighting from a large chandelier is not as dramatic, but the fixture itself is an impactful part of the interior design.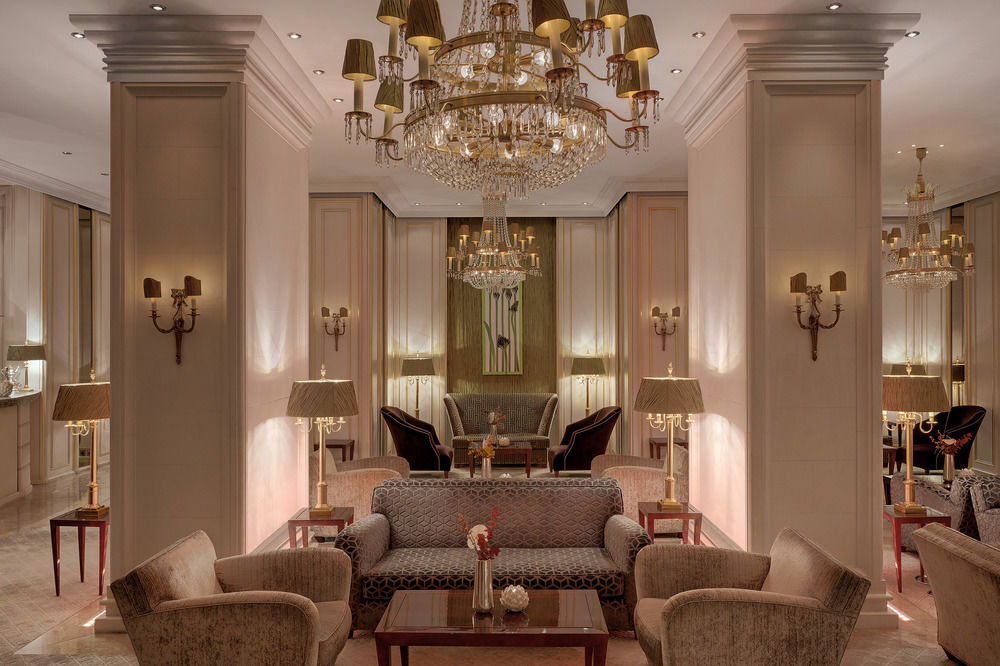 Materials and textures; Venetian plaster
Venetian interiors were usually finished in Venetian plaster. It is one of the most versatile and decorative surface treatments, even in the contemporary era. The Venetian plaster is a mix of plaster and marble dust, which is applied in thin layers, burnished to create a smooth surface. The overall impact of the Venetian plaster is chic as well as rustic. The plaster gives off an illusive depth and texture to any surface that it is applied to.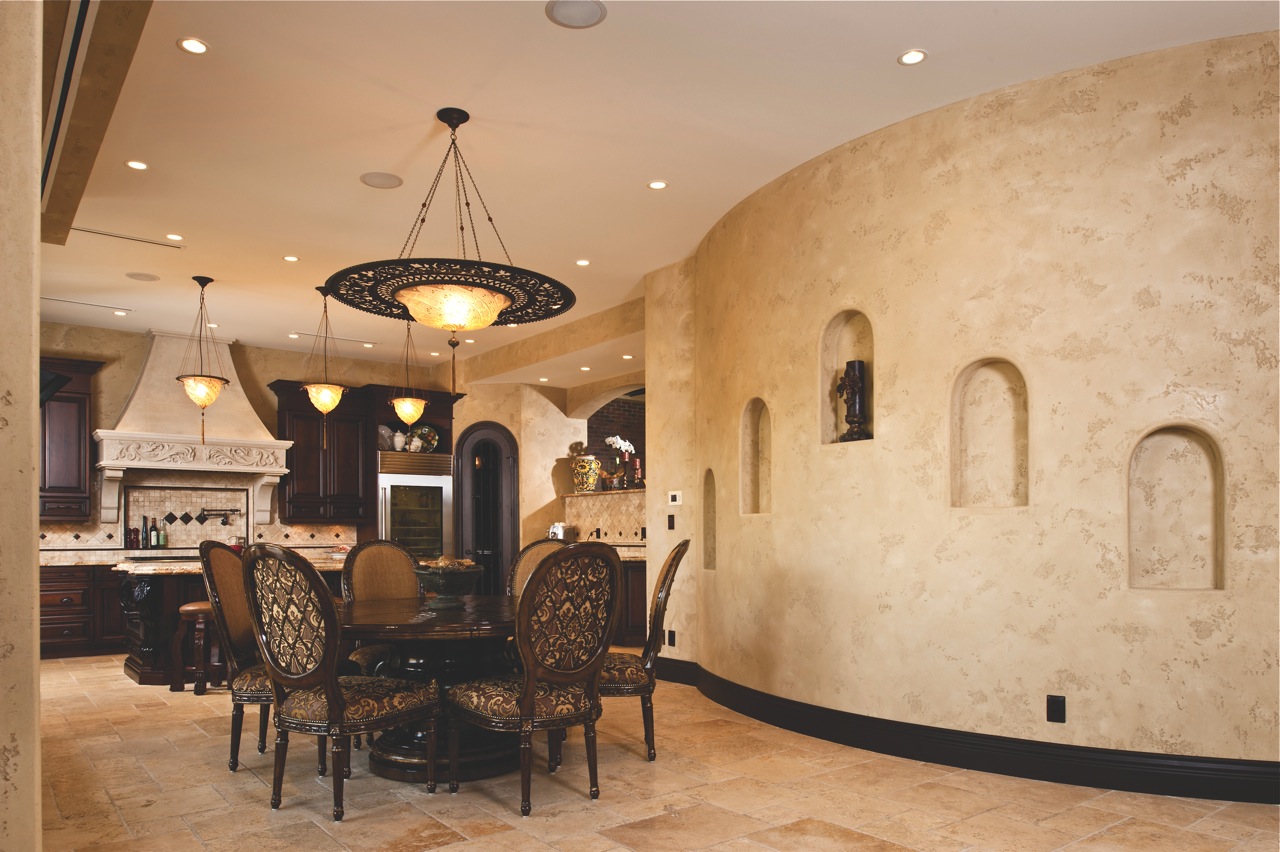 Broken pediments in Venetian Interiors
One of the less defining aspects of a Venetian interior design, the broken pediment is an influence of the Mannerism movement, which was in between the high Renaissance and Baroque movements. These are usually designed over windows, doors or other openings, but can be used in a completely decorative capacity as wall pilasters, fireplace mantels and more.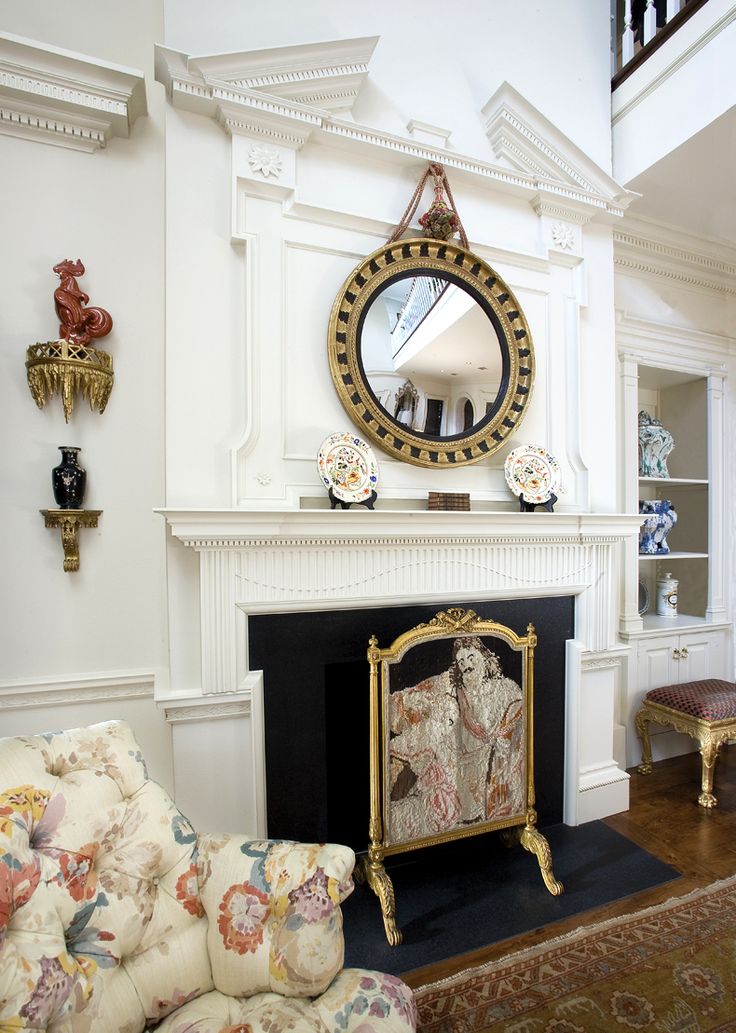 Draperies and curtains
Venetian interior design is severely traditional, so windows and/or large doorways are usually covered by heavy drapes and curtains. In the past, these curtains and drapes used to be made in damask, silk or velvet to enrich the overall ambiance of the interior. Neo-Venetian interiors can, however use drapes and curtains made of more modern materials. These curtains are chosen in rich colors that enhance the traditional aspect of the interior.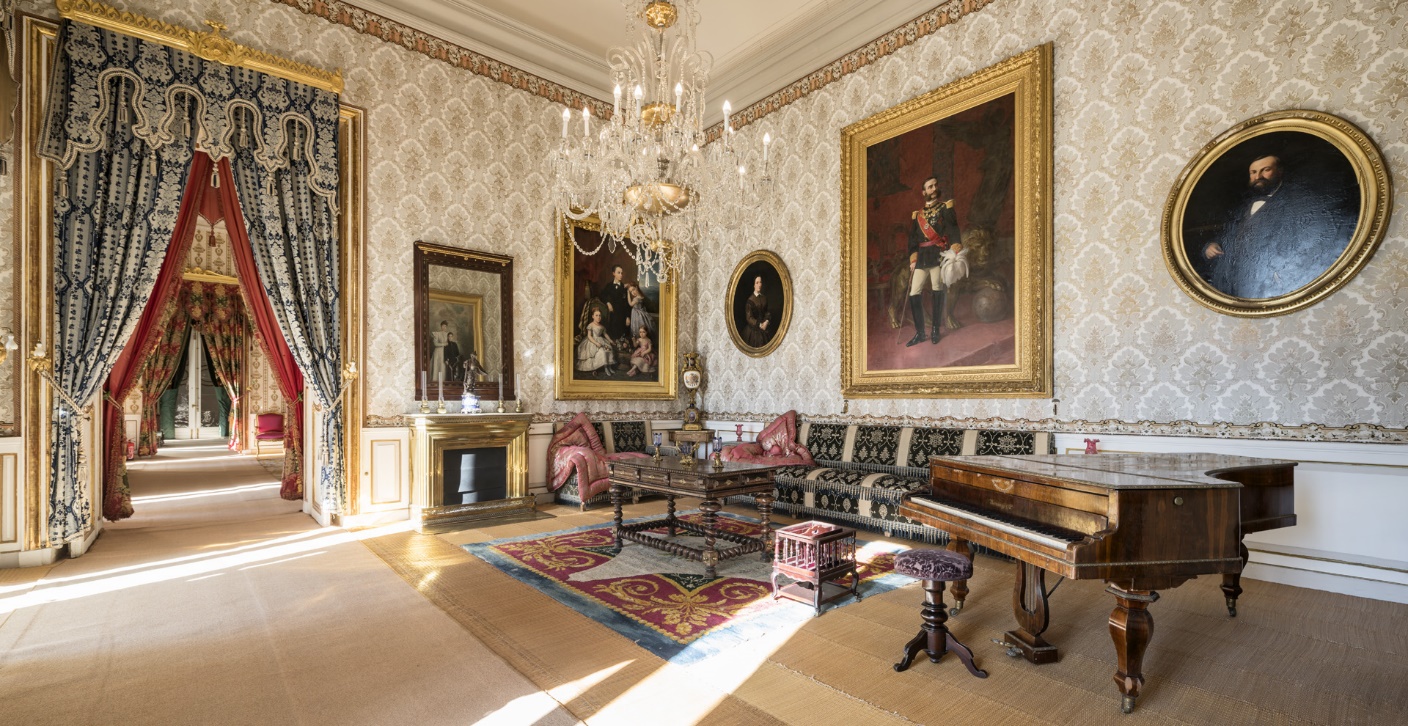 Girandole mirrors in Venetian interiors
Traditional girandole mirrors were round in shape, with candle arms attached at the top. However, throughout the ages, these mirrors have seen an evolution in design and come in rectangular, square or even composite shapes. They also have elaborate mirror frames that have complicated, intertwined floral designs. These frames are always finished in gold paint, and the mirror is always a centerpiece on the feature wall. Initially, these mirrors were used to reflect light throughout the interiors, but now they can be used as decorative elements only.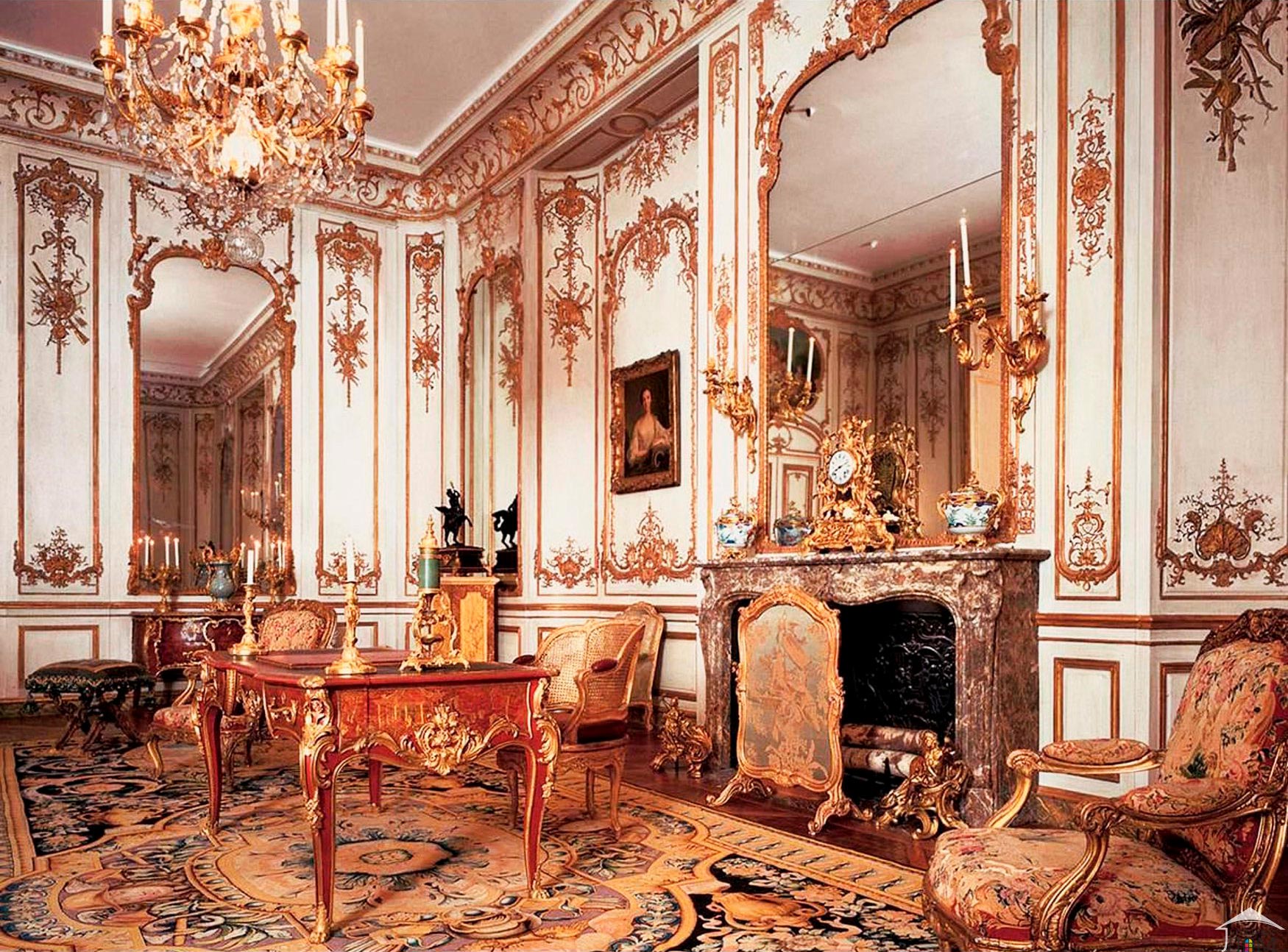 Murano glass objects
Murano glass is made on the Venetian island of Murano. Murano has specialized in intricate glassware for centuries, and Venetian interiors have always made great use of elaborate glass accessories to glamorize the space. Murano glass comes in various colors, and can be used in many ways, shapes and forms. Earlier Venetian interiors used to incorporate chandeliers made of Murano glass as centerpieces for their rooms, but neo-Venetian interiors also use them as decorative accessories.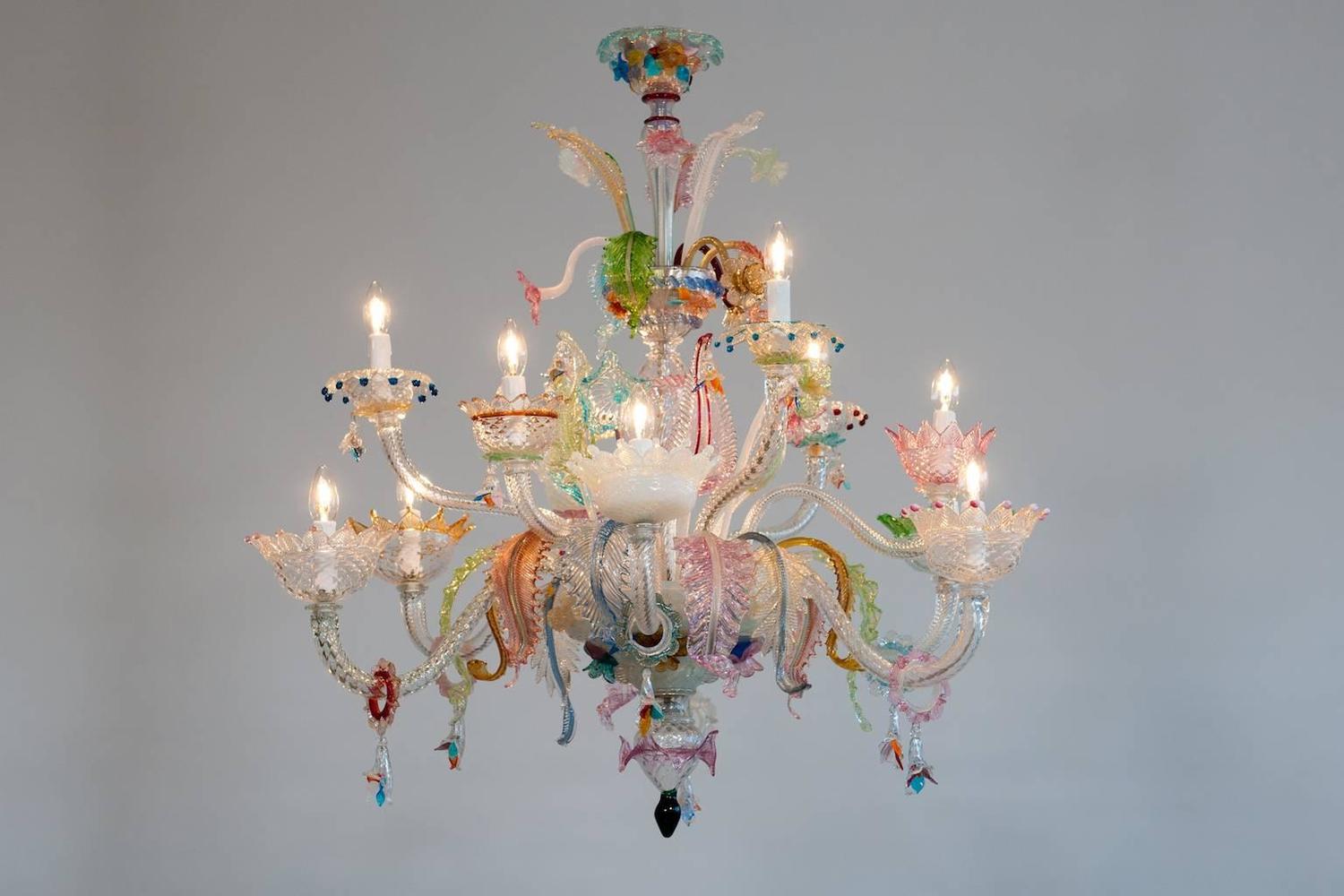 Ornate furniture in Venetian Interiors
Venetian interior design is all about the amalgamation of various traditional and classical styles, so it is only given that the furniture be as ornate and glamorous as the ambiance itself. The furniture in Venetian interiors has unique, floral trimming decked out in gold paint or rich wooden accents. The upholstery comes in rich, colorful garments; most notably burgundies, dark reds, beige and golds. The florid nature of the furniture design complements the overall classical vibe of the interior.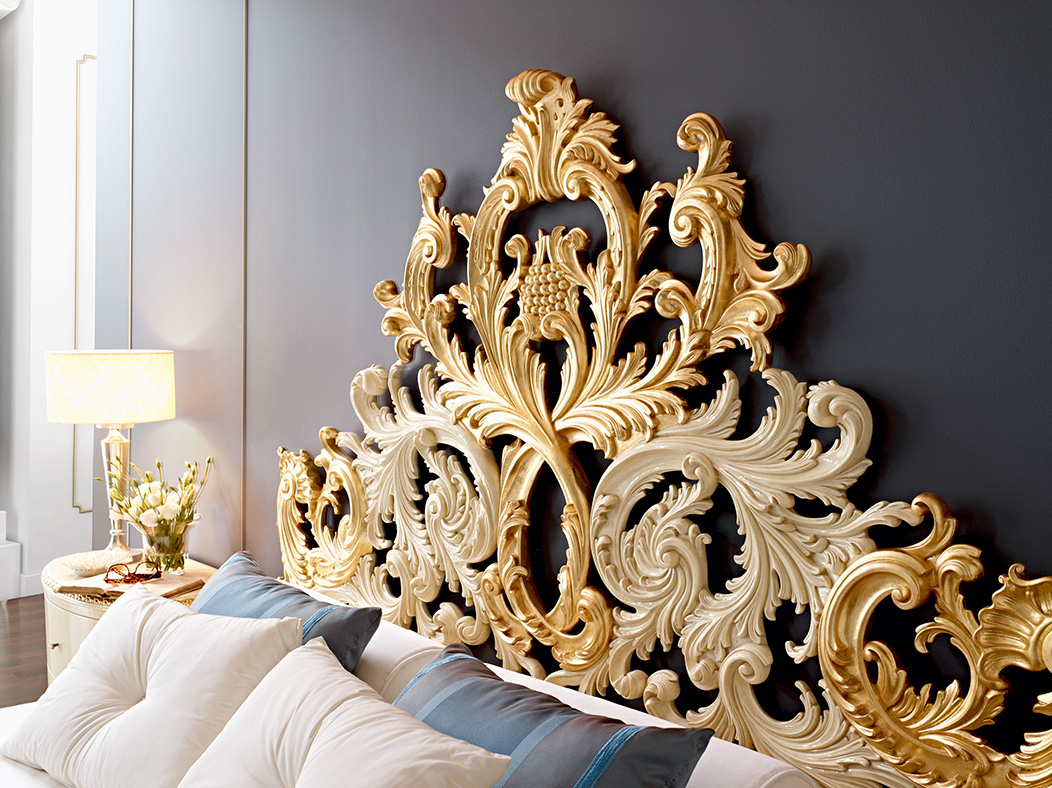 Polished terrazzo flooring
Terrazzo floors are made of composite materials and small chips spread out in customized designs or homogenous patterns over the floor. Venetian interior designs are bedecked in polished terrazzo floors to reinforce the traditional ambiance.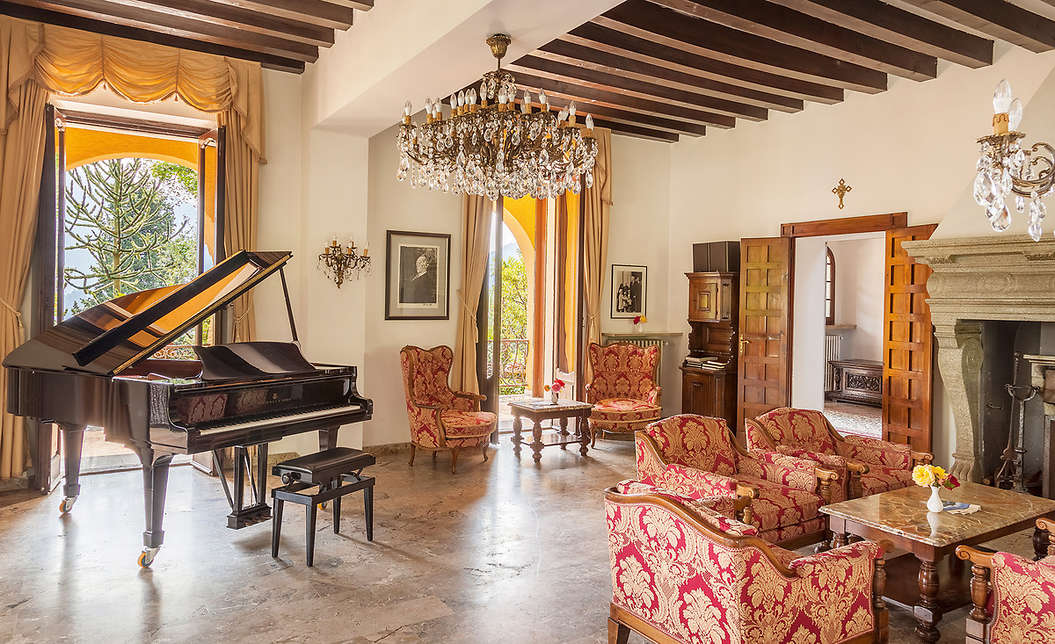 Venetian masks
Venetian masks are an important part of the Venetian culture. The conception of these masks dates back 900 back, to the start of the Venetian Carnival. The masks helped the people stay anonymous and revel in the festivities. As such, they are still an important part of the Venetian culture, and are sometimes used in festive Venetian style interiors. The masks themselves can be used as a design element in any neo-Venetian style interior design.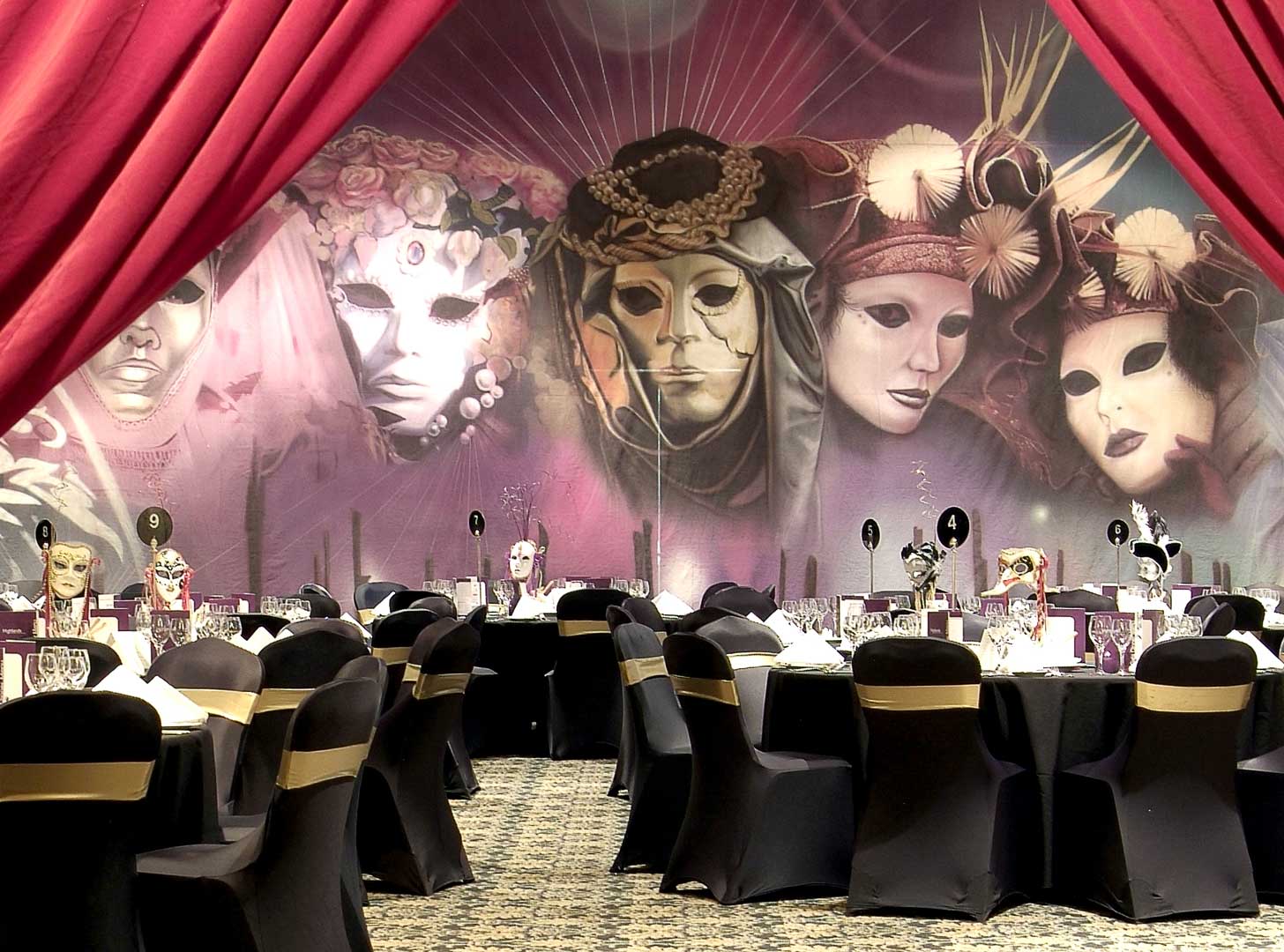 Oriental rugs
Venetian interiors are just as exotic as they are traditional. Oriental rugs have that eclectic appeal that fits in well with the rich color scheme and extravagant aura of the Venetian interiors. These can be spread out under the feature sitting areas and be used as a centerpiece for the floors.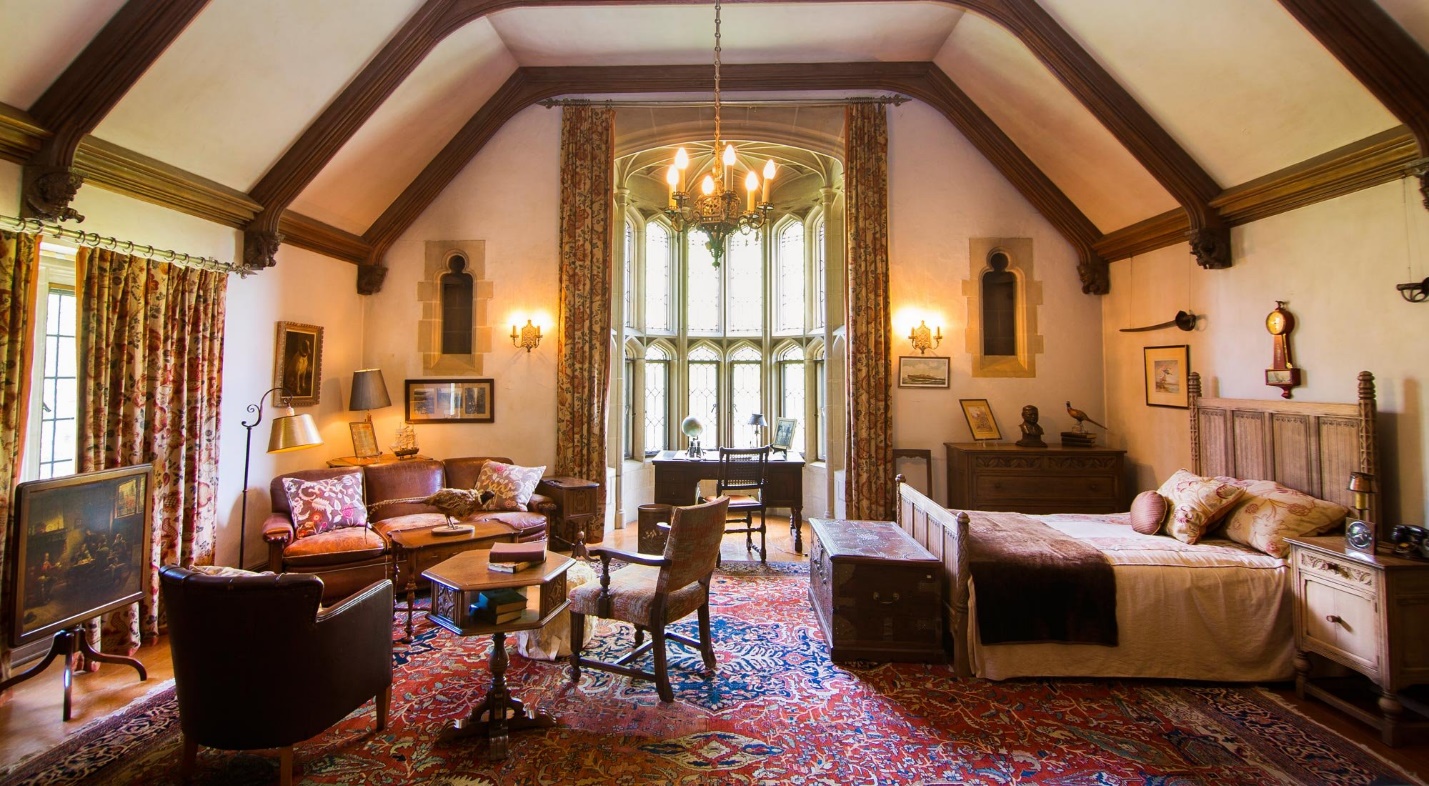 Conclusion
Venetian interior design boasts a wealth of compilation of different styles of design, which have resulted in an unconventional mixture of architectural and interior design elements. From the layout features of portego and loggias to the implementation of ceiling design and lighting dynamic, Venetian interiors are a striking and remarkable genre of interior design.