Transitional Décor: The Child Of Traditional And Contemporary Styles
When you mix traditional with contemporary styles, you'll get a fresh style with an old-world flair, called transitional design.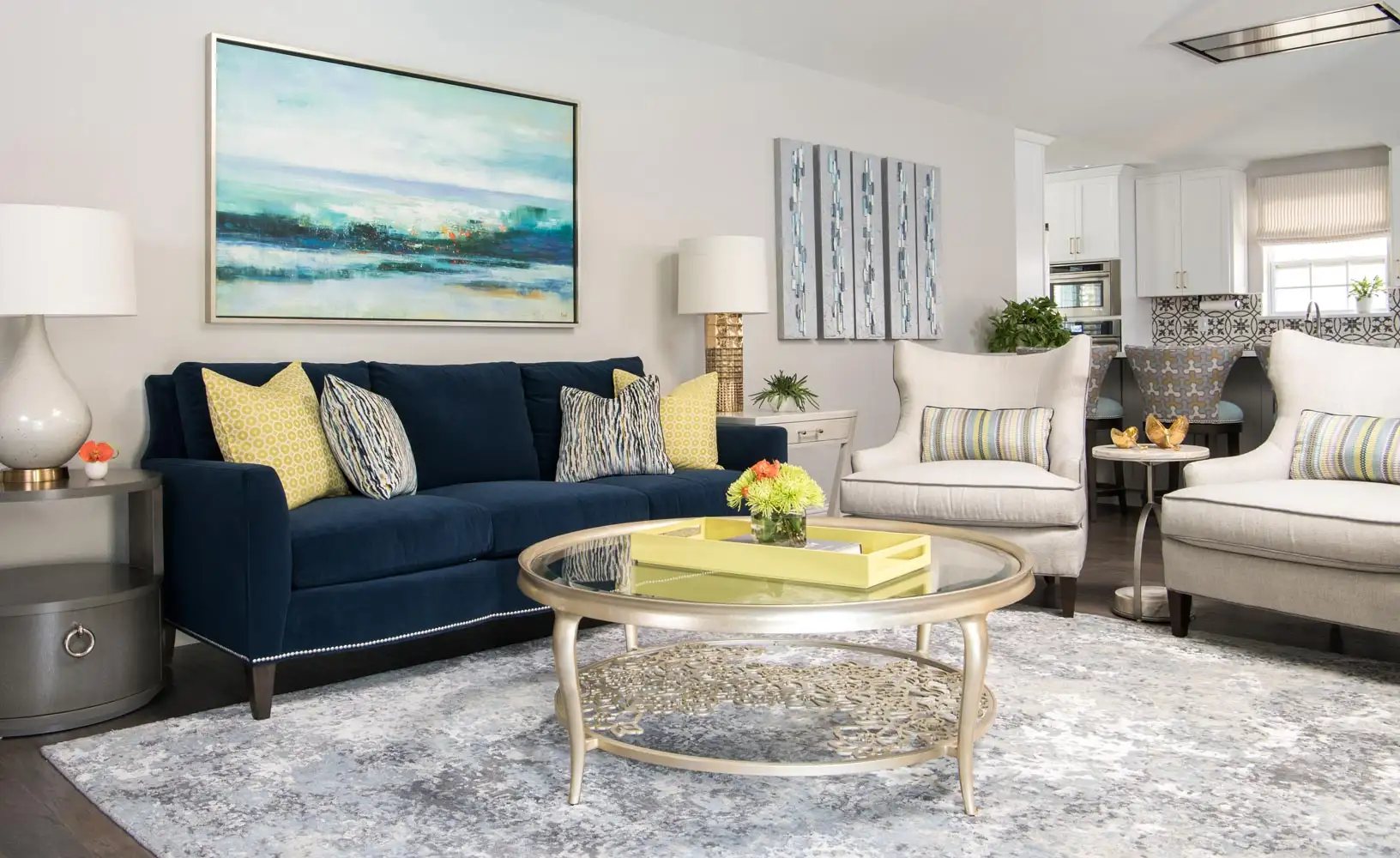 Transitional Style Defined
Transitional style is an update of the traditional appearance with a modern touch. It brings a fresh touch to any old-world home and emphasizes the elegant beauty of classic lines and shapes.
To achieve an updated look, incorporate such contemporary features:
modern furniture pieces (more simplicity, fewer curved lines)
elegant fabrics (suede, leather, and chenille)
harmonious color combinations (with or without a color contrast)
natural materials
uncomplicated focus choices (for instance, wall art)
Transitional interiors are orderly, shown by the symmetry of furniture pieces and accessories. For accessories, try to use as few knick-knacks as possible to avoid clutter inside your home. To bring an elegant aesthetic, always purchase furniture and lamp sets. Keep in mind that even family photos placed with symmetry in mind can have a cohesive look.
Don't confuse transitional with eclectic style! Eclecticism isn't defined in the elegant lines of furnishings, color schemes, materials, or even details. You can mix what you want with an eclectic twist, but it won't be a transitional home.
Color Palettes
Jazz up neutrals with bold hues to make interiors livelier. But don't overdo the color accents, because transitional interiors tend to be calmer than interiors in modern homes. Among popular color schemes you can find vanilla, cream, beige, taupe, and light gray hues with dark blue and brown accents. Transitional color choices aren't boring but well-thought-out in every detail.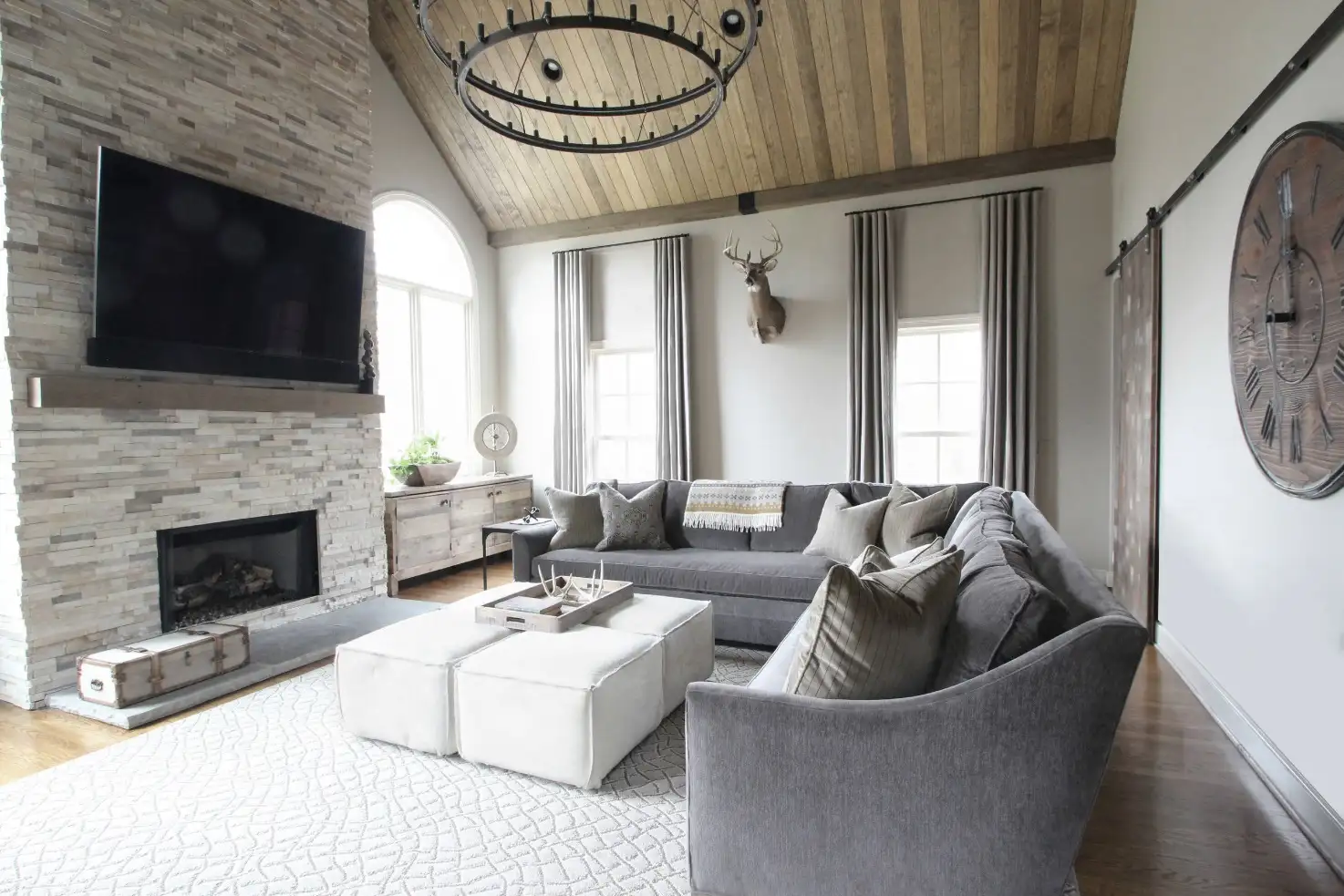 Sometimes you may see a tone-on-tone color scheme inside a transitional house. It's a different but interesting way to create a serene ambience and make transitional interiors homey.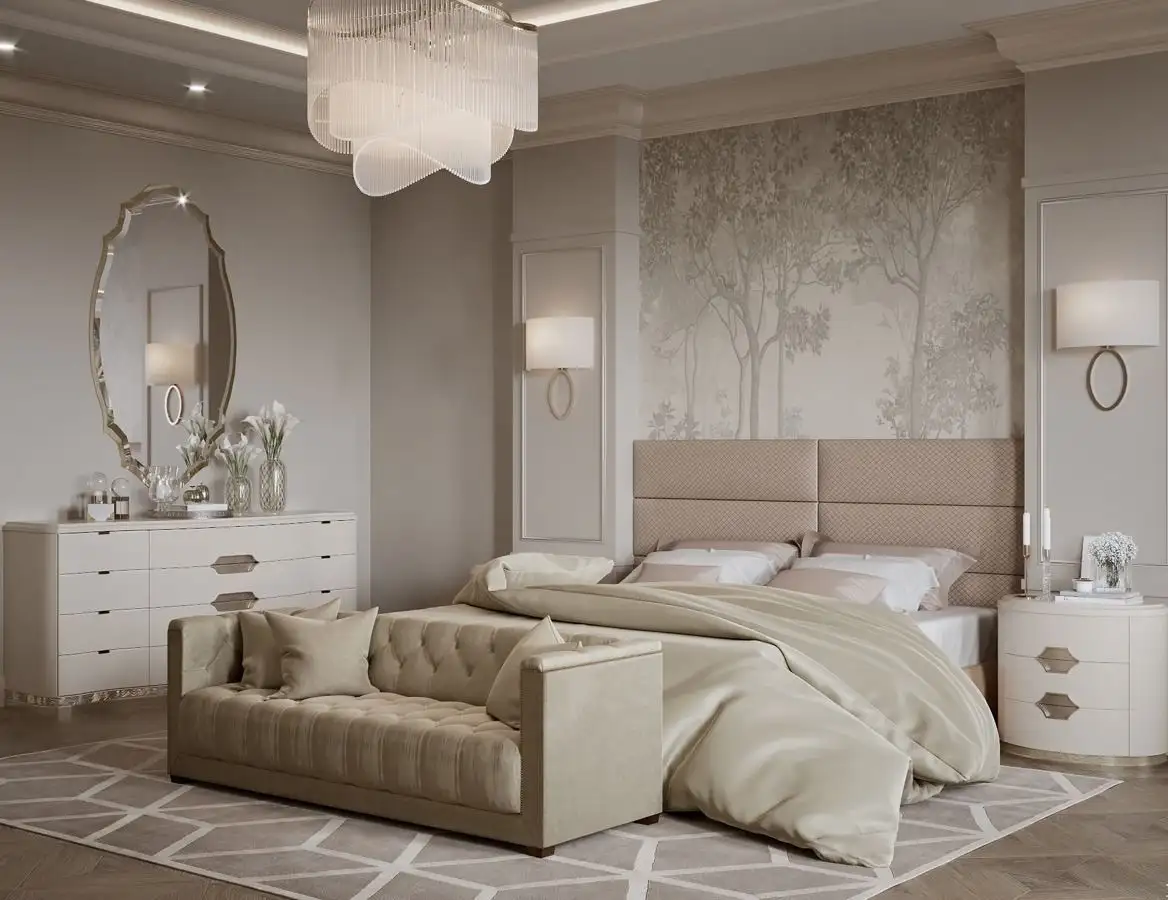 Transitional Home
When you decorate your transitional house room by room, be ready to rethink classic design to enhance the modern look of your house.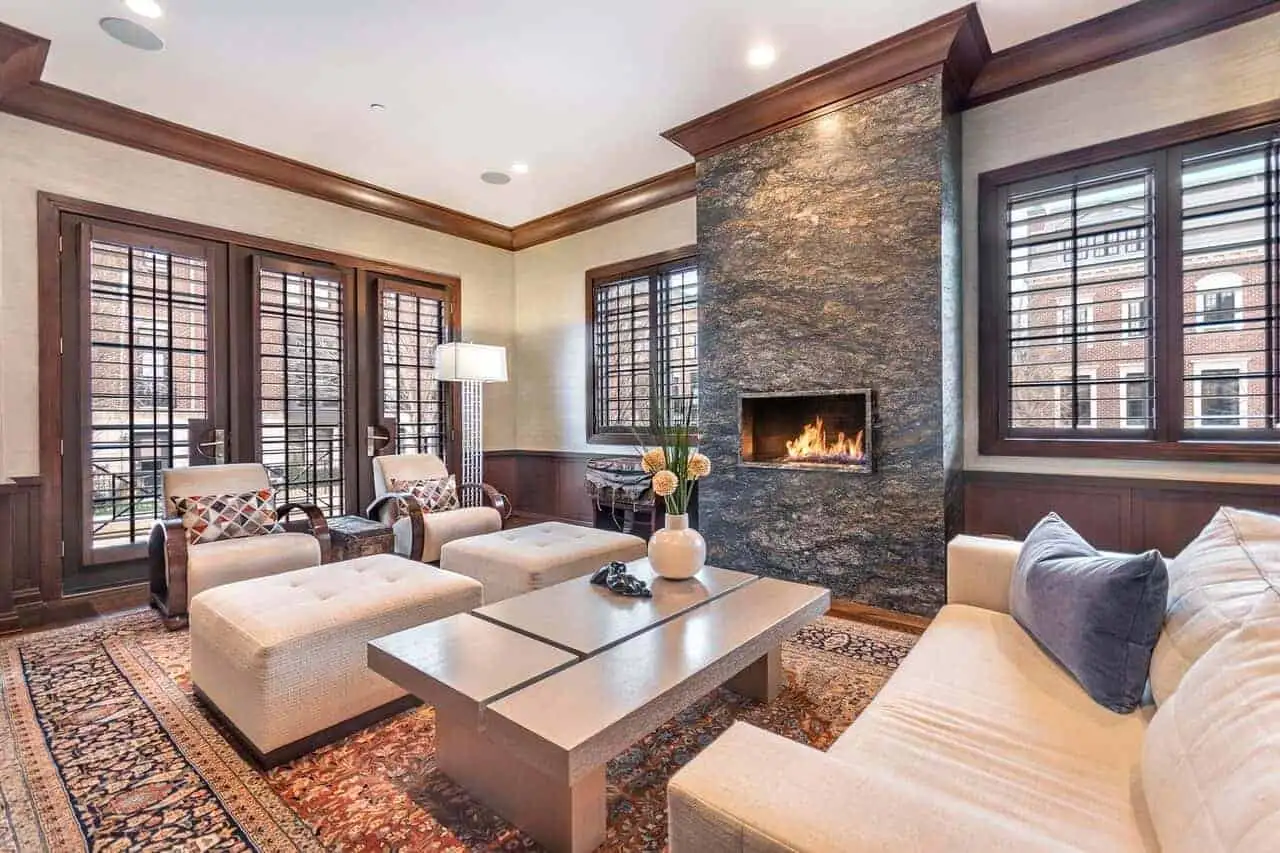 Transitional Living Room
When we talk about a transitional living room, it's always a stylish space with a relaxing ambience. The classic symmetry of a sofa set and other furnishings around a fireplace is a traditional arrangement. To keep a transitional look and make your living room more homey, use old-world details. For instance, you can place on your modern cupboard such vintage elements as these:
a porcelain vase
memorable photos
well-read books with well-used covers
lovely knick-knacks
Liven up your relaxing space with greenery. A mix of little potted green plants and one large ficus or palm looks really fresh!
Of course, to keep your space warm, but also make it more adaptable for modern relaxing, you could insert a fireplace with a TV above it. You can watch your favorite series and enjoy the fire at the same time!
A blend of exposed wooden beams and wooden crown molding brings natural-inspired vibes to your living room. It's a sustainable solution with a modern flair.
To create the main focal point of the living room, think about both the functional and aesthetic composition. For instance, you can place a ladder and hang throws on its bars. It adds to the comfortable feeling, doesn't it?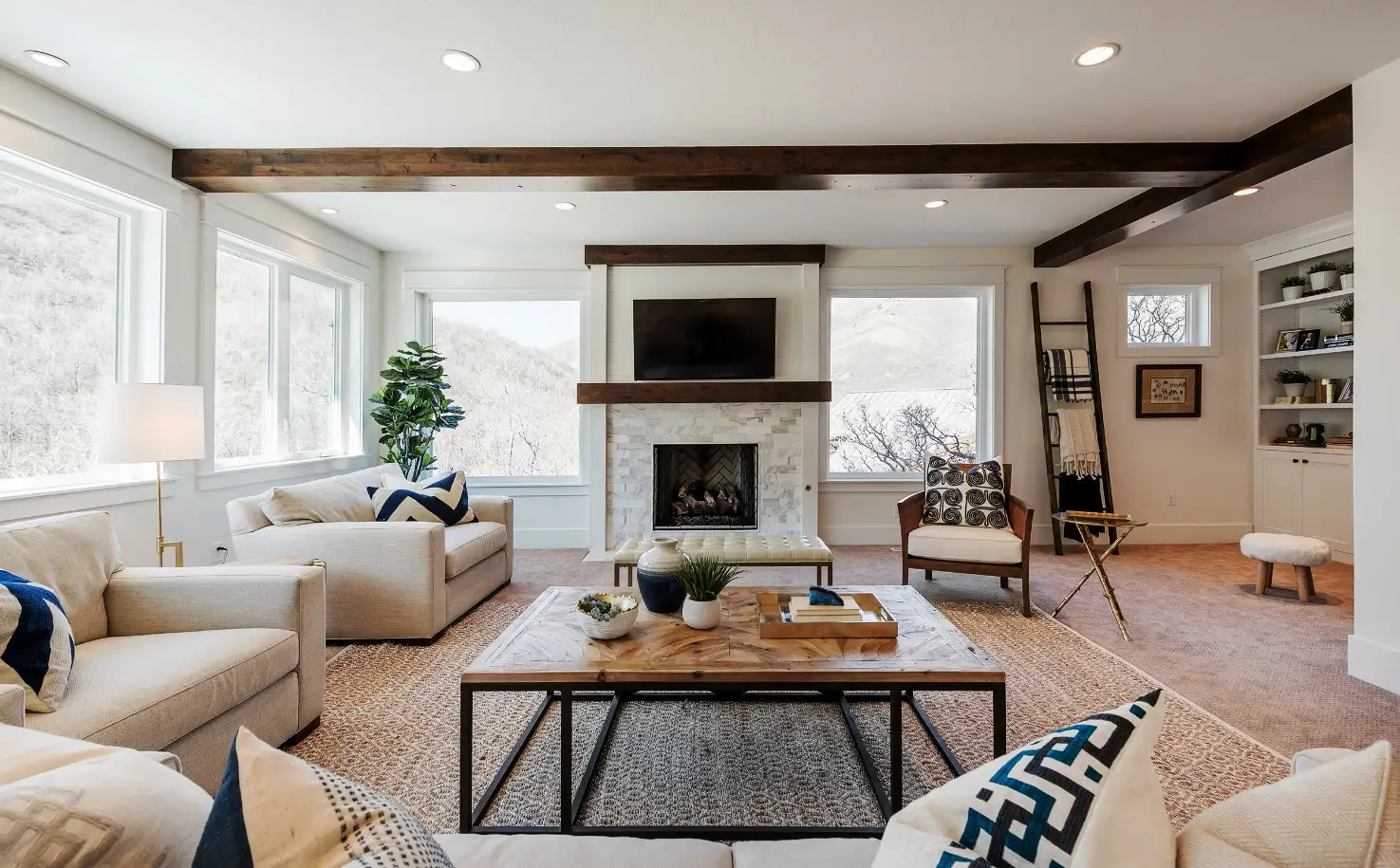 Transitional Fireplace Décor
A fireplace is an important element of any living room to create a homey ambience. When you look at roaring fire, it's a great time to relax and think about somebody special.
Opt for a classic fireplace design to emphasize the simplicity of lines and shapes. A stone mantel is a great choice to enrich its beauty!

Transitional Bedroom
When it comes to decorating your bedroom in a transitional style, make it chic and simple. You should match nightstands and lamps, mirrors and photos, the bouquets of flowers and accessories in a coherent way.
Your master bedroom is a soothing space with a calm atmosphere and magnificent details. If you appreciate timeless design and want to emphasize your flawless taste, use graceful, elegant details. For instance, you can hang an old-world chandelier and a splendid sketch with a vintage flair.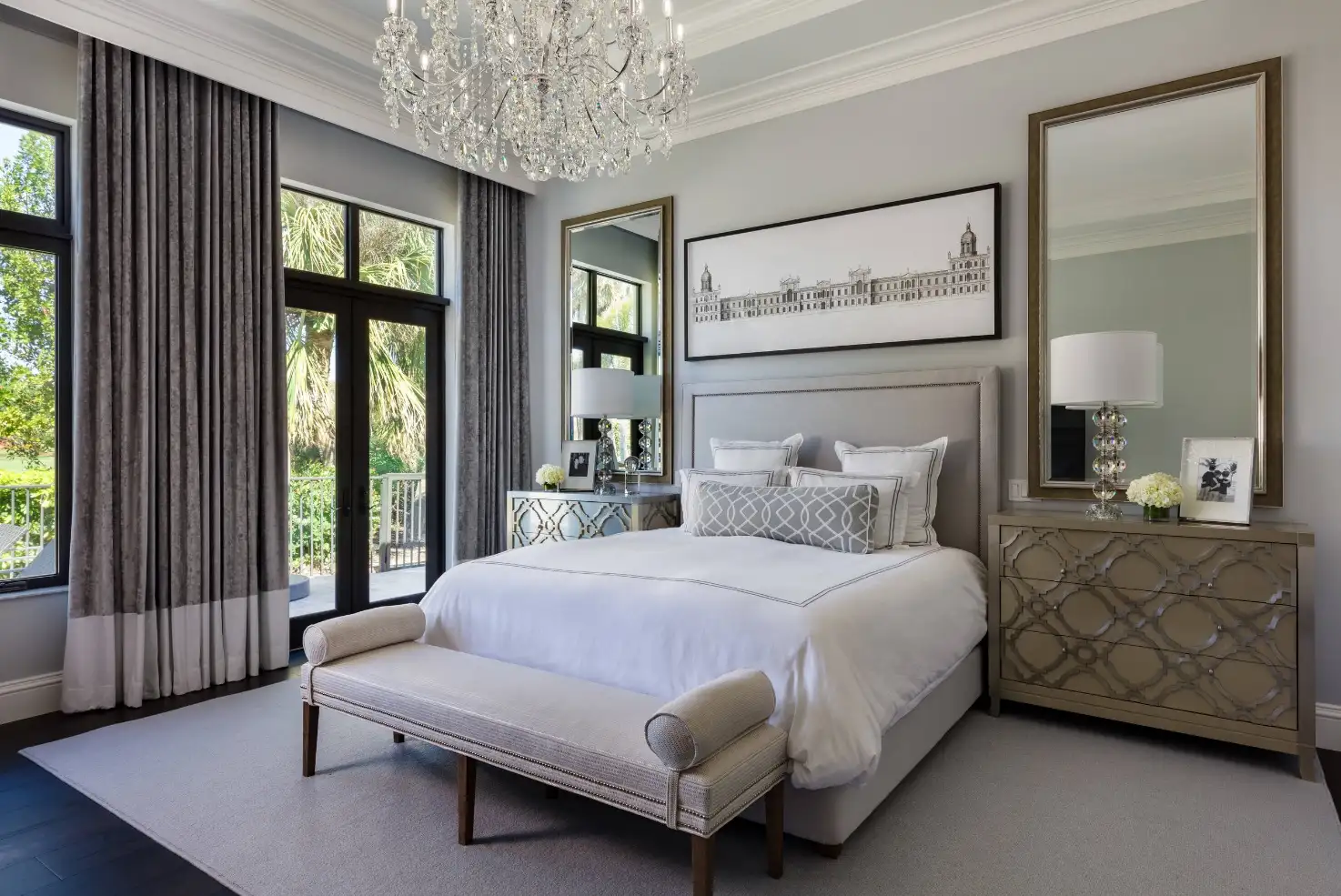 Transitional Entryway
Whether your mudroom is placed in the entryway of your home or shares space with another room, make it a perfect transitional space. Combine classic and modern elements, such as hardwood flooring, a stylish framed mirror, nature-themed stands with vintage flash lighting, wall art, and accessories.
For colors, gray and brown hues fit with a traditional style as well as with contemporary interiors. To add drama inside your indoor space, use metallic accents when selecting accessories.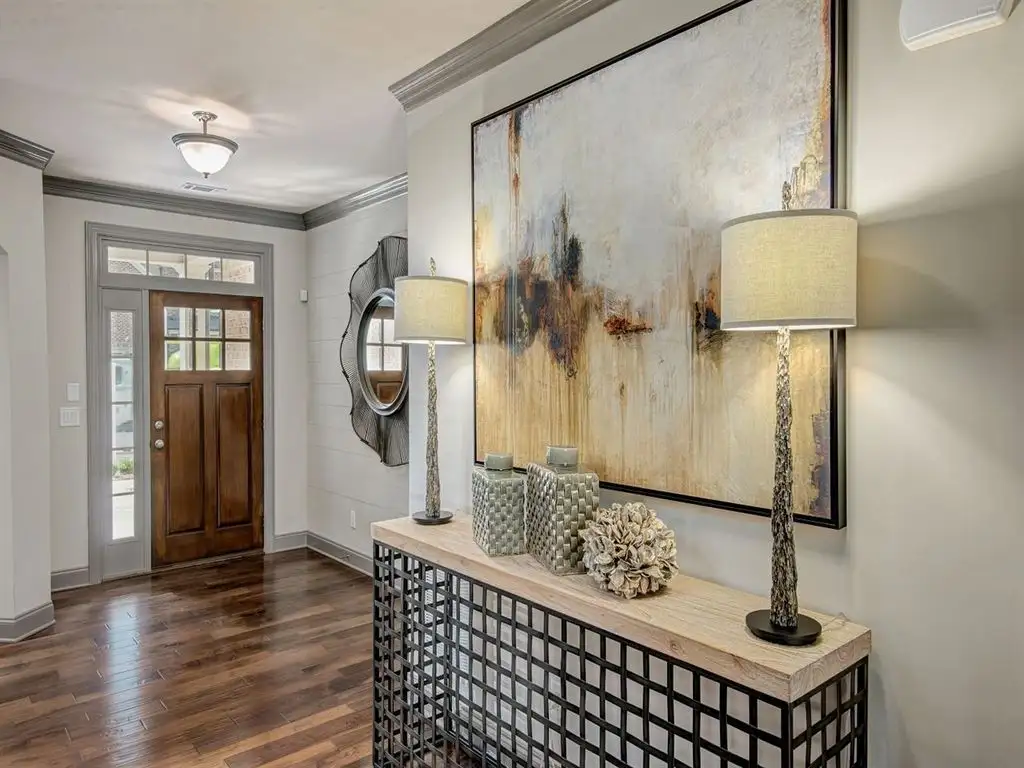 Transitional Dining Room Design
Usually, a "formal dining room" refers to classic interiors. Even though an open-space concept is more popular these days, a transitional dining room doesn't share space with a kitchen, living room, or sitting room. And it always has a magnificent atmosphere. It's a pleasure to eat in the room which is decorated with perfect taste!
To enhance the timeless appearance of your dining room, hang a vintage chandelier. For furnishings, a table and stools, a cupboard and stand, plates and cutlery have a traditional look.
To make your eating interiors more modern, use modern details, such as:
impressionist wall art
a large green plant in a stylish pot
an area rug with geometric prints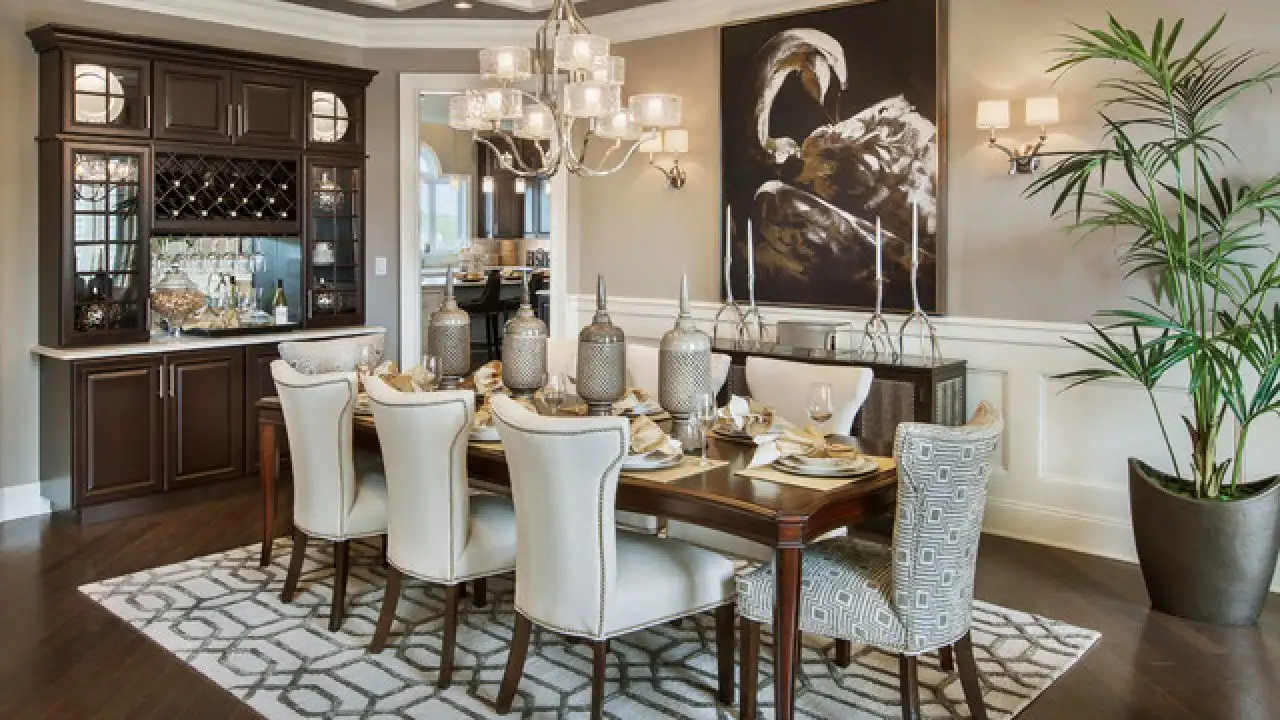 A Mix Of Styles
Transitional style develops and adapts new architectural and aesthetic details from other styles. If you are ready to try something new, let's consider the combinations of transitional with other styles.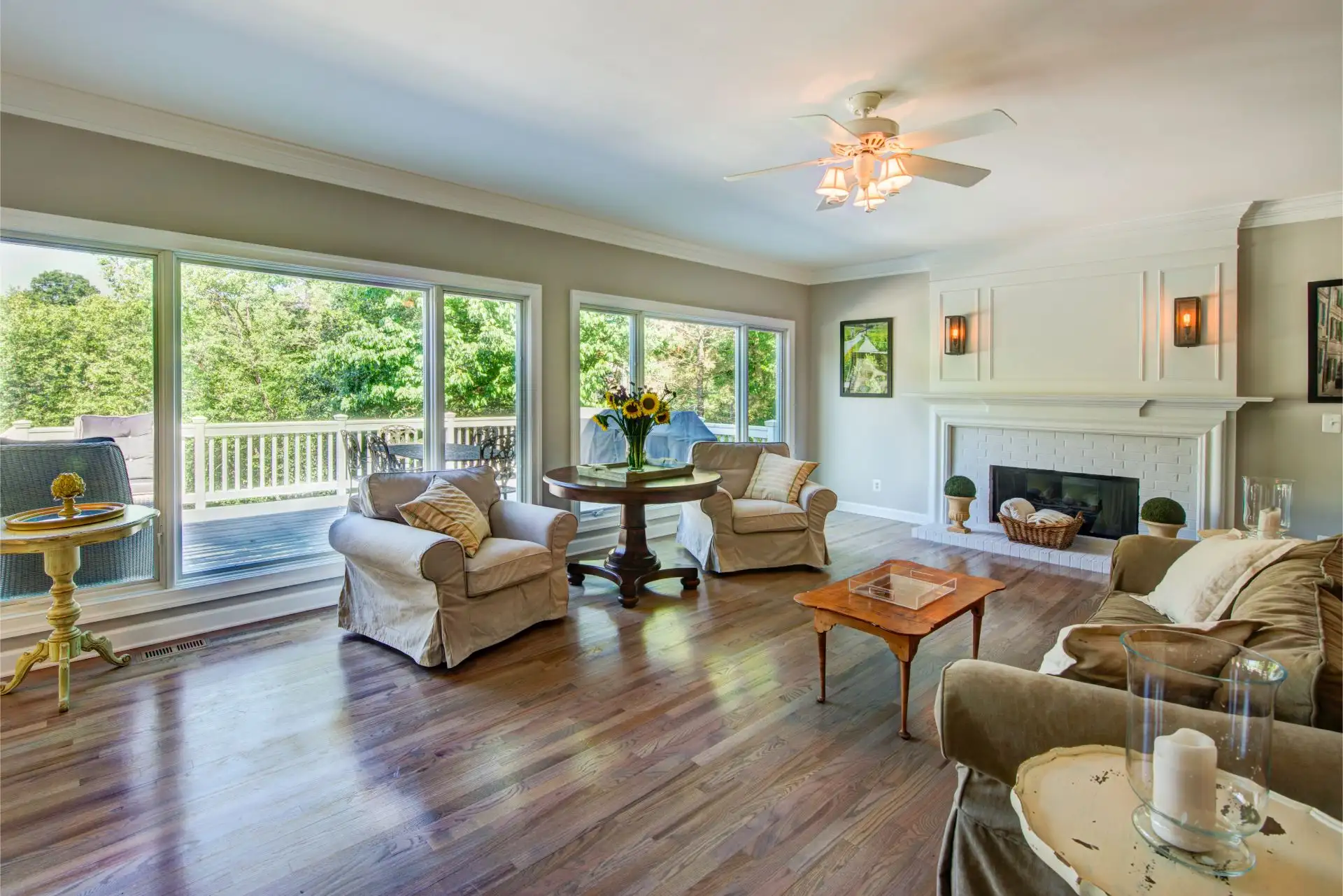 Modern Transitional Design
When you consider various kitchen styles, take into account that modern transitional décor is the winning combination of the pure simplicity of contemporary furnishings, classic elegant lines, and modern surfaces and kitchen appliances.
The marble countertops of a kitchen island and cabinets have both functional and aesthetic sides. If you like to cook, choose a large stove and oven. Choose a high-quality hood to avoid unpleasant odors. Install a recovery ventilation system to provide sufficient airing.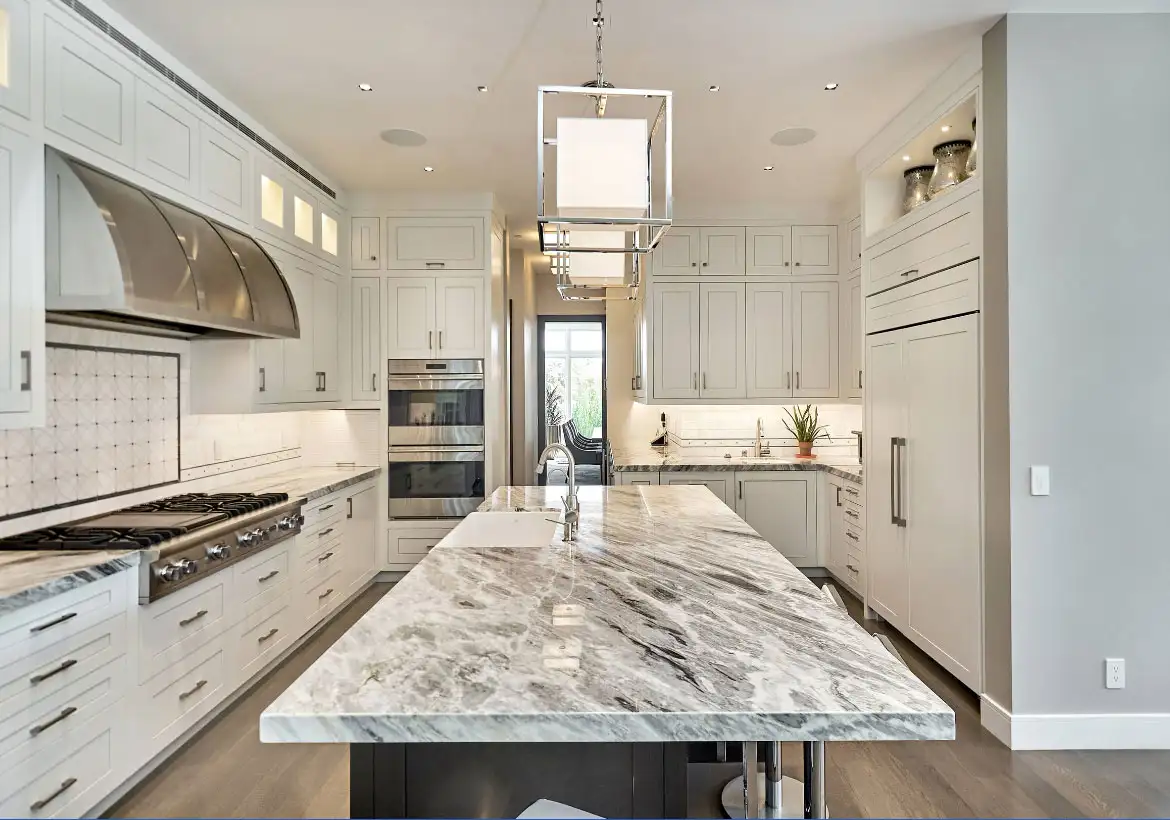 Transitional Farmhouse Décor
Farmhouse interiors feature rustic wooden beams. A transitional house can also adapt this exposed architectural element to create a casual look and bring airy vibes.
Transitional décor allows for minimum accessories. Country décor, on the other hand, is all about using a lot of knick-knacks. To create a harmonious combination, you can place all the accessories and memorable items inside one furniture piece, such as a cupboard or a table.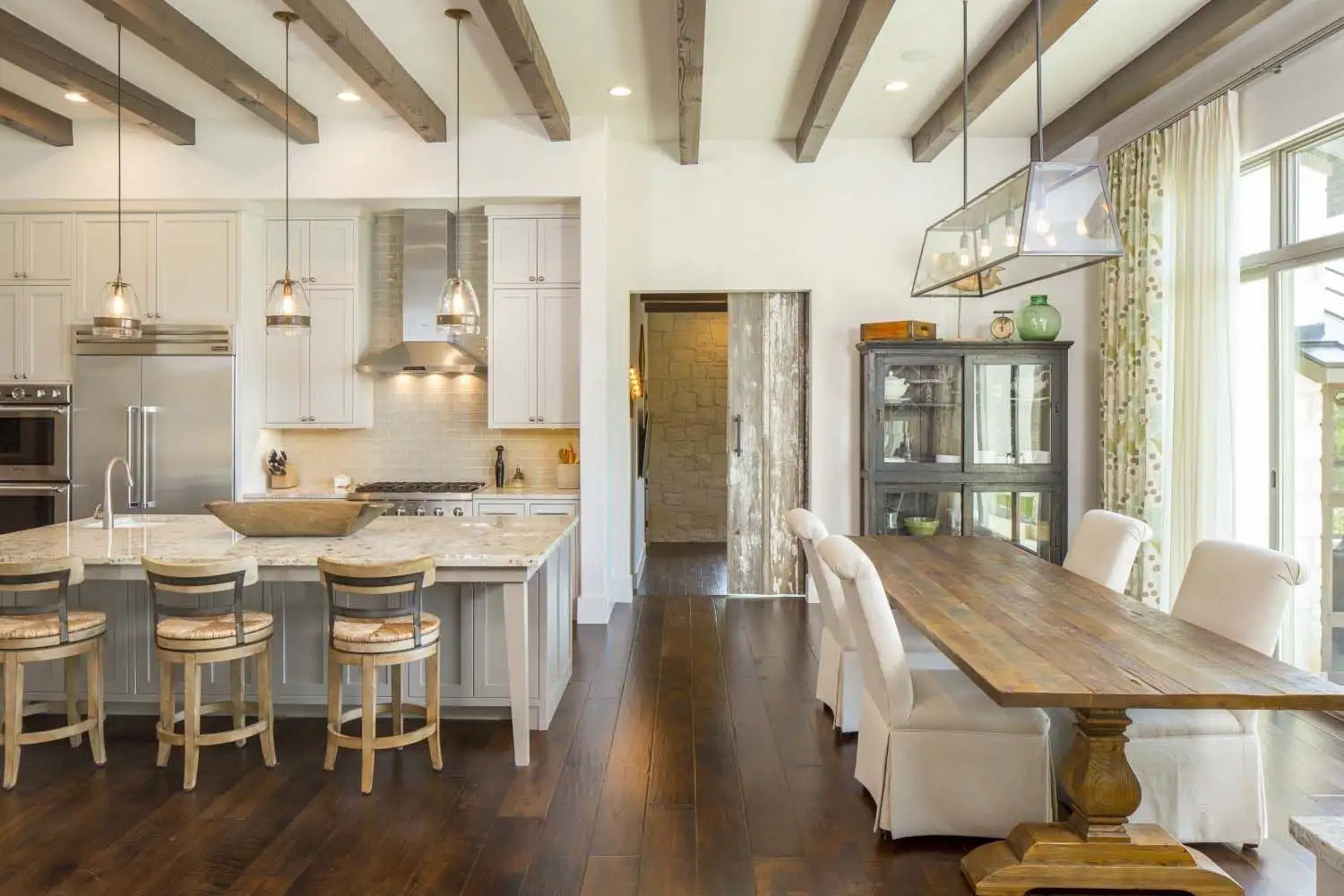 Transitional Rustic Design
If you want to adapt the vintage roughness of the rustic style, be creative and choose the coolest nature-themed element for your transitional home. With a stone wall, you'll get the main focal point of your kitchen and a lot of style at the same time!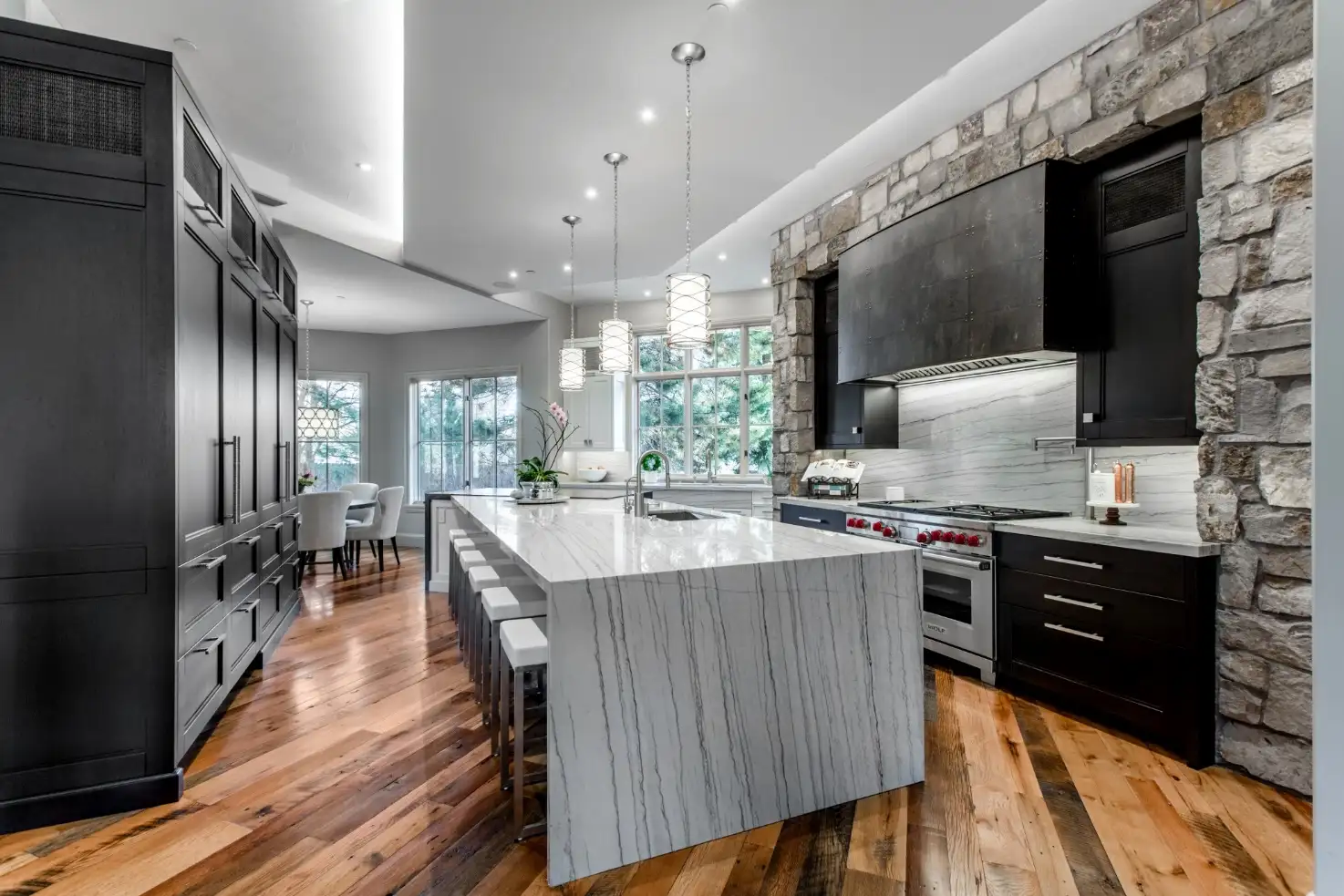 Transitional Coastal Décor
Add transitional furnishings to your coastal home to embrace elegant delight inside your relaxing space. In the holiday season, make your Christmas décor more classic to emphasize timeless values.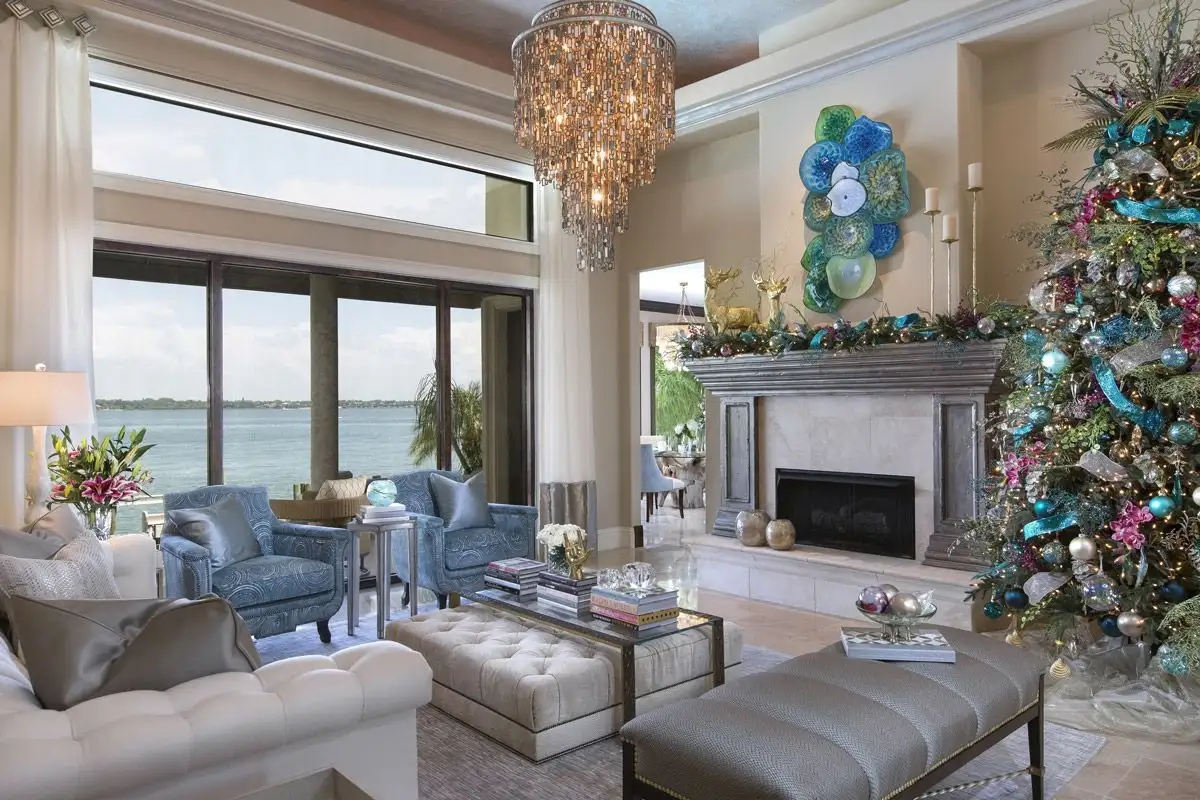 Industrial Transitional Décor
Incorporate transitional furnishings to your loft space decorated in an industrial style to make your apartment chic and updated. When you mix industrial style with another, be ready to find that your home has traded in its robust, strong spirit for one that is more elegant with fewer rough edges. It's like adding a feminine touch to a man cave.