Welcoming Country (Farmhouse) Décor Ideas
If you like nice knick-knacks, lovely lifestyle items, and inviting décor accessories, country décor is exactly what you need. When you start to decorate your apartment or house, don't get confused about what country style actually is.
What is classic country style, or farmhouse style? This is a general term which covers a lot of ground and includes other styles: lodge, cottage, primitive, and modern, American, and French country. But when we talk about "country" style décor, we mean classic country (farmhouse).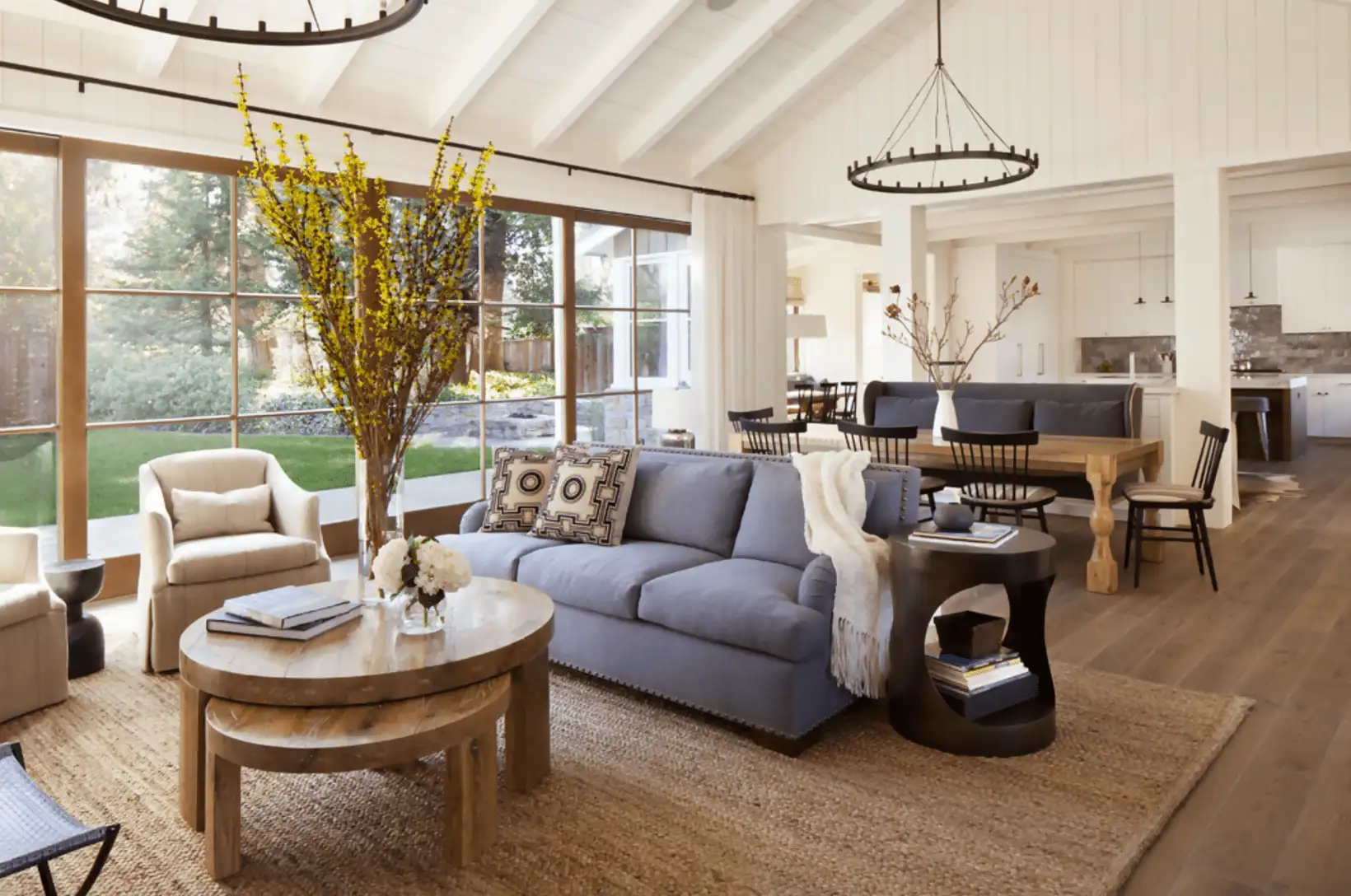 Key country design features
Considering farmhouse-style dwelling, think about a definite area that you will decorate. For example, an American country style living room features an open space concept with comfortable sitting, dining, and cooking areas for a big family, usually on the first floor of the house. Following that design is a great way to create a cozy and welcoming atmosphere with warm connotations.
When decorating your dwelling in farmhouse style, you should show exposed wood beams, which is a highly appreciated detail in country house design. Choose classic white or light grey to emphasize the majestic lightness of your perfect home.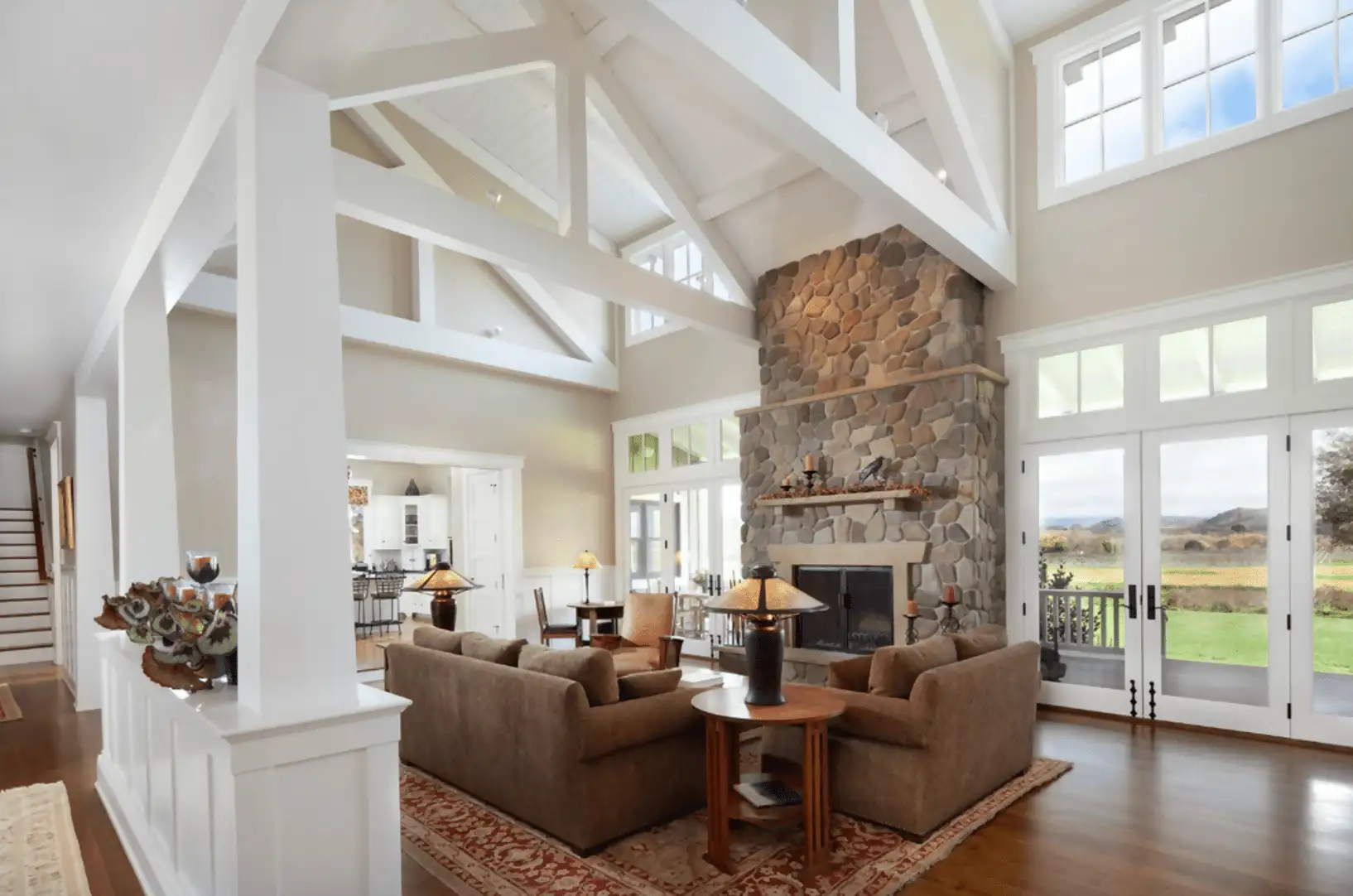 But there are certain details which feature for all farmhouse-style rooms. These include comfortable rural furniture, fittings, decorative accessories, reclaimed wood paneling, unfinished surfaces, a mix of various styles, muted color palette, organic materials, metal accents, and many lifestyle décor elements without a "kitschy" look. Farmhouse home décor is about relaxing country living in every detail. You don't need to go all out to decorate a stylish and chic kitchen, bedroom, or bathroom. If country is your style, it's better to stick with what makes you comfortable, not employ more modern styles just to impress.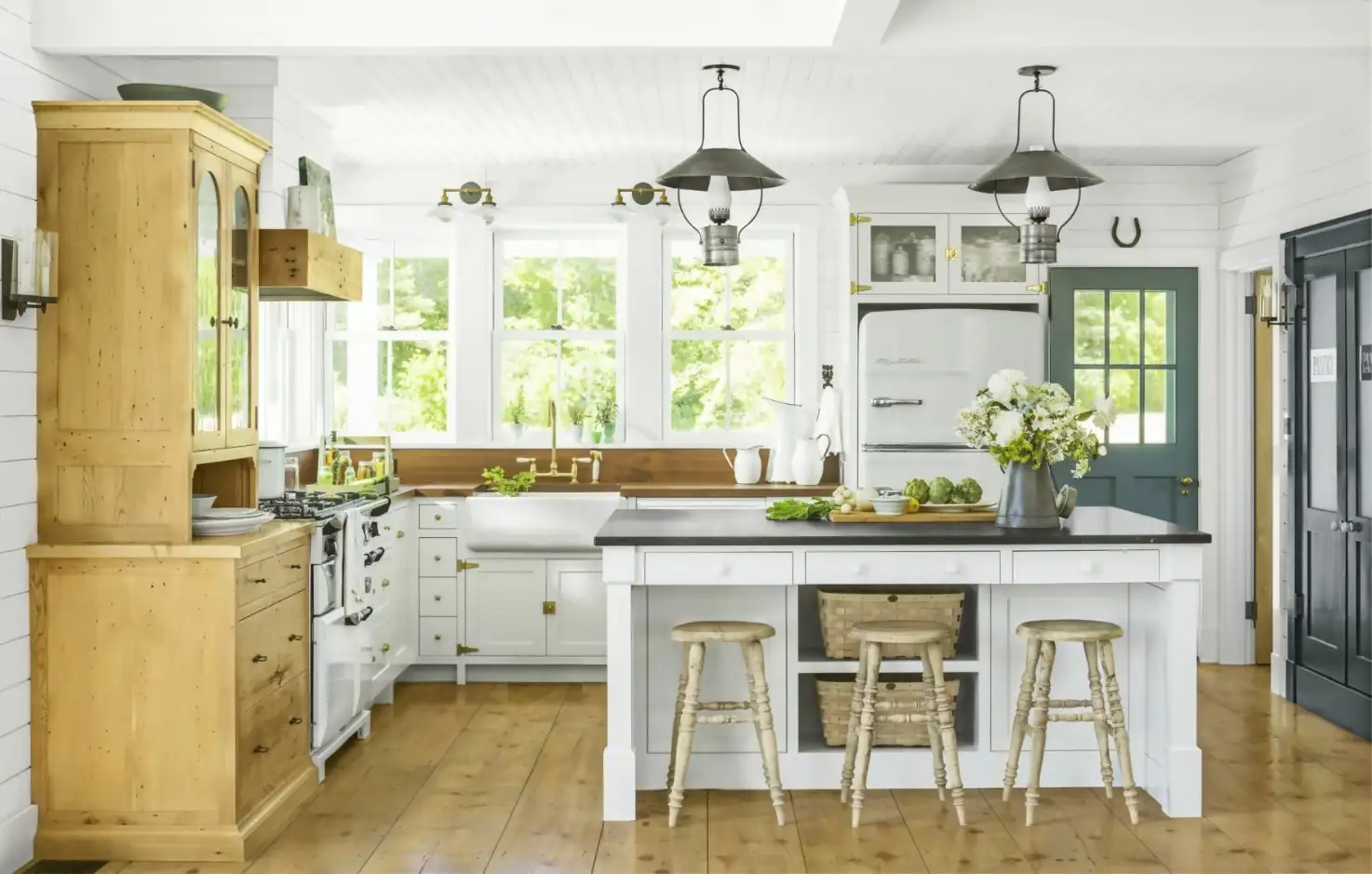 Farmhouse style furniture
Cozy up your home with comfortable and practical furniture. Don't be afraid of mixing traditional furniture pieces, such as soft sofas and pouffes, wood tables and stools, with vintage candlesticks, chairs, or elegant vases.
Considering materials, choose pine, oak, or other reclaimed wood. Also, you can add some vintage metal accents, including iron lamps, sinks, door knobs and pulls.
When you decorate a farmhouse style home, you should bear in mind the practical side of your furniture elements. Think about slipcovers for sofas, throw pillows, armchairs, or pouffes, which can be washed as needed. This will help you to save on dry-cleaning bills.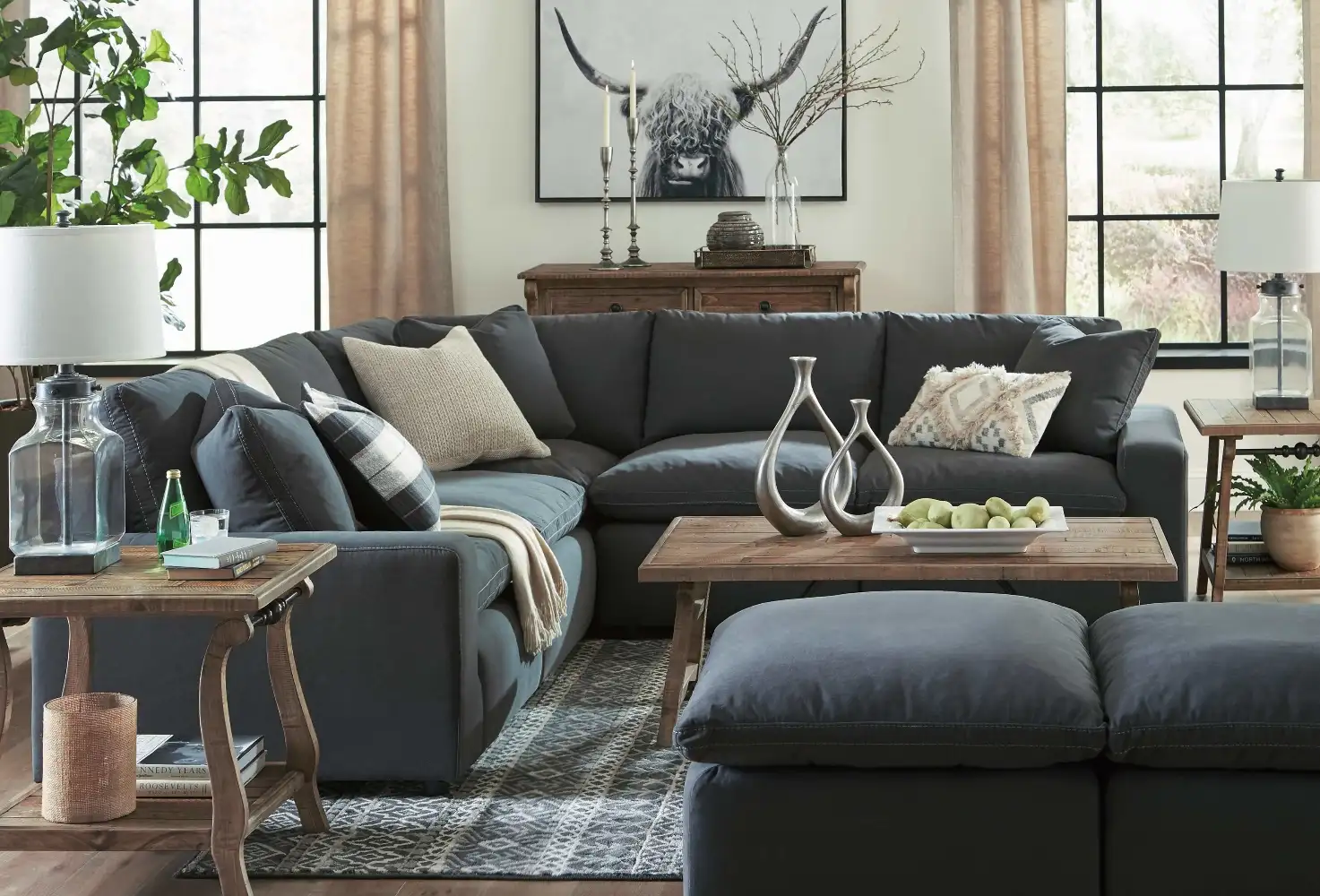 When you decorate a country-style kitchen, you should combine furniture colors, textures, and fabric details. For instance, mix a white vintage table with rounded legs and Scandinavian kitchen sets, such as black stools, a cupboard, bench, etc. Liven up your furnishings with fruits, flowers, or plants on the table.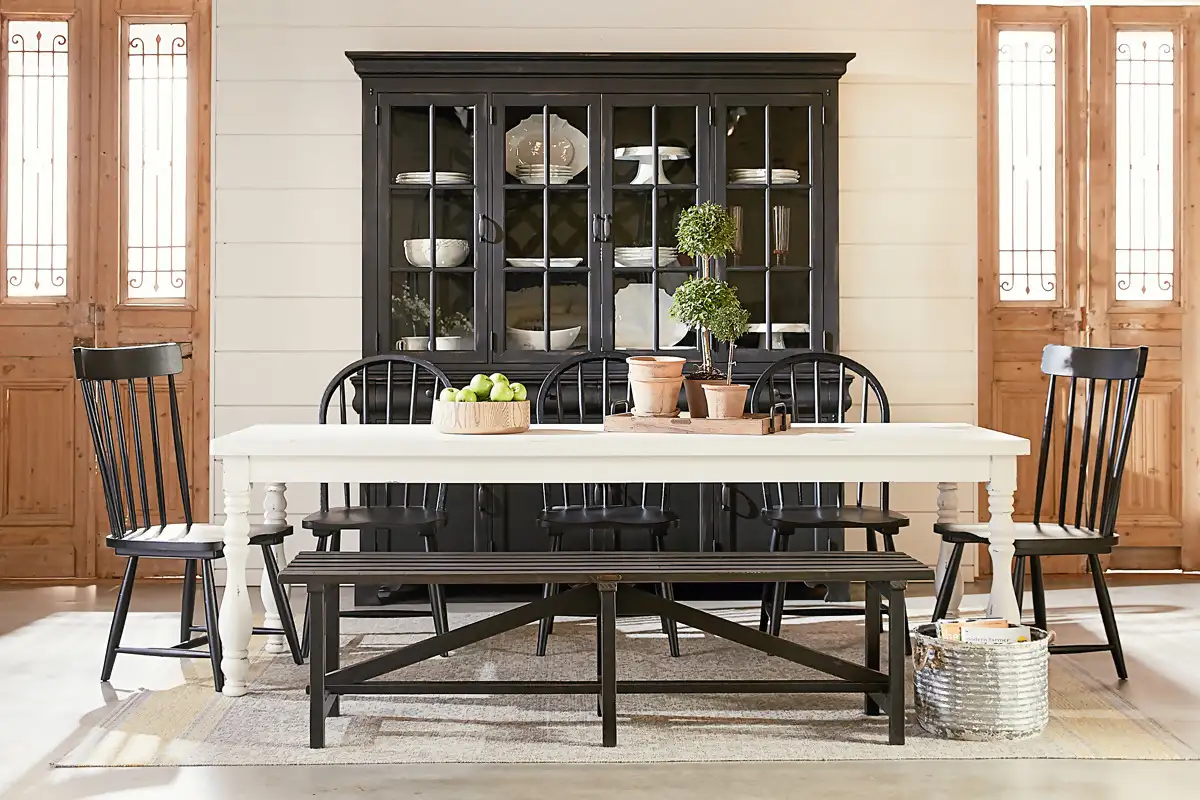 Lifestyle details for your home
The advantage of country style is that you can use many different items simultaneously. For instance, a bouquet of fresh flowers, plants, a fruit basket, nice wall art, and stone, wood, or metal accessories. But when it's time to stop adding lifestyle details, remember that enough is enough, and too much is definitely too much!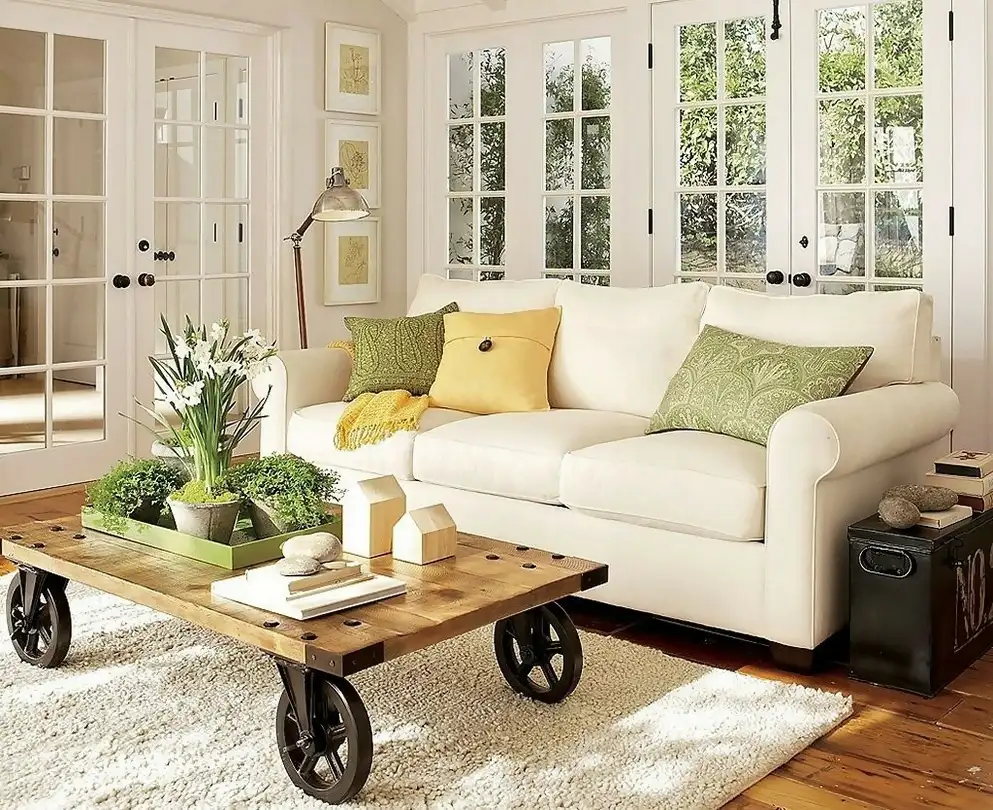 Country color palette
Set up your traditional country style home for relaxing with a mix of color aesthetics. Don't be afraid to experiment with warm patterns and ornaments.
For a farmhouse color scheme, choose muted shades, such as white, milk, beige, or earth tones. Also, you can contrast light hues with slightly darker colors.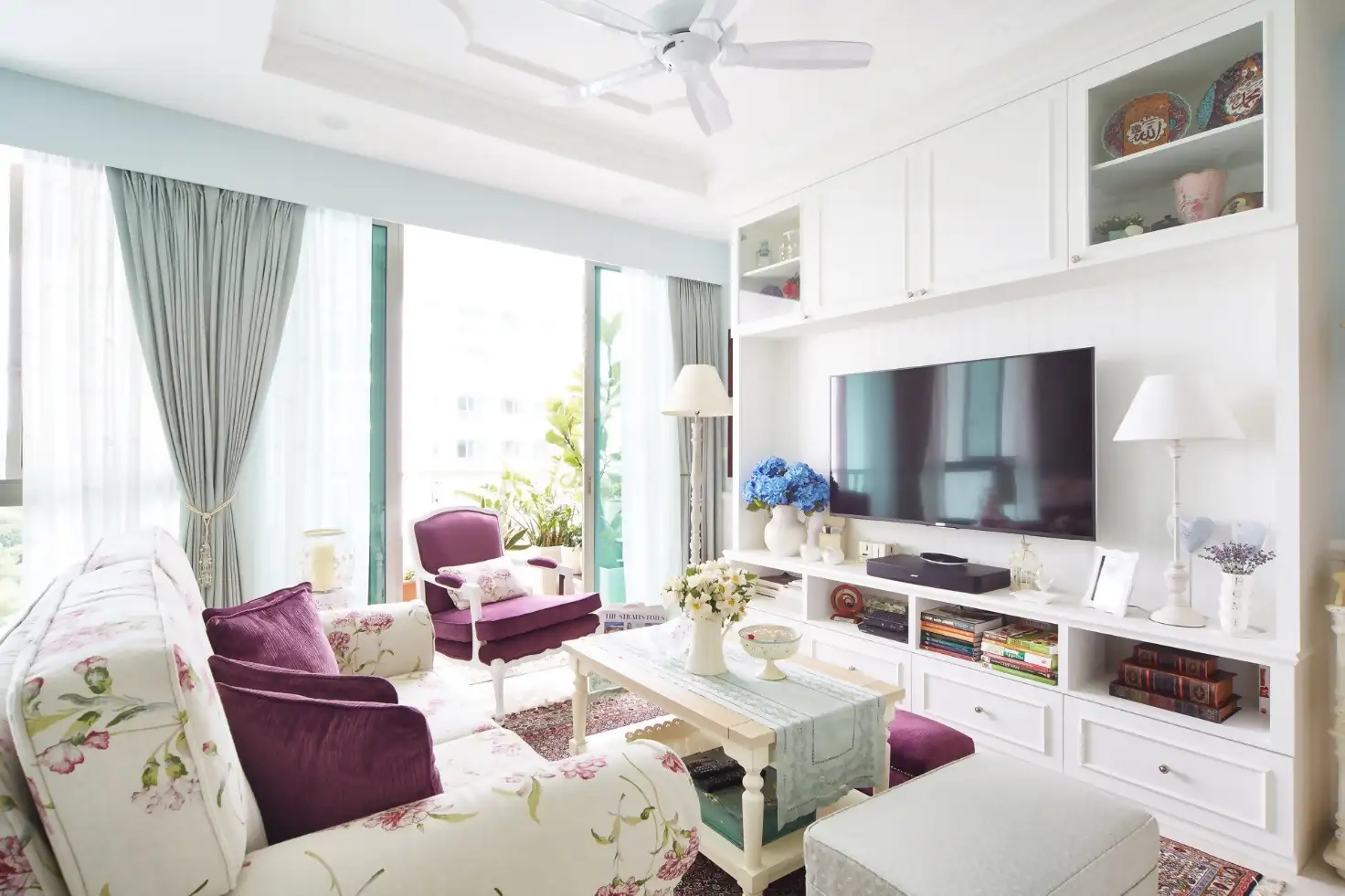 Think about mixing items
Decorating your country home, you could combine a rustic stone fireplace, exposed wood beams and benches with traditional rattan chairs and wicker baskets for a farmhouse feeling.
Feel free to mix reclaimed wood with other natural materials, rough textures with soft and smooth fabrics, such as a cotton, silk, canvas, linen, or wool.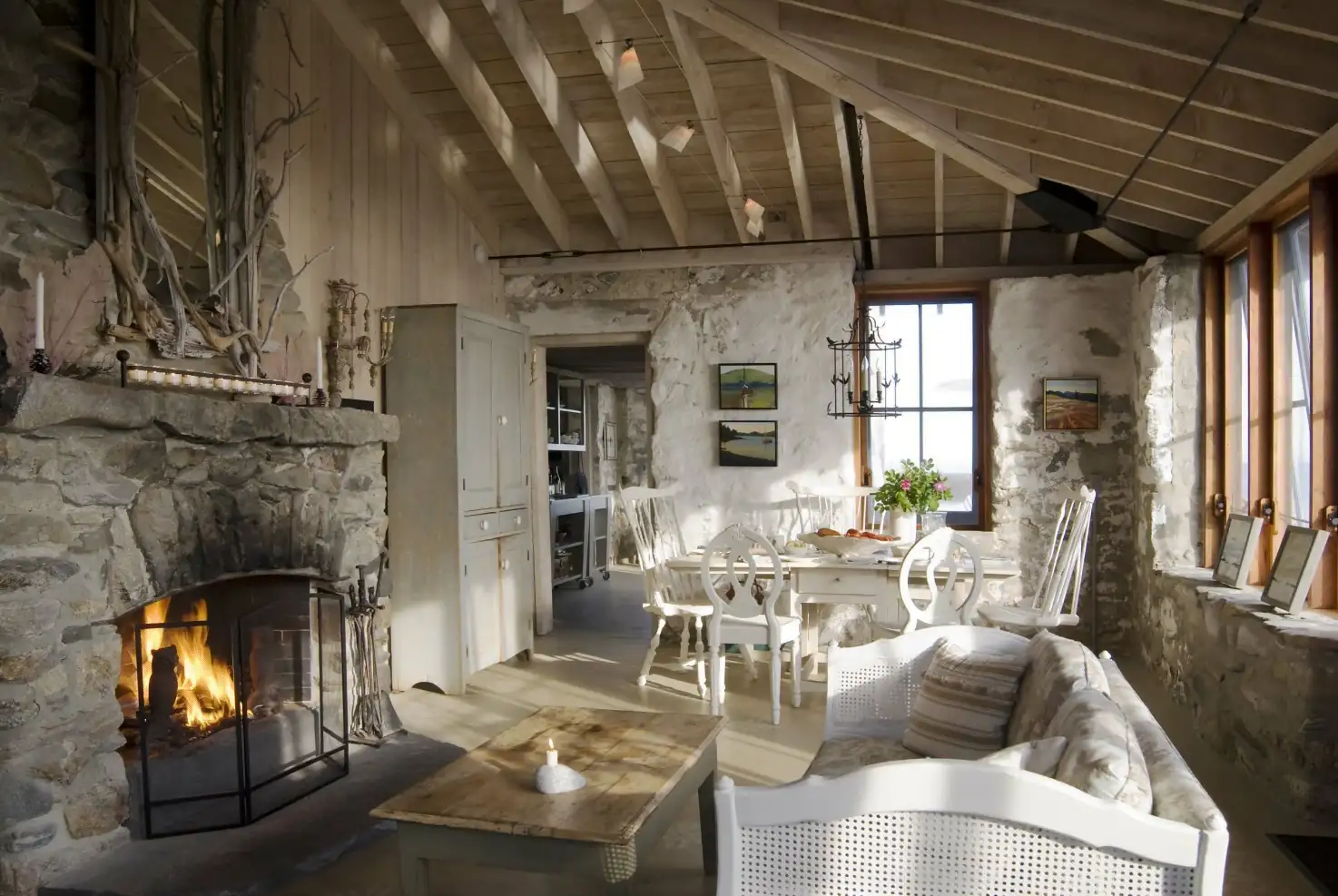 Concentrate on organic materials
Country design style is more often used for houses than apartments. Using organic materials, you may emphasize the connection between the surrounding outdoor natural area and indoor décor.
For winning combinations, try mixing wood flooring, furniture, and exposed beams with stone, glass, wicker, rattan, sisal, or other farmhouse decorative elements from natural materials.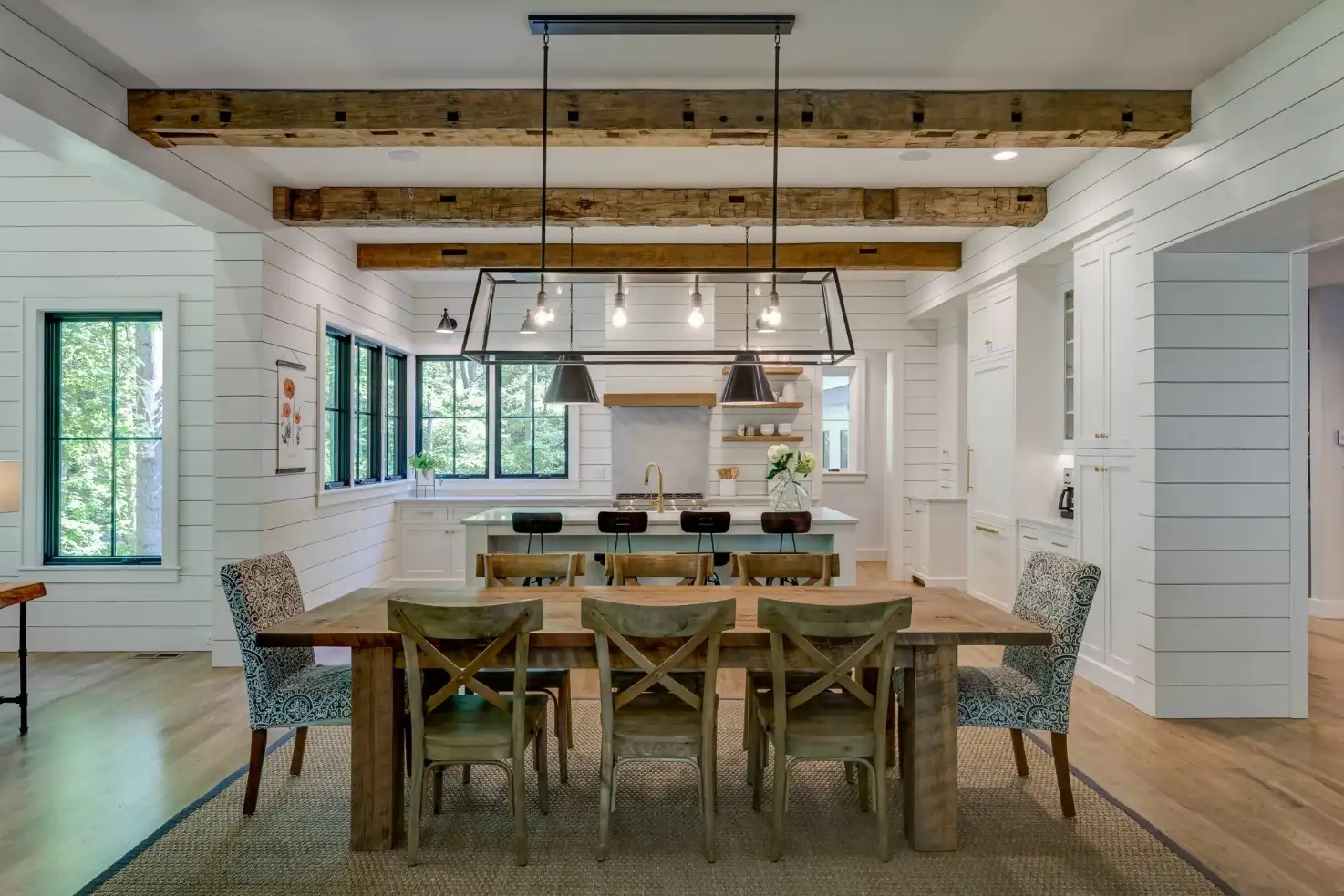 Find a limit of kitsch
If you want to spruce up your country-style home with décor details, there's nothing wrong with that, but they should be limited. Country house with too many needless décor elements, such as chicken, rooster, or cow motifs and corny wallpapers look kitschy.
When you mix a farmhouse apron sink and butcher block counters with vintage frames and shelves, antique pitchers, mugs, or candlesticks, bear in mind a lack of clutter in your décor's architectural details.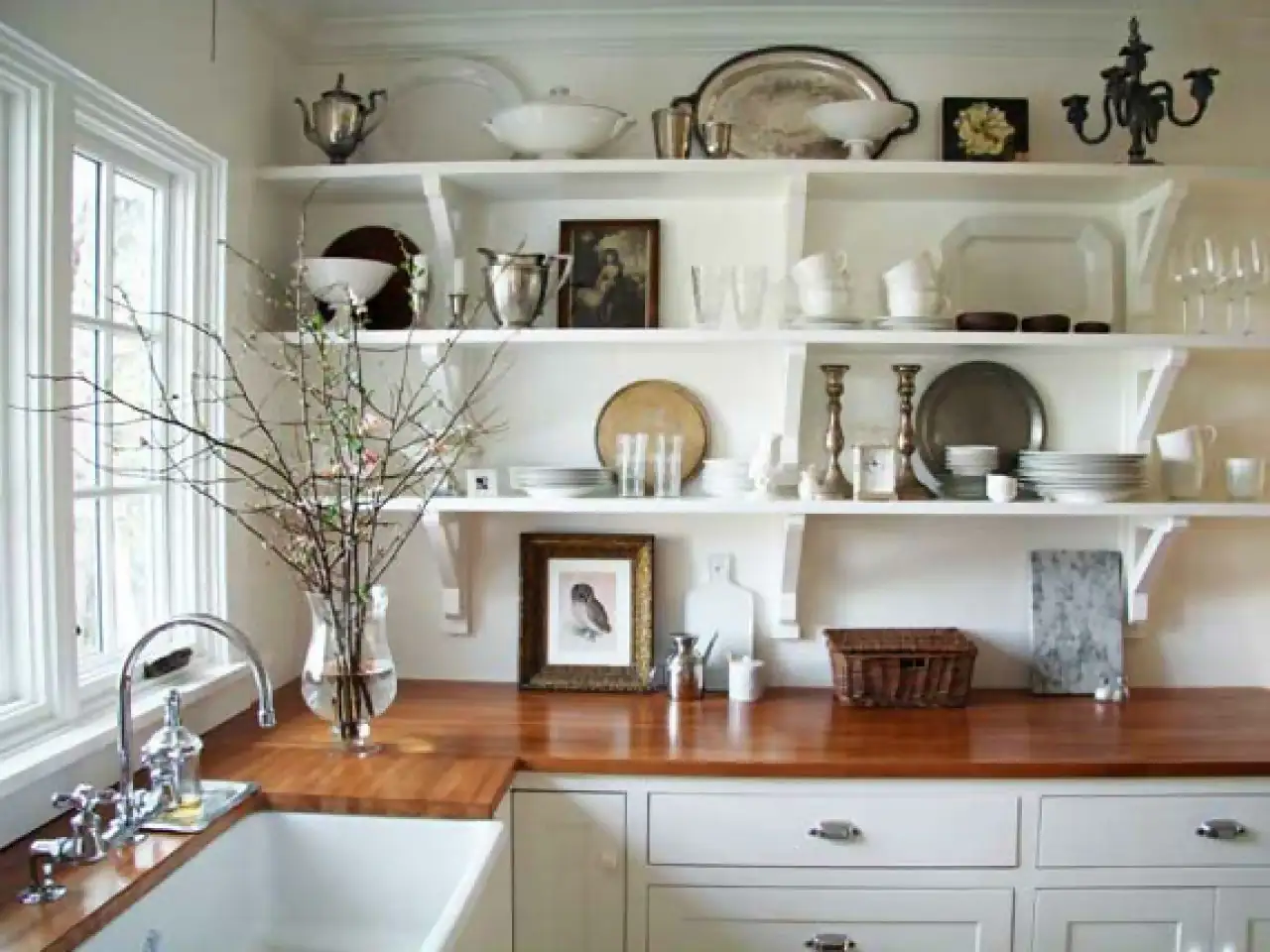 Awesome farmhouse wall art
A great way to add country aesthetics to your dwelling is to make up your walls with farmhouse themes. Feel free to experiment with timeless, holiday, nature, flower, or animal motifs.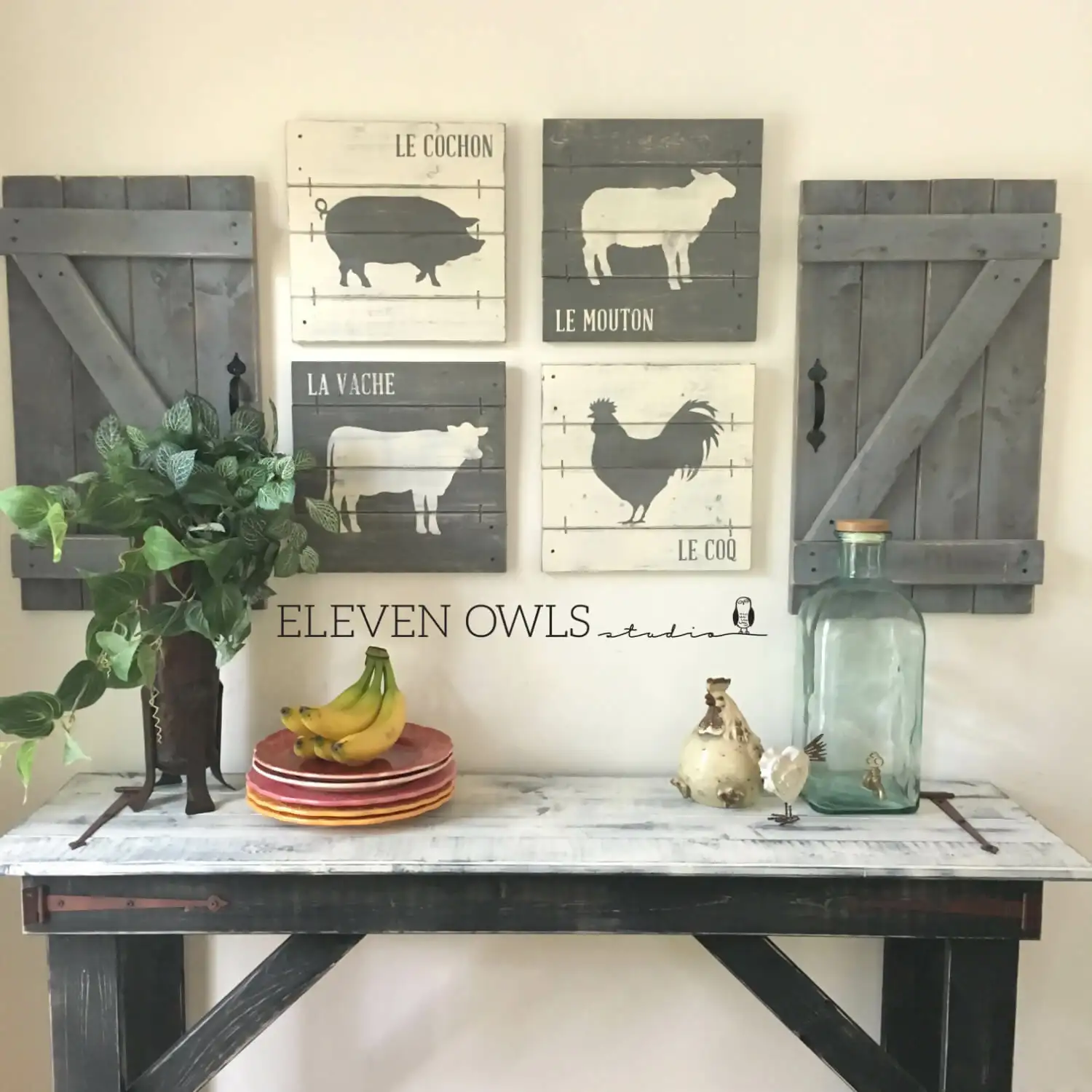 If you want to decorate your kitchen or dining room with rough rustic wall art, you can install the sign that indicate the possibility to "gather" your family, relatives, and friends together. The focus on family and friends is very classically country. Also, you could add the galvanized steel planters with wildflowers or plants on the right and left side of this cozy family symbol.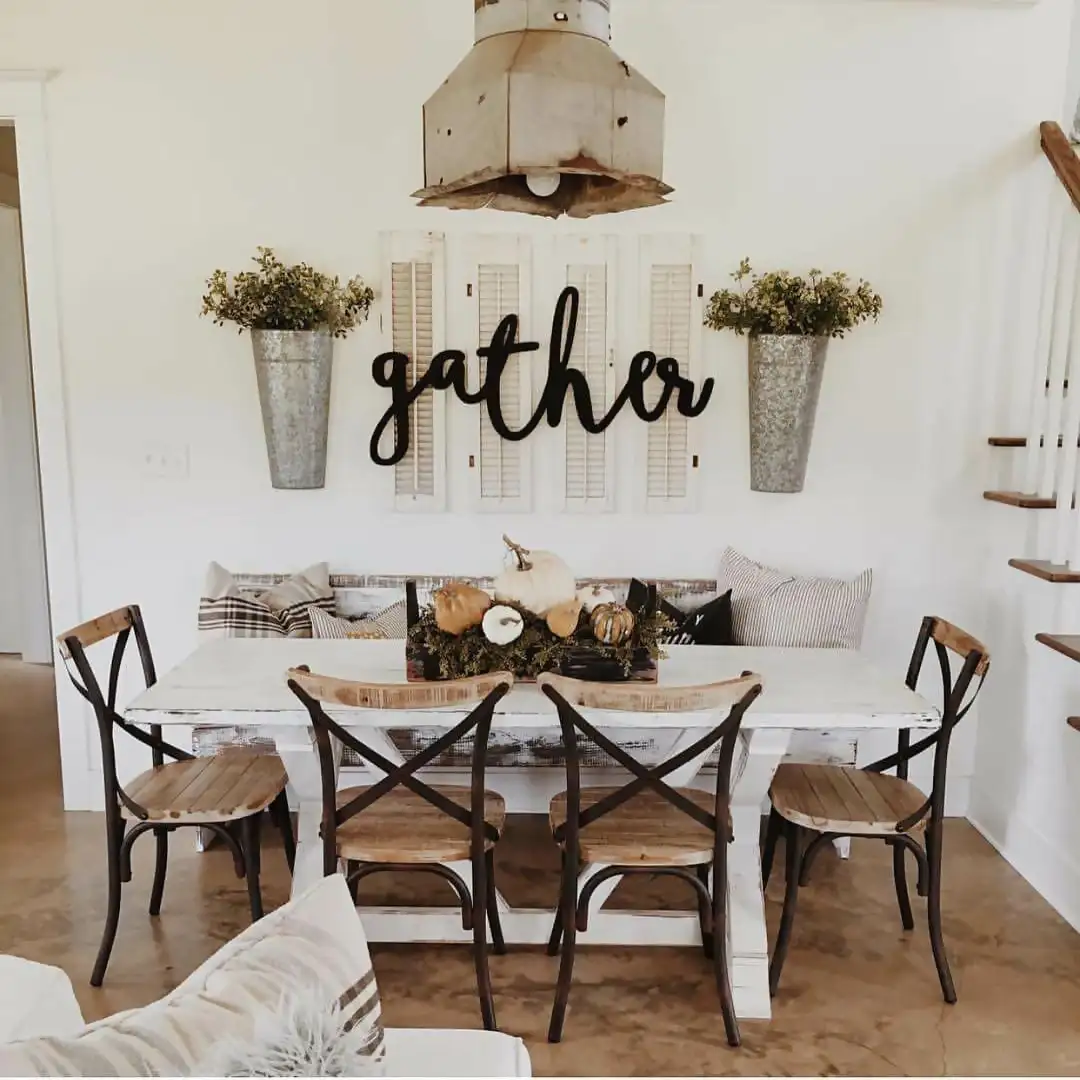 Thinking further about family country wall art, consider canvases, pictures, or a photo gallery, which show your basic ideas, values, and principles. When it comes to wall art like this, forget about your limitations. If it fits the theme of family, fill up your walls! That's a great way to create a cozy country atmosphere in your inspirational home.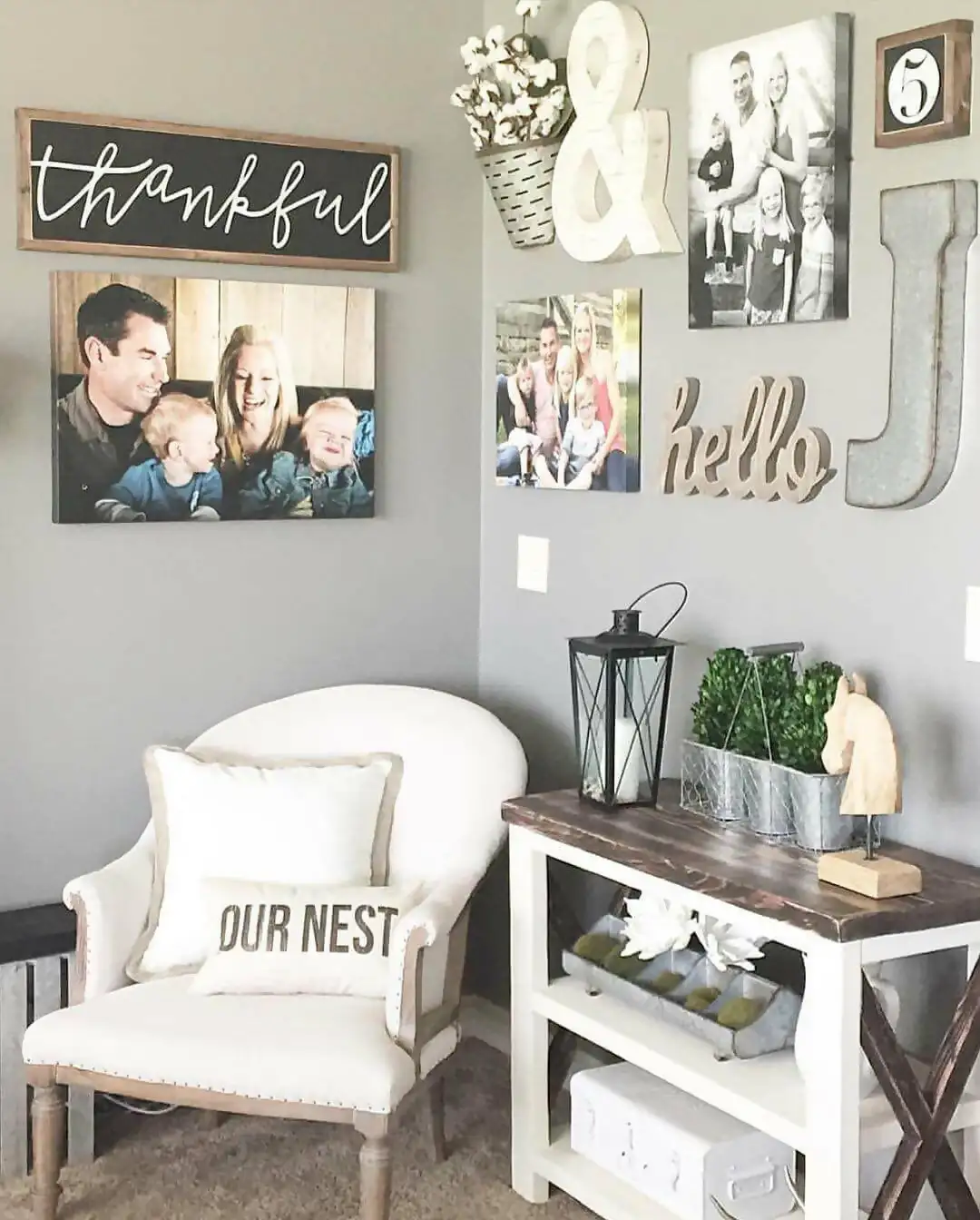 Country style window treatments
Considering farmhouse window treatments, keep in mind that window coverings should have a nice appearance, romantic vibes, and natural spirit. Try to keep a harmonious balance when you choose ornaments and prints for country-style window treatments.
If you want to fill your country dwelling with more natural light, be careful with colors, fabrics, and materials for a better decorating result. Using farmhouse neutral colored sheer curtains, you can create an inviting environment for your home.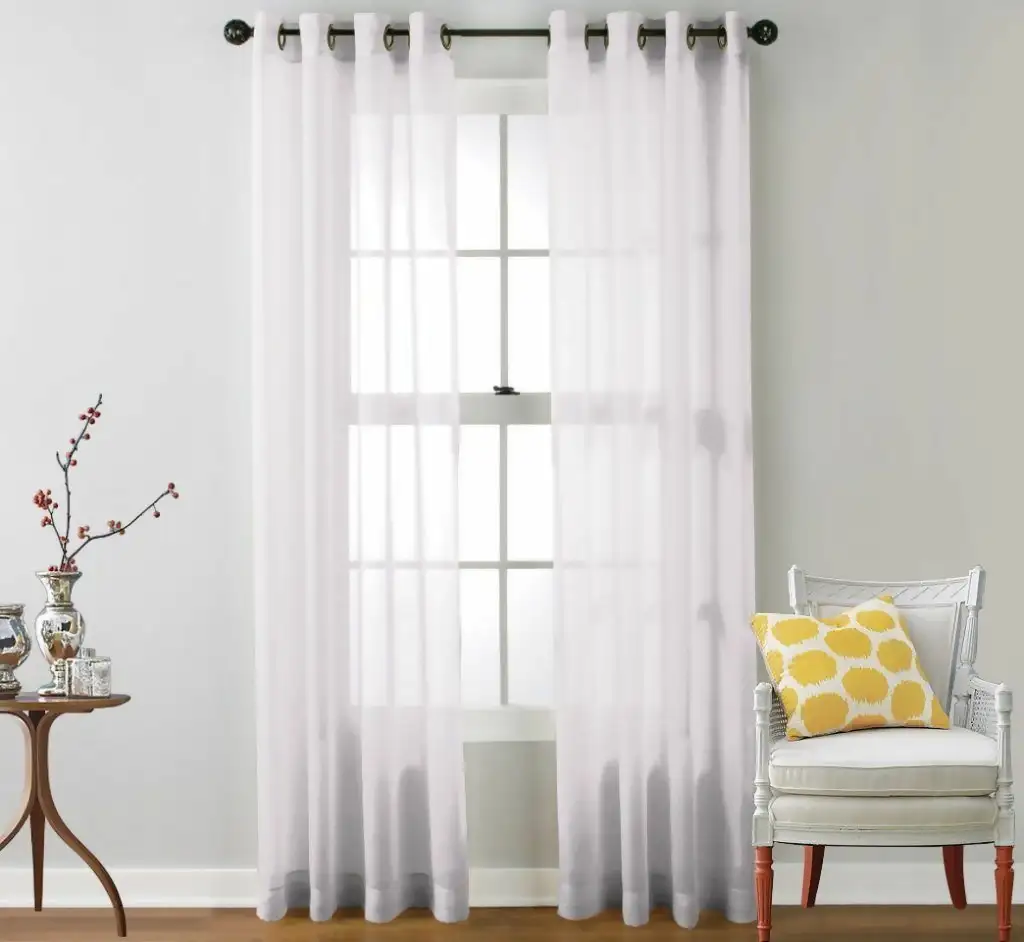 Keep in mind that kitchen window coverings especially tend towards light control because it's a place for cooking actions. If you choose the right window treatments for your kitchen, it can be a breath of fresh air, which you need there.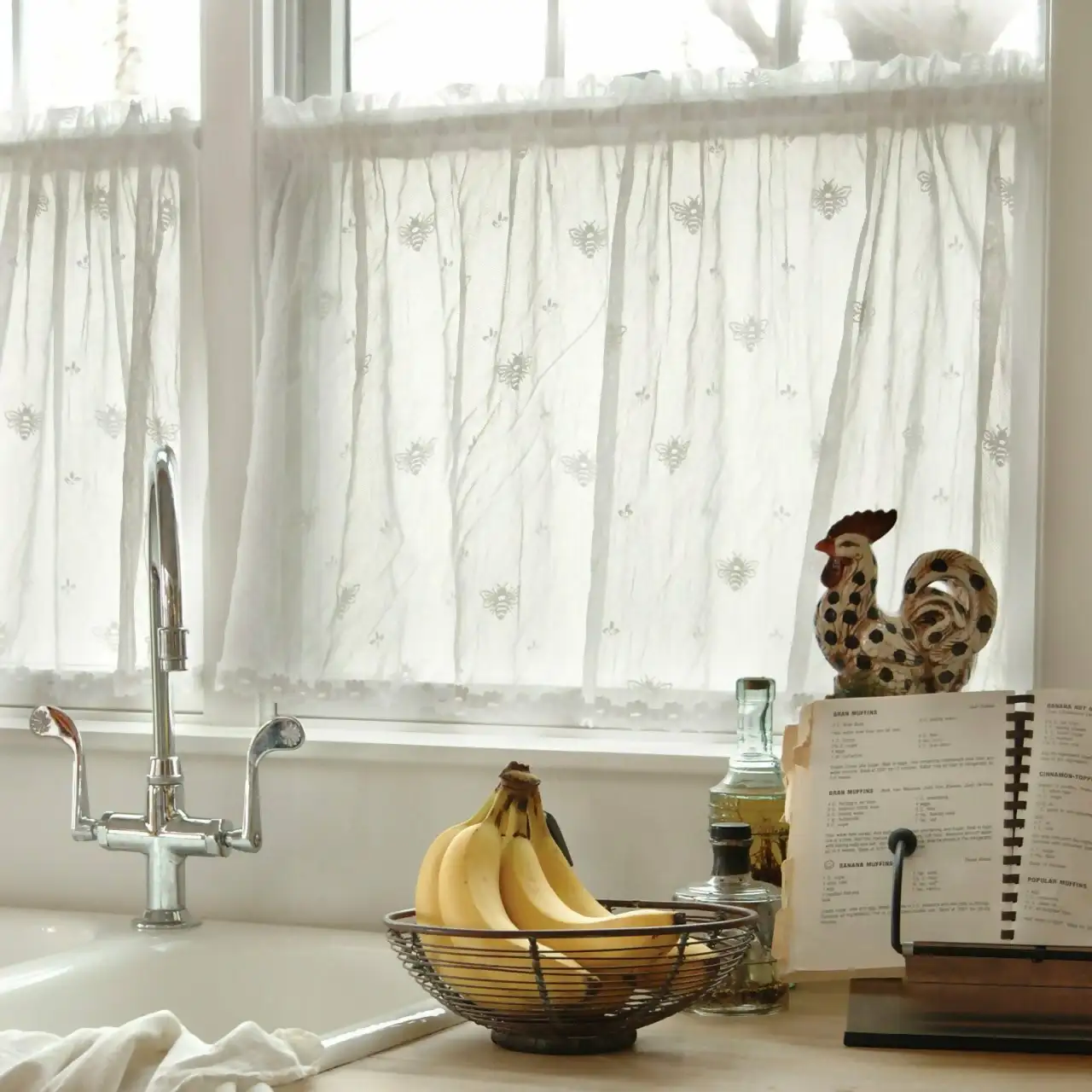 Liven up your country window treatments using natural-texture covering, such as wood and bamboo blinds, or plantation shutters, woven and linen Roman shades.