Well-Loved Shabby Chic Home
Shabby chic is a balance between distressed modern and well-used antique and vintage pieces. Shabby chic is a lived-in, aged, casual, and comfortable style. It quite looks like cottage décor.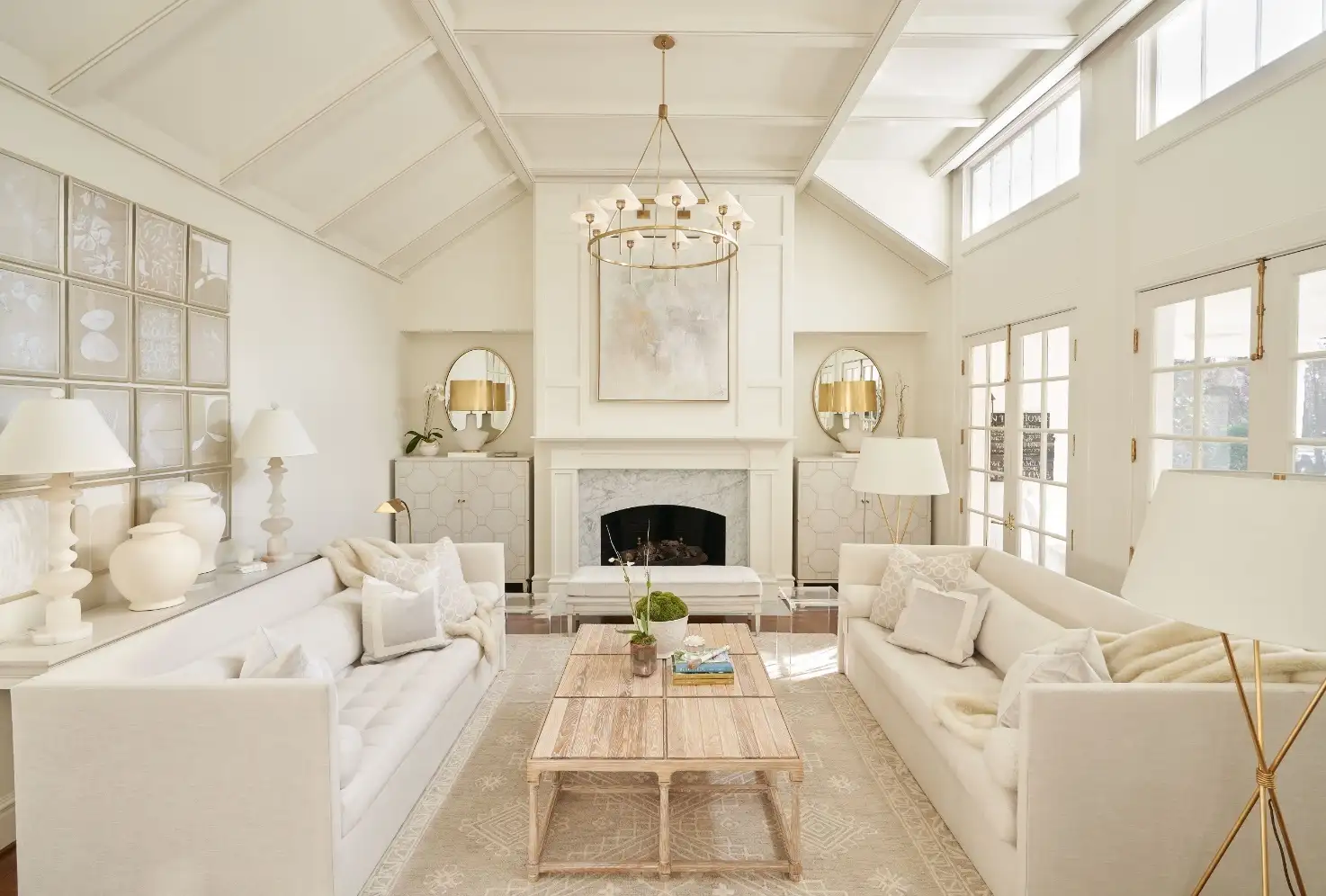 Shabby Chic Décor Defined
Rachel Ashwell identified this décor style and named it Shabby Chic®. She describes shabby chic as "cozy, comfortable, vintage, and pretty." To create an aged and calming appearance, it uses such elements:
well-worn or distressed furniture pieces
natural fabrics (cotton and linen)
a main color is bright white; secondary - soft hues (pale pink, beige, lavender, light blue, and soft green)
natural materials (especially wood)
floral prints, potted plants, and fresh flowers
Collect well-loved pieces from flea markets, garage and yard sales, and even your attic!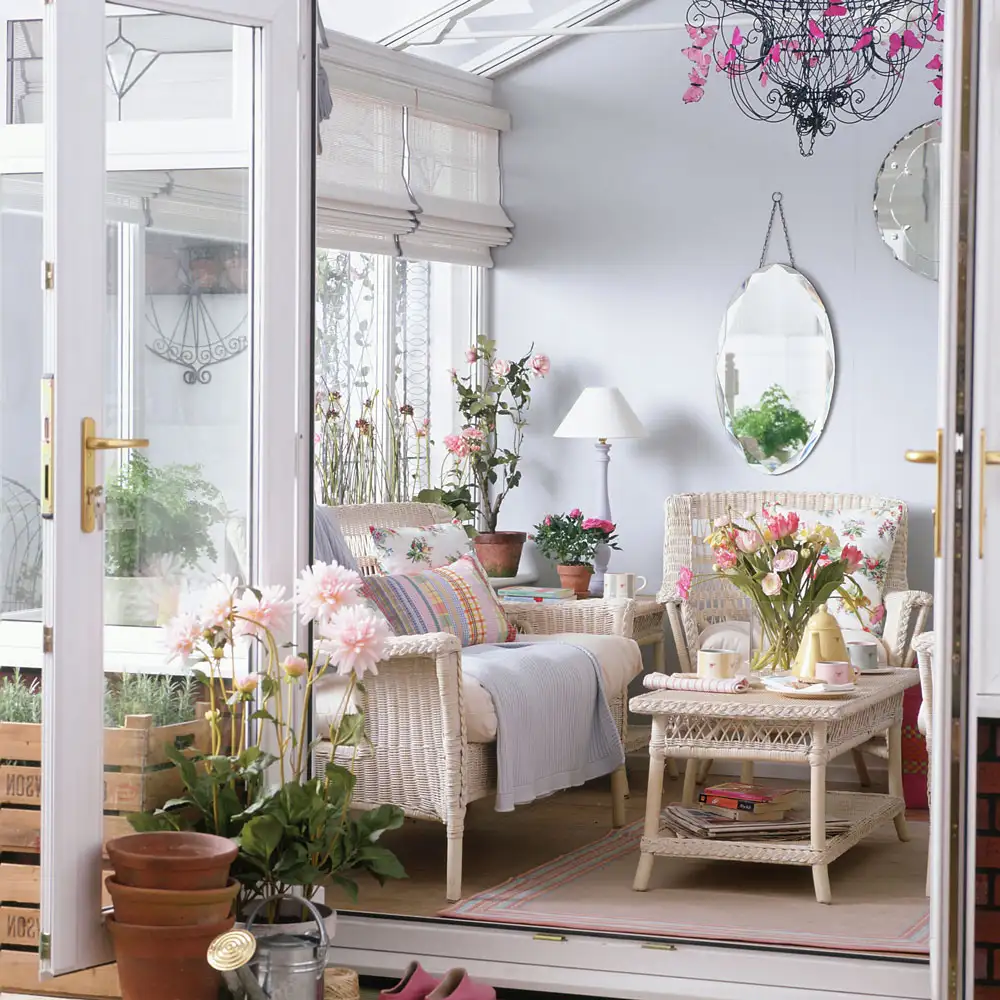 Shabby Chic Home
When you decorate your home in a shabby chic style, opt for well-used furniture pieces to create a vintage look. On the other hand, you can select newer distressed pieces. To distress them will involve sanding or other techniques to make your furniture look shabby. Even the dingiest of charming formal furniture pieces fit with Shabby Chic® décor. For instance, if a dresser or another piece is scratched, you should scratch it more.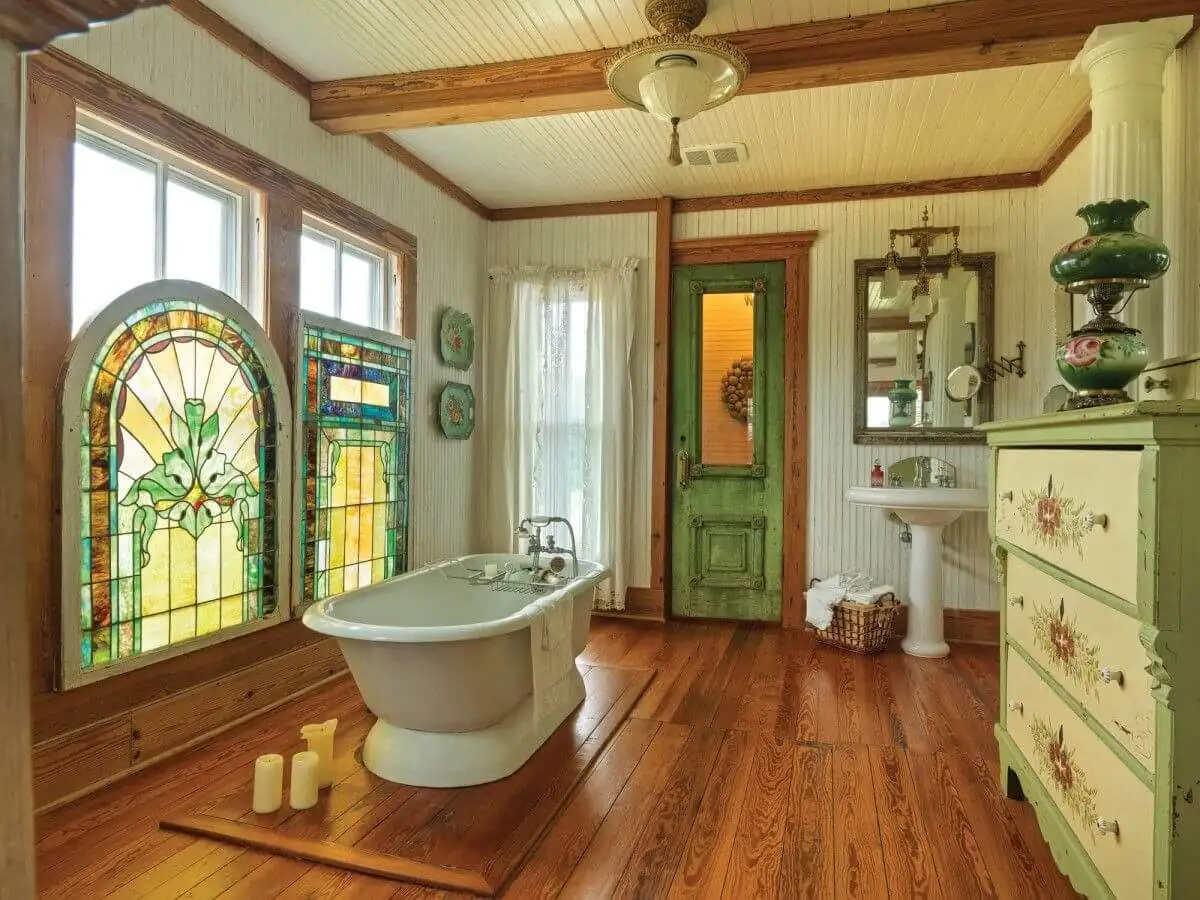 Shabby Chic Living Room
When it comes to decorating your living room, opt for over-sized furniture pieces. They are really comfy and capacious for everyone.
When you select old-world furniture pieces, such as sofas, armchairs, a coffee table, stands, stick with a sustainable approach to make your interiors cozy and inviting. For instance, a well-used or distressed coffee table is an eye-catching alternative option to modern, glossy pieces.
For sofas, you can use slipcovers to camouflage them. Also, that's a great way to cover mismatched furniture pieces without additional investment. Add throws and pillows to provide a comfort feeling inside your living room.
When we talk about colors, white is a priority. A bright white sofa looks perfect! If you like faded prints, go ahead and throw them in! For instance, floral- or stripe-ornamented throws and pillows have a charming appearance.
Also, you can use upholstered furniture pieces with or without slipcovers for your living room. This can make your interiors welcoming and cozy!
You should put a limit on kitsch when you choose accessories, such as cozy keepsakes, lovely knick-knacks, and inspirational wall art. This isn't about a minimalist approach, but at the same time, it's far from a cluttered space. Even if you want to fill your well-worn cupboard with sculptures, figurines, vases, books, and other trinkets, it's important to maintain order inside it.
Floral-themed wall art and bouquets of fresh flowers in vintage pots bring a fresh breath to your living room. That's a great way to create a lively ambiance with a charming flair.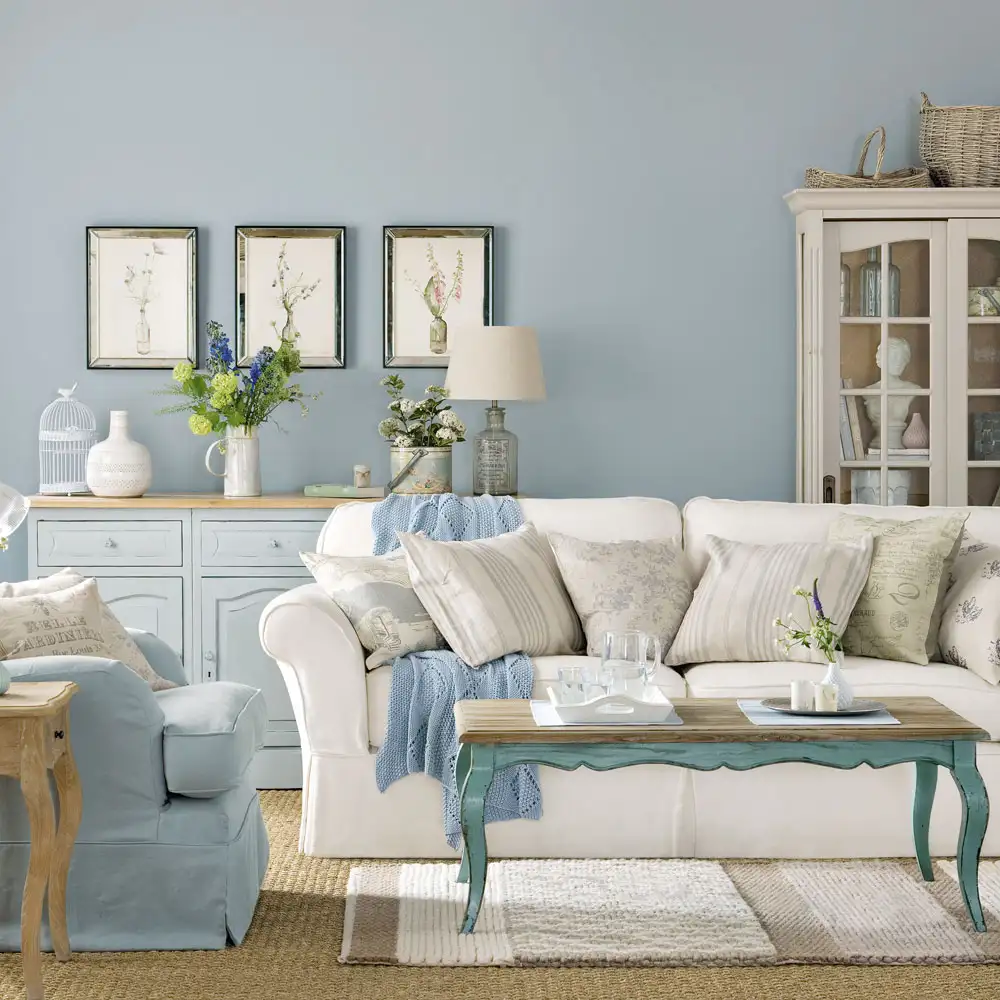 Shabby Chic Bathroom
To make your bathroom attractive, you can use finishes and special glazes. When you paint furniture, a white color fits with pieces as well. To transform a dark dingy bathtub or table, just spray them with white paint!
Wooden floorboards bring a dramatic feel to your restroom. For accents, whether you select pastel or subway tiles, it can work equally well.
A clawfoot tub with well-used shower heads and taps make your bathroom shabby chic. It's really an aesthetic pleasure to observe the elegant lines of an old-fashioned tub and relax inside it!
Don't be shy about hanging a vintage light fixture to emphasize the charming character of your bathroom. Place well-worn glass bottles and other accessories on the aged shelves to add a warm feeling to your shabby chic bathroom.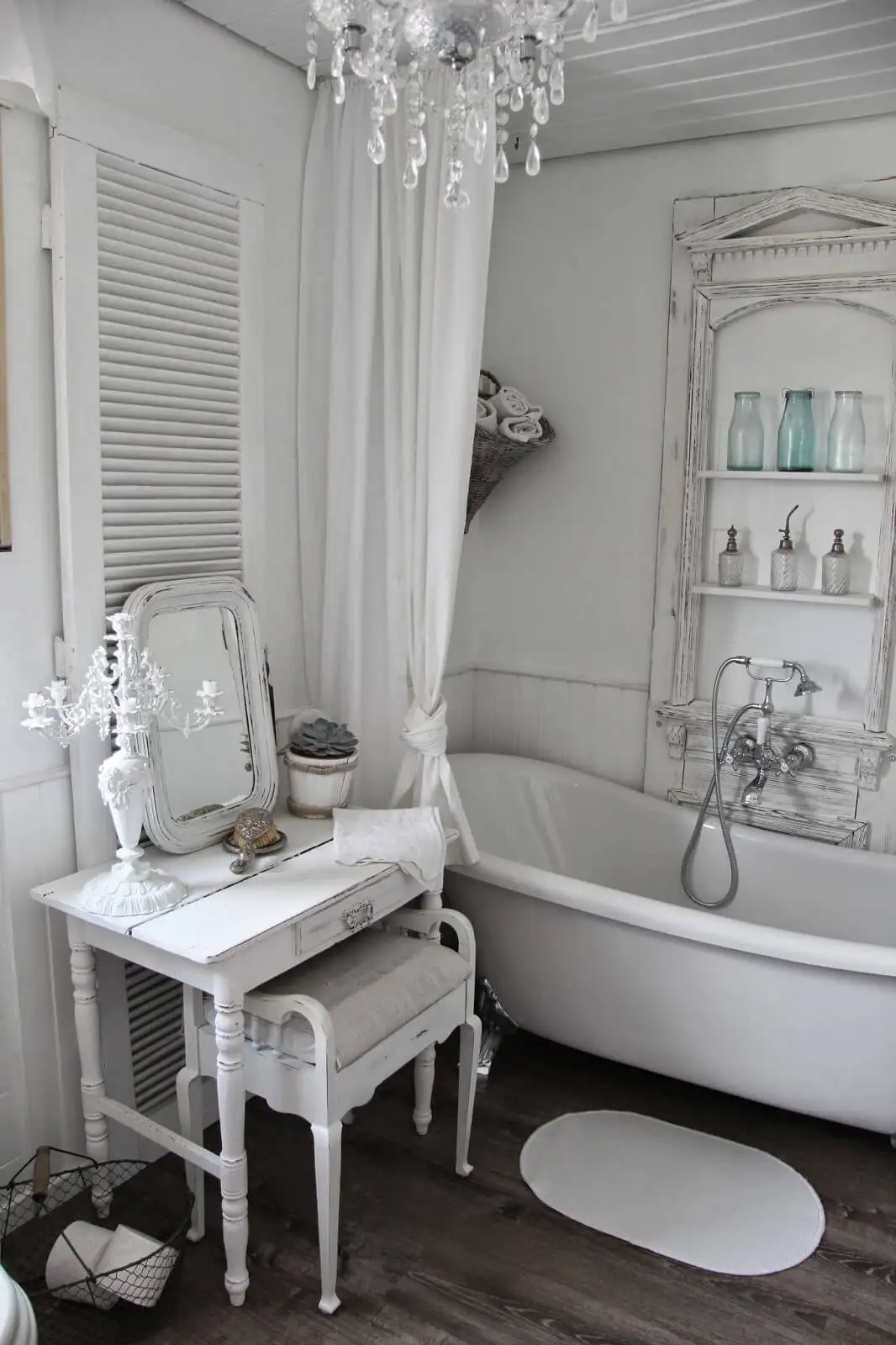 Shabby Chic Kitchen
When you decorate a shabby chic kitchen, opt for well-used, scratched-up furniture pieces. You can place a set of a dining table and stools to achieve a cohesive look. When you select a kitchen island, be sure that a wooden, aged piece fits into your kitchen as well.
Opt for modern kitchen appliances and food preparation equipment. That's a great way to make your life easy and create a contrast between old furnishings and new achievements of technology.
And, of course, an elevated ambience is the core of your relaxing space to cook your delicious meals and eat them with a good appetite!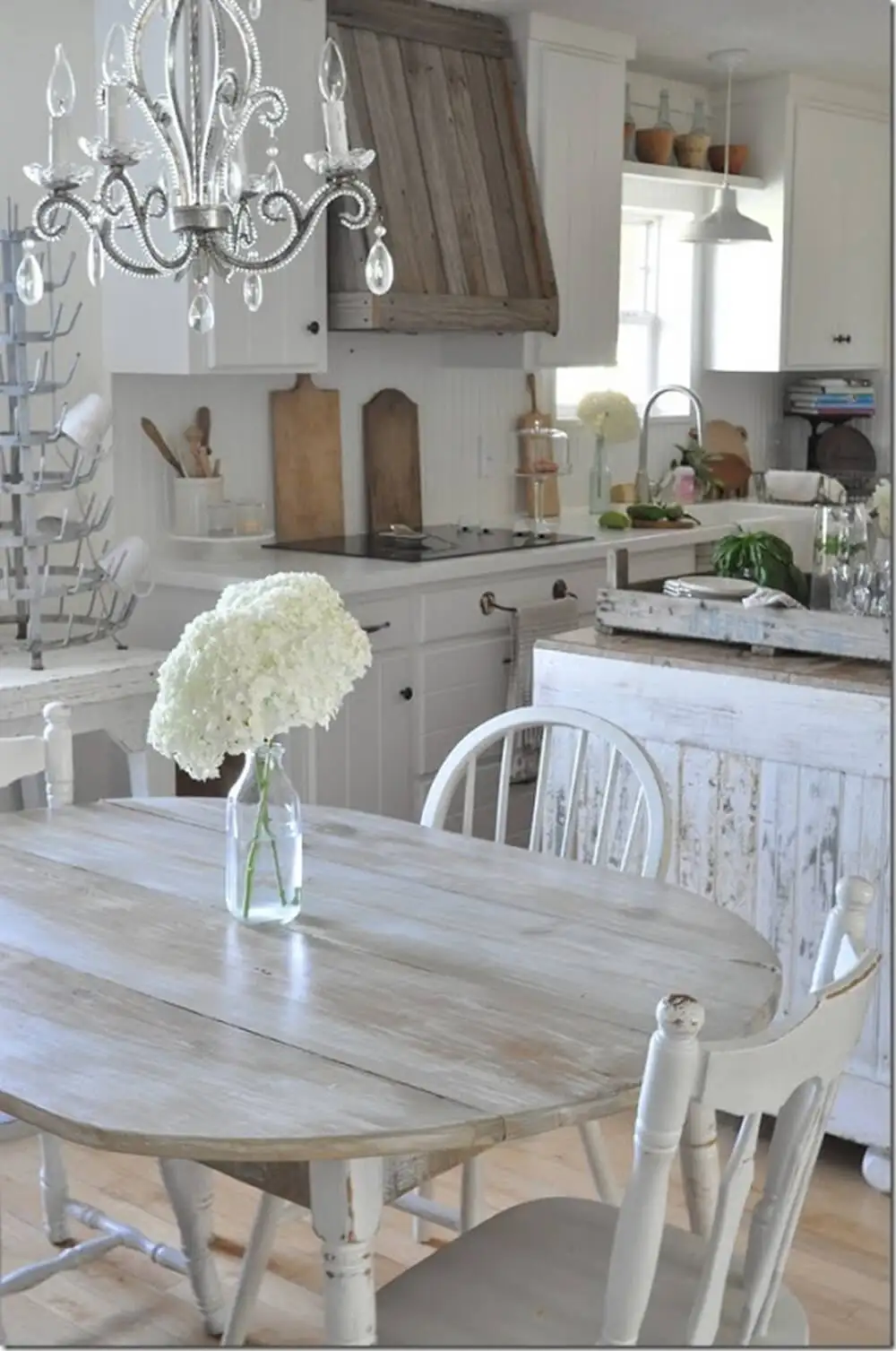 Shabby Chic Dining Room
A shabby chic dining room is all about comfy furniture pieces, lovely accessories, and a lot of creativity. Mismatch dining chair styles around a vintage wooden table to add a strong visual interest to your dining room. Add a texture to your chairs with seat cushions made of natural fabrics.
Jazz up vintage and retro kitchen utensils to bring more warm vibes to your home. Use a lot of well-loved accessories! Don't be shy about updating retro knick-knacks and creating DIY projects! Think outside the box and give your shabby chic dining room your own personal signature.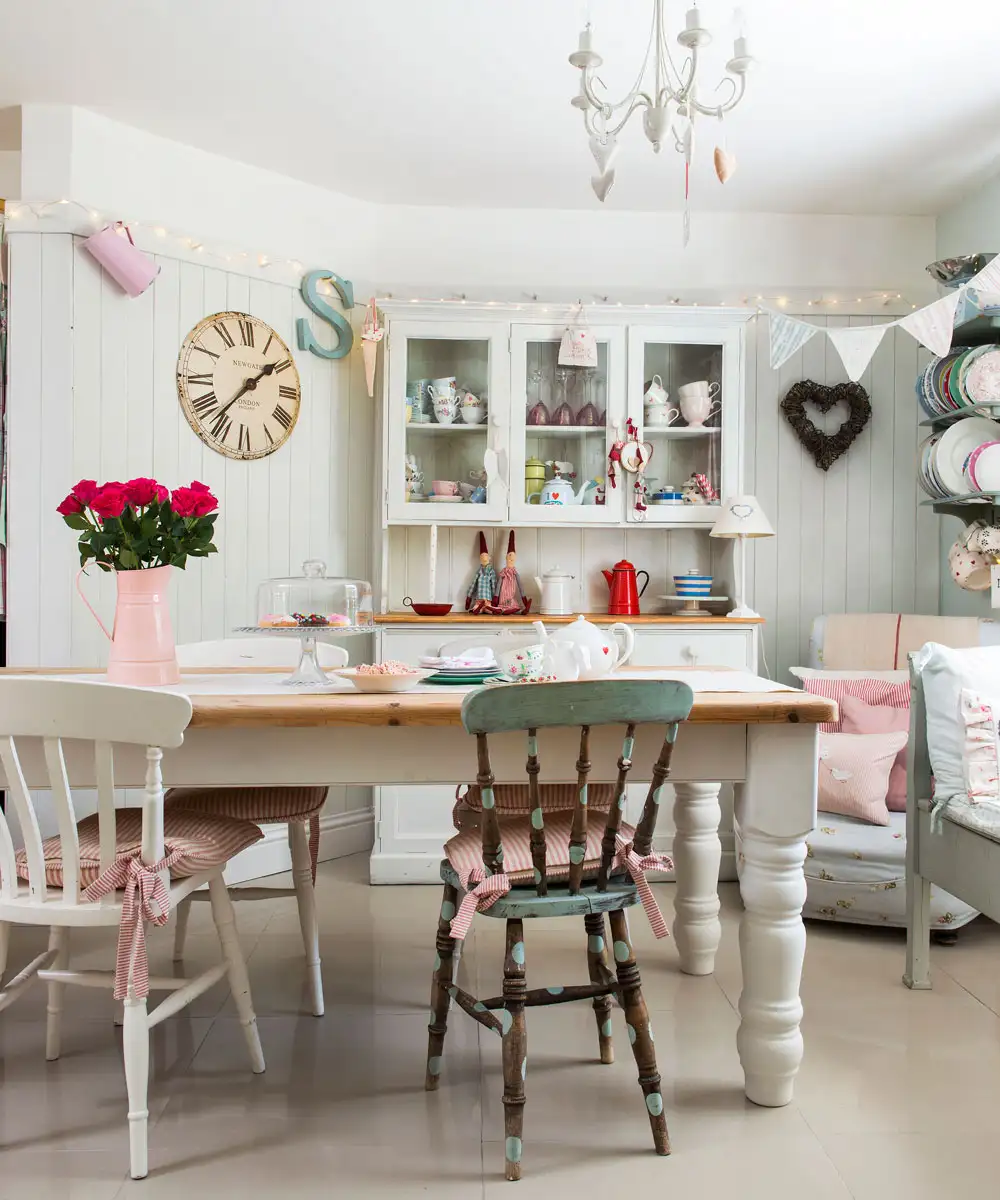 Shabby Chic Bedroom
A bed may look aged but it always has to be comfortable, with a high-quality matrass. When we talk about details, metal bed frames always add an elegant touch to a shabby chic bedroom.
Whether you decorate a master bedroom or a room for guests, use cotton or linen fabrics and soft-colored bedding (white, beige, or cream hues) to create a homey feeling for everyone. That's a great way to enhance the welcoming spirit of the shabby chic style.
Also, create a contrast between neutral-colored and bright cushions. Play with different patterns and prints to add character to your shabby chic home!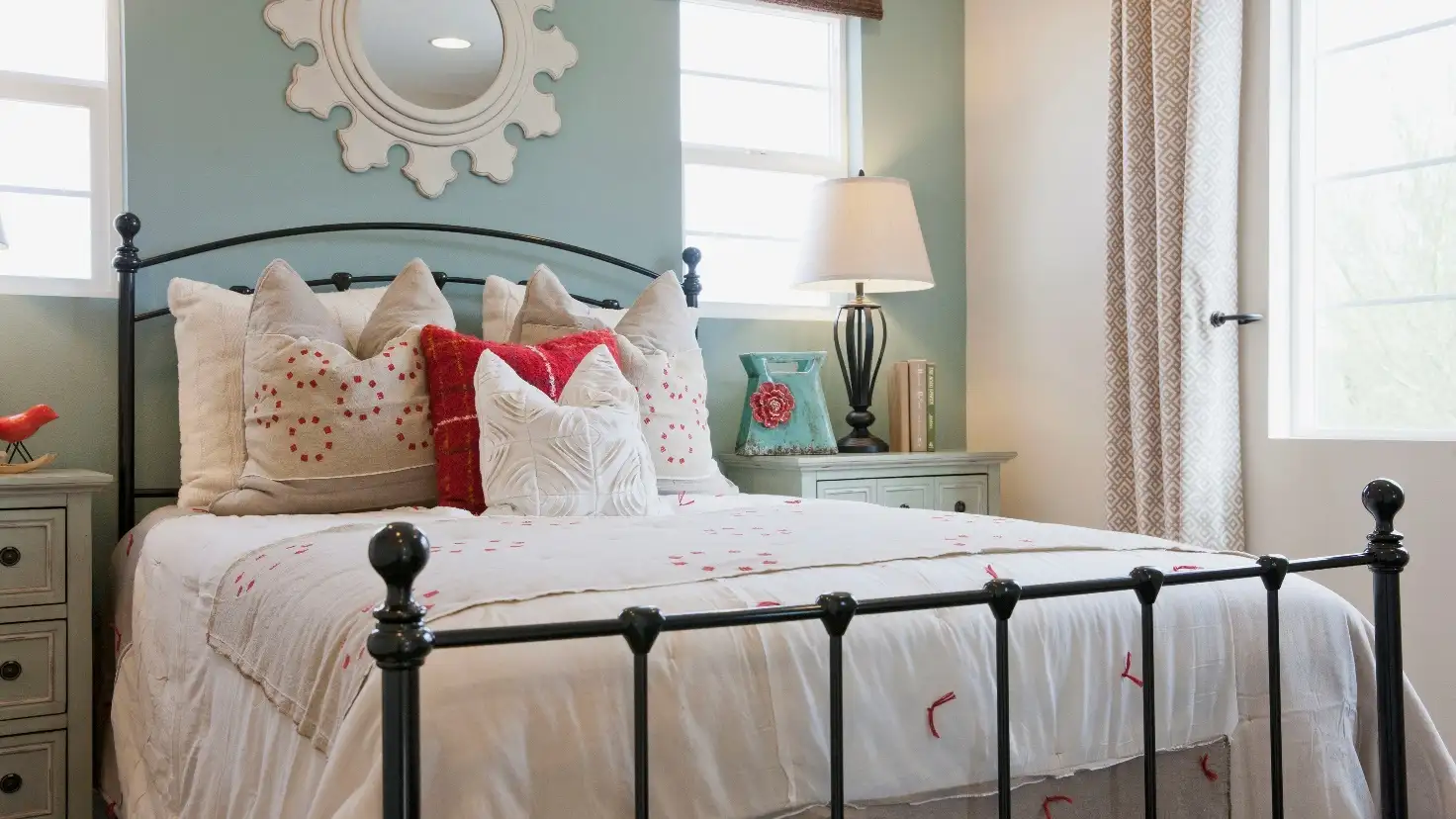 Shabby Chic Home Office
When you decorate your home office, use bright, well-loved accessories to be inspired and create something great! Because, of course, this décor fits with creative professions flawlessly. But whether you write books or sew clothes, avoid clutter and organize your documents. Contemporary storage details, such as stands or baskets, look great with a well-used table, a comfy chair, and aged details inside your workspace!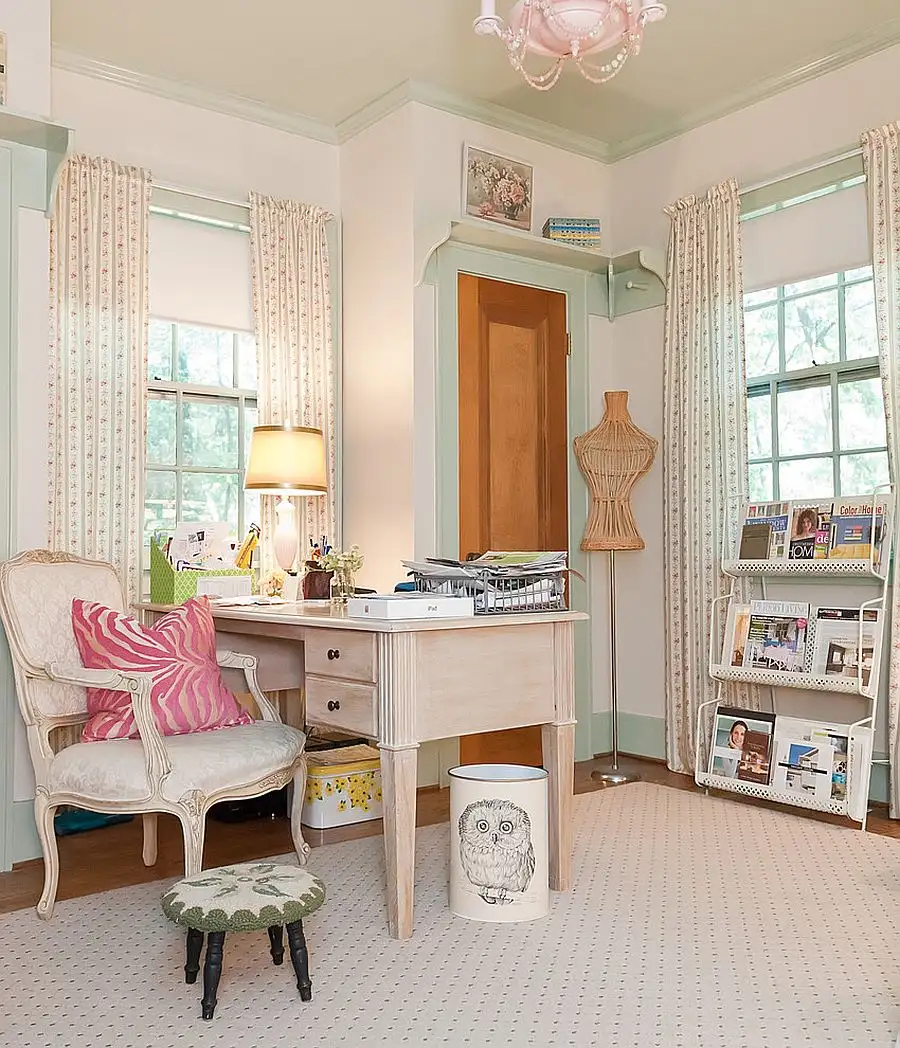 Shabby Chic Nursery
Decorate your baby's nursery with the right type of a crib, a comfy breastfeeding chair, and other furniture pieces. A canopy crib is an attractive option with a light feeling. It's made of metal or wood which allows for little bit of distressing. To style your baby girl's bedroom and try something unusual, you can select an oval-shaped cot.
When you choose window treatments for your nursery, opt for a mix of airy sheer curtains and bamboo shades to bring a warm, relaxed feel and to control natural light. When you dress your baby's windows, opt for floral motifs, muted tones, and soft colors. It's important to make your baby's room warm and cozy without aggressive décor solutions.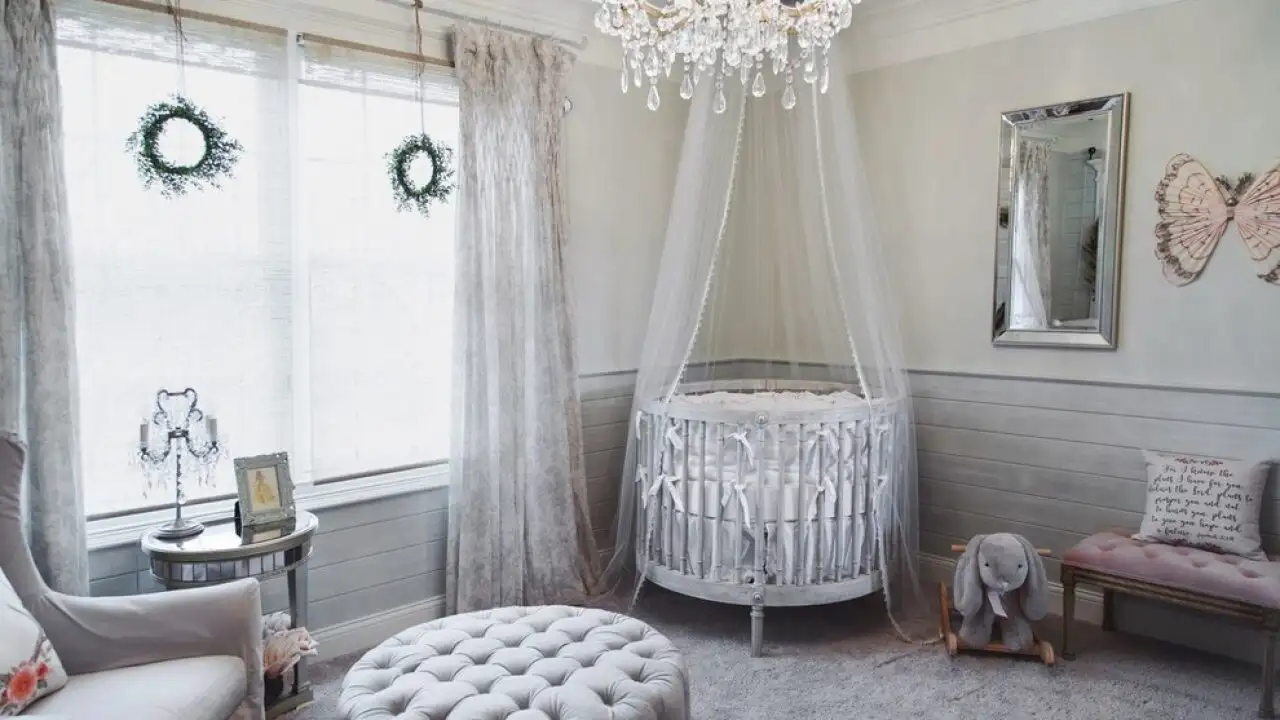 Shabby Chic Kid's Room
When you decorate a kid's room for your daughter, emphasize the feminine spirit of her bedroom in every detail. Opt for:
an aged, elegant bed
classic nightstands
vintage lamps
a gold-framed mirror
inspirational wall art
cozy window treatments
It's a celebration of a pink color in wall coverings, throw pillows, and accessories. To create a cohesive look, blend pink hues with white, creamy, milk, and of, course white tones!