Fascinating Home Gym Design Ideas To Get You Rolling
Dumbbells and treadmills have become a common site in most houses. However, most home gyms are usually dull drab spaces situated in the corner of the basement. You need to pay special attention to the design of the gym because it is a part of your home's interior. A beautifully designed gym cannot only entice you to work harder but can also spruce up the interior of your home.
A Modern Home Fitness Room Design
More and more homeowners are incorporating modern designs in their home gyms. The use of straight edges and large glass windows create a uniquely serene and modern space in the gym. The windows will help you attract a lot of sunlight, making your gym brighter and more attractive. You can also build concrete walls and hang an LED TV to further enhance the environment.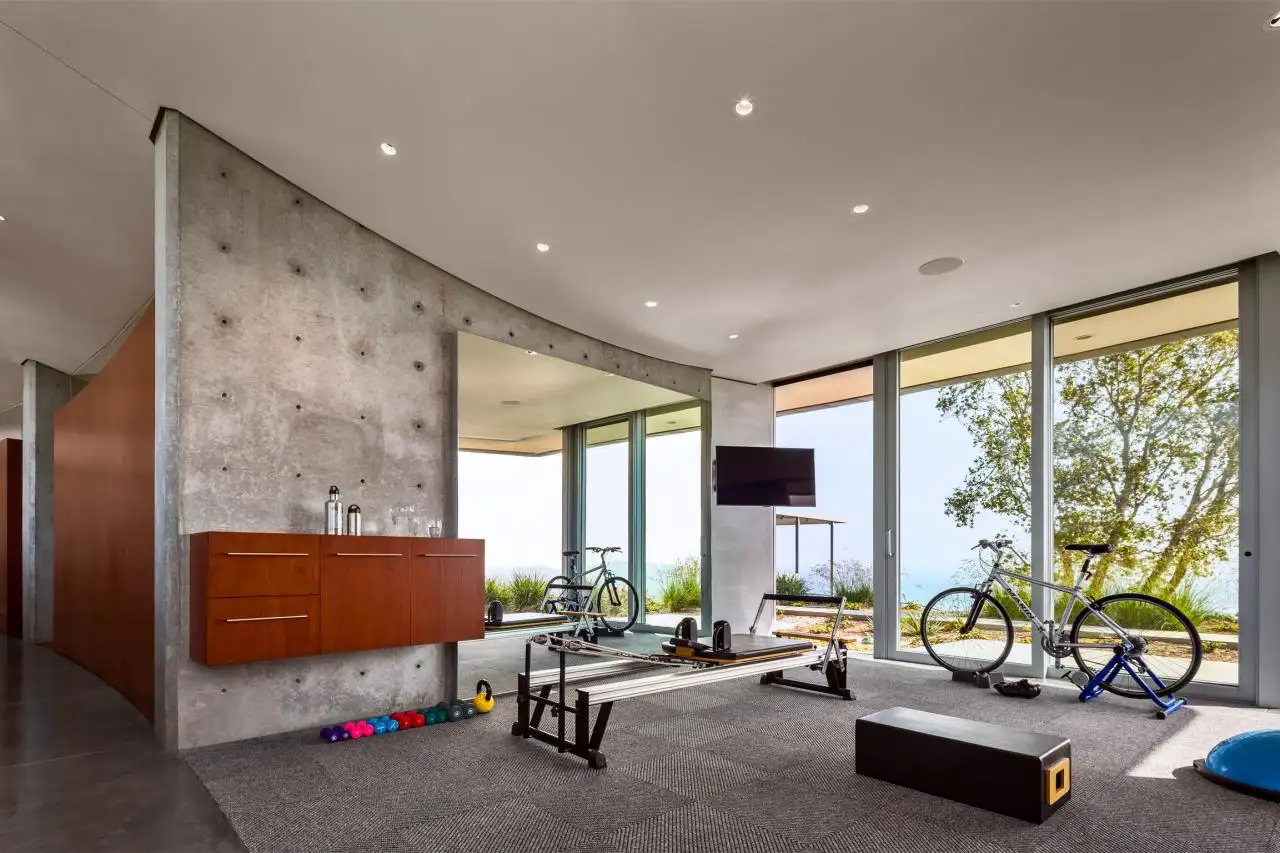 Use the Same Color Scheme throughout the Gym
Another great idea to build a beautiful gym is to use the uniform color scheme. Picture shows a traditional multipurpose gym you would see in every other house. What differentiates it from ordinary home training room is its unique color palette. The off-white color makes the room softer and nicer. Similarly, the light hardwood flooring brilliantly compliments the overall ambiance.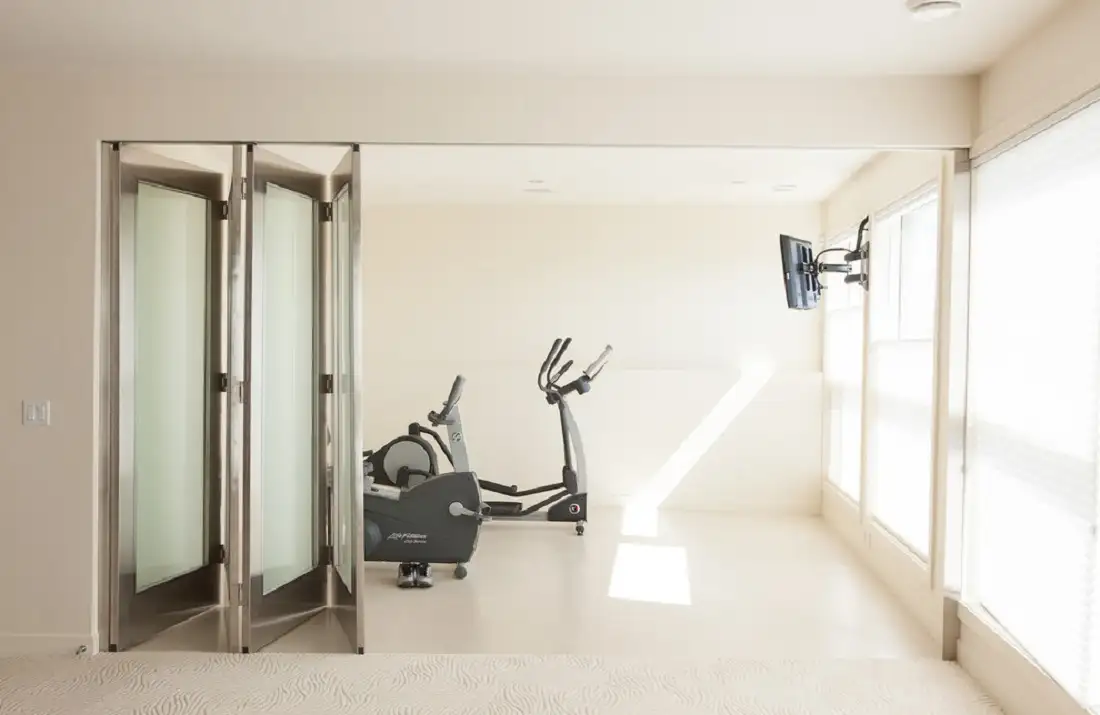 Home Gym with Open Concept Living
You can create a stylish gym in your home without doing anything special. Painting the walls in bright colors and hanging light pendants from the ceiling will make your room glitter. The glass doors will seemingly integrate the gym with the outdoors. Similarly, there is no partition between the gym, the mini sports room and the TV lounge, helping you to keep an eye on other parts of your home while working out.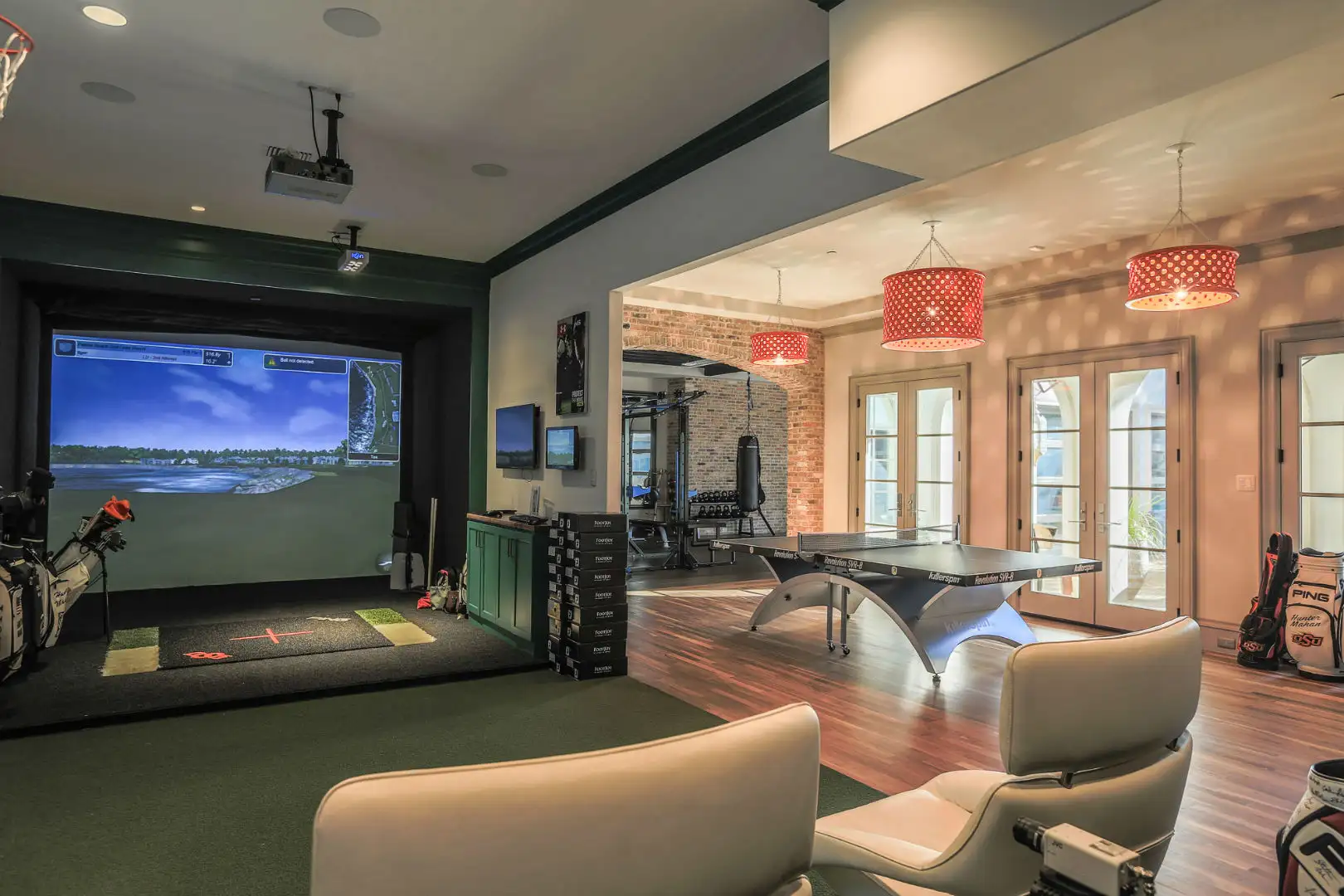 Use Bold Colors to Make Your Gym Vibrant
The use of bold colors on walls and doors makes your gym more vibrant and adds some quirkiness to the surroundings as well. The bright colors are also a fun through back to your younger days. If rest of your house is painted light, you can use bold colors in the gym to create an amazing contrast as well.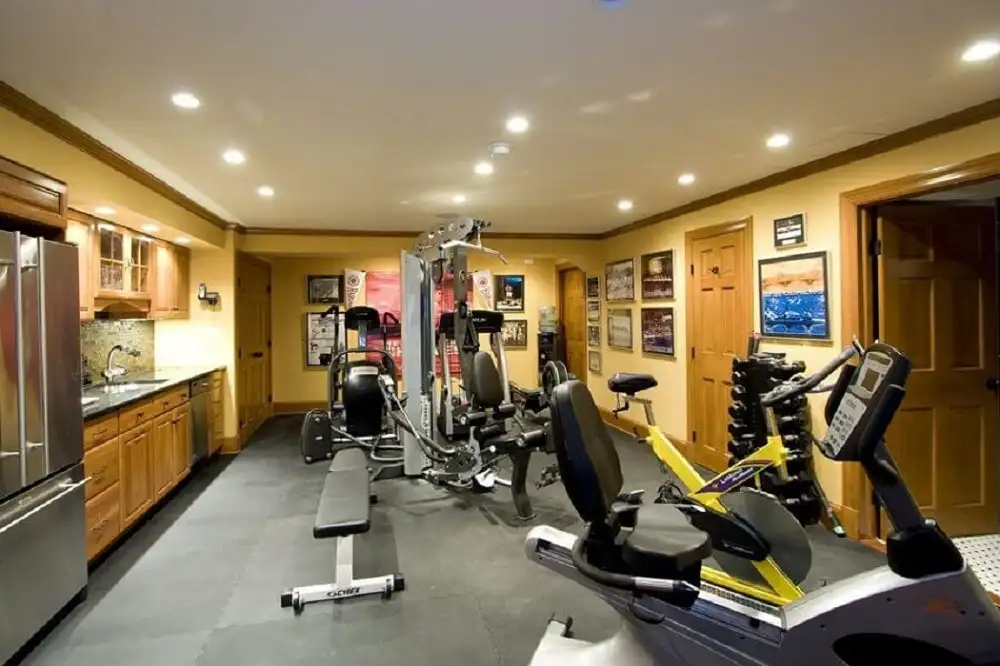 Wood Paneling for Your Home Gym
Nothing can surpass the timeless beauty and class of wood. It is a great idea to use wood in your gym. Wood can make your gym uniquely sumptuous. It will also help you bring in a great deal of warmth to your home fitness room. Similarly, if you want to make the gym more serene and calm, installing wood panels on the walls and ceiling is the way to go.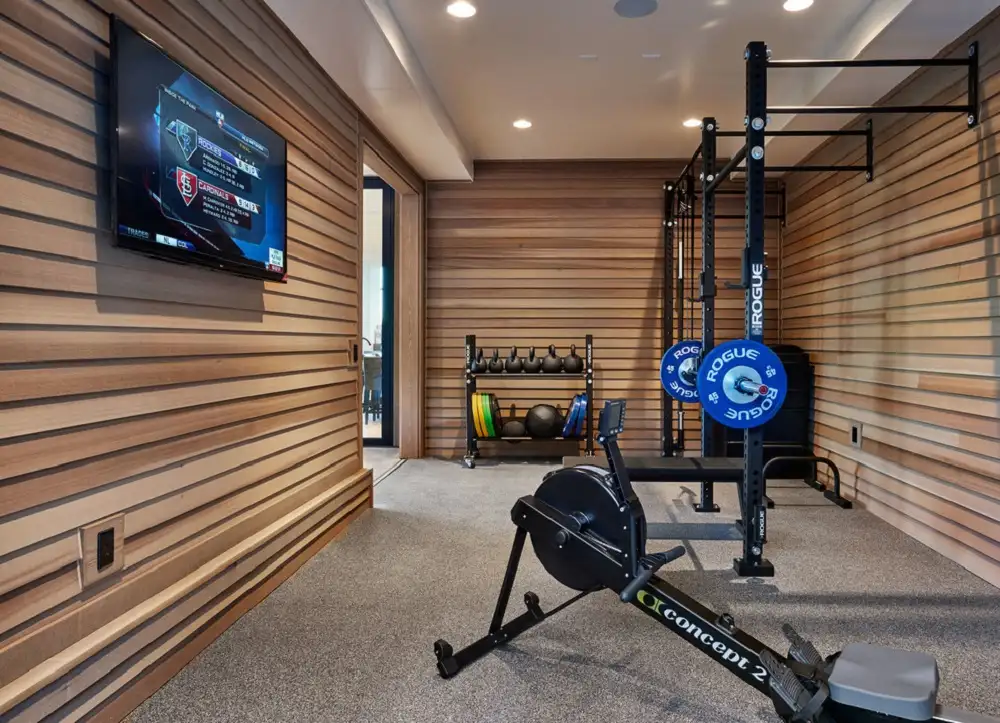 Create Contrasts within the Gym
You can also create contrast within the gym to instill some life to it. For instance, the bright stripped ceiling with fancy lighting is working wonders in this fitness area. It is pertinent to note that the green rugs on the wooden floor automatically become the focal point. Similarly, a beautiful chandelier and an antique are additional design features.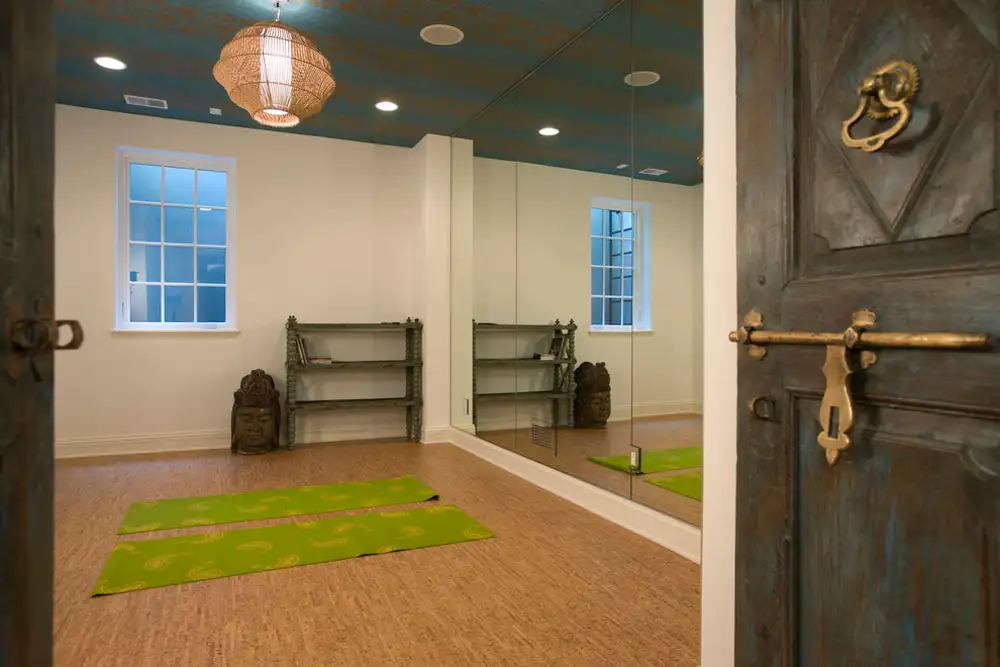 Home Gym with the Multicolored Walls
It is not necessary to use only one or two colors to paint your gym walls. Sometimes, they just look to monotonous, devoid of any life and character. On the other hand, multicolored walls can totally revitalize any room. Furthermore, multicolored ceiling, floors, doors, window trims and exercise equipment can also give a contemporary feel to the gym.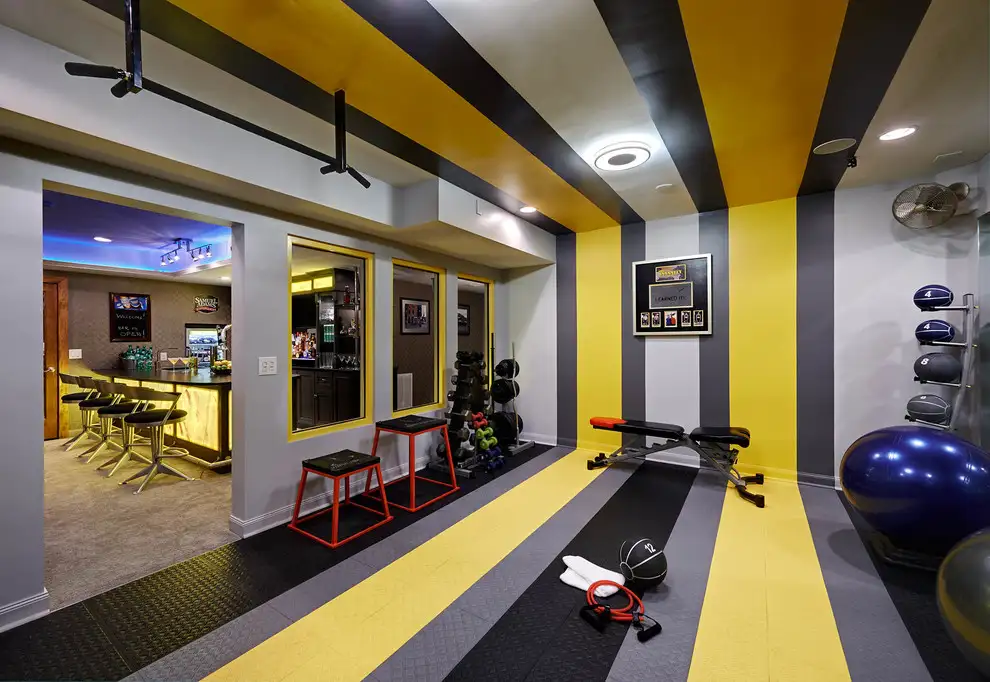 Gym adjacent to a Swimming Pool
What better place is to build a home gym than adjacent to a swimming pool? This fitness room is one of its kinds. The sandstone tiles add to the beauty of both gym and the swimming pool. The fitness equipment placed along the large windows providing a great view of the nature is a treat to the eyes. Most importantly, you can take a cool, refreshing bath right in your gym after your work out is over.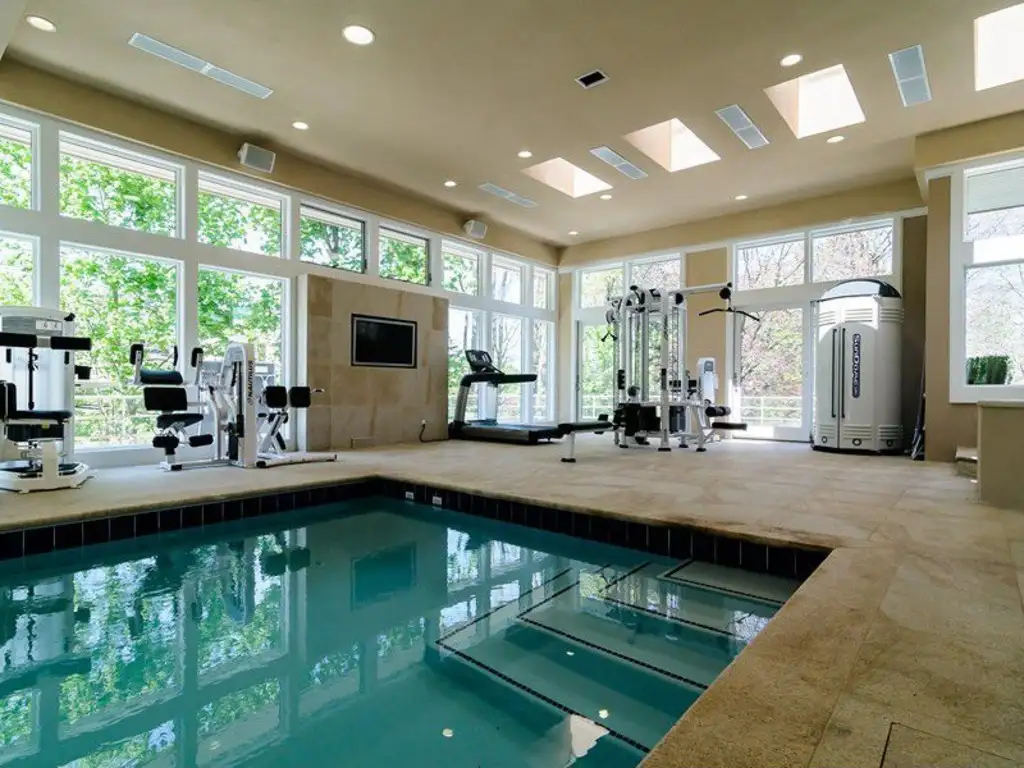 Combine your Home Fitness Room with a Lounge
Combining your lounge with the gym might sound strange but it is a great home fitness room idea, especially if you are short in space. You can also add a TV and comfy furniture if you have a relatively bigger space. Similarly, you can also personalize the area in addition to adding some drama by hanging colorful light fixtures from the ceiling and a family painting on the wall.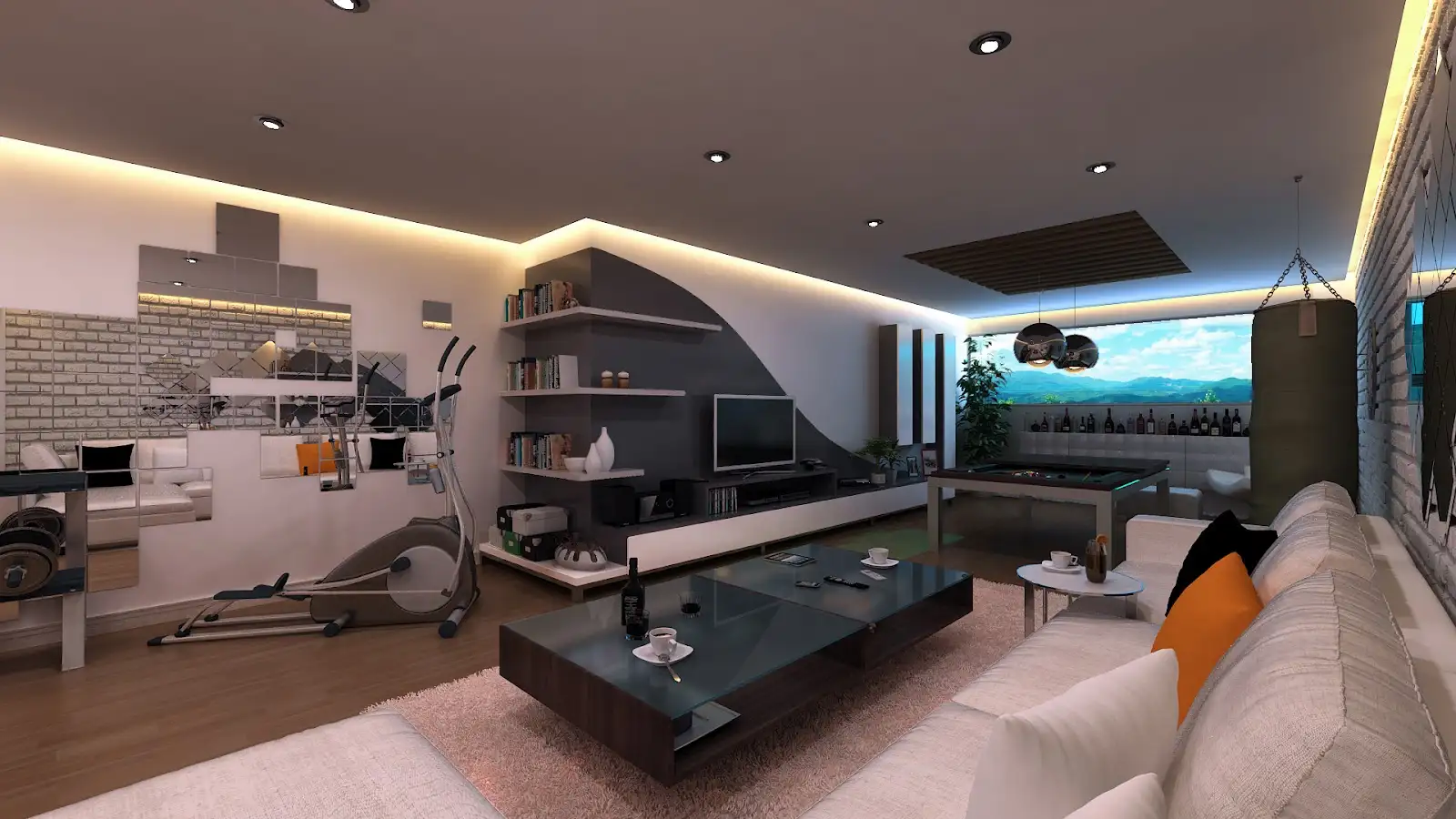 Make Full Use of Home Gym Mirrors
You can also add interest in the gym by installing mirrors. You can pull your room together simply by adding mirrors and closets with doors. It is also a good idea to keep the walls light and clean if you want to make the gym more purposeful. You can also add a vibrant yet exciting focal point by hanging a decoration piece from the ceiling.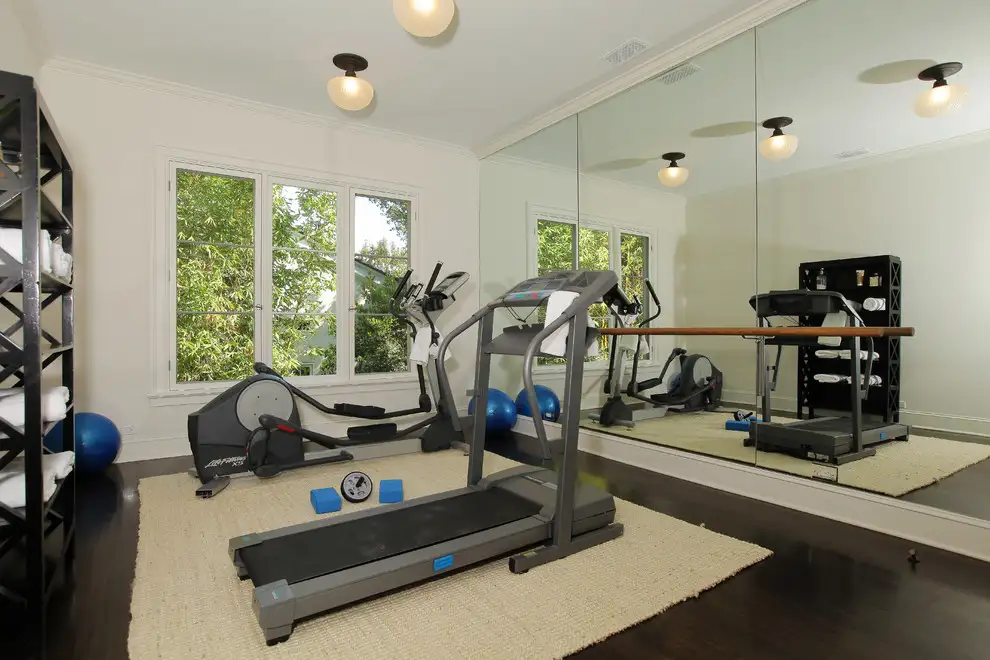 Build a Gym in your Sunroom
Not many houses have a sunroom but if your house has one, you need to make best use of it. Building a gym in the sunroom considerably boosts the visual appeal of your house. Such workout spaces are perfect for beach or vacation homes. The room's natural sunlight is enough to add a bit of energy and strength to your workouts.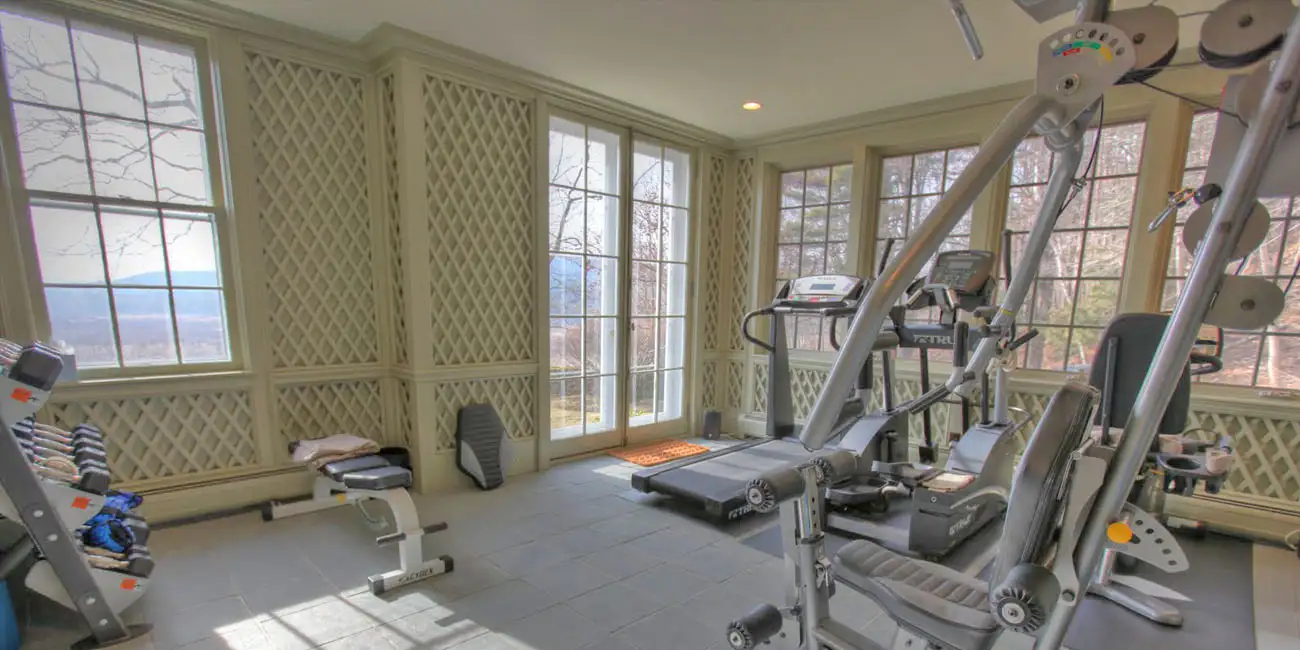 Combine Your Gym with a Sitting Area
You can also transform your smelly and dark basement into a colorful and lively game zone and conversation sitting area. You can include things like a table tennis table, bar, dart board and of course, a fully equipped gym in the renovation as well. In addition, you can spruce up the room by installing stained concrete floor and featured walls.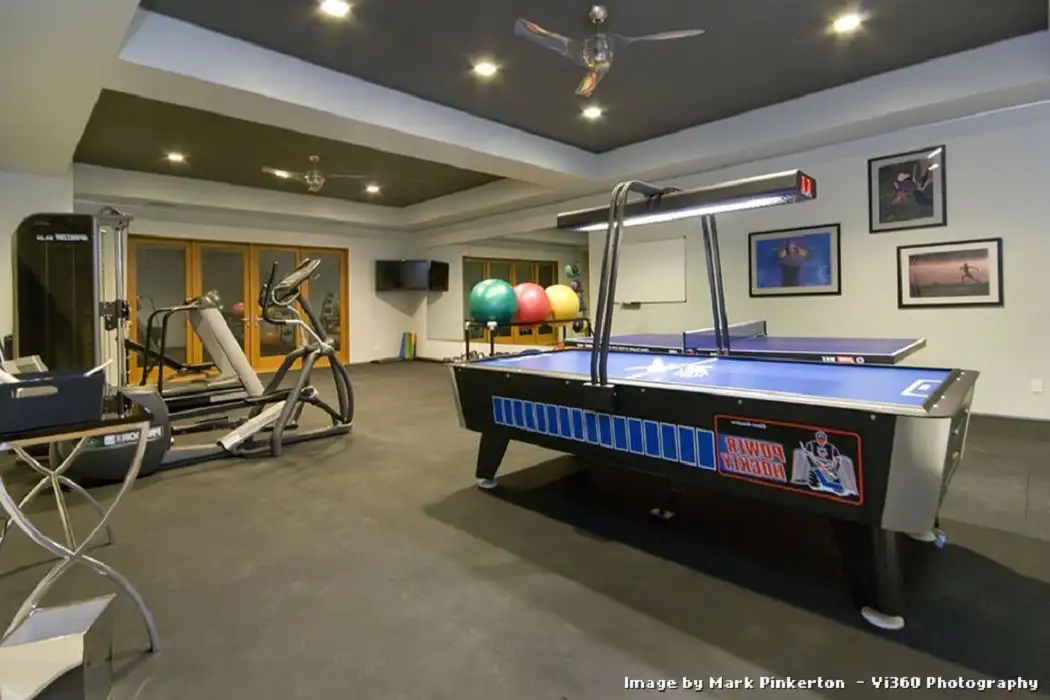 Transform Your Attic into a Home Gym
One of the best places in the home to build a gym is the attic. You can do many things to convert your attic into an enchanting exercise space. For instance, you can make your gym brighter by adding glass panels to the ceiling. Similarly, opening a window to the outside will offer you some really great views of the surrounding area while doing an exercise. It is a good idea to only use home gym essentials like treadmill and dumbbells in the gym because attics are usually small and cramped.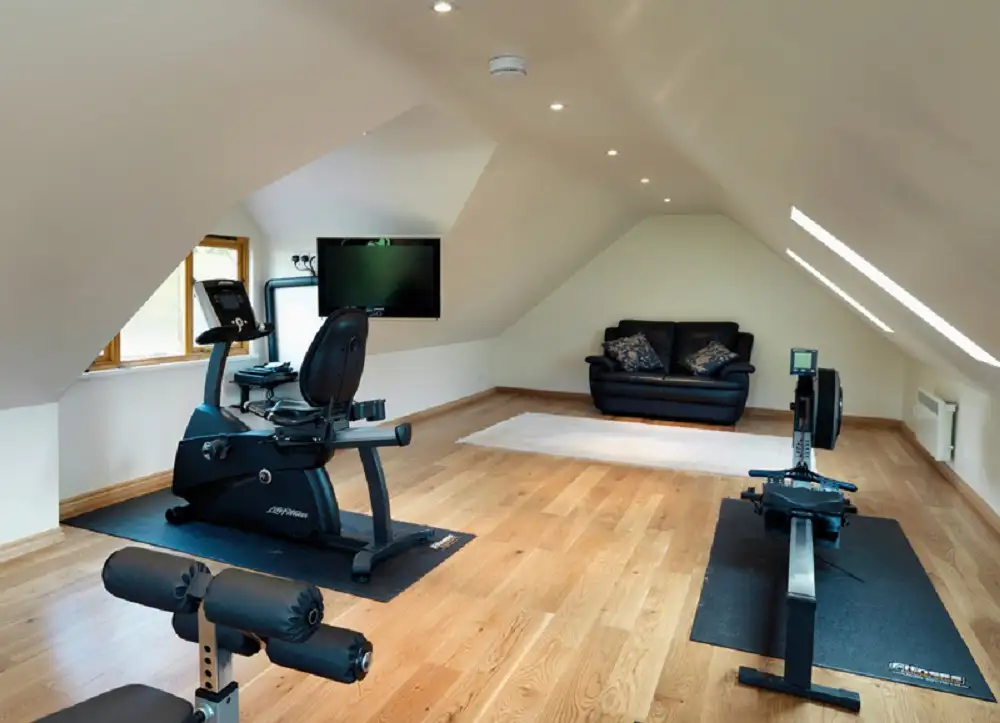 Hang Inspiring yet Beautiful Artwork on the Walls
Hanging an attractive piece of art like a painting on the walls can instantly transform your gym into a spectacular fitness space without doing anything else. You can make your room more beautiful with the help of a few well-placed paintings or prints. Choose artworks or panorama of vistas you love and your gym will start looking like a haven to you.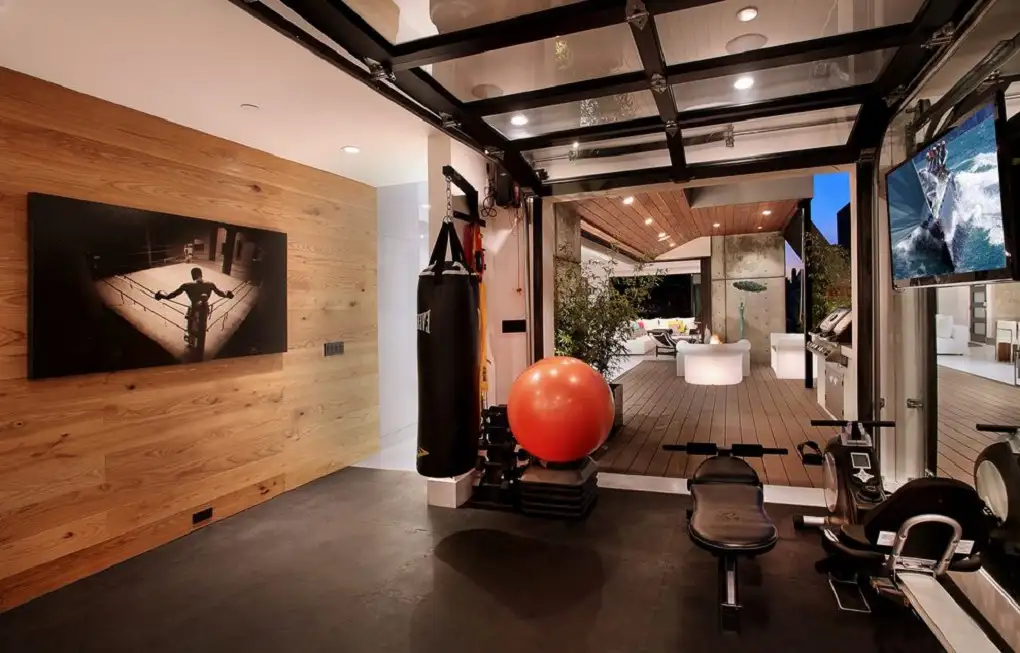 Gym with a Clean Background
No one wants to work out in a cluttered and appalling gym. You can actually create clean background for your gym by having grey walls with white window trims. A mirrored wall reflects everything from both inside and outside the room, creating a sensational first impression. Most importantly, the vaulted ceiling makes the small room look bigger and spacious.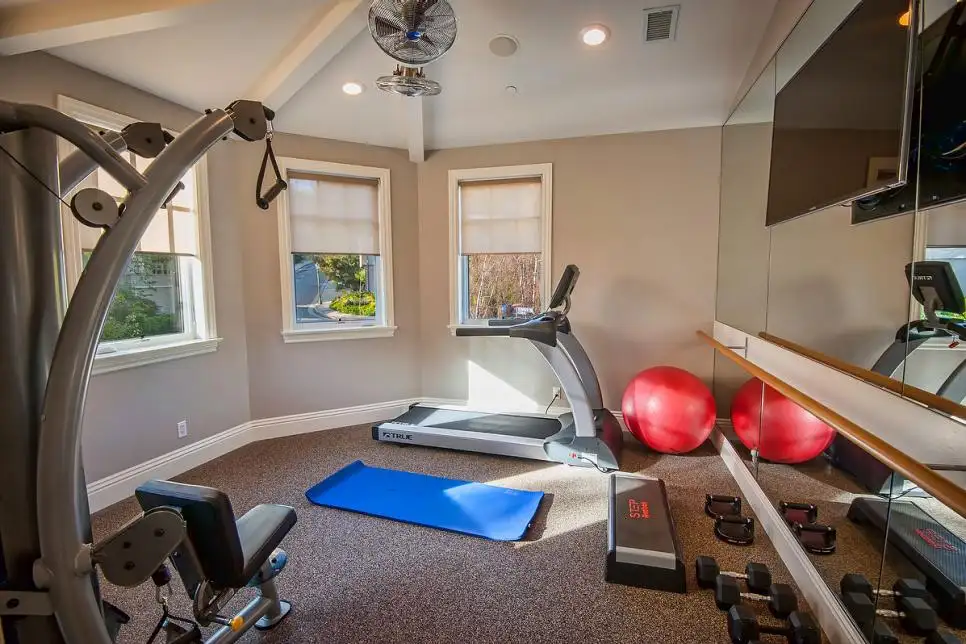 Gym with a Colorful Carpet
Placing a colorful carpet on the floor is one of the best methods to bring life to your home gym. In this particular case, the orange, grey and black carpet adds a pop of colors to this room. Glass windows from floor to the ceiling offer a stunning view of the outdoor, let in a lot of natural light and allow the room to appear bigger and more open. The glass lined stairs also make room more attractive and welcoming.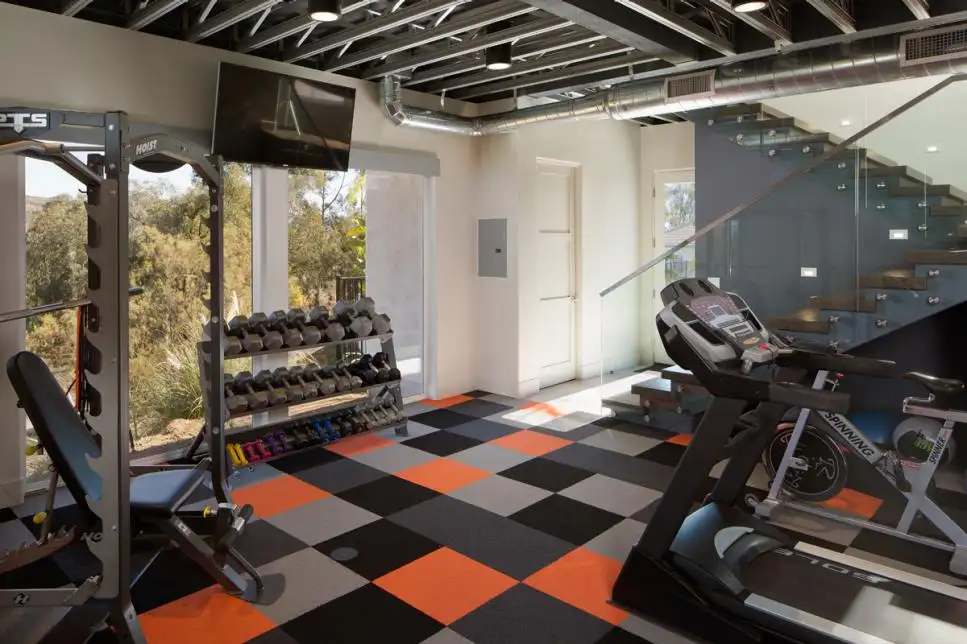 Minimalist Vintage Fitness Room Design
You don't need to spend a lot of money on furnishing your training room. You can make use of everyday home furnishing to create a beautiful and timeless gym. As a matter of fact, you can impart a unique look to the fitness area by combining modern style with classic equipment. The room contains all the necessities for a fitness enthusiast and it is a perfect example of a classic minimalistic gym.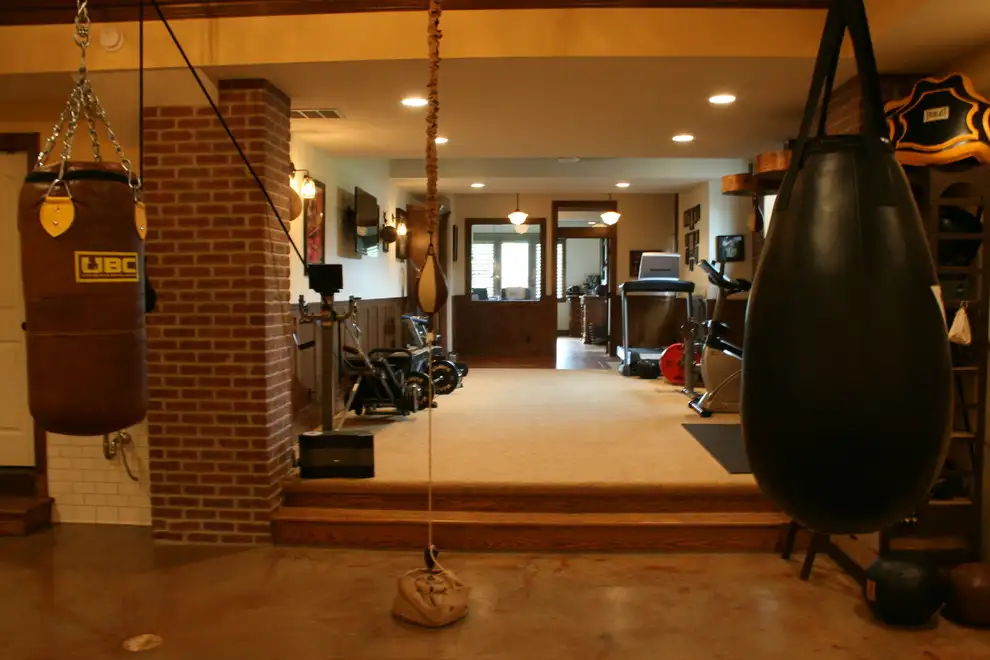 Motivational and Stylish Fitness Room Design
You need a lot of motivation to exercise regularly and keep yourself in good shape. Therefore, it is an excellent idea to paint some encouraging words in bright colors on the walls. This will not only give you a burst of inspirational energy but also augment the visual appeal of your gym. You can also create a sense of additional space by hanging mirrors on opposite walls just like this gym.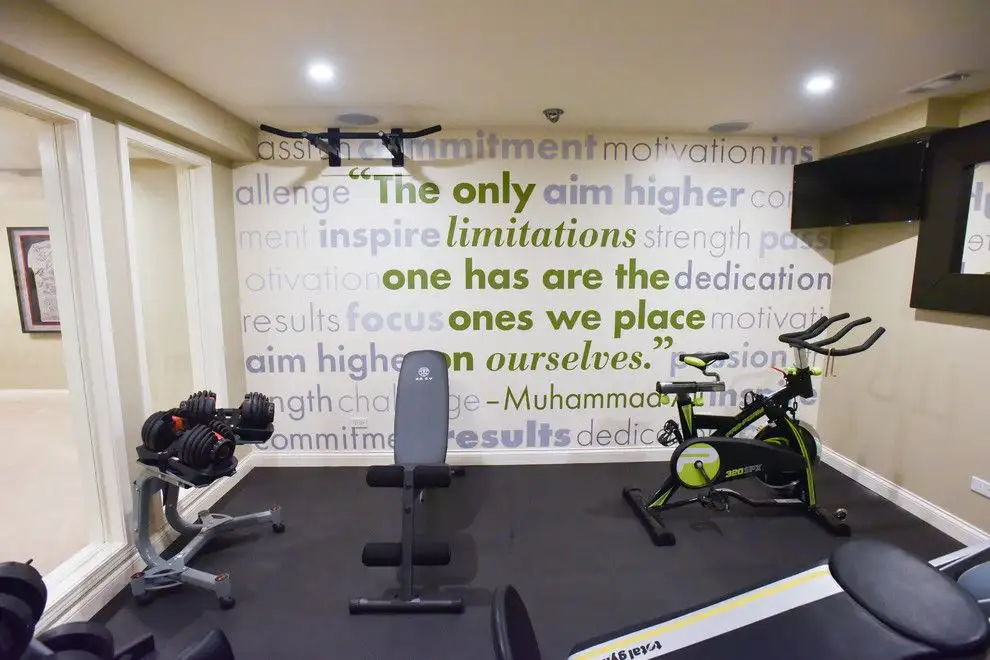 The Library Gym
Have you ever thought of exercising in the library? As a matter of fact, the gym décor needs not to be utilitarian. This particular gym gives you the feeling that you are actually in your home. The gym holds essential bare minimums which you need to do exercise. On the other hand, the library entices you to spend as much time as possible in the room. All in all, you feel special when you are in this masterfully decorated gym.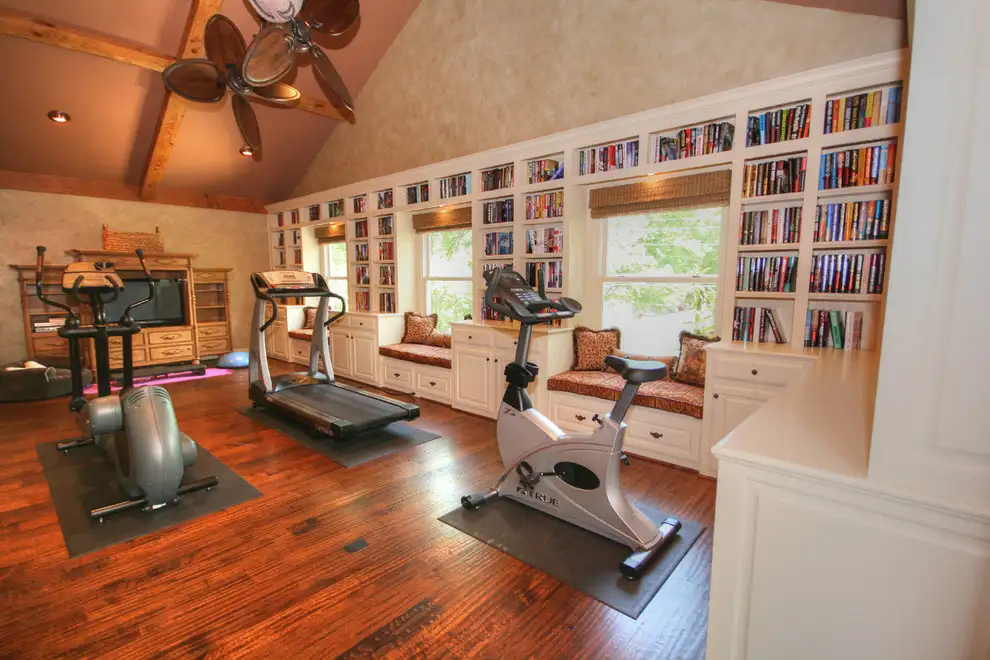 The Gym with Ultra Modernistic Design
The design of the gym in the picture pays real homage to modernistic architecture designs. For instance, the rooms opening to waterfronts have become a sort of staple in modern architecture. A traditional steel rod chair on a circular rug adds an exceptional vibe to the room. Similarly, the futuristic looking carbon fiber exercise bike encourages you to work out and acts as an extravagant design piece at the same time.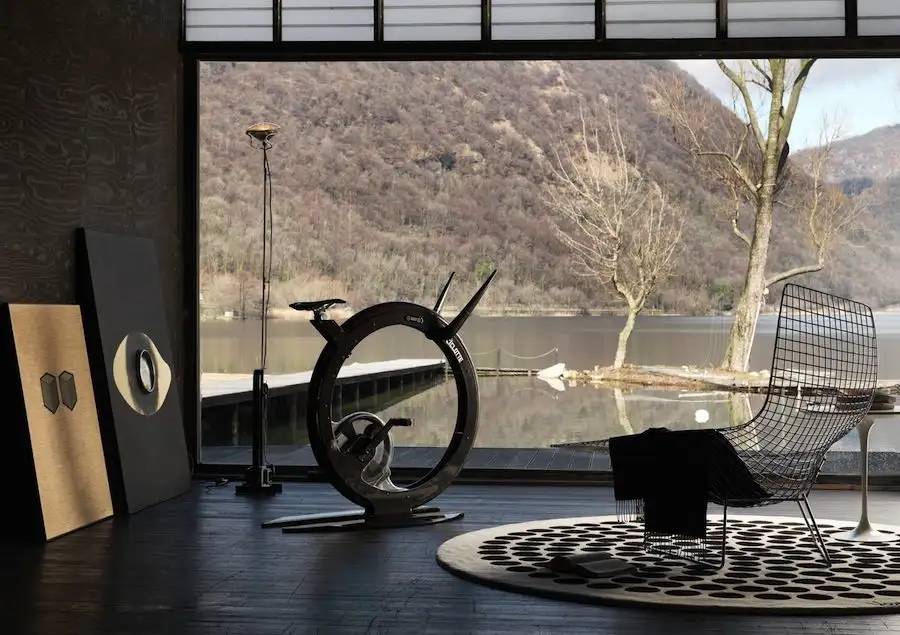 Conclusion
How you design your home gym basically depends upon the type of space you have and your workout regime. You can dedicate an entire room to the gym or spare some space in the corner of your bedroom. Keep in mind that you can artistically and creatively decorate your gym regardless of its size. It can become part a fitness room and part a tremendous decoration statement.