What it takes to pet-proof your home while keeping it pet-friendly too
A dwelling that is stylish, inviting and pet-friendly… might sound like an impossible-to-achieve dream, but actually it is not impossible at all. The design options available to us in our modern world can make a residence look cool and ensure that all family members (yes, that includes our beloved companions) feel right at home. Despite the fact that 'pet-proof' and 'pet-friendly' are two concepts considered synonymous, they actually underline two essential standpoints in this issue: the owner's and the pet's. The former want a pet-proof abode with durable items that are easy to clean, while keeping the latter happy and healthy in a pet-friendly house. Finding the perfect solution essentially means conciliating both viewpoints, so that everybody can live happily ever after.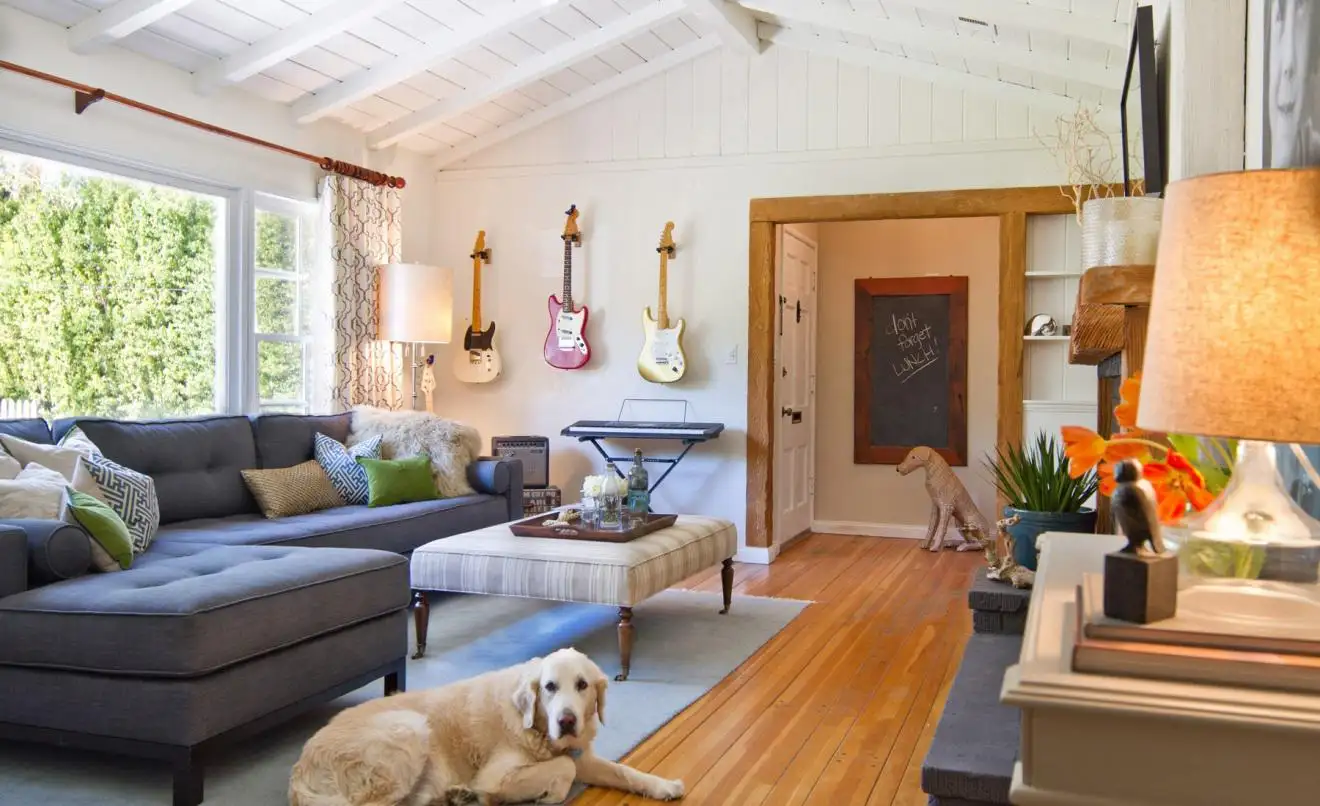 Pet-friendly flooring
Floors are structural elements within a house that highly influence the entire décor and the way a place is inhabited. Living with pets also imposes special attention when browsing for pet-friendly flooring ideas; you definitely want style, but also comfort and sturdiness. In this case, functionality means a surface that resists to intense traffic and withstands scratching and scuffing; additionally, pet-proof floors also have to require minimal maintenance, being easy to clean when accidents inevitably happen. Nobody wants products that require lengthy waxing processes when pets are roaming around every minute of the day. Noise-reduction is also a great feature to have in mind: constant tip-taps or nail clicking should be considerably attenuated by your chosen material. From your pet's point of view, having a soft floor under its little feet that makes leaps comfortable and does not make joints hurt is the definition of contentment. A textured polish will also be appreciated, especially by long-haired cats because of the fluffy tufts of hair that usually grow in between their paw pads and make them glide; a grainy finish would feel less slippery and improve their grip.
As a result, getting informed about the characteristics of floor materials available on the market will help you make a wise decision. Thanks to their resistance and affordable price, synthetic floors are very popular with pet owners. Vinyl, for example, is widely used in this industry because it is easy to clean, soft and strong enough to bare constant wear-and-tear. Linoleum is another impact-resistant man-made type of flooring that will feel soft and comfortable to our four-legged buddies. Both materials often come with an anti-slip component (regarding which you can check with the manufacturer) and, what's best, new technologies have made them look high-end; for additional elegance, you can opt for tiled linoleum, which is expensive-looking and sturdy. Regarding natural constituents, cork floors are a marvelous option due to their elasticity which will considerably attenuate not just the sounds of pets leaping, but also the impact felt by their little feet and joints, thus improving their health and preventing injuries. A layered solution that combines the flexibility of organic cork with the heftiness of vinyl is perfect.
When talking about floor materials to be avoided, the list includes natural stone tiles, laminated products and hardwood. Unfortunately, tiles are too cold and often slippery. Even with a textured finish and a heating system installed underneath, they will still not do a great service to pets, because they remain too rigid and, in time, can seriously weaken their bones and tendons. Laminated flooring is also quite stiff and not at all sound-absorbent. Lastly, besides being pricy and pretentious, hardwood will seriously deteriorate from urine or vomit accidents, and will favor lingering odors. However, a thick vinyl coating can definitely improve their pet-proof character.
Pet-friendly carpets
Wall-to-wall carpets are the true definition of pet-friendliness. Our furry bundles of joy always appreciate squashy surfaces that pamper their paws and let them indulge in a sweet afternoon nap. After all, this is what they do best! Carpets are also very forgiving with their constant leaps and provide a nice scuffing area; they keep the foot pads warm and reduce the risks associated with accidental slips. If we look at the issue from a human perspective, new manufacturing processes have also improved carpet durability and stain resistance, so carpeting a space is no longer a no-no among pet owners; wet and dry vacuum cleaners have also enhanced their efficiency, so keeping a spotless and odor-free carpeted floor is not difficult to achieve with regular deep-cleaning.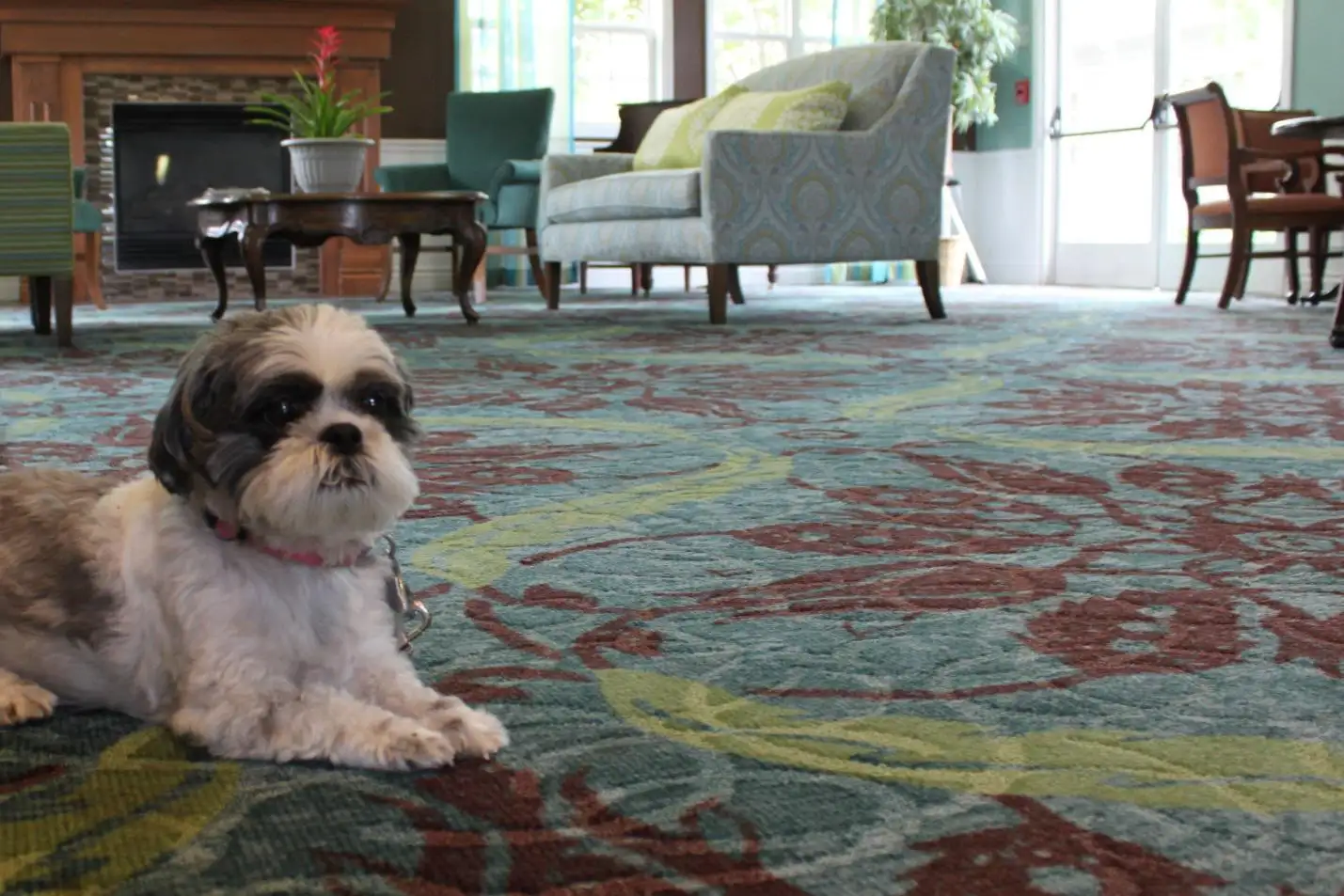 Carpet composition plays an important part in the pet-proof department. Wool is a natural material that is moisture and dust-repellent, and also comes from sustainable sources; however, woolen carpets tend to be quite expensive. A more affordable alternative is nylon, which is also easy to clean and durable. Whichever material you choose, a great trick for preserving hygiene is to employ carpet tiles, because you can easily change the stained or damaged segments without doing a complete overhaul; just purchase several spare pieces in case the products go out of stock. Another aspect that commands attention is the carpet texture. Not only will your pet appreciate an entertaining pattern, but the alternating fibers will do a better job in disguising light or small marks. A great type of pet-resistant carpet to consider is sisal; originally made from woven jute fibers with a coarse appearance, it is now available in synthetic variants which bring ultimate robustness and ease of cleaning. Available complex weaves bring depth and an elegant touch to the interior design, while gently massaging your pet's paws and heightening grip.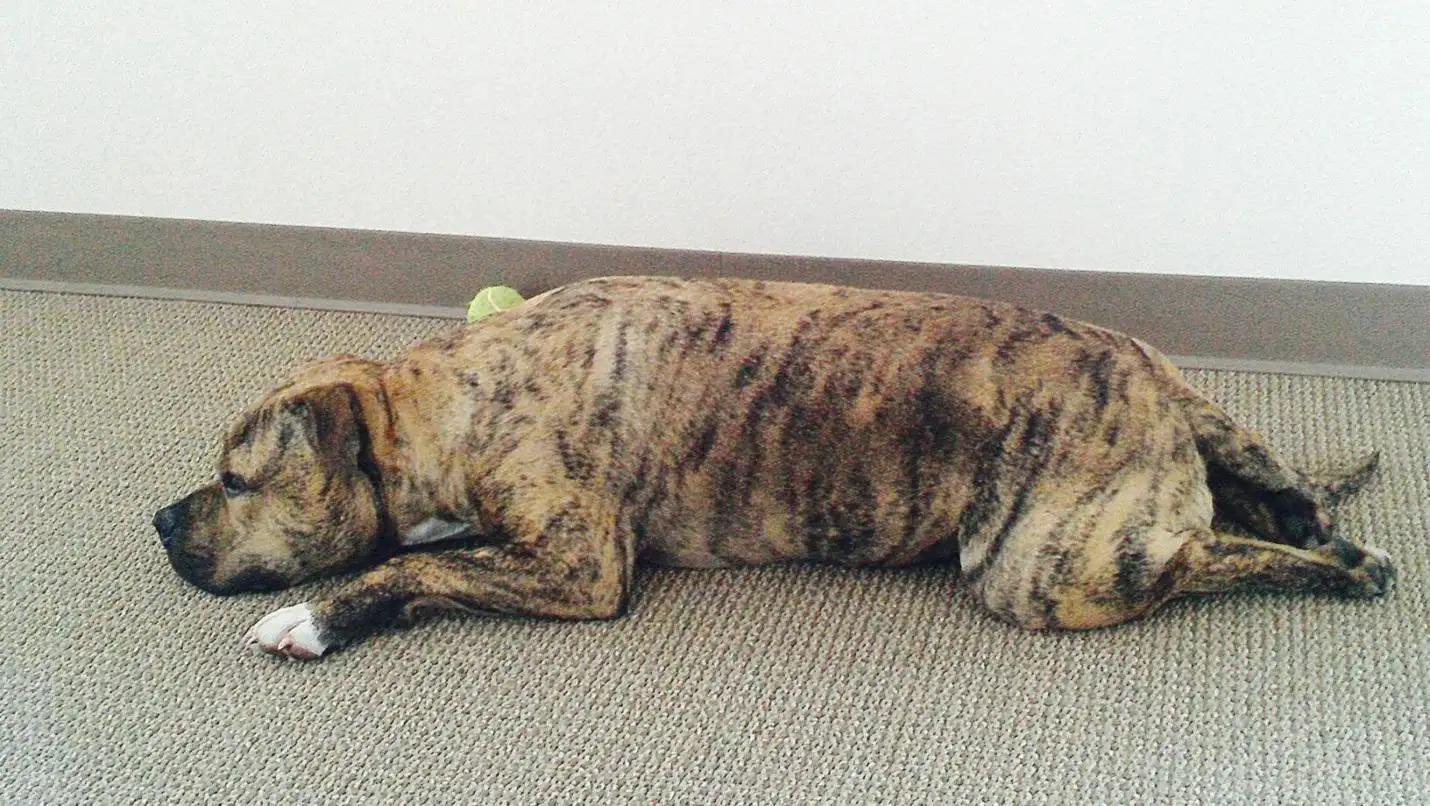 Pet-friendly rugs
Pet-friendly area rugs require the same characteristics as carpets when it comes to pet-proofing the household. You need long-lasting materials that do not need a ton of maintenance, and forgiving textures and colors, so that minor stains or shedding hair are less visible. However, due to the fact that they are not as large as carpets (covering smaller areas of your indoor space) and are not affixed to the floor, rugs tend to slip and change their position if pets play on them or run around. That is why putting a special mat underneath, in order to prevent them from moving, is a must. Also, pet connoisseurs know that rug edges can be very alluring for cats and dogs, being among their favorite things to play with, chew and so on. Therefore, finding pet-proof rugs also means finding items with durable seams, in order to avoid having them re-sewn over and over again. Something that also stirs the interest of pets are shaggy rugs and sheep skins; no matter how wonderfully textured and welcoming they look, they are not the thing for you – unless you want to spend countless hours digging the deeply infiltrated dirt, hair and dander. Low-pile rugs can feel just as fantastic and they can considerably diminish the time spent with their upkeep. They also pose a lower threat for your four-legged friend to get its claws stuck, preventing them from suffering painful injuries.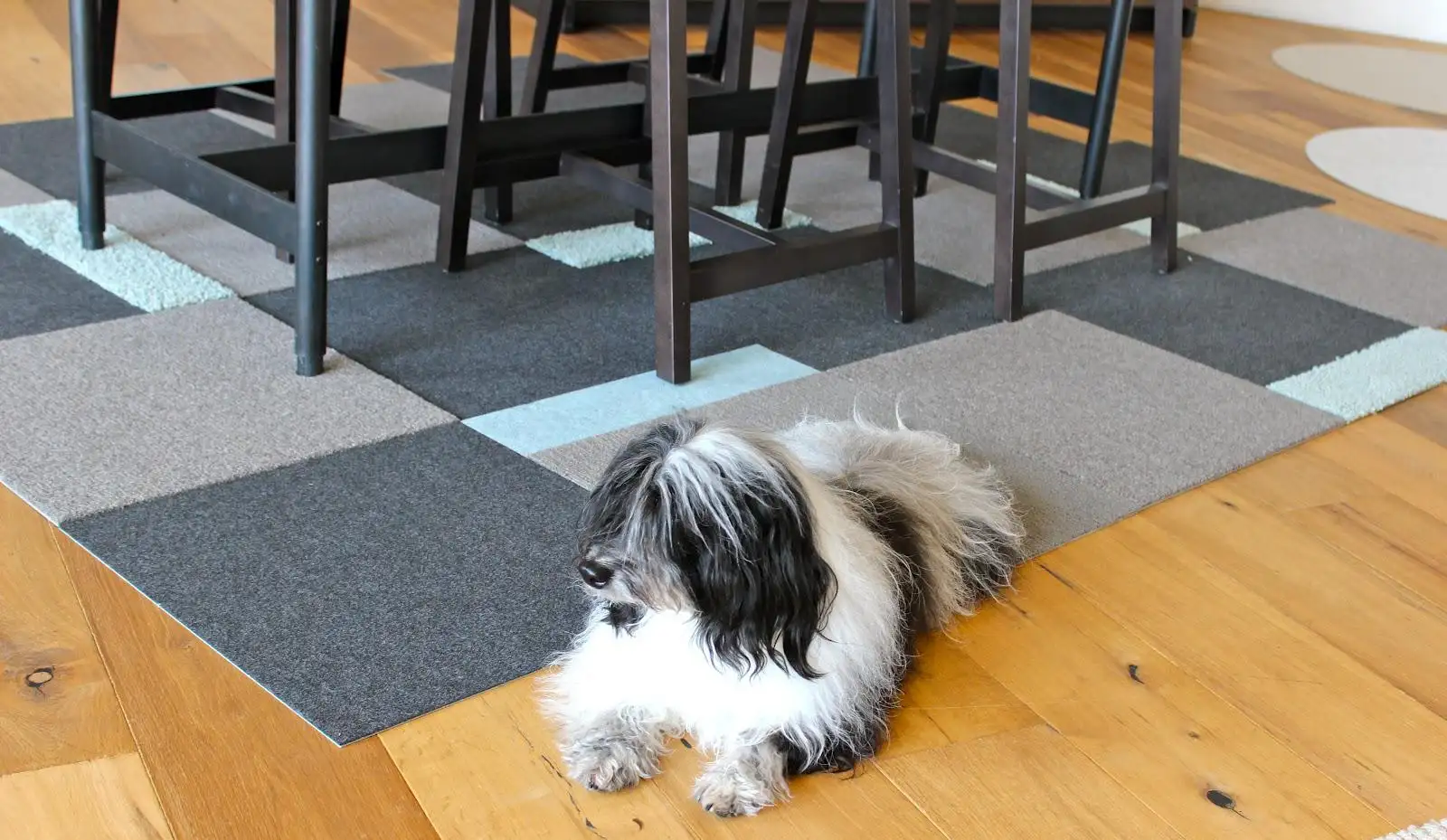 Pet-friendly furniture
It is no secret that pets often have their own favorite places in a house; they like cozy spots where they can feel secure, curl up and sleep undisturbed. As a result, the concept of pet-friendly furniture refers to items that are not only functional and pleasing to the human eye, but also intriguing for our companions. Interior design pieces such as chairs, sofas, coffee tables or desks should incorporate little nooks that can become your pet's next favorite thing. In this way, you will enjoy uniquely crafted objects and keep your fur-baby entertained.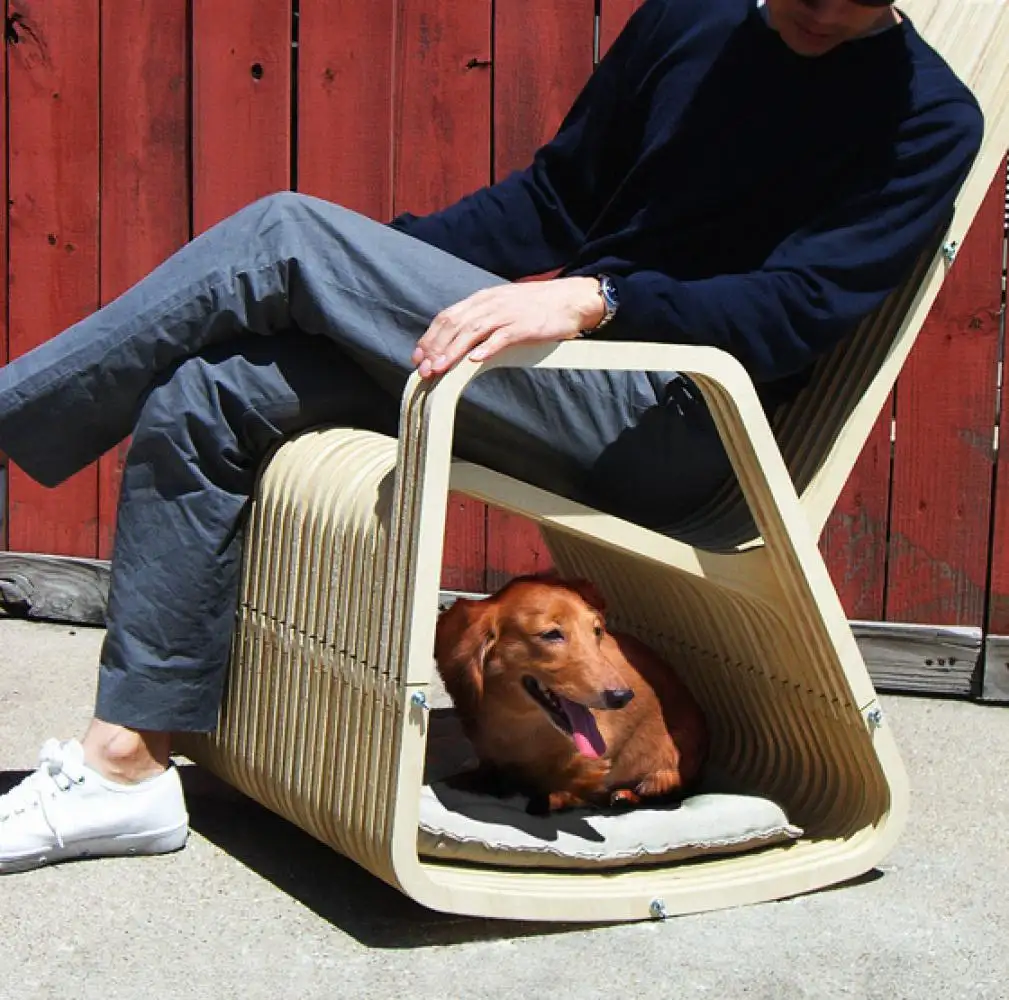 A wide variety of pet beds and scratching posts are available in specialized shops, but if you really want to raise the bar, you can order custom-made cushions, shelters or hideouts that match your furniture essences or upholstery. In this way, you will create a more luxurious décor without having to tolerate tacky materials that ruin the overall look.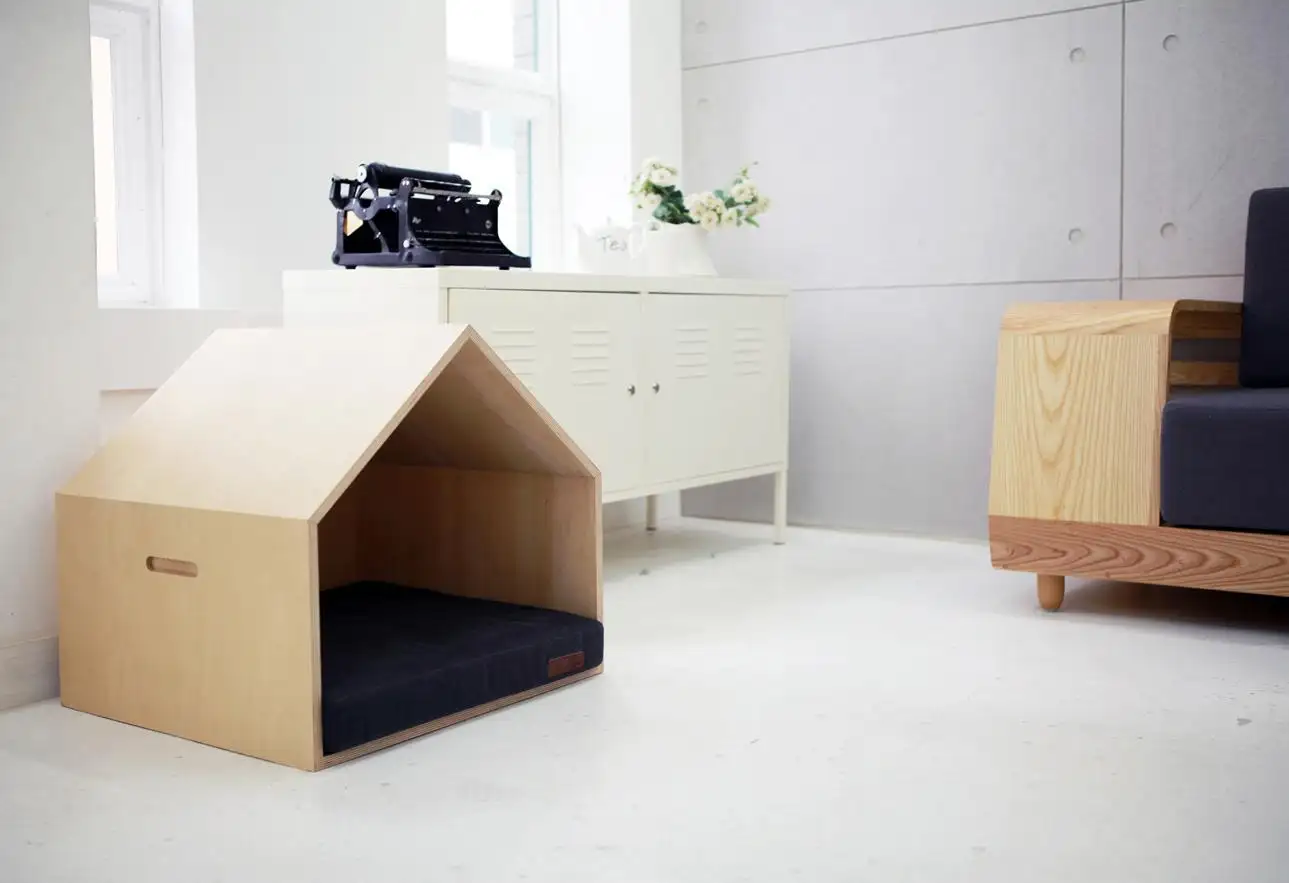 Pet-proof furniture should involve scratch-resistant finishes; as a result, you can try to use stylish outdoor items that work just as well inside your house, by lengthening the life span of your interior decoration; they often come with glossy coatings, durable surfaces and stainless steel trims that will courageously survive repeated claw attacks. For upholstered pieces, just like with carpets and rugs, tiny and crowded patterns are highly desirable, especially when featured on enduring microfiber fabrics.
Pet-friendly couches
Couches are many times the central pieces of family lounge areas, on which everybody can lie down and relax. And by everybody, we mean pets included. Somehow, our four-legged munchkins intuitively know that if a place is good enough for us, it is good enough for them. And since we cannot always convince them to keep their tails on the floor, the situation leaves us with finding a pet hair-resistant fabric for upholstered couches that can also withstand scratching. If somehow a magic material that satisfies both of these requirements was discovered, then the mystery of a pet-friendly couch would be forever solved.
Luckily, there are quite a few choices when purchasing such an essential furniture piece. On the one hand, you can always go with materials meant for outdoor use; they will certainly be much easier to clean than any other regular textiles, and their weave is usually tight and solid enough to endure pointy claws, regardless of whether they are made from natural or synthetic materials. On the other hand, you can employ certain tricks to make the couch appear well-kept. Pick colorful patterns with small geometric shapes that make stains and hair less visible; solid colors are not an option. Moreover, try to choose smooth-looking materials, because intricate, tweedy ones can turn out to be quite attractive for pets. Microfiber-covered couches are definitely on the high priority list, as pet hair will not stick deep into the weave and the fabric is long-lasting and stain-resistant; spilled liquids will not soak in immediately, so you can easily remove them.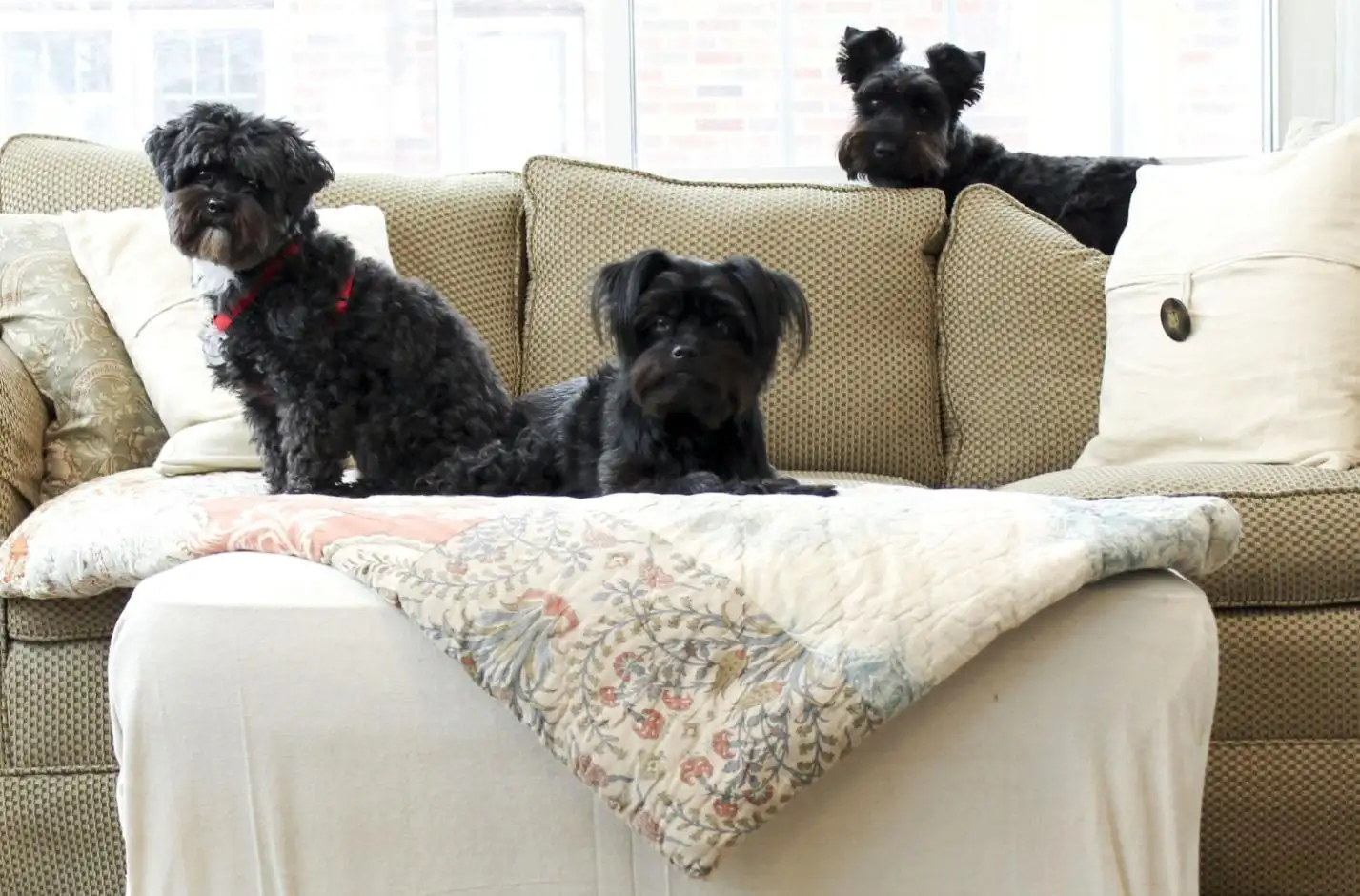 If you keep your little companion's claws trimmed, then leather can also be an alternative; fur simply does not adhere to it and occasional scratch marks can be fixed with special hydrating oils. Lastly, make sure your pet will always have some fun activity poles installed nearby, in order to discourage them as much as possible from chasing boredom away with your couch.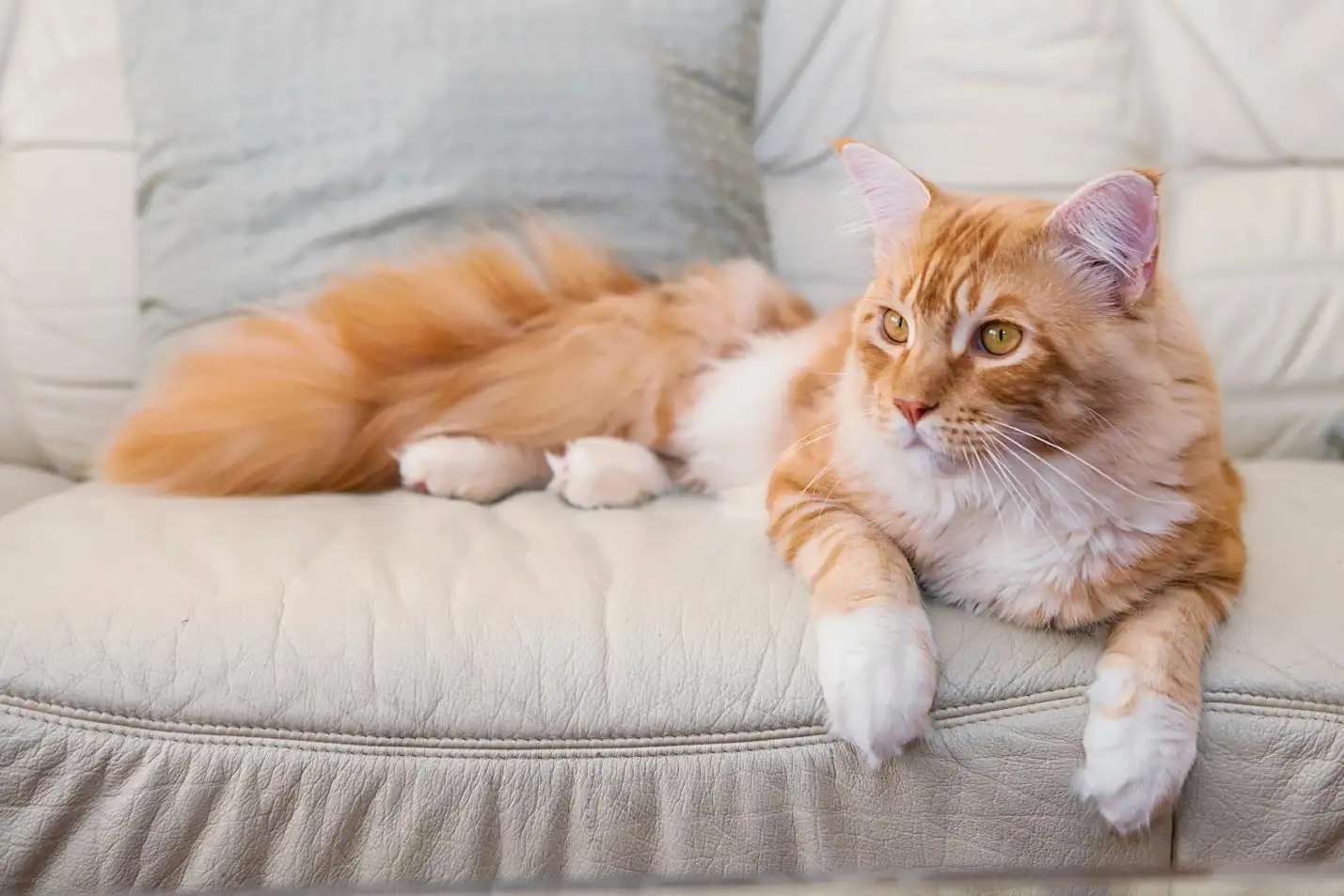 Pet scratching posts
Pets love to have something interesting to do or to look at. That is why installing an entertaining activity pole with scratching pads, hiding places and other fun accessories is a wonderful way to keep them occupied and distracted from other furniture pieces. Of course, it would be nice if they also looked stylish, wouldn't it? In order to make these pet scratching posts blend with your interior, try to pick neutral colors such as cream or beige, with components covered in sisal or other natural fibers; they go with both modern and traditional designs and will keep your pet's claws looking shiny and healthy. Another trick is to carpet the activity center pads with a plush material that falls within the same color palette as your furniture upholstery, for a pleasant and unified appearance.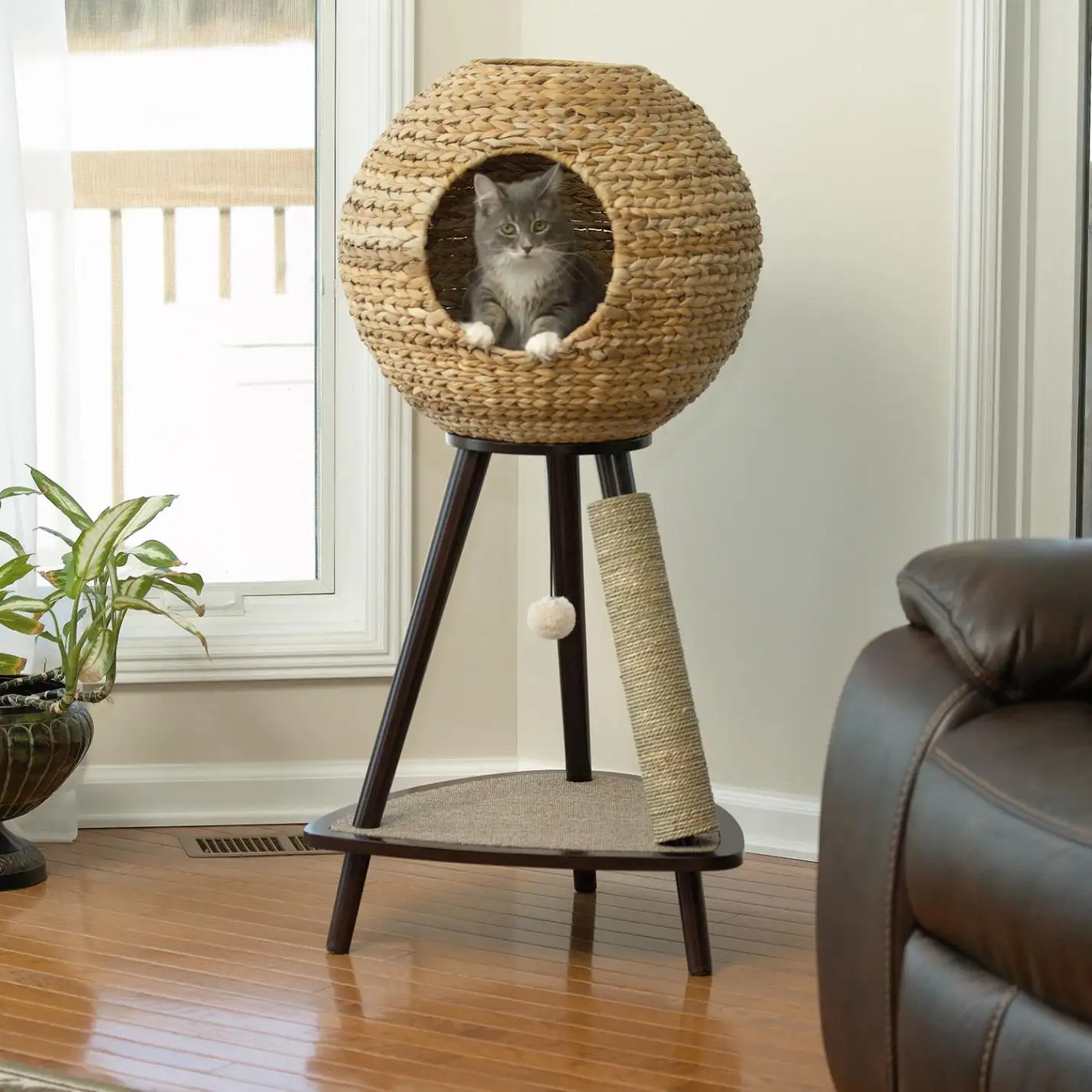 Pet-proof furniture covers
Pet-proof covers are ideal for protecting your upholstered furniture pieces. Specialized manufacturers have made them look stylish so that they can easily blend with your existing décor. They are made from synthetic materials that repel hair and are waterproof, which means your lavish sofa or elegant armchair will be protected against urine stains and other accidents. Easy to set up, these products attach to the furniture and stay in place; they are also machine washable and do not require special maintenance.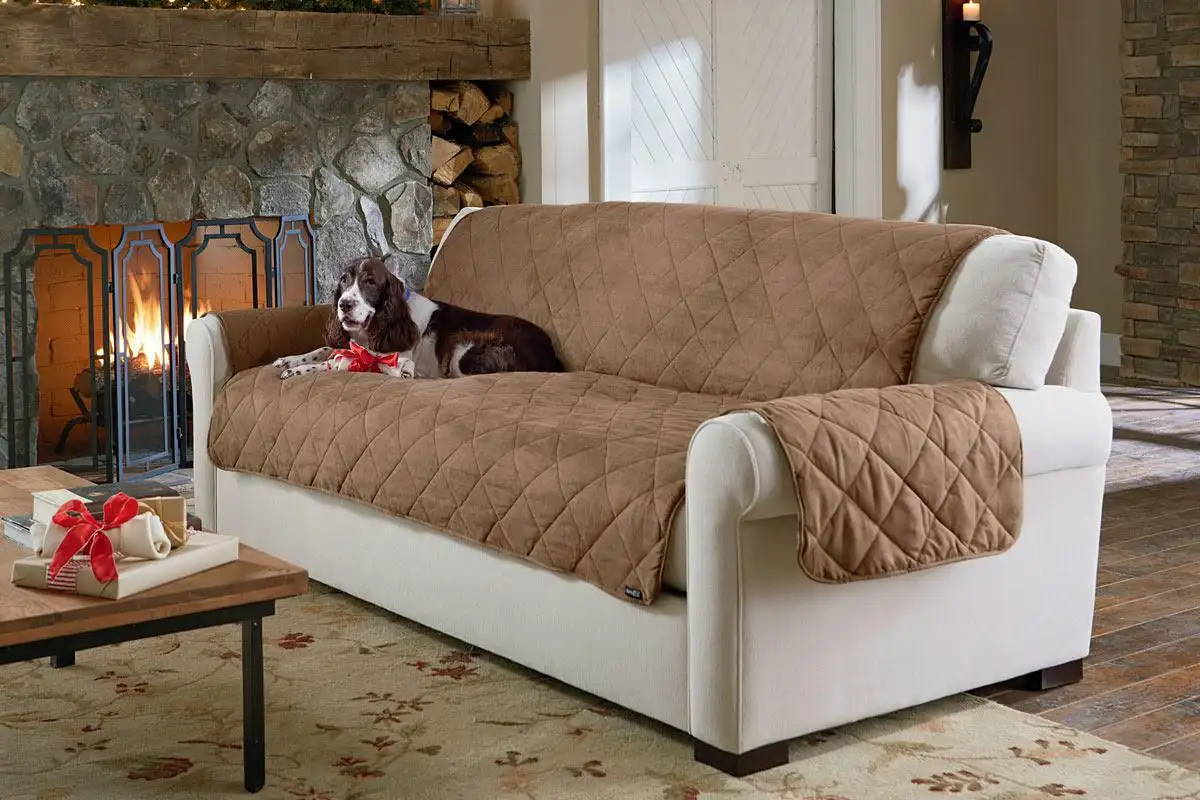 Pet hair-resistant duvet cover
Pets love to cuddle and adore the warmth and familiarity of their owners' beds, so having a pet hair-resistant duvet cover is beyond necessary. As a result, always look for products made from strong moisture-repellent synthetic materials like microfiber or polyester, to which pet hair does not stick. Pick those items that are machine washable and light, in order to make the cleaning process even easier for you. In this way, you will enjoy your furry baby's company and protect the bedding at the same time.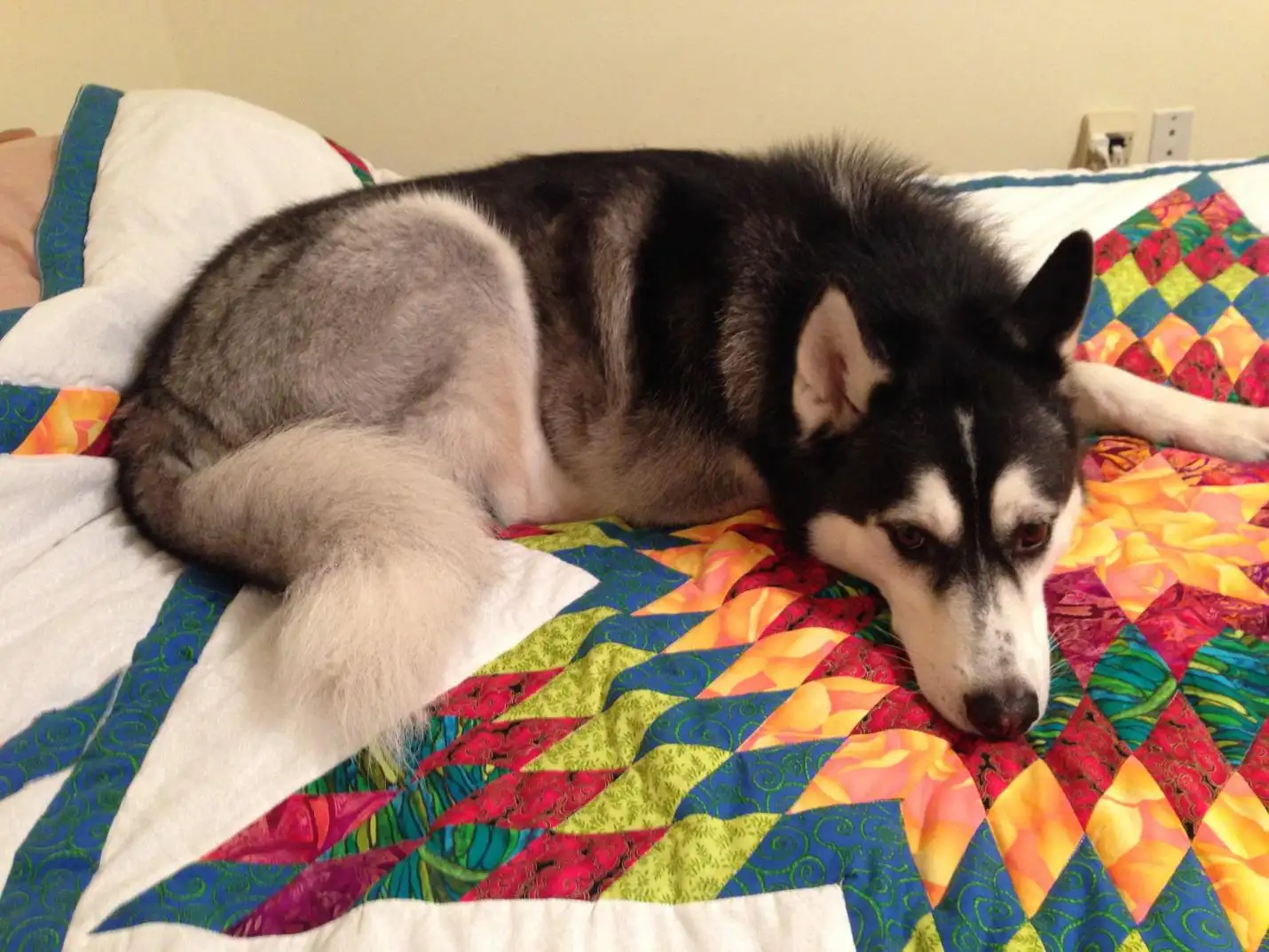 Pet-food cabinet with bowls
One important aspect of making your household pet-friendly is having everything that requires keeping your pet well fed, groomed and entertained in one place. There is no doubt about it, it will save you a lot of time and will make your home feel more organized. So this is the moment where specifically designed cabinets enter the stage. They are special storage units for pet food, which also come equipped with places for water bowls, toys and so on. What's best, they look stylish and can be built from natural or alternative materials, to perfectly complement other décor pieces found in your dwelling.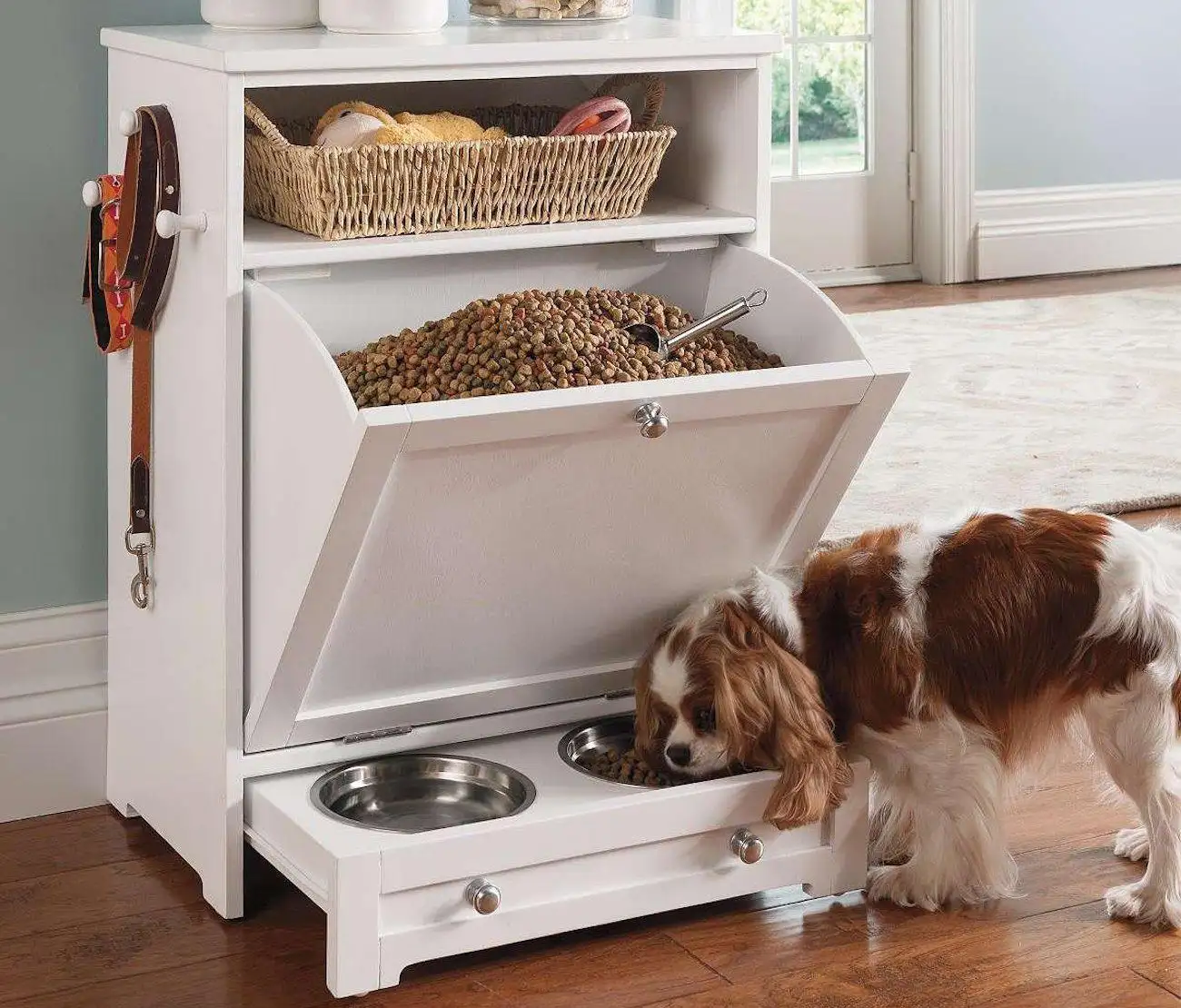 Another solution to keep a consistent look throughout the house is to incorporate specific places for pet bowls and other accessories into one existing furniture piece (for example a kitchen island or a wooden console).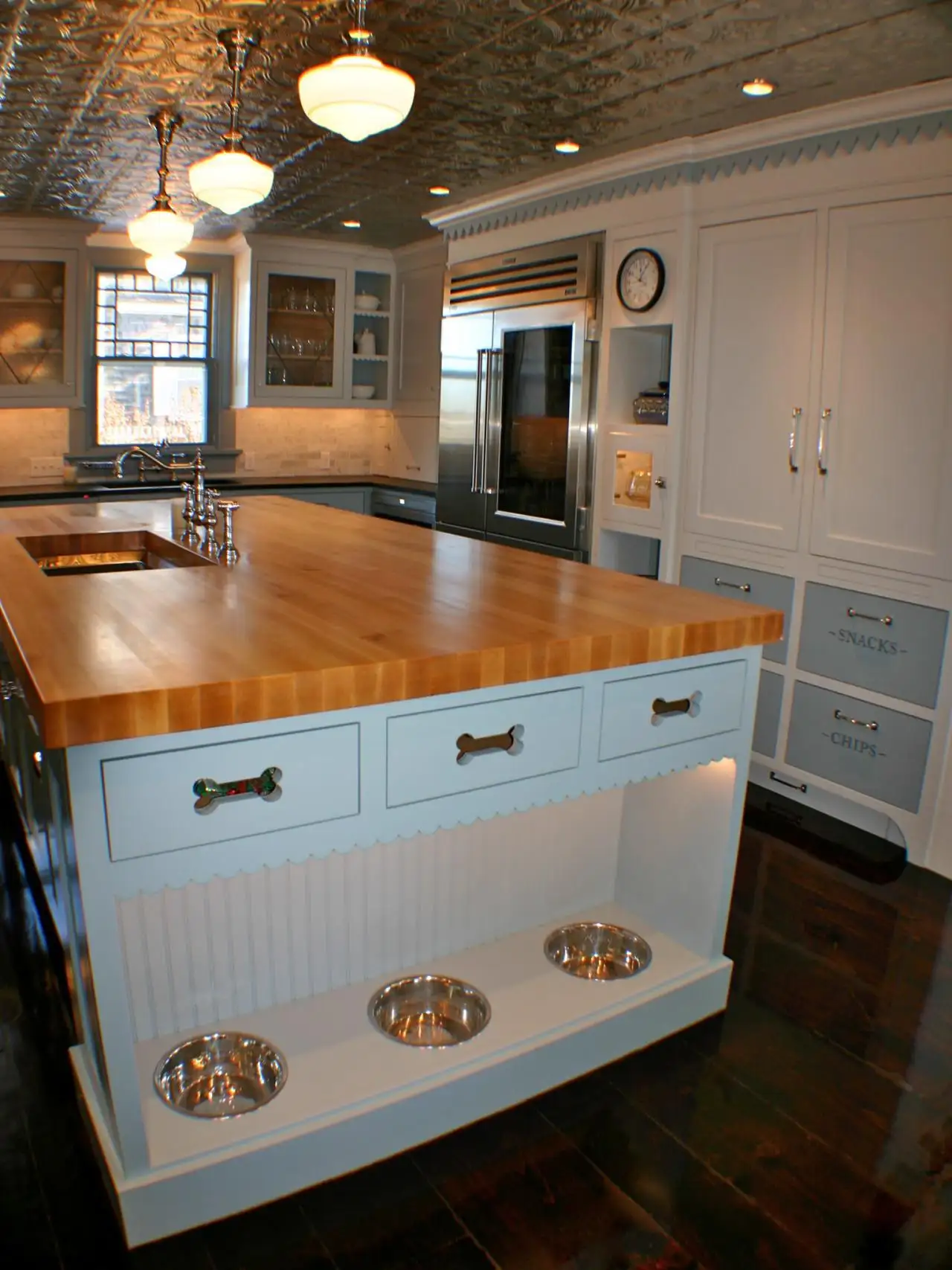 To sum up, knowing the essential about what it means to pet-proof a household can ensure an easy-to-clean, yet stylish and inviting environment for both pet owners and their four-legged babies.