Choosing your nursery window treatments
Designing the perfect nursery for you and your precious baby is always a daunting task, regardless of whether you are prepared to splurge on designer items or you are on a tight budget. You want to create a calm soothing atmosphere for when you and baby are up in the middle of the night, but also a fun room for your little one to arrive to. So of course, choosing the right pieces for this very important room in the house includes finding the perfect recipe for the nursery window treatments.
It is always best to make informed decisions, so when choosing the right window coverings for a nursery you have to take into consideration a few things. First, the type of treatment you will use; they came in all shapes and sizes (blinds, rollers, interior shutters, valances, curtains, and so on), but a common feature they have is that they combine aesthetics with functionality, offering great solutions for filtering light according to your needs.
Furthermore, the final choice will be greatly influenced by the way the space is oriented: sunny, light-flooded rooms need extra shade in the morning and afternoons, when your little one is napping, while north or west-oriented rooms have to benefit as much as possible from the short hours of natural light, thus they will need sheer fabrics and minimalistic solutions. The former category can rely on blackout blinds, wooden shutters and heavy curtains, while the latter can certainly use light materials and simple lines. Choosing natural essences like bamboo will also bring an eco-friendly component, as it is never too early to teach your little baby about sustainable decorating. Also, different window treatments can be combined to create a warm atmosphere that hopefully will help your baby drift away to the land of nod.
And then comes the color palette...You can go bold, using drama and contrast, or child-like, with funny colorful animations, or you can play it safe with neutrals. Curtain patterns can serve as wonderful visual stimulants for babies, so you might choose black and white pairings or abstract decorations to keep them entertained. Polka dots and chevron patterns are stylish additions to any window treatment, bringing a couture look to your little prince or princess' room. Is it possible to go about choosing nursery window treatments without following stereotypical colors? Of course: navy and fuchsia are great alternatives to traditional pale blue and pink.
Style is another important factor: if you are drawn to vintage-looking pieces, then why not try Renaissance-inspired valances or rich Victorian fabrics. Ruffled and lace curtains are chic and feminine, being wonderful choices for a girly look. If you want to cultivate an independent spirit, then why not choose unexpected color combinations for the nursery windows: color-blocking pairings are all the rage. Also, inexpensive decorations such as tassels, cotton balls or sequins can instantly jazz up the look of any plain looking drape.
The possibilities are endless, but once you decide how you want the nursery to feel (traditional or modern, colorful or neutral, calm and soothing or bright and fun), everything is easier.
Luxury curtains for nursery windows
Install rich heavy drapery for a luxe decor. In this way, your baby's nursery will flaunt a decadent look, making both of you feel pampered. You can choose velvet or brocade, as well as shiny fabrics like chiffon. The idea is to let those curtains touch the floor, for a dramatic result. You can also sew decorative tassels or embroideries, for a personalized touch. Also, take into consideration that such elegant window treatments require equally luxurious curtain rods. An extra advantage is that heavy curtains will also offer a blackout effect every time you need to prepare your little boy or girl for a daytime nap.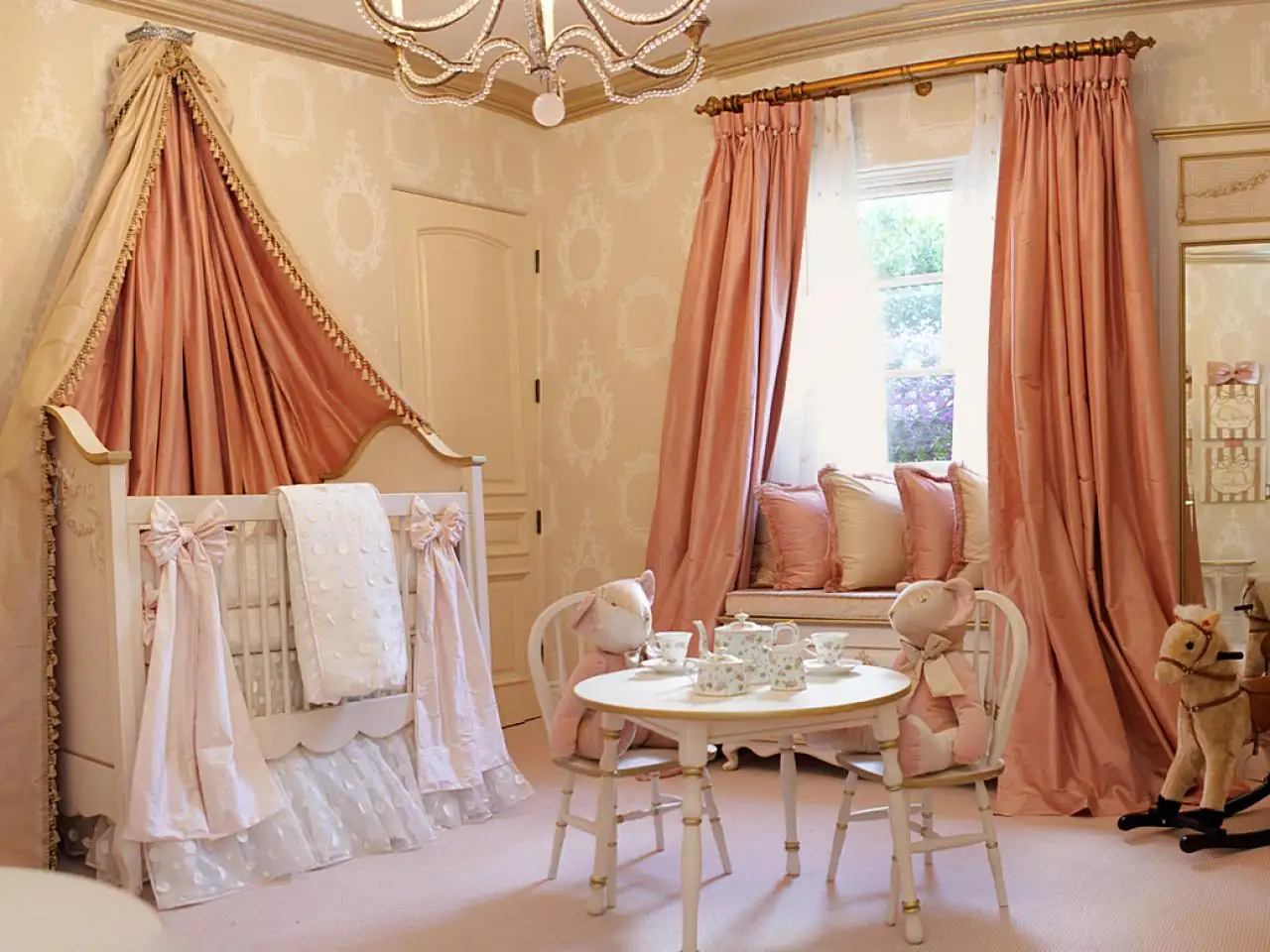 Pairing blinds and curtains for nursery windows
Using a mix of window treatments for the nursery will make a great décor statement. The key is to combine contrasting features and fabrics, in order to balance the look and not go over the top. After all, your little prince or princess needs to feel welcomed and at ease in his or her room. Pairing shades with curtains or curtains with valances, you will add depth and interest to the windows, but it will also be easier for you to control the amount of sunlight entering the room. A neutral tone fabric can be paired with a decorative roller blind or vice versa, while rich bamboo patterns can be counterbalanced by soft linen, as the image shows.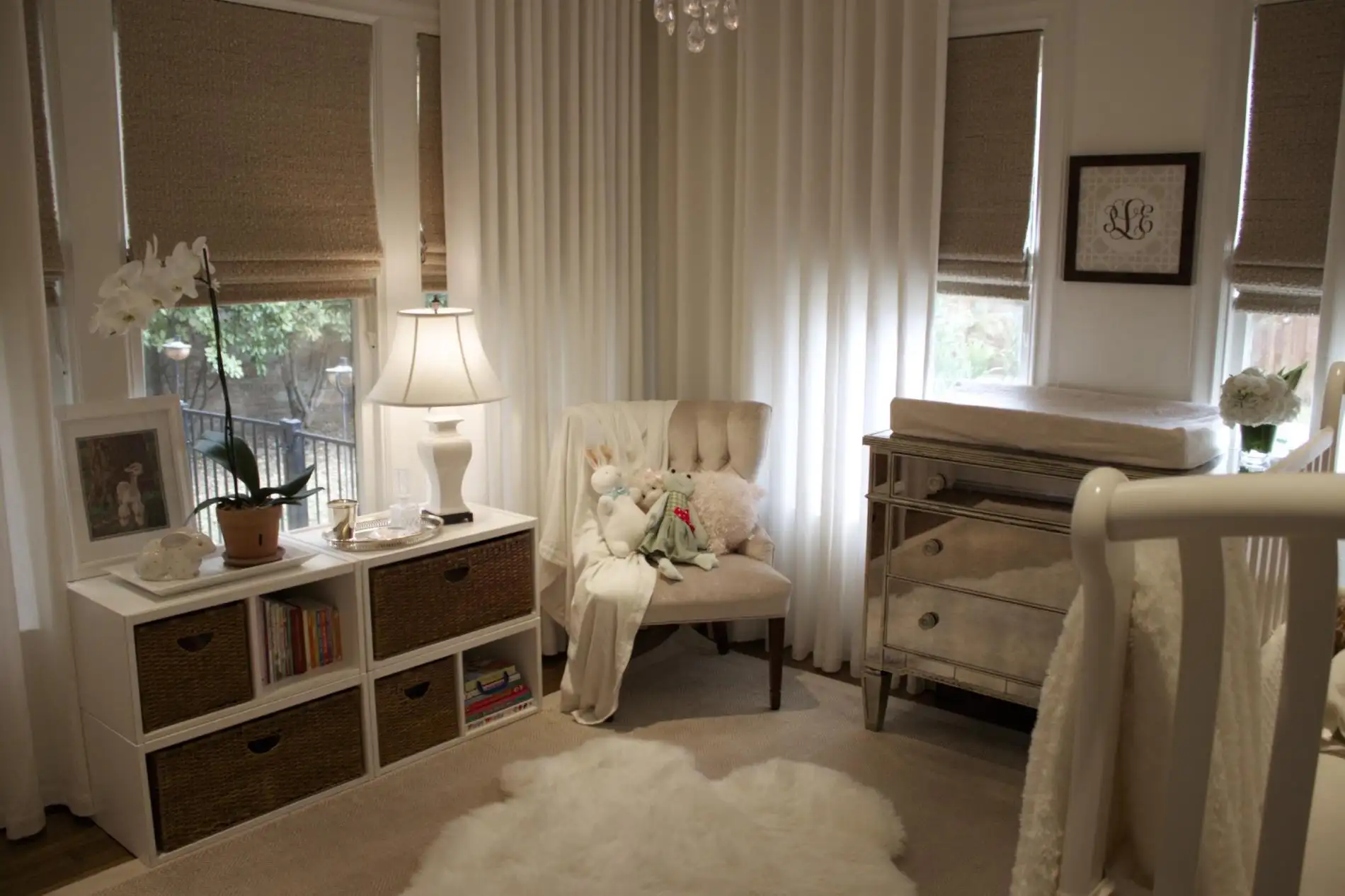 Black and white nursery curtains
In the first weeks and even months of life, a baby can distinguish only high contrast patterns, so providing the right visual stimulation for her/him is key to their proper development. So why not creating the perfect focus point by using dramatic black and white curtains for the nursery windows? Not to mention they are ultra-fashionable and are likely to grow old with your little one's sense of fashion and interior design flair. Either in alternating horizontal or vertical lines, or even in a chevron pattern, black and white curtains are here to stay and make the nursery the coolest place to hang out.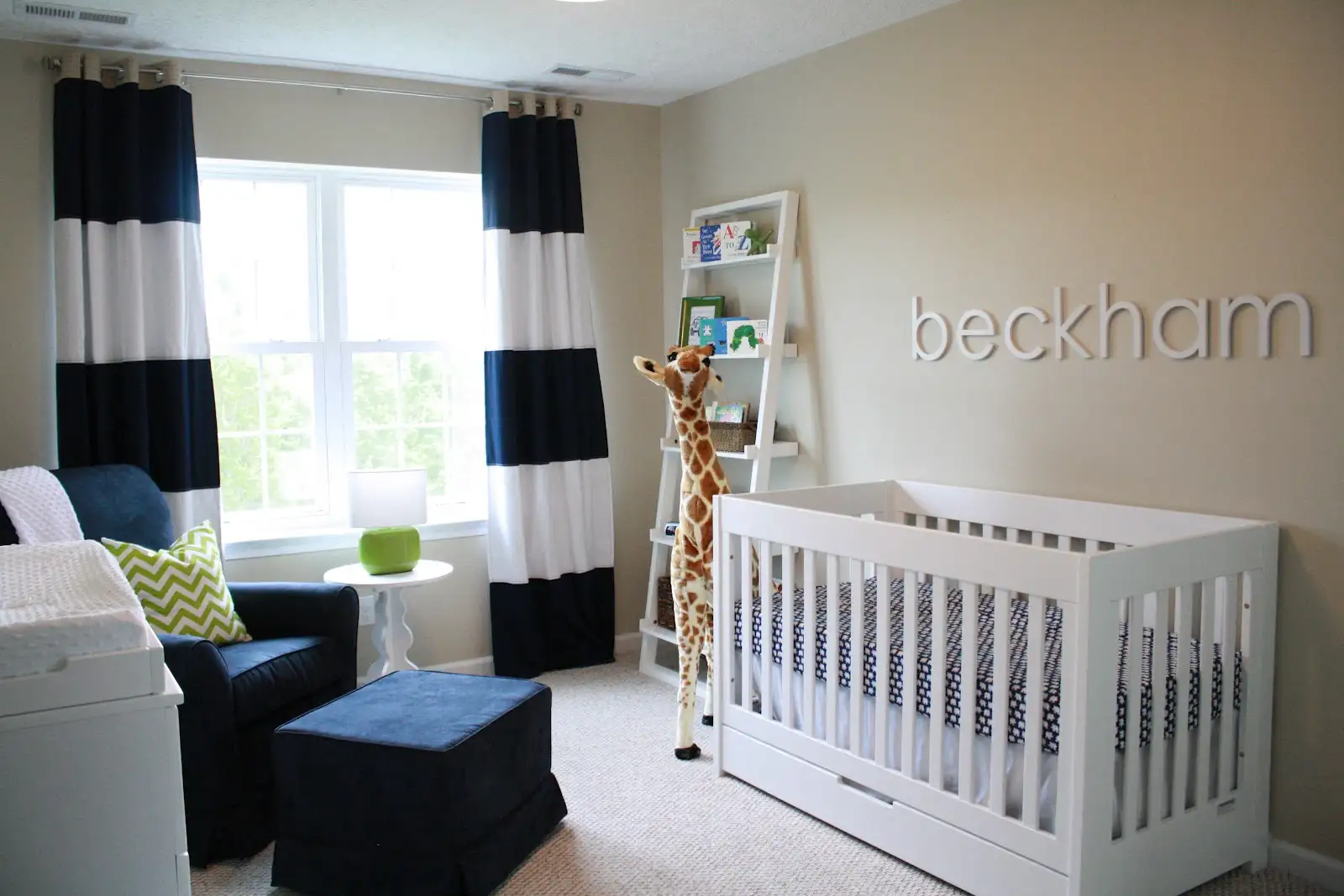 Lace curtains for girl nursery
Lace curtains bring fairytale charm to any girl's room, that is why they are viewed as the ultimate vintage accessory. They should be used in conjunction with blinds or opaque draperies in case your nursery needs blackout window treatments, but if the room is not very sunny, then lace curtains are the perfect way to let light in a dreamy manner. Lace can accompany pieces of antique furniture or wooden floors and windows, creating a stylish Scandinavian-inspired atmosphere in your little girl's nest. It also softens the sun light, inducing a calming effect. Draping lace curtains to the sides of the window enhances their girly girl charm.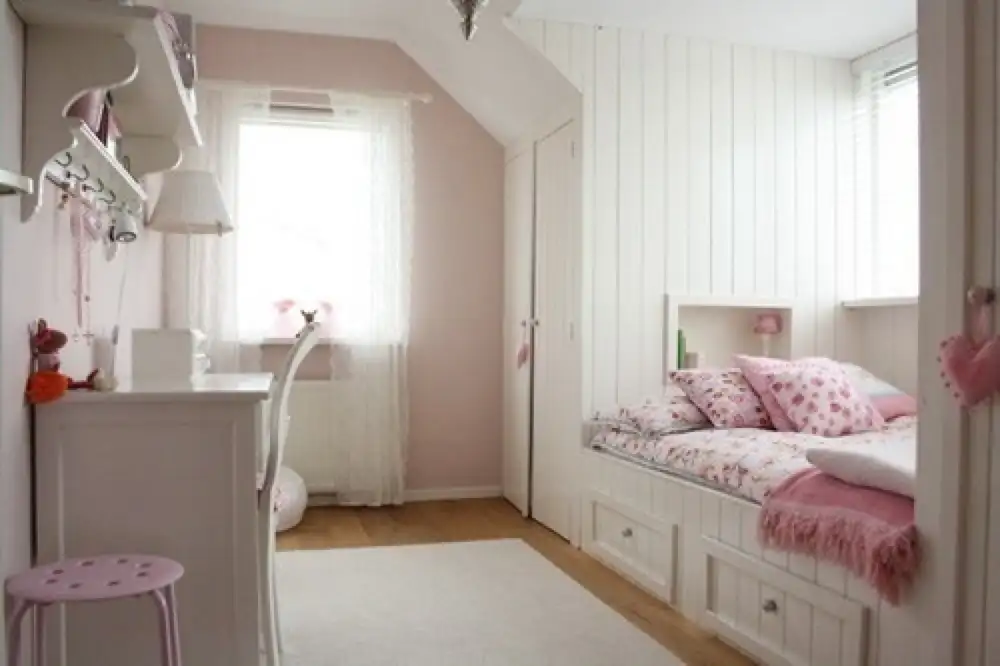 Interior shutters for nursery windows
Shutters add a touch of rural charm to both interior and exterior walls, but to a nursery they make a stylish addition. Whether using real or faux, lightweight wood panels, shutters will increase the coziness of each child's room, while offering shade and comfort from the outside heat. They are perfect for south-oriented rooms that are flooded with light the whole day. Inspired by the warm Mediterranean climate, these window coverings will make you feel you are on holiday and will definitely stimulate your little one's imagination. Last but not least, shutters feature a solid structure that is likely to withstand your toddler's ball-throwing games, offering increased safety.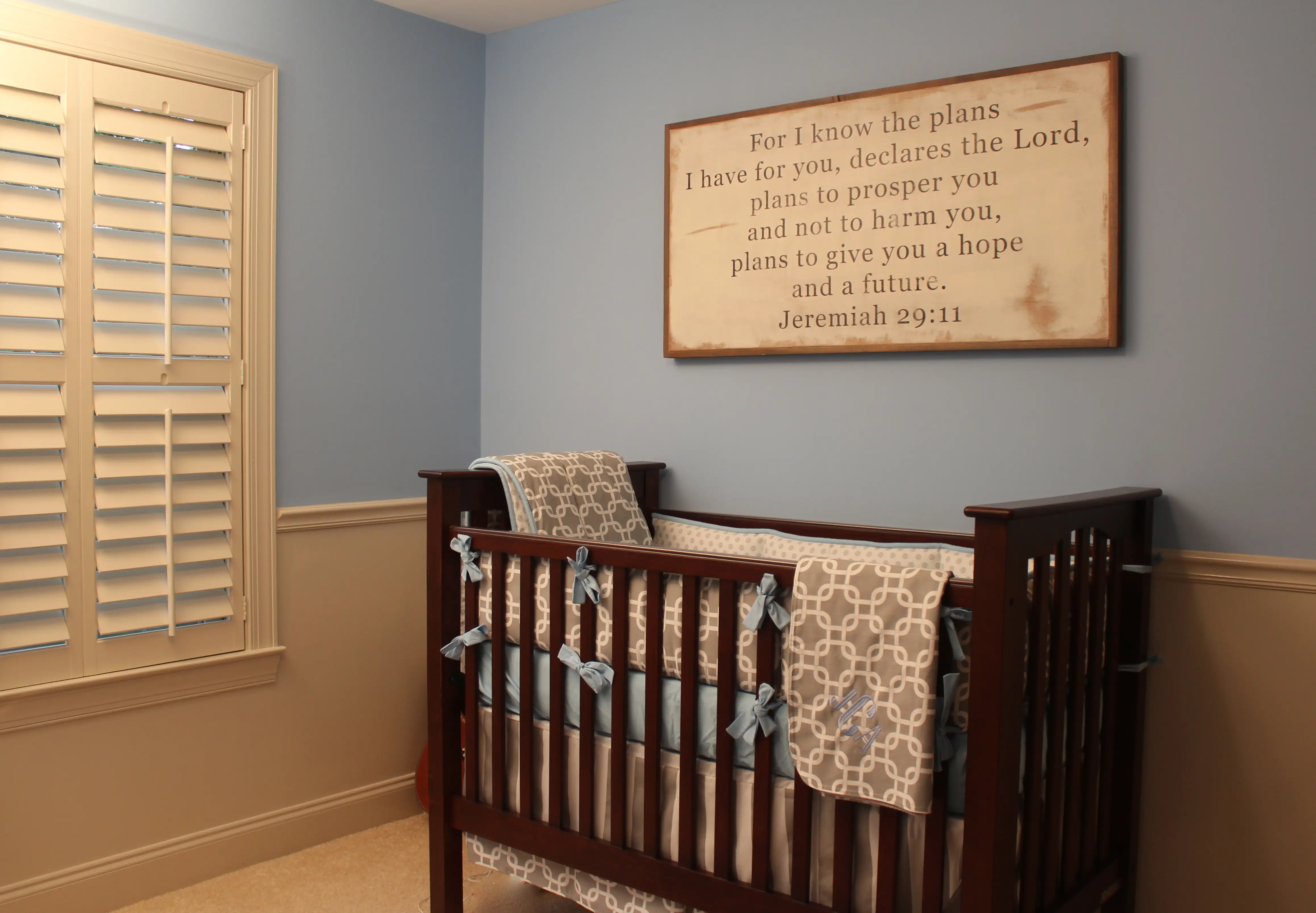 Nursery valances
In a true Renaissance style, window valances will enhance the design of a nursery, by adding extra cuteness to the windows. They can be used in conjunction with other blinds or curtains, for a dramatic effect. Or they can simply decorate a flat-looking window. Either way, they are charming and create a cozy cottage-like atmosphere, which is perfect for both mom and baby. Moreover, valances can be hung at a higher point, to create the illusion of longer windows, while also hiding unattractive drapery or window hardware.
Modern pink blinds for girl nursery
Traditionally, pink has been the go-to color for baby girls. Since it is so widely used and you are thinking of incorporating it into your daughter's room without looking too old-fashioned, then this is what you should do: choose appealing tones of pink, such as magenta or fuchsia, that will certainly make an impression. If you like patterns, then you can go for color-blocking combinations of polka dots, as seen in this picture, or chevron lines. Choosing a modern window treatment, like the stylish Roman blinds, can also bring a dash of modernity to the overall look. Pink doesn't have to be plain anymore!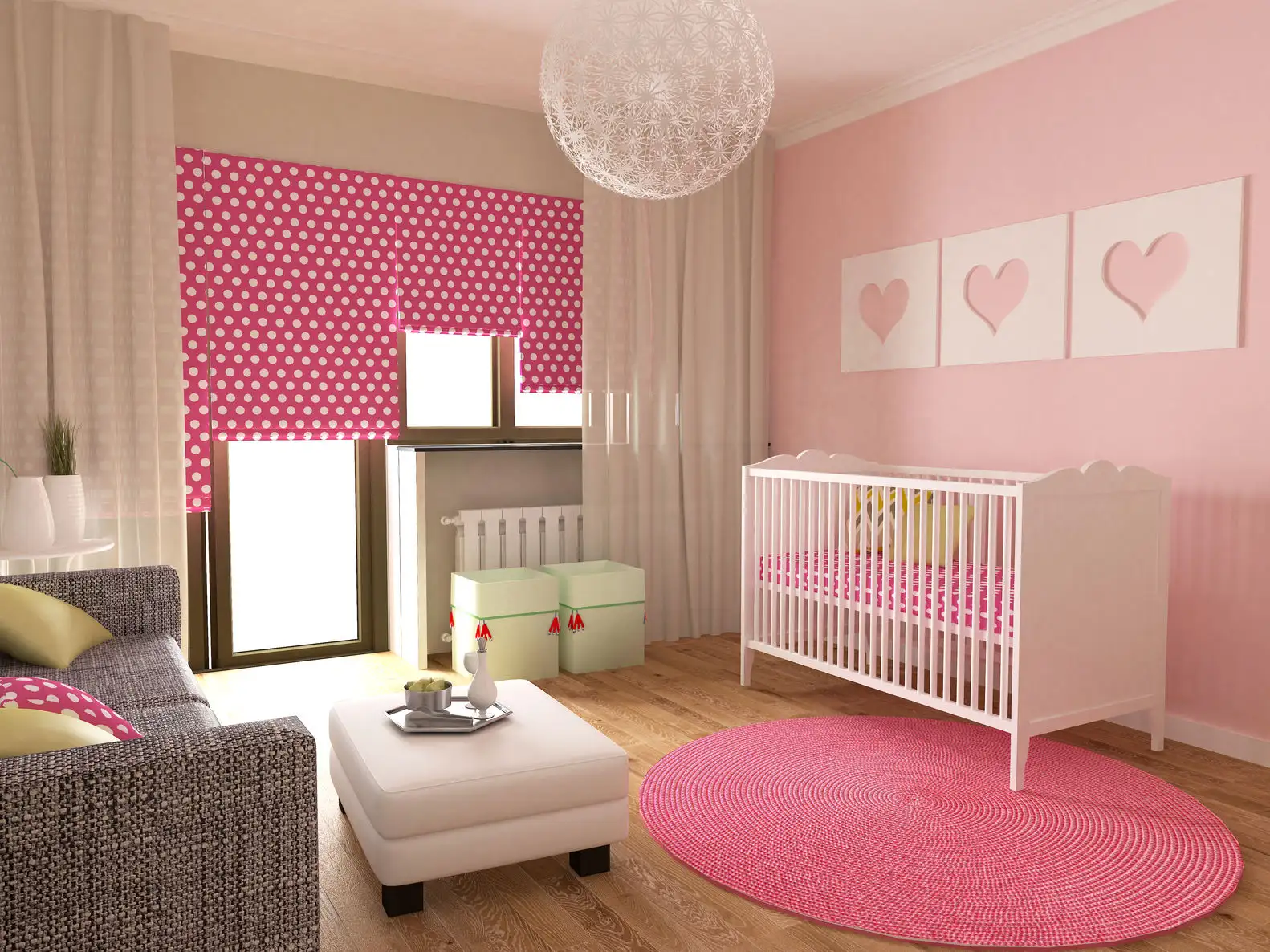 Vertical blinds for nursery windows
Vertical blinds are highly versatile, and despite their frequent use in offices, they can highlight a nursery design as well, by making the room look taller. In the image shown here, the vertical coverings have a neutral go-with-everything tone, that enhances the colors of the other furniture pieces, but you can play with fun combinations as well, creating a technicolor effect that will charm your little one. Due to the fact that they are vertical, these treatments are unlikely to collect dust, making the room a cleaner, safer sleeping environment. As with other similar window treatments, you can control the amount of filtered light, which makes them perfect for sunny spaces.
Roller blinds for nursery windows
Roller blinds are a modern and chic solution for your nursery windows. They come in fun, colorful patterns, specifically designed for children; consequently they will complement the overall look of your little one's room. They can act like a canvas for personalized designs, so you can make sure they are unique and your little baby is the only one to have a certain model. When rolled down, these window treatments perfectly block out the light, ensuring that your boy or girl will have a nice afternoon nap. They do not take much away from the size of the window; therefore rollers are perfect for small windows, in order to maximize sunlight when you need it.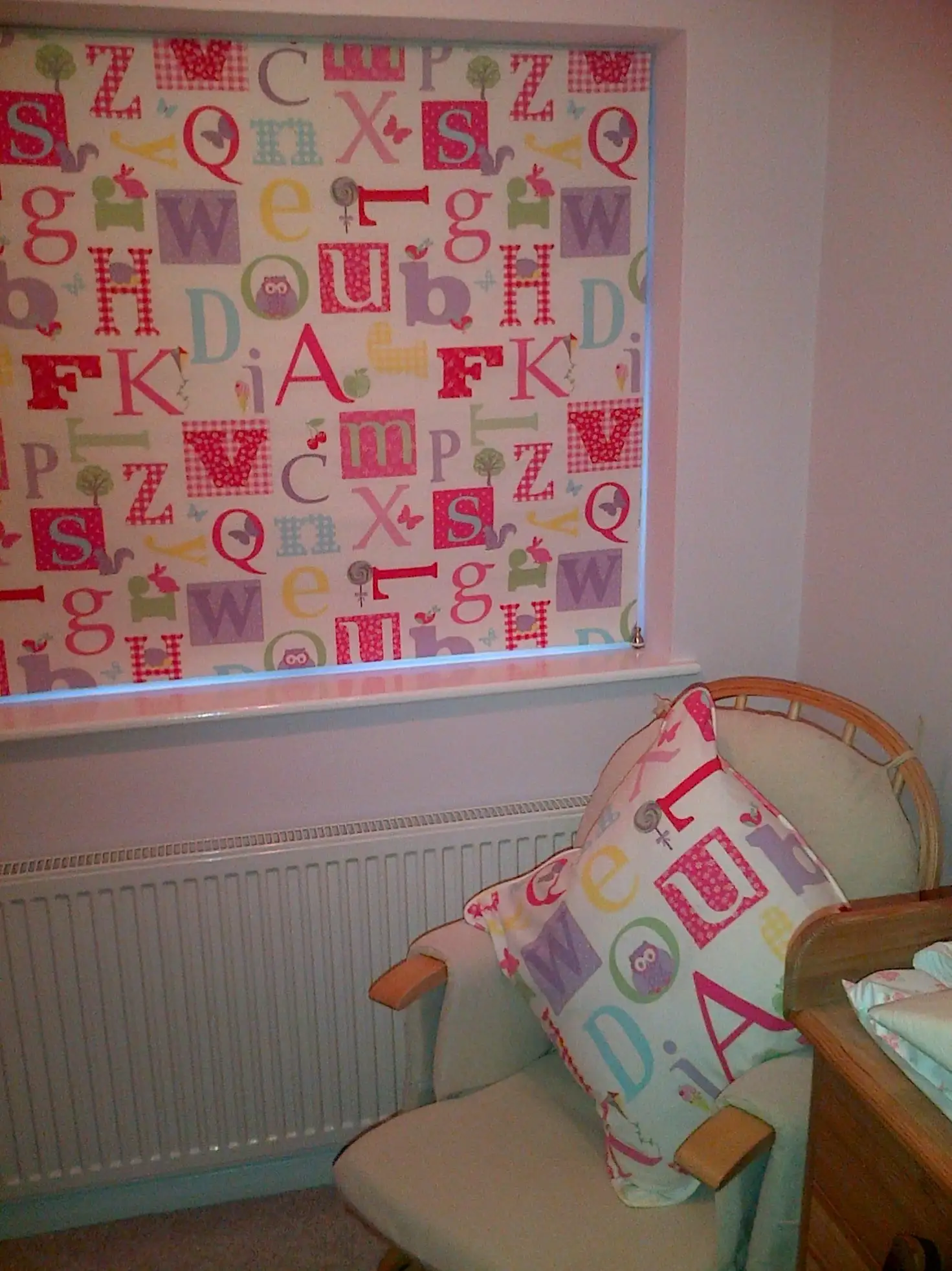 Bamboo shades for nursery windows
If you are looking to create a natural, organic feel in your baby's nursery, then bamboo shades are the right choice for you. Their pleasant-looking design will not only make the room fashionable, but will filter light in the healthiest way, while keeping your baby's room cool. Pair them with white linen curtains or other natural fabrics for a neutral, understated look. Bamboo is durable, dust-repellent and highly-versatile, being capable of complementing both modern and retro-styled nurseries. What better way to introduce the concept of eco-friendly materials to your child than using this gorgeous option?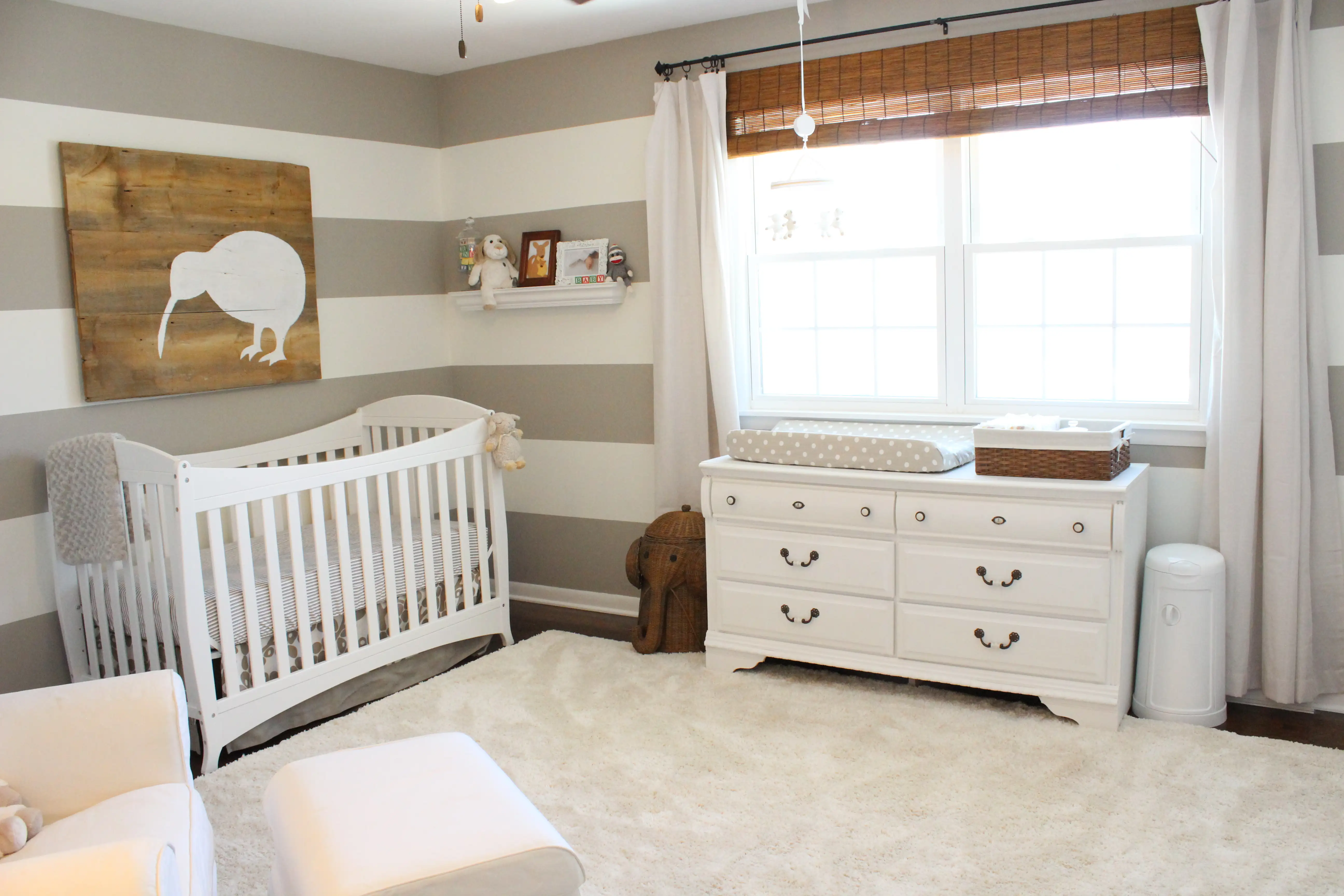 Horizontal blinds for nursery windows
Horizontal blinds will add a touch of classic refinement to your little one's room, being easy to install and clean. They are also highly versatile, going with a wide variety of furniture and décor pieces. You can easily control the amount of light in the baby's room; therefore, they will come in handy during different moments of the day. In this image, the blinds throw elegant shades on the nursery walls, creating a warm, soothing effect that will delight your little baby.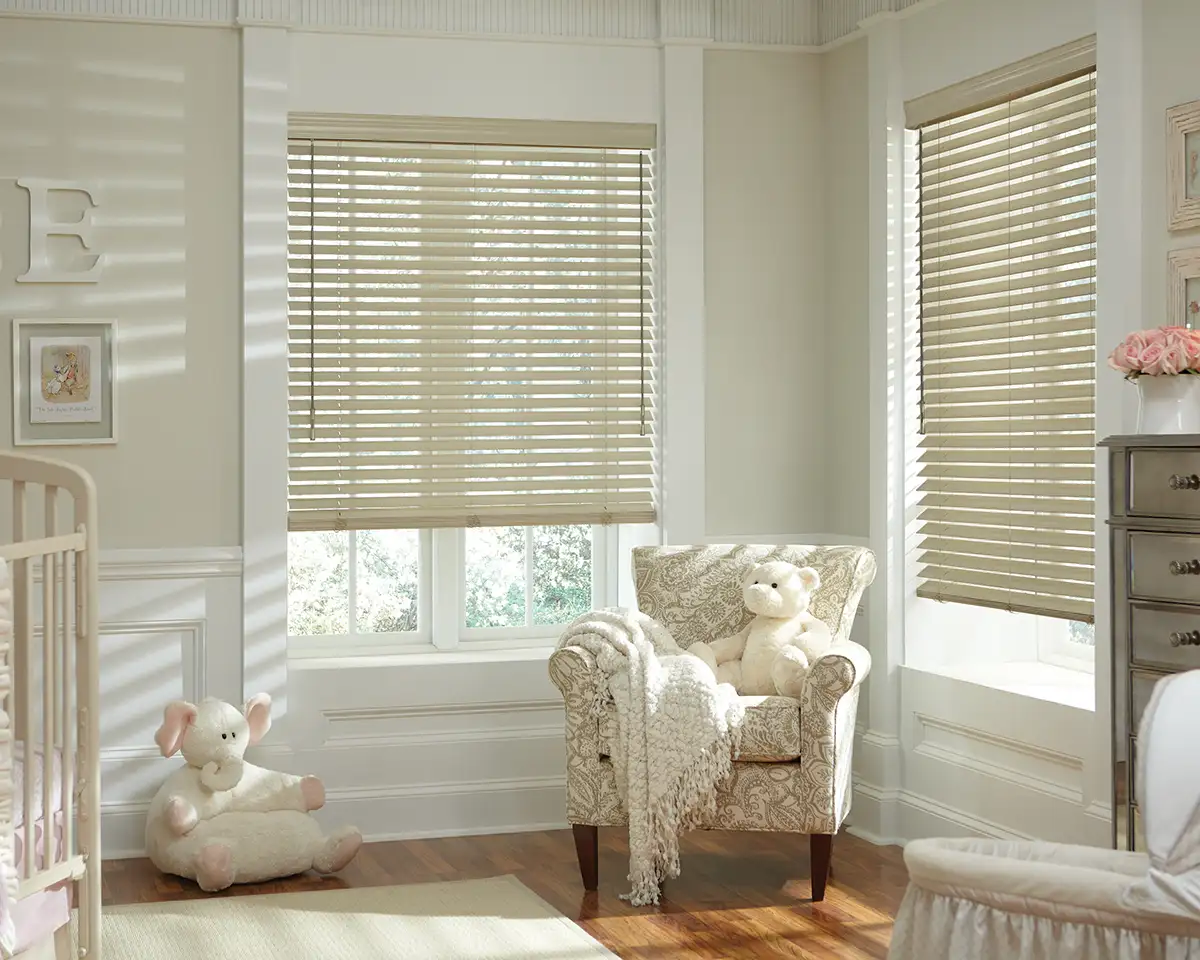 Decorative accents for nursery curtains
When you are on a tight budget or just want to give the nursery windows a personalized appearance, adding decorative accents will do the job. They come in a wide variety of shapes and colors, and they can be switched depending on the season or family events. Using colorful flags, cotton balls or tassels will ensure a friendly atmosphere, perfect to cheer up your little one. What's more, you can make these decorations yourself and ask your other toddlers to join in. It would be the sweetest DIY project to prepare your family for the new addition.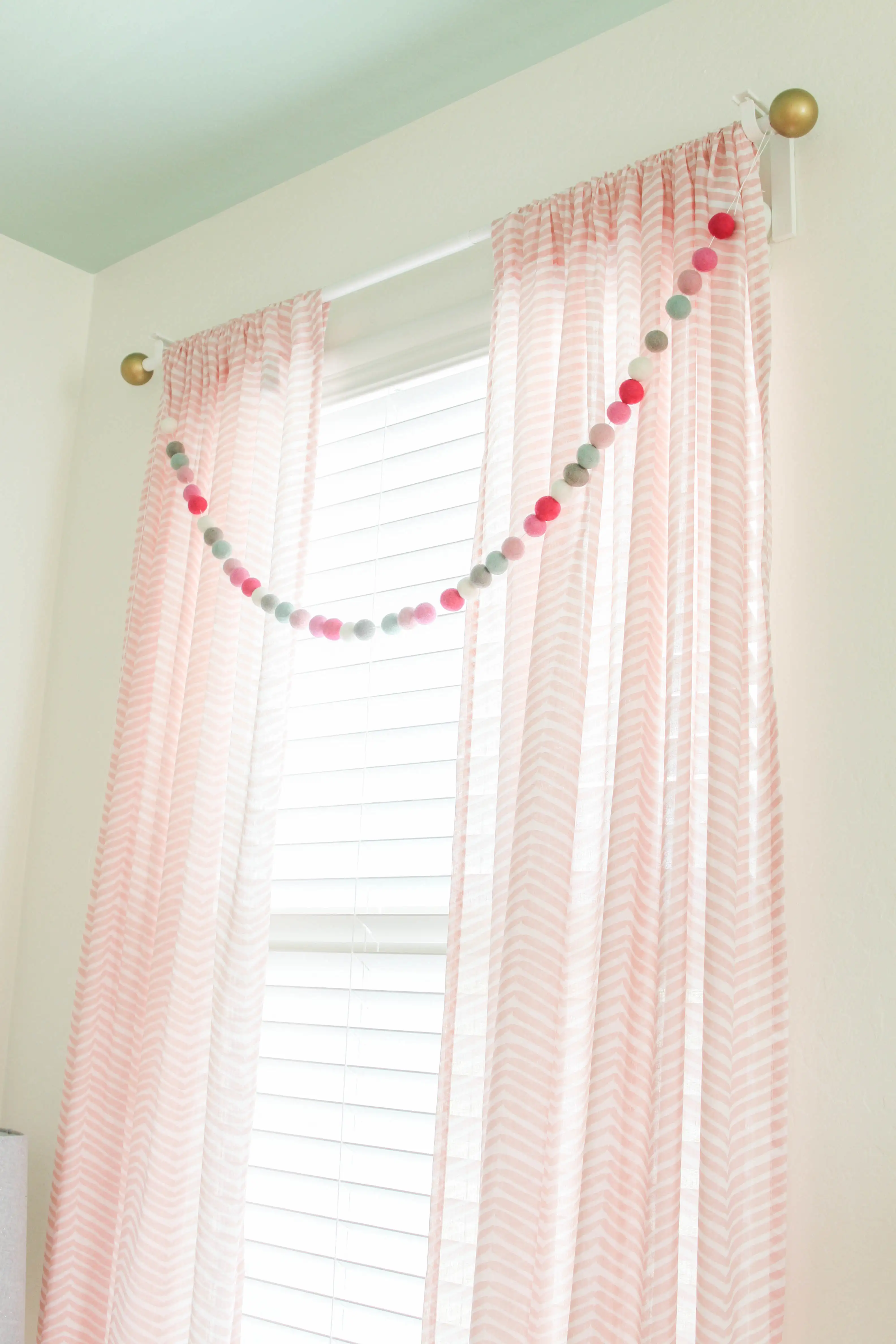 Decorative blinds for nursery windows
Adding window treatments to your nursery is an important step in creating the right atmosphere for your baby to grow in. They will add a stylish layering effect and will also have the important task of offering the perfect amount of sunlight depending on the moment of the day. And since blinds can come in virtually all shapes and sizes, why not play up a bit with colors, textures and patterns, in order to give your precious one a visual stimulant. Babies learn a lot by observing in their first months of life, and developing their visual sense is a key process. Thus, use decorative blinds to give them something to gaze and to coo joyfully at.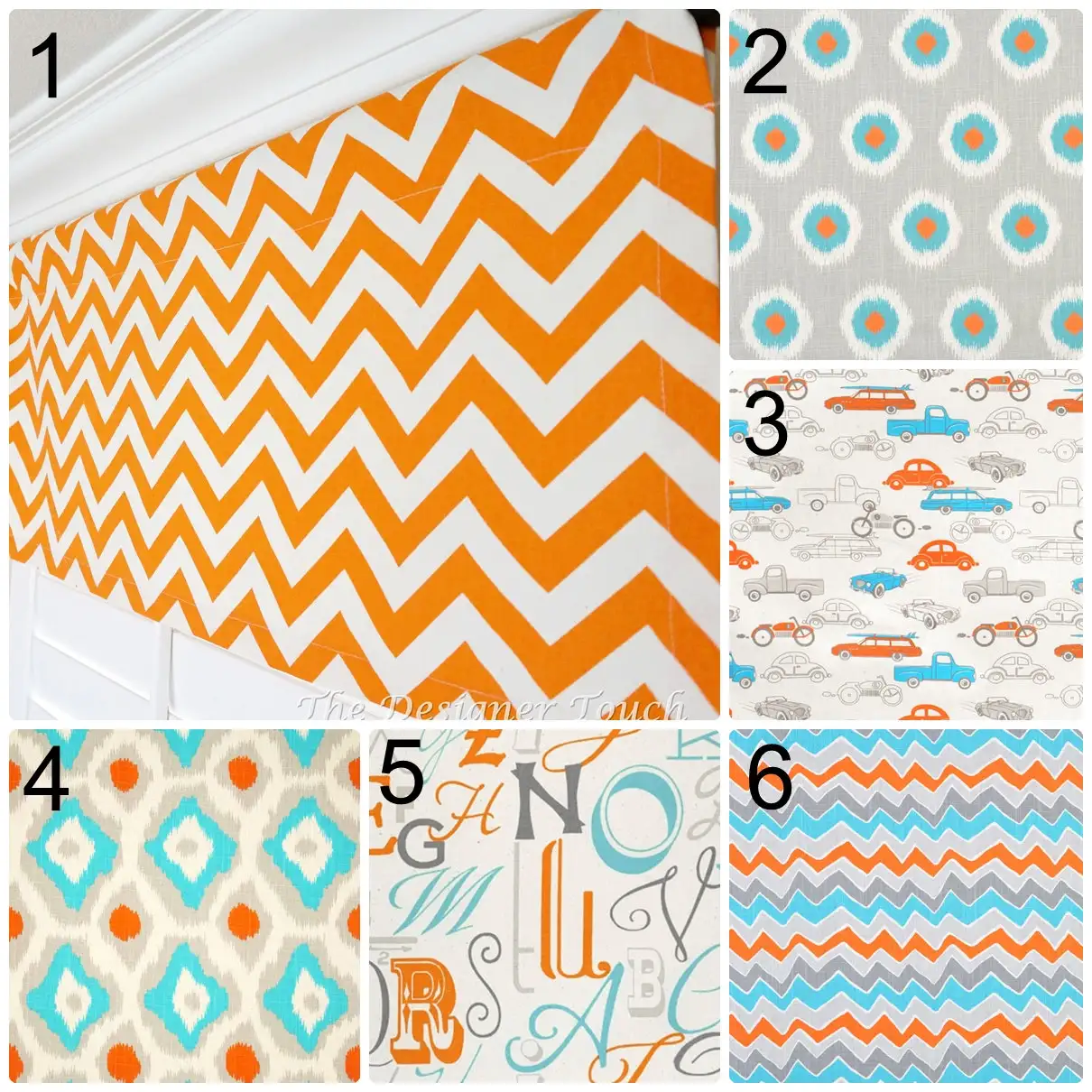 Sheer curtains for nursery window treatments
Sheer curtains will always be a wonderful choice for nursery windows, as they can filter a decent amount of light, while also keeping a baby's room cool and comfortable. You will obtain a room filled with a soothing light, soft enough to calm a crying baby and his/her mother. If the nursery window is facing north or west, then you can choose warm tones like yellow or red to enhance the sunlight. On the contrary, if the room is south oriented, cooler or neutral tones are preferred, so that your baby's eyes will be protected from the sun glare.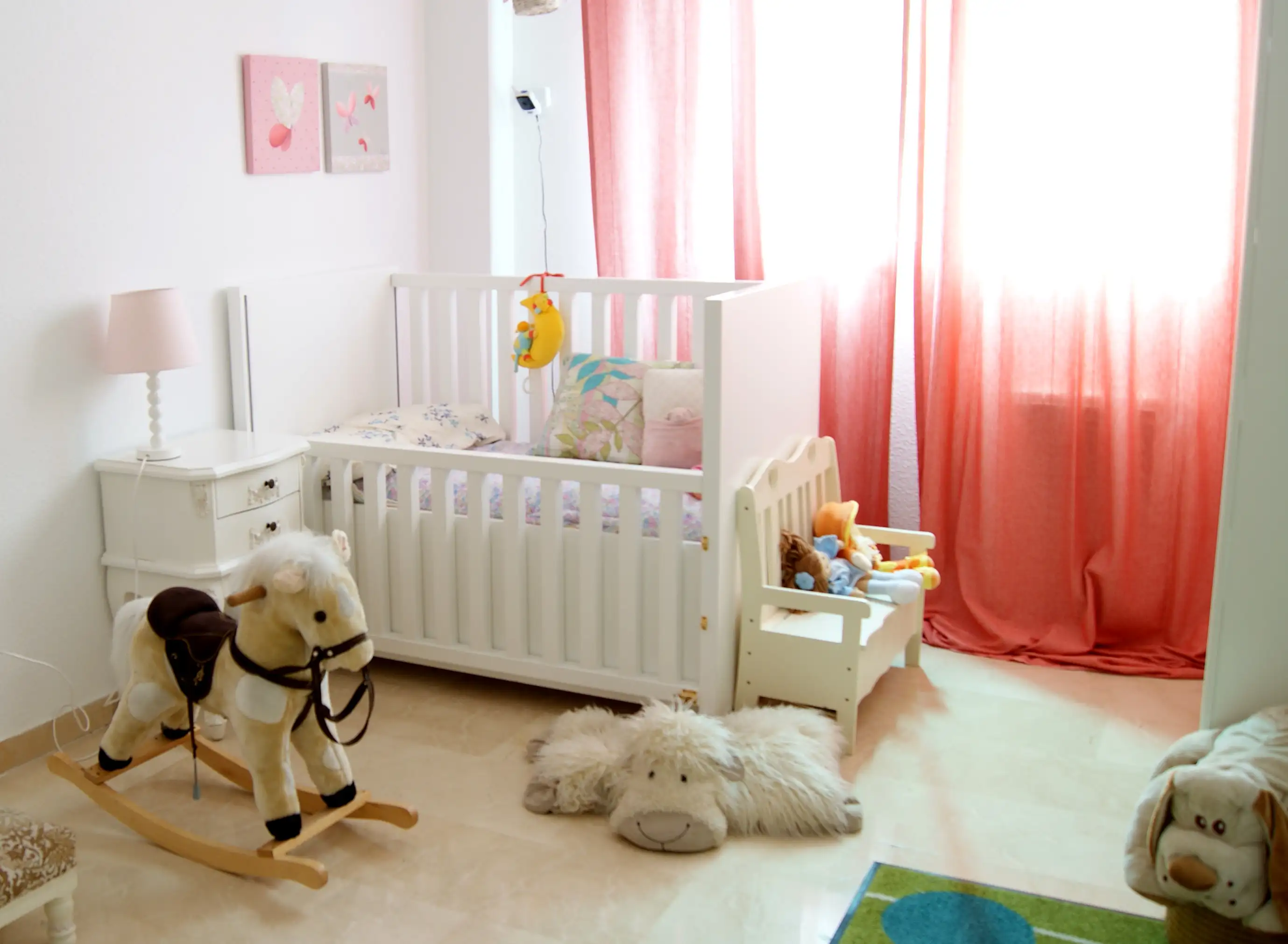 Sequin curtains for nursery windows
Sequined curtains are a fun and attractive way to enhance the playful vibe of a nursery. Not only are they delicate, but they are able to reflect light in an enticing manner, often creating fun shades on the walls, which is just what your baby needs. Keep her entertained with this inexpensive trick that also adds interest and depth to the room. Sequins and beads work well on a variety of fabrics and colors, so you can create unique pieces. You can iterate the sequined pattern on other furniture pieces as well, for a consistent design.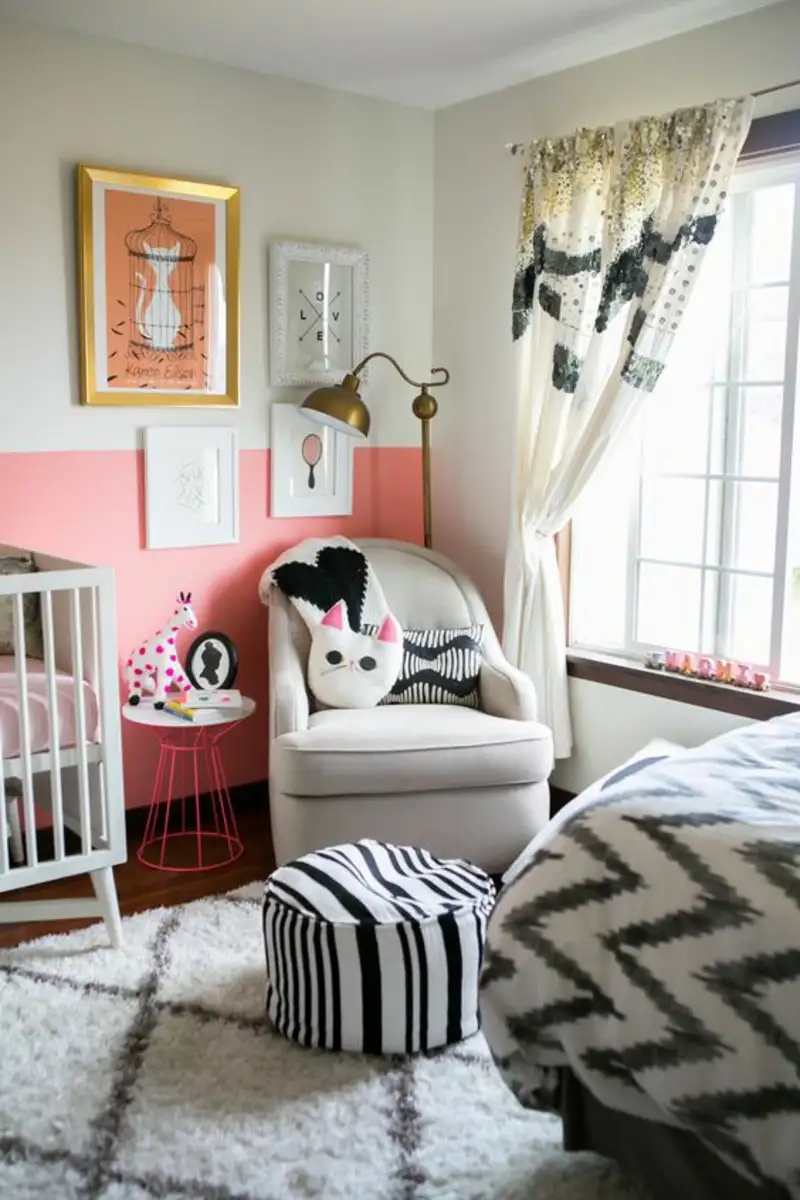 Roman blinds for nursery windows
Roman blinds are all the rage when it comes to window treatments, and they can impart a sophisticated look to your baby's nursery. The fabric elegantly folds to create a dramatic effect, which can be enhanced by a colorful pattern or just by a few simple bows. Depending on the textiles used, Roman blinds can offer perfect shade or can let light pass through them, to create a magical effect, like the one featured in the photo shown here. Nurseries need a dim, calming morning and afternoon light, so these window coverings are capable of creating a sleep-inducing effect, without completely darkening the room. However, they work best with large or wide windows, as the folds will take up some glass space.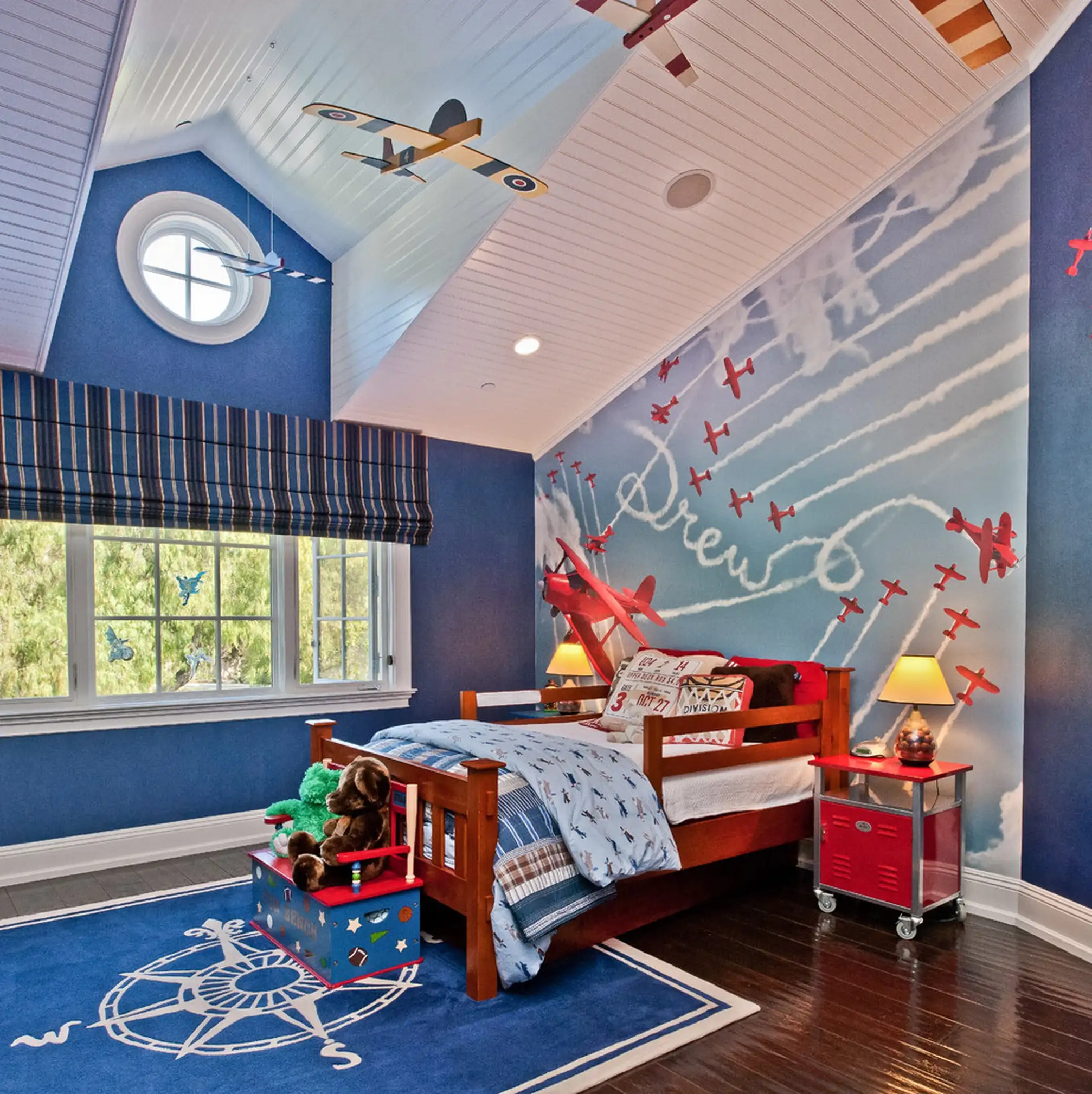 Modern blue blinds for boy nursery
If you are struggling to decorate the nursery for your baby boy, but do not want to give in to those stereotypical colors, then you can try taking that traditional baby blue to another level. You can choose navy instead, for a bolder fashion statement, while still keeping a boyish attitude. As for patterns, choose minimalistic designs, horizontal or vertical clean lines, which will perfectly work with future re-decorations, without looking too childish. Roman blinds are a fashionable choice, and their folded aspect bring warmth and a sense of coziness.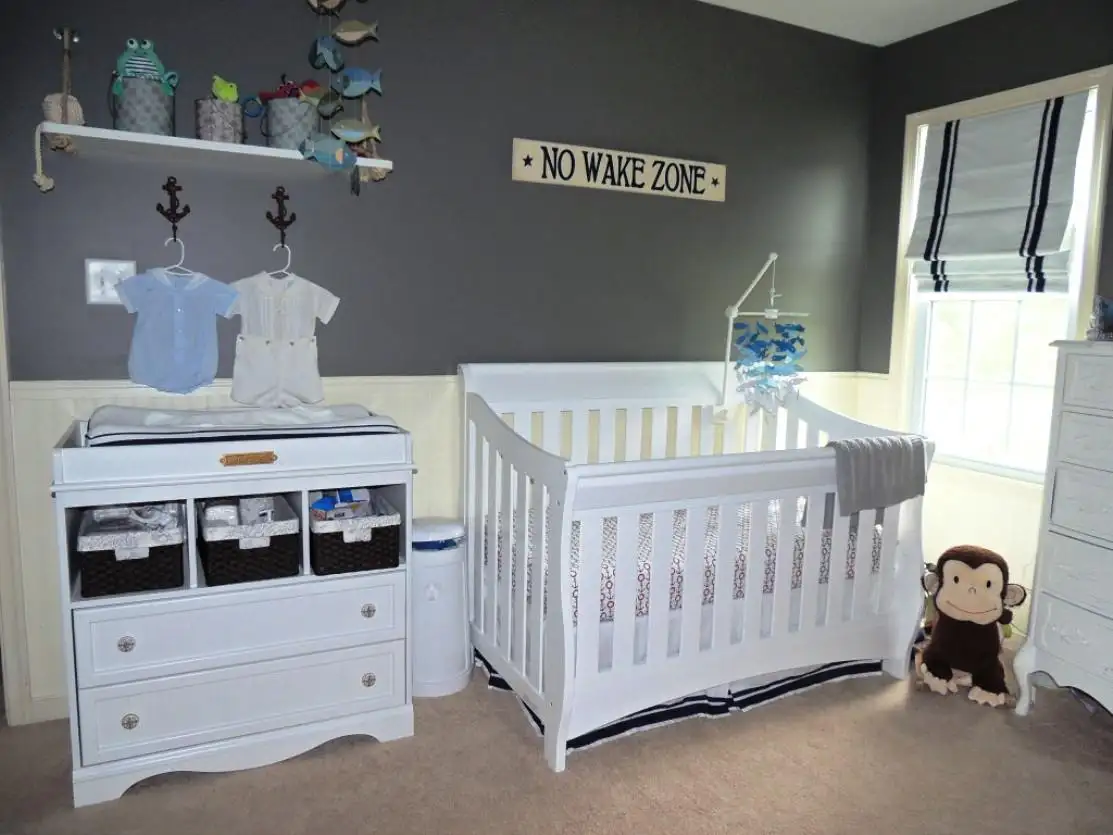 Ruffled curtains for nursery windows
Ruffled curtains are chic and elegant, being a great way to highlight the windows of your girl's nursery. They bring depth to the room due to their layers, creating a dreamy feel. They are also highly versatile, as they can combine unexpected colors, for a dramatic look, or they can be sewn using the same fabric, for a toned-down effect, like the draperies featured in our picture. Moreover, vintage is trending right now, so the ruffled design will enhance the beauty of an antique crib or glider. And these curtains will most certainly turn into your toddler's favorite hiding place, once she'll get those little feet going.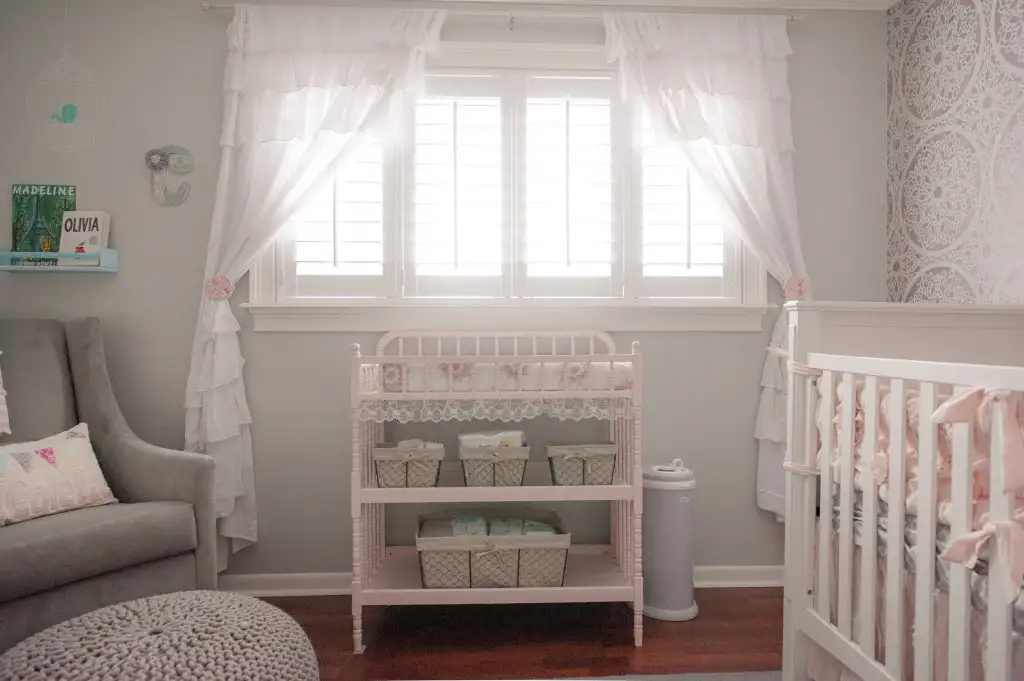 Neutral blinds for nursery windows
Neutral colors have become true staples when it comes to interior design, and they can definitely be incorporated into your son or daughter's nursery. They bring a crisp look to the room, being at the same time soothing for both mother and child. The key aspect when using neutrals is to play with various shades and textures, in order to avoid a plain appearance. The window treatments shown here pair pearl white with dark pearl tones for a fashionable look, enhanced by the wall decorations and scattered sheep skins. A true calming effect is created, which is exactly what a baby needs.
Color-block curtains for nursery
If you are following the latest trends in fashion and home décor, then you know there is one word on everybody's lips nowadays: color-block. From clothing garments to home window treatments, this is a mainstream current. So why not incorporate it in your baby's nursery by installing fun color-blocking draperies. They will not only provide a permanent source of amusement, but also keep the décor up to date with the current designer tendencies. The patterns and palette can pick up already existing room colors, or can offer an unexpected pop of color. It is your choice!