Cute Nursery Décor Ideas
If you have a separate room available and don't want to share your master bedroom with your infant, your baby can have their own little space. When you decorate the nursery, try to display the beauty of childhood in both the general concept and in every detail. Be free with your design solutions and allow yourself a little imagination to create a magical baby-proofing space for your little angel.
The best time to start the decorating of your baby room is during your pregnancy. When you give birth to your baby, you will be too busy for designing!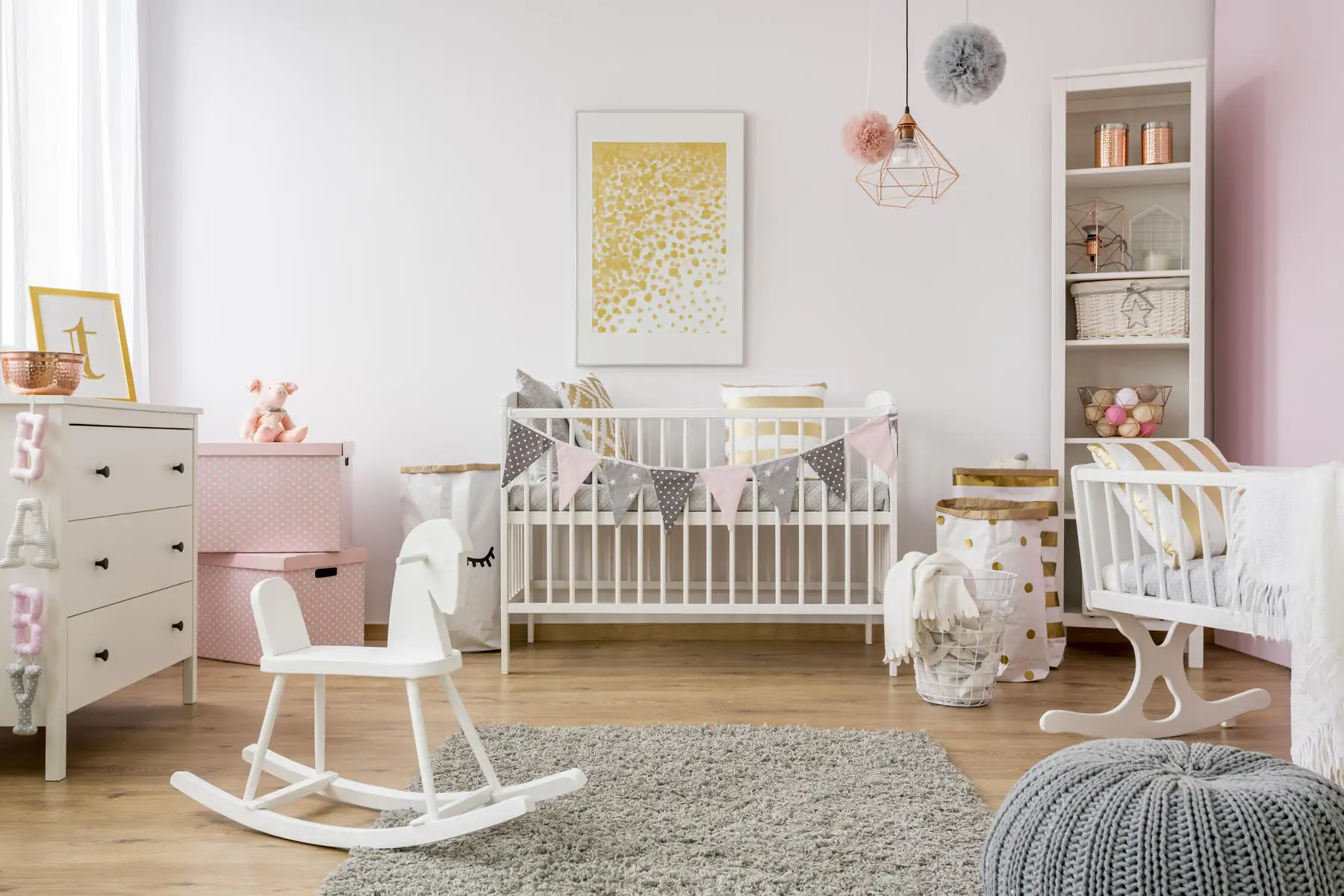 The Essentials Of Nursery Décor
To organize a functional, aesthetic, and safe space, opt for:
high-quality furniture pieces which you can continue to use as your infant grows
a durable, easy-to-clean carpet or area rug where your baby can play when they are mobile
dimmable lights to adjust the ambience of your nursery
a spacious wardrobe or/and dresser to store baby clothes, toys, bedding, diapers, changing supplies, and other useful items
a changing table with a comfy mattress pad and safety straps (as a bonus, you'll have additional storage space)
keep the baby crib away from cords and curtains
place dangerous (like scissors) or valuable (like vases and figurines) items on higher shelves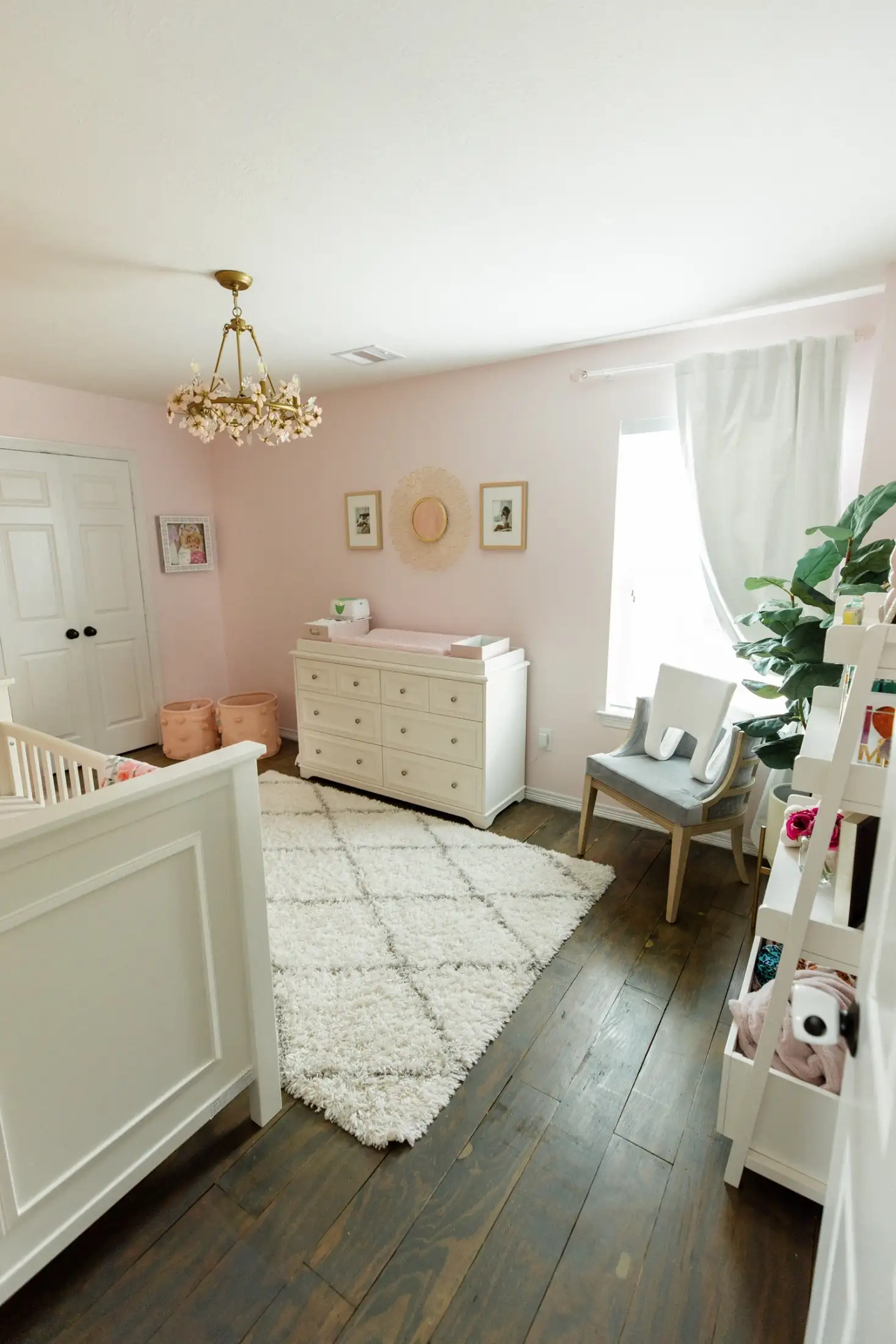 Comfortable Nursery Furniture
To organize a harmonious space, it is not enough to mix attractive furniture pieces. Choose a quality furniture set which consists of elements such as a crib, changing table, wardrobe, and shelves. Bear in mind that a few elements in the same style always have a better look than just a blend of whatever you like or that you already have.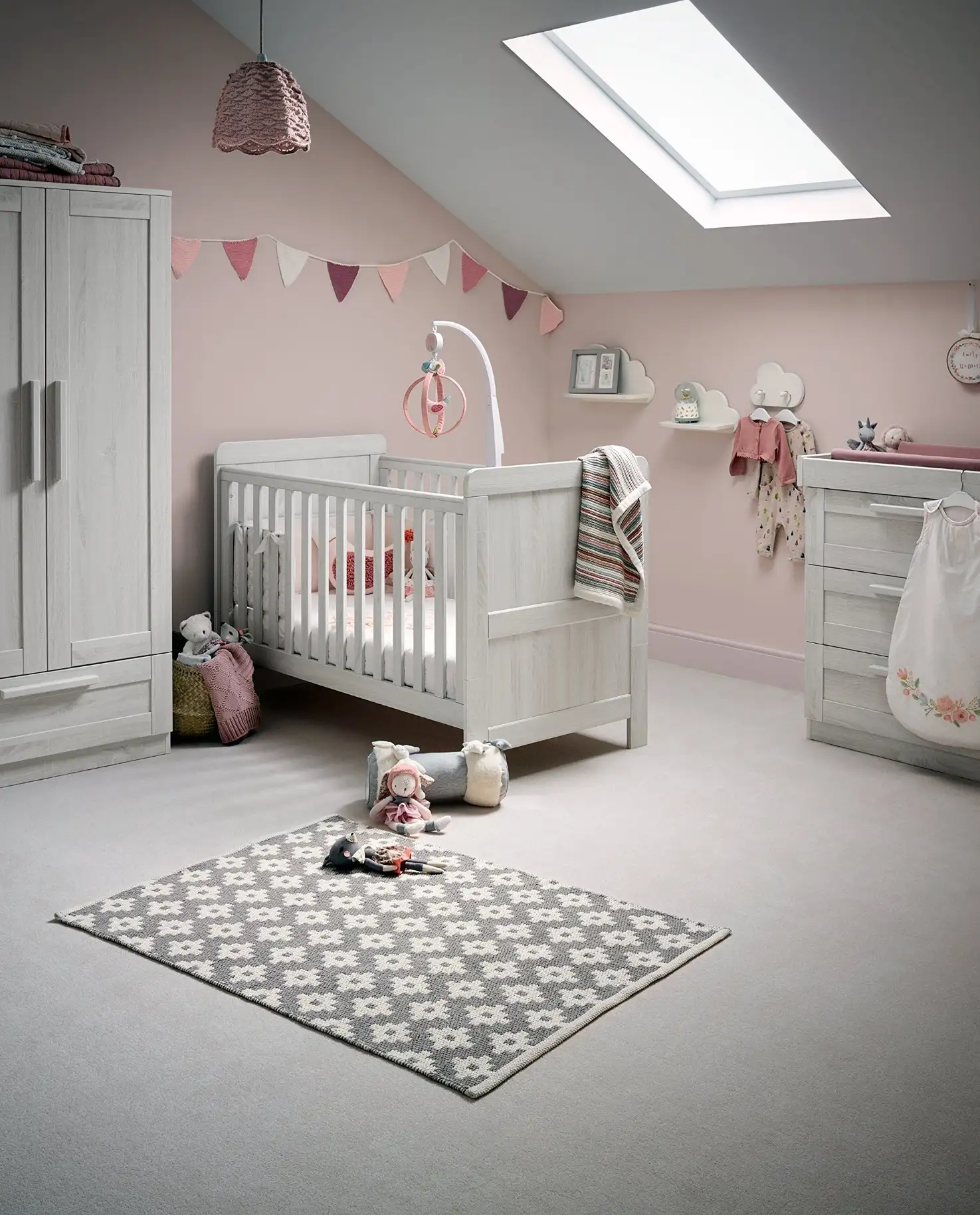 Start With A Crib
When we talk about must-purchase pieces, first of all, you should invest in a high-quality crib with a comfortable mattress to maintain your baby's health. A cot affects your baby's quality of life because they will spend a great deal of their time there.
To select the right bed for your little one, take into account the following factors:
baby's safety
the size of your nursery
cot style which you prefer
quality materials
your lifestyle
There are a lot of cribs on the market, from budget-friendly to very expensive models. If you want to purchase the most functional option, you should carefully consider various types of cribs.
For instance, if you purchase a convertible model, over time your baby's crib can transform into her toddler bed. As an advantage, such a crib "grows with your baby," but it is more expensive than standard cots.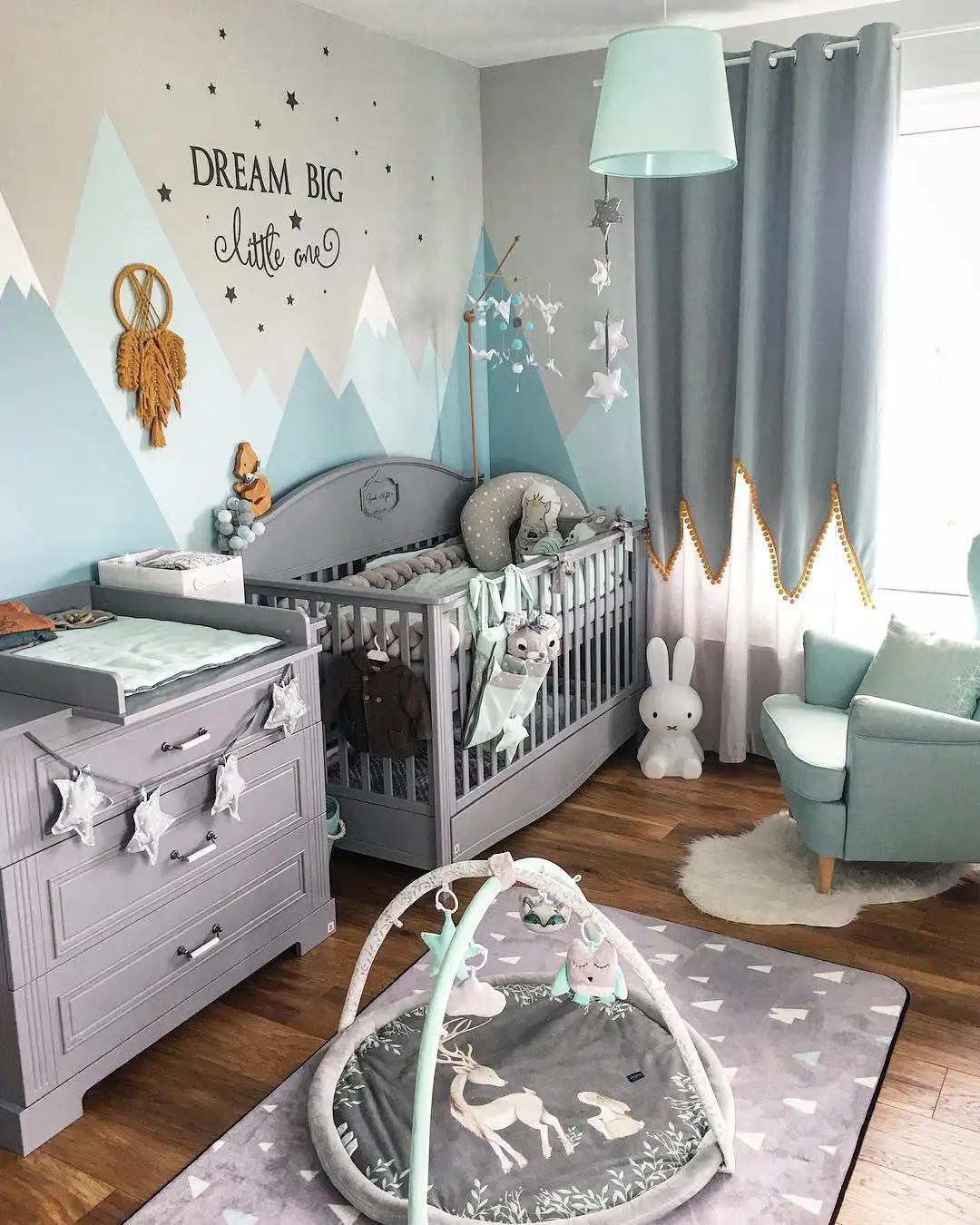 A Breastfeeding Chair Is A Must-Have Item
Don't sacrifice comfort and functionality for style when you choose a breastfeeding chair. Be ready to spend not only days but also nights feeding your little baby over the next few months. When you consider breastfeeding chairs, pay attention to size, surface, and armrests. The right chair should provide enough support for your back and has optimal softness.
A breastfeeding chair with wide padded armrests is always the best choice. To keep your arms comfortable during nursing is more than a luxury for yourself. It's a necessity!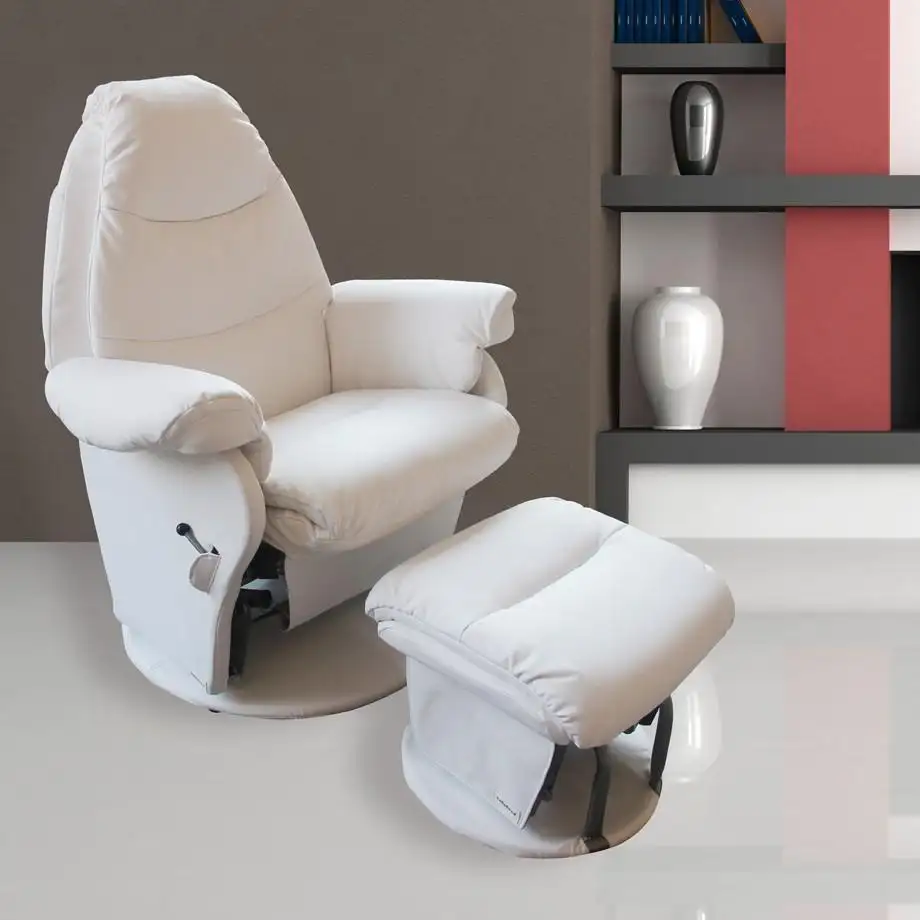 There are a few main types of breastfeeding chairs, such as stationary, rocking, reclining, and glider chairs. With the smooth motions of some chairs, your baby is comforted and falls asleep better after breastfeeding. All different models are great if you stick with safety rules. For instance, if you have a glider chair, always use a stop-lock mechanism (as over time your baby will be able to crawl around on the floor).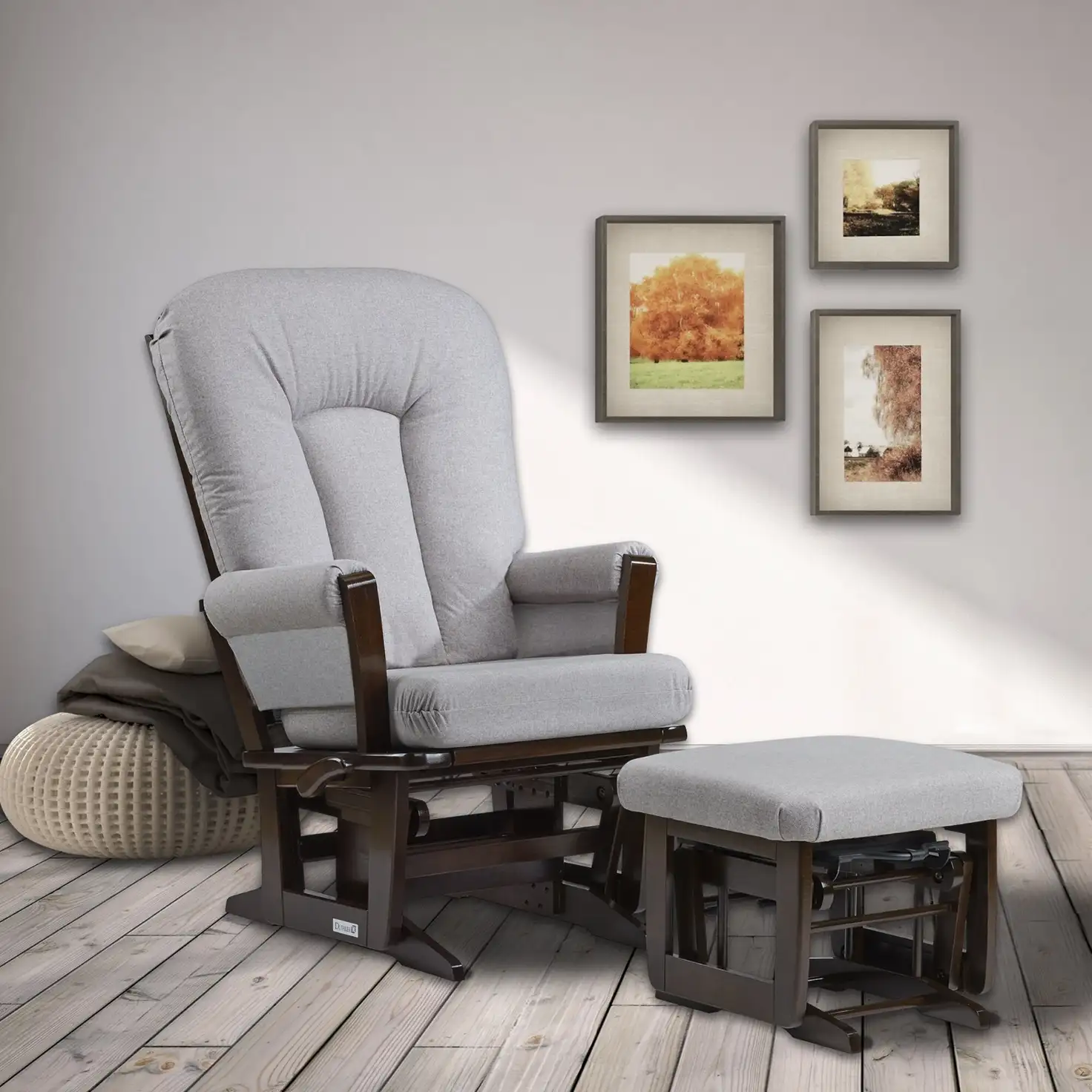 In any case, your breastfeeding chair will convert into just a chair for relaxation when your nursing is finished.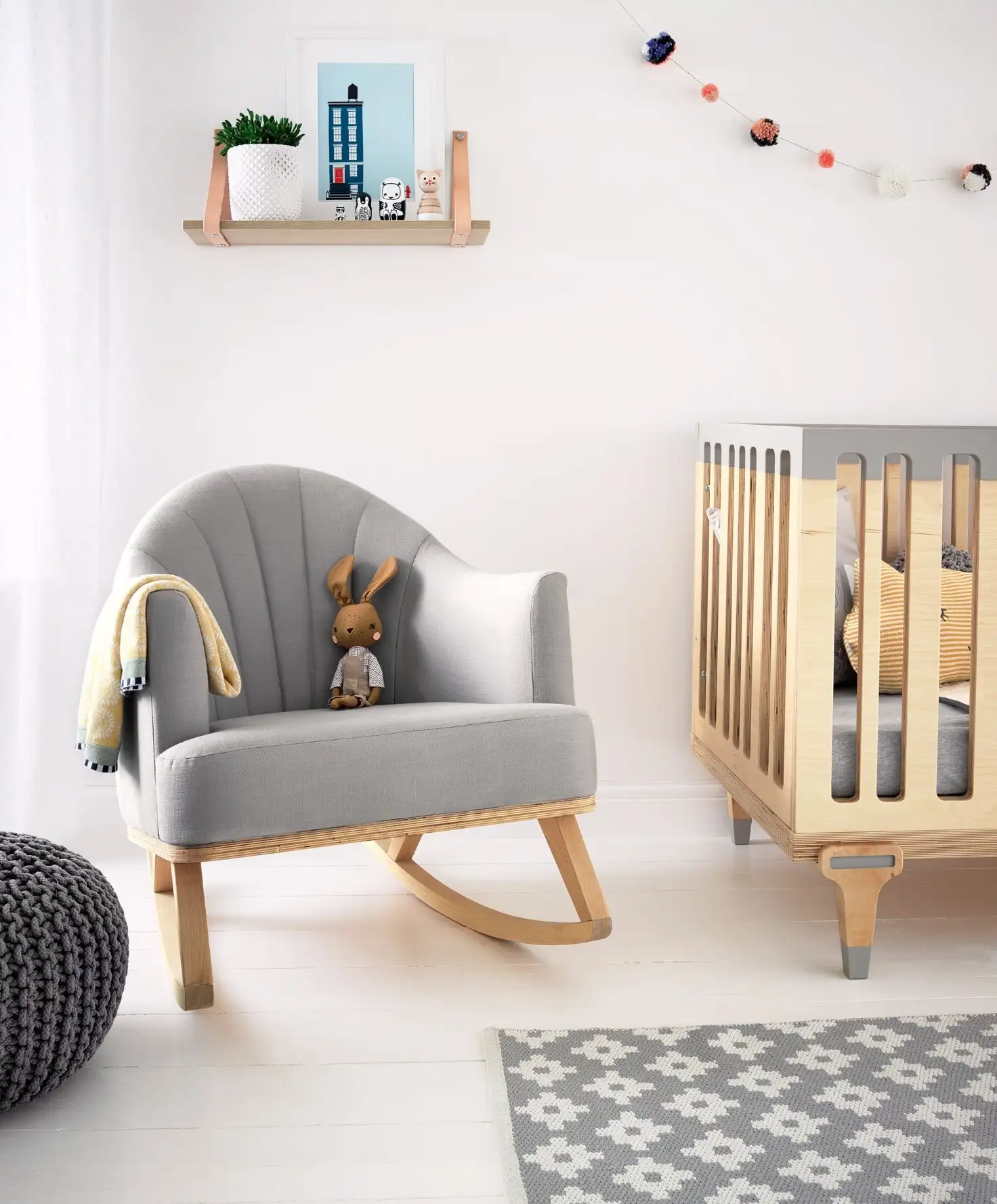 Pick Nursery Colors
To create a really serene place for you and your infant, select warm and neutral colors. Regardless of the sex of your baby, you can opt for cream, beige, soothing whites, light green, yellow, or gray. But if you want to emphasize that you are expecting a baby girl, you can select more pink, purple, turquoise, and peachy shades for your nurturing environment.
If you choose a neutral base for your walls, add color accents to:
floor covering
decorative wall items
creative lighting solutions
throw pillows
various accessories
Certainly, this will give the nursery a lot of style!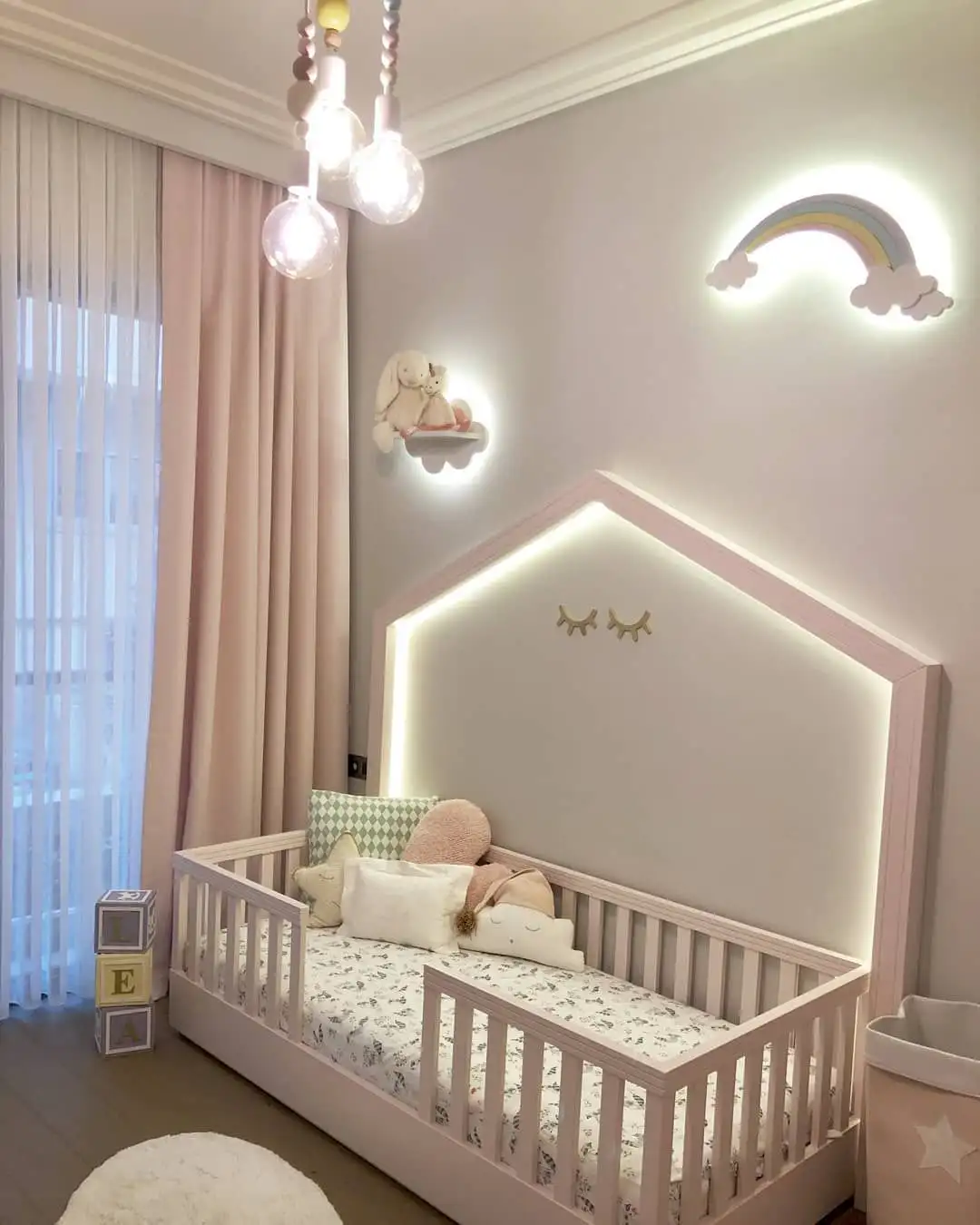 Baby Girl Nursery
You have a lot of bright options if you are expecting a baby girl. Go with choices that give you warm feelings, such as magical wall art, lovely pictures, cute toys, and special accessories. Think of what you would have wanted for your own nursery!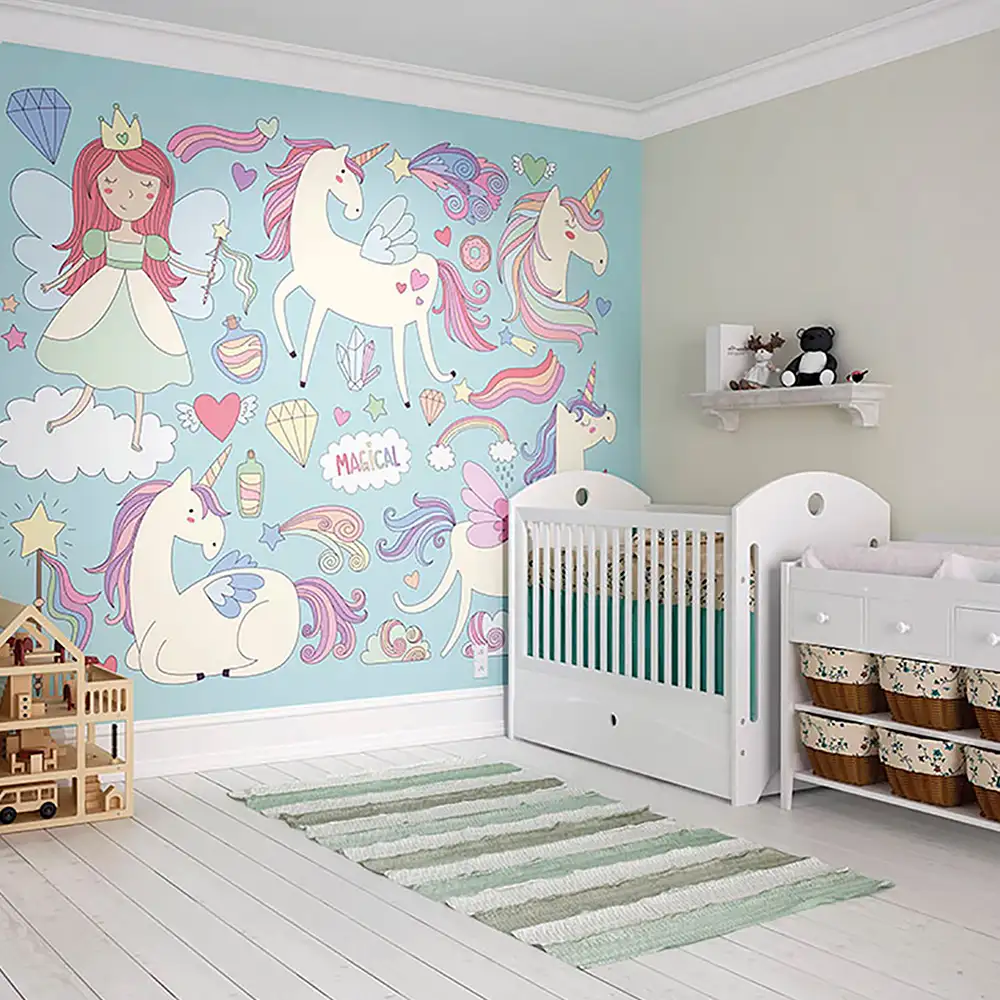 A Fairy-Tale Nursery For Your Princess
Every girl wants to feel like a little princess. For decorating a royal-themed space, you can organize an old-fashioned nursery with specific décor accents for your daughter.
Start with setting up a crown over your baby girl's crib. It will be the primary focal point of your nursery. Then, you can build out from the crib with other bulky furniture pieces, such as a changing table, breastfeeding chair, and night stands.
Blend vintage and modern items to emphasize the timeless character of your royal nursery. For instance, you can mix an old-world photo frame, vase, sculpture, wall art, or a stand for a bouquet of flowers with a modern crib, glider chair, and ottoman.
For well-thought-out design solutions, think about repurposing a vintage stand or dresser into a changing table by putting a quality changing pad on top.
Create contrast between different décor elements to emphasize the magnificent accents in your royal baby room. For instance, you can put a soft rug on a hardwood floor, install a colorful light fixture on the white ceiling, and hang vintage pictures with thematic quotes on your modern plaster walls.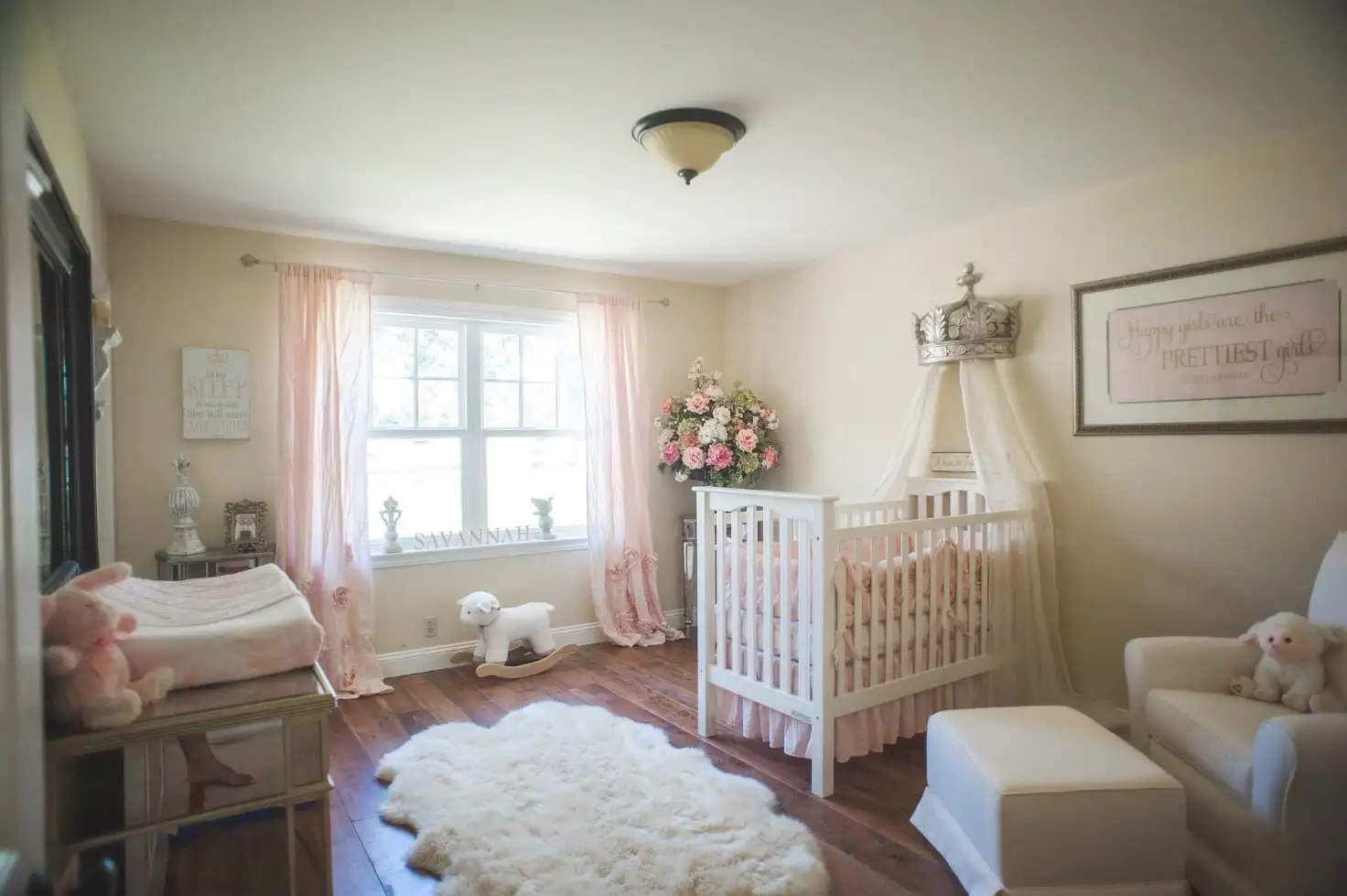 Flower-Themed Baby Girl Room
To bloom with your little daughter, fill the nursery with flower-themed curtains, wall art, blankets, bedding, and creative accessories. Select prints with your favorite flowers or go with classic roses or peonies (they always look great)!
Of course, don't forget about a bouquet of fresh flowers to complete the decoration of your lively nursery.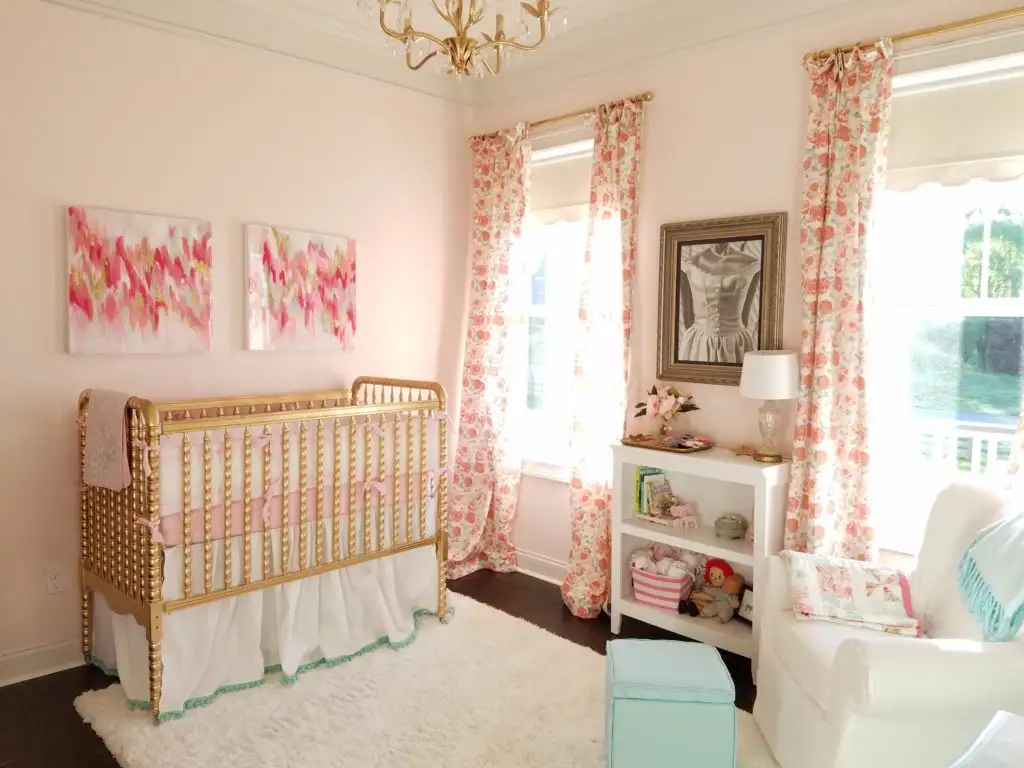 Baby Boy Nursery
If you are expecting a boy, paint your nursery with pleasing colors, such as light blue and gray. Create a creative, protected atmosphere to help your son grow up happy and strong.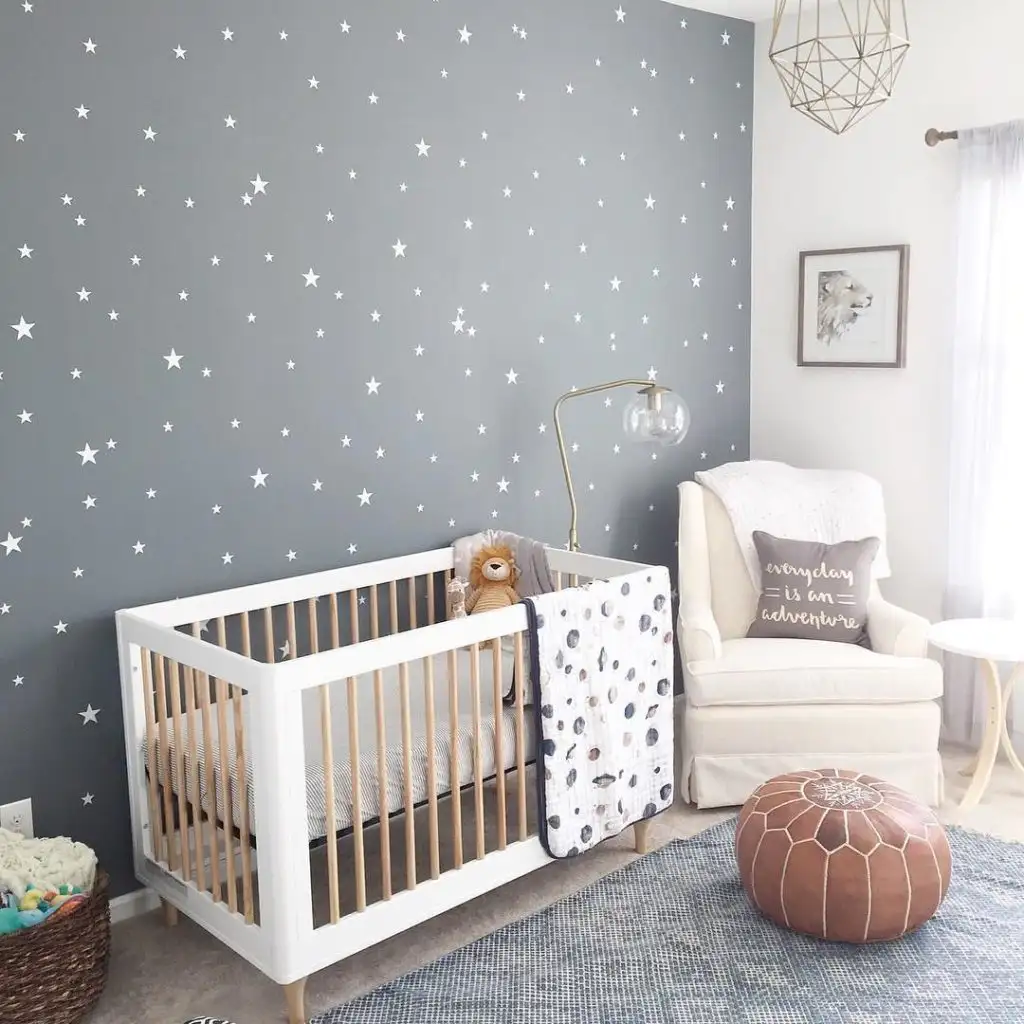 Star Wars-Themed Baby Boy Room
If you are a big fan of the Star Wars movies, don't be shy about decorating a Star Wars-themed nursery for your son. To create a realistic galaxy inside your newborn baby's room, keep in mind that dark palettes fit well with furniture pieces, walls, window treatments, and even thematic accessories.
Think about an accent wall to emphasize the character of your baby boy's space. For instance, the outstanding quote from the Star Wars movies, "The Force is strong with this one," is an anchor for you and your infant being serene no matter what happens.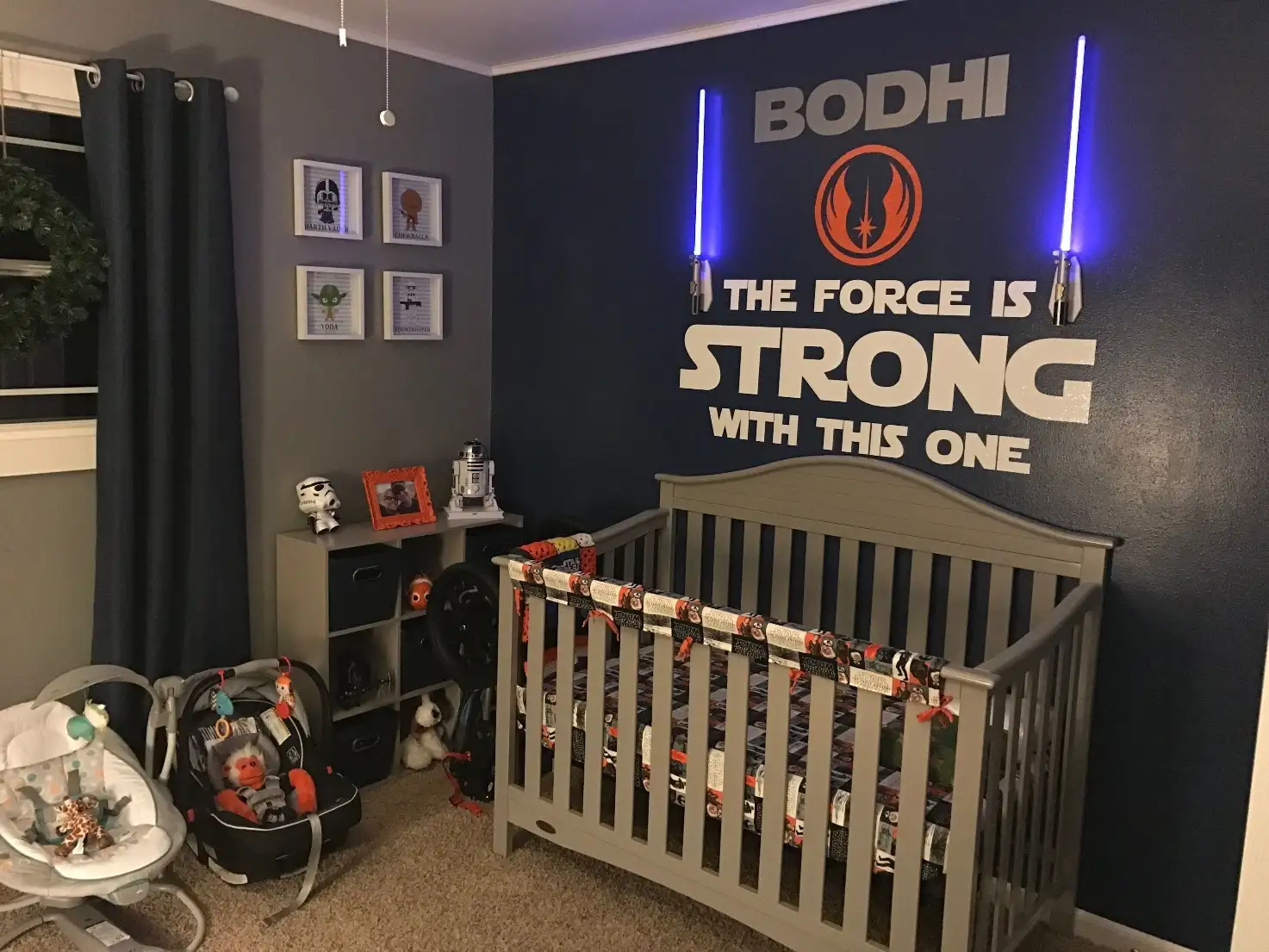 If you choose a Galactic Empire-themed nursery, it's important to find a balance between dark and light furniture pieces, specific accessories, and color accents. As a result, you'll bring serene vibes to your baby's room.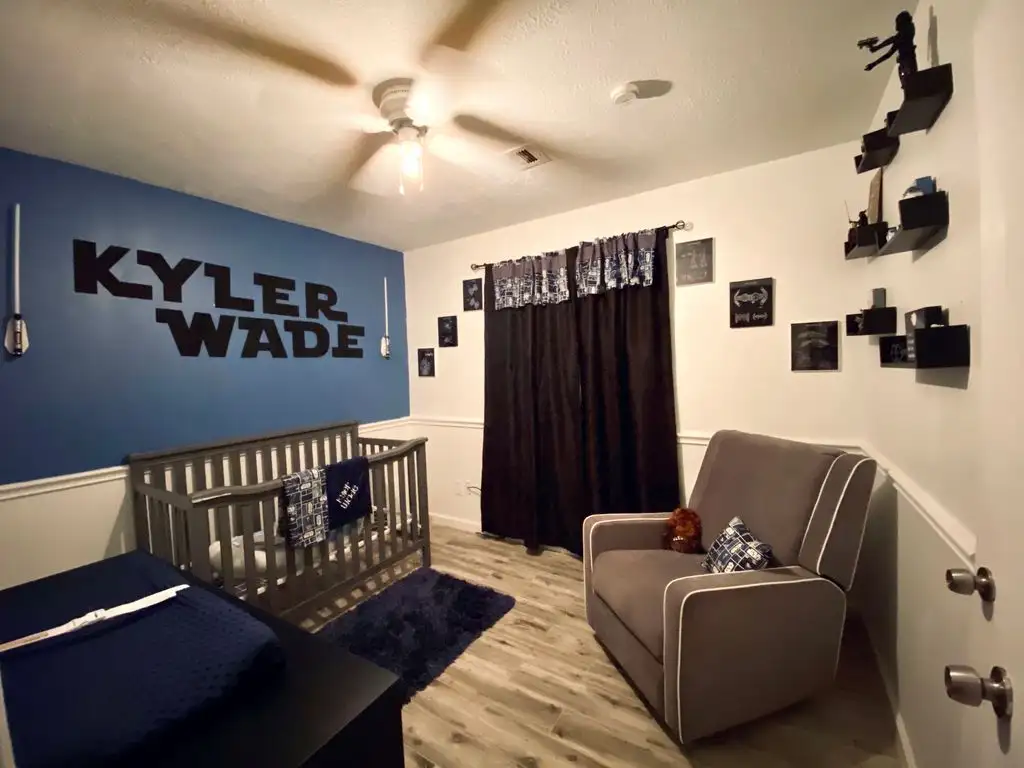 Car-Themed Nursery For Your Baby Boy
Almost all men are obsessed with cars, even when they're little! If you want to inspire your baby with this passion and to inspire your husband to visit the nursery more often, go with car-themed nursery décor. But put a limit on kitsch when you buy bedding, blankets, curtains, a mobile, a lamp, and various automobile-inspired accessories.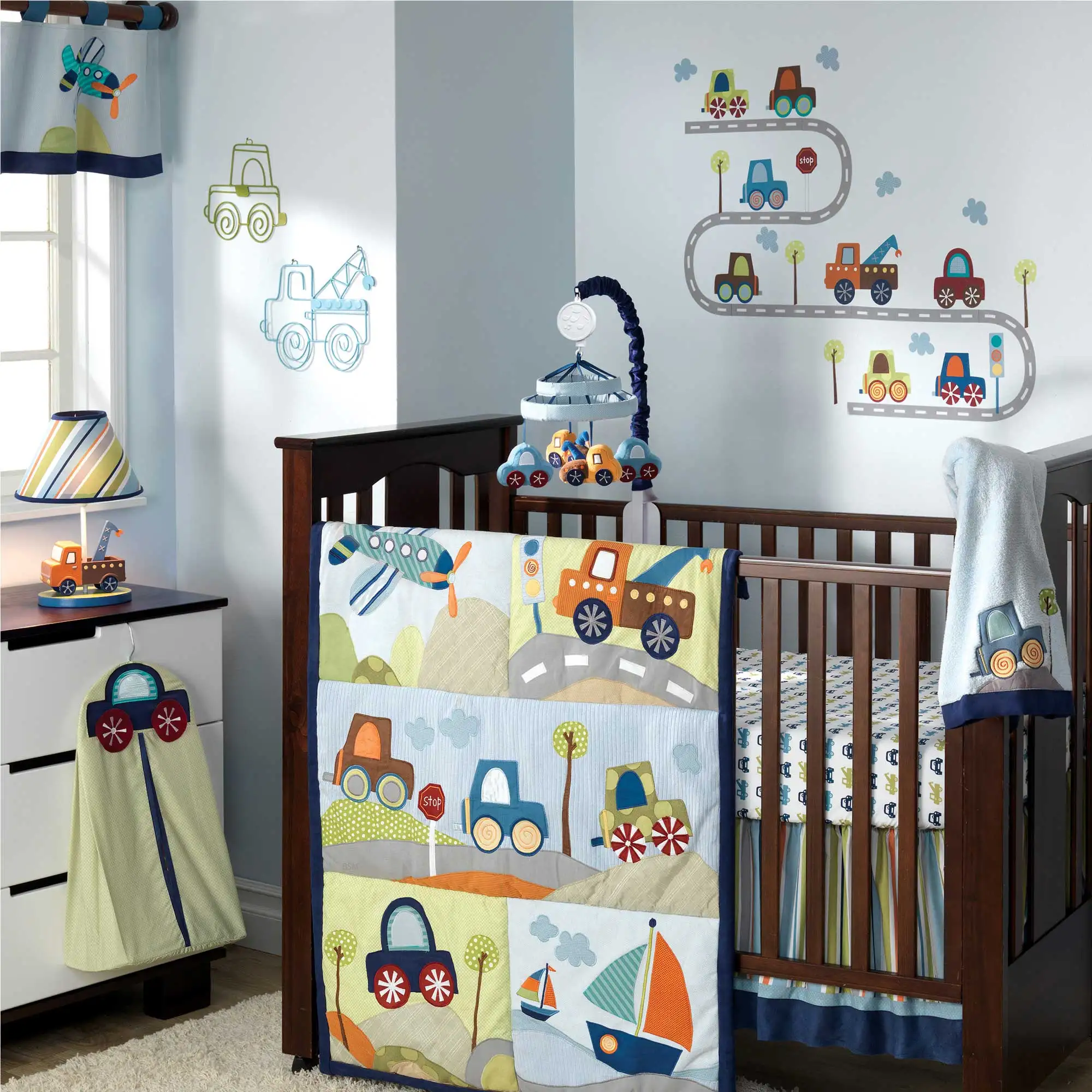 Animal-Themed Baby Boy Room
Animals are great friends for babies of any age. When you consider various themes for your baby boy nursery, think about kind and cheerful giraffes, monkeys, elephants,
lions, and other wild friends. To reach a really easygoing mood for your nursery, opt for an animal-themed mobile, bedding, toys, figurines, and even wall art.
To create an accent wall, hang the wallpapers with a blue-colored geometric pattern. Hit the shops to purchase blue furniture, such as a crib, rocker, dresser, or changing table, to enhance a deep sense of inner calm and peace inside your nursery.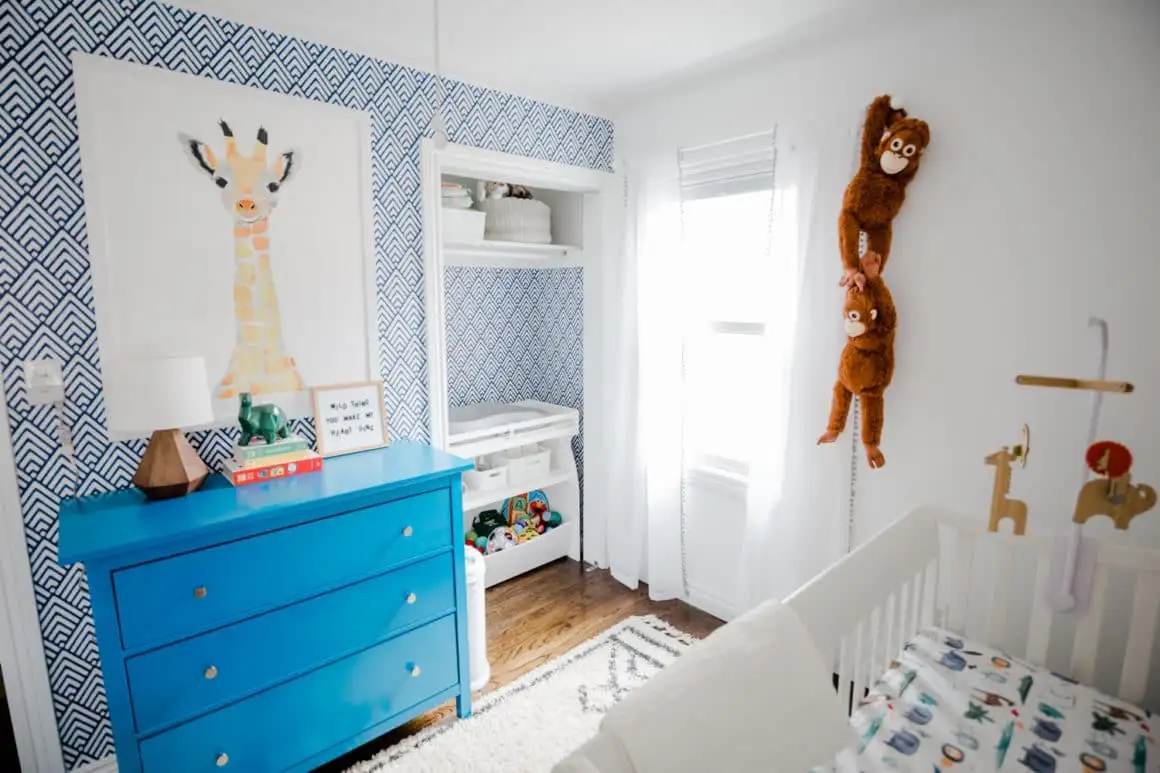 Baby Boy Room For Your King
All little babies can be princes and princesses, or kings and queens, to their parents.
If you want to emphasize the importance of your son in your life and in your world, opt for king- or prince-themed nursery décor.
First of all, display your son's name to personalize the nursery. Hang framed wall letters (name wall art) and buy a blanket, clock, and nursery basket decorated with his full name, monogram, or first name initial.
Also, you can install a rustic-themed metal light fixture in the form of the crown. Think about placing royal-themed accessories on the shelves, such as a castle, king's lions, and various figurines.
Such king-themed nursery décor is a really luxurious choice. But don't overdo it with sumptuous elements, to make sure you don't end up with a truly selfish little king!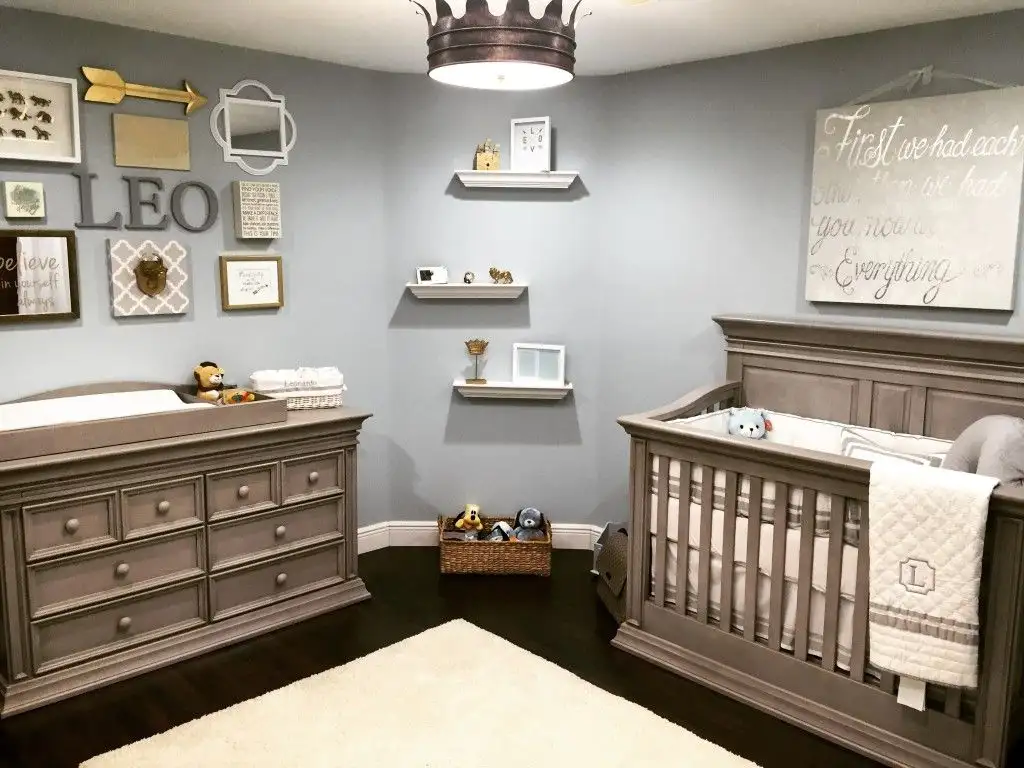 Monochromatic Nursery
If you appreciate the beauty of minimalist interiors, a black and white space is exactly what you need for your little son. To create an easygoing atmosphere without boring details, go with creative décor elements, such as throw pillows, wall art, baskets, a rug, and other lovely accessories, to complete pure simplicity of design solutions inside your nursery.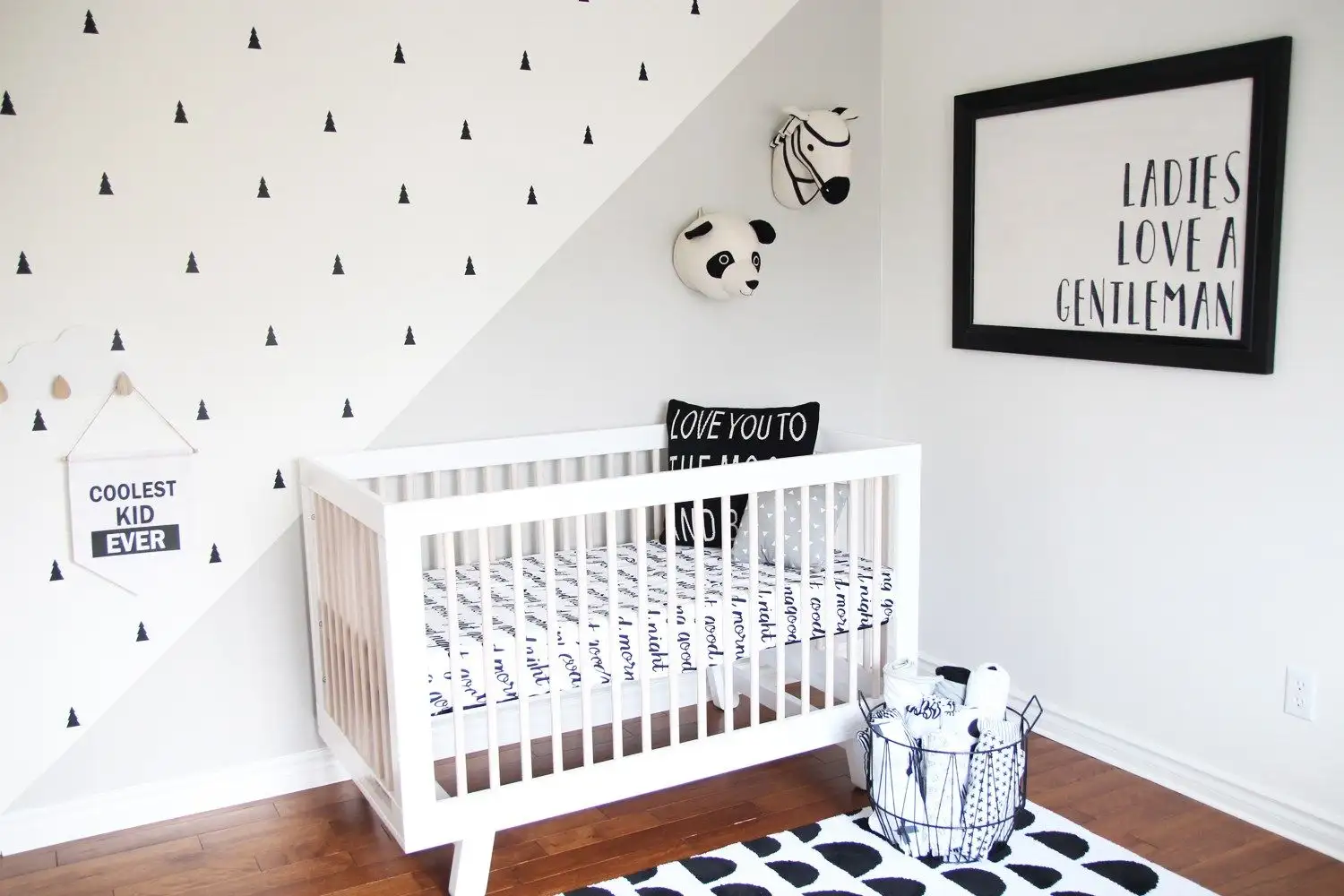 Unisex Nursery
If your baby's gender is a secret or you don't like traditional "pink for girls" and "blue for boys" design concepts, opt for a gender-neutral color scheme for your baby room.
For instance, minimalist Scandinavian décor is always a great idea for a gender-neutral nursery. Feel free to mix different texturized details, neutrals, and natural materials. If you already have a wall-to-wall carpet, don't be shy about putting a rug on it. To add a contrast between different floor coverings, select a light-colored, soft, geometric-printed rug and a dark-colored, monochrome carpet.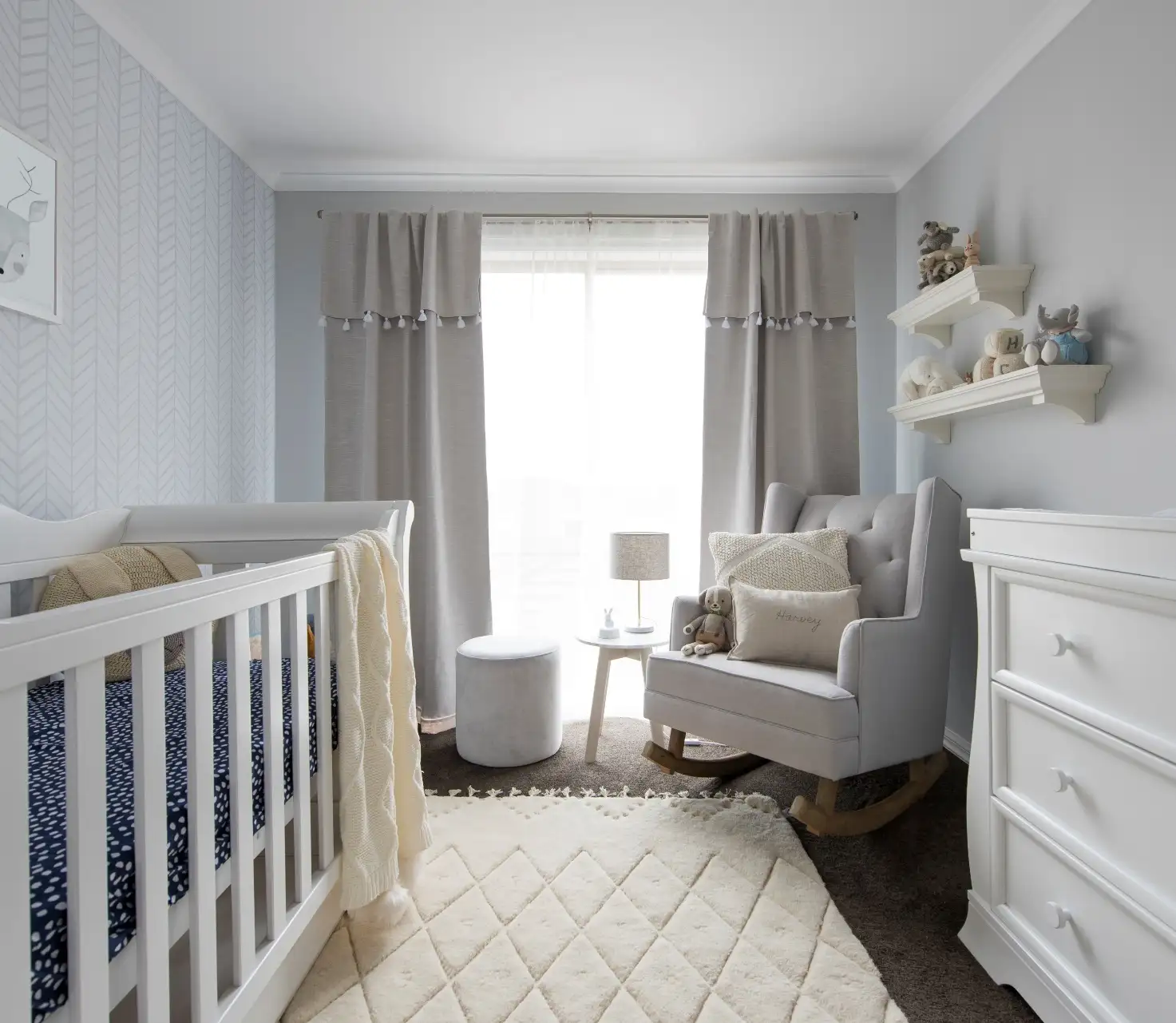 Wooden, rattan, and wicker furniture pieces and nature-inspired accessories are sustainable alternatives to cheap plastic items. You can take care of nature by just decorating your nursery.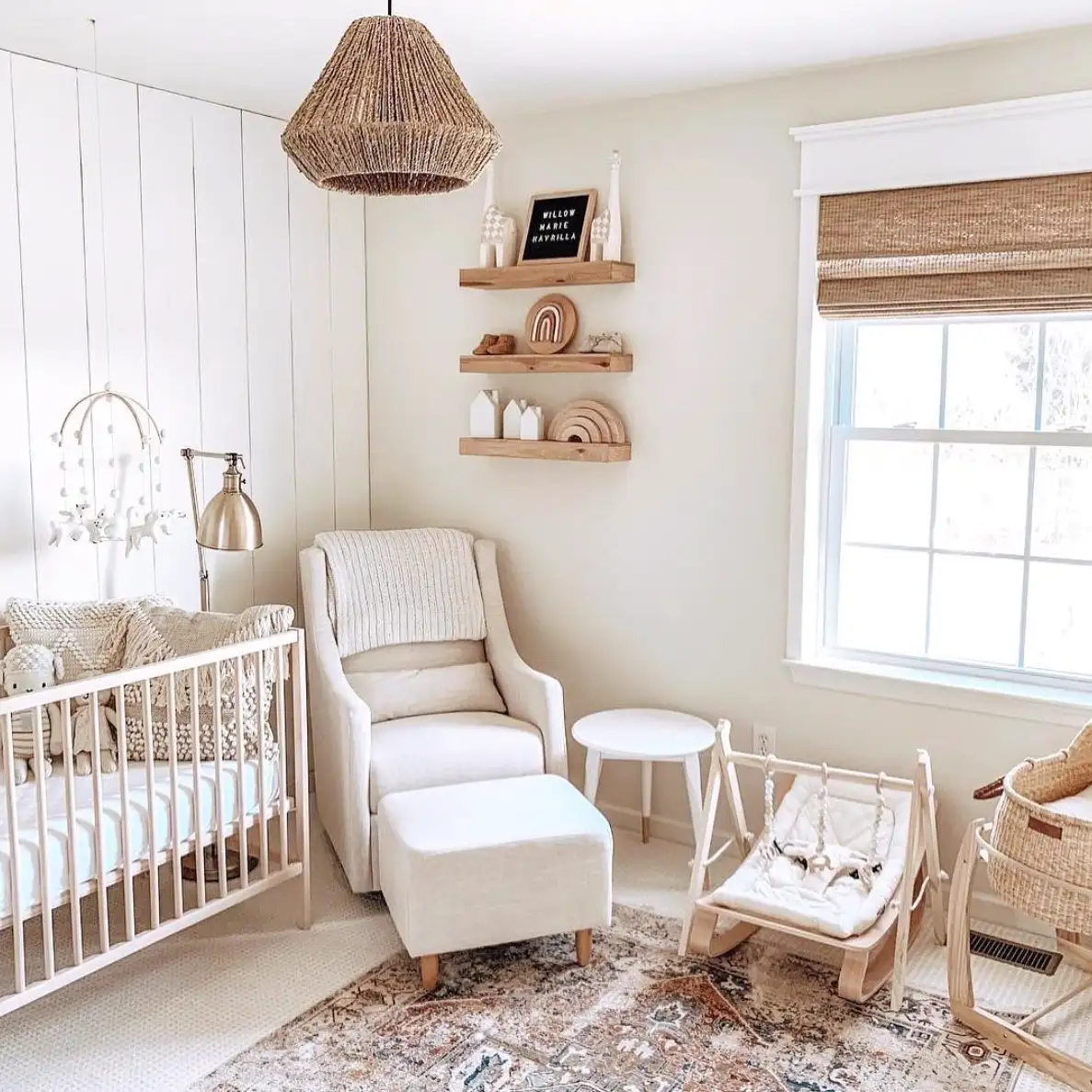 Creative Accessories For Your Baby Room
When it comes to choosing nursery accessories, it's hard to put a limit on kitsch. We all know that feeling of wanting to see all the cute things inside the baby's room! But keep in mind that in an uncluttered space, you and your newborn will feel much more serene. Along with this, you'll be surprised how much space for useful items a small baby needs.
It's better to keep at least one wall for various inspirational items, especially keepsakes that may have been given as baby presents. Also, you can hang cheerful pictures, photos, or other wall décor pieces to make your baby nursery lively.
For practical items, think about using both attractive and useful elements to store your baby's clothes and knick-knacks. To create a really calm and uncluttered baby room, use storage options like:
a chest of drawers
baskets
shelves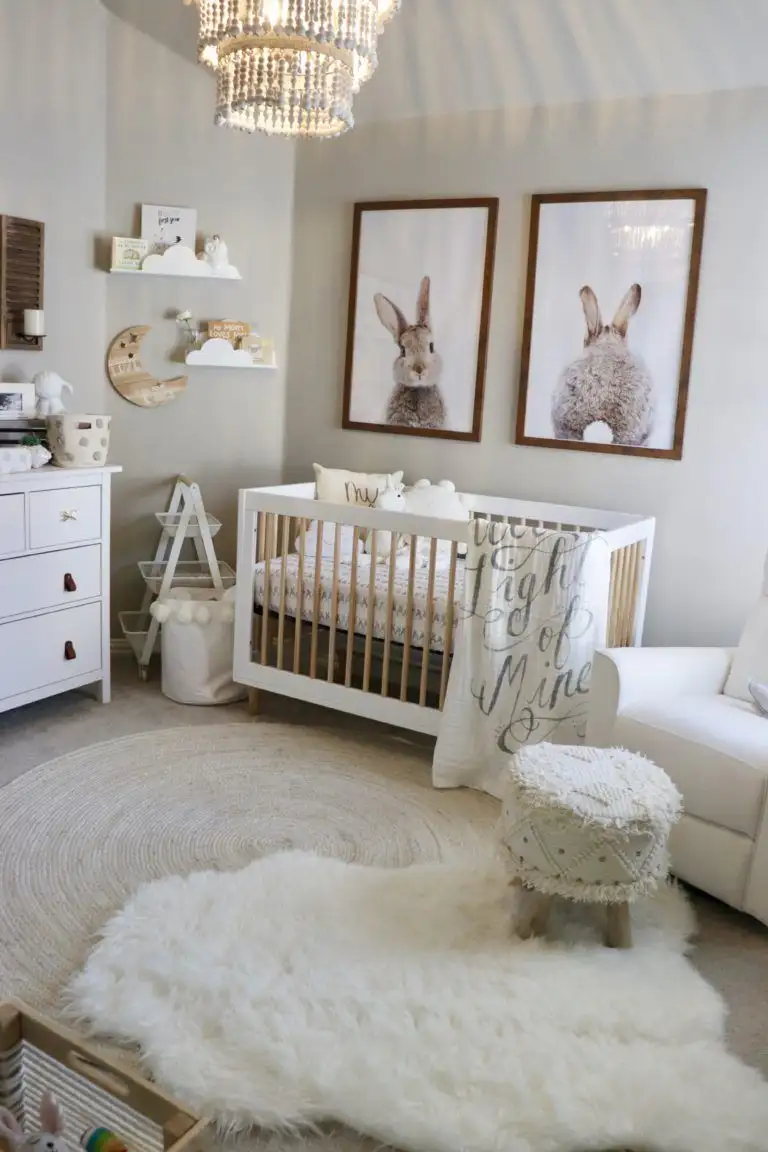 Nursery Window Treatments
To control light and reduce heat, take into consideration different types of nursery window treatments. Whether you are looking for budget-friendly solutions or you can afford whatever you like, consider various materials, colors, and styles before you make your decision.
You can opt for blinds, shades, or rollers, or mix them with sheer or blackout curtains.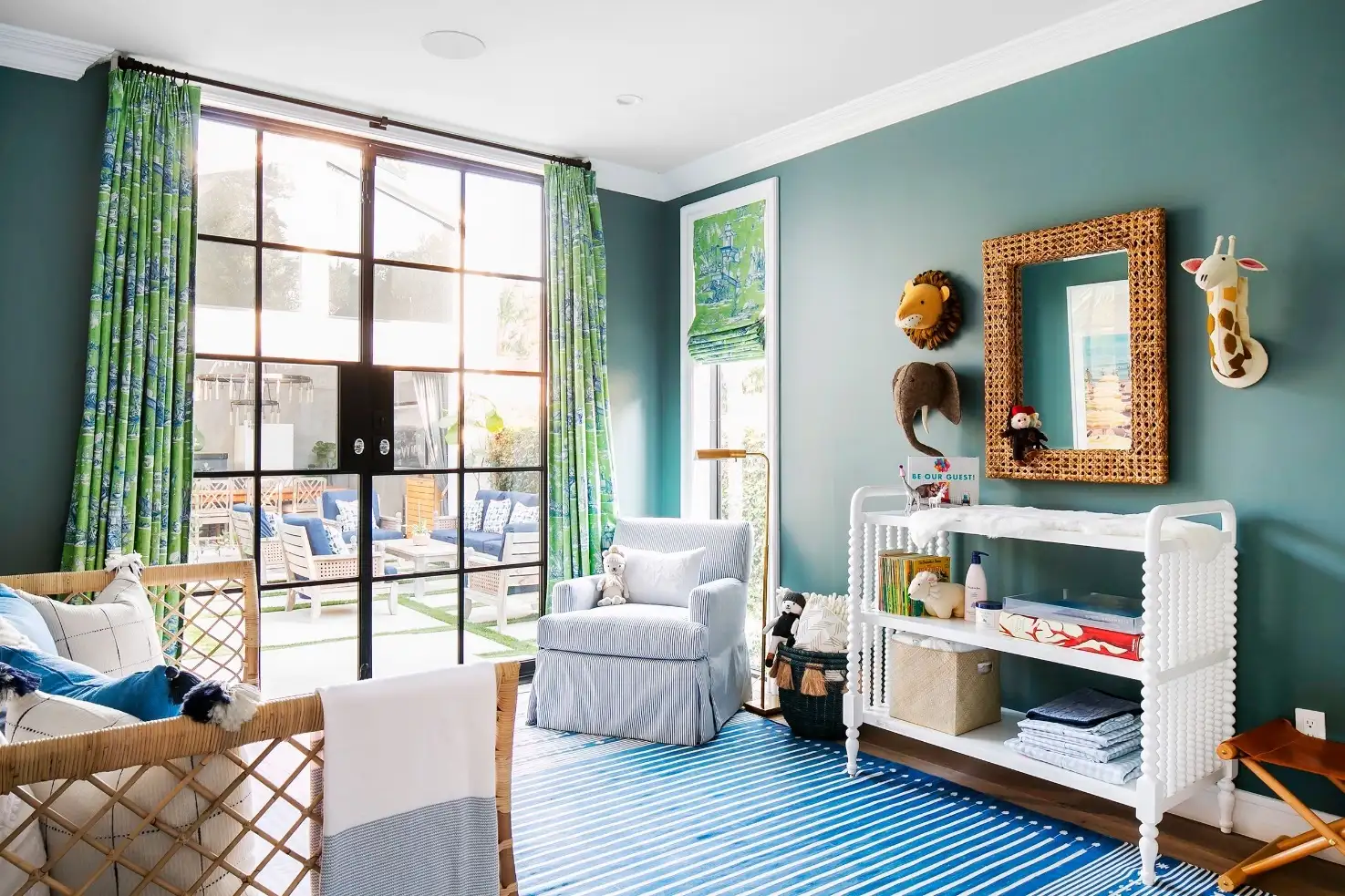 If your nursery is too small, Roman or roller shades are the best options for you to visually enlarge your baby room.
Rollers block out as much light as possible and they are easy to clean. If you like luxury window coverings, Roman shades are all about graceful materials and fabrics which fit with your personal style inside your nursery.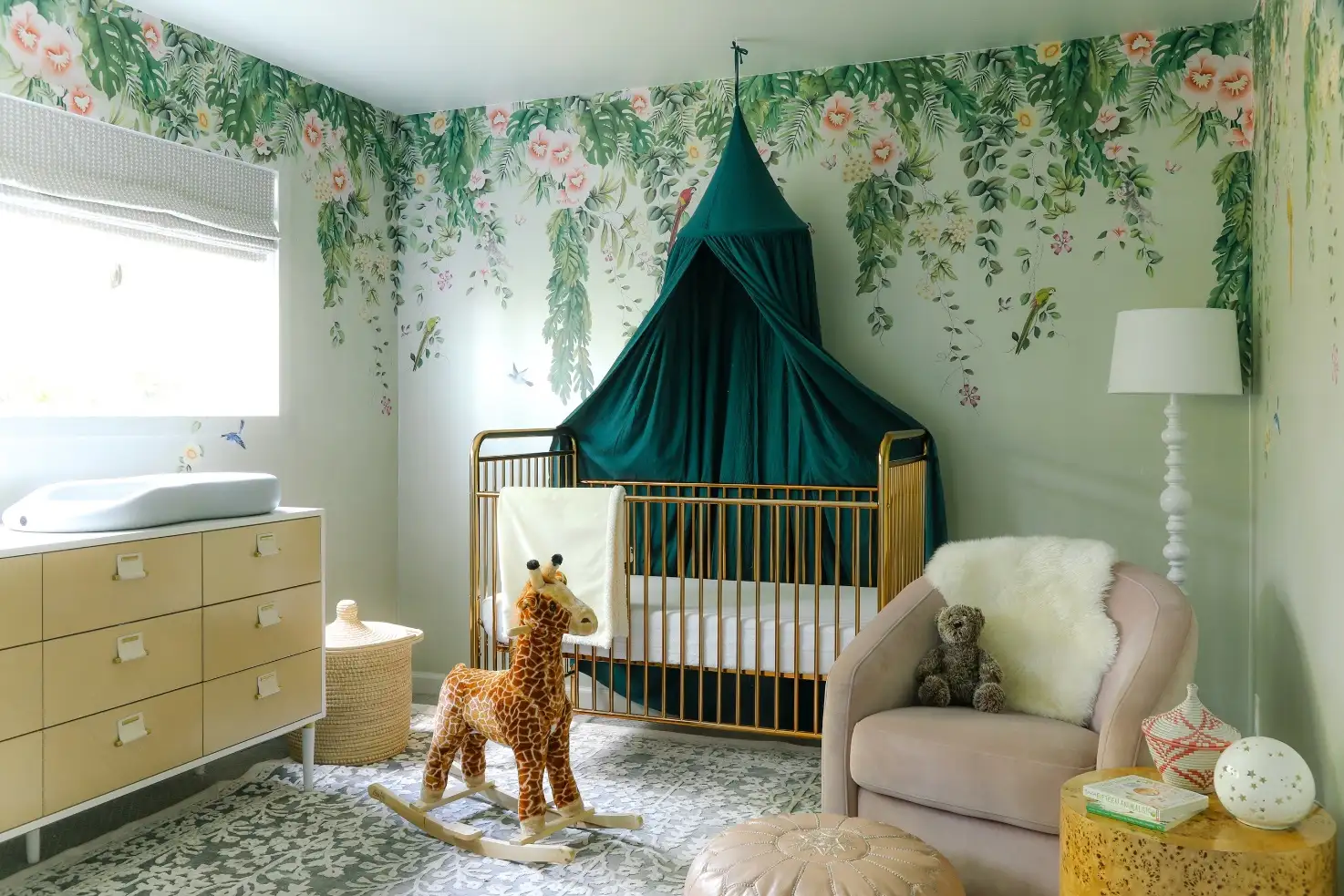 To increase natural light in the most eco-friendly way, opt for wood or bamboo window treatments. It looks stylish and charming! Do you agree?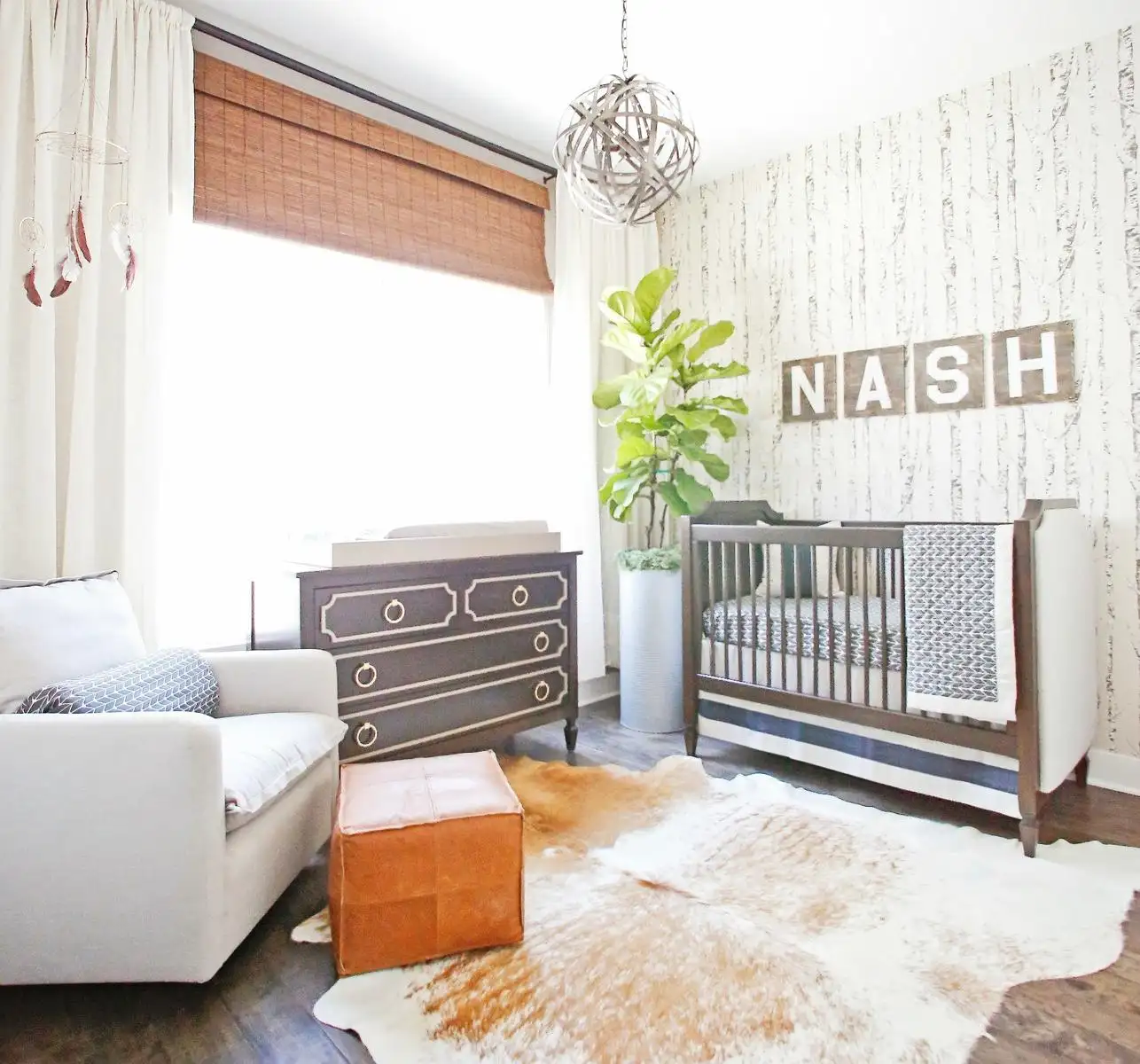 Nursery Wall Art
Well-dressed walls complete the perfect design concept of any baby room. Also, wall art is a great choice to create the focal point of the entire nursery.
When you consider various options for your nursery wall coverings, you can hang name wall décor (decals or hanging framed letters), pictures, posters, photos, framed quotes, etc.
To bring fairy-tale vibes to your baby's room, opt for a few framed pictures which make a harmonious wall composition. You can order standard or personalized artworks online or hit the specialized shops to get inspired.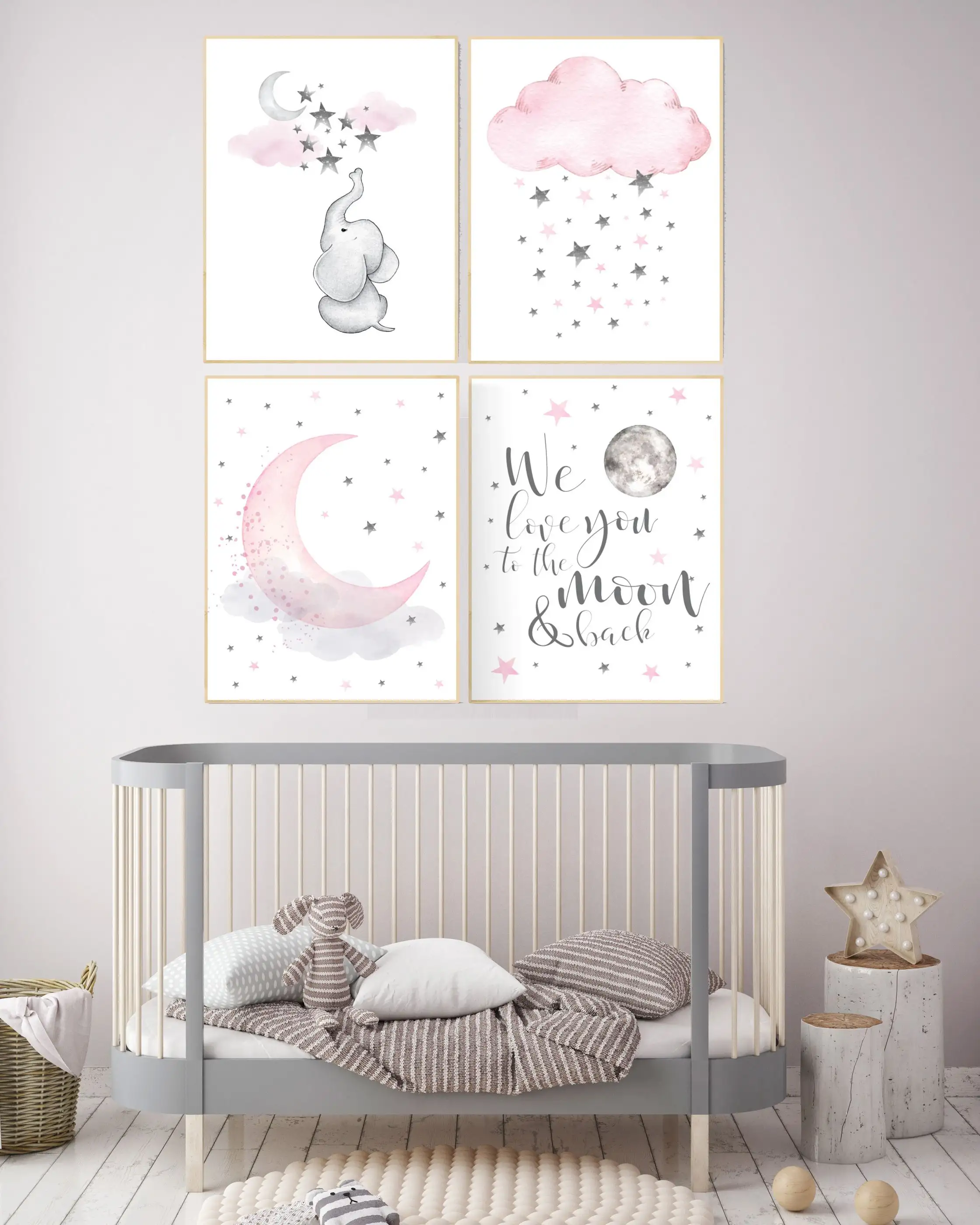 With animal-themed pictures you can add a nature-inspired flair to your baby's nursery.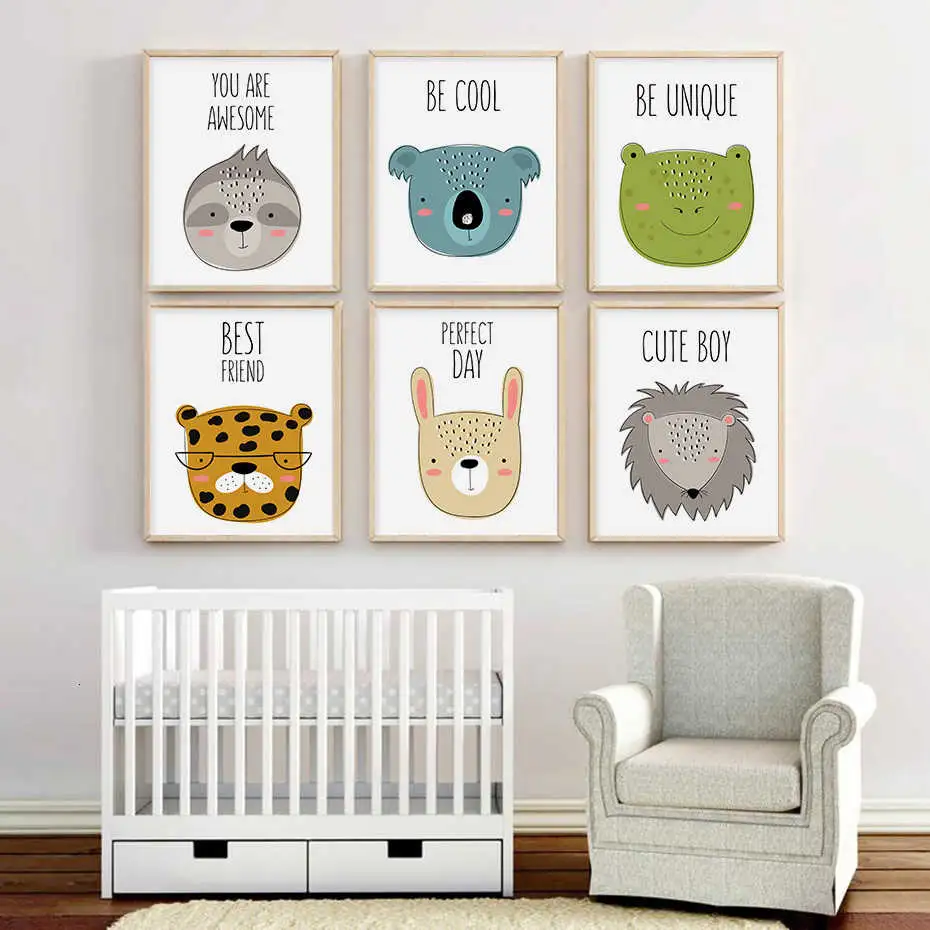 Pet-Friendly Nursery
I am sure your pets will be the best friends for your newborn. But you should organize both a baby- and a pet-proof space to ensure a comfortable environment, not only for a new little occupant but for your furry companion too.
For must-have pet-friendly elements, start with a durable, easy-to-clean wall-to-wall carpet or an area rug to give your cat or dog a chance to bond with your baby next to their crib.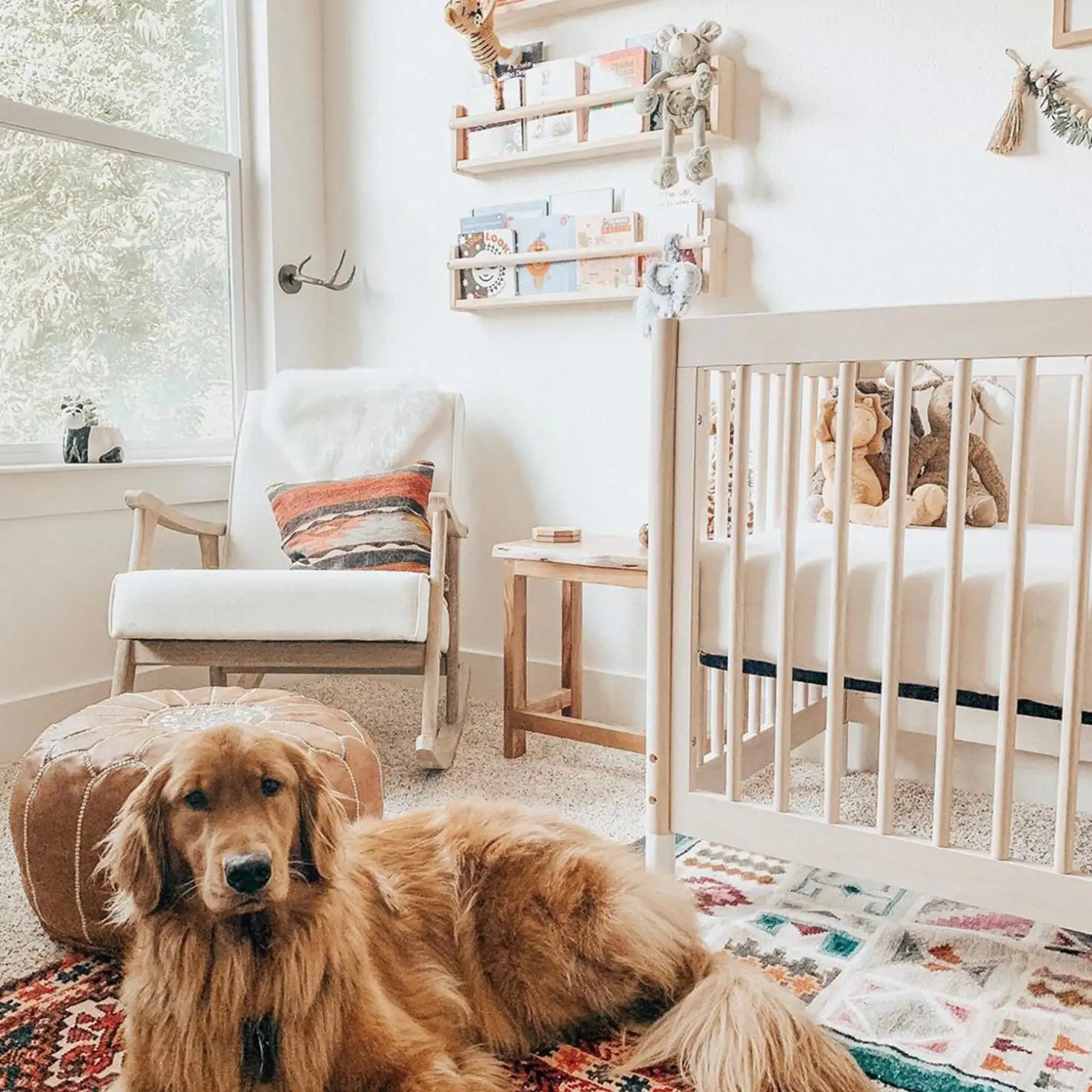 If your pet likes to relax on your breastfeeding chair, buy a pet-proof cover to protect it fully. Opt for a waterproof cover, made from materials, such as microfiber, canvas, or hard-working leather, which repel pet hair. This will ensure that your nursing chair will be protected from potential accidents.