Crown Molding: A Beautiful, Timeless Detail
Crown molding is a design feature dating back to Greek and Roman architecture. It is one of the architectural features that can really add value to your home. They are decorated plaster or wooden trim where walls meet ceilings. Crown molding draws the eye upward and unifies a space.
History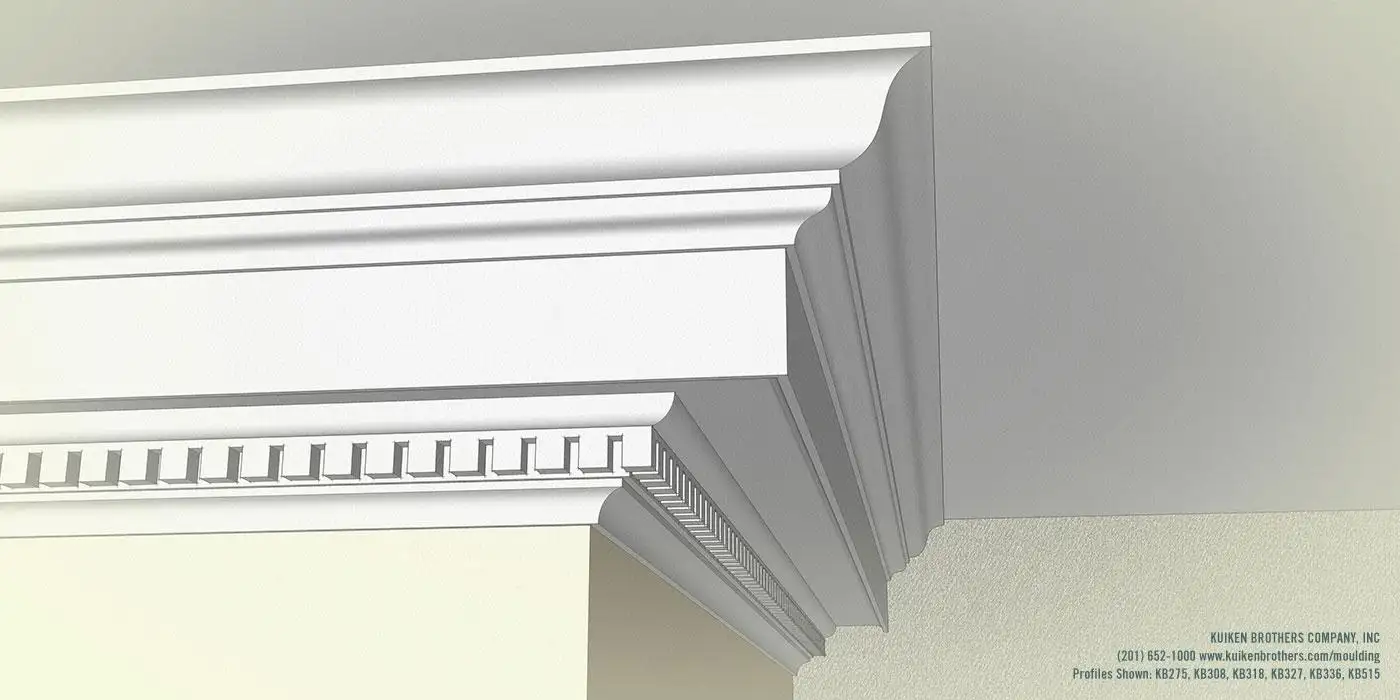 From the beauty of the Greek forms and the ornate Victorian moldings to the more simple and geometric modern style, the transformation has been impressive. Classic crown molding has a rich history which dates back to the second millennium B.C. and was regularly found in palaces.
Styles of crown molding include many from a variety of time periods. Greek and Roman design (1825-1860) featured large crown molding with crown and dentil details. Gothic Revival (1840-1870) had a simpler version. Victorian homes (1880-1910) featured highly ornate, detailed molding. Craftsman (1905-1930) were more simplified and geometric. Finally, modern crown molding is typically smooth patterns with minimal or no pattern.
Purpose
Crown molding is a relatively inexpensive upgrade that adds a lot of elegance, and it's also an attractive selling feature that can set your home apart from others. This detail exemplifies the simplest way to add style and definition to any room. It adds a visual element that can make a home feel more distinctive. Many older homes are beautifully finished with charming crown molding as well as baseboards, window casing, and other architectural details. More contemporary homes call for a more sleek profile. There are many types of crown molding which work well with different style homes, other architectural details and ceiling heights.
Consider other details in the room such as chair rails, baseboards, door and window casing and built-ins to determine to best size and style crown molding. If the woodwork in the room has an ornate, rounded or more geometric style, carry this through in the crown molding. For example, a room with paneled baseboards and wide casings should have more pronounced crown molding to hold its ground and unify the space. In terms of size, an appropriately sized molding is either the same height as, or slightly smaller than, the baseboard. Using moldings that project out from the wall can make ceilings appear taller.
Materials
In terms of construction, wood is the most popular material for crown molding. There is a range of wood species available, including pine, oak, and mahogany. Wood crown molding is available in a variety of profiles. It can be clear coated, stained, finished or painted, depending on the species of wood.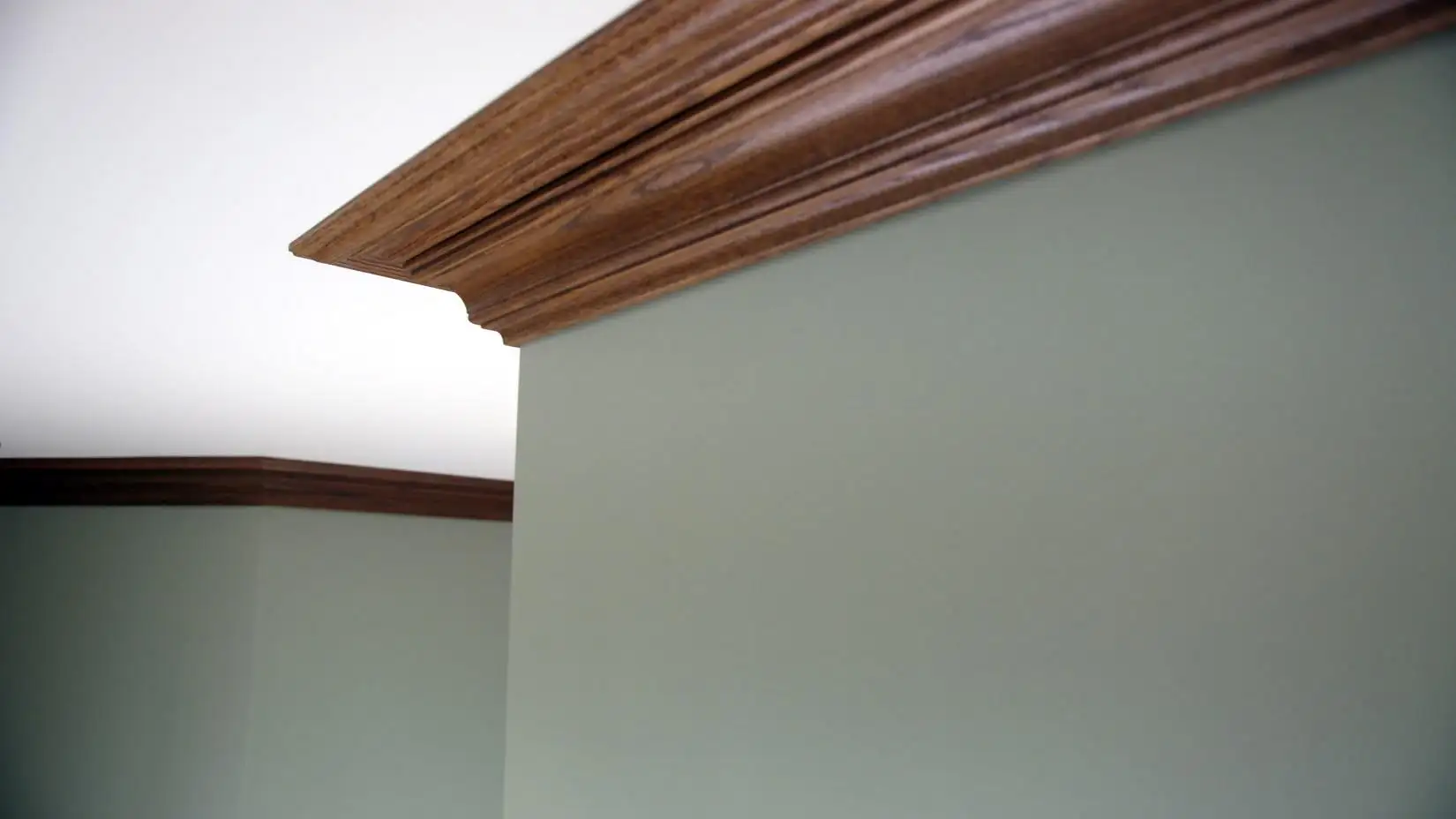 Pine is the most common type of wood crown molding. This soft wood often comes pre-treated to make the finishing process simple. Pine has a subtle color and a fine grain to it that gives it a beautiful, rustic appearance. Oak is a hardwood that is best when clear-coated, polished or stained to show off its rich, prominent grain. Other woods such as maple, mahogany and cedar are also used in crown molding. They are usually unpainted, revealing the natural beauty of the wood.
Medium-density fiberboard, or MDF, is another popular choice for crown molding. It's a combination of sawdust fibers and a resin. It is great as a painted trim, and also comes with wood finishes in many styles and profiles. MDF is much less expensive than wood crown molding and also less vulnerable to shrinking, expanding or cracking from temperature than wood. However, one con to MDF is that it can warp from humidity, so it shouldn't be used in a kitchen or bathroom.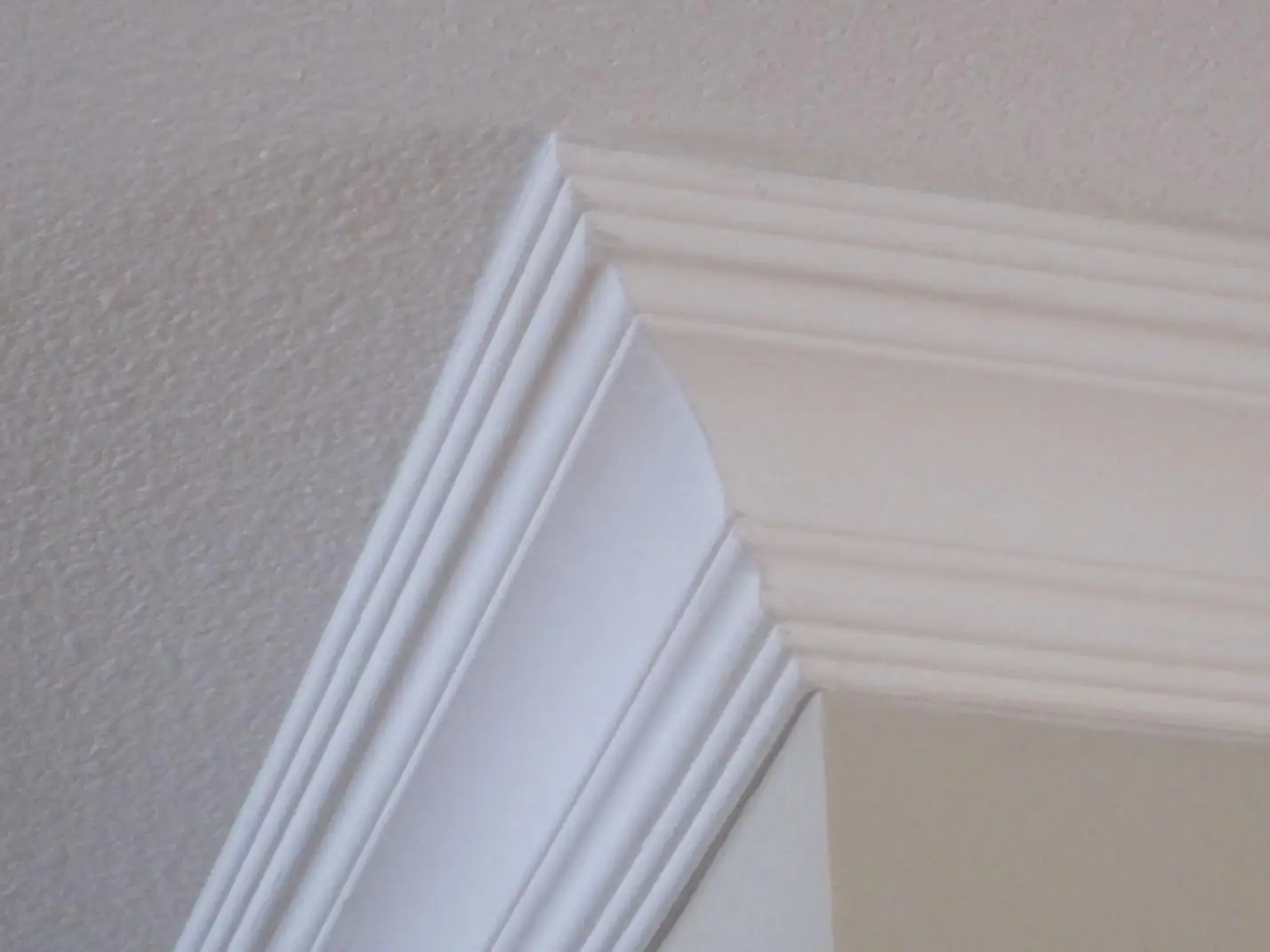 Therefore, polyurethane crown moldings are more appropriate for areas with common environmental changes. They are also a great substitute for wood in isolated areas of your home that often vary in climate, such as damp basements. Bendable polyurethane crown molding is also available to follow just about any shape of a room. It's lightweight, and takes paints and stains.
Finally, plaster crown molding is custom-made, and consequently, must be installed by a professional. Plaster crown molding allows for the creation and creativity of unique sculpted profiles. However, this all comes at a higher cost, which is its major drawback. If price isn't much of a concern, plaster molding is a beautiful and durable option, since plaster holds its form regardless of changes in humidity or temperature. When choosing your material for molding, consider the style of the home, price you are looking to spend and whether you will take on the project yourself or hire an installer.
Crown molding can be done in a variety of finishes. They can be stained, painted or left natural. Crown molding should either match the baseboard, door and window frames or other architectural details. Painting the crown molding a different color than the ceiling and the wall makes it pop more. Ideally, you would paint or stain the crown molding the same color as the window, door, and floor trim. Dark stained molding can add warmth to a space. On the other hand, lighter colored moldings will make your walls appear further back, making your room appear larger. Consider whether the crown molding will be a focus or subtle addition to the space.
Pricing
Stock profiles of crown molding are the least expensive and most readily available. They come in strips and can come primed, painted or finished. Crown molding can be ordered in stock profiles from national companies such as The Moulding Company, National Millwork or a local home improvement or hardware store.
Custom design work or molding replicating an existing profile can cost more than double and have up to a six-week lead time. However, matching an existing molding can be time and money efficient instead of removing what is already there.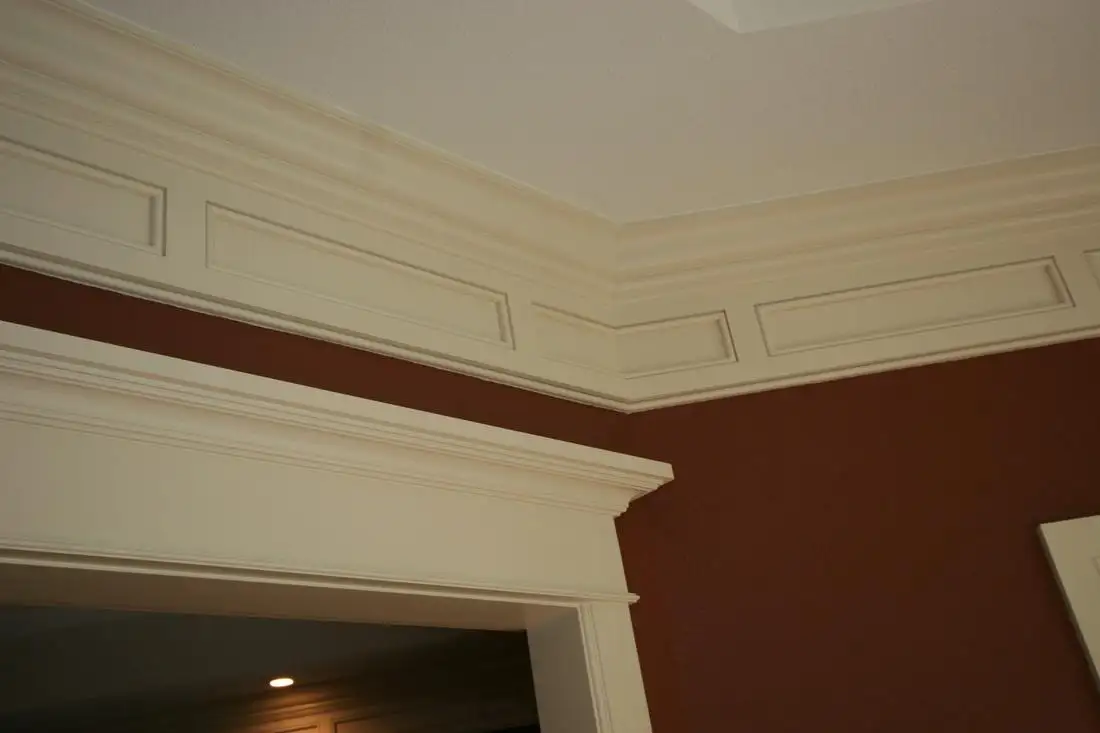 The cost for wood crown molding can vary significantly depending on the type of wood chosen. Mahogany molding will cost more than maple or oak. Crown molding is priced by the linear foot and installation can be priced the same way or by room, etc. MDF or polyurethane molding can bring the cost down significantly.
Do-it-yourself Crown Molding
Installing crown molding is a project that most detail-oriented homeowners can take on themselves. But if a room has uneven or curved walls or if the molding is made of heavy plaster or wood profiles, it is best to hire a professional. Accurate cuts, careful assembly, and a fine finishing job result in a high-quality effect.
The most difficult part of installing crown molding yourself is cutting the corners. Using a miter or coping saw is the easiest way to cut the corners to create a tighter joint. Any gaps in the cuts can be easily covered with caulking. Start by measuring the wall to get the appropriate length of your first piece of molding and mark the wall where the bottom edge will be. Once you determine your length, cut the molding in a straight line at a 90-degree angle. With the molding in the right position, cut a seamless 45-degree angle.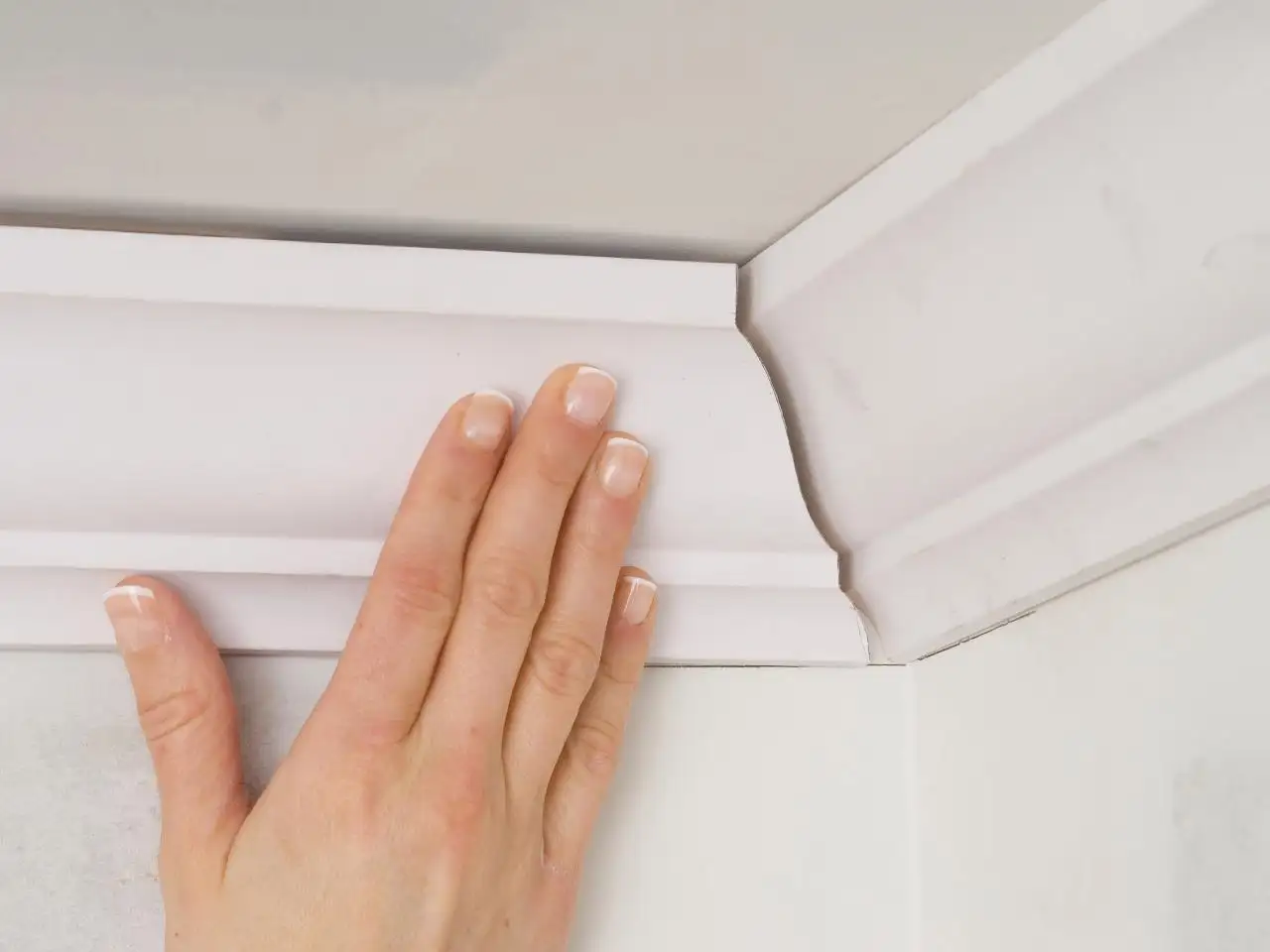 Next you cope a joint, scribe the end of one molding to the face of the other. Mark the front edge with a pencil and then use the coping saw to cut. Hold your thumb against the side of the blade to guide the start of your cut then cut at a slight angle. Check the fit with a scrap piece of molding to look for any gaps that need to be cropped.
Once the fit is correct, push the end into the corner of the wall, making the fit as tight as possible and then attach it to the wall. To secure it, use polyurethane adhesive on the ceiling and wall and press into place. Finish the installation with a hammer or nail gun to put 6d or 8d finishing nails into the top and bottom of the molding. Use caulking to cover up any gaps in the joint. Painting the crown molding can hide any small mistakes. To skip a step, corner blocks can be used which will prevent having to cut angles into the molding. It still looks professional and is a lot easier.
Lighted Crown molding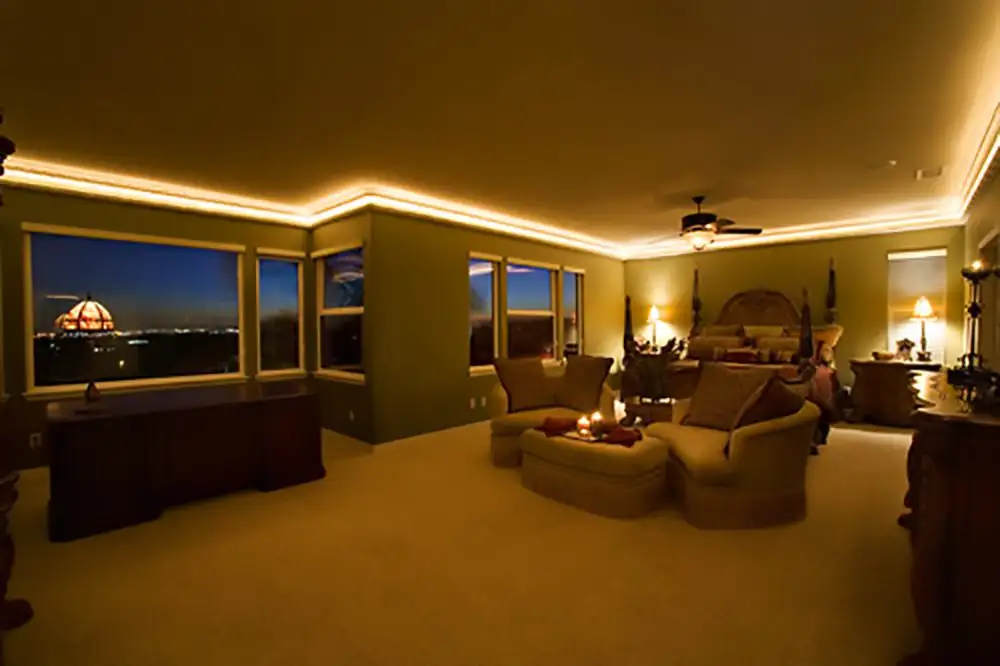 Lighted crown molding, or cove lighting, adds a soft, ambient light to any space. This design element combines the architectural interest of crown molding­­­­­ with the beautiful glow of indirect lighting. It creates a warm, welcoming feel. It's a creative way to add overhead lighting or can be purely done for aesthetics.
The two-piece system has lights in the lower molding piece that project up, illuminating the above piece. The cost for this molding depends on the type of lighting- LED, fluorescent or incandescent and the type of installation.
Cabinet Crown Molding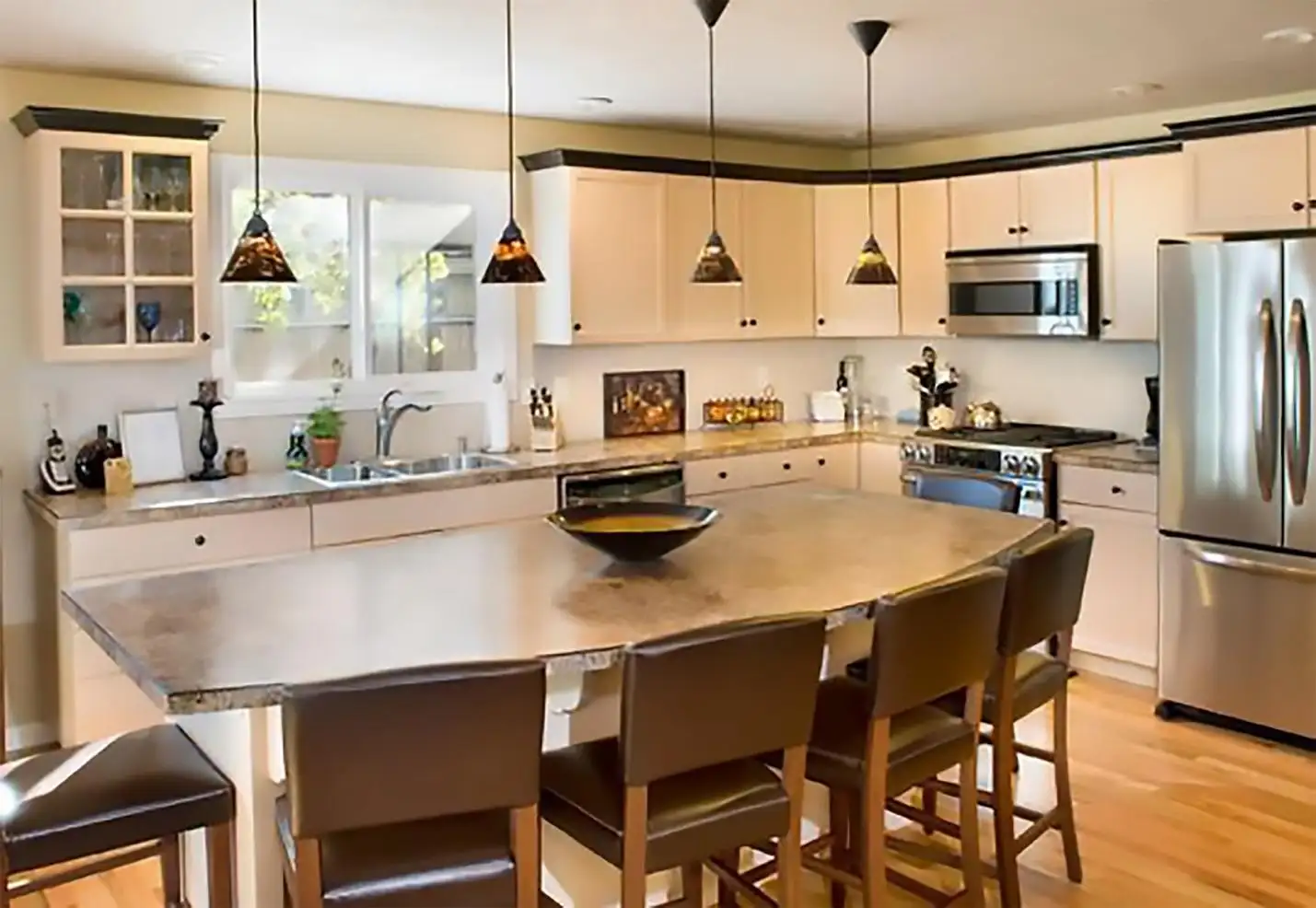 Crown molding can also be used on upper kitchen cabinets to add dimension. The main decision when the cabinets are ordered is whether the upper cabinets will go to the ceiling or be held off from the ceiling by a few inches, leaving a gap. Molding is an easy way to fill the gap or add detail to the cabinets. Adding molding is an easy way to make any type of cabinetry look custom. Whether you want to add crown molding to your existing or new cabinets, there are a variety of styles which can match or contrast with the kitchen. Similarly, crown molding can be added to shelves or mantels to give the same dimensional look. These are easy and common DIY projects that really add value to a home.
Exterior Crown Molding
Another popular use for crown molding is on the exterior of a home. Exterior crown molding is a perfect way to dress up the outside of your house for a fairly low cost. Unlike residing or resurfacing the house, architectural crown molding adds a lot of interest for a small amount of time and money.
The best type of exterior crown molding is PVC or vinyl. They won't warp, rot, split or break due to weather and will last the longest. They are typically moisture and insect resistant. These materials won't need to be scraped, primed and painted every few years like wood does. It is just as versatile as wood without the maintenance and preservation needs. This type of molding offers greater stability and minimizes expansion and contraction.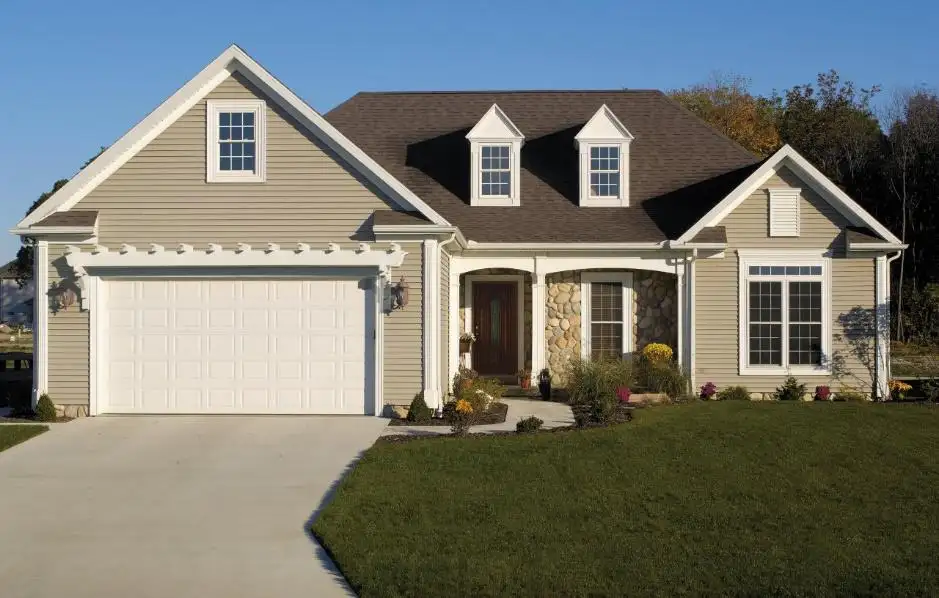 Exterior crown molding can be understated and sophisticated on a colonial brick home, or more elaborately detailed for a Victorian-style home. Architectural crown molding can be added almost anywhere on the exterior of a house, although the most common is a solid band just below the roof line. For a quiet but elegant look, dentil molding is perfect. For something a bit more elaborate, try something with sculptural details like rosettes or scrollwork.
Whether you're updating your living room, bedroom, kitchen, or bathroom, adding crown molding will give any room a facelift, creating a soft and beautiful transition between the walls and ceiling.