Awesome Kitchen Décor Ideas
When you decorate your kitchen and select an interior design theme, you should consider how your space works the best for you before you start kitchen planning. Also, think about what kitchen style, from contemporary to modern, minimalist, country, rustic, Venetian, or eclectic, you prefer.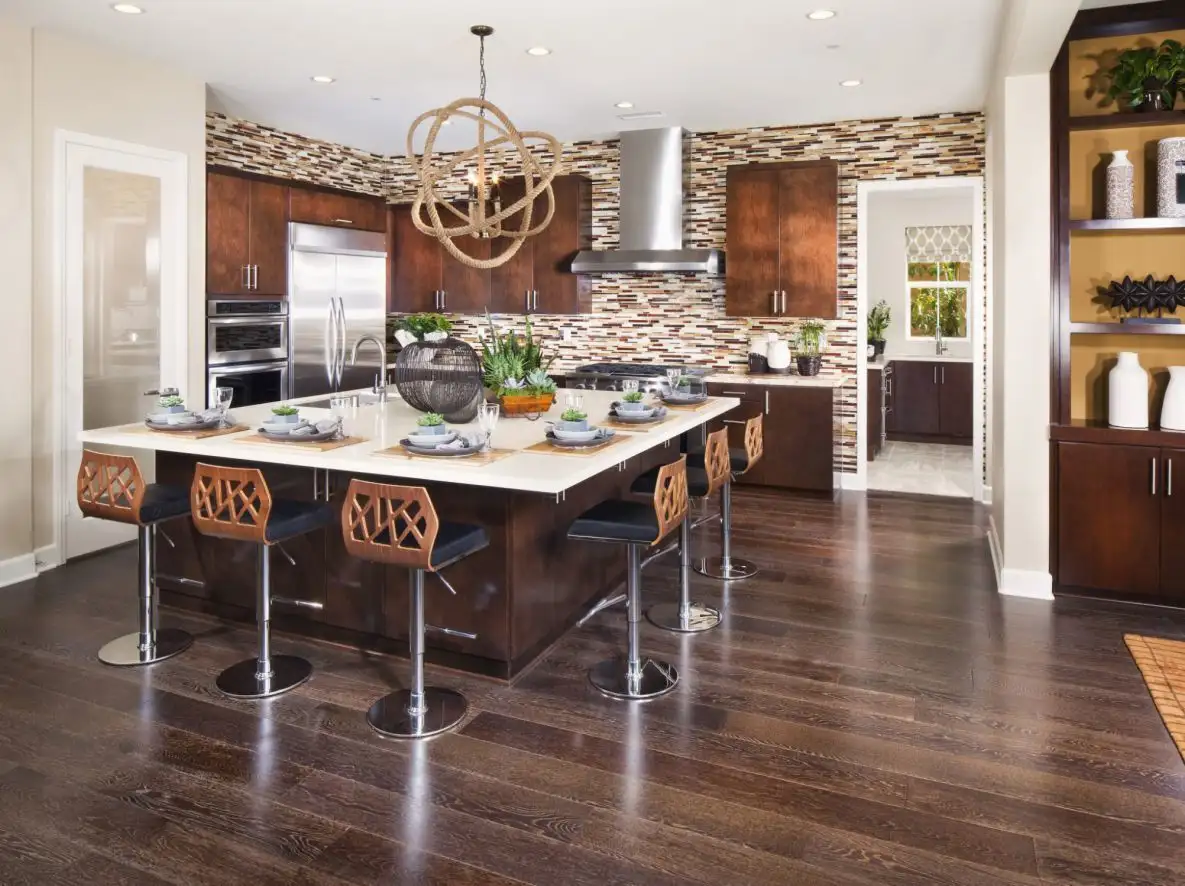 The Essentials of Kitchen Décor
Create a general layout of the kitchen before you decorate your apartment or house. After that, make a list of kitchen furniture, décor items, and other inspirational kitchen accessories that you need.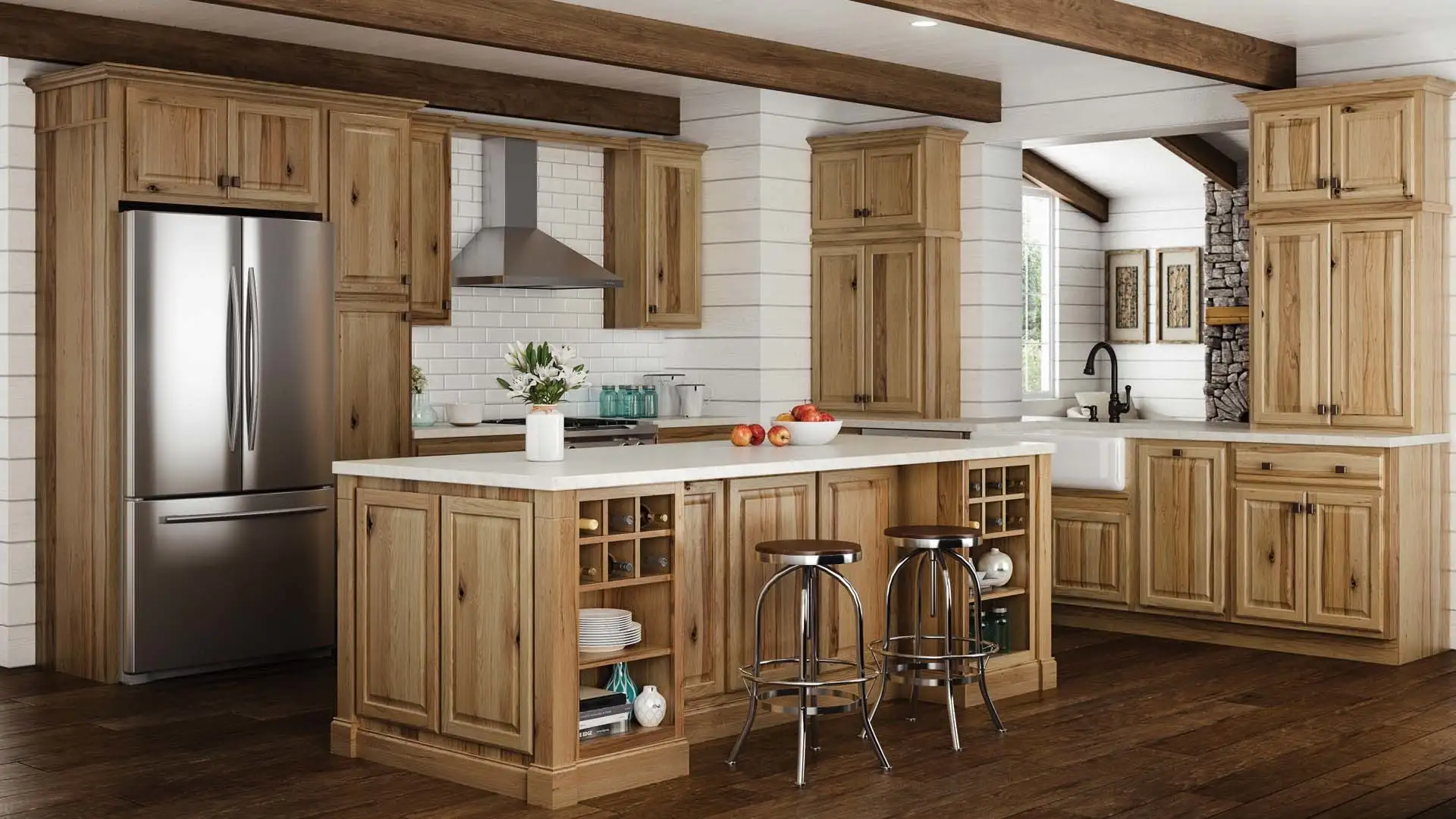 A Functional Kitchen Layout
The kitchen layout is the floor plan that shows smart placements of the kitchen island, cabinets, countertops, table, fridge, sink, kitchen sets, cupboards, shelves, etc. When you start to create your kitchen layout, choose the right position for every decor element. It should be easy for you to move from the cooking to storage area for supplies, and from the refrigerator to the sink.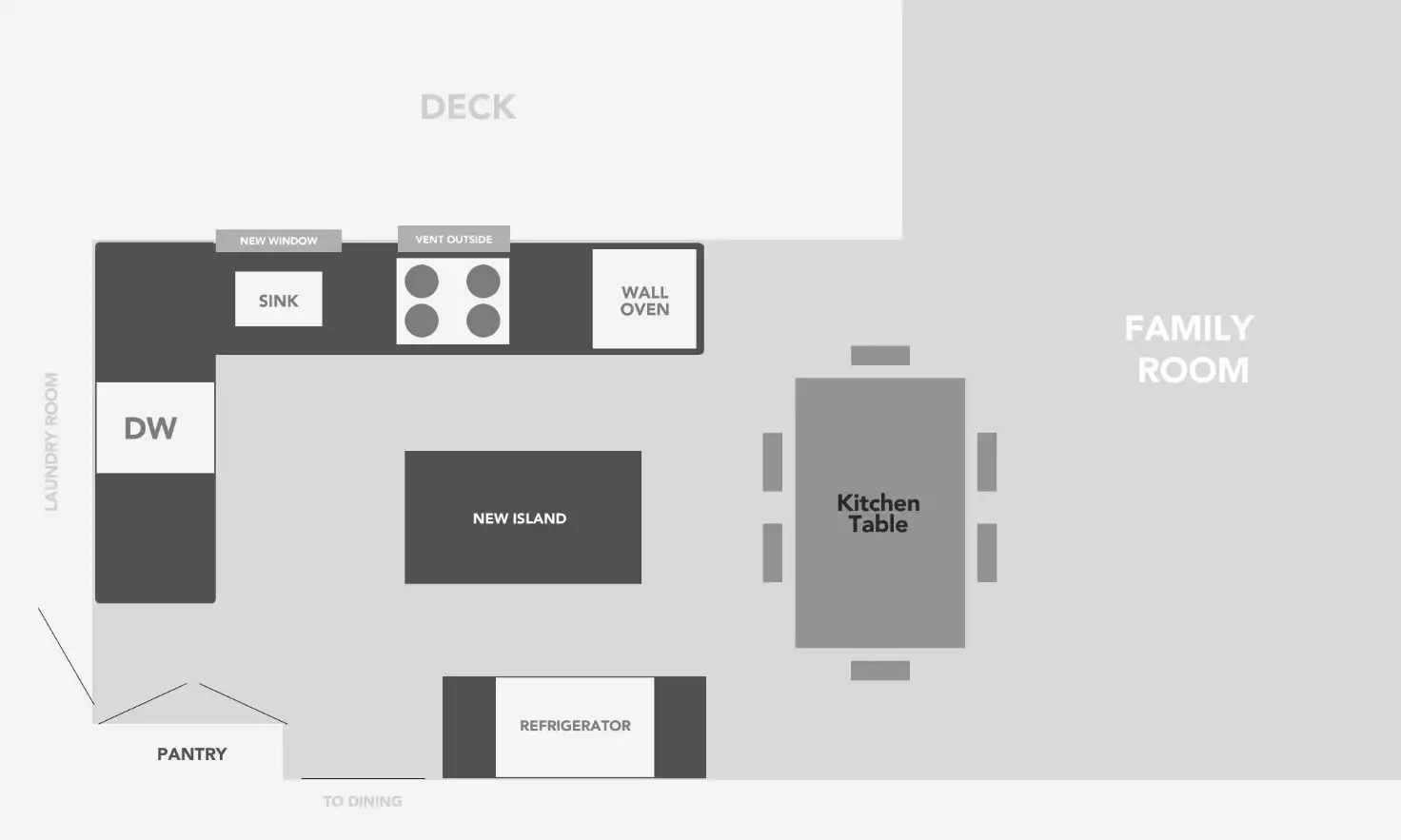 Elegant Kitchen Islands
If you have any doubts about installing a kitchen island, calculate the optimal width of walkways between the potential island and cabinet. You should have enough space to place a kitchen island, providing you the ability to move without difficulties between cooking, washing and storage areas. Depending on your kitchen size, you can install the perfect kitchen island for you in any shape, such as oval, square, or rectangular.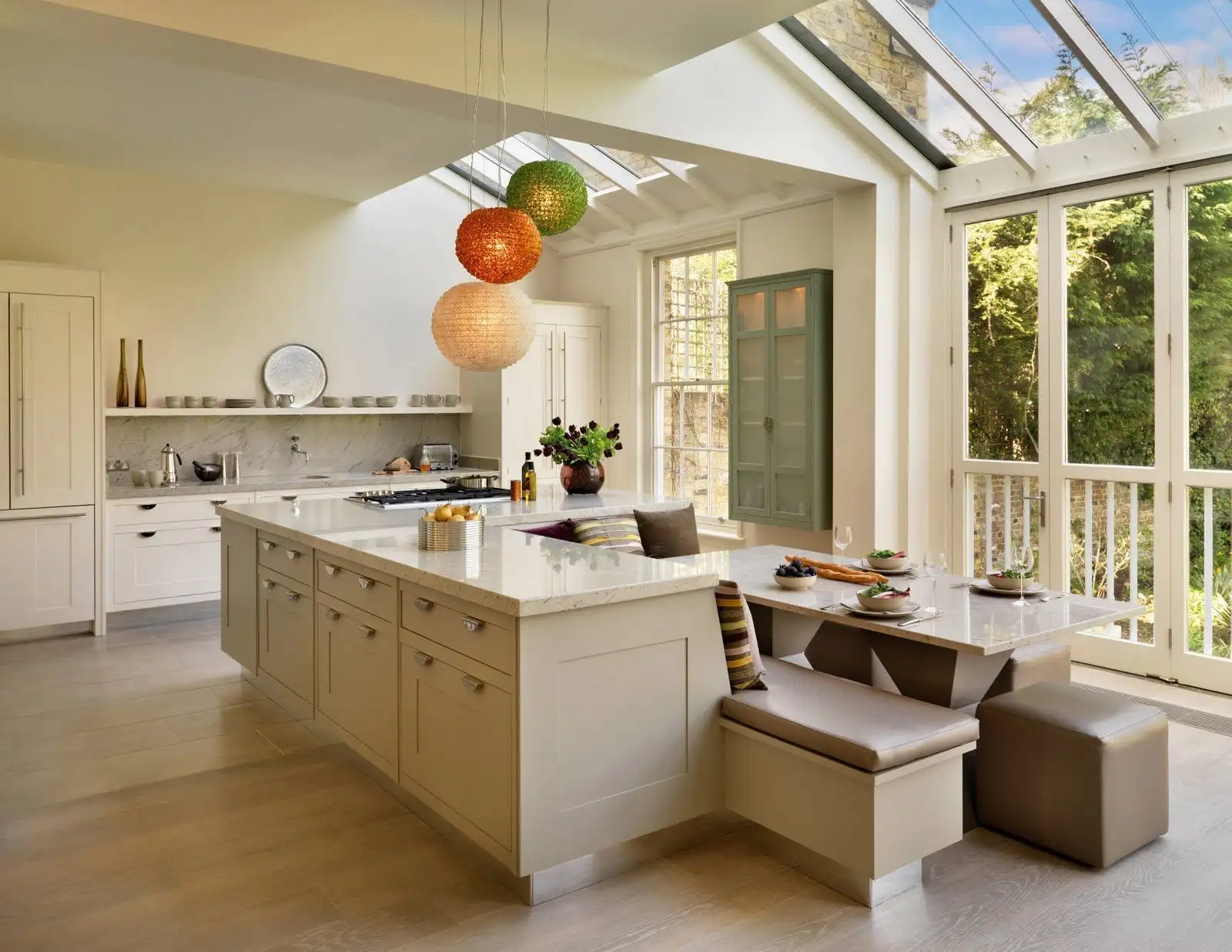 You may choose neutral colors with bold accents. Combine white with black, brown or grey hues. This can make space look more open and lighter.
Bear in mind the functional side of your kitchen island. You may use it as a bar table, to eat and drink there. Add enough bar stools for your family. If you use a few plants and/or flowers, you'll create a cozy ambience.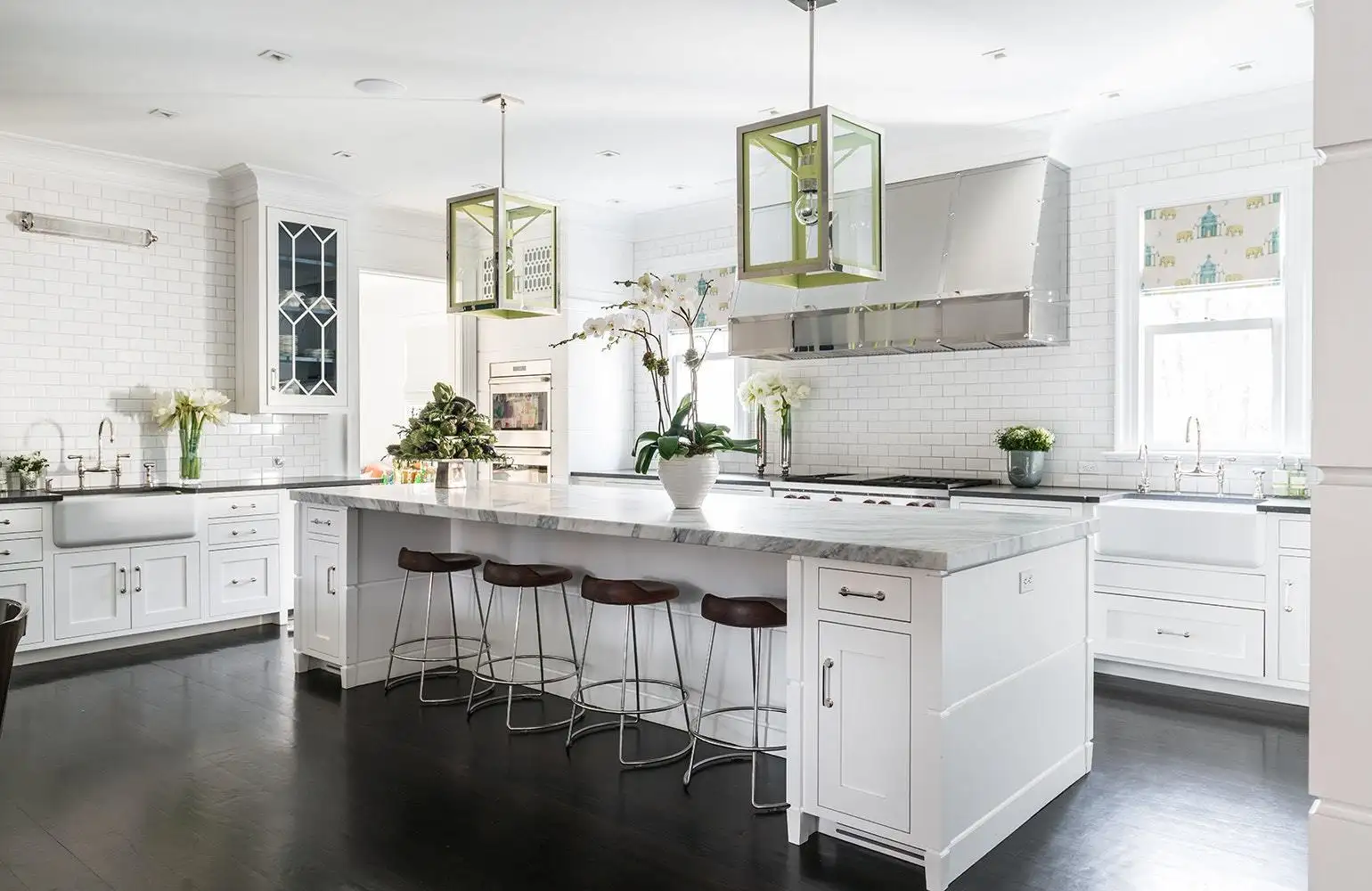 You could install the hob and/or a prep sink on a kitchen island and have one more countertop for cooking.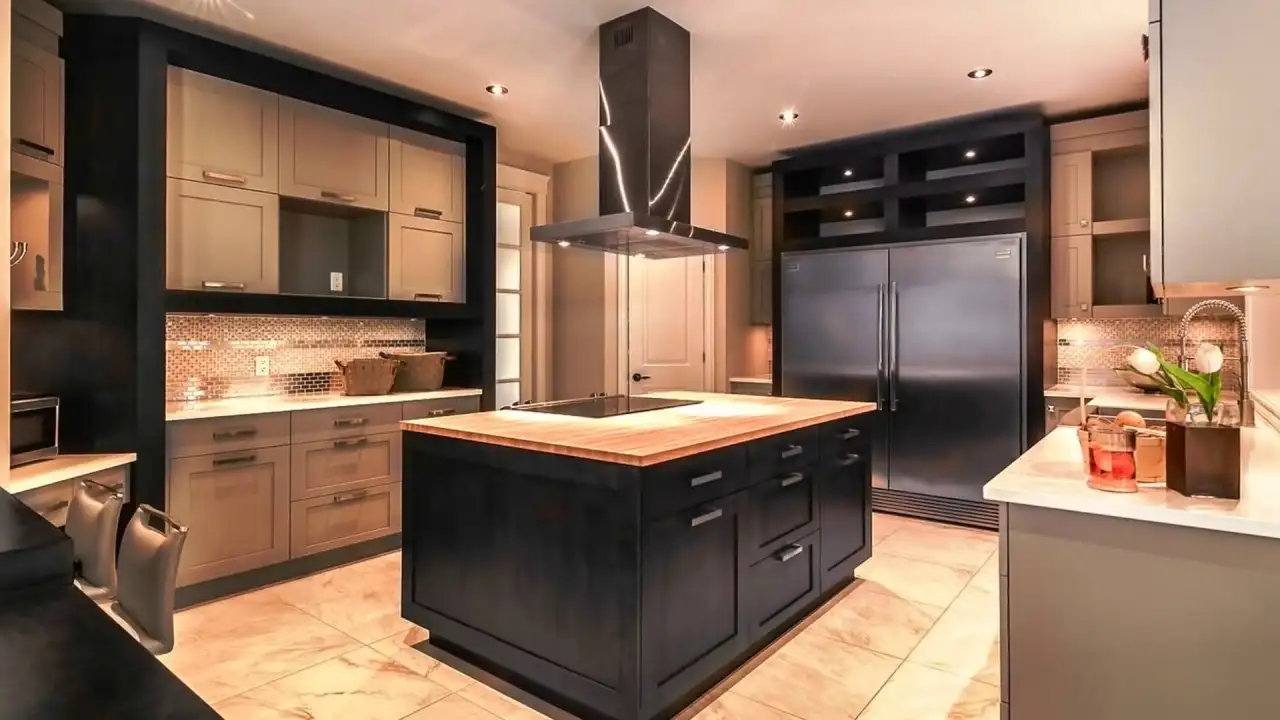 If you want to add an unexpected kitchen design element, you could create a bookshelf on your kitchen island.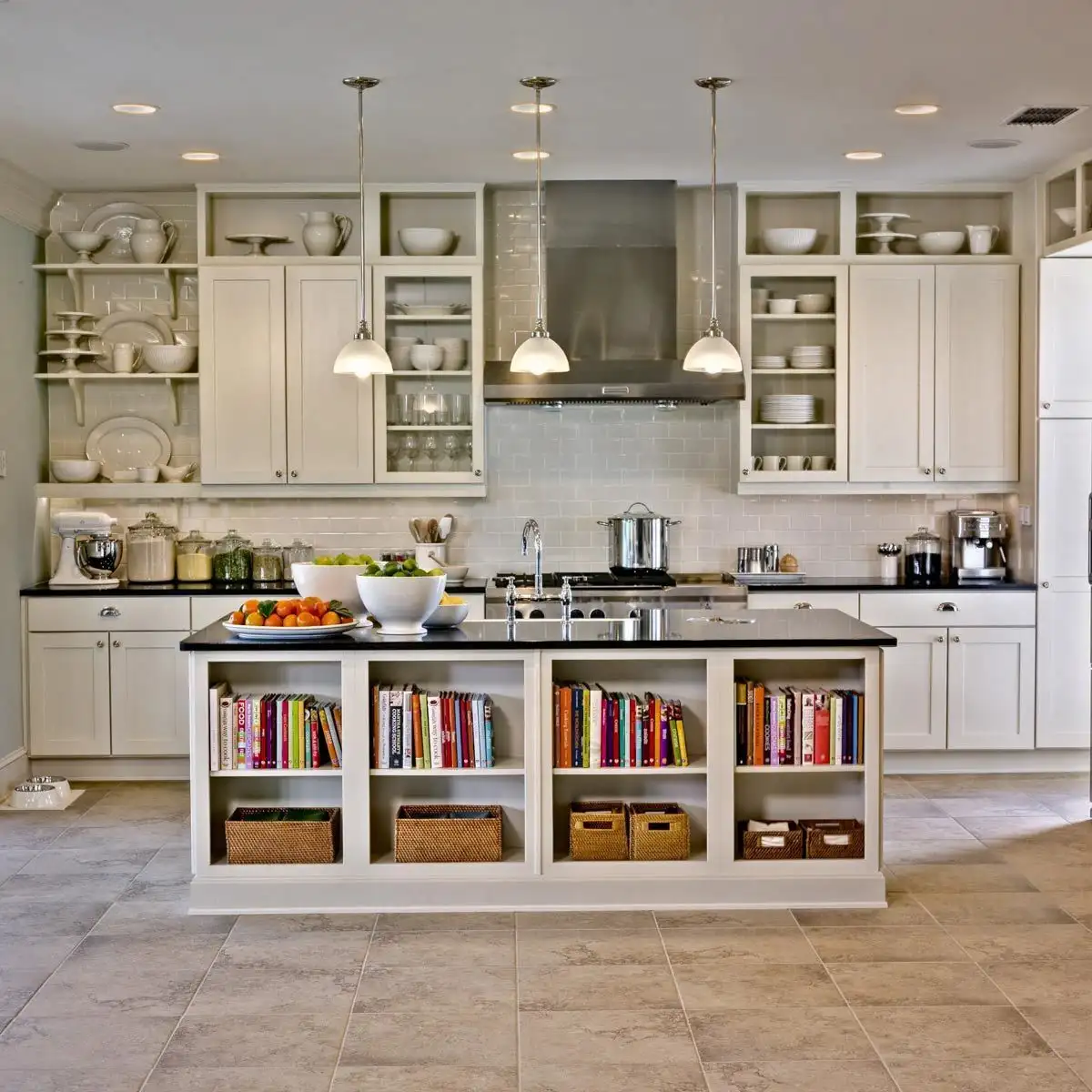 Choosing a Perfect Kitchen Cabinet
Considering kitchen cabinets, pay attention to the size, quality, material, and color combinations. If you have enough space, choose a large one. This means that you'll have a place to put kitchen items which you already possess and new items in the future.
You could choose quartz, laminate, marble or another material for a solid countertop. Consider hanging décor sets, cutting boards, cookware, towel racks, plants, and other kitchen accessories to save space.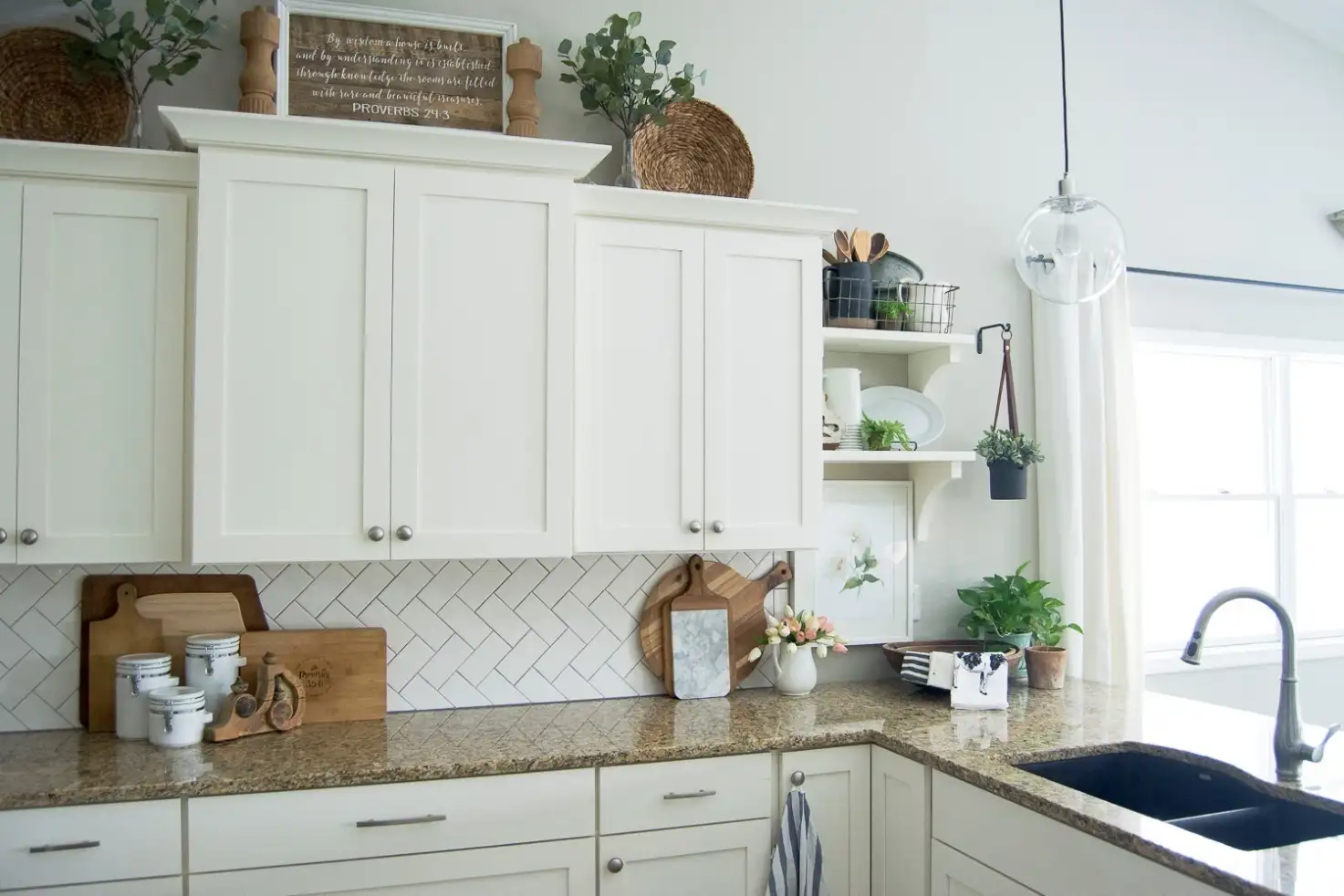 Kitchen Décor Set Themes
Use functional and creative kitchen décor sets. Add your personal signature to your home décor with storage containers, food toys, stainless steel knifes, spoons, forks, kitchen towels, and other décor set accessories.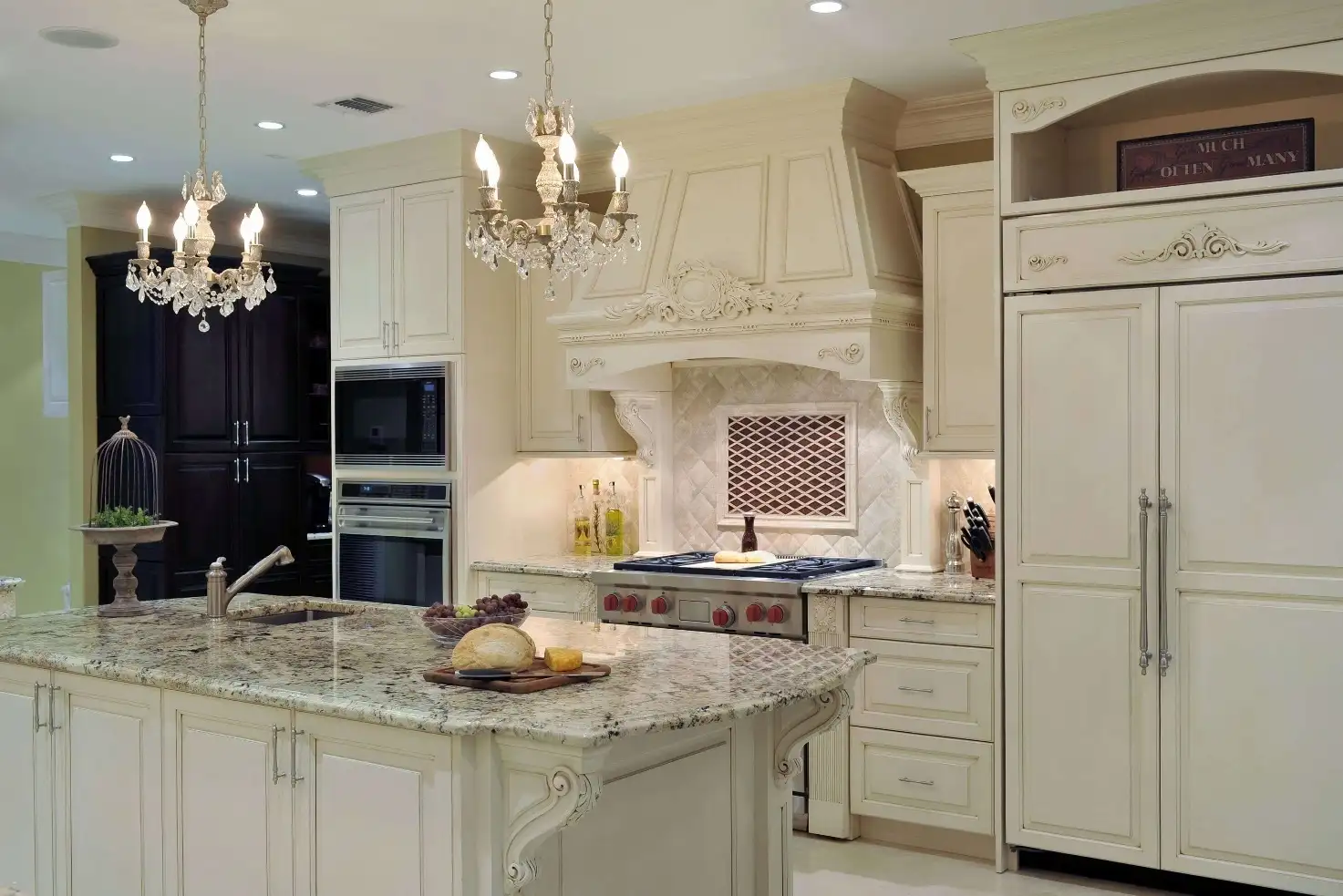 Container Material Choices
Considering food storage containers for cereals and spices, it's better to use stainless steel or glass. Plastic sets aren't made from natural materials. That`s why it's better to refuse them.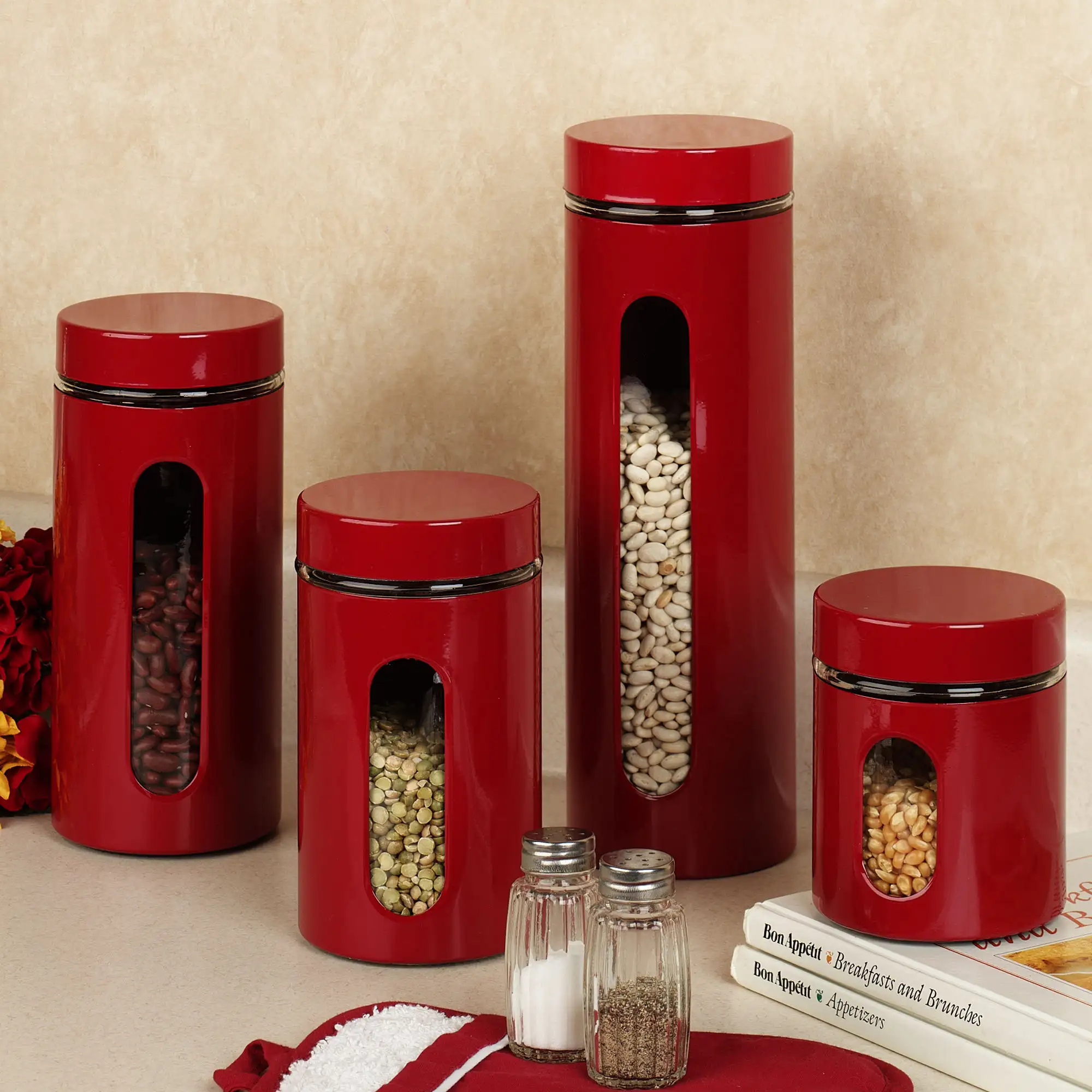 Rooster Kitchen Décor
Add a rustic country touch to your home with rooster kitchen décor. Make your interior "cocky" with rooster colorful pottery, clay pitchers, fabrics, stencils, dishtowels, and wall art.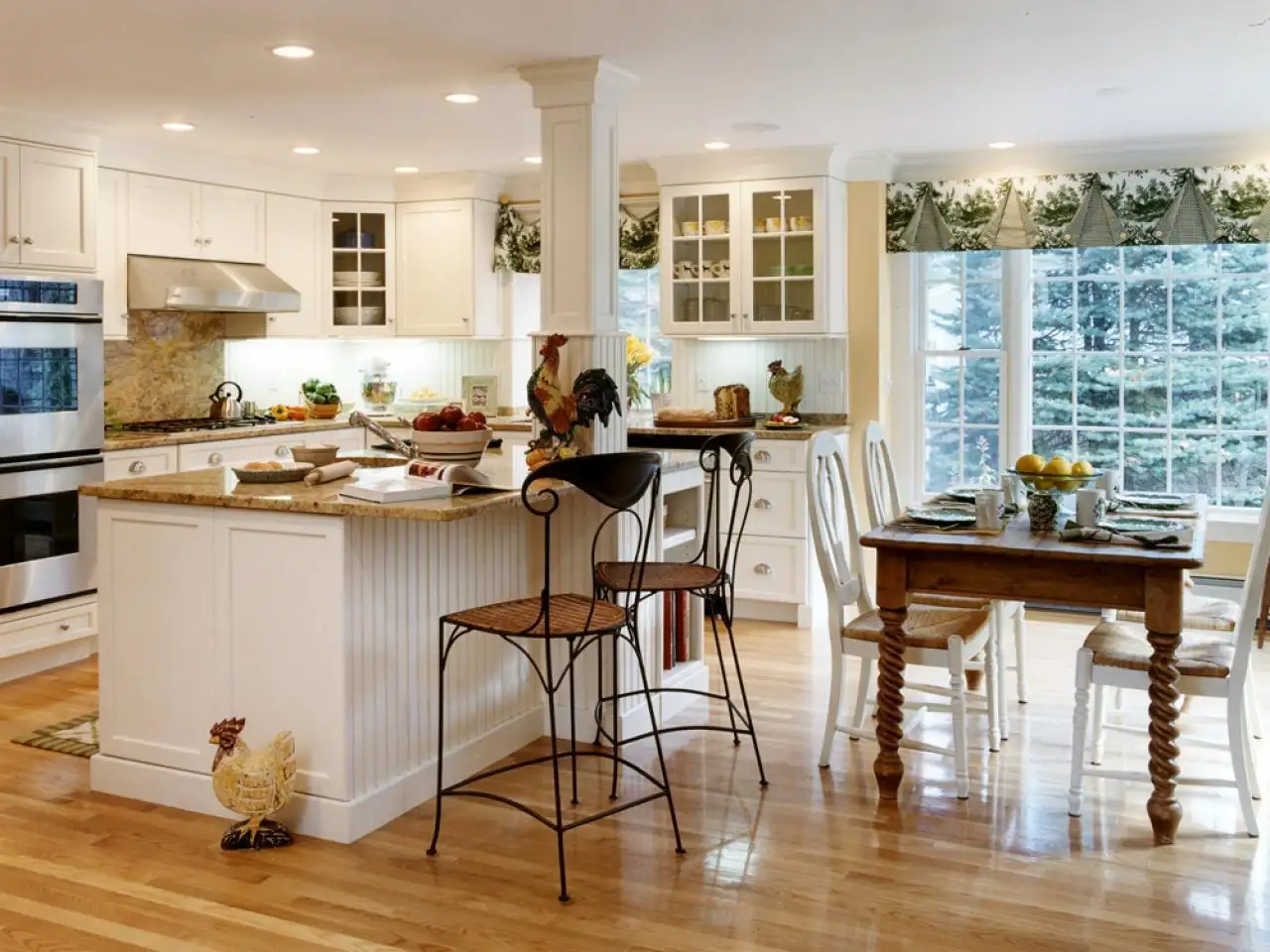 Apple Kitchen Décor
When you choose a cookware set, consider an apple ornament, to emphasize health and well-being.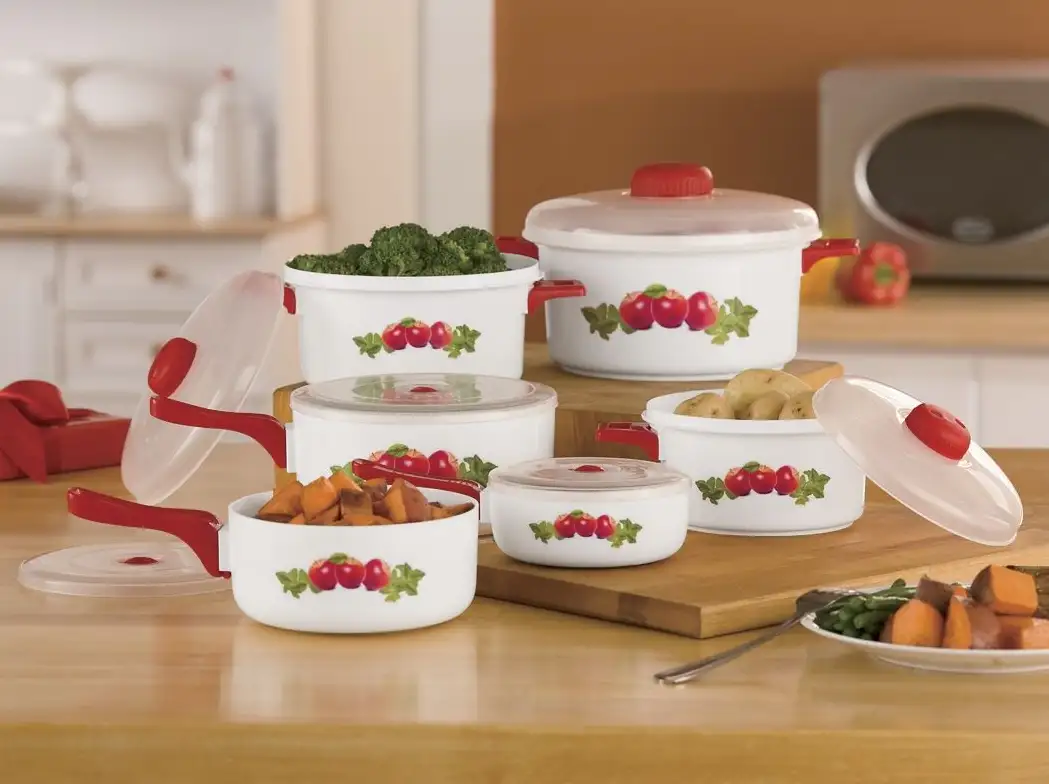 Add a fruity note to dishwasher duty with a playful dish rack.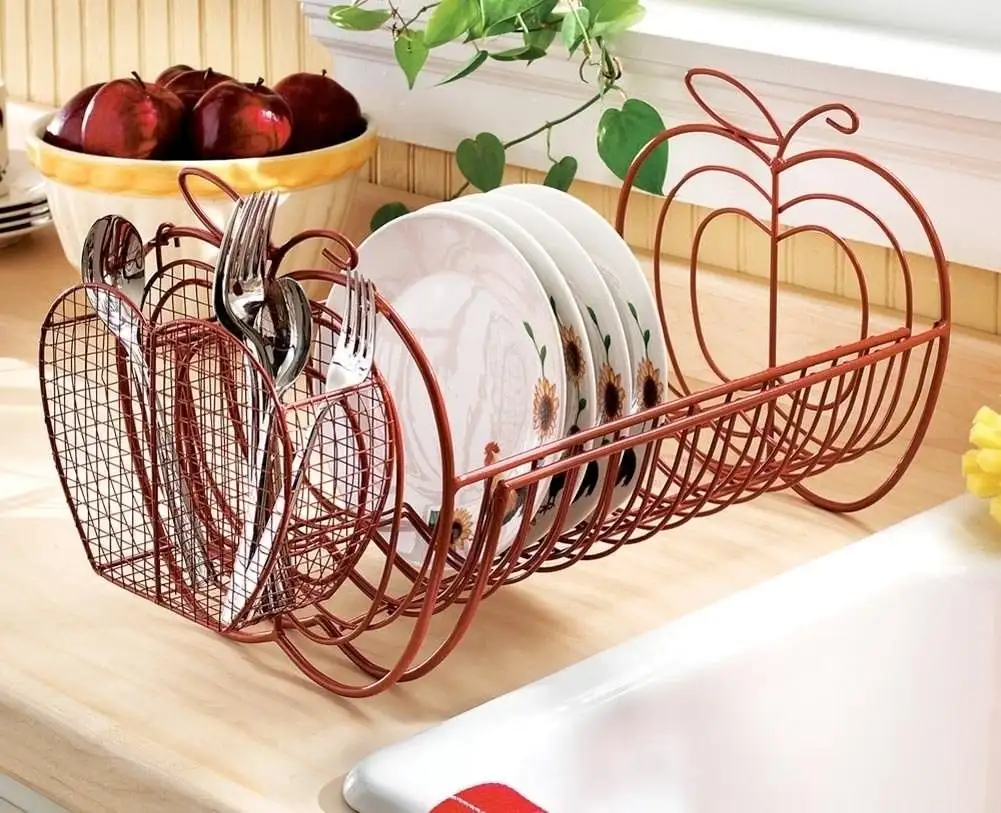 Cozy Décor for Your Small Kitchen
If you have less space for decorating, you should use a winning mix of functionality and simplicity. It's better to make the main focal point items such as plants, flowers or wall art which emphasizes the clear beauty of your kitchen.
When selecting colors for your kitchen cabinet, table, stools, lighting, and flooring, pay attention to neutral colors and the classic mix of white and black. Also, you could add brown hues for a modern natural look.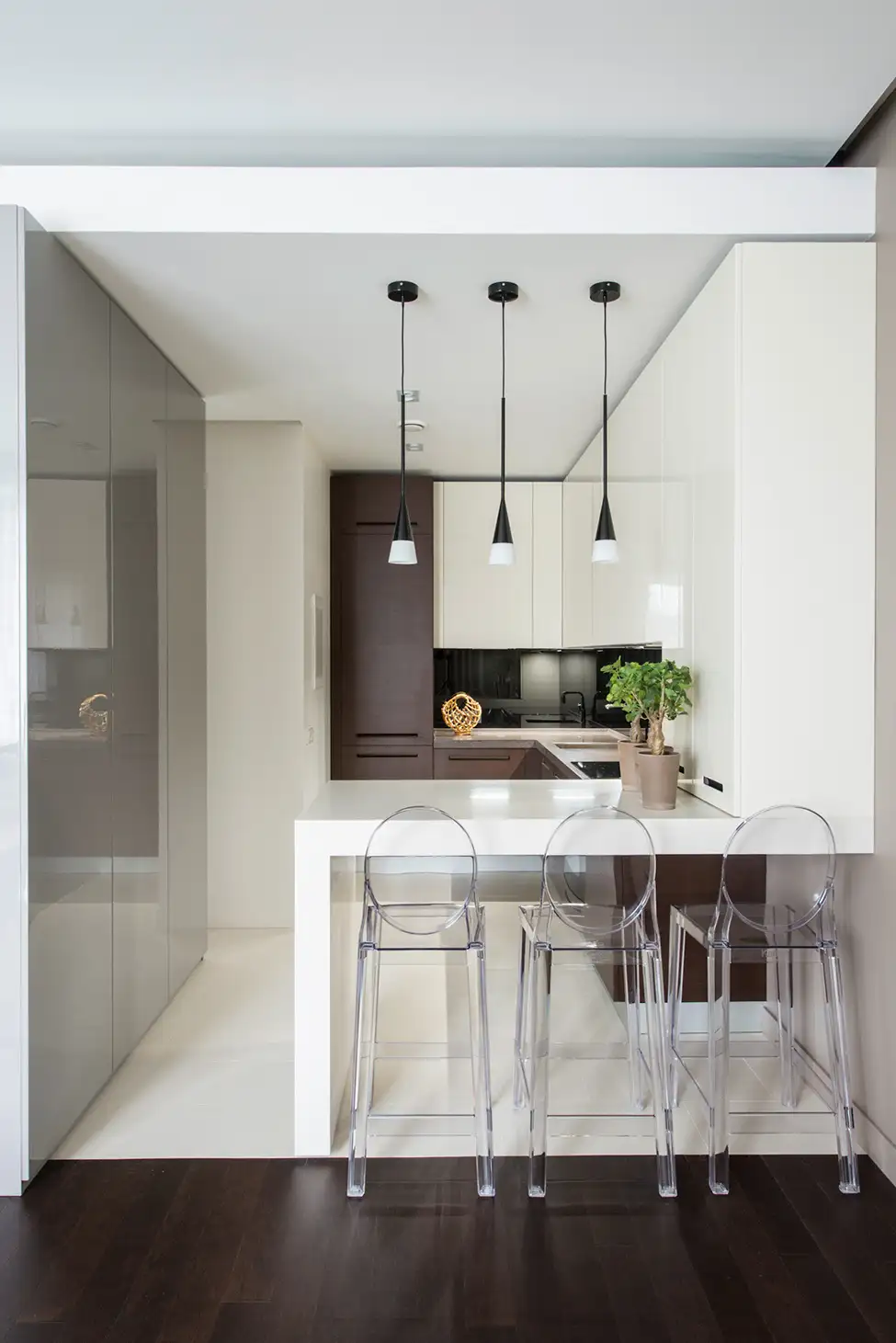 Kitchen Wall Décor Ideas
Say no to boring, naked walls and give a fresh breath to your kitchen with stunning wall décor.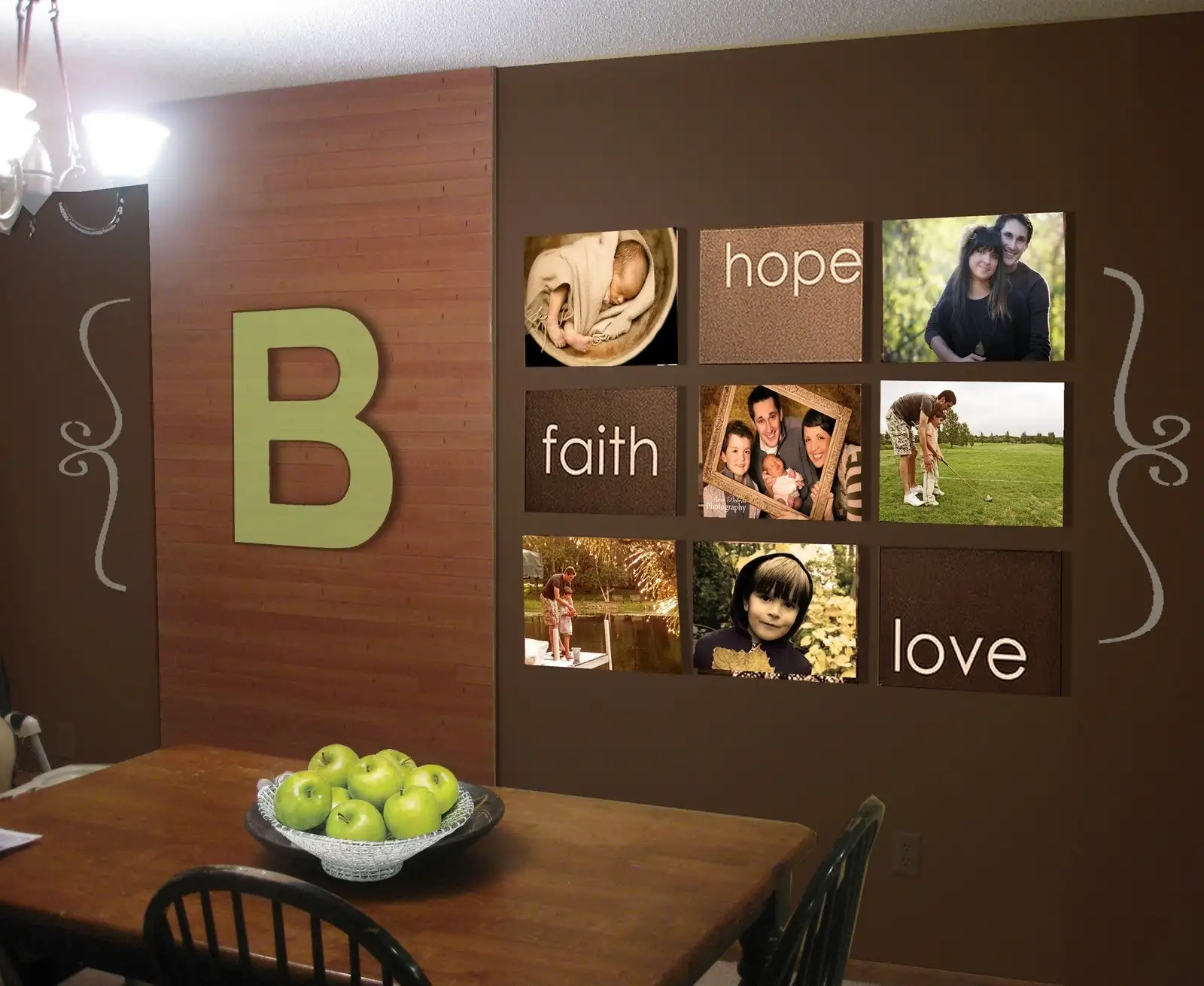 Christian Wall Art
If you want to emphases your thanksgiving and faith, add Christian wall art to your kitchen.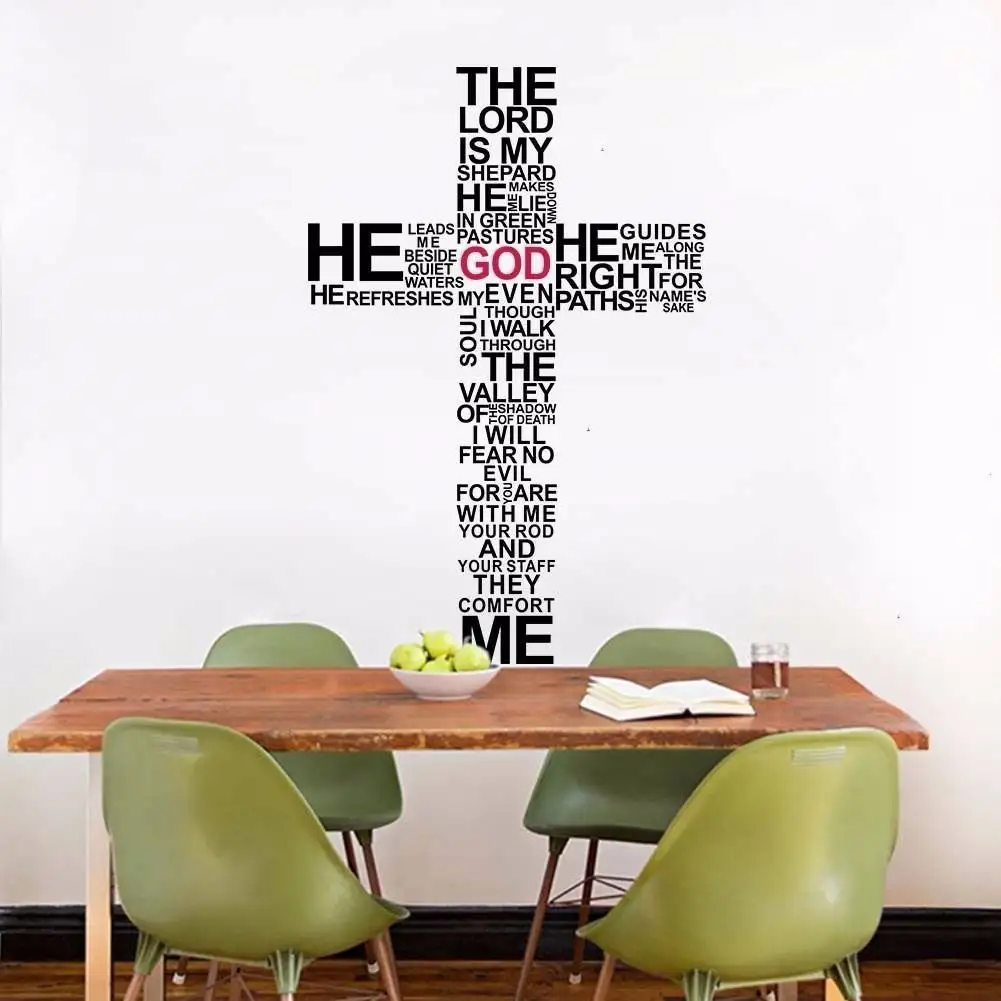 "Eat" Wall Decor
Your kitchen is a place where you cook and eat, so highlight this topic in your interior. Hang on the wall a wood, iron, stainless steel or metal «EAT» art item with decorative spoons and forks.
If you really like to eat, you may create a "confession of a food addict" as kitchen wall art. But restrain your ardor to avoid interior design mistakes.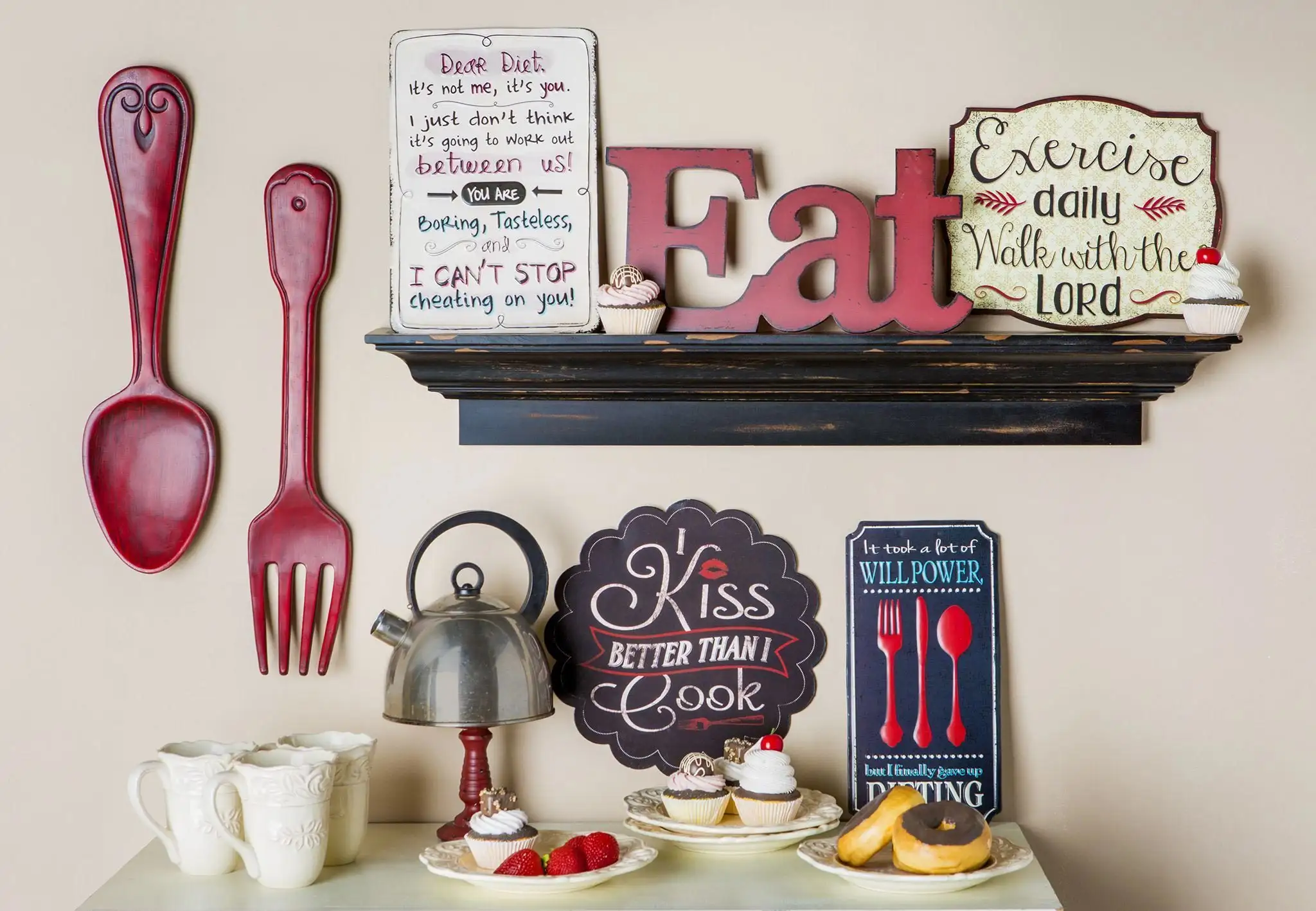 Coffee Wall Art
If you like coffee a lot, there's no greater time to show your passion. A few pieces of the picture create a photo of a big and delicious cup of coffee.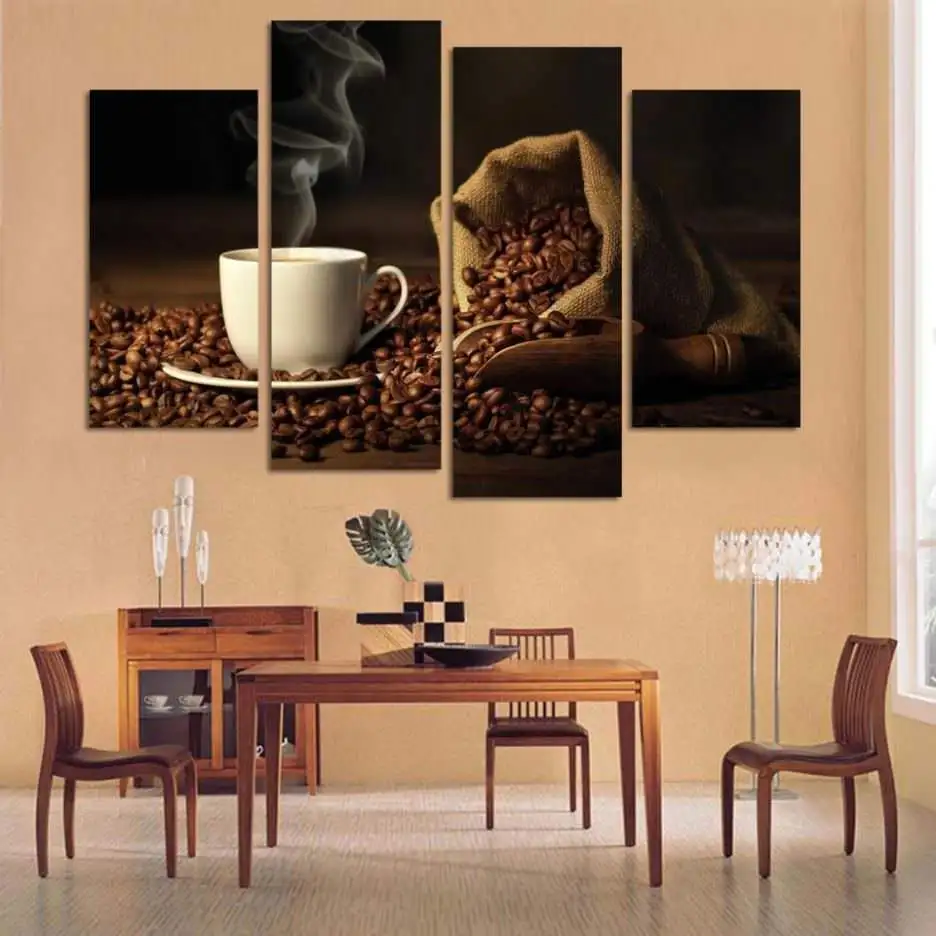 Colorful Kitchen Décor
First of all, you should select a basic eye-catching color for a large space, including a kitchen island, cabinet, furniture, shelves, sets, etc.
Сhoose colors that you like. Bear in mind the best color combinations of neutral hues with bold accents. Contrast red, blue, yellow, turquoise, or brown against black or mix black with white for an expressive and dramatic appearance.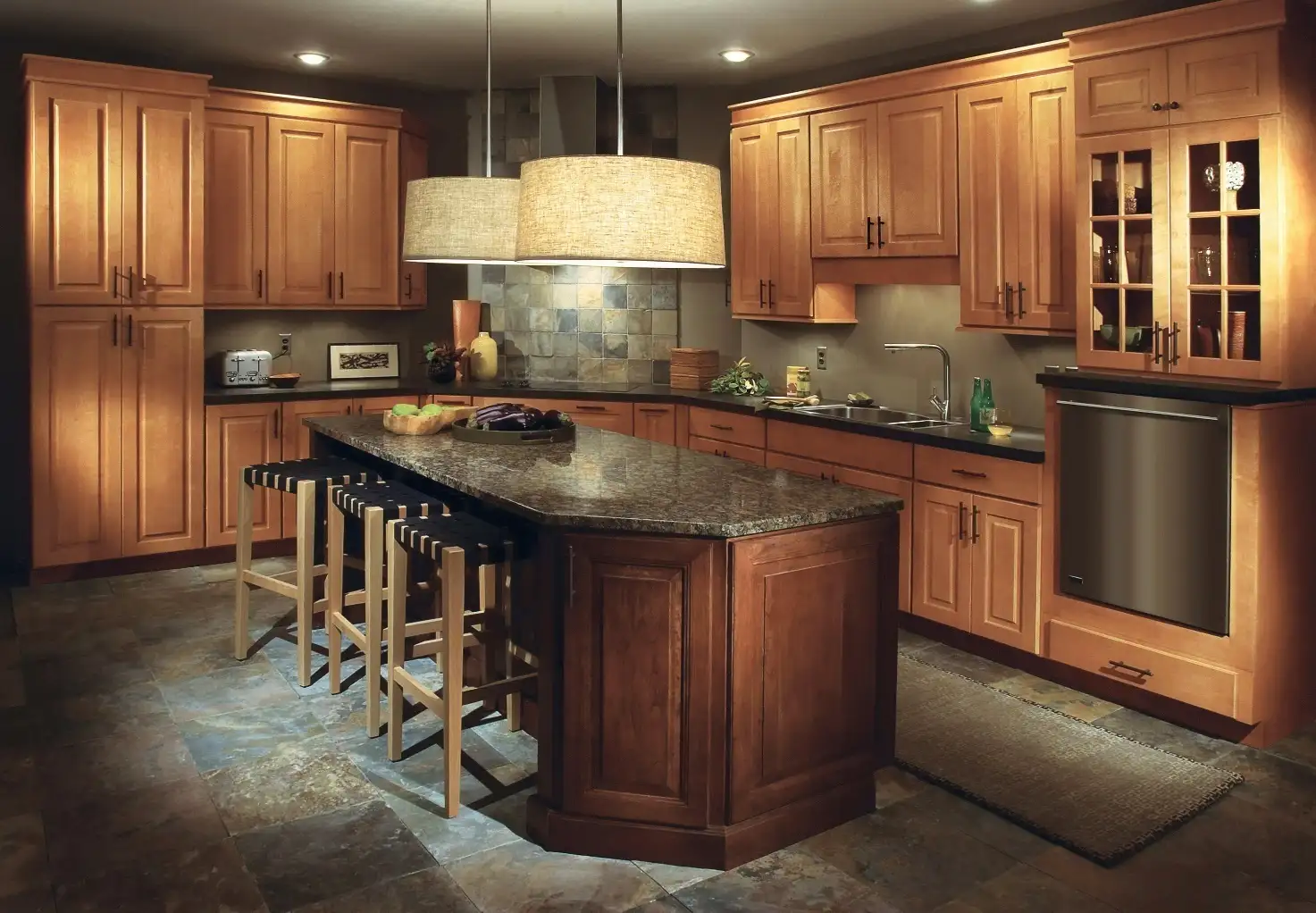 White Kitchen Décor
If you choose a white kitchen, this can create a relaxing, pure simplicity, whether you're cooking, eating, or just drinking a cup of coffee.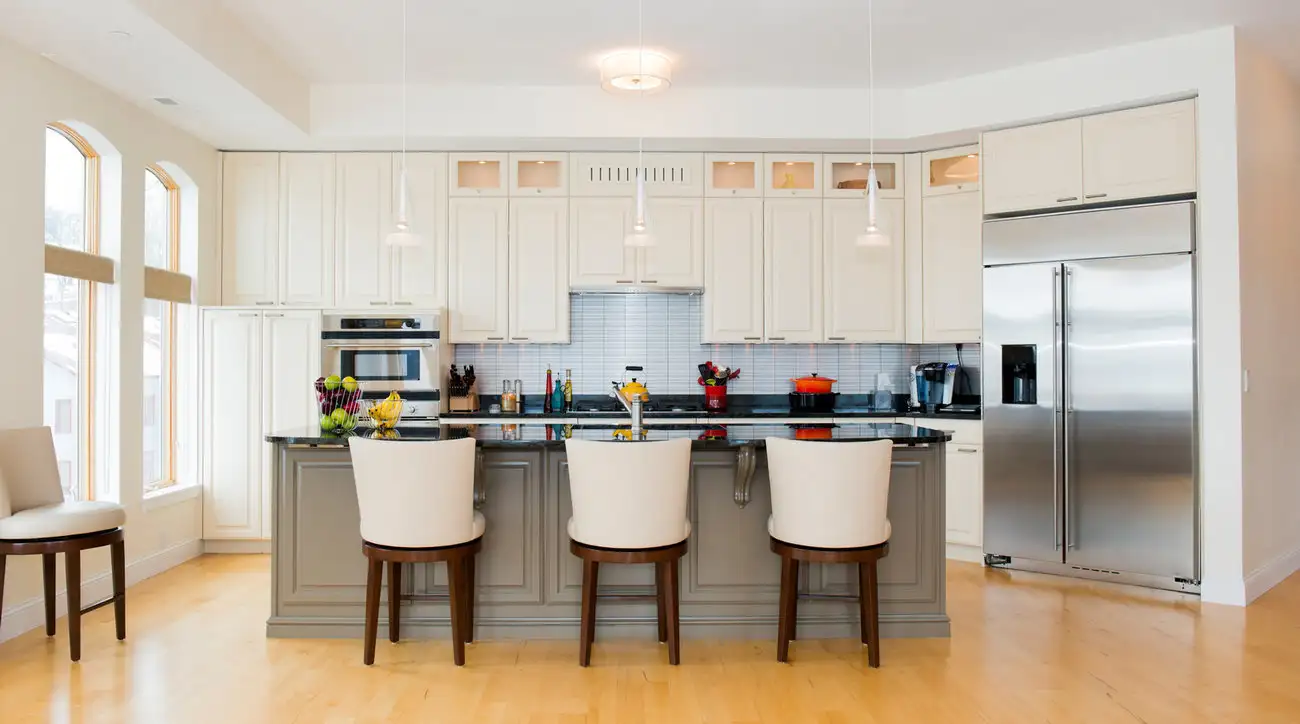 Black Kitchen Décor
Selecting a strong black for your kitchen design can show your personal stability and strength.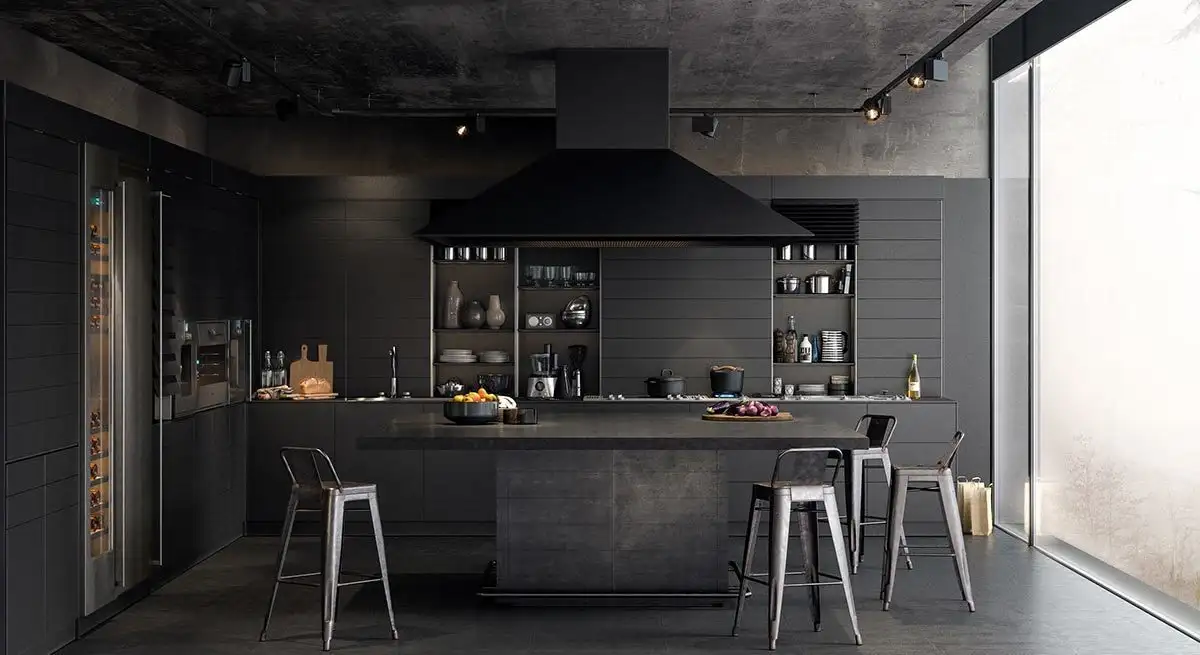 Black and White Kitchen Décor
Add a stylish touch when you combine classic black and white colors. Bear in mind that wood flooring makes an awesome accent to a classic black-and-white kitchen.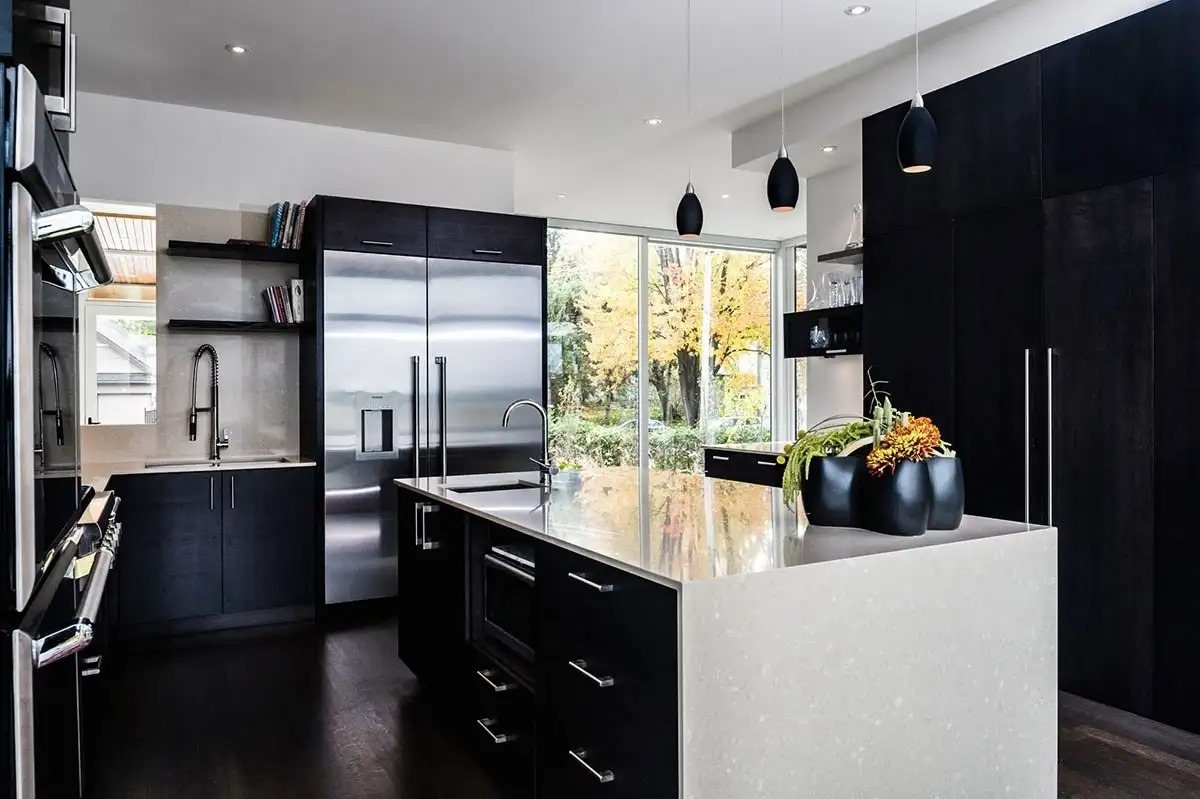 Red Kitchen Décor
Selecting a kitchen cabinet with bold red for bright feelings and chic style, you show your passion for life and home décor. You could add a few upbeat lifestyle items such as a picture, poster, flowers, or plants.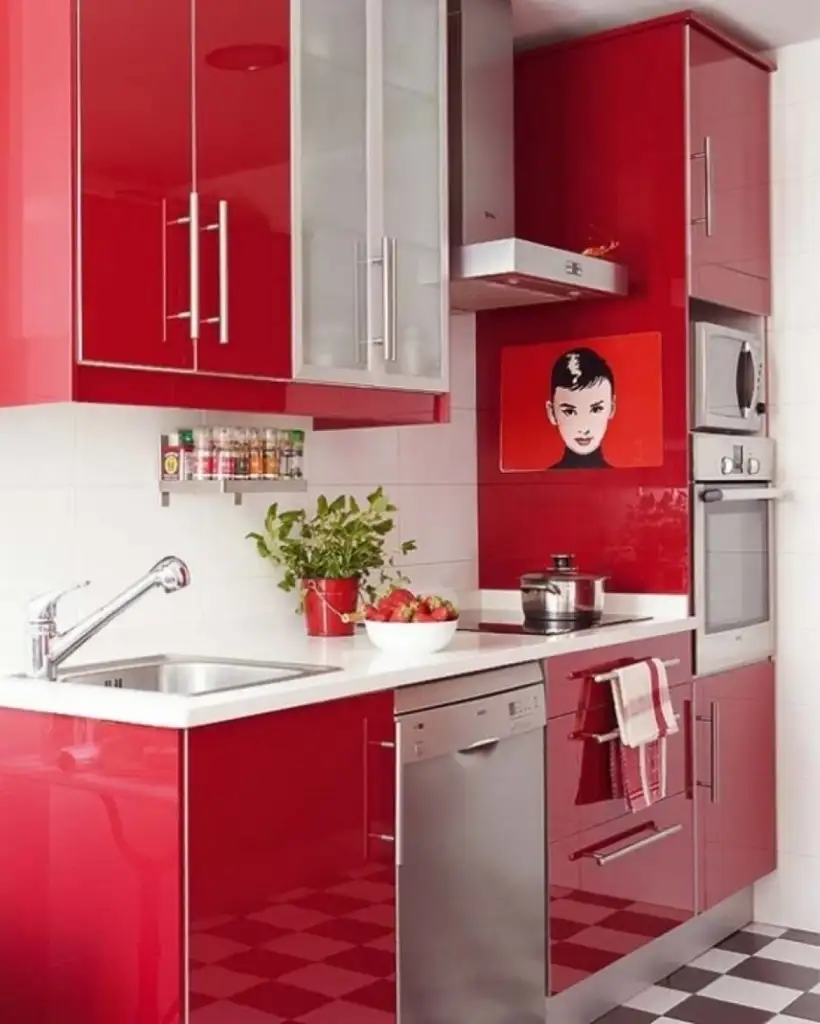 Red and White Kitchen Décor
If you like stunning kitchens, you should spring for a combination of bold red with pure white. That's one way to create a light space with a cozy ambience.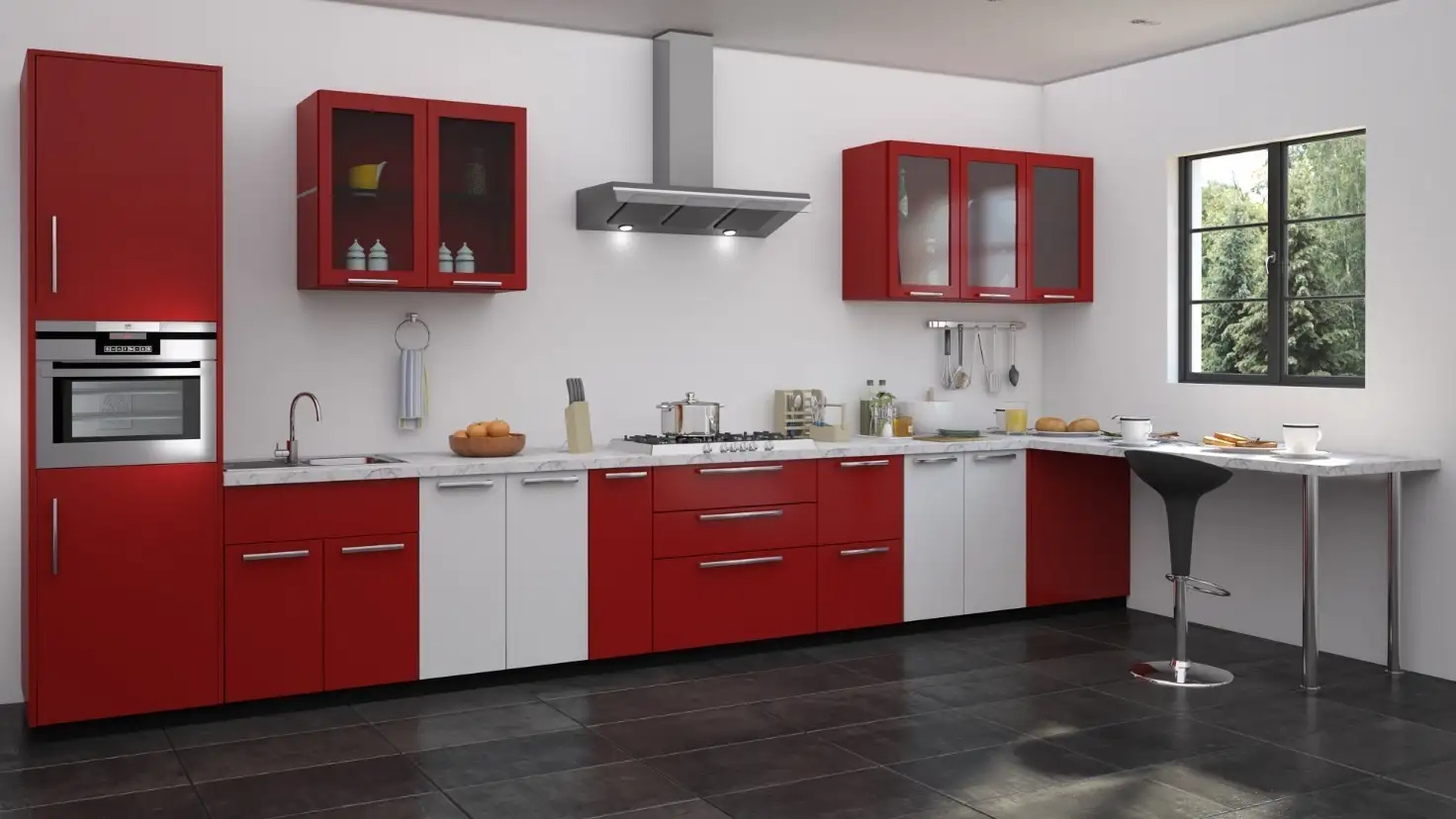 Black and Red Kitchen Décor
If you want to create a unique and visually striking kitchen, choose a bright combination of red and black.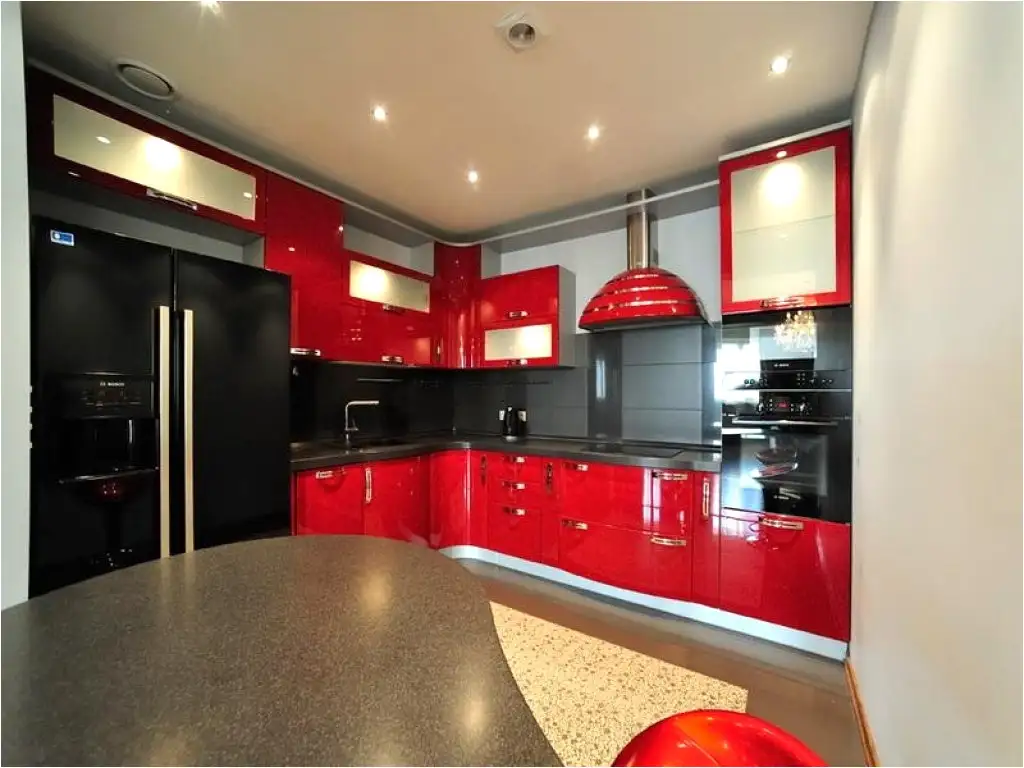 Which is better, the mixing of red and white or red and black? What do you think?
Turquoise Kitchen Décor
It could be time to spruce up your kitchen with turquoise. This design color solution for your kitchen island, cabinet, and décor sets shows your bright personality. Are you ready for this enthusiastic design experiment?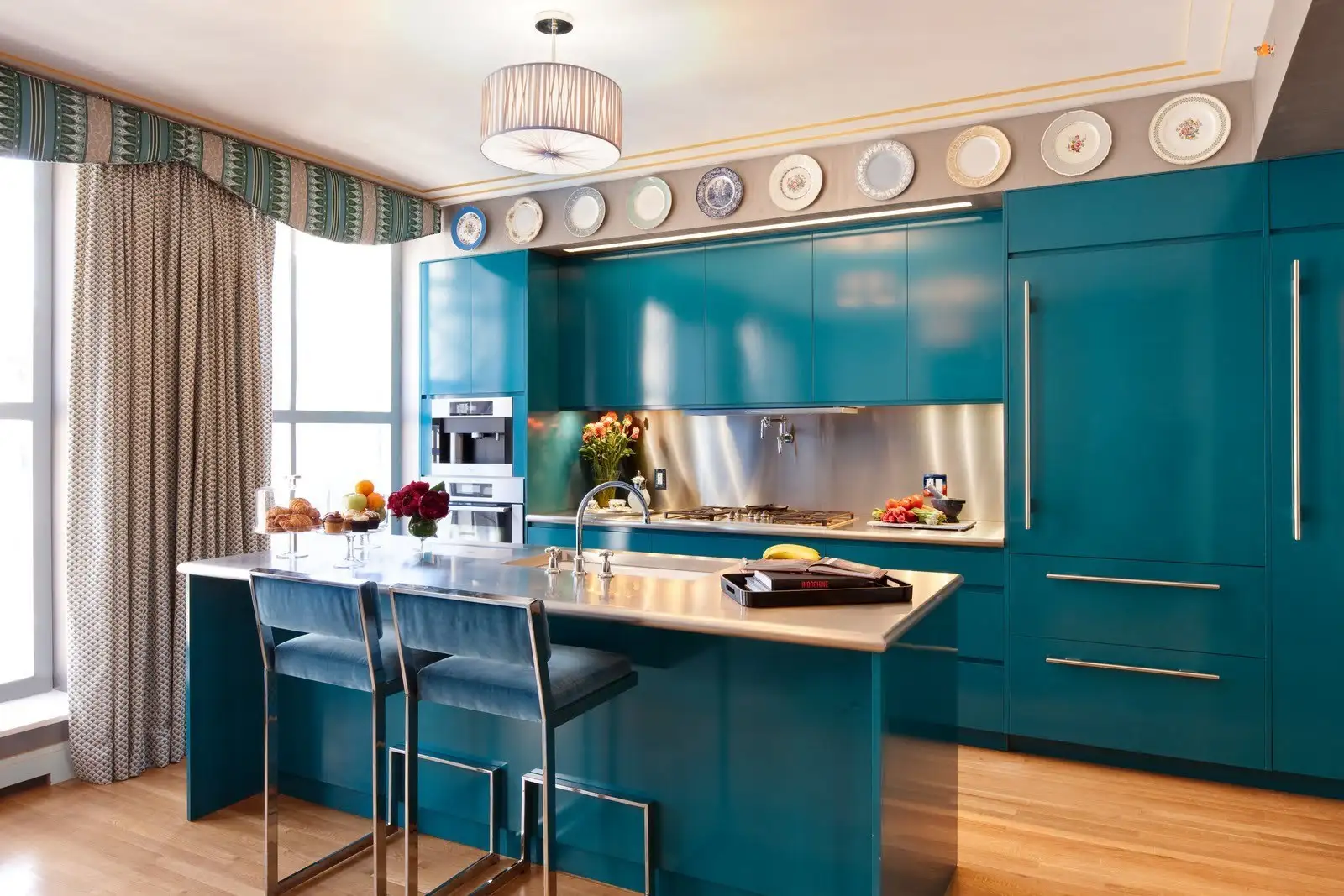 Blue Kitchen Décor
Inspired by the clear sky and deep ocean, choose a high-gloss blue cabinet. This can create an atmosphere of serenity in your kitchen.