Designing teen-centered bedrooms
Designing a teenage bedroom should involve decorating ideas that gravitate around the actual needs and tastes of the youngster who will inhabit the space. The room has to be organized in a manner that will foster the teens' creativity and learning process while reflecting their desires and interests. Allow them to become the central part of the process by involving them in curating the items that will finally compose the décor. Not only will this outstanding collaboration strengthen the bond between you, but it will also help your young ones feel valued and cherished for what they are.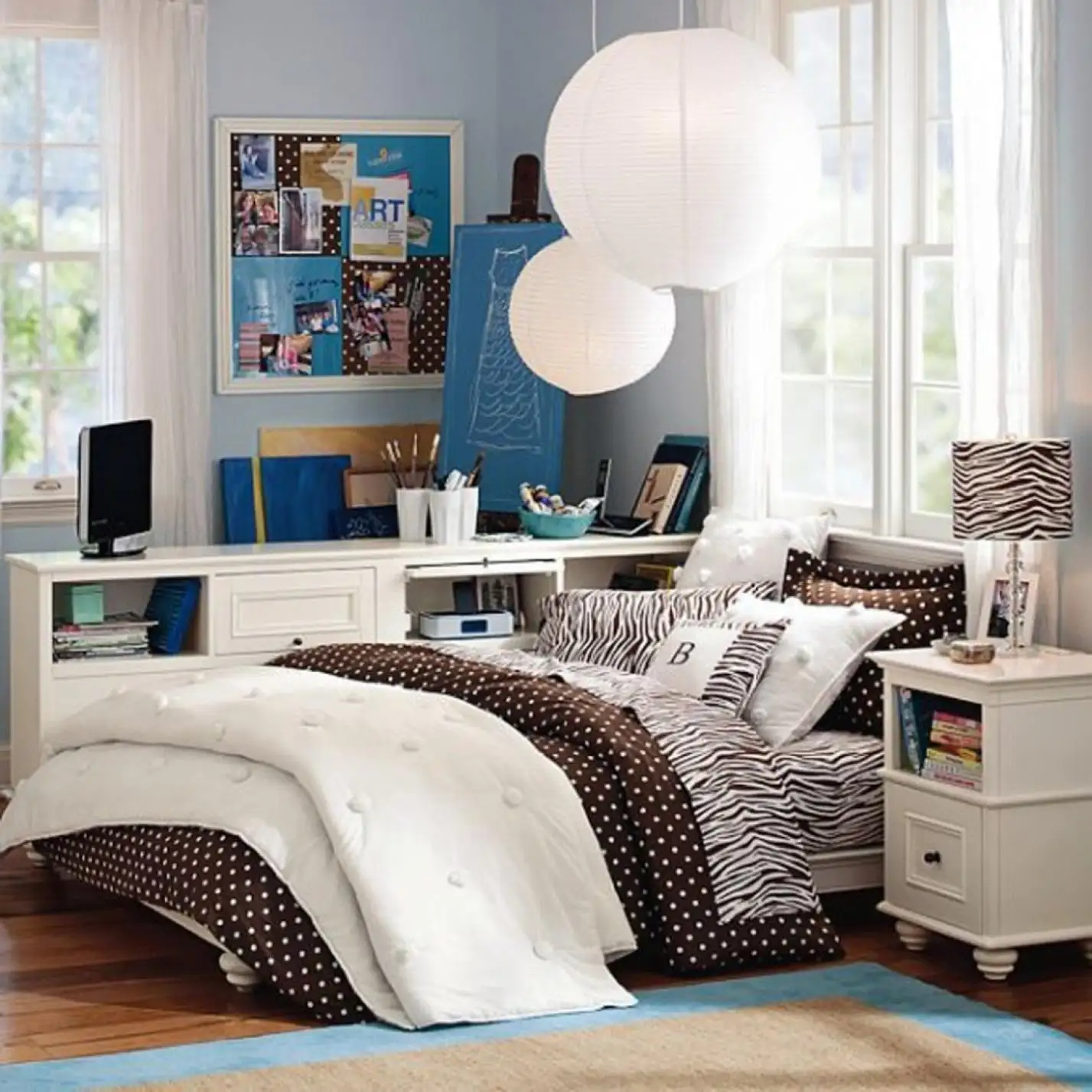 Using musical instruments as teen bedroom décor
Your teen's personality and hobbies are definitely taking contour at this age, so why not incorporating his or her passion for music in the design? You will demonstrate that you are taking their interests seriously and, consequently, this will facilitate communication and cooperation between you.
Musical instruments always look chic, so when practice is over, they can be mounted on a special rack or stand; vertical holders installed on the wall or placed on the floor are perfect to showcase these items and complete the décor of a teen bedroom. DJ mixing platforms and vintage or modern speakers could also become parts of the larger picture, especially since the latter can act as a nightstand at the same time.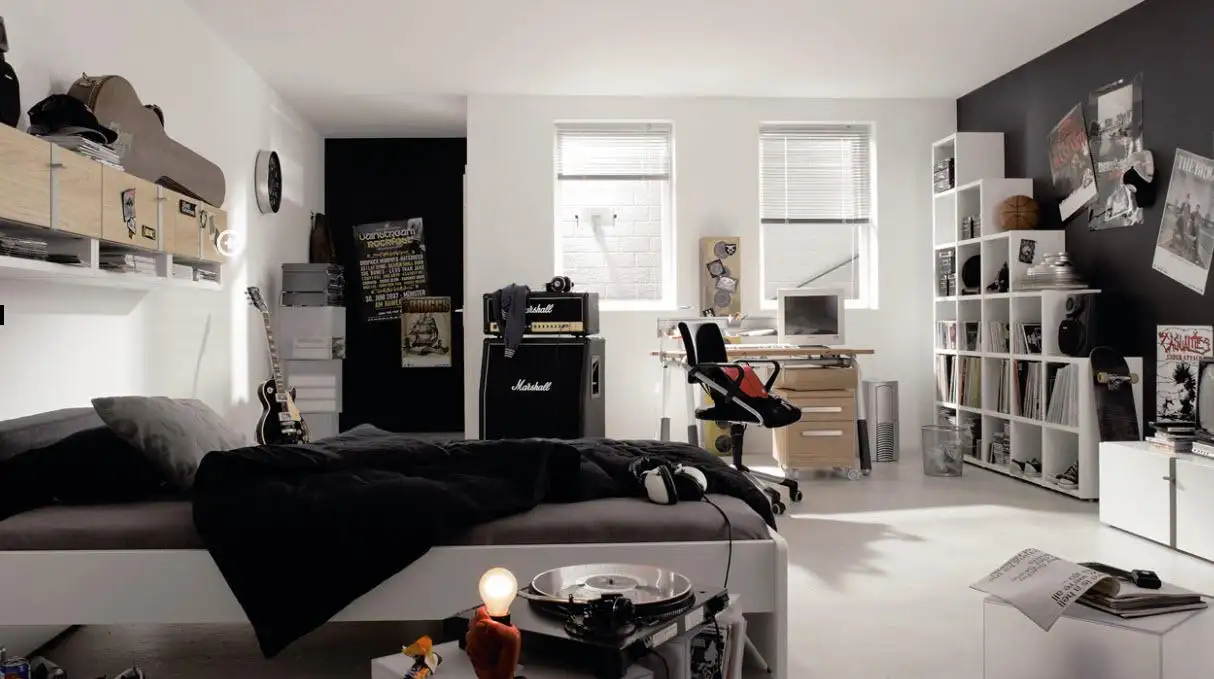 Sports-inspired teen room ideas
Are you parenting teenagers who also happen to be sports-enthusiasts? Perfect. This is your opportunity to show what a cool mom or dad you are by incorporating athletic gear in your teens' bedroom décor. A wall-mounted basketball hoop will allow them to dunk and practice their favorite NBA moves, while a boxing sack will help your kids let off some steam and deal healthily with the age-characteristic anxieties. A climbing net could also become a fashionable, yet functional part of a cool teen bedroom; the most appealing versions are made of thick rope and feature large loops.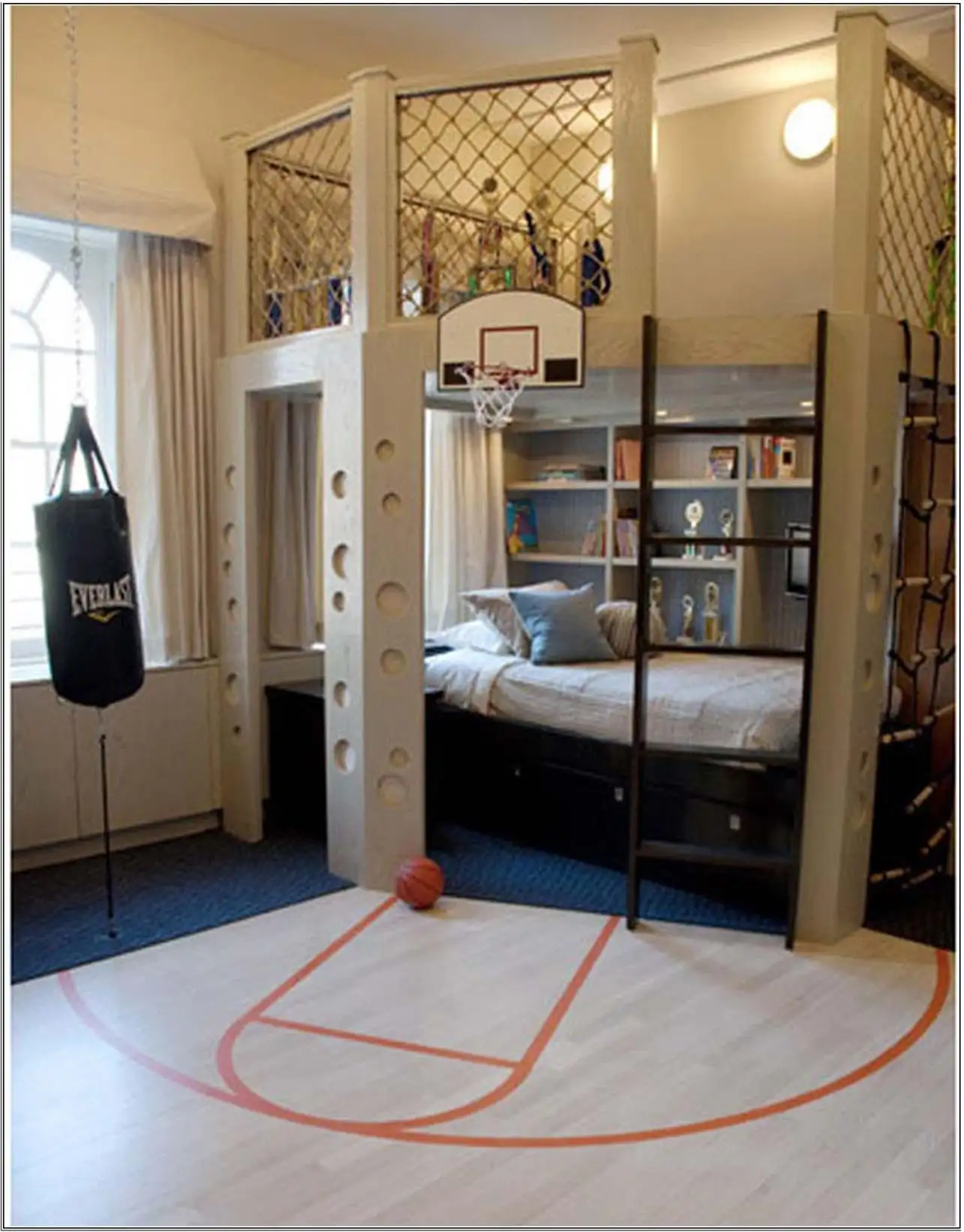 Beautifully painted skateboards also look cool, so simply lean them on the wall to create a vignette or accentuate a corner. The planks can also be combined with metal accessories to turn into trendy consoles or can be displayed just for their modish graffiti design.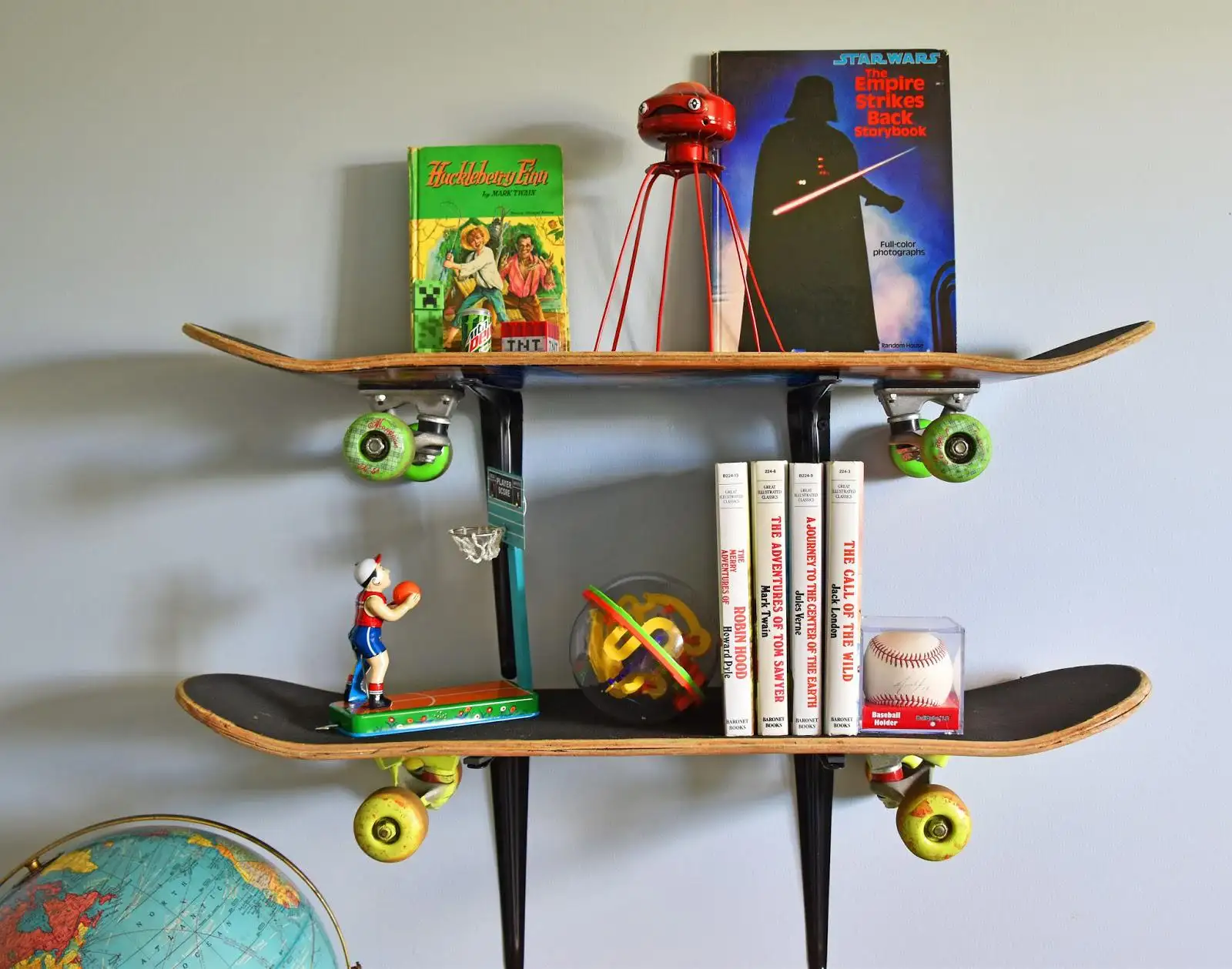 Virtually any piece of sportive equipment has a decorative potential if exhibited in a tasteful way. Glossy helmets, leather baseball gloves, skis, goggles, balls, etc. look fantastic when placed orderly on a shelf of their own.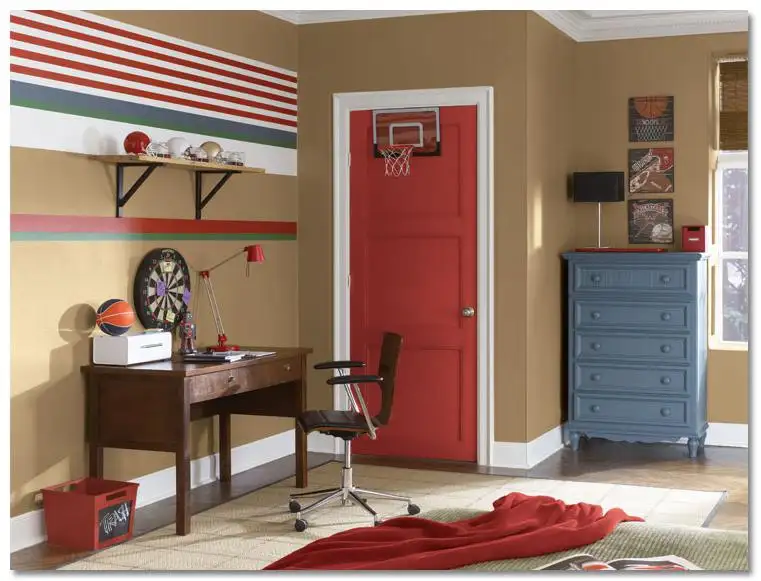 Incorporating posters in your teen's bedroom décor
Exhibiting your daughter or son's favorite movie or music posters can totally make the design look more personal and interesting. Moreover, a neat arrangement against a contrasting backdrop will add an extra layer of depth and color; use the same frames for all the prints and decide on a flattering blank-space size between them before putting them up. On a side note, humorous takes on classic film lines or iconic characters can spark up a conversation when your teen's friends come for a visit and can certainly underline his/her sense of humor and coolness in front of everybody.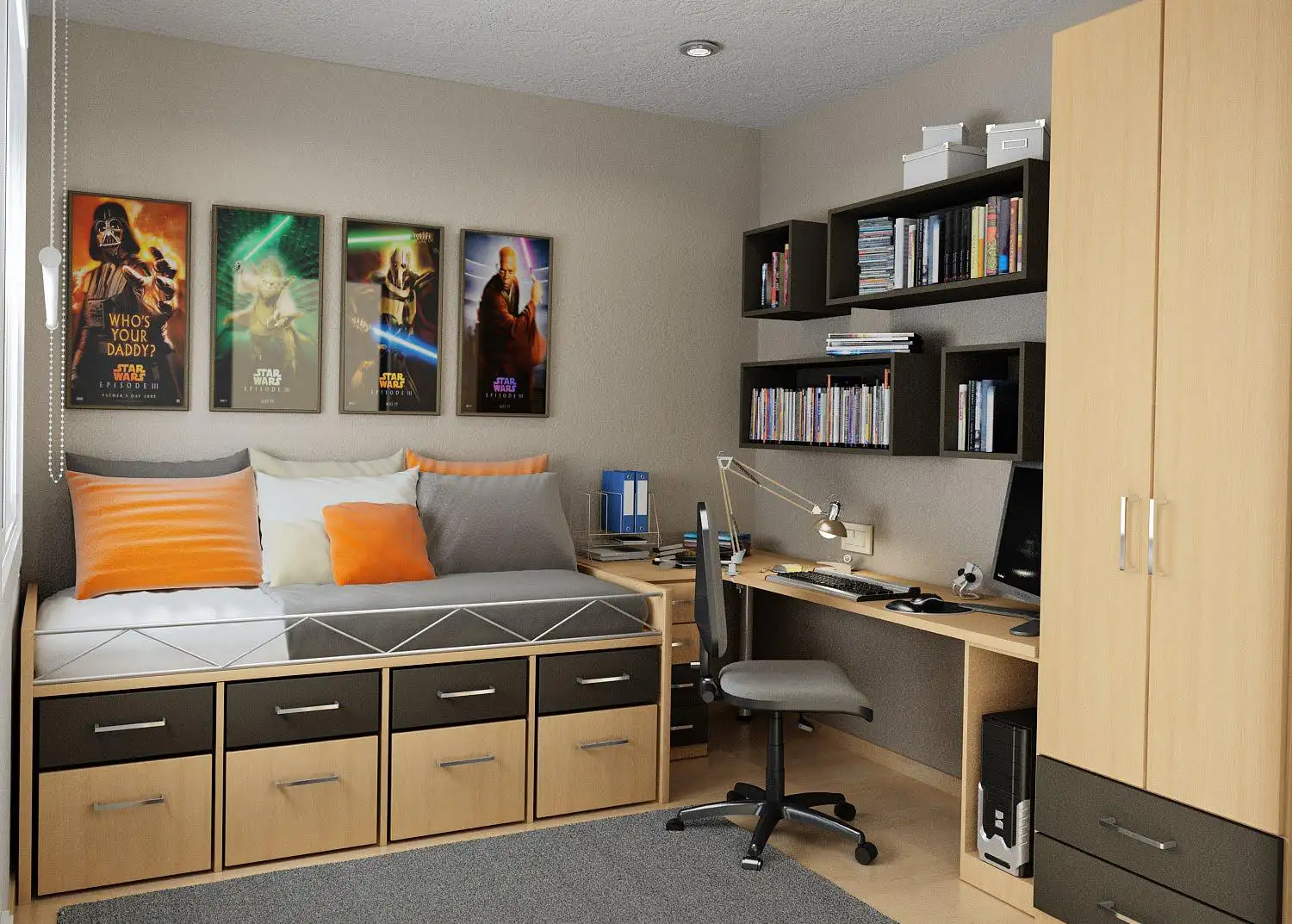 Using decals in teen rooms
In case you find that your always-inquisitive adolescent keeps shifting interests often, and one day he/she is interested in travelling, the next day, in cars or cats, then decorating with removable decals will help both of you keep up with their ever-changing tastes while preserving the personalized feel in the teen room. Intricate items in bold colors will definitely make a statement. Instead of a weighty headboard, a large-scale decal glued above the bed will create an impressive focal point. Maximize the effect by painting the wall in an eye-catching hue that makes the sticker stand out. When the young one moves on towards other passions, just remove the old pieces and look for new ones.
Use decals to decorate a bland-looking wardrobe or the drawer fronts, while making them look updated.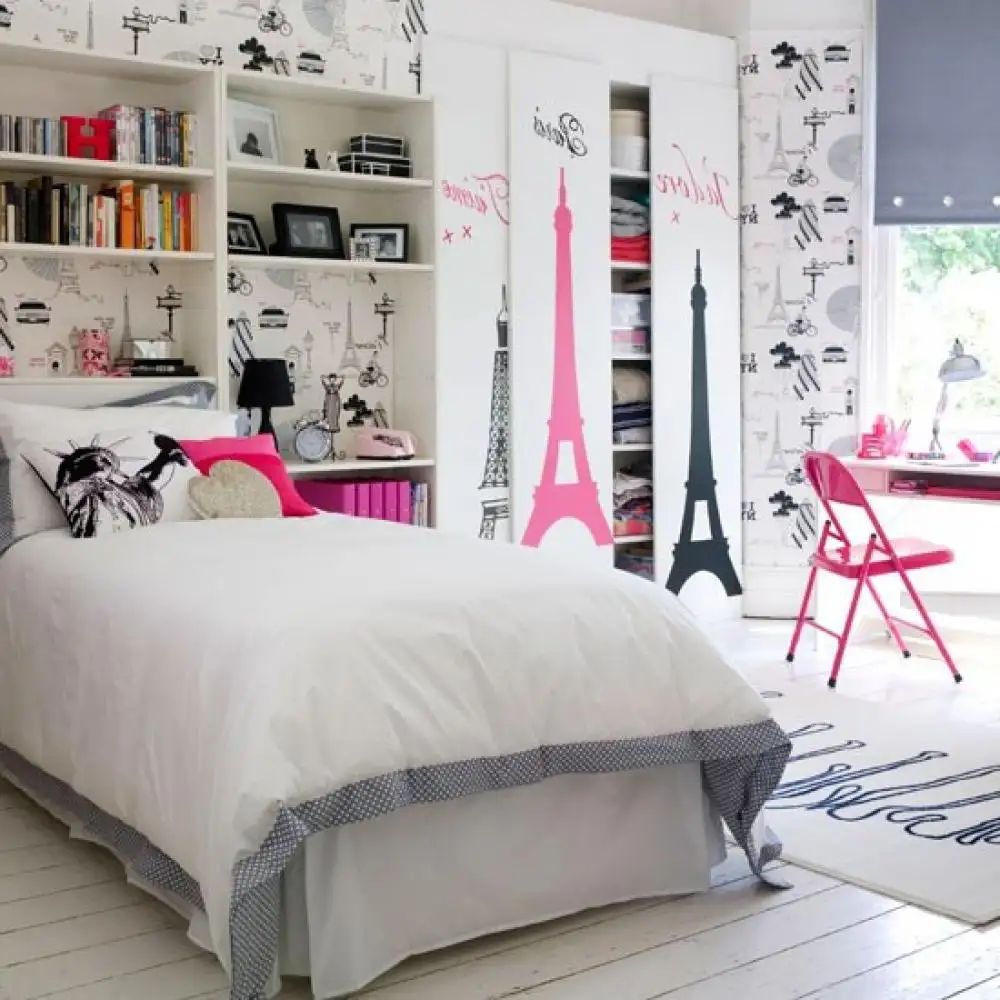 Add a college-chic feel by employing bunk beds in your teen's bedroom
For a dorm-room feel, you can opt for floating bunk beds. Suspended from the ceiling either with rope or with hefty chains, these dorm style items have a charming look. As long as your house features sturdy beams capable of bearing the weight, thus keeping the kids safe, installing these beds can also become a DIY project using pallets or raw planks. Throw on a comfy mattress and there you have it! What's more, for families with several children, bunk beds provide a useful opportunity to make the most of the wall's height and maintain an open, airy room.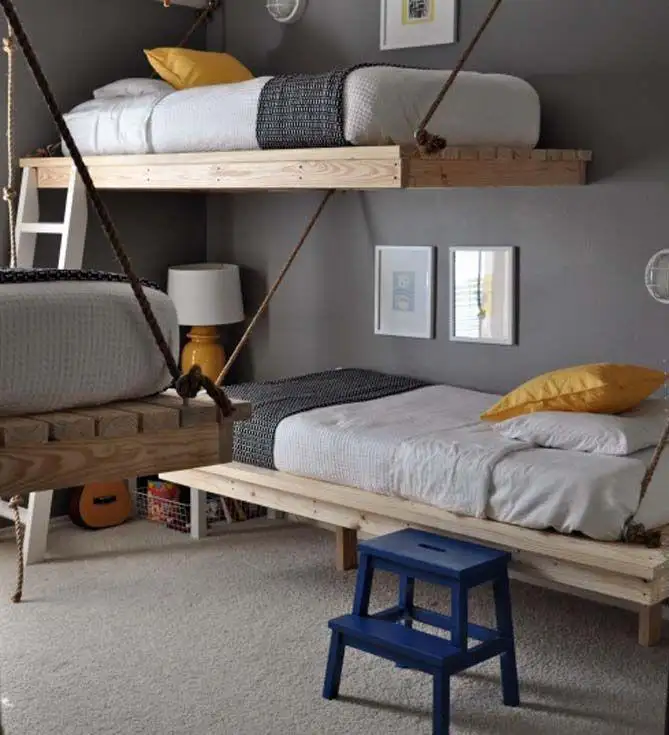 Stylish camouflage bedding for a teen boy bedroom
Underline your teen boy's adventurous side with a stylish camouflage bedding set. You can pick up the classic pattern in shades of green, or you can jazz things up with a neutral or navy color palette. Not only will the room look grown-up and edgy, but it will also appear instantly revived by the visual statement that this print makes. The rest of the teen room design can feature complementing pigments in earthy tones, for a pleasant end result.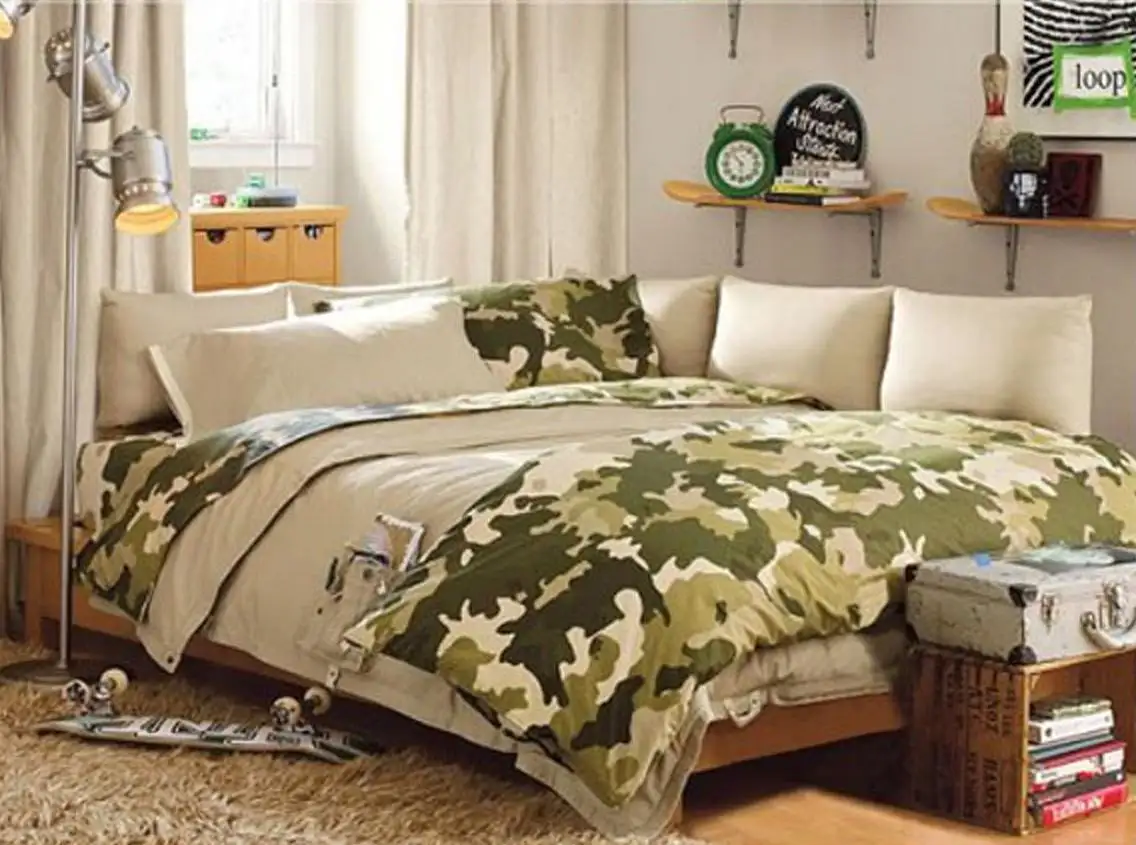 Bring vintage appeal to your teenage girl's bedroom
A vintage-looking bedroom for your teenage girl might seem like something extra-ordinary, but if your young one tends to love all things classic, is fascinated by local fairs or has a strong artistic inclination, why not give this idea a try! Your princess might love retro wallpaper that depicts lovely roses, peonies or other ornate flourishes. Juxtaposing old mirrors, crocheted bed throws, cozy sheep skins and antique furniture items can result into a décor that oozes timeless appeal and utmost delicacy.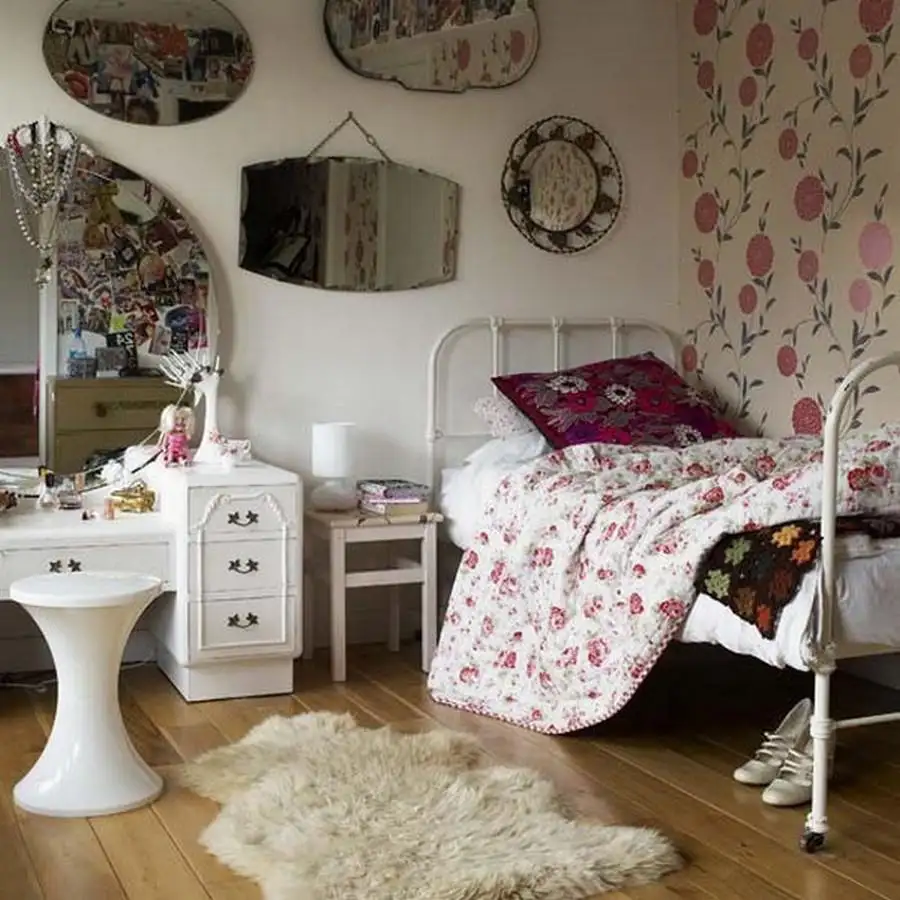 A teen boy bedroom with a retro feel
For boys, you can experiment with a darker, manlier color palette that includes chic grays and demure navy or forest greens. Mix them with large geometrical prints and untreated wooden textures or rattan, minimalist accessories like crisp lamps and simple stools, and do not shy away from furniture with a subtle time-worn appearance. To finish off, sprinkle some black and white or sepia photos of your son and his friends to make the teen room design more personal.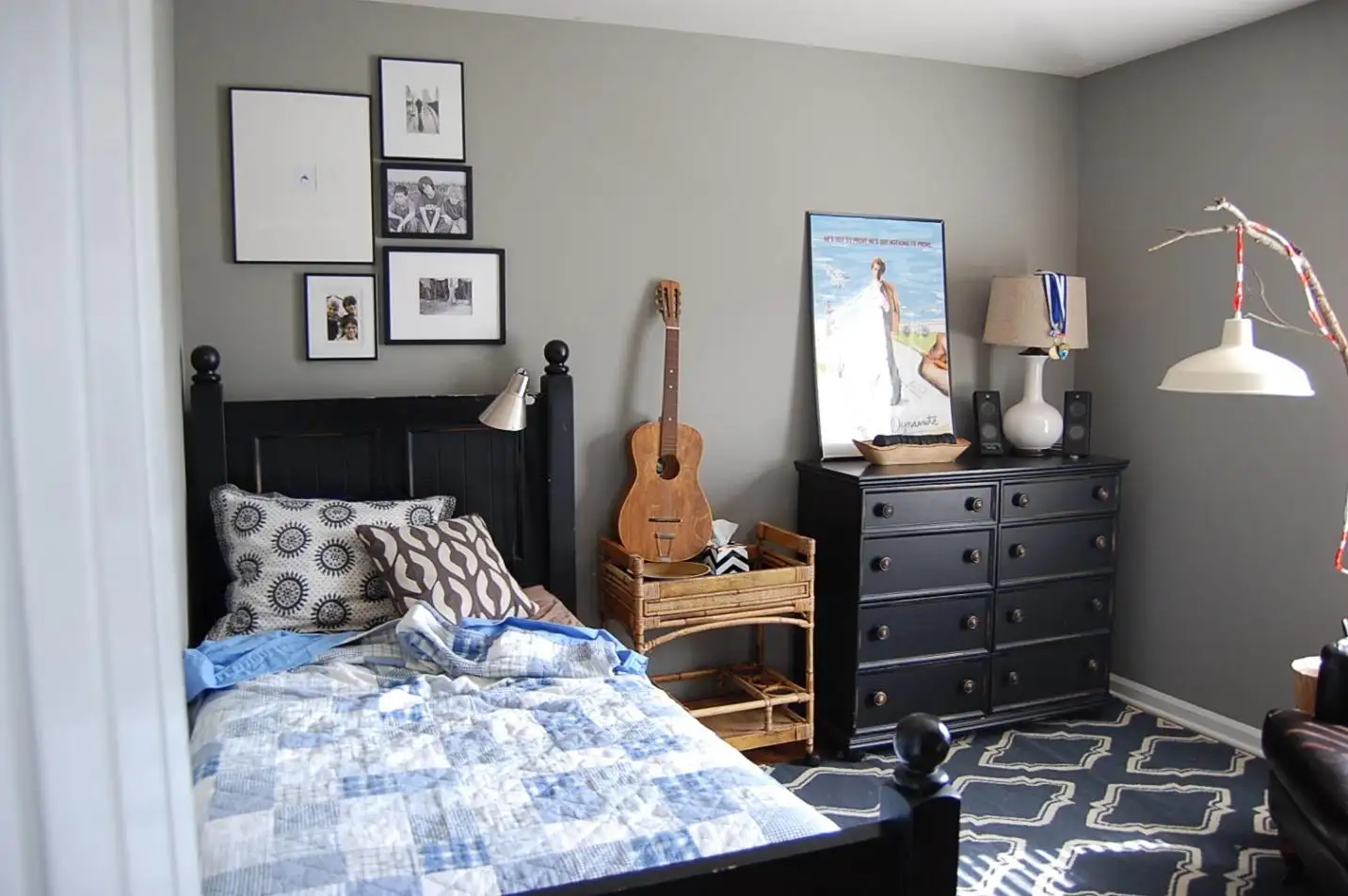 Using maps to create cool teen rooms
A space that is specifically designed for teens should also include an educational component meant to foster their curiosity and learning. An entire wall decorated with a large-scale map of the world not only looks captivating, but also serves as a means of enabling them to know more about what's out there. It keeps them interested in different cultures and peoples, while inspiring them to travel and explore nature's wonders.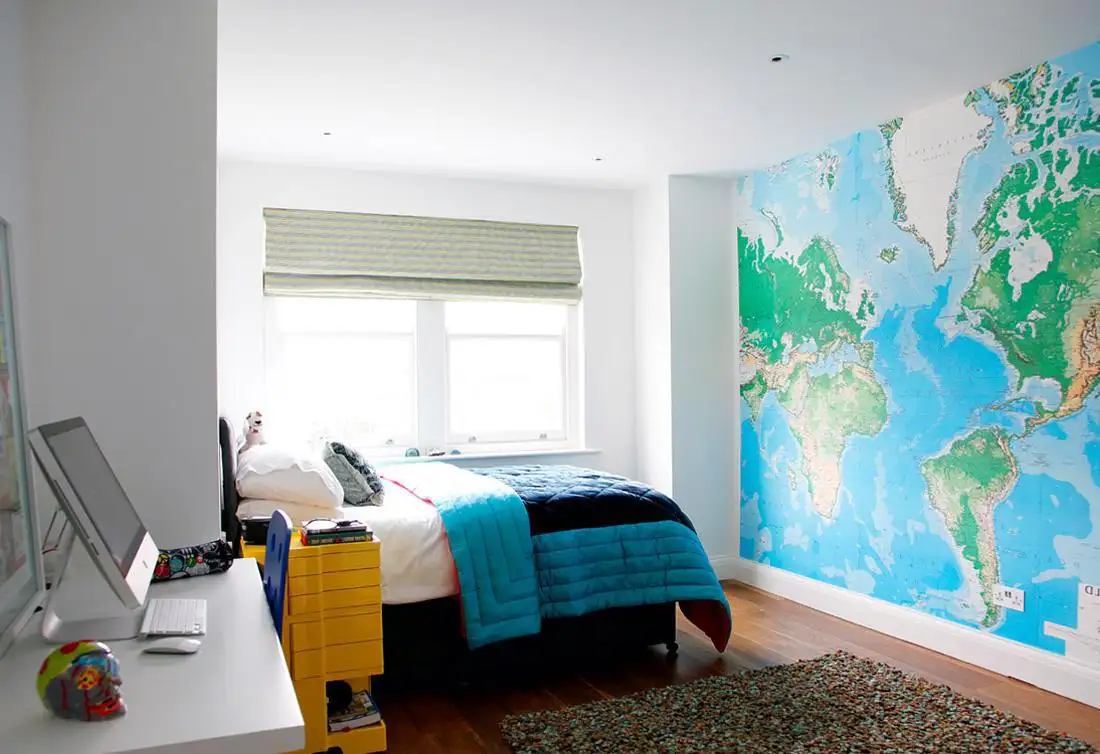 Spark your youngster's creativity with a chalkboard wall in the bedroom
For kids that love scribbling or drawing, a huge chalkboard wall will provide a great occasion to showcase their talent and constantly re-decorate according to their shifting mood. Let them become the artisans of their own interior design using colorful chalk and their wild imagination. Also, this décor trick can help them get more organized by jotting personalized to-do lists or timetables in a place that is always visible. Furthermore, it allows their friends to contribute and connect, by writing their names or messages.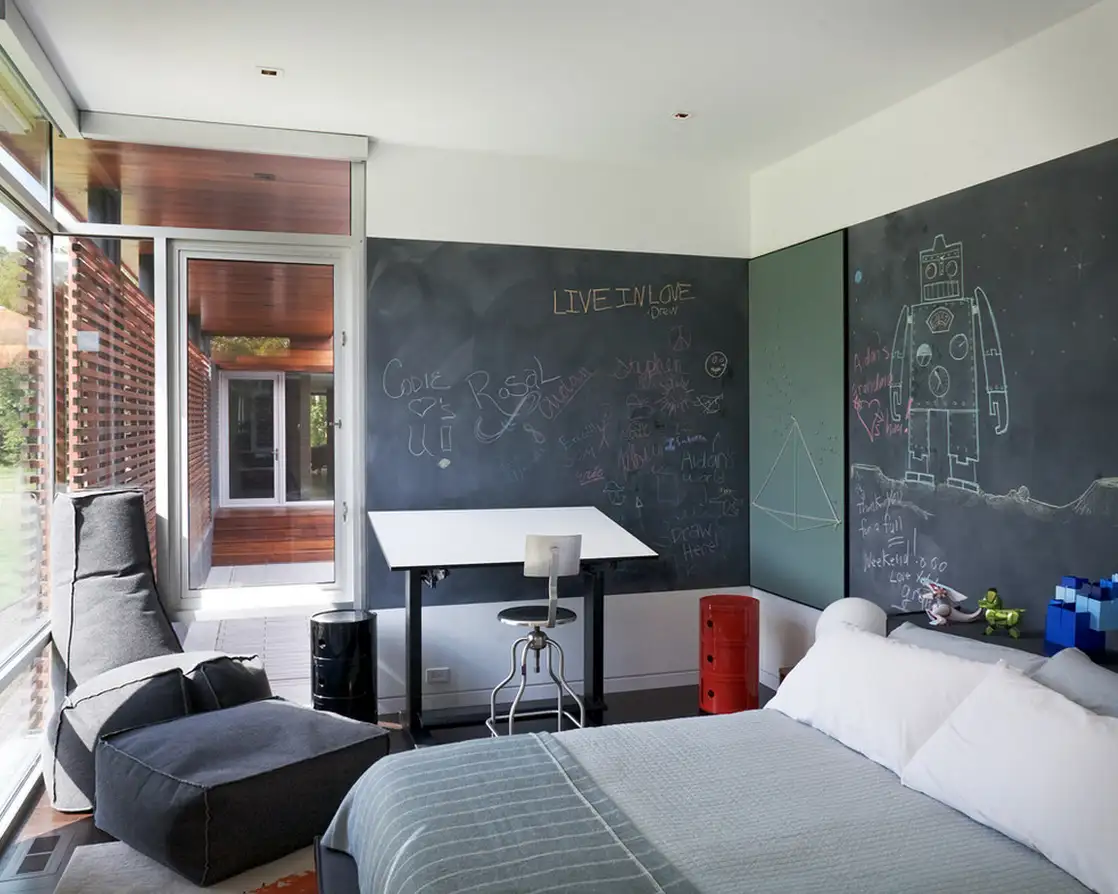 Build a reading nook inside your teen's bedroom
Reading might be something your teen loves or hasn't got a taste of yet. Either way, arranging a snug corner for this activity by using a welcoming pouf or seat and some interesting books ordered neatly could spark his / her interest in literature. The point is to make the place look as inviting and stylish as possible, so that your son or daughter feels drawn into it and persuaded to pick up a volume and start reading.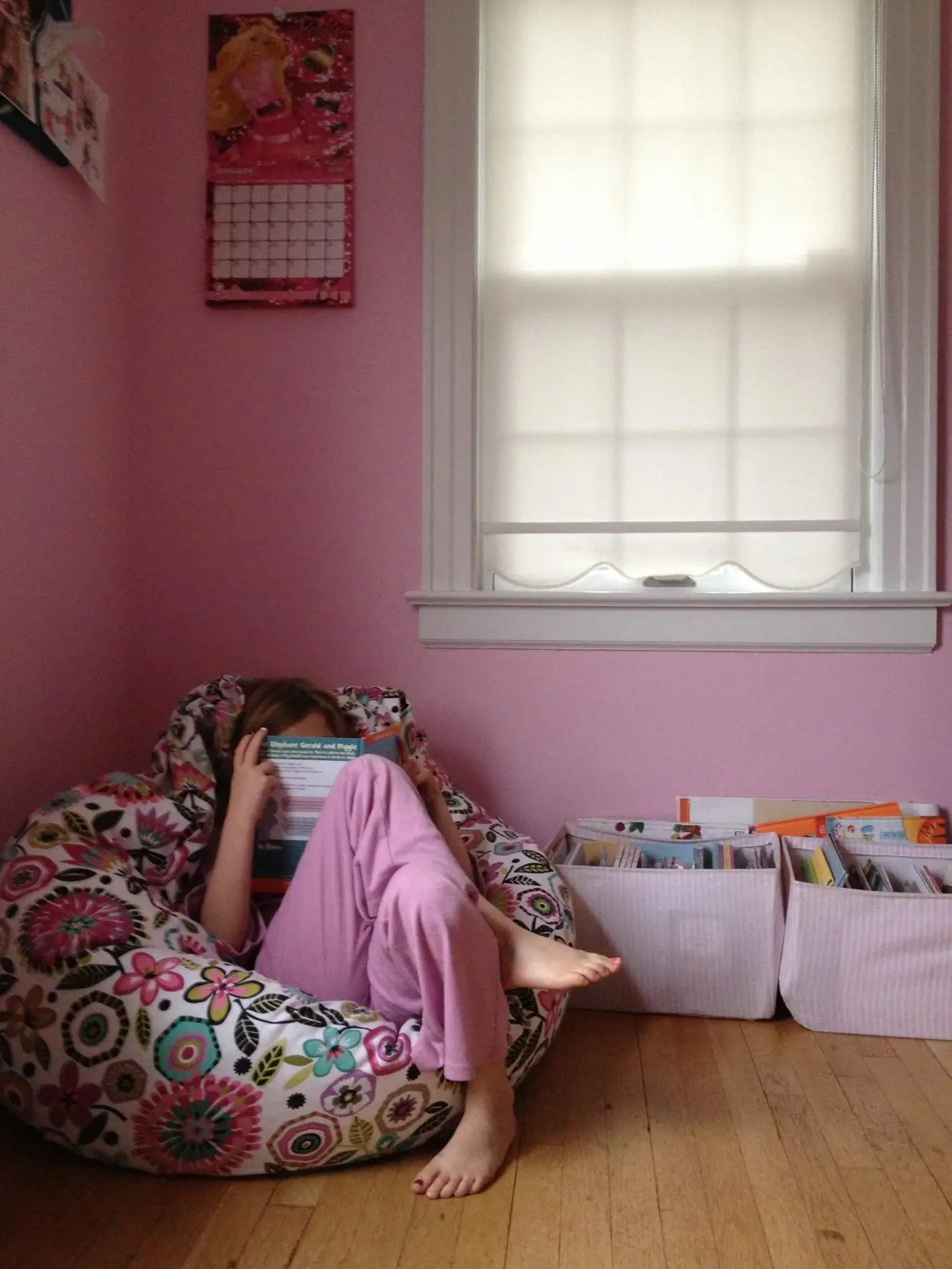 Ideas for designing an easy-to-clean teen room
Oftentimes, teen rooms get quite messy, so a décor that facilitates a painless maintenance process can reduce the stress of cleaning up for both you and your hipster. Consequently, a teen room should look simple and airy, with lots of storage space in different shapes and sizes: easy-going squared bookshelves that can serve as compartments for vinyl discs or CDs, or as a display area for your young one's collectibles, crisp-looking boxes for providing a handy solution to get everything hidden and keep the room looking neat at all times, a desk with clean lines and wire-control accessories that prevent dust from adding up. On top of that, nightstands and beds with an unpretentious appearance and lots of space underneath that allows the vacuum cleaner to easily collect the dirt are additional elements to consider when providing a trouble-free design. Having them installed on rolling legs provides a versatile style solution that aids maintaining the indoor cleanness by simply pushing the furniture aside.
Also, a great solution for keeping filth at bay is to give up wall-to-wall carpeting and large rugs in favor of an immaculate floor; this effortless trick will make the room more hygienic, and using a mop to tidy up will be just enough. In case going rug-less is not an option because the space looks too bare and uninviting, think of placing lightweight carpets in smaller sizes that can be removed and cleaned with ease.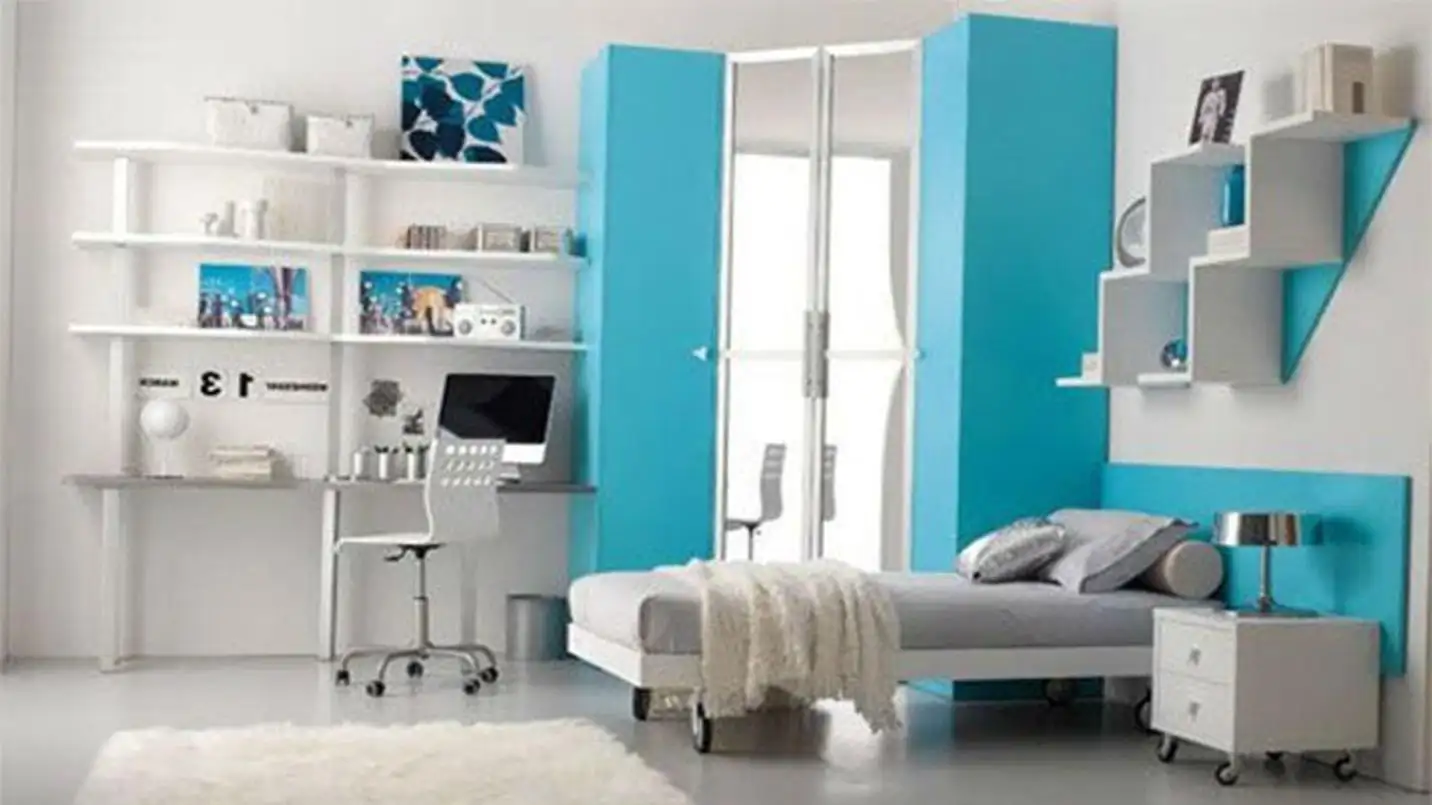 Whichever design you pick for your teens' bedroom, always get inspiration from their interests and talents, while also adding elements that stimulate their curiosity and learning process.