The Main Types Of Baby Cribs
When it comes to decorating a nursery for your infant, you should start with a comfortable crib. Thanks to quality sleep and rest, it's easier to maintain the health and good mood of both your baby and yourself!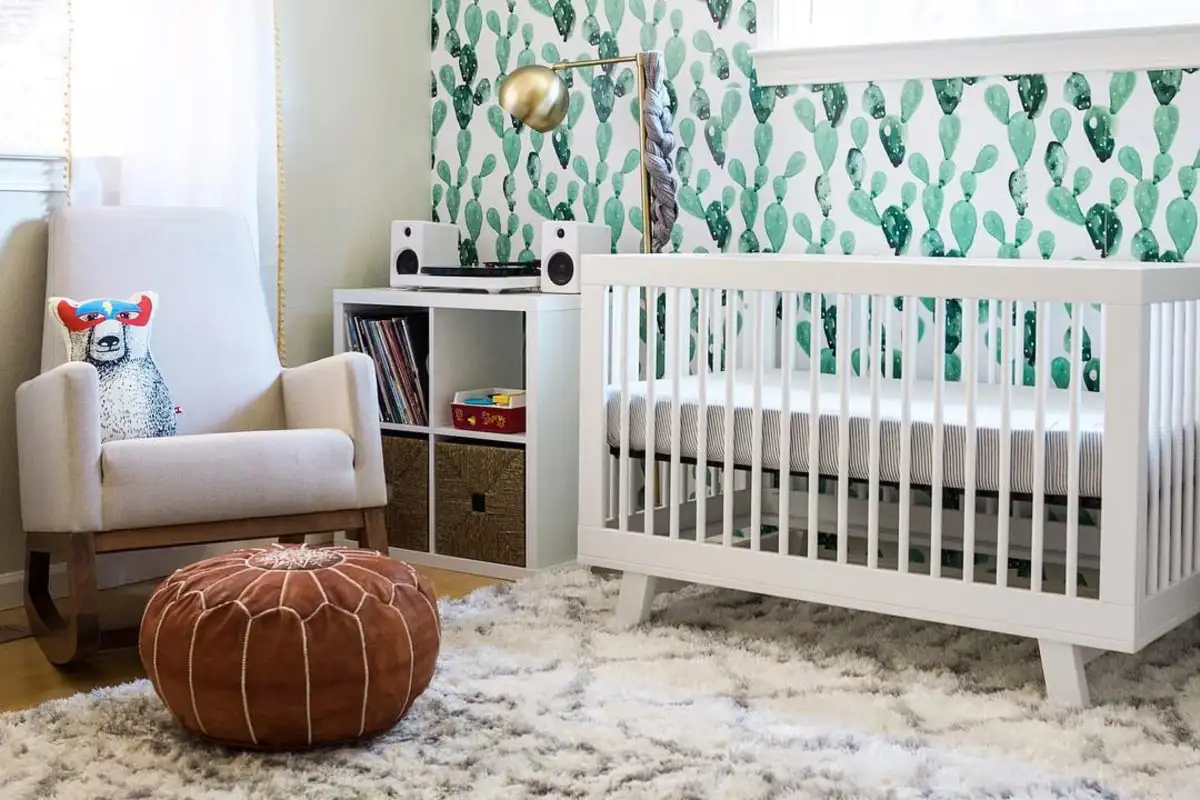 Basic Crib Types
The right type of baby crib depends on the size of your space, and your budget, lifestyle, and goals. There are several budget-friendly and luxurious cribs on the market. They are produced in different shapes, sizes, materials, and colors. Depending on the manufacturer, cribs feature various functional options:
built-in drawers
wheels
a safety rail
a changer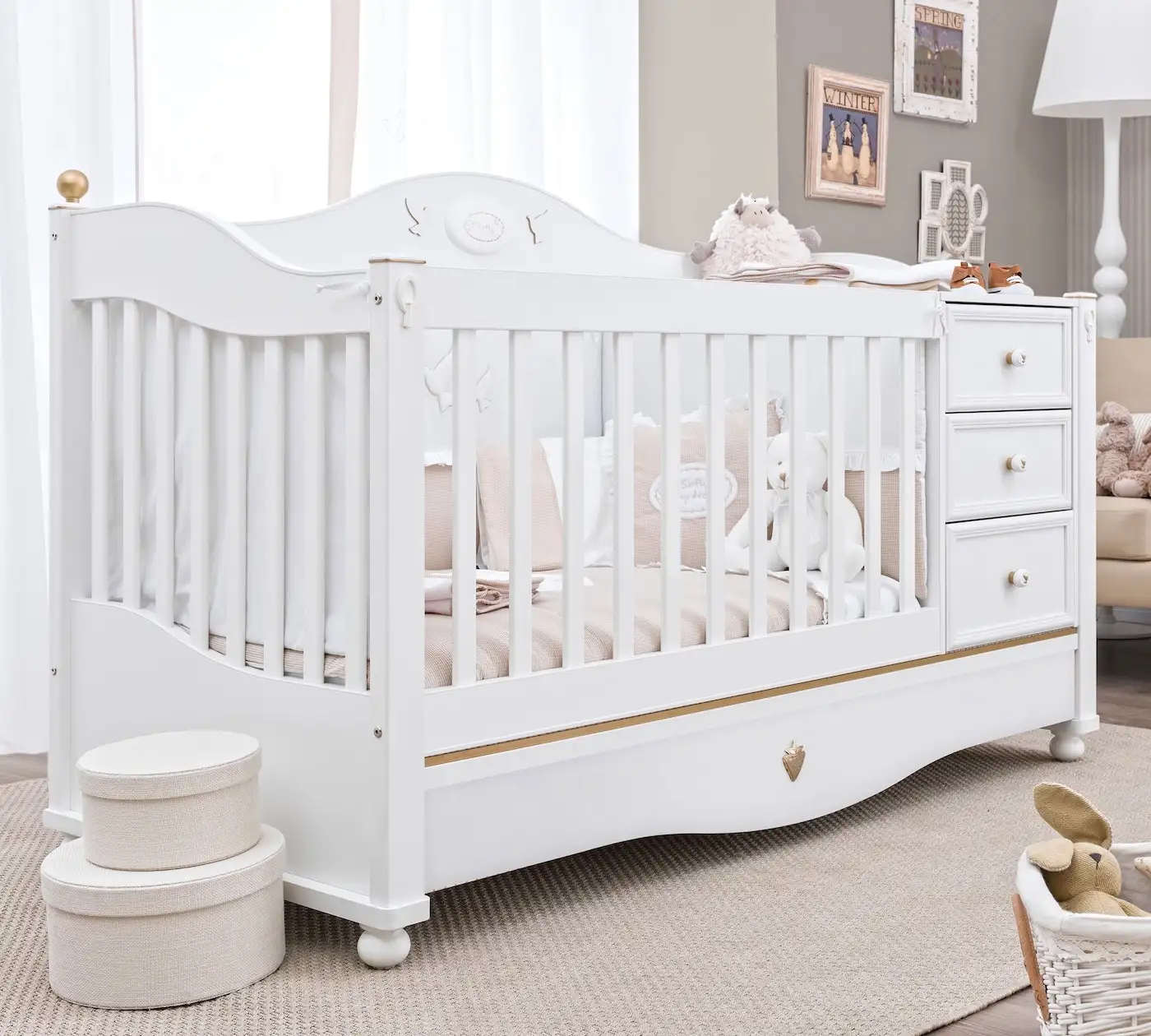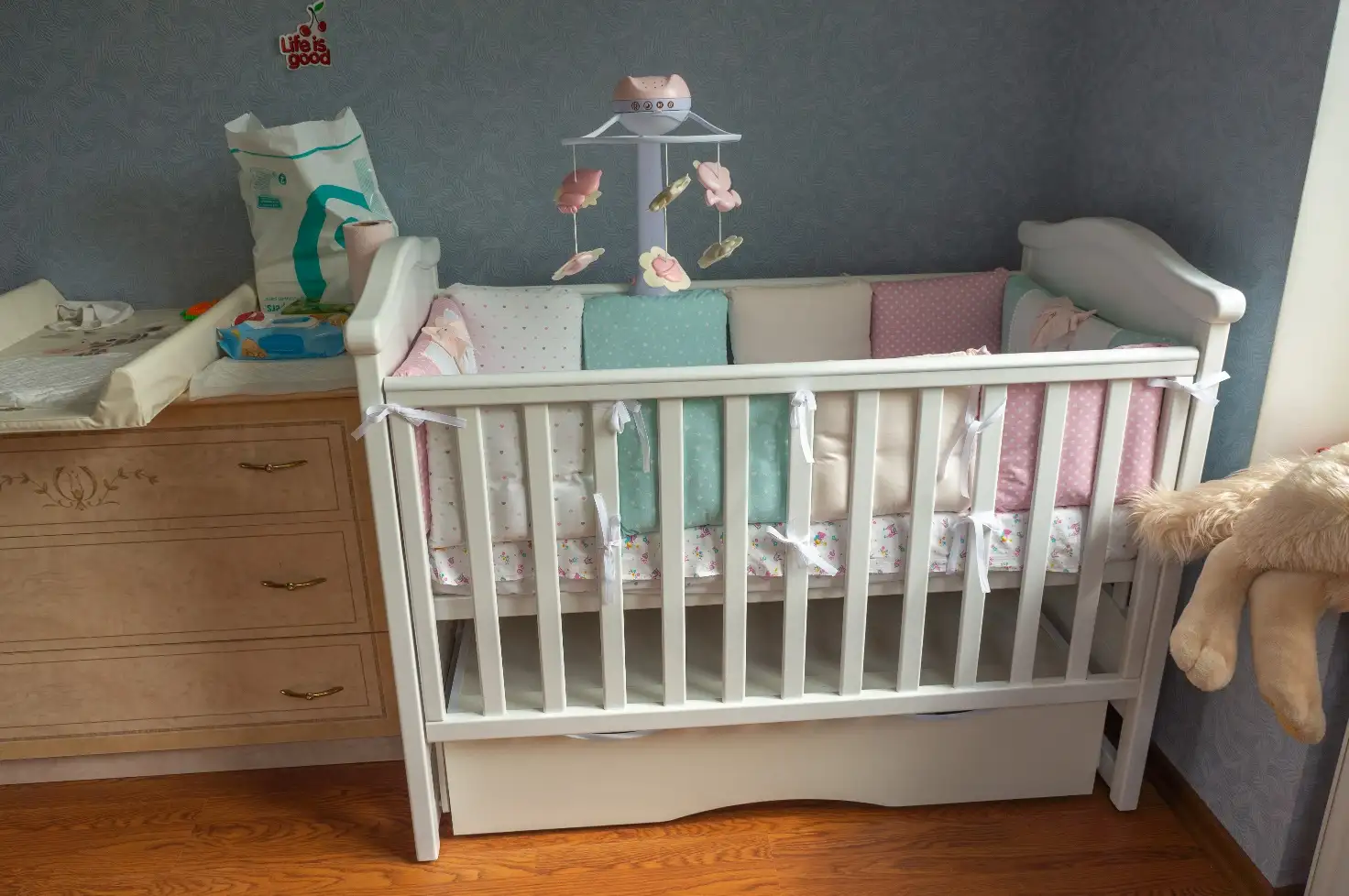 If you are all about decorating in a definitive style, look for a high-quality furniture set which includes a crib, changing table, breastfeeding chair, and shelves. If you like to mix furniture pieces from different styles, a cradle for your little one can be the main focal point of the entire baby room.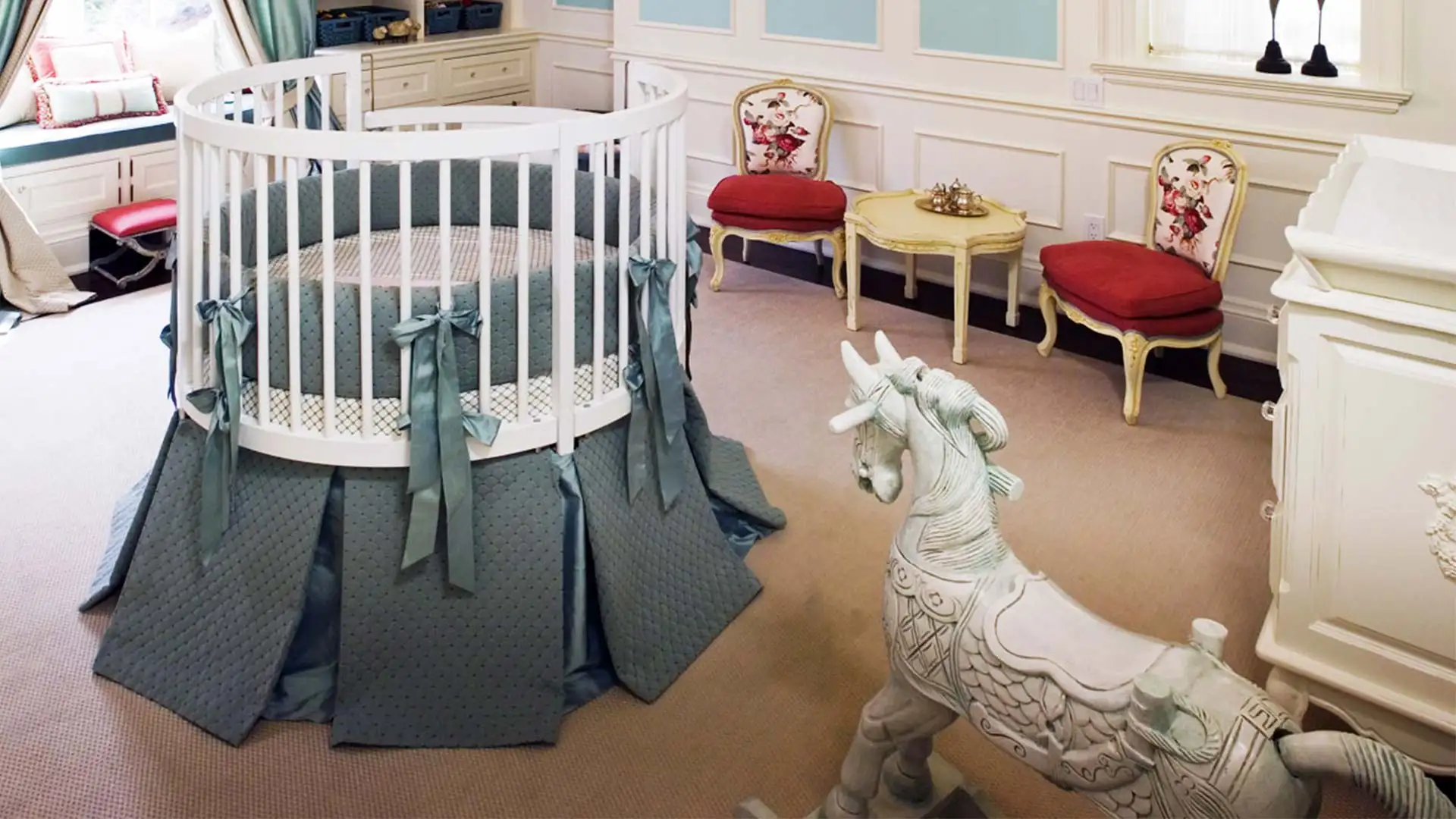 Standard Cribs
Standard cribs allow your baby space to sleep and relax from birth until 2-4 years old. Also, some standard cradles have three height adjustment levels, giving you a chance to adjust the mattress height.
There are many cots with wheels. Such a portable option allows you to move your infant's crib easily. It works well, especially if you are really exhausted from nursing your baby 8-10 times per night!
For standard crib dimensions, according to the U.S. Consumer Product Safety Commission (CPSC) the size of cribs is of 28 ± 5/8 inches (71 ± 1.6 centimeters) in width x 52 3/8 ± 5/8 inches (133 ± 1.6 centimeters) in length. This allows for the snug fit of a crib mattress with a thickness not exceeding 6 inches. Standard cribs are produced with fixed sides (it's legally forbidden to have drop sides) to provide baby safety.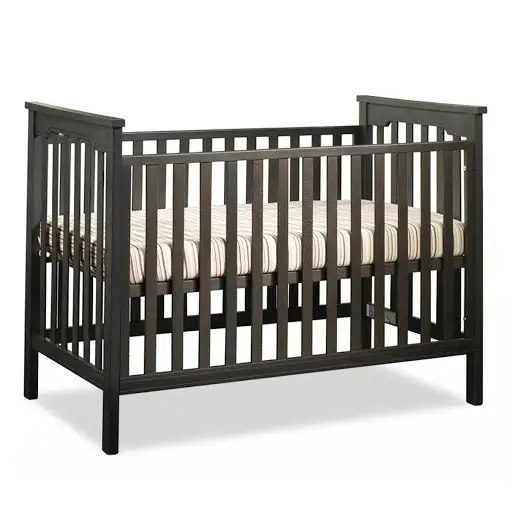 Convertible Cribs
If you are looking for both practical and budget-friendly options, think about convertible cribs. Unlike standard cots, they can be used by infants as well as toddlers. Furthermore, you can transform it into a full bed for a teenage bedroom.
There are four main options in convertible cribs: 2-in-1, 3-in-1, and 4-in-1.
2-in-1 allows you to convert an infant's cot into a toddler bed by placing a guardrail instead of one side of the crib.
3-in-1 along with a toddler bed, can be transformed into a daybed.
4-in-1 can be also converted into a twin bed by repurpose the panel (it can be a headboard or footboard.)
Of course, a convertible crib costs more money, but you can use it longer.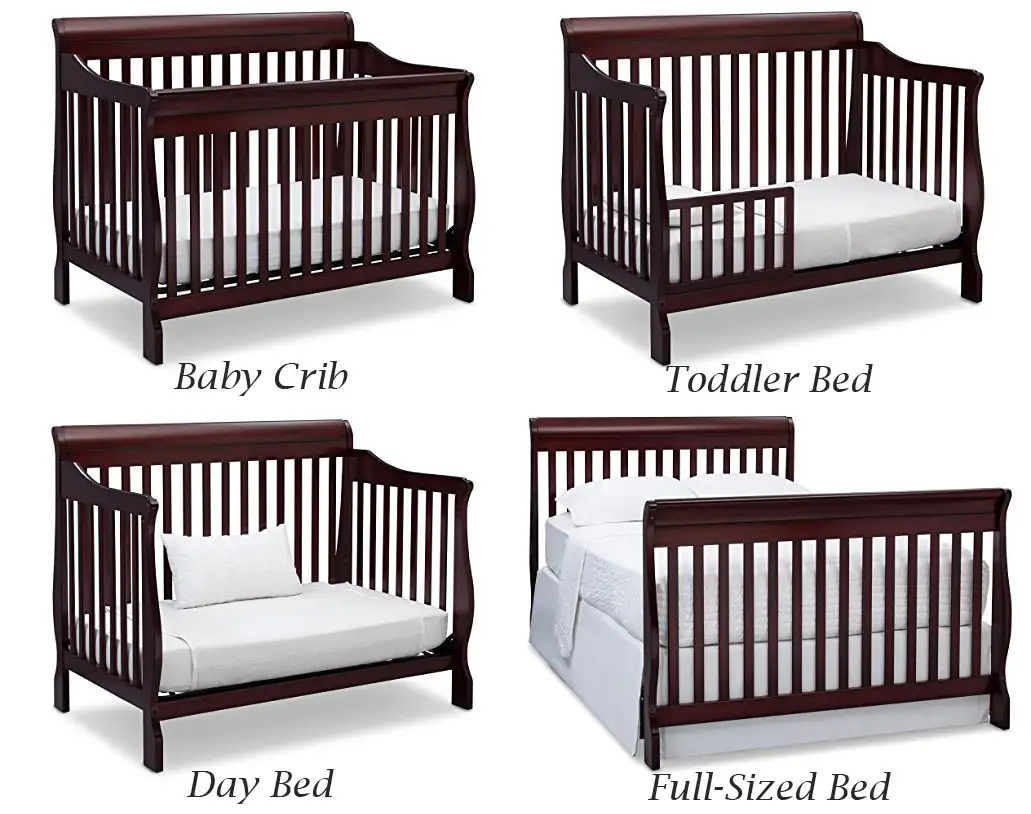 Co-sleeping Cribs
Co-sleeping cribs fit any master bedroom for the first few months of the baby's life. They are produced in a medium size, because such cots are used for a short period of time. You can adjust the height of the cradle according to the height of your own bed. Usually, co-sleeping cribs are sold with a special fastening system to attach them to Mom's bedside.
Regardless of whether your little one is calm or nervous, it's important to have contact with them almost constantly. Along with your baby, you need to have quality sleep. Also, taking a nap during the day with your infant is always a great idea! If you have a co-sleeping cot, no need to wake up and go to another room to feed your little one.
As for disadvantages, this isn't a budget-friendly choice. At maximum, , you will have to purchase a new crib within about six months, because your bundle of joy will start to crawl into your own bed. Also, co-sleeping cribs aren't ideal for every couple – it may make life easier for Mom, but not always for Dad.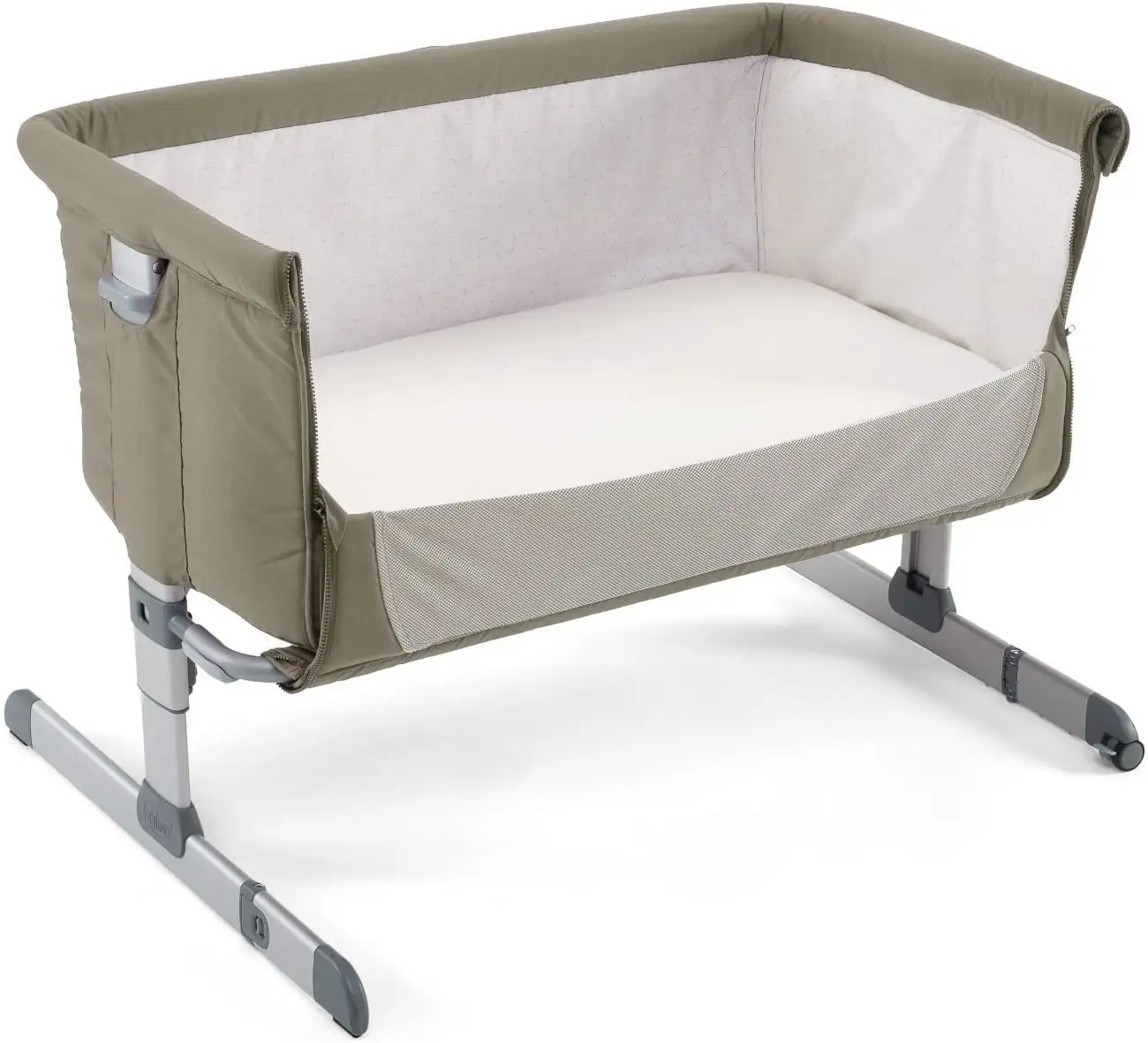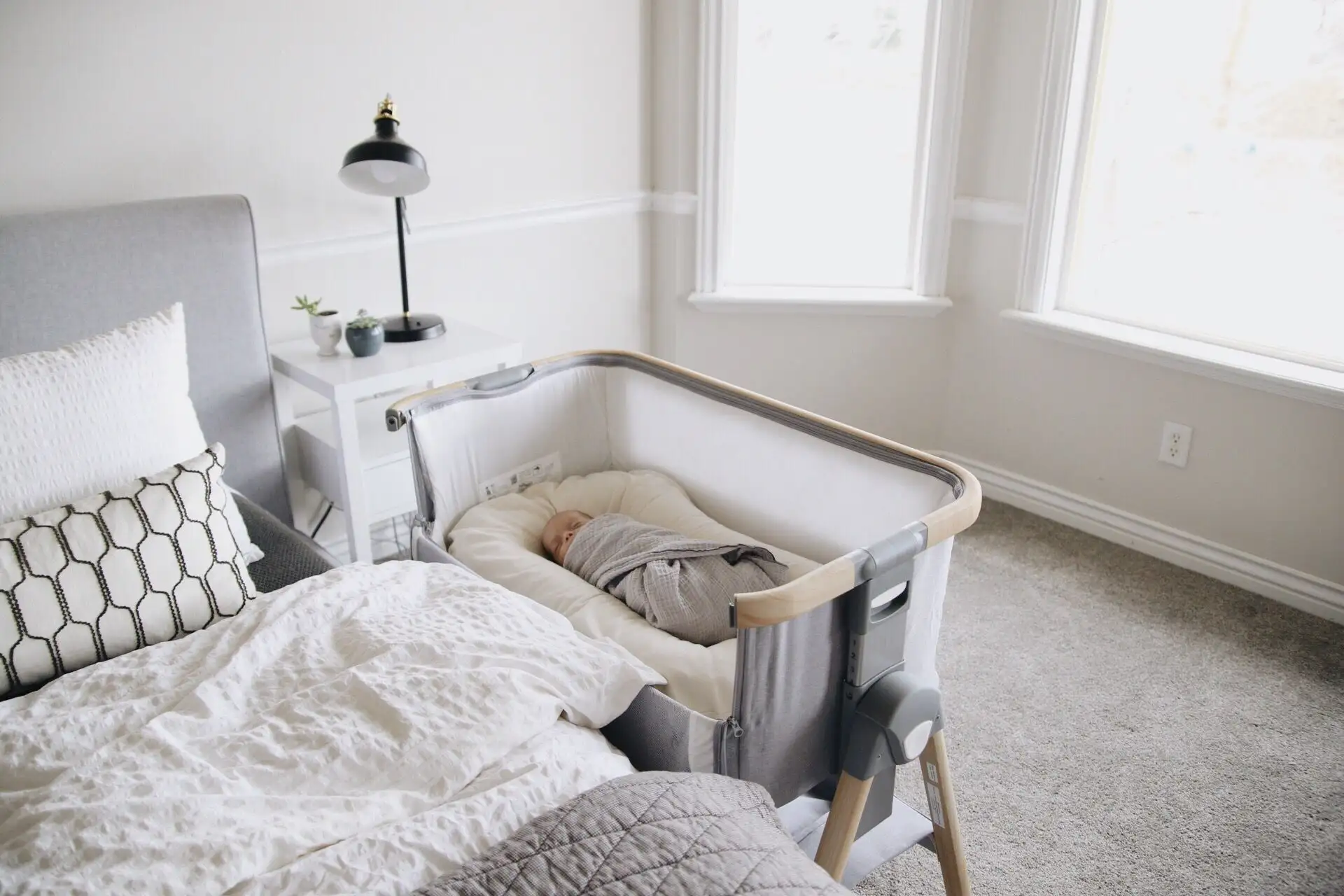 Folding Cribs
Folding cribs differ from the others due to an improved folding mechanism. This means it's easy to fold and store them away in any apartment. Other features include:
Folding cots are produced in a small size (so don't take up much space).
Thanks to a portable option (almost all are produced with wheels), you can move them from room to room.
Folding cribs are an ideal option for travelling. You can simply put it in the car and take a trip or visit your baby's grandparents.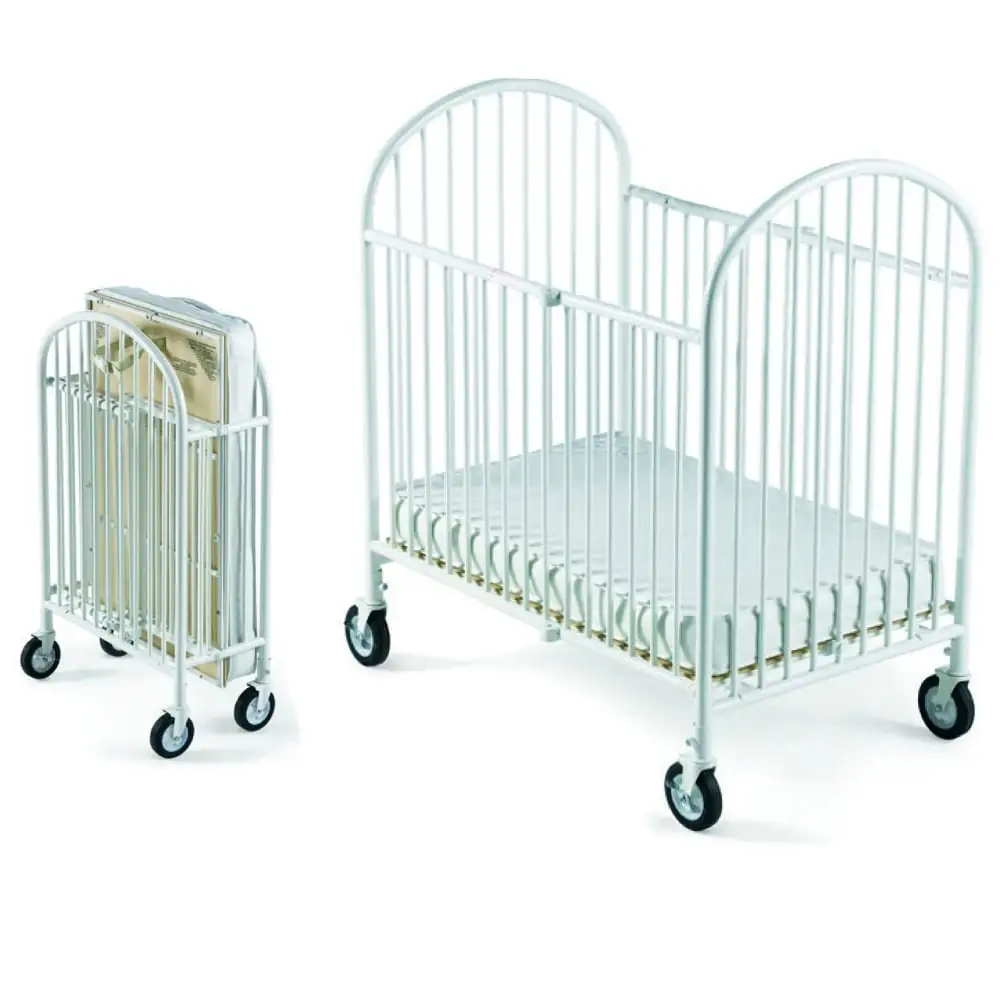 Mini Cribs
Mini cribs are a perfect choice for those who have limited space. Whether you want to place a baby cot in the nursery or in your bedroom, a non-full-size option fits well with various styles. Mini cribs are intended for babies from birth to 2 years.
Along with standard options, you can adjust the mattress level. Most non-full-size cribs can be folded. Some of them have wheels to move the crib without disturbing your sleepy angel.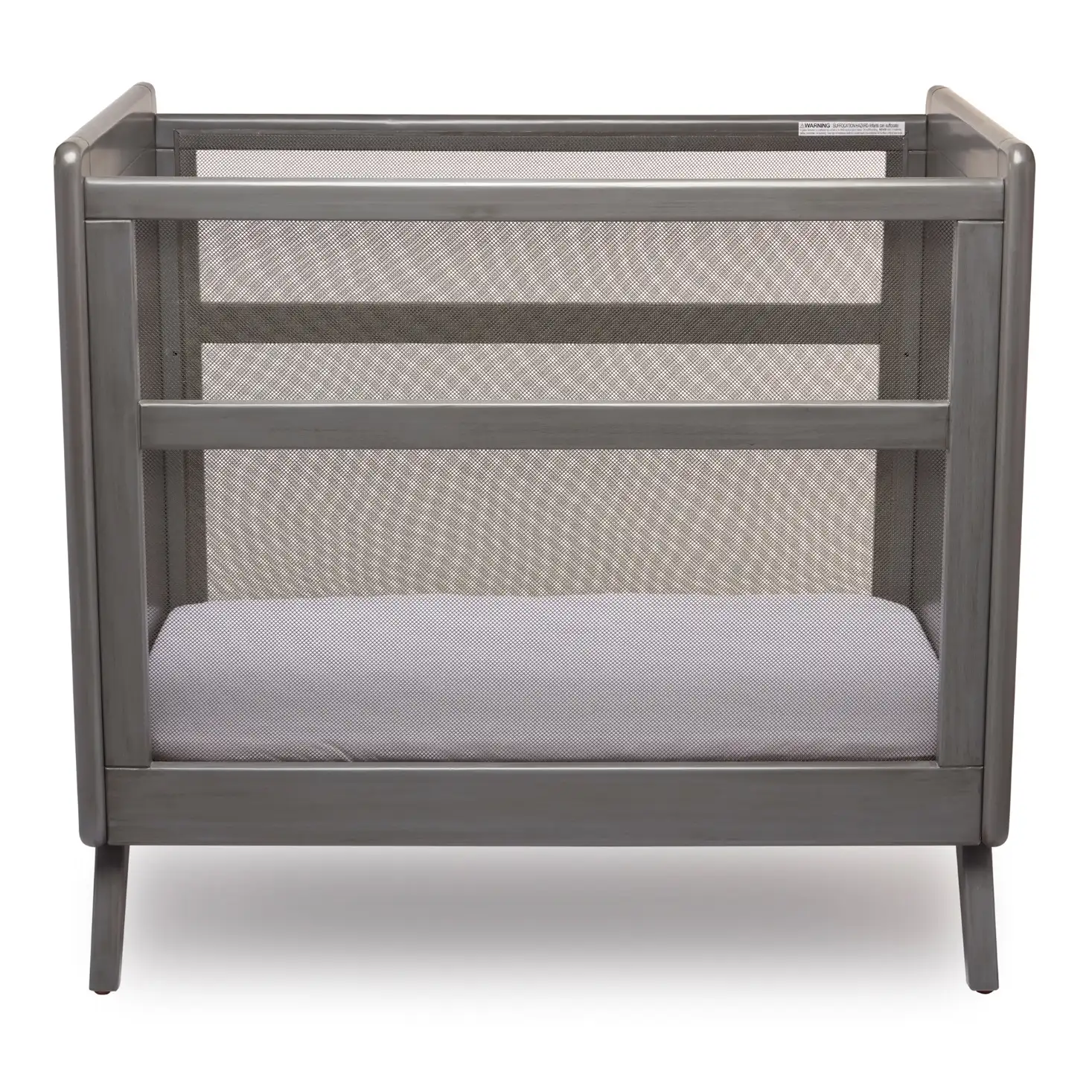 To style your baby girl's room, you can choose something other than the traditional regular shape of a mini crib. For instance, an oval or round cot gives an elegant touch to your nursery and emphasizes the beauty of your delicate princess.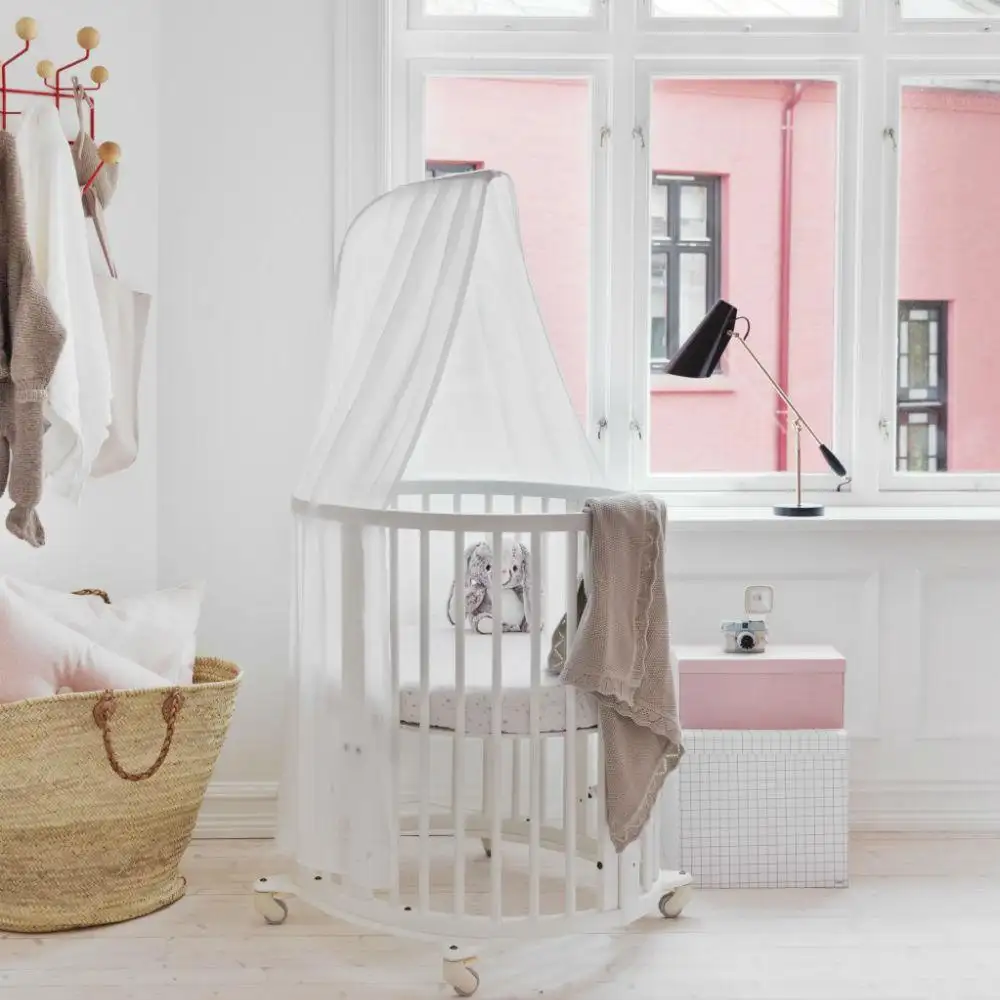 Canopy Crib
Canopy cribs are an attractive option for parents who appreciate eye-catching décor solutions. Along with most other crib types, this cot is produced in a standard size. Also, you can adjust the height of its mattress. As far as materials, a canopy crib usually is made of metal or wood.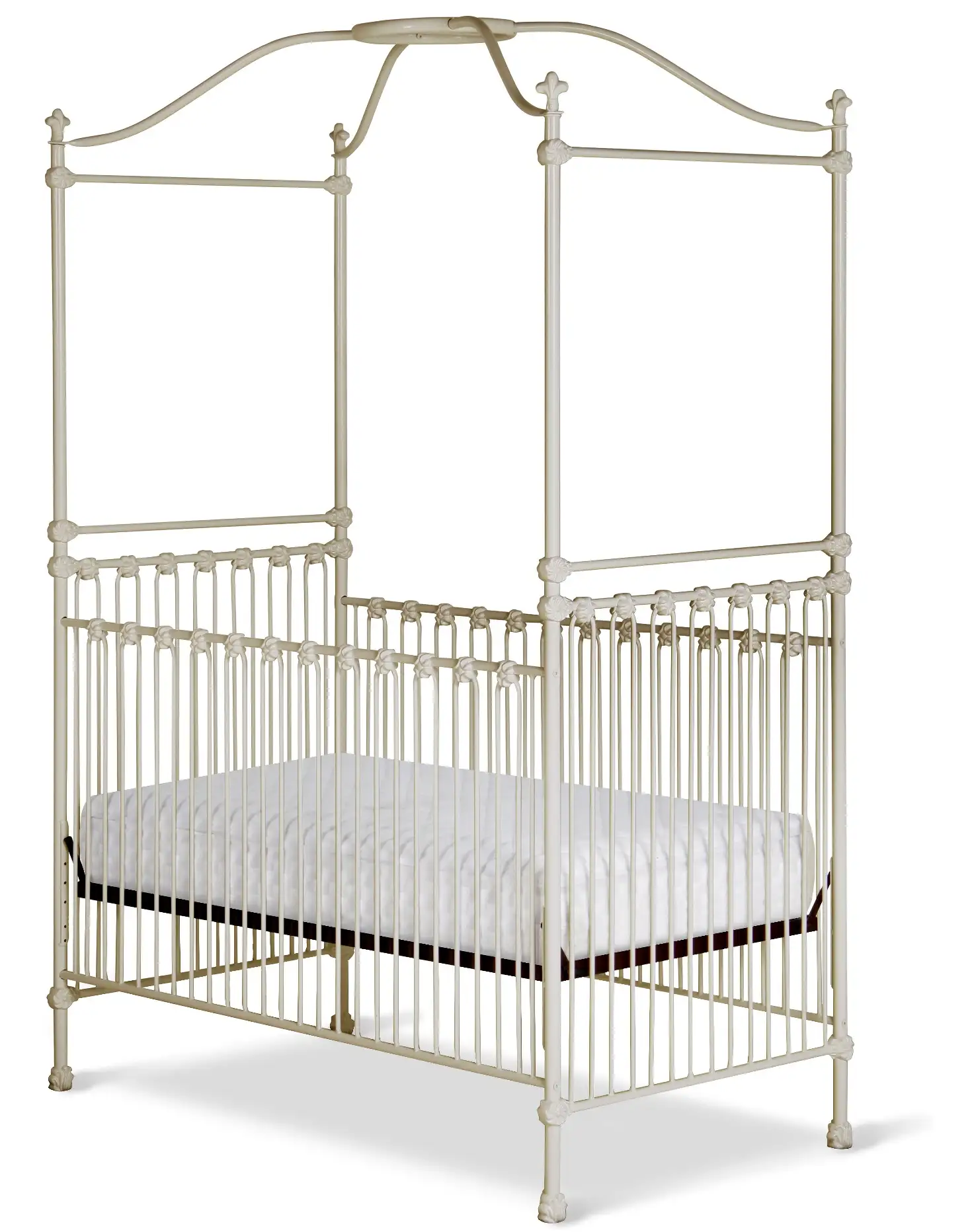 To give a fresh breath to your nursery, just attach a light fabric above your little one's crib. A canopy option brings airy vibes and gives a fairy-tale look to your baby's room.
Such a solution is really great from an aesthetic side, but as far as practicality, be ready to wash the canopy fabric often. Also, keep an eye on your baby's movements to prevent them from using this fabric to pull up to standing.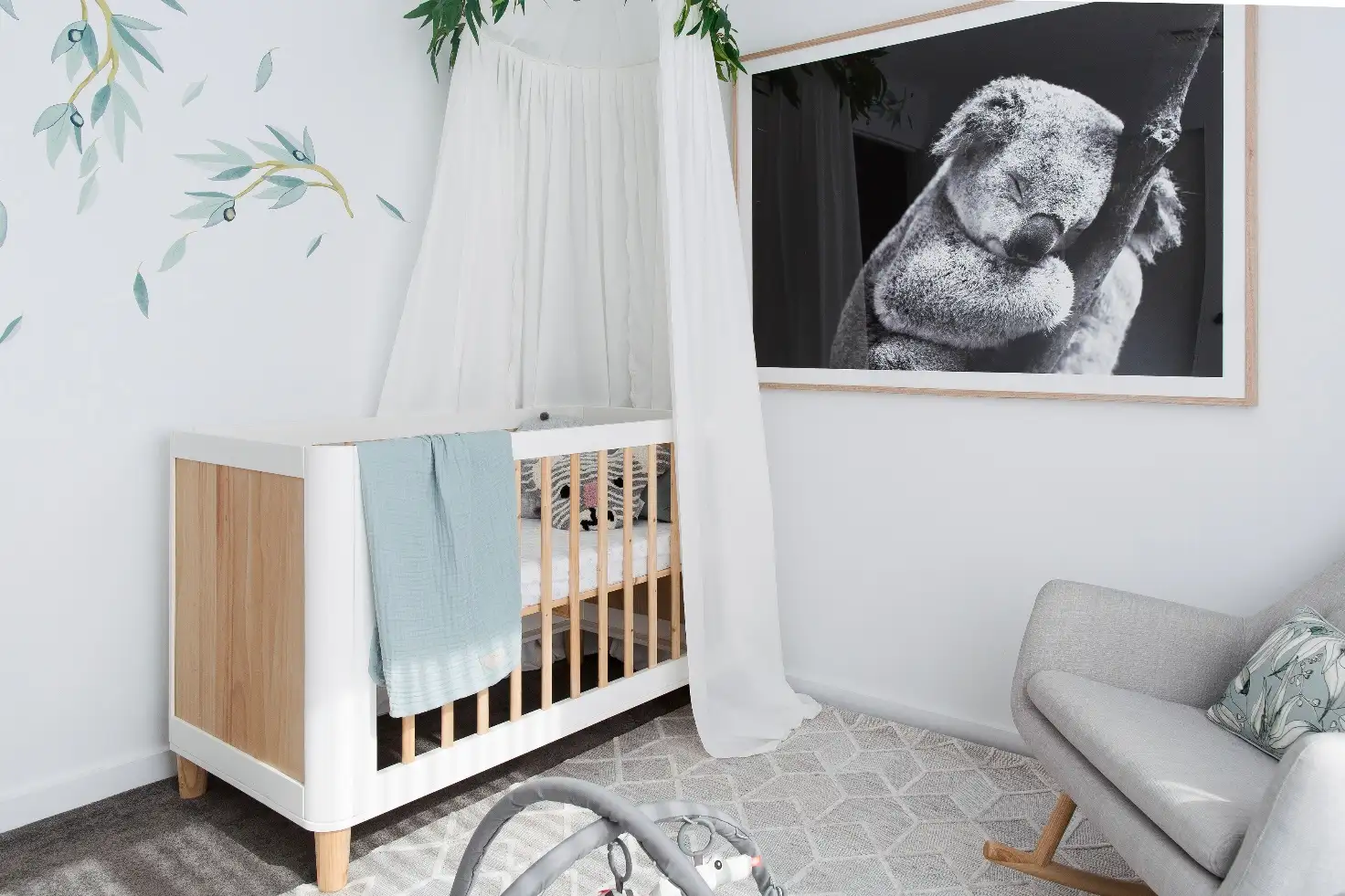 Crib and Changer Combos
Crib and changing table combos are the functional combination of a standard cot with a changer attached to the footboard or headboard. If you prefer compact furniture pieces or/and you're short on space in your nursery, it's exactly what you need.
A changing table consists of two or three built-in drawers to store diapers, napkins, and other toiletries. When your little one outgrows the changer, you can continue to use it as a storage.
Usually, crib and changer combos have a convertible option and can be transformed into a toddler bed, daybed, or twin bed.