Patio Décor
Whether you have a large or small yard, make your patio a delightful retreat for all your family and friends! Before you begin to decorate the patio, decide what functions you want it to serve. It's better to make it a versatile outdoor space. This means you'll have a place for relaxing, reading books, enjoying a cup of coffee in the morning, hanging out with your family and friends after a long day at work, or just organizing a cheerful cocktail party. That sounds great, doesn't it?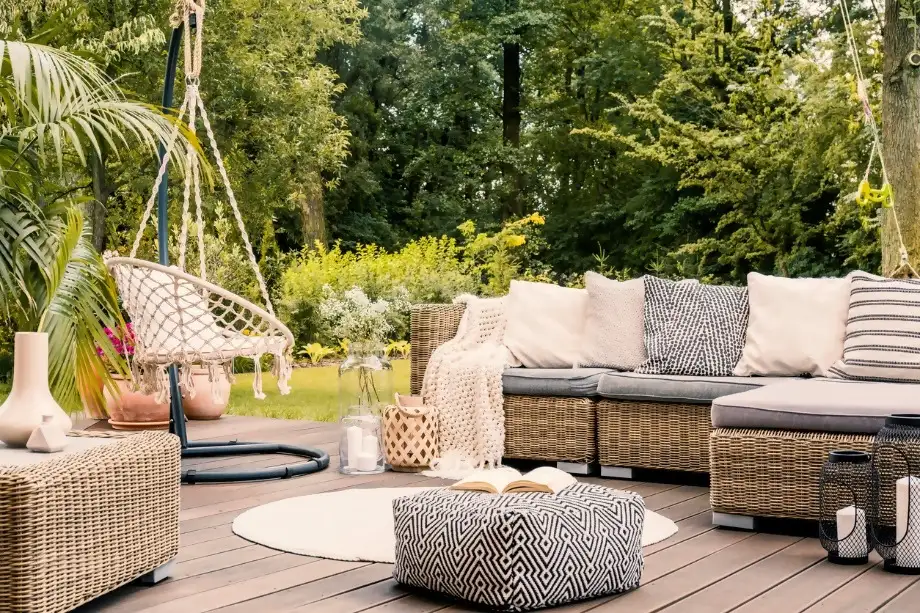 The Essentials Of An Inspirational Patio
Whether you like the pure simplicity of contemporary style homes or the rough surfaces of rustic abodes, stick to a general design conception for both indoor and outdoor décor to create a harmonious appearance for the entirety of your house.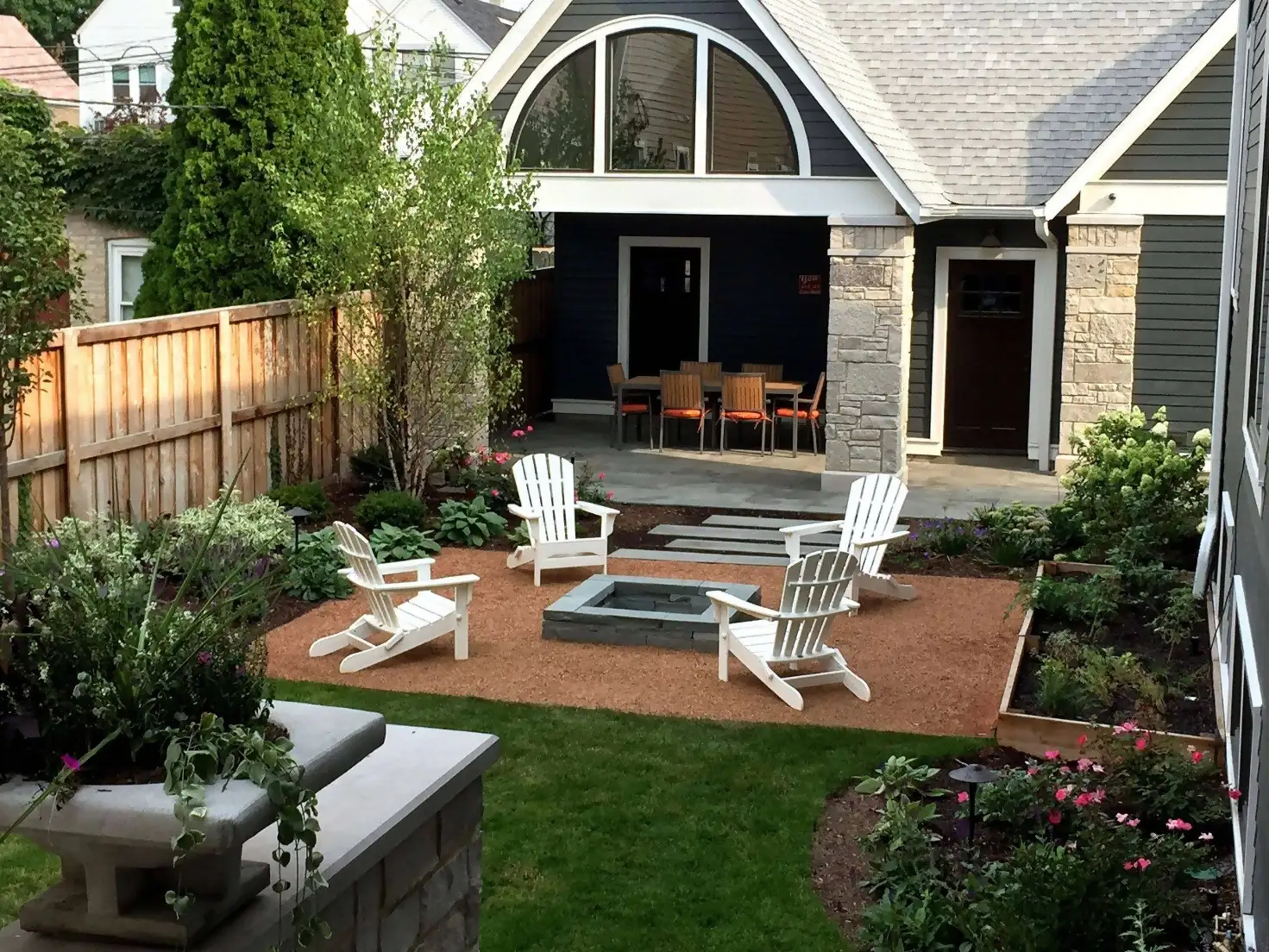 Organize A Sitting Area On Your Patio
Of course, you need a sitting area to make your patio much more comfortable and relaxing for hosting all your outdoor activities. When you consider various furniture sets, take into account their basic parameters, such as functionality, style, materials, size, and colors, to elevate your yard to a welcoming area with a table, ottoman, sofa, and armchairs. Complete your sitting area with all-weather cushions and covers to keep your furniture set in good condition in the off-season.
When you consider various color solutions, think about blending neutrals with bold hues to create a striking contrast. For instance, a mix of beige cushions with dark brown furniture pieces is a pretty good combination.
For materials, pay attention to durable and low-maintenance furniture sets, which are easy to clean. In any case, wicker or metal is a great choice.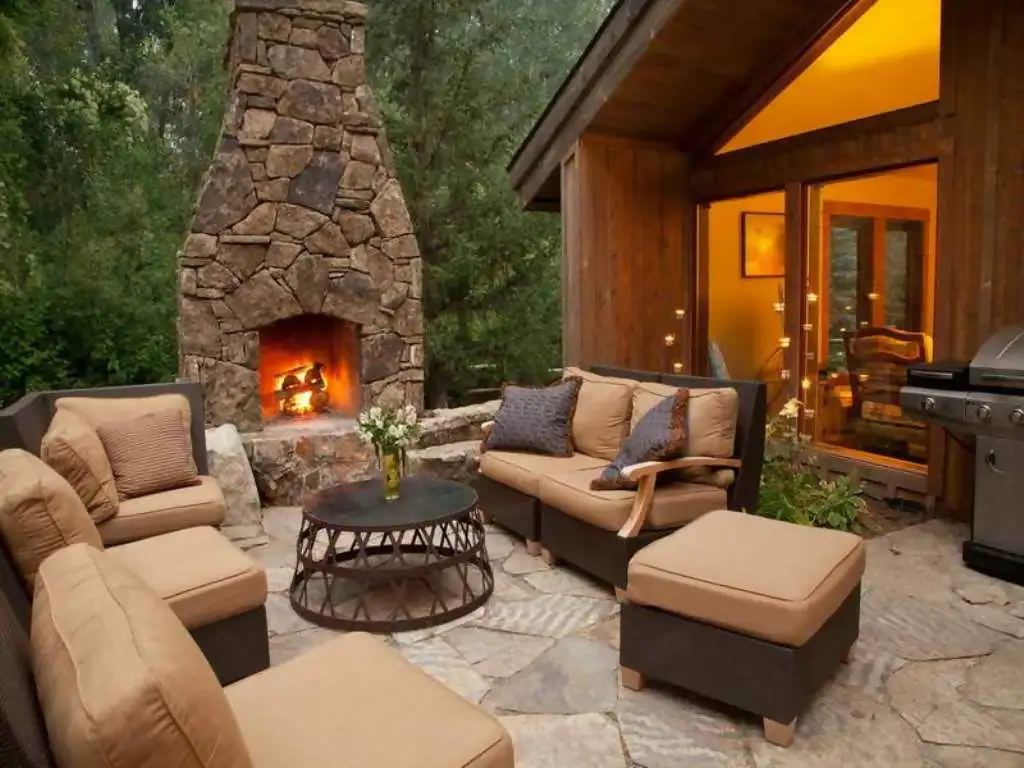 Patio Dining Furniture
If you like to organize cool parties, celebrate holidays, or just eat yummy food with your family on the patio, choose a dining furniture set to seat everyone. Think about a rectangular dining table with enough seating capacity. Also, you could place a bench as additional seating space to enjoy refreshing drinks.
There are various patio furniture pieces on the market, from budget-friendly to expensive design options.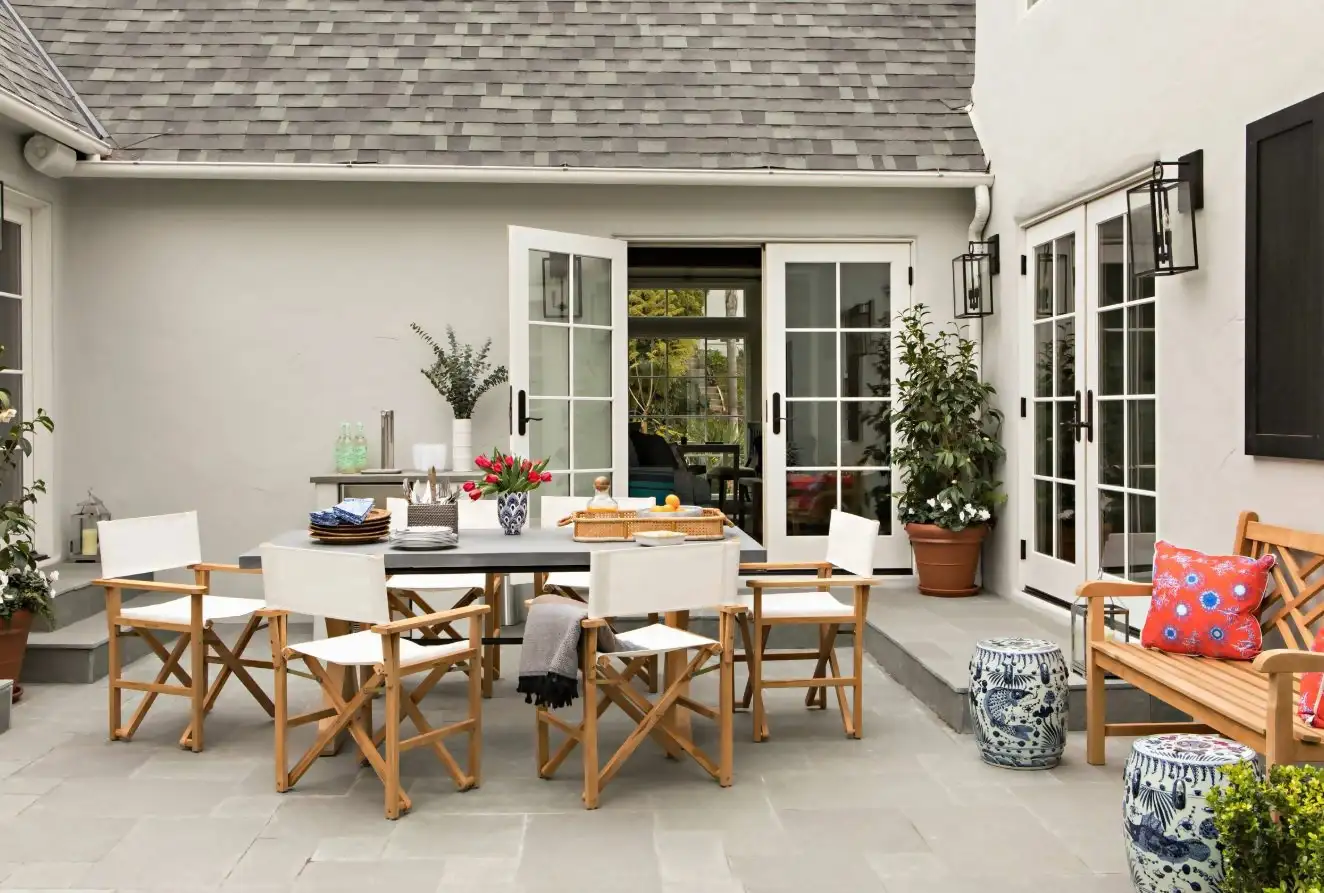 Additional Furniture For A Patio With A Pool
If you have a swimming pool, don't forget to buy chaise lounges! Choose an ergonomically-designed type with all-weather padding for the back to provide comfort and support. Also, place an umbrella above the table to keep your family cool during hot sunny days.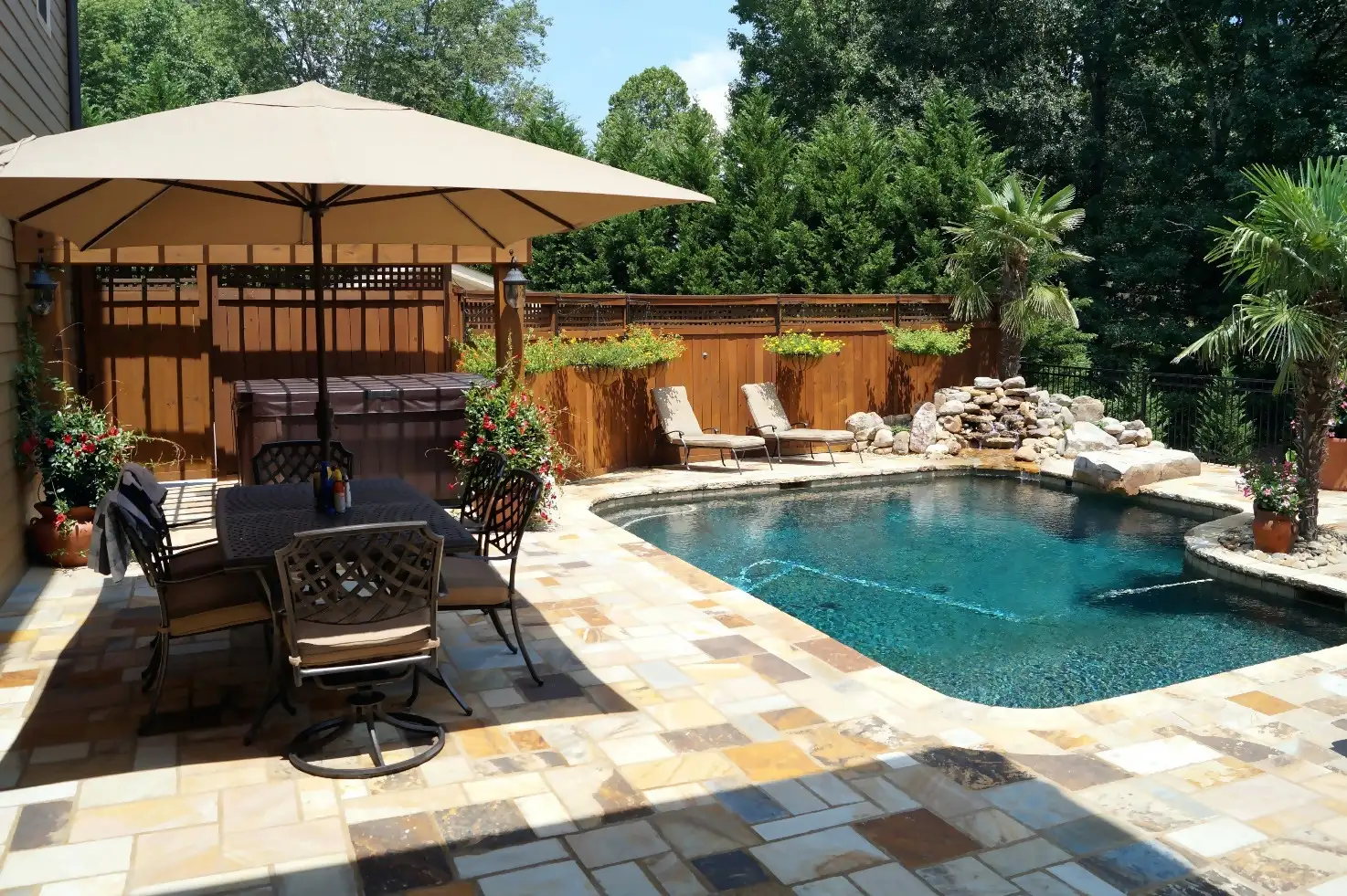 Lighting
Of course, you need well-thought-out solutions to light up your outdoor patio arrangement when it gets dark. Soft lighting creates a soothing ambience. This means you'll have to use enough lighting without overdoing it. Don't forget that you need additional light fixtures inside your dwelling but not outside it. Also, keep in mind that a lot of lighting could be detrimental when you relax on the patio. Think about overhead lighting, such as outdoor pendant or string lights. If you don't have the opportunity or desire to install a fireplace, opt for a fire pit to bring cozy vibes outdoors.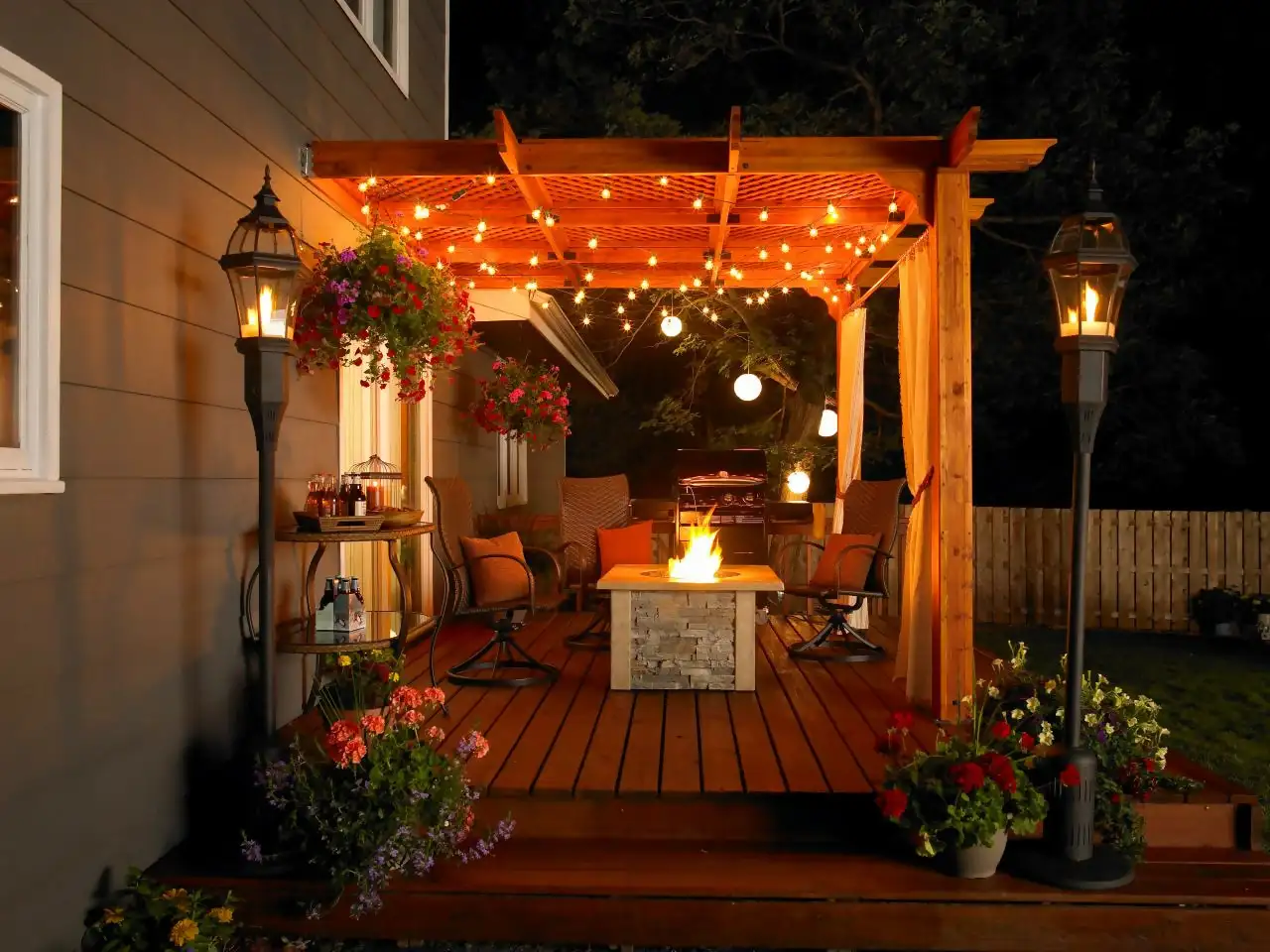 Inspirational Patio Accessories
Think about bright décor accessories to show off your creativity and add a personal signature to your patio arrangement. Focus on inspirational details to create a relaxing atmosphere. If you are a fan of hats, hang them on the fence. You could put a vintage lantern on the table and hang light bulbs overhead to provide a romantic ambience. If you want to add a natural touch to your patio, place lush greens in oversized planters.

A Fire Pit
A fire pit is an inviting décor element for both family and friends. Think about centering it to create the main focal point of your patio. Such a design solution gives you a chance to relax on the sofa and matching armchairs around the fire pit in a cozy ambience in the evening or just when it's cold outside.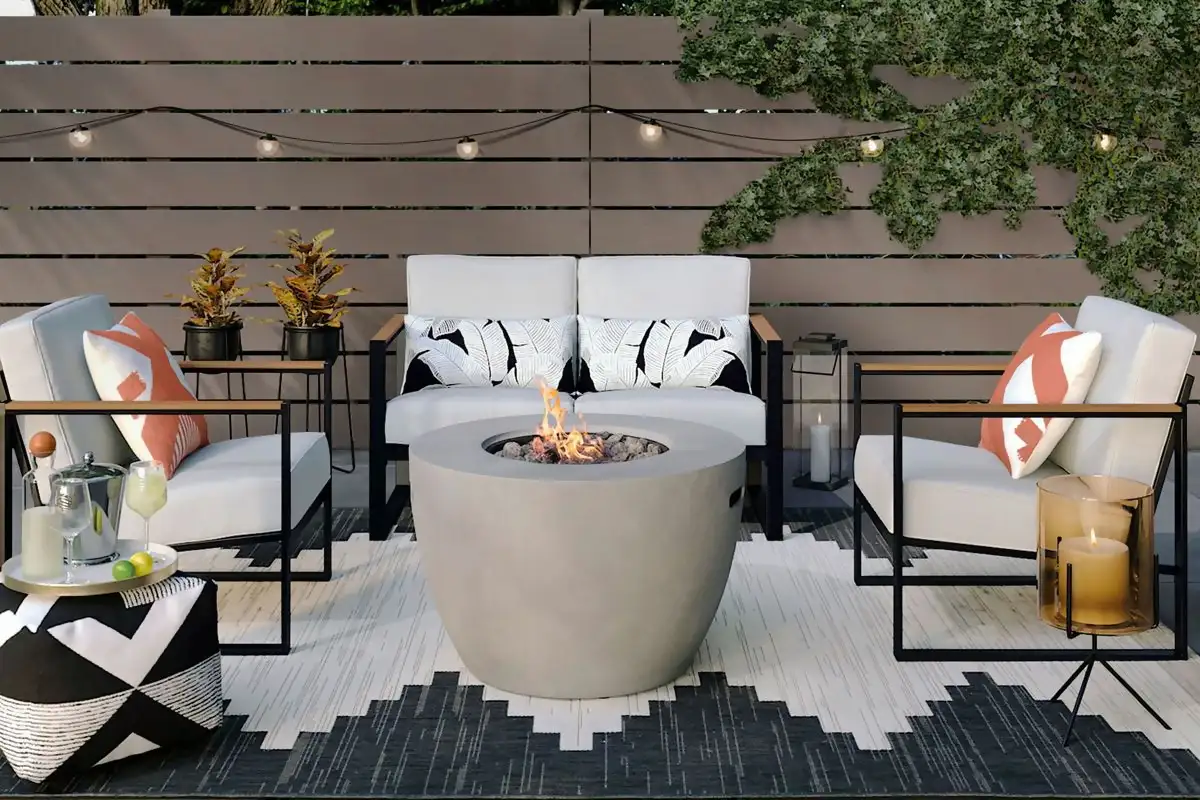 Add Green Plants
Bring color and texture to your patio with a variety of greenery. A mix of potted green plants and grapevines exude a strong Zen vibe. That's a great way to create a soothing ambience outside your abode.
Think About An Eco-Friendly Concept
If you love nature, decorate your patio with an eco-friendly approach. A lot of green plants and flowers, natural fibers and materials are all roots of integrating an organic concept to your patio. Using wooden furniture is a great way to make your patio a really sustainable space.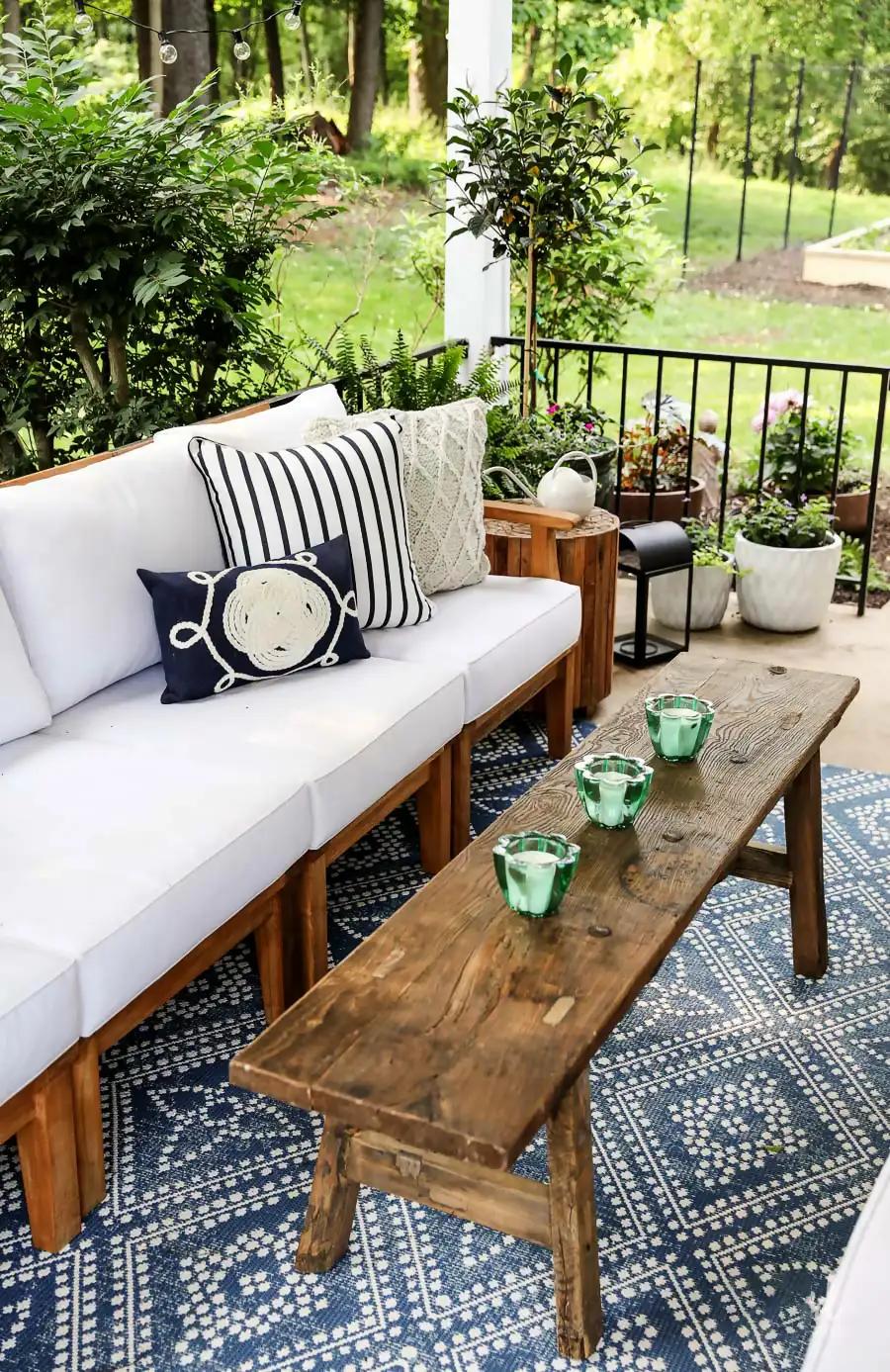 Patio Types
Depending on the size of your yard and personal preferences, you could choose a type of a patio which fits your outdoor space in the most successful way.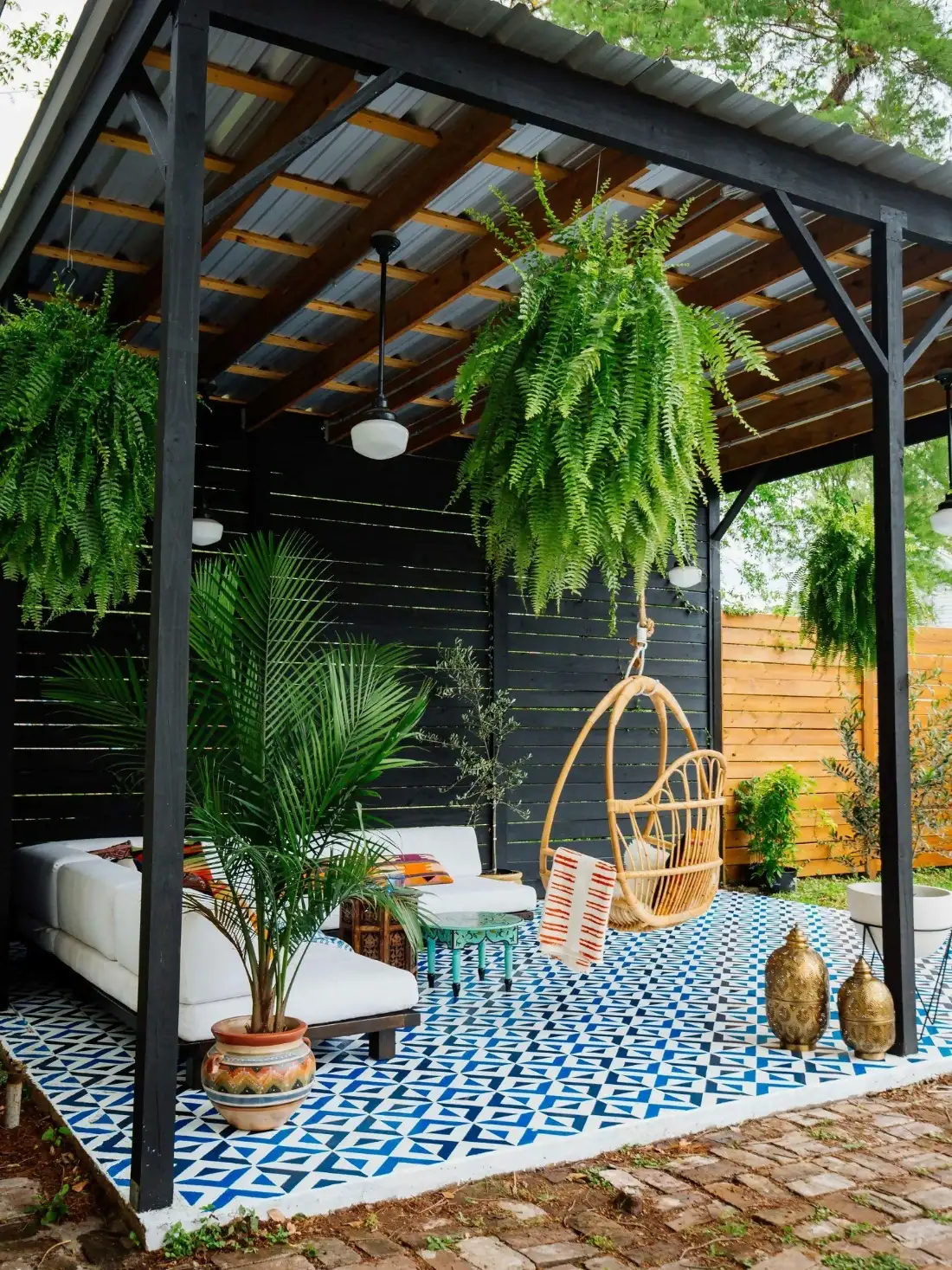 Attached Patio
Creating an attached patio is a great way to extend your dwelling's space. Focus on the most acceptable architectural solution to maintain an attractive appearance to your house. The attachment can extend the existing roof and run the length or width of an abode. This option provides a harmonious look, keeping a smooth transition. Otherwise, you'll need to build a brand-new roof construction.
Patios attach to different rooms and give different advantages to house owners.
If it connects to the kitchen, you'll have additional cooking and dining space for cool cook-outs. Don't forget that to bring a tasteful appearance to your dwelling, decorate the patio in the same style as your kitchen. What about a BBQ party?
If your patio attaches to the living room, you'll have a stunning entertainment place for energetic outdoor activities.
If your patio attaches to your home office, you'll have a great opportunity to change your atmosphere and work harder with more inspiration.
For me, any option of a connecting patio sounds awesome! Which one do you prefer?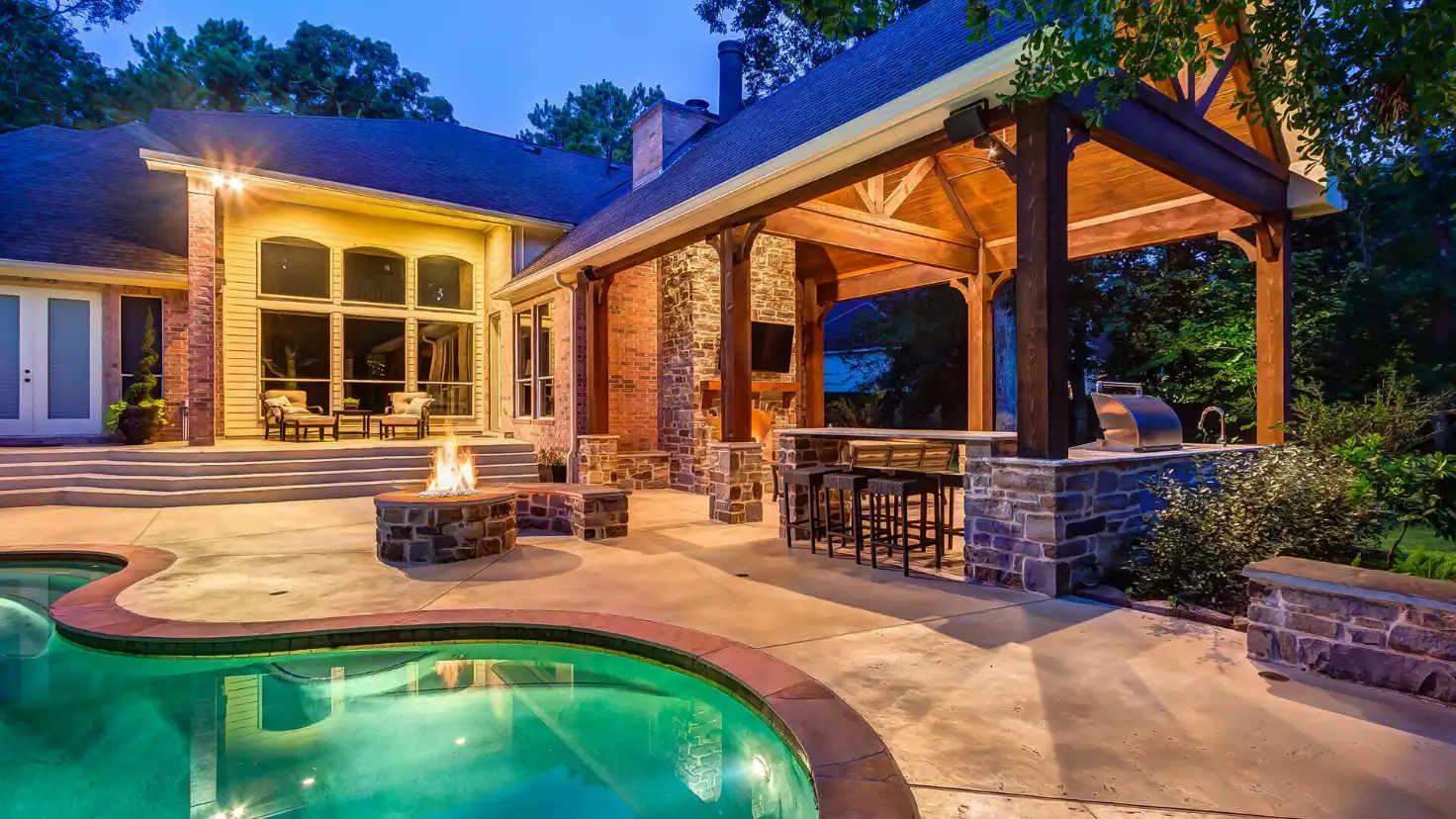 Free-Standing Patio
If you have a house surrounded by lots of space, a free-standing patio is exactly what you need. You'll have covered open-air space to spend more time outdoors. Place enough furniture within your patio to relax with both your family and friends.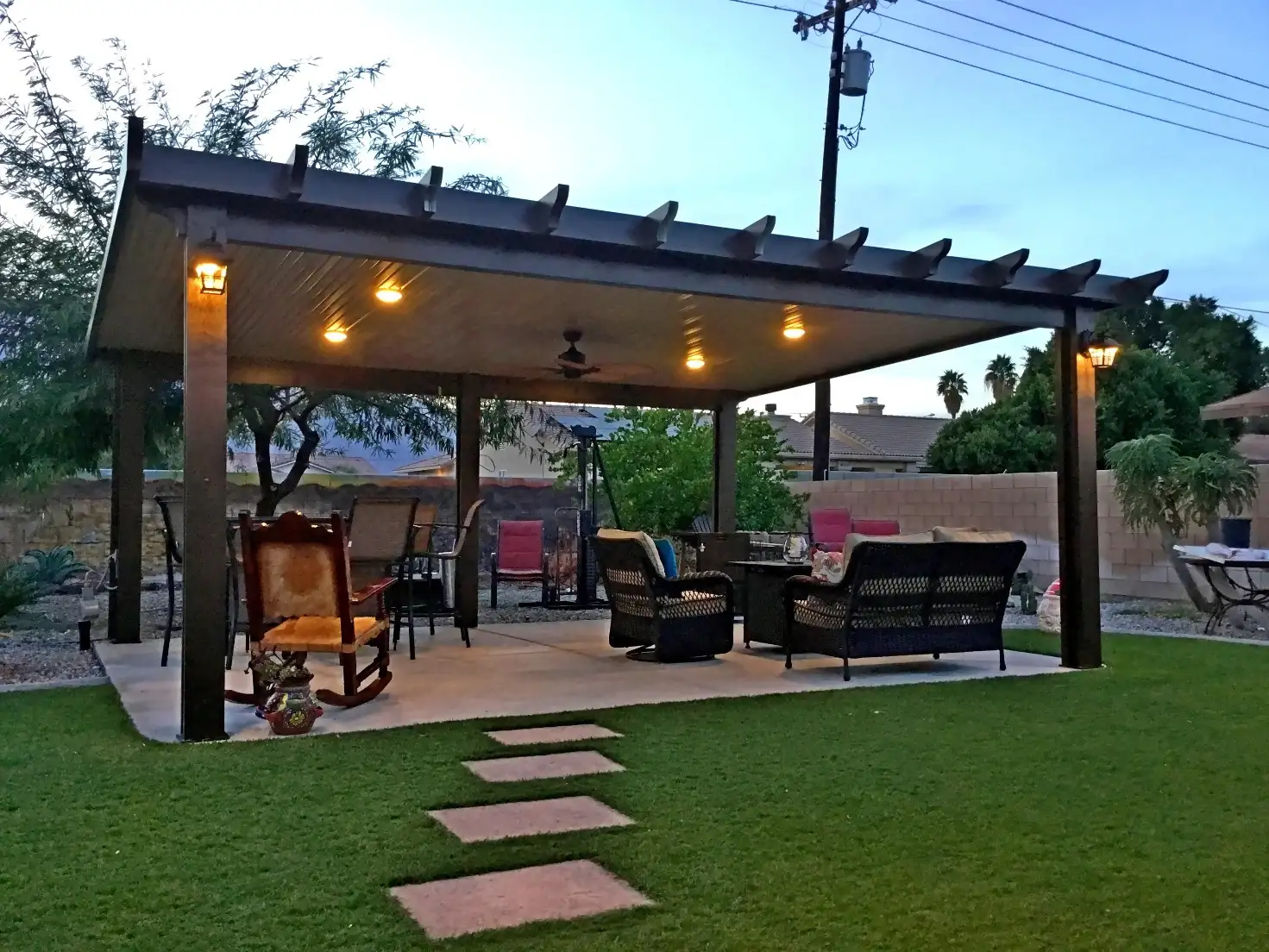 If you have the financial ability, don't be shy about installing a gazebo or/and swimming pool. That's a great way to invest in the quality of your life!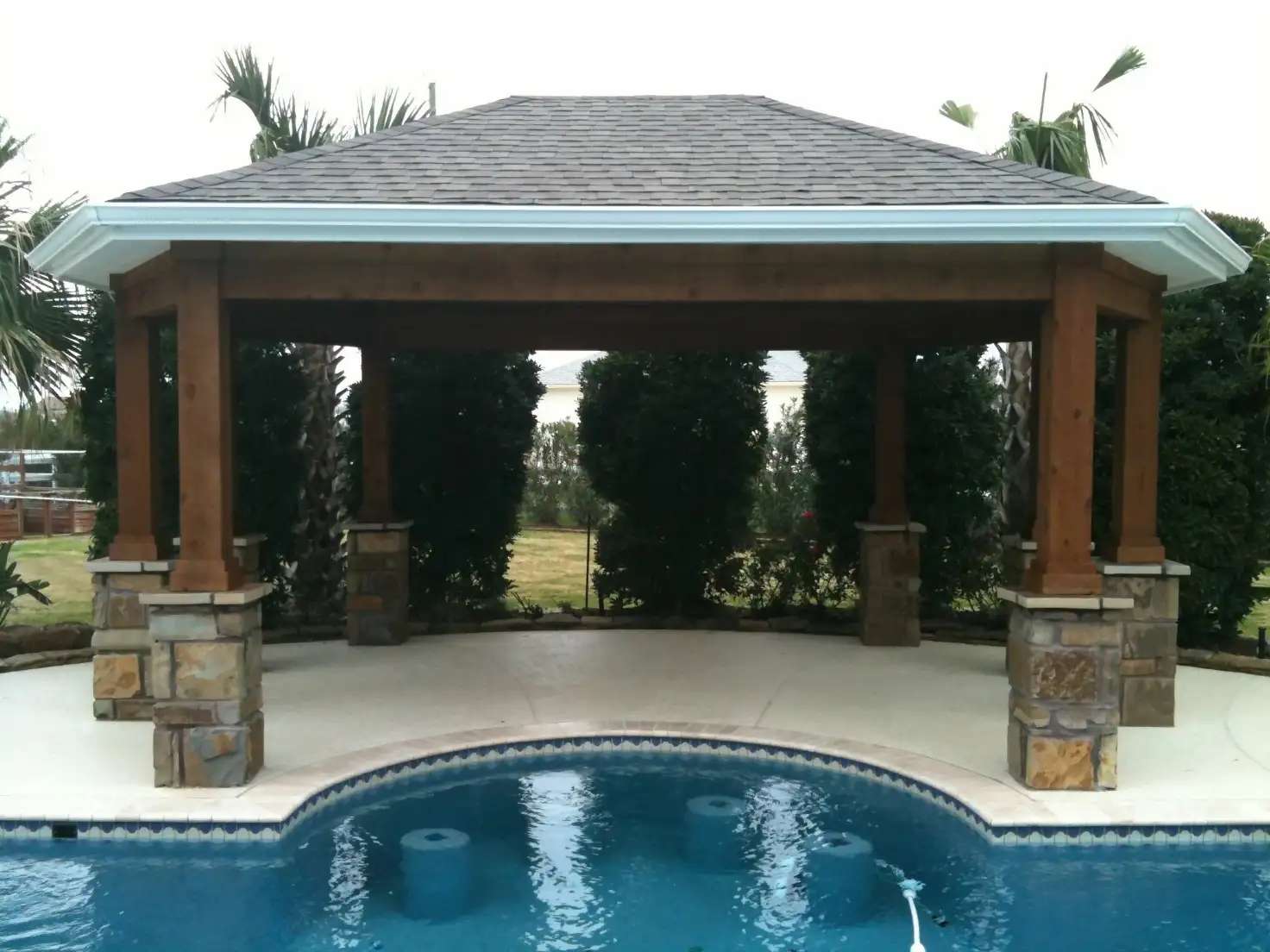 Walled Patio
If you want to provide privacy, creating a walled patio is a great solution! It's all about courtyard style. A walled patio has walls on three or four sides. It could be an enclosed entryway to an abode. A walled patio can be placed in the center of the dwelling or adjacent to it, within a garden or yard.