Nature-Inspired Rustic Décor
Rustic décor includes elements of various house styles, such as country, cottage, lodge, Tuscan, and coastal. Also, it tends to primitives and shabby chic items. It's a mix of rough, antique, and casual décor elements.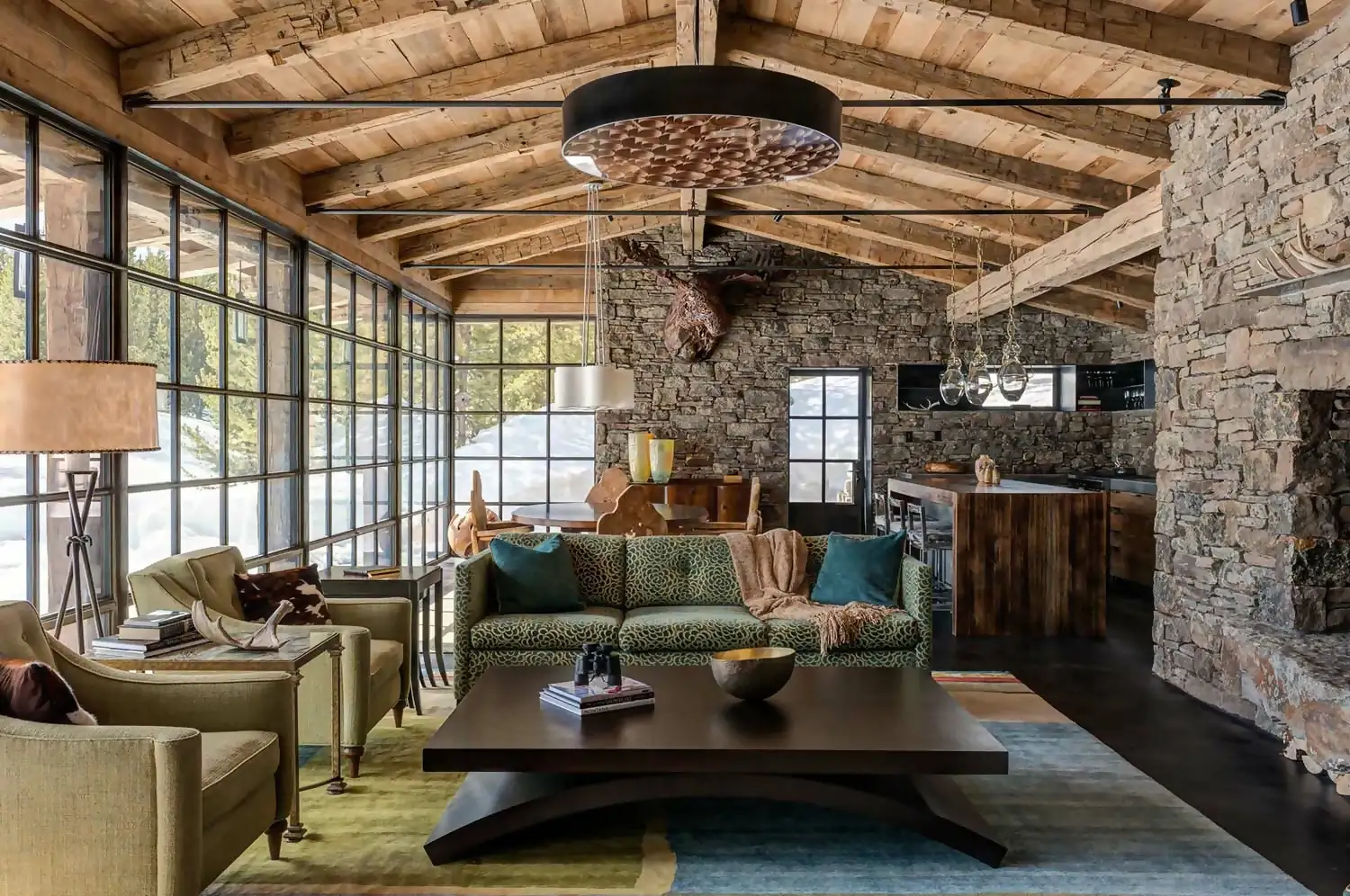 Natural Materials In Rustic-Styled Home
Rustic décor is natural-themed. It's better to use reclaimed wood, stone, original bricks, and clay in a rustic dwelling. What could be better than an earthy feeling in a cozy ambience?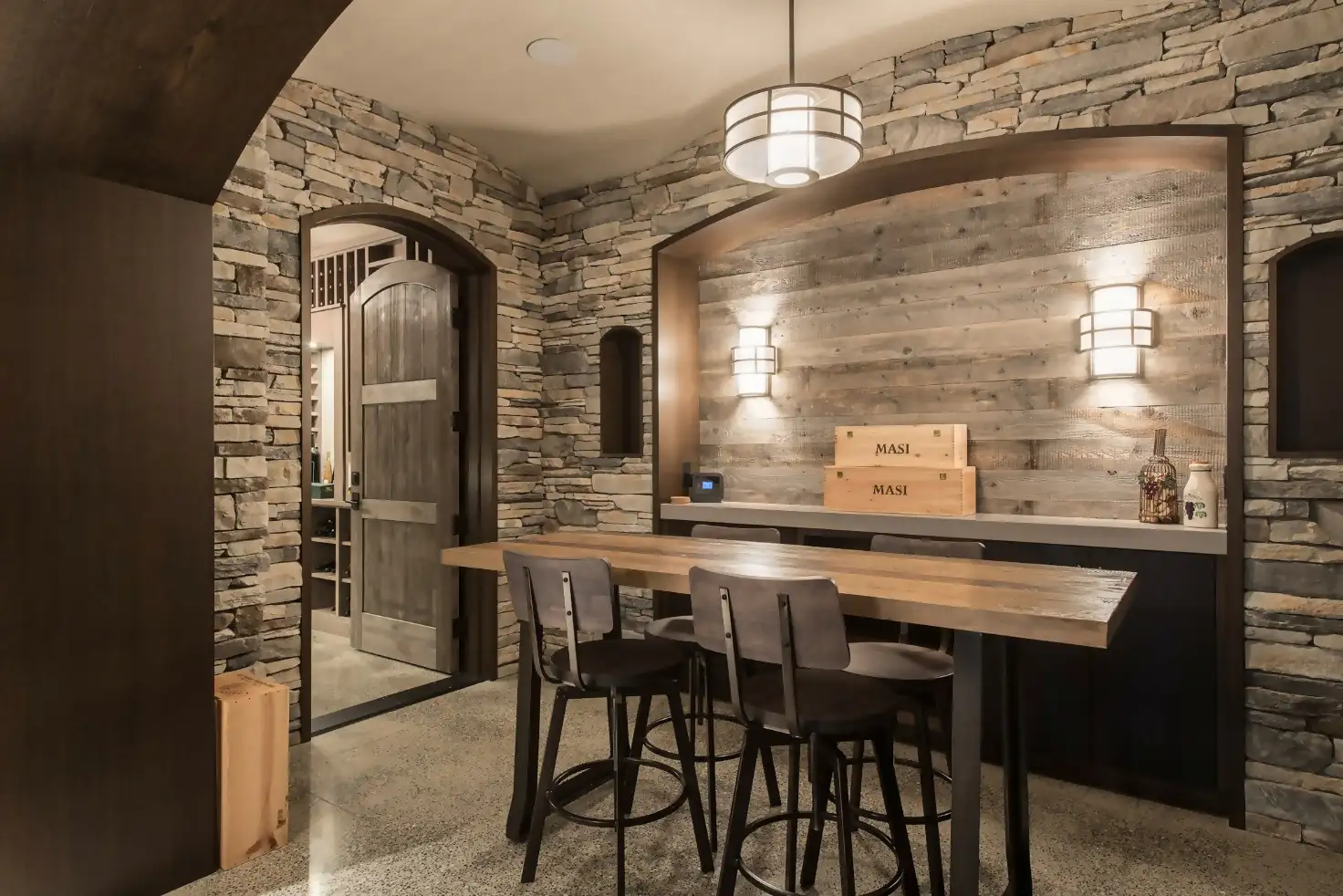 Exposed wooden beams give a splash of depth and texture for every house. This interesting and simple décor solution draws your guests' eyes to observe all your creativity. Moreover, exposed ceiling beams create the illusion of more space.
Rustic Furniture
Rustic old-fashioned furniture features plenty of patina, earthy colors, and natural fabrics. When you consider these last ones, use burlap, linen, canvas, and cotton. Also, mix rough textures with soft fabrics.
Kitchen cabinets and worktops, tables, stools, and rustic accessories are usually made of reclaimed wood, such as alder, cedar, or pine.
The rustic furnishings are all about strength and durability. It's ideal to emphasize the rough décor side of your dwelling with a stone fireplace, romantic lighting, hard window coverings and wall art with animal motifs.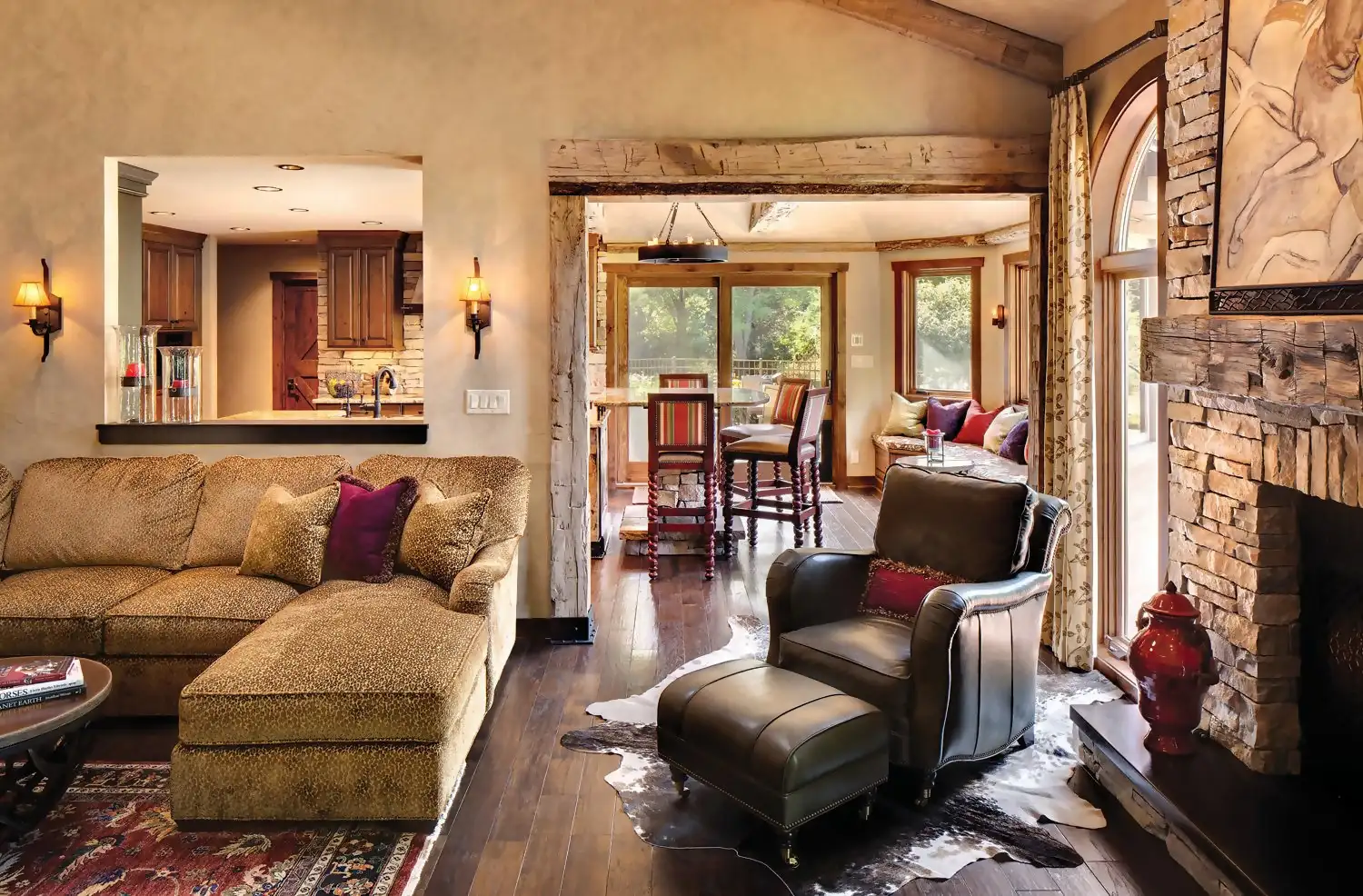 Rustic Wall Décor
When you consider rustic artwork for walls, think about cozy items with a country touch. You could hang galvanized steel planters on hooks with live plants to create a fresh look for your home.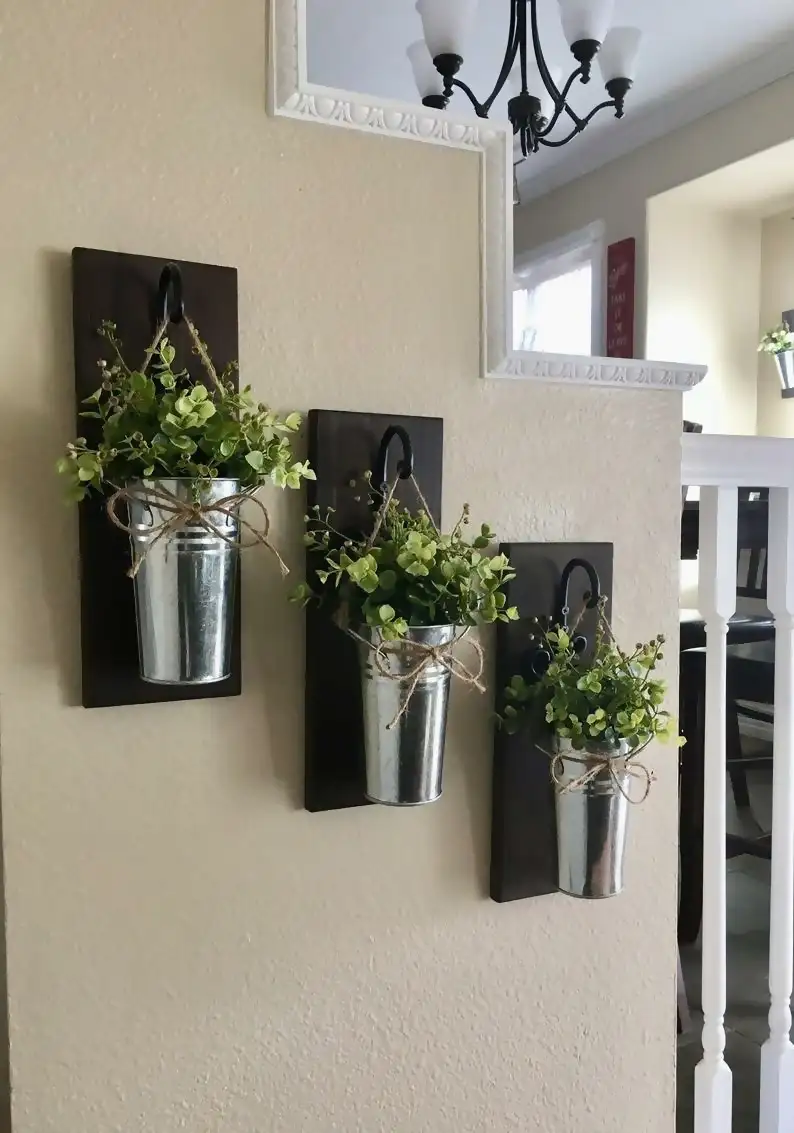 A welcoming rustic house could be highlighted by the homey warmth. Don't be shy about using rustic décor accessories to show your personality.
If you like handmade details, you could make glass jars to create flower pots. For this you'll need rough fabrics to create the word "HOME." That's a great way to emphasize your family values and the warm vibes of your home. Complete this DIY wall art with metal items, which are tied to the rope of every jar. For example, use Christian décor elements, the key of your dwelling, and other things which have a deep connection for your family.
Then install this DIY project on the wall boards.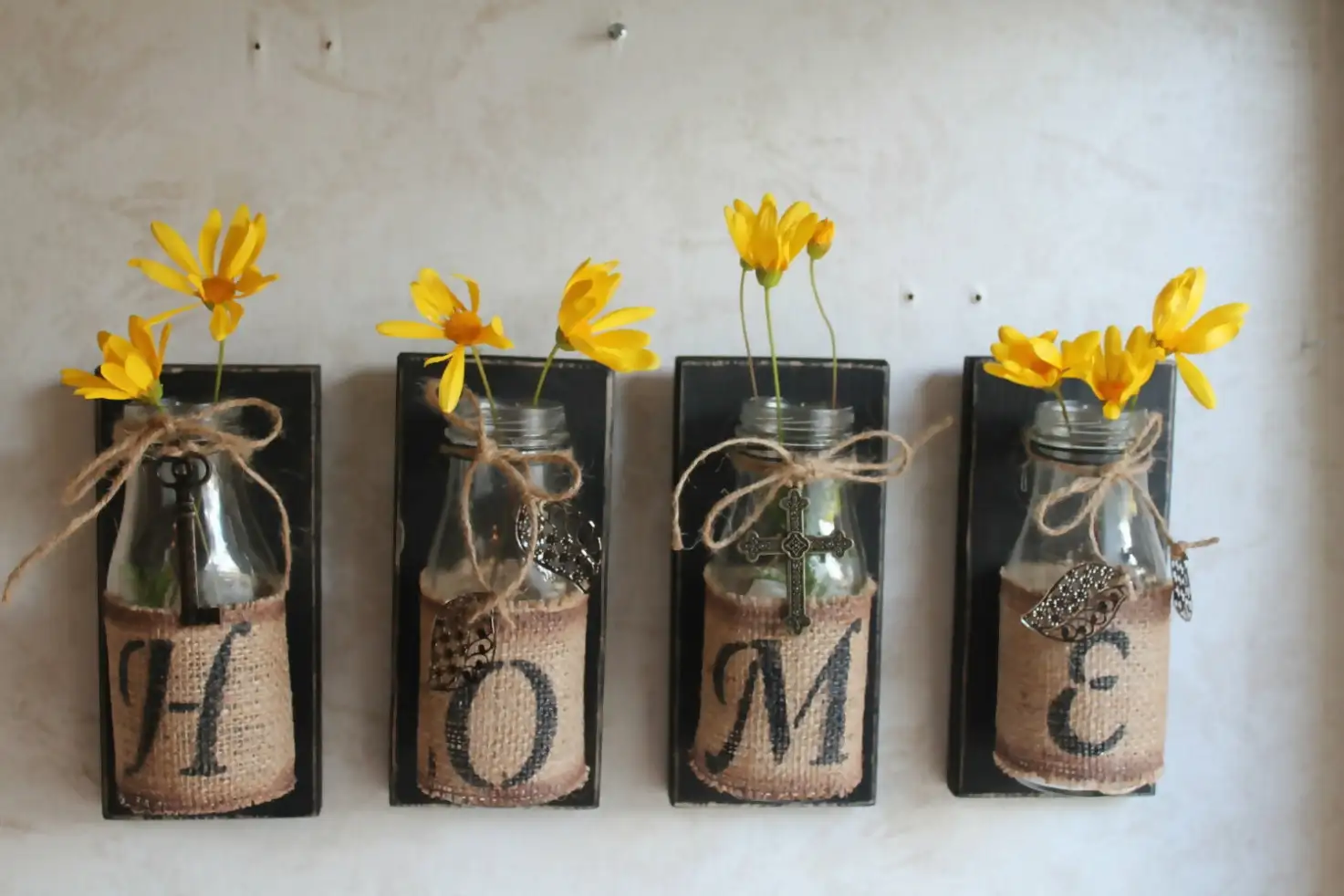 Fill up your wall with family-themed art! You could create special wall décor with a photo gallery, pictures, quotes, and metal symbols. Light-colored wooden frames are the right solution for all wall art pieces. It's all about warm feeling in your home and life.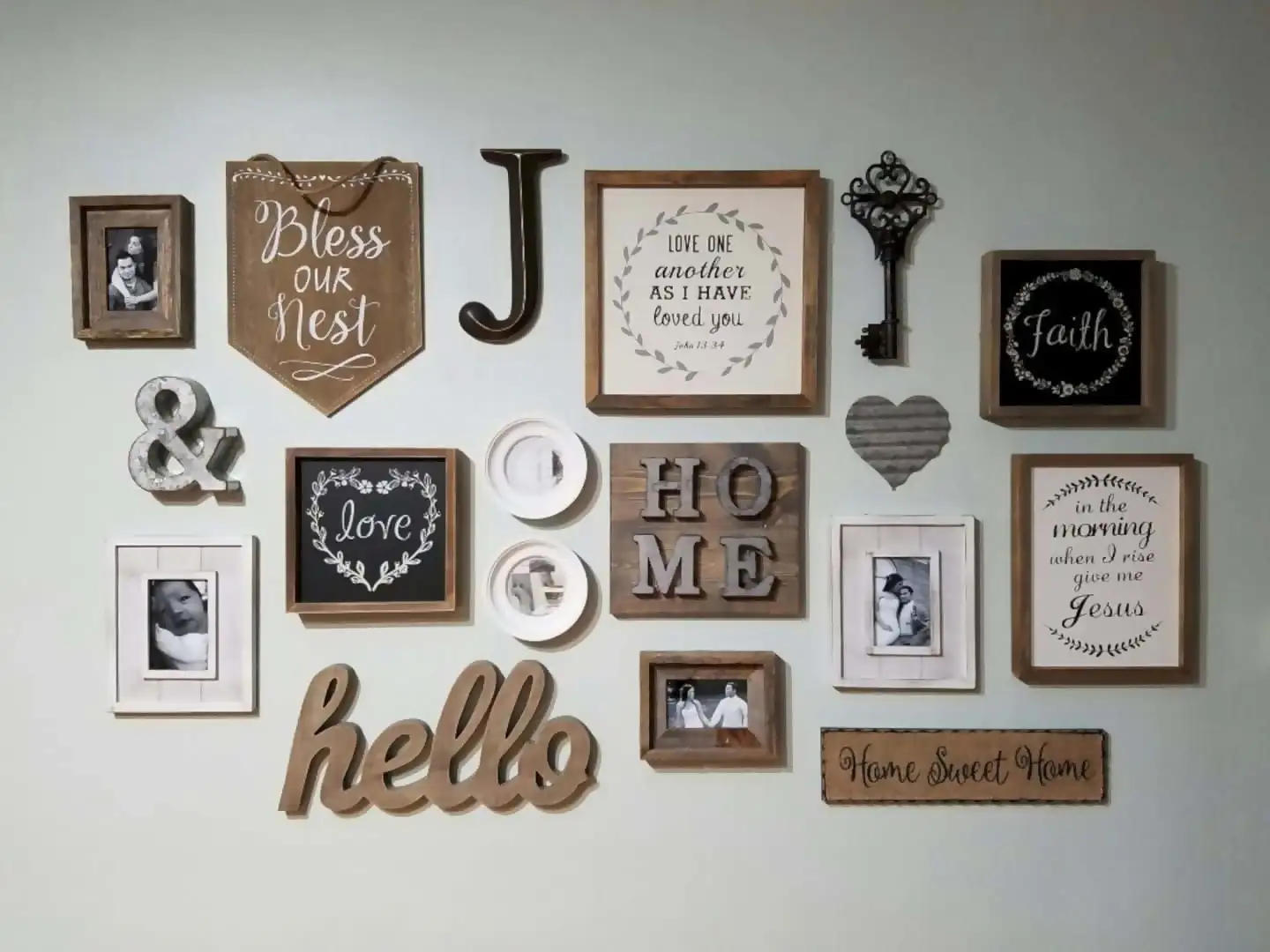 Think about rustic deer wall décor to emphasize the authentic character of your dwelling. For instance, you could install a wooden canvas with the inscription "HOME" on the board.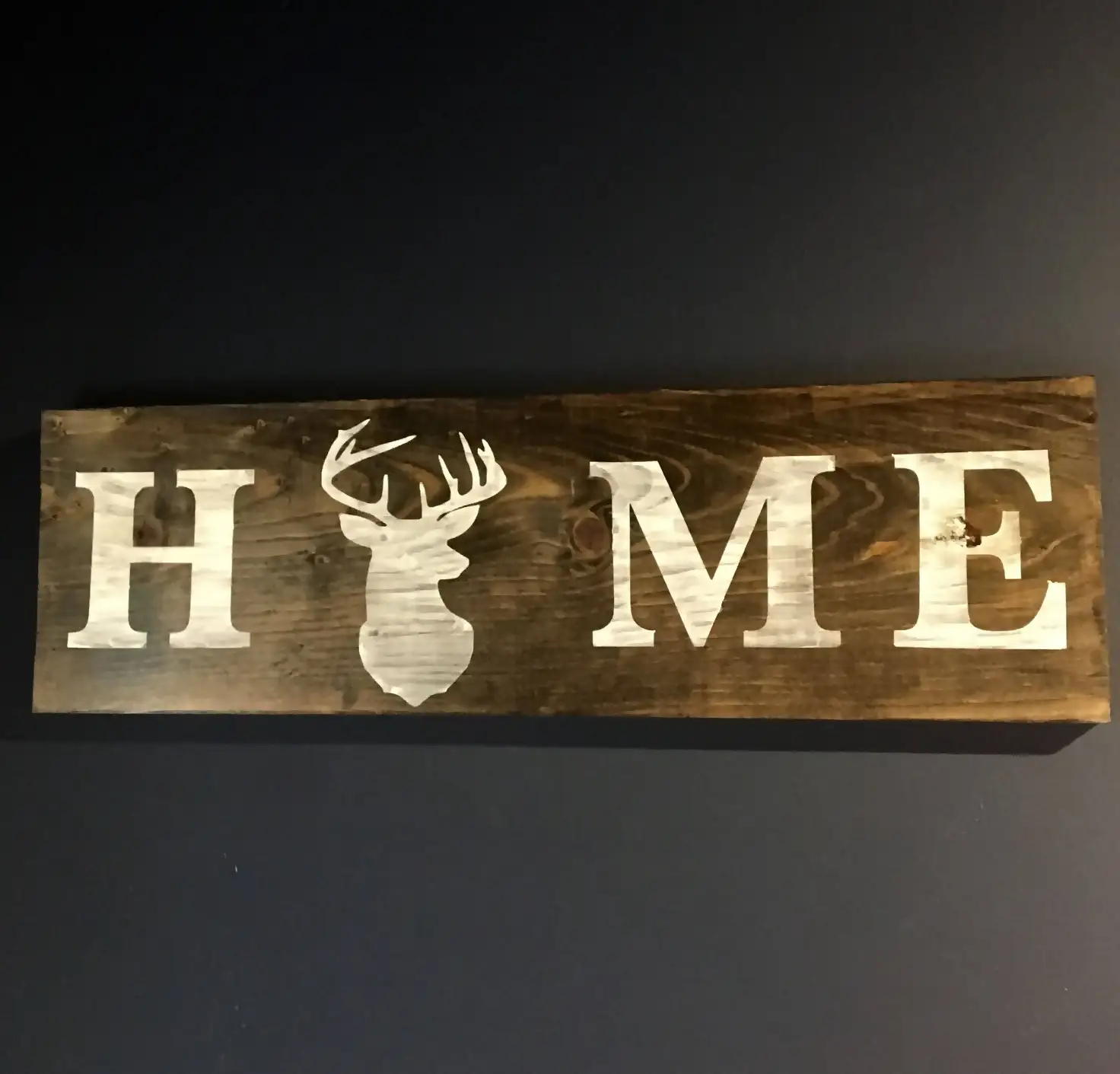 Rustic Outdoor Décor
When you decorate your rustic house on the outside, think about a farmhouse-styled porch. It's so cool to relax on comfortable rocking chairs or swings covered with a soft blanket in the family circle during warm evenings.
No matter how many trees are near your house, green plants always fit your porch!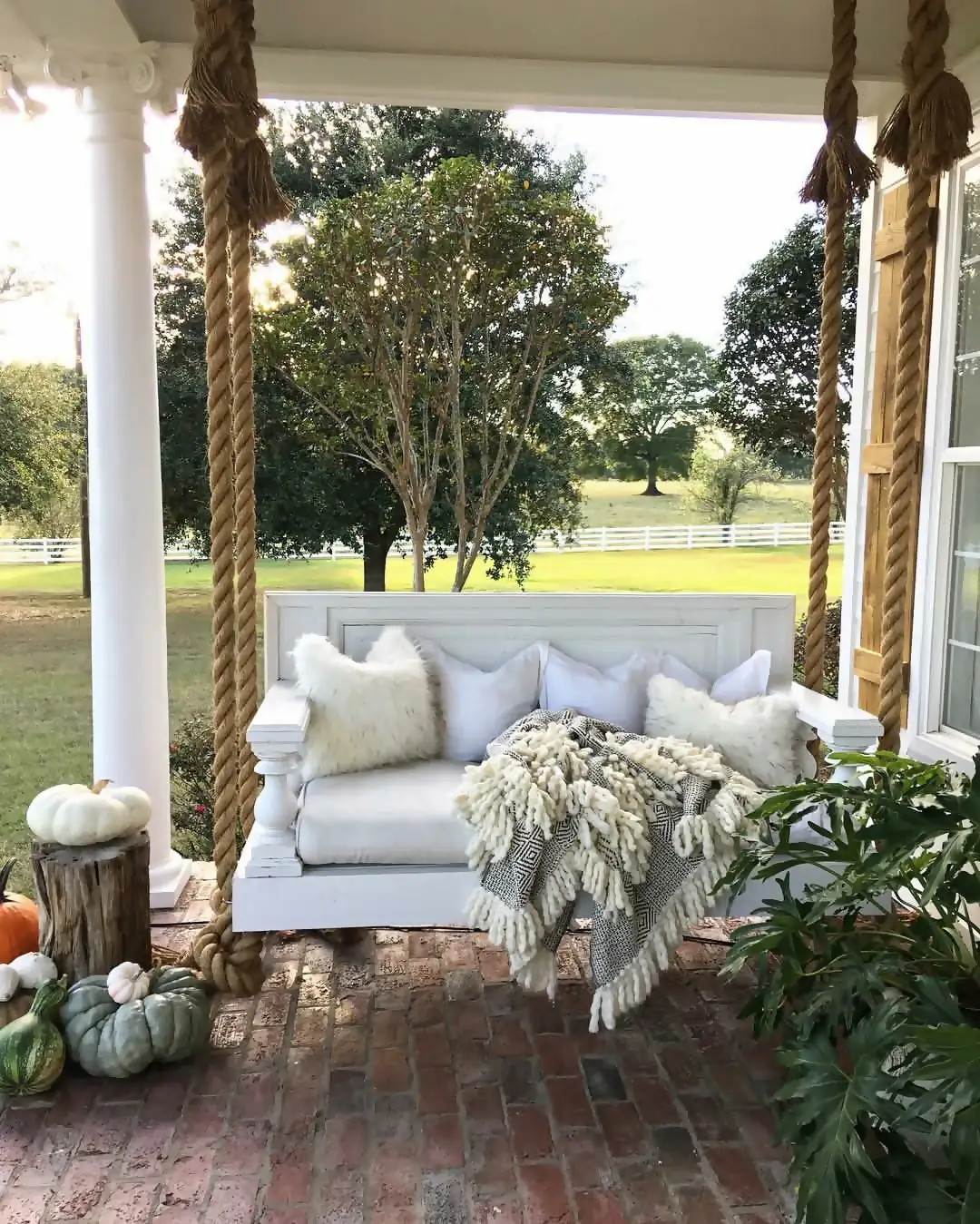 If your fence is primitive, decorate it with flower pots to add rural elegant vibes outside your dwelling.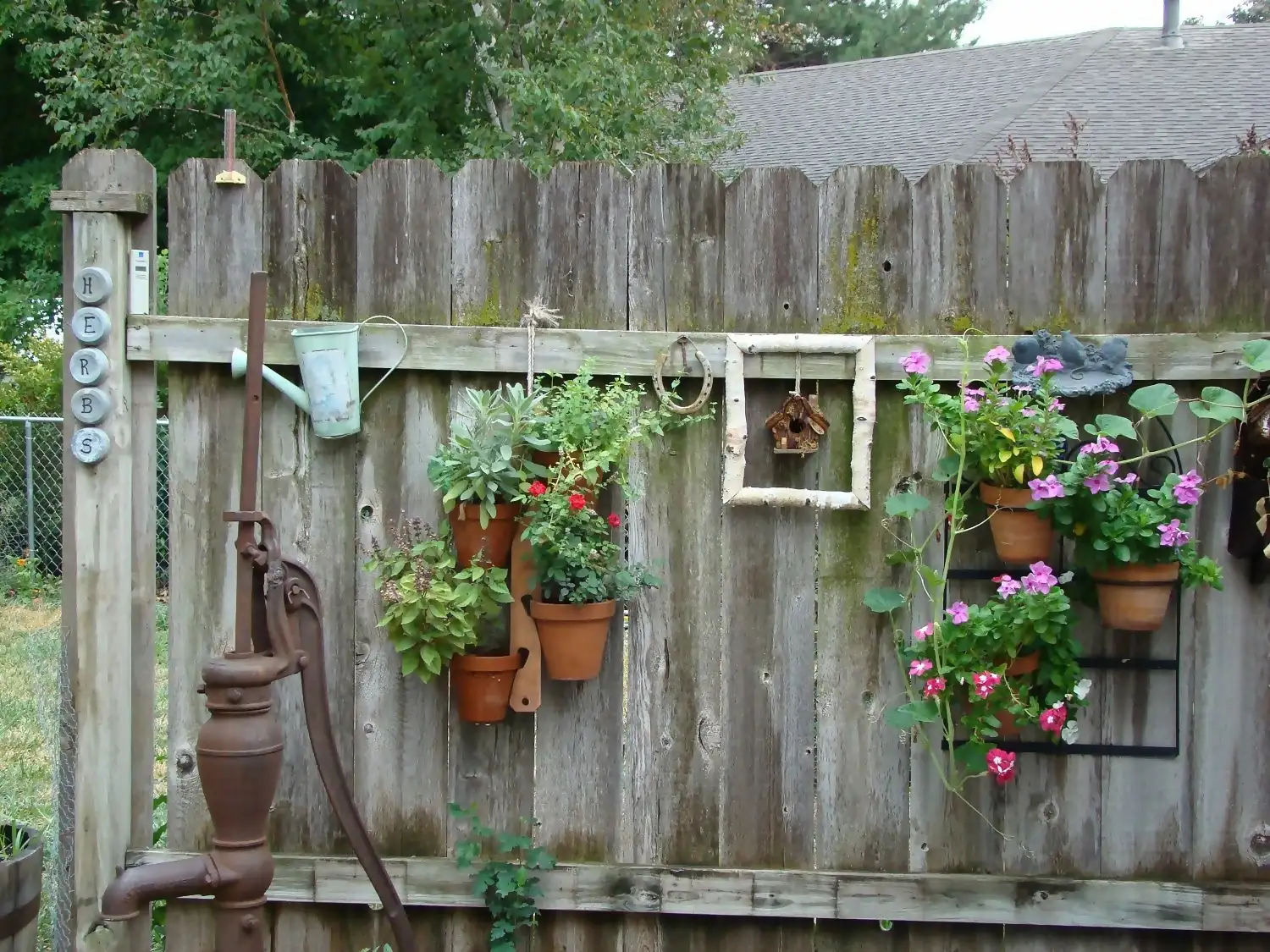 Rustic Kitchen Décor
Whether you live in a modern apartment or in a cozy farmhouse, decorating your kitchen in the rustic style is always a brilliant idea!
When we talk about functional and creative rustic space, it's better to use wood, stone, glass, clay, and other natural materials for kitchen furniture, appliances, worktops, and utensils. That's a great way to cook and eat in an extraordinary space.
What could be better than a splash of inspiration every day?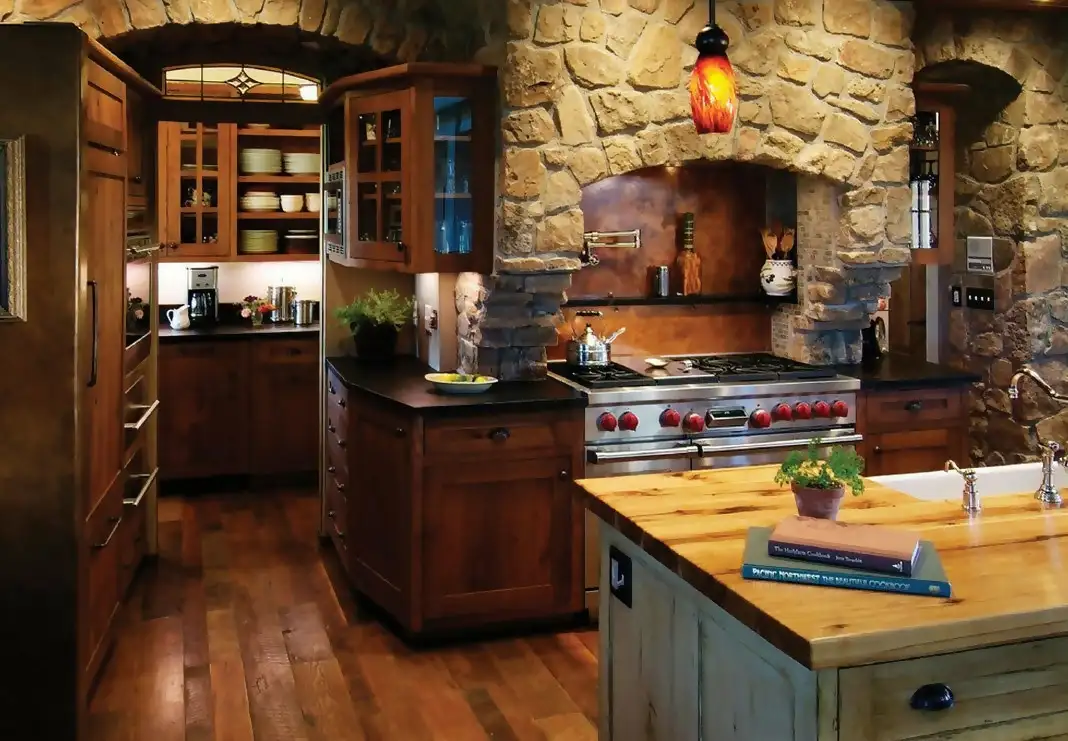 Think about modern accents in your dwelling. Mix rustic-styled cabinets, cupboards, and countertops, with a modern sink, fridge, and kitchen island to create a tasty combination.
If you have enough space, think about a bar table with a few stools. This makes a raw rustic interior more stylish.
When we talk about lighting, think about a mix of pendant and track lighting. If you opt for muted lighting sometimes, you can turn on only one of them. In any case you'll have a choice.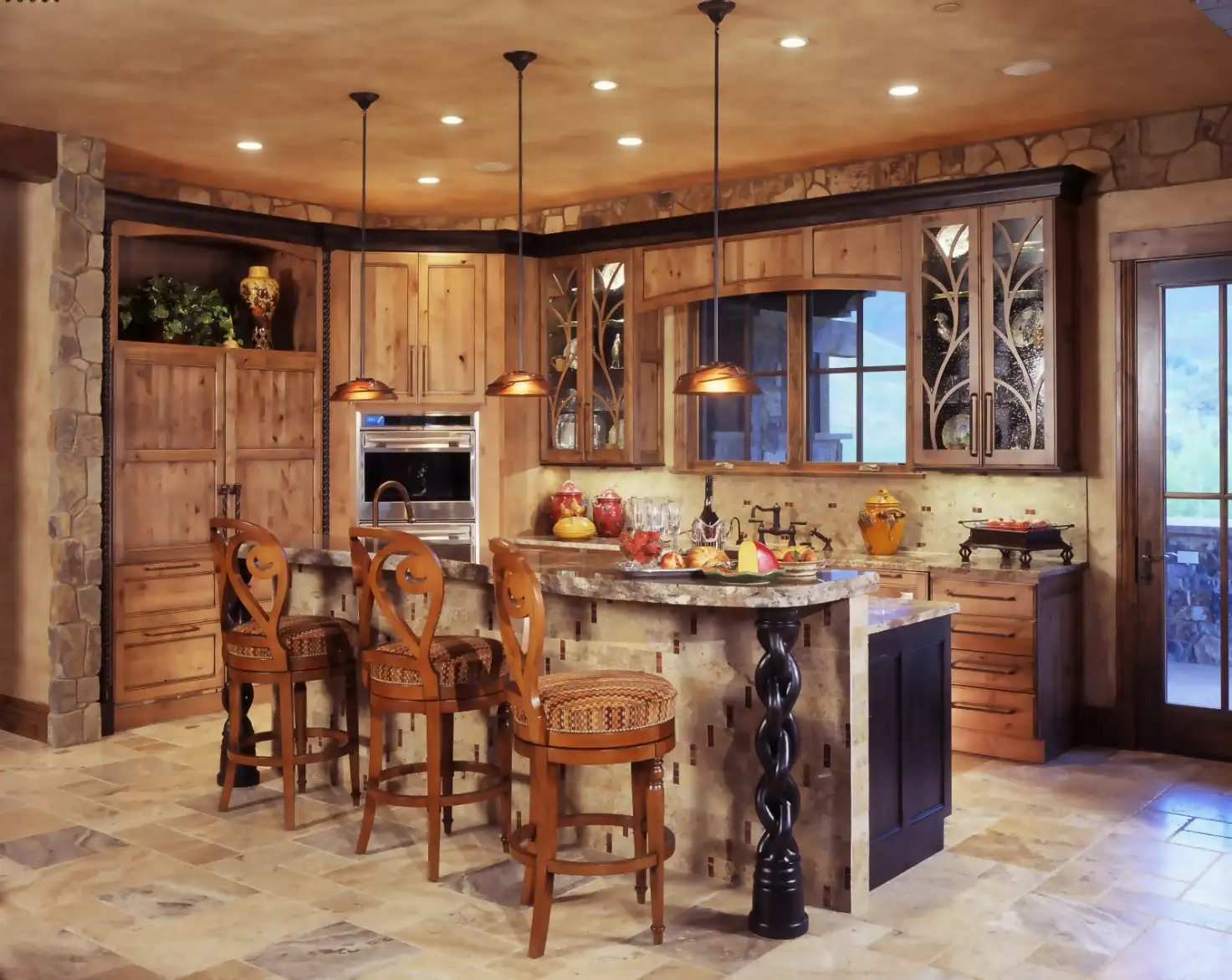 Rustic Bedroom Décor
When you decorate your bedroom, use exclusive rustic features, such as a stone wall, wooden furnishings, exposed ceiling beams, unique bedroom sets, and a bench upholstered with natural fabrics. Consider a bed which is made of logs or a hard-wood with a heavy headboard.
For colors, choose brown dark hues with bold orange or black accents. Think about natural textures for your window treatments, such as wood or bamboo shades, blinds, or plantation shutters.
Add soft accents for your rough furnishings. For instance, put a faux fur blanket on the bedroom bench.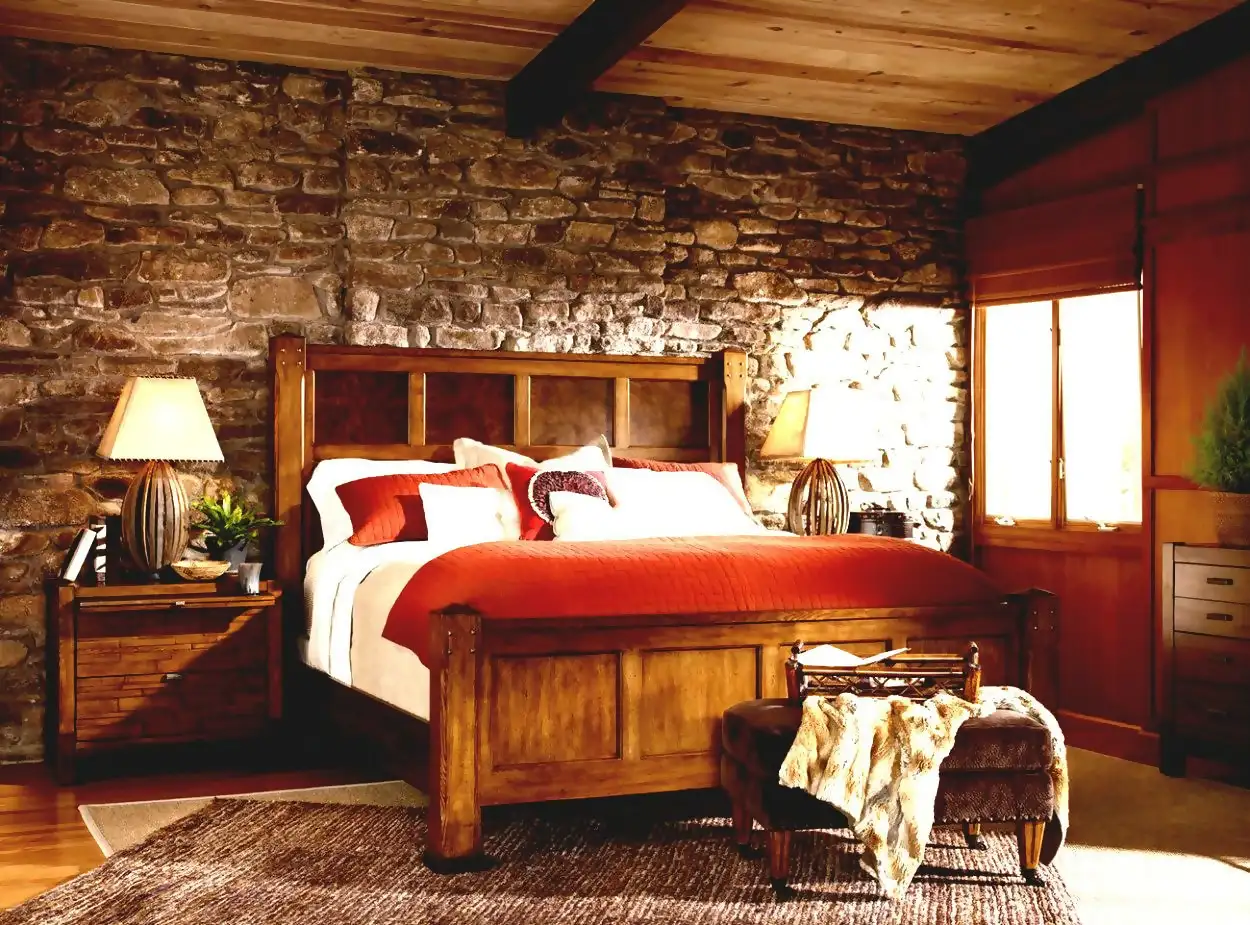 If you want to create an elegant appearance and still keep rustic aesthetics, add antique and vintage elements for your bedroom, such as stools, light fixtures, door knobs or pull handles. Think about horn wall art to emphasize the strong character of the rustic dwelling.
Rustic Bathroom Décor
When it comes to decorating a bathroom, don't be shy about creating an unusual refreshing space with rough textures and muted colors. You could create a stone shower, install corner shelves, and choose neutral-colored floor tiles to bring harmony to your bathroom.
Choose a high-quality wooden vanity with enough storage space for your items. Think about rustic wooden boards on the wall to emphasize a natural-themed ambience without glamorous décor solutions.
Don't forget about unique rustic details, such as a forged iron bath rack and towel holder, wood-framed mirror, and metal bath sets.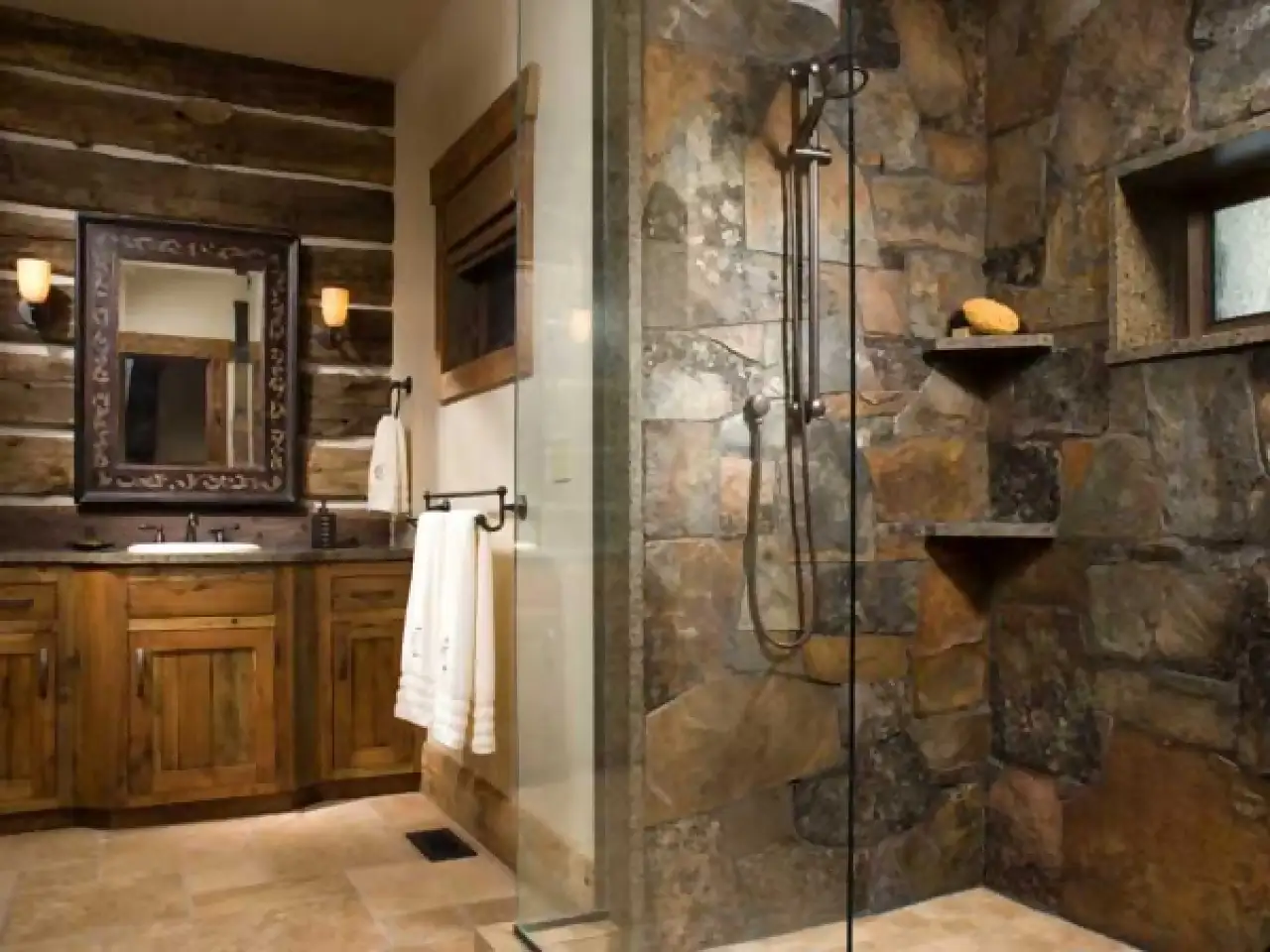 It's so cool when you can think out of the box to repurpose other items in a creative way. For instance, you could use a whiskey barrel instead of a pedestal sink.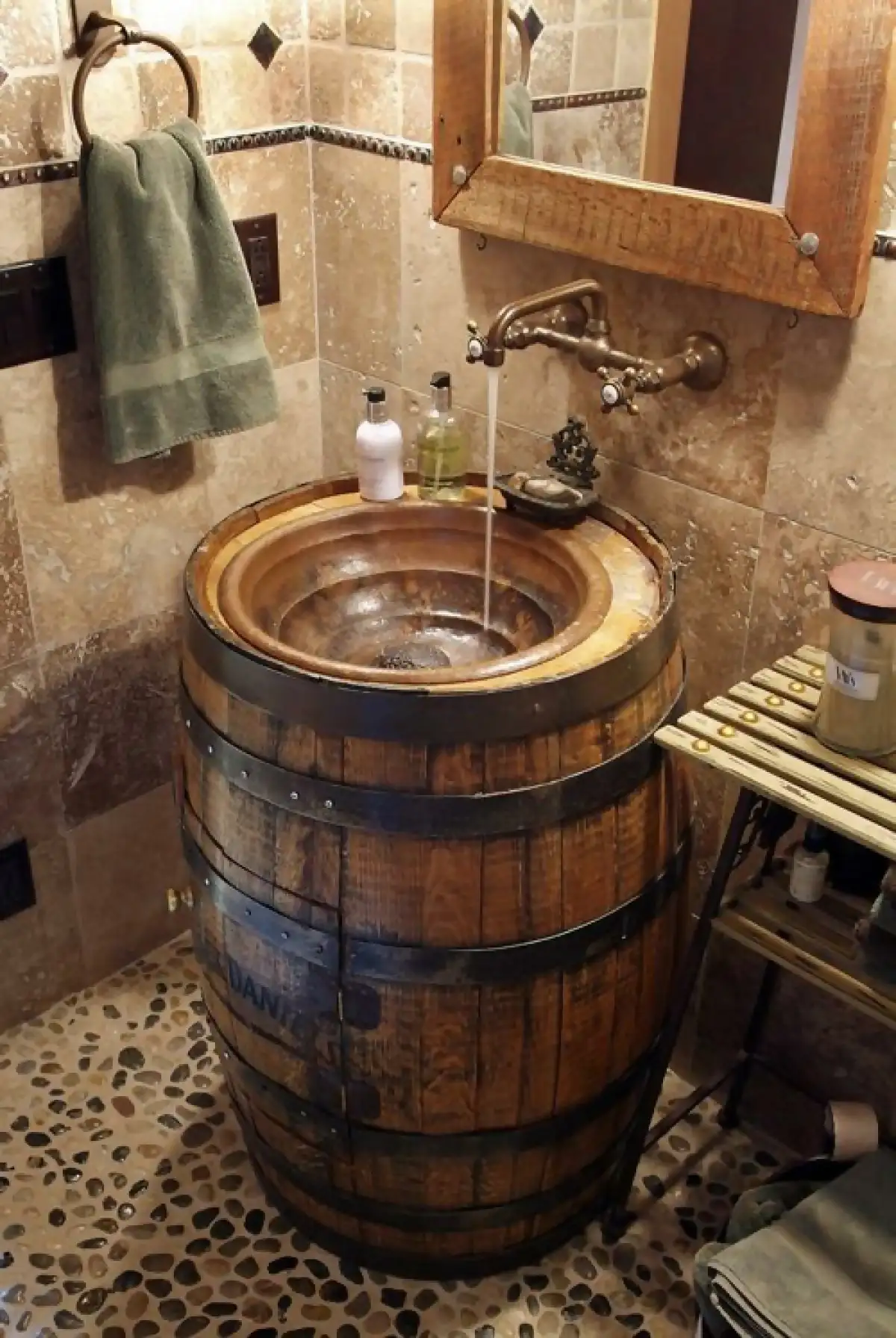 Rustic Living Room Décor
To decorate a well-balanced living room with a rustic touch, use wood, stone, leather pieces, and some metal items. The traditional elements include exposed ceiling beams, wooden furnishings, stone fireplace, and chandeliers. Also, you could mix them with vintage or antique tables, stools, benches, and shelves.
Place two couches or sofas opposite each other to emphasize a balanced décor of your living room. You could use one of them as your personal sitting place.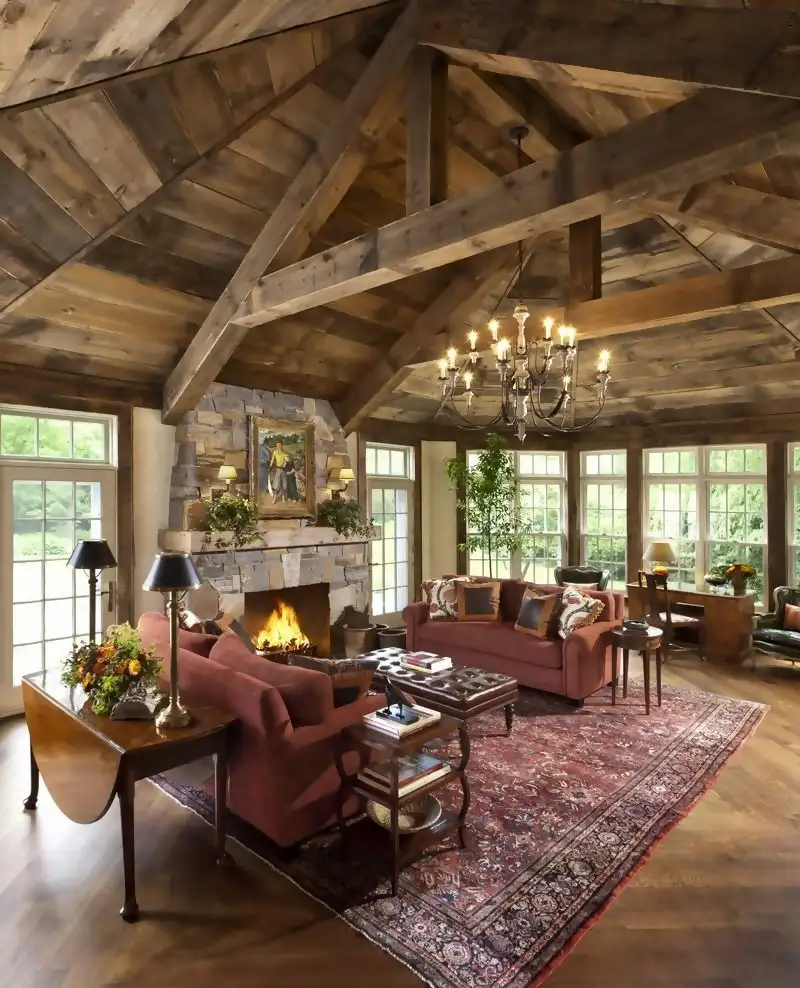 Clean lines of the floor-to-ceiling wooden beams show off the majestic architectural aesthetic of the cabin-styled living room.
If you have a collection of guitars, show off your music talent inside your dwelling. Also, this can create a main focal point.
When you play guitar and look at a roaring fire of your stone fireplace, life seems so perfect.