Functional Scandinavian Design
If you want to relax in a cozy and welcoming place where every item has a practical purpose, Scandinavian style is exactly what you need. Think about pure simplicity with a minimalist approach to liven up your home and life!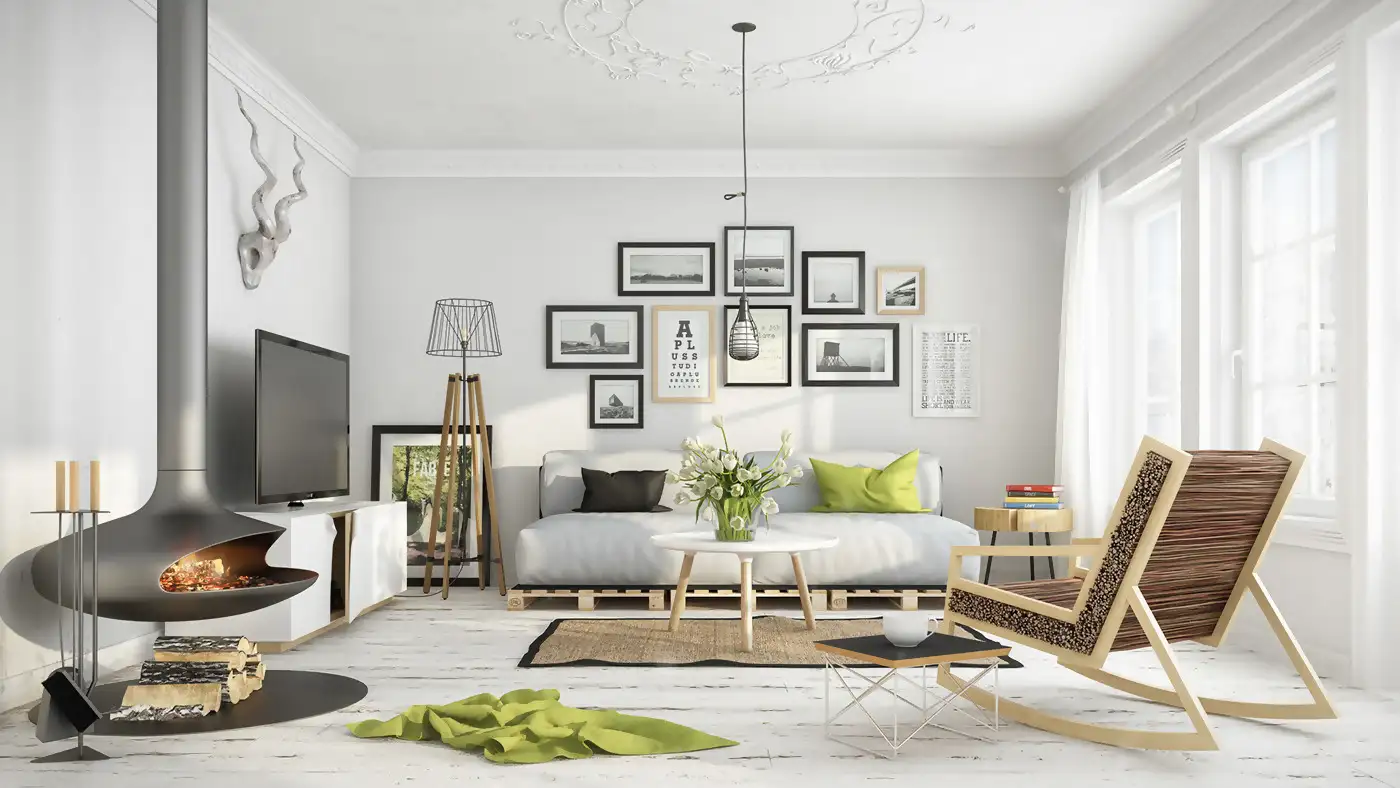 Scandinavian Lifestyle For Being Happy In Your Home
It's time to get hygge, which is a Danish lifestyle concept, to make your dwelling a comfortable place with a serene ambience and sunny mood. Use neutral colors, such as white, light grey, tan, beige, and dusty pink. Such earth tones are all about feeling cozy in muted hues. Moreover, you could create more visual space when you paint your walls and ceiling in a white or light grey hue.
The Nordic lifestyle is based on the Swedish lagom principle "Lagom är bäst" which means "Just the right amount." Following it, you'll have a functional uncluttered home with only useful kitchen appliances, modern furniture pieces, window treatments, natural lighting, flooring, wall art, and other decorative accessories without tchotchkes. What could be better than observing clean lines in every décor element?
Of course, when we talk about Scandi décor, wood is the best and the most popular natural material for every Nordic dwelling. Also, you could combine it with wicker, rattan, seagrass, and/or copper.
Give a fresh breath to your Scandi home with a few plants to add green touch in a monochromatic ambience.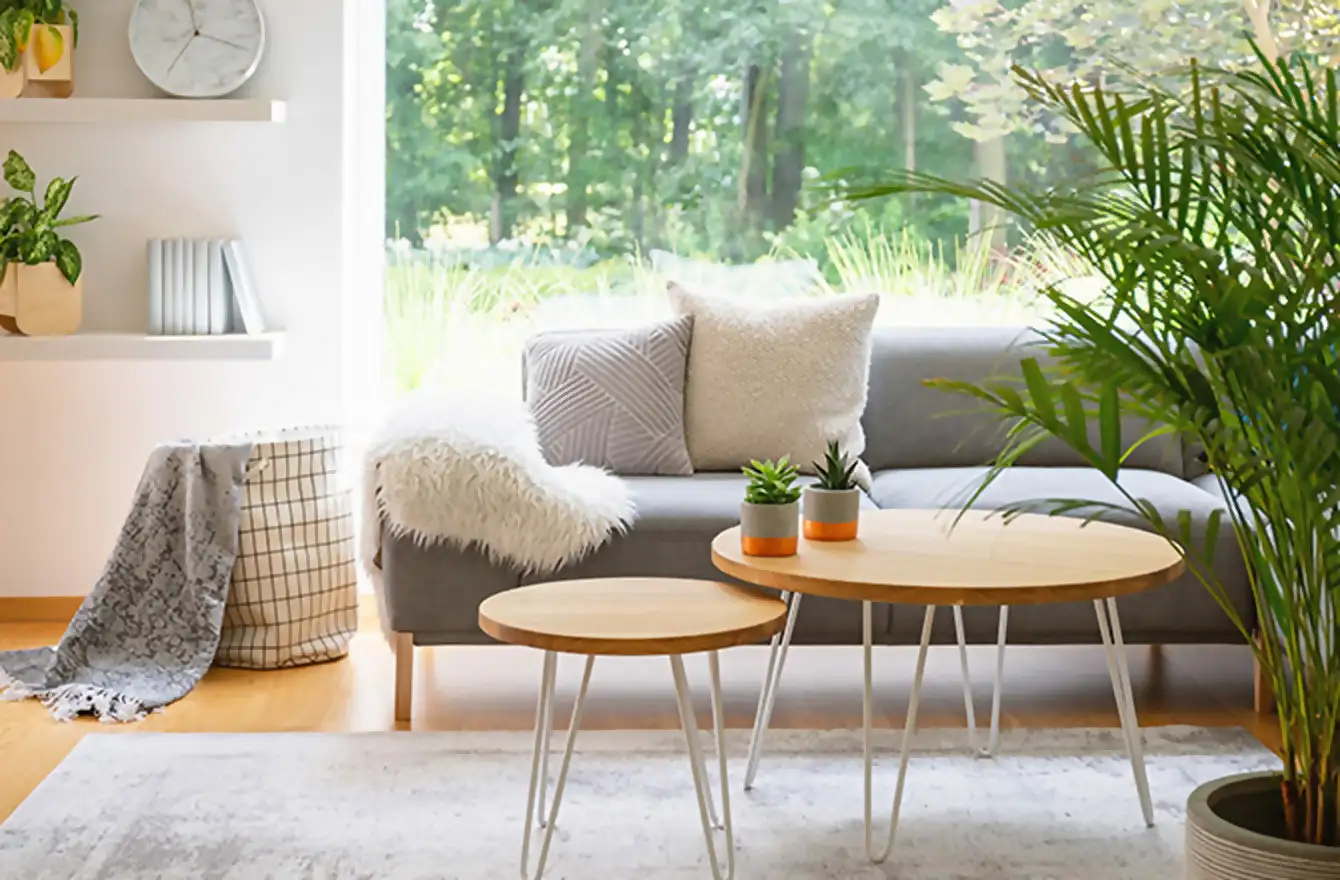 Scandinavian-Styled Furniture
Scandinavian-styled furniture features a sleek appearance, warm wood hues, clean lines, and tapered legs.
When we talk about Scandi tables, stools, sofas, benches, etc., it's all about functionality and simplicity with a modern style touch from the "Democratic Design" of IKEA to expensive interior manufacturers. It's a celebration of wood, such as oak, pine, beech, and alder, which are the most popular woods for producing furniture pieces.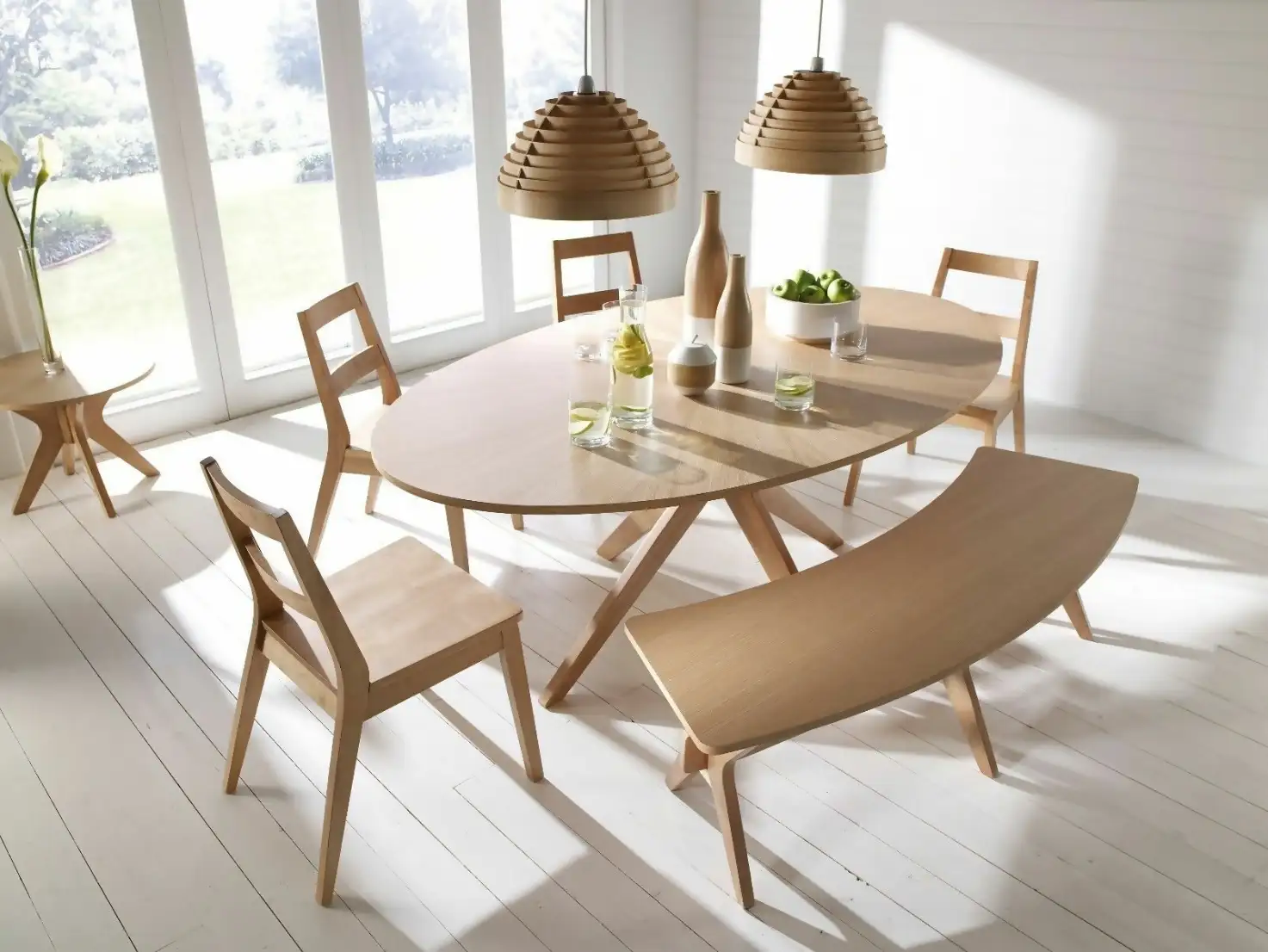 Scandinavian sofas feature an optimal shape with comfortable cushions upholstered in a muted colors cotton fabric. You could play with texture and colors, and use various ornaments for cushions.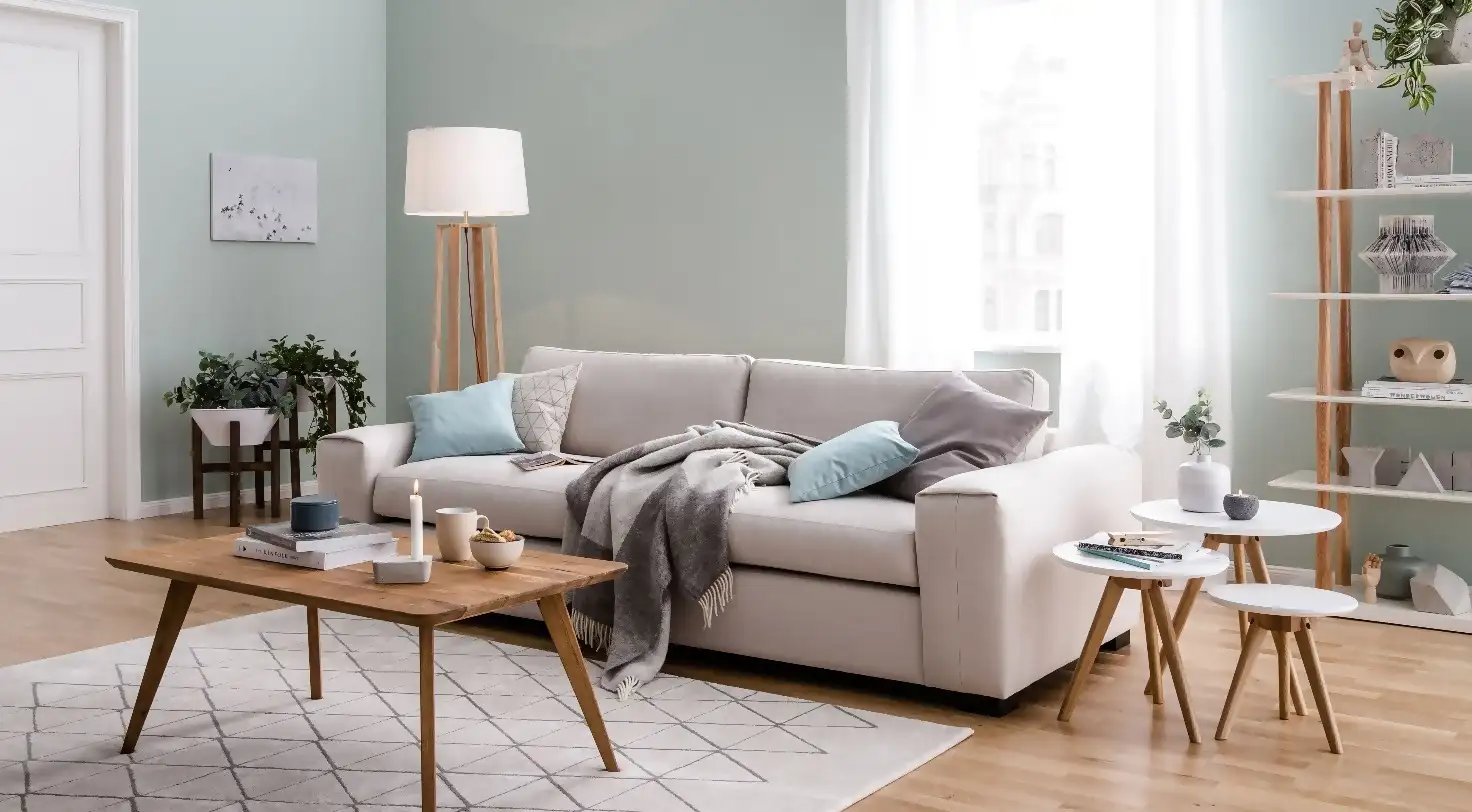 Scandinavian Home Accessories
Scandi style features the minimalist principle "less is more." It's better to spruce up your Nordic dwelling with elegant accessories. Think about candles to give extra lighting for your home. Also, it's a great way to create a romantic ambience.
Use a blanket not only when it's cold outside, but also for a warm feeling inside your home. Keep in mind that live plants or cut flowers are always a great idea for minimalist Scandinavian interiors! Don't be shy about hanging wall art. Of course, black and white photos give you aesthetic pleasure when you are relaxing in your dwelling.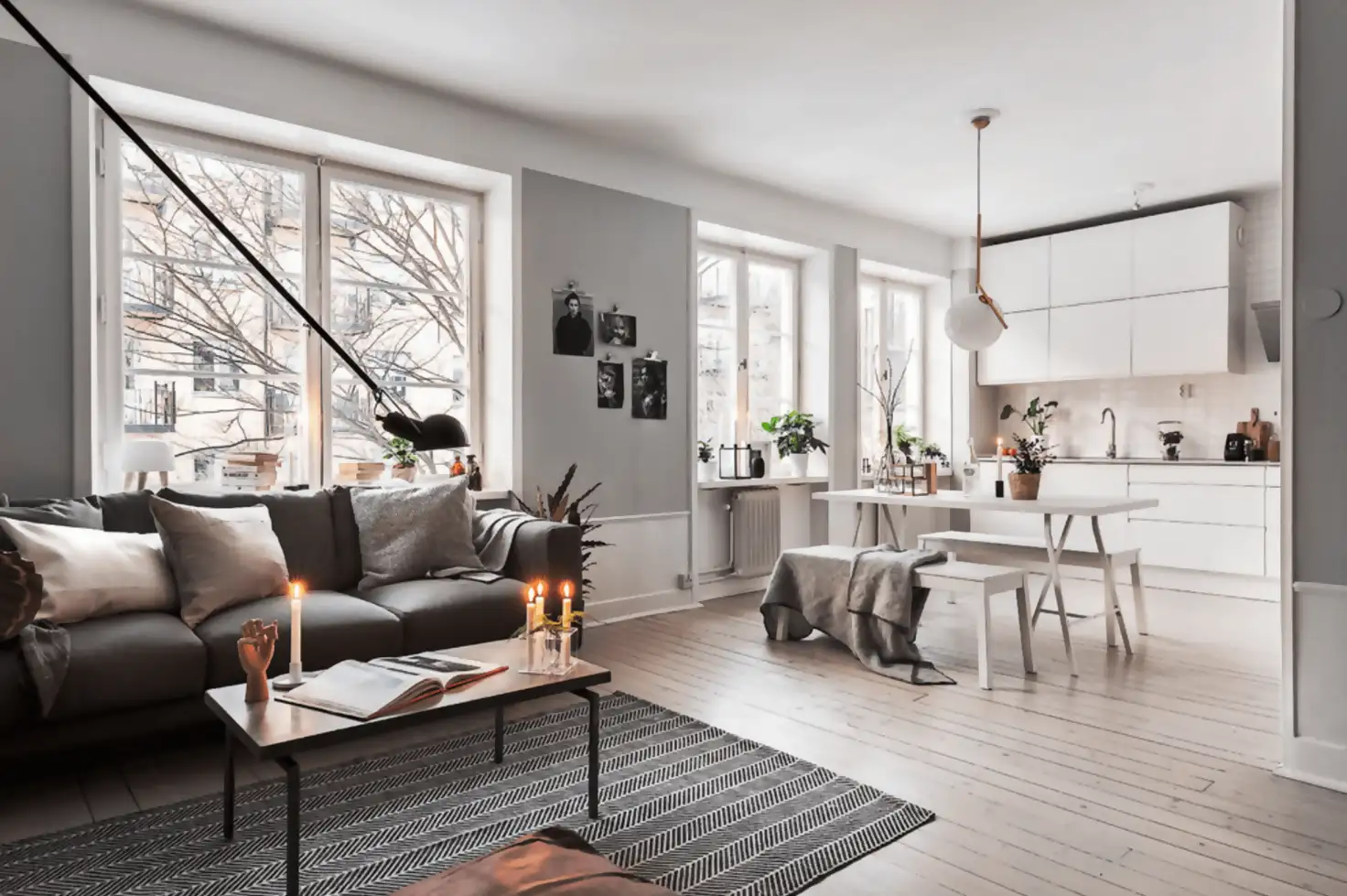 Think about horn wall décor to feel the power of the Vikings in your own home. That's a great way to show off a masculine touch. To emphasize your personality, put your favorite books on the table and shelves. Maybe your friends also like reading.
You could use some girly DIY home accessories to add a couples touch. For instance, glass jars or bottles could be great vases. What about flowers?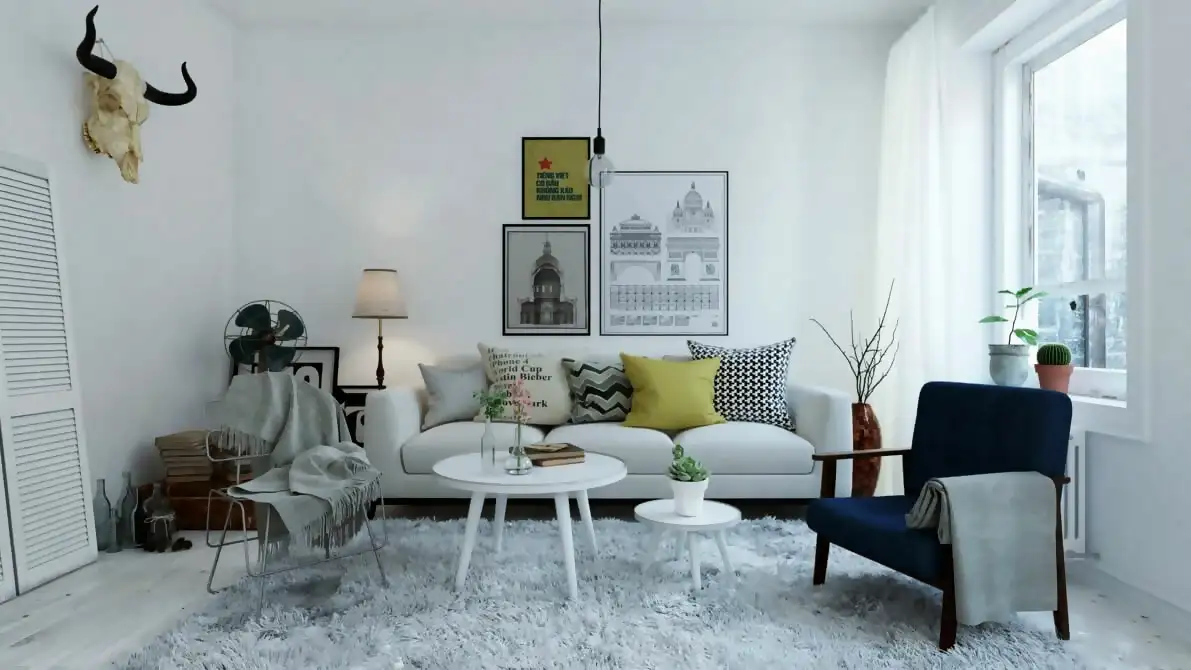 Scandi-Styled Lighting
When it comes to lighting, bear in mind that creative light fixtures are more than just great home accessories, because Nordic weather isn't a sunny fairytale. That's why natural lighting isn't enough for well-being during the many dark days.
More lighting is always a brilliant idea. Use various types of lighting, from table to hanging lamps (pendant lighting, light bulbs), Nordic track lighting (ceiling spotlights, cable lighting), and candlesticks.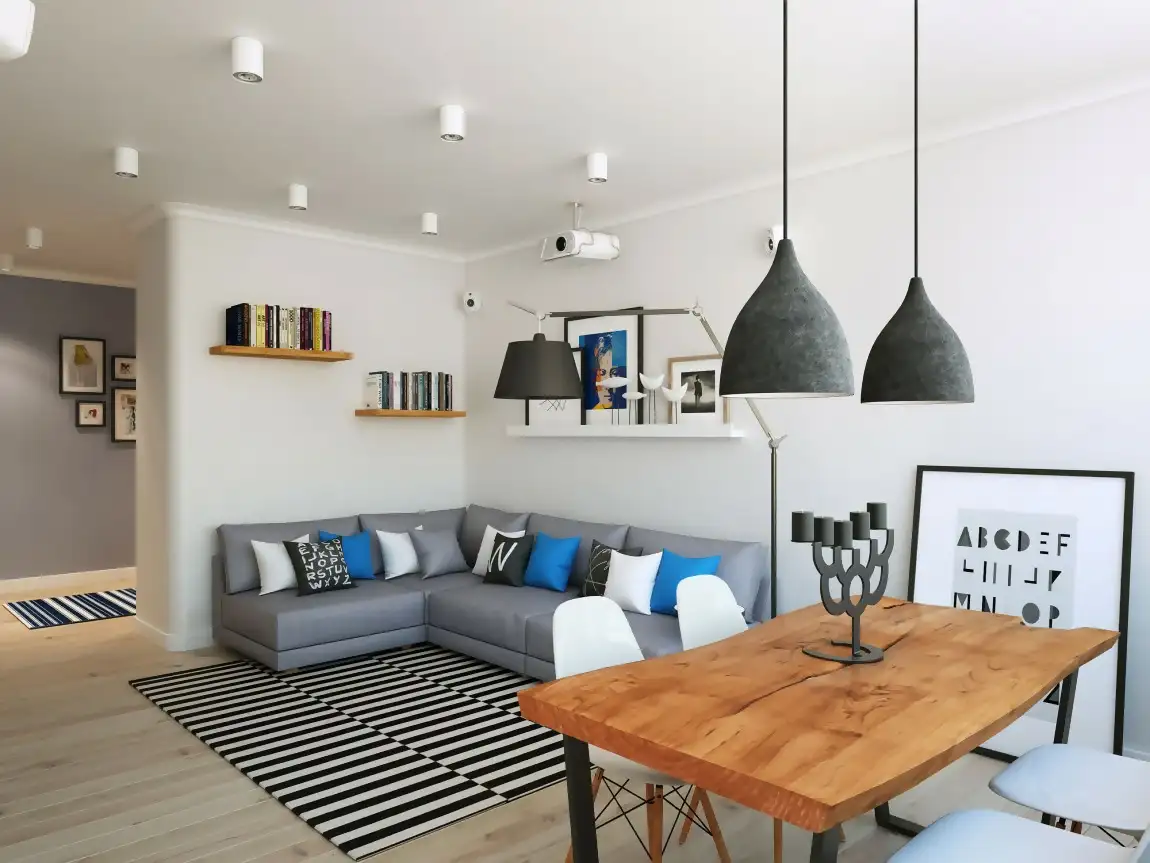 Scandinavian Window Treatments
When you consider Scandi window covering, it's better to choose sheer curtains, wood or bamboo window treatments. It's all about natural materials and an organic conception. Turn down heavy blackout curtains to leave natural light available during some sunny days.
Choose light hues for window treatments. White blinds or curtains are stylish and elegant as well as white walls and ceiling.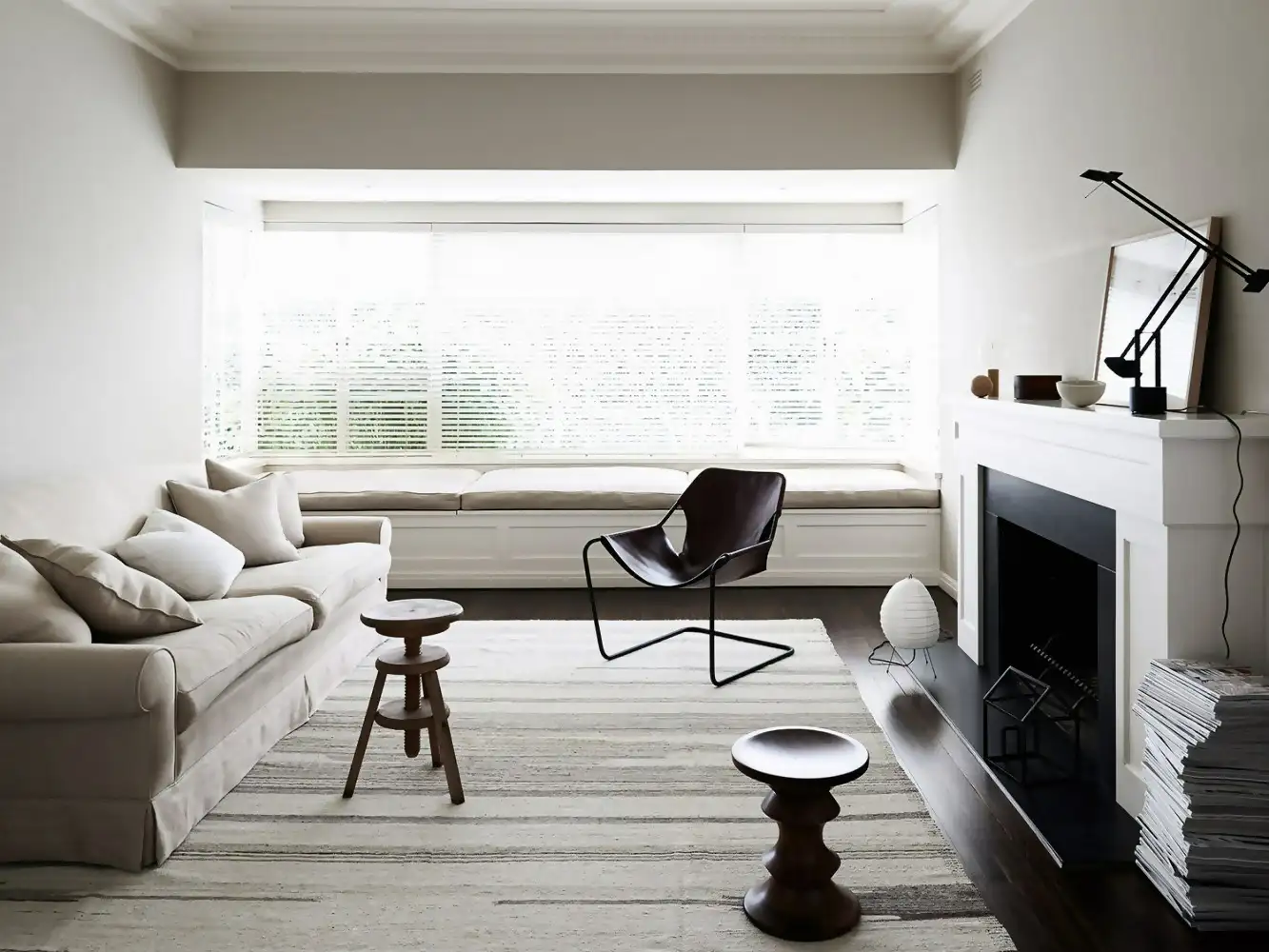 Do you like classic white curtains?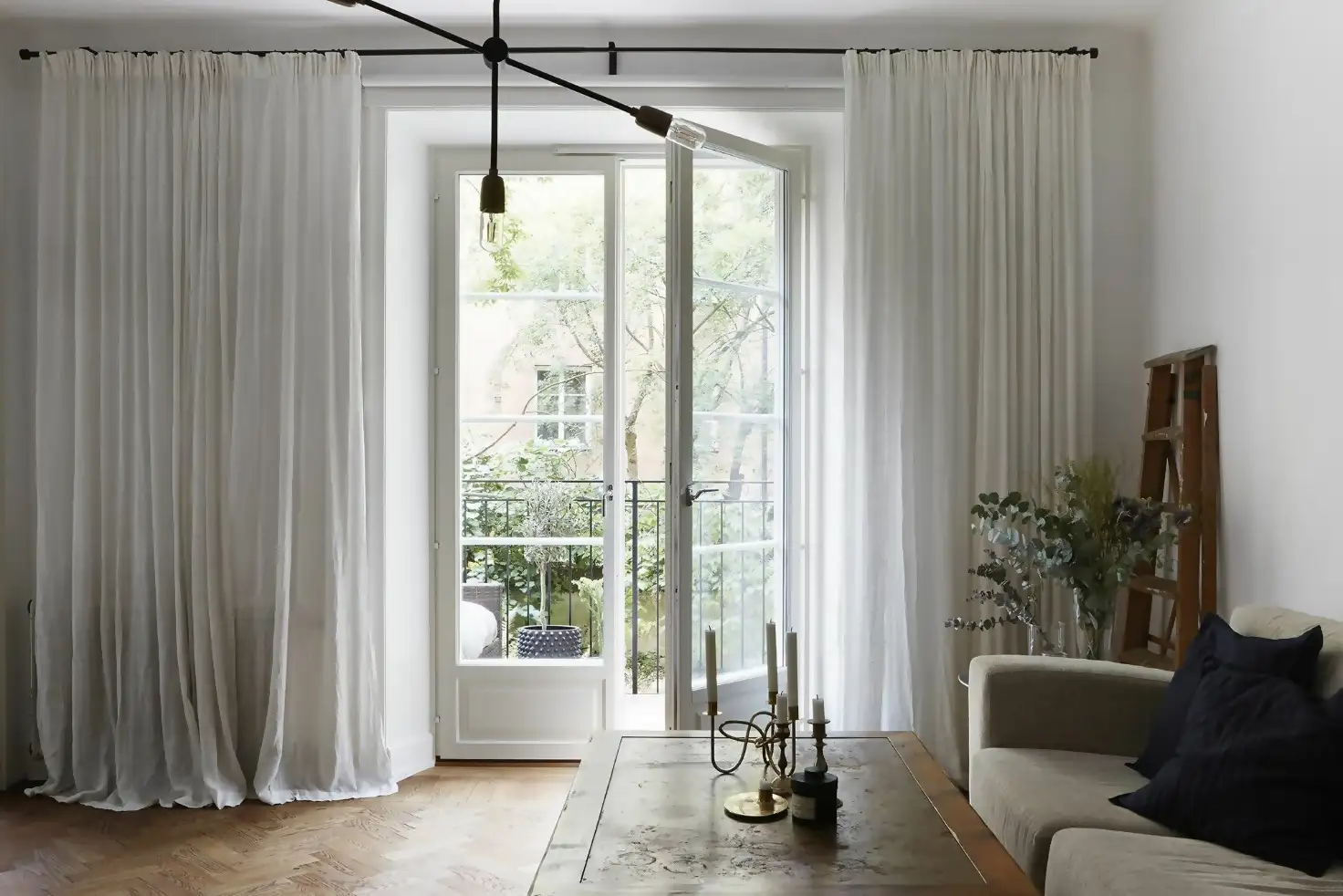 Scandinavian Rugs
Make-over your home with eye-catching Scandi rugs in monochrome tones or geometric prints. Scandinavian rugs are made from natural materials, such as wool and cotton. It's all about high-quality and pure simplicity.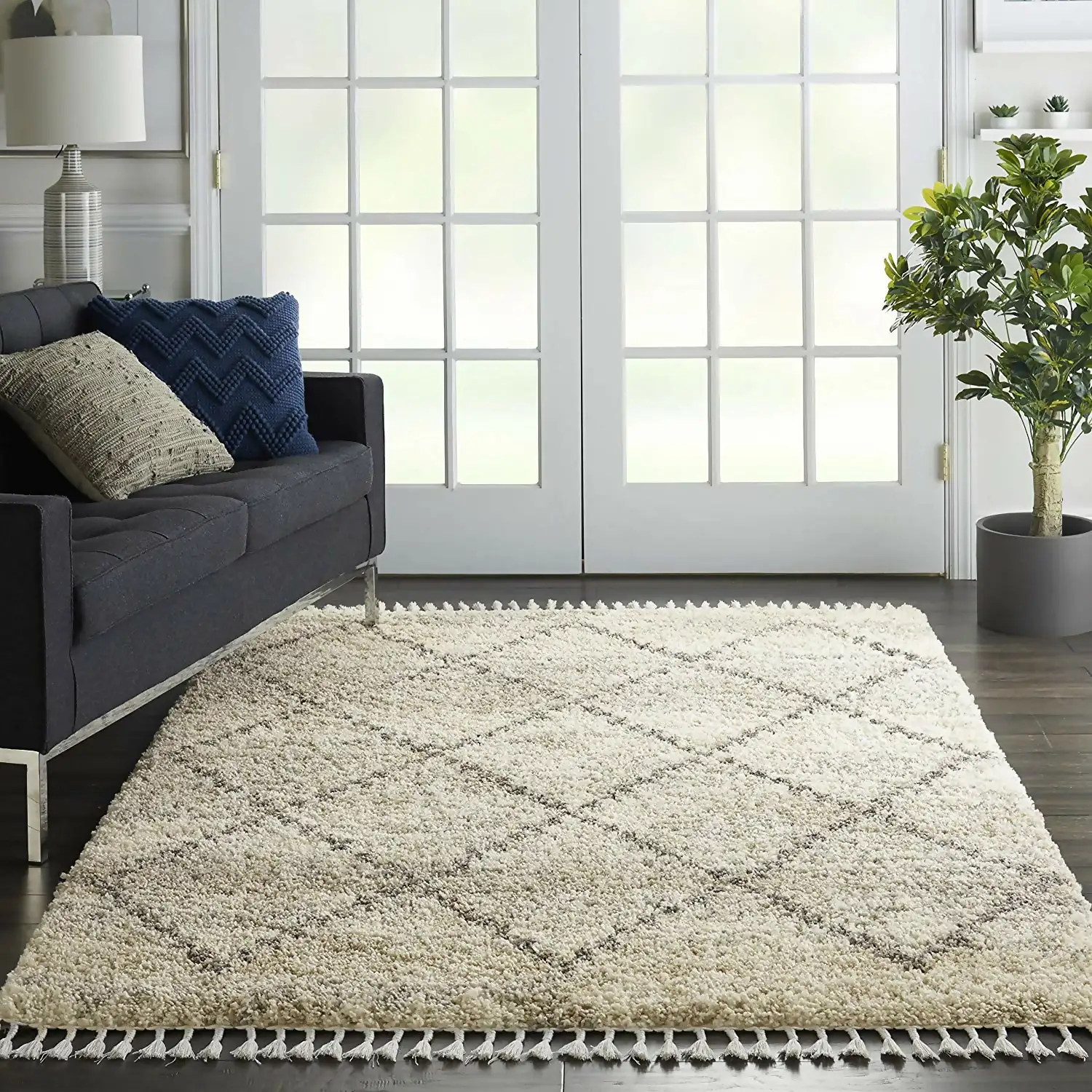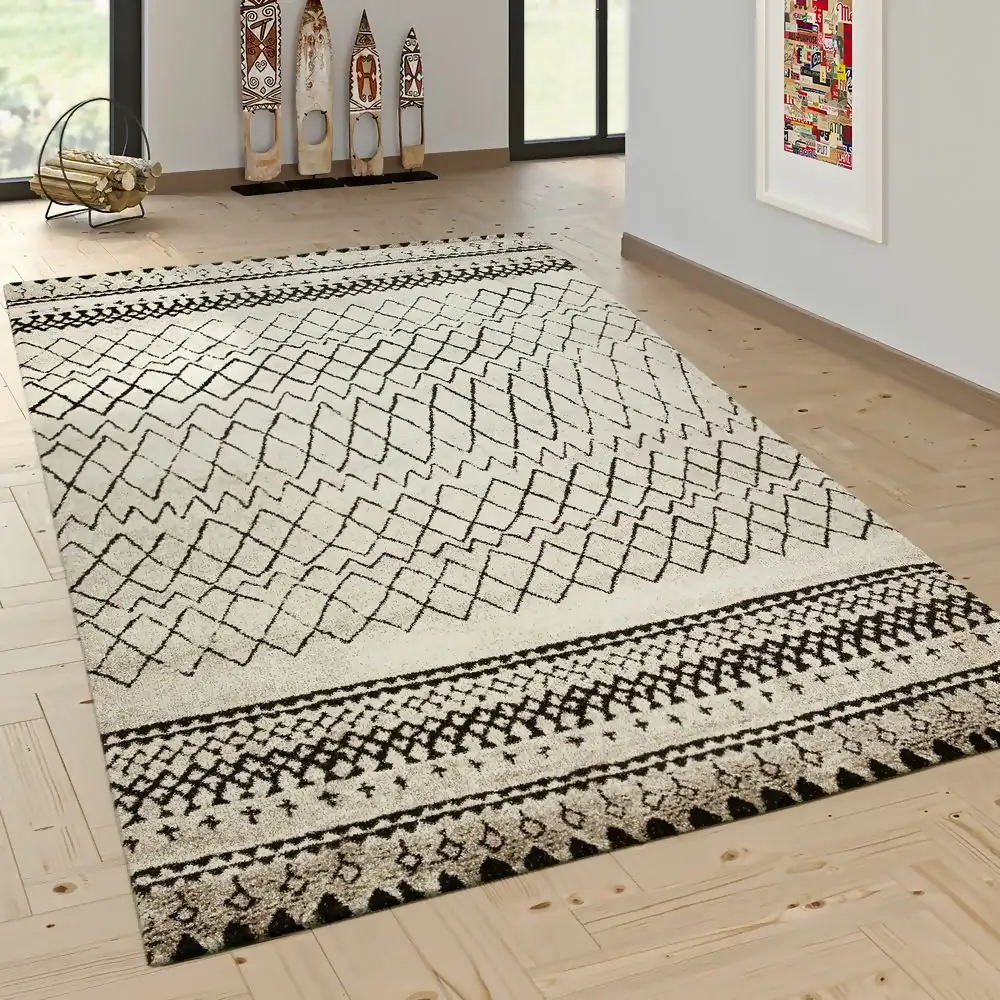 Scandinavian Wall Décor
Wall art is an important detail which can add a splash of creativity for your home. Choose posters and canvas with geometric prints or abstract spots to emphasize the clean lines of your Nordic dwelling. That's a great way to create the focal point with a high level of aesthetic pleasure.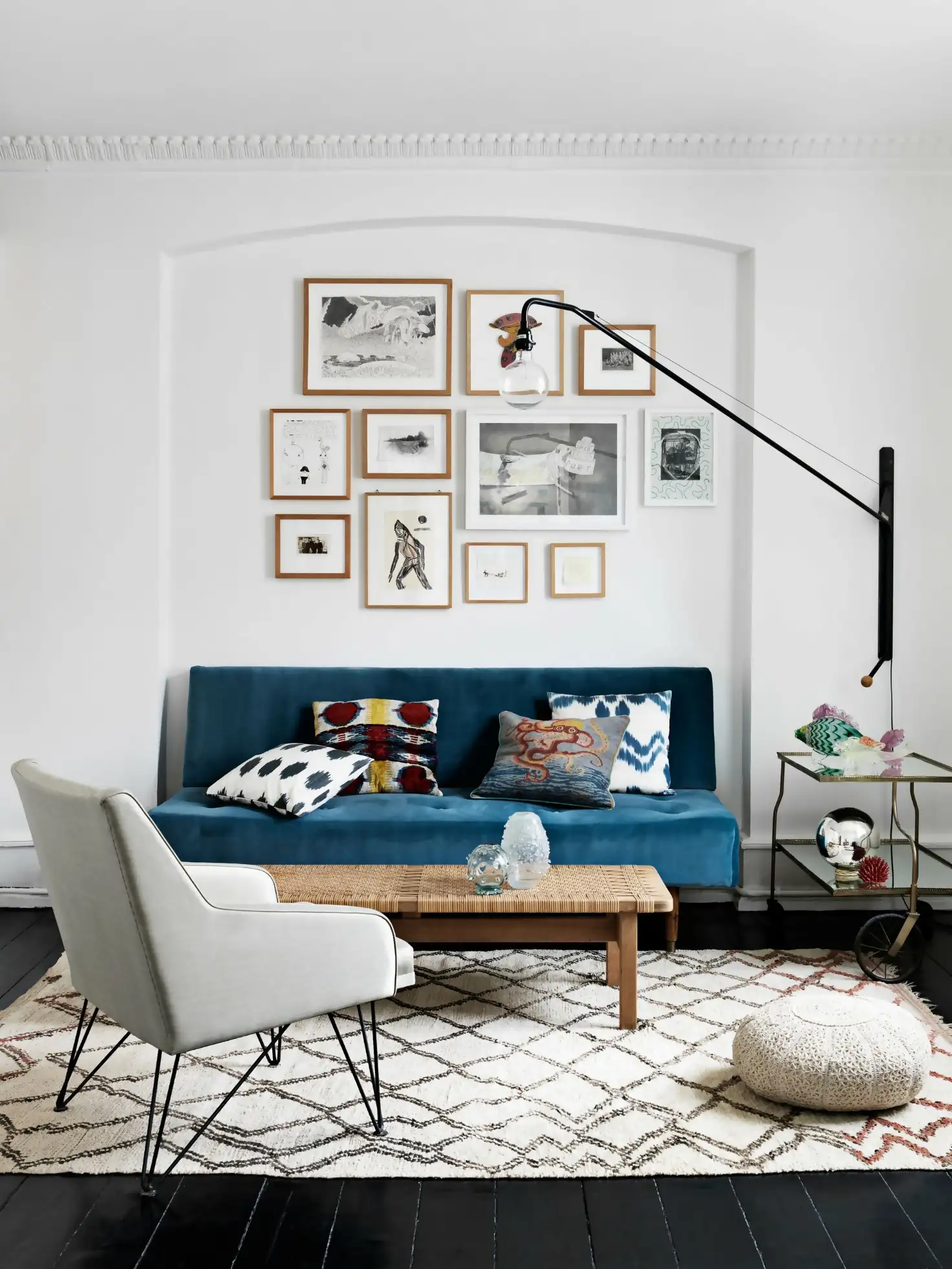 If you like traveling, you can add travel-inspired décor elements to your Scandi dwelling. Hang pictures with inspirational phrases, beautiful landscapes, or awesome places, where you have already been or which you want to visit someday.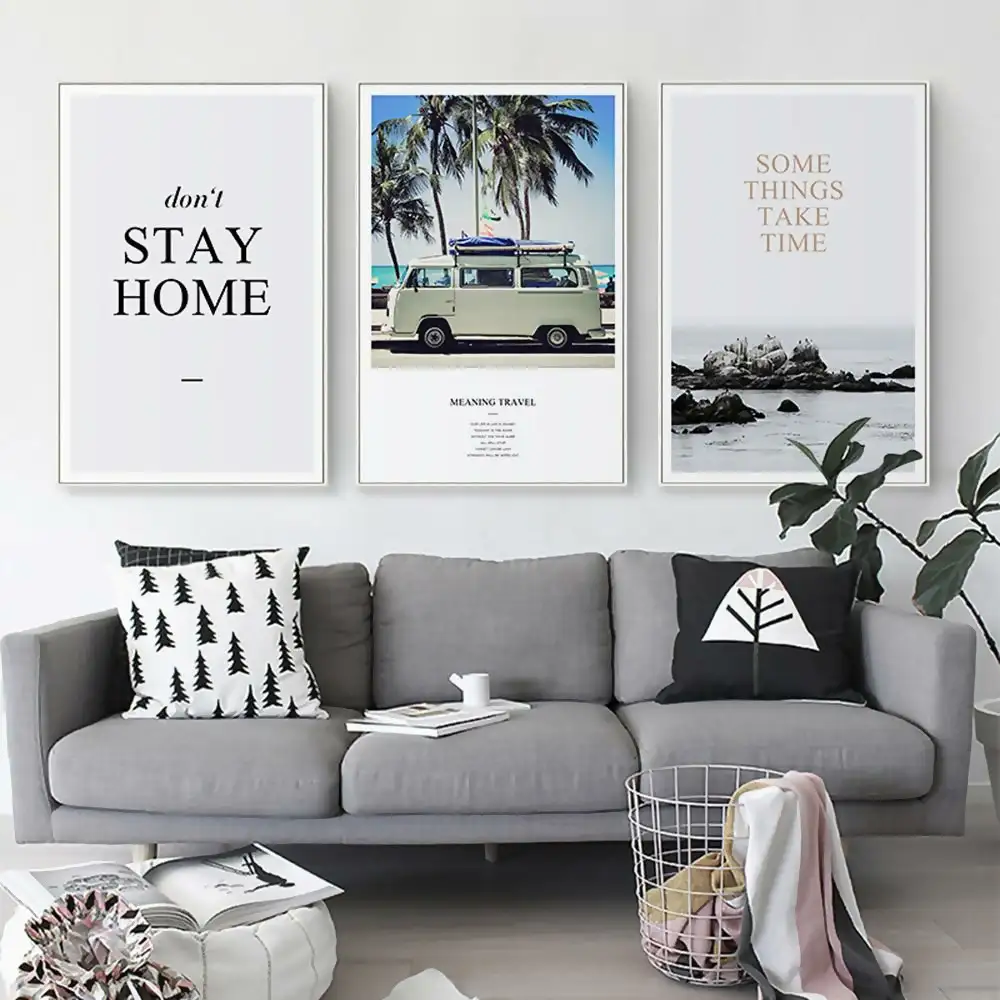 You could place a few travel-inspired pictures with equivalent proportions. Choose a colorful theme or timeless black and white photos.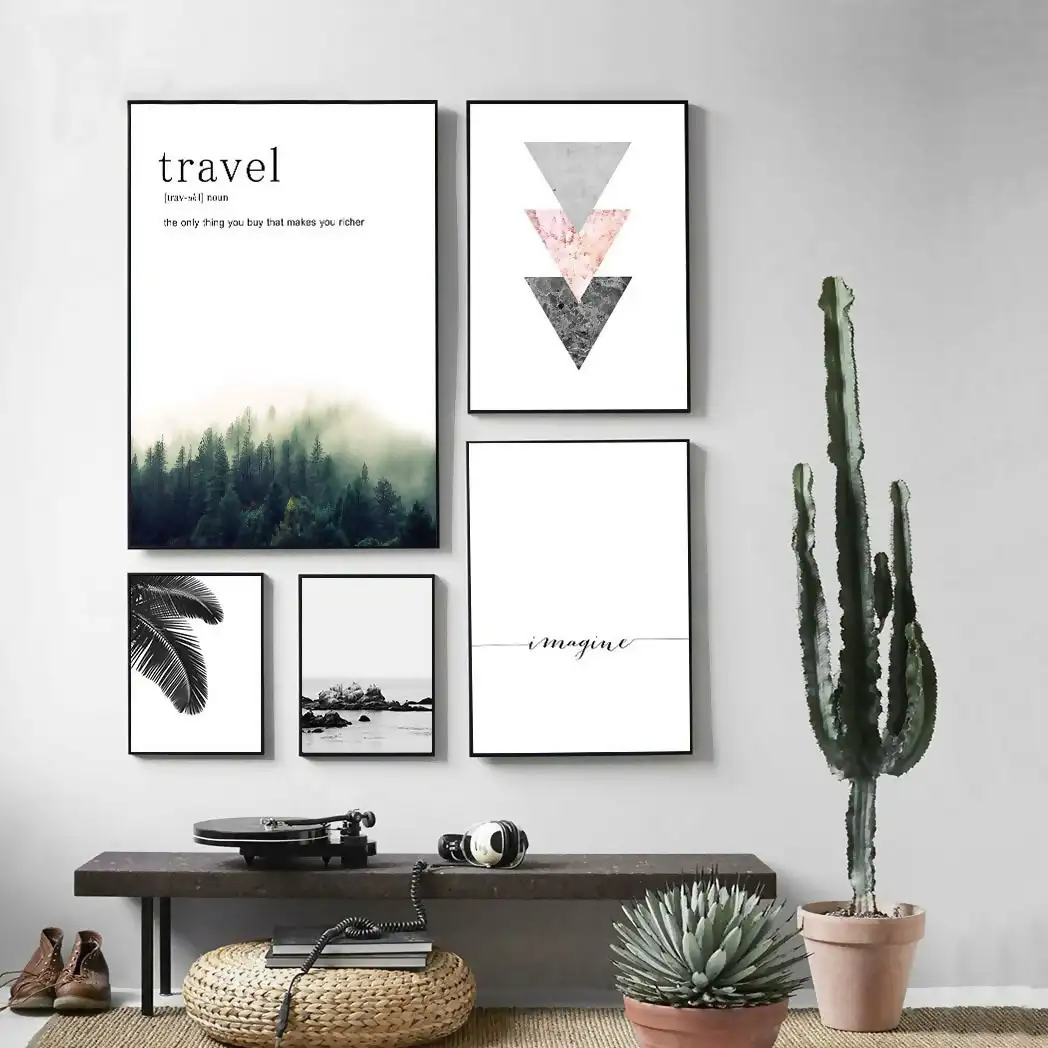 Give a fresh breath for your home with a green-themed wall art. Nordic dwelling is all about organic influences. The canvases which depict nature, especially plants, are the best wall décor for every Scandi apartment and house.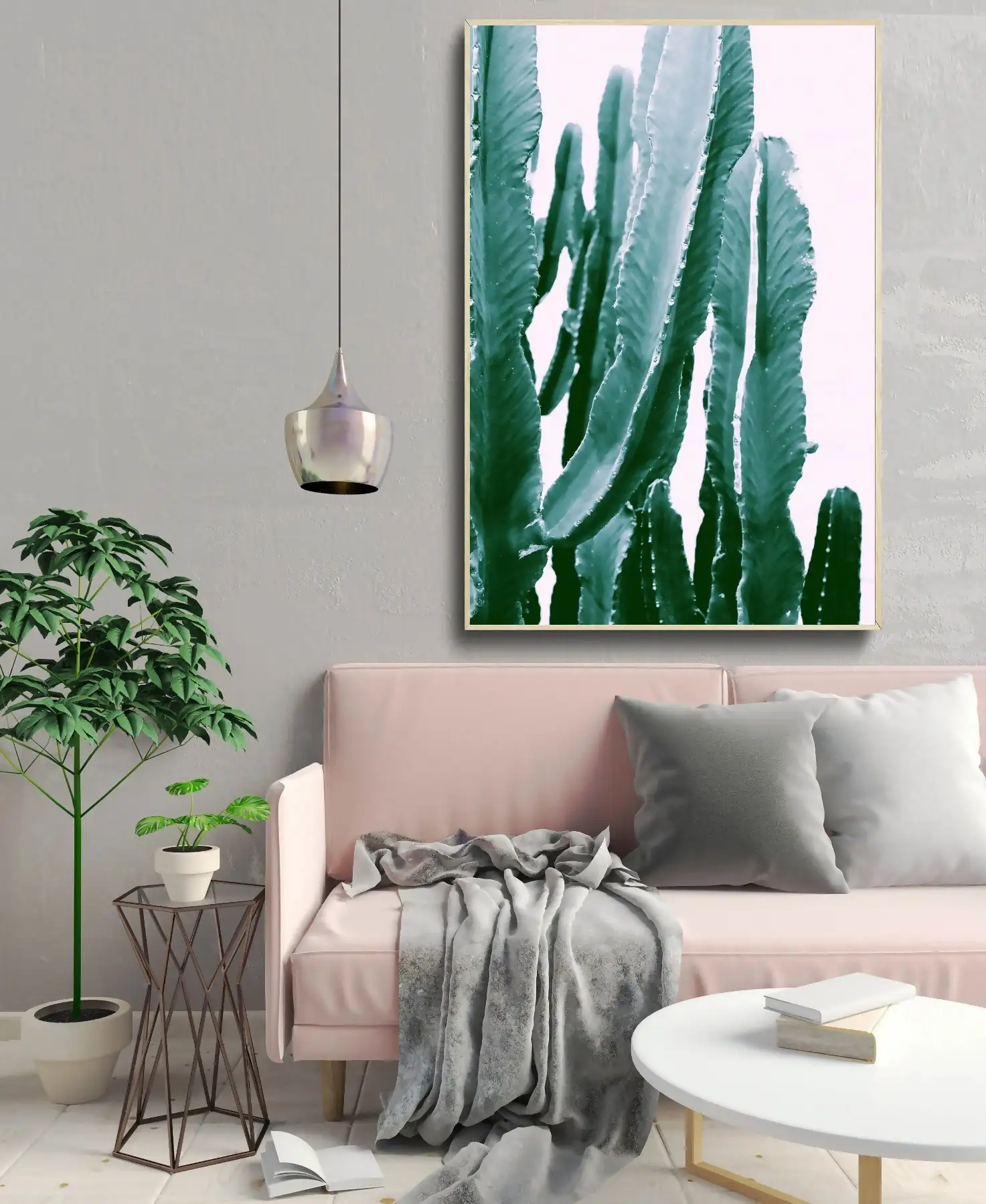 Get hygge (pronounced "hue-gah") not only with blankets, a fireplace, good books, candles and other warm décor details, but even hung on the wall to help all understand the deep meaning of the Danish lifestyle. Be confident and cozy up your home!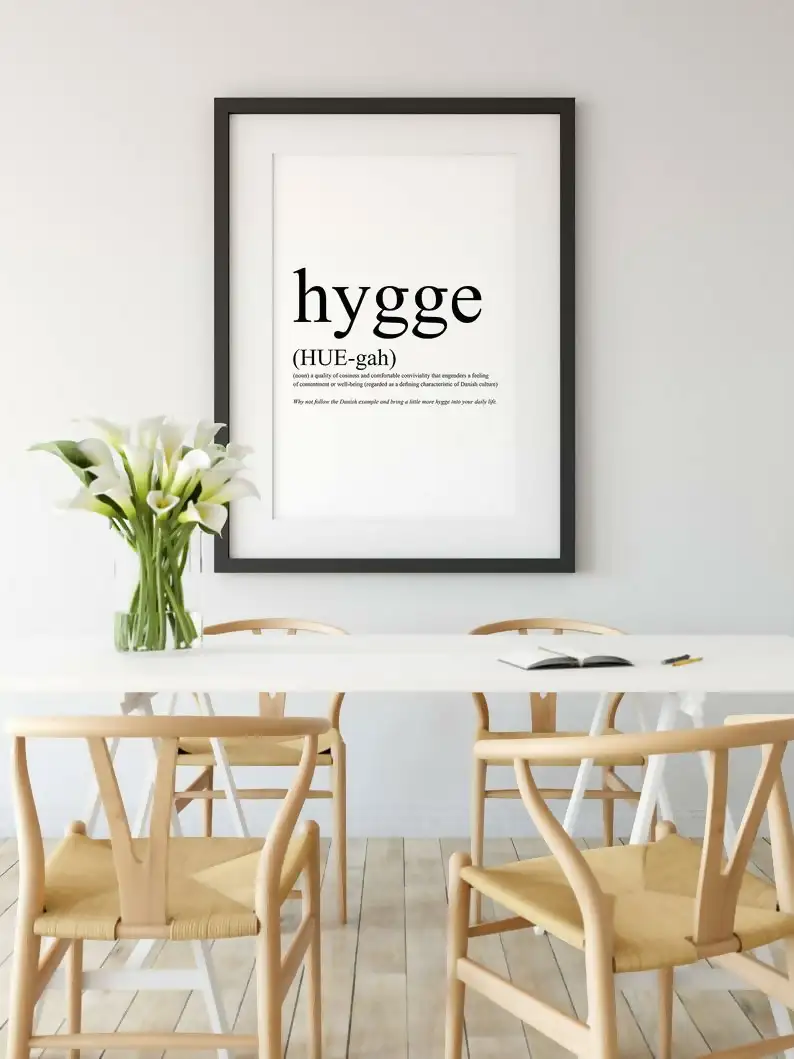 Scandinavian Living Room Décor
When it comes to decorating a living room, follow Scandi trends in every detail. Create the best place where you want to spent time with your family, friends, and also when you are alone. Reading is a pleasure for everyone, especially when you read a good book in a cozy ambience. Keep in mind the lagom principle to make your living room homier.
Choose comfortable sofas and stools, install a warm fireplace in the corner of the living room (in the center of the room with a TV over it isn't a Scandi feature). Combine two tables with different height, the higher table for eating and the lower one for drinking something. What about a cup of coffee?
Don't be shy about installing creative wall art and lighting. It's all about harmonious décor with your own signature.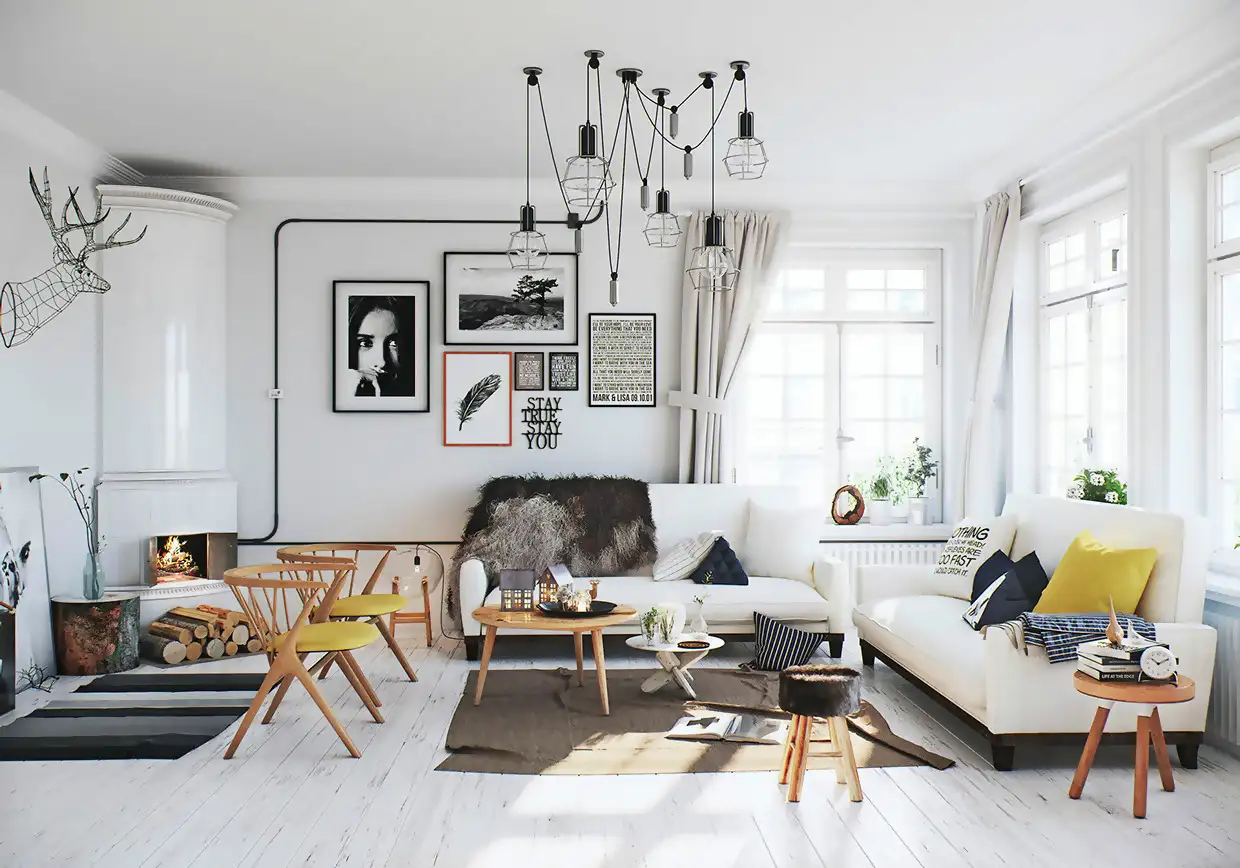 Think about a recliner to make your rest and reading more comfortable.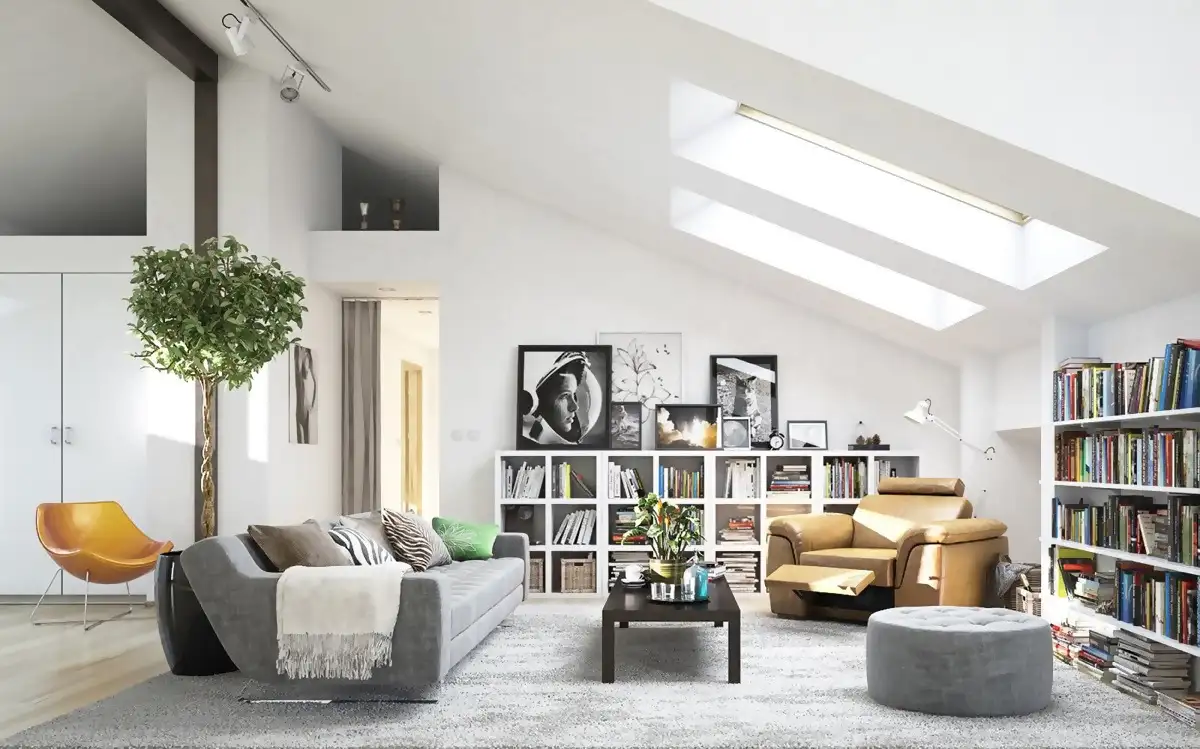 Scandi Bedroom Design
What could be better than resting in light tones? Think about a mix of white, light grey, and dusty pink hues for your Scandinavian master bedroom.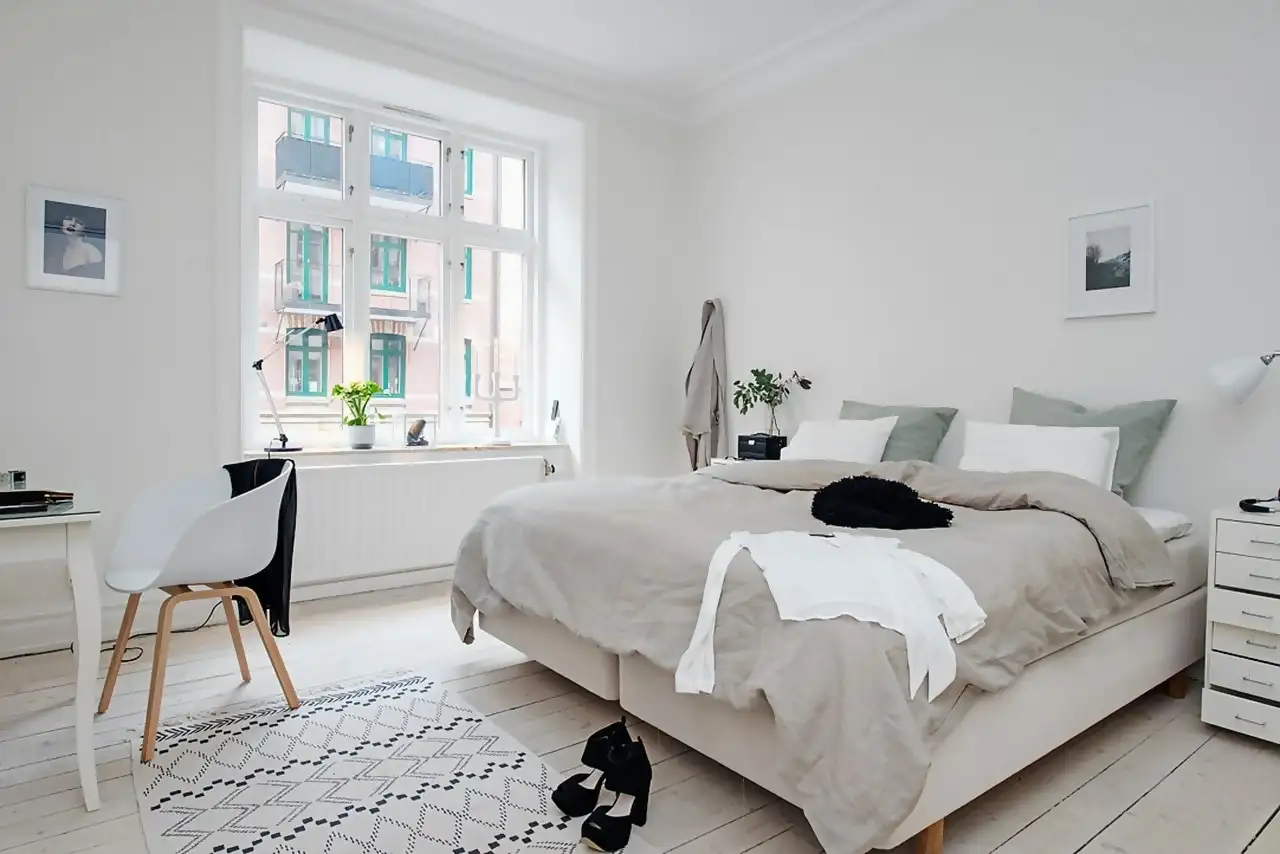 When it comes to choosing furniture, buy a bedroom set. Bear in mind that a set of drawers on the both sides of the bed looks more stylish and expensive than furniture pieces from different sets.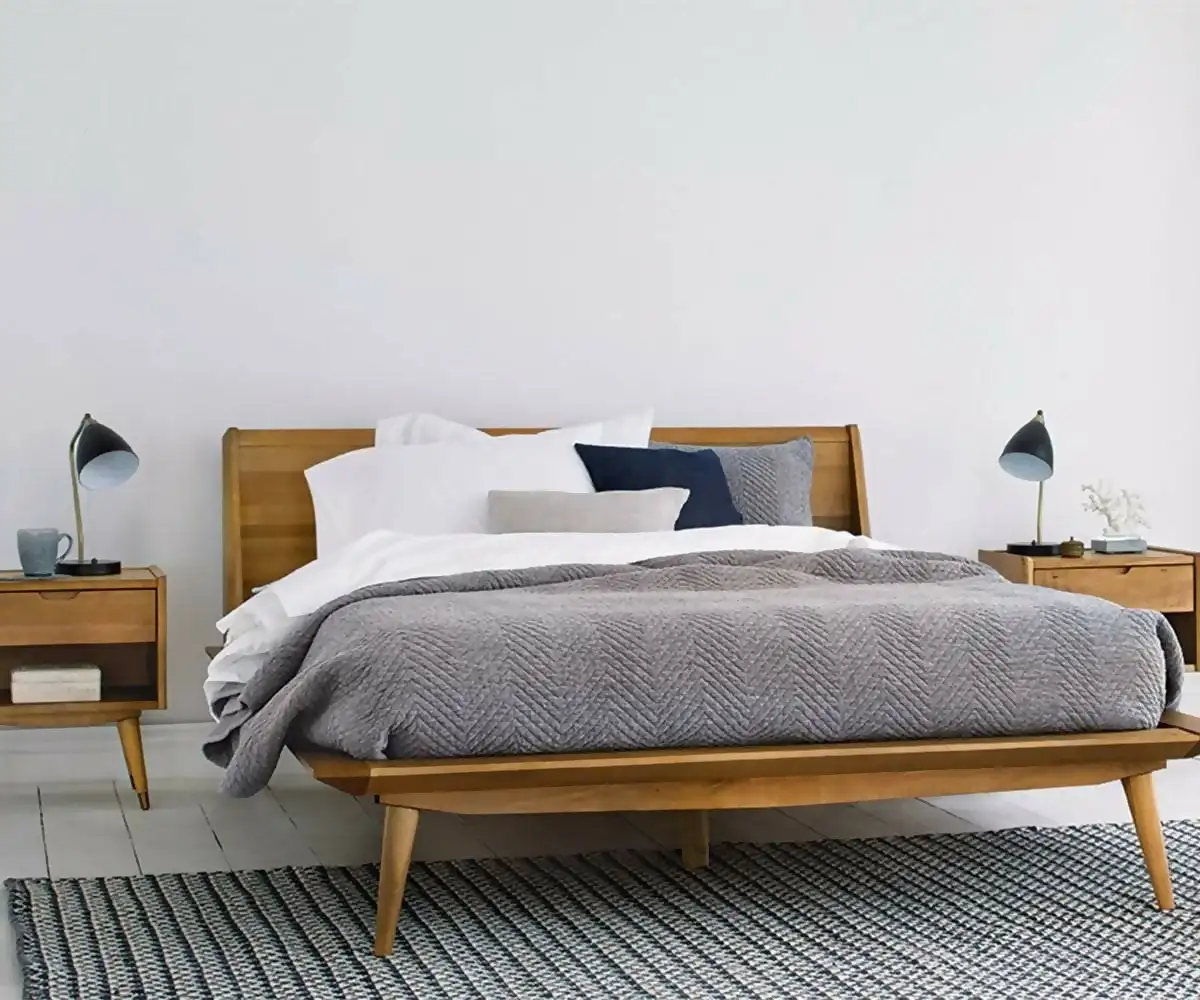 Scandinavian Kitchen Décor
When it comes to decorating the kitchen, pick only useful cooking tools without unnecessary gadgets and utensils. Even a small uncluttered place is always better than a mess in a large one.
Light up the kitchen with hanging lighting and, of course, candles on the table, elegant windows without a needless covering. This can make your mood better and life brighter.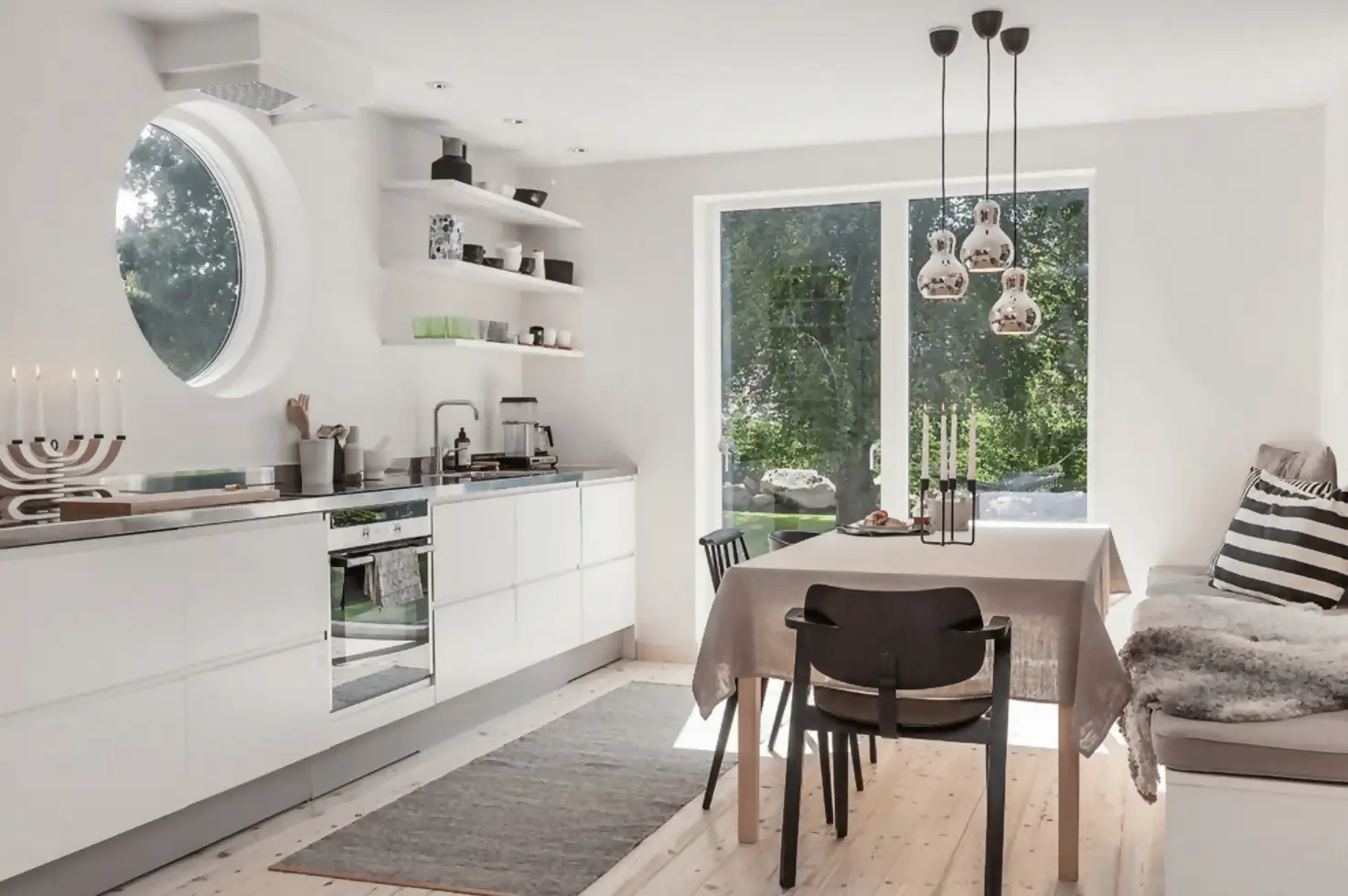 Place live plants on the kitchen countertop to add a natural touch to your working space.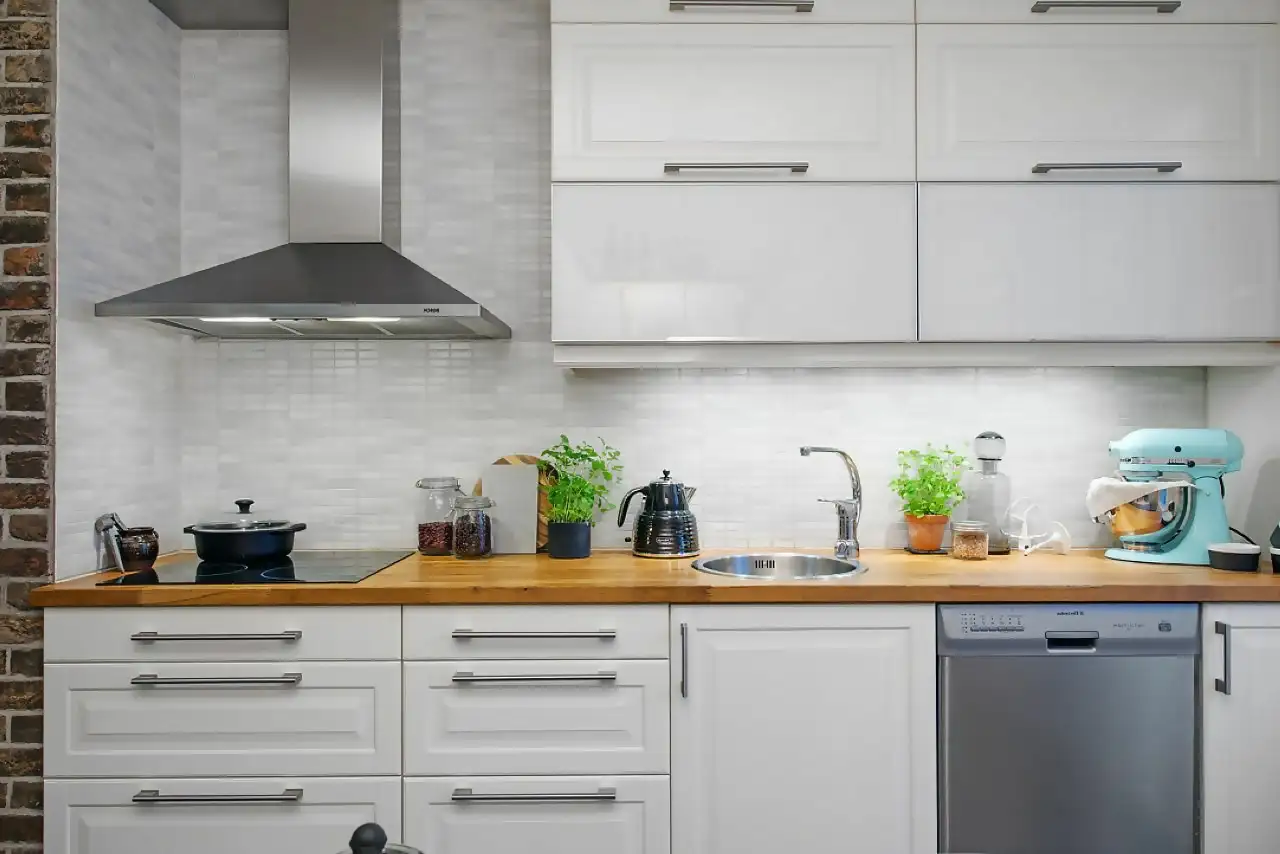 Nordic-Styled Bathroom
Whether you decorate a small or large bathroom, like relaxing baths or showers, create a place with functional furnishings and accessories. Choose neutral colors, natural materials, and high-quality bath sets. If you have a large bathroom, think about long panel tiles and exposed wood beams to emphasize clean and strict lines.
Hang thematic wall art, especially if the masterpiece depicts the view outside. What about mountains?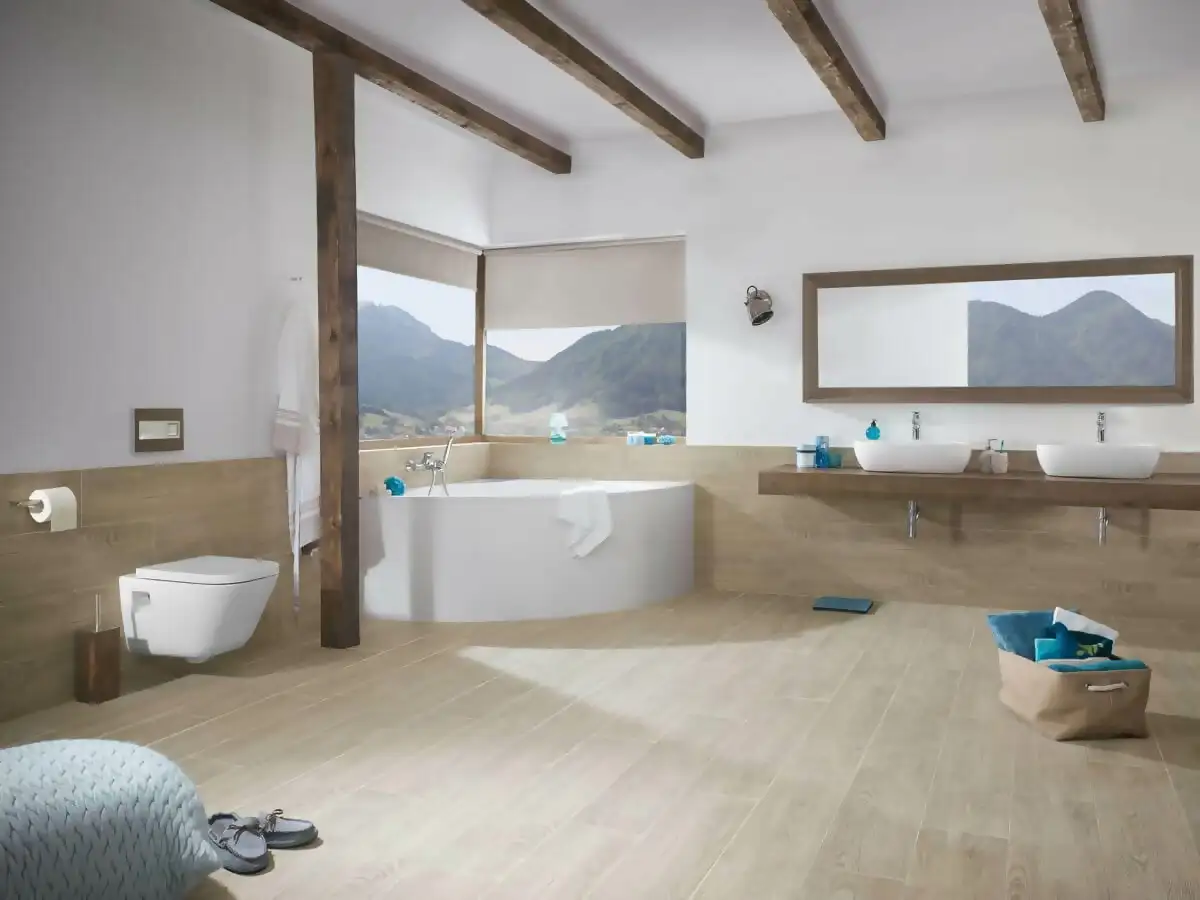 Install a glass shower partition to create a natural-styled refreshment space with a sleek modern look.