How to decorate in a minimalist interior design style
If you want to relax and feel cozy in your home, it's time to declutter your space and decorate it in minimalist style. You should well-organize your apartment with pure aesthetics of simplicity and effective and functional décor items.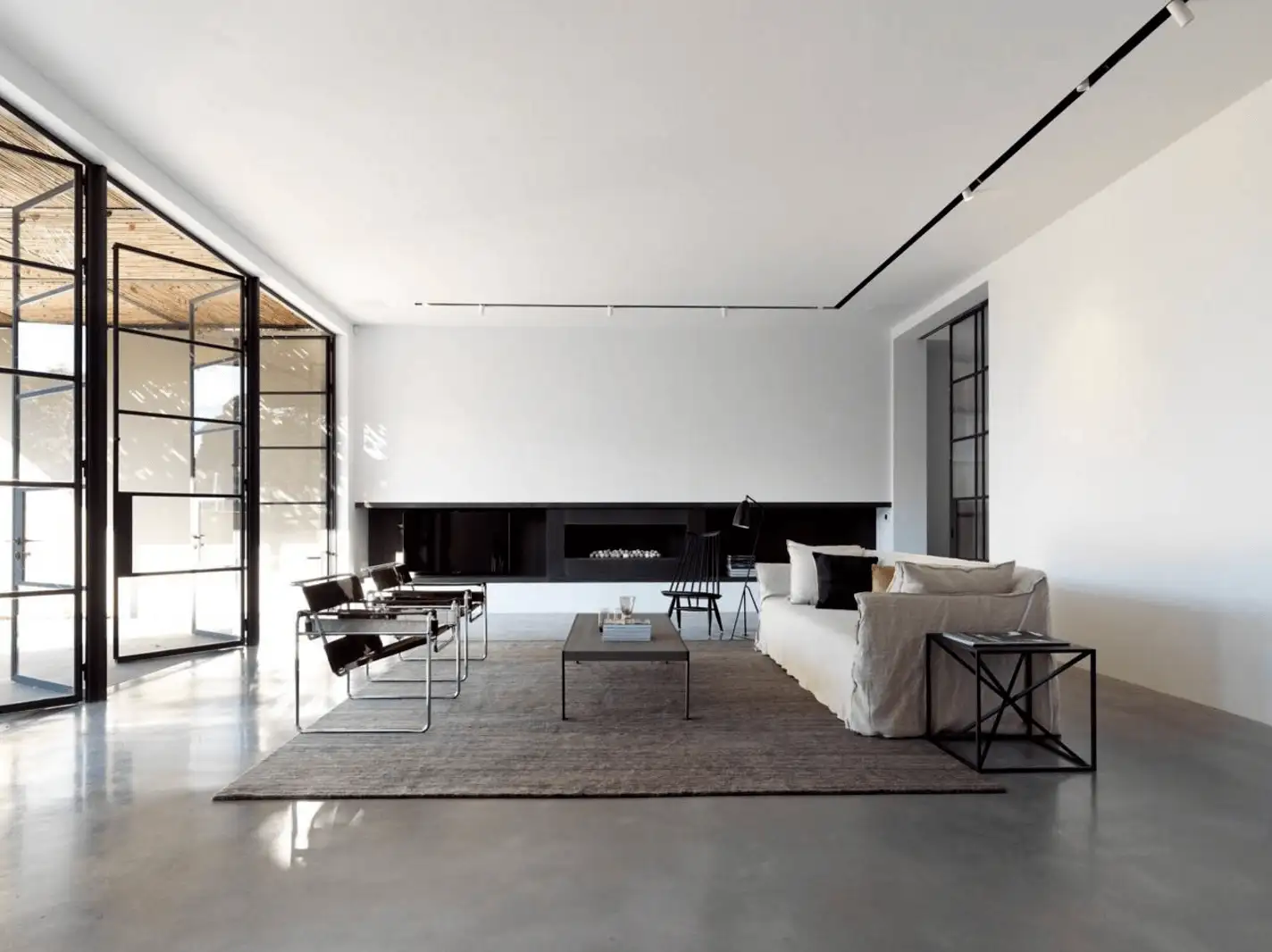 Minimalist interior design features
When you decorate your apartment in a minimalist style, bear in mind balanced neutral color palette, good-looking and functional sofas with soft pillows, chairs, armchairs, stools, tables, fittings, window treatments, lighting, flooring, wall art, plants and other decorative accessories. That`s how you create a simple, calm, and clear appearance in your home.
Contemporary, modern and Scandinavian interior design styles use a minimalist approach to home decorating. That`s why basic concepts of simplicity, clarity, and conciseness identify all these styles.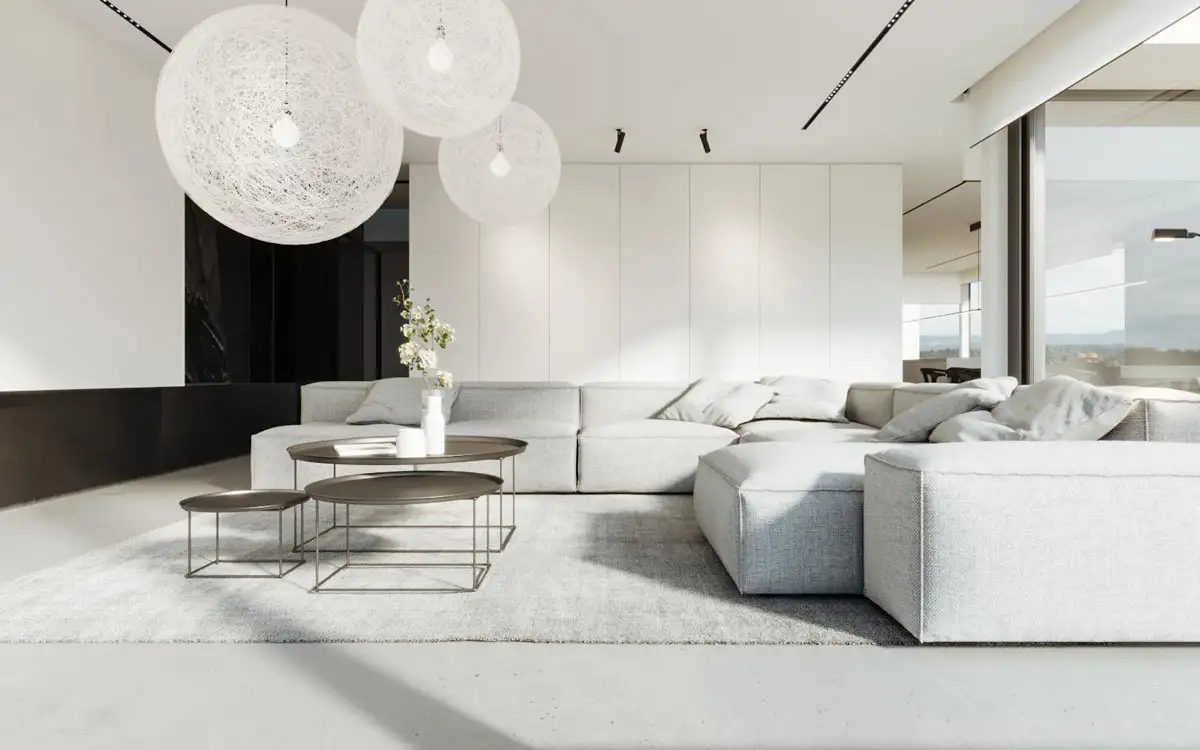 Minimalist color scheme
When you decorate your home, it's better to use neutral color palette. You may mix neutral hues with bright colors. For instance, a perfect combination of a white, marble or gray table with yellow, brown, blue or red shelves.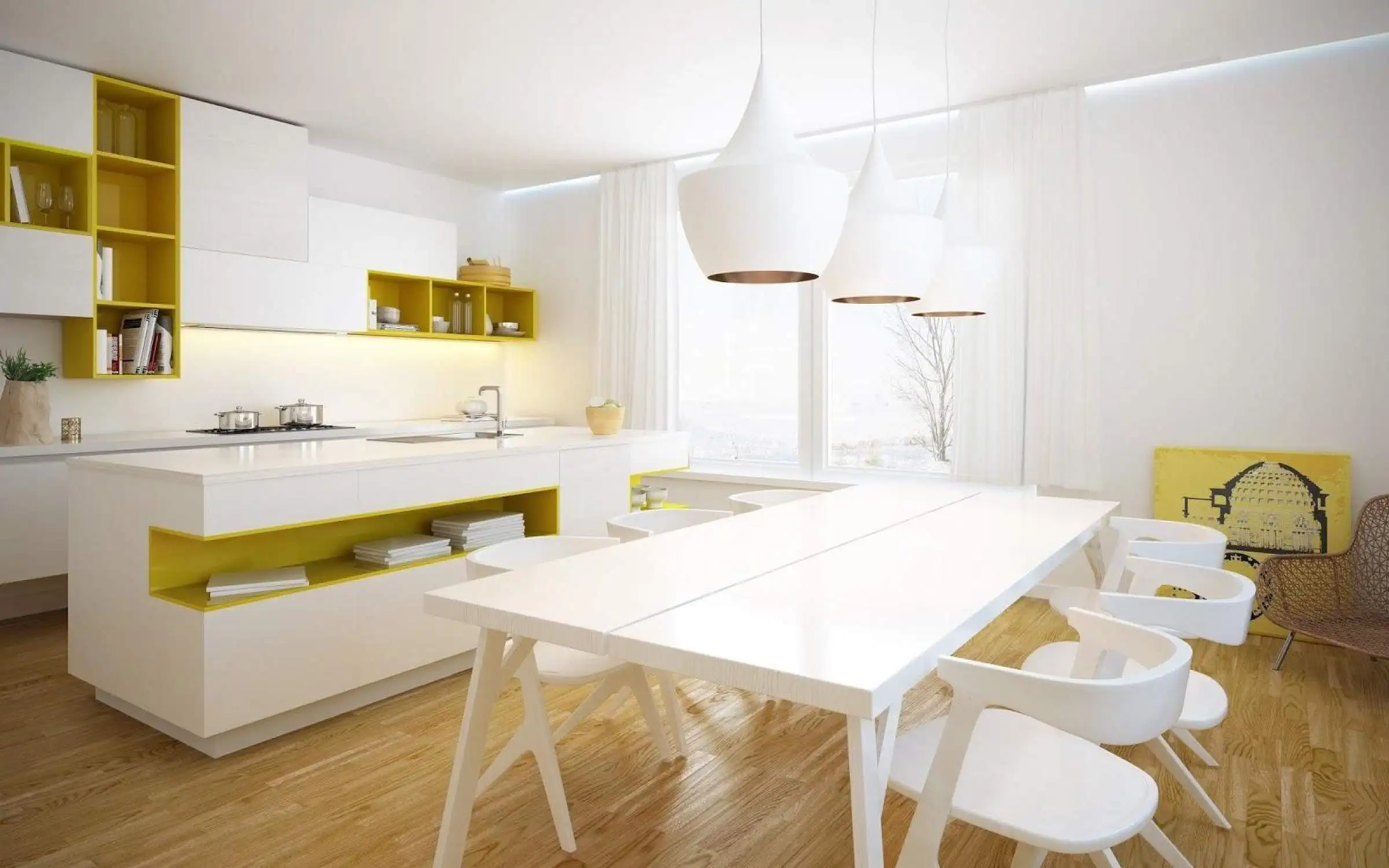 The easiest way to create more visual space is to paint walls and ceiling in a white or grey color. If your flooring is the same color as walls and ceiling, it gives you extra visual space.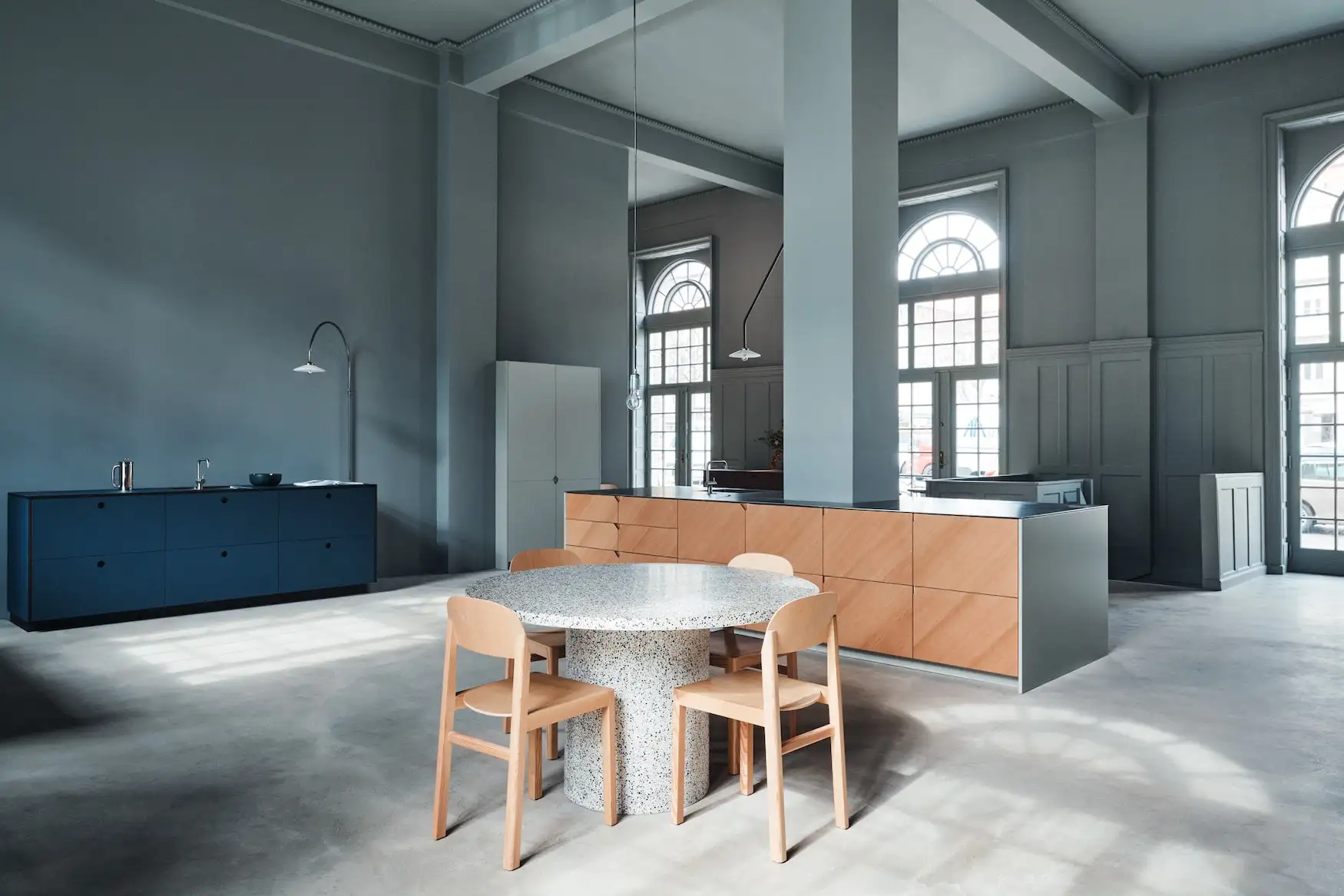 If you like pure simplicity you may use one color such as white or gray. But this décor solution makes the room a bit boring. That's why we recommend using at least two colors: one – for a base and second – for décor accents.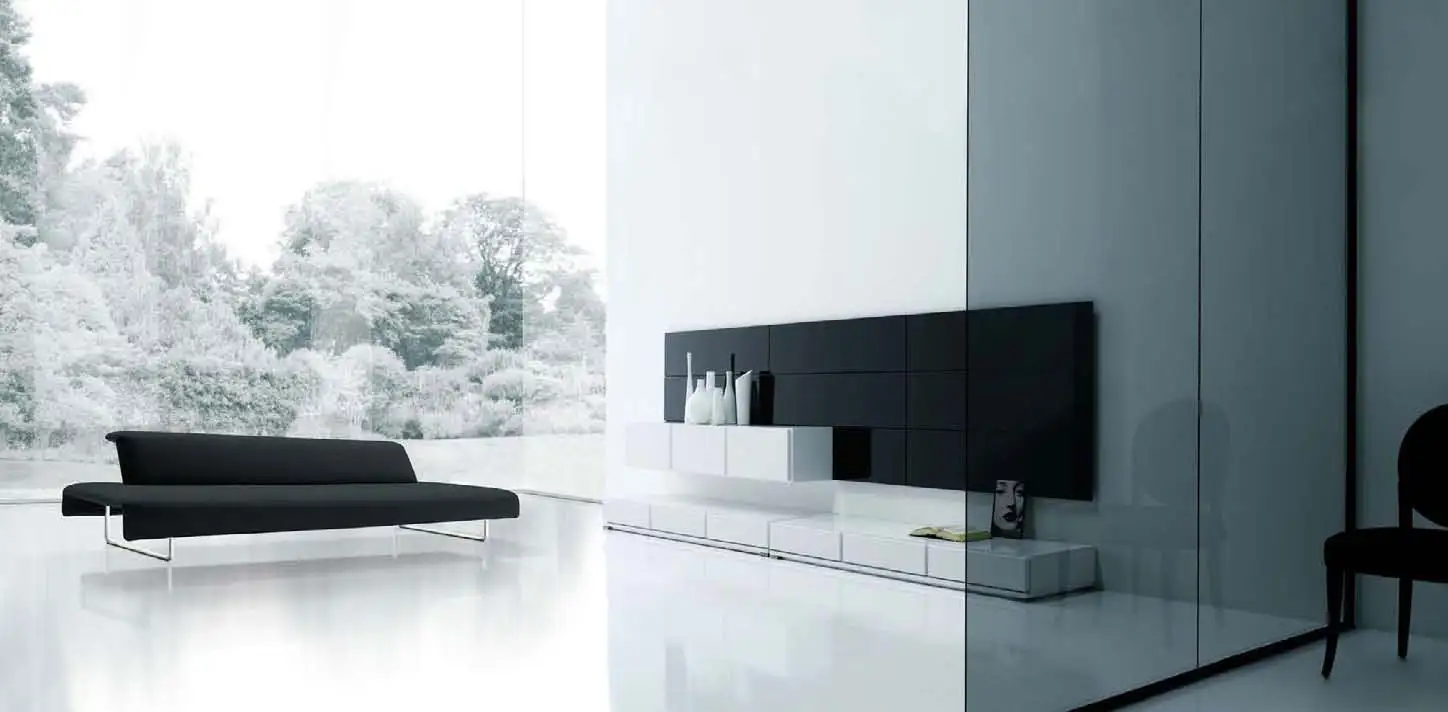 Functional minimalist style furniture
We recommend choosing comfortable and low furnishing such as a sofa, chairs, table, fittings and shelves. Every piece of furniture has an aesthetic and functional side. That`s why don`t use excessive furniture for all possible situations in your life.
You may use a fireplace for a cozy atmosphere and heating your home. Refuse lifestyle décor items and lovely knick-knackeries for a clean and a tidy room appearance.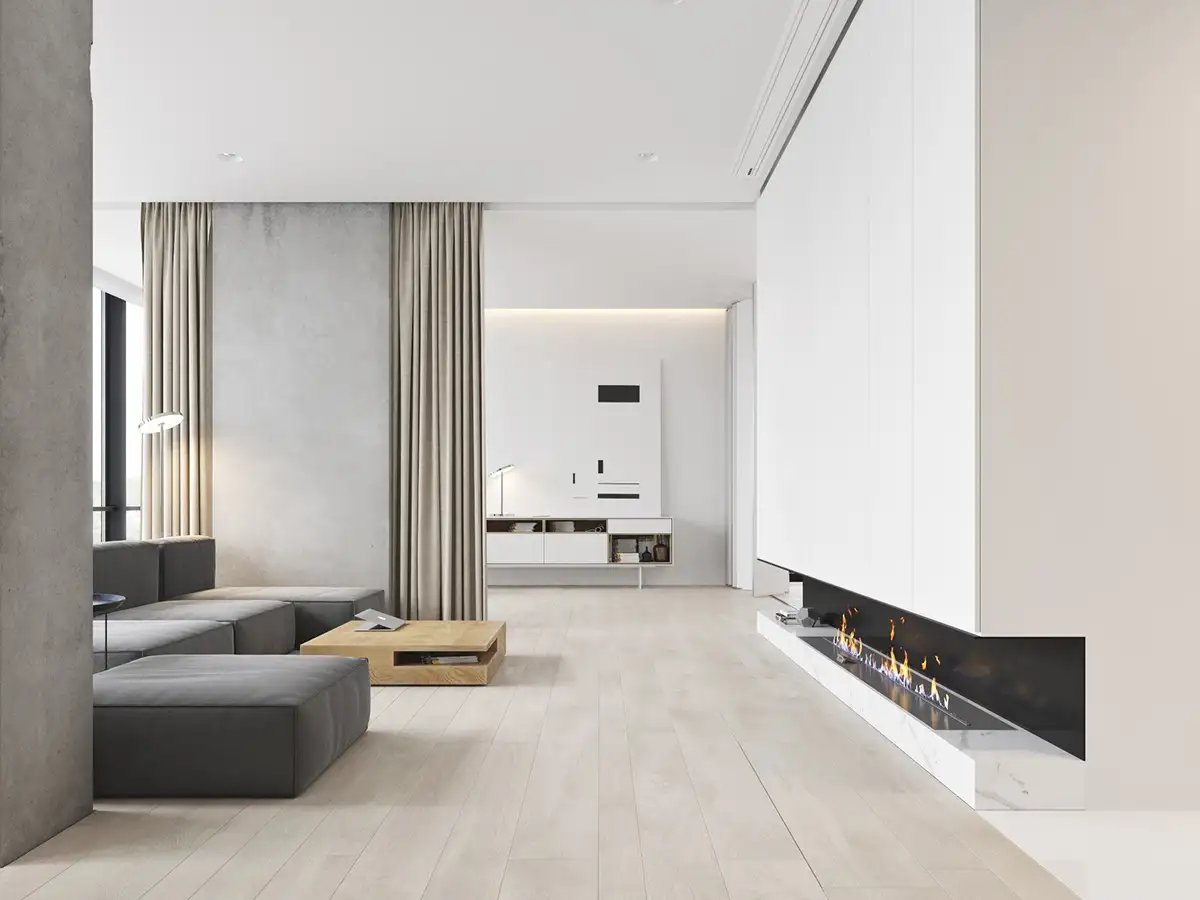 Simplify your home
You may simplify your life if you declutter your home from unnecessary décor accessorizes that are just gathering dust. Don't let things to lay everywhere and create a mess. If you choose a minimalist concept it opens a possibility of living in a clear and clean apartment. It's a fresh breath for you and your family.
If you want to add a chic décor element, it may harmonize with all the other interior pieces and be in the same style. You may choose luxury window treatments which are produced from expensive fabrics that looks super stylish and balanced with a minimalist furniture, lamps, TV, flooring and lighting.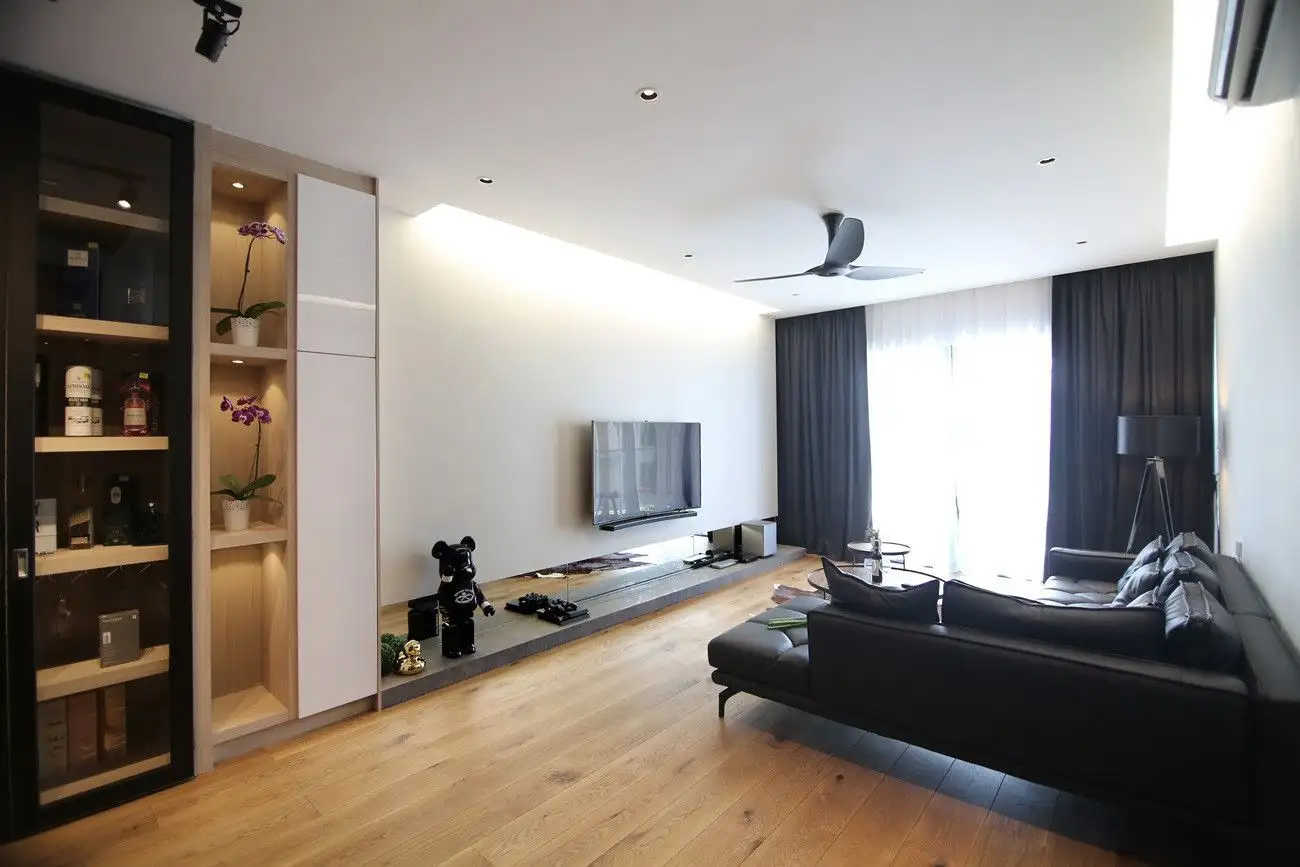 If you like natural lightning, using plantation shutters or sheer curtains without drapes will be enough.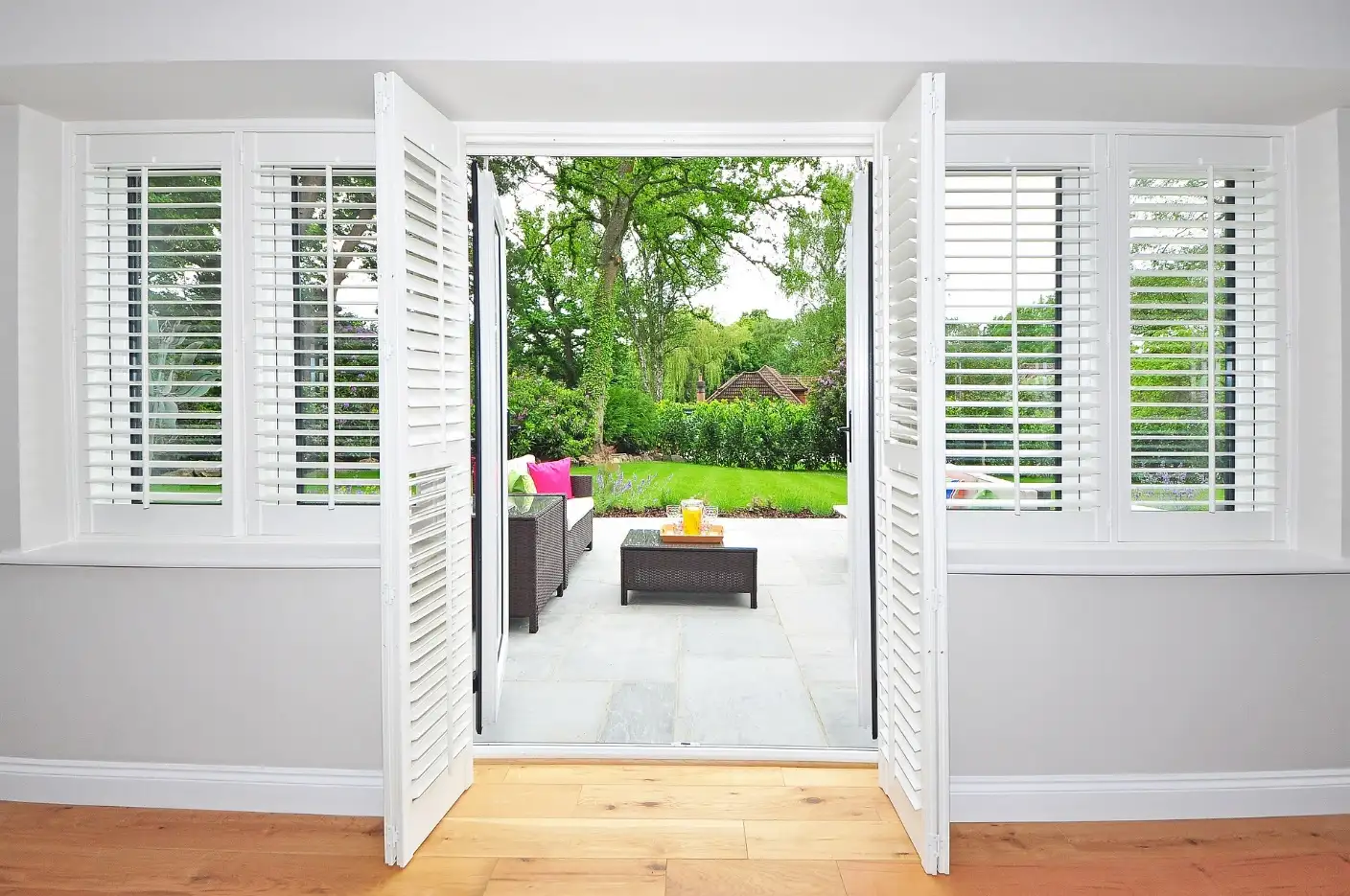 White sheer curtains allow natural light to flood the apartment for a fresh breath of minimalist lifestyle.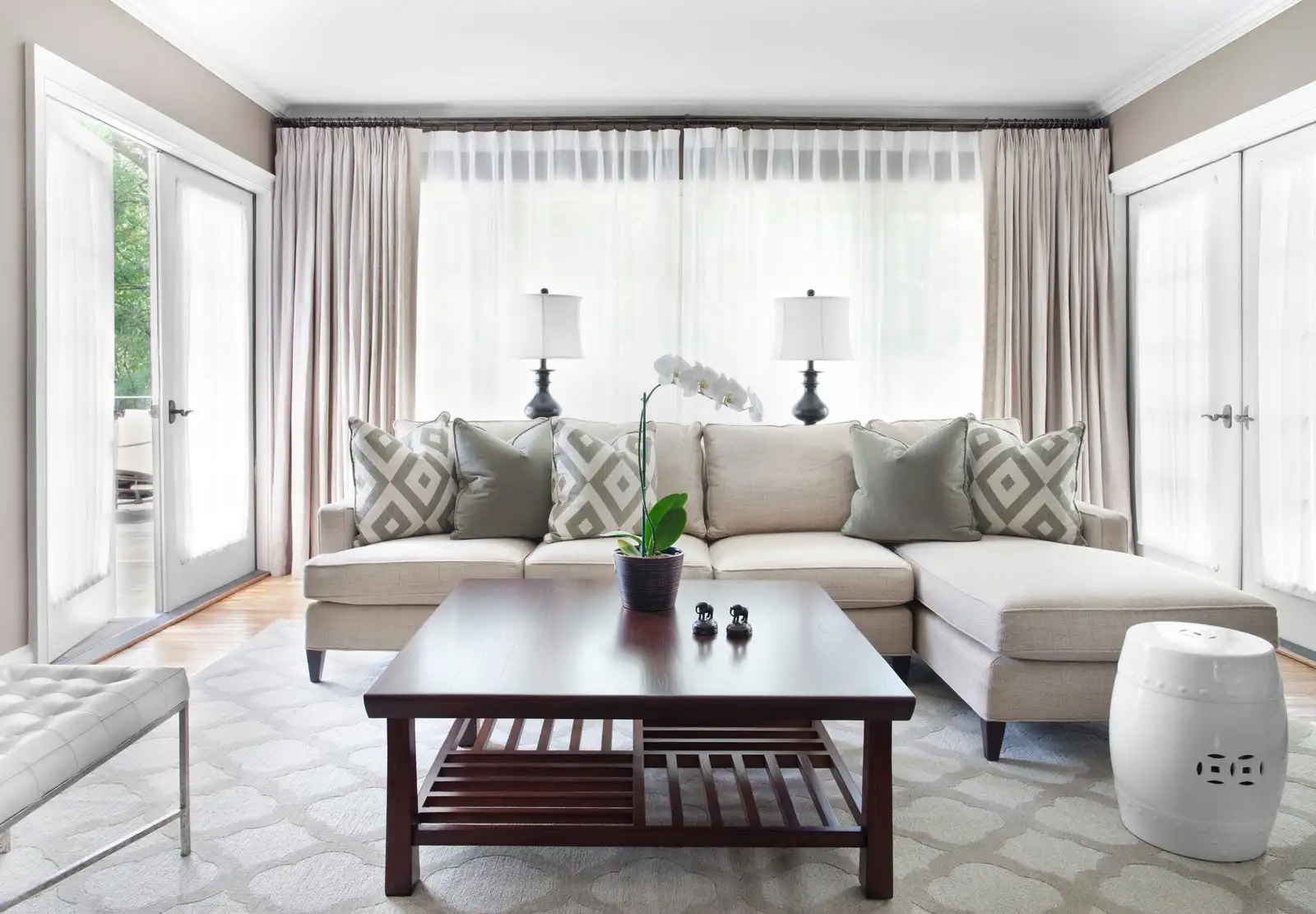 Keep in mind a minimalist principle «less is more»
Sometimes we want to look around and feel cozy with lifestyle décor items. Minimalist interior design is about living nowadays and not dipping in the nostalgia. You should decorate your home solely with things that have only functional and esthetics side. Clear forms and clean lines are key for a distinct life.
You should better visually separate cooking and washing areas from storage area for supplies.
Minimalism in flooring
Minimalist floor covering features a high-quality polished wood or concrete and light colors for warmth feeling. If you want to add a modern touch using a wood flooring will be a right design solution.
You may choose a neutral rug on the floor or to not use rugs at all if you need it only for aesthetics.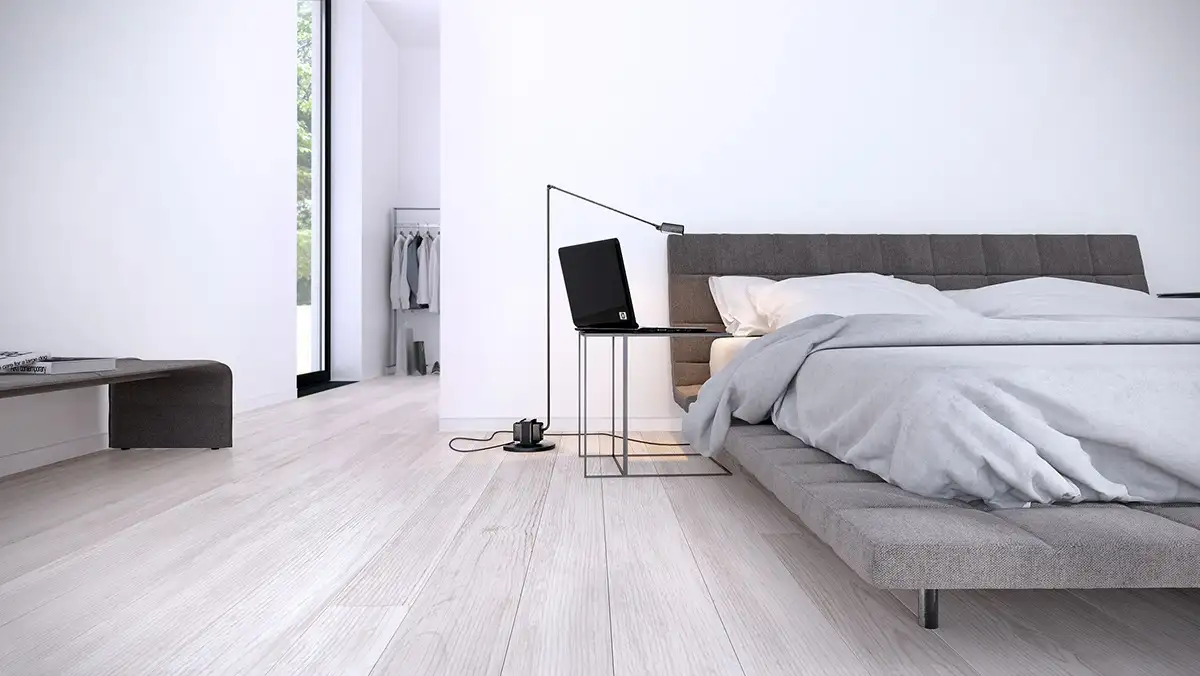 If you have a pet you should better choose a microfiber, wool or jute pet-proof rug.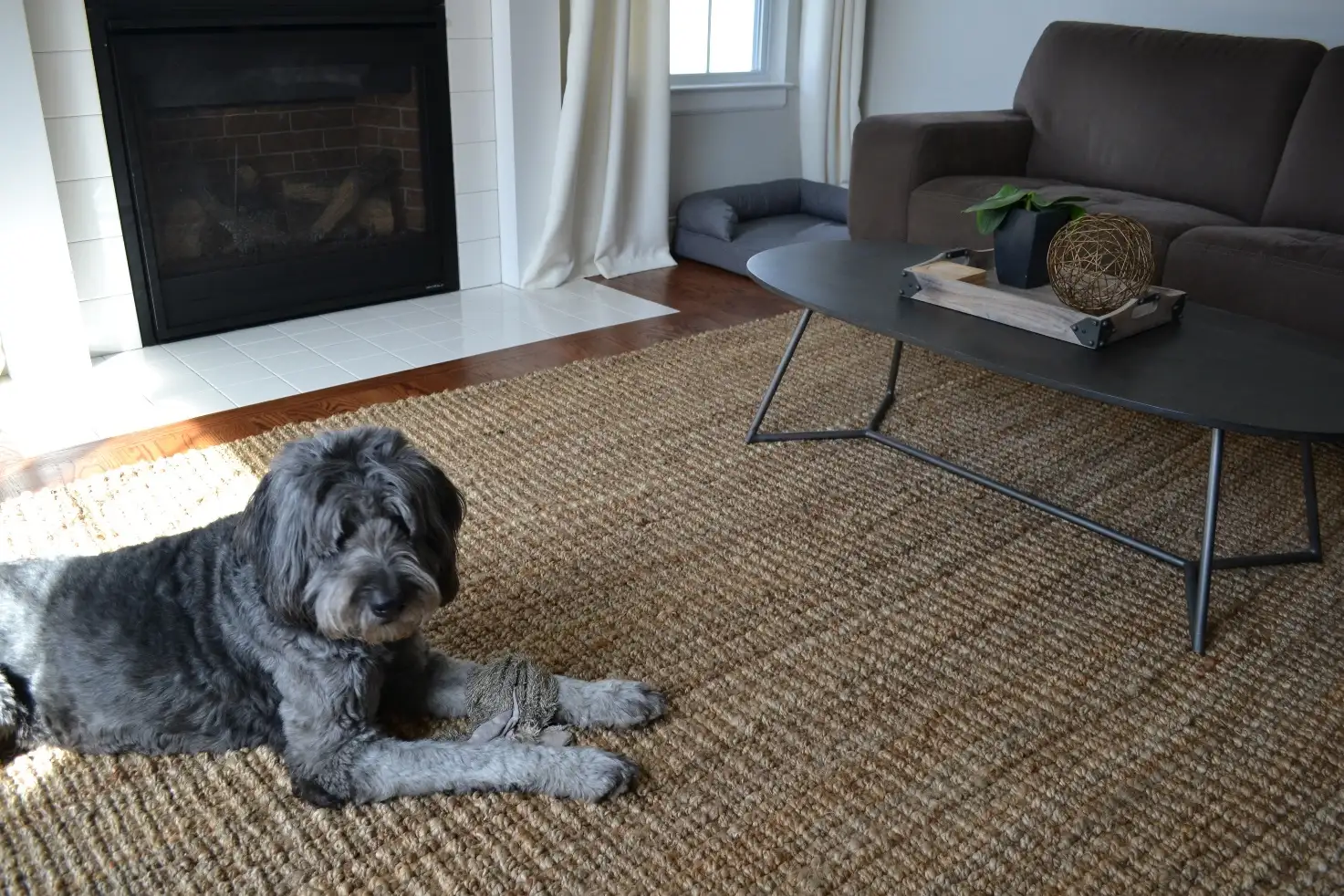 Minimalism in lighting
Minimalist interiors need more lights than others to emphasize a pure simplicity of the space. Try to use more natural light. You may choose neutral-colored window treatments or leave them naked.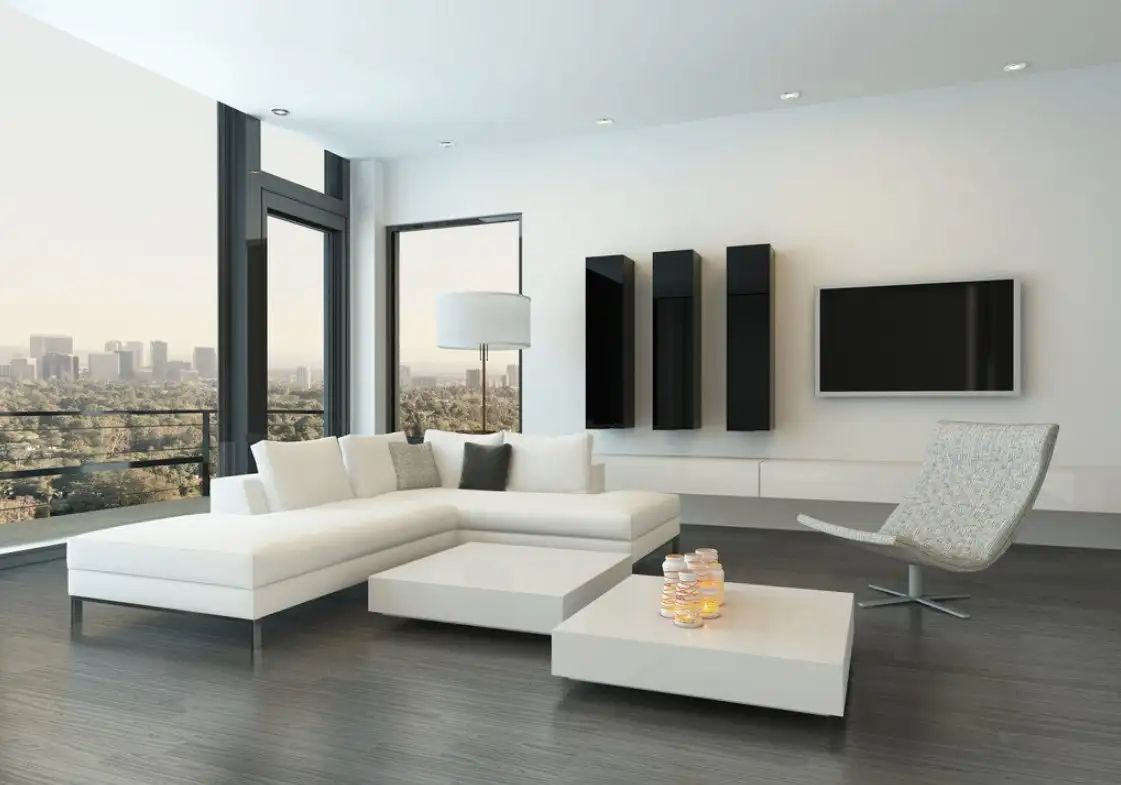 If you choose track lighting, you may add lamps, pendant lights, led strip lights or other additional lighting.
You may prefer bright decorative pendant lights that contrast with a calm interior and add a splendid accent for a perfect minimalist home.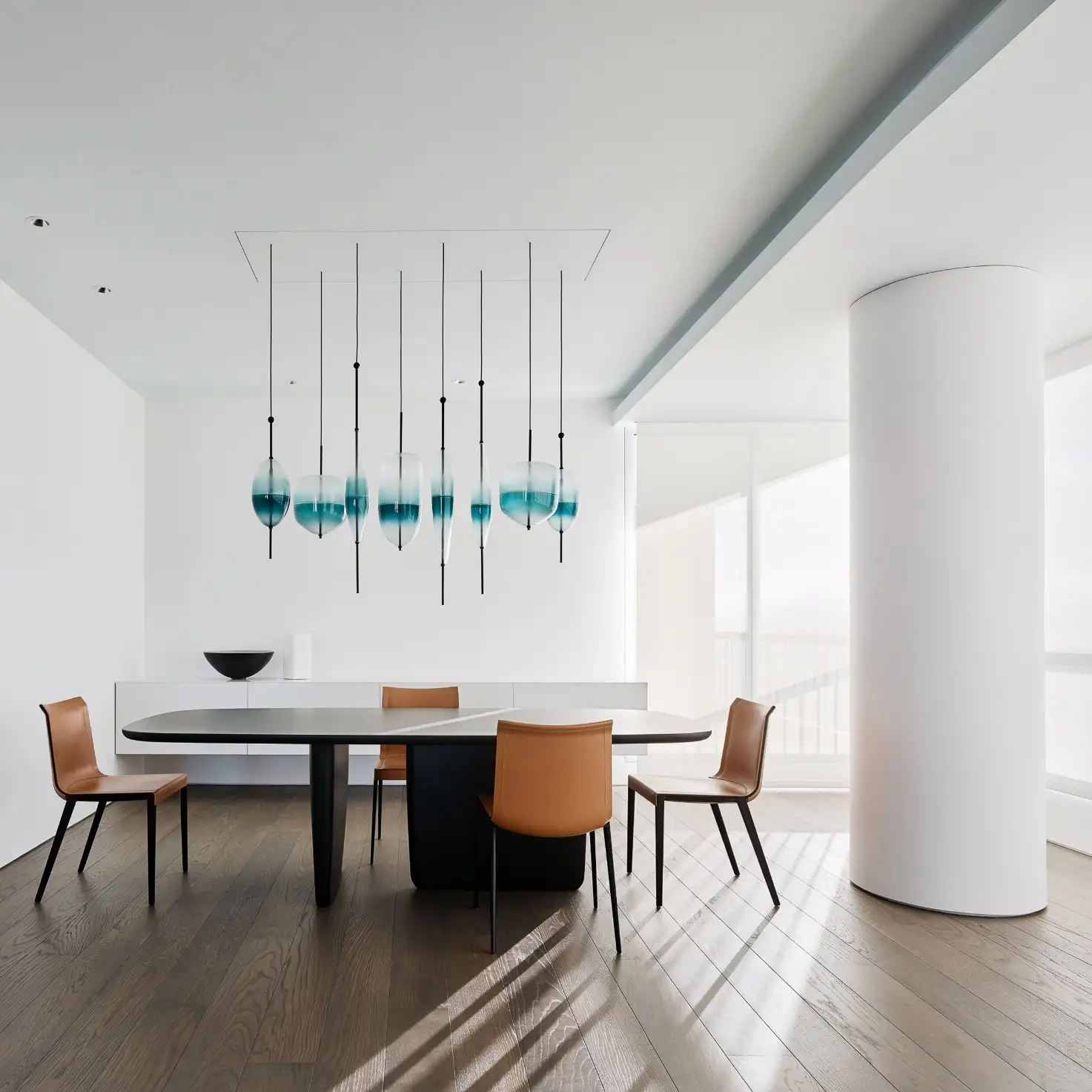 Minimalist wall décor
Wall art in minimalist interiors is key for organizing all décor items and creating a main focal point. You should prefer large pictures or posters to hang on the wall to show a generous beauty in a clear space.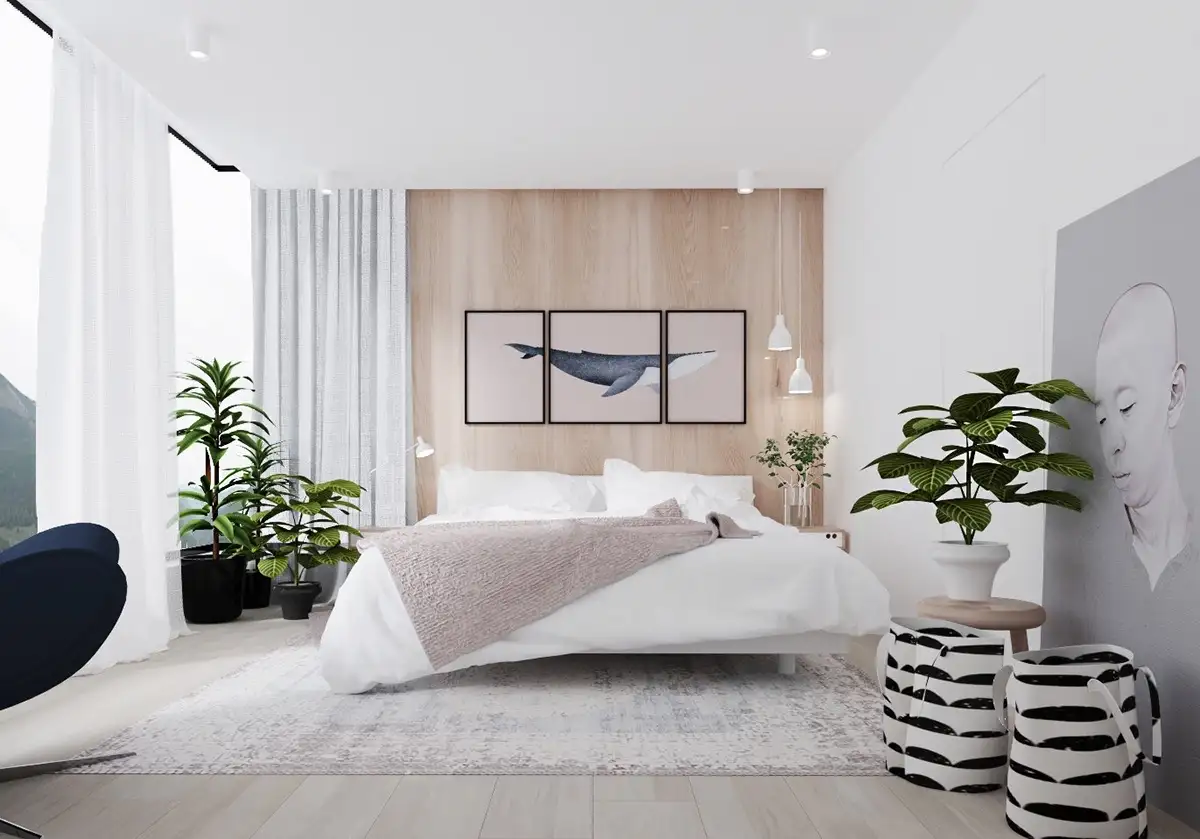 If you want to emphasize clean and strict lines of your home, the pictures with geometric prints are exactly what you need. You may hang a few pictures with an equal space between them and create one large piece of art with one deep idea.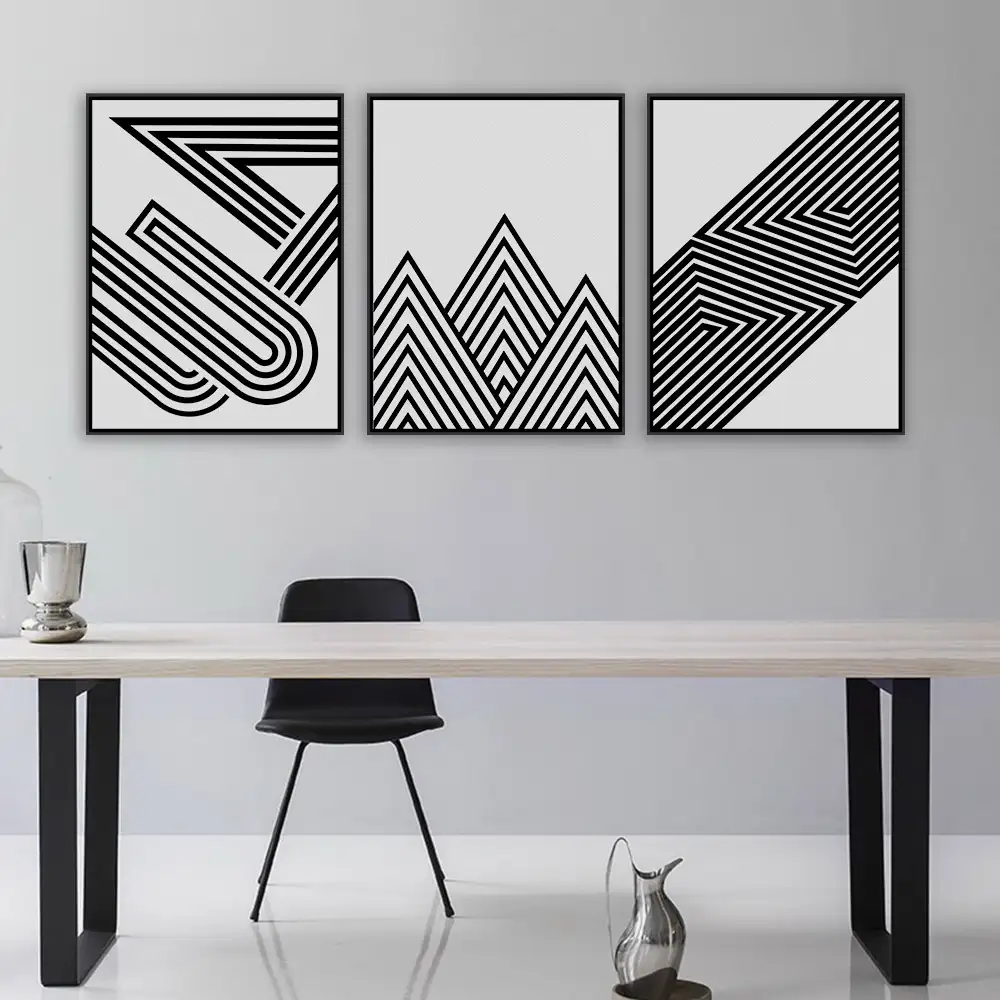 Also, your limit may be one picture with geometric prints which has some mental sense.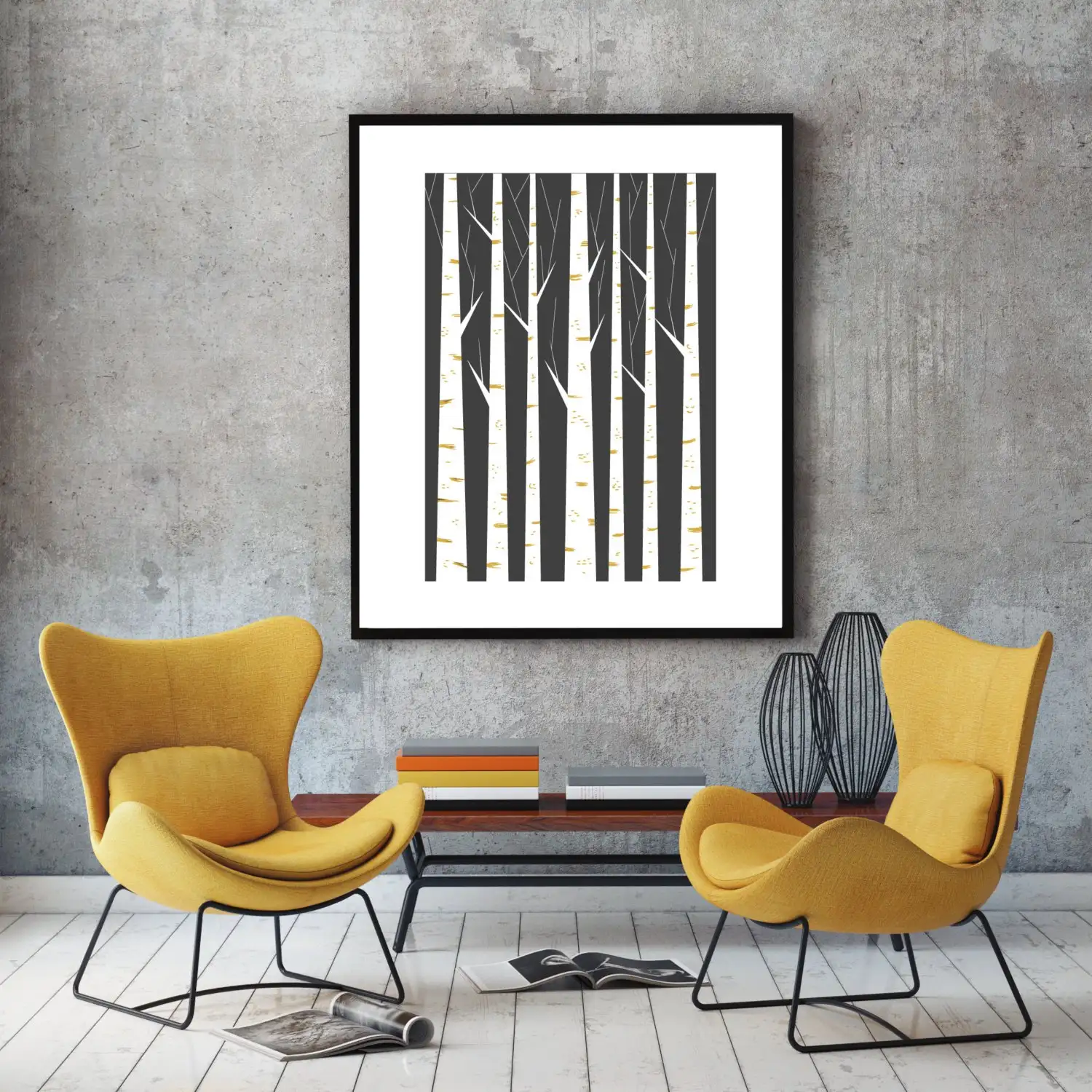 If you want to add your own signature, you may use wall art which shows your lifestyle. For example, a simple graphic illustration with bicycle shows your active wellness and personal comfort.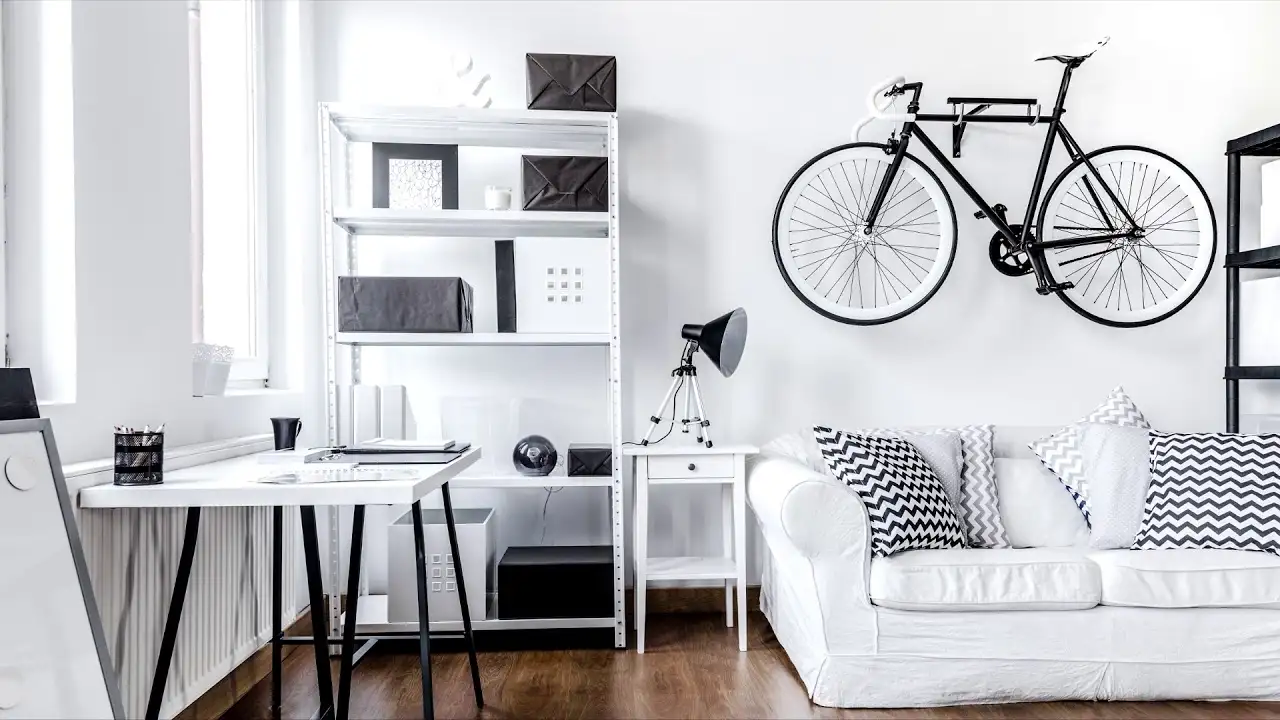 Minimalist décor ideas room by room
When you decorate your home, avoid unnecessary stuff. You should place furniture pieces, pillows, tables and lamps in pairs or asymmetrically to one side in harmonious manner. That`s how you create a clear and effective minimalist décor for your apartment or house.
If you mix minimalist living room with Venetian or eclectic bedroom, it will be a complete collapse of style balance. By paying attention to the décor harmony within every room you create a perfect minimalist home.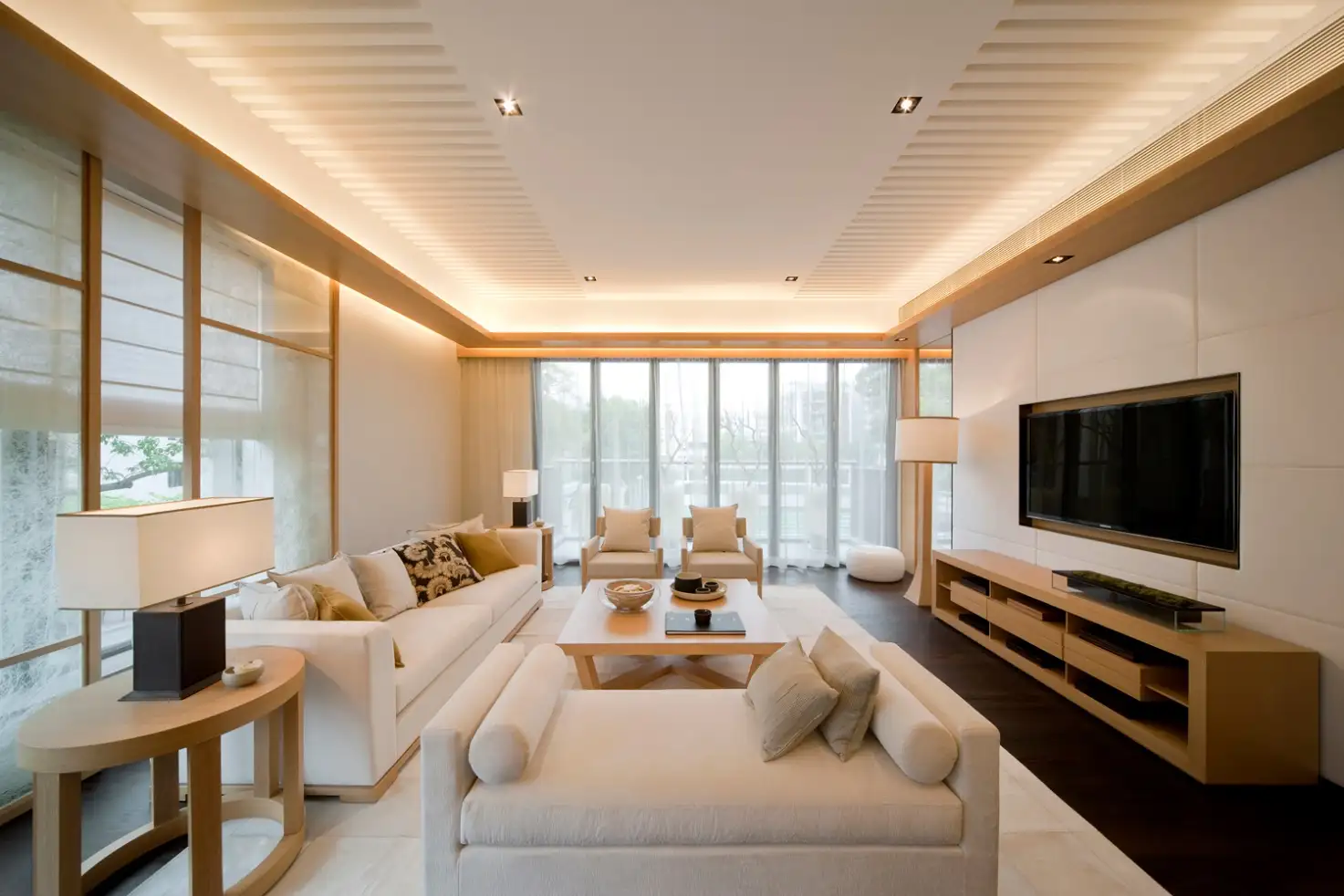 Minimalist living room decorating
You should invest in quality furniture, fittings, lighting, ceiling without trims, etc. Focusing on functionality, decorate your living room solely with things that you need.
You may choose two classic main colors, black and white.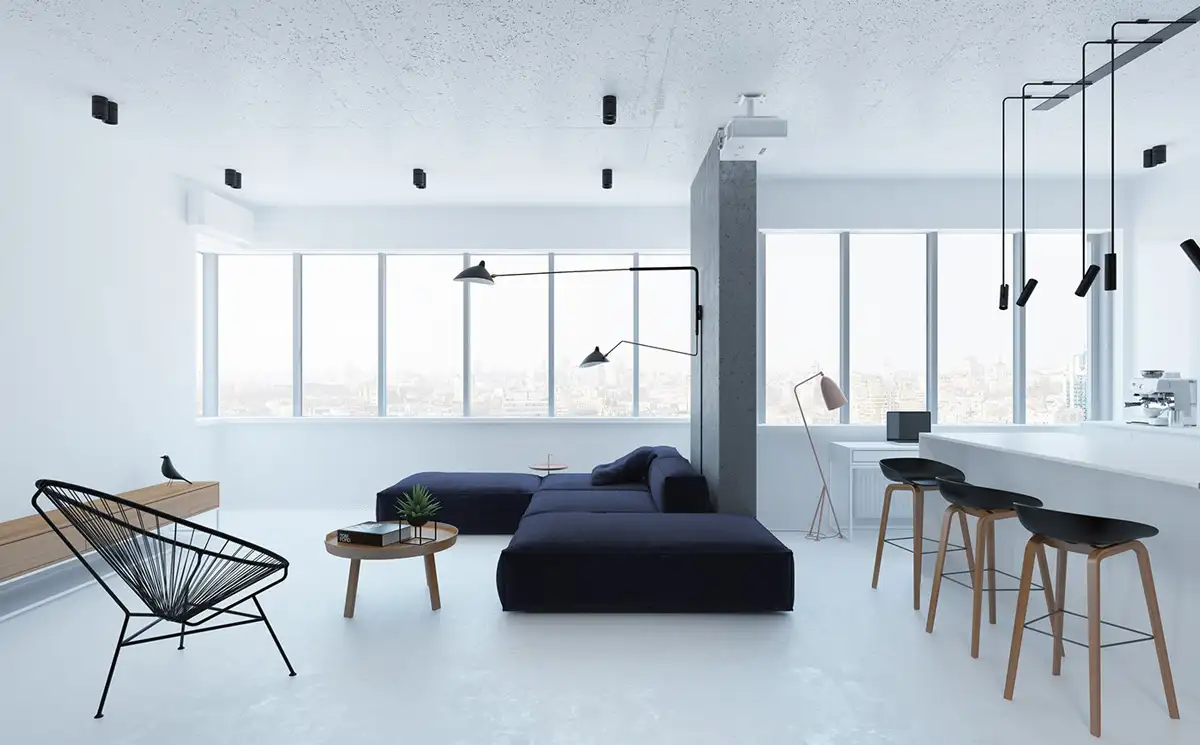 What furnishing, black or white, do you prefer?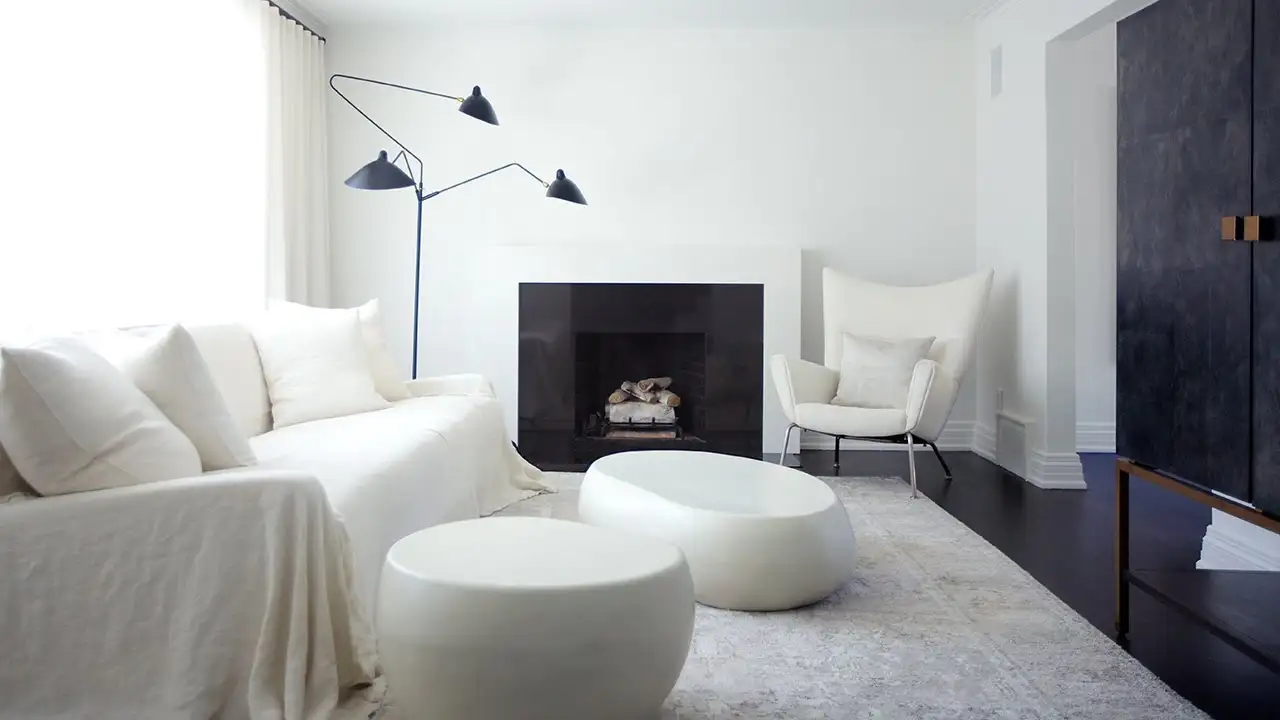 How to create a minimalist kitchen
You should decorate your kitchen in the functional way. For example, choose the right positional for your kitchen stuff. That`s how you make it easy to get out blender, mixer or grater as soon as possible.
Having clear kitchen areas will help organizing minimalist space and add fresh feelings to your home.
Think about quality of the material you use. You may choose a winner combining of stainless steel, aluminum and glass.
You may use neutral colors and mix classic white, gray and black. The bouquet of flowers can be the main focal point of the room.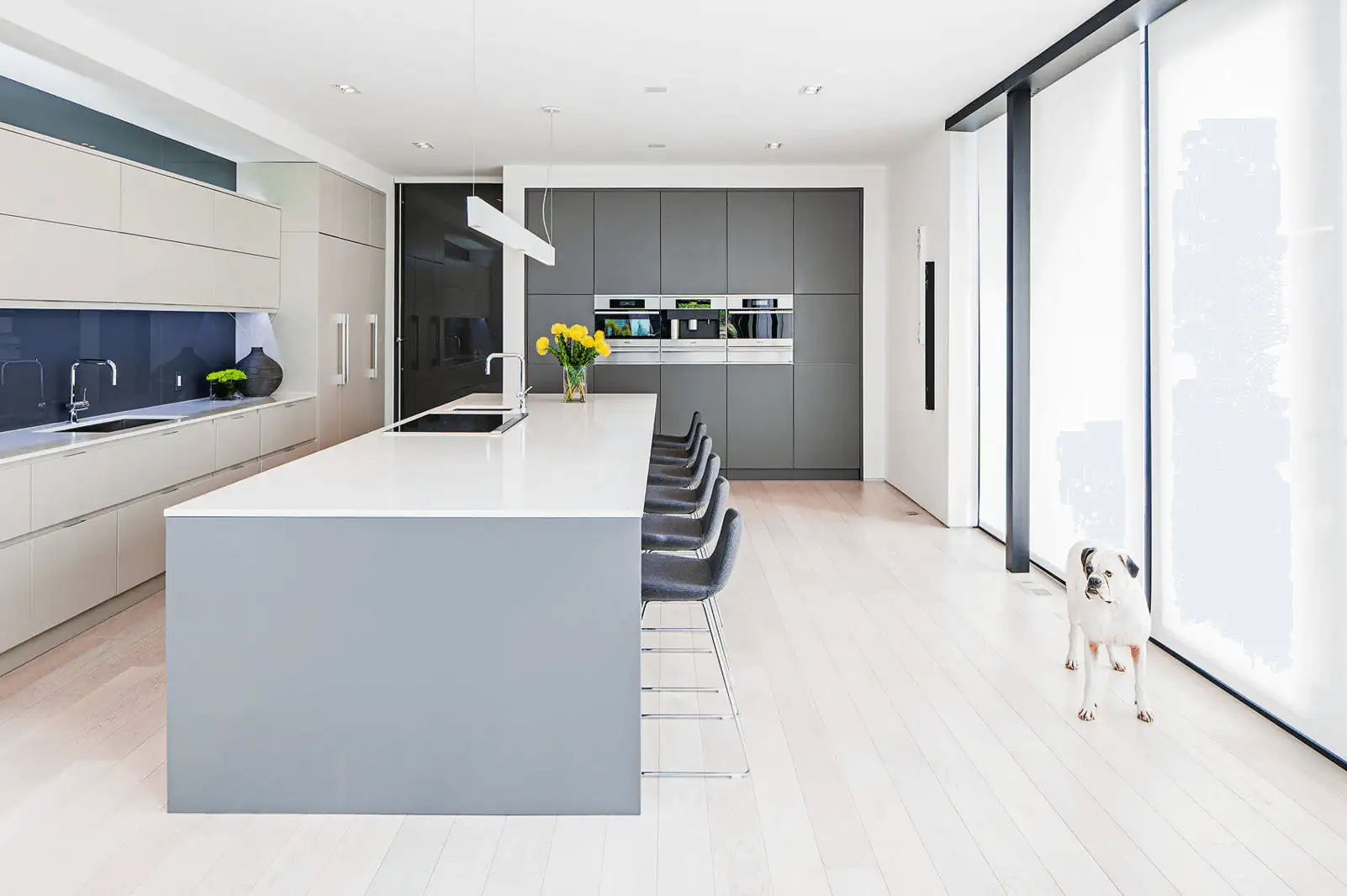 If you like only light hues you may use white as a base with a brown contrast. A marble kitchen island adds a magnificent touch for your interior.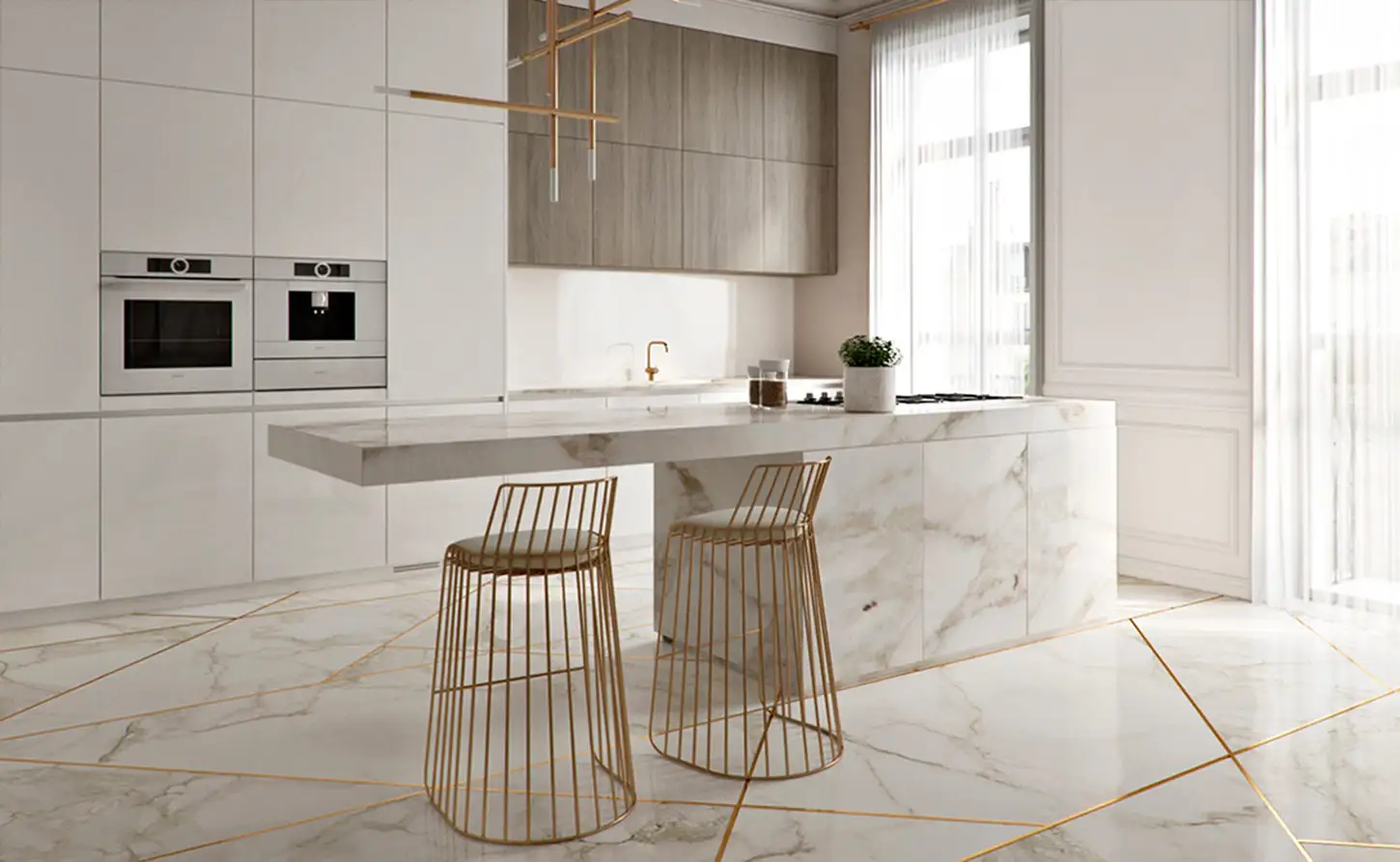 Stunning minimalist bedroom
By sticking to symmetry of décor elements, using bed and other furniture pieces with clean lines and straight shapes, you create a perfect minimalist bedroom. Use neutral colors without striking contrast points in the furnishings for a good rest and relaxing feeling.
You should choose a plant, bouquet of fresh flowers or wall art element as the main focal point of your bedroom. If you want to always have an additional lighting, use lamps on both sides of the bed.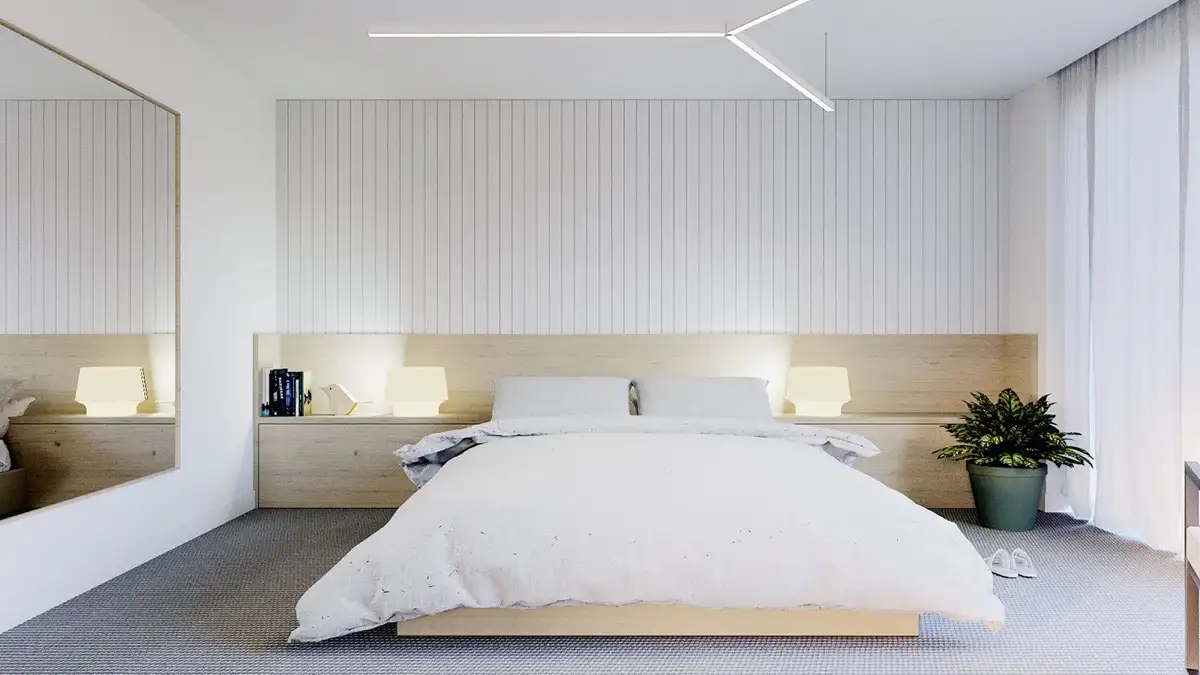 If you want to add a rustic touch in your minimalist home, use a wood bed, stools, pot, and even ceiling or flooring.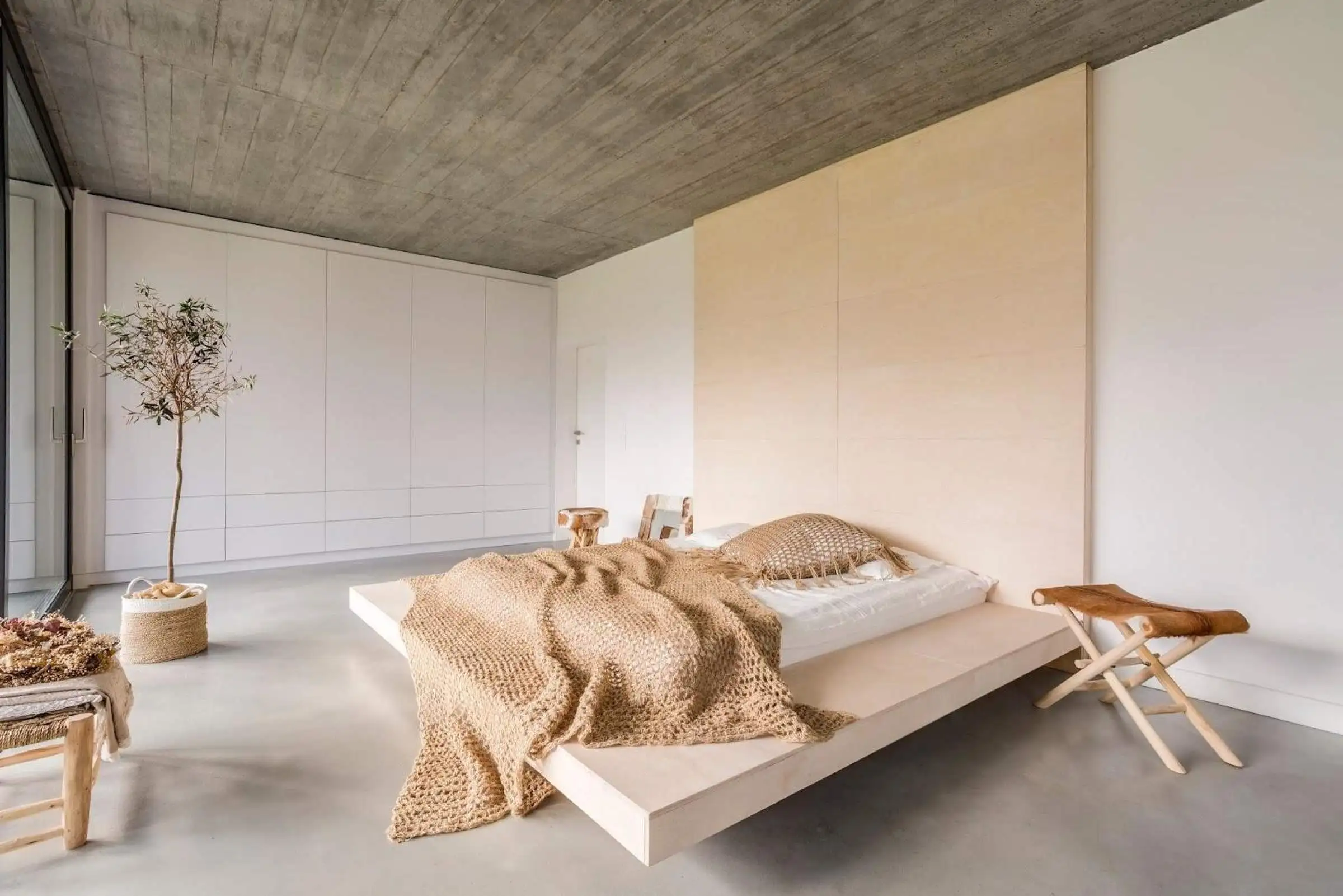 If you want a luxury touch in minimalist home décor, choose a stylish bed with curved metal legs.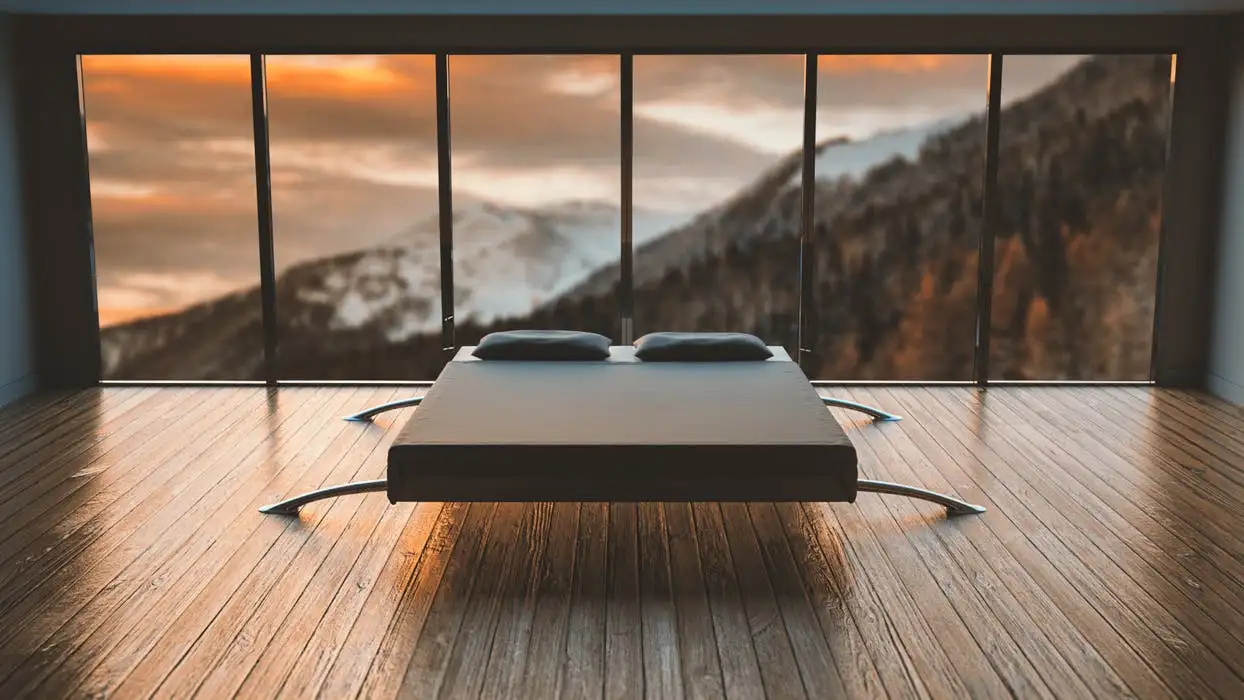 Clean and declutter your tidy minimalist closet
Orderliness is the base of minimalist closet. This room is intended only for your clothes, scarfs, shoes, bags, ties and hats. It isn't a larder for unnecessary things. It's better to put your lifestyle details in neat boxes.
When you decorate closet for a man and woman simultaneously, you should better use a combination of dark brown with pure white.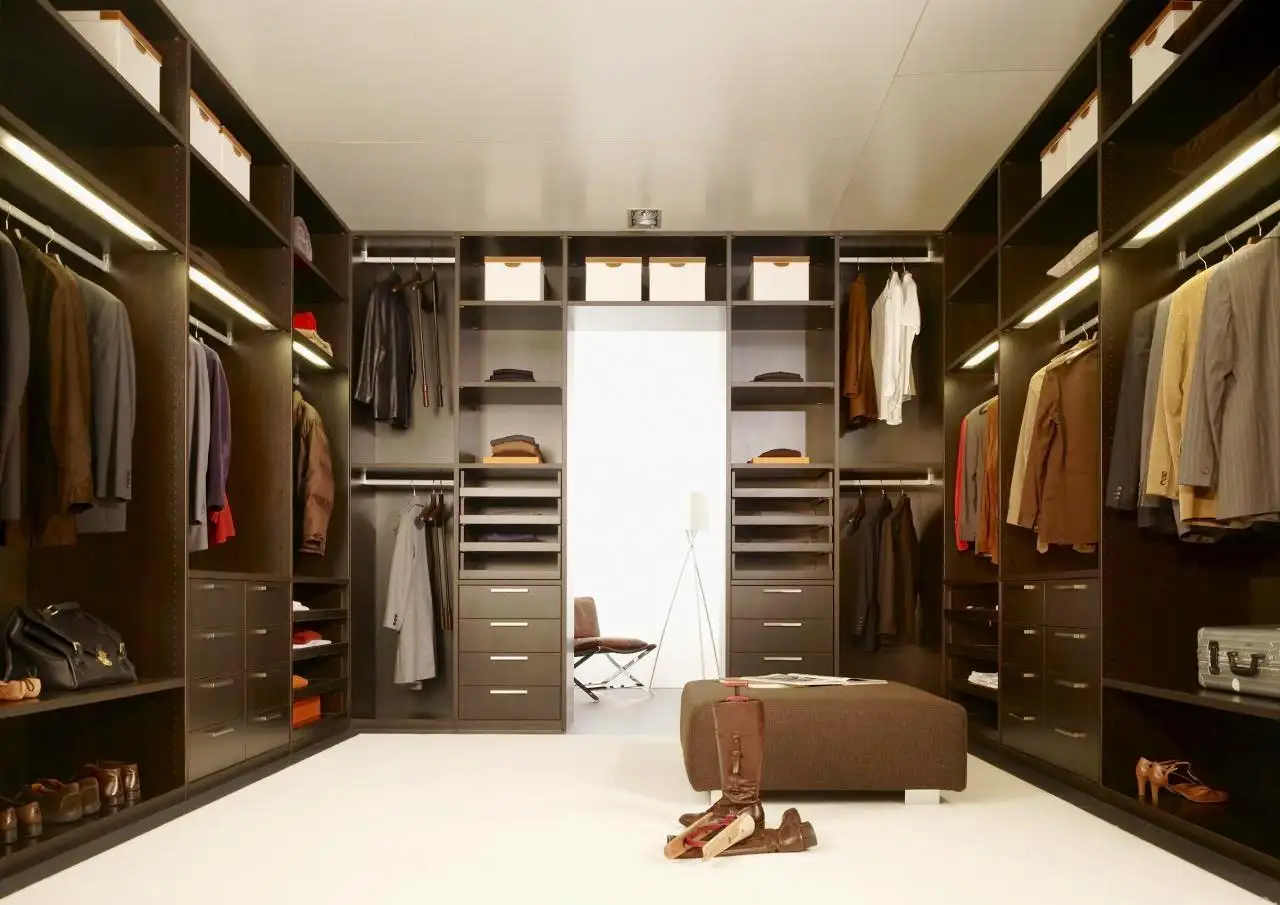 When you decorate a woman closet you should better use a combination of light brown or peachy with pure white.
Minimalist bathroom essentials
When you simplify your home, you may separate your shower and toilet in the minimalist bathroom. You should use a glass door or partition for the shower. That's why you`ll have a clear delineation of areas.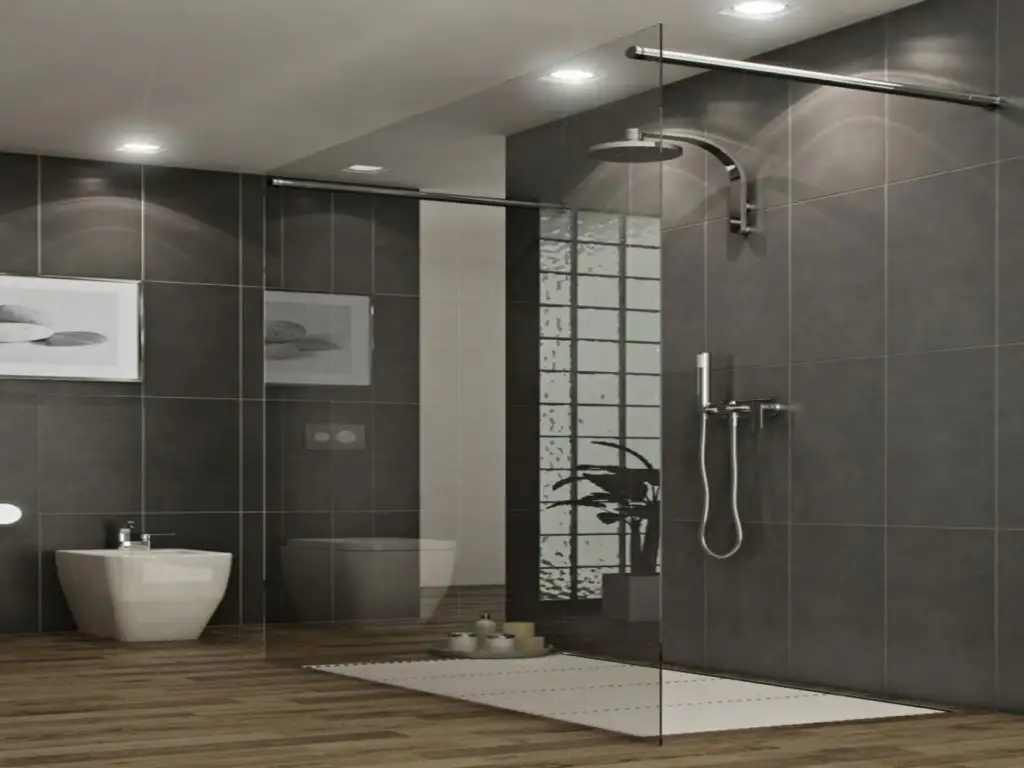 Three or two hues is enough for keeping minimalist interior design style. You may choose classic combinations of white and black or white and grey.
Create a focal point of your minimalist bathroom with black or white framed mirror. You may use a few plants for a fresh breath in your minimalist bathroom.