The Ultimate guide to modern interior design
Modern décor features simplicity of uncluttered spaces with strict and clean lines of low and horizontal furniture, and fittings that reflects a practical purpose. Modern interior design became a refusal of the gaudy and chic byzantine and venetian decor styles. The mid-century décor is simple and unembellished like scandinavian and contemporary style.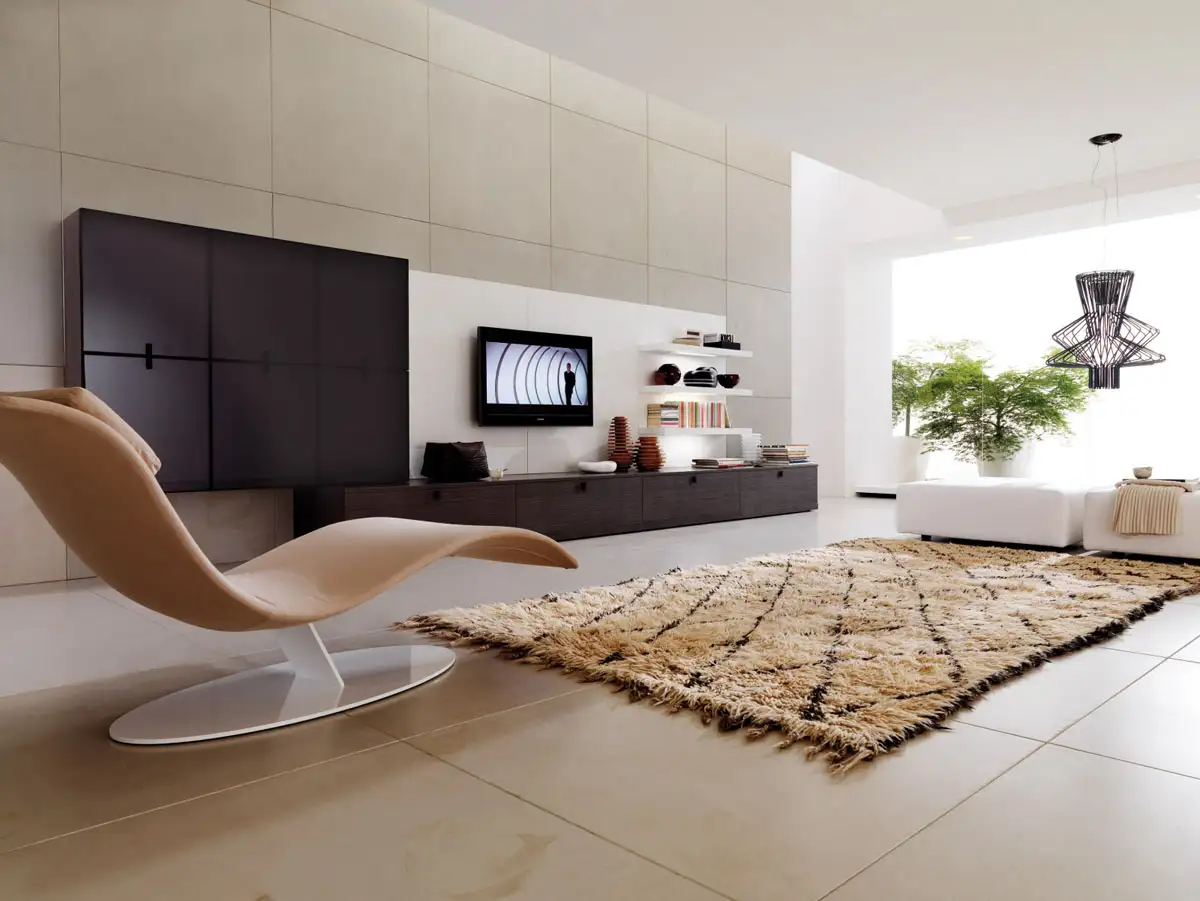 A little bit of modern style history
Modernism arose in early 20th century as a creative and intellectual movement in architecture, interior design, abstract art, films, music, and literature. Modern design grew in popularity in the 1950s and '60s. That's why some people refer to modern decor as "mid-century".
After World War II people moved to urban places which create a tendency to live in smaller apartments. That's why design solutions had to change. Using natural materials, new technologies, wanting simplicity of form and open concept space identify modernism.
Don`t confuse modern with contemporary décor. The mid-century design refers to a period that has passed, while contemporary design identifies nowadays.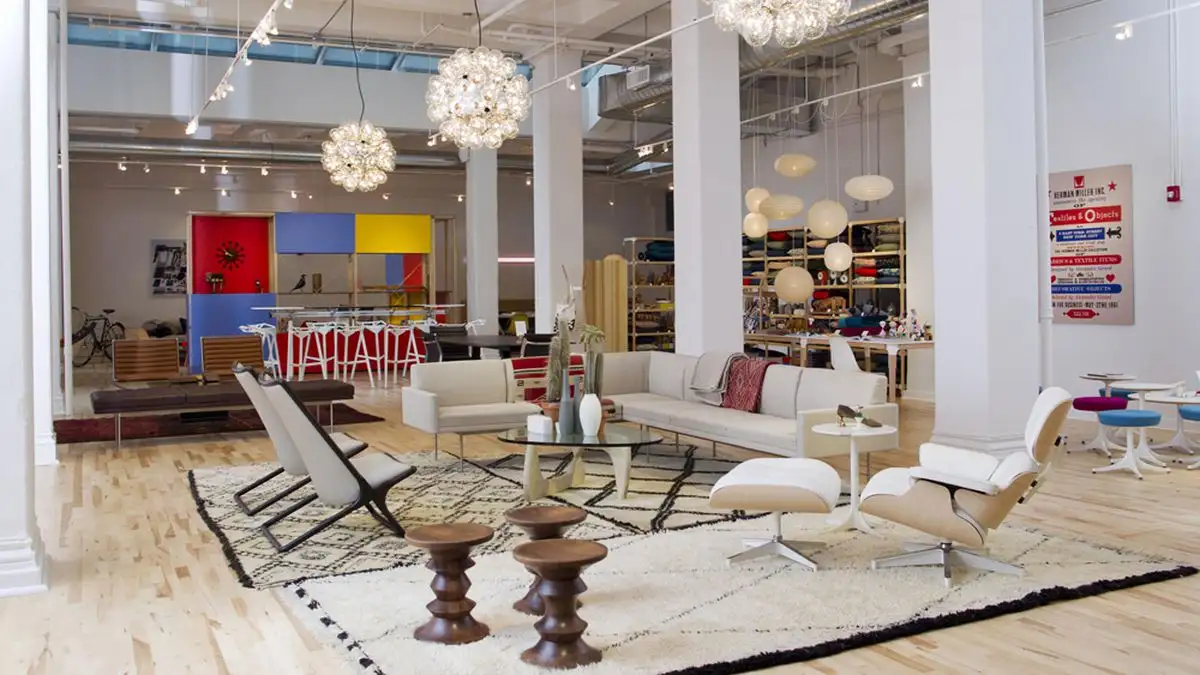 Key modern interior design features
Simplicity makes modern décor absolutely welcoming and cozy. Choose furnishing elements that have horizontal and vertical clean lines and geometric shapes. Use natural materials such as wood, metal, leather and glass. A contrast between neutral and bold colors is a right way to make your modern house look stylish.
Accent on function of décor elements. So, for example, a living room that is designed with modern decor in mind should have enough comfortable chairs for you and your guests and one or a pair of soft armchairs. You should choose a sofa which doesn't look like a museum showpiece without a sitting or lying purpose.
An absence of fussiness and clutter describes a modern house. You should refuse immoderate use of sculpture or picture collections, lamps or rugs. Quirky knick-knacks may identify your personality but shouldn't be used in your modern decor with a minimalist touch.
The philosophy behind the modern design is a combination of strict and minimalist décor elements with bold and bright colors used in abstract art. Frequently, pillars, slabs or other structural items may left uncover.
Modern design trends to open-concept spaces. For the effective use of natural light you may choose light-colored sheer curtains or sheer Roman shades.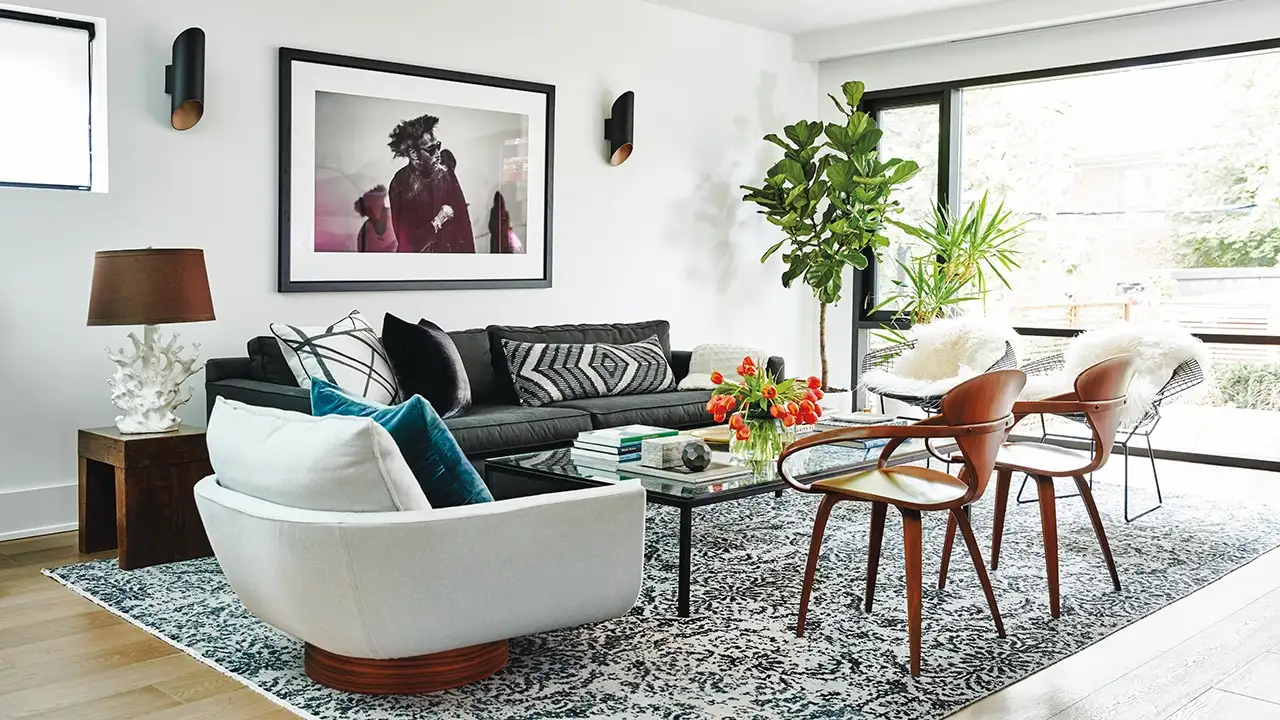 Color palette for modern home
You should use monochromatic, neutral or earthy colors as a base that creates a cozy atmosphere with calm feelings. Combine bold with neutral colors to create a harmony of all modern décor elements. Keep color combining balanced and avoid color mess.
Use blue, red, brown, marsh or olive-green colors as accents to help break up the black, white, grey or tan and provide focal points. You should use bold colors meagerly. For example, one element of furniture in a bold color like a blue natural fiber sofa with blue throw pillows. Also, you may use neutral-colored throw pillows with geometric pattern in a combination with a blue sofa.
Don`t paint walls or ceiling in bold colors. It`s better to choose pure white or light grey.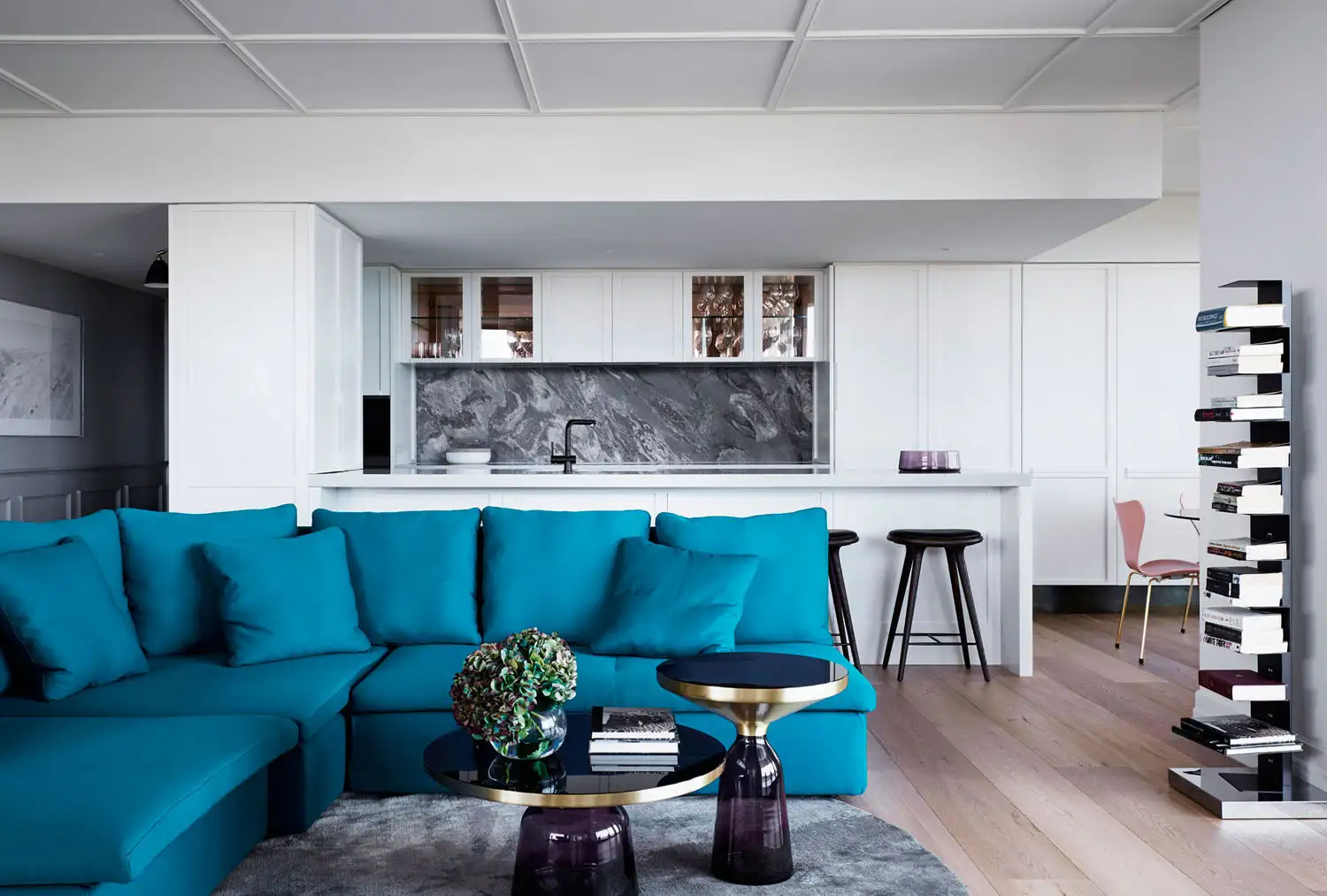 Use straight and clean lines
Modern décor's lines are straight and clean, crisp and sharp. Home furnishings feature pure lines without fussy details. Use clear-cut lines for your sofas, armchairs, chairs, stools, pouffes, a table and even for a fireplace to make a modern look.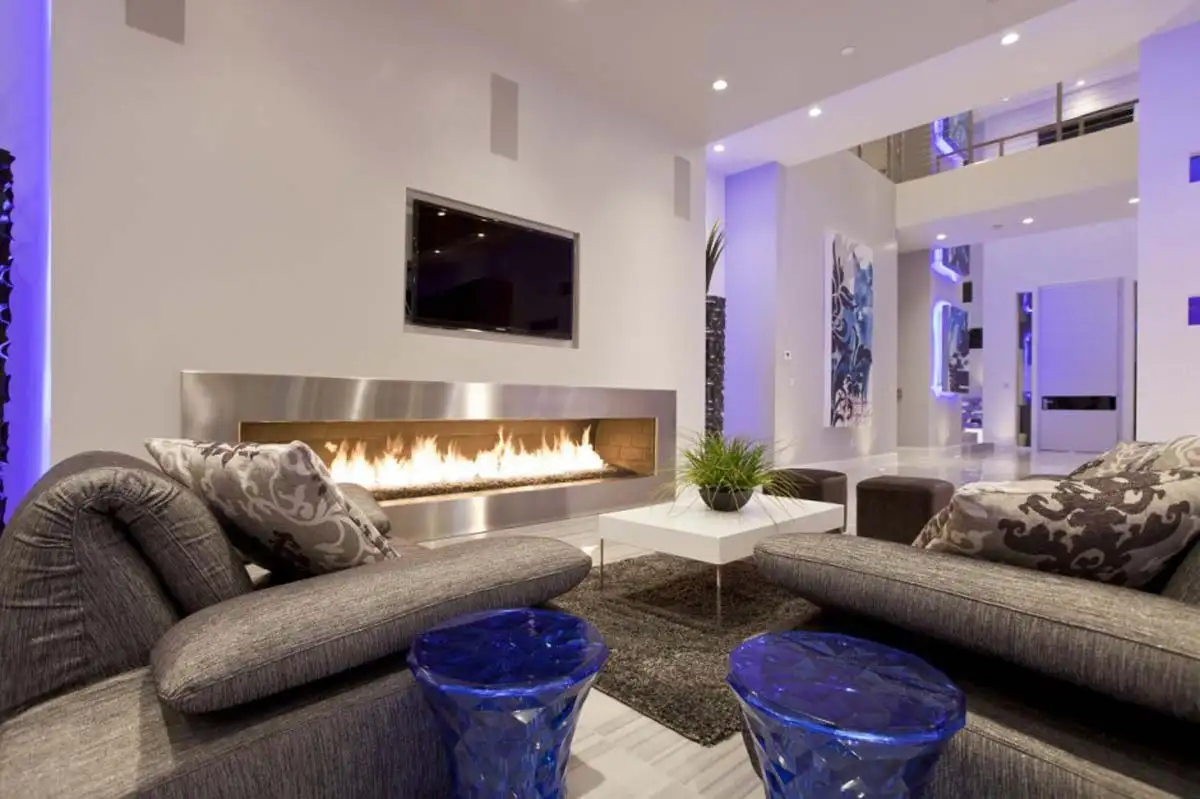 Keep in mind architectural and structural aspects of your home because concrete beams may be left uncovered. That`s why it`s important to show sharp lines without shape defects.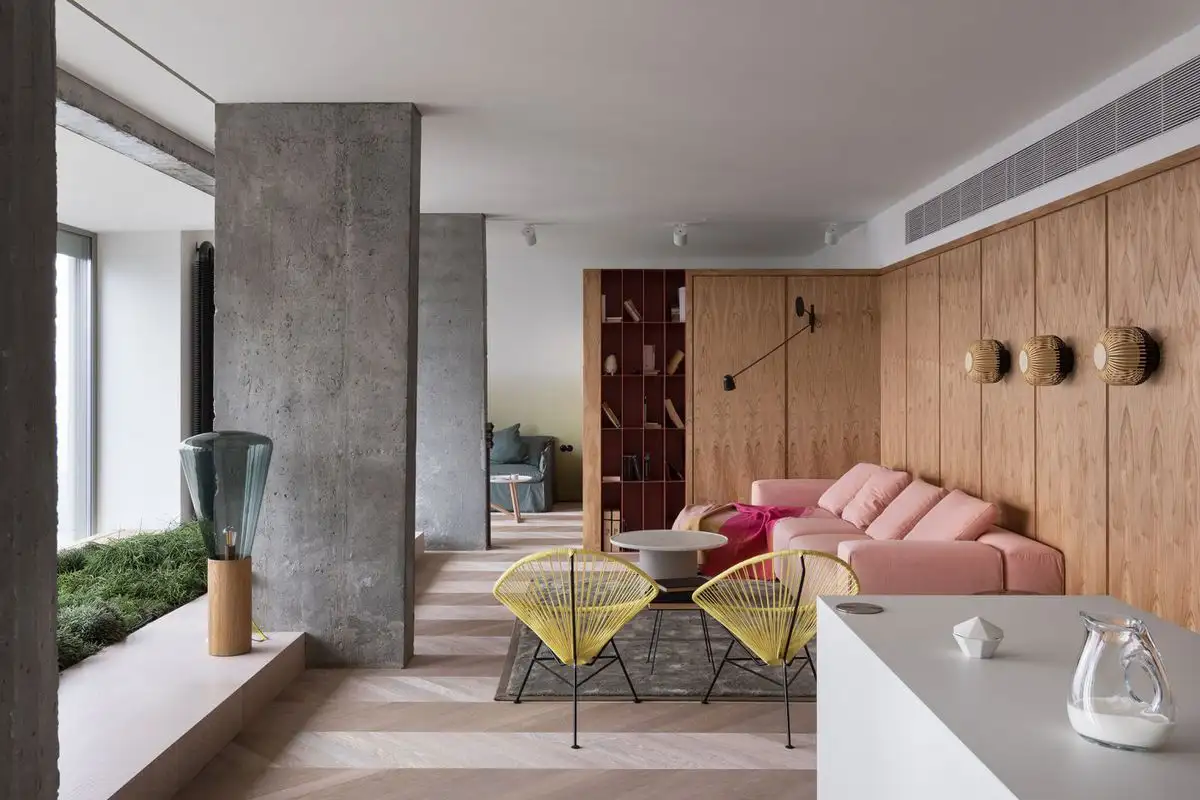 Concentrate on natural materials
Choose wood furnishings and decor accessorizes for a warm touch and cozy atmosphere. Use natural wood material such as walnut, rosewood, beech, and oak.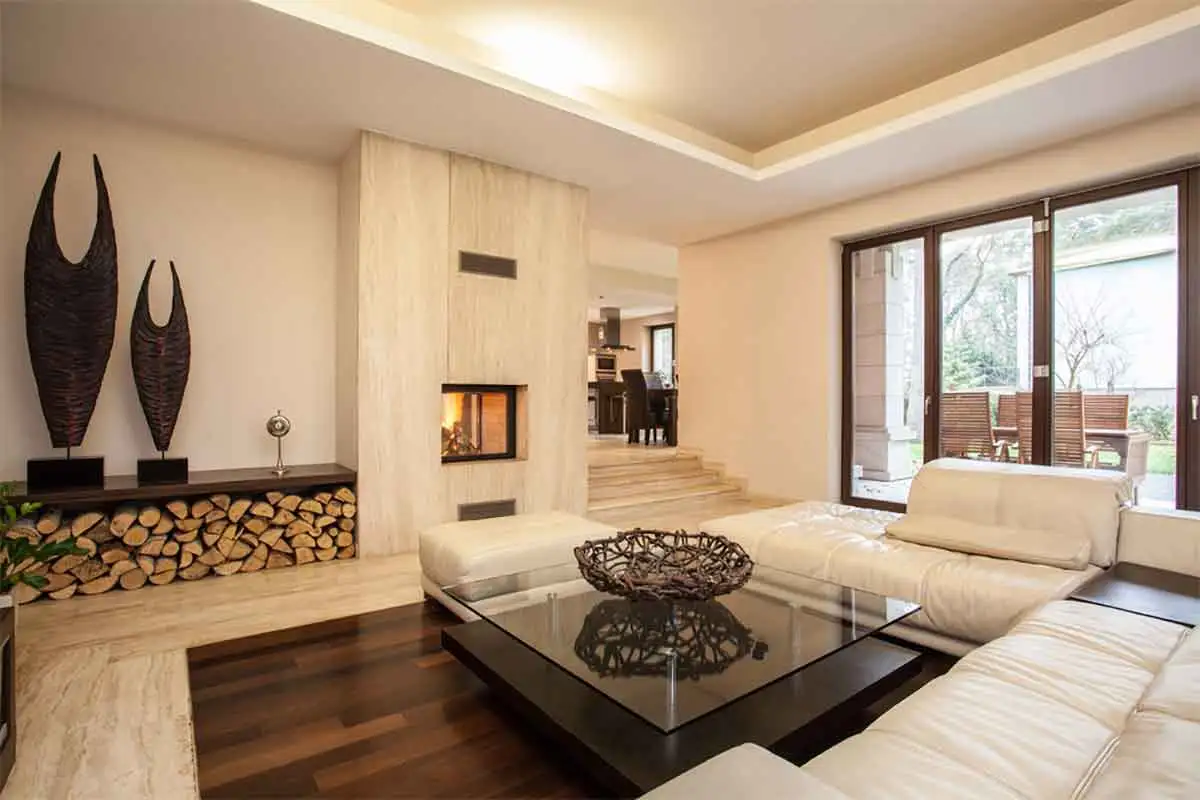 Combining of wood and metal adds a stylish accent to your house. You may use stainless steel, chrome, brass or copper for anything from the furniture to lights. Mixing of a wood table and bold metal chairs identify your perfect modern taste in the kitchen décor.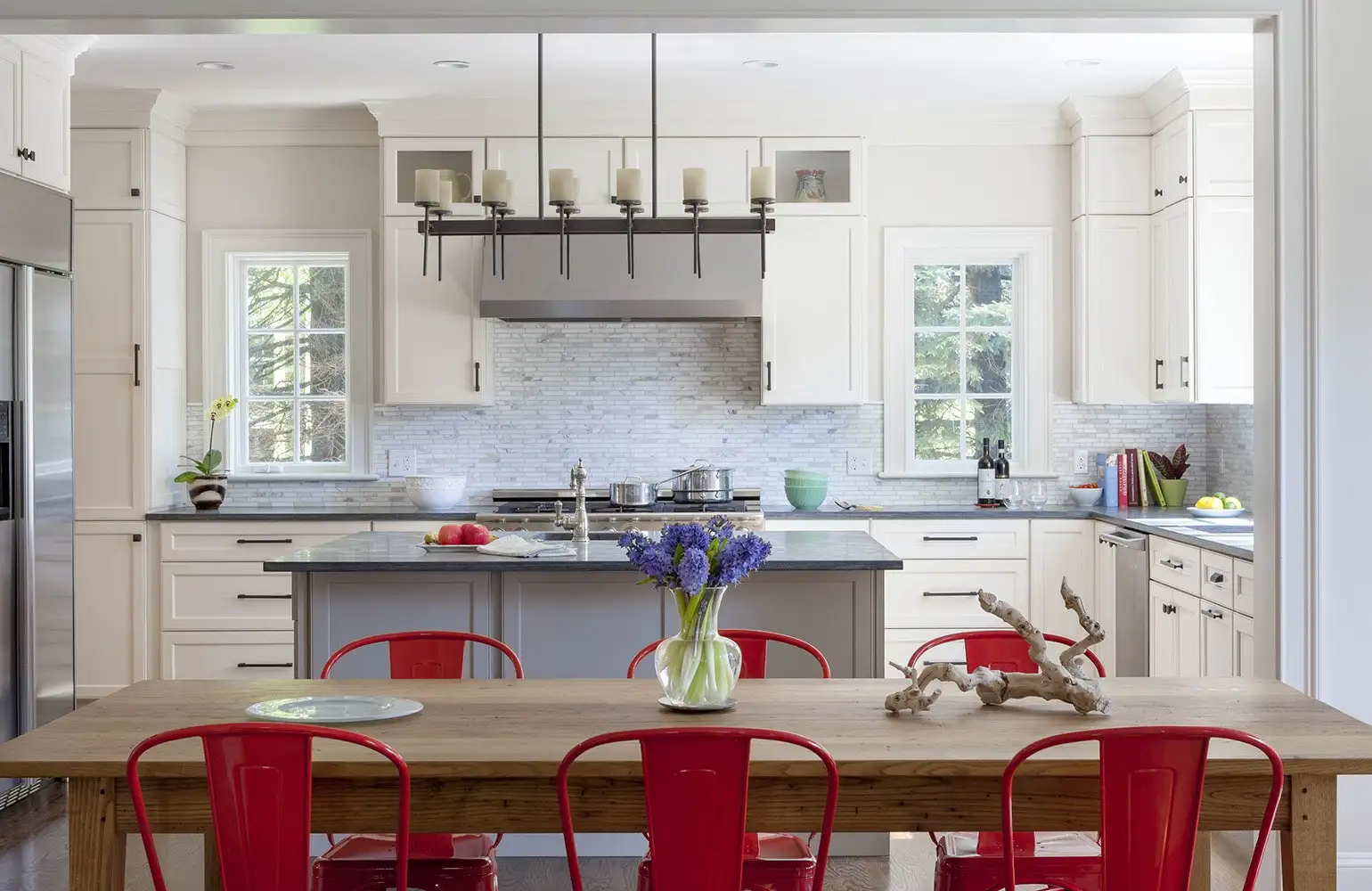 Think about functional modern decoration
The basis of modern design is the idea that «form follows function». When we talk about form of a décor element, we mean shape of this object. Keep in mind that form reflects the intended function of a modern décor element.
Choose design items of geometric shapes, such as clear squares and rectangles. So, in this case, ergonomic sofas, chairs, shelves and rugs always show a practical design and stylish look.
Also, you may use ovals and circles. So, for instance, combining of a low table with a lower another one has a harmonious look and may be used for various purposes.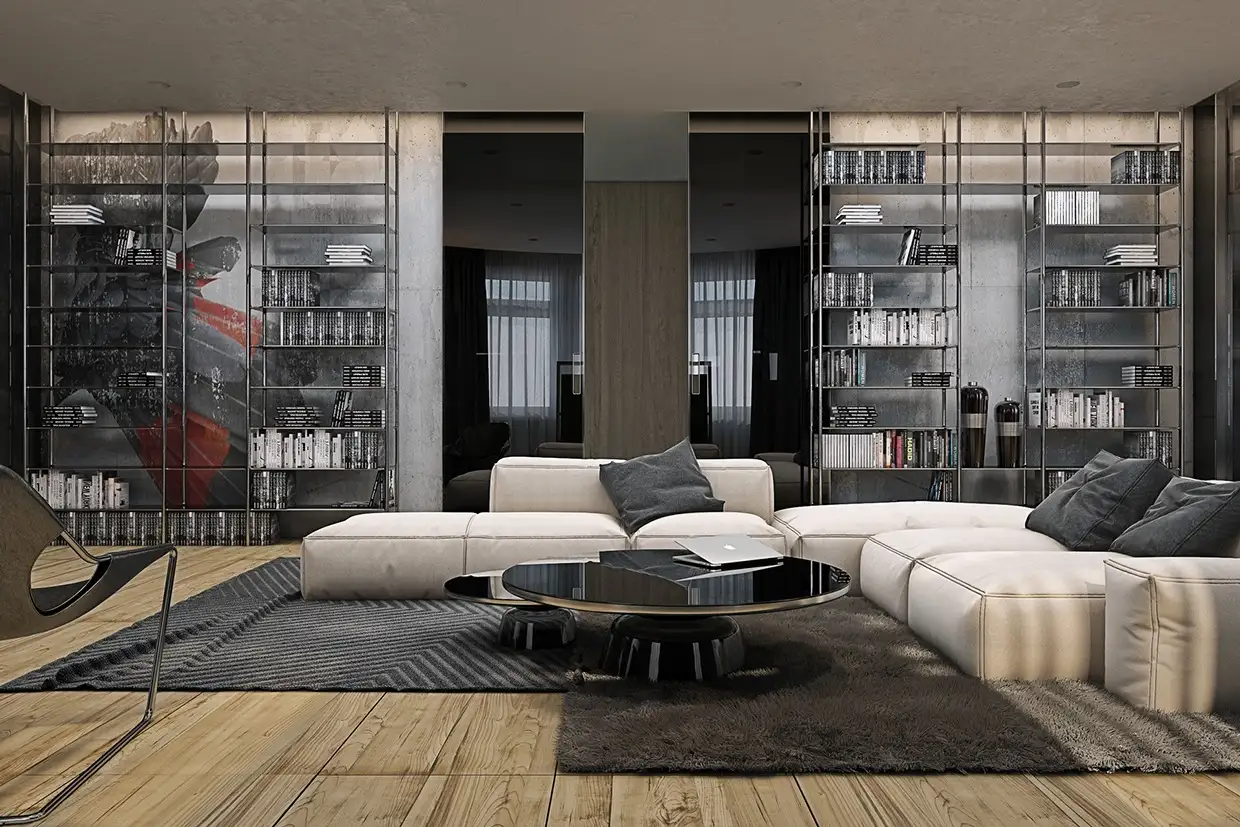 Modern home with open spaces
An open floor plan stands out from other by fresh feelings of broad and functional space without surplus walls. As a bonus, space gets more natural light. Also, an open concept solution visually maximizes an apartment.
A combination of a living room with kitchen and dining room creates a large space which is also called «living room». A great advantage of an open concept space is that you interact with your family and guests in the kitchen when you need something in the living room and vice versa. Also, you may cook and watch TV simultaneously.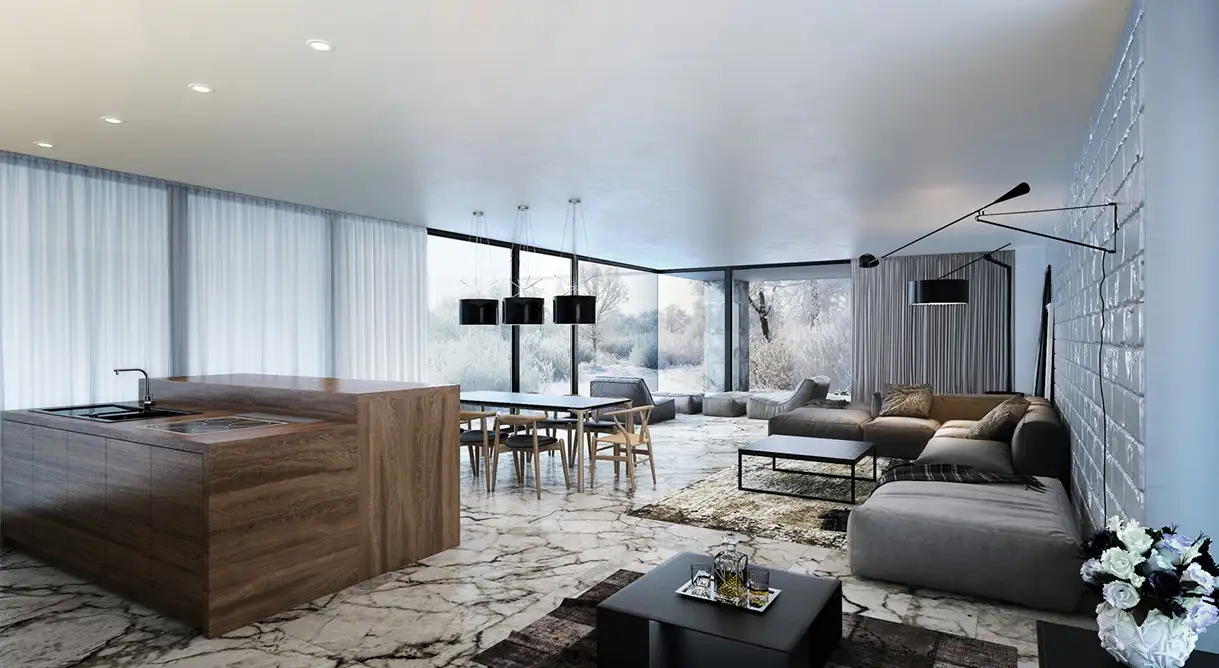 Even more, you may install a floor-to-ceiling glass sliding door. It`s an awesome chance to look at marvelous view of your backyard or a relaxing patio from indoor. Keep in mind a functionality of décor elements. If you want to ventilate the room you may open sliding glass patio door.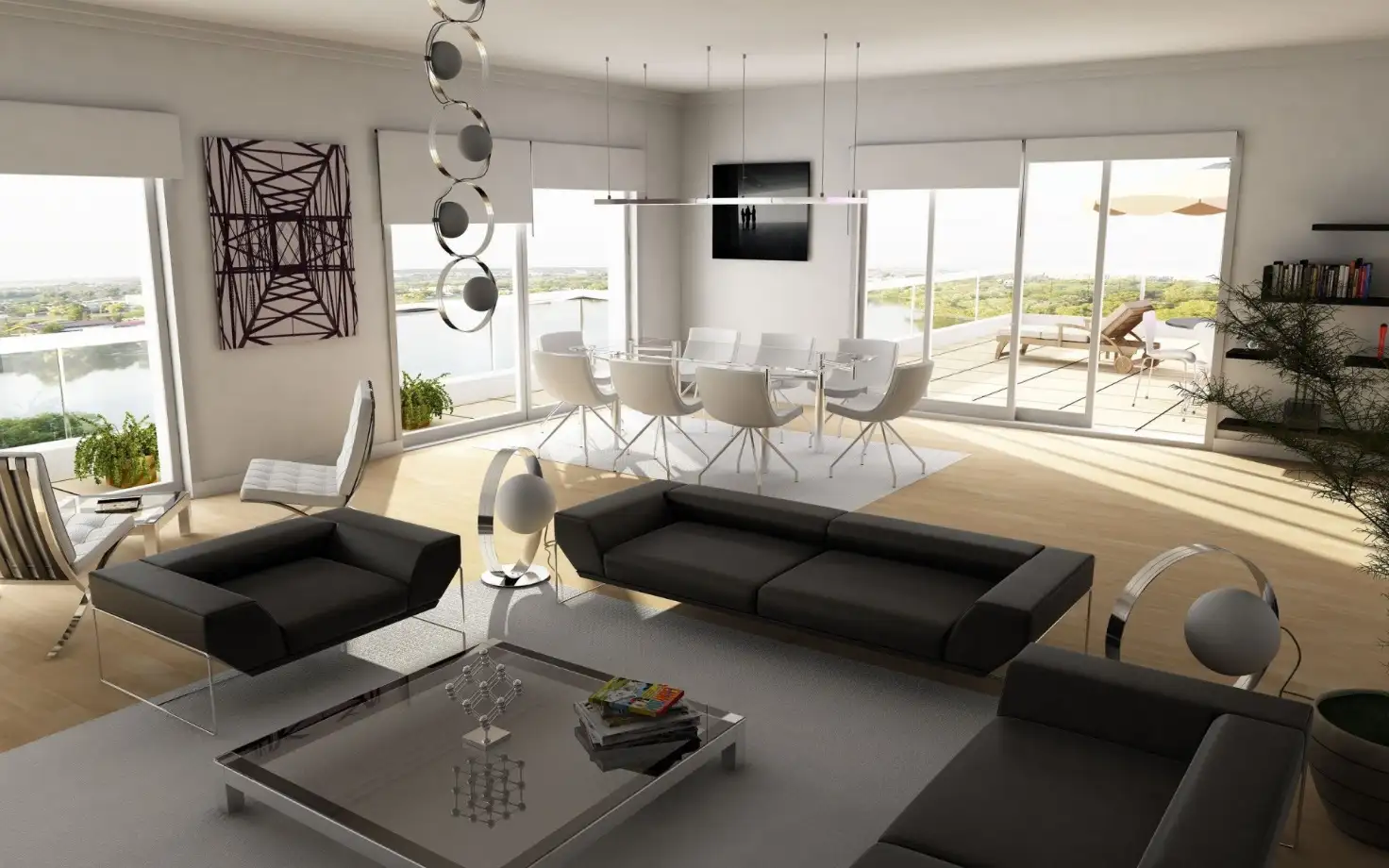 Choosing elegant furniture
Modern design features shining and bold design items and minimalist furniture simultaneously. Concentrate on sofas and chairs with sharp-edged look and comfort feelings.
Modern furniture is usually very low with clean and strict lines and functional shape. You may use pure neutral colors or mix them with bold shades. It depends on your personality and décor taste. If you like light tones, the best choice is to use only light grey or matte white for a sofa, pillows, pouf, and table. In this case, you may use a light brown hue for a chair to add a color accent for your apartment.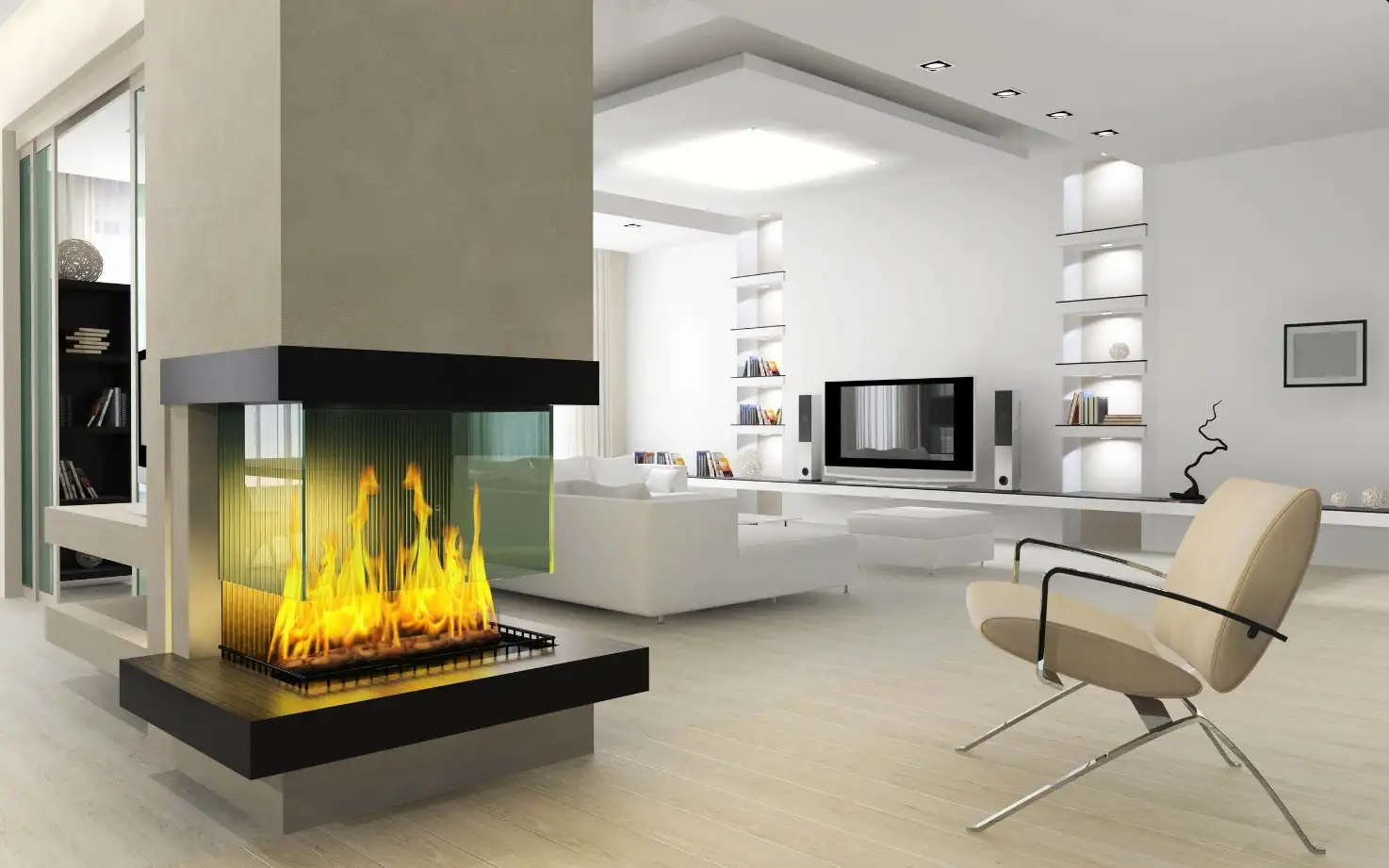 Additional modern décor items
Well-defined décor details are an essential element of modern furnishings.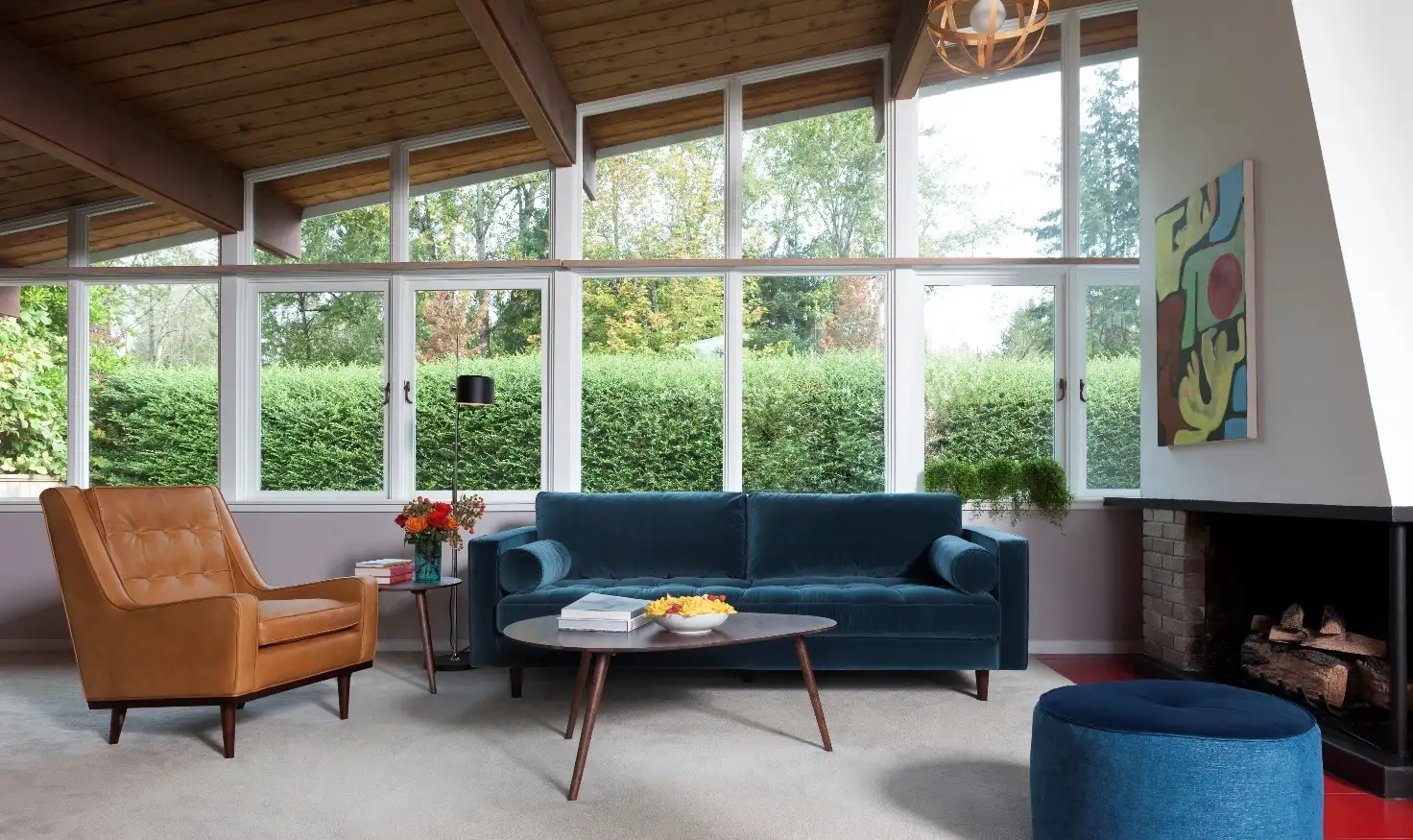 Stylish built-ins inspiration
You should use built-in wardrobes, shelves and bookcases, rather than sticking out into the room. It`s a functional modern element with a nifty touch.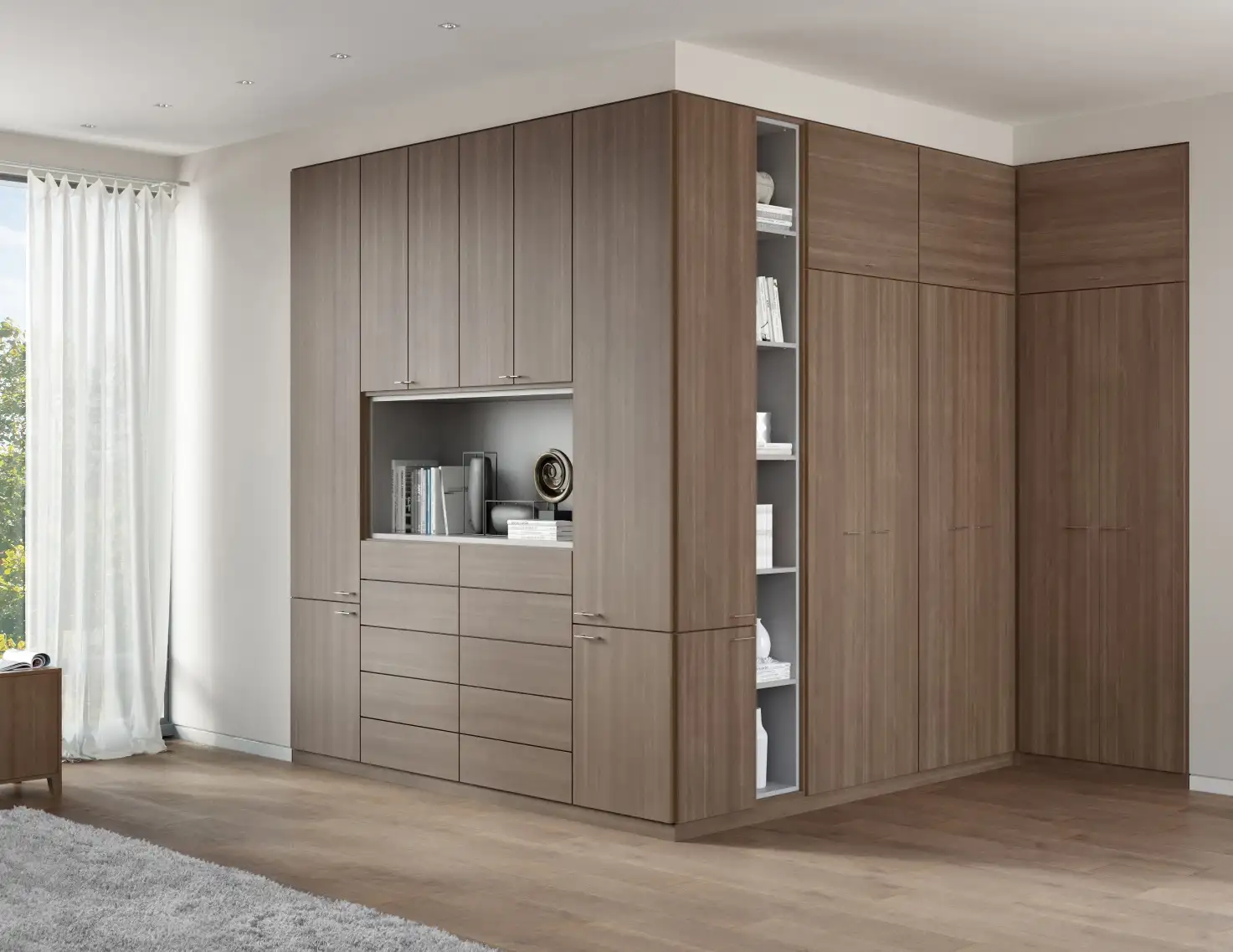 Modern flooring
You should choose sanded wood floors that add an elegance and slick effect. Use light grey and brown hues for a perfect color balance with furniture, fittings, and other decorative items.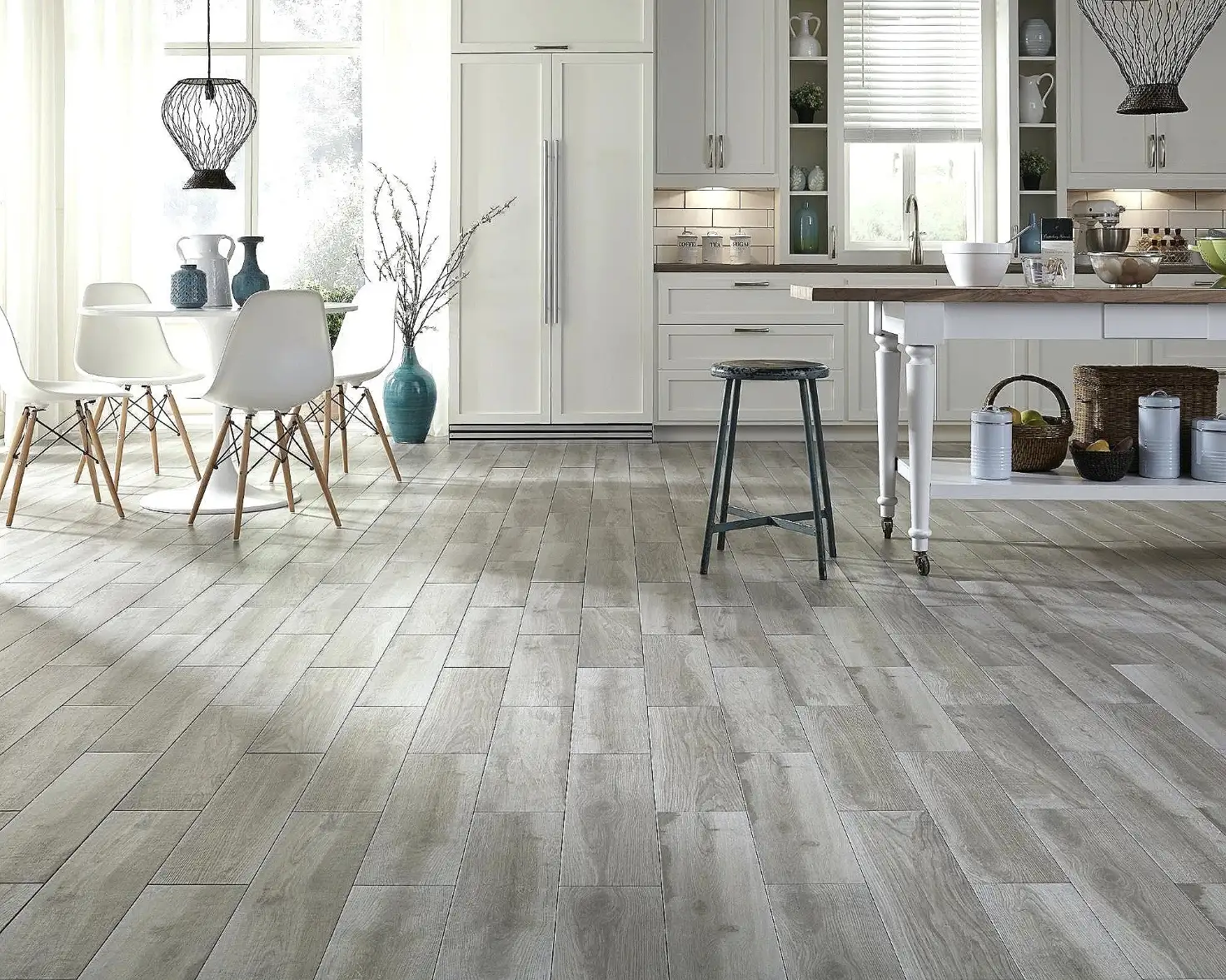 A lack of trim
Refuse crown molding on ceilings, walls, windows and doors. These exquisite things doesn`t fit modern home.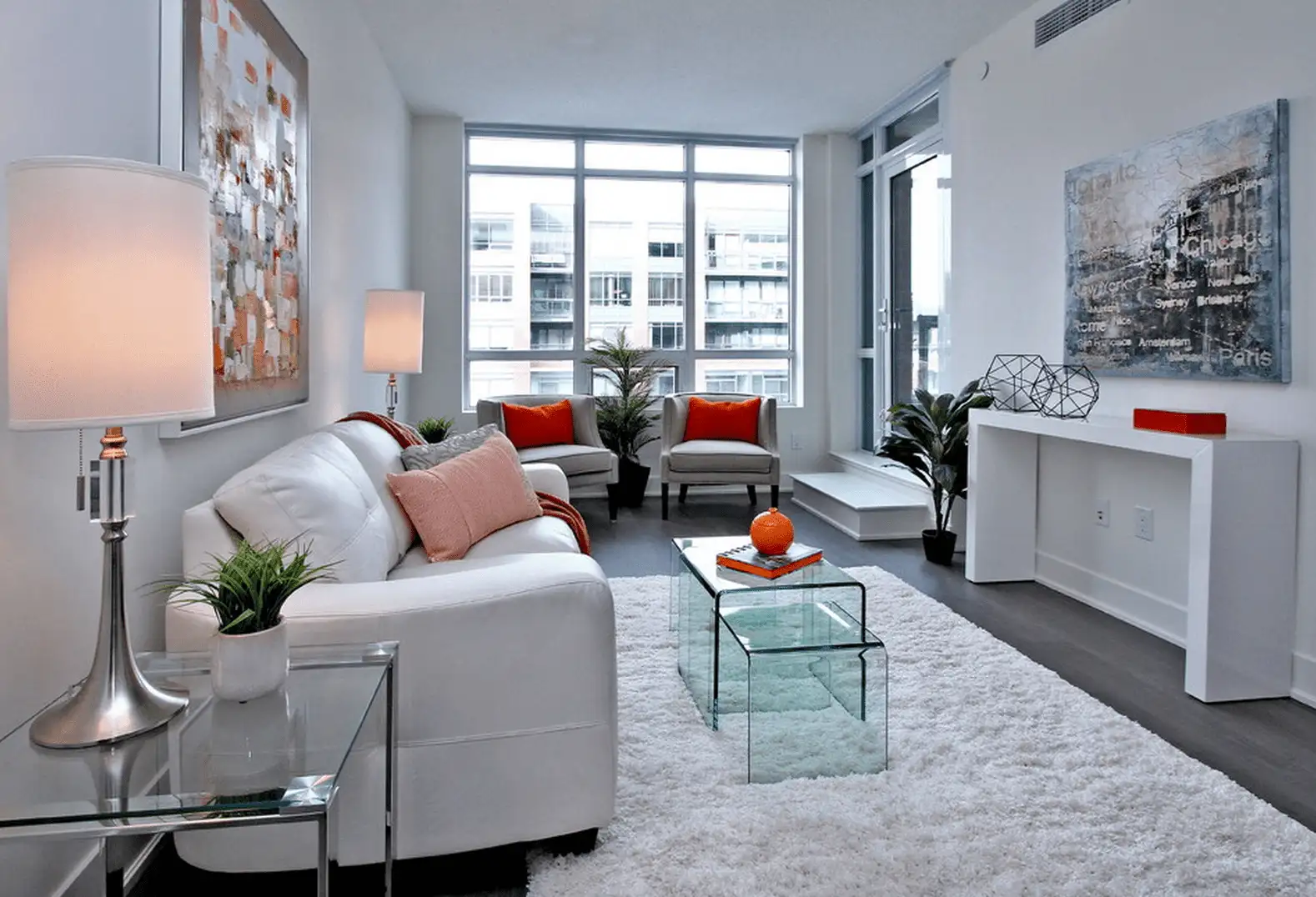 Minimalist design concept for modern house
Simplicity of modern interiors is determined by minimal furnishings, décor details and art. It's enough to use one or a few plants for a fresh breath of your bedroom.
Minimalist approach to modern decor style defines a lack of clutter details and not crowded space. A house with too many things looks like a huge mess, that crosses out a pure simplicity of modern aesthetics. Minimalist concept, in contradistinction to eclectic décor, holds one line in furniture, fittings, window treatments, rugs and abstract art.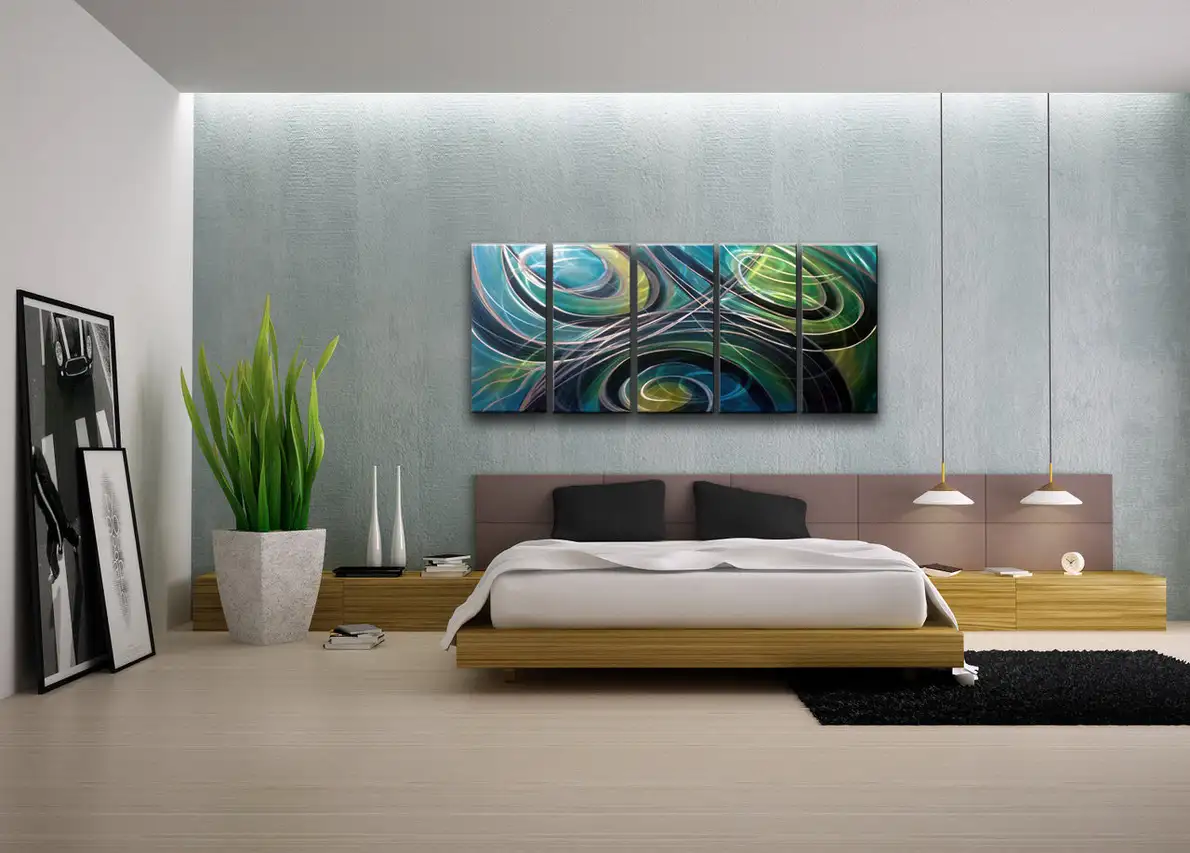 Modern wall décor ideas
Modern wall art defines abstract and non-abstract pictures, personal black-and-white photography and some lifestyle items.
When you looking to abstract modern art on the walls you may explain the picture however you want. In contrast to postmodern pictures, modern abstract art departs from strict and clear canons without clean lines and straight shapes.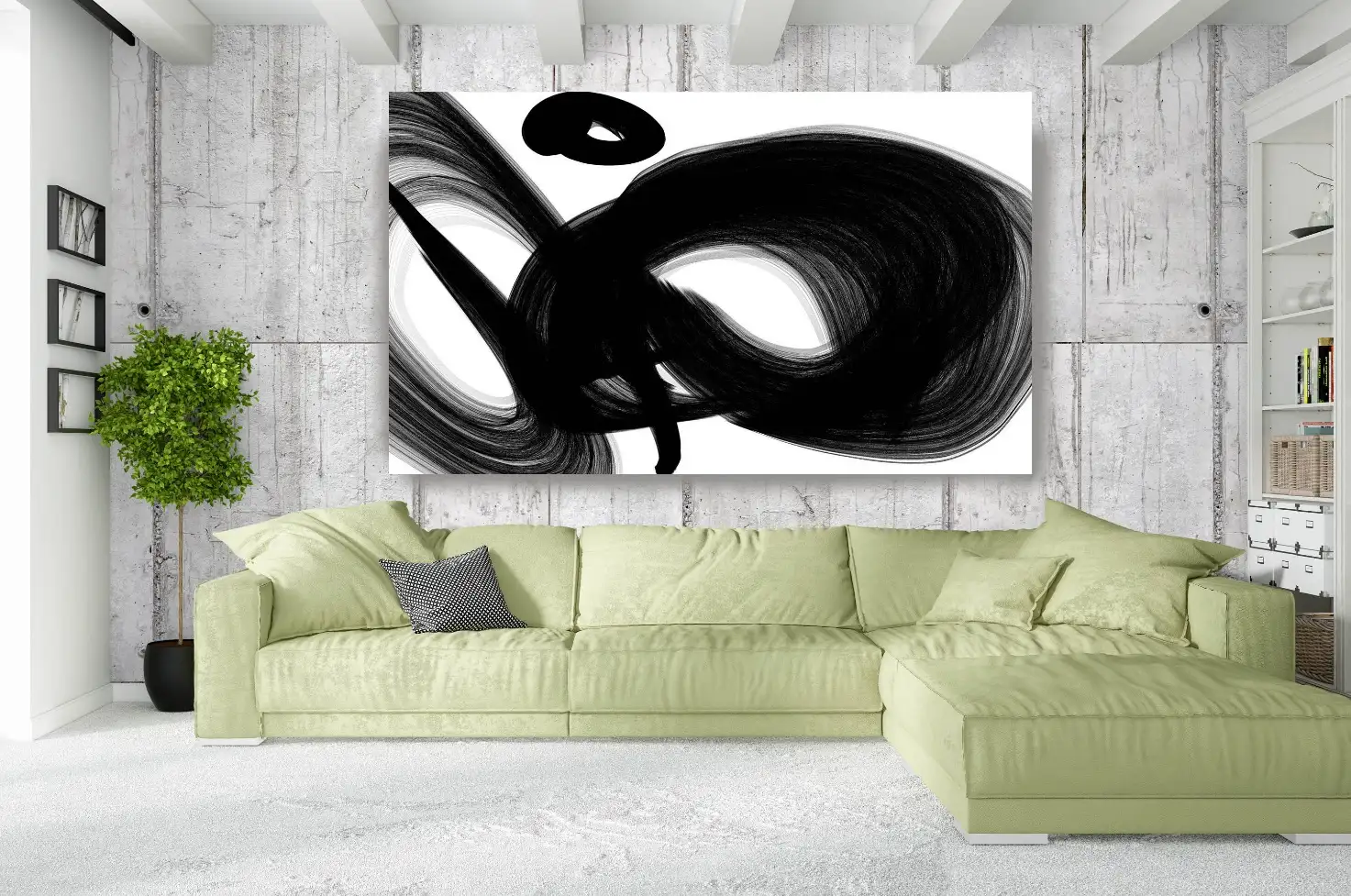 Religious wall art you`ll love
You may use pictures with religious motives that can be a part of modern Buddha or Christian home décor.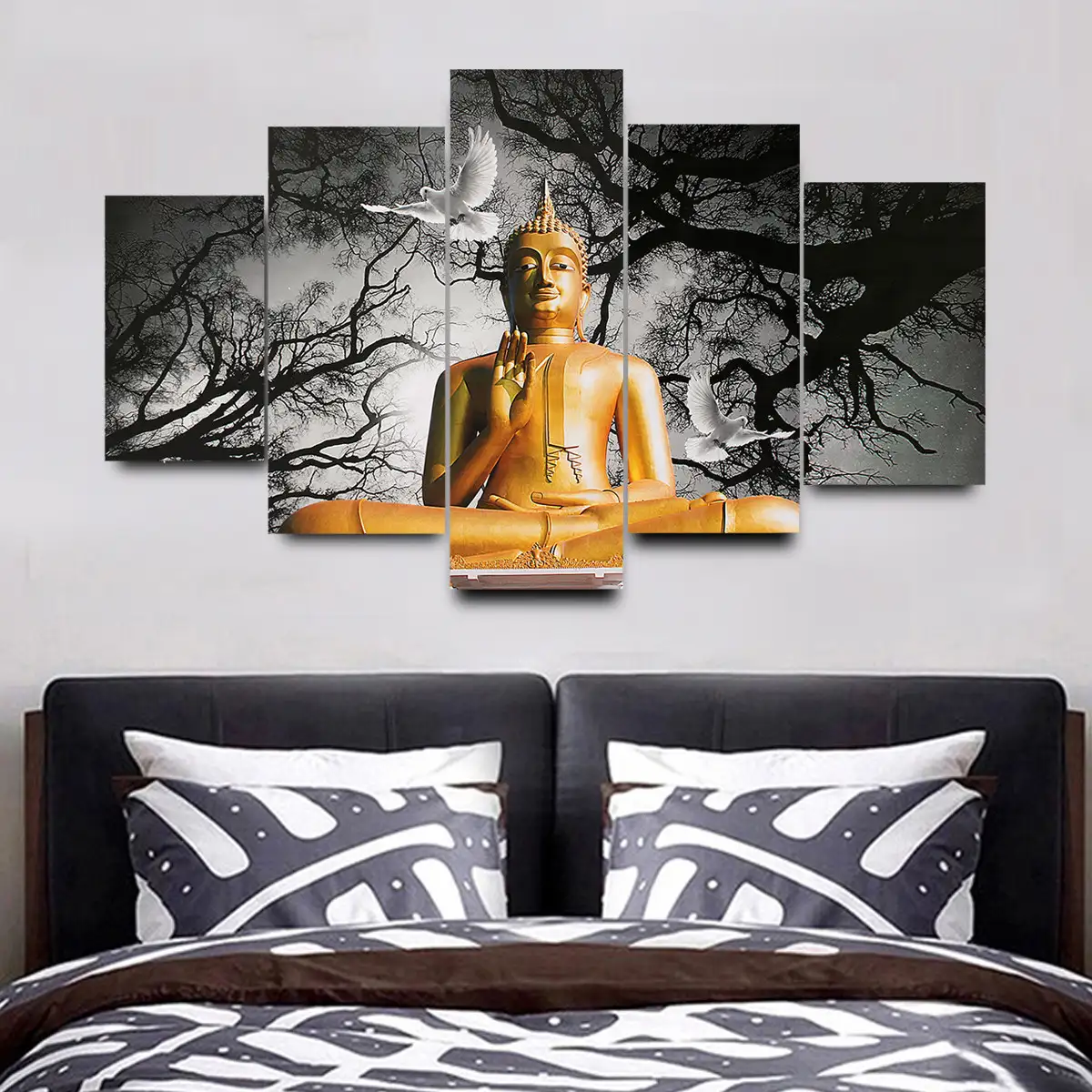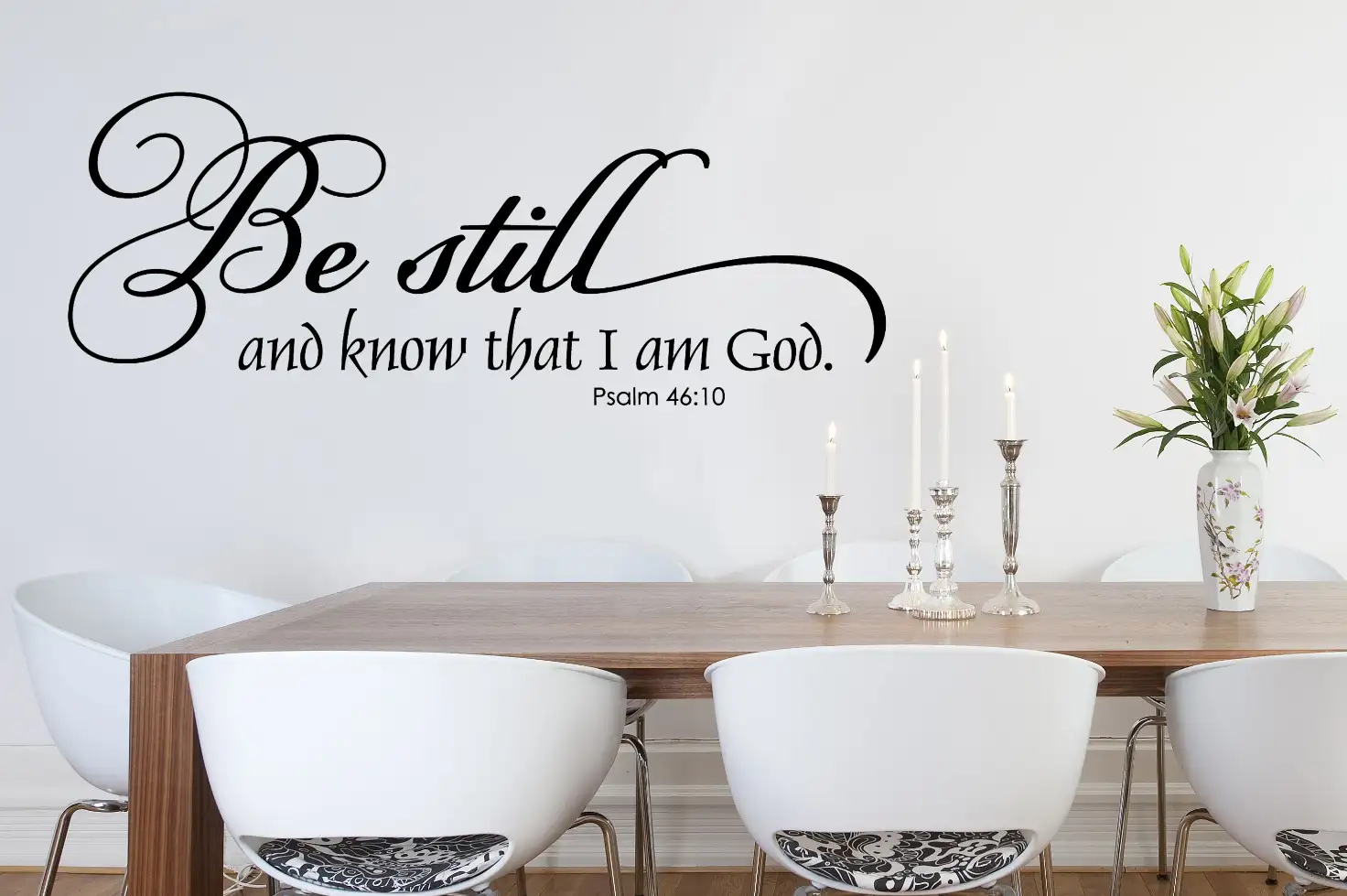 The aesthetics of modern art
Abstract modern art is a perfect way to attain the harmony between colors and deep sense. An awesome sprinkle of colors gives you a chance to enjoy an aesthetic harmony of your space and splendid art.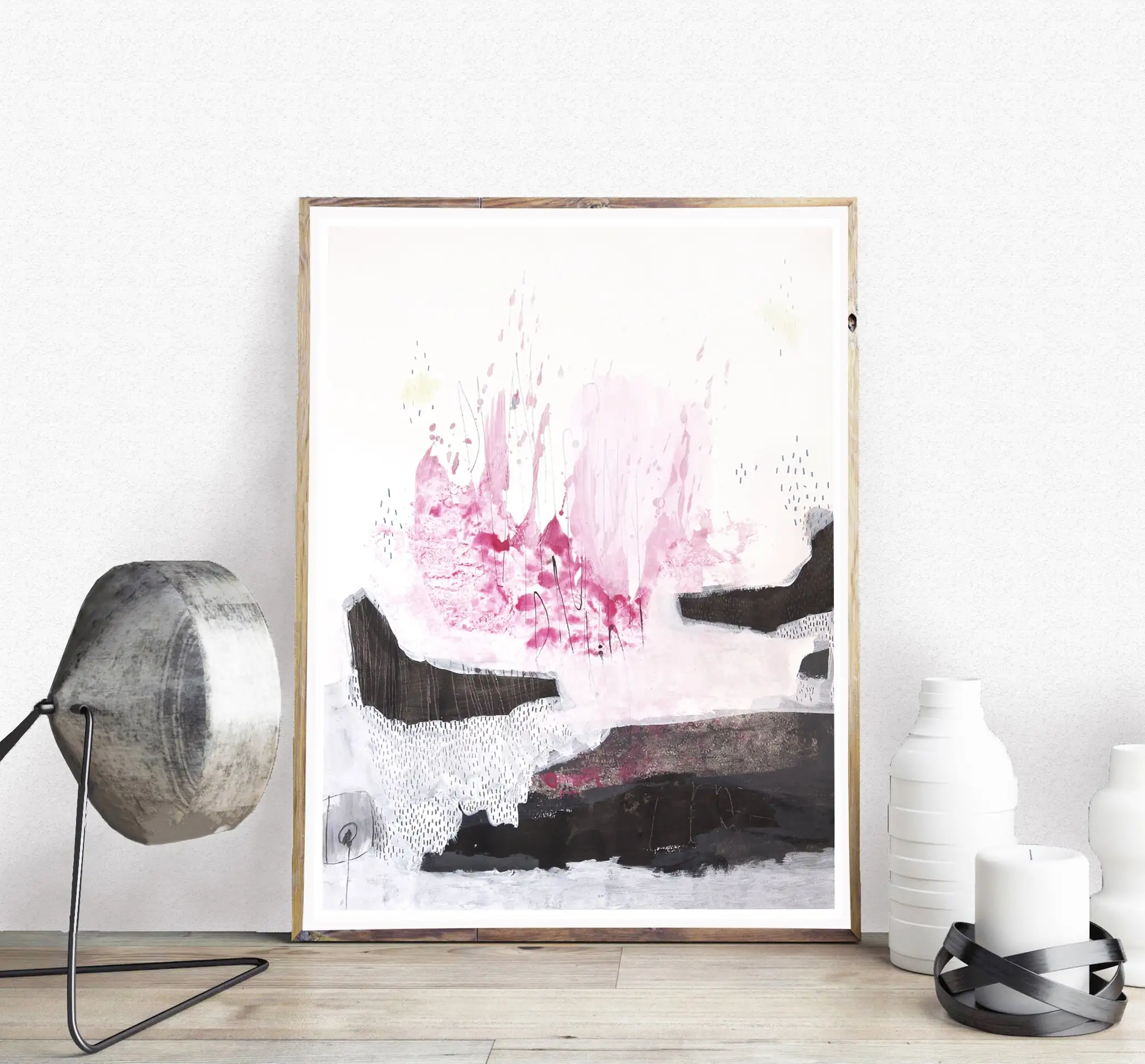 Non-abstract pictures and photos describe your desire to live with your own memories and specific forms and lines.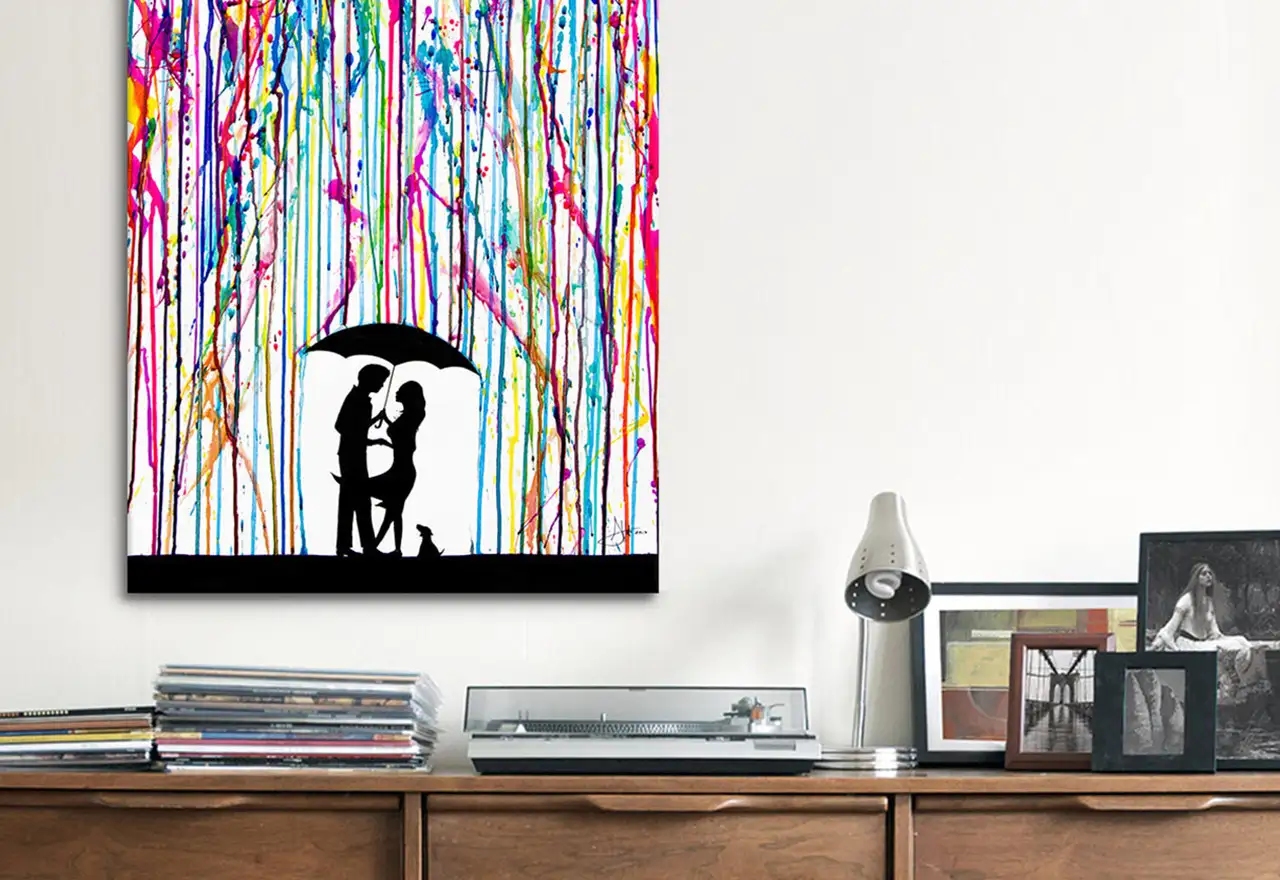 DIY wall decor projects
If you want to get the "wow effect" you may create a piece of art from a natural material such as wood. You should select the smooth boards, fasten the edges of each one and make several shelves for a functional effect.