Minimalist Nursery
When it comes to decorating your baby's nursery, do more with less. Every item should have a purpose, or even two, to add flexibility to your infant's space.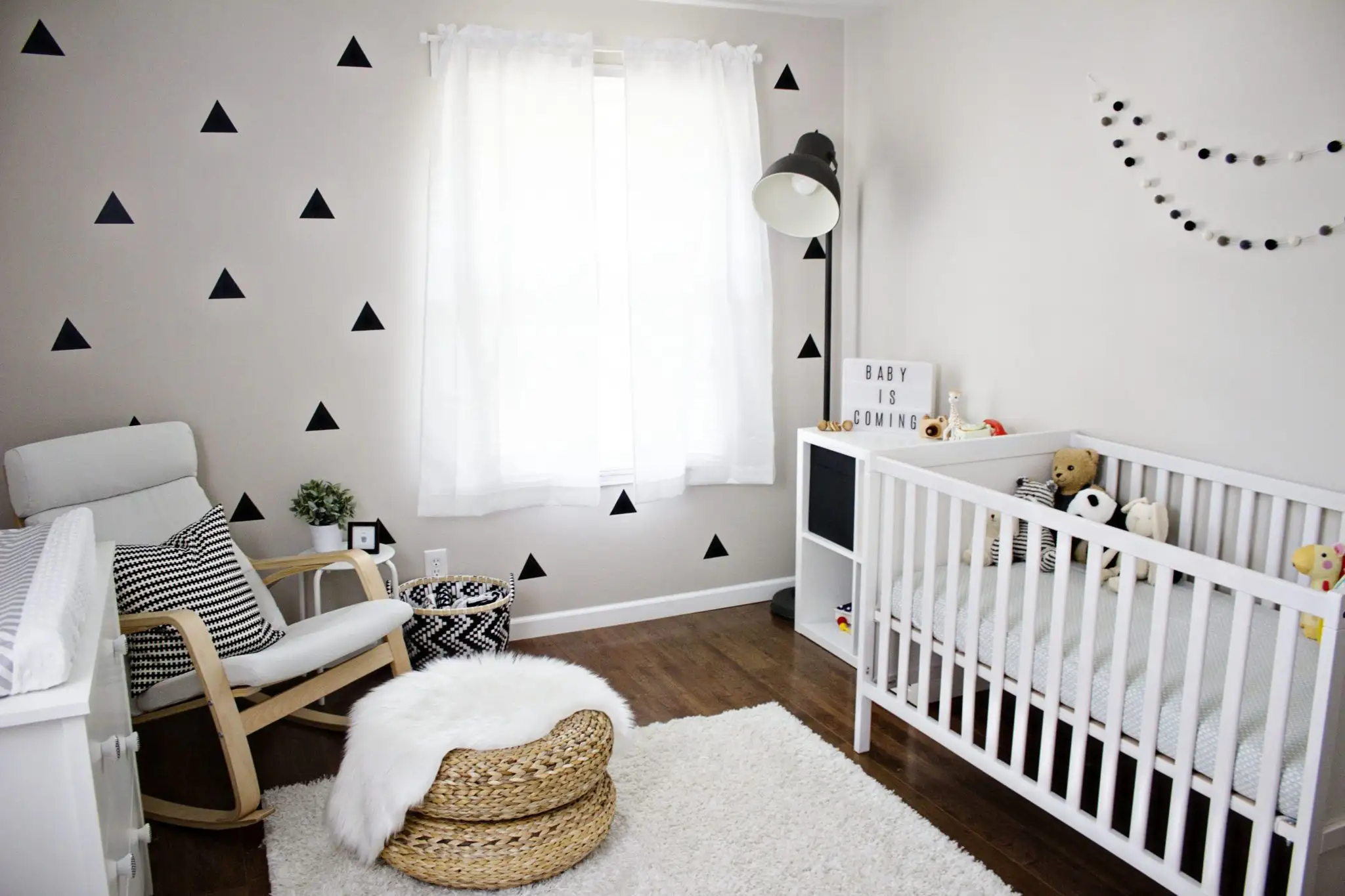 Make Your Baby's Living Space Comfortable
Focus on the comfort of your infant instead of luxurious trends. Stylish solutions can be found not only by modern designers but also by moms with perfect minimalist taste.
When you decorate your infant's room, pay attention to the main furniture pieces, such as a crib, a breastfeeding chair, and a changing table. Of course, you can easily repurpose a dresser into a changing table by adding a changing pad on top.
When you consider the various types of the cribs, opt for a simple model. There are plenty of budget-friendly options if your budget is limited.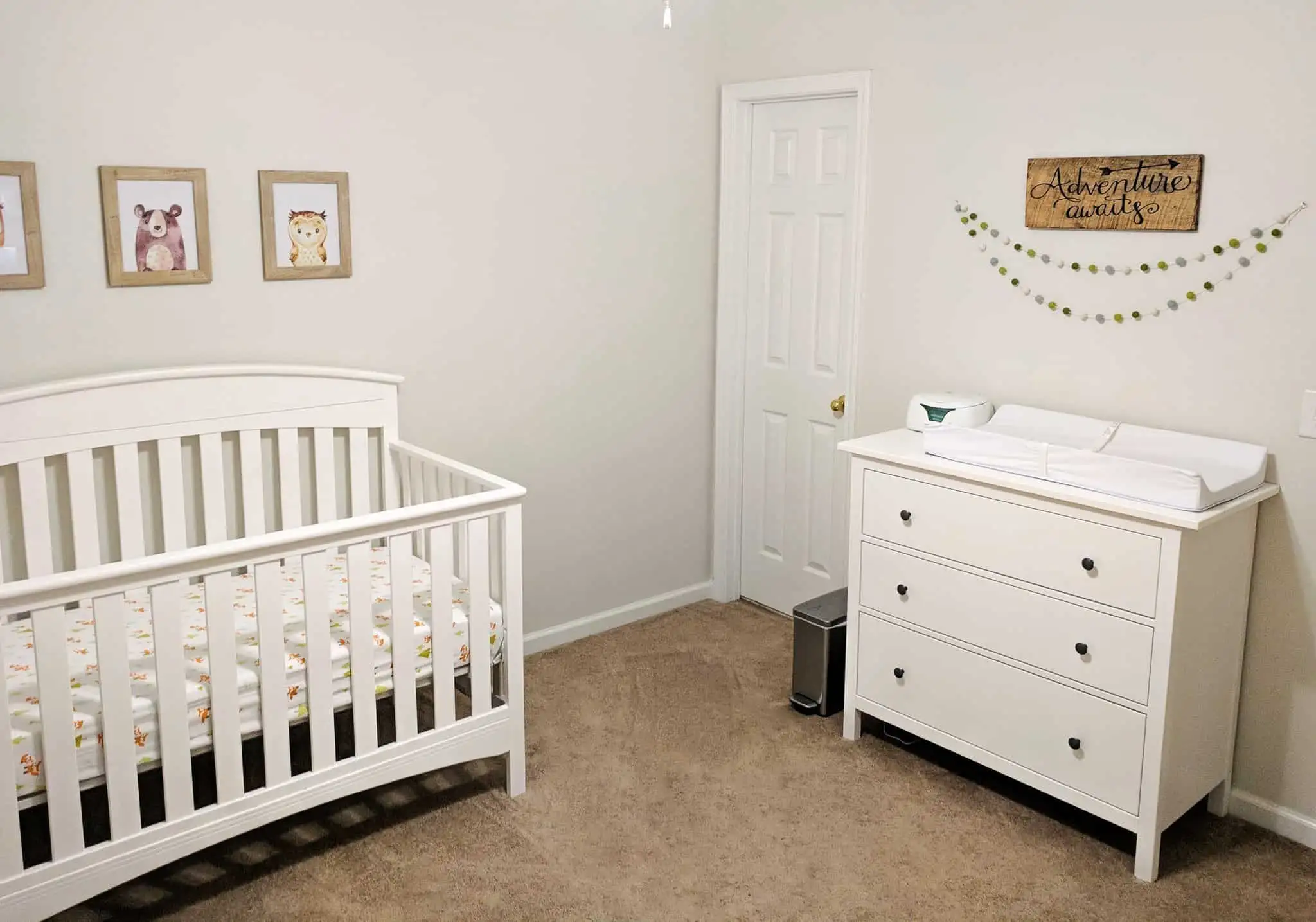 What About The Main Details?
Minimalist colors are always neutral, such as white, black, gray, and brown. To make your interiors brighter, use bold accents. But if you prefer an absolutely serene atmosphere, don't combine tones, and use only muted hues.
Use natural materials to add organic vibes to your baby's nursery with a sustainable approach in mind. A wooden cot is always a great choice. Think about buying a nature-inspired toy for your baby. He or she may not need or appreciate it just yet, but it's a great way to create a cozy ambience. Also, you can use a woven basket to hold various knick-knacks or toys.
Of course, you need plenty of light inside your baby's room. Combine various light fixtures to regulate the level of lighting.
If you use an area rug on the wall-to-wall carpet, you can create the main focal point of the entire nursery. Play with colors and textures to make this design solution stylish.
Every detail is important. Just one green plant can transform your baby's room and create a lively appearance.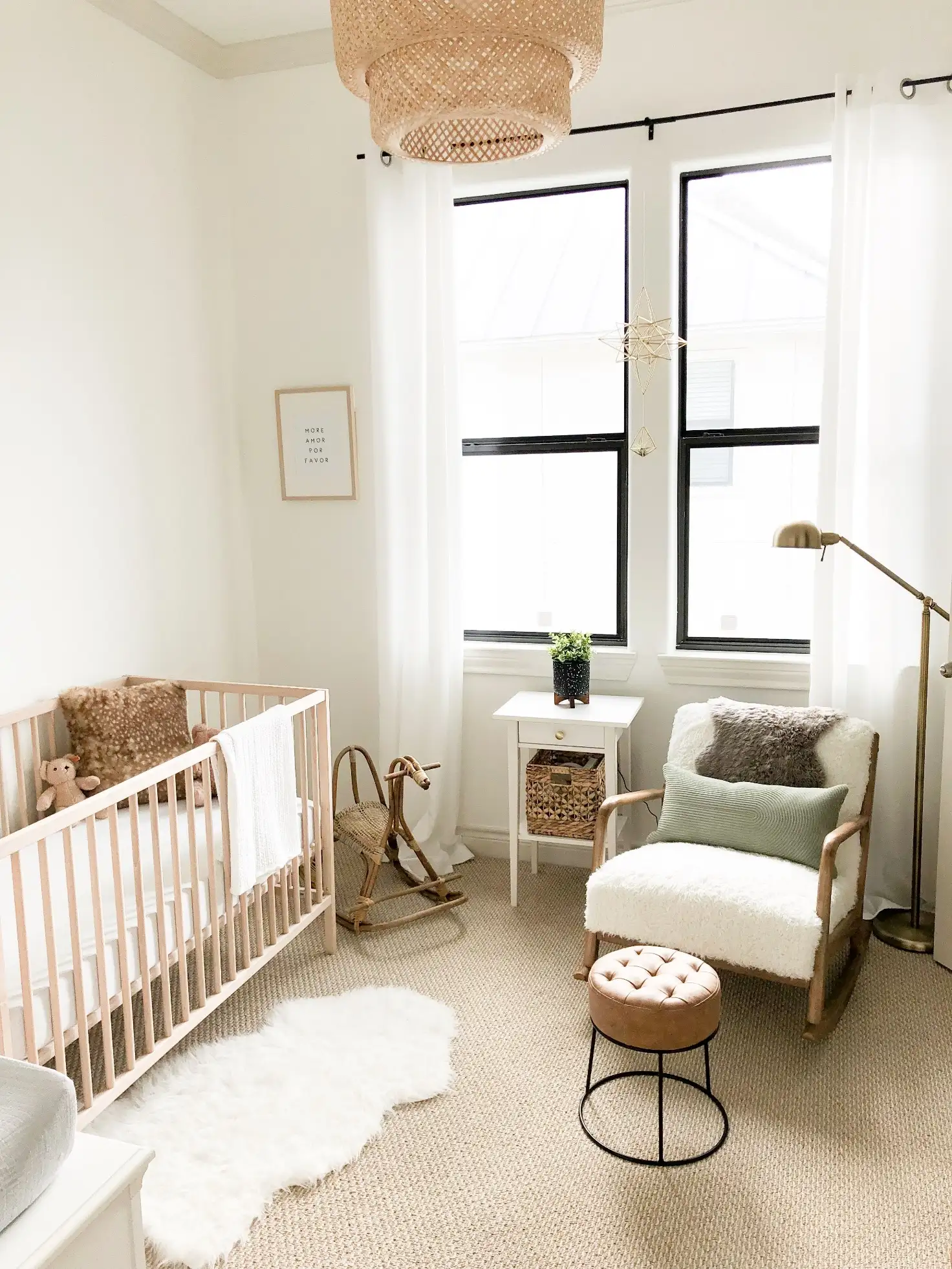 Use Space Wisely
When you display must-have furniture pieces, organize your baby's room in a well-thought-out manner. For instance, if you have a comfortable armchair, you can use it as a breastfeeding chair. A breastfeeding pillow is a great addition to it.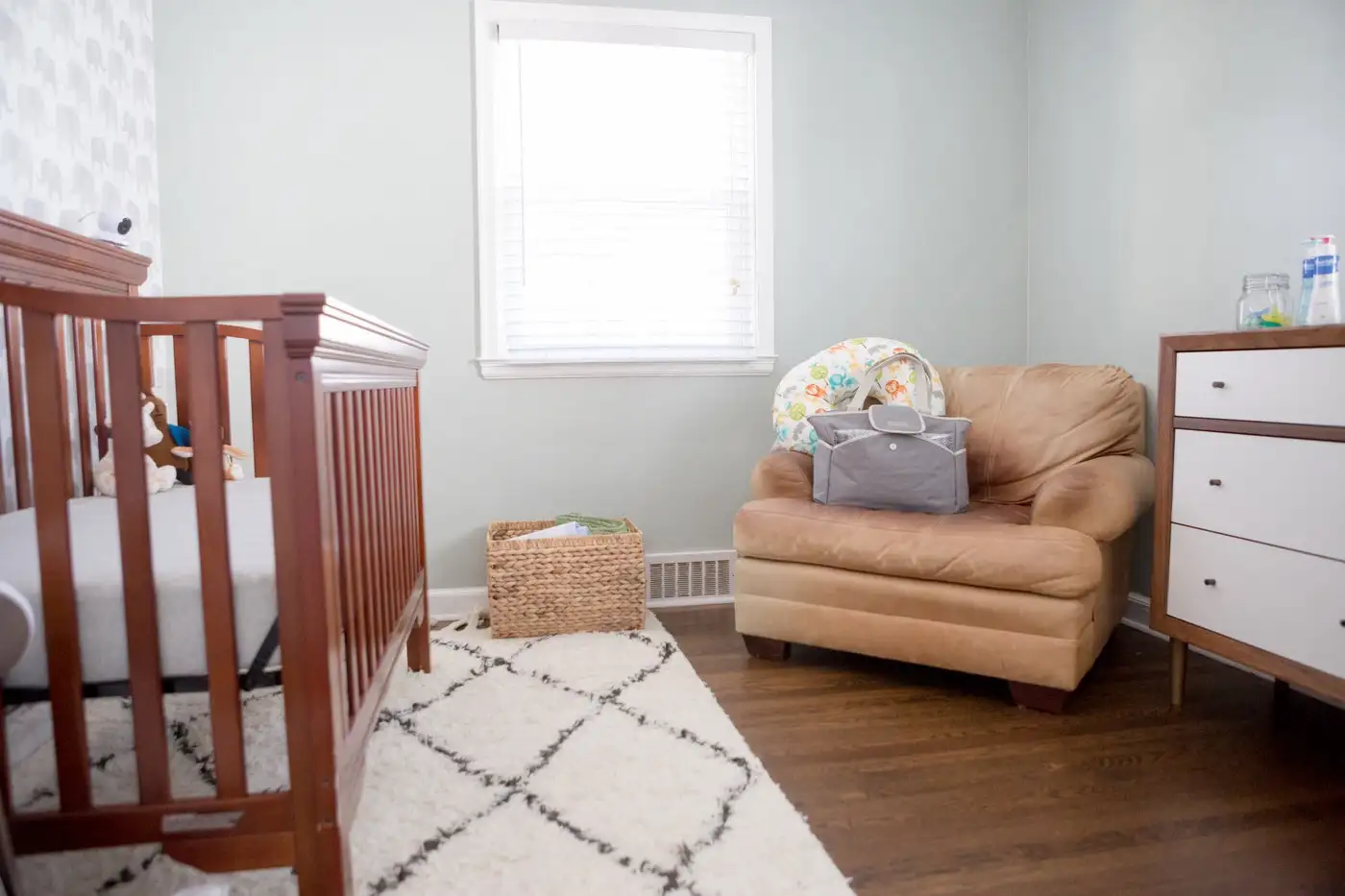 Don't Forget About Accessories
You need the right accessories for your baby's room, but take care not to overdo it. The best solution is wall art. To achieve a cozy appearance and cover the bare walls, choose simple prints and easy combinations of framed pictures.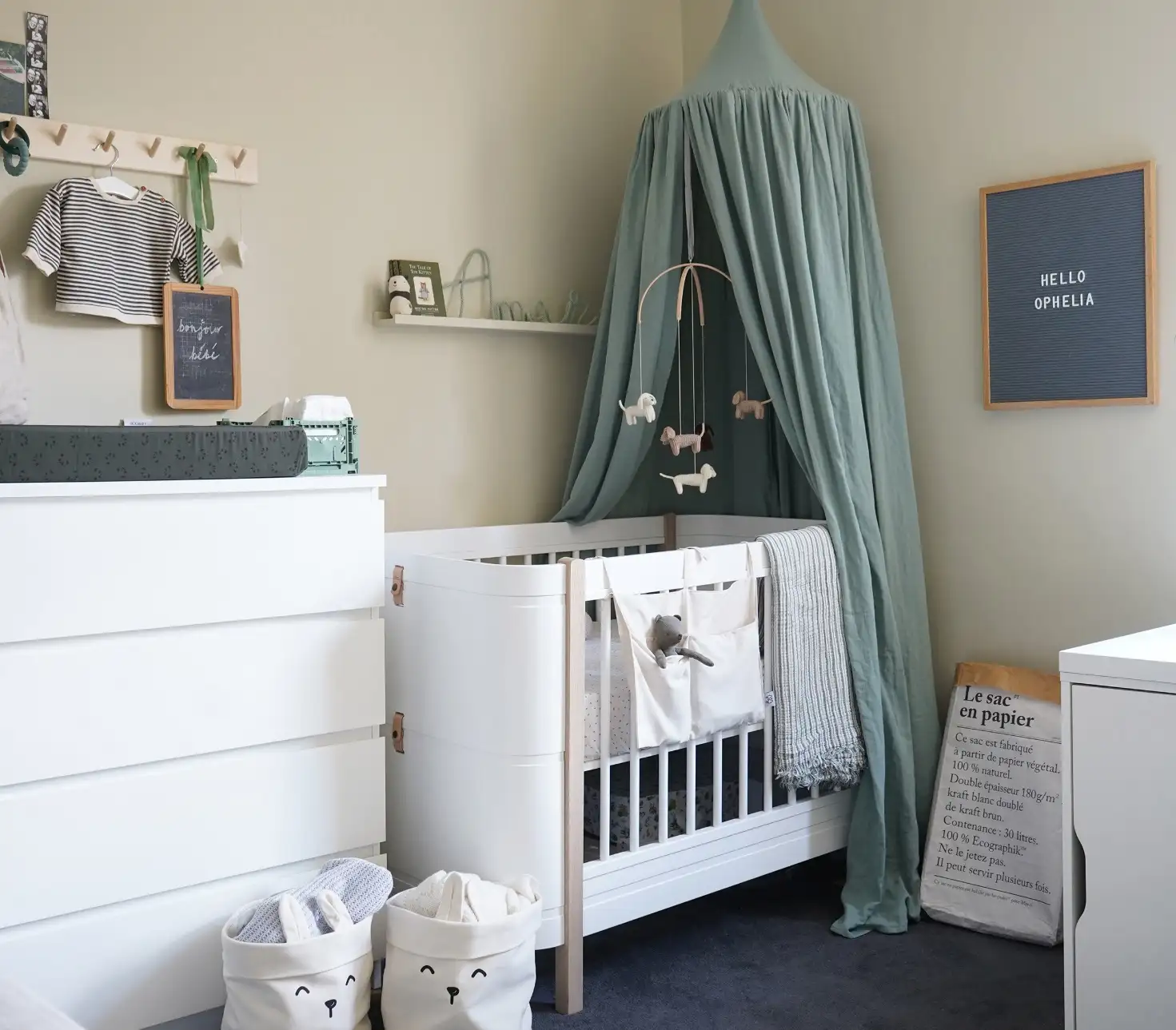 Invest In A Quality Play Mat
A bright part of a minimalist nursery is a play mat. It's always produced in a bold manner. Some models have a sound function.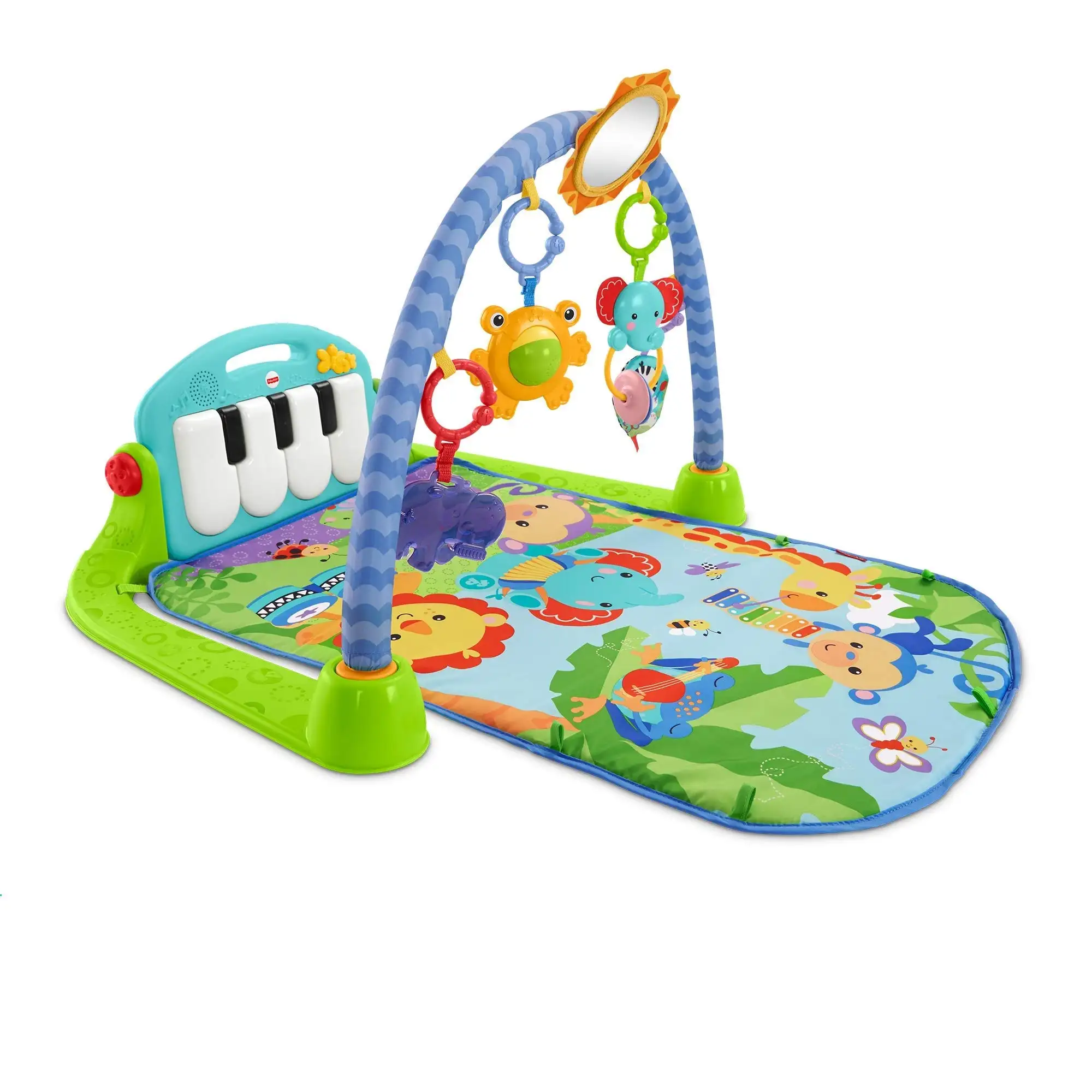 When we talk about the developmental benefits of using playmats, the pros include:
cognitive (to understand cause and effect, your baby will pull and kick the toys that hang above the play mat)
reaching and grasping skills (to improve your baby's reflexive skills and learn how to control their hand motions, your infant will learn to grasp ring toys)
sensory stimulation (your infant will explore different colors, textures, and in some cases even sounds)
visual perception (your newborn will better perceive bright, contrasting colors than muted tones)
Also, a play mat helps your baby stimulate head, neck, and upper body strength.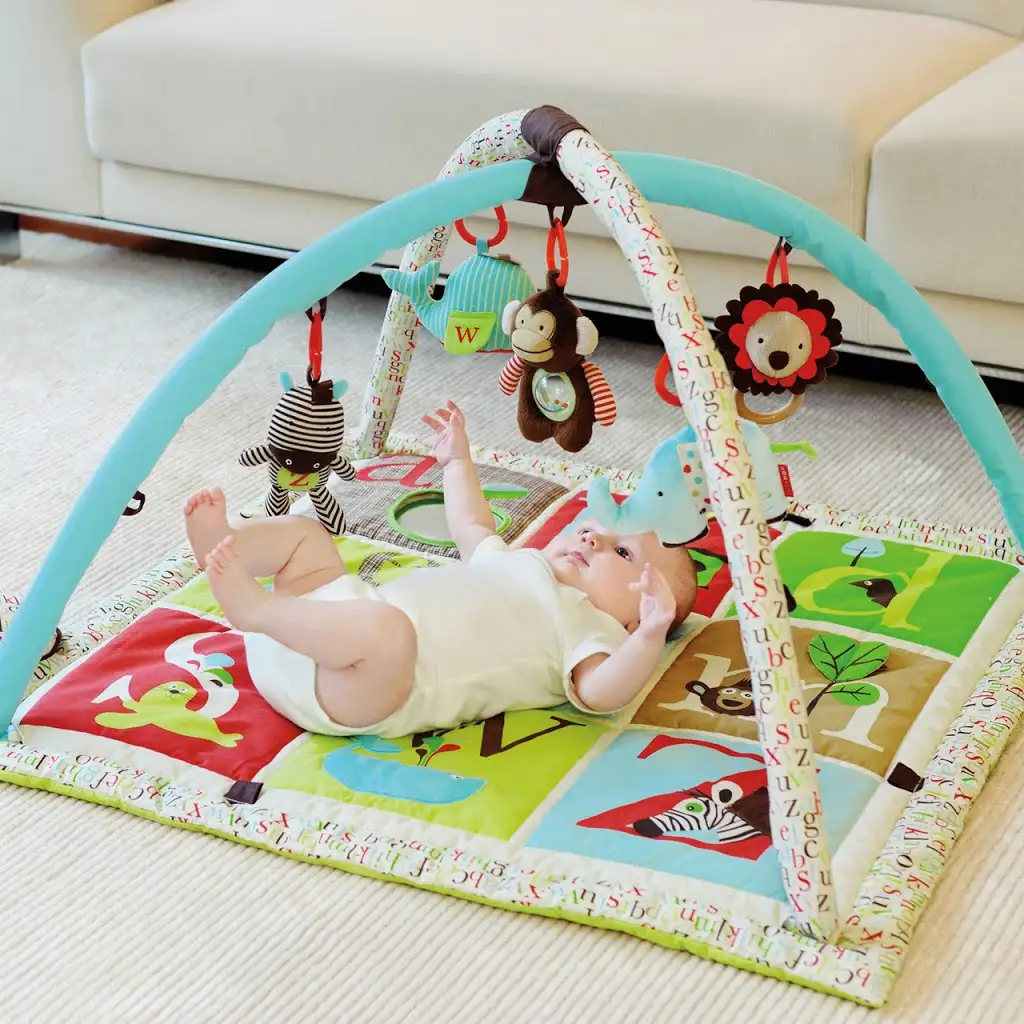 A Bookshelf In Your Baby's Nursery
Reading your little one a bedtime story is a great way to spend quality time together and to promote better sleep. Think about open-shelving racks to store all your books.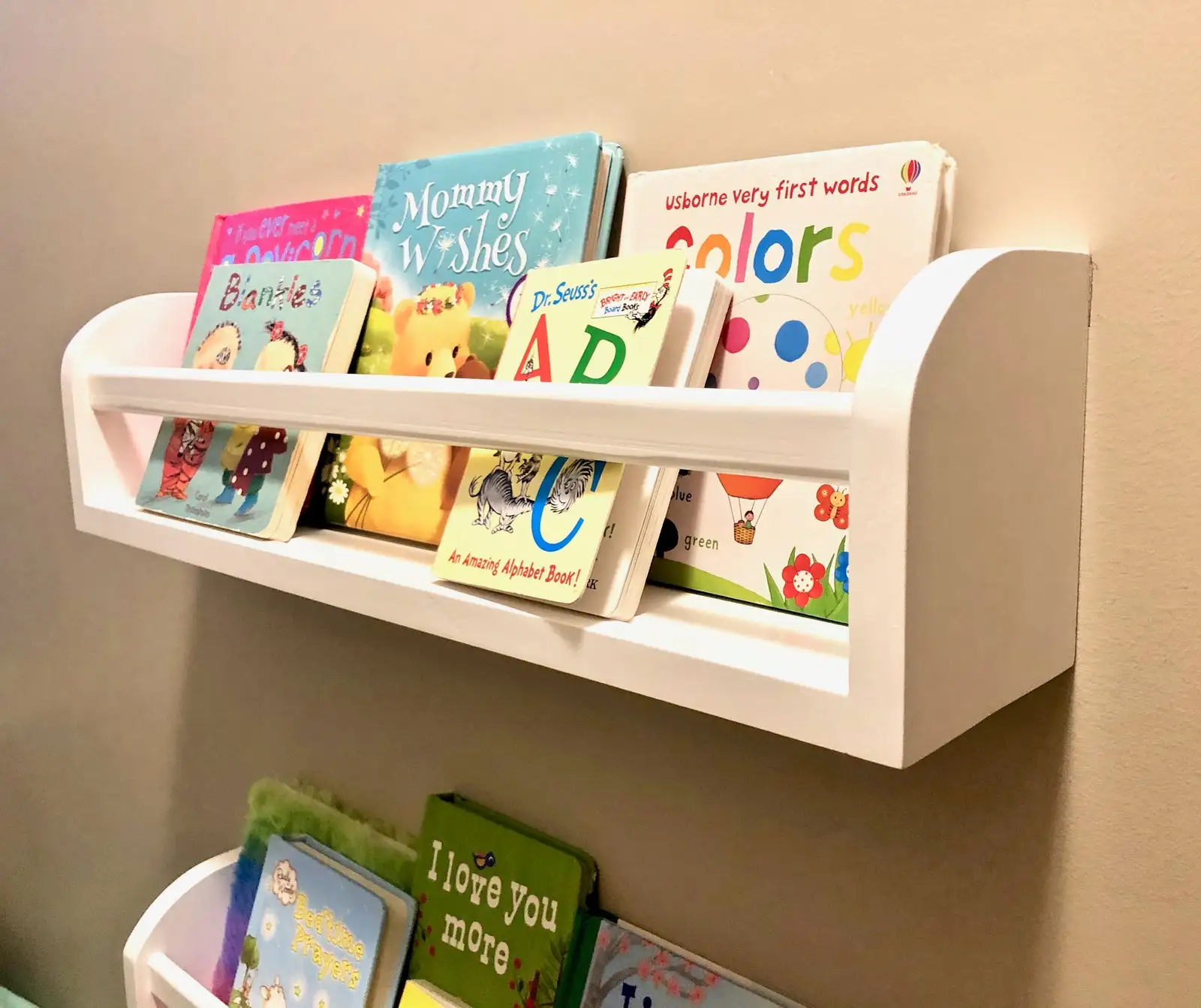 Extra Storage For Baby's Clothes
Even if you have a dresser or a changing table, you need racks in the wardrobe for your baby's clothes. In the first year of your baby's life, she or he needs a lot of clothes because your baby will grow very quickly.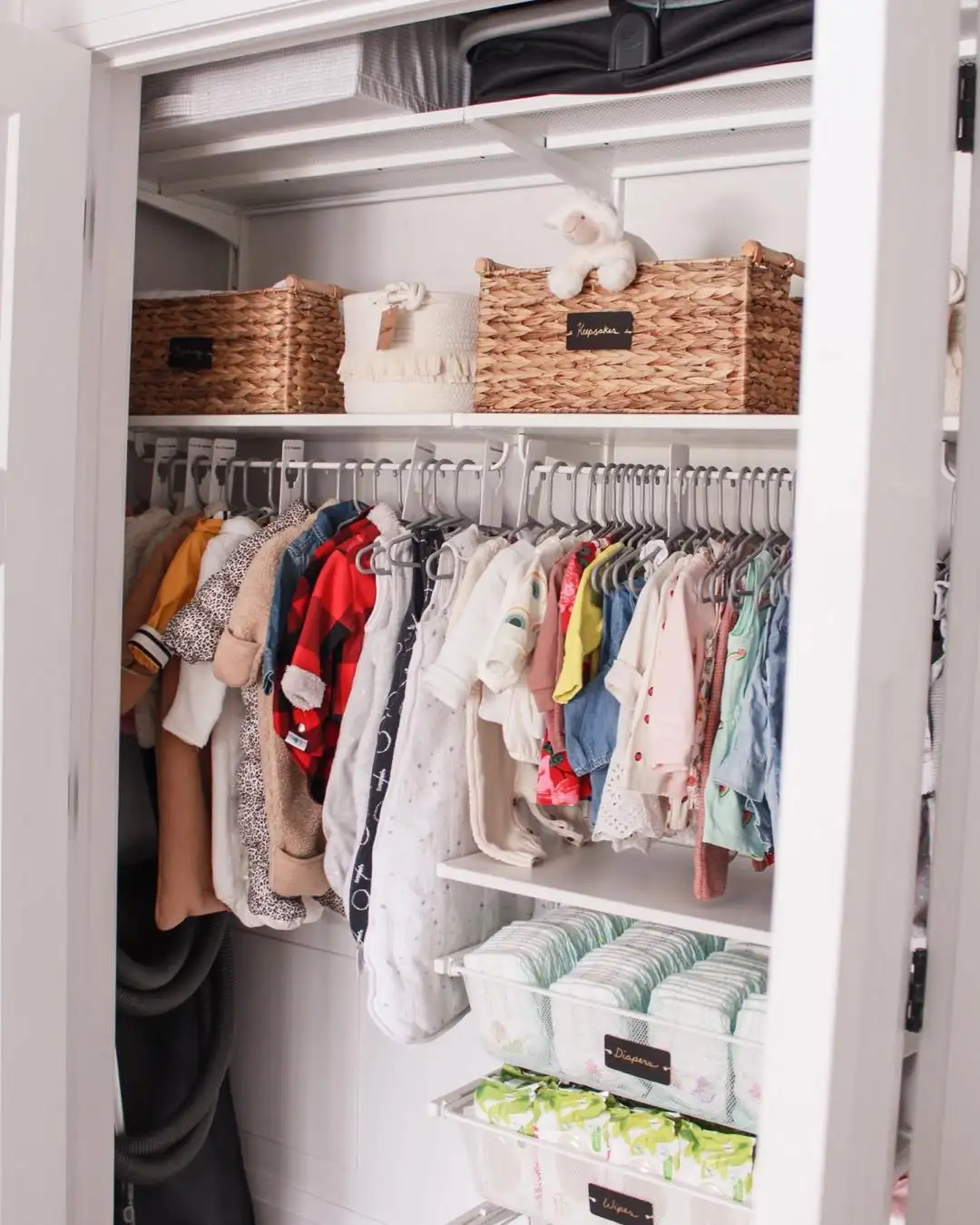 Place A Tent Inside Nursery
Almost everyone likes tents. Your little one will appreciate it more as he or she grows. It's a place to play, imagine, and to be inspired every day. Teepee tents are designed in various colors and styles, almost all made of natural materials. Even with a slim budget, you can find one you like.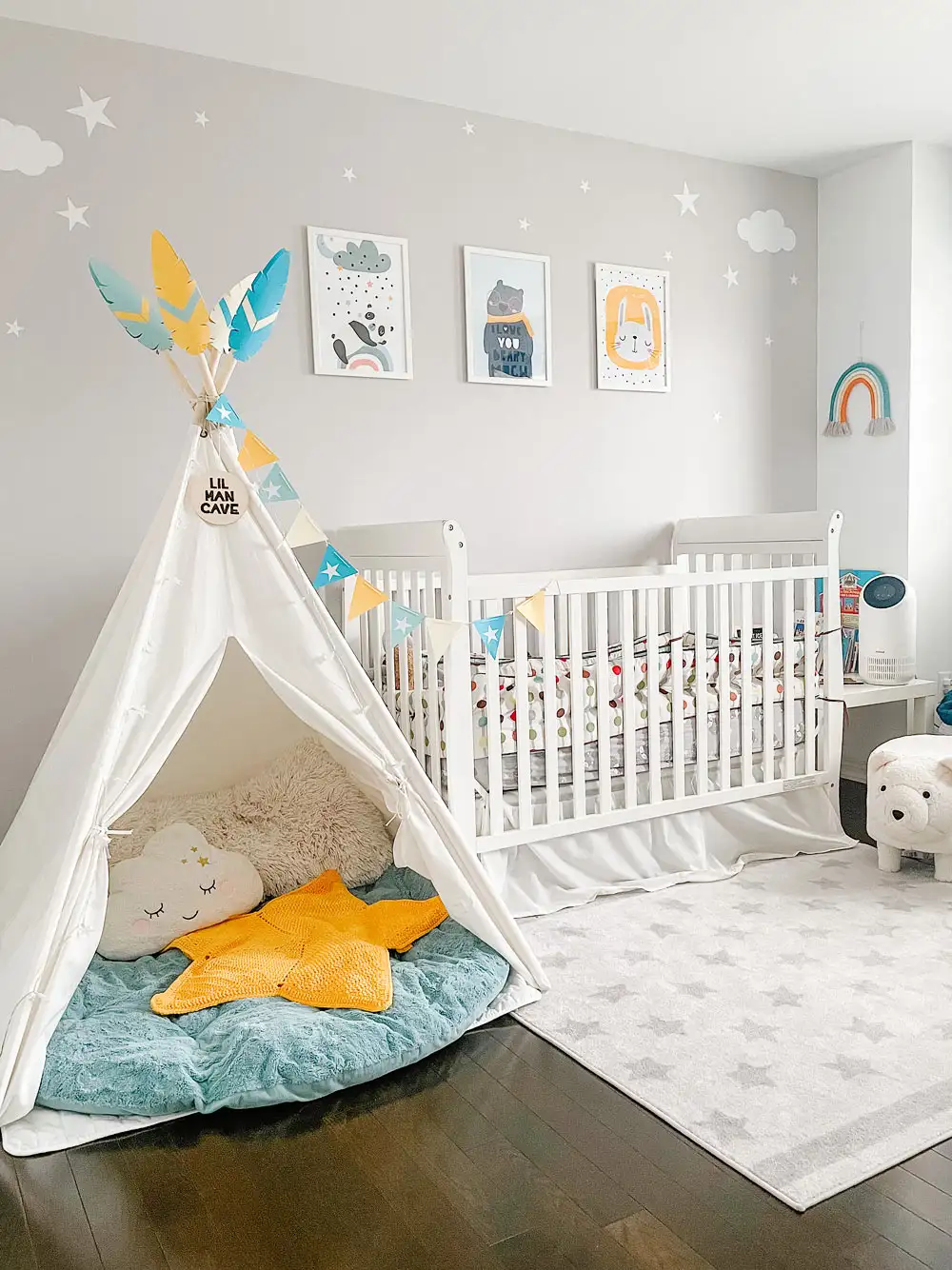 Themes For Your Baby's Minimalist Nursery
To create a serene and stylish space around your baby, use a combination theme.
A Rustic Nursery With A Minimalist Flair
If you like a nature-inspired concept, natural materials, and muted tones, a rustic style is exactly what you need. An earth-friendly theme fits well with every nursery.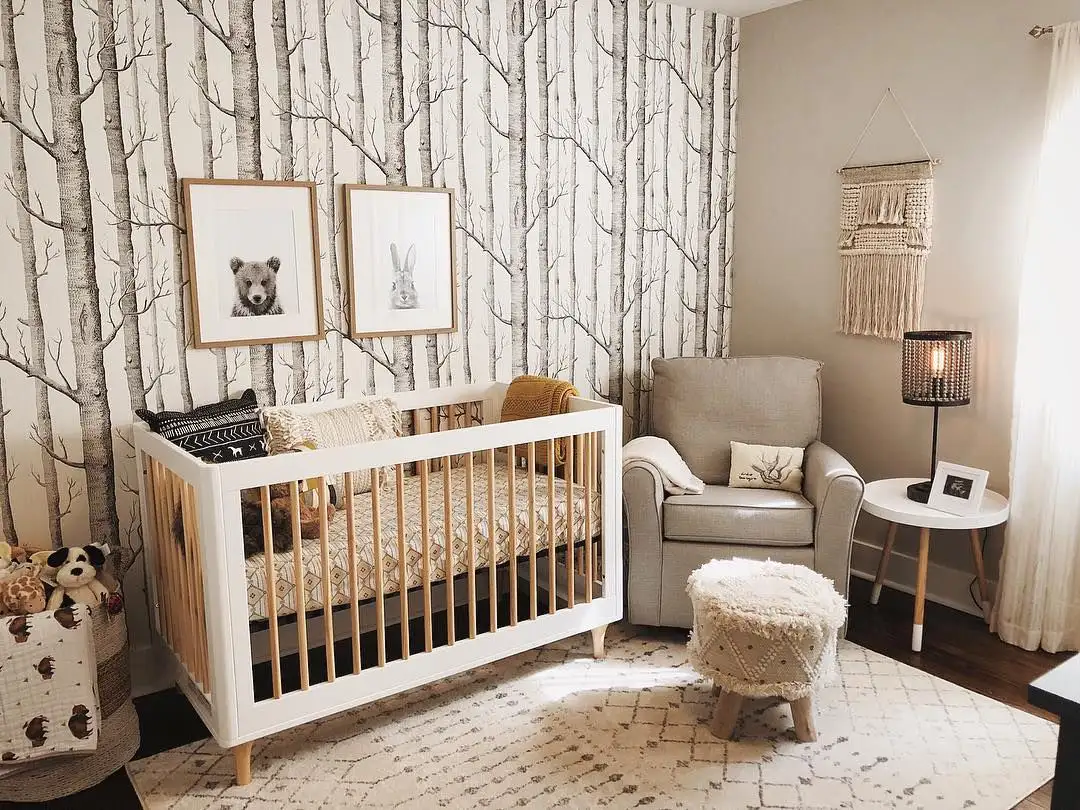 Farmhouse Nursery
If you like accessories and unusual décor solutions, think about a country nursery. It's a cozy and attractive space which can be a great place for your baby.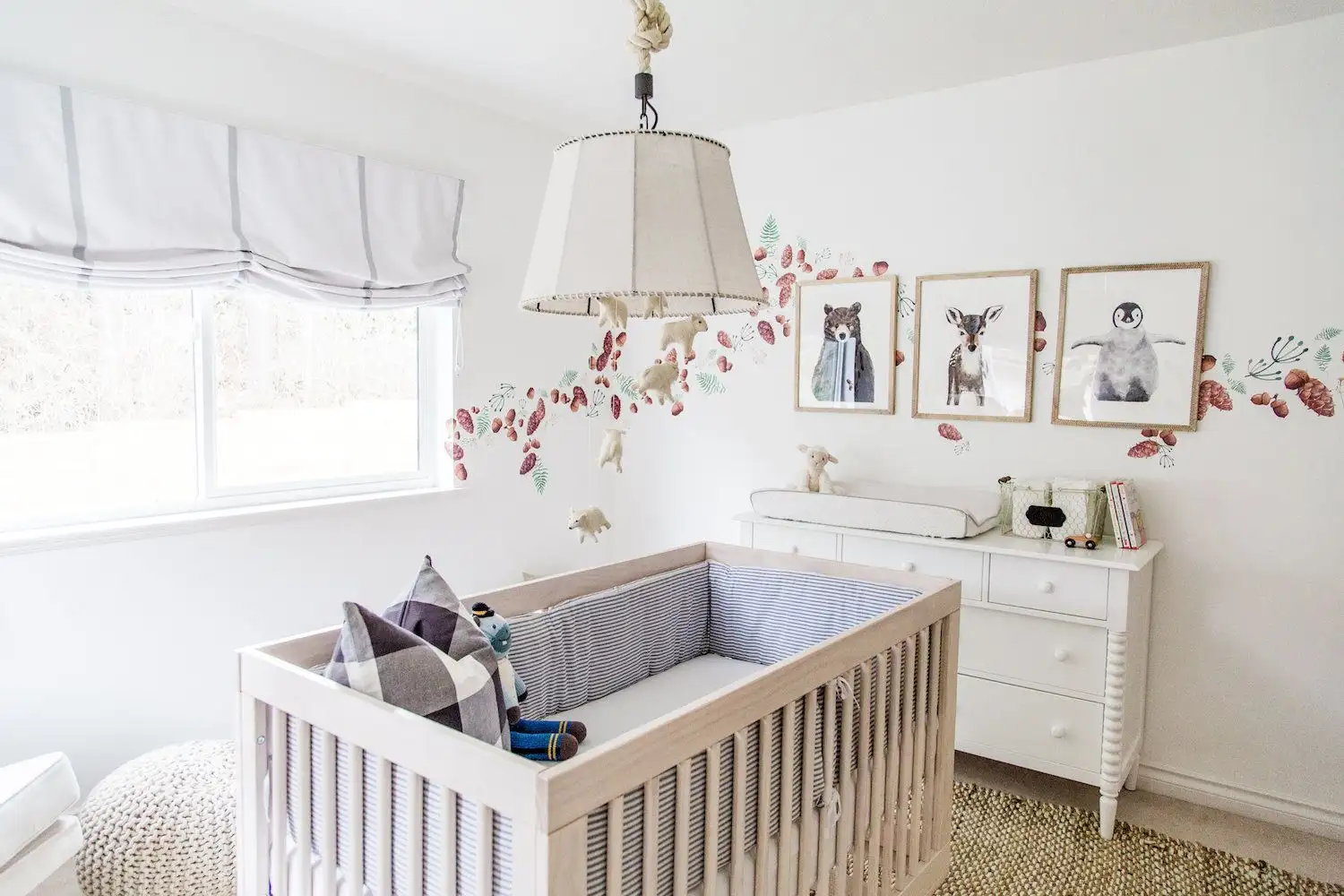 Animal-Inspired Contemporary Nursery
If you like modern trends inside a clutter-free space, decorate your infant's room in a contemporary style. Animal-themed wallpapers, wall art, and toys can provide a great atmosphere and liven up your baby's space.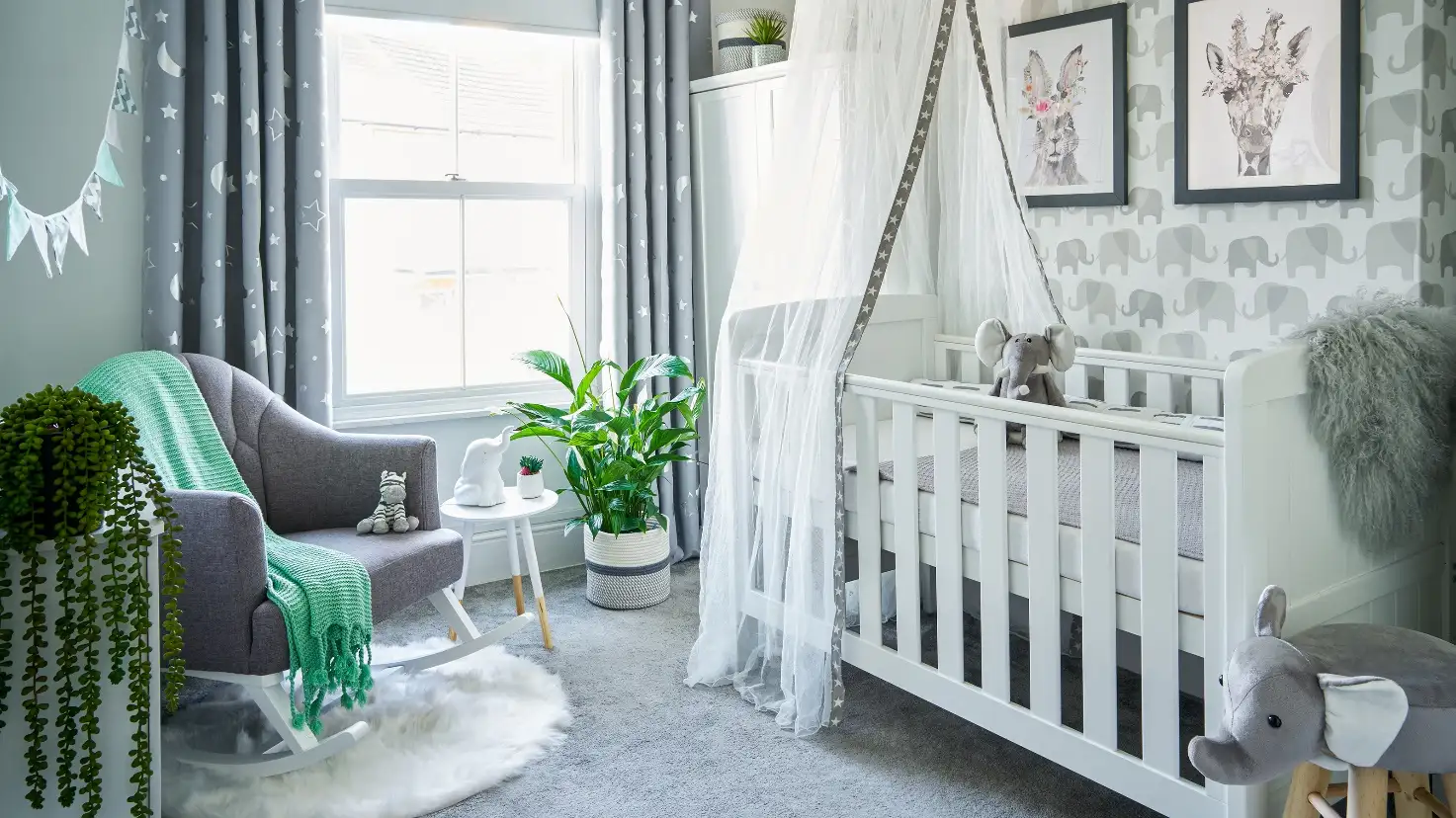 Be Careful With Bedding
According to the American Association of Pediatrics, a fitted crib sheet and a waterproof mattress cover are all your infant needs to be comfortable and safe in her or his cot. This organization recommends that little ones sleep on their backs, positioned on a firm sleep surface that meets Consumer Product Safety Commission standards. Don't use sleep positioners, wedges, sleeping pods, baby hammocks, cot bumpers, and other accessories, in order to prevent Sudden Infant Death Syndrome (SIDS).
If the comfort of your baby is a high priority for you, buy a wearable blanket. It's a really safe choice. This comfy sleep sack envelopes your infant's body like a cozy sleeping bag.