The Best Closet Organization Ideas
When it comes to decorating your closet, you should consider the limits of usable space for your clothes, shoes, and accessories. The right storage organization with a minimalist approach is a great way to declutter your closet. It's all about feeling comfortable in your house.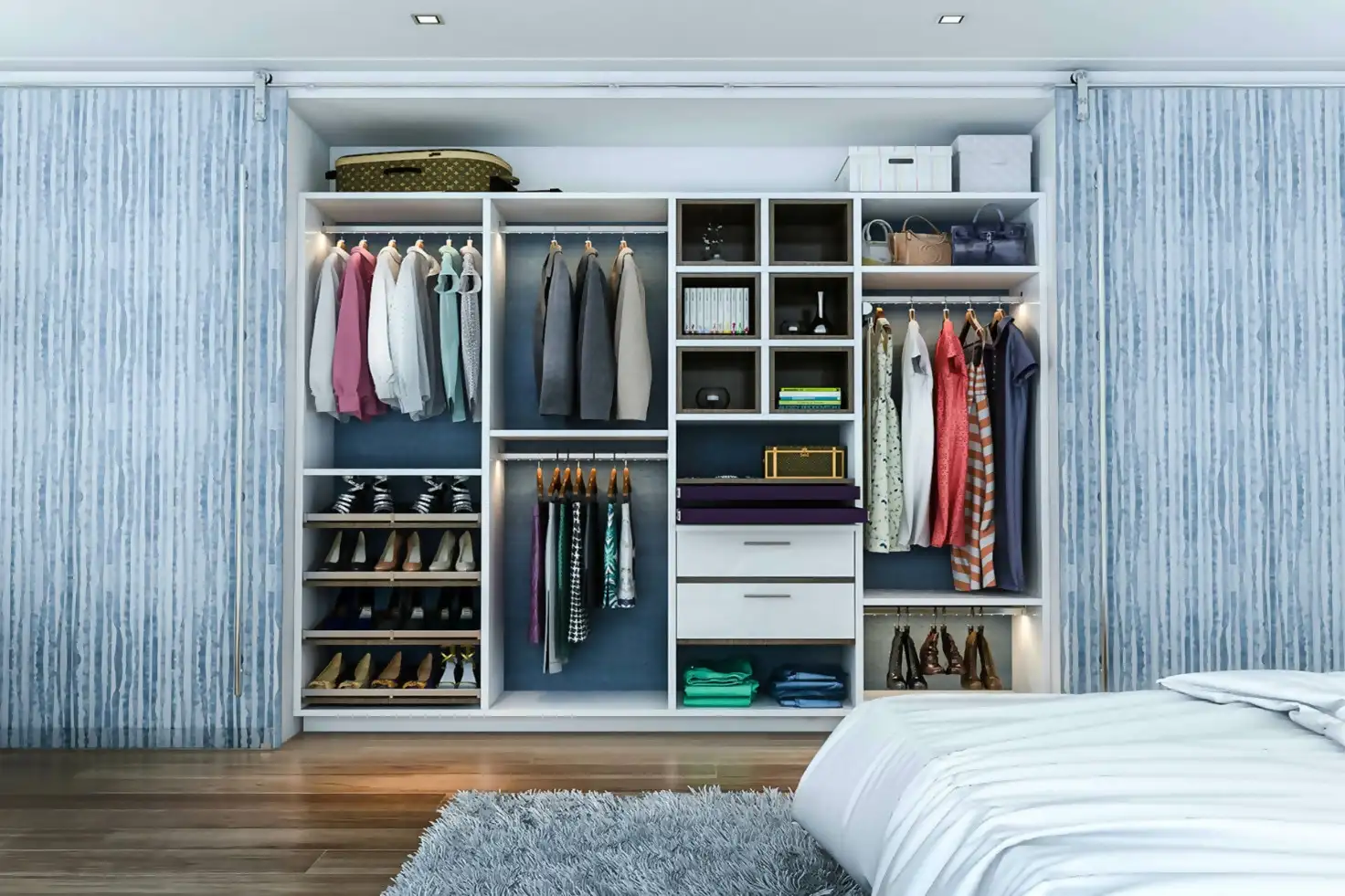 Various Closet Organizer Systems
When you consider closet organizer systems, you could choose a walk-in closet, reach-in closet, or simply a wardrobe. Think about a budget-friendly (if quality alone is important for you) or expensive model (if you are a fan of famous designers and brands).
Bear in mind that neatness in your closet gives a confident ambience to your home and life. Don't get confused if you need to mix various closet organizer systems. For example, a walk-in closet in a separate room, or reach-in closet in the bedroom for you and a wardrobe in the nursery for your kids are all awesome combinations!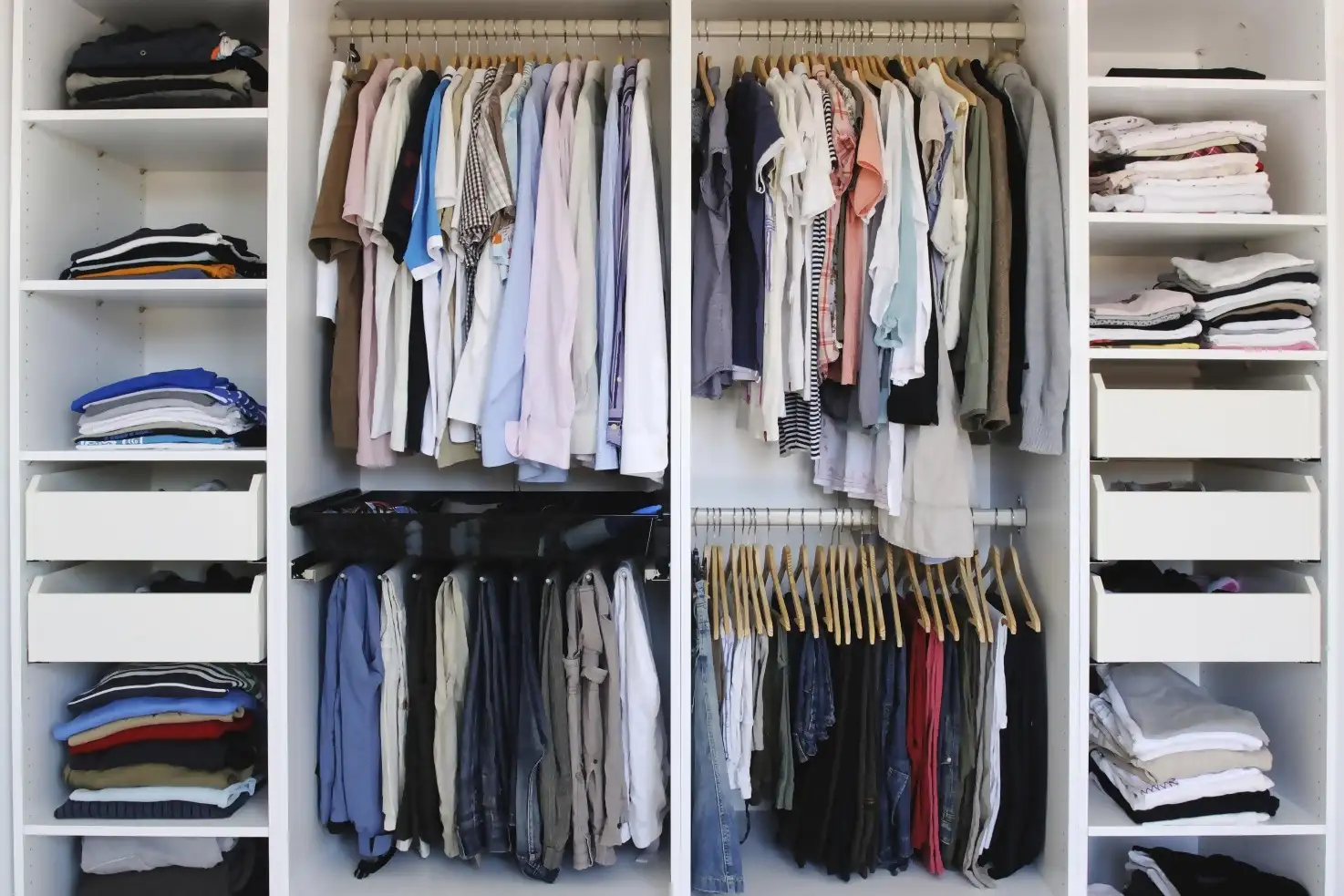 Walk-In Closet In A Larger Room
If you have enough space, you could install a walk-in closet with your personal touch and feel free to use more space there. It's better to create a well-organized and easily accessible closet, where you can choose the perfect outfit of the day. That's a great way to feel an aesthetic pleasure and pure simplicity.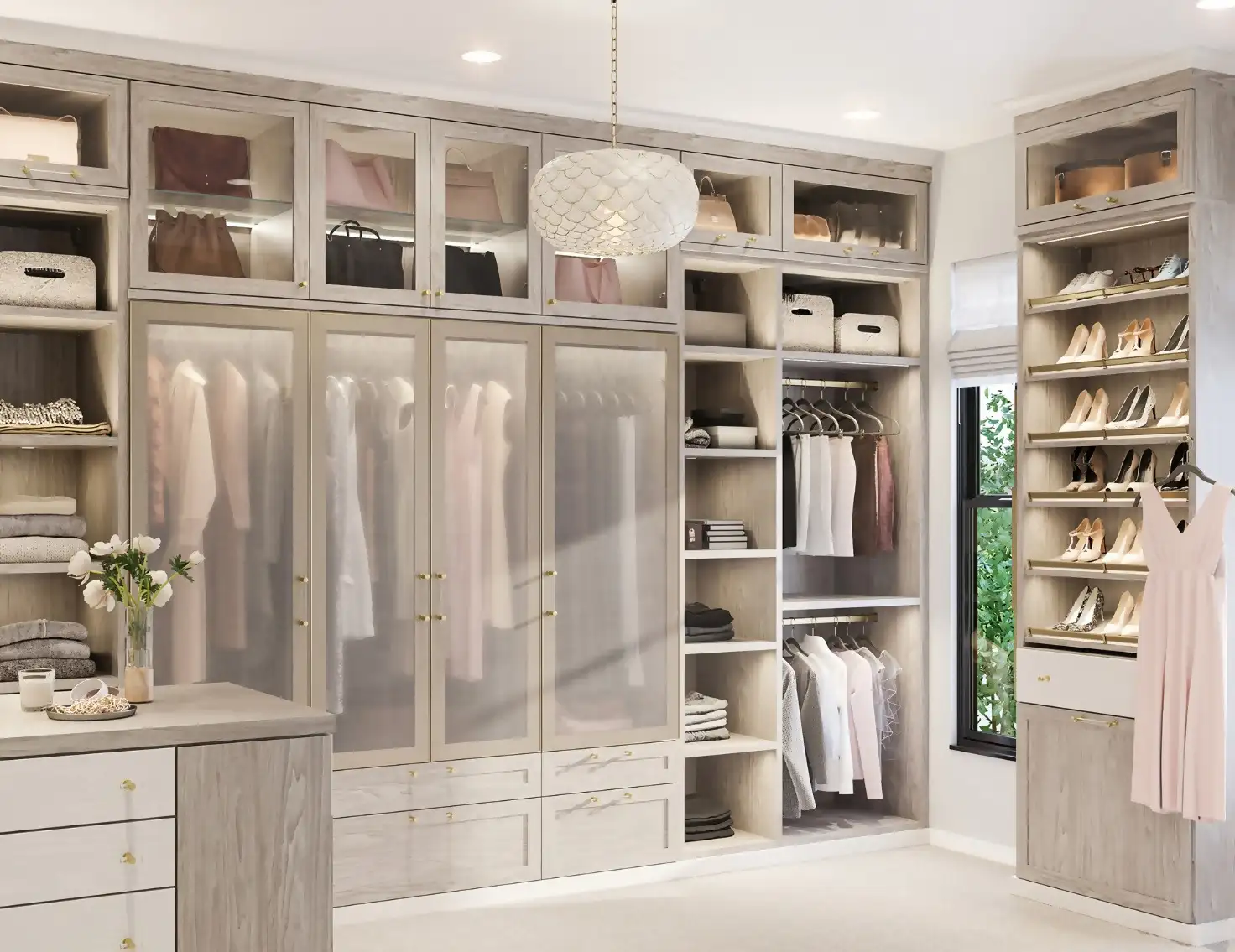 Usually, a walk-in closet is a windowless room attached to a master bedroom. It isn't a waste of space. It's an opportunity, which some people can afford.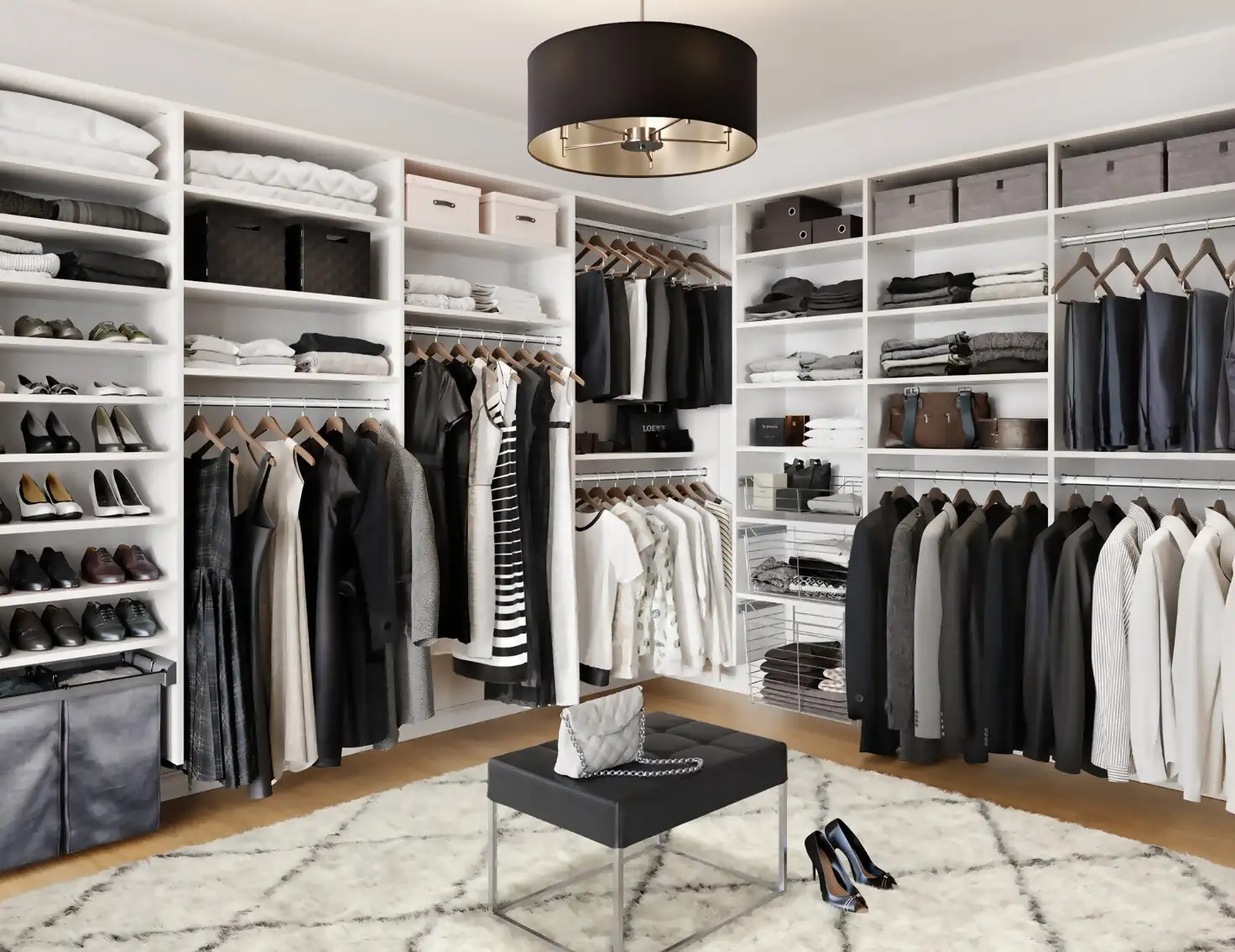 Modern Style Closet
If you like a modern style closet, use track lighting, natural materials (woods fit well), neutral colors for a rug, wall coverings, cabinets, hanging rods, drawers, and shelves to create a stylish space with an absence of fussiness and clutter.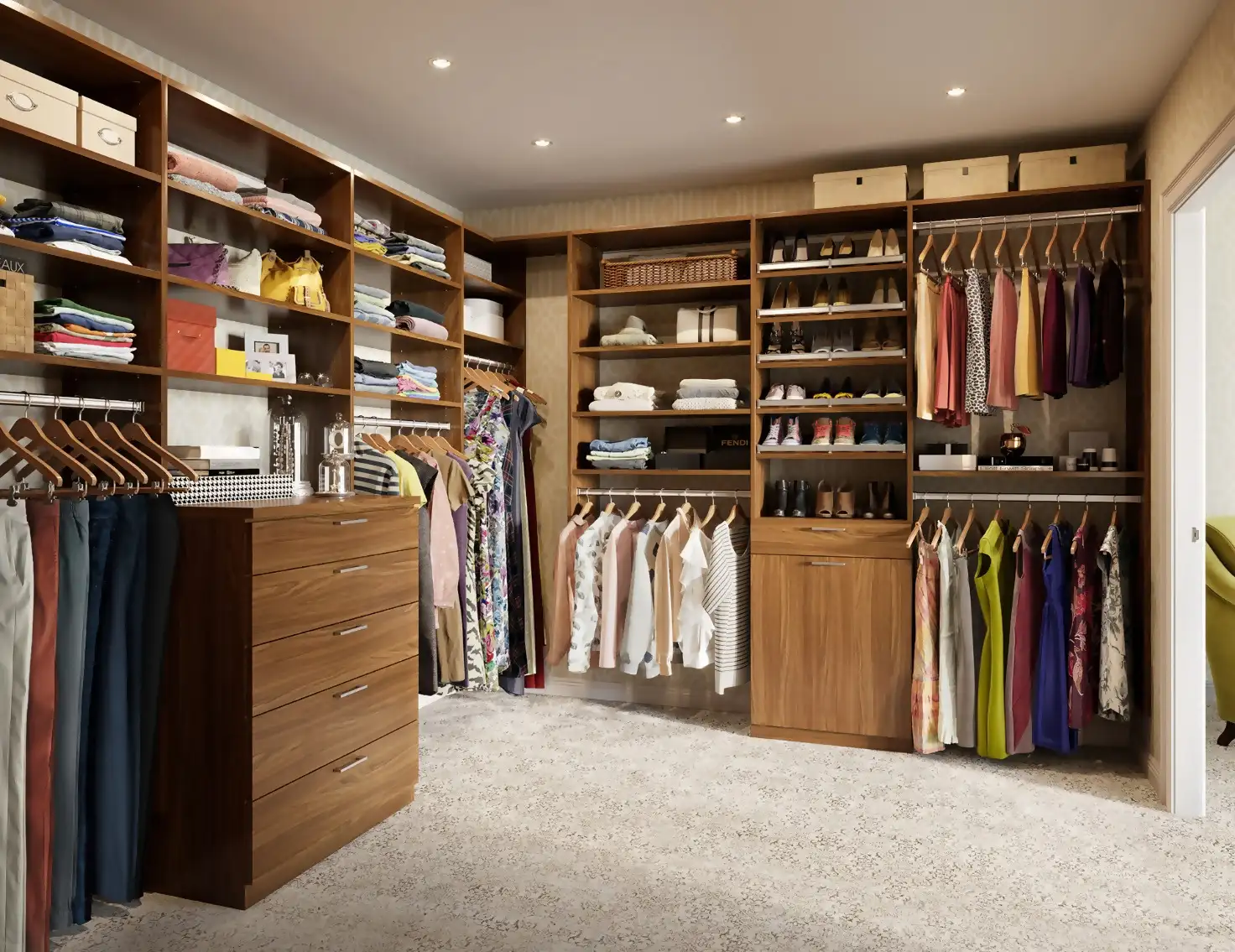 Contemporary Style Closet
If you prefer a contemporary style closet, you could show off fashion without limits to emphasize your chic look. Think about glass doors for build-ins to save the clean appearance of your clothes, lovely knick-knacks, and other cool accessories.
If you follow trends and brands, use bags with famous labels. That's a great way to feel like Carrie Bradshaw from "Sex and the City" in your own stylish kingdom. It's awesome to make-over your closet without limits on modesty and restraint.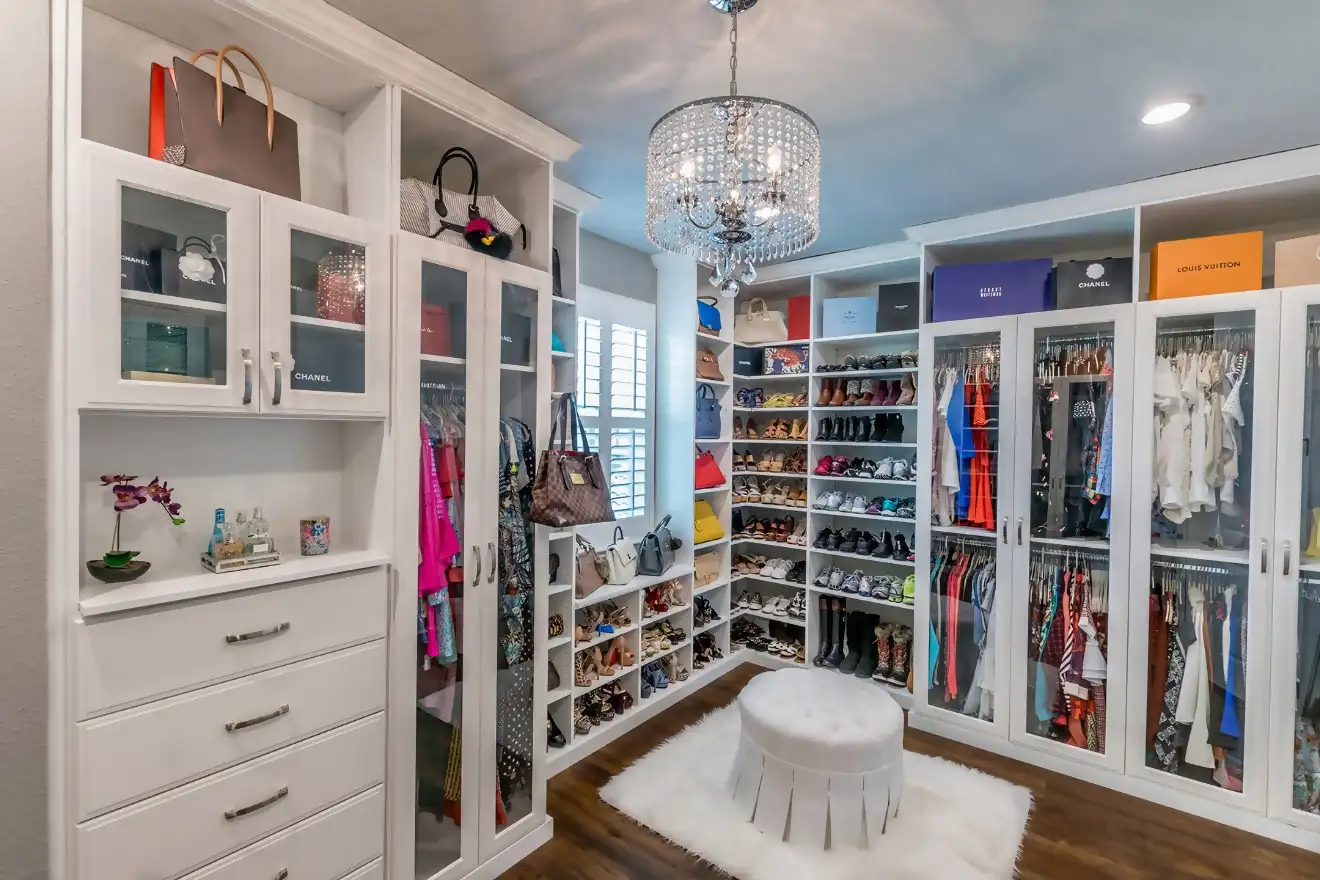 Reach-In Closet For Everyone
If you don't have the possibility or necessity to install a walk-in closet in a separate room, think about a reach-in closet. This closet system is commonly used in the nursery, master, guest and teen bedrooms.
The great advantage of a reach-in closet is that it fits into a small space. Also, you could add a charming touch for your closet with awesome lifestyle accessories, such as portraits, photos, candlesticks, vases, or even books.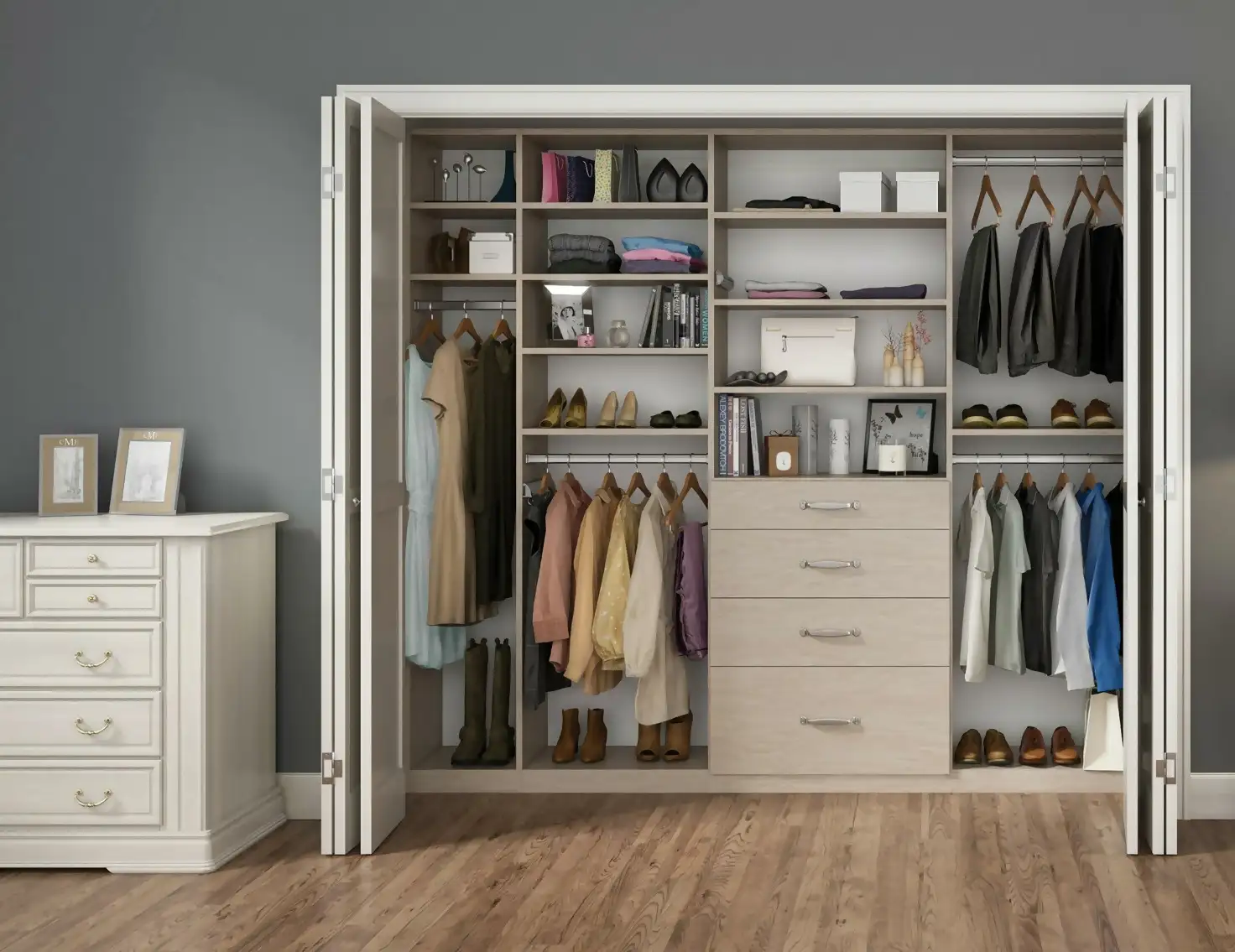 Wardrobes And Armoires
If you don't have a large space for your closet or a sliding door isn't for you, choose a wardrobe or armoire for your clothing. Wardrobes and armoires are very similar furniture pieces, but don't get confused.
An armoire is a type of wardrobe which features bigger space for clothes, drawers, shelves, and hanging rods.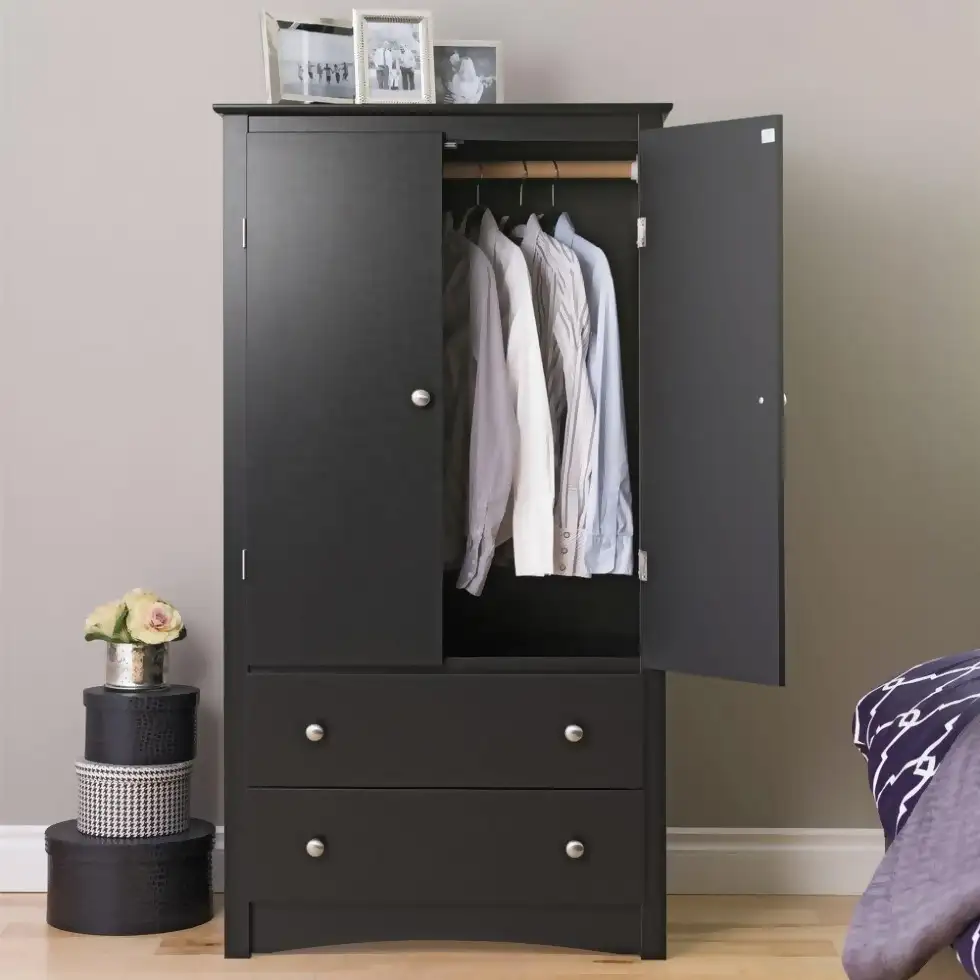 The wardrobe is a piece of furniture where you only have the space to hang clothes.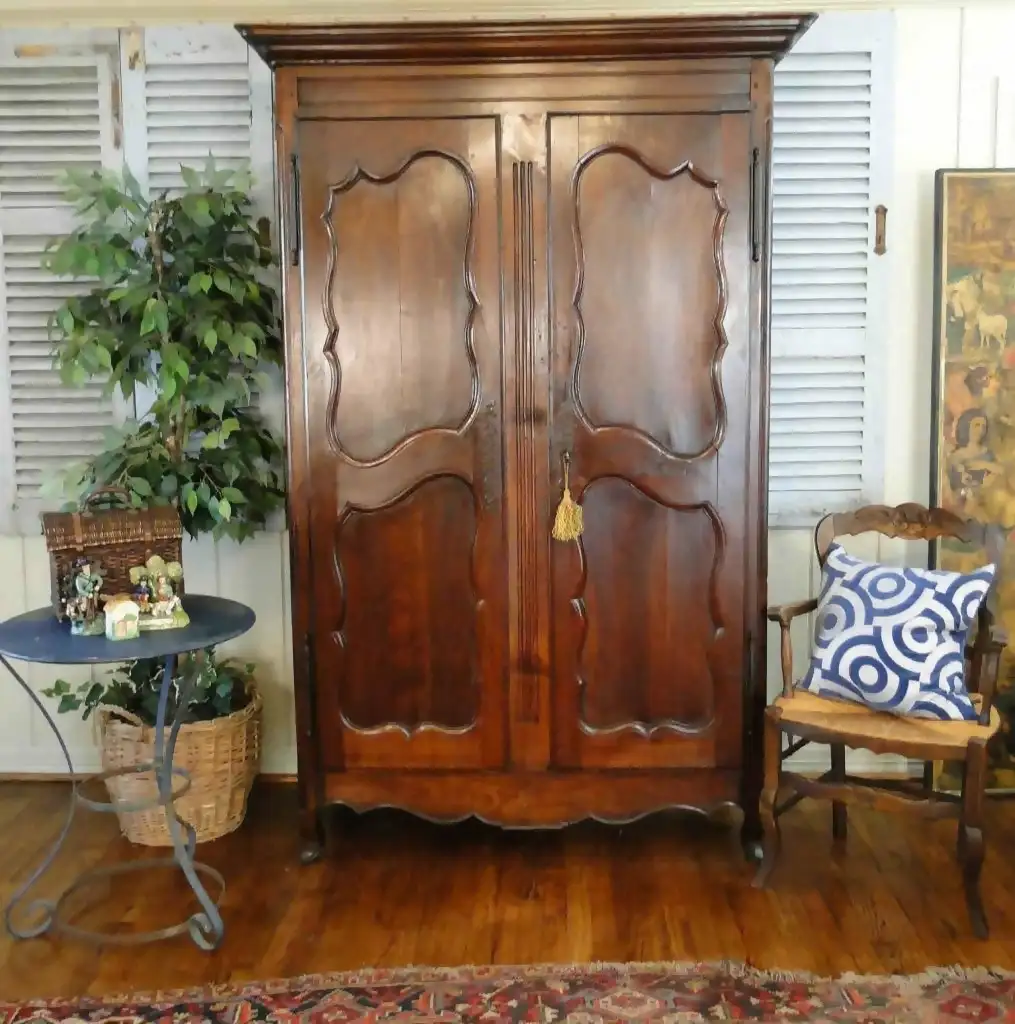 But nowadays these words have become interchangeable.
Classic Style Armoires
If you are a fan of a classic style without modern trends, choose an armoire for your clothes, shoes, bags, and accessories in your bedroom. This closet system is great storage to keep the stuff you need, with your own timeless signature.
You could choose an armoire of any size in neutral or bold hues, using various organic materials, with a mirror or without it. Be sure that it fits to your bedroom style completely.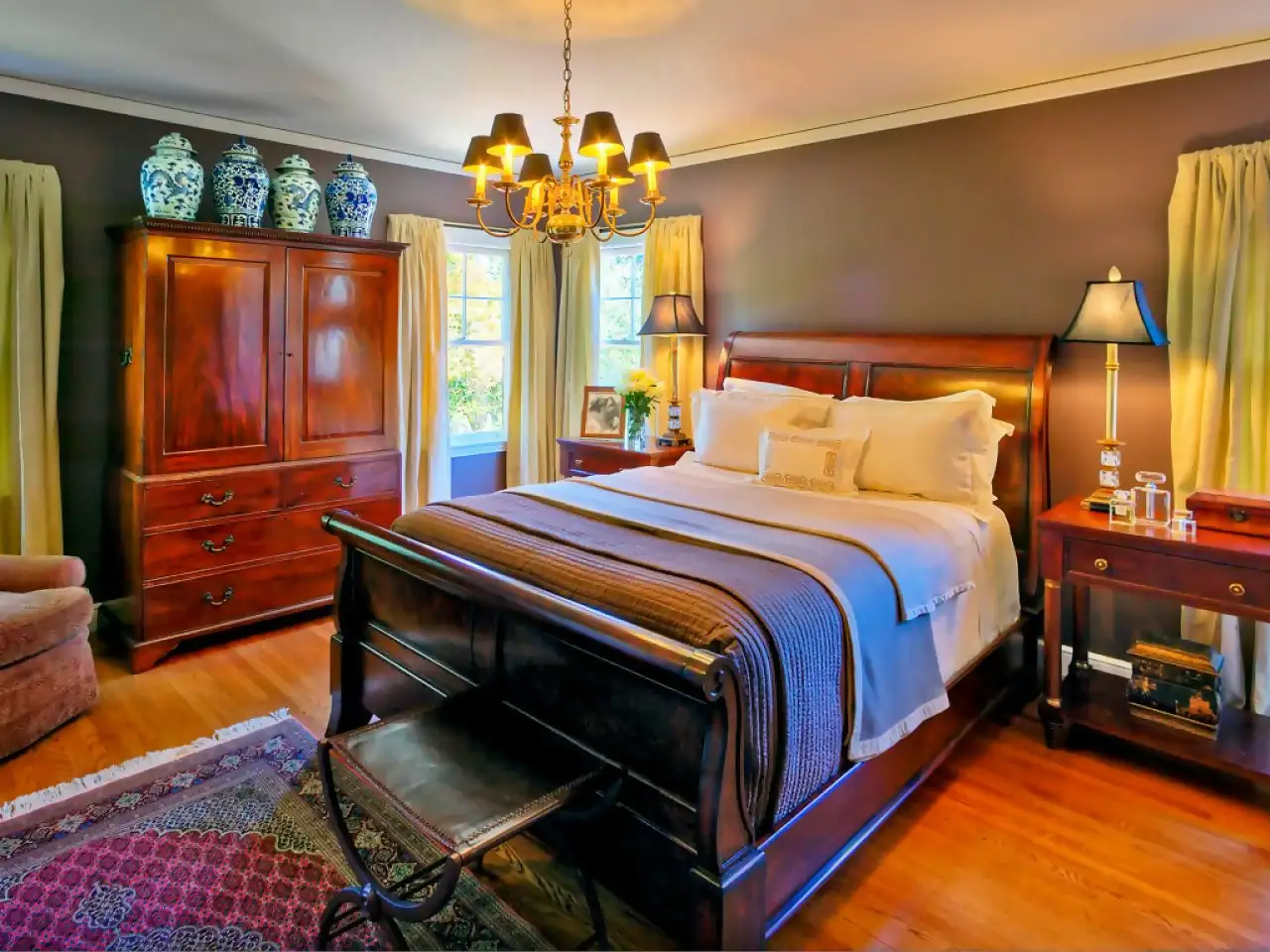 Think About Creative Details
Your closet is more than just a dressing space. It's all about your inspiration and good mood. When you choose an outfit, you put the role you need for today. What about a cocktail dress with high heels for a cool party? Don't forget about a small bag with lovely knick-knacks.
You could use suitcases as additional storage space. It's better to place them at the top of your built-in closet. Following that design is a great way to add travel-inspired décor elements and create a cozy atmosphere.
Think about a bench in the middle of your walk-in closet. This décor solution has a functional and creative side. You could try to experiment with colors, materials, and legs of the closet bench.
Use Closet Shelving
Bear in mind that it's always better to use more small shelves than few large ones. This can make your shelves accessible when you need the certain T-shirt and don't have time to look for it among the ten others in a chaotic bunch. It's also about shoes, bags, and ties.
Don't get confused when it comes to the depth of the closet shelves. The most popular depth is 16 to 20 inches deep, because this is enough to fit your clothes, shoes, bags, and other important accessories for your beautiful appearance.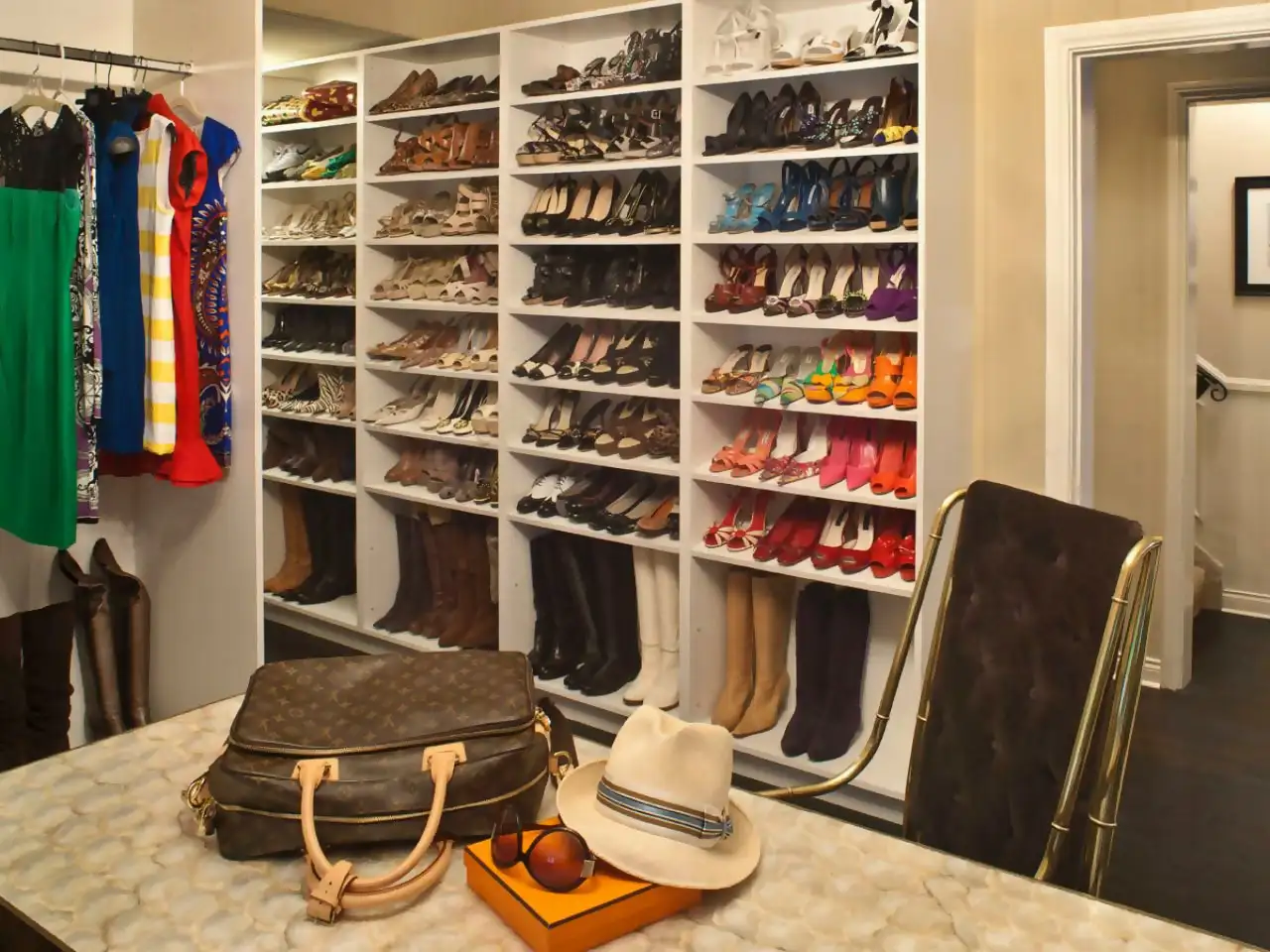 Functional Hanging Closet Organizer
If you have a small closet, think about hanging organization in a more functional way. You could hang everything: shoes, hats, tank tops, dresses, skirts, shirts, suits, sunglasses, bags, and even jewelry.
Use double hanging to create extra storage space. For example, you could hang some clothes below or above your accessories or shoes.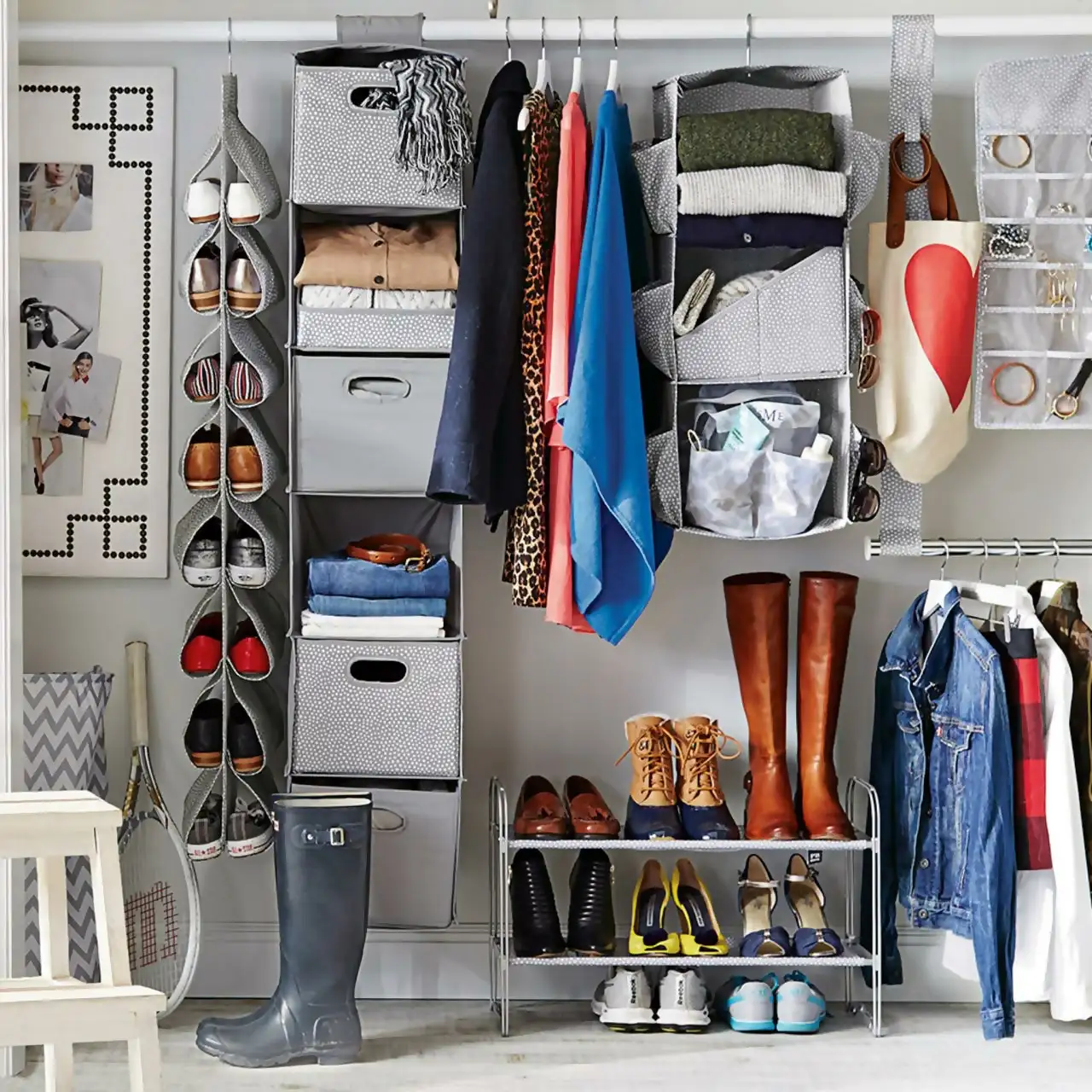 If you use more hangers, you could keep your clothes in the ideal condition after ironing. This means you'll have a tidy and well-organized closet. In this case it's very easy for you to reach the outfit you need. Also, you'll have an additional time for something better than ironing.
You could use hooks for your hats, scarves, or sunglasses to add a stylish touch for your closet. Give a fresh breath to your interior with plants or a bouquet of bright flowers.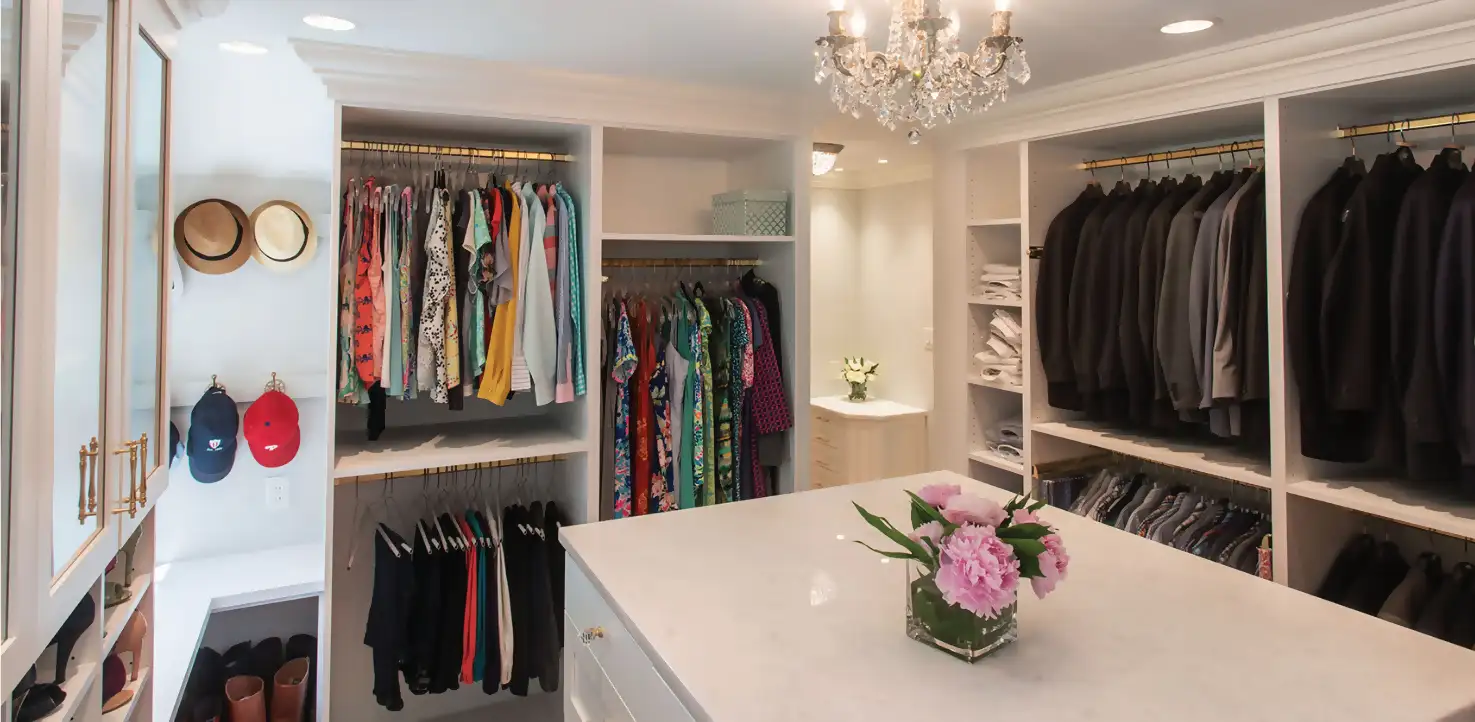 Organize Closet Drawers Thoughtfully
When you organize drawers in your closet, think about necessary amount of clothes, shoes, bags, and other accessories which you want to hang, and underwear with other personal details, which you want to hide. Only after that should you install a closet.
Don't place two chests of drawers opposite to each other, because you need space to take something out of the drawers.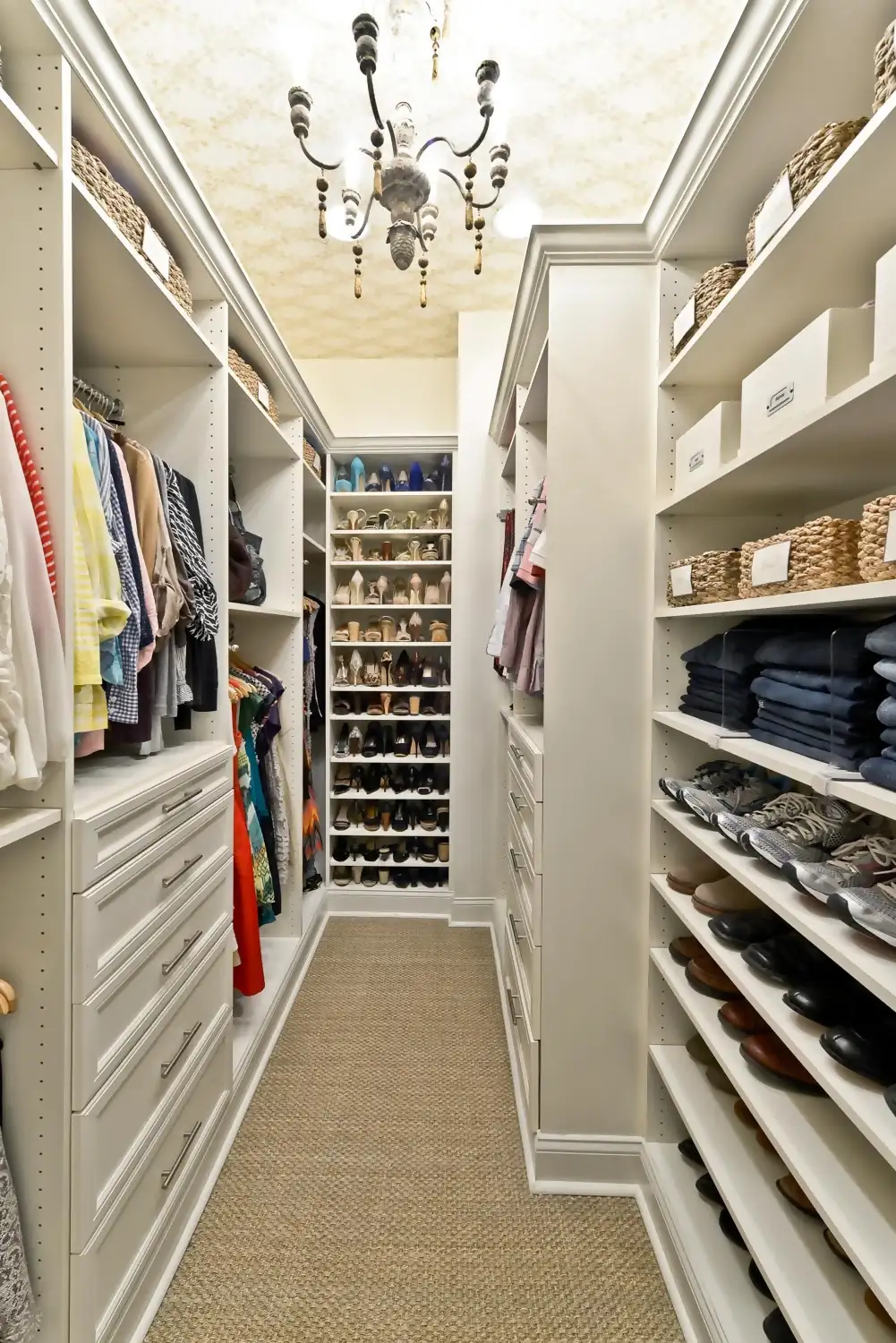 How To Use The Wall Space
Forget about empty walls, and install hooks and shelves on them. Following that design is a great way to show your creativity and add functionality for your home.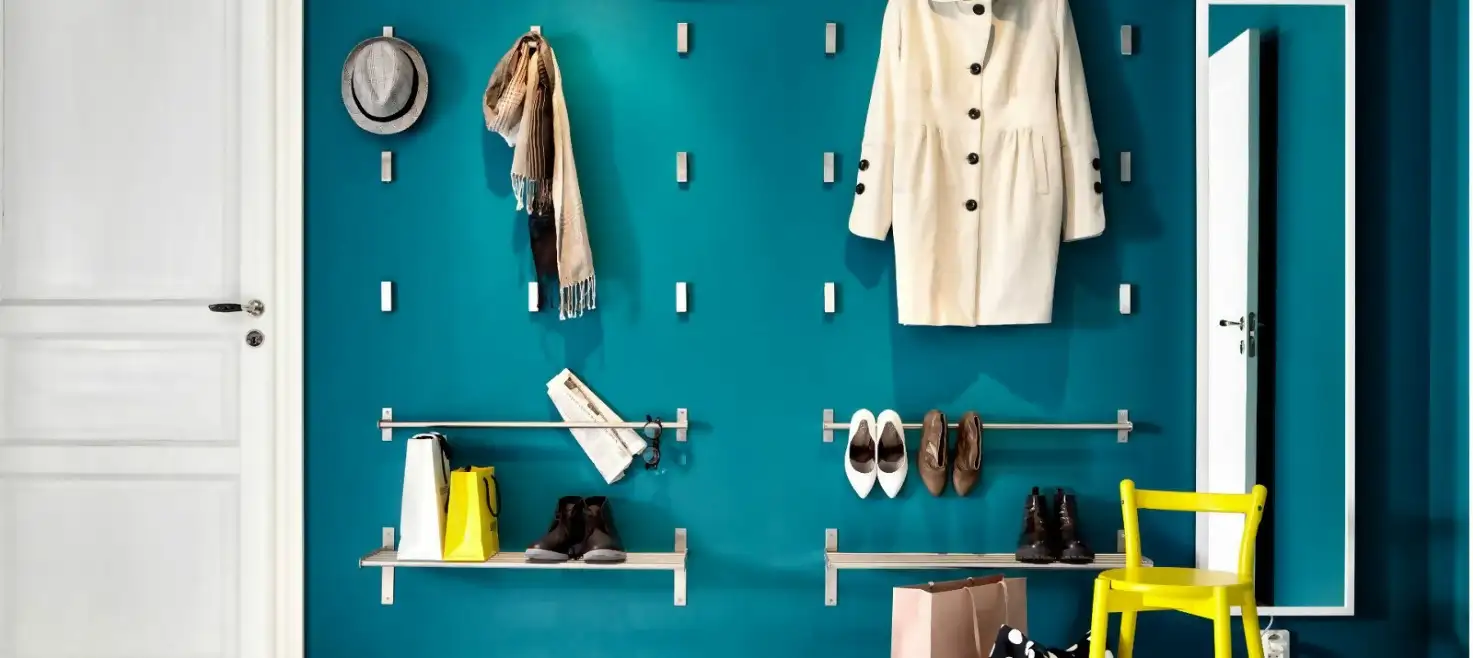 Think About Color Hues
When you consider various color palettes, all shades of white look stylish and expensive. No matter the colors of your clothes, a mix of a white closet with bold-colored dresses or even white on white is always cool.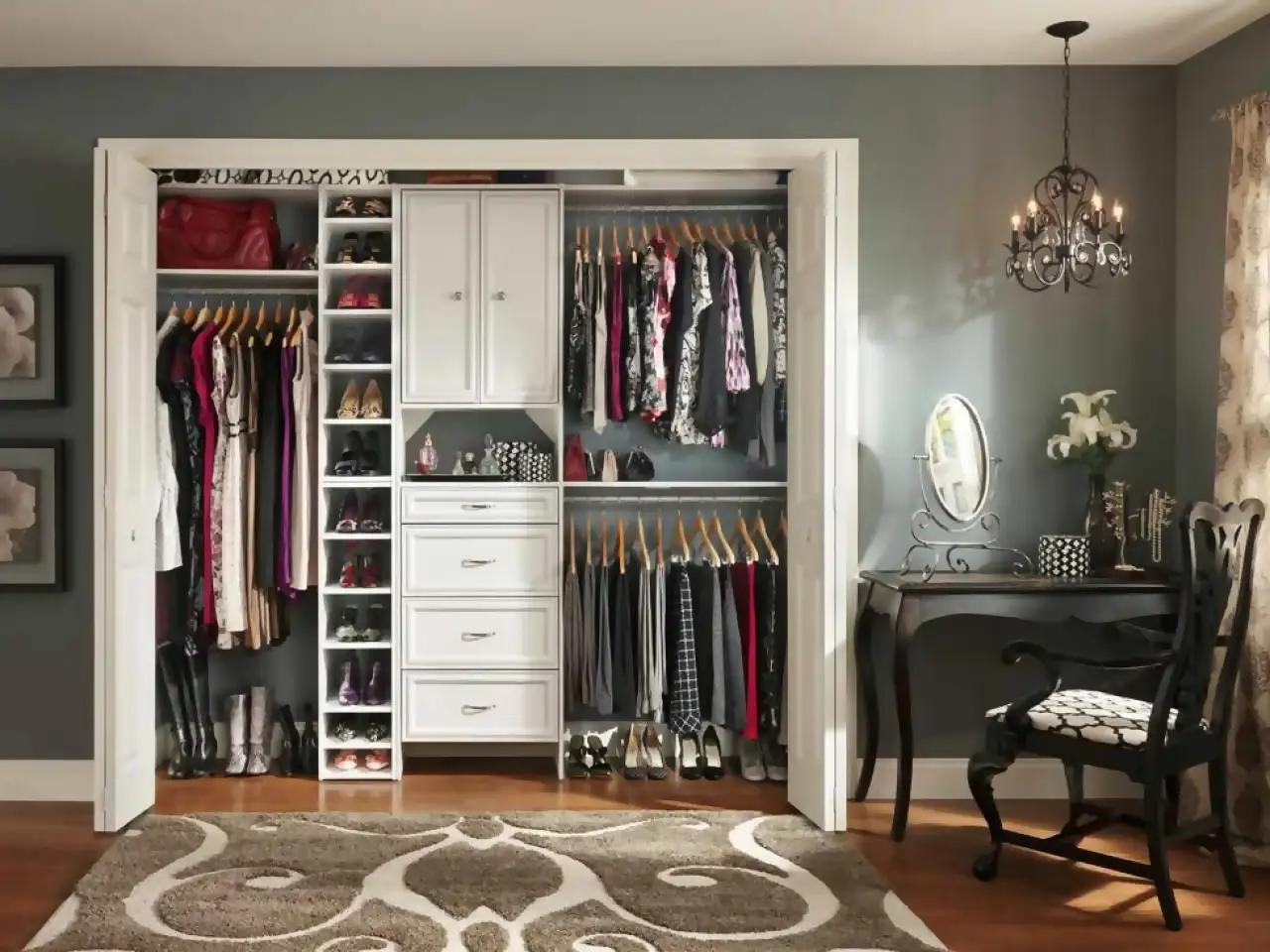 But if you have doubts about keeping a white closet clean, choose a wooden one in brown hues. This type of modern style closet is attractive and charming. That's a great way to create a serene ambience in neutral hues.