Awesome Dining Room Décor Ideas
Make over your home with a stylish and functional dining room. It's a place to enjoy tasty dinners and spend time together with both your family and friends.
When you decorate your dining room, be attentive to details to make it really inspirational and relaxing!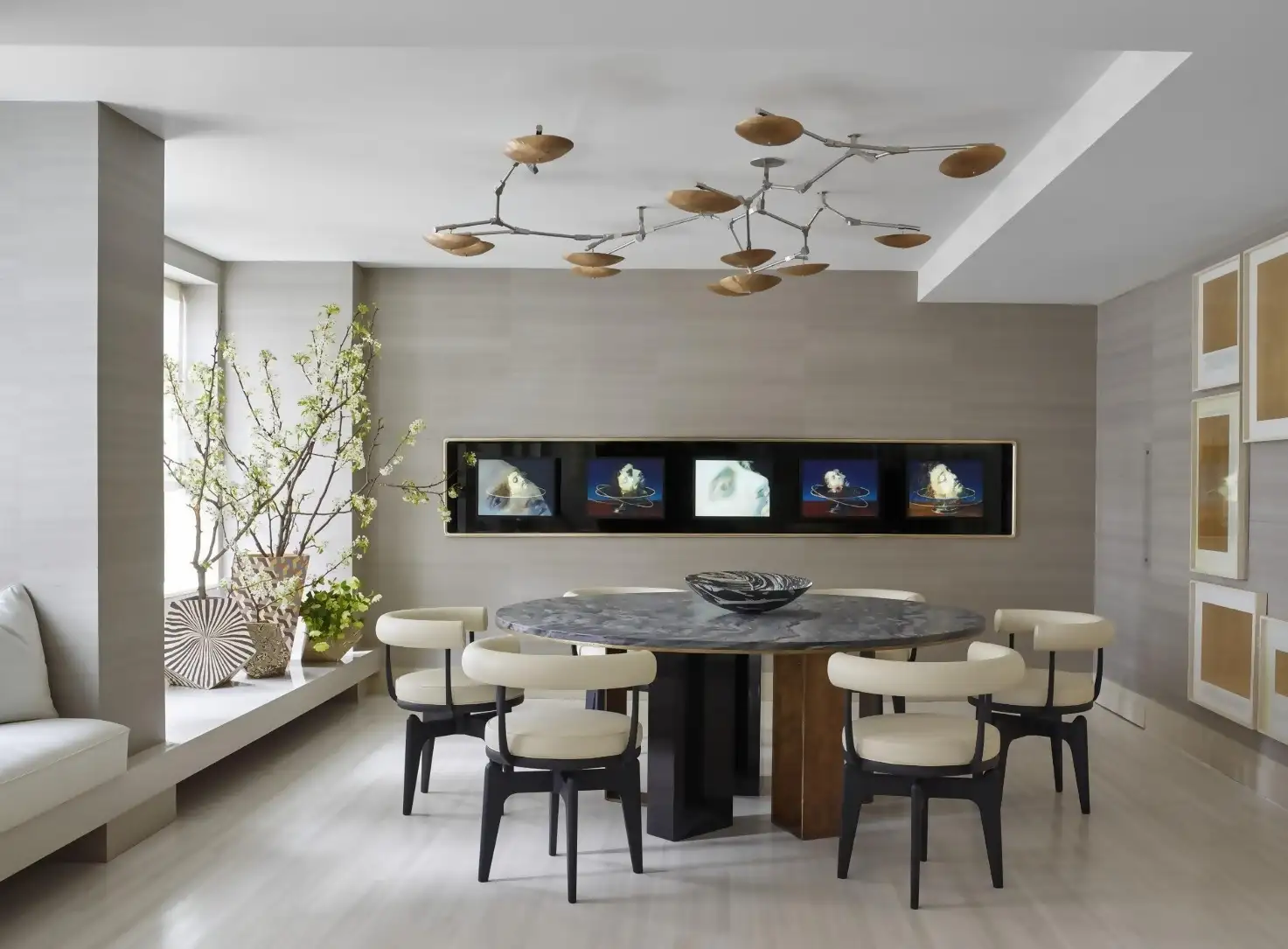 Formal Vs. Informal Dining Rooms
When it comes to understanding what formal and informal dining rooms mean, it's important not to get confused. Knowing the difference will help you to make the right choice.
Historically, a dining room was a formal, separate place with a door which closed it off from the rest of the dwelling. Alternatively, the door could be always open in pass-through dining rooms. If you have a big house with enough space, designing a stylish dining room is a brilliant idea!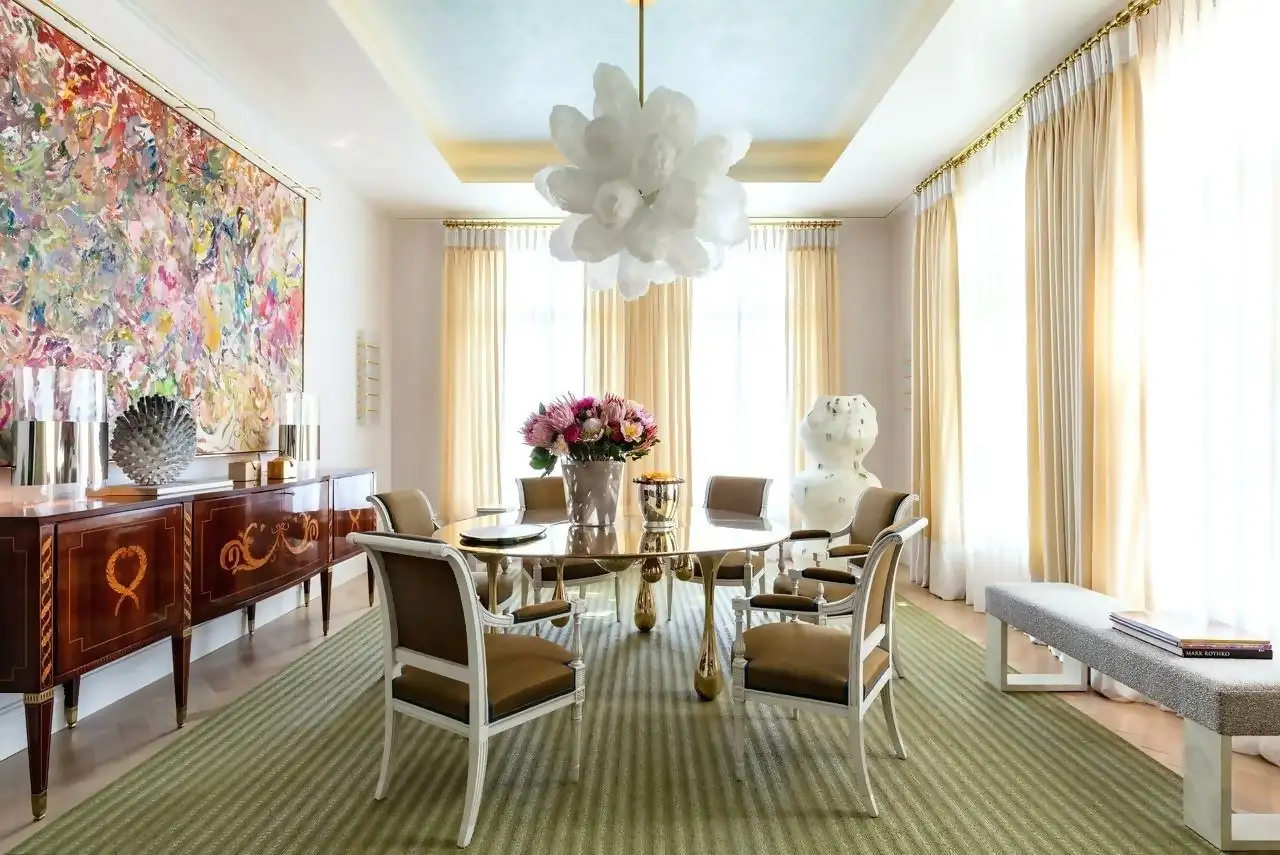 An informal dining room is the most popular style nowadays. It shares space with a living room or/and kitchen, because not everyone has a lot of rooms in the house. Such a dining area tends to look casual and trendy with well-thought-out design solutions.
Informal dining areas are also called dinette rooms, which are placed in dining alcoves or nooks.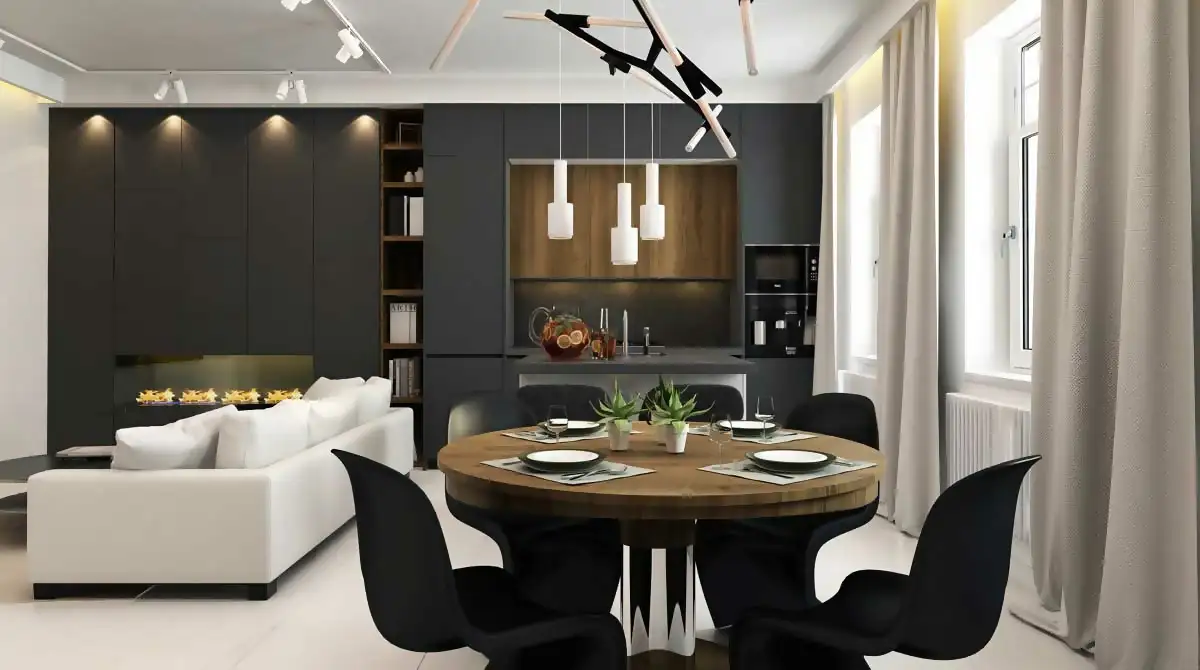 Dining Room Furniture
When you consider various furniture pieces, think about a matching set including a dining table, chairs, bench, and sideboard. Buying furniture in the same style provides a common concept for the entire room. This is appropriate for both formal and casual dining rooms.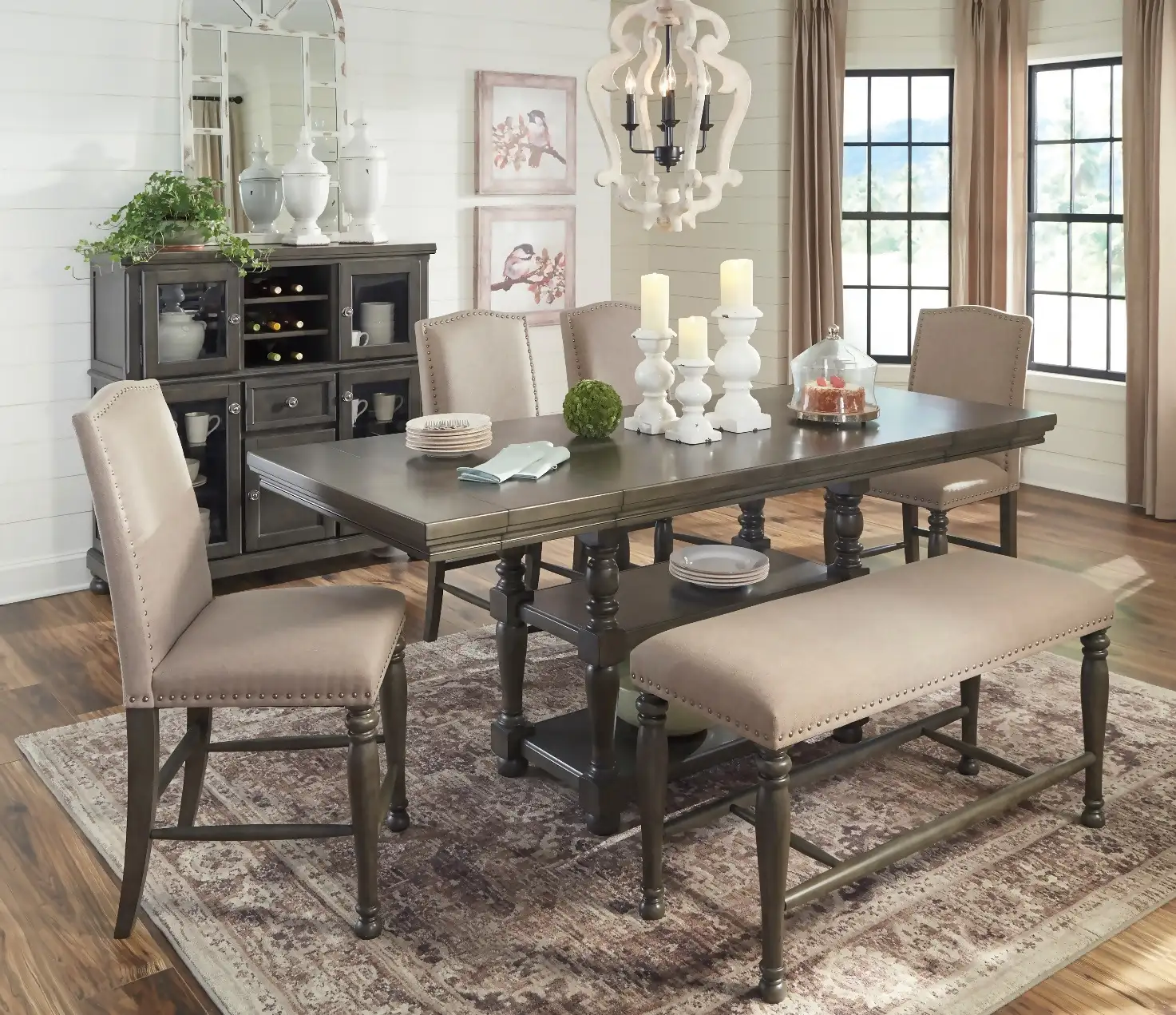 Choose A Functional Table And Chairs
The right table and chairs play an important role in making your dining room a really comfortable place to eat. It's better to choose upholstered chairs made of soft materials, such as cotton, faux leather, or velvet.
For tables, there are various seating capacities and various shapes to consider. It's better to choose a dining table to seat four to six persons. Don't choose a small table, as a bigger one provides more useful space for both family and guests.
There are a few base options for dining tables, such as legs, a pedestal, and trestle.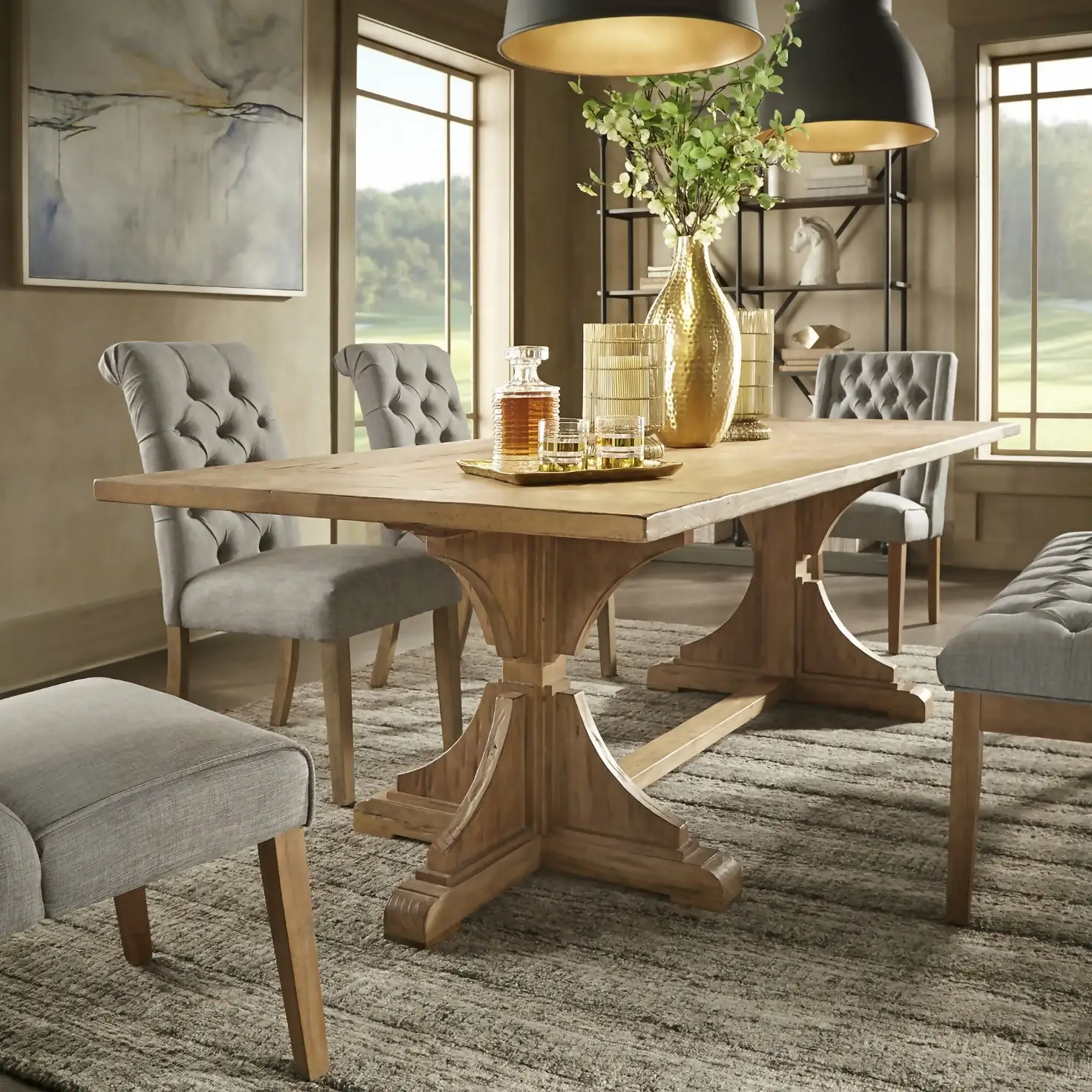 When you consider the shape of a table, you could choose rectangular, square, oval, or a free geometric form.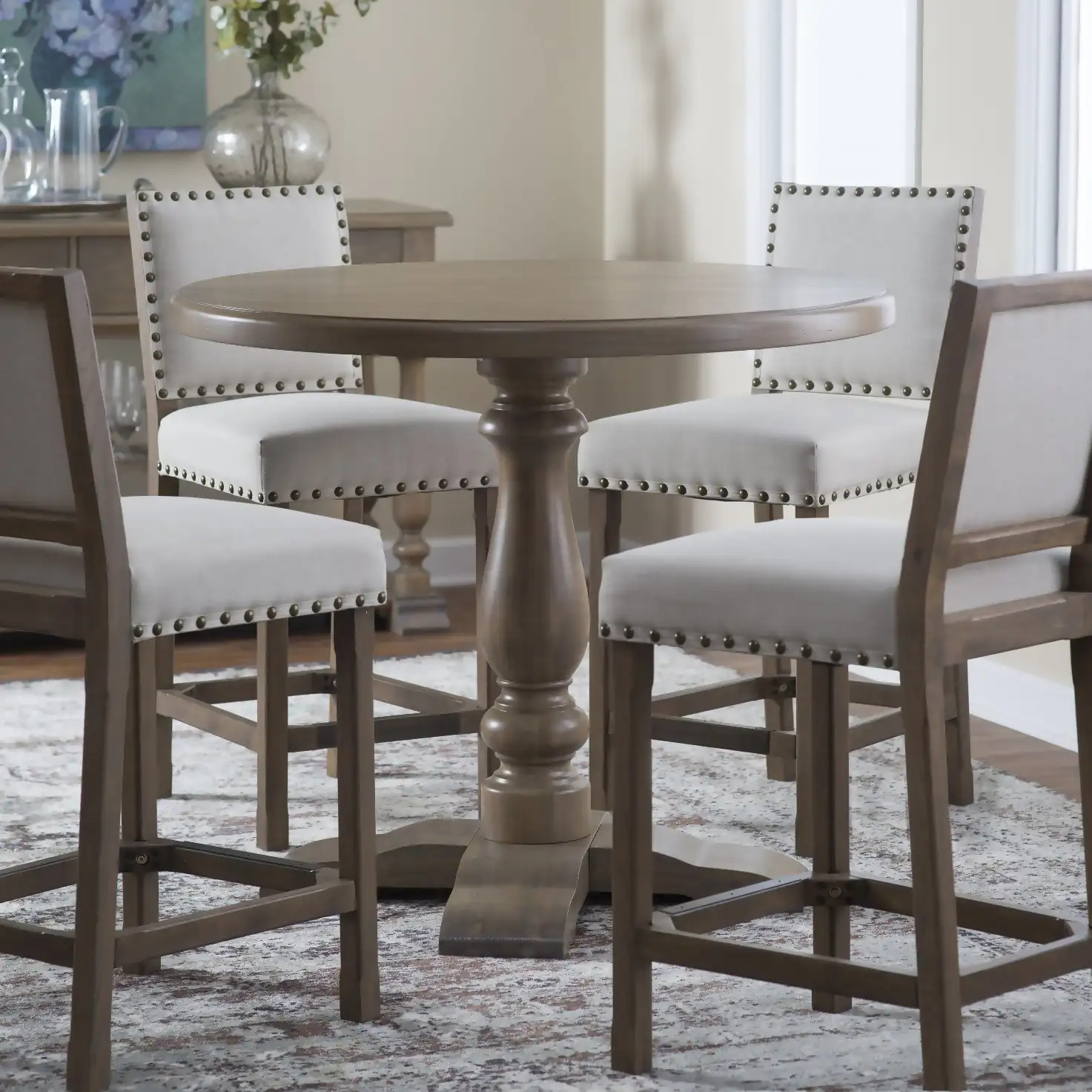 Keep in mind that an oval shape is acceptable, but you won't have enough space for both your family and friends. Think twice before buying such a table!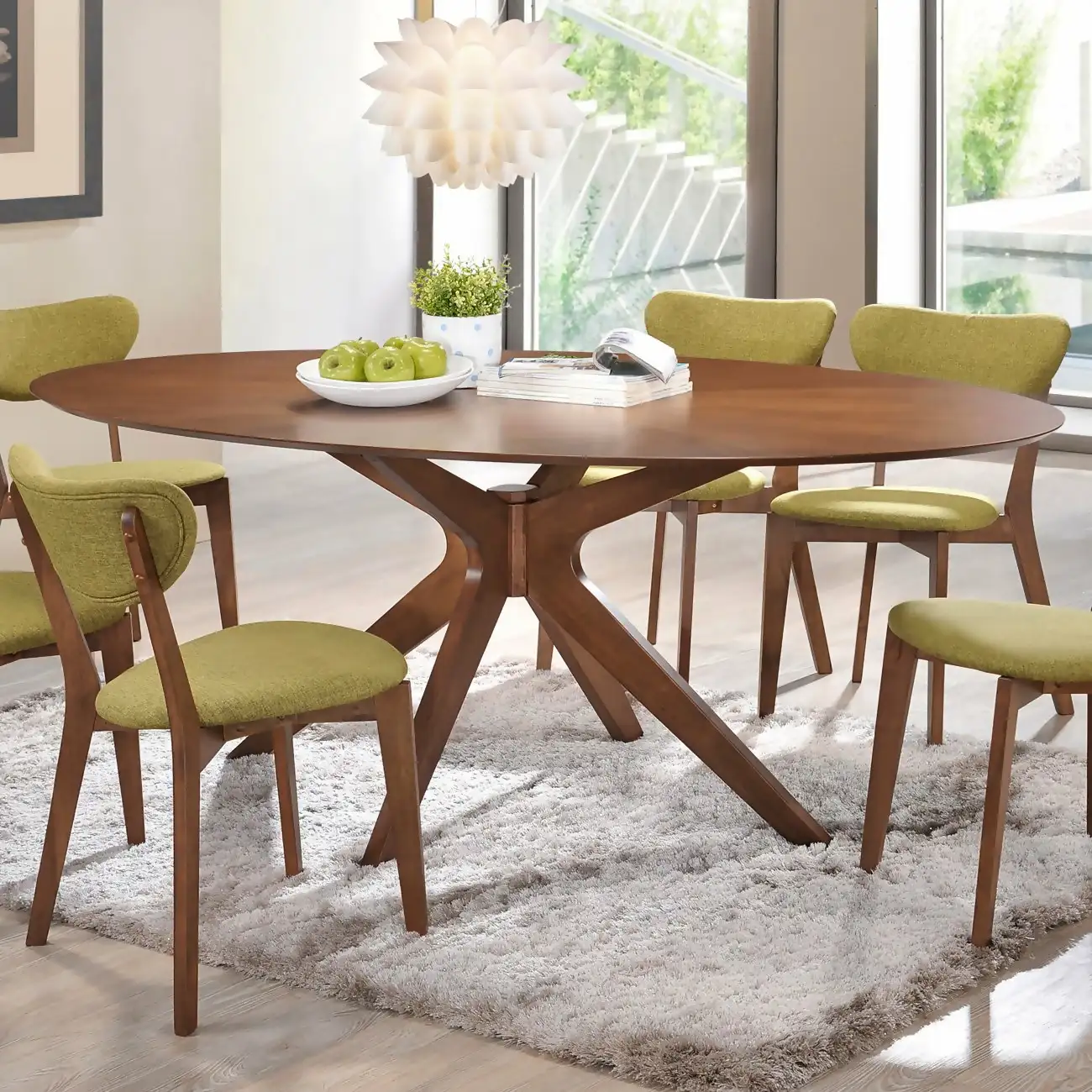 If you choose a rectangular table, you'll have enough seating capacity in your dining room. A rectangular table 36" to 48" wide and 6 feet long can seat six to ten persons.
A table with a pedestal base looks harmonious in classic formal dining rooms.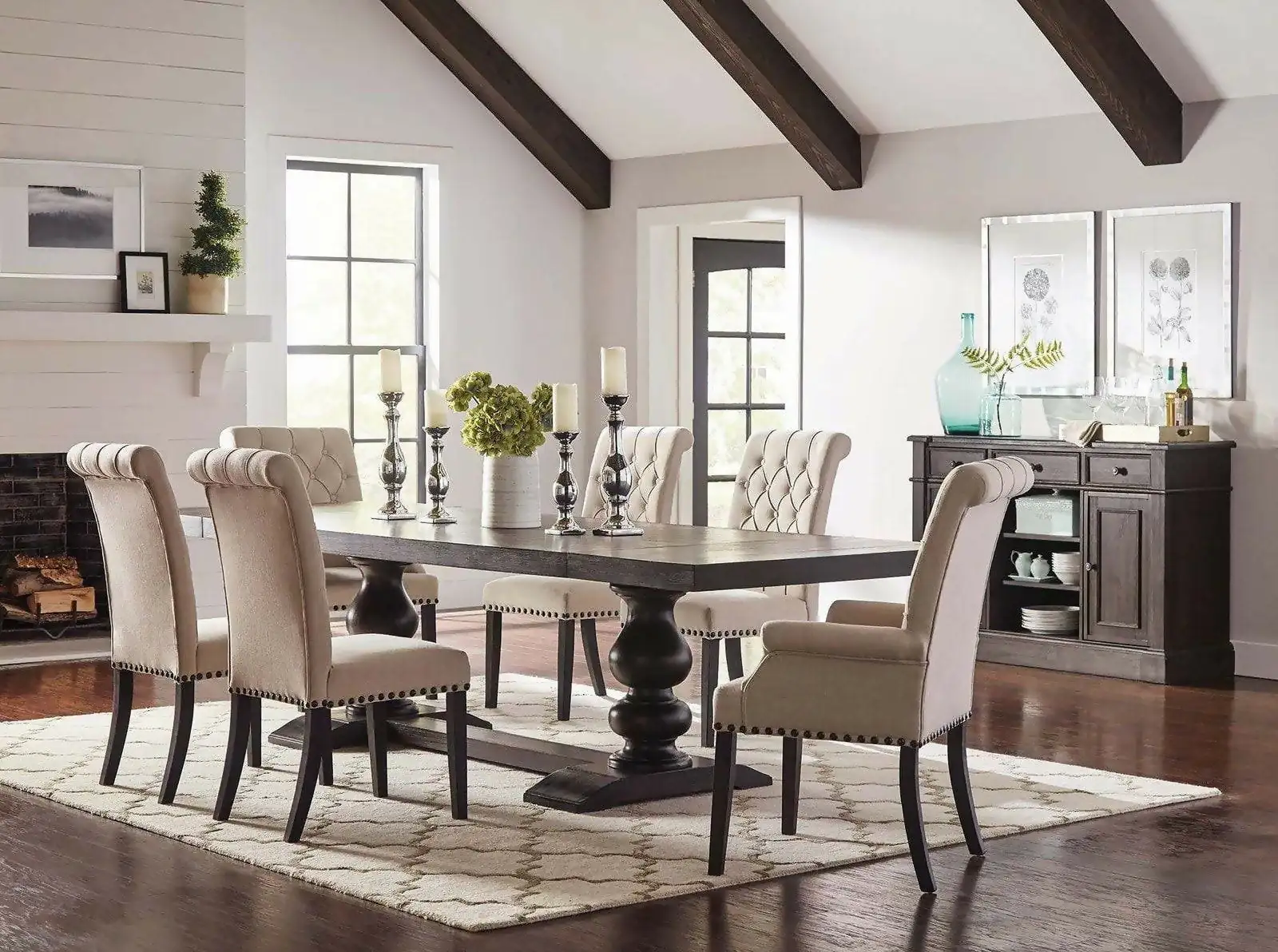 If you like informal furniture, choose a table and stools with conic legs. It's a modern choice for casual dining rooms.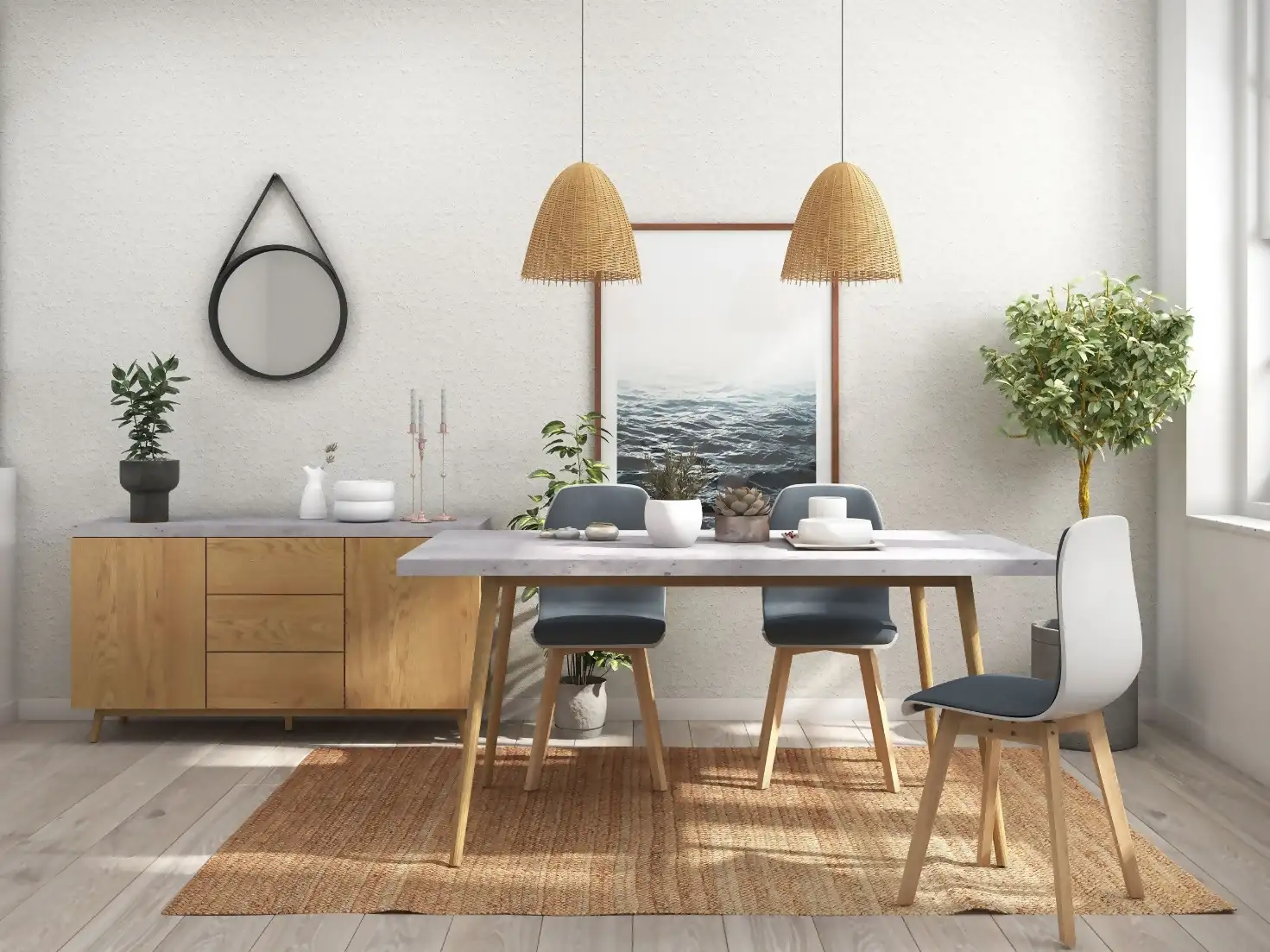 Dining Room Accessories
When you decorate your dining room, don't forget about creative décor items, such as wall art, a chandelier, a tablecloth, doilies, plate coasters, statuettes, plants, or a bouquet of cut flowers. But put a limit to kitsch, even if you like to cram all the possible accessories on your dining table.
Pay attention to creative details when you decorate a dining room for the holidays! What's Easter without a statuette of a rabbit on your dining table?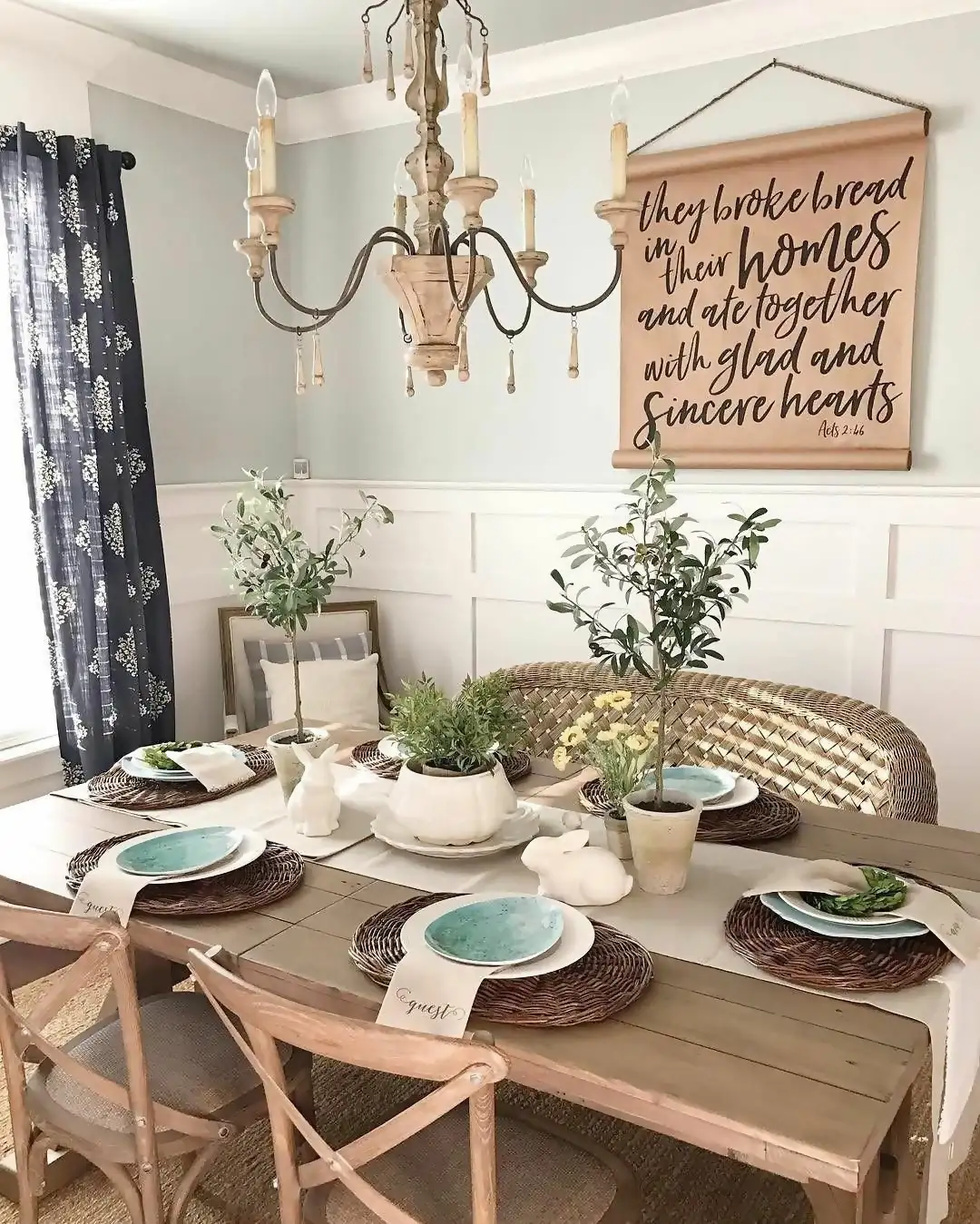 Dining Room Wall Décor
Dress up your dining room walls in majestic pictures, photos, mirrors, and other masterpieces. That's a great way to create the main focal point of your inspirational eating space.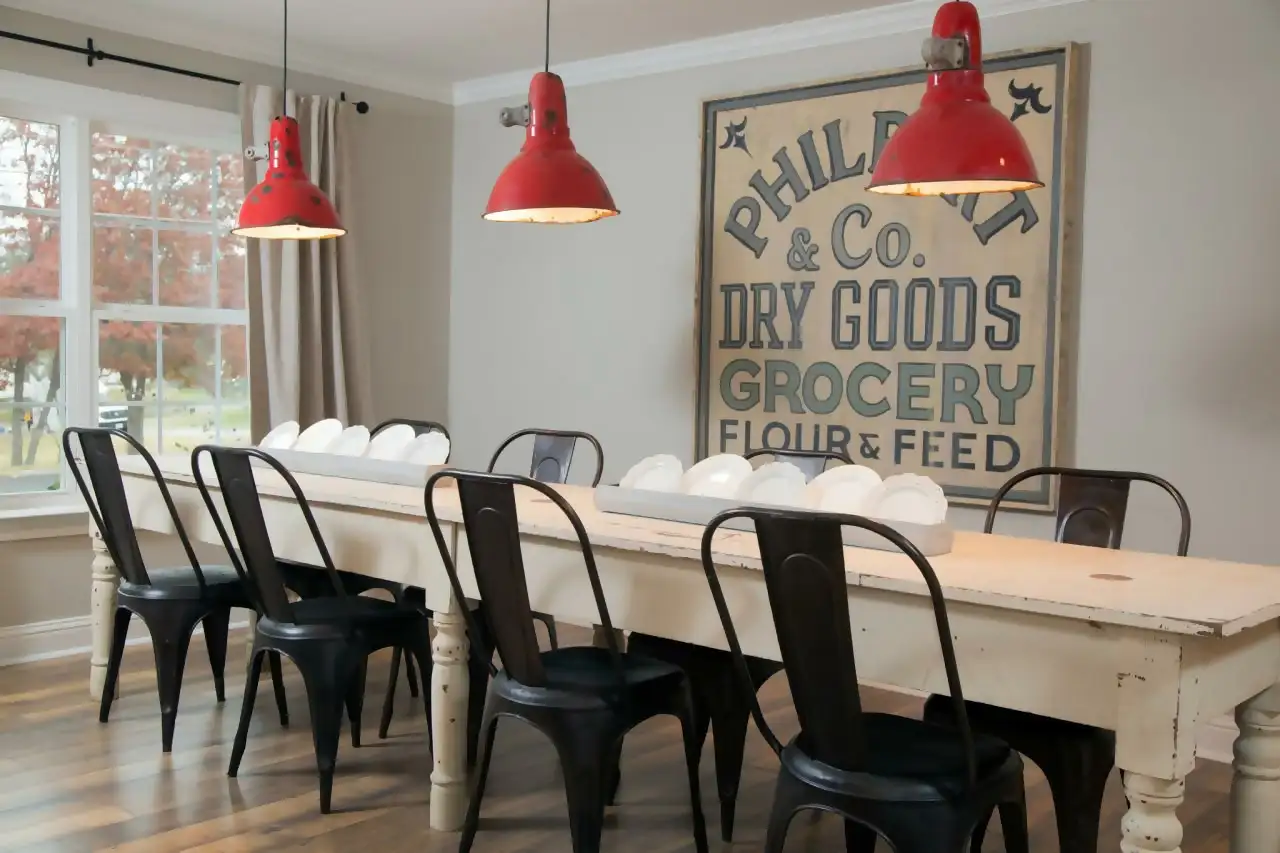 Take Care Regarding Manners
If table etiquette and manners mean a lot to you, think about thematic wall art. A list of table manners is the perfect decal to add smartness and inspiration to your dining room.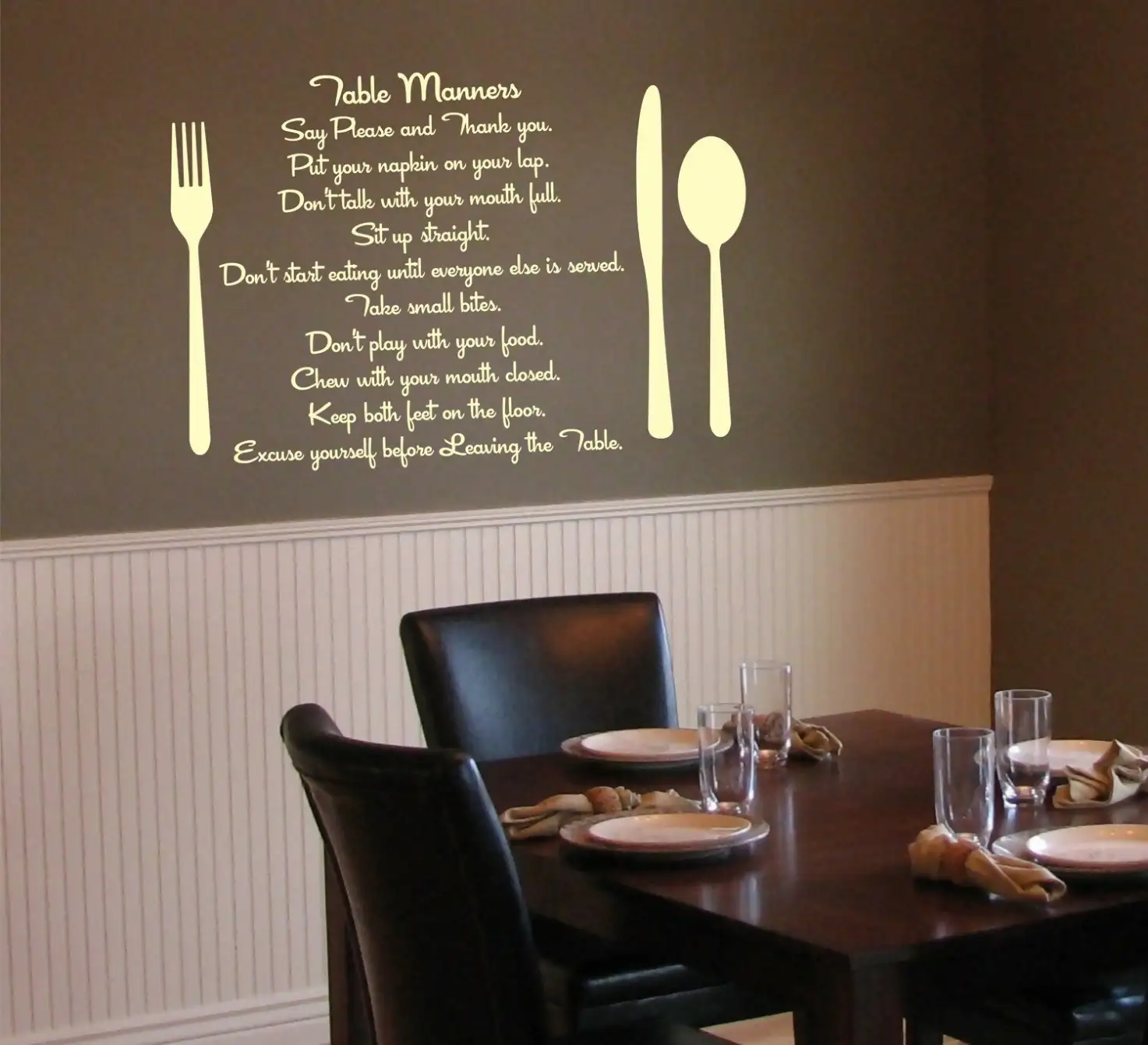 Vintage And Antique Wall Décor
When we talk about artwork in formal dining rooms, you could hang vintage and antique décor items on your walls. For instance, hang a picture which depicts something close to you with a deep meaning on one wall, and create a gold-themed visual composition of abstract symbols, framed photos, and a mirror on another one.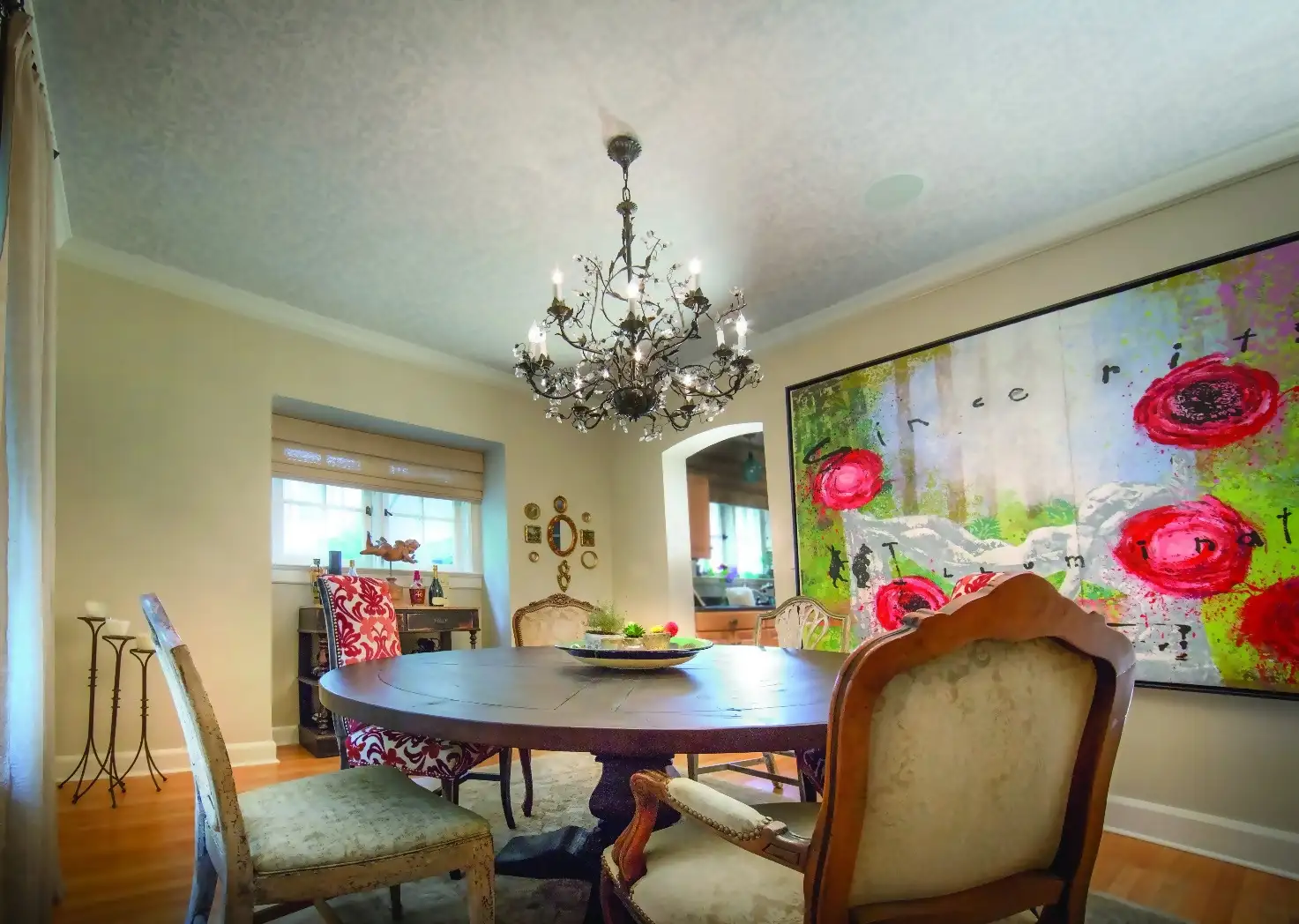 Christian Wall Art
If you want to emphasize your religious values and faith, add Christian décor elements to your dining room. Notable quotes from the Bible make you feel grateful and pleasant. If you believe in God, inspirational phrases are awesome wall art for your dining room!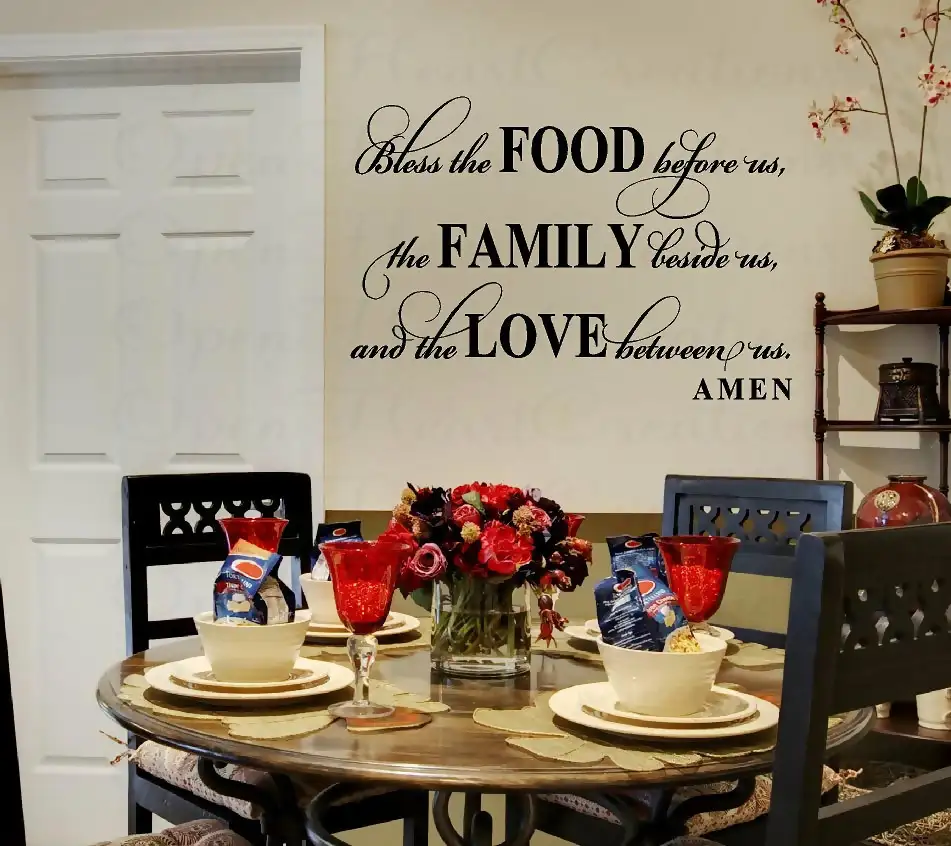 Dining Room Styles
There are various design styles, but don't get confused when choosing the best one for you. A dining room is a part of the general décor concept of your entire dwelling. If you have a creative personality with a modern home, display your bright lifestyle inside your dining room.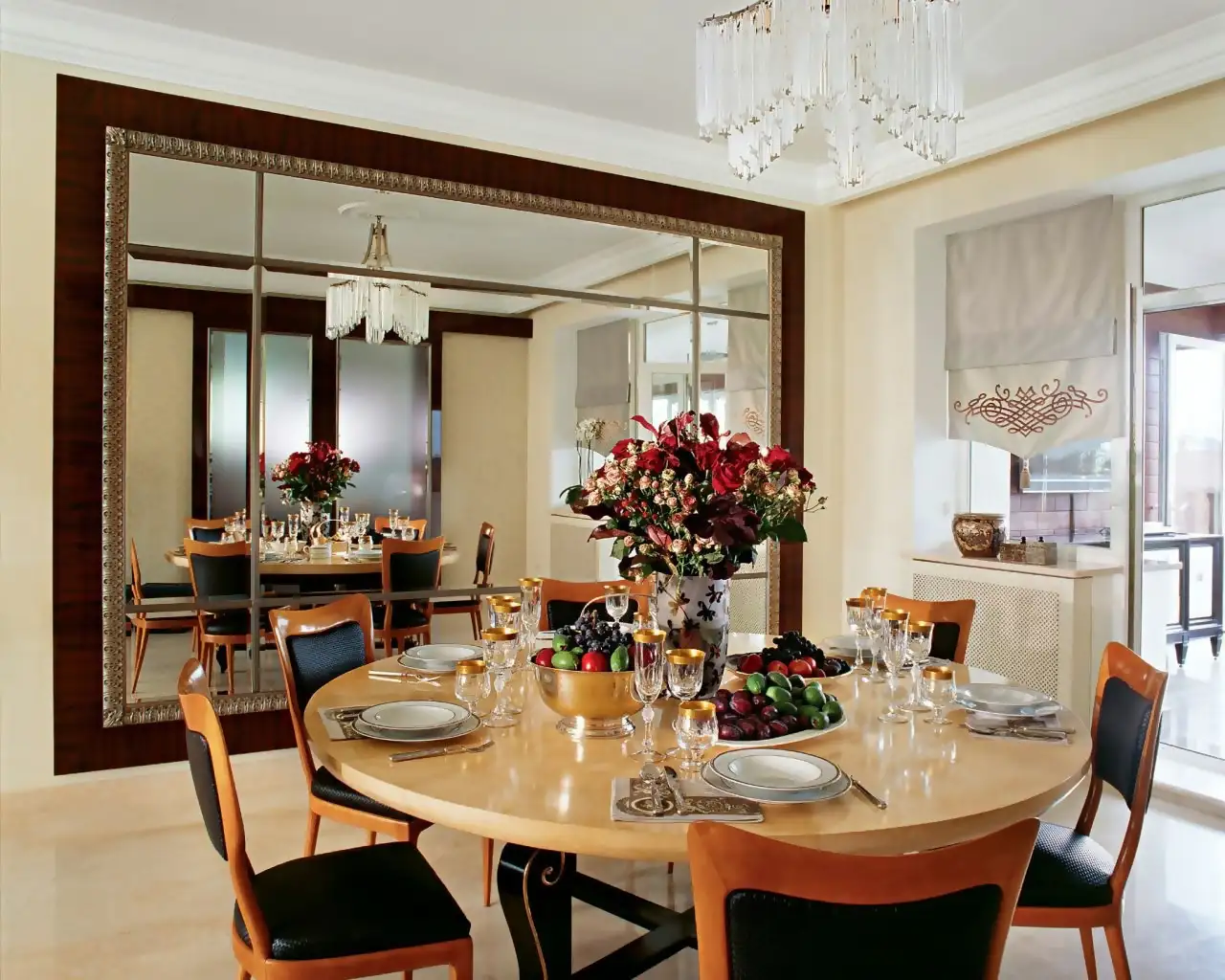 Modern Dining Room
A modern dining room provides stylish and uncluttered space decorated with a minimalist approach. Lines are soft and sleek, or hard and strict. Furniture pieces and décor accessories display the simplicity of geometric shapes and an elegant appearance to the entire room. For materials, a combination of glass, metal, and wood is the best choice for a modern dining room. Think about a majestic light fixture to draw your guests' eyes.
When we talk about walls, play with colors and textures. Dark-colored walls are a stylish backdrop for artwork. For instance, a mix of a mirror and abstract picture on a black wall is a great way to create the main focal point. These art pieces could be gold-framed to emphasize the dramatic character of your dining room.
If you like a cozy ambience, install a fireplace! Place it in the center of the wall or in the corner of the room. Think about a white fireplace to create a contrast with dark walls. Also, a fireplace is an important part of Christmas décor. It's such a warm feeling when you look at your fireplace and Christmas tree during cold winter days.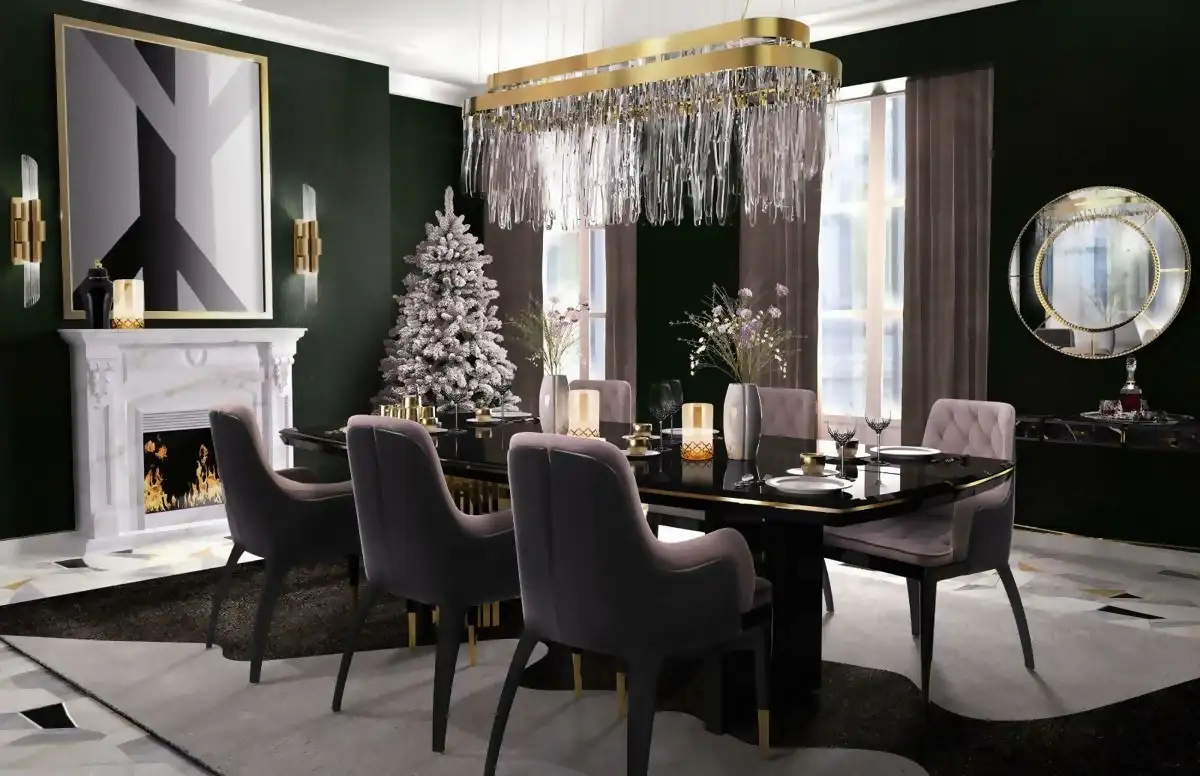 Contemporary Dining Room
A contemporary dining room is both casual and informal. Usually it's a part of a kitchen or/and living room. When you decorate such a dining room, follow basic principles to make it both modern and minimalist.
A contemporary dining room features clean and strict lines, geometric shapes, neutral colors, natural materials, and ergonomic furniture. It's all about functional décor solutions, because cooking, washing, and eating zones are located in a common room.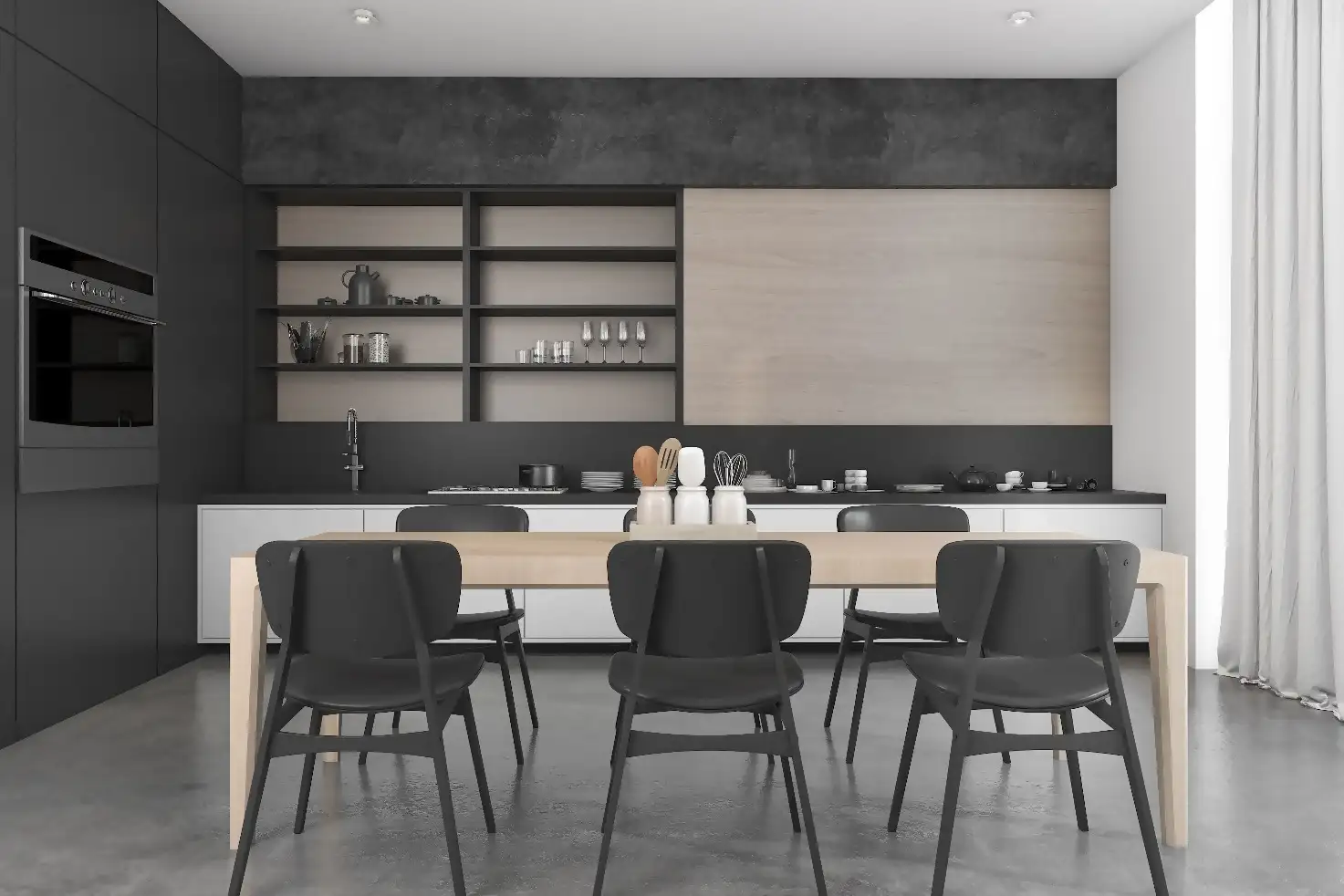 French Country Dining Room
A French country dining room is an elegant place for eating and relaxing. Think about a table made of natural materials and chairs covered in soft fabrics to emphasize southern charm. For colors, choose warm hues, such as beige, cream, soft blue, and light yellow.
Dress up your French country windows in sheer curtains or blinds. Or just leave them uncovered to celebrate natural light.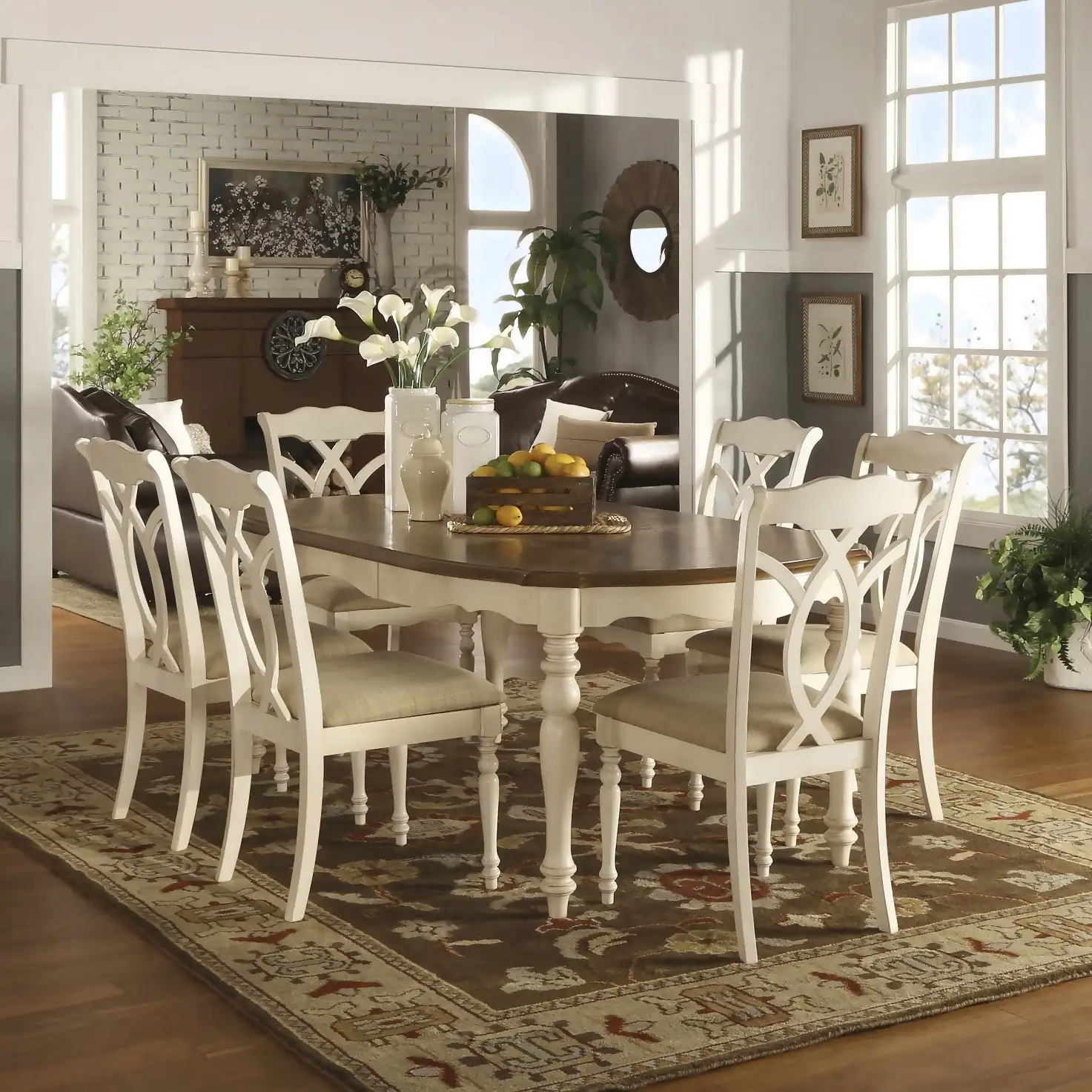 Traditional Dining Room
A traditional dining room is a good choice if you like deep wood tones, timeless décor details, and elegant furniture pieces. A traditional style gives you a "homey" feeling, simplicity, and comfort when you eat with your family in your cozy dining room.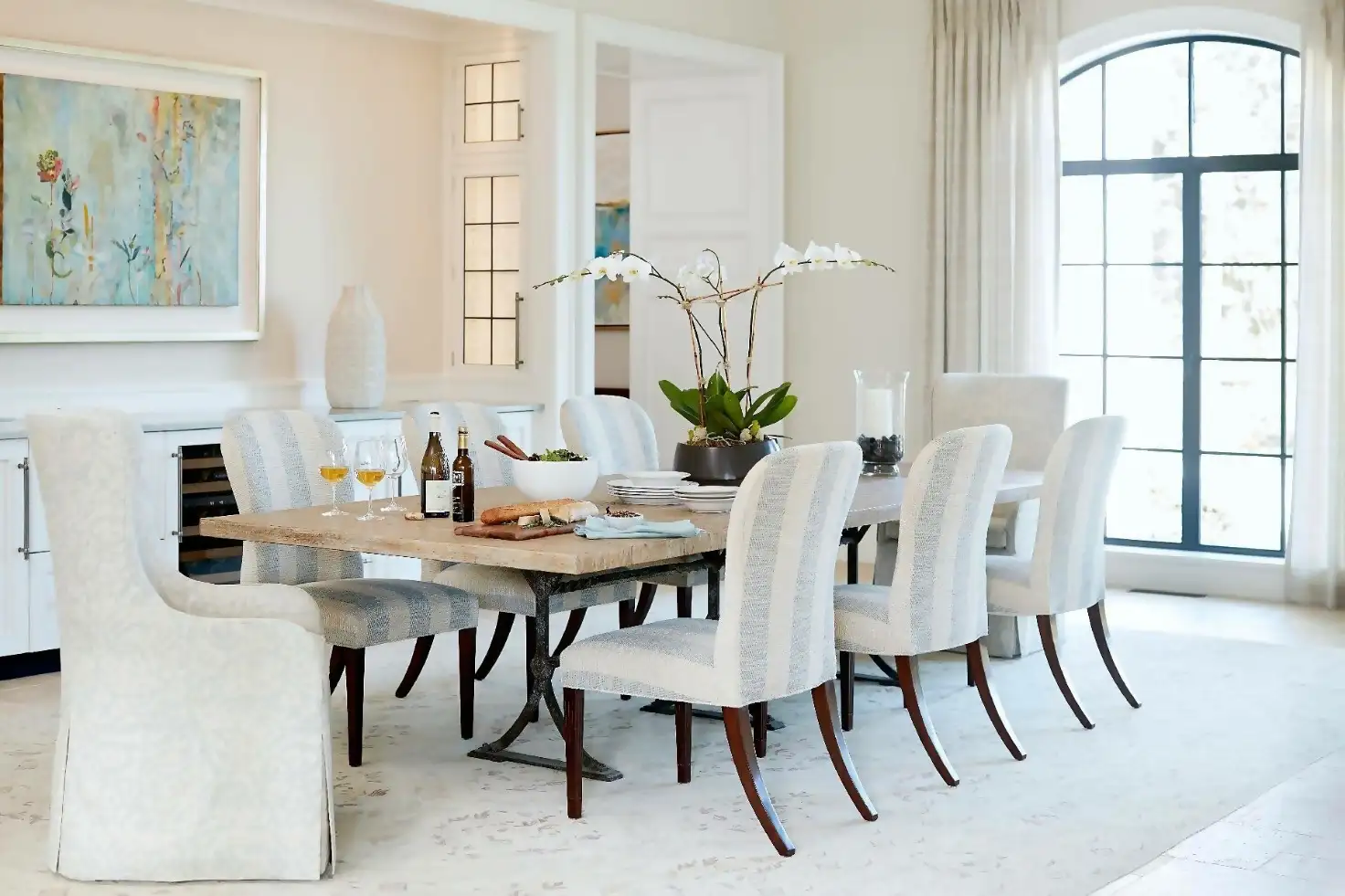 Colorful Dining Room Décor
Liven up your dining room with magnificent colorful ideas! Whether you like light or bold hues, create an inspirational place to spent more time with both your family and friends.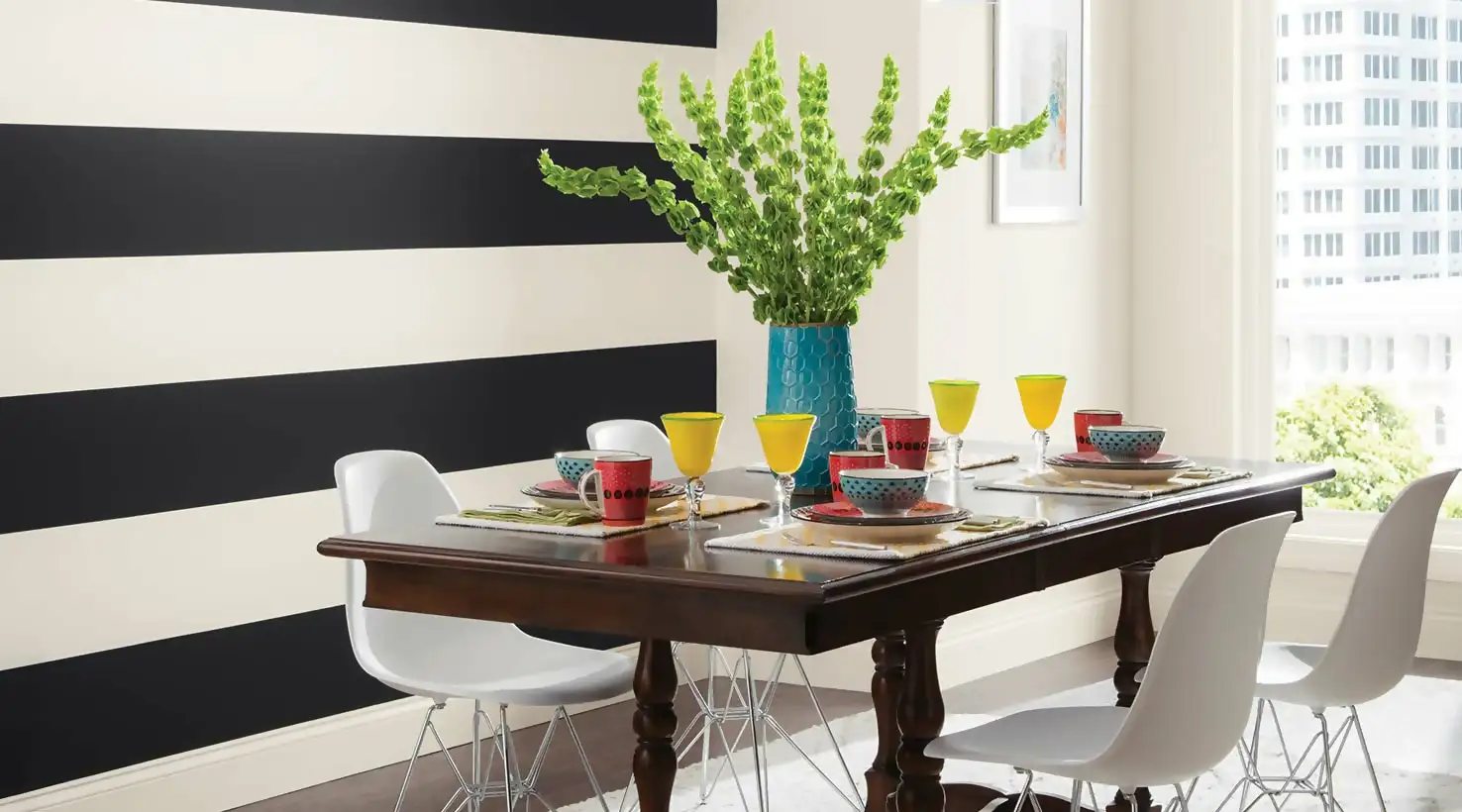 More White
Jazz up a white color with other muted hues to create a serene ambience in a modern dining room. For instance, a mix of a pure white table, stools, cupboard, ceiling, and light fixtures with soft brown window treatments, area rugs, and walls is a brilliant décor solution.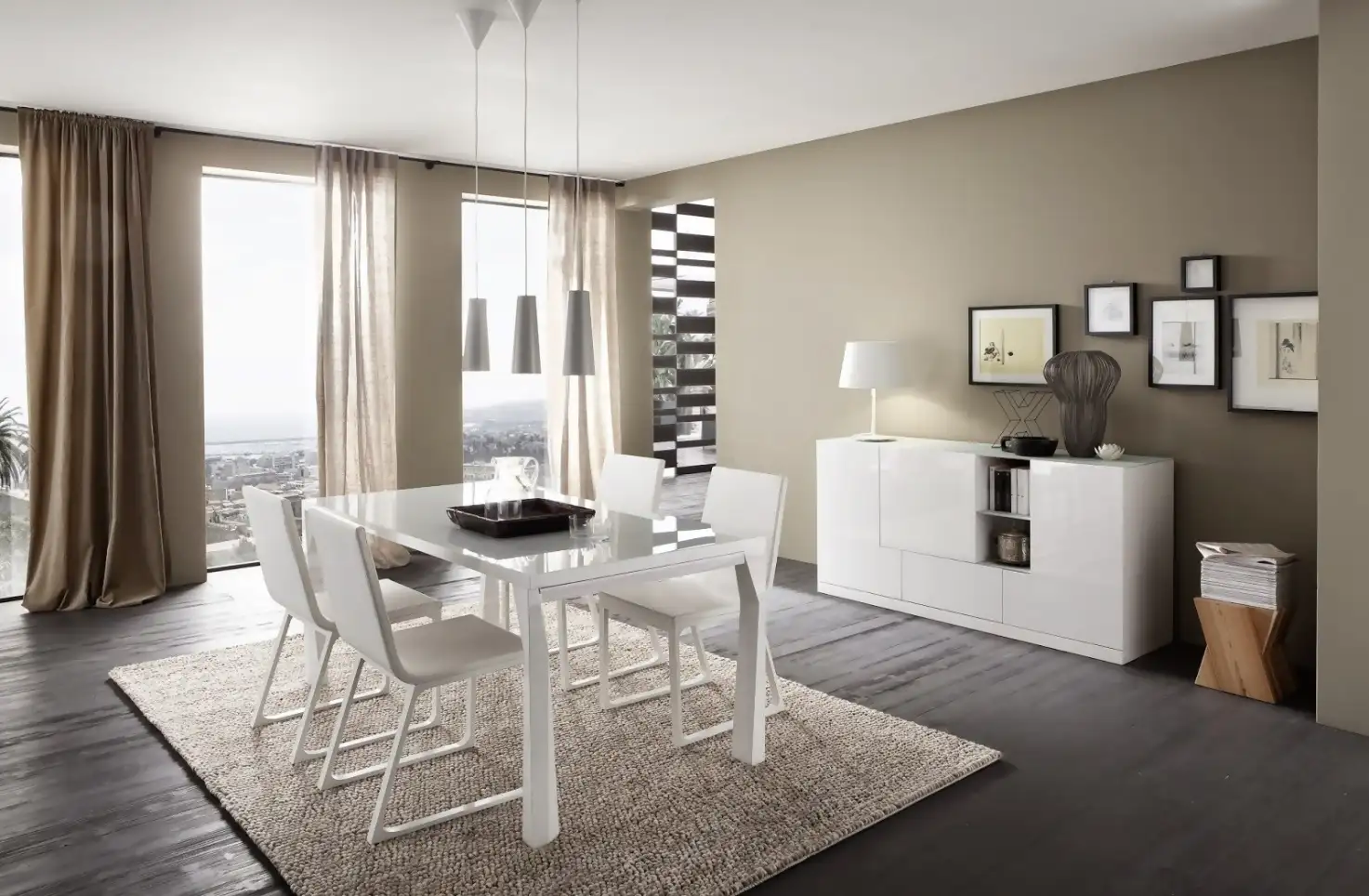 Black And White
Show off your bold personality and create drama with a timeless black and white color combination. You could mix black walls with white patterns or other decorative elements to make your dining room both stylish and extraordinary.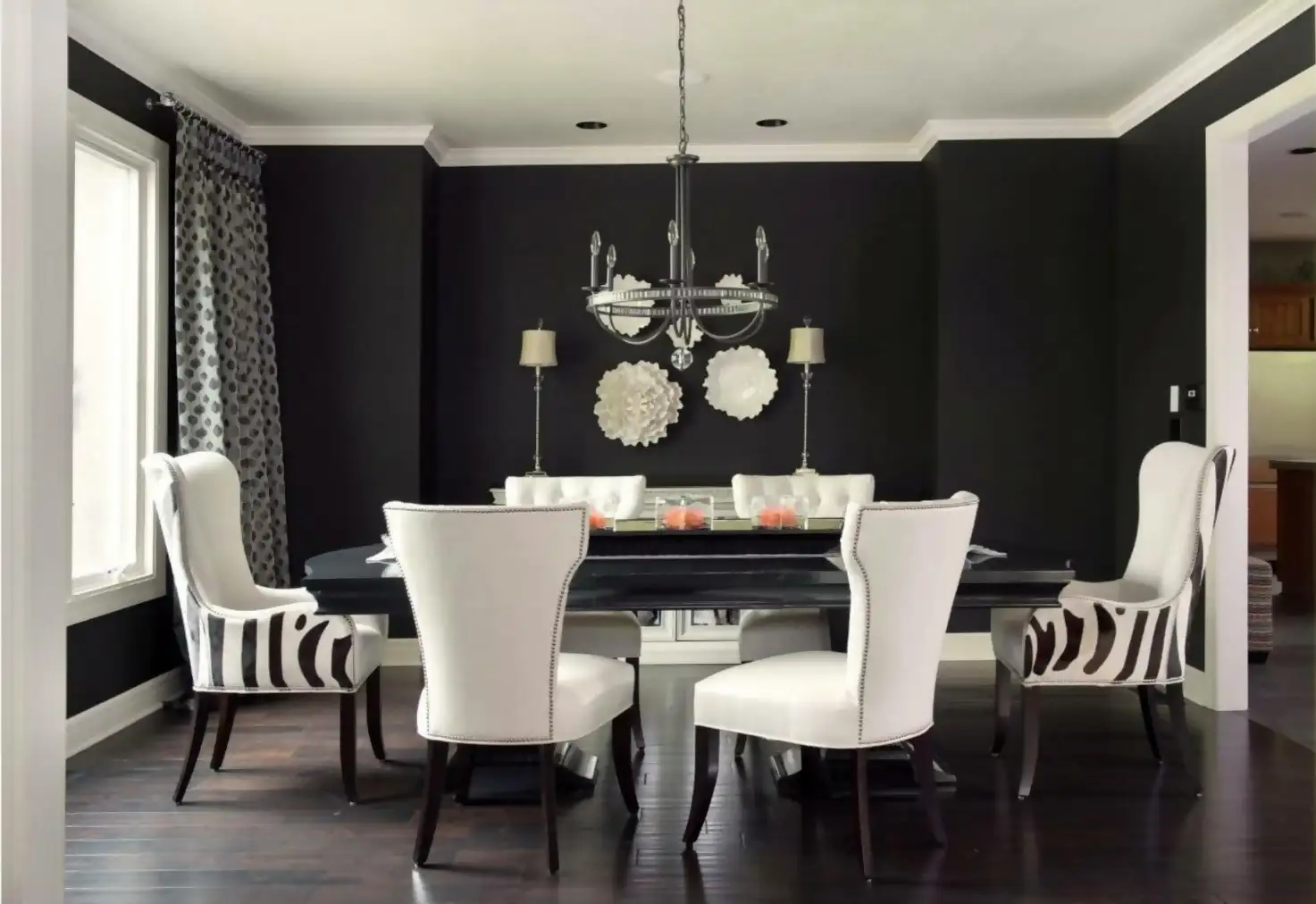 Blue Dining Room
If you like a blue sky and the deep sea, make your dining room like a natural paradise. Blue is a color of personal stability, wisdom, and confidence. No doubt that a blue dining room is a great choice!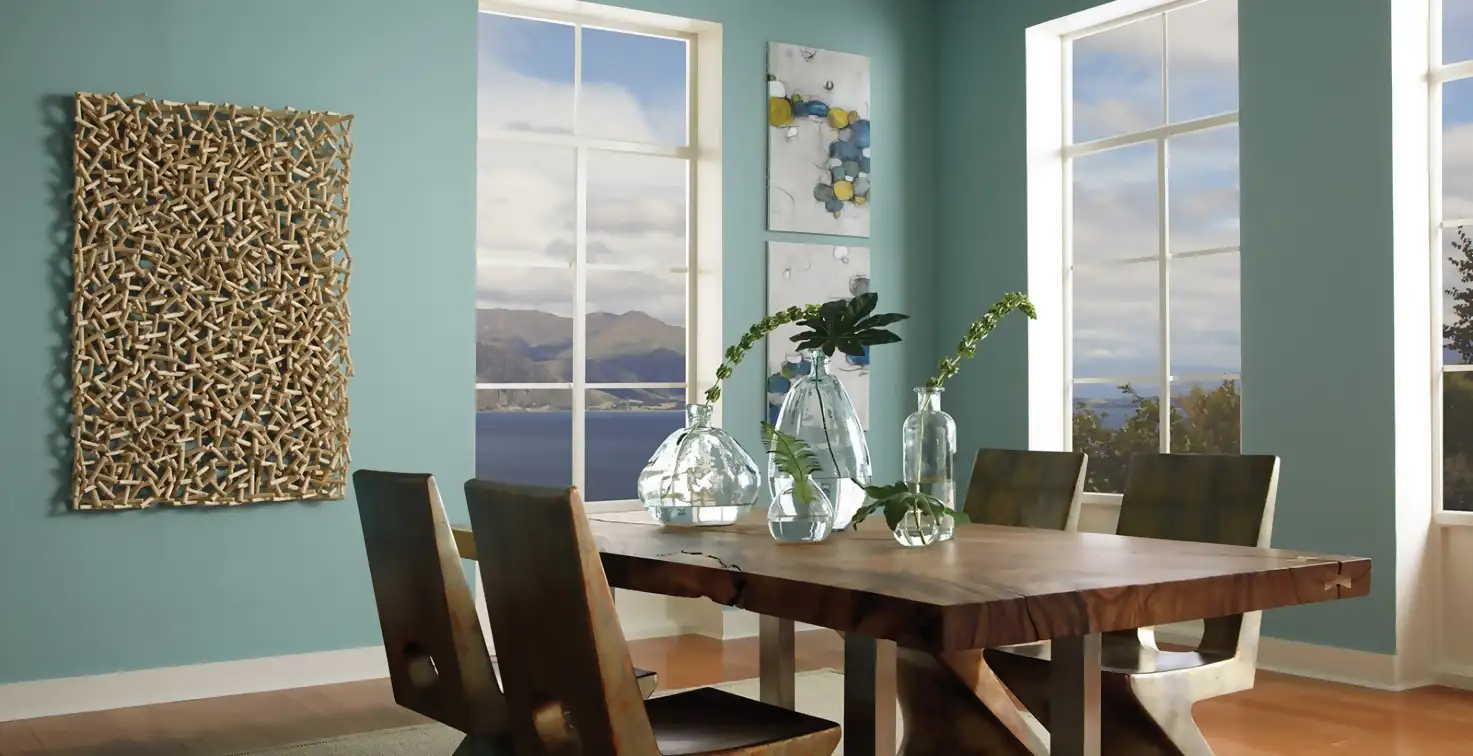 Green Dining Room
Make your life more energetic with a green dining room. That's a great way to be inspired by nature and have an optimistic mood every day!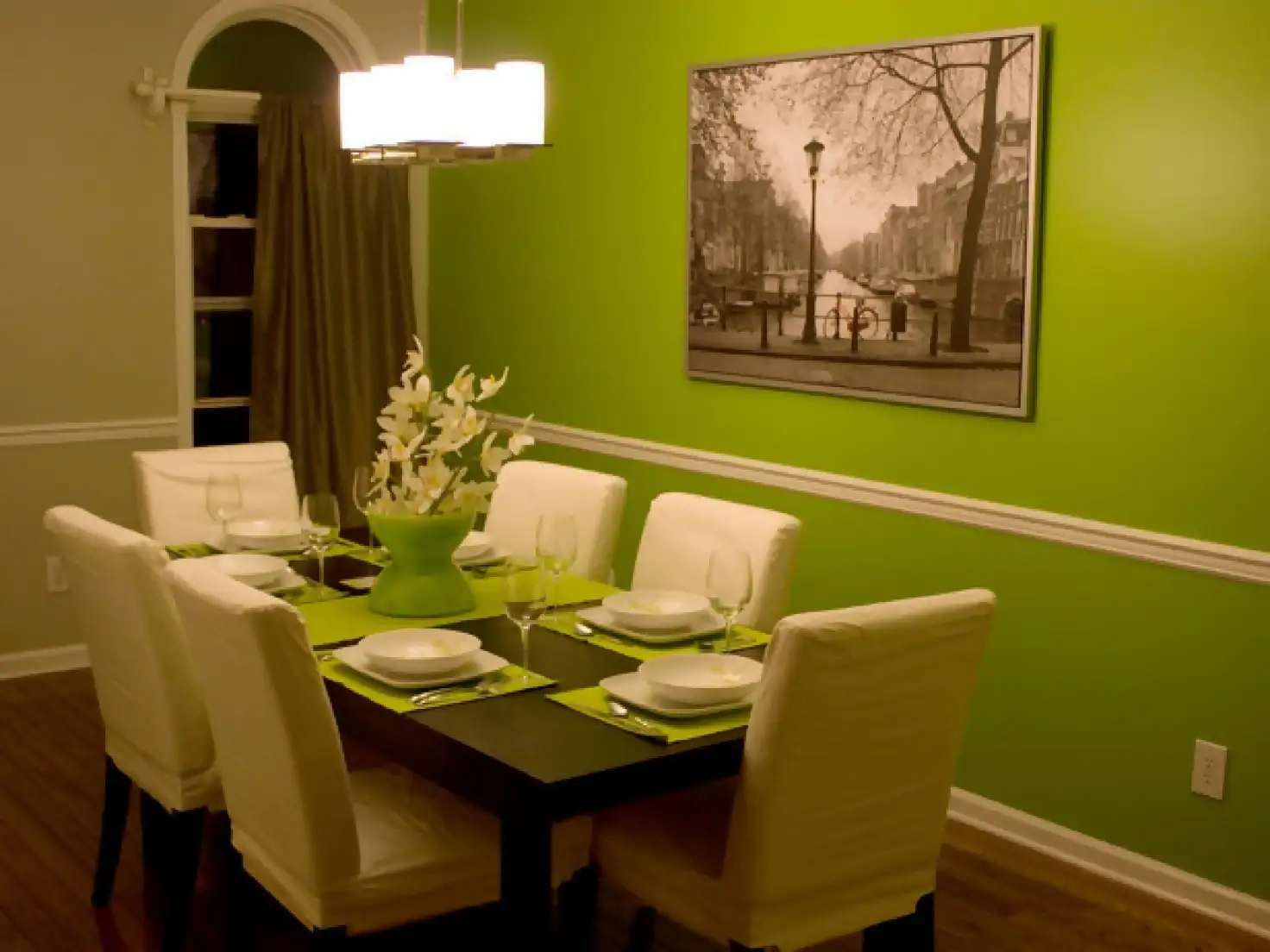 Red Dining Room
A red color is related to liveliness and social interaction to make your life brighter. If you want to increase your appetite and create a passionate ambience, choose wine, cherry, or candy red hues for your dining room.