Cool Star Wars Bedroom Décor Ideas
Are you a big fan of Star Wars movies? It's time to decorate the bedroom for you or your kids in a Star Wars-inspired theme. Be creative, no matter what your age is.
When you decorate the bedroom, it's all about feeling happy and relaxing in a cozy atmosphere. Liven up your dream Star Wars space and forget about limits!
Star Wars-Themed Bedroom
When it comes to decorating your bedroom, you could organize a thematic space. For example, with decorations based on The Empire Strikes Back and the planet Hoth, you could feel a fighting spirit in your bedroom. If you have enough money, you could order the bed, which is created as a T-47 airspeeder and has a trundle underneath for extra relaxing space.
The textured wall papers (murals) increase the feeling that you are on an awesome planet in a galaxy far away from the Earth. Some creative details like droids or other movie heroes, wall art, or Star Wars LEGO items are all awesome additions for the cosmic space, especially for a teenage bedroom.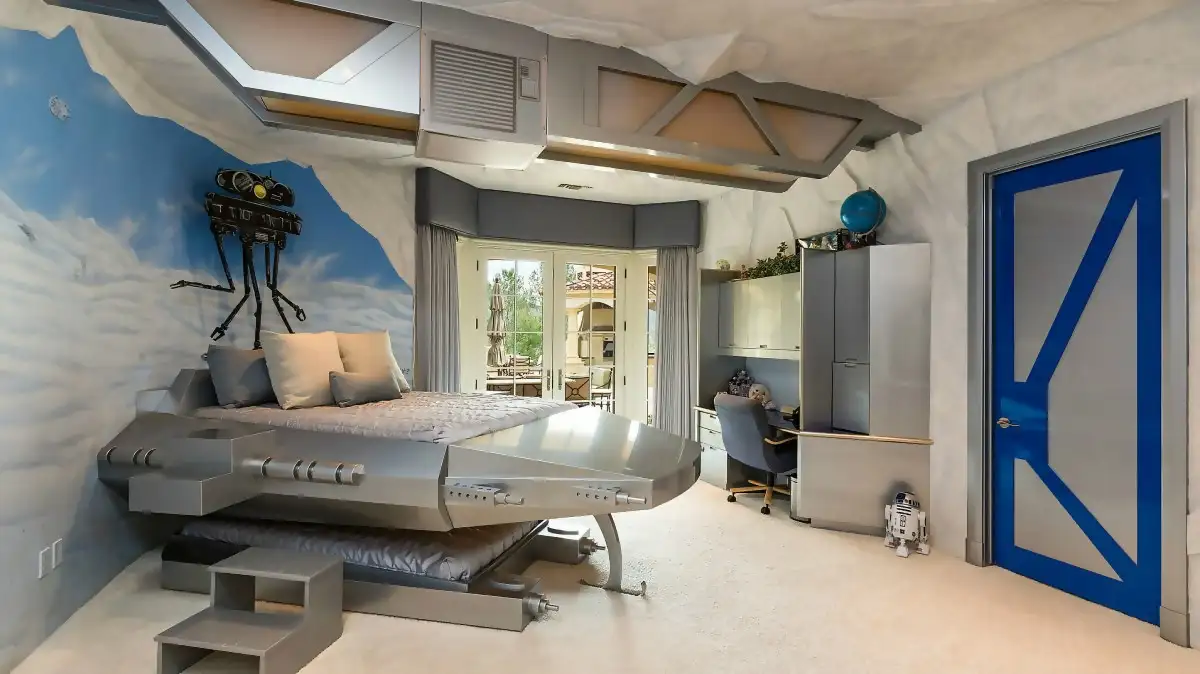 How To Decorate A Star Wars-Inspired Bedroom For A Man
If you decorate a man's bedroom, you had better organize maximum functional space without clutter. Use a minimalist approach for every décor detail.
To have a limit of Star Wars-inspired décor, choose wall art as the main focal point and a classic color combination. Usually, black, white, and grey hues are ideal for men.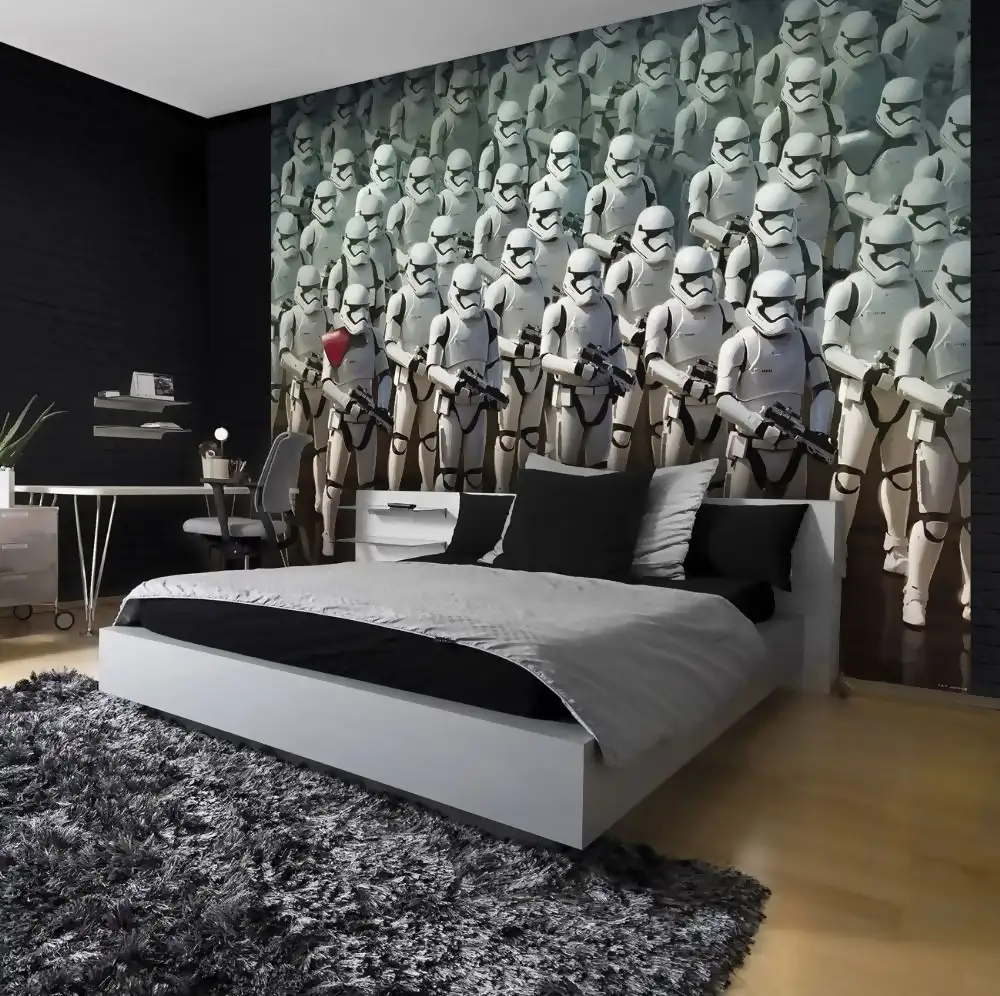 For your decorating, choose your favorite interior design style, such as modern, contemporary, eclectic, or Scandinavian. If you prefer the last one, you should follow a Swedish principle "Lagom är bäst," which means "Enough is as good as a feast." Following the lagom lifestyle is a great way, sometimes, to feel like a strong Jedi in your own galaxy, but also keep in mind that you are a man who has to make money and live in the real life.
If your kingdom of a strong Jedi has a more thematic atmosphere, it might look like a hotel-style bedroom. But when you add lovely lifestyle details, it's all about your cozy sleeping and relaxing space.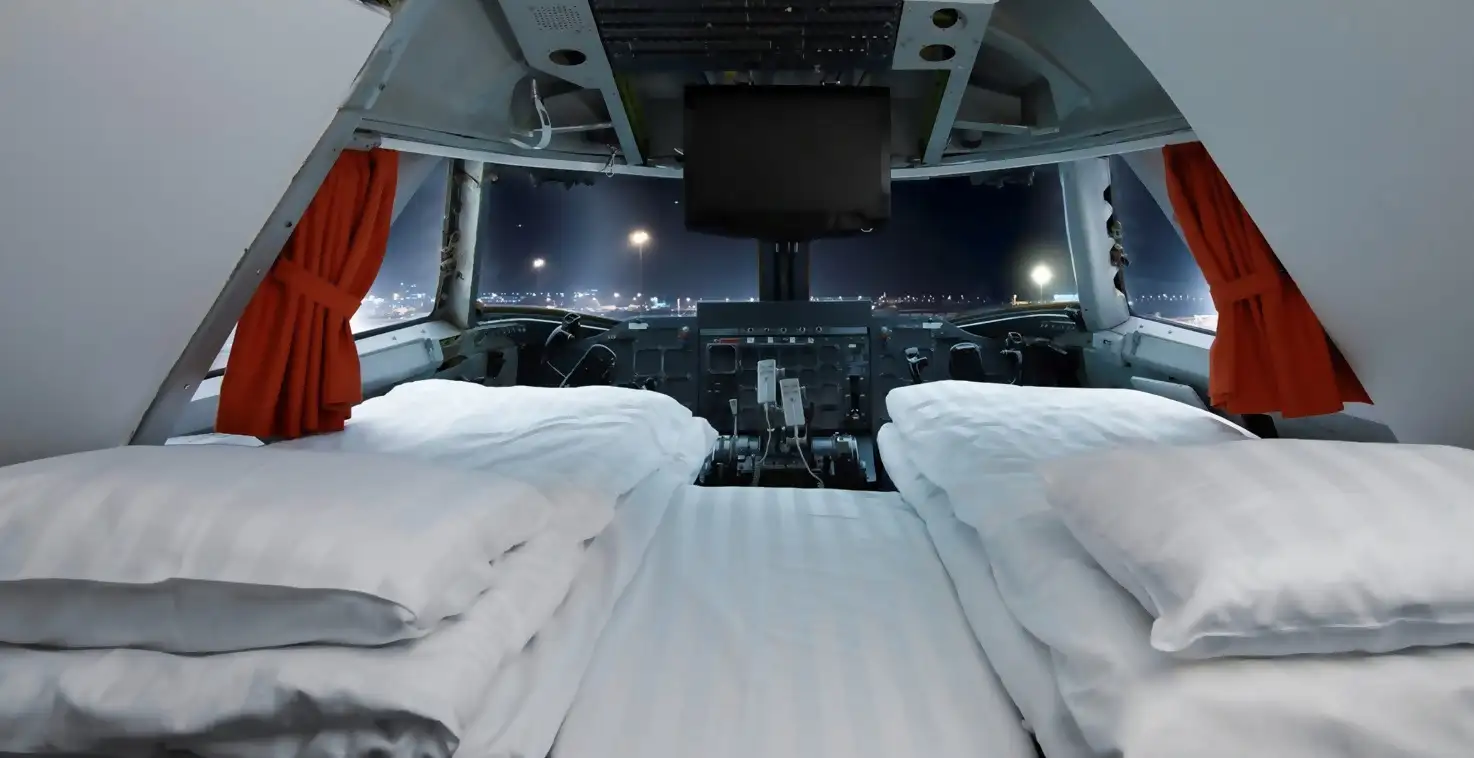 If you decorate a smaller bedroom for a man, follow a minimalist principle: «less is more». This can make your bedroom harmonious.
Considering various types of beds, you could choose a loft bed, which is a bunk bed with only the top bunk. This is a place for your sweet dreams and fantasies. Keep calm and fall asleep the Master!
Beneath the bunk, you could organize your working space with a laptop, notebooks, boxes and drawers for storage space, and even place a plant for a fresh touch.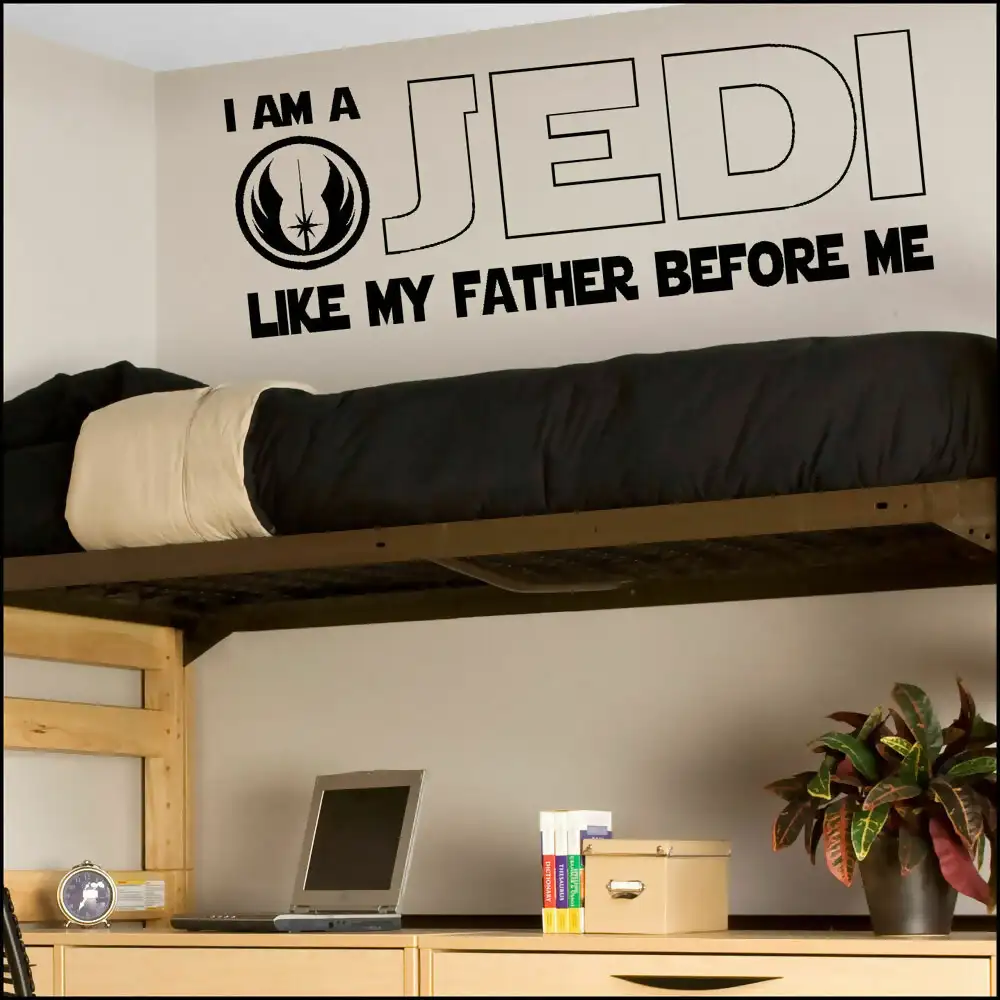 Inspirational Star Wars Accessories For Everyone
How about creative Star Wars accessories? Spruce up your bedroom with nice lifestyle items and lovely knick-knacks to make your interior brighter and mood better!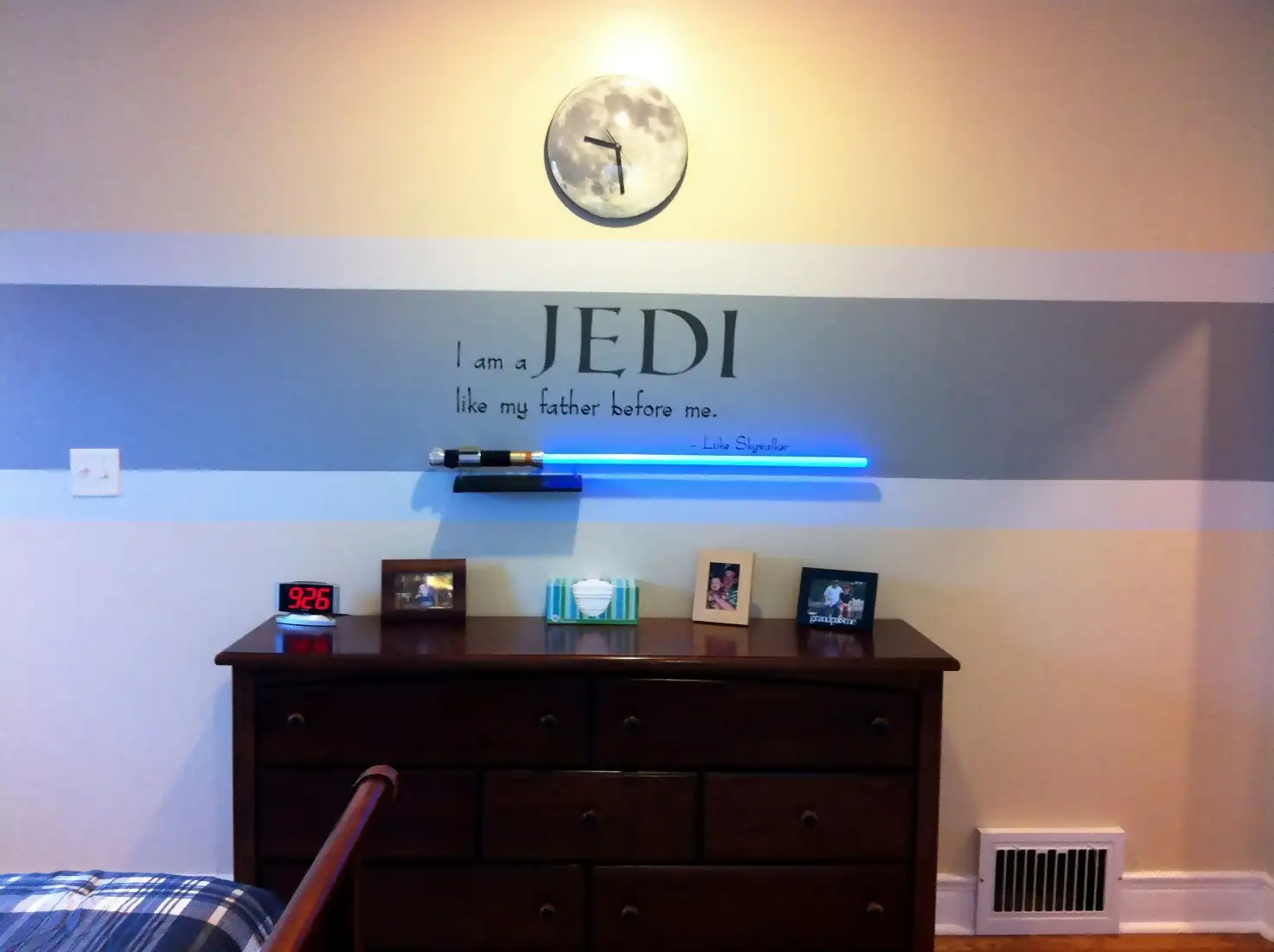 LEGO Star Wars Bedroom Décor
Kids and their parents like LEGO a lot. Various LEGO Star Wars items and sets could be an ideal addition for your Star Wars-themed bedroom.
The LEGO Group produces a few Star Wars construction sets, such as "Imperial Dropship," "Death Star," the amazing "Millennium Falcon," which is the dream of many children and adults, statuettes, and clocks with movie heroes and other LEGO Star Wars elements.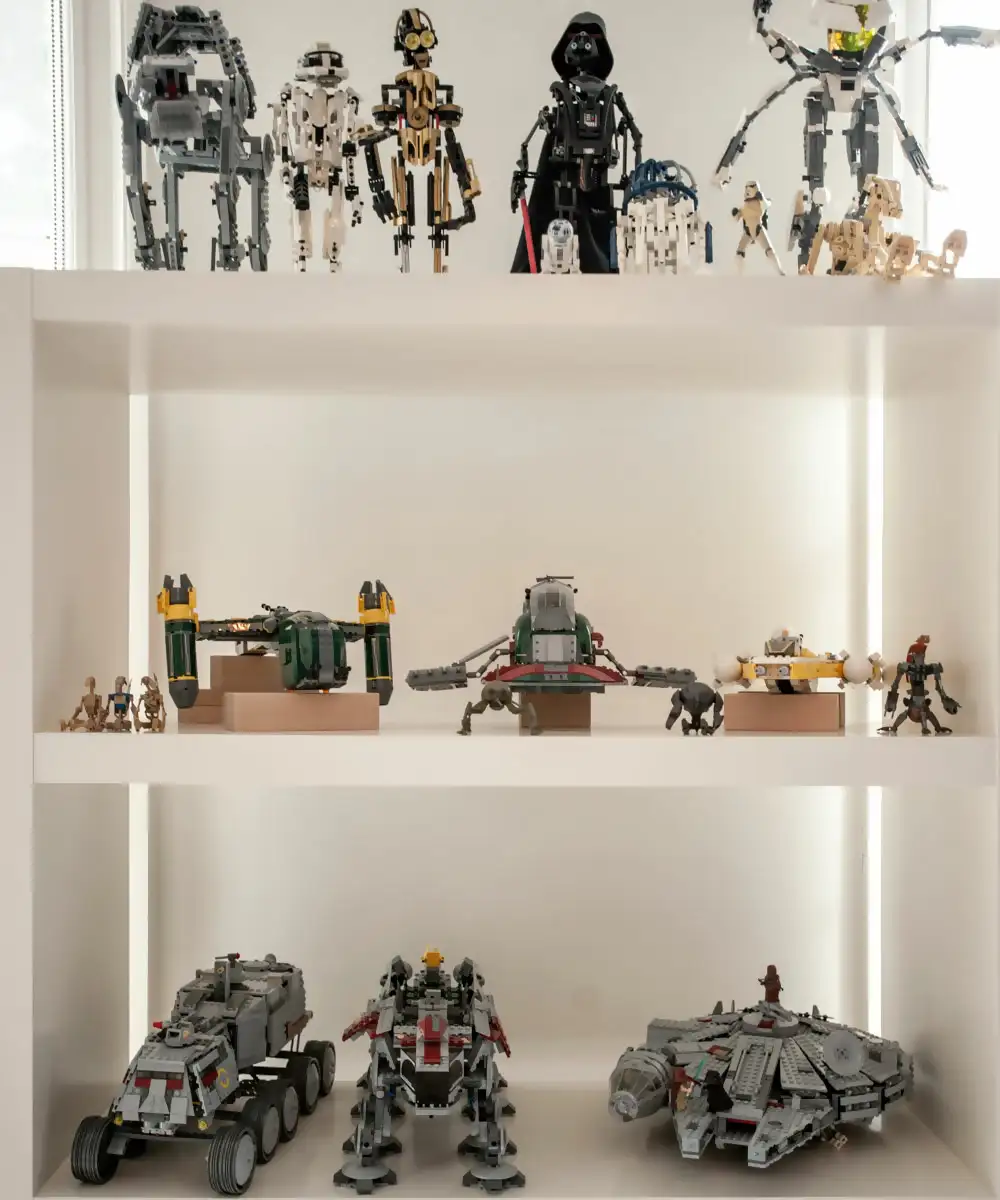 Do You Have Lightsabers?
If you want to feel like a real Jedi, you should have a lightsaber. But just one sword with a powerful beam of light isn't enough for the real Master. What about a collection of lightsabers?
Star Wars Bedroom Sets
When choosing your bedding, think about Star Wars-themed sets. These bedclothes and pillows are a perfect design solution for a boy with a rebellious character.
What about Darth Vader (who in the past was a good guy called Anakin Skywalker)? The bedding depicts him on the Dark Side.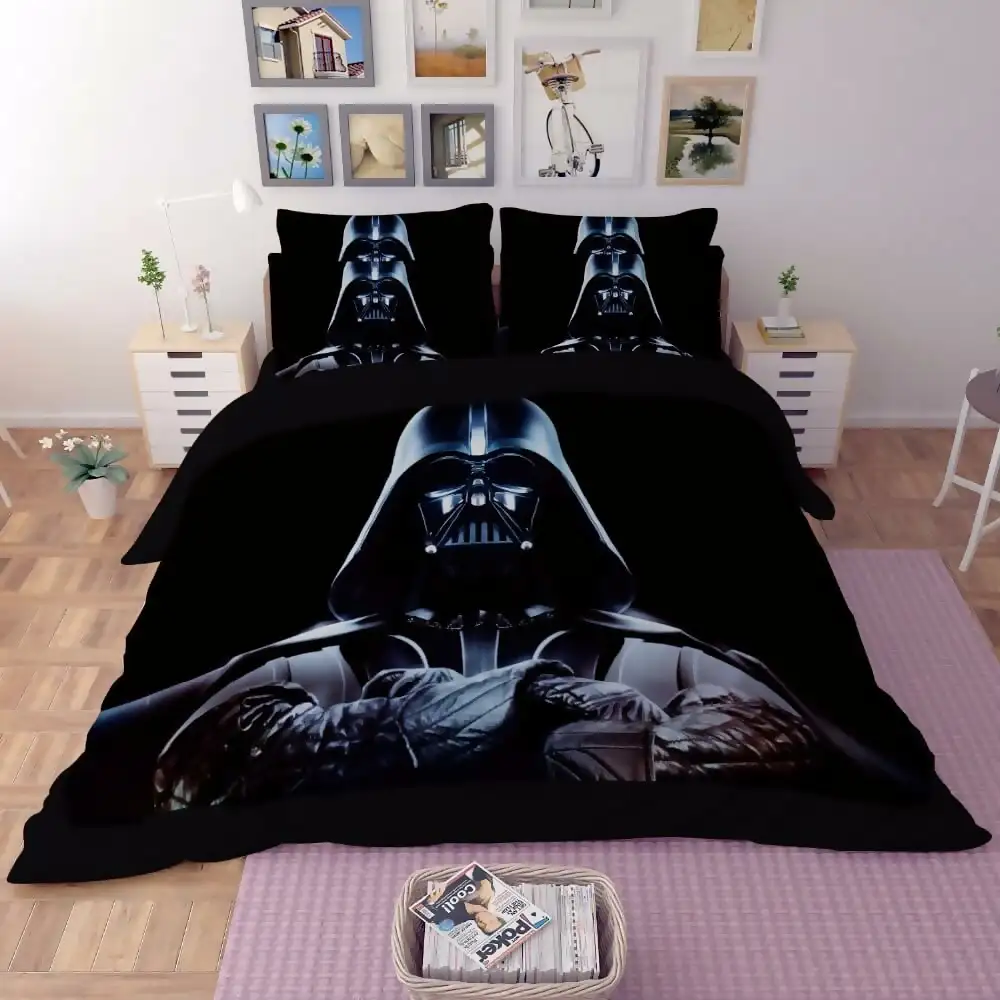 Maybe you want bedclothes and pillows with kinder heroes. In this case we recommend the bedding with nice Chewey or wise Yoda. Also, you could choose classic galaxy-themed bedclothes and pillows.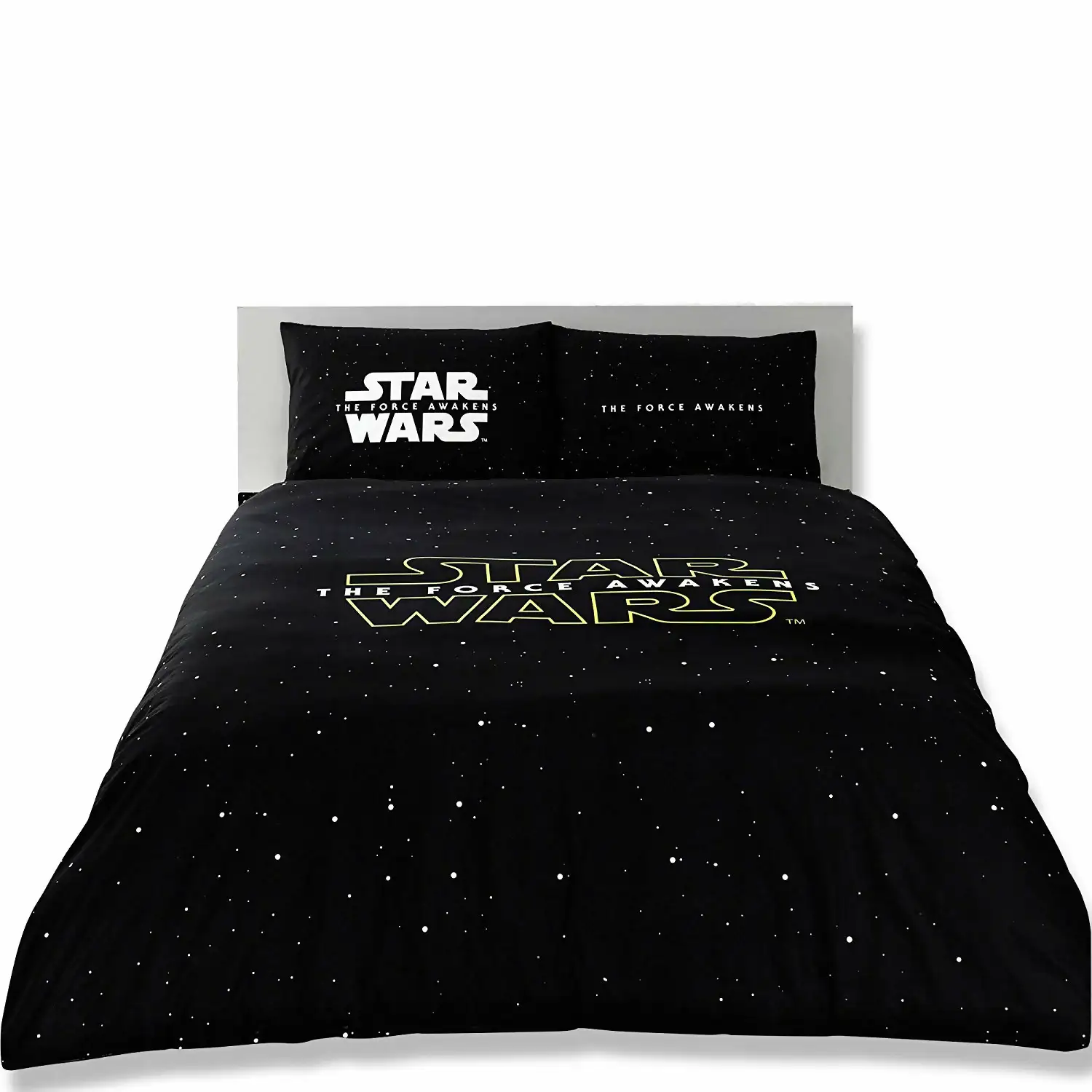 Awesome Star Wars-Themed Children's Bedroom
To decorate a bedroom for little kids or teens, you need to turn on all your creativity and also ask children about their opinions. Try to find a compromise with your kids about their décor style.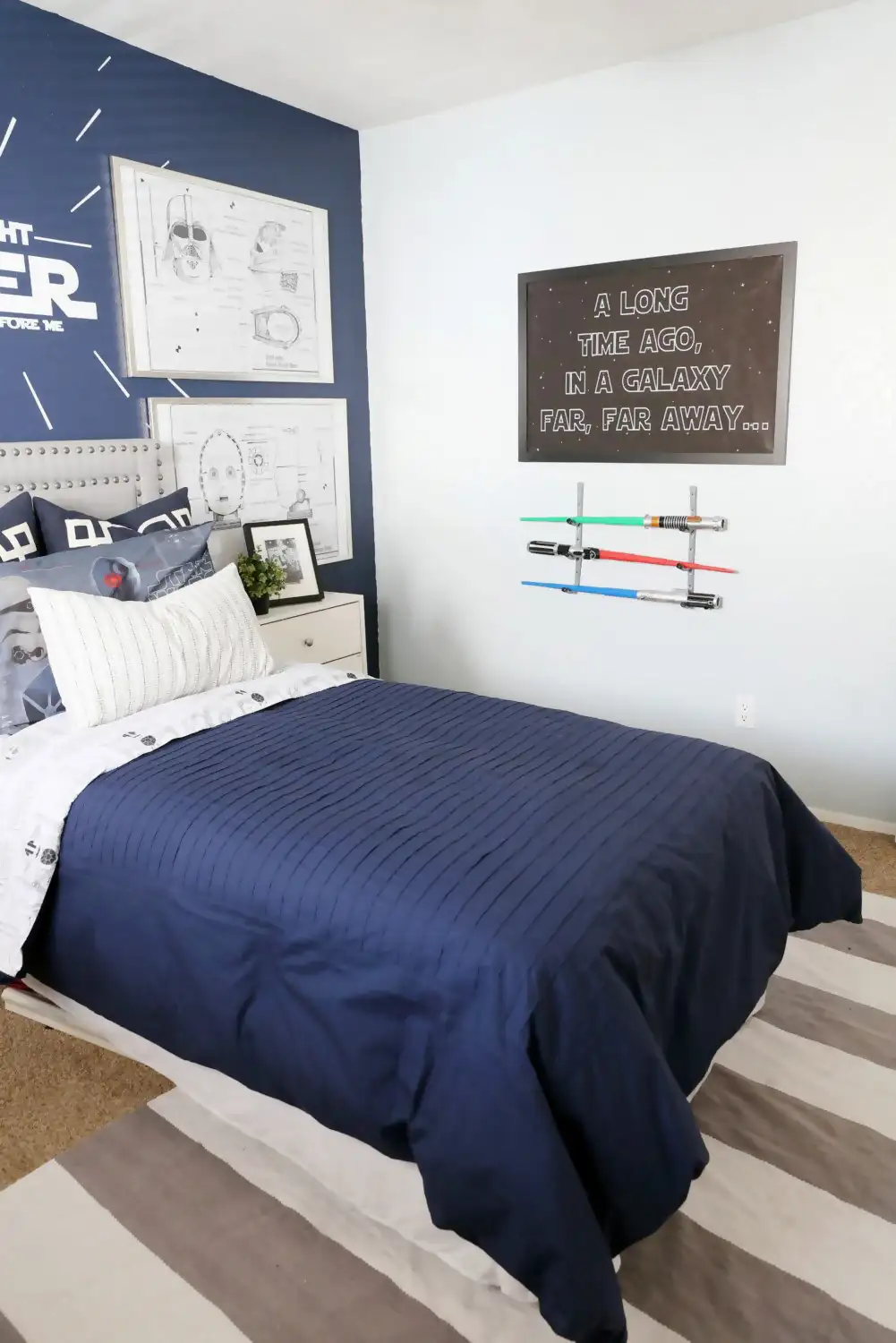 Star Wars Girl's Bedroom
Who says that a galaxy bedroom is only for boys? Girls aren't just about "Hello Kitty" interiors.
Of course, to decorate the Star Wars bedroom more girly, you should add bright hues. First of all, if the main color is pink, it adds joyful vibes for the whole bedroom. A mix of bold shades with matte black for pictures, LEGO figurines, beddings, or lamps is always a win-win combination.
Don't forget about Star Wars curtains! A deep blue sky with bright stars and a powerful spaceship fits for the Star Wars-inspired girl's bedroom.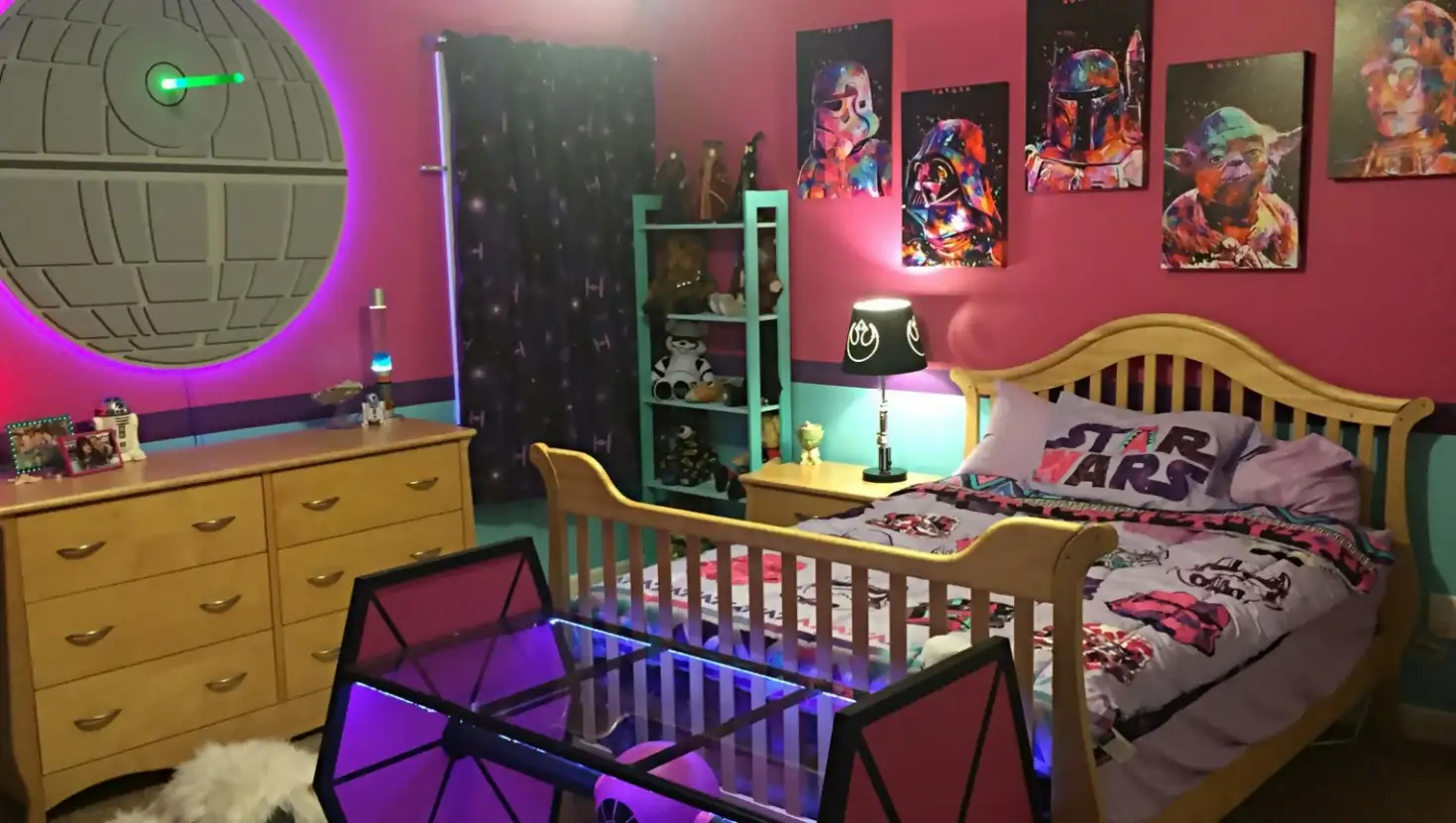 Star Wars-Themed Nursery
When it comes to decorating a baby room, you could choose a theme which you like more to create a serene ambience. This means you'll have a calm feeling and your baby also can relax in a cozy atmosphere. It's a subconscious connection from the first days of a baby's life.
If you prefer Penguins of Madagascar, you could choose this topic instead, but if you and your husband are all about Star Wars go ahead and decorate your Star Wars-themed nursery!
The quote from the Star Wars movies, "The Force is strong with this one," is an inspiration for being strong and calm with the newborn baby. This wall art creates a special atmosphere for parents, who need the Force to take care of their baby, especially during the first months.
Think about Star Wars décor accessories, such as the droids (for example, BB-8, R2-D2, or C-3PO), LEGO items, pictures of the main heroes of the movie, or bedding.
Be careful when you create a complete space galaxy in the nursery, because your baby could get stressed in the street in our world with real people.
Super-Duper Star Wars Bedroom For Boys
When it comes to decorating the bedroom for boys, they always want to have a relaxing space with a more mature look to their beds. It's a brilliant idea to choose a décor theme from their favorite movies. Usually, kids want to show the best heroes and episodes from Marvel or DC Comics. But maybe they also, like their father, like Star Wars movies! Is it better?
When considering color combinations, you could choose blue, white, black, or grey colors in various shades. These hues are all about being in Star Wars space on every surface. If you decorating a Galactic Empire-themed bedroom, find a balance of light with Dark Side décor elements. Force-inspired décor is a serious step for the rebellious spirit of boys.
To choose a bed, bear in mind how much space you have to install it in your kid's room. Only after that, choose toddler, bunk, or a mix of these beds.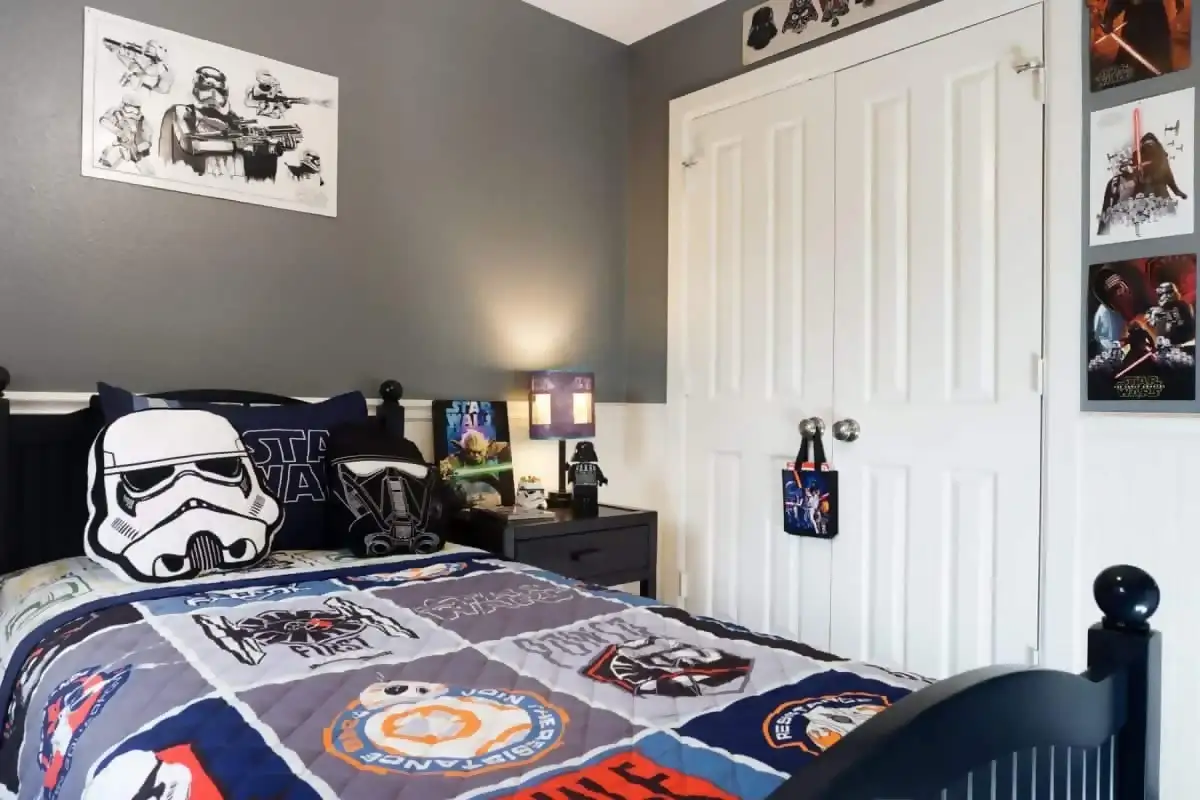 Star Wars Toddler Beds
What about the New Republic-inspired décor? Keep in mind, if you have another room, apart from a kid's bedroom, where you can install desks for your children (or at least one big table), then you can buy one or two toddler beds. Place them parallel to each other with different Star Wars-themed pillows and pictures to emphasize the personality of each kid.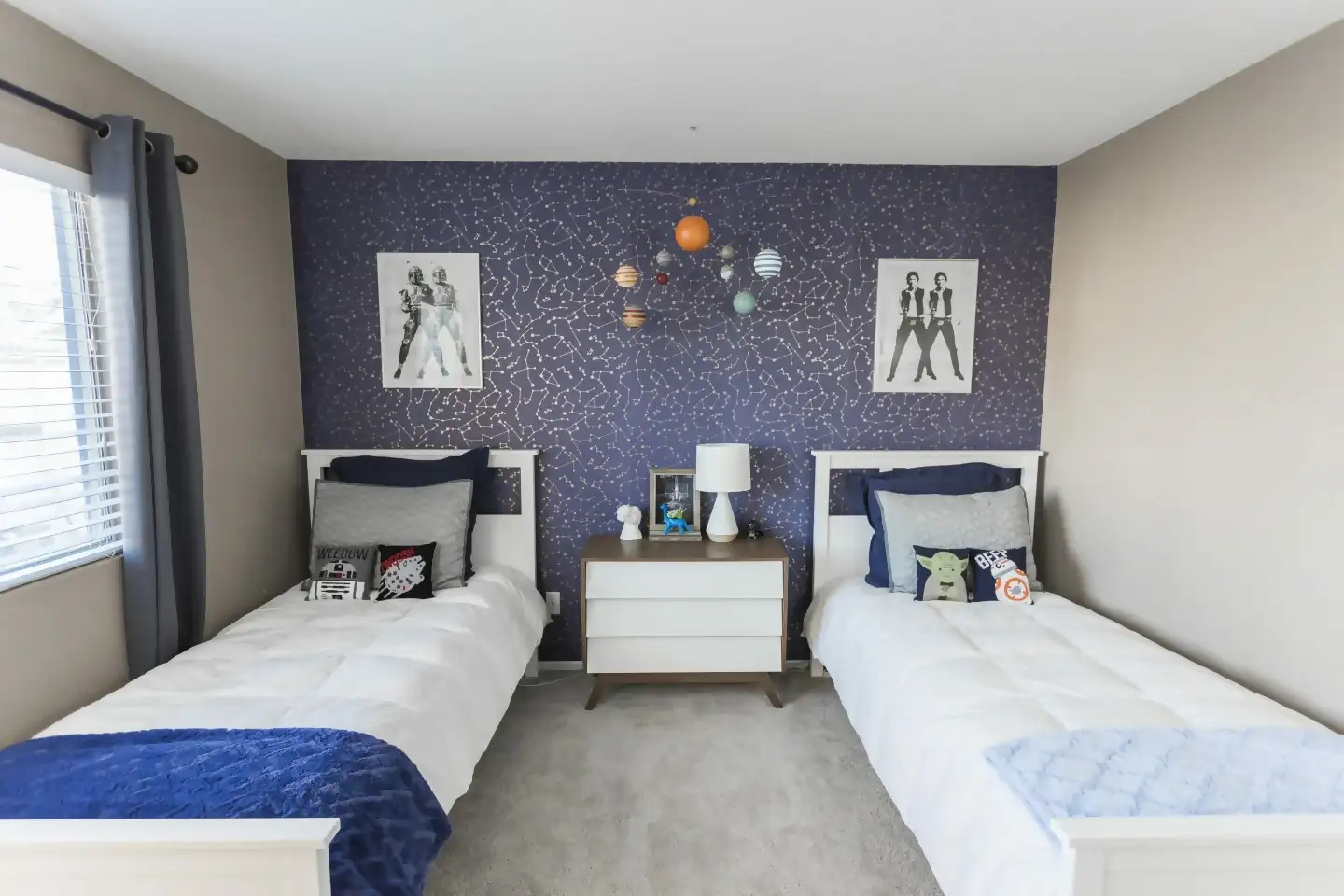 Star Wars Bunk Beds
No matter how many children you have, with well-thought-out design solutions everybody can feel comfortable. If you have a small kids' room, a bunk bed is an awesome variant for your family. That's a great way to have enough sleeping places even for four children! You could install two bunk beds opposite each other.
The cool Star Wars ambience with droids-themed details, illuminated posters, and lovely knick-knacks fits a limited galaxy space. Sometimes a space-saving décor solution can make family space seem bigger and more friendly.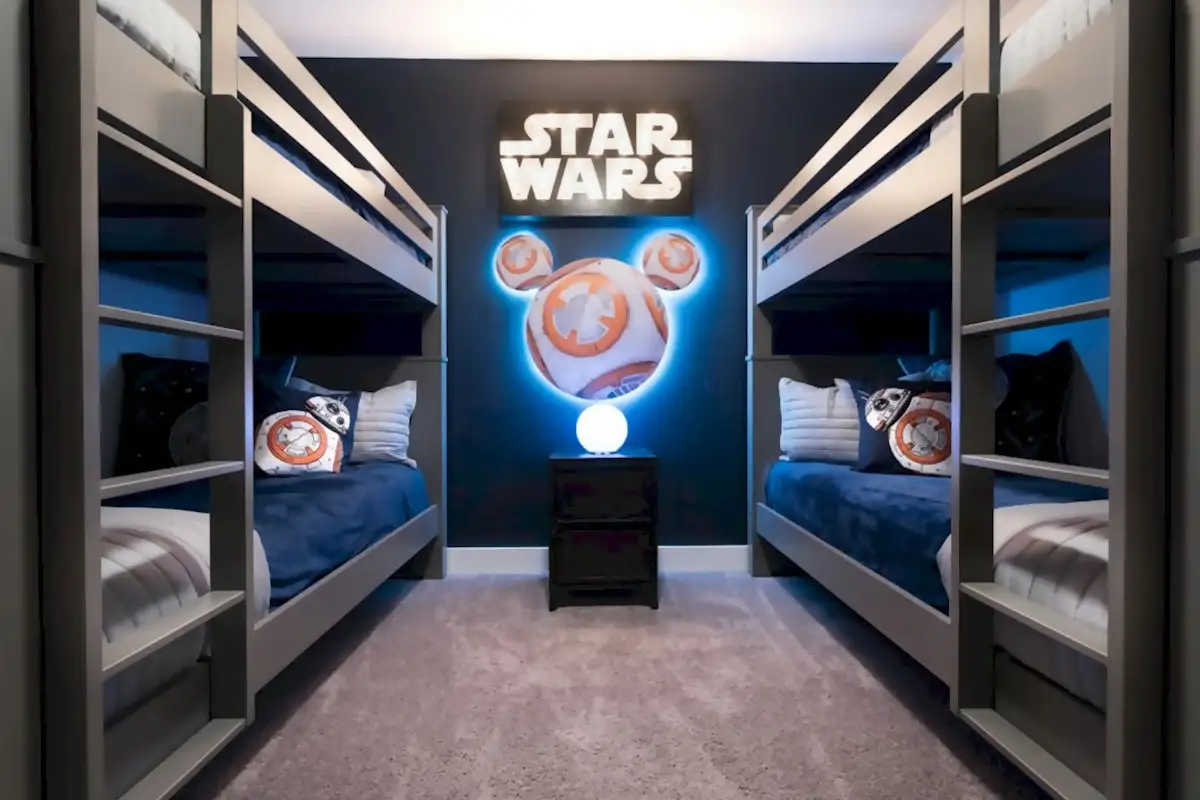 A Mix Of Toddler And Bunk Beds
If you have multiple kids, two or even three, they could live together in an awesome Star Wars-themed bedroom. Organize a mix of toddler and bunk beds. Some kids like the top bunk a lot, because it's like an awesome game for them.
For decorating a Star Wars bedroom, it's better to choose bright blue hues with dark black accents, especially if one of the "citizens" of your room will be Darth Vader.
Wall decals depict all citizens of a far-away galaxy, such as good ones like fluffy Chewey, wise Yoda, awesome droids R2-D2 and C-3PO, kind Leia Organa, reckless Han Solo, and also bad ones like evil Darth Maul and dangerous Darth Vader after choosing the Dark Side (previously known as Anakin Skywalker).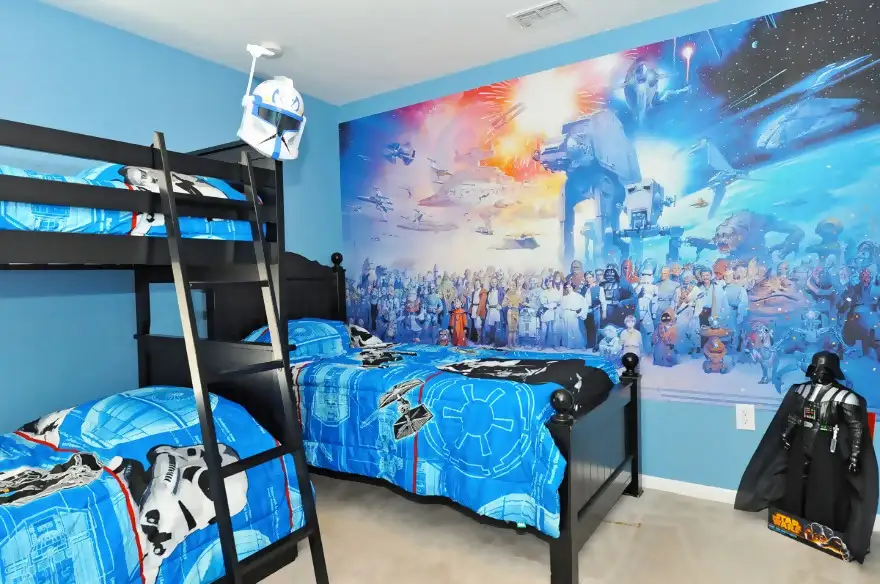 How About A Star Wars Bed Tent?
Have you ever dreamt about sleeping in a tent in your childhood? Give your kids the possibility to sleep in their own Star Wars bed tent. This can be the main or additional sleeping space. It's so cool! Don't you agree?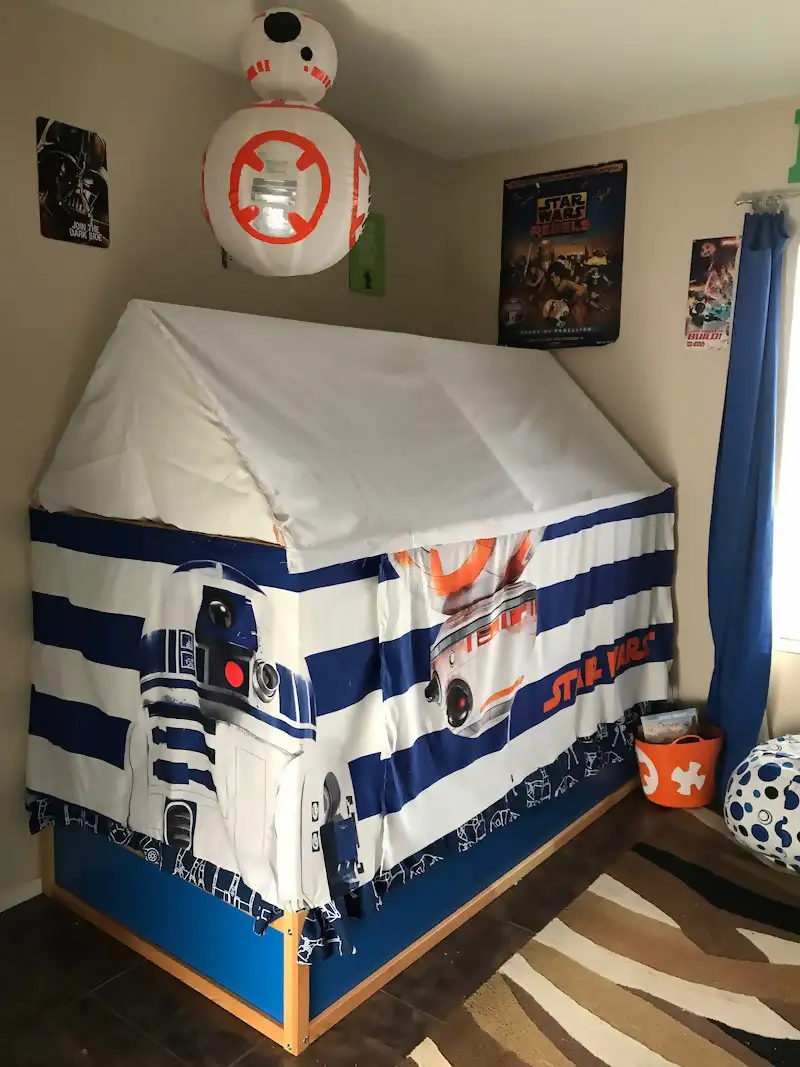 A Creative Bed For Unbelievable Happiness
Have you ever slept on a space ship? You could order a specially-designed bed for your son to give him the possibility of living in an illusion with aliens, looking at bright stars, and being a captain of a real spaceship in some galaxy.
It's an expensive design solution, but it makes your kid happy.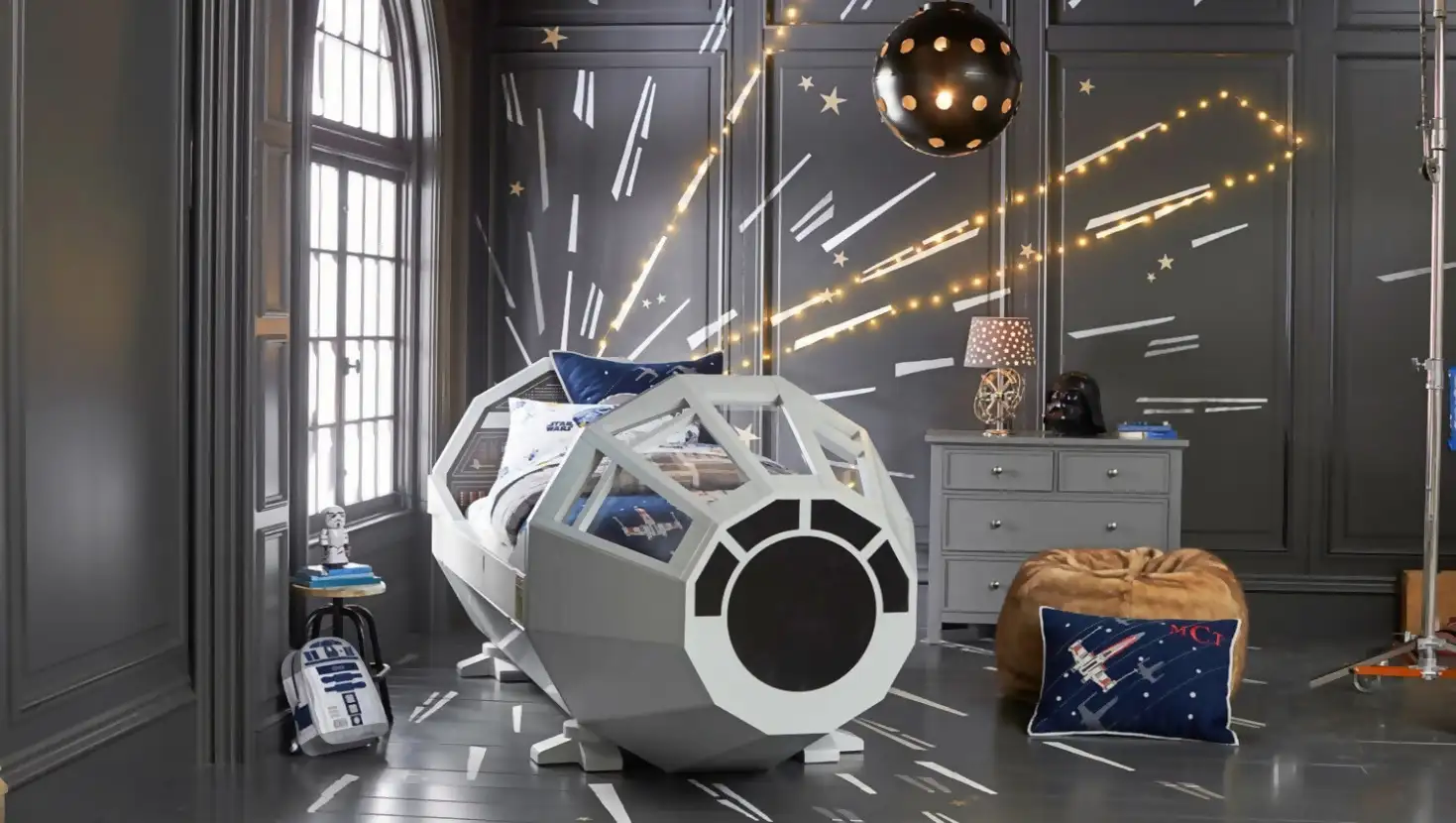 Light Up Star Wars-Inspired Bedroom
When it comes to decorating a Star Wars-themed bedroom, think about special lighting to show all the beauty of your own galaxy.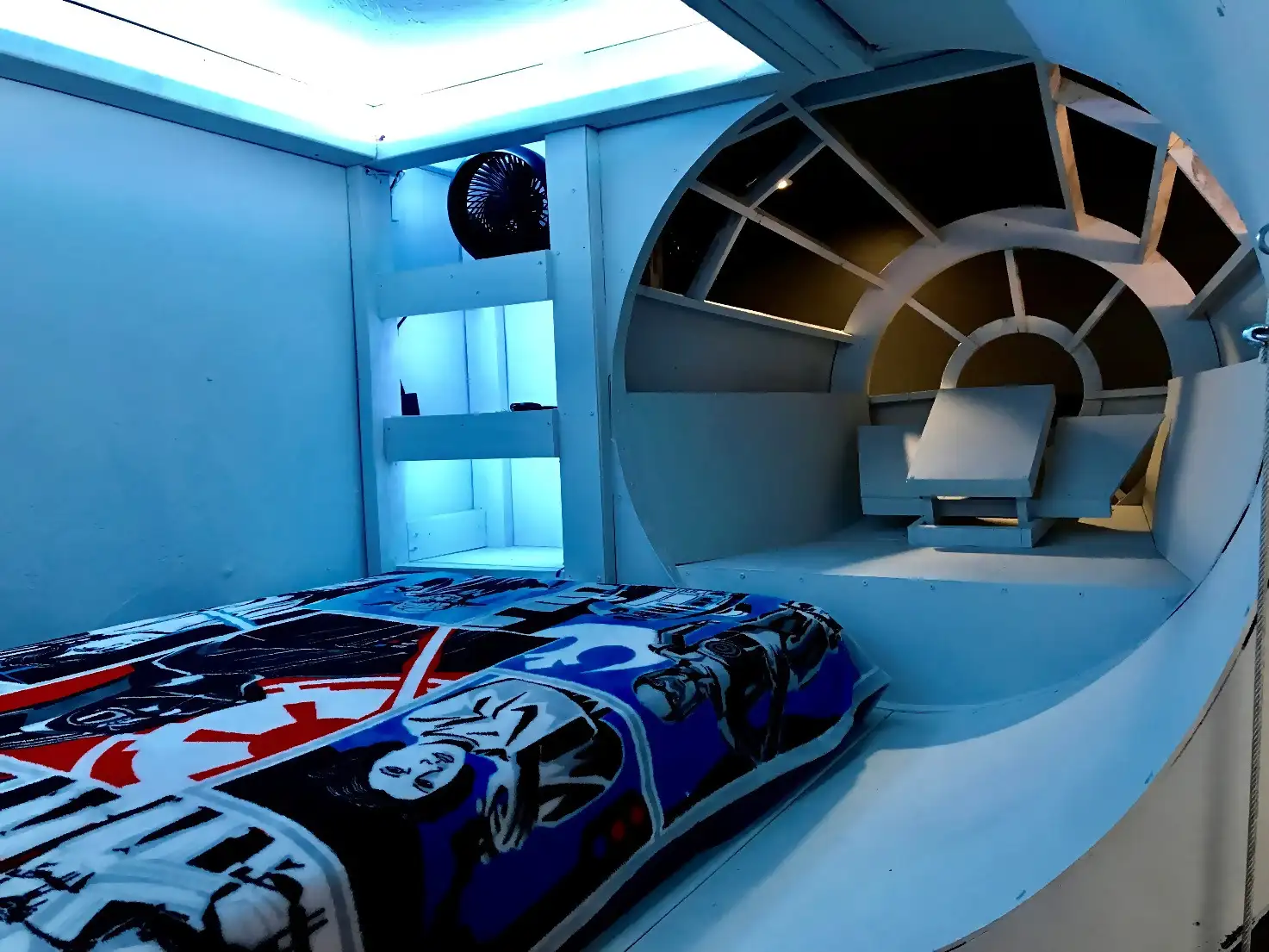 Star Wars Ceiling Lighting
Are you ready to create a starry night sky on the ceiling? This can make your space more thematic and cosmic. Go ahead and decorate, Master!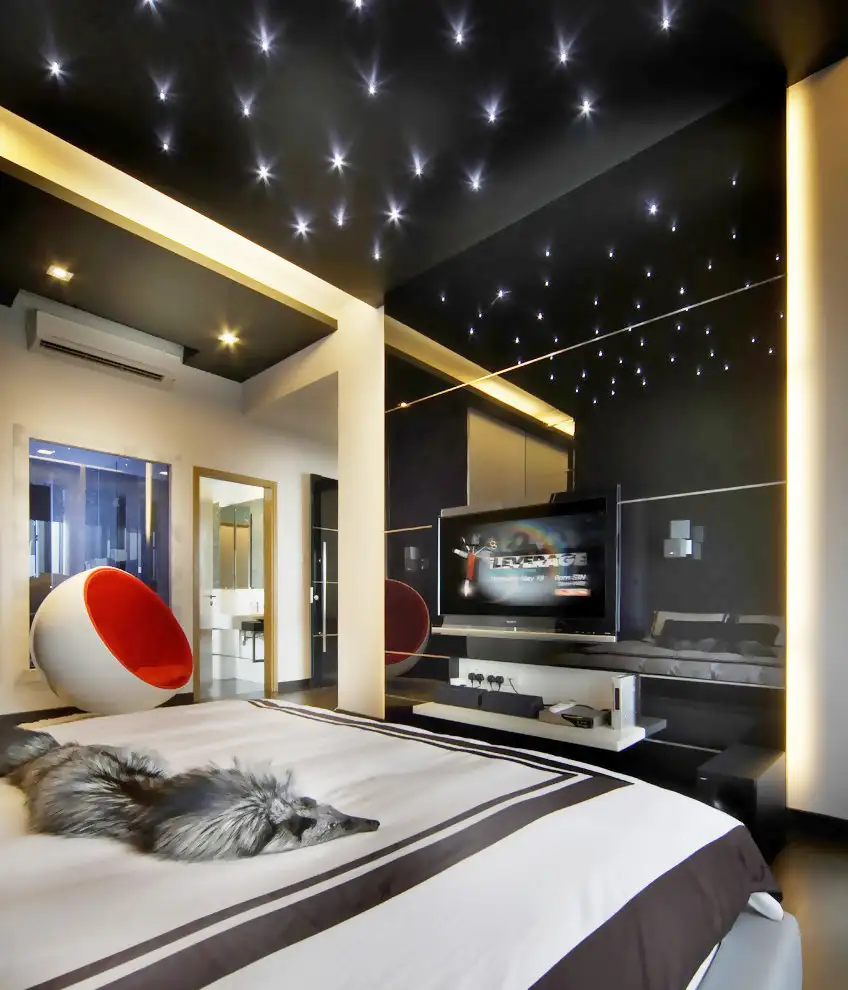 Think About Cove Lighting
Lighted crown molding emphasizes a winning Star Wars-inspired look. When you install cove lighting, you'll show off an awesome bedroom galaxy in every detail.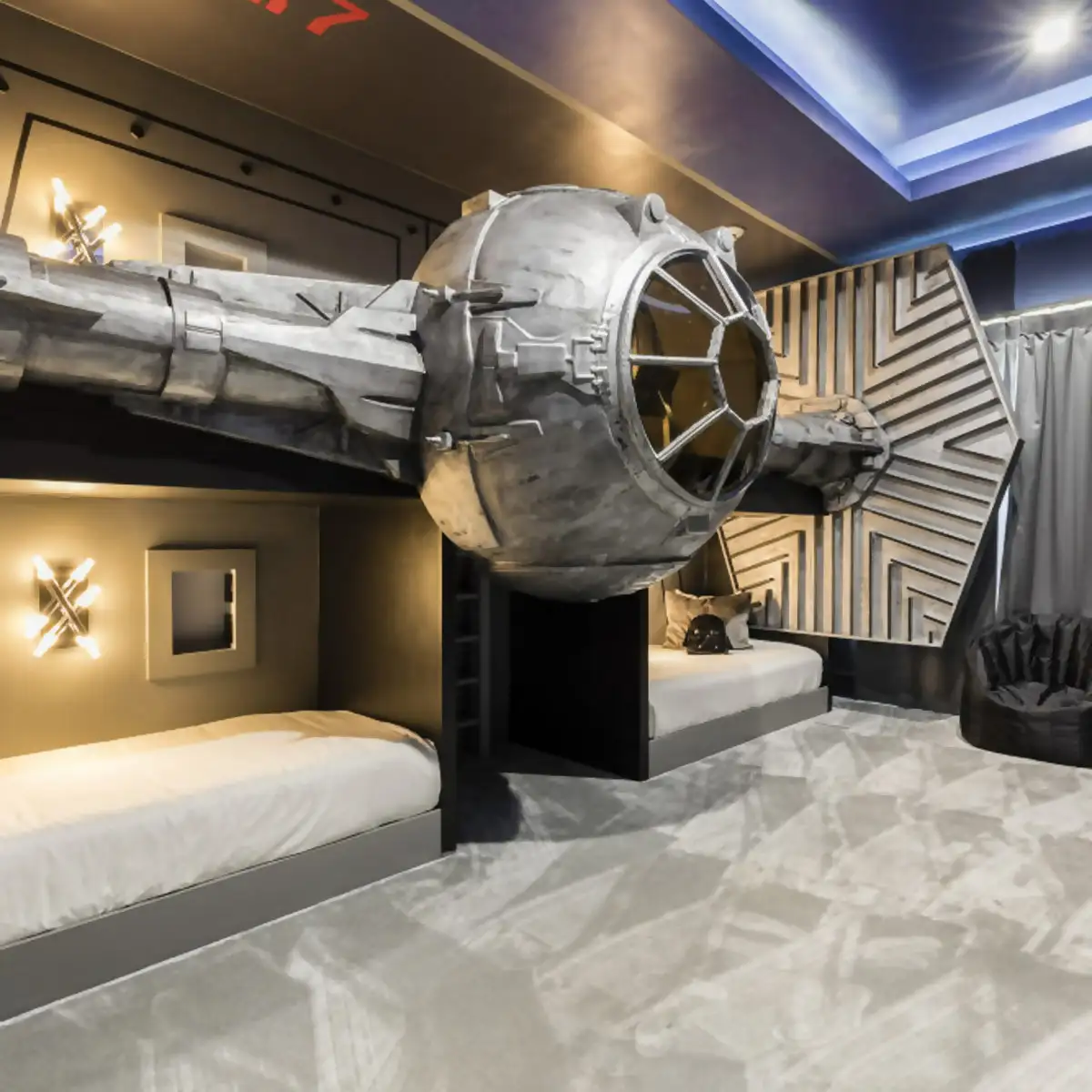 Star Wars Lightsabers
Be strong when you decorate your bedroom with magnificent lightsabers on the wall near Star Wars-themed bedding. When it comes to sleeping, "May the Force be with you," young Jedi.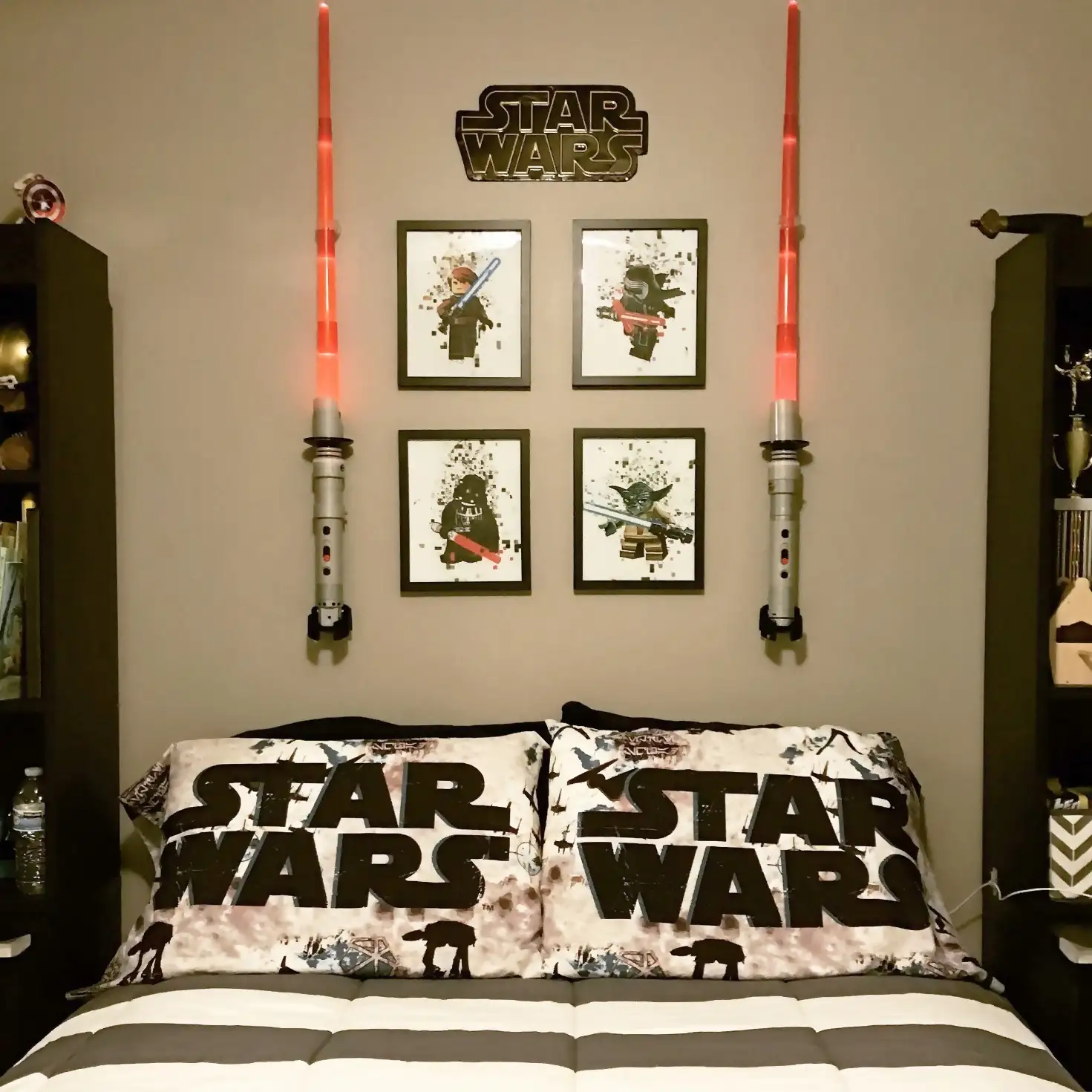 Star Wars-Style Hanging Lights
When it comes to decorating your ceiling, think about a creative Star Wars-themed lighting solution. A pendant light fixture in the form of the Death Star is a perfect detail for the thematic bedroom.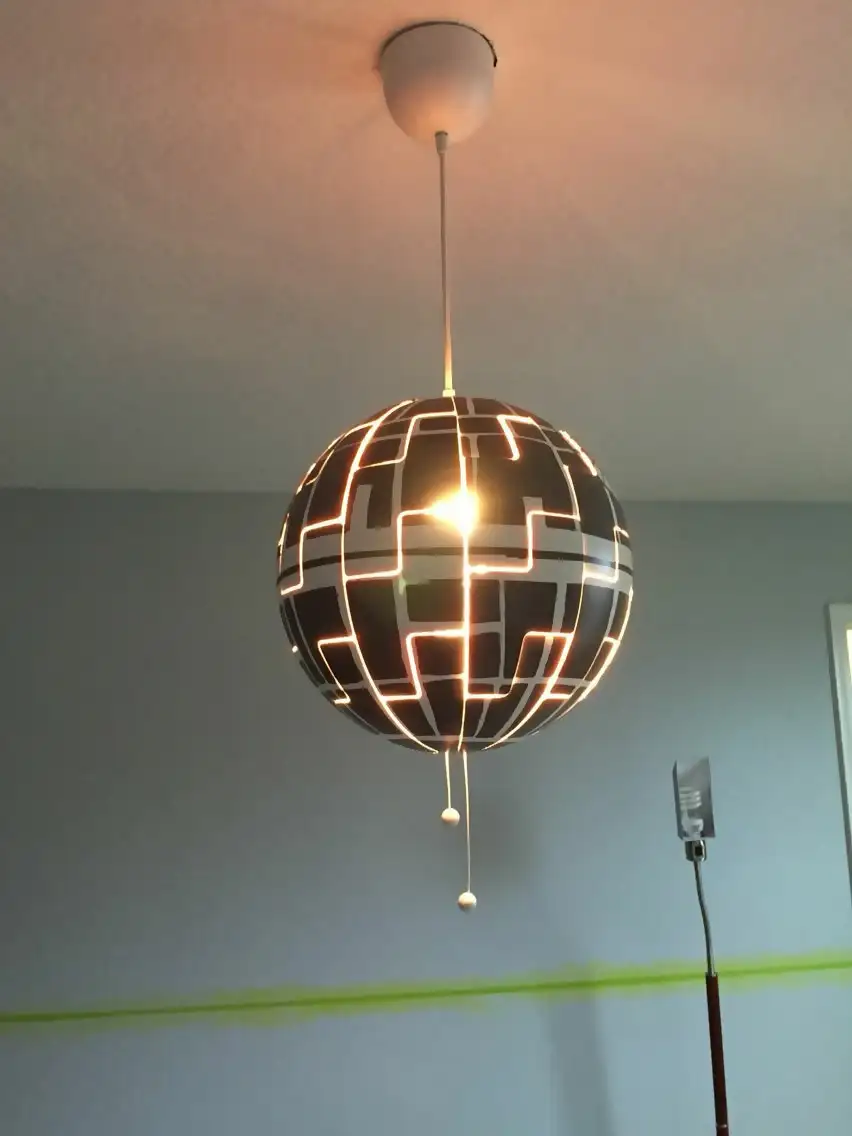 Star Wars Bedside Lamp
What about a little bit of the Dark Side in the lighting décor? If you install a lamp beside the bed, you'll have a cool light fixture!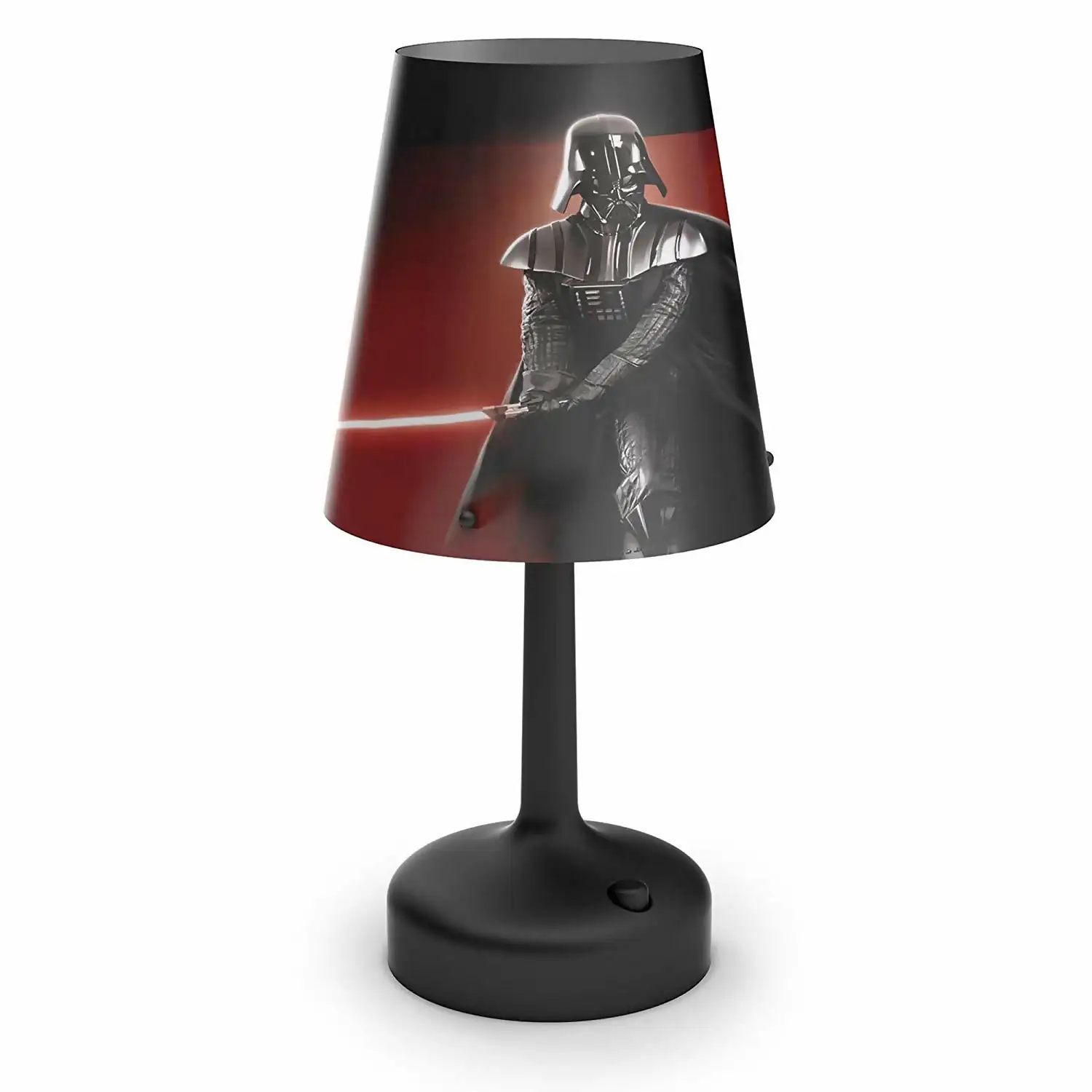 Star Wars Rugs Or Carpets For Bedrooms
Cover up the flooring with a rug or carpet to take care of kids' safety and health. If you prefer a Star Wars theme, flooring carpet or an area rug will be a cheerful and functional décor solution. It's so cool to play with LEGOs on it!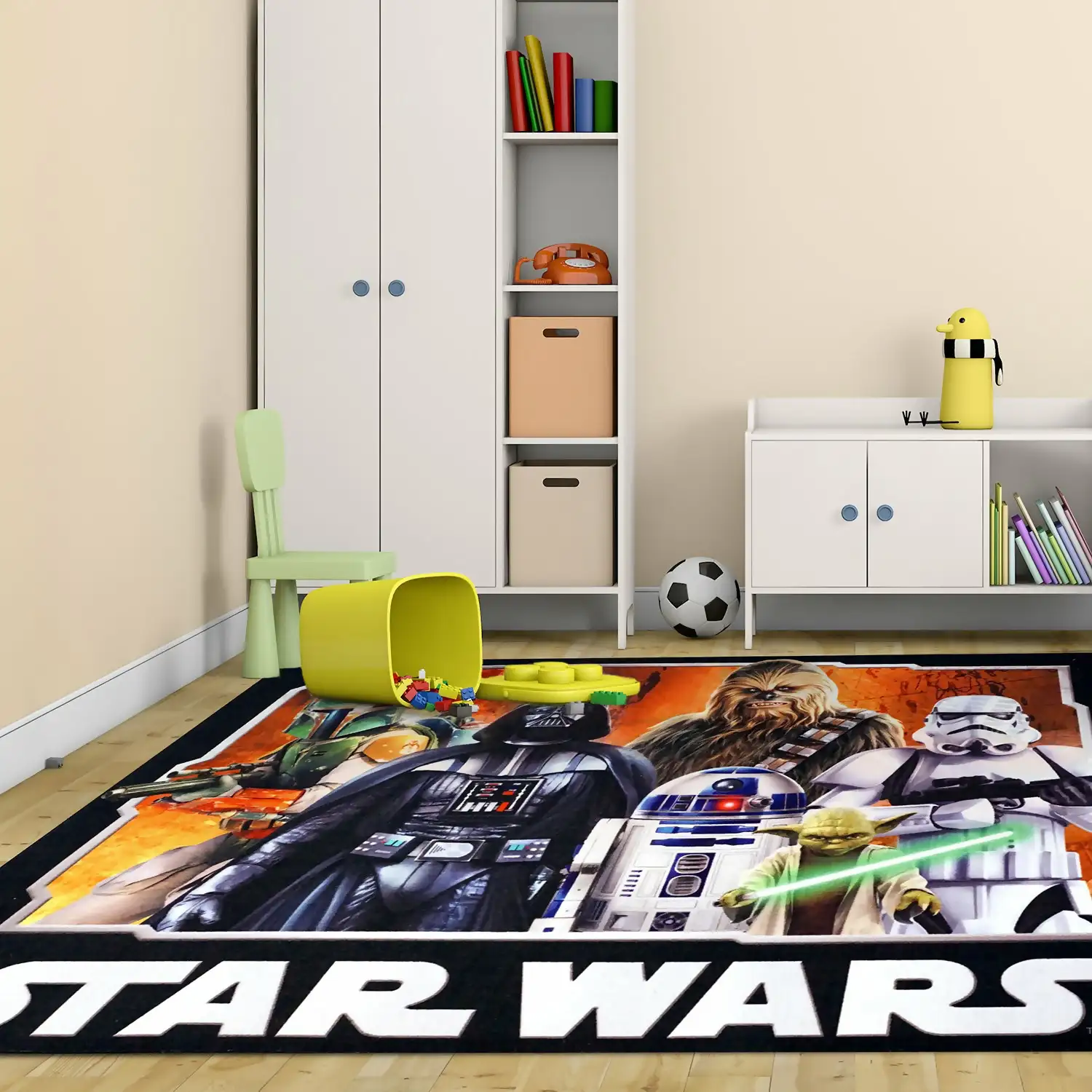 Unexpected Star Wars Ceiling Art
First of all, we think about a starry dark-blue sky when decorating the ceiling. Forget about the limits and try something new!
You could install the pictures of the main heroes of the Star Wars movies, such as Chewey, Yoda, Obi-Wan Kenobi, Princess Leia Organa from Alderaan, Han Solo, R2-D2, or other lovely droids. Following that design is a great way to feel the strong spirit of the New Republic.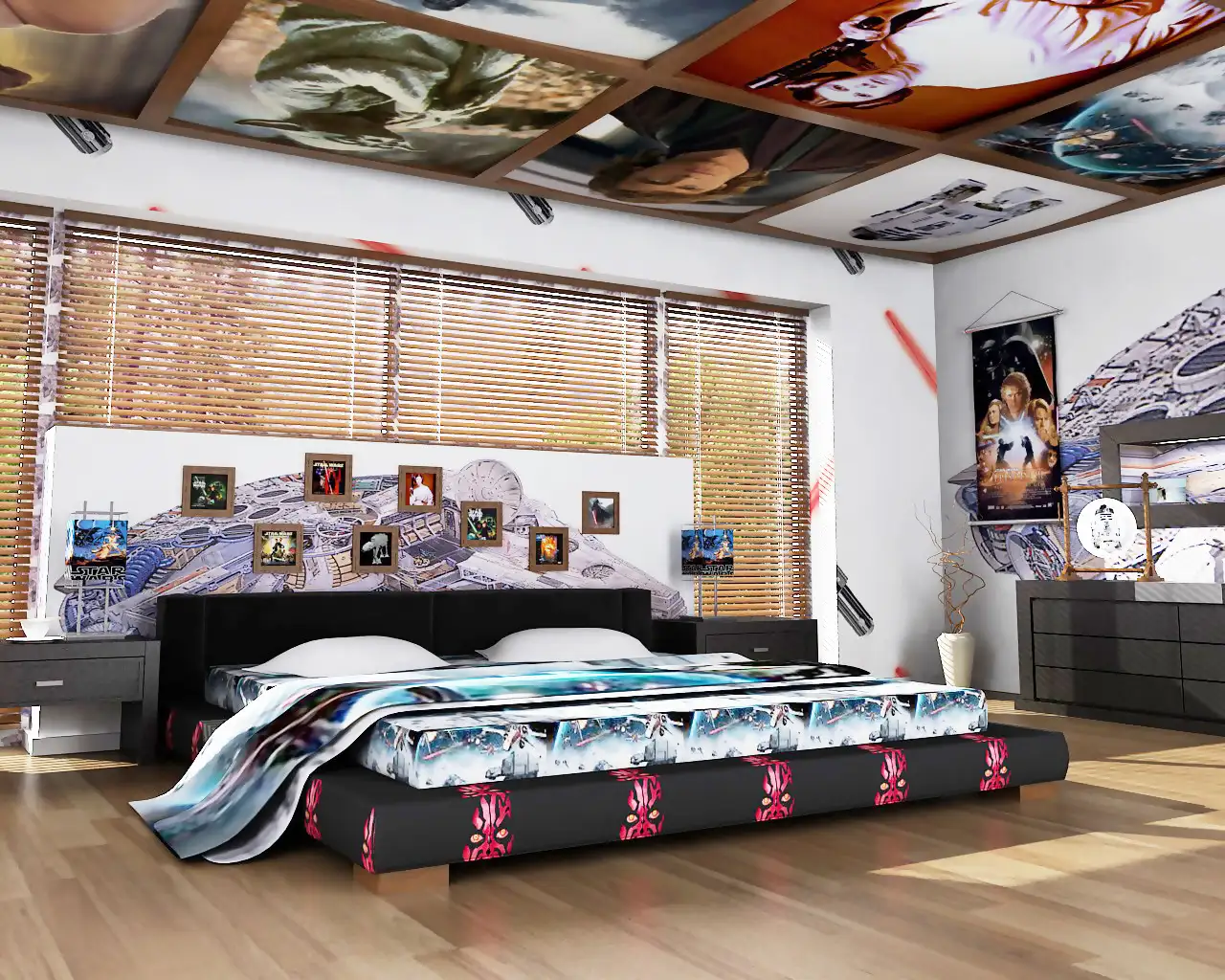 Stupendous Star Wars Wall Décor
When it comes to Star Wars-themed wall decorating, don't get confused. Think about 3-D wall art, decals, canvas, or stickers with favorite heroes or/and thematic décor items.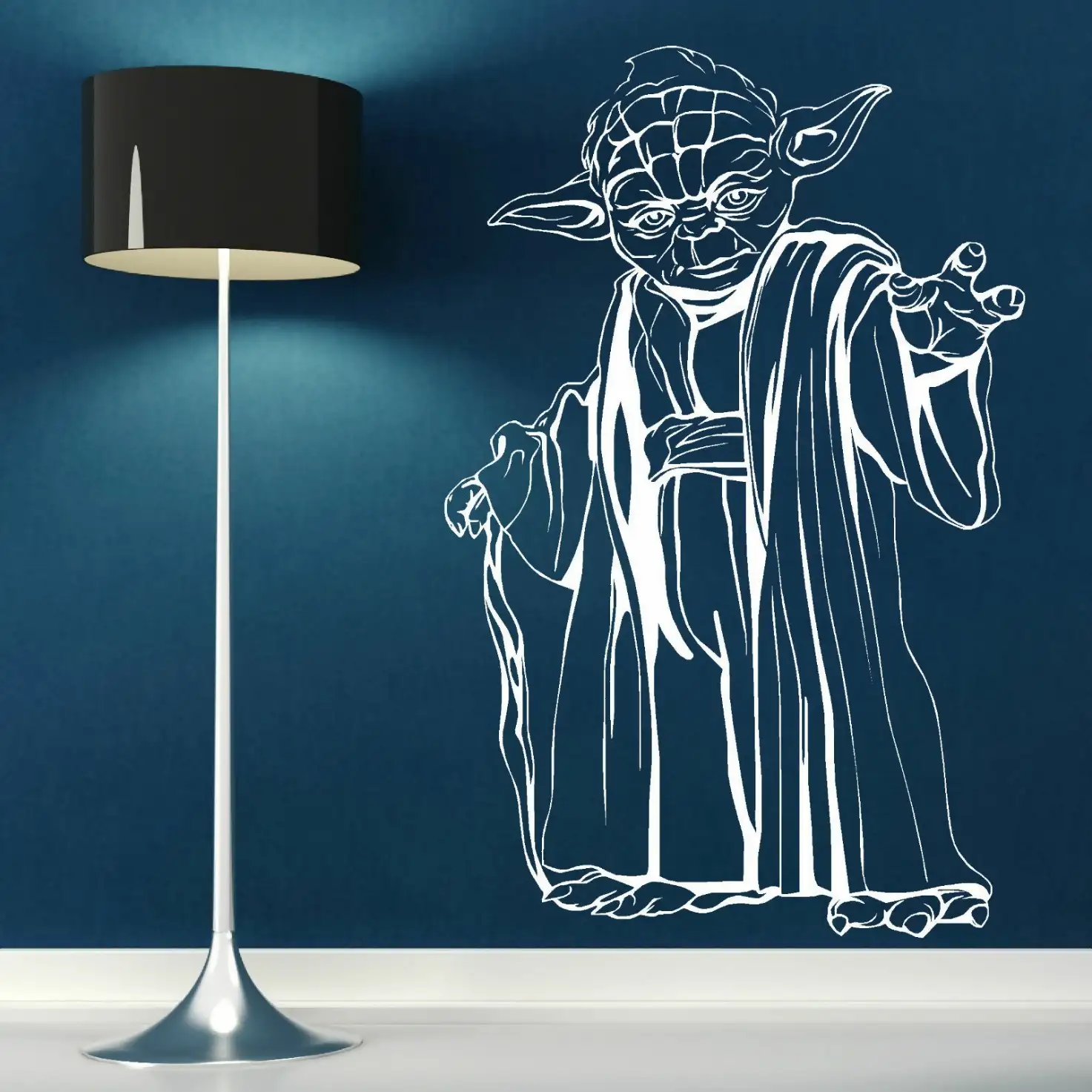 Awesome Star Wars Wall Decals
What could be better than Death Star wall decals? It's time to use an awesome galactic superweapon to feel a strong spirit above your desk in the bedroom.
That's a great way to feel like an energetic Jedi when you work at your desk after waking up.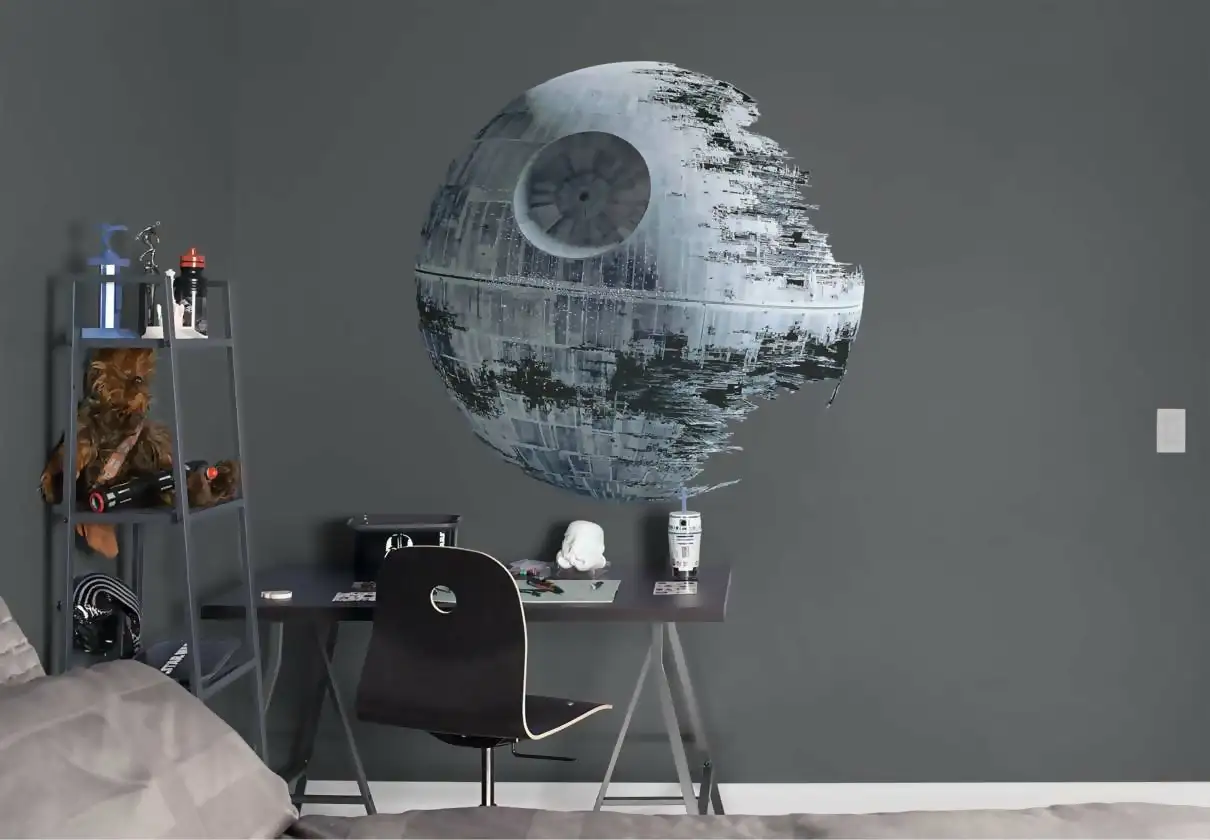 Attractive Star Wars Stickers
To decorate a Star Wars-inspired kid`s bedroom, you could use thematic stickers to show the light side of the Force or the Dark Side. This can make the Force-themed look!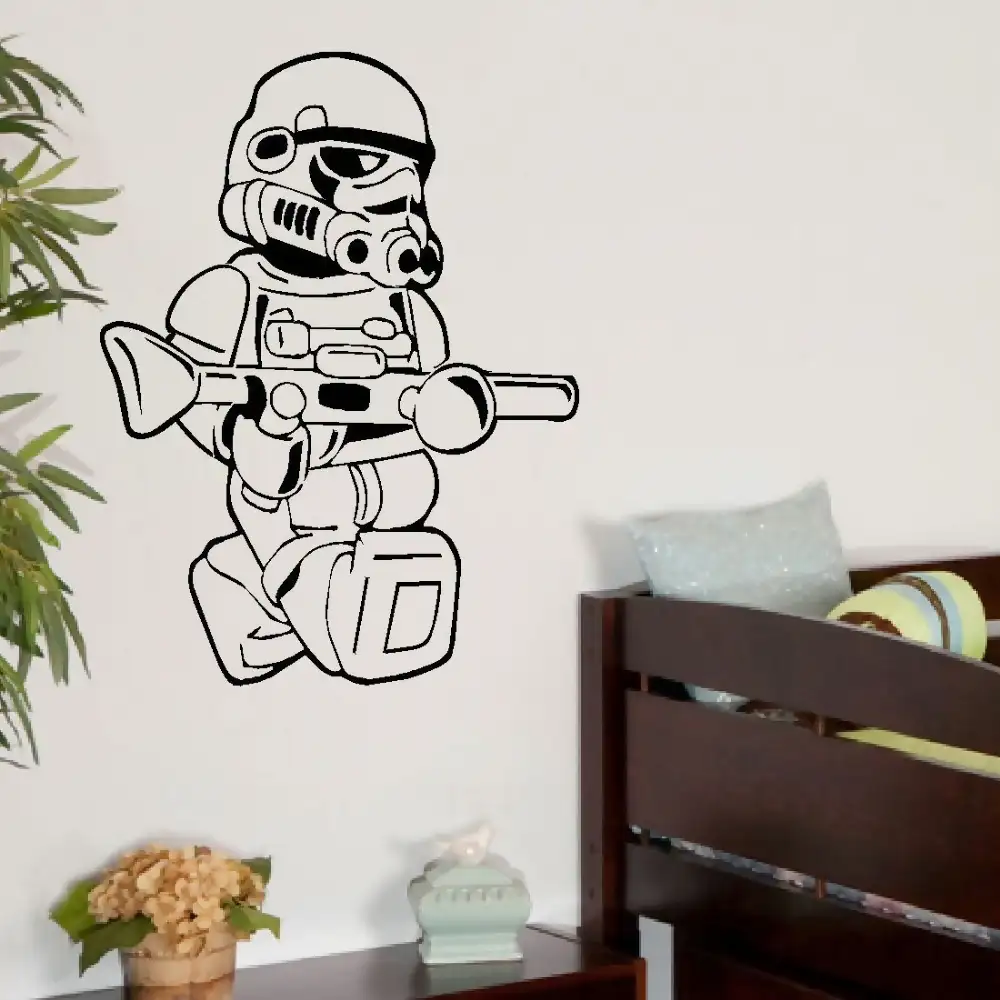 What About An Alderaan Star Wars Pennant?
What could be better than beautiful mountains and other awesome landscapes of the Galactic Republic? If you create a special ambiance of Alderaan on your walls, you`ll feel safe and satisfied in your own cosmic space!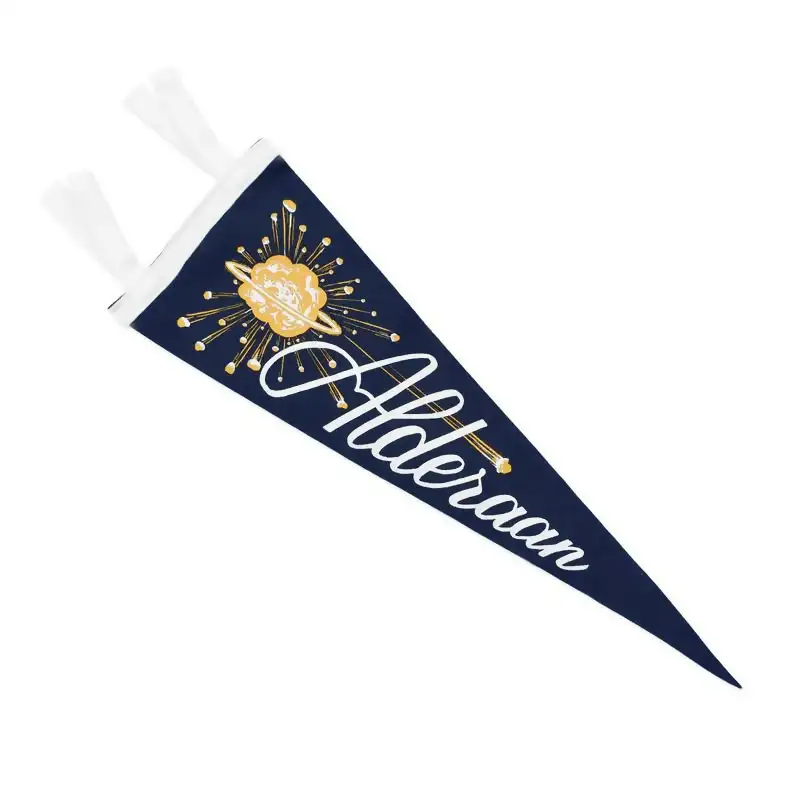 Let's go to Alderaan, young Jedi! You could be Senator Organa in your bedroom. Why not?