Smart Mudroom Ideas
A mudroom is a transitional space from an outdoor to indoor environment. Usually, it's located in the entryway. But if you don't have a separate area in your house to organize a mudroom, think about creating a multitasking place. In this case, your mudroom will share space with your garage, closet, laundry room, home office, or even kitchen.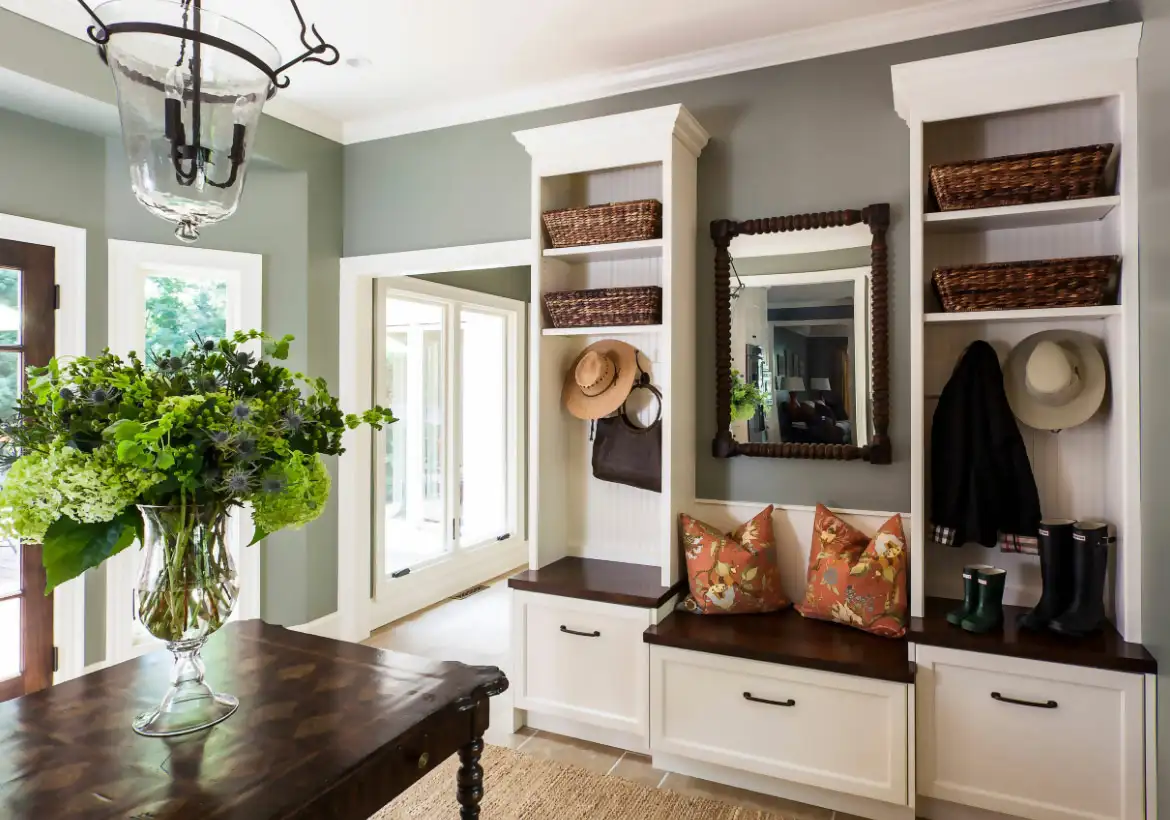 Essentials For Your Mudroom
Whether you have a big family with kids and a four-legged buddy or just live alone, you need enough storage space in the entryway to keep clothes, shoes, and lifestyle accessories.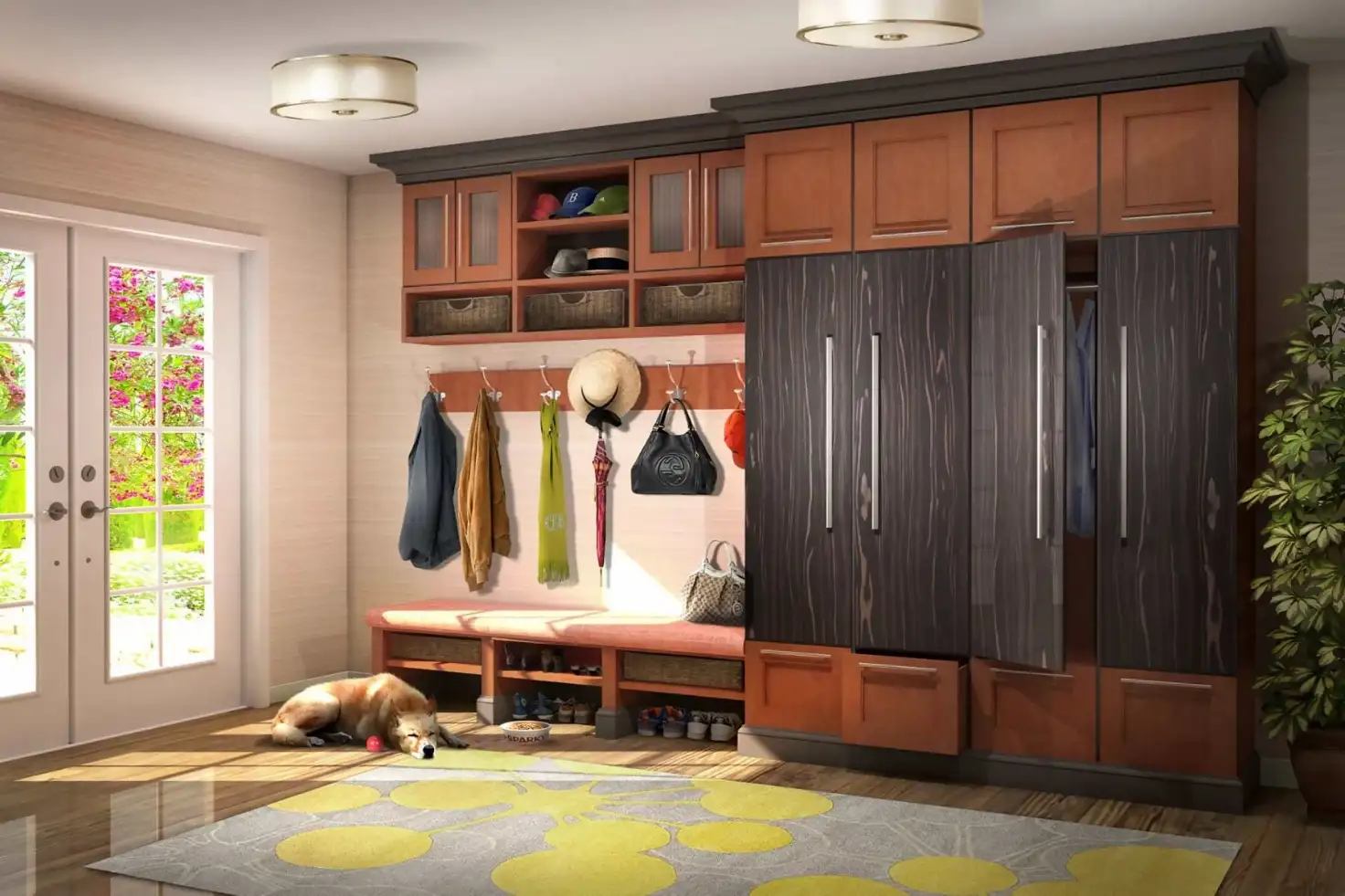 Use Tall Shelves And Hooks
If you have restricted space, think about incorporating tall shelves to hang coats, jackets, purses, and other items in the mudroom area. It's easy to hang heavy outerwear on hooks, which are optimal replacements for tension rods or bars.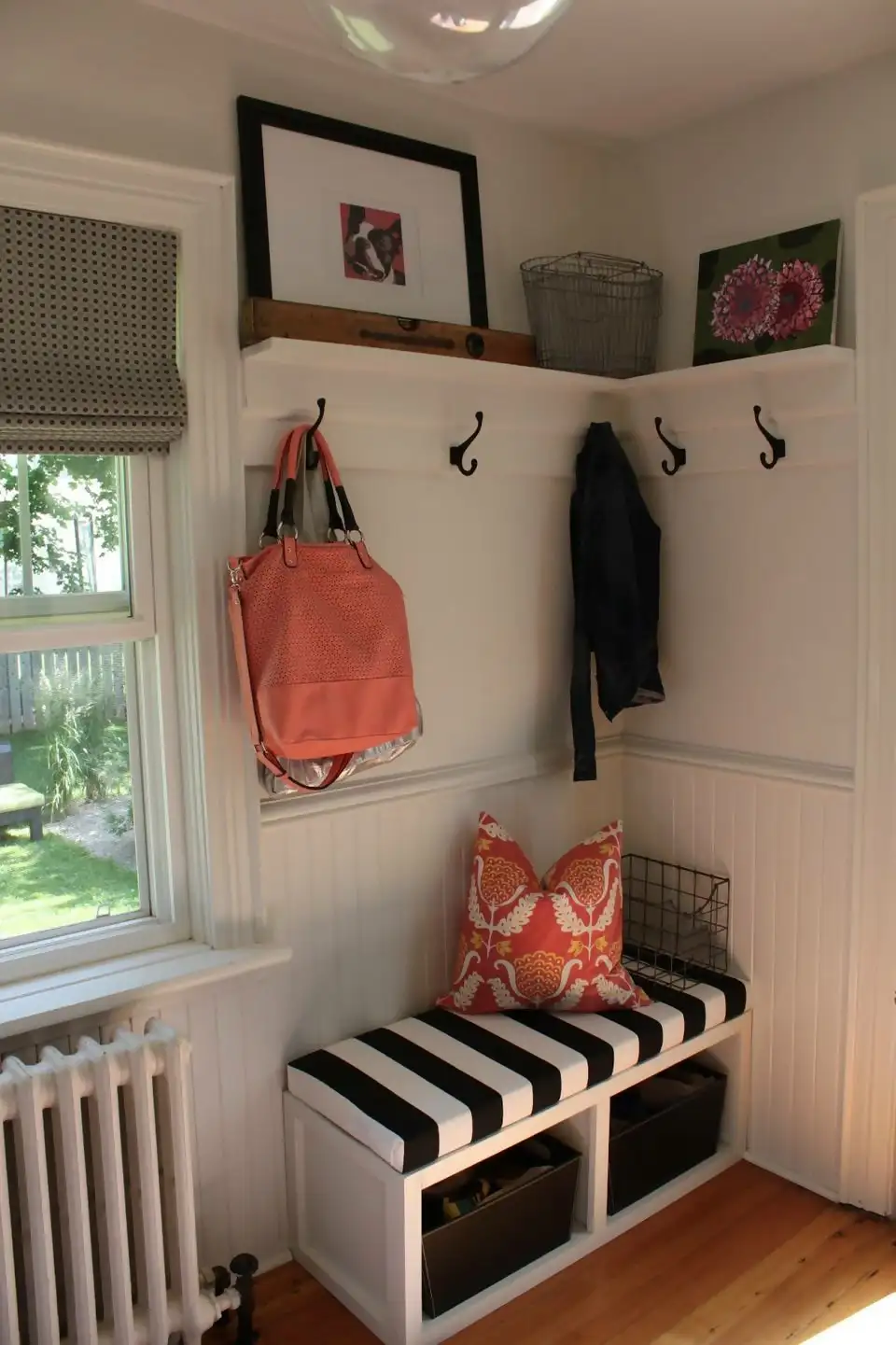 Storage Options
If you have enough space in your mudroom, incorporate an open or closed storage cabinet to declutter your home. That's a great way to expand a storage area and make your mudroom both convenient and functional.
If you have any doubts about installing a storage cabinet, keep in mind that you can never have too much storage space!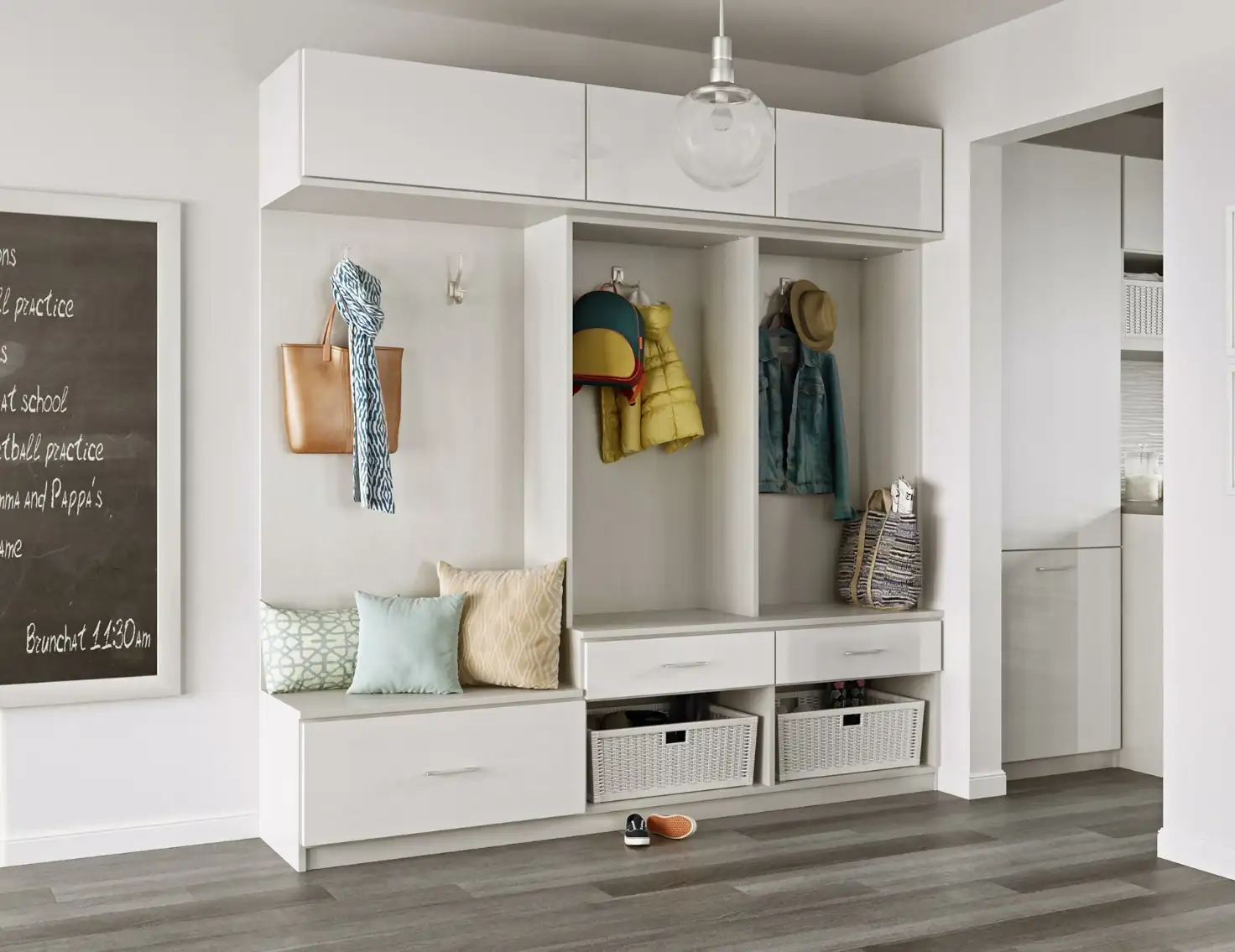 Kid-Friendly Storage Solutions
Kids are often too lazy or too busy to open a storage cabinet for hanging their outerwear and placing dirty shoes after taking them off without your help. It's better to incorporate open shelves with enough hooks for clothing and practical baskets to store additional items.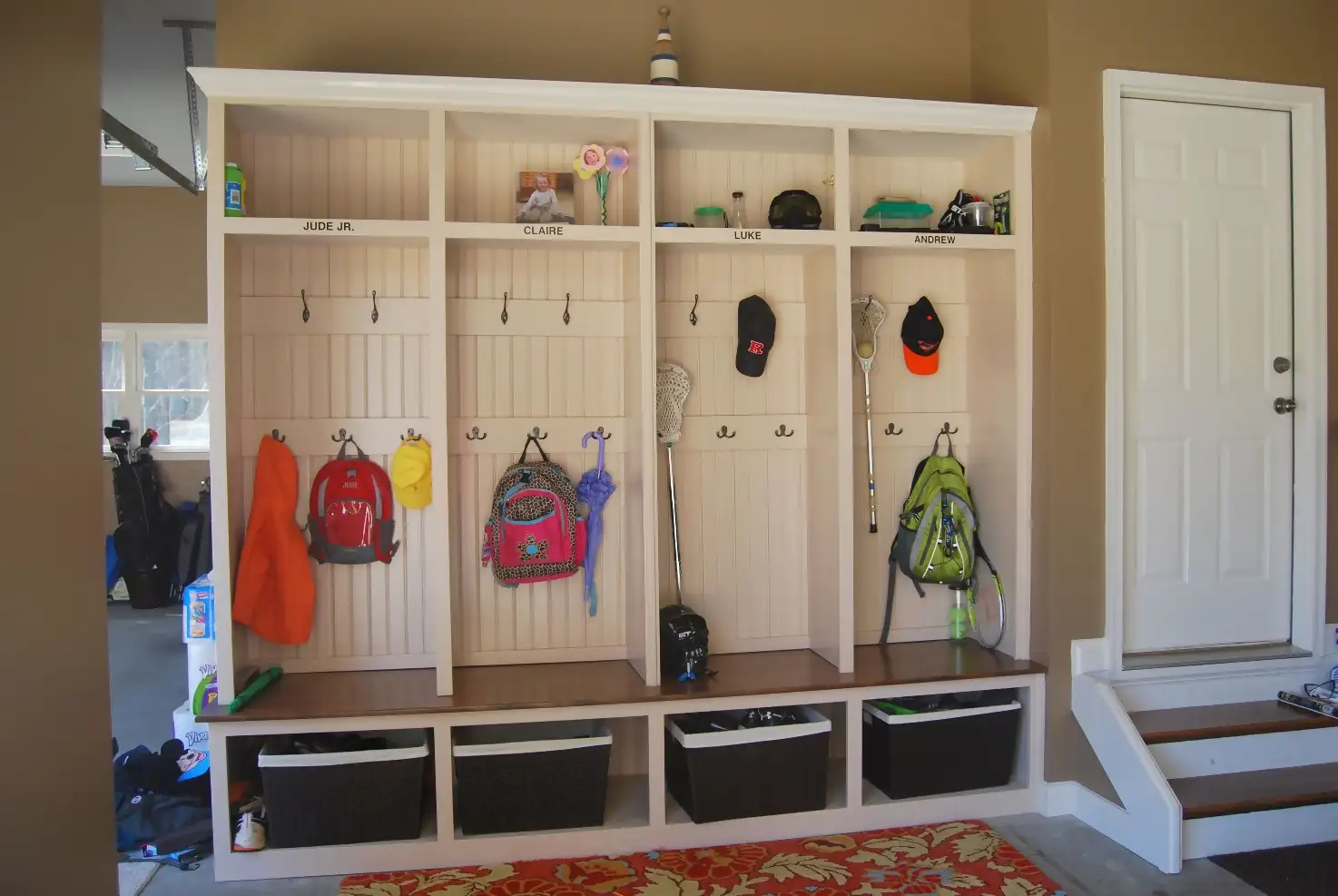 If you have more than two kids, think about installing a locker cubby for outerwear, footwear, caps, backpacks, and other accessories. Choose a locker with a sitting bench to provide maximum comfort for your kids. The hooks should be accessible for children to hang their outerwear.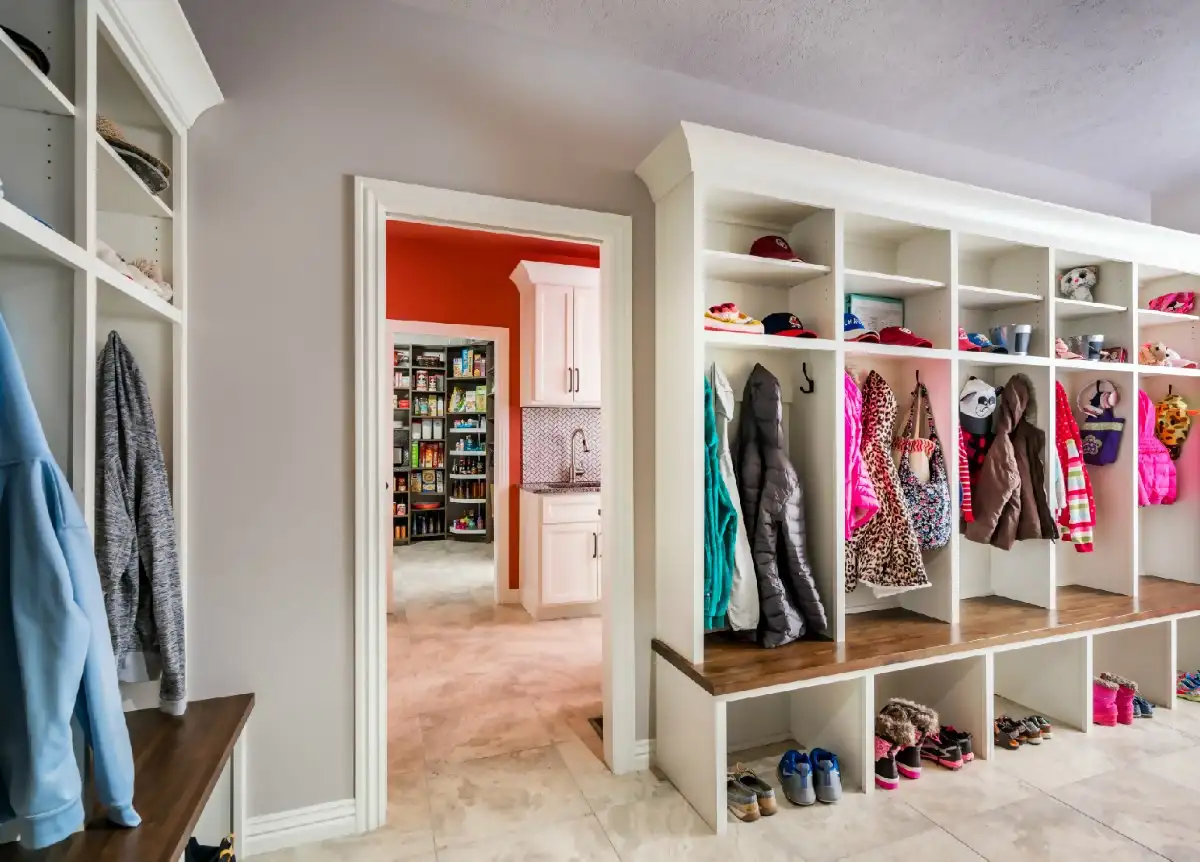 Shoes Storage
If you have a large mudroom, think about extra storage space for shoes. We recommend that you choose floor to ceiling cabinets for effective use of space. When you consider smart placement for a shoe cabinet, think about installing it in the corner of a mudroom or back to back with a storage cabinet.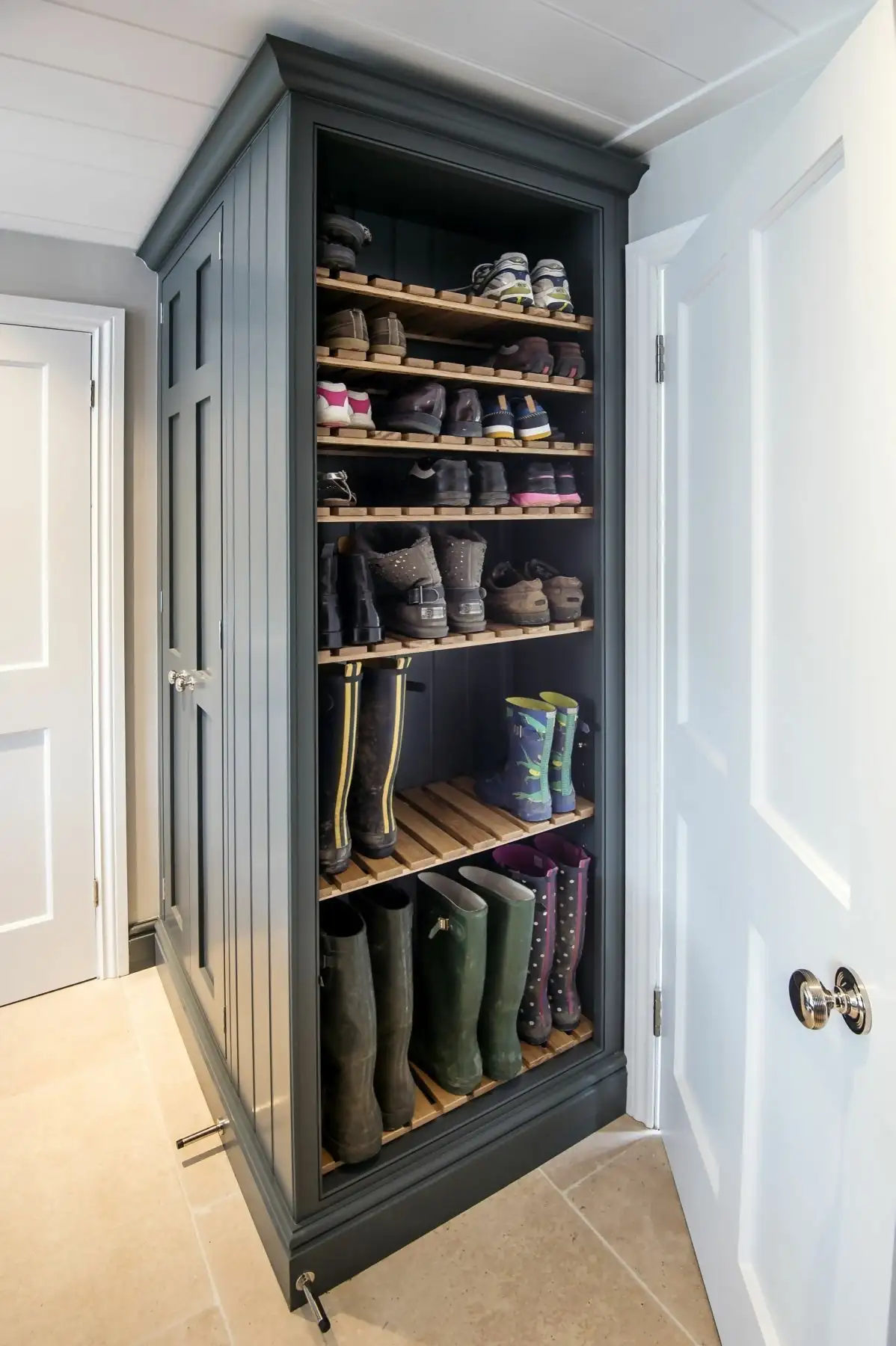 Comfortable Mudroom Bench
Think about the comfort of your family members and guests as they take their shoes off and put them on. Choose an open bench covered with soft upholstery fabrics and add matching baskets or shelves underneath to store shoes.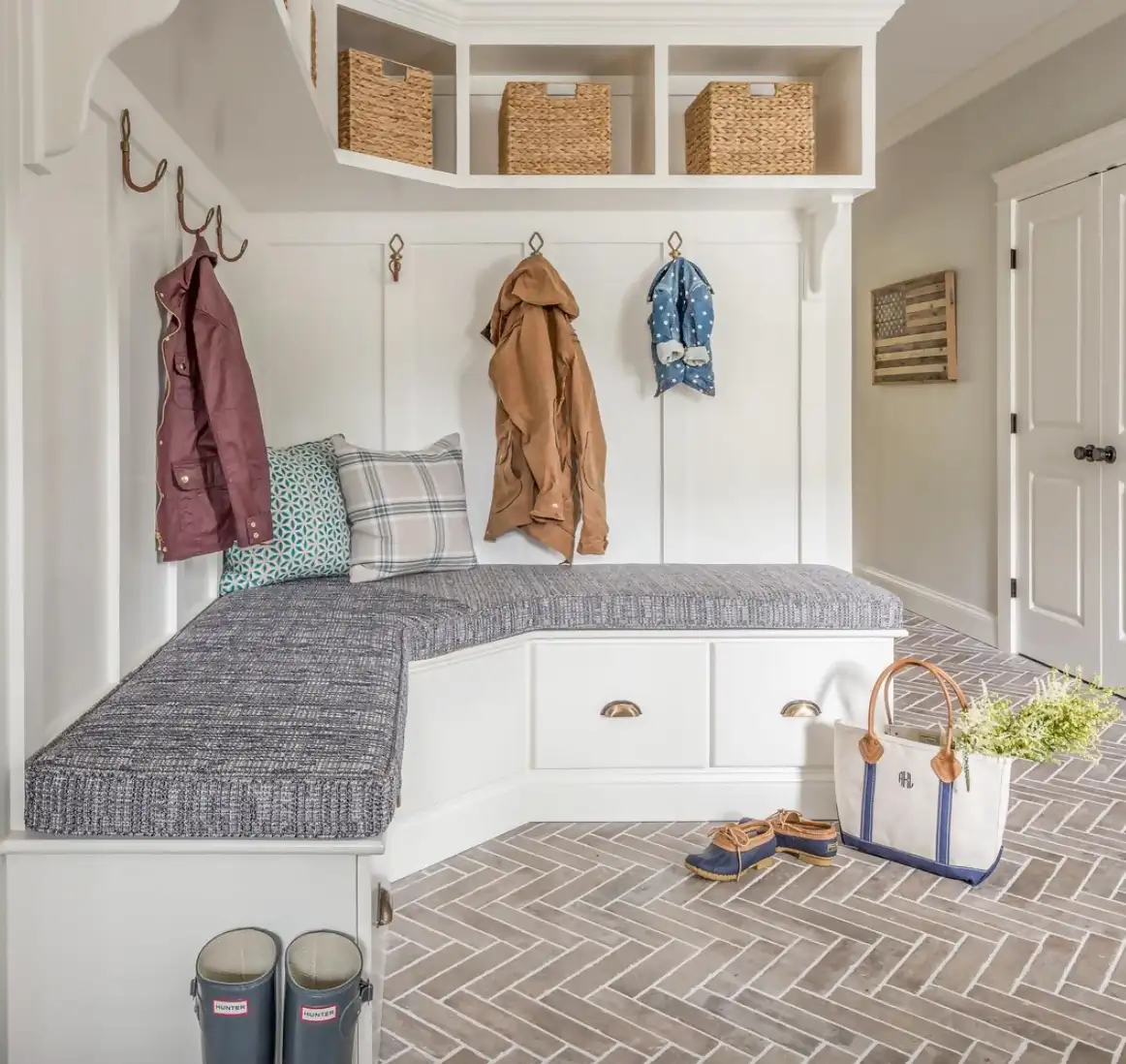 Use A Dresser To Store Shoes And Accessories
If you have limited space, think about using a dresser for storage options. Assign a drawer to each family member to keep all their items organized for a team effort. It's so cool when everyone gets in the habit of putting every item back where it belongs! If all the shoes, supplies, and accessories are smashed together, you'll end up wasting time to just find what you need. It can be a really irritating part of daily life, can't it?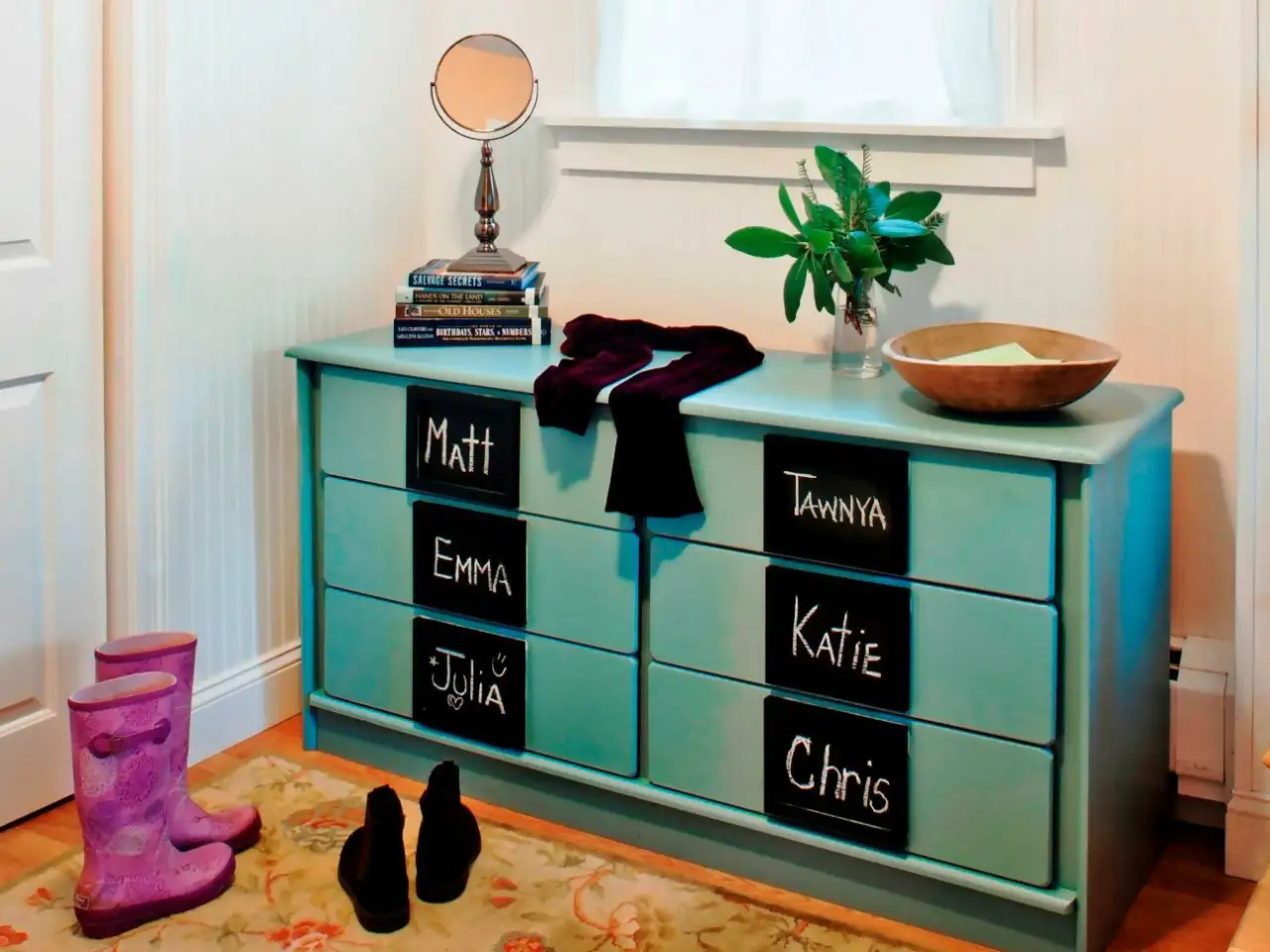 Multifunctional Mudroom Design
If you are not lucky enough to have a designated area to decorate as a mudroom, you can combine it with another room. This multitasking solution helps you to organize storage space and keep your dwelling clean, especially during muddy days.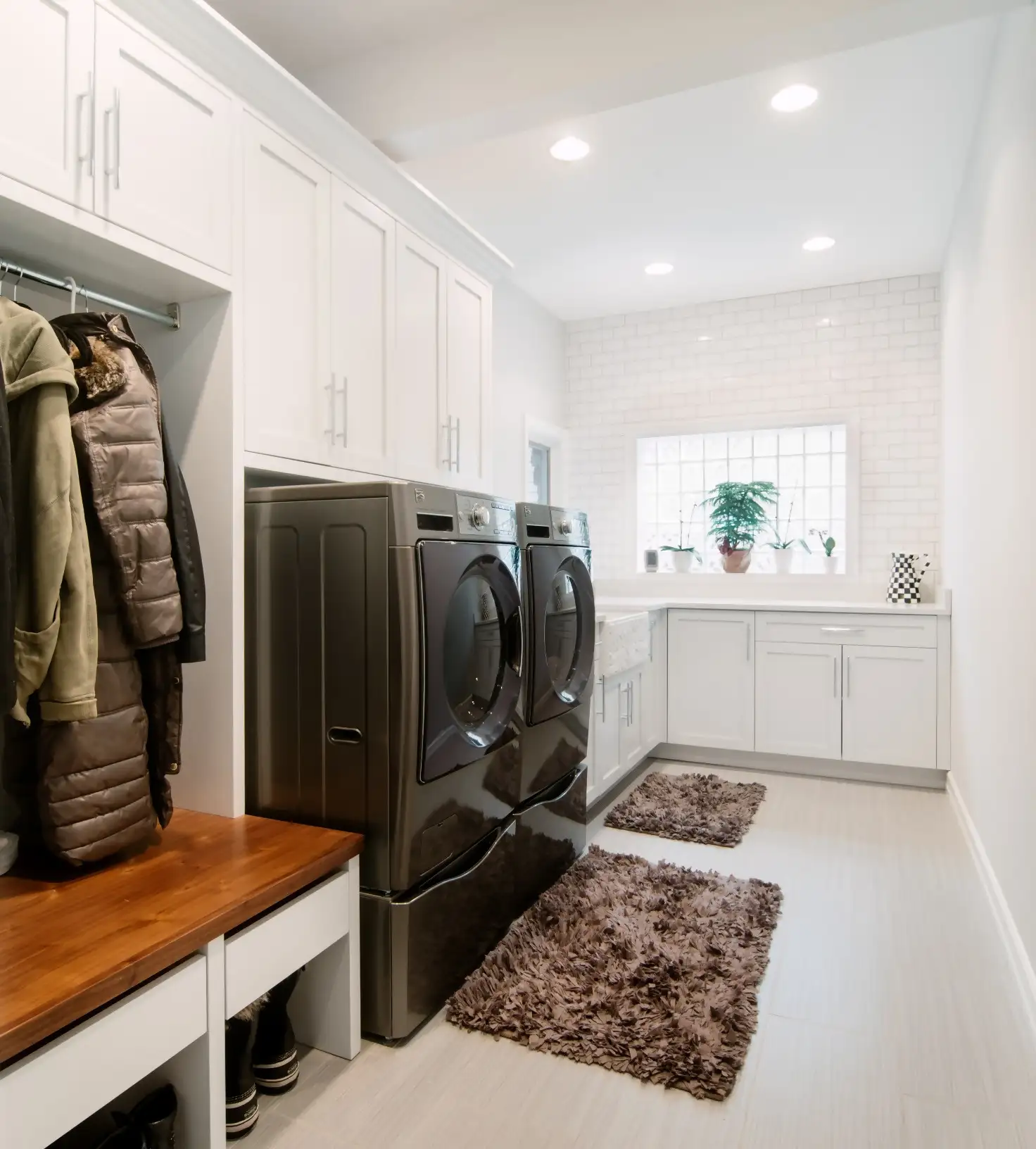 Mudroom And Closet
Not everyone has an entryway to organize a mudroom or enough space to decorate a closet. These two areas can be great together to provide a functional storage organization system.A closet and mudroom combo features enough space not only for outerwear, seasonal shoes, and some accessories, but also for various outfits, off-season items, and pleasant knick-knacks to complete your family style.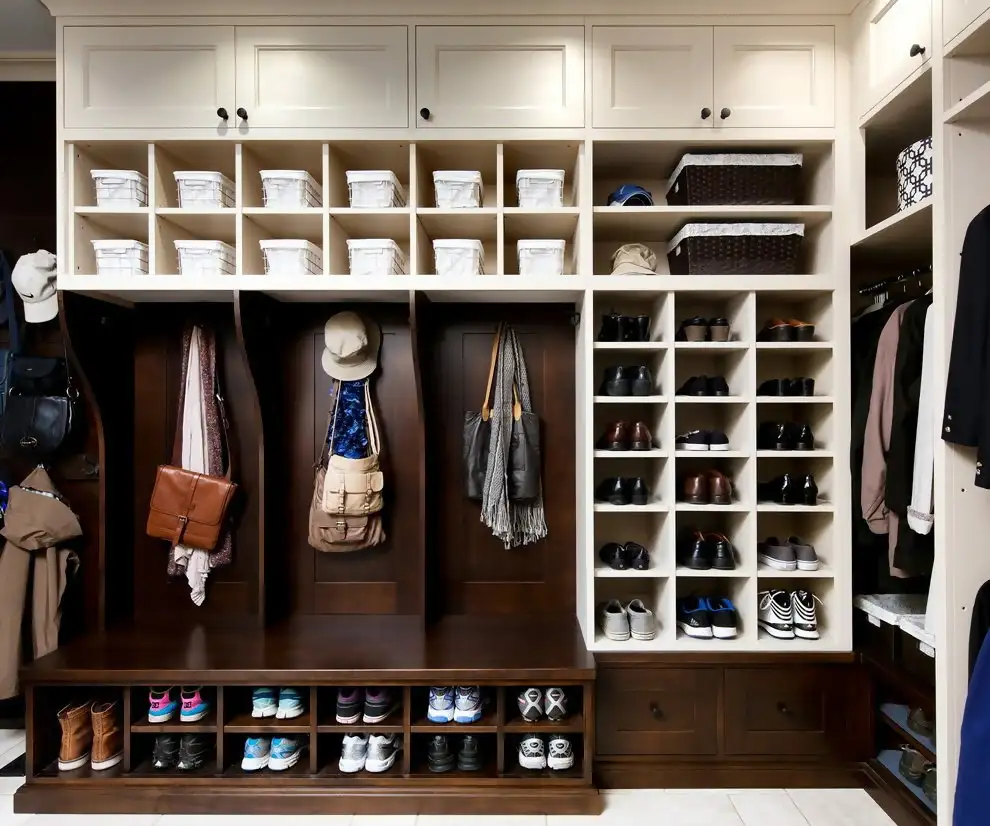 Mudroom And Laundry Room
A combination of mudroom and laundry room is a compromise but not a great design solution. Think about the main purpose of these rooms. A mudroom is aptly named because it's the barrier for mud from outside getting into your abode. A utility room is space to do both laundry and ironing to provide your family with clean clothes and underwear. This means you'll mix two areas with opposite purposes.
In any case, it's better to think about another combo option. For instance, you can include a laundry room in your bathroom. But if you have just one full bathroom which can already cause a waiting line of your family members, a laundry room which is located in a mudroom seems like a not-so-bad idea after all.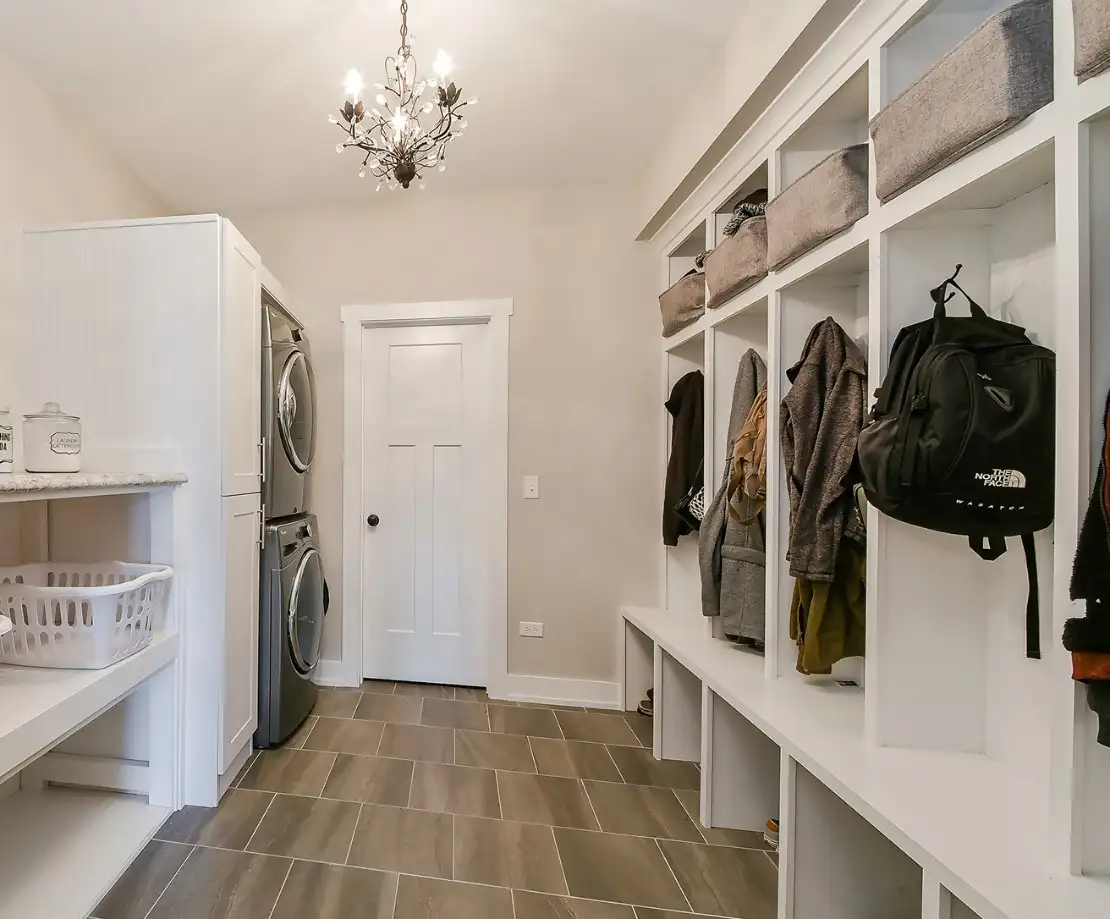 Even if you have a really small house, you can organize a successful combination of both mudroom and laundry room. But in this case, it's better to place an iron and ironing board in another room. We recommend to place such an ironing area in the separate room with a closed door, such as a bedroom, to prevent spreading lingering smells from the kitchen. The choice is yours!
Mudroom And Home Office
A combo of a mudroom and home office works well together if you need a place to work or manage your personal affairs. But take into account that in this case it's really hard to concentrate and focus on a current task if people are tramping in and out of the house.
If the general layout of your house is disproportionate and your mudroom is bigger than other rooms, you can locate your home office area there to prevent a waste of space.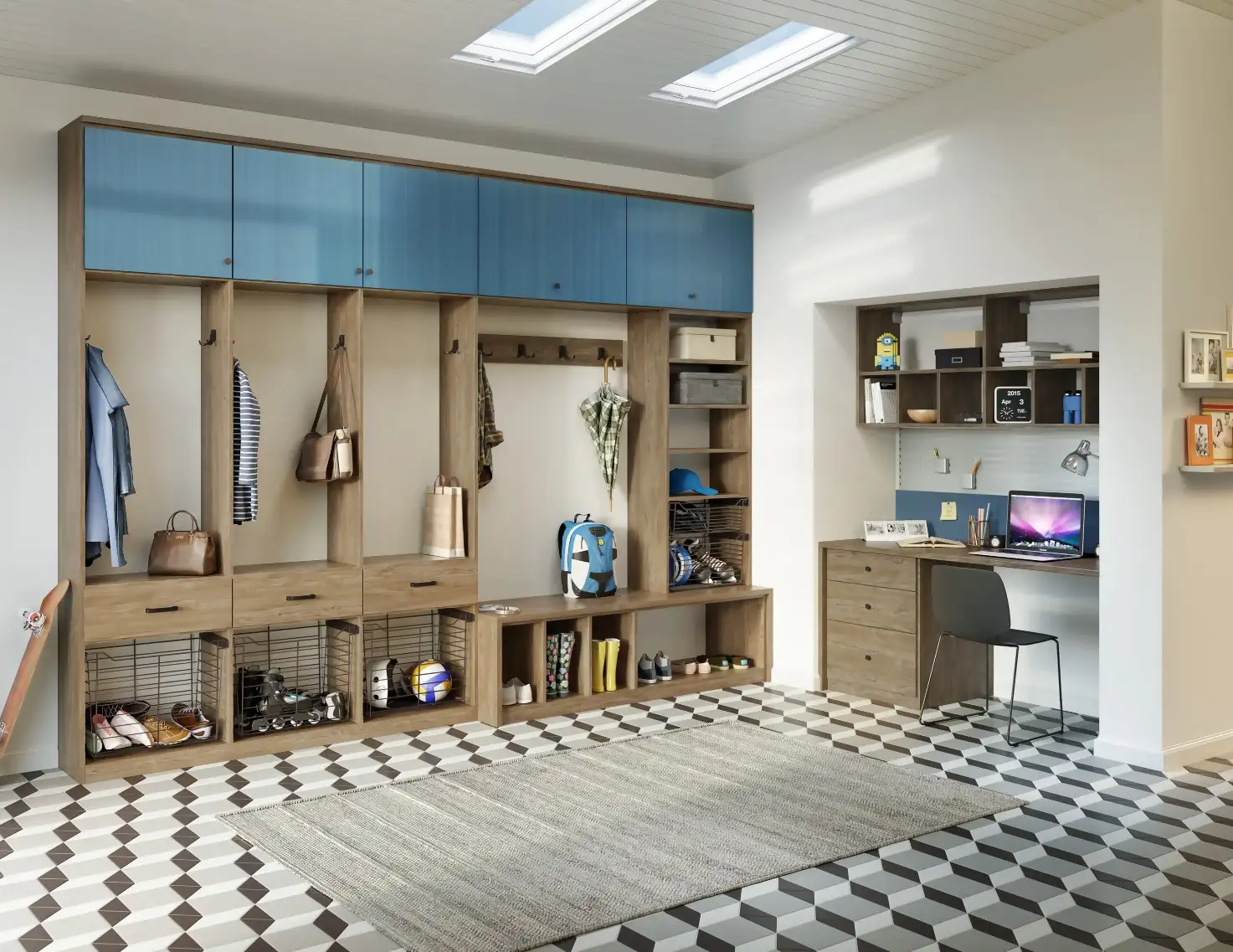 Mudroom And Kitchen
If lingering kitchen smells aren't a problem for you or you don't cook at all, a mudroom can be a transition to the kitchen without a kitchen partition. Decorate these two areas in the same style to create an attractive appearance for your dwelling.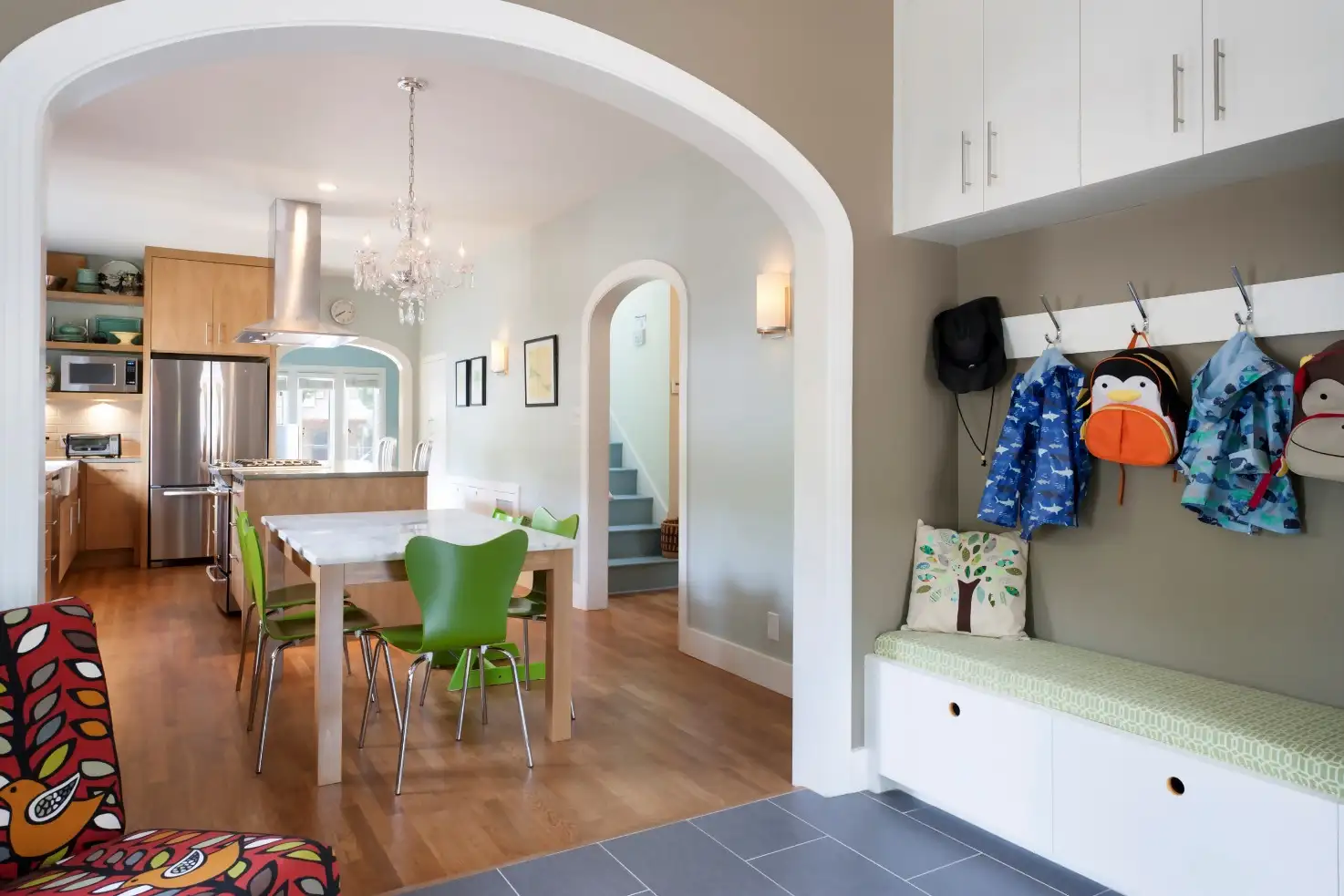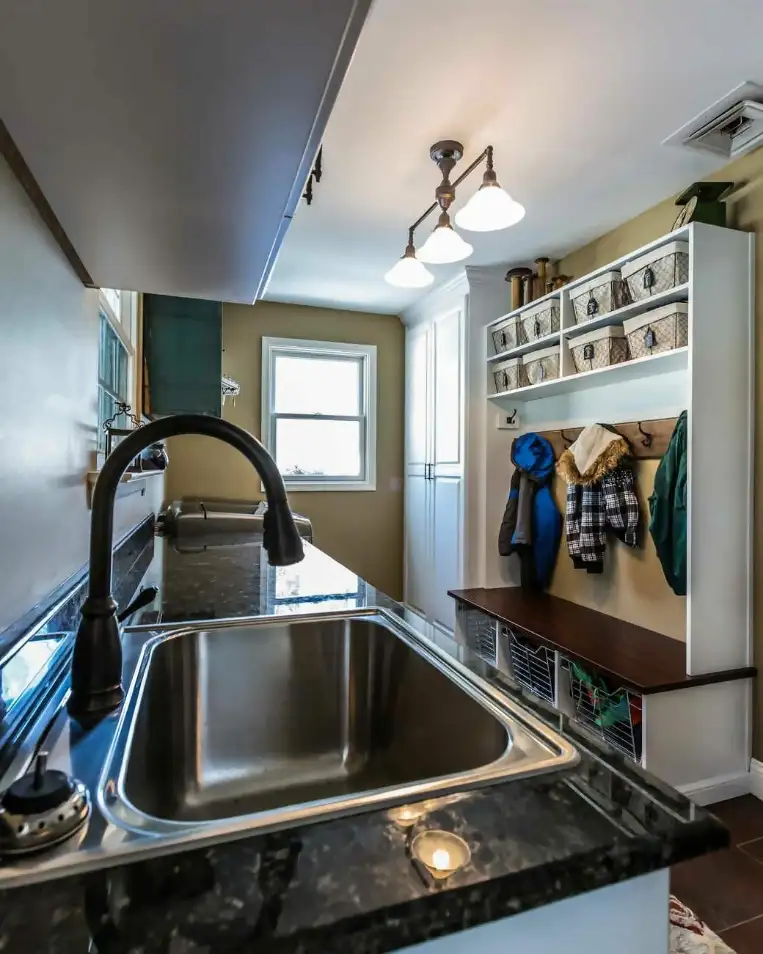 If your kitchen is located near the entryway and you don't have another place to organize a mudroom, this combination is a necessity. But be ready for frequent wet and dry cleaning there.
Mudroom Styles
Whether you have a large or small mudroom, choose a style which fits with your vision of a welcoming home. It's really important to open the door and observe a clutter-free, functional, and aesthetic mudroom.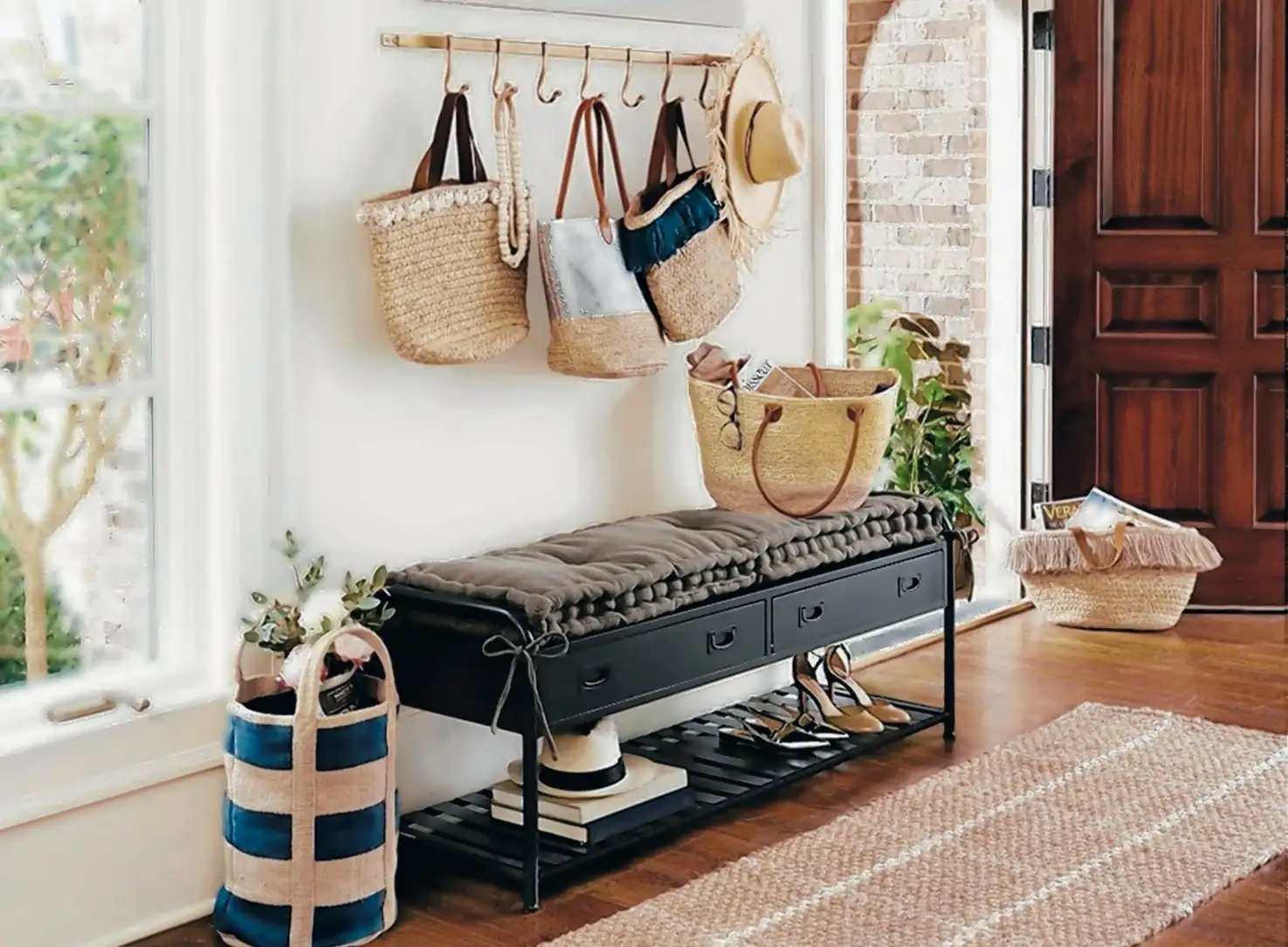 Farmhouse Mudroom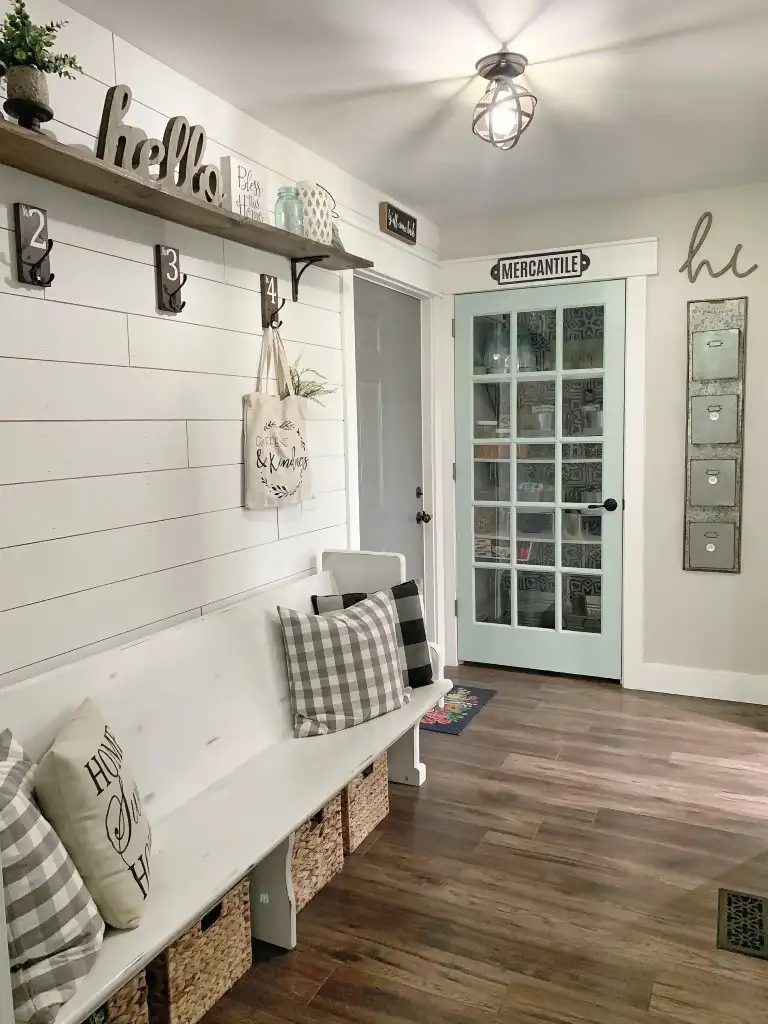 When you decorate your mudroom in a country style, feel free to use a lot of inviting décor accessories with creative DIY elements, such as green plants in decorative vases, inspirational wall art, hooks, cushions, and glass jars to add your personal touch. But don't forget about putting a limit on kitsch, because enough is enough, even for a farmhouse style mudroom.
Of course, use wicker baskets, decorative bags, and shelves to store various things.
Rustic Mudroom
A rustic style mudroom is all about natural materials, exposed ceiling beams, muted colors, and vintage accessories to create a rough appearance. When you decorate your nature-themed kingdom, use reclaimed wood, stone, and original bricks to enhance an earthy feeling.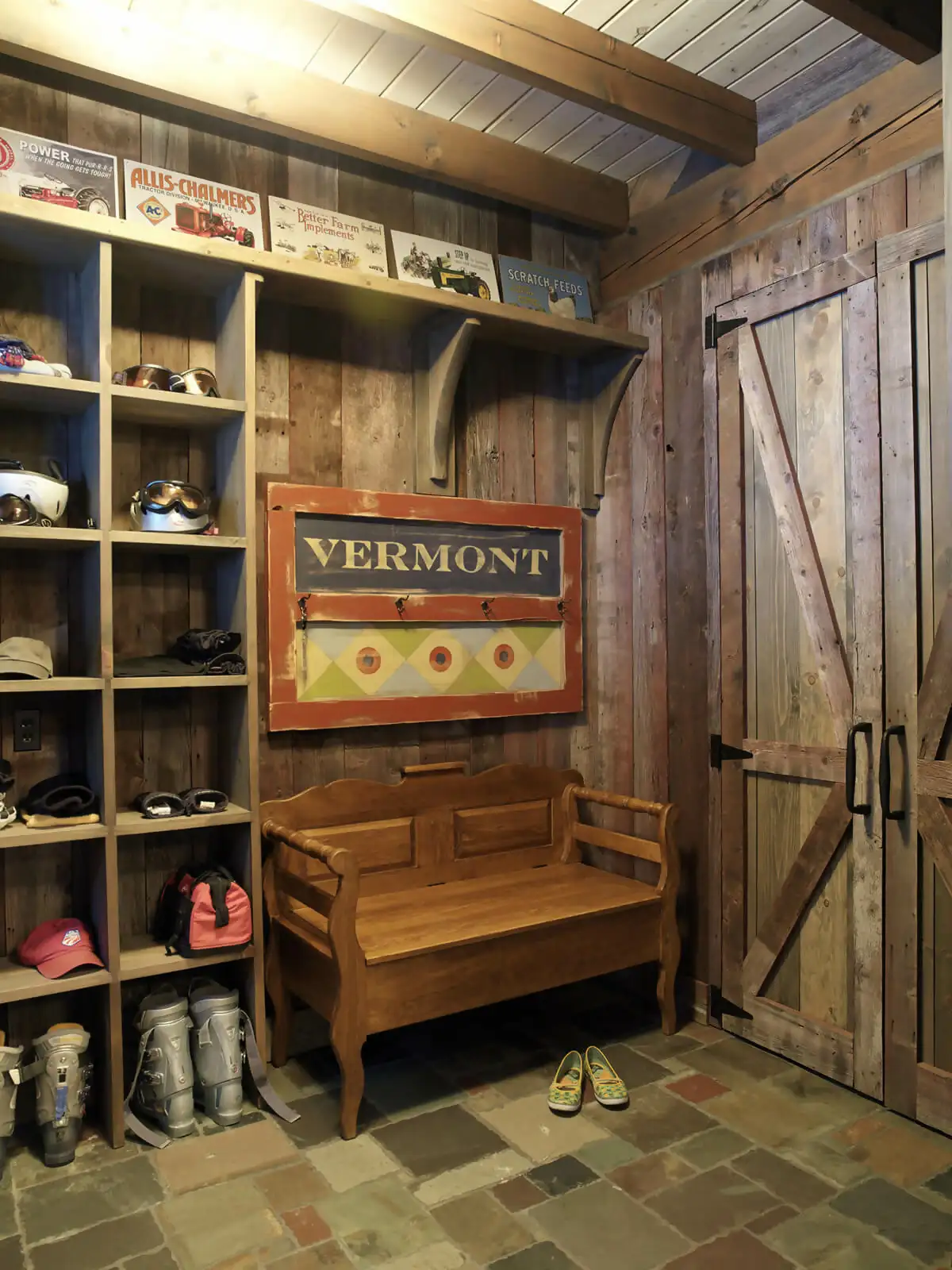 Modern Mudroom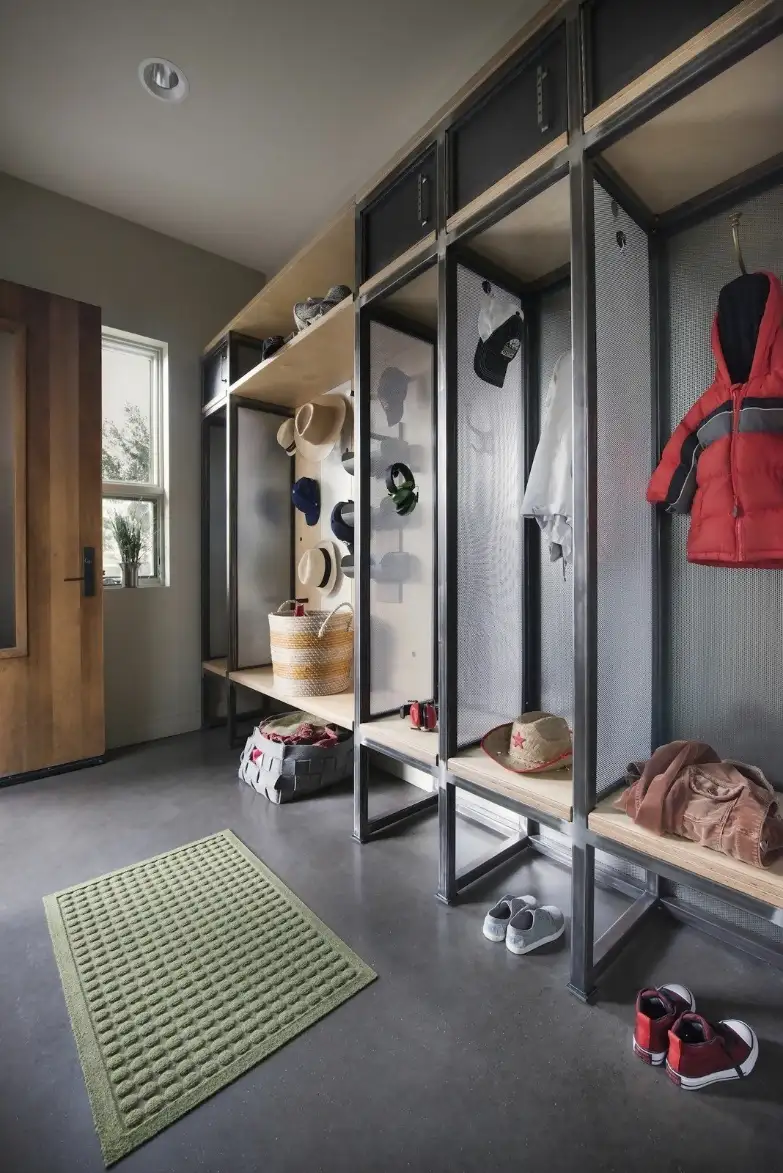 Modern style mudrooms feature simple shapes, with clean and straight lines for a minimalist approach. If you decide to decorate your mudroom in a modern style, create a color contrast between neutral and bold shelves to show an aesthetic side of your storage cabinets. When you consider a cabinet for your mudroom, buy one made of natural materials, such as wood and glass, with metal hooks and pulls.
Contemporary Mudroom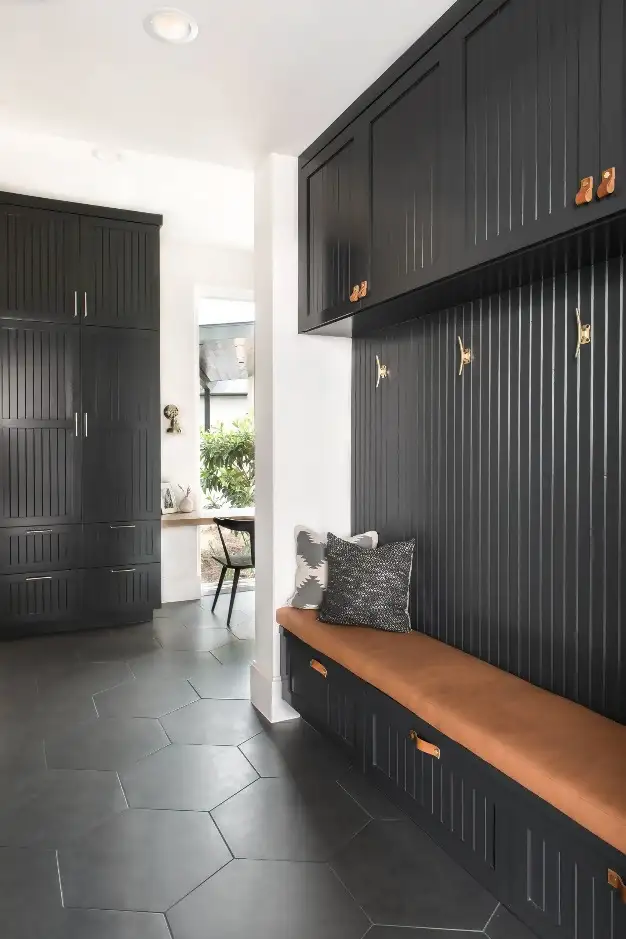 To emphasize your neoteric apartment and the pure simplicity of every detail, choose a contemporary style for mudroom decoration. For colors, use only a classic combination of white, gray, and black tones. Add a brown contrast detail, such as soft upholstery leather for a mudroom bench. When you consider various flooring options, choose concrete tiles with geometric prints.
It's time to feel a fresh breath, isn't it?
Traditional Style Mudroom
If you are all about old times, think about traditional mudroom décor. Be inspired by vintage lighting, a timeless large brick floor, landscape wall art, and a neutral-colored cabinet to welcome you home.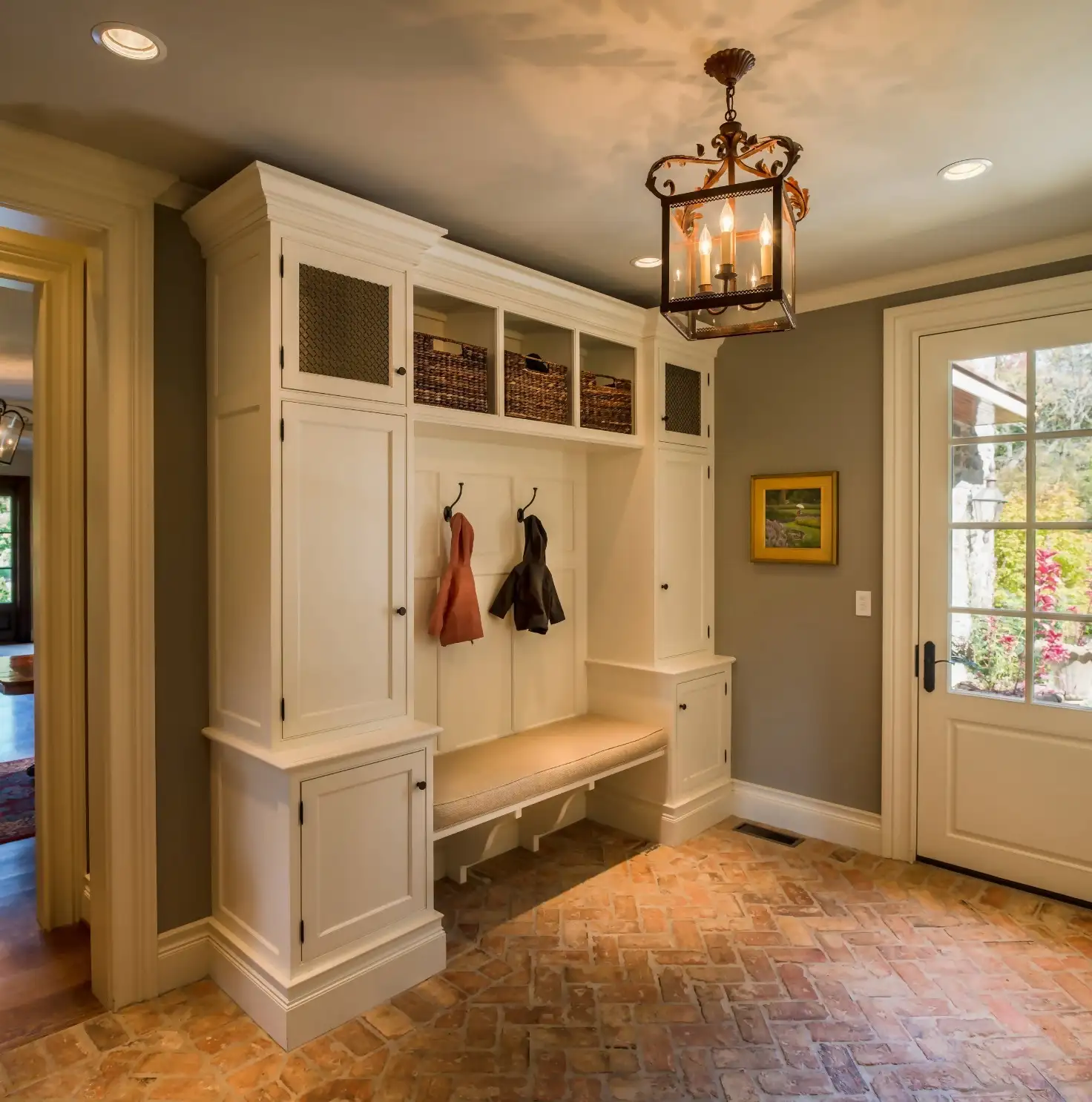 Pet-Friendly Mudroom
Of course, take into consideration both 'pet-proof' and 'pet-friendly' concepts before you begin to decorate your mudroom. This means you should use durable and easy-to-clean items which provide maximum comfort for your pet.
Take care about convenient conditions for your four-legged buddy. If you are a dog owner, create a personal spot with a dog bed for your pride and joy near the entryway, because your dog wants to meet you immediately when you come back home. Place a dog bowl near the dog bed to make its life easier.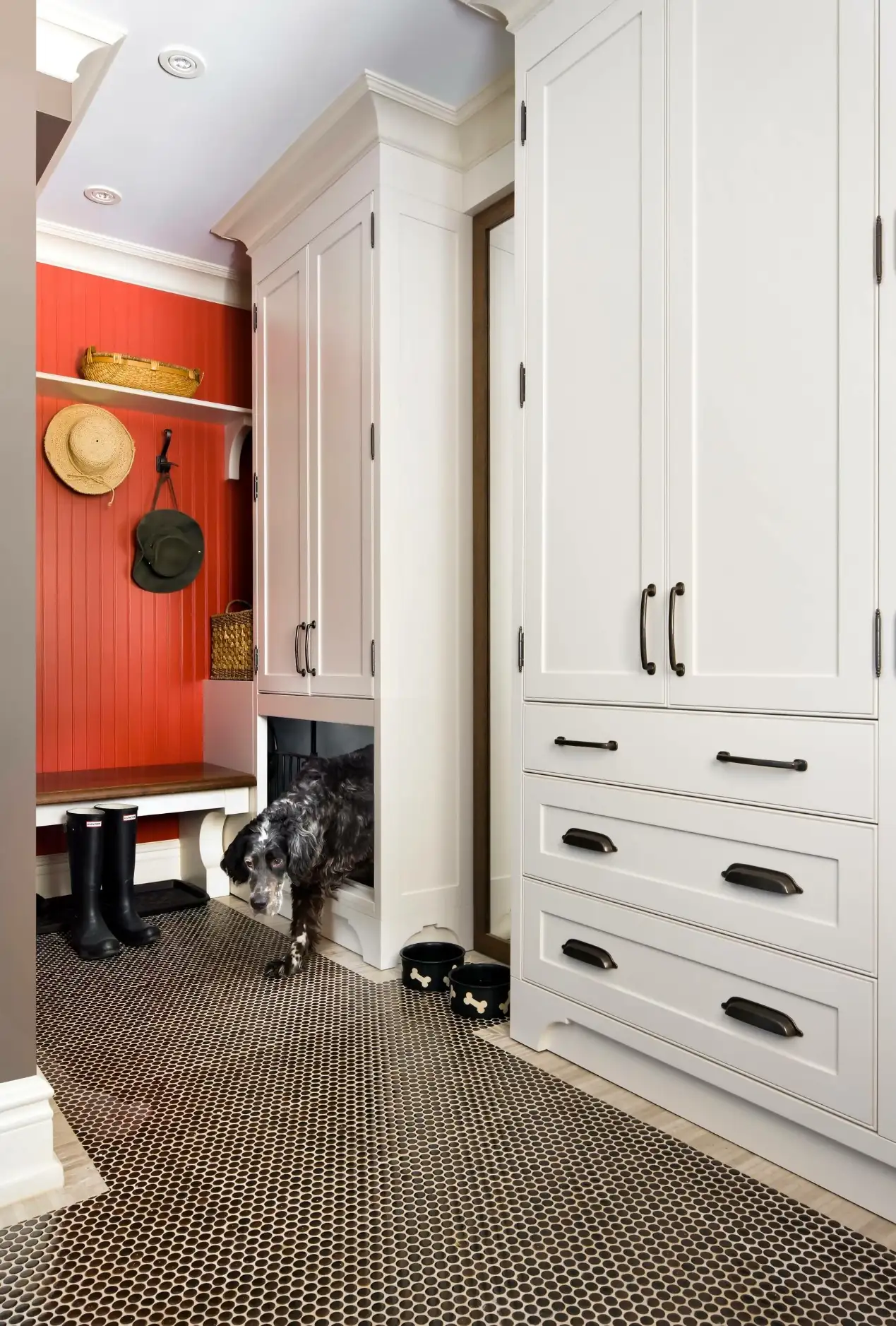 A dog bath is an essential element for your pet. A mudroom is a perfect location for installing a dog bath, because you can wash your four-legged buddy immediately after it comes back from long walks outdoors.