The Essentials Of French Country Décor
If you find aesthetic pleasure when looking at elegant furnishings, arches, columns, light fixtures, window treatments, and chic accessories, take into consideration a French country style for decorating your house.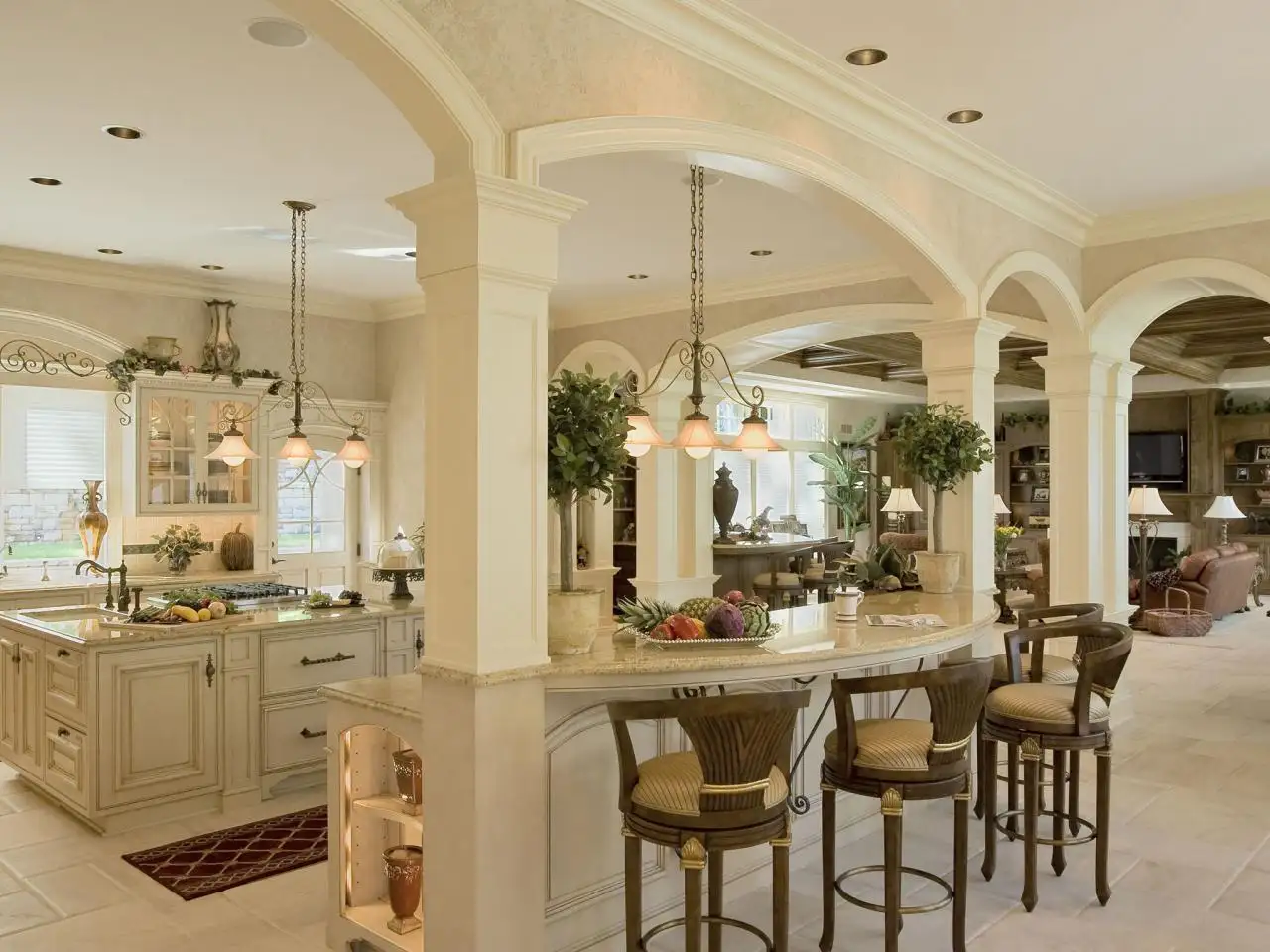 Key French Country Décor Features
French country décor is airy, with simple lines and shapes. It's common to buy old, distressed pieces, or to refinish existing furniture, to provide a warm feeling inside your home. Of course, a lot of plush seating and soft cushions are essentials, especially for areas, such as the living room, bedroom, and patio, where you want to relax the most.
Use both craft and art accessories to display your creative personality inside your abode.
French Country Color Scheme
For colors, focus on both neutral and pastel hues, such as cream, beige, soft blue, light gray, and sunny yellow as a dominant base. Then, add color accents. The most popular in French homes are burnt rust and white hues. Monochromatic tones are too boring and bold hues are too bright for French interiors.
Don't be shy about adding gold hints to your furnishings, wall art, or decorative accessories to display the roots of a lavish French style.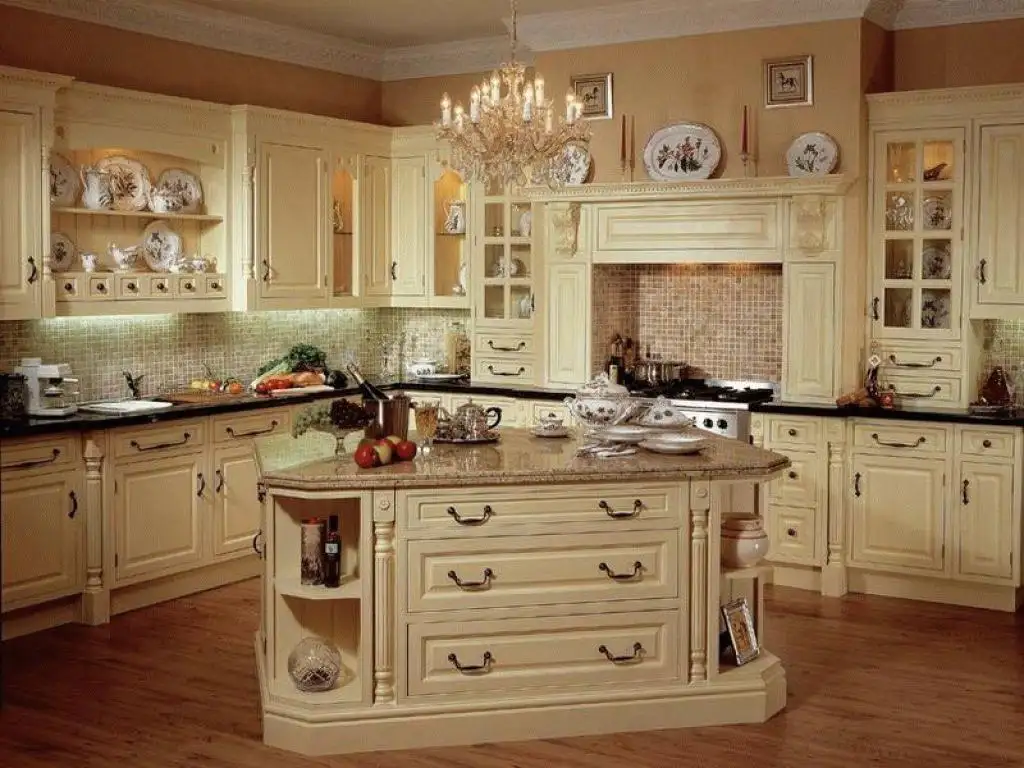 Texture And Fabrics
Historically, a lot of textures in fabrics, furniture pieces, curtains, and wall coverings are used in French country homes. Despite a narrow color palette, a variety of textures and patterns and chic layered fabrics make French décor exquisite, saving elegant houses from a boring appearance. A toile (also known as toile de Jouy) is a traditional fabric. It's must-have for French country window treatments, wall coverings, upholstery, pillow covers, and bedding.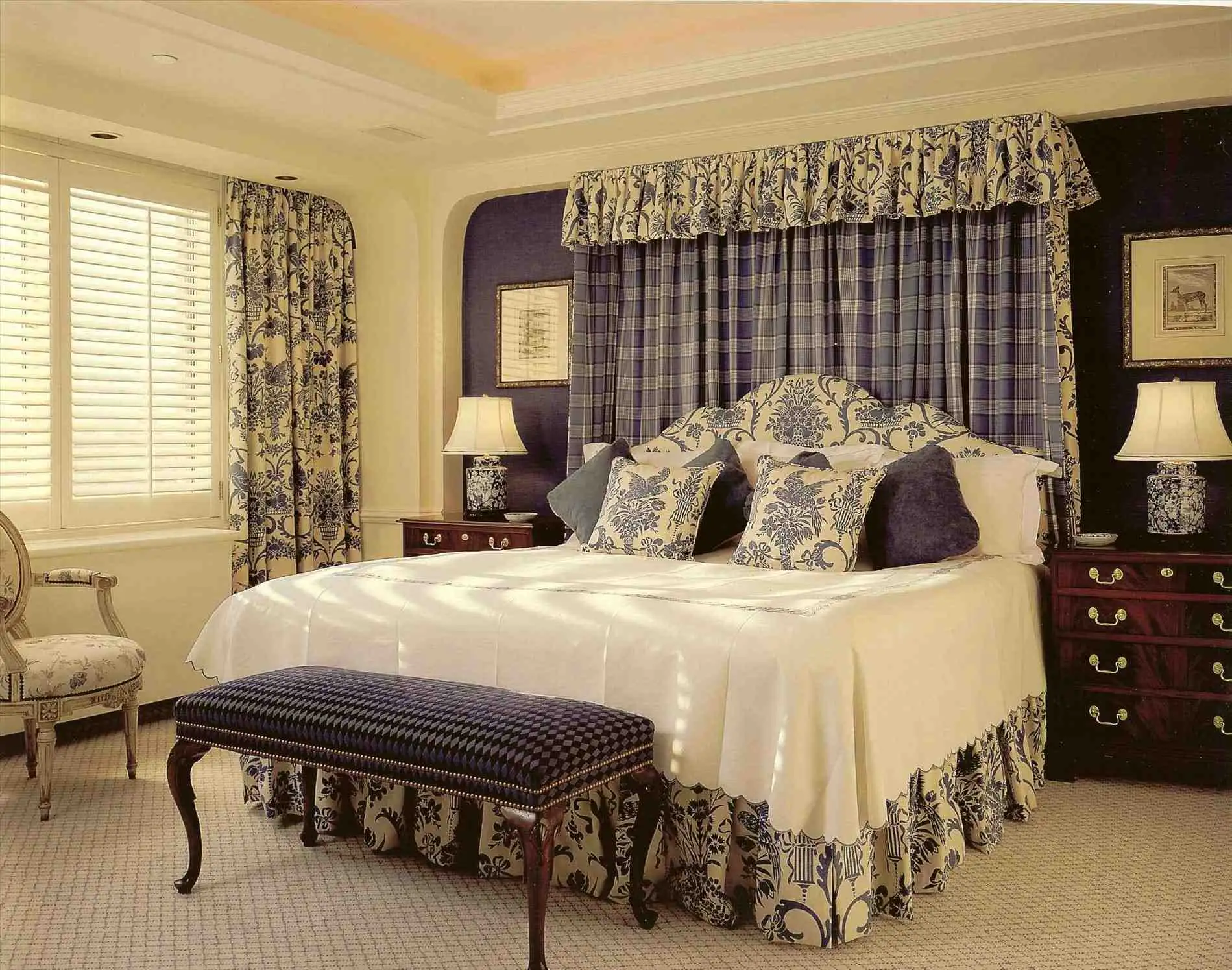 French Country Window Treatments
Lots of natural light and living space is necessary for every room in a French country house. Both natural and artificial lighting is key to providing an open feeling inside your abode. For artificial light fixtures, opt for both chandeliers and wall sconces.
To achieve the effortless look of French country homes, dress up your windows with peaceful Roman shades, blinds, and sheer curtains. Balance out textures, colors, and light to enhance the harmonious character of your home. Also, think about using window treatments with homey patterns such as gingham, light florals, or complex prints.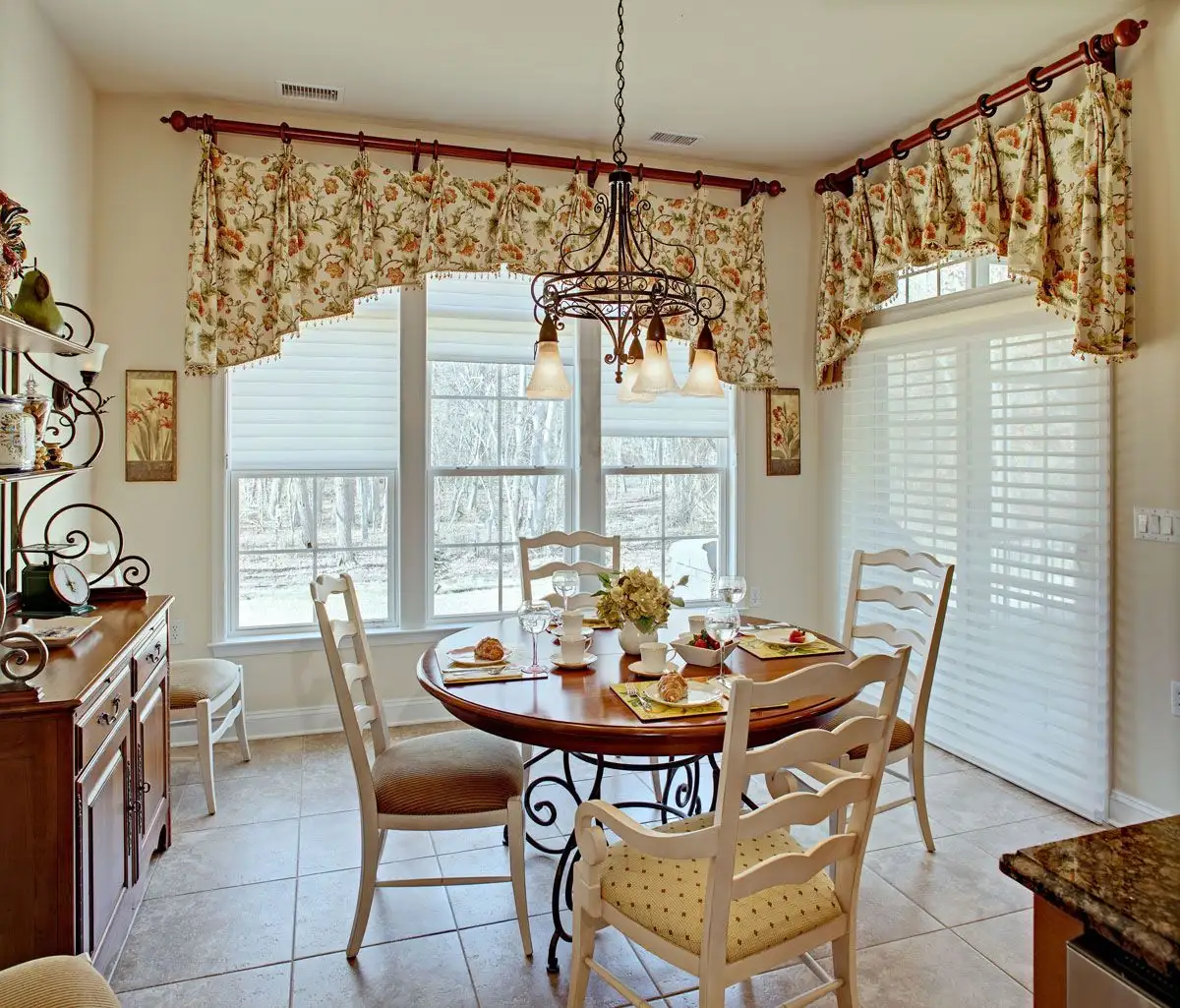 French Country Accessories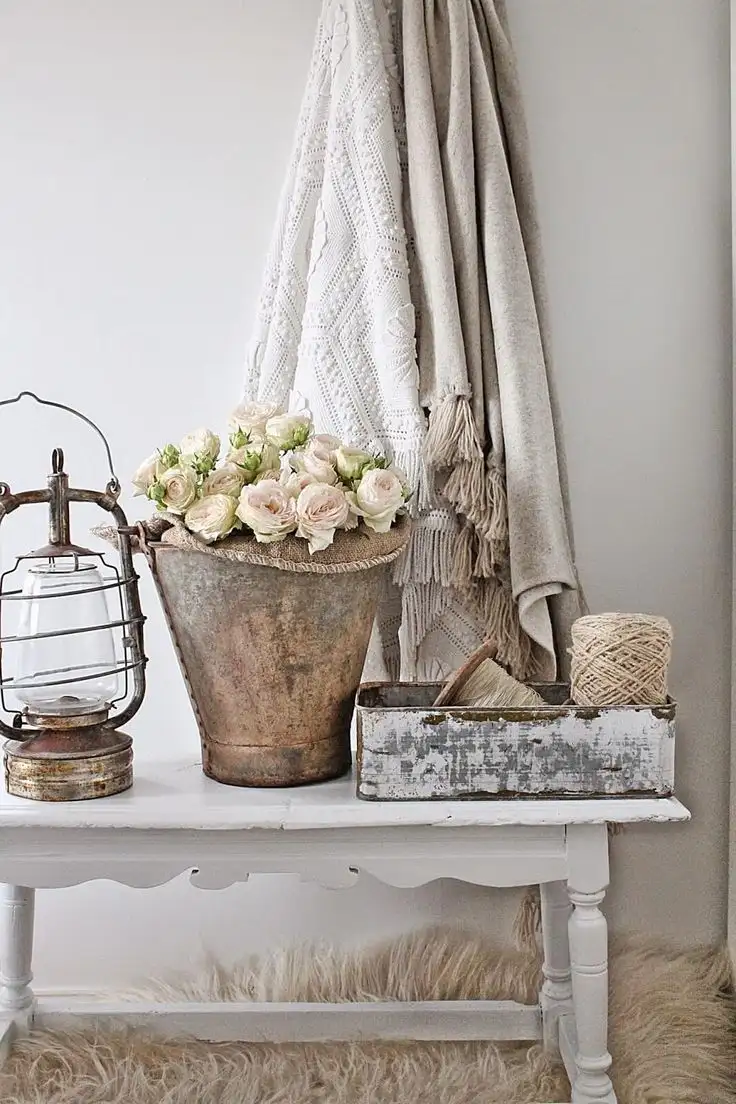 Using décor accessories is a great way to warm up your charming interiors. With chic vintage accents you can complete your home's design in a French country manner. For instance, you can use oil lamps, zinc vases, metal stands, spools of thread, and/or plaids. We recommend to put a limit on kitsch and not to use all of these items together, to keep the elegant appearance of a French country home.
You can blend ancient candelabras with modern candles to create a romantic atmosphere inside your French country dwelling.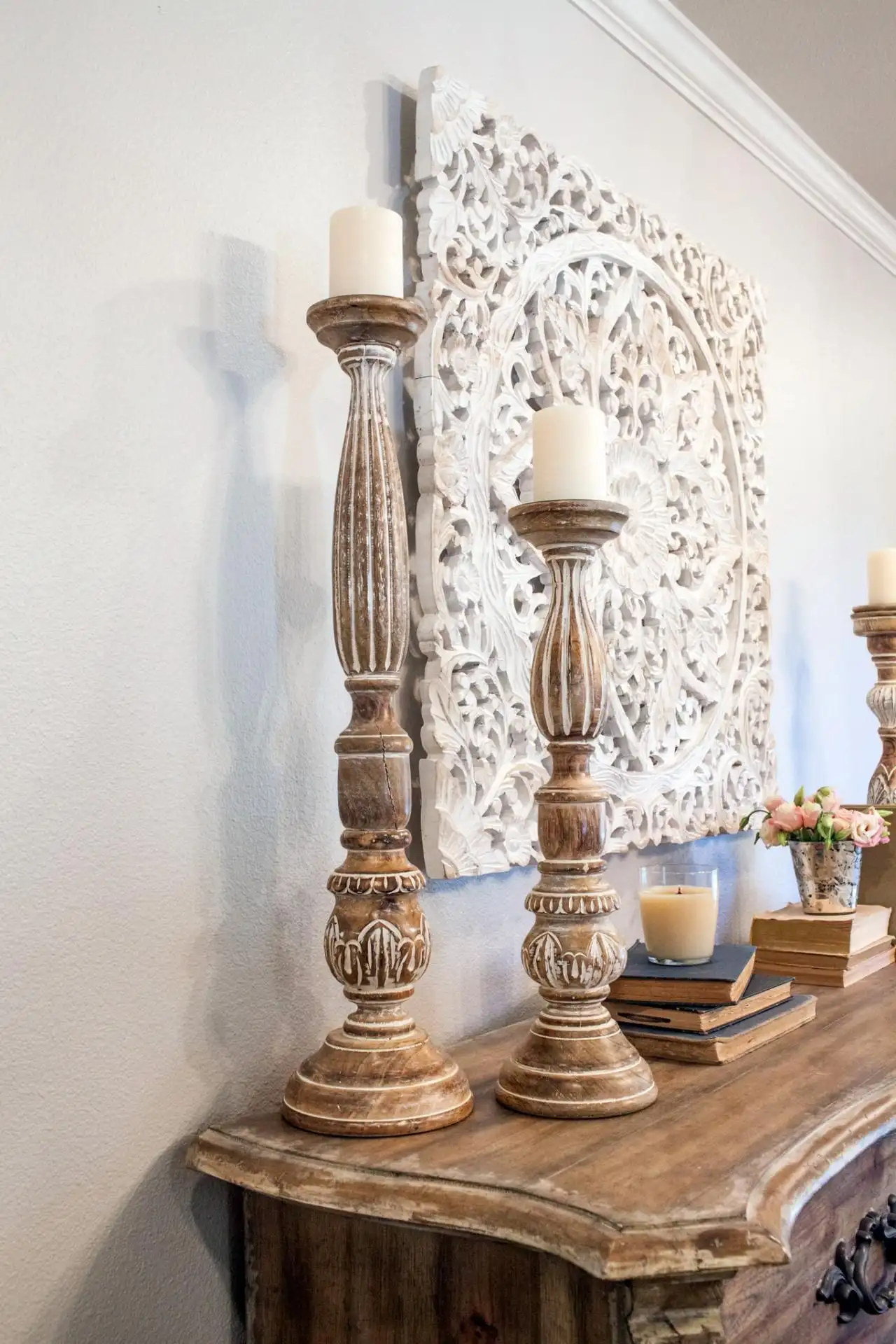 If vintage accessories are a bit too much for your style, decorate your home with craft elements or repurpose existing items. For instance, use a glass bottle as a vase for a beautiful floral arrangement.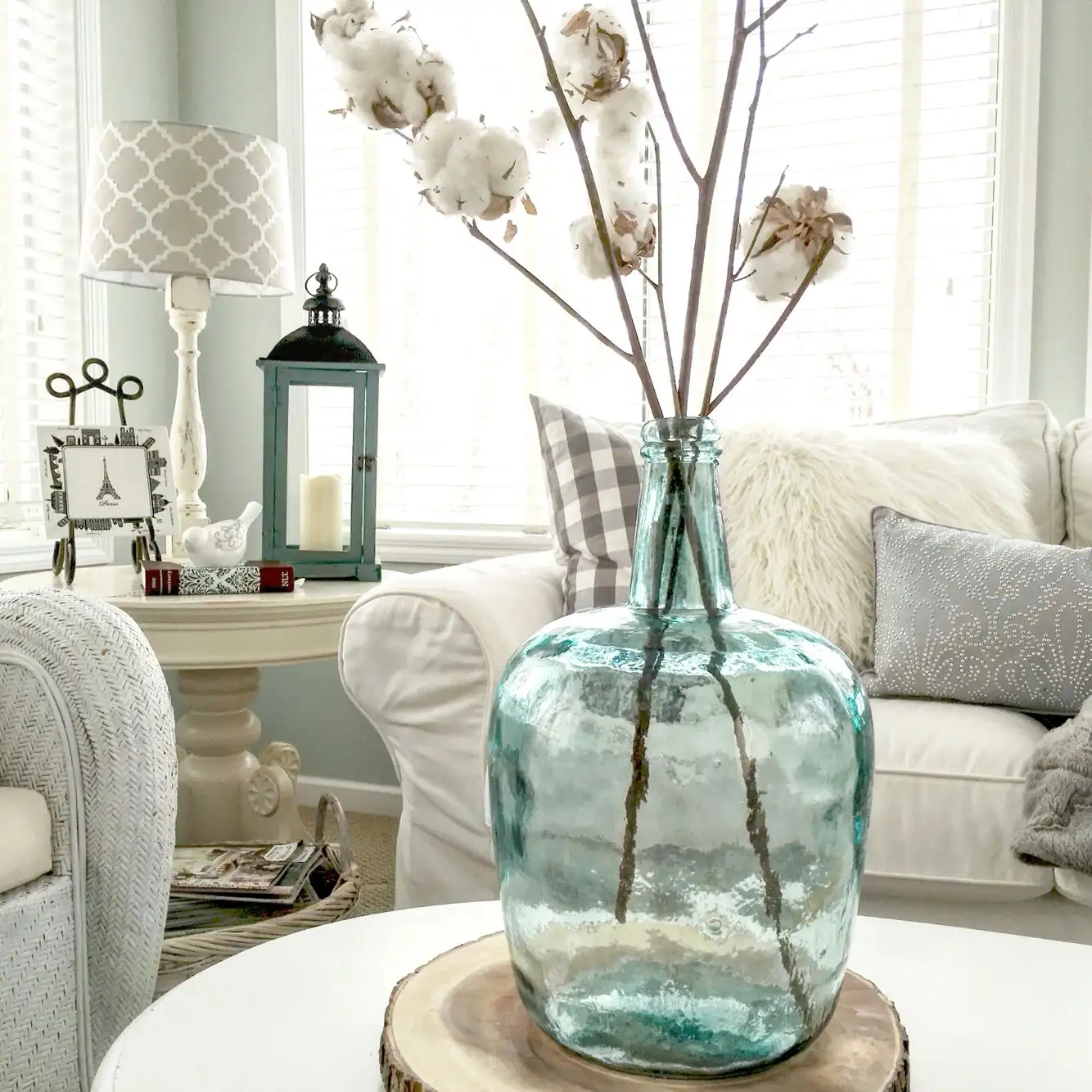 French Country Wall Décor Ideas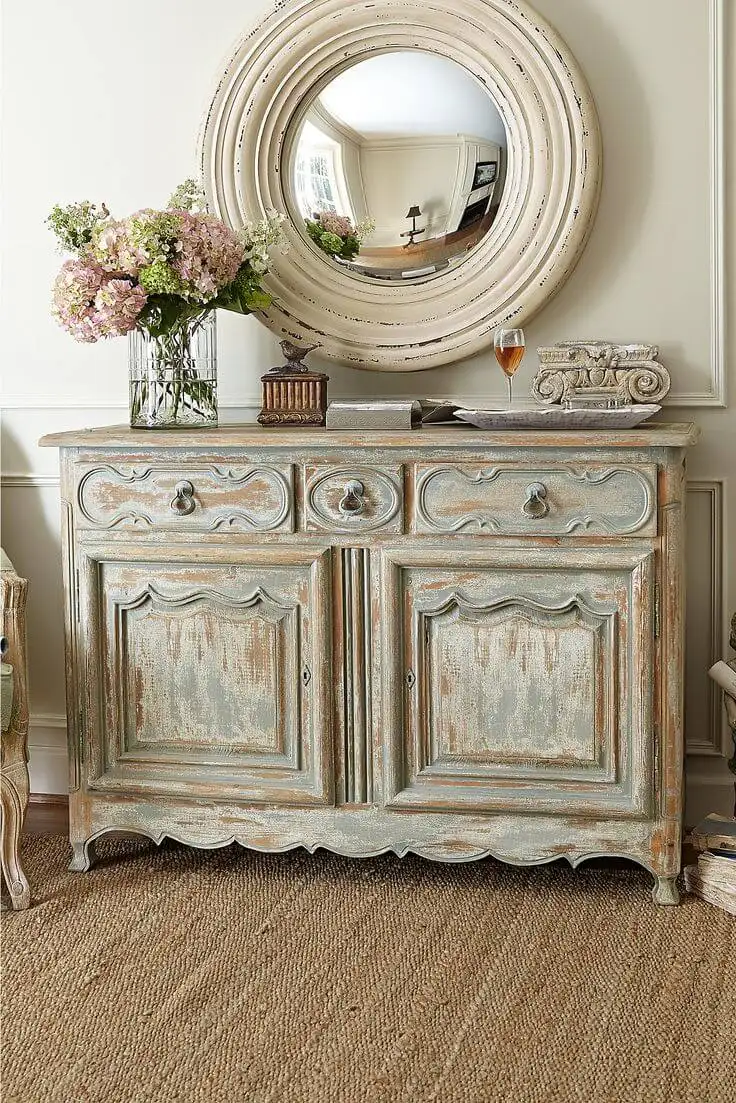 Liven up your walls with traditional French country, vintage, or shabby chic wall art! That's a great way to create the main focal point of an entire room and add creative details.
French Country Wreath And Clock
Add wall accents by hanging a wreath on the one wall and a clock on another. Wreaths are used in French country houses not only as elements of Christmas décor or other holiday seasons, but also just as aesthetic items to provide a natural touch. For instance, you could buy a wreath made of natural or artificial French lavender, magnolia, winter berry, mixed pines, flowers, or craft one yourself.
Traditionally, a large old-fashioned clock is an important part of French wall décor. It's used to show the transience of life and the importance of living in an easygoing way.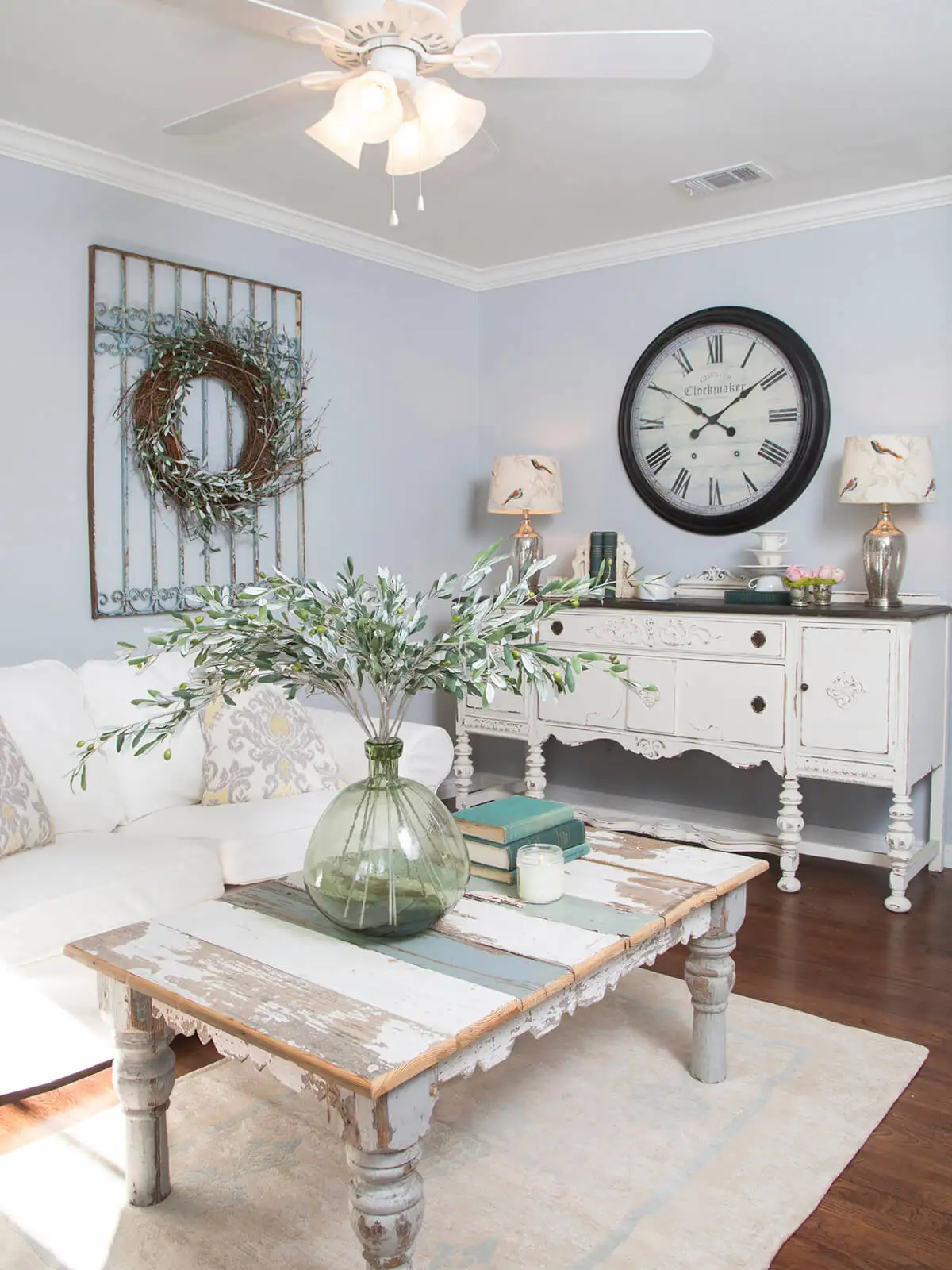 Framed Pictures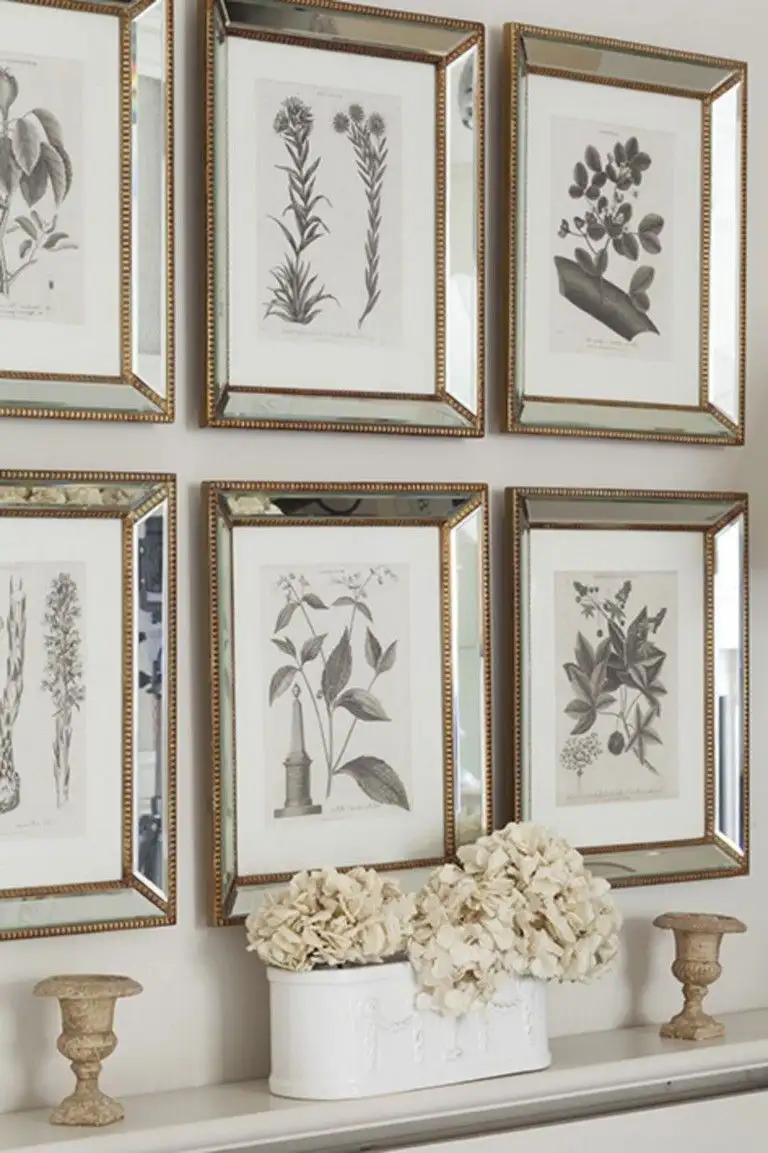 If you dress up your walls with gold-framed pictures with natural prints, you'll show elegance without limits. Glass is the perfect material to use as a picture frame cover. Organize equal space between each frame to emphasize the beauty of simplicity.
Inscription Prints
Think about using an inspirational quote as a wall decal or sticker. If you like to drink coffee with your friends, choose a quote which is related to this part of your lifestyle.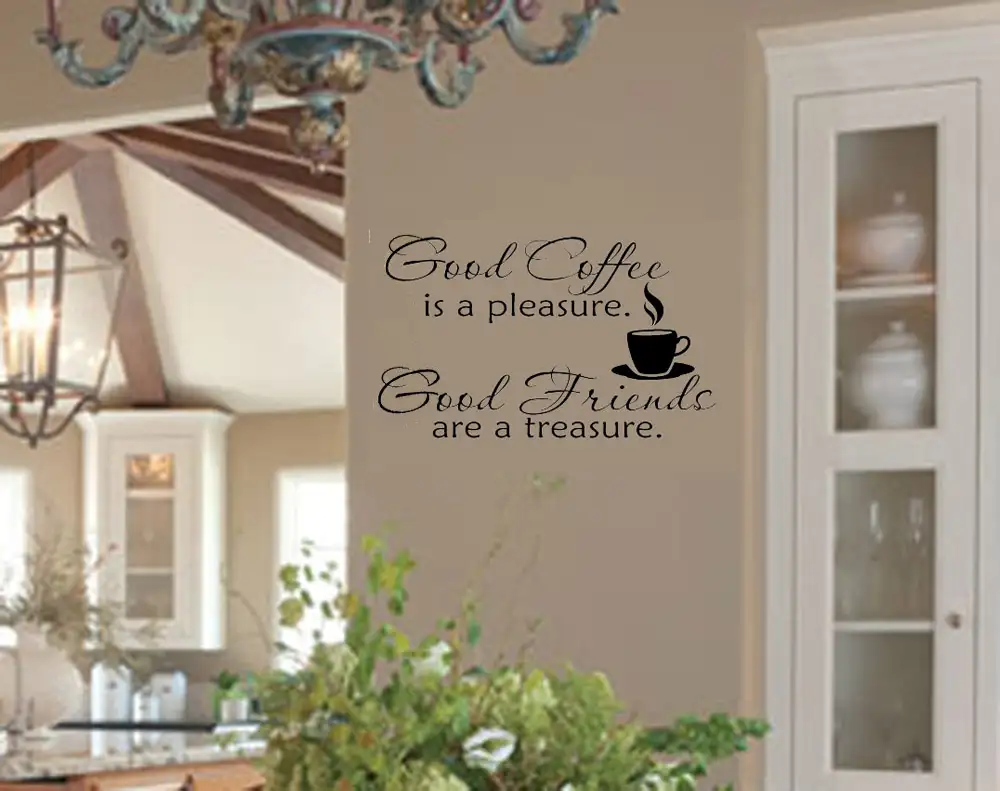 Hanging Decorative Wall Plates
If you are an owner of decorative plates, use them as art pieces to fill up empty wall space and show off your unique collection. You can hang them just using a simple plate hanger device for each of them.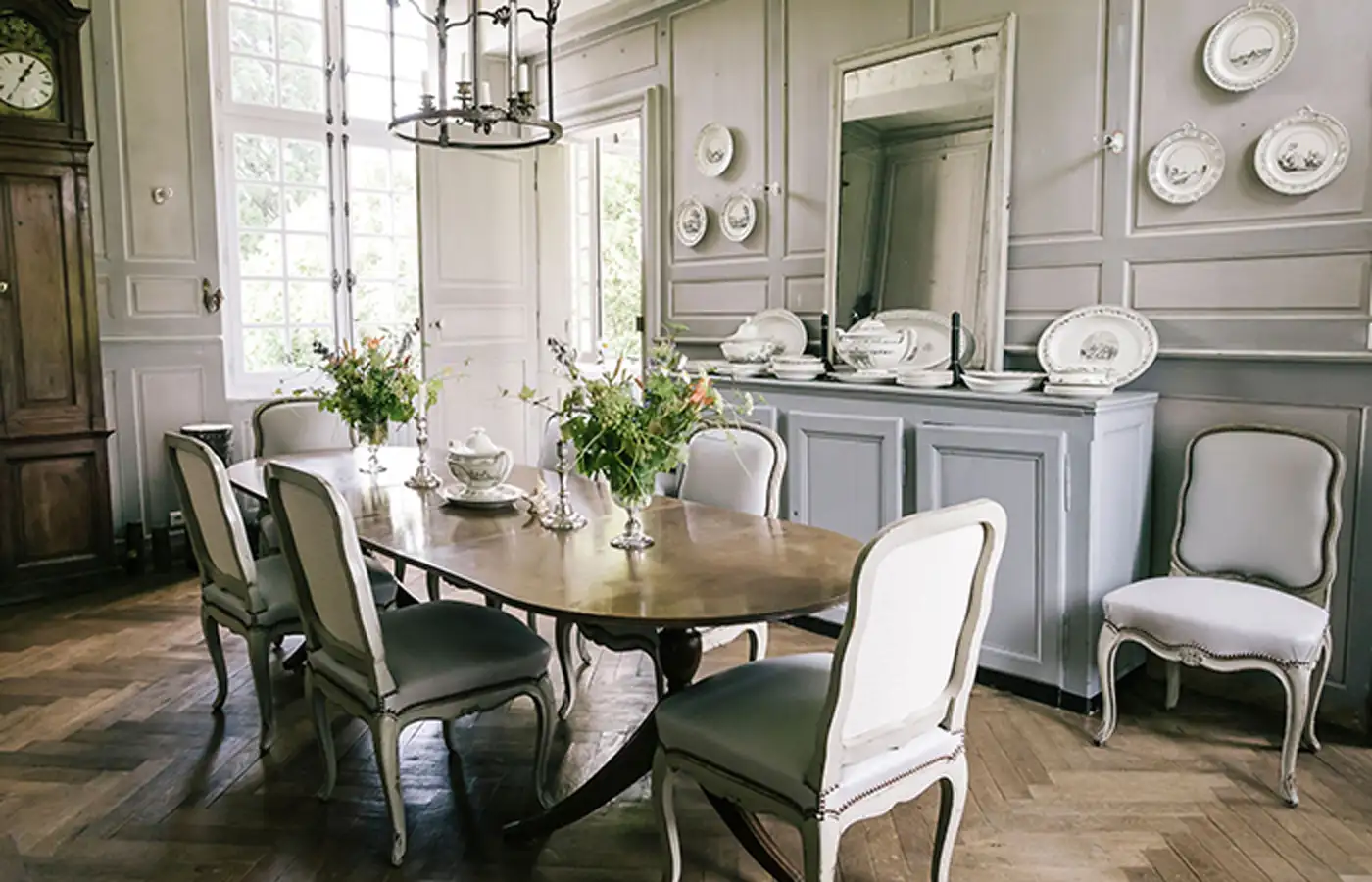 A Mix Of Styles
To achieve the traditional look of a French country home, be strict and consistent in both general concept and use of chic details. Take into account that modern French décor develops and adapts both architectural and decorative elements from other interior design styles.
Feel free to jazz up French country with other décor elements to give your home a tasteful update.

Rustic French Country Décor
A rustic abode is a nature-themed place decorated with farmhouse details. A French country style displays the elegance of simplicity using rustic-looking accessories frequently. As time goes by, the connection of these styles becomes stronger, because apart from attractive details, French country homes adapt the prominent features of rustic abodes, such as exposed ceiling beams, rough-hewn stone mantels, and antique armoires.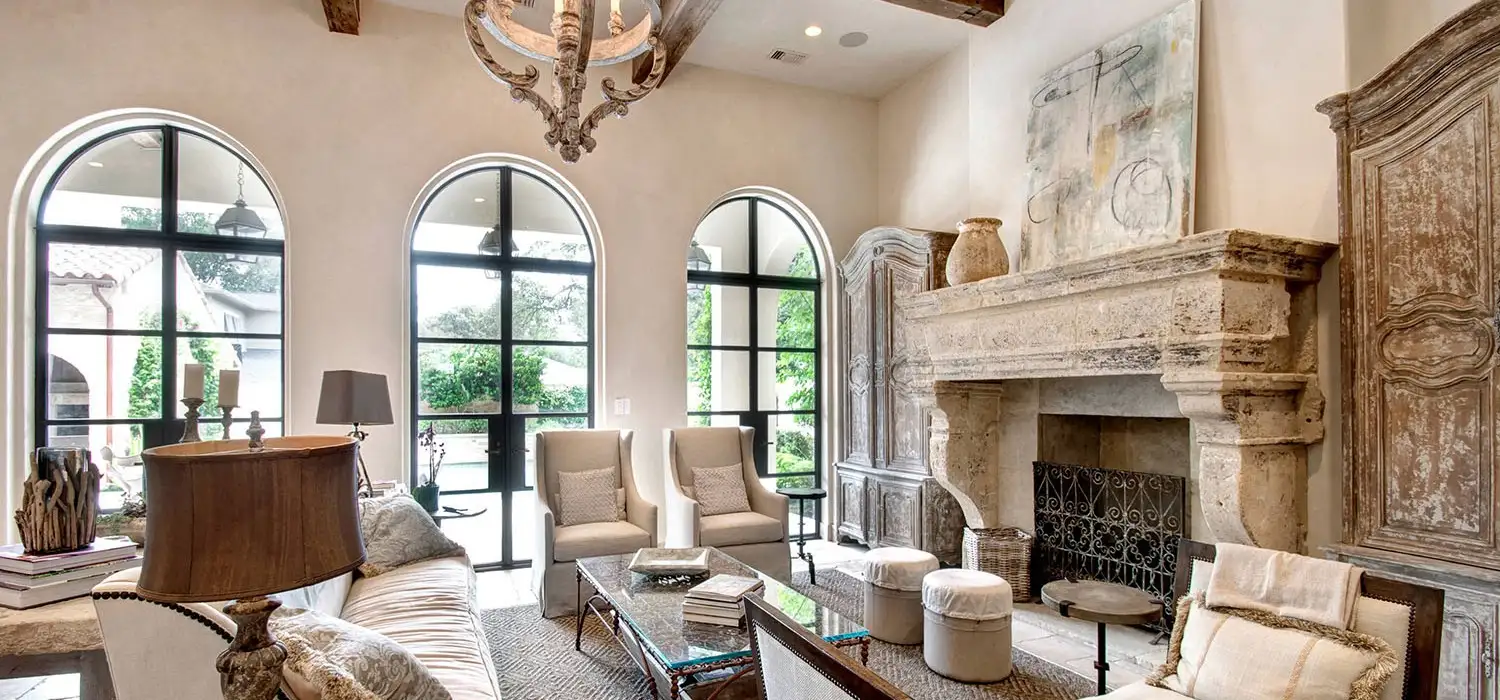 Modern French Country Design
New technologies have a strong influence on a lot of design styles, including old-world French country décor. If you've just started to decorate or makeover your kitchen, a great solution is to incorporate modern kitchen appliances, such as a Wi-Fi-enabled oven, induction cooktop, dishwasher, and energy-efficient refrigerator with smart voice assistant into your cooking space. Also, think about installing a modern cabinet and a kitchen island with stylish bar stools made of stainless steel, zinc, solid wood, or other practical materials.
To keep the elegance of a French country style, use a traditional color range, natural textures, window treatments, and welcoming décor accessories.
French Country Shabby Chic Decorating Ideas
Using furniture pieces and accessories with age and wear is a great way to create a charming ambience inside your elegant home. Shabby chic décor elements made of rusted metal and wrought iron can be integrated into a French country interior to provide a "weathered look."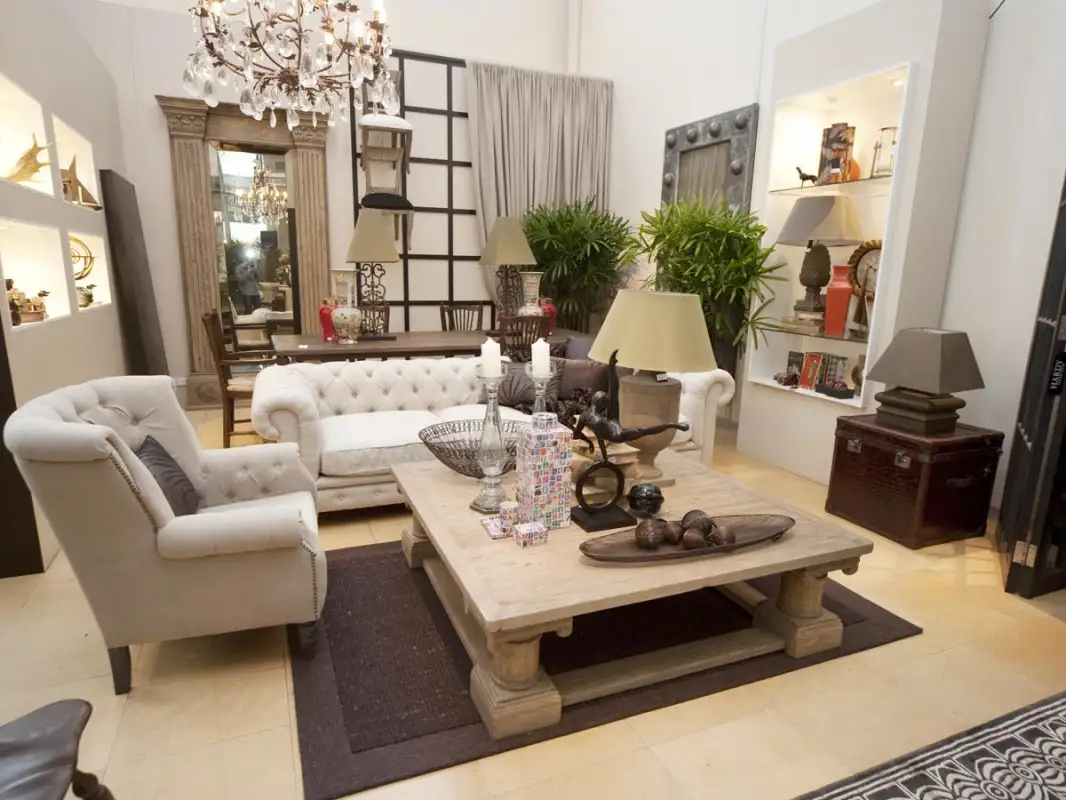 Vintage French Country Décor
With vintage items, French décor attains a magnificent appearance. But be careful, because too many vintage furniture pieces and/or accessories can destroy French aesthetics and cause tasteless décor.