Cozy Cottage Décor
When it comes to decorating your house, look for charming notes to create a chic cottage-style abode. Whether you like an airy beach house or rough rustic homes, cottage style is a design concept which fits well with any house.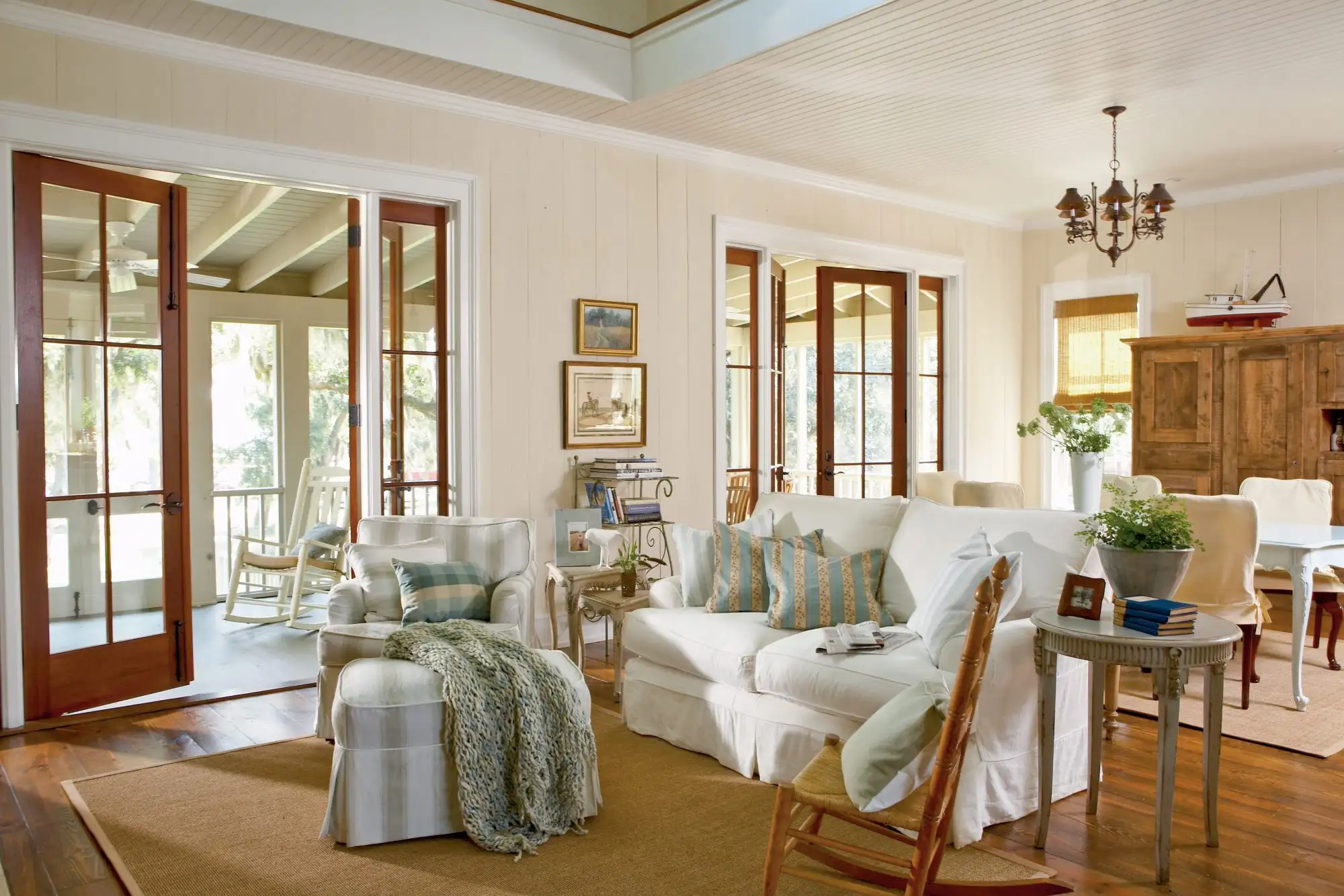 Cottage Style Defined
Historically, a traditional cottage style describes living in a two-story house which was popular in 19th century England. Now, even if you don't live in an actual cottage but your abode has a charming ambience, it's considered as cottage style. It's all about that homey and welcoming feeling.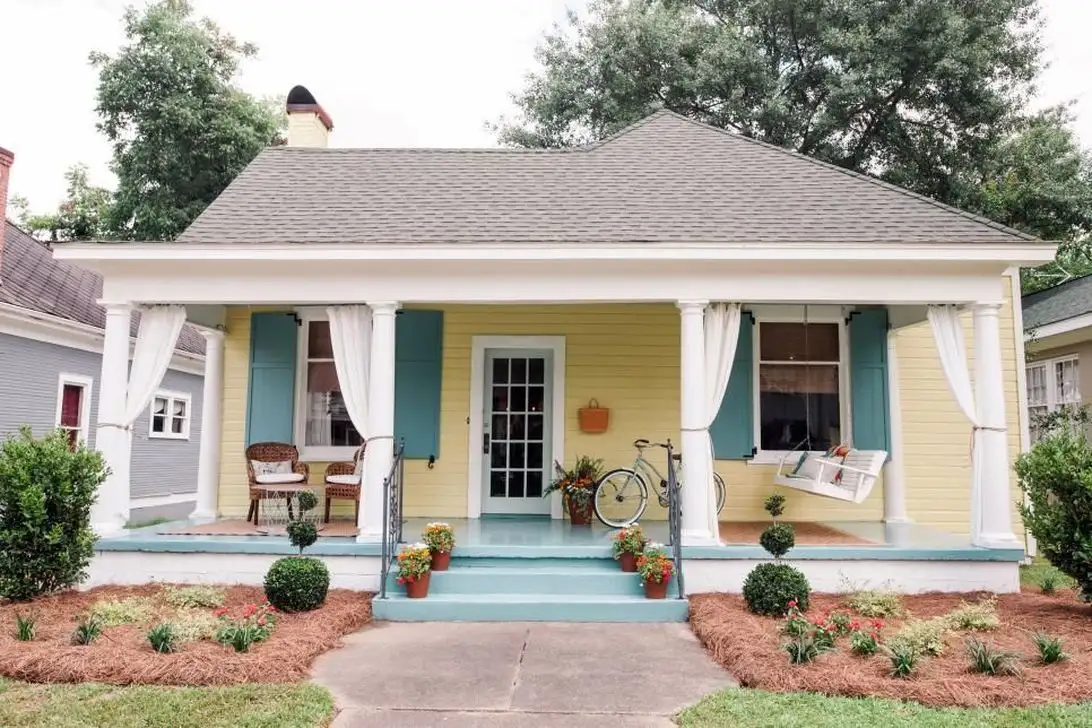 Your 'cottage' can be decorated in any architectural style with a charming flair to emphasize the wonderful aesthetics. In fact, a cottage home is closest to both vintage and shabby chic styles and it contains common elements of each.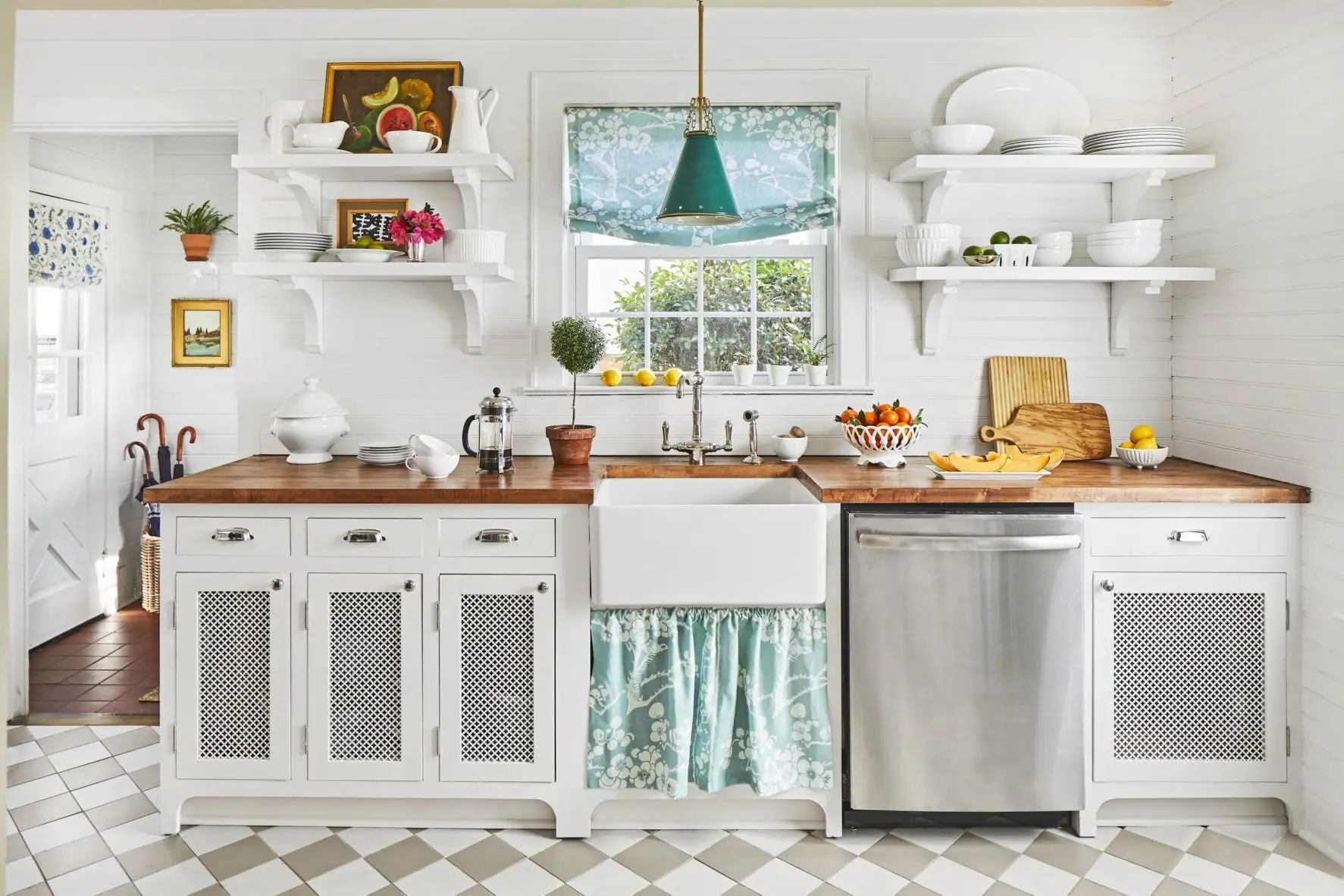 Cottage Style Home
Stick with a sustainable approach in choosing furniture pieces for your cottage style home. Opt for a recycled sofa, armchairs, a table, and a fireplace. You don't have to match furniture pieces. A wicker chair or wheelchair with a cushion adds a handmade accent to your living room. It looks excellent, even if you place this chair near a big, heavy armchair.
Think about repurposing some furniture pieces. For instance, you can use a well-worn chest as a coffee table.
For colors, a combination of pure white and brown hues looks harmonious. Use natural materials, including wood, stone, rattan, and bamboo.
To diffuse light in an elegant way and complete the cottage look, dress your windows with beautiful sheer curtains. With white curtains, you allow natural light to flood your space in the most charming manner. Wood and bamboo window treatments can bring softness and enhance light control.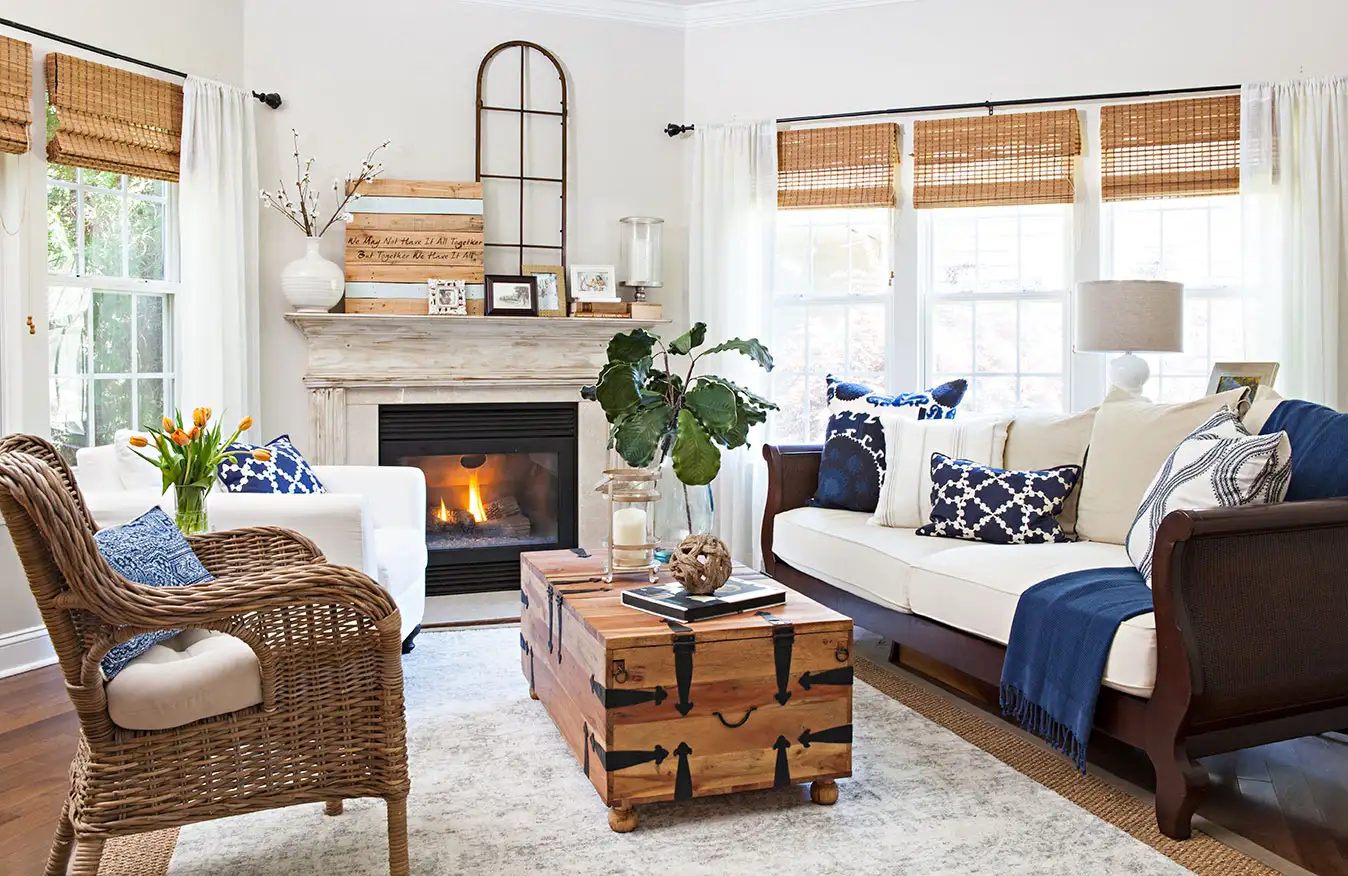 Jazz Up Styles
To make your abode a charming cottage with a homey atmosphere, choose an architectural style that fits your vision of a cozy abode.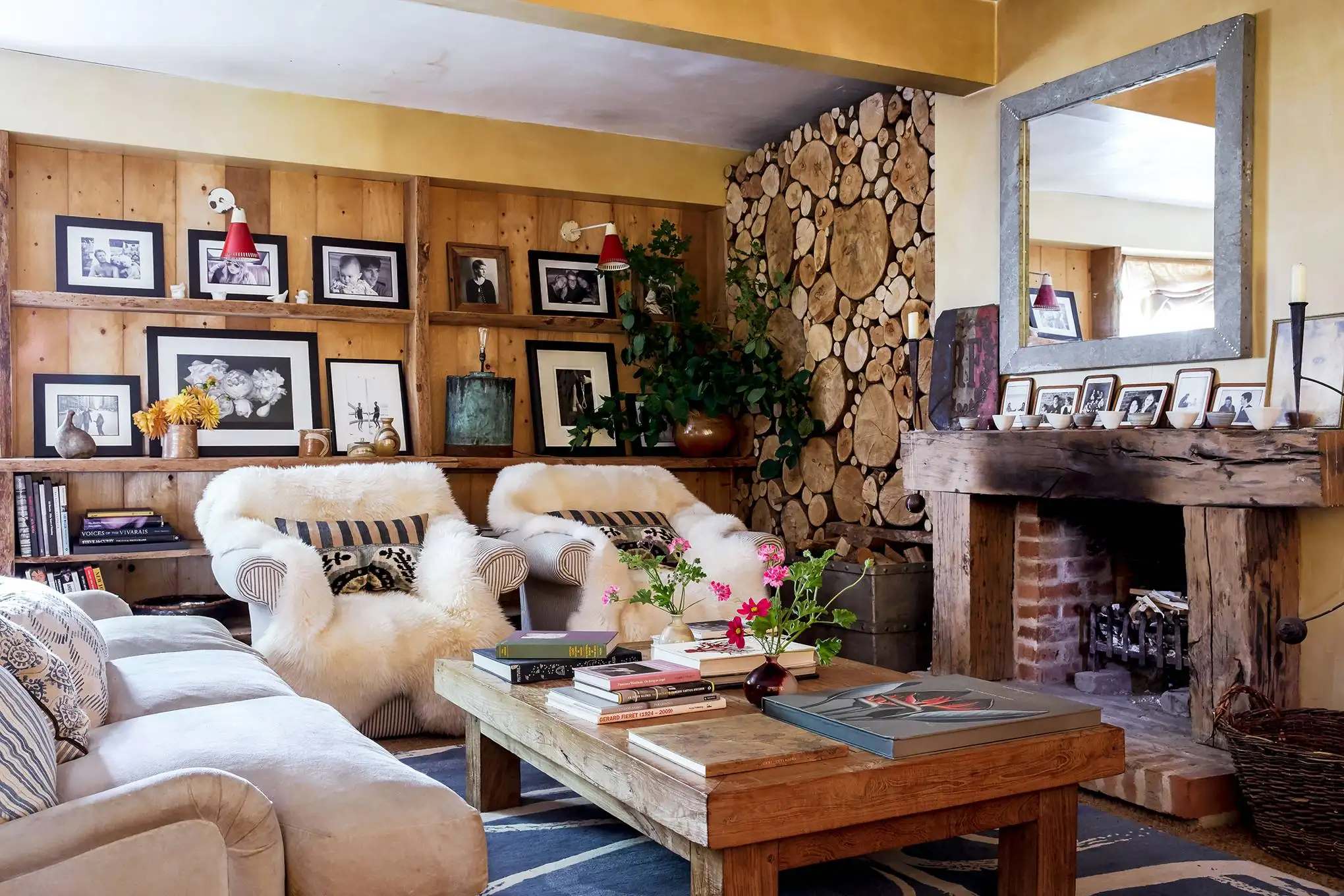 Modern Cottage Décor
A modern cottage home is a combination of a traditional cottage with modern accents. If you choose a white canvas (walls and ceiling), you can emphasize the pure simplicity of cottage furnishings. With a minimalist approach, you can create a tidy, uncluttered space.
A fireplace is the heart of your cottage abode. The exact composition isn't a sticking point. A fireplace can be sleek modern or rough stone.
For colors, stick with neutrals, such as white, gray, and black. Then, you can add brown accents to bring earthy vibes to your home.
As for similarity, modern cottage interiors appear Scandinavian thanks to their pure simplicity, functionality, neutral colors, and natural materials.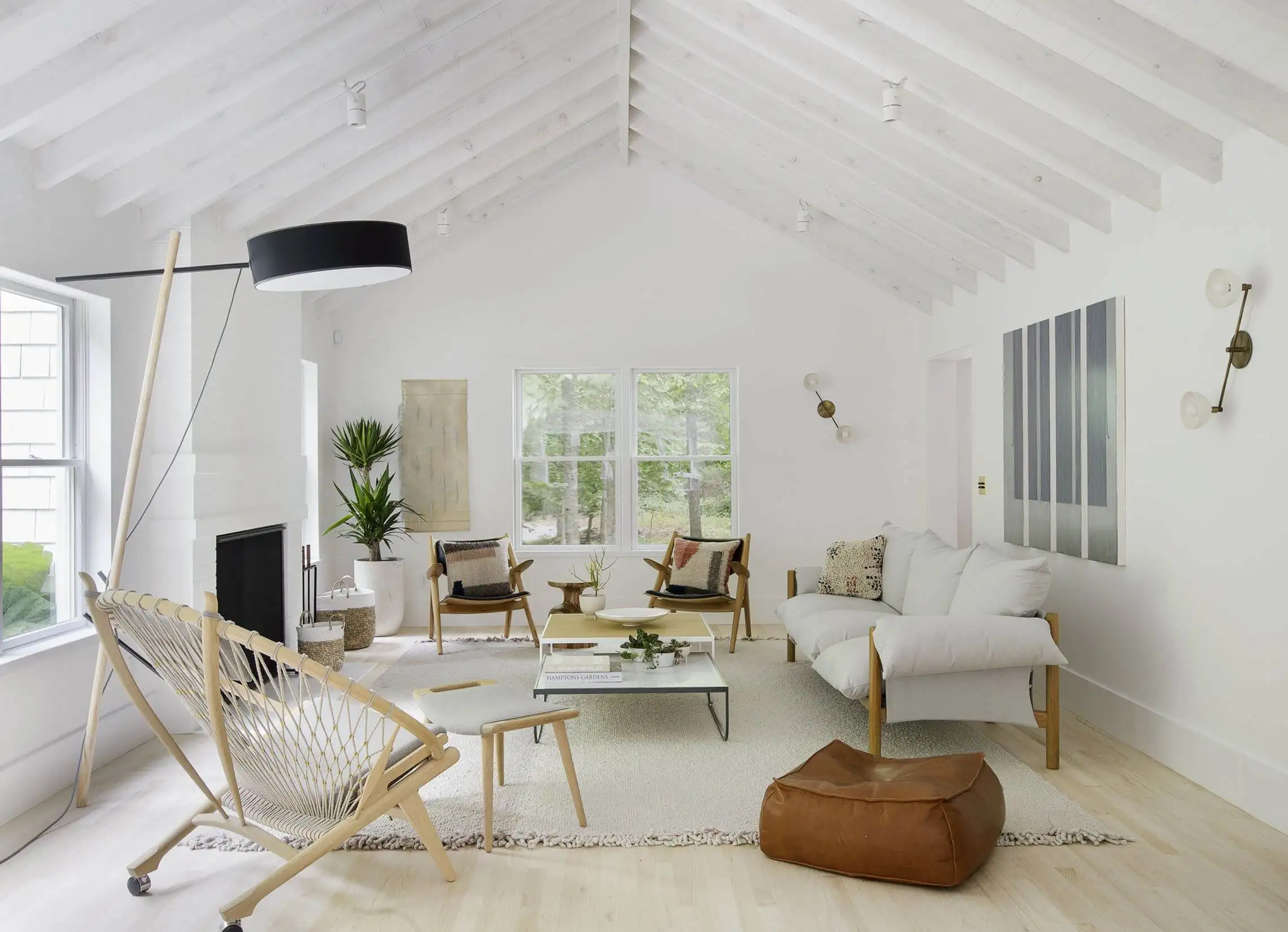 Shabby Chic Cottage Décor
A cottage home decorated in a shabby chic style is a harmonious space with well-used features and accents. A well-worn, scratched table with stools adds an elegant touch to a cottage dining room.
Of course, to bring a fresh look to your shabby chic cottage abode, fill rooms with fresh flowers and choose flower-inspired motifs for furniture pieces and accessories. You can go big and place a flower-themed vase with a bouquet of fresh flowers on the table.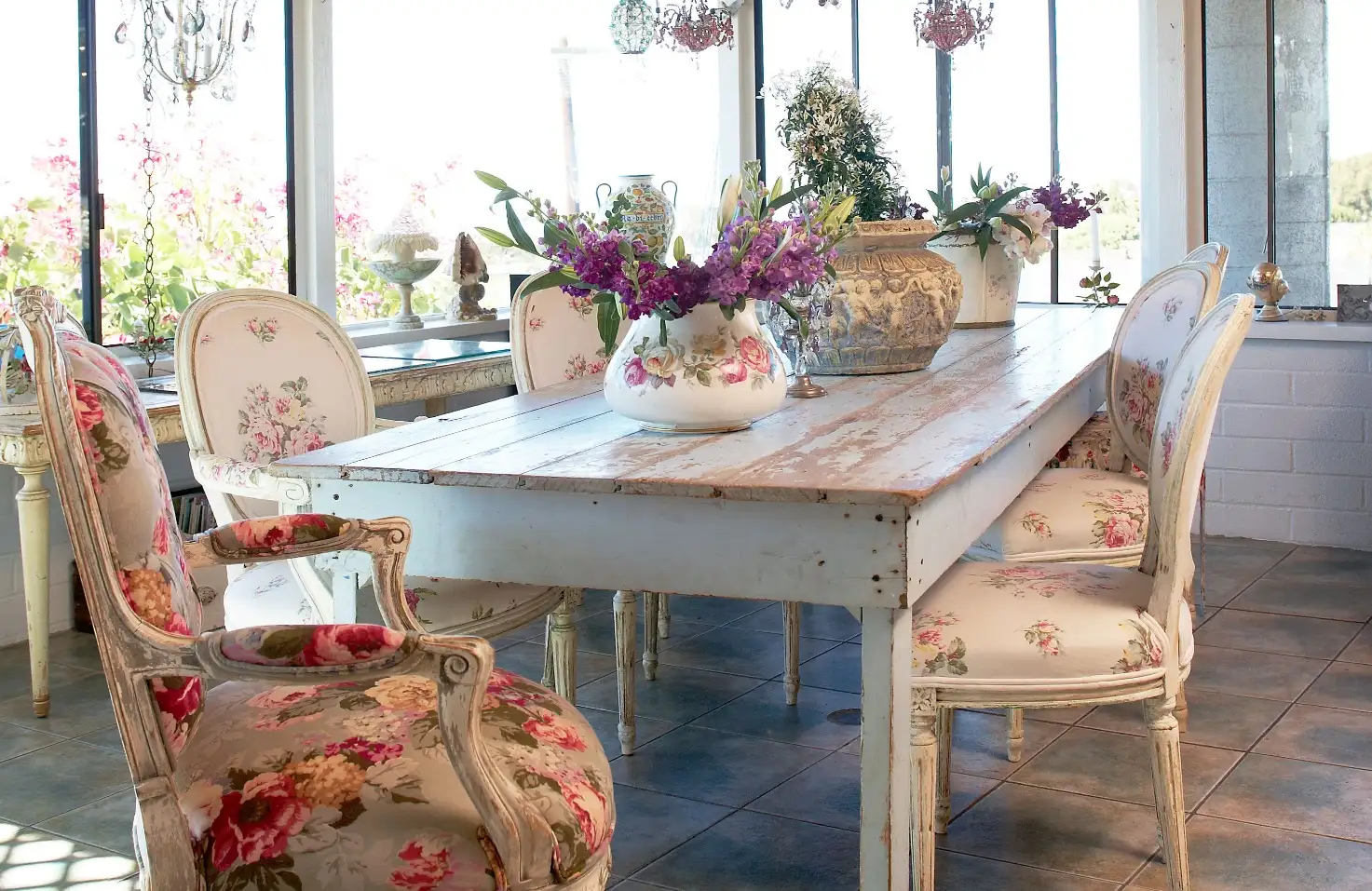 Vintage Cottage Décor
When we talk about vintage style, then old-world, well-used pieces are exactly what you need. For cottage style, comfortable furnishings are a must-have. If you use elements of vintage décor in a cottage home, you'll create a cohesive look with a charming flair.
The concept 'old meets new' works perfectly inside a vintage cottage house. Wall paneling is a great canvas for a wear-and-tear chest of drawers and a table. If you place a vintage coffee table in the center of the living room, you'll complete a mix of heavy, comfy sofa and armchairs. Also, it's a great option for the main focal point of the entire room.
And of course, don't forget about bouquets of fresh flowers! What about peonies and tulips? It sounds perfect!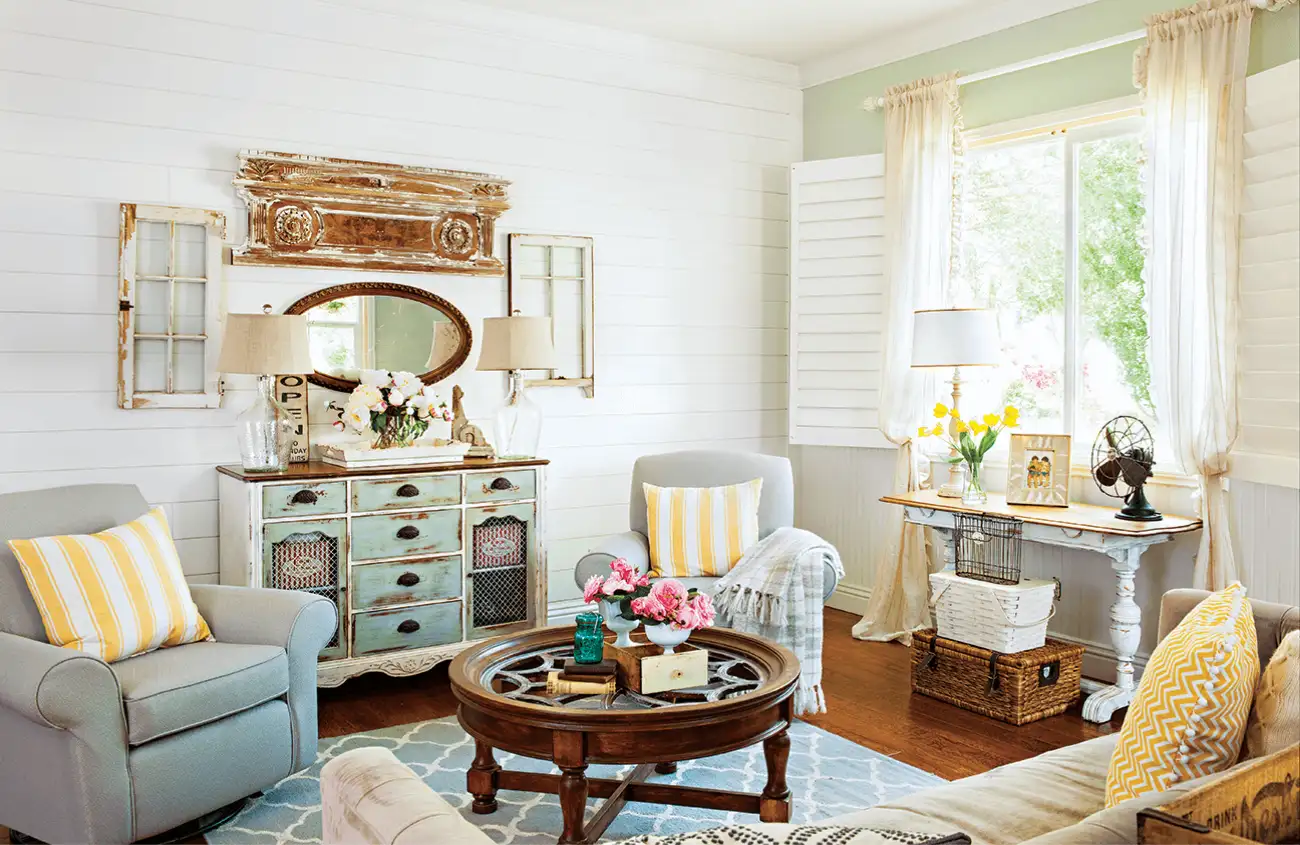 English Cottage Décor
Decorate your English cottage with comfortable seating, such as sofas, armchairs, and an ottoman. You can use an ottoman as a coffee table, providing you with a handy space to put down your warm drink. To create a cozy ambience, a roaring fire in the fireplace provides the perfect meditation time. Exposed wooden beams are the must-have element of traditional cottage décor.
Add a splash of color with bright wallpapers, slipcovers, area rugs, and window treatments! With unexpected, bold patterns, it's easy to liven up your house. Feel free to play, mix, and match neutral with bright ornaments!
Oil landscapes, Victorian silhouettes, and black-and-white photos fit as well with an English cottage style. For accessories, figurines, candlesticks, and other trifles complete your cozy abode.
Country Cottage Décor
A cottage house looks similar to a farmhouse abode. A country cottage looks like the updated version of both styles.
Select heavy, comfy furniture pieces with symmetry in your living room. You don't have to stick with defined color schemes or patterns to match them. When you choose a coffee table and a chest of drawers, opt for old-world pieces with an elegant touch.
Hang animal-printed pictures to emphasize the country character of your country abode. Floral-themed wallpapers add a country flair to your cottage-style house.
Don't be shy about using a lot of knick-knacks and memorable items to make your house cozy. To bring a homey feeling to your farmhouse cottage home, use wicker elements, such as baskets and stands.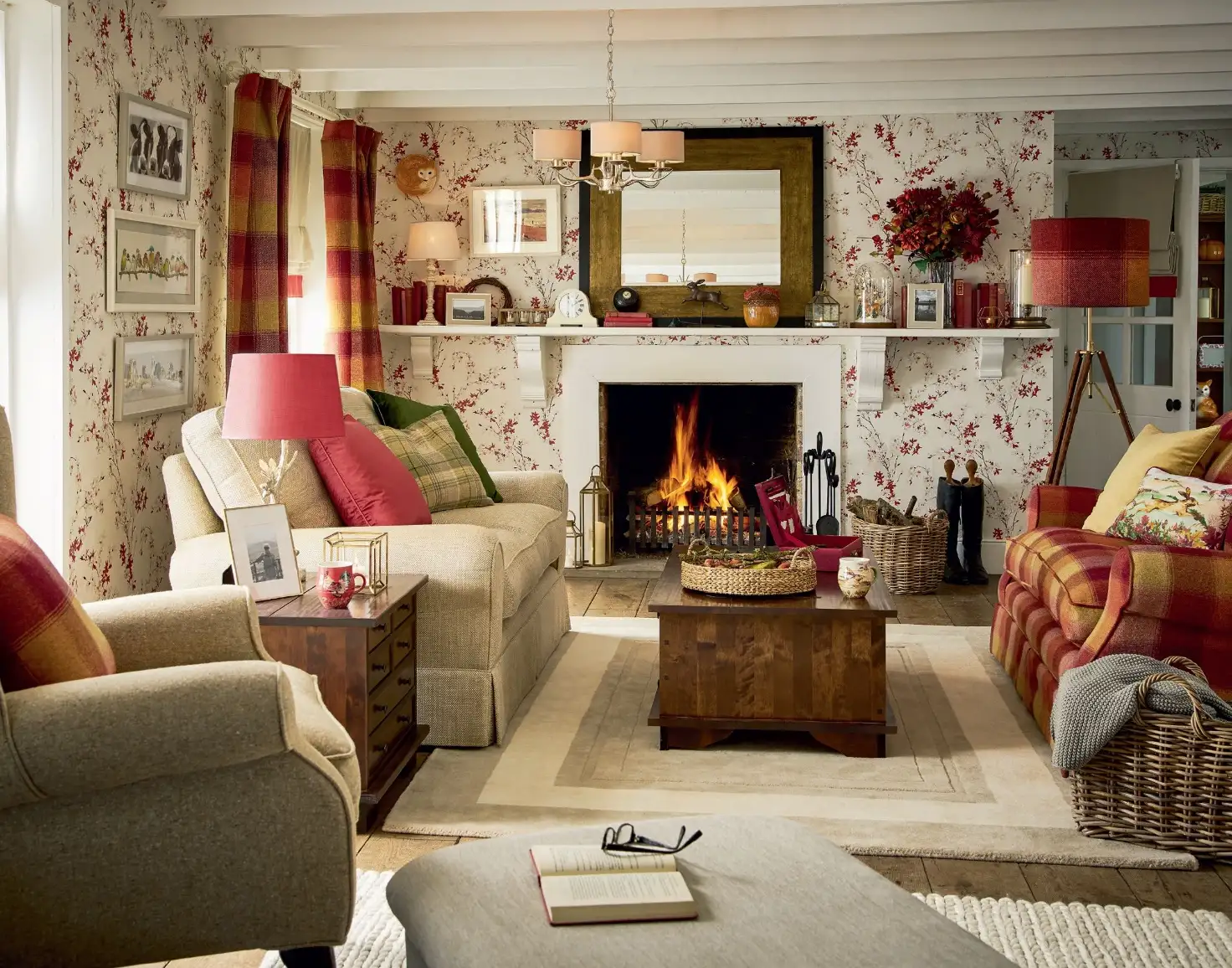 Coastal Cottage Décor
When you live on the beach, achieving a coastal look is simple. It's a celebration of natural light. Of course, your view is perfect. Just open the doors and fill up your coastal cottage with the rays of the sun!
To make your beach cottage really charming, use an accent vintage furniture piece and shabby chic slipcovers. Use wood, stone, rattan, and other natural materials to enhance the warm feeling inside your coastal abode.
When you consider various covering for your walls, opt for paneling instead of wallpaper. For colors, white is always the right choice for your walls, furniture pieces, and even details. Combine it with other soft hues, such as cream, beige, brown, blue, and green.
Use all your creativity to spruce up your home! For instance, opt for an unusual base for a table lamp, such as a champagne bottle. It's a noteworthy choice!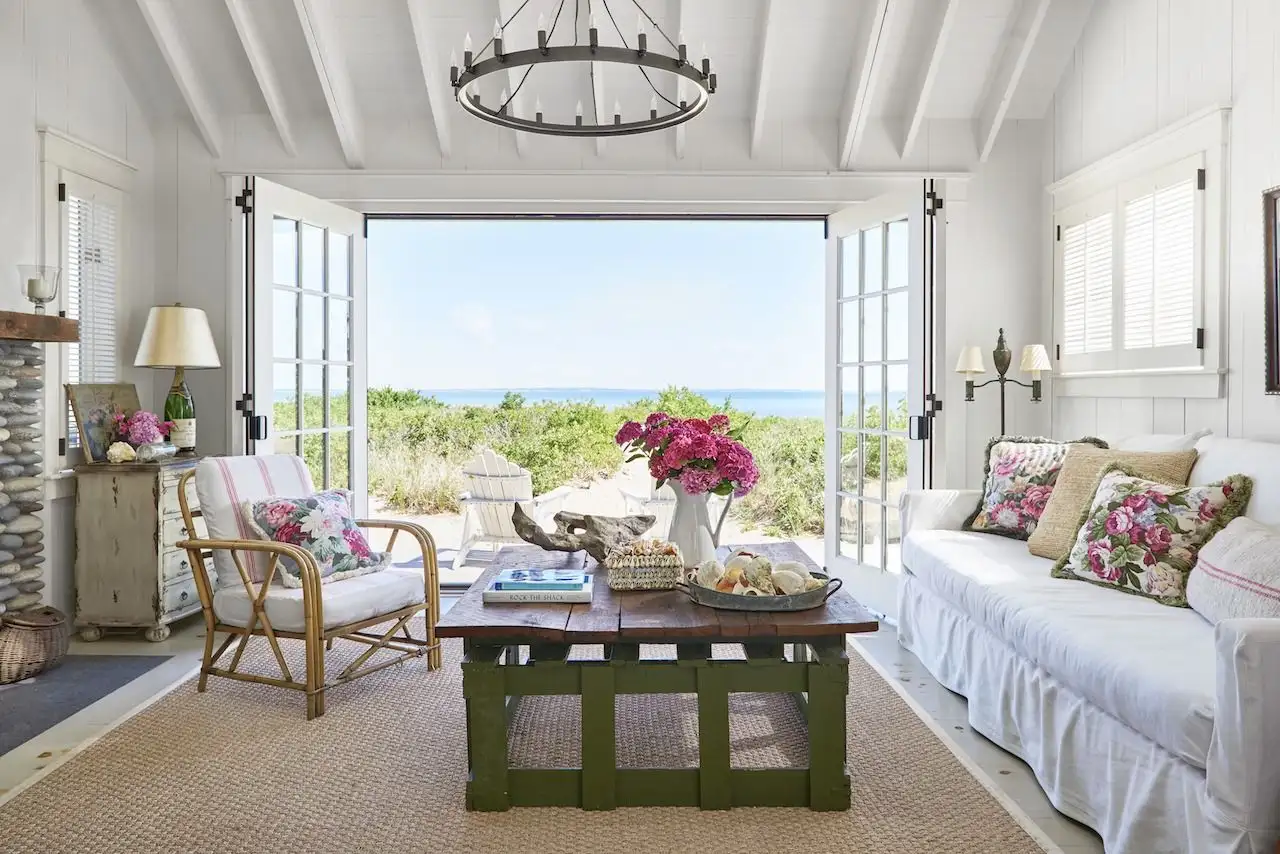 To emphasize the coastal character of your abode, think about blue-and-white living room. You can play with different blue hues, from deep to light tones. That's a great way to add a color accent and show off your beach cottage home.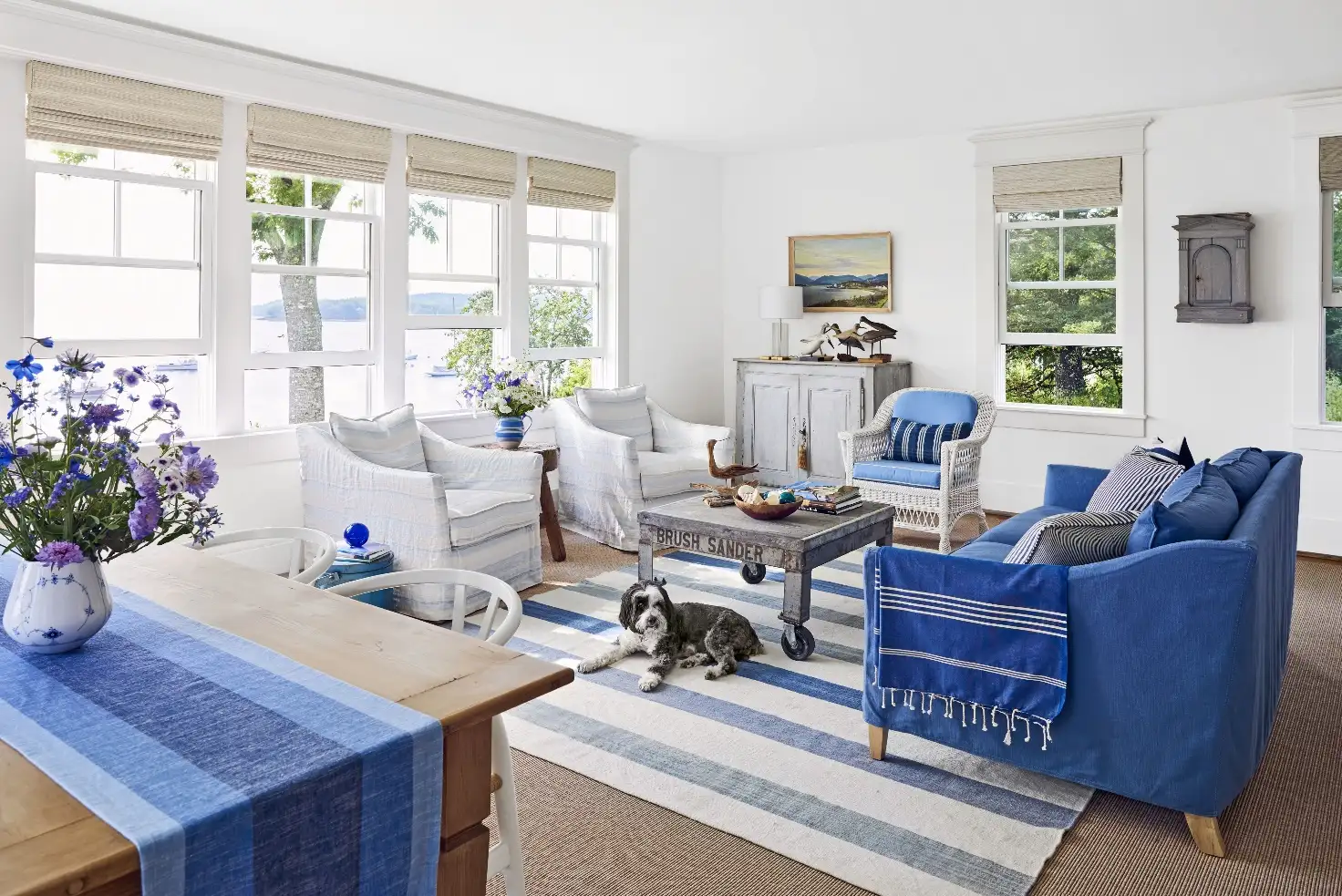 Rustic Cottage Décor
If graceful accents and bright colors are too much for you, take a look at a rustic cabin with a robust spirit and freedom in every detail. Exposed wooden beams, stone walls, and a fireplace are the essentials of any rustic cottage. With a sustainable approach, you can fill even a limited space with heavy furniture pieces for seating and storing, and vintage accessories.
White walls are a great canvas for muted-colored furnishings. Horn wall décor is an awesome choice for your rustic house. For window treatments, select drapes made of denim or other heavy-weight cotton fabrics.
If you only like rustic elements, think about putting books with shabby covers on the shelves. They're charming, but still rustic enough for your taste!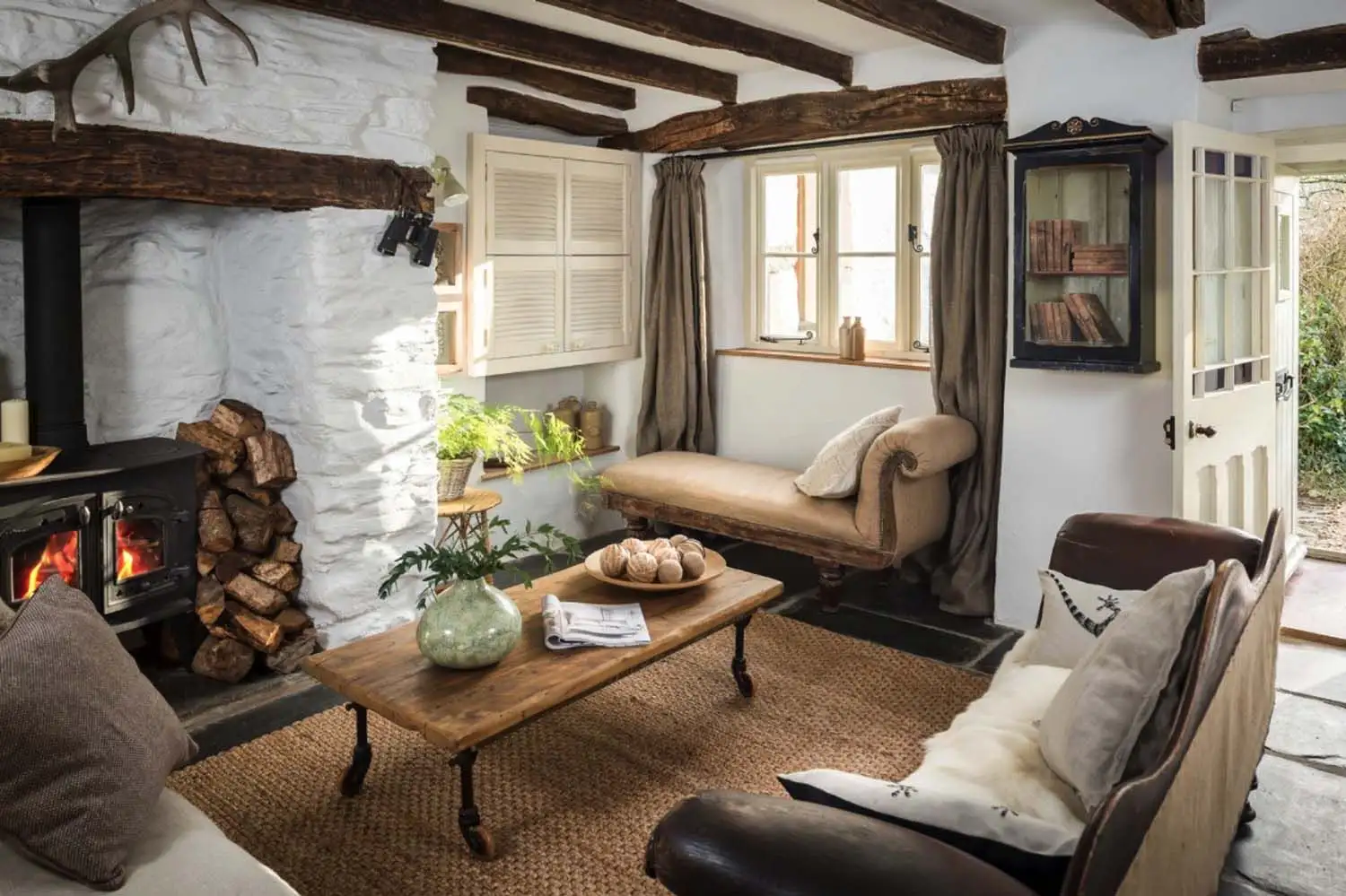 French Country Cottage Décor
With airy vibes in mind, start to decorate your French country cottage! It's all about charming, spacious rooms with elegant lines, soft textures, neutrals, and nature-inspired details.
To emphasize an easygoing lifestyle of French country home, stick with an open-space concept without additional partitioning. To make your house charming but not too sweet, you should use rustic, modern, and vintage elements. Exposed wooden beams are the core of the inner freedom of your home. This rustic detail shows both the elegant and robust manner of French country cottage décor.
Match furniture pieces to make your French country cottage furnishings orderly. That's also a great way to enhance a cohesive look.
When you select window treatments for your French country cottage, keep windows bare to bring more natural light. If you want to feel softness and romantic vibes inside your house, you can cover your windows with sheer curtains. They add delicacy to your space and make it cozy!