The Essentials Of Industrial Décor
Industrial décor is a popular urban style with a masculine spirit. It's a smart choice for bright personalities who respect functional design solutions.
Whether you're decorating an industrial apartment inside a new building or a converted loft, do your best to create an easygoing appearance.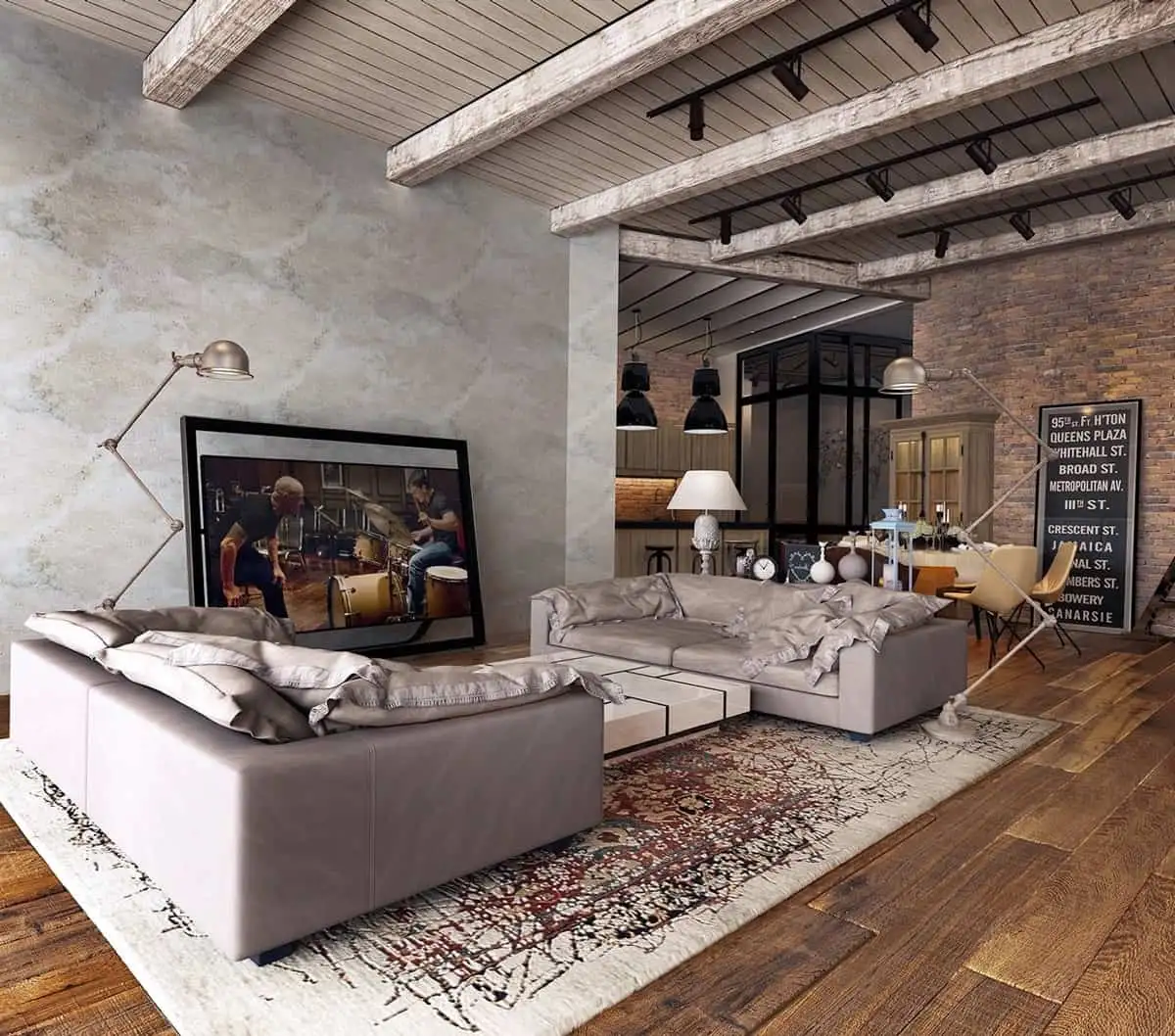 Industrial Interior Design Features
Industrial homes are designed in a practical manner
The roots of the style are raw architectural structures
Hardwood flooring
A combination of cement and brick walls
Comfortable furniture pieces
Creative lighting solutions
For materials, blend wood, glass, and galvanized steel. Be inspired by nature, and use reclaimed and repurposed wooden elements. Opt for stainless-steel accents to emphasize the robust character of your industrial apartment.
Decorate your home with a minimalist approach to attain the simplicity of furnishings, especially in shapes. When you consider furniture pieces, opt for large couches with distressed textured pillows, comfortable stools, and glossy polished metal tables.
If your apartment has an open-concept plan, you can enjoy a spacious layout which allows it to embody even the boldest ideas. But if you want to take care of your privacy, install partitions or temporary screens to separate the rooms.
Think about blending a few lighting fixtures to have the correct illumination depending on the situation. Jazz your lighting up with string lights, ceiling spotlights, and lamps.
When you decorate your apartment, show off your bright personality to feel free and be inspired every day! If you play musical instrument, display your music enthusiasm and creative nature inside your home. It's really cool when guitars, drums, or other musical instruments become a part of industrial décor.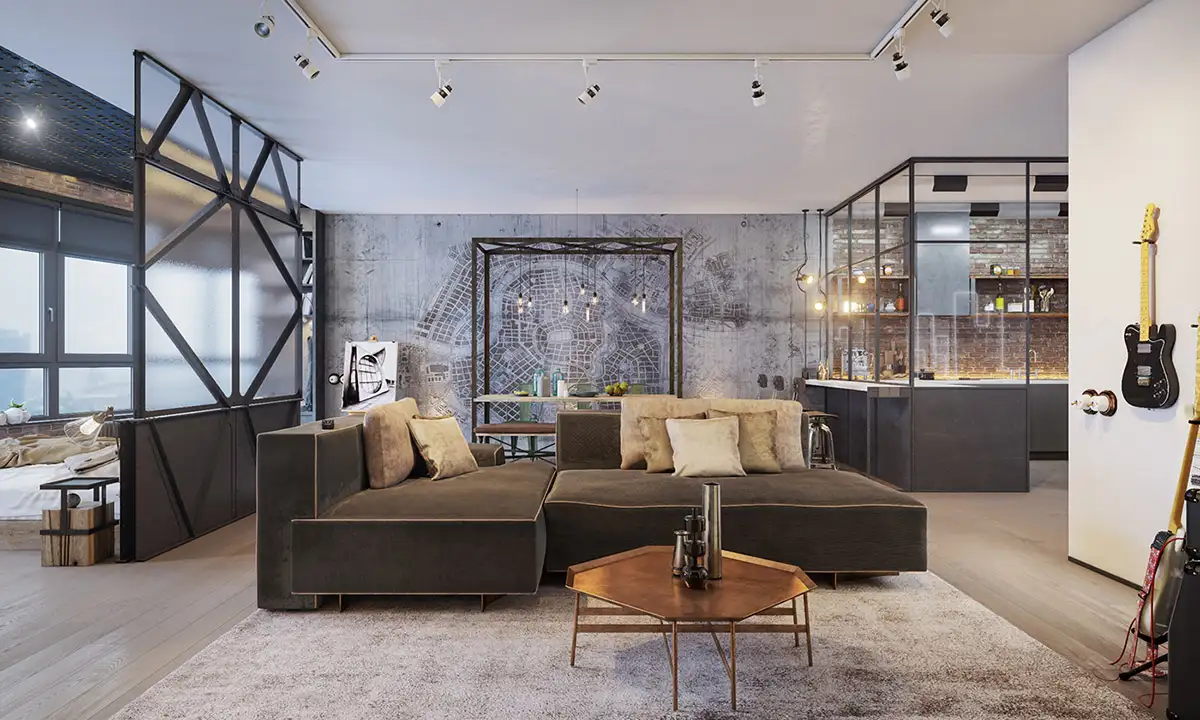 Color Solutions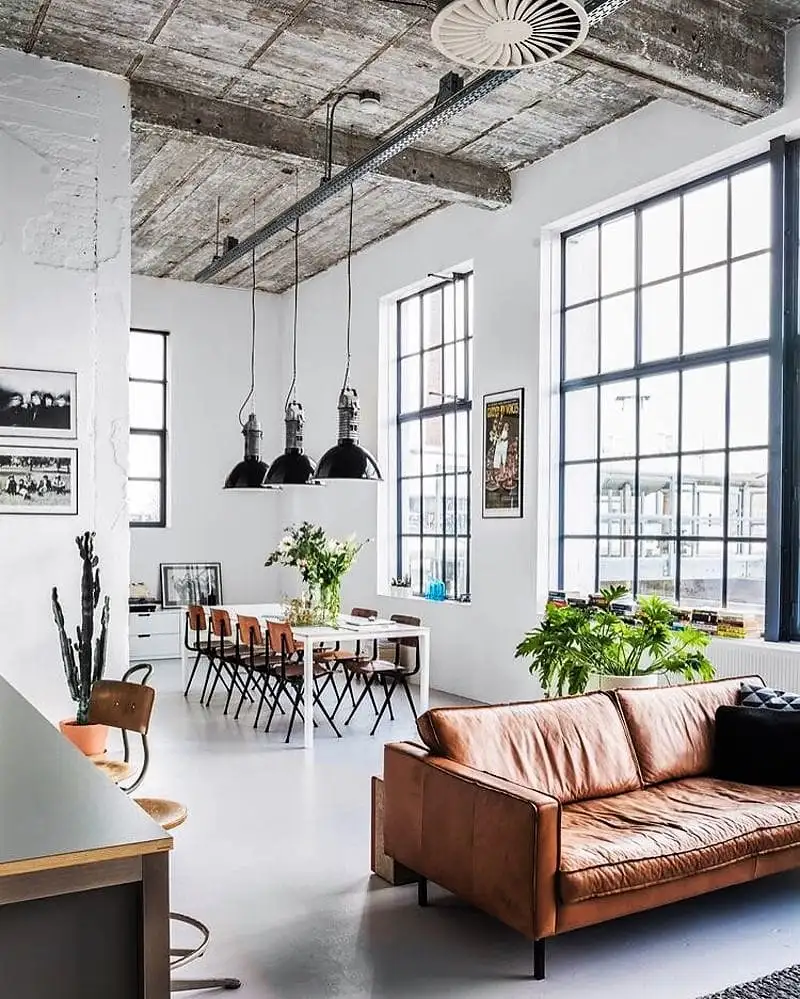 When you consider color palettes, opt for a combination of neutral (white, black, and gray) and earthy rustic hues (muted brown, blue, red, and yellow). Focus on aged and worn tones, steel and iron hues. Burnt-colored furniture pieces emphasize an authentic character of this urban design concept. Metallic tones to the architectural elements allow you to enjoy the powerful spirit of an industrial appearance.
Industrial Home Décor
When you consider various decorating solutions, focus on the characteristics of every room to use its benefits. Of course, if you live in a loft apartment, keep its urban aesthetics to enhance your stylish surroundings room by room (or area by area, as there are no distinct rooms in a loft apartment).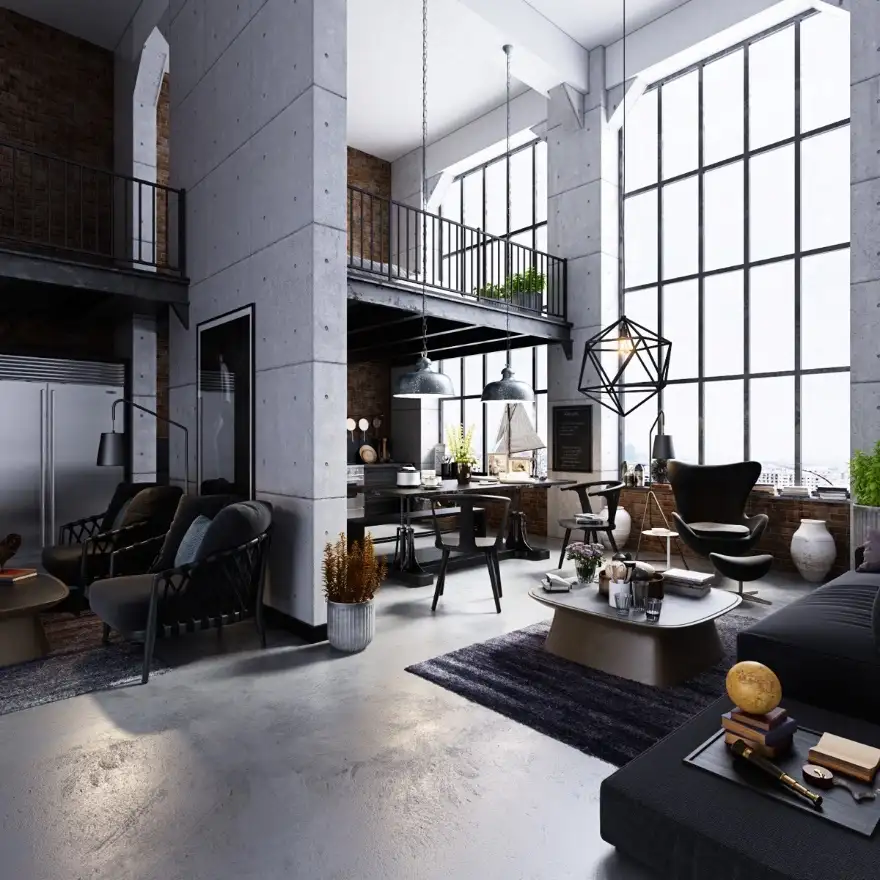 Industrial Living Room
When you consider furniture options for a living room in an industrial style, the condition of pieces doesn't matter. Whether you opt for reclaimed or new modern couches, armchairs, stools, ottomans, and a table, the priority is always your comfort.
The industrial walls and ceilings are the perfect background for architectural structural and décor elements:
Exposed pipes and beams
Muted lighting
Wall art
The rusty red hue of raw brick walls is an unusual color base. Opt for neutral- or earthy-colored furniture pieces to make your interior harmonious.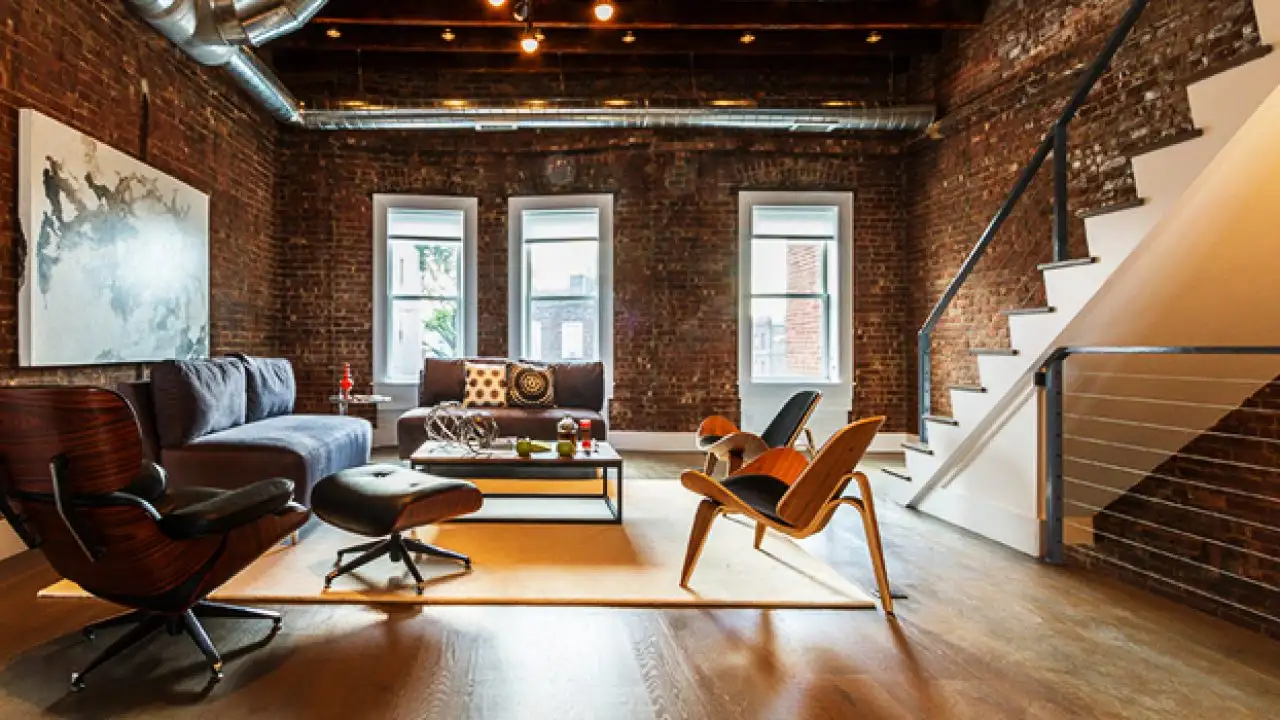 Industrial Kitchen Décor
When we talk about a kitchen in an industrial style, it's a place decorated for people who like to cook in a space that makes them feel like professional chefs. Choose heavy-duty appliances to emphasize the industrial character of your cooking area. Select cooktops which provide a full range of heating settings, from an ultra-low 140° F simmer to an intense 18,000 BTU.
Pay attention to a reliable ventilation system. Choose a high-quality exhaust hood to remove heat, moisture, and odors. Keep in mind that kitchen partitions can destroy industrial aesthetics, especially if you live in a loft apartment.
When you consider cabinets, choose models with enough storage space with an option to integrate kitchen appliances, such as a refrigerator and dishwasher. Select kitchen cabinets with strong industrial details, such as robust knobs and heavy-duty handles.
Whether you prefer a kitchen island or just a dining table, choose a big one with enough seats to fit everyone when you eat with your family or/and friends.
A raw brick wall can be the main focal point of an entire kitchen area and the perfect background to hang wall art. Install a fireplace and freestanding wall shelves with useful dinnerware sets and potted plants.
For kitchen decorating, opt for a harmonious blending of colors, textures, and materials to bring a vigorous flair to your cooking area. For instance, a combination of a wooden flat-panel cabinet and high bar table in brown hues with black-colored appliances, light fixtures, and tiles styles your kitchen in the most perfect way. Usually, industrial worktops have a stainless steel finish. It emphasizes the modern character of the kitchen arrangement. As a bonus, such cooktops are both durable and easy to maintain.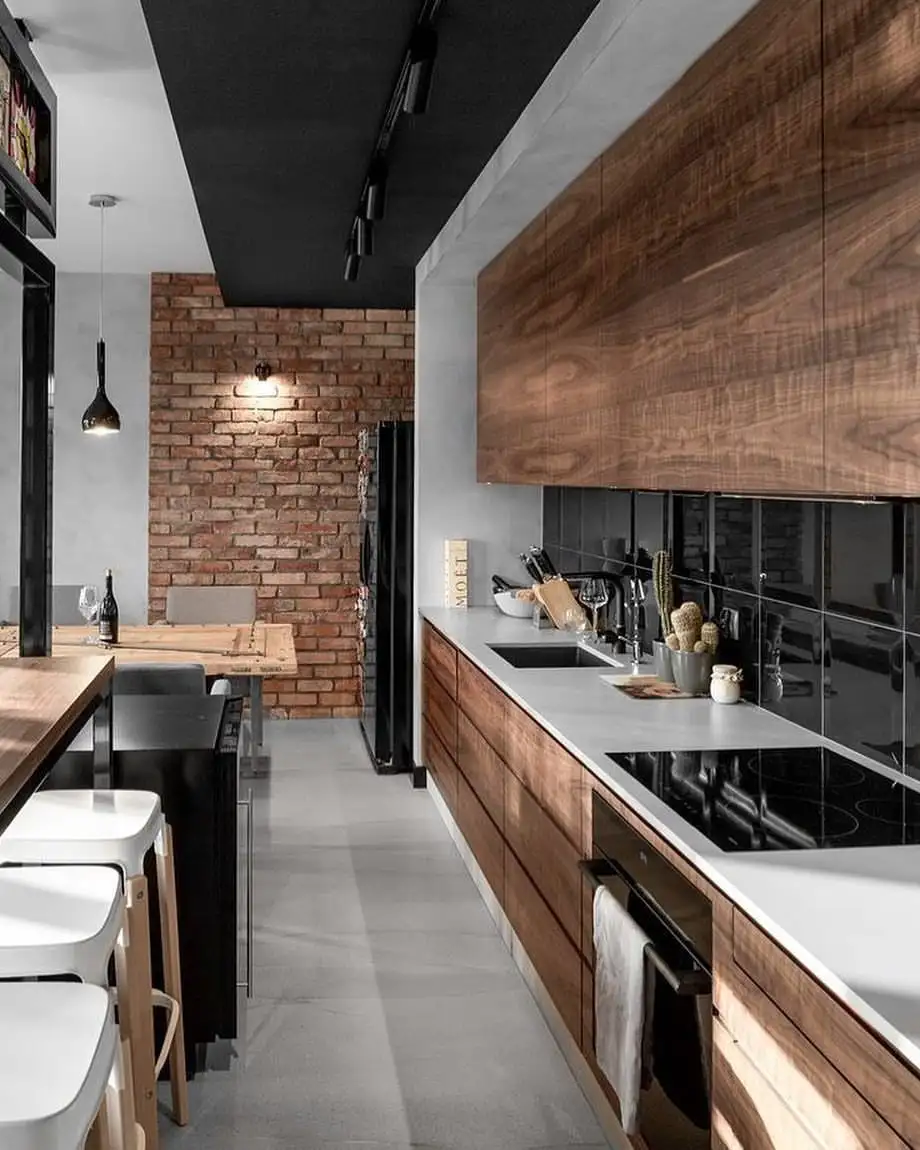 Industrial-Themed Bedroom Ideas
When you decorate a bedroom, pay attention to both aesthetics and function to give an industrial flair to your relaxing space.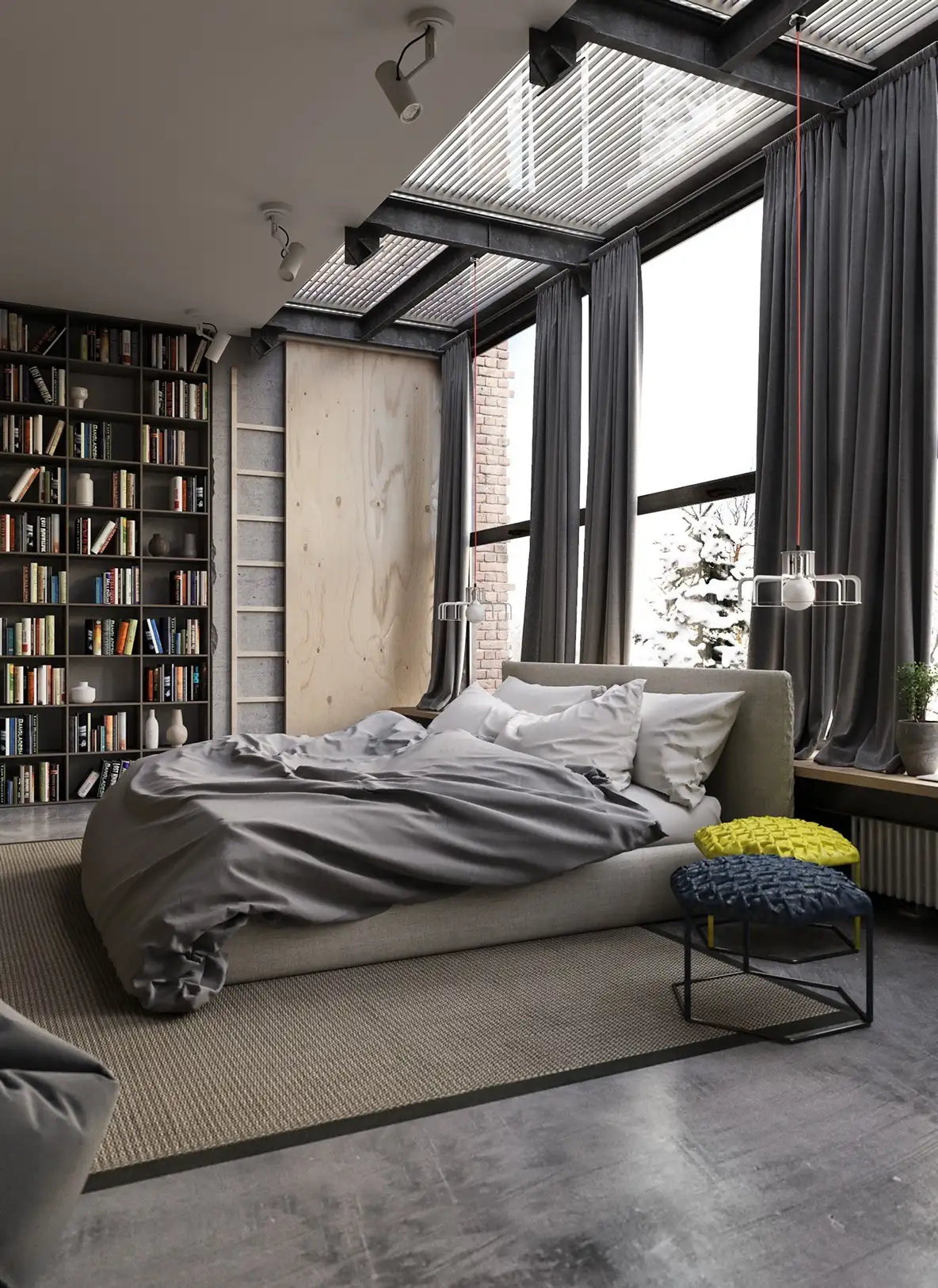 A Bedroom For A Couple
General industrial features, such as exposed wooden beams, red brick walls, and hardwood flooring emphasize the robust character of your industrial bedroom.
When you consider bedroom furnishings, don't buy classic furniture sets. Think about blending furniture pieces of different styles. For instance, a combination of a comfortable modern bed and rustic nightstands looks breathtaking.
Regardless of the size of your relaxing space, choose a large bed to keep a spacious look. Opt for neutral-colored bedding with soft textures to create a contrast between strong urban décor and relaxing items for both you and your spouse.
Take into account storage solutions to prevent a mess inside your soothing space.Along with a traditional small cabinet or closet, you can opt for more unusual items. For instance, use a suitcase to store your underwear and be inspired by a travel-themed décor element every day.
For lighting solutions, mix an industrial chandelier with cage metals or other pendant lights with ceiling spotlights and wall-mounted bedside lamps.
To enhance light control, install roller shades, blinds, or other window treatments.
A Large Bedroom Area
If you live in a loft apartment, decorate your bedroom area with inspirational details to show off your easygoing personality.
Decorating with Nordic standing floor lamps, elegant vases, oversize wall art, and other creative details is a great way to relax, lift the mood, and feel good!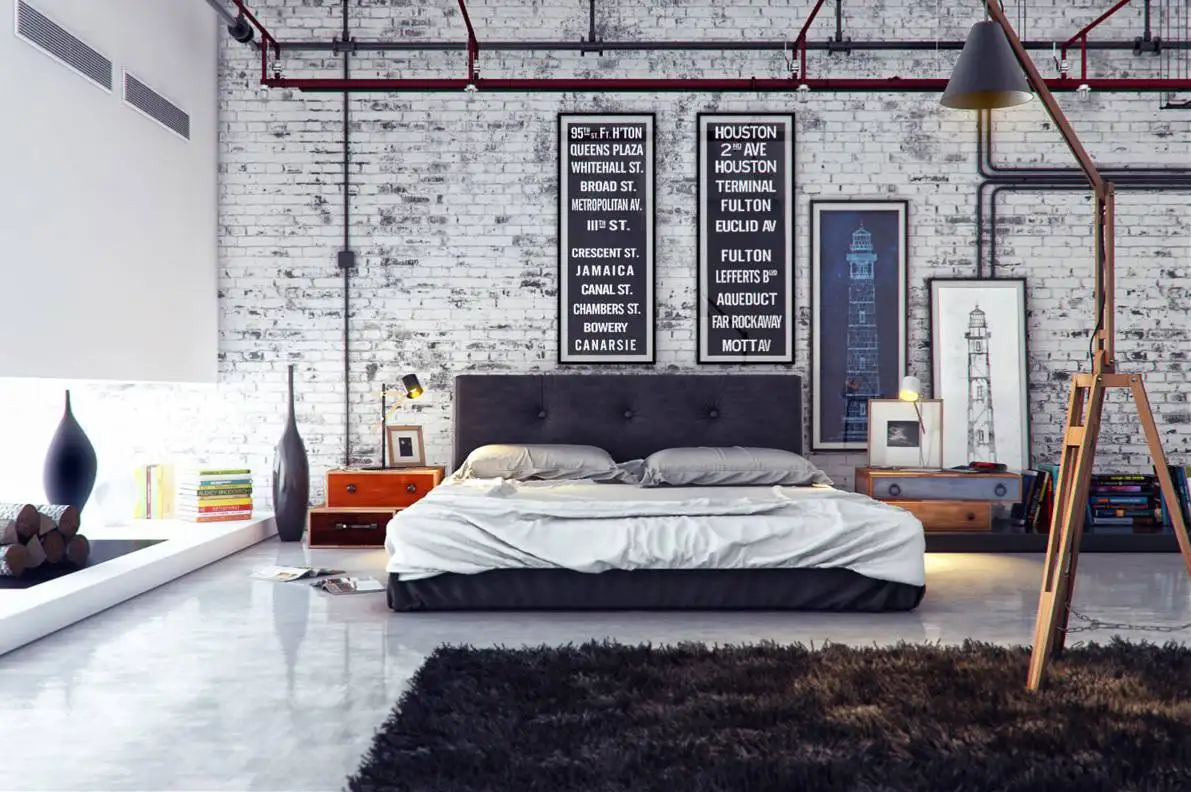 Feminine Industrial Décor
An industrial style fits with not only men's, but also with women's bedrooms. If you have a strong nature and don't like girly décor, an industrial bedroom is exactly what you need.
Exposed pipes with hanging light bulbs and ceiling spotlights bring an industrial aesthetic to your soothing space. Cement walls are a great backdrop for inspirational wall art.
If you are interested in fashion, opt for a reach-in closet with sliding glass doors to observe your clothes, footwear, and lifestyle accessories.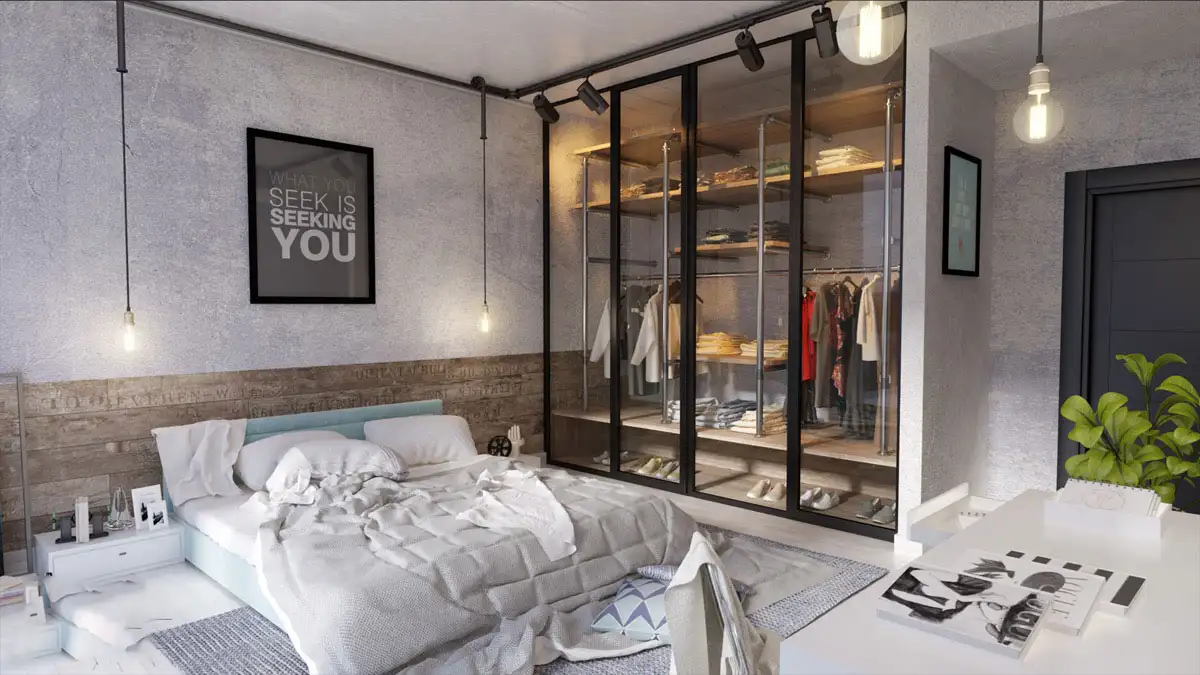 Teenage Industrial Bedroom
When it comes to decorating a teen's bedroom, cooperate with your son to display his passion for sports, music, movies, or something else inside his relaxing space with an industrial signature. Don't be afraid to make this place thematic! It's more about his interests and tastes than your well-thought-out design solutions.
Choose a wide pedestal bed in a raw rustic style to make his night's sleep more comfortable and emphasize the strong spirit of your youngster.
Install wall lamps over the bed to keep reading safe for his eyes. To avoid mess, place metal baskets on the shelves to store his items.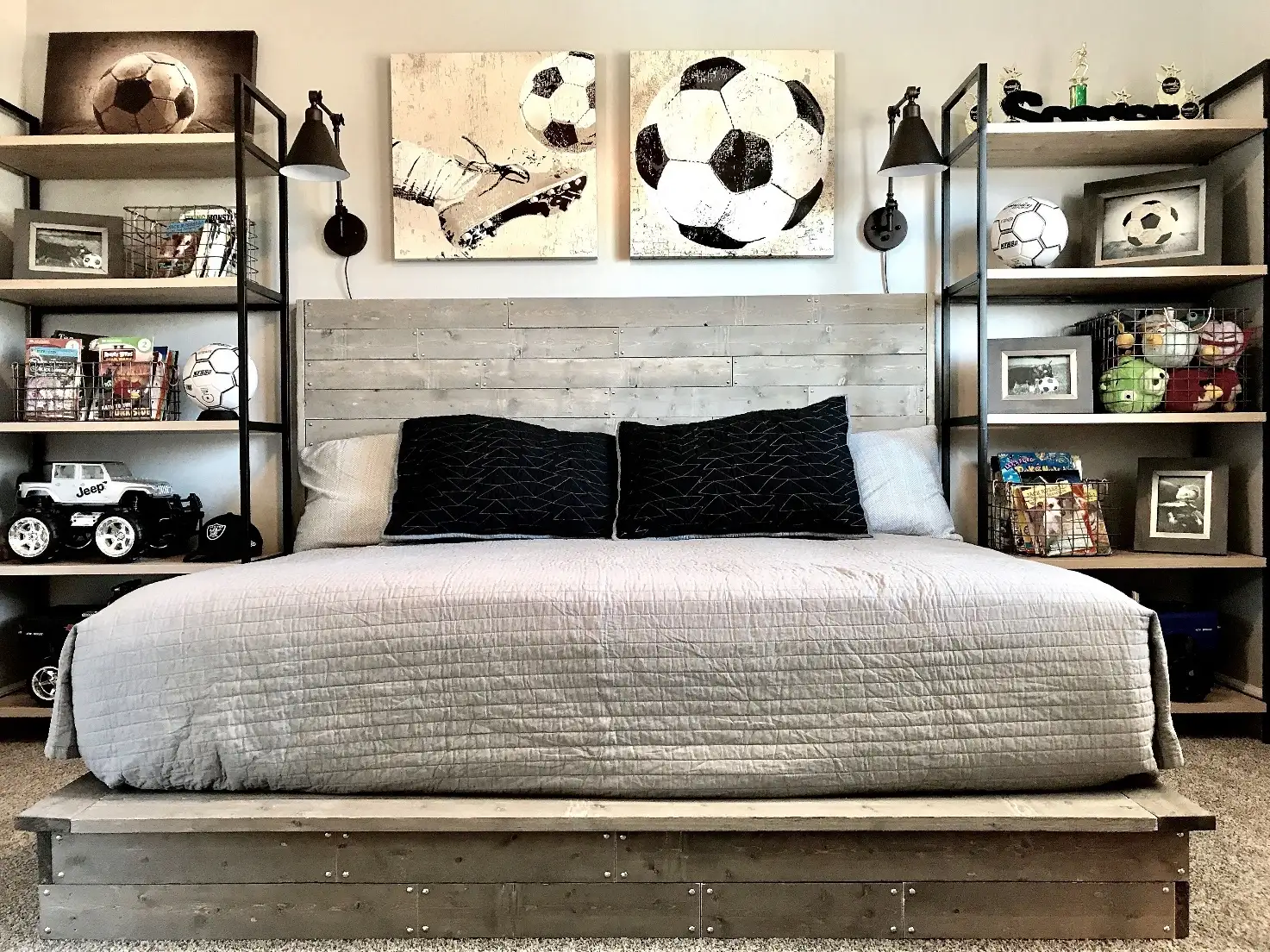 Industrial Bathroom
When you decorate a bathroom, forget about traditional limits and create something fresh. Exposed wooden beams and metallic pipes are the essentials of industrial décor. Both glass and metallic partitions add privacy to maintain your relaxation and well-being.
When you consider bathroom furniture, select flat-panel cabinets made of sealed and painted solid wood. Of course, a freestanding bathtub is the best choice to relax, read, and dream about something extremely good. Most of these types of bathtubs are made of stone resin, acrylic, or cast iron. Stainless-steel sinks fit with industrial bathroom interiors as well.
If your bathroom is placed in a "loft-like" house, skylights will be a big advantage. They provide enough natural light to bring softness and a welcoming feel to your refreshment space and make your reading more comfortable.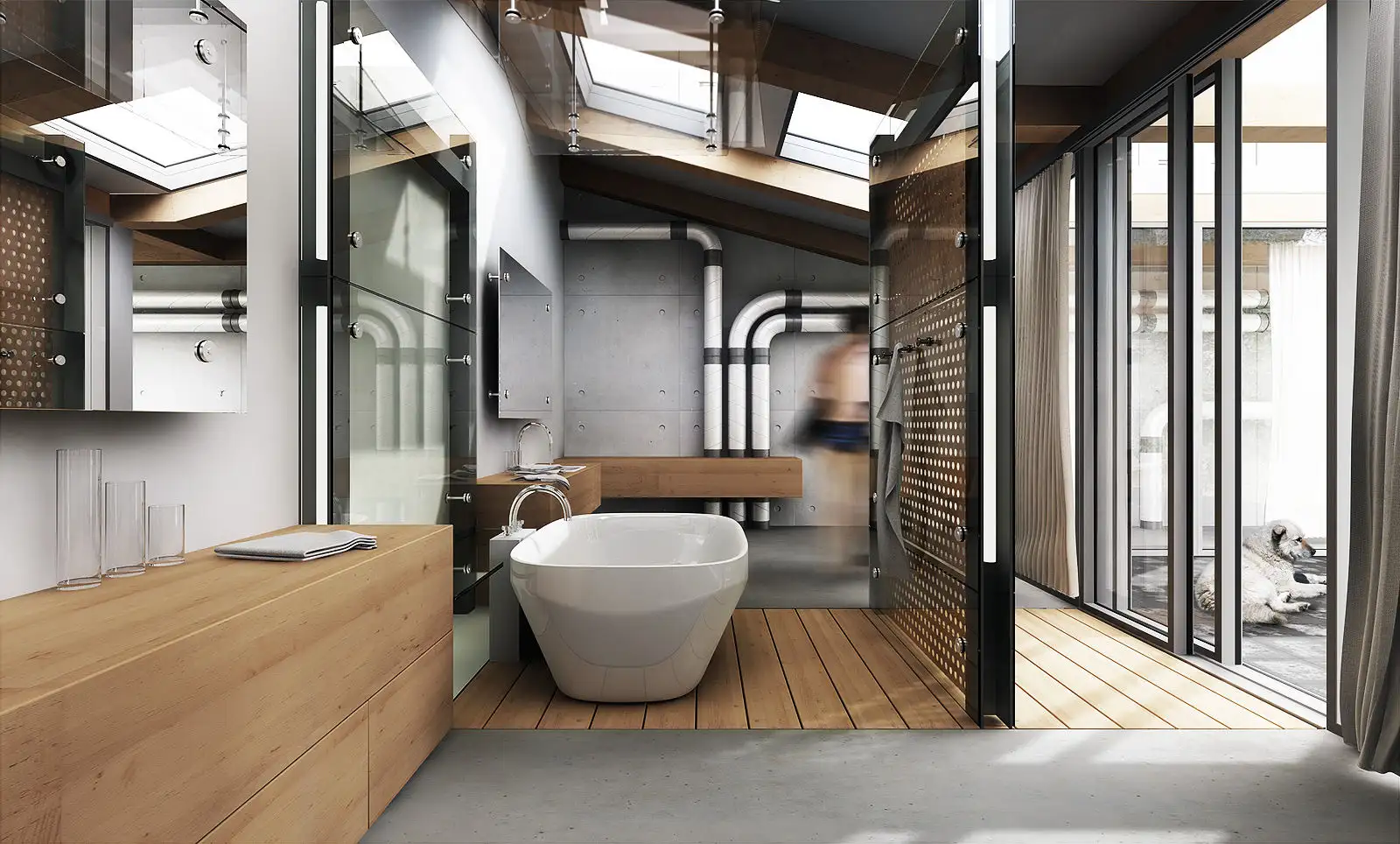 An Industrial Home Office
For your home office decorating, bring a vigorous look with an industrial flair. To separate your working space from other rooms, just install a partition with metallic accents to provide both a comfortable and a stylish appearance.
Buy a quality desk for your laptop or/and computer monitor. Opt for an ergonomic chair which is adjusted to fit your body and provide extra support for your back.
Along with traditional bare pipes and raw brick walls, pay attention to lifestyle items. Whether you are tired after a long working day or just need strong motivation to work more, playing the guitar on your sofa is always a great idea.
If you place a set of vintage travel-themed valises beside a coffee table, you can use them to seat clients, store documents, or just perceive a strong impulse to work harder and travel more.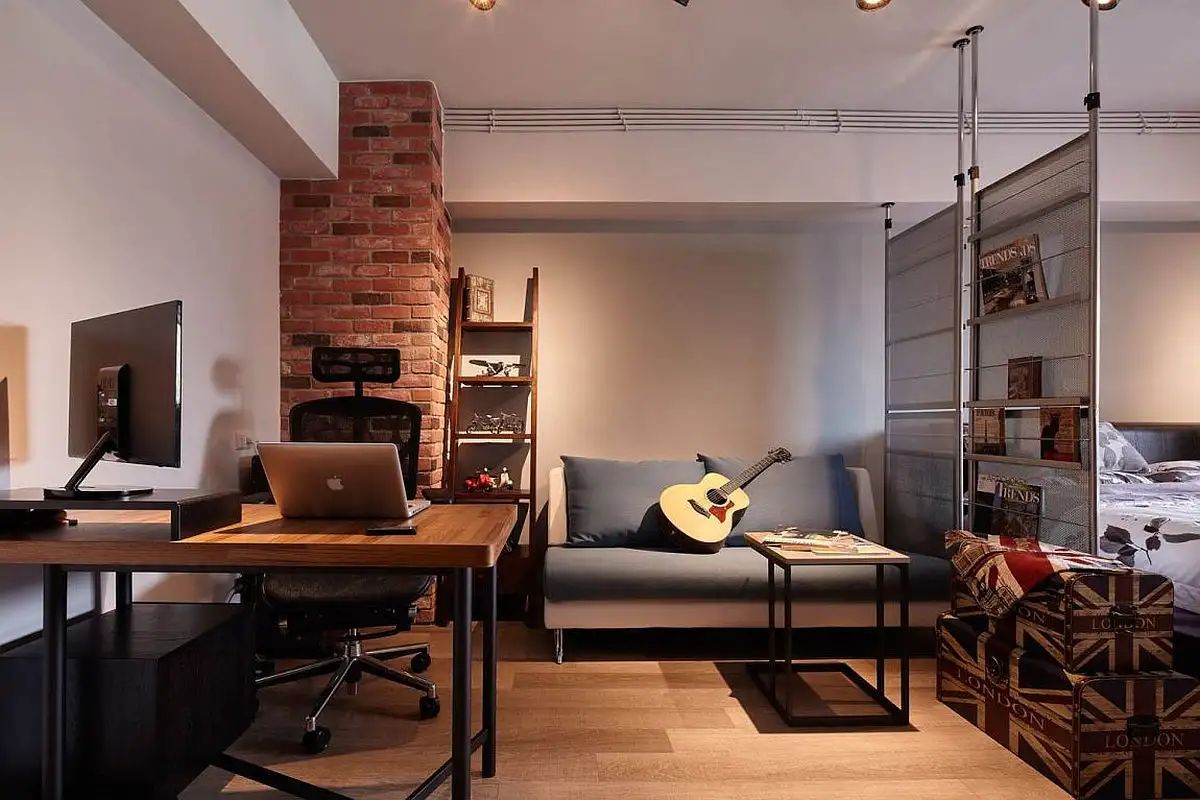 Industrial Décor Accessories
Both functional and purely attractive items bring an urban flair to your apartment. Bathroom and kitchen accessories, wall art, and other creative elements complete an industrial design.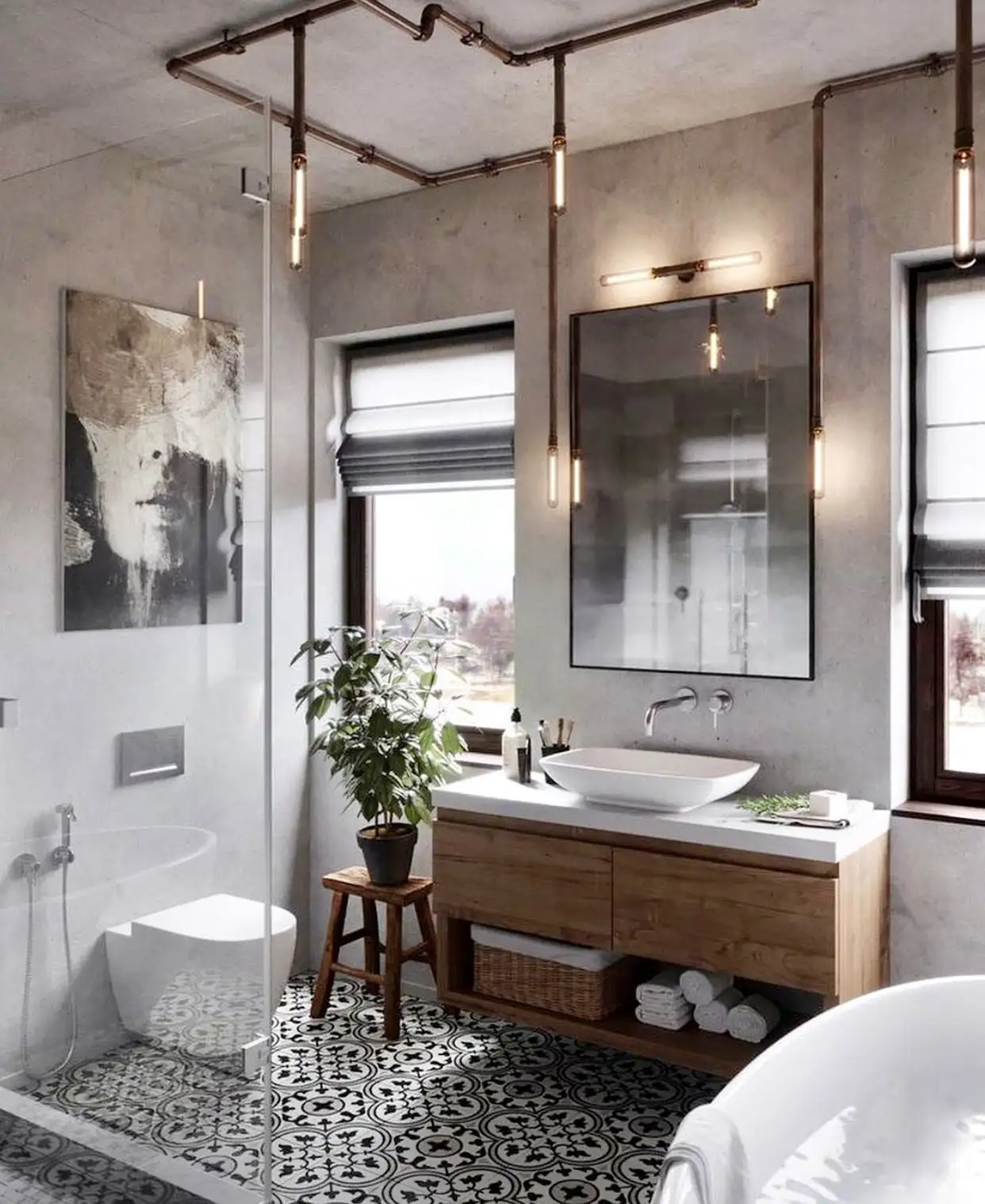 Useful Bathroom Accessories
To make your interior harmonious, create a contrast between modern and rustic bathroom accessories. When you consider sets for your steamy space, select water-resistant pieces. Two bathroom sets which consist of toothbrush holders, tumblers, and soap dispensers and dishes bring a cohesive flair to your refreshing space and fresh feelings for you and your spouse. A raw metal sink tap, hooks, wall sconces, and towel holders are more traditional accessories for an industrial apartment.
Such a combination of neutral-colored bathroom sets and rustic additional elements is a successful way to show off the magnificent aesthetics of industrial space.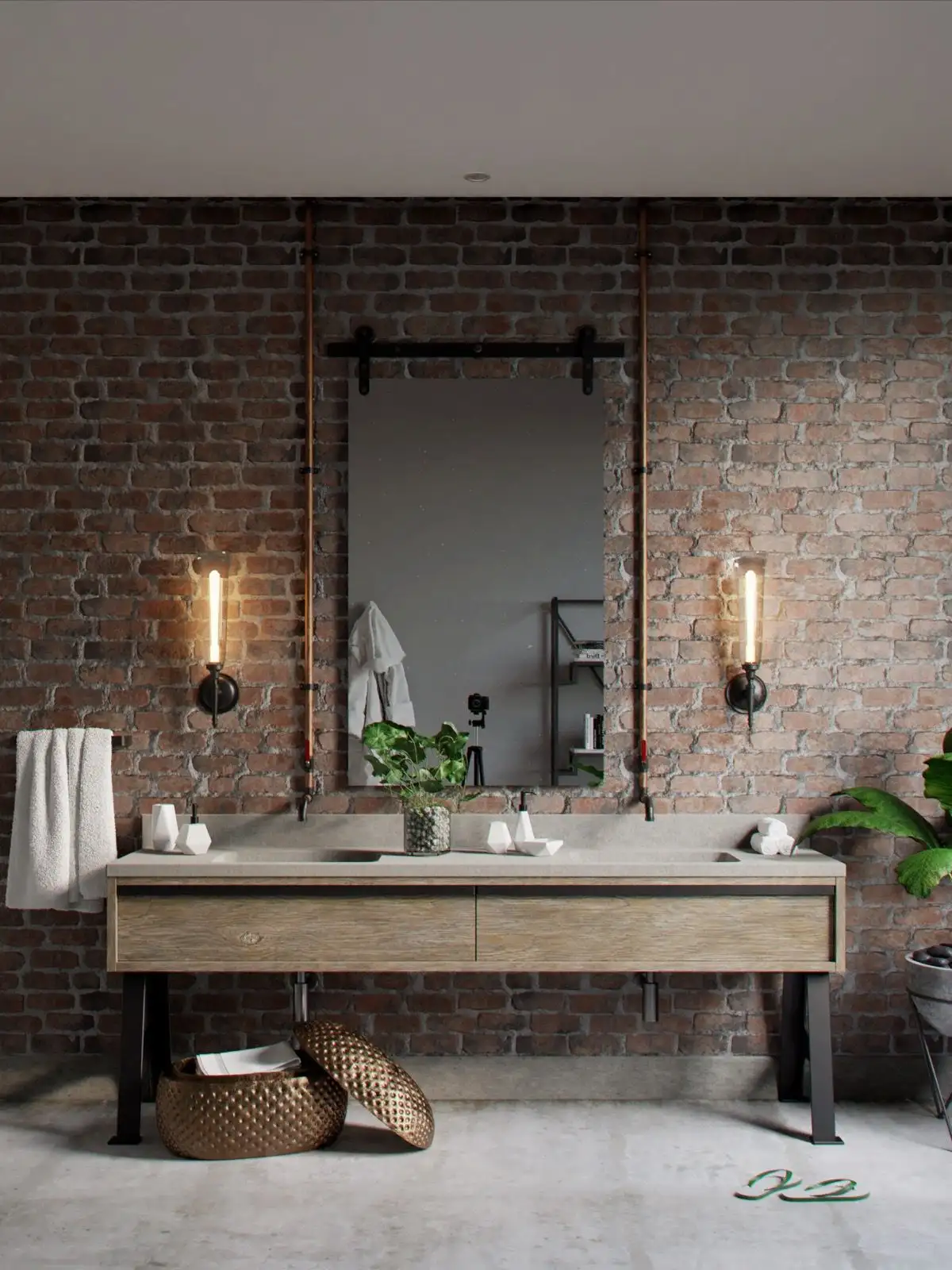 Creative Lighting Solutions
When you consider various art pieces, pay attention to extraordinary light fixtures. For instance, you could buy a table lamp in the form of a pipe with Edison's original filament bulbs and a wooden base. To enhance its robust appearance, opt for a pipe made of steel. Such an industrial masterpiece with an unusual design adds a powerful touch to your home.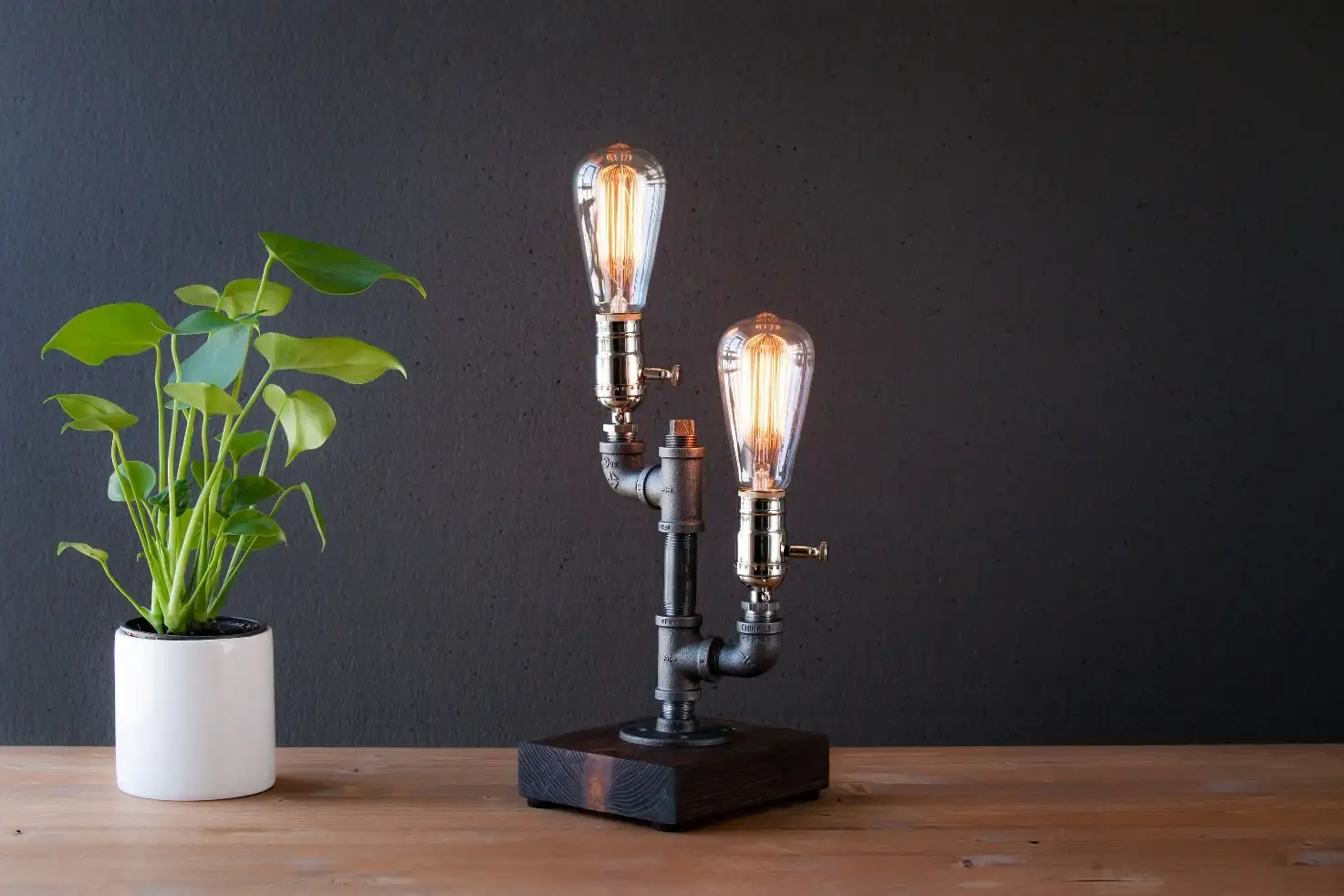 Industrial Style Wall Art
When it comes to covering walls, avoid boring and monotonous art pieces. Opt for oversized pictures, photos, compositions, or just large unusual things to add artistic accents to your industrial home.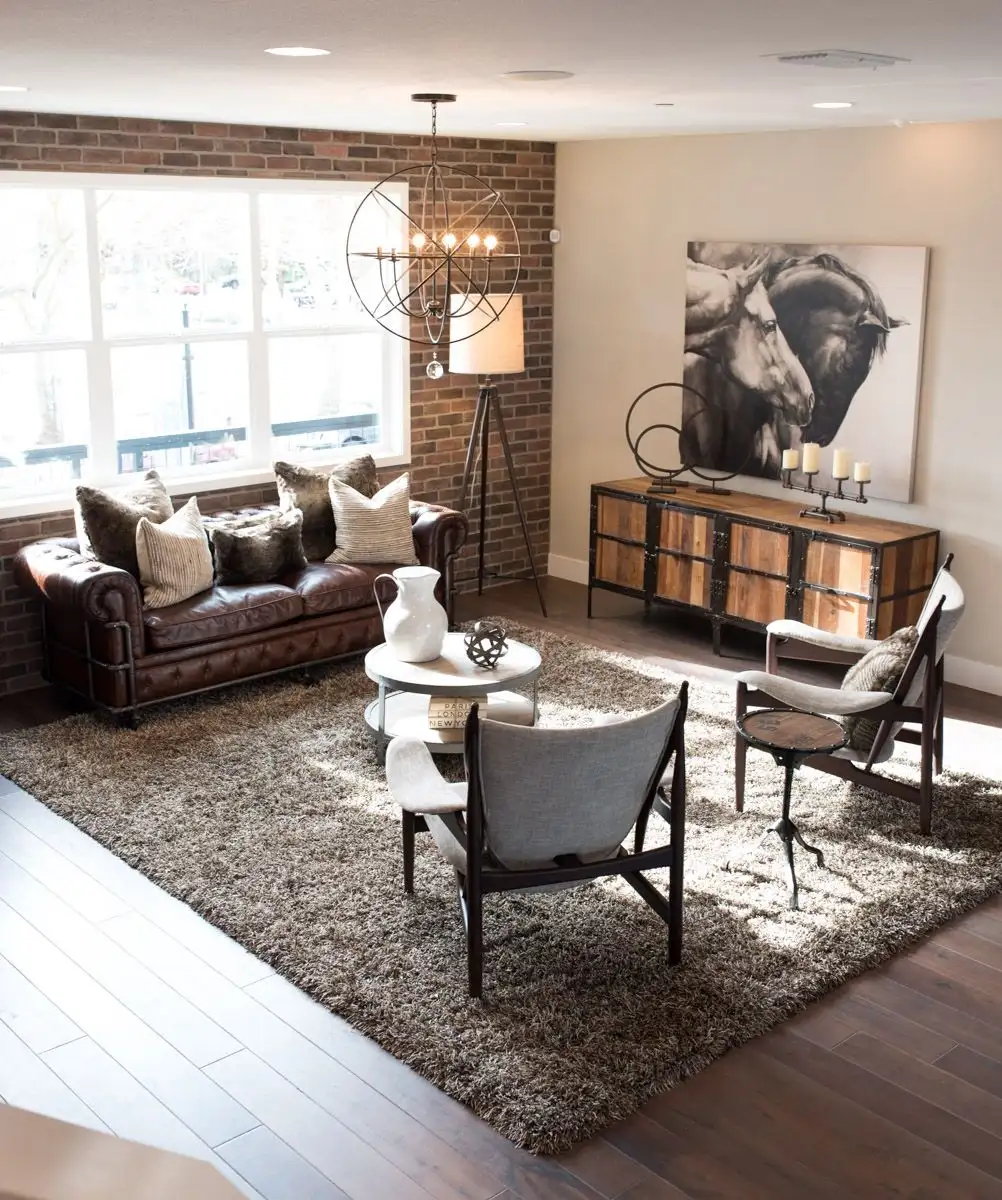 Framed Wall Art
If you decide to hang artwork on a normal wall (not exposed brick), mix classic wall art pieces. Timeless black and white pictures, framed canvas art with charcoal sketches, and old-world wall clocks fit with neutral-colored walls perfectly.
Stylish Wall Décor With A Deep Meaning
You can hang an abstract picture for aesthetic pleasure when you sit on your comfortable armchair and look at this masterpiece. In addition, you can hang a symbolic piece of art on the other wall to make your industrial interior brighter.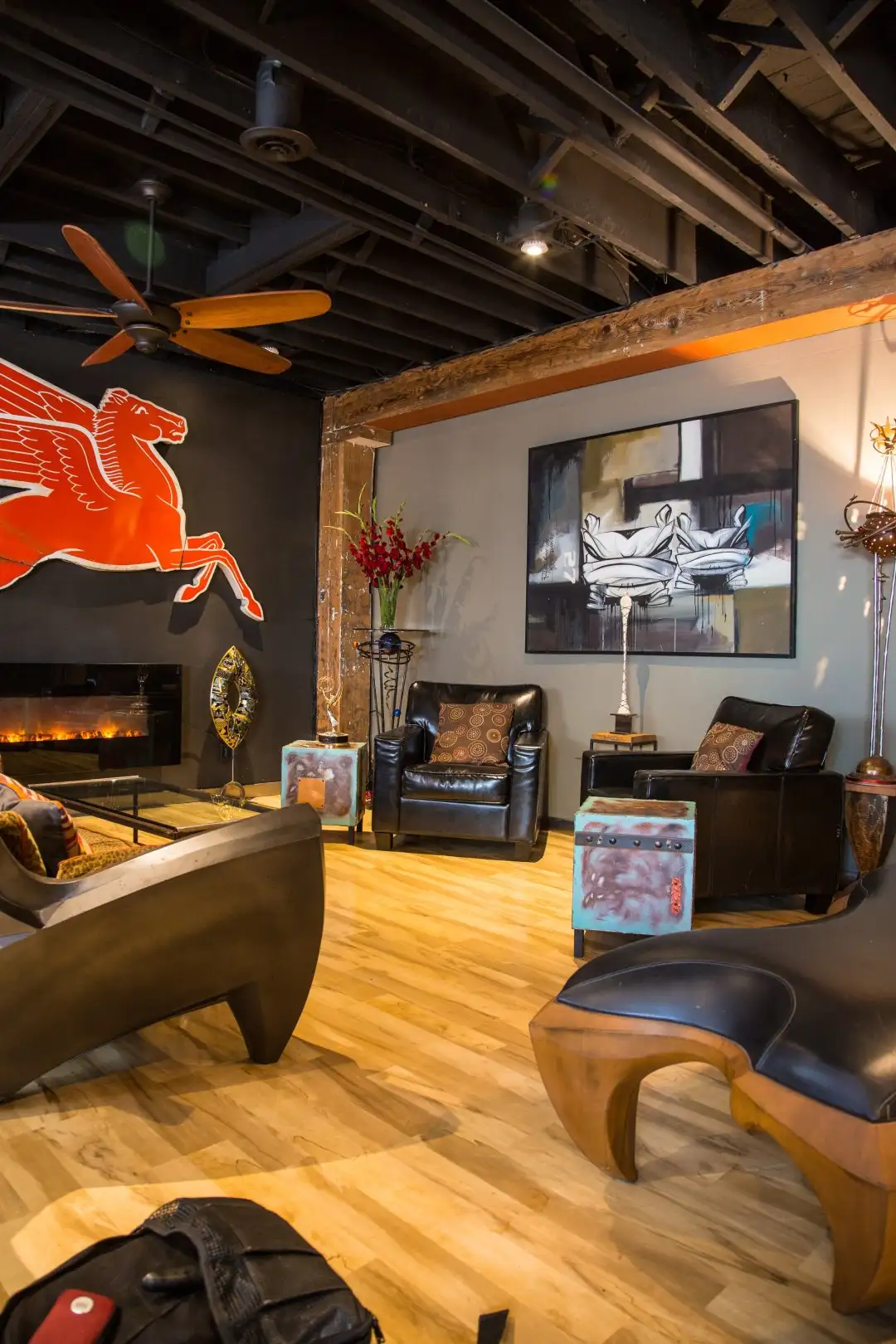 Contemporary Wall Art
If you live in a modern industrial apartment, opt for abstract paintings to concentrate more on what really matters to you. Such wall décor brings pure simplicity and airy vibes to your home. When you observe meaningful pictures, they give you the inspiration to live easy and think clearly.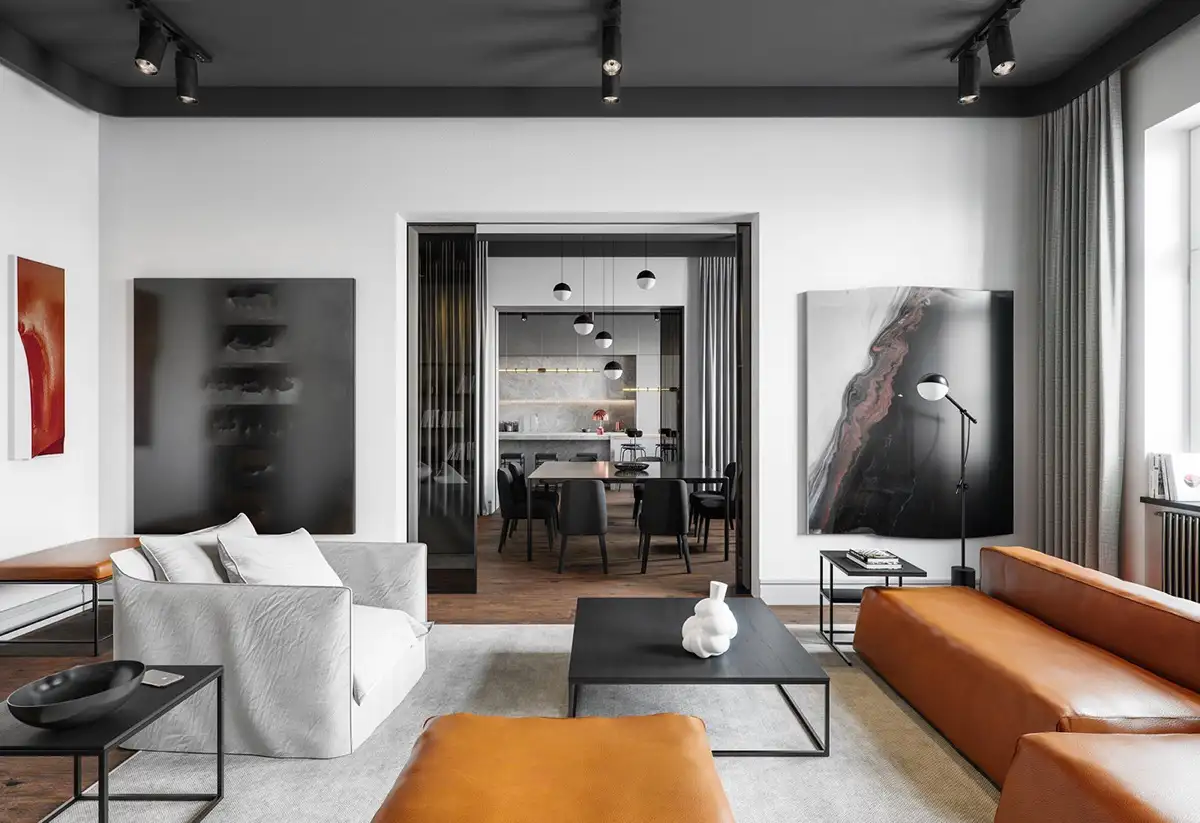 What About A More Creative Light Fixture?
If you want to create unusual wall décor which has both an aesthetic and a practical side, opt for a light fixture in the form of a water pipe with Thomas Edison lightbulbs, similar to the mentioned above table lamp. It can increase the visual impression of your industrial apartment.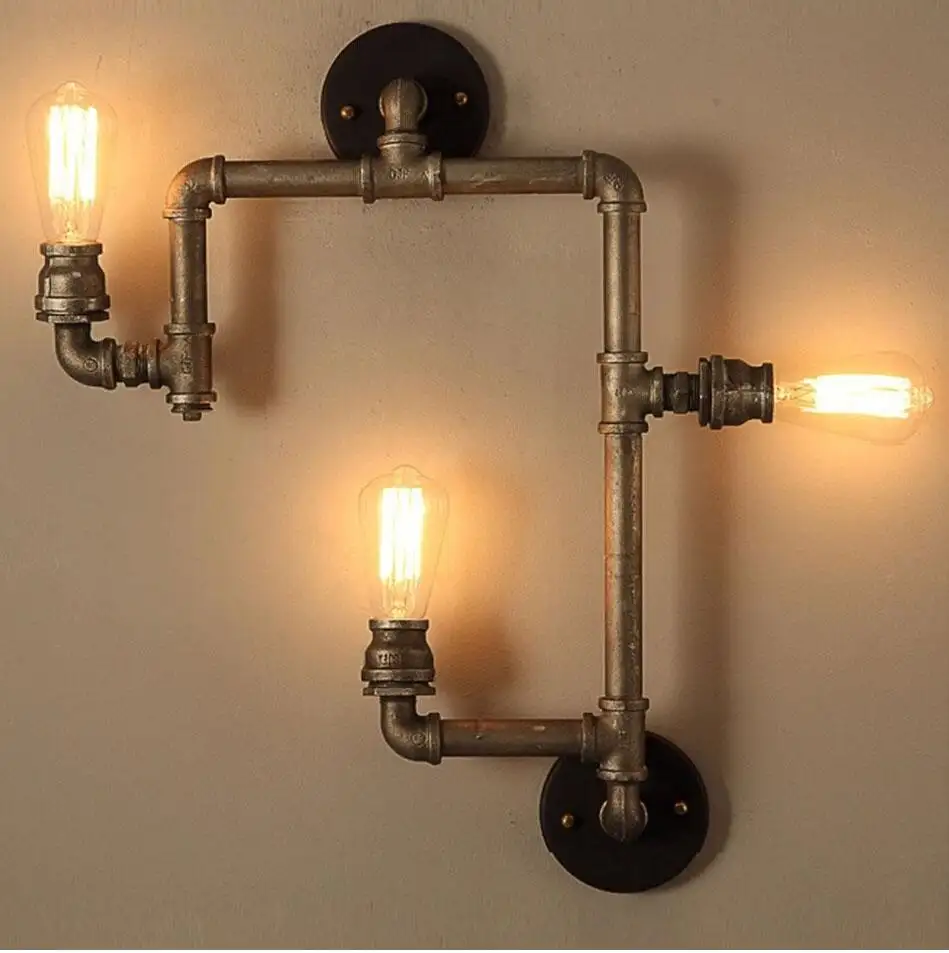 Mechanical Wall Art
Think about using hardware full of meaning as wall décor to add metallic accents to your industrial apartment. For instance, clock gears, nuts, or/and bolts look stylish on the raw brick wall.