Style Your Home With Airy Coastal Décor
Coastal (beach) décor is a great way to show that you are inspired by the beach life. It means a nautical-themed home with neutral hues with blue accents, soft textures, natural materials, and a celebration of natural light. With a minimalist approach, you can live in a clutter-free house designed with an open-concept plan. To get airy vibes in your home, you don't even need to live near the coast or seaside, or even have a breathtaking view.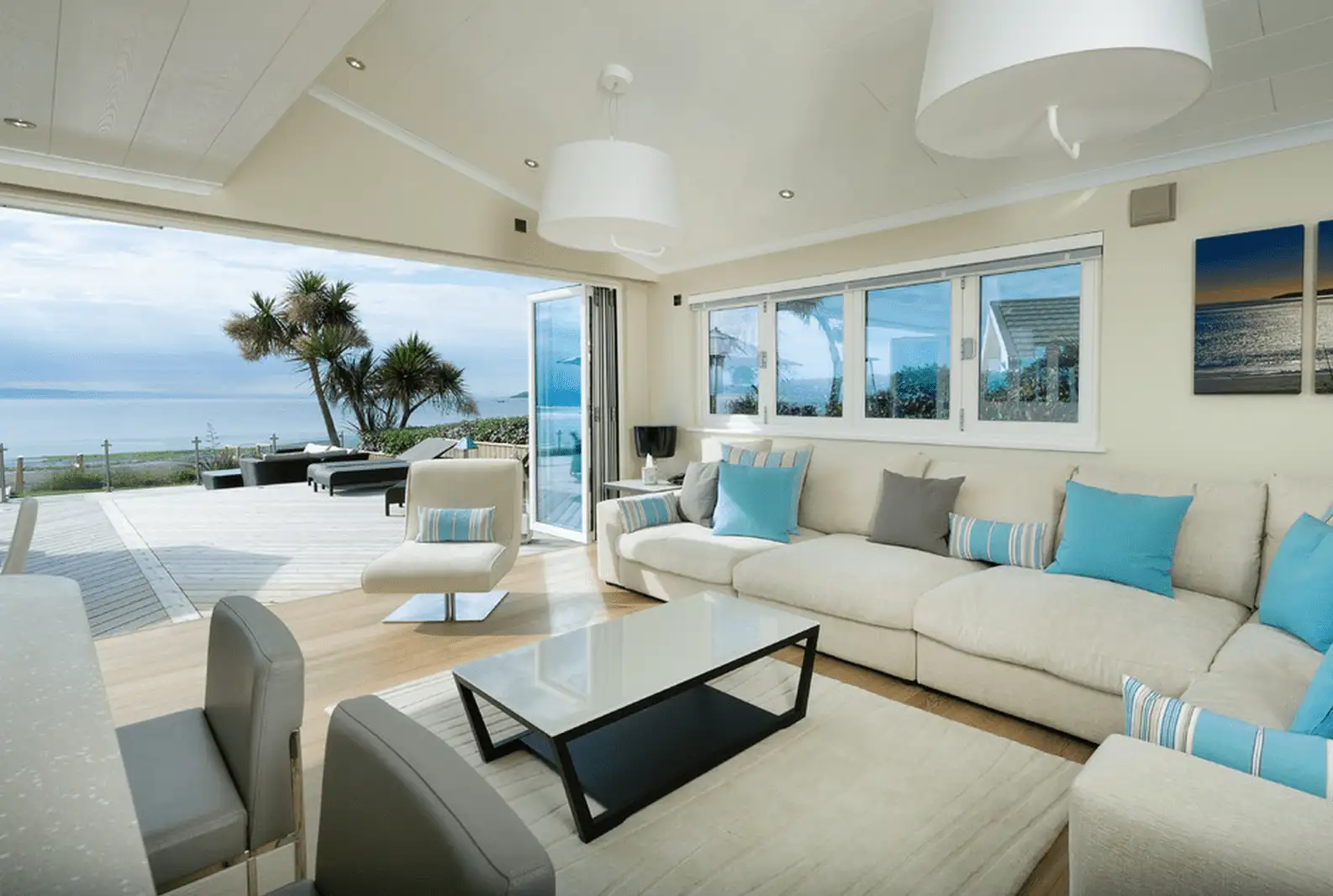 The Essentials Of Coastal Décor
Mix curved- and straight-lined furniture pieces to display that modern and contemporary styles can be neighbors inside your relaxing space. For instance, you can separate your living room in two areas: first – with simple, straight-lined sofas, stools, and a table, second – with soft- and round-lined pieces.
For colors, white, blue, gray, and gold hues are the core of creating a breezy ambience. Use plenty of cool or warm white to emphasize the pure aesthetics of your coastal home.
Don't be shy about opening your windows almost all day! To diffuse natural light in an elegant way and have plenty of it, cover your windows with sheer curtains.
Stick with a sustainable approach and use natural materials to emphasize the beauty of earth-inspired elements.
Beach Décor Room By Room
When you decorate your nautical-themed home, you bring relaxation vibes to every single room, promoting an easygoing life!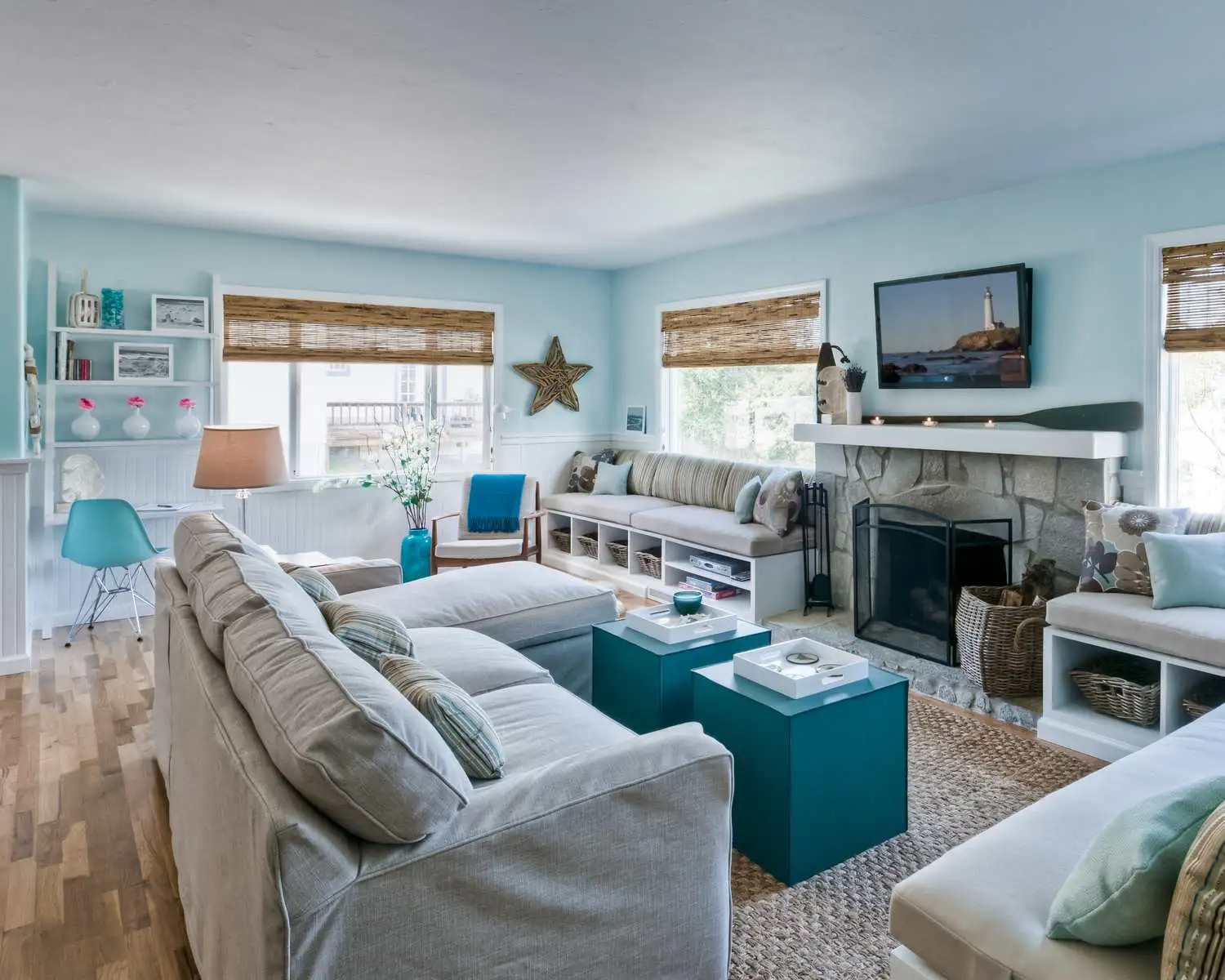 Coastal Living Room
For colors, opt for soothing blue, sand hues, and warm white to make your beach interiors really breathtaking. Play with different textures. For instance, put a cotton rug on a wall-to-wall carpet to add accents to your coastal living room.
Think about framed seascape wall décor and seashell-adorned accessories. You don't have to use accent pillows. It's common to select blue-printed throw pillows for a plush blue sofa.
Use natural materials to emphasize the nature-inspired spirit of your beach living room. For instance, wood, bamboo, rattan, cotton, and jute work really well for your coastal interiors. Opt for wood or bamboo shades/blinds to use plenty of natural light and bring warmth to your home.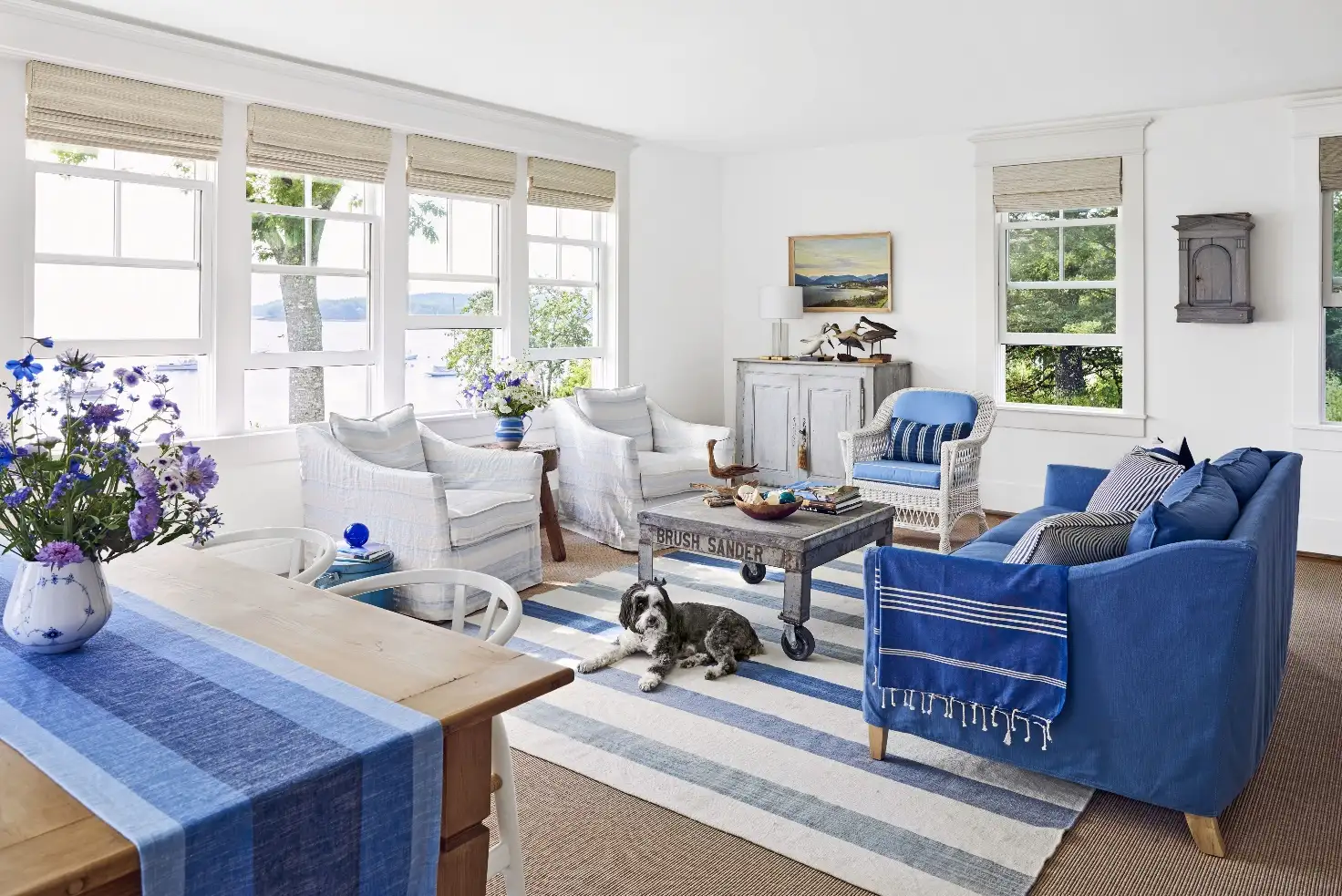 Coastal Kitchen
For your kitchen decorated in the coastal style, start with a functional layout with smart placements for all the pieces, promoting ease of movement. Go big and provide enough natural light to make your kitchen an airy space. If your kitchen is a spacious place, select a large kitchen island to have plenty of additional space for cooking and eating.
Purchase stainless steel appliances to fill the space around you with high-quality items. Along with a functional side, it looks really stylish with a robust industrial flair.
For colors, blend cool white with metallic tones to emphasize the pure simplicity of your cooking space. That's a great way to show the clean aesthetics of beach style.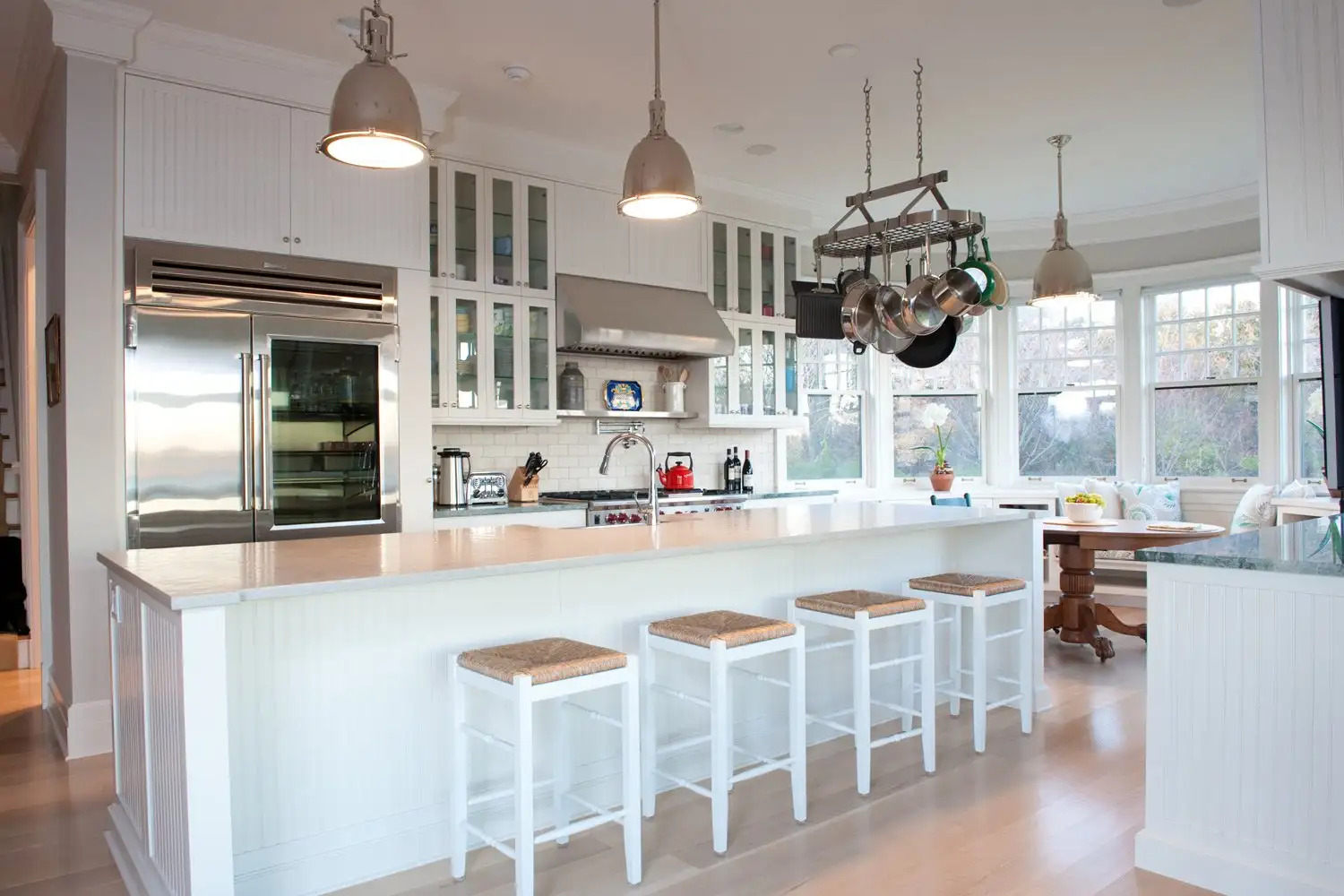 Beach-Themed Bathroom
To maintain good health and create a paradise of relaxation, bring sea vibes to your beach-inspired bathroom. Opt for high-quality bathroom furniture to display your personal lifestyle and make your restroom comfortable for you. If you aren't limited on space, choose a double vanity cabinet to optimize your bathroom storage.
Mix wood-colored with decorative blue tiles to add color accents to your refreshing space. Opt for a porthole mirror with a thin silver metallic frame to enhance a coastal look.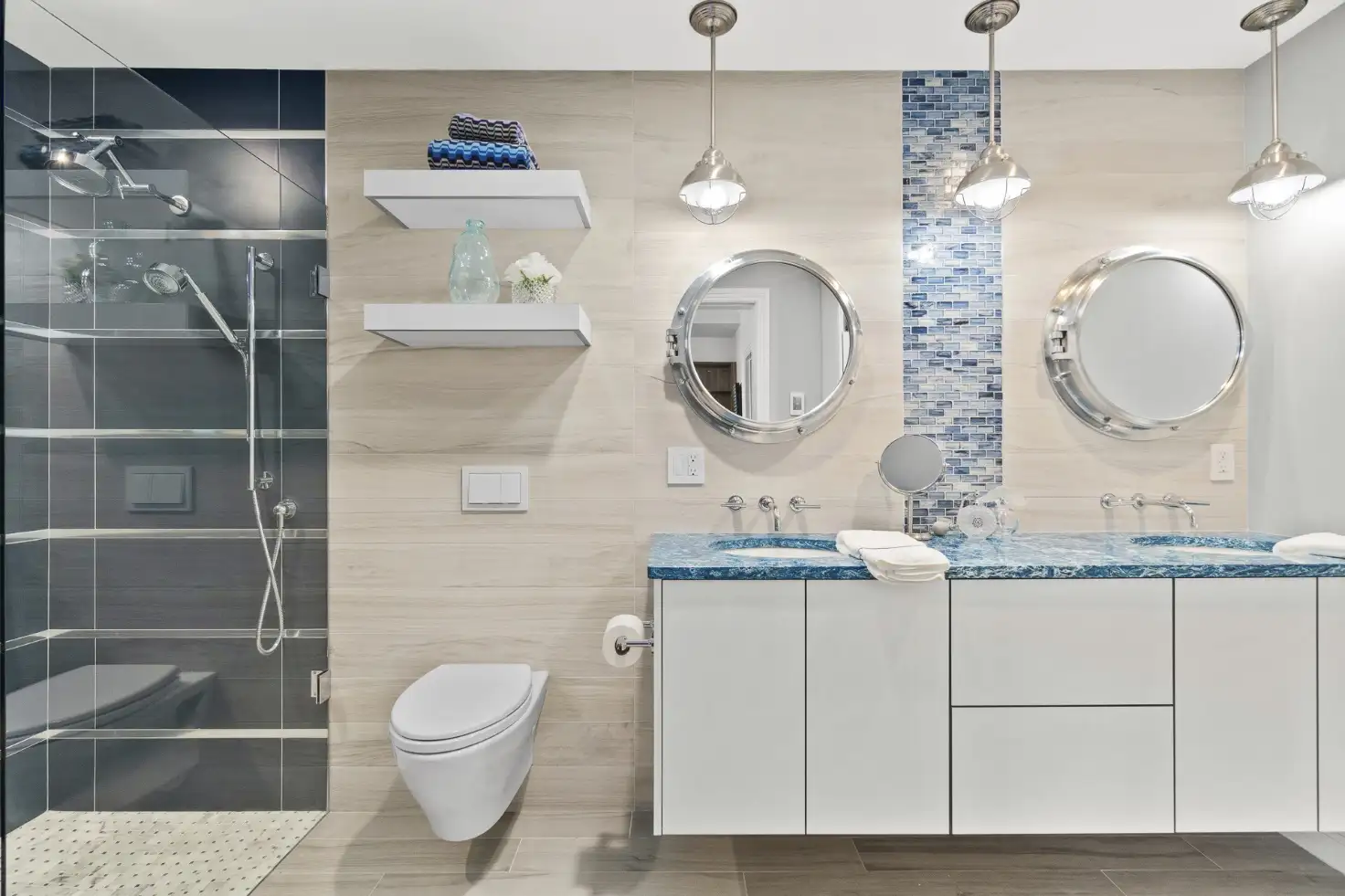 Beach Bedroom Décor
When it comes to decorating your bedroom, use all of the channels to achieve a soothing ambience. Choose an attractive bed with a high-quality mattress to maintain your spine health.
To evoke charming coastal décor, opt for an unusual bedframe and soft bedding. Play with colors and textures when you consider various throw pillows.
Hang starfish as coastal wall décor to emphasize a nautical-themed atmosphere inside your master bedroom. That's a great way to create the main focal point of the entire room.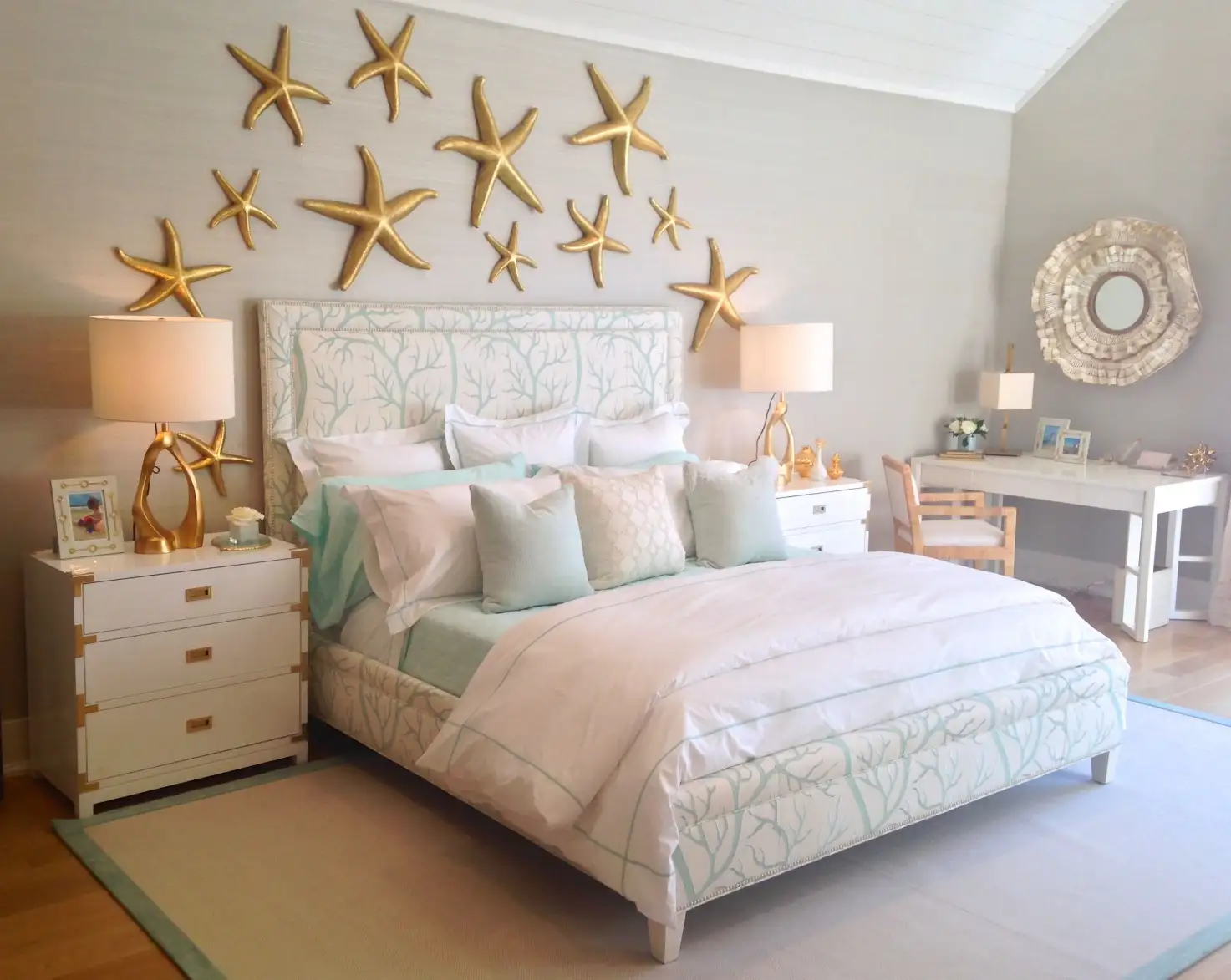 Coastal Nursery
Your baby's nursery is a peaceful place for both you and your infant. Beach style ignites calm, serene feelings
If you like navy blue, it'll fit with a boy's nursery flawlessly. Choose this blue hue for your little one's bedding, a chest of drawers, a lamp, nautical-themed toys, and various accessories.
When you select a color theme for your baby's crib, warm white is exactly what you need. Think about a geometric pattern wall mural to highlight your infant's cot by an accent wall.
Accessories are an important part of your baby's coastal nursery. Whale figurines, nautical photos, and paintings make your little one's space relaxing.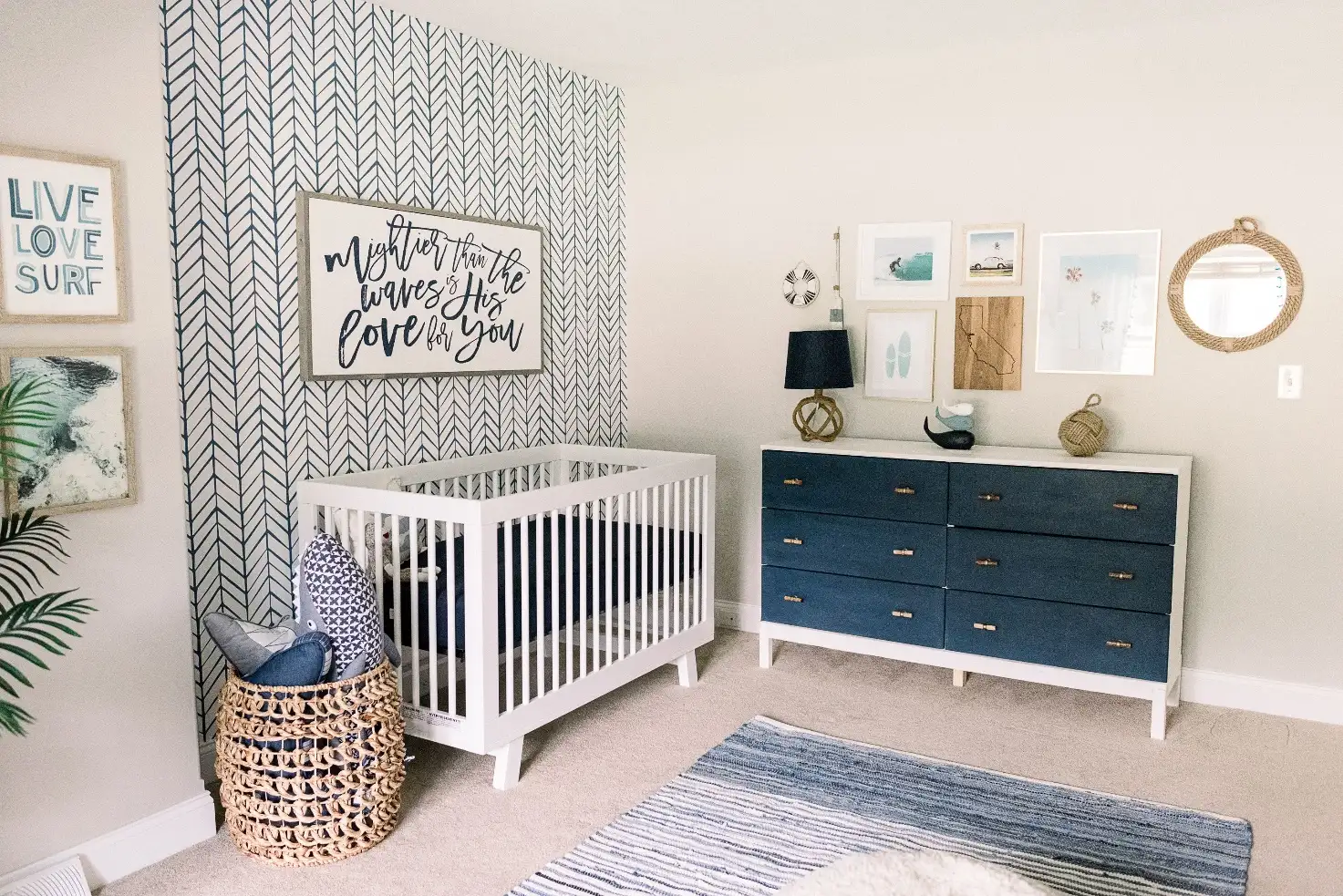 Beach Kids' Room
If your children like to relax on the water, think about a nautical-themed kids' room. Opt for navy-blue bedding and a chest of drawers, sea-inspired accessories and wall décor. Use nautical-themed throw pillows to add color accents to your children's bedding.
If you decorate a bedroom for two kids, place their beds with symmetry to emphasize the orderliness of a coastal space. Use different accessories near each bed to show the difference of their personalities.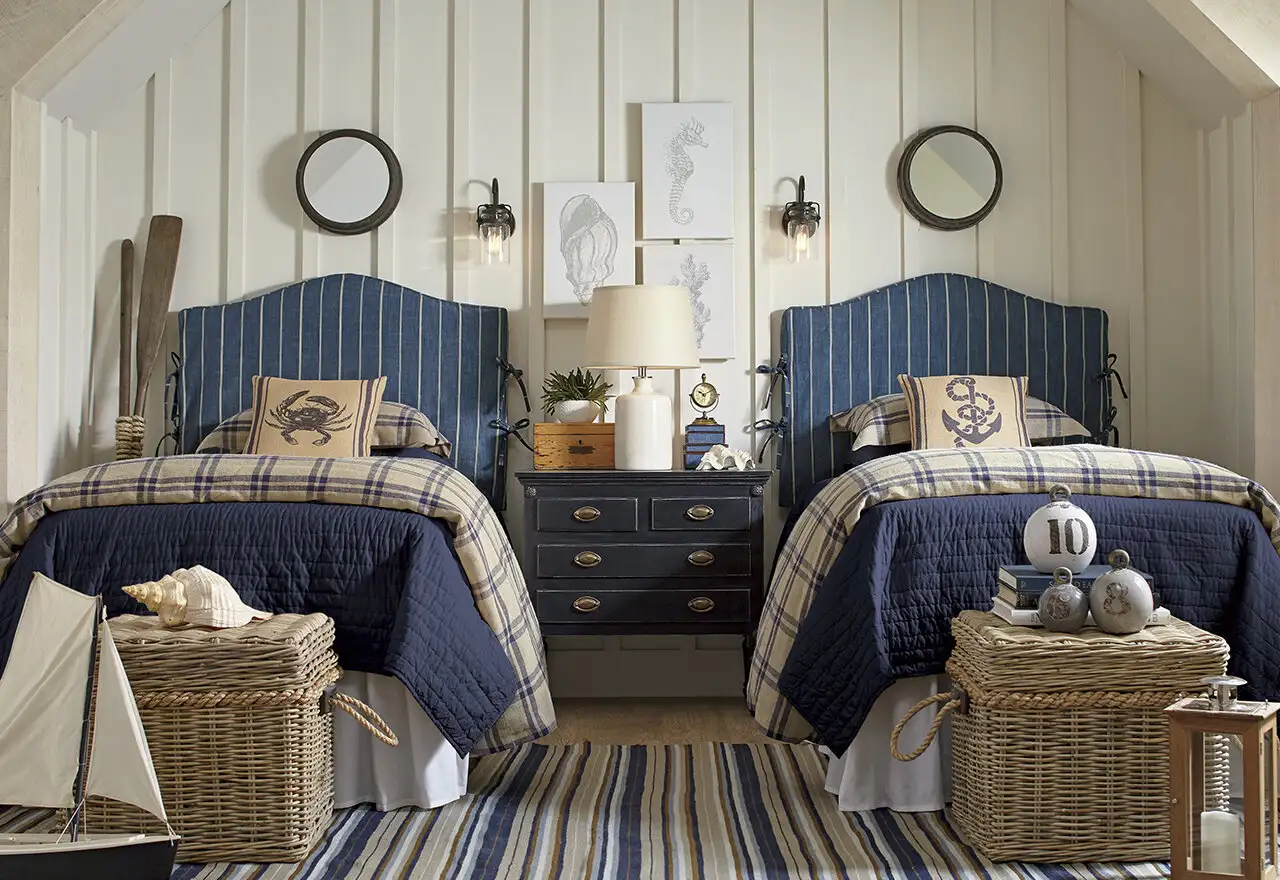 Coastal Mudroom
To make your beach mudroom a welcoming space, create a minimalist, clutter-free space with useful furniture pieces and other accessories. Place capacious chests of drawers to have enough storage space, and a long bench to have enough space to sit while you put your sea boots on.
Think about the main focal point with a functional side. For instance, a paneled wall where you can hang your clothes and accessories. For colors, a navy-blue color is a great choice for your furnishings.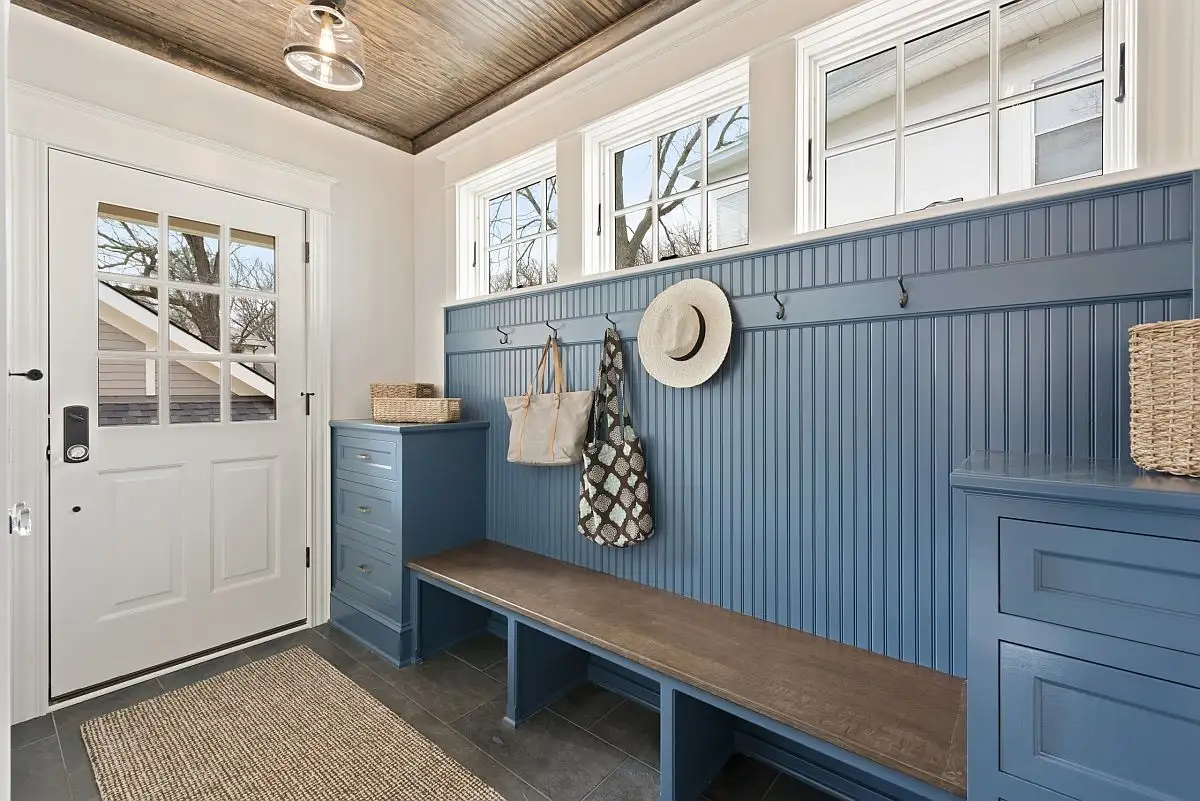 Coastal Laundry Room
To ignite your inspiration inside your laundry room, choose a cabinet colored in your favorite blue hue. This can help you to do laundry in a comfortable, easygoing space, while you dream about a seaside and a great vacation.
You don't need nautical-themed accessories to display the pure simplicity of your beach laundry room. Paint your walls in a warm, light hue to create a soothing ambience and bring calm vibes to your hard-working space.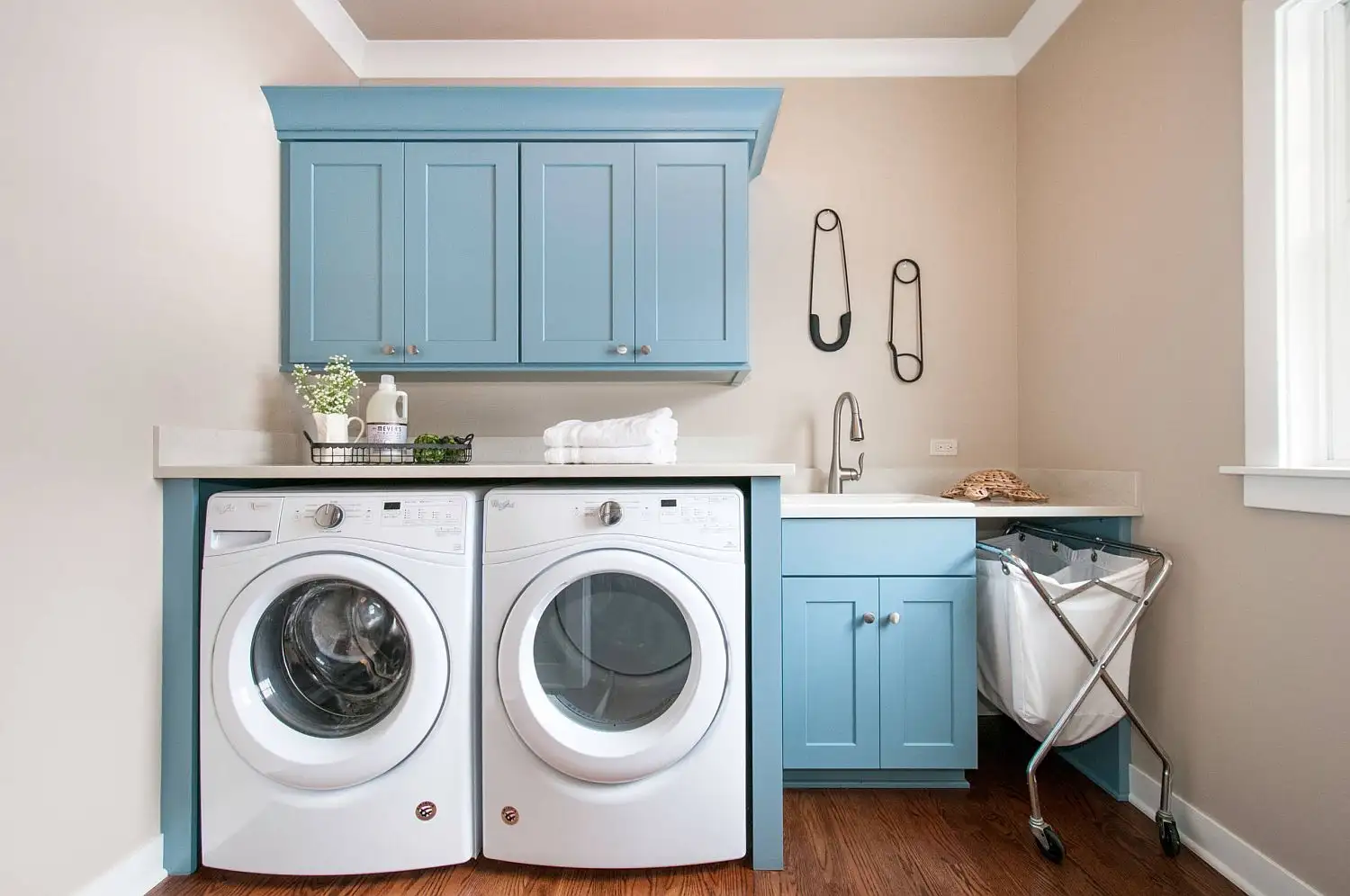 Beach Hotel-Style Room
If you like hotel-style bedrooms, stick with a minimalist approach and follow the core of right hotel room décor. A king-size bed, a matching set of a table, a closet, and shelves, and creative light solutions are all that you need. Without clutter, you can create a really soothing ambience!