Carefree Bohemian Décor
Bohemian (Boho) is a carefree, relaxed, and easygoing style which displays your individuality. It flaunts design concepts and décor rules with an eclectic twist. A Bohemian apartment is filled with lifestyle, culture, unusual finds with exotic vibes, and boundless freedom in both worldview and décor.
Every room can be decorated in an extremely different way. Don't worry, it's normal for a Boho home!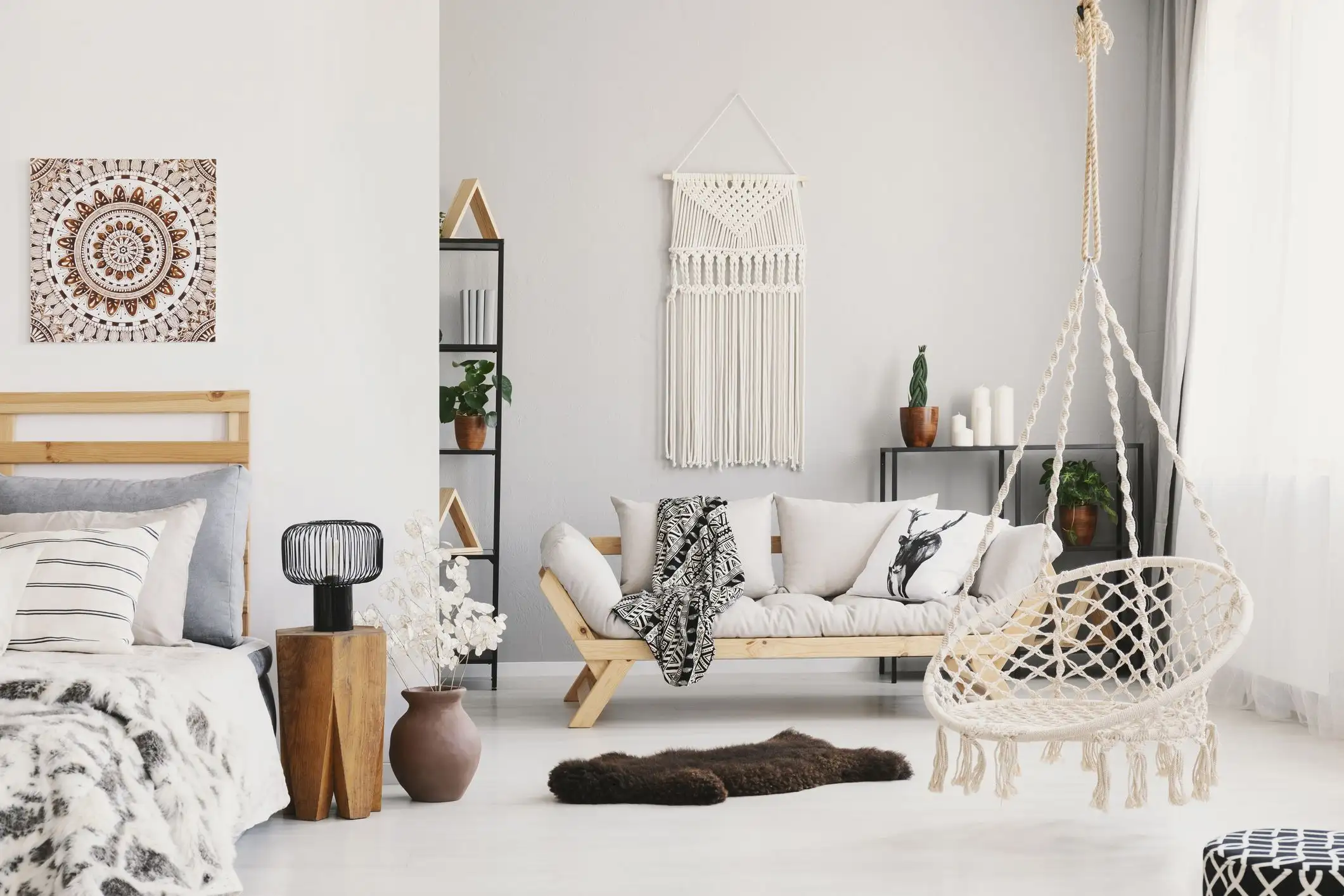 Bohemian Style Defined
Bohemian style is inspired by people who lead an offbeat life, especially creators (writers, singers, and actors) and constant travelers. Even a term 'boho' is used to describe artistic and unconventional pieces.
Bohemian (original – French Bohémien) was defined thanks to the Romani people. They were mistakenly thought to have reached France in the 15th century, when they actually came to Bohemia (a region in the Czech Republic.) The term later began to denote poor, travelling artists and creators.
Boho style is also connected with the hippy culture of the 1960s and 1970s. Bohemian pieces were mixed and matched with vintage finds from the 1950s, 1960s, and 1970s.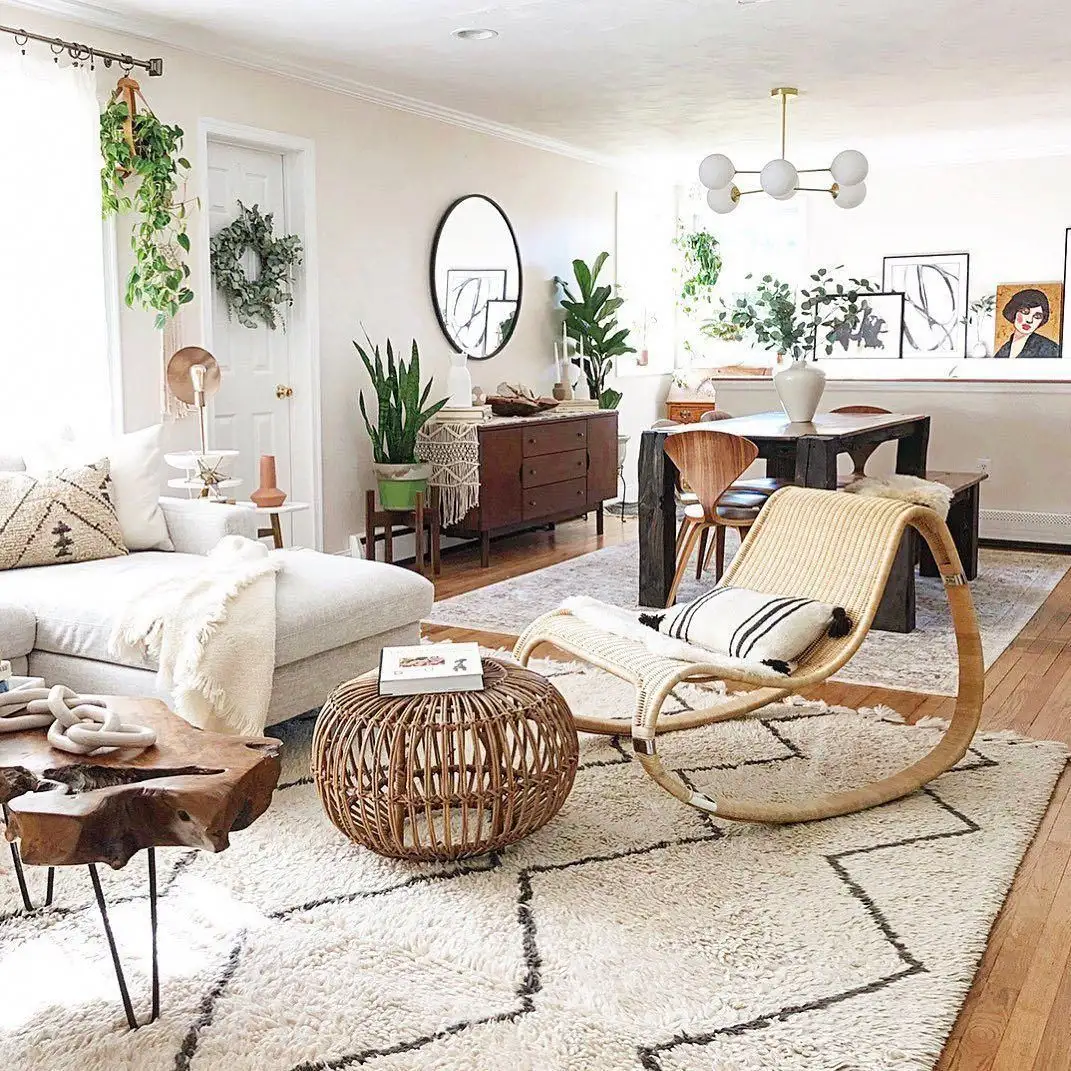 Boho Colors
When it comes to selecting Bohemian color schemes, use earthy hues, such as brown, yellow, green, and gray. For color accents, opt for bold purple, deep blue, and wine red.
White is a great canvas for rich, bold colors and colorful wall décor. You can hang tapestries or area rugs on the walls alongside or instead of your photos and art. This option shows that you're always ready for the unexpected!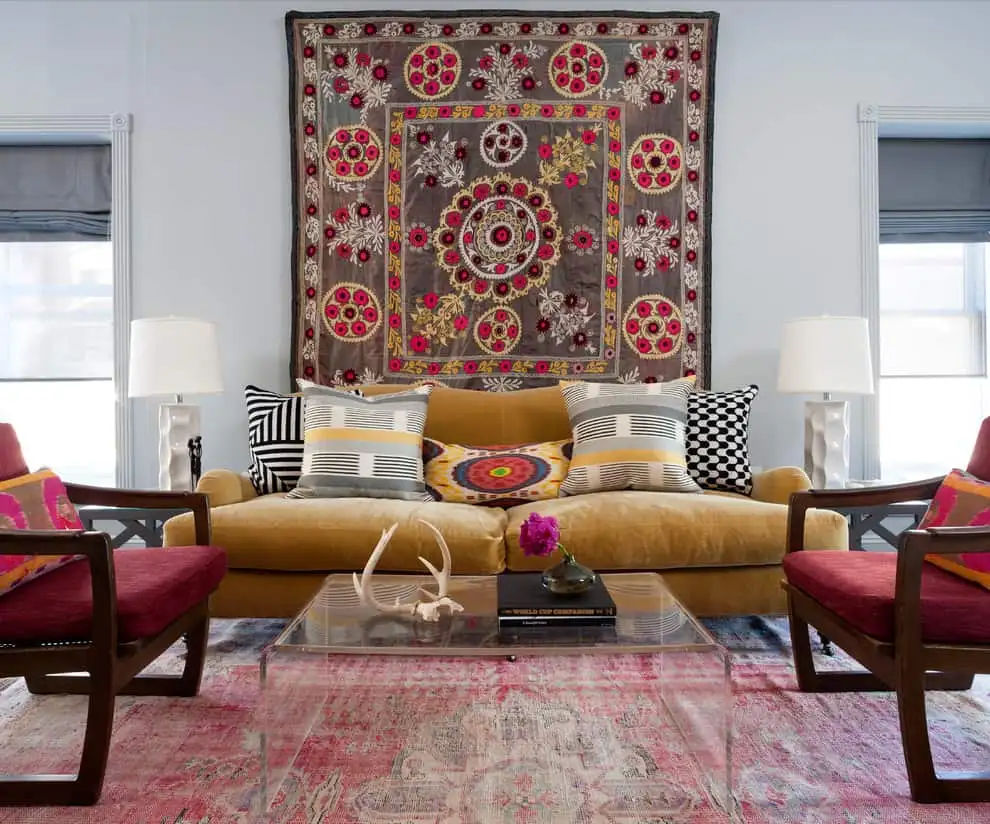 Bohemian Home
A Boho house embraces a 'more is more' philosophy. When you decorate your home, play with textures and colors, and mix and match pieces!
With a sustainable approach, you can bring a fresh breath to your Bohemian apartment. Use a lot of green plants! It's all about a nature-inspired life!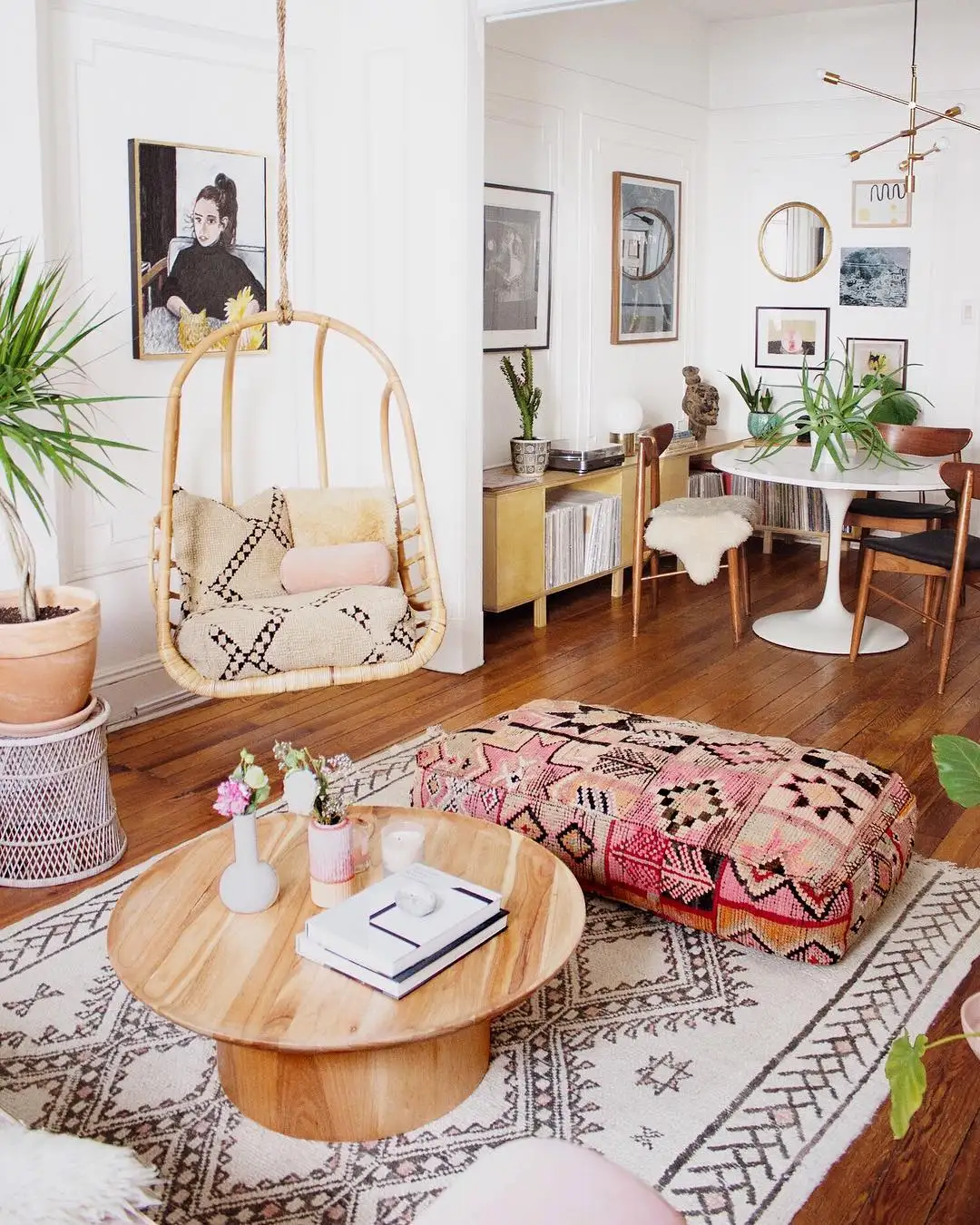 Bohemian Living Room
When it comes to decorating your living room in Boho style, focus on second-hand and vintage furniture pieces. It's awesome to be surrounded by furnishings which can tell a personal story. Select a bright-colored sofa with nature-inspired stools, plush chairs, and a table.
An area rug and floor pillows can create a comfortable, visit-inviting floor-seating ambience. Bohemian furnishings have a 'sit and stay awhile' philosophy. Sitting around on the floor on comfy pillows brings a carefree feeling to the décor which is more in-style than the different type of comfort provided by brand new, more conventional furniture.
Select an area rug, throw pillows, and curtains with macramé, fringe, and crocheting to add a Boho touch to your living room. It looks unusual and stylish!
Use a lot of greenery to emphasize a nature-inspired spirit of your living space. As a bonus, they improve air quality.
Don't be shy about using plenty of knick-knacks, especially from your travels! It's all about your personality.
Boho Bedroom
For your bedroom decorating, select a comfortable bed with a high-quality mattress to maintain good health. You can visit your local vintage shops or shop online to purchase a bed. For a mattress, a brand-new piece is recommended even for a Boho bedroom.
Materials for pillows and cushions should have a little bit of a well-used, worn look. Play with colors and textures! For instance, you can combine chenille and silk with burlap and sisal.
To create a soothing ambience, use lovely souvenirs from travels or just things that fit with your lifestyle. If you have limited space, all of them can be part of your wall décor.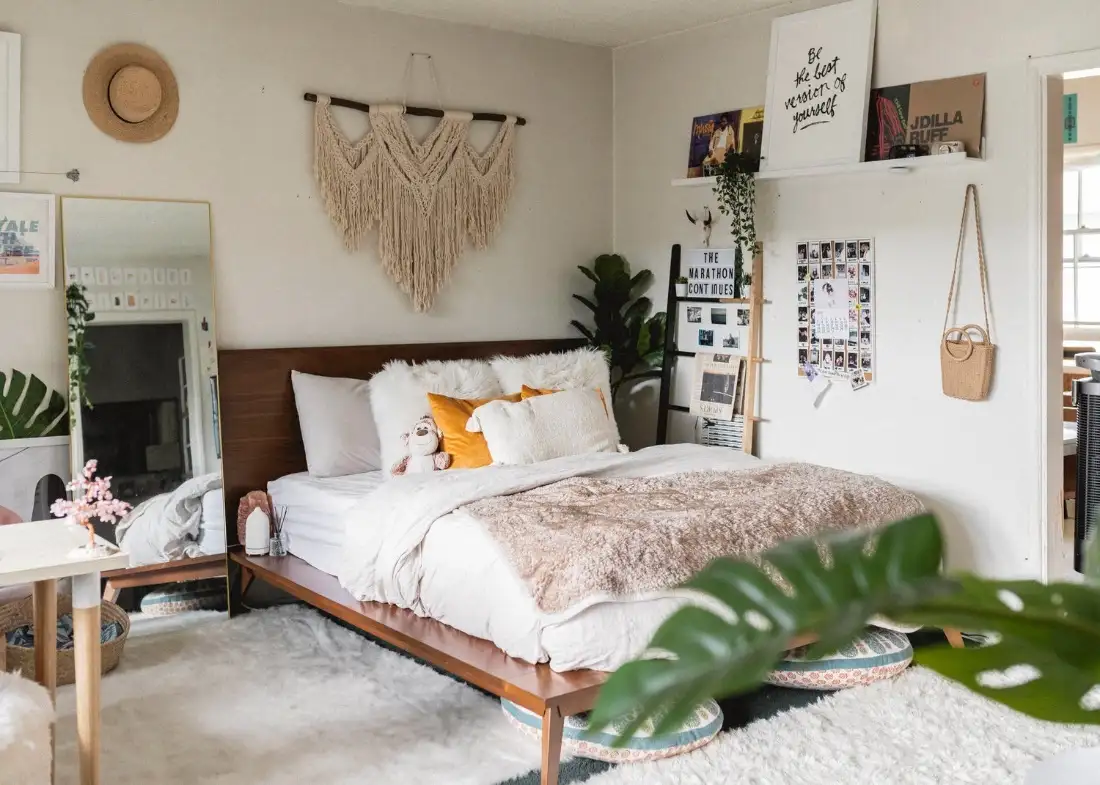 When we talk about a Bohemian master bedroom, it's an elegant space with muted tones and bright accents. It's like a memory display, where each piece is relevant to your family's easygoing lifestyle.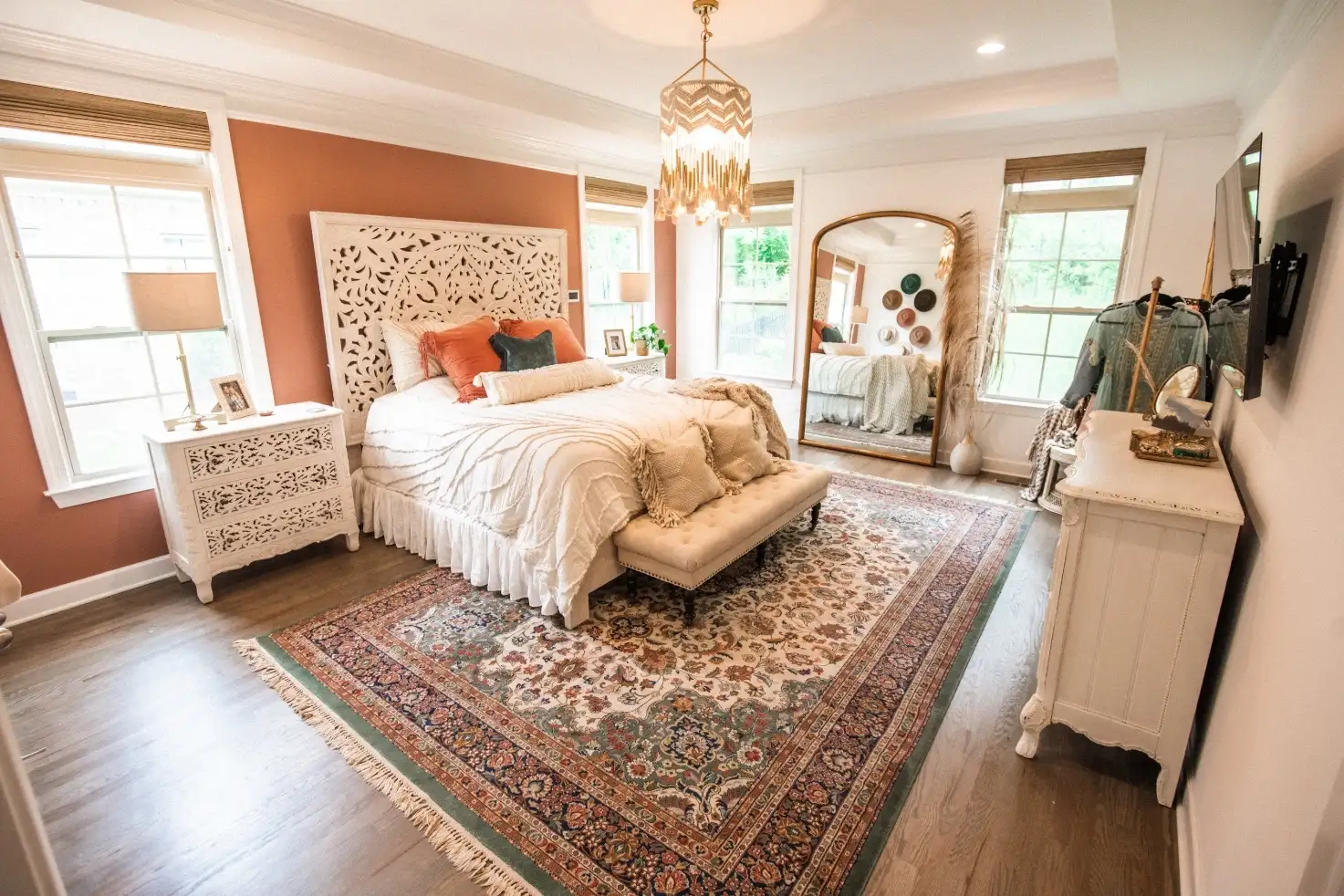 Bohemian Kitchen
When you decorate a Boho kitchen, don't put a limit on kitsch. Feel free to fill up even small spaces with utensils, high-quality kitchen appliances, and inspirational accessories.
If you're lucky enough to have enough space, you can place any kitchen island, from simplistic carts to fully functional options. If you have limited space, consider a bar table. Opt for a white-colored option with a wooden countertop and black stools. It's a really stylish combination. Think about a space-saving bar table with shelves to store cups, glasses, and plates.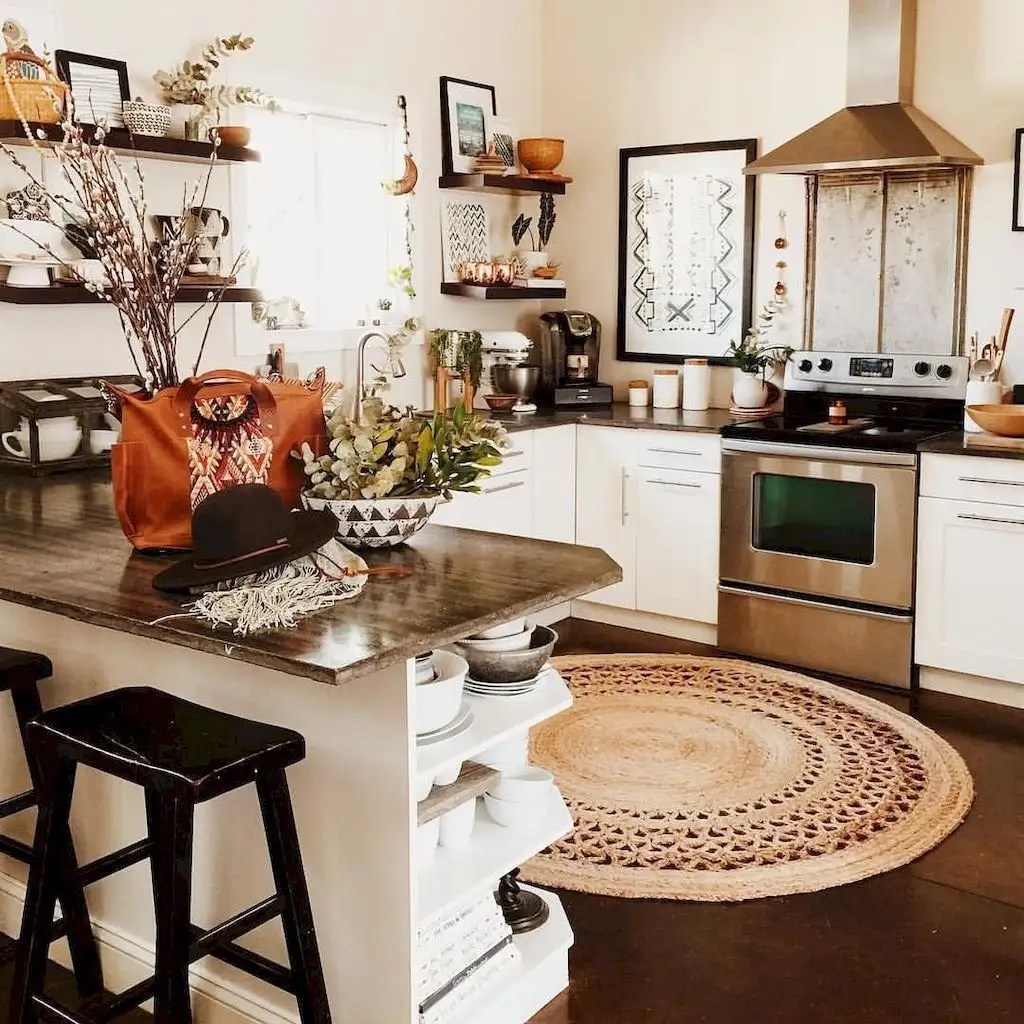 Boho Bathroom
When you decorate your Boho bathroom, add a rustic flair to make it nature-inspired and a little bit rough. Even a shelf made of reclaimed wood under your sink can spruce up your refreshing space.
Opt for tiles with unusual prints, mix light fixtures, and install shelves for green plants! Details are important!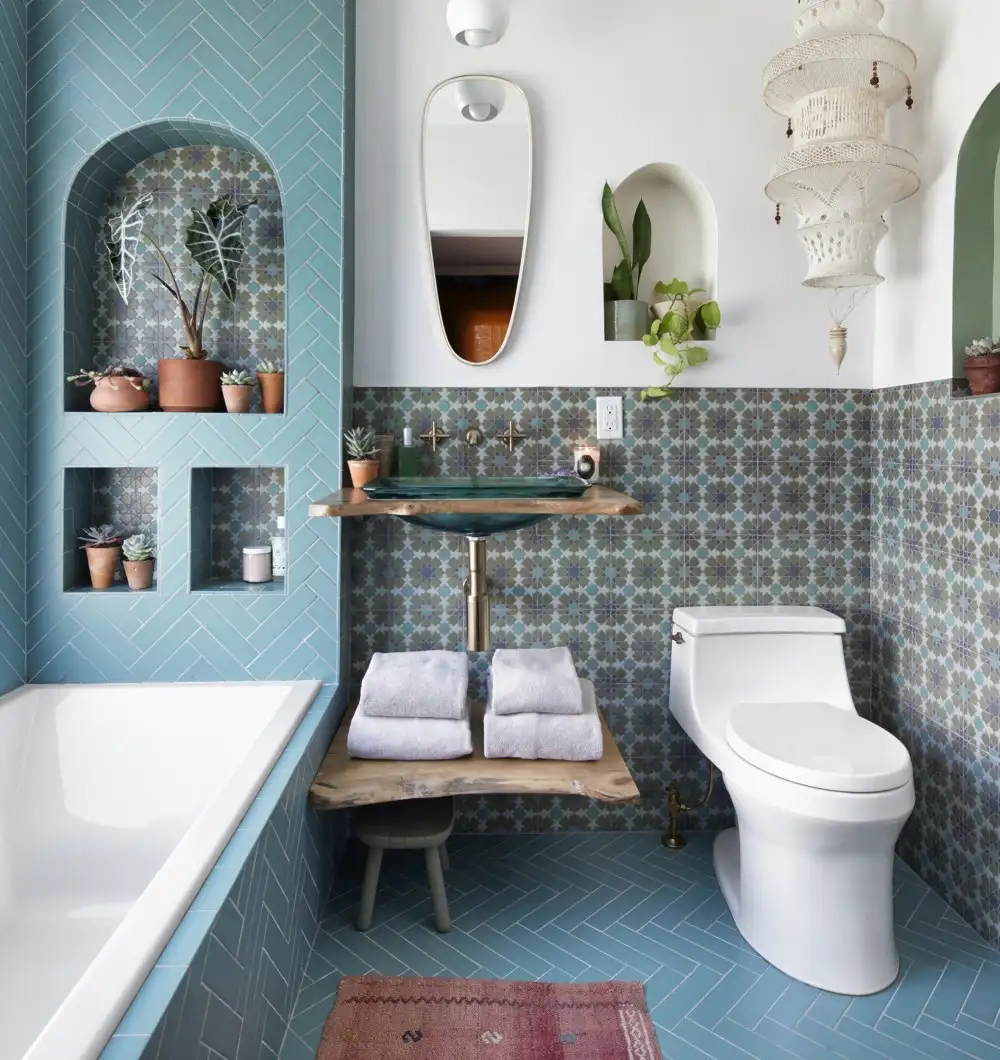 Bohemian Home Office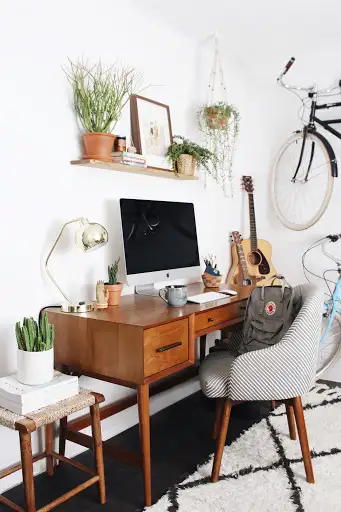 A Boho home office looks like a small workspace with a lot of greenery. The main idea is to be inspired by nature and life to create something new and great!
You don't need to buy a special table and armchair to support your spine, though it's a choice that's up to you. If you're looking for a cheaper and more Bohemian option, you can just go to flea markets and buy something that gives you positive vibes while you work!
You can show your ardor for music by displaying your guitars near your work table. It's great to take a break from work and play some music!
Bohemian Nursery
A Boho nursery is a soothing, easygoing baby kingdom! When you consider various color themes for your baby's room, choose neutrals with patterns instead of bold tones. Even a striking Bohemian lifestyle can work well with a minimalist concept when you decorate a room for your infant. From walls to an area rug, geometric prints emphasize Scandinavian functionality and contemporary simplicity.
When you consider various pieces for your baby's nursery, opt for a brand-new baby's crib and breastfeeding chair, because you and your baby need a high level of comfort. But, for a changing table, you can buy or use an existing chest of drawers to add a vintage flair. Complete it with a comfortable mattress pad and safety straps.
For lighting, decorate with table and floor lamps rather than overhead fixtures or mix them! Ambient lighting completes a serene atmosphere inside your baby's nursery.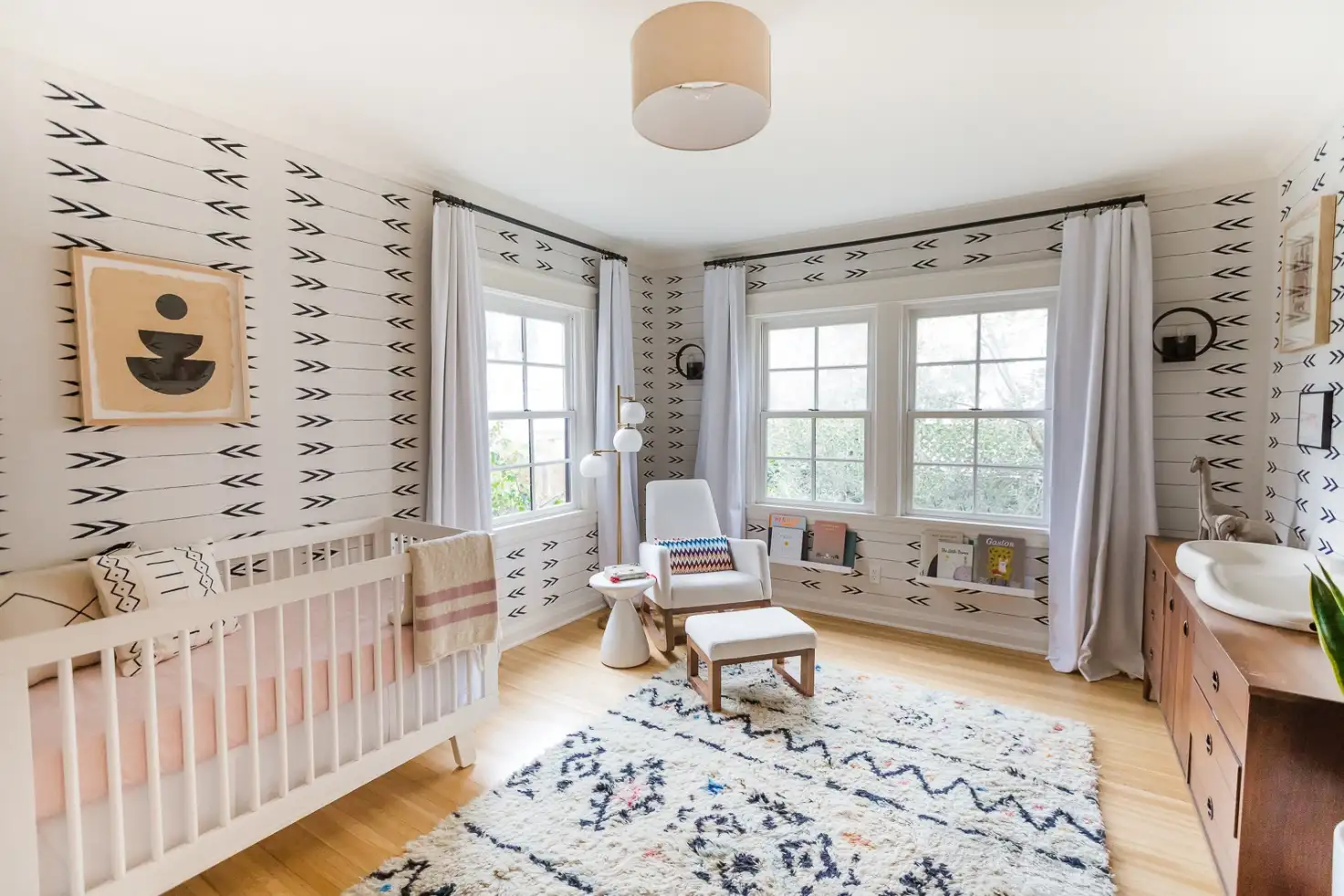 If a neutral color theme is too boring for you, think about a floral-inspired accent wall and place nature-themed toys inside your little one's space.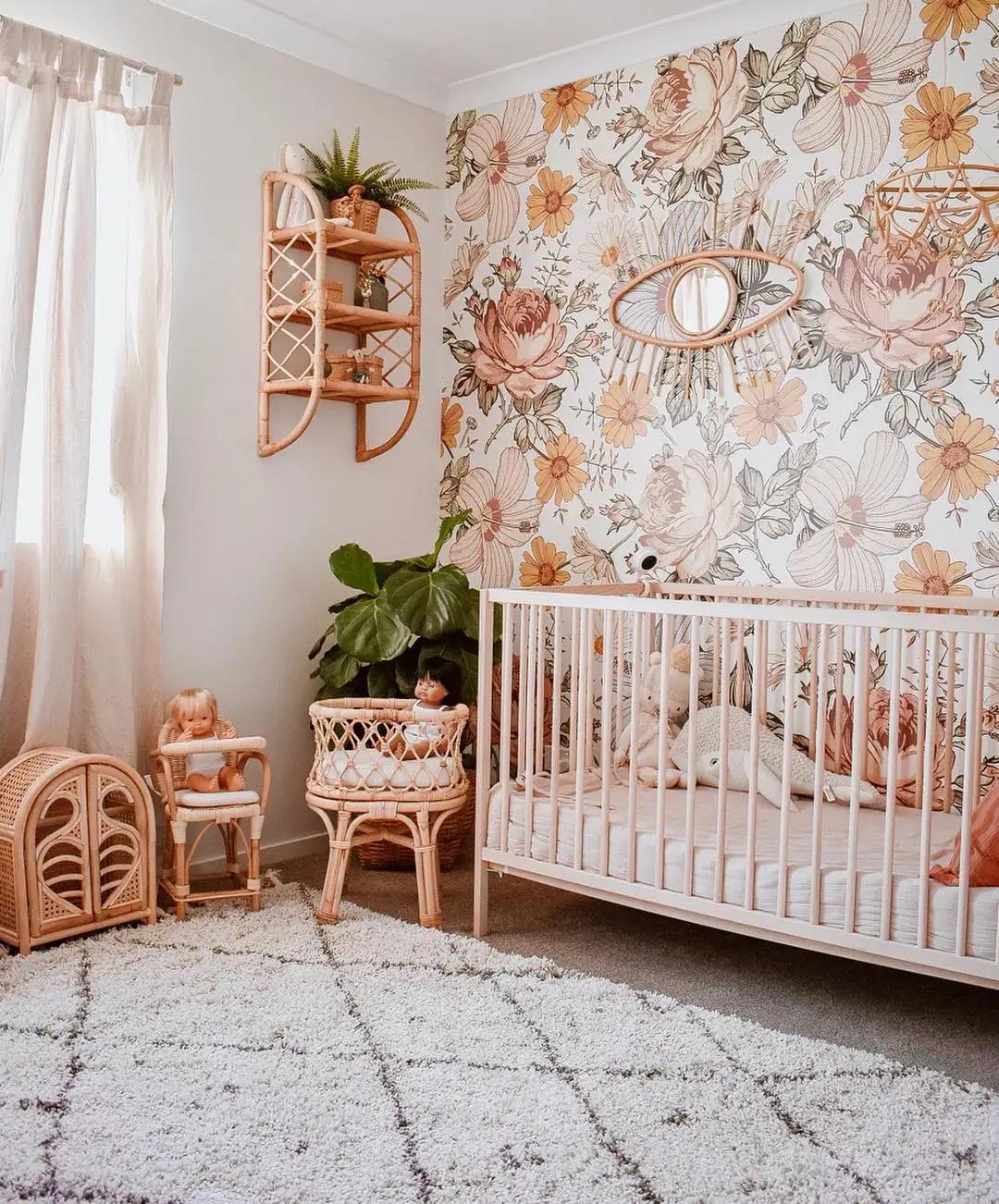 Boho Kids' Room
When you decorate your kids' room, try to organize an inspirational space where your children can sleep as well as play. It's more about casual than vintage options.
Use accessories and decorations that show your child's personality. Make something together with them and integrate this DIY project into your child's Bohemian room. For instance, a busy board to stimulate learning through experiments.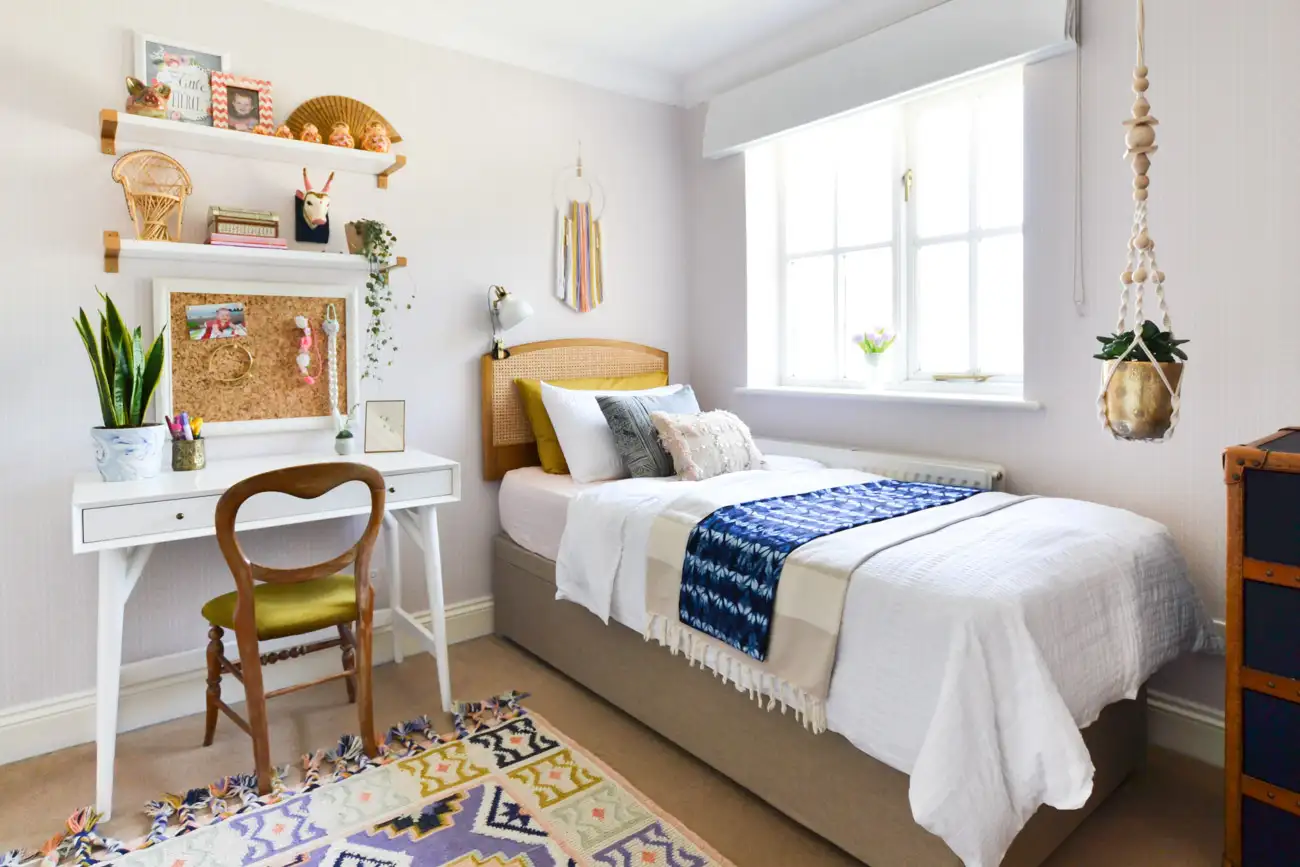 If you have more than one child and limited space, opt for a white bunk bed with Bohemian wall décor accessories. In any case, you need a relaxing furniture piece for your kids. It can be a hanging chair with a cushion to bring easygoing vibes even inside a small space. Also, that's a great way to create the main focal point of the entire kids' room.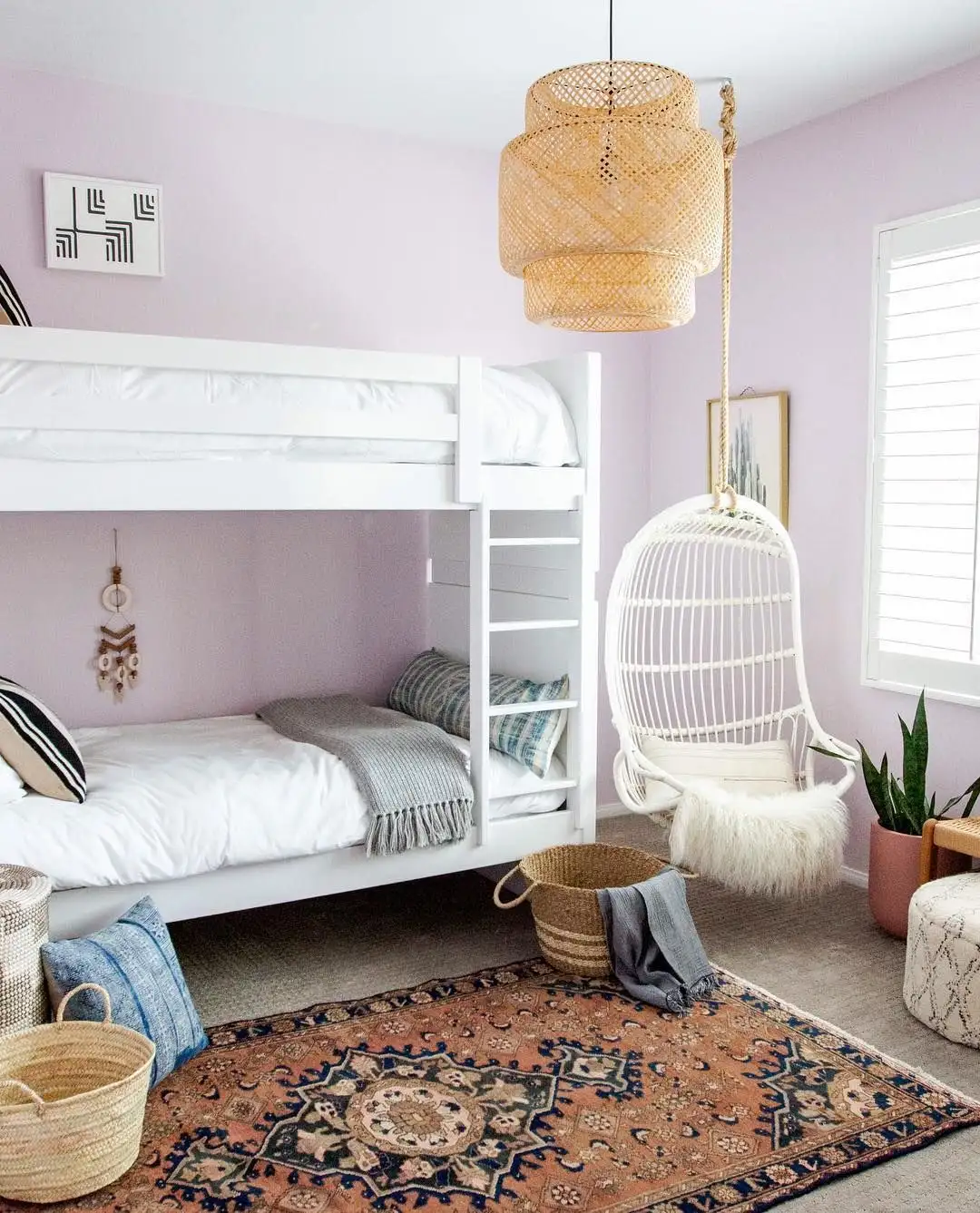 If you want an unusual bed for your kid to sleep and play, opt for a house bed. It's like a fascinating adventure for your child! You might even want to join them in their playhouse.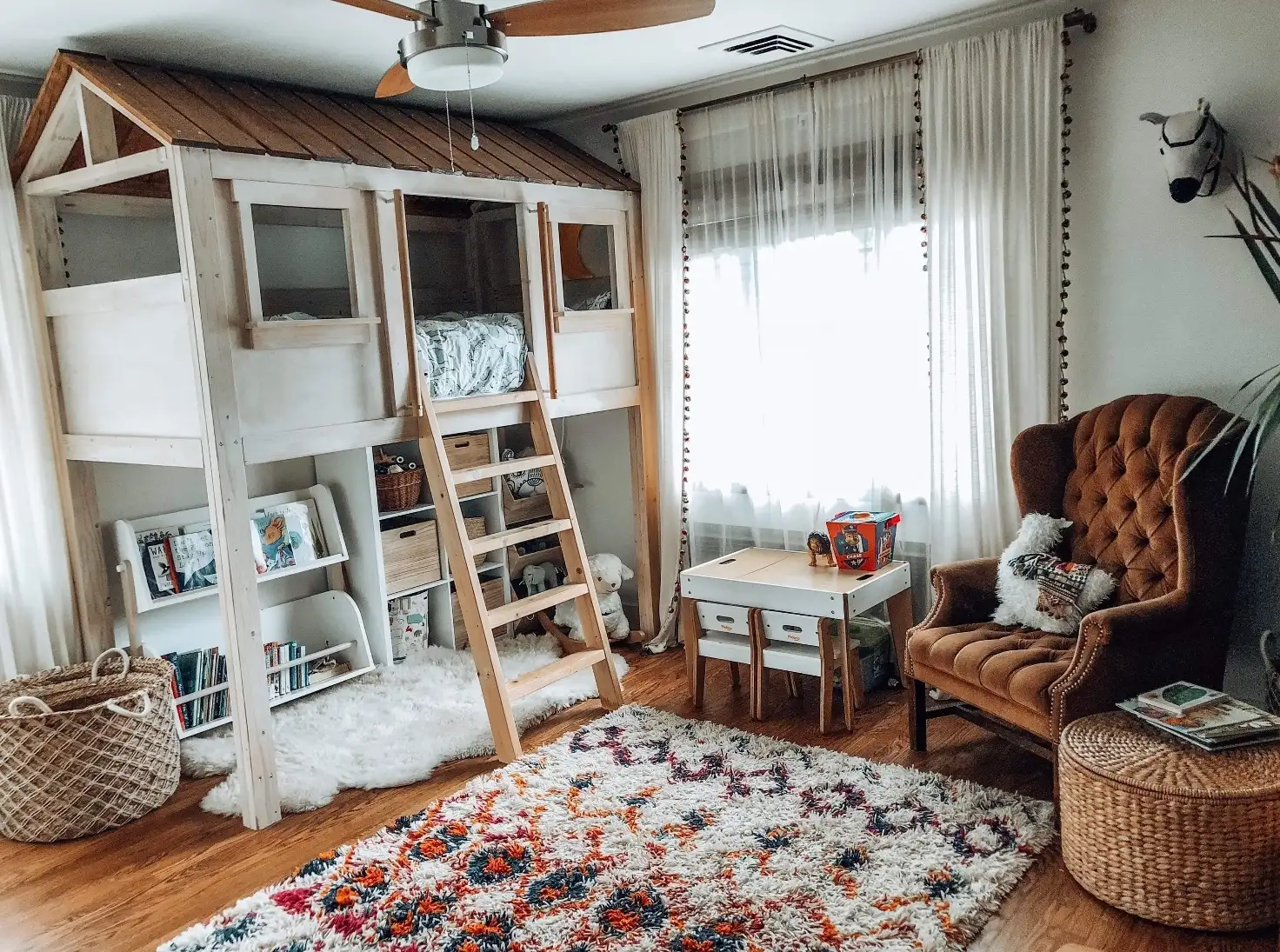 When you choose a teepee for your kid, add a Bohemian flair with more than just a colorful theme. Organize a daybed inside it for the most comfy nap ever!