Elegant Traditional Décor
Whether you like classic or updated décor solutions, traditional style can bring elegant touches and complete the harmonious appearance of your home.

The Essentials Of Traditional Décor
Traditional style is history-inspired, with a wide range of pieces and accents from different periods. Traditional décor includes the elements of different styles to complete its timeless design. Among these styles you can find English décor of the mid-eighteenth century, neoclassical architecture elements, and French country interiors.
Traditional homes feature:
furnishings that are both elegant and comfortable
curved furniture pieces with smooth edges
sofa and armchairs match consistently
ornamental carpets or area rugs on wooden flooring
classic wallpaper with fresh patterns
large windows covered with chic window treatments
framed pictures with traditional English subjects (landscapes, birds, a dog playing with a cat, etc.)
vintage or antique accessories
a bouquet of fresh flowers on a tray or atop books (to display a passion for reading in an unusual way)
no jarring elements that would compromise the whole
and, last but not least, a calm atmosphere caused by a lovely house
Sometimes, a homey feeling is what we all need, isn't it?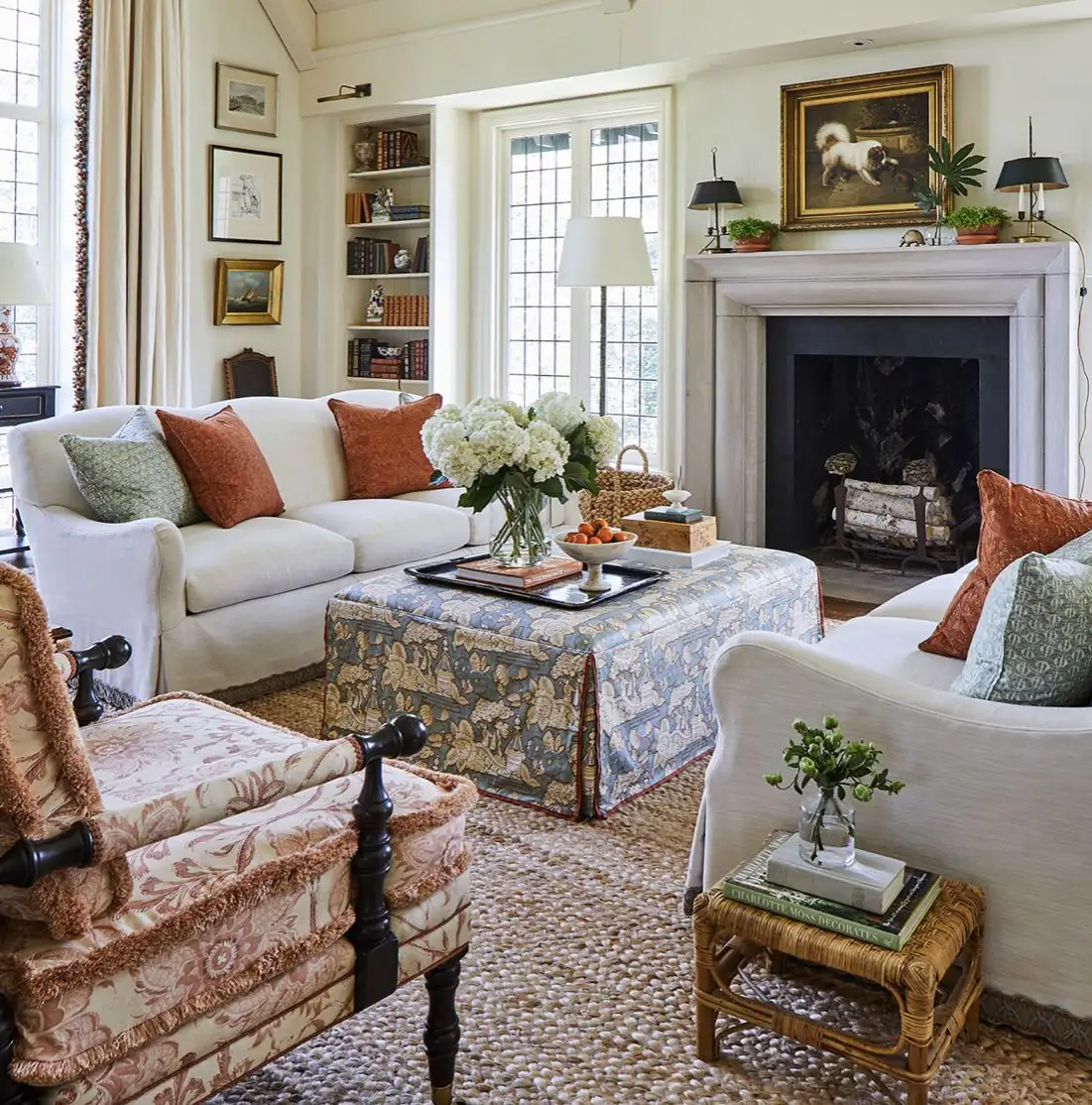 Traditional Decorating Ideas Room By Room
To enhance a harmonious look, decorate all the rooms inside your house in a common theme. You can allow yourself an eclectic twist but don't overdo it.
Don't be shy about creating interiors that are too luxurious, because graceful, ornate details fit in with traditional décor as well.
Whether you are decorating your living room or master bedroom, a crystal chandelier, ornate gold sconces, antique furnishings, and magnificent bouquets of fresh flowers in large vases keep your traditional abode majestic.
Traditional Décor For The Living Room
When it comes to purchasing and arranging furnishings inside your living room, opt for necessary and comfortable items. Play with textures, and choose soft and bulky materials. For fabrics, use velvet as well as cotton. Create a contrast between various furniture pieces. For instance, a vintage green armchair and ottoman with strict lines complement a creamy, curve-backed upholstered sofa.
For color accents, a dark brown table, lamp, and chest of drawers add dramatic interest to your traditional furnishings. Select an identical color scheme and prints for a set of plush armchairs and fringe pillows to emphasize your perfect taste in every detail.
Dress up your windows in lavish drapes or curtains made of luxe, heavy fabrics, such as velvet, taffeta, and brocade. Opt for Roman shades to provide light insulation and protect your living room from noise. Along with a functional purpose, these soft-fold shades showcase how natural light is reflected by the rich fabrics. Geometric prints add structured notes to Roman shades.
For a floor covering, choose a warm-colored area rug with a distinguishable design and intricate patterns.
A fireplace is a must-have element for any living room to create a soothing ambience. Whether you're reading a good book or drinking a cup of tea with your guests, a roaring fire is always essential to your relaxing space.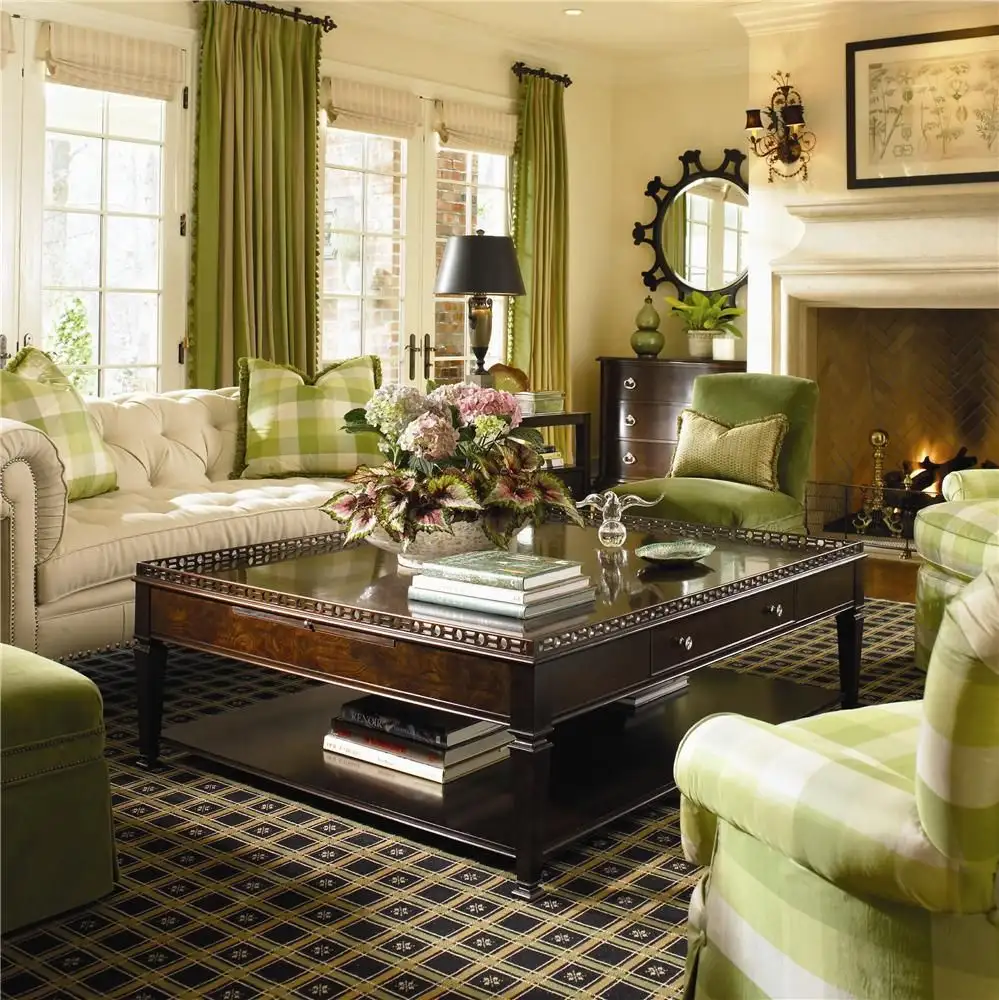 Traditional Bedroom Décor
A traditional bedroom is all about a comfortable, relaxing, and soothing ambience. Of course, it's ideal to sleep on a high-quality bed with a soft headboard, and relax on a sofa in front of your bed. A traditional sleeping space features the symmetrical placement of furniture elements, such as lamps on bedside tables or nightstands.
Splashes of color spruce up the mood and add accents to your neutral interior.
To emphasize what is important to you, opt for symbolic wall art. For instance, bronze-framed pictures with important messages. What words do you prefer for your wall décor, 'love' or 'life'?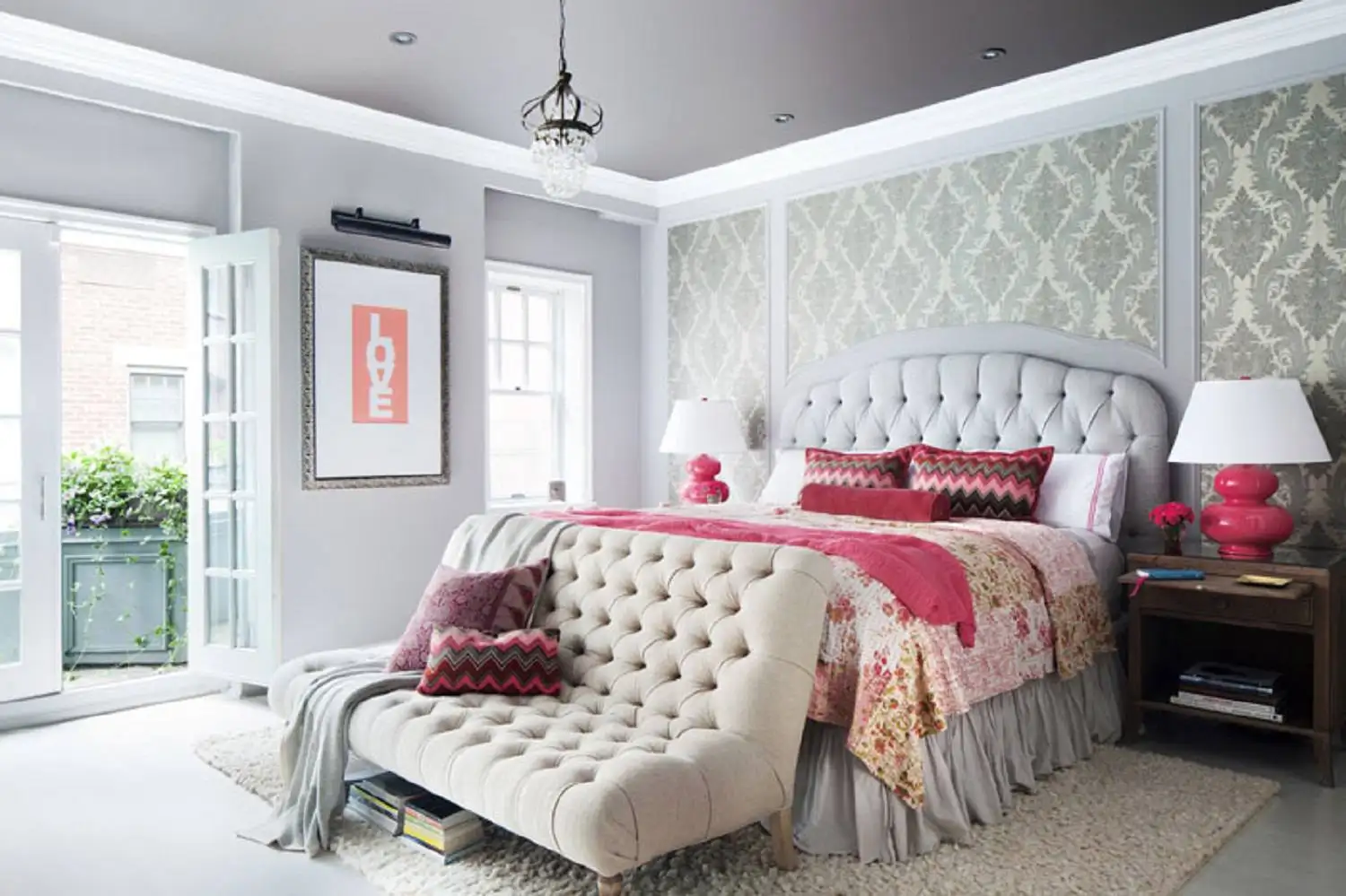 Traditional Dining Room Décor
When we talk about traditional houses, dining rooms are typically formal. This means a separate walk-through space or a room with a door which can be closed.
Traditional abodes are big, with plenty of rooms for different purposes. That's why a place for eating doesn't share space with a living room or/and a kitchen (however, that is accepted for informal dining rooms).
Think about decorating a nature-themed dining room with vintage and antique accents. For instance, a carved wooden table with stools and a side table with French legs look really graceful. Antique glassware and dishes complete the elegant appearance of your dining area.
For lighting, choose a vintage or antique light fixture to add a chic flair to your eating and relaxing space. To have additional light sources and make the dining room a little more modern, jazz up a ceiling fixture with track lighting!
When you consider various window treatments for your dining room, opt for nature-inspired choices to enhance both light control and architectural feel. Bamboo or wood window coverings are the anchor of your good taste.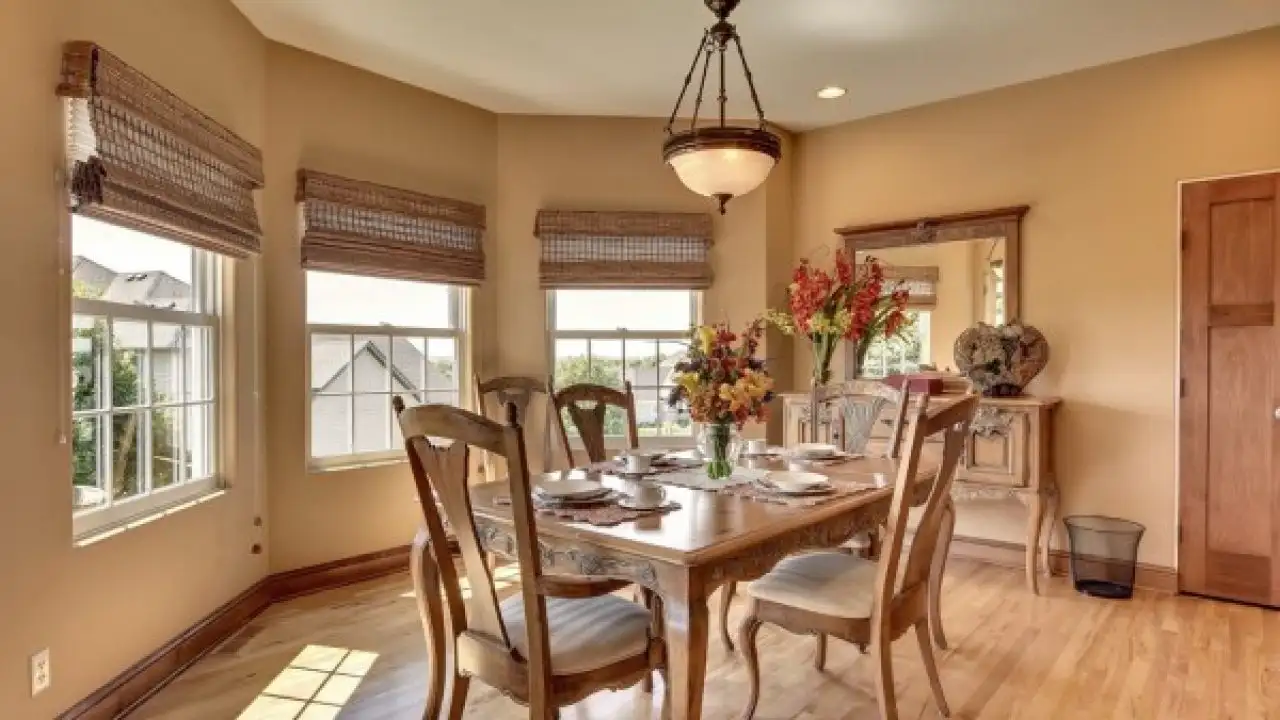 Traditional Kitchen Décor
When you're surrounded by quality kitchen appliances inside a well-organized cooking and eating space with a French country flair, life just seems better!
A traditional kitchen is a great combination of cream and brown hues. Also, you can find light gray and taupe tones which distinguish traditional from Old World cooking areas.
For materials, focus on natural options for flooring, worktops, and furnishings. Marble countertops emphasize the quality and graceful aesthetics of the kitchen island and cabinets. Exposed wooden beams add a hint of a strength and tradition to your ceiling.
Period details are important, especially to separate rounded-edge traditional kitchens from straight-edge, glossy contemporary interiors. Crown molding and cabinet trim fit with a traditional kitchen as well.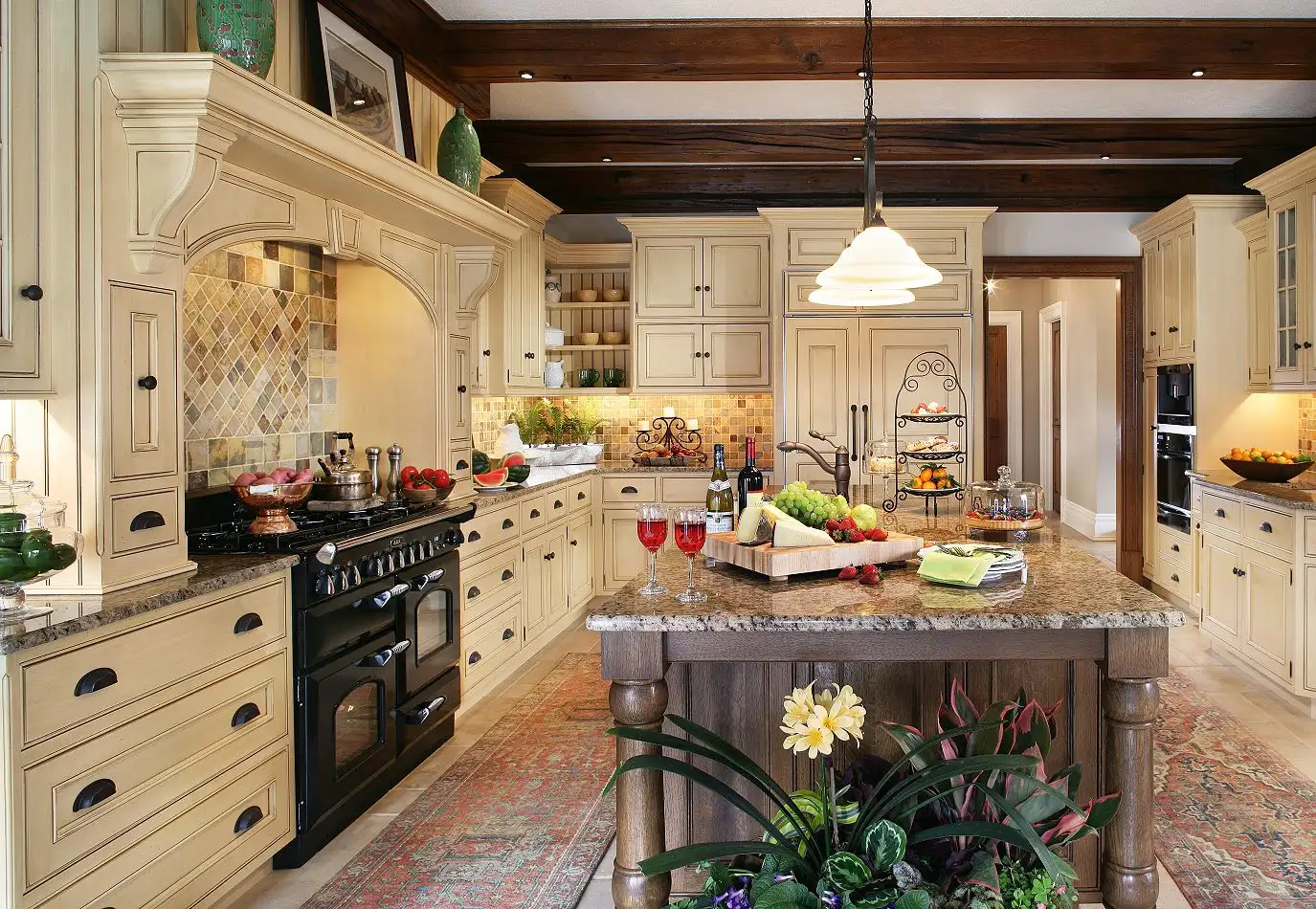 Traditional Office Décor
When we talk about a traditional home office, you should know that:
It's a classic and understated style in every detail.
Furniture pieces are rich and comfortable, without jarring, unexpected elements.
An old-world table, a pair of lamps on the chest of drawers, chic armchairs, and a spacious cabinet are placed with symmetry, making the furnishings orderly.
The ambience is calm, which enables work to be more productive.
Large windows are covered with plain-colored fabrics.
In any case, it's a stylish choice, isn't it?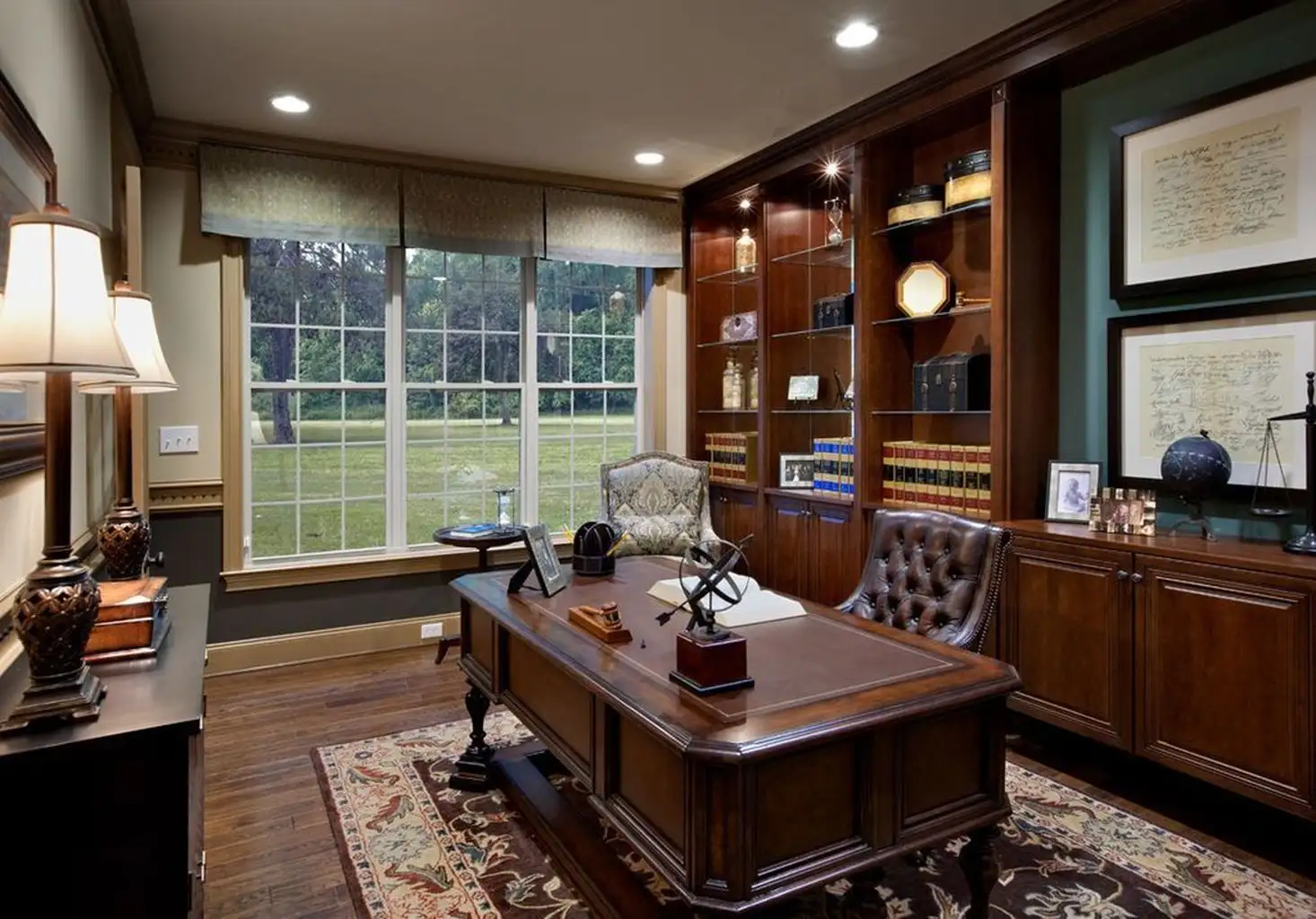 Traditional Bathroom Décor
The traditional bathroom allows flexibility, but usually relies on simple décor solutions with a minimalist approach. Thanks to the pure simplicity of elegant lines, this refreshing space has an aesthetic component.
When you decorate your bathroom, you can mix and match the elements of different historical eras inside your traditional space. Opt for:
A classic bathroom vanity
A Victorian-style freestanding bathtub
A vintage bronze framed mirror
Antique ceiling light fixtures
Modern track lighting
Of course, don't forget about green potted plants or flower pots to bring a fresh breath to your relaxing space. Greenery and flowers fit with the décor of any era!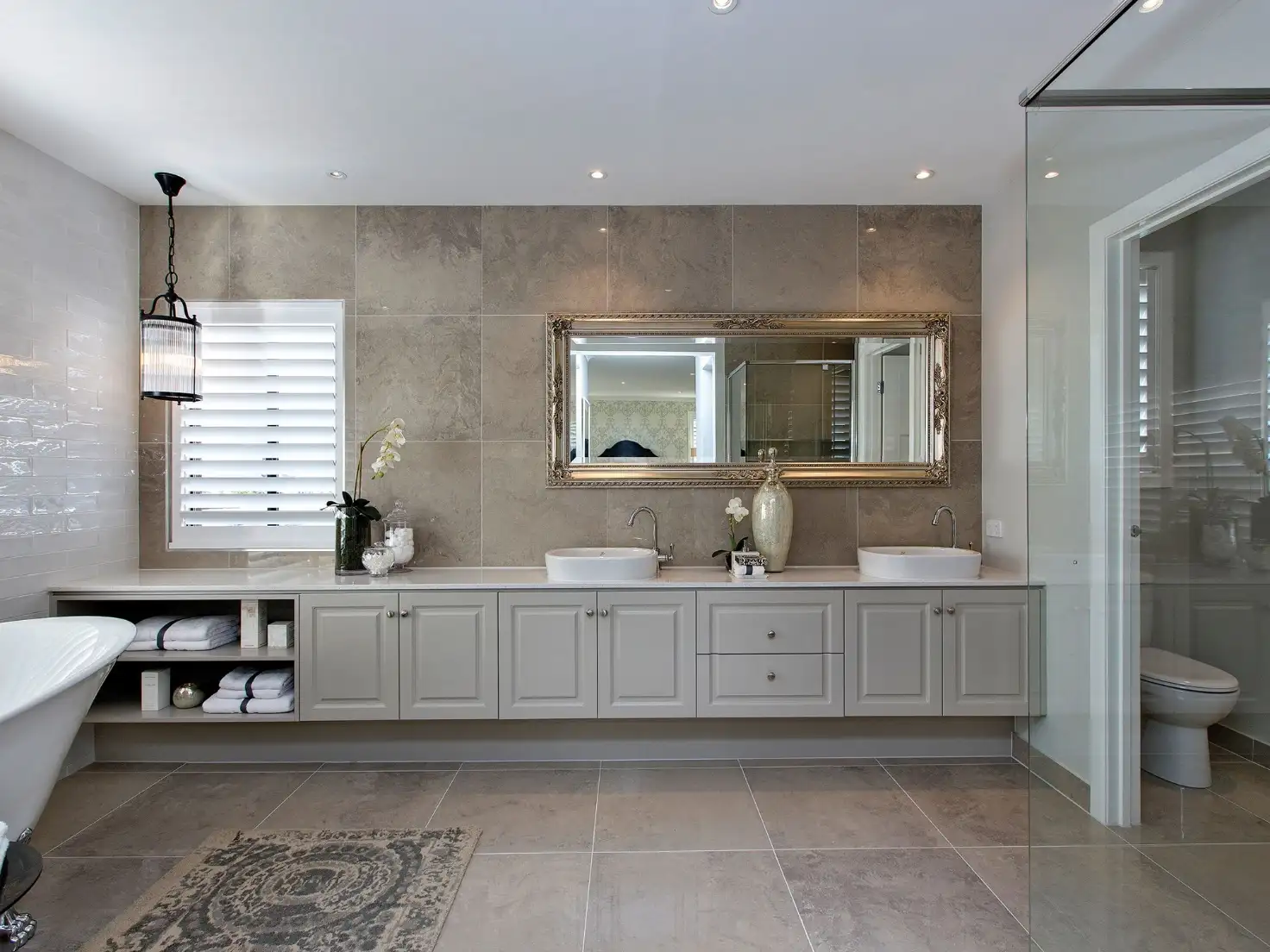 A Blend Of Styles
Let's add some elements from other styles to enrich a traditional home.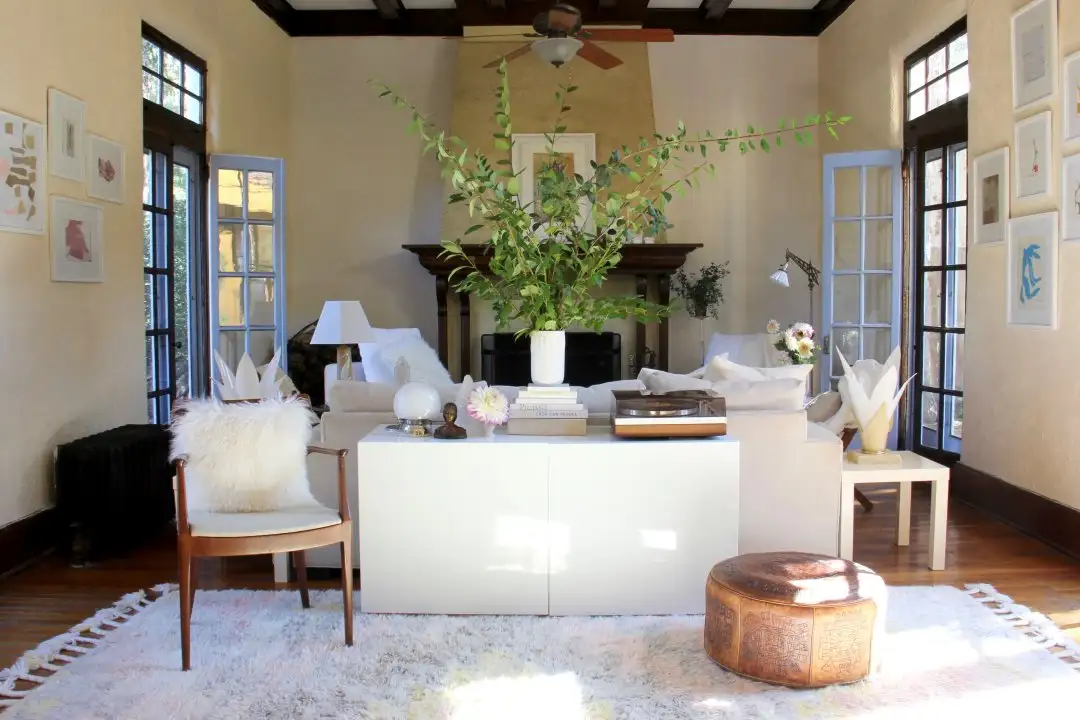 Jazz Up Modern And Traditional Décor
If you are ready to embrace something new, but with an adherence to the classic décor traditions, you can blend modern furniture pieces with a traditional color scheme and vintage accessories. This blending looks attractive and supplies comfortable options to relax inside your lovely home.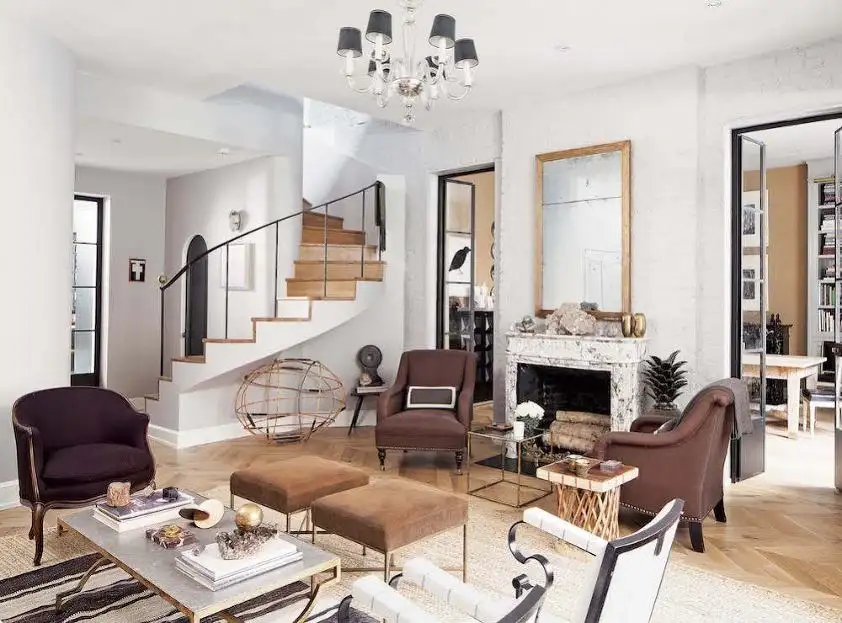 Rustic Traditional Décor
Allow yourself to go a little bit wild and decorate your traditional house with rough elements of the rustic style, such as red brick walls and exposed wooden beams. Muted colors and natural materials complete the graceful appearance of traditional furnishings. Such a traditional design with a rustic flair adds a rebellious spirit to your classic interiors in the most dramatic way.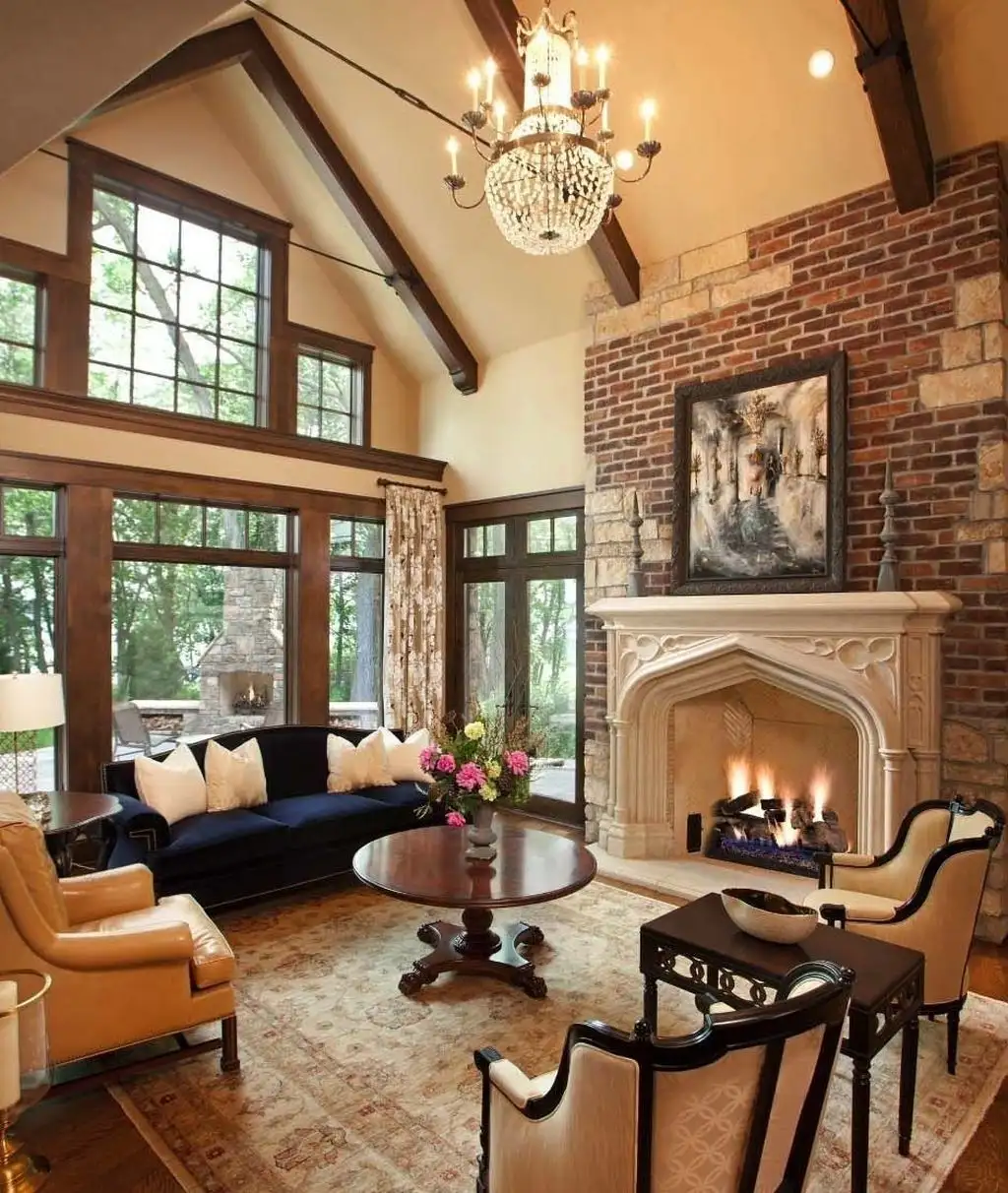 Traditional Contemporary Rooms
When traditions meet contemporary details, it'll be a really great combination of old-world elements and the latest achievements. This is the core of transitional style.
Among traditional items you can opt for:
elegant furnishings
cozy window seats
lovely accessories
harmonious color hues
For contemporary elements, you can select:
large glass door
TV on the fireplace
modern chandelier with a vintage flair
straight lines and clean shapes for furniture pieces
A blend of traditional and contemporary styles not only catches your eye, but also will delight your friends, relatives, and other guests.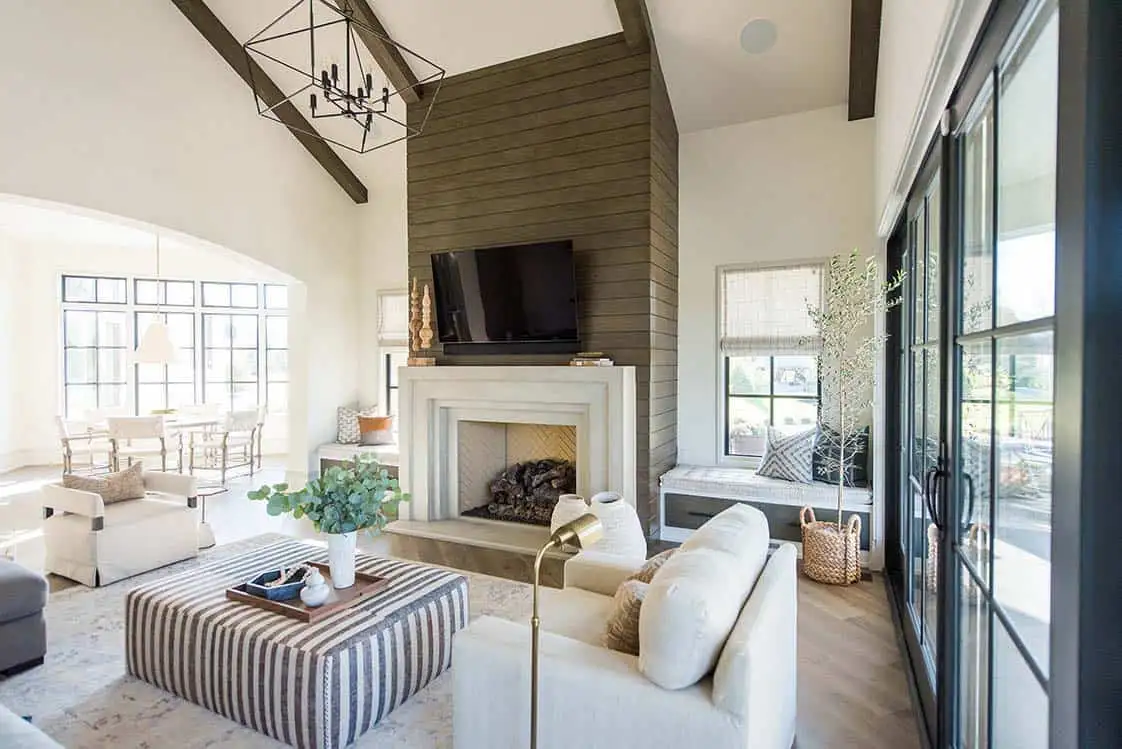 Traditional Farmhouse Décor
When you decorate your house in a country style, it's really hard not to overdo it, but best to put a limit on kitsch. Traditional interiors are classic without additional knick-knacks and memorable accessories. You can enrich traditional homes with pleasant farmhouse elements by finding a balance between them.
For instance, add country accents to a traditional mudroom with such accessories:
soft pillows
wicker buckets
wooden boxes
decorative plates
Don't forget about inspirational wall art with rural or Christian motifs. It looks inviting and homey!