Clutter-Free Modern Farmhouse Style
A country (farmhouse) home is all about lovely knick-knacks. For a modern farmhouse style, a few accessories is enough! This is the determinative difference between these styles.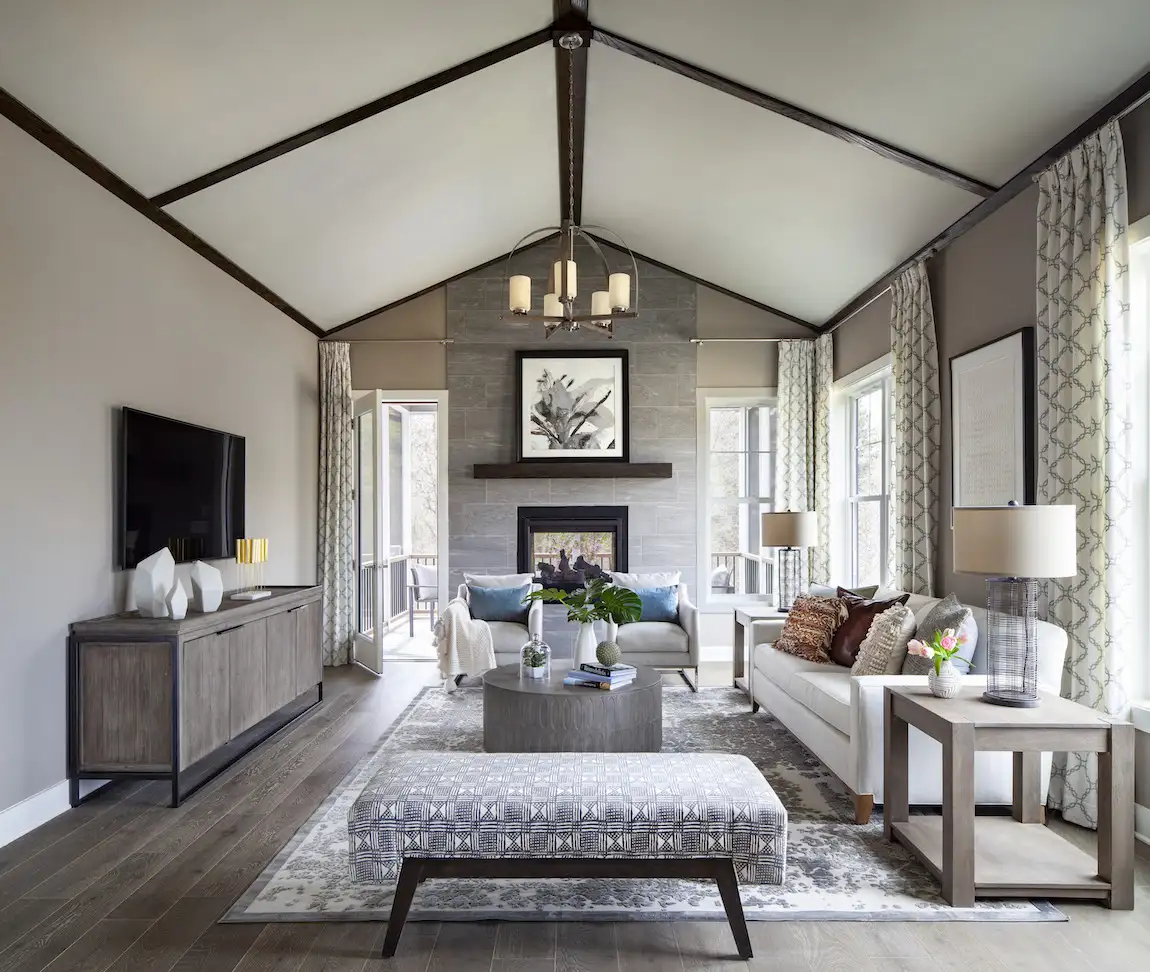 Modern Farmhouse Style Defined
The anchor of a modern farmhouse style is an updated country house with minimalist, rustic, and industrial accents. Modern farmhouse homes look similar to Scandinavian interiors. It provides a comfortable and casual appearance. Also, a modern farmhouse abode is related to contemporary style, with its clean lines and pure simplicity.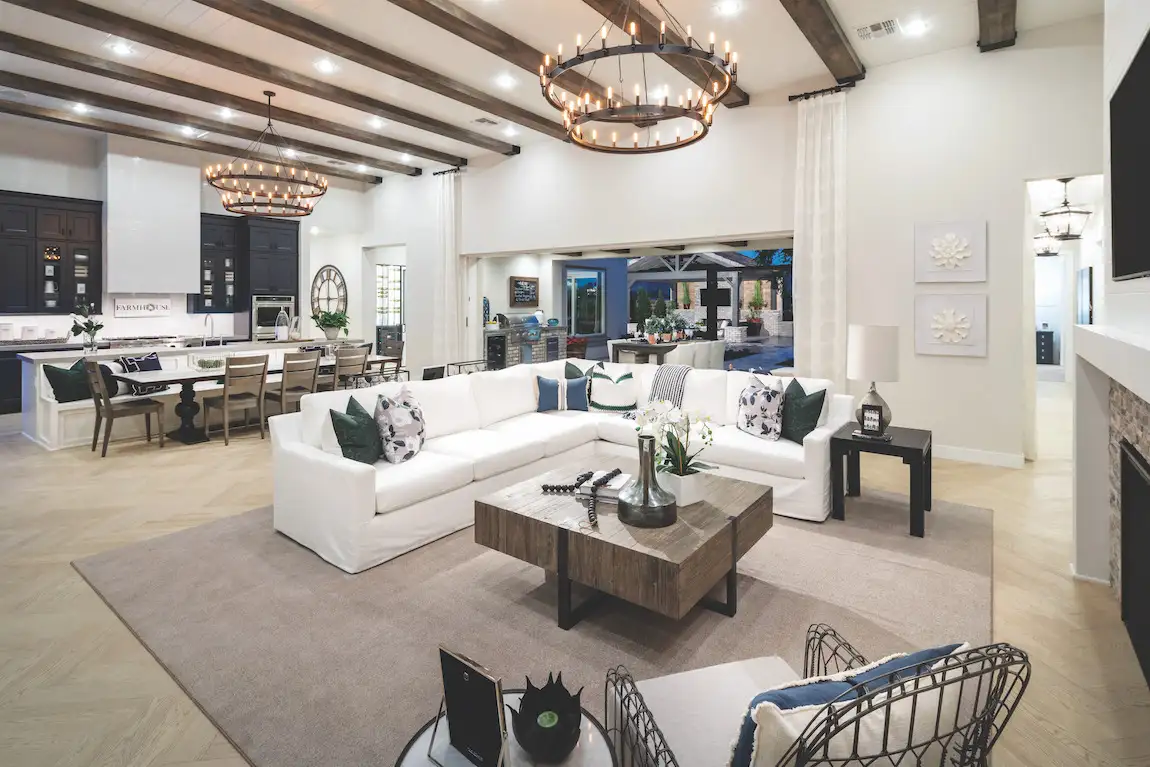 Modern Farmhouse Home Room By Room
With a modern twist, you can organize a functional farmhouse space with comfortable furnishings in every room.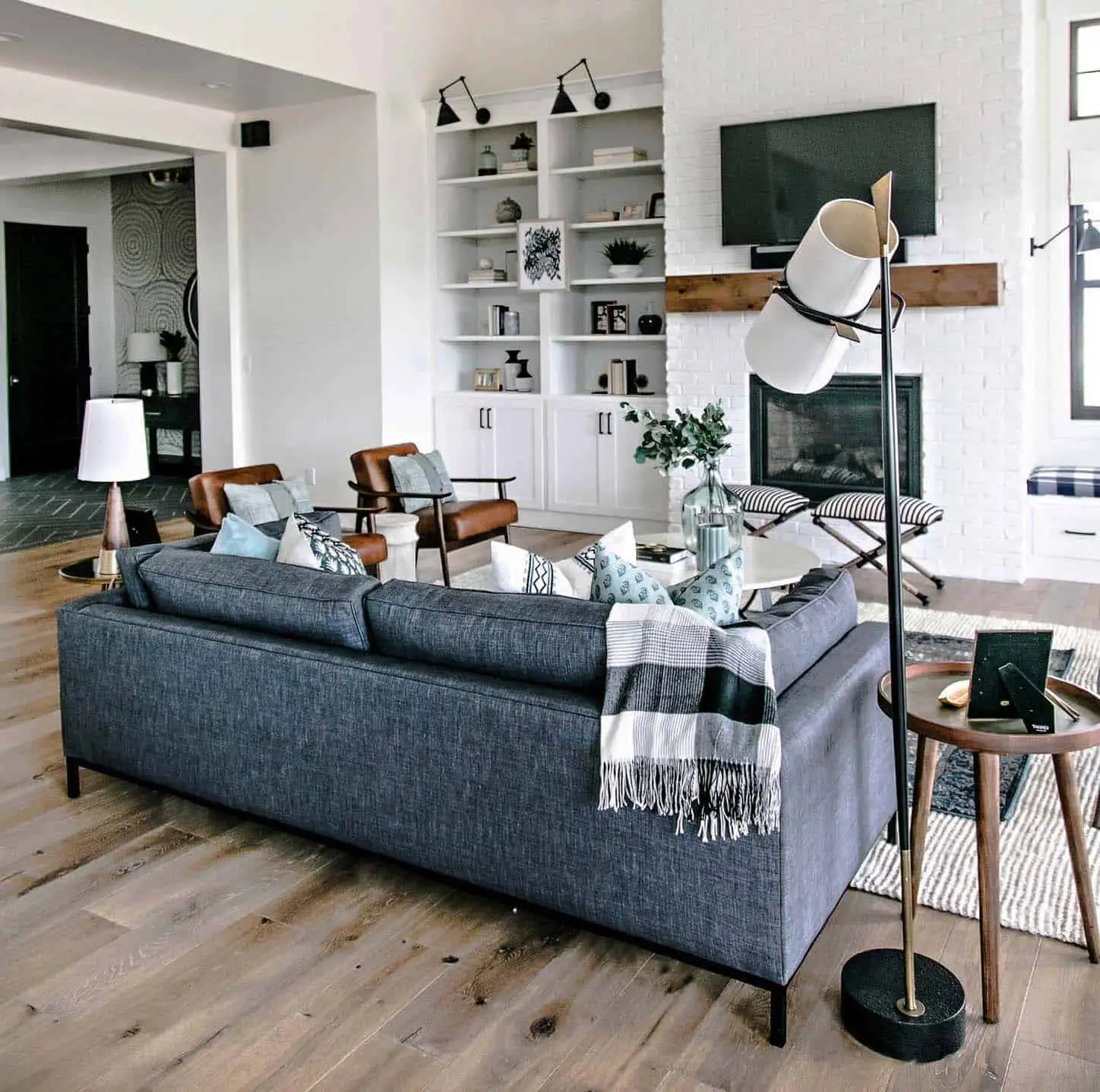 Modern Farmhouse Living Room
When it comes to decorating your living room in a modern farmhouse style, organize a functional space with a robust spirit. Modern farmhouse living rooms look like open-concept, loft interiors. They are always spacious, with symmetrical arrangement of furniture pieces. Opt for comfortable sofas and armchairs, which display clean lines without curved edges. With geometric-printed throw pillows, you can add accents to your minimalist space.
For colors, stick with neutrals, such as white, gray, and black. To add earth accents, opt for brown hues. For instance, a combination of white and brown armchairs looks harmonious. When you organize your dining area, select the same tone of brown as you chose for the armchairs. That's a great way to enhance the cohesive look of your modern farmhouse living room.
For lighting solutions, opt for a stylish chandelier to emphasize the perfect beauty of the living room area. Use an area rug to outline the boundaries.
Modern Farmhouse Bedroom
To decorate a modern farmhouse bedroom, select a comfy bed with an orthopedic mattress to provide good rest! To style your bed, add an accent pillow. You can place a set of stools at the foot of the bed. It looks unusual and stylish!
If you install wall paneling behind your bed, you'll create the main focal point of the entire room.
For a master bedroom in modern farmhouse style, you always need a few details, from family photos to the favorite books of you and your spouse.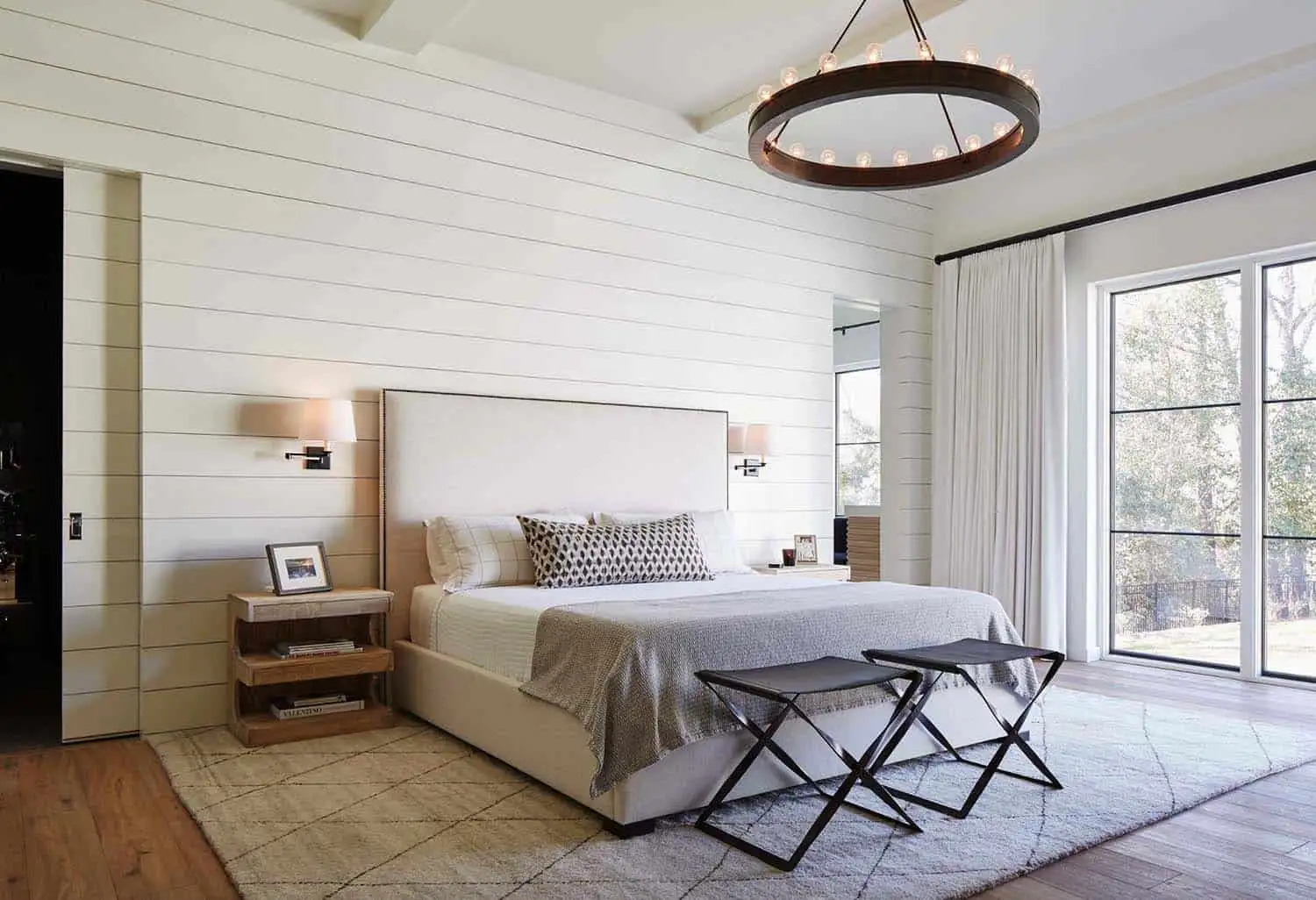 Modern Farmhouse Kitchen
Stainless steel is must-have feature for a modern farmhouse kitchen adopted from an industrial style. From fridge to oven, dishwasher, and storage drawers, all that you need is new stainless steel cooking technology inside your modern farmhouse cooking space. If you opt for built-in kitchen appliances, that's a great decision! It's the perfect way to provide a cool appearance for your kitchen and make it a tidy, uncluttered space.
For a kitchen island, opt for a fully functional island with a countertop and a sink to have additional cooking and eating space. Place a bouquet of flowers on it to bring a fresh breath to your kitchen.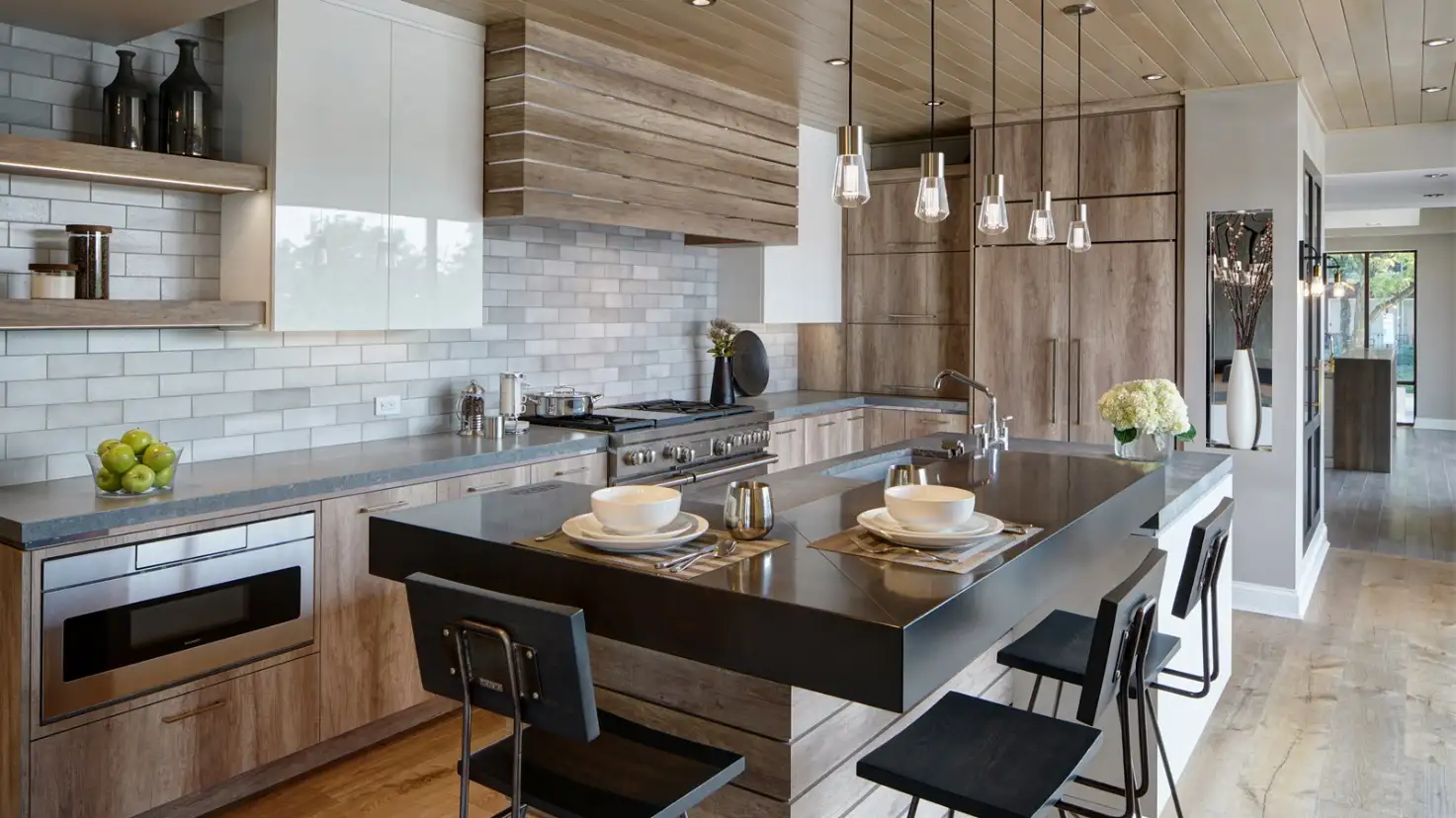 Modern Farmhouse Bathroom
A bathroom decorated in a modern farmhouse style always features minimalist, clean aesthetics. Select a cool or warm white color with light gray accents to emphasize the pure simplicity of your restroom. Opt for urban tiles to display the casual character of your bathroom.
For a bathroom vanity, choose a capacious option to have enough storage space. To add a modern flair, install a bathtub with a glass partition. Hang black-and-white photos to emphasize the timeless character of your modern farmhouse bathroom.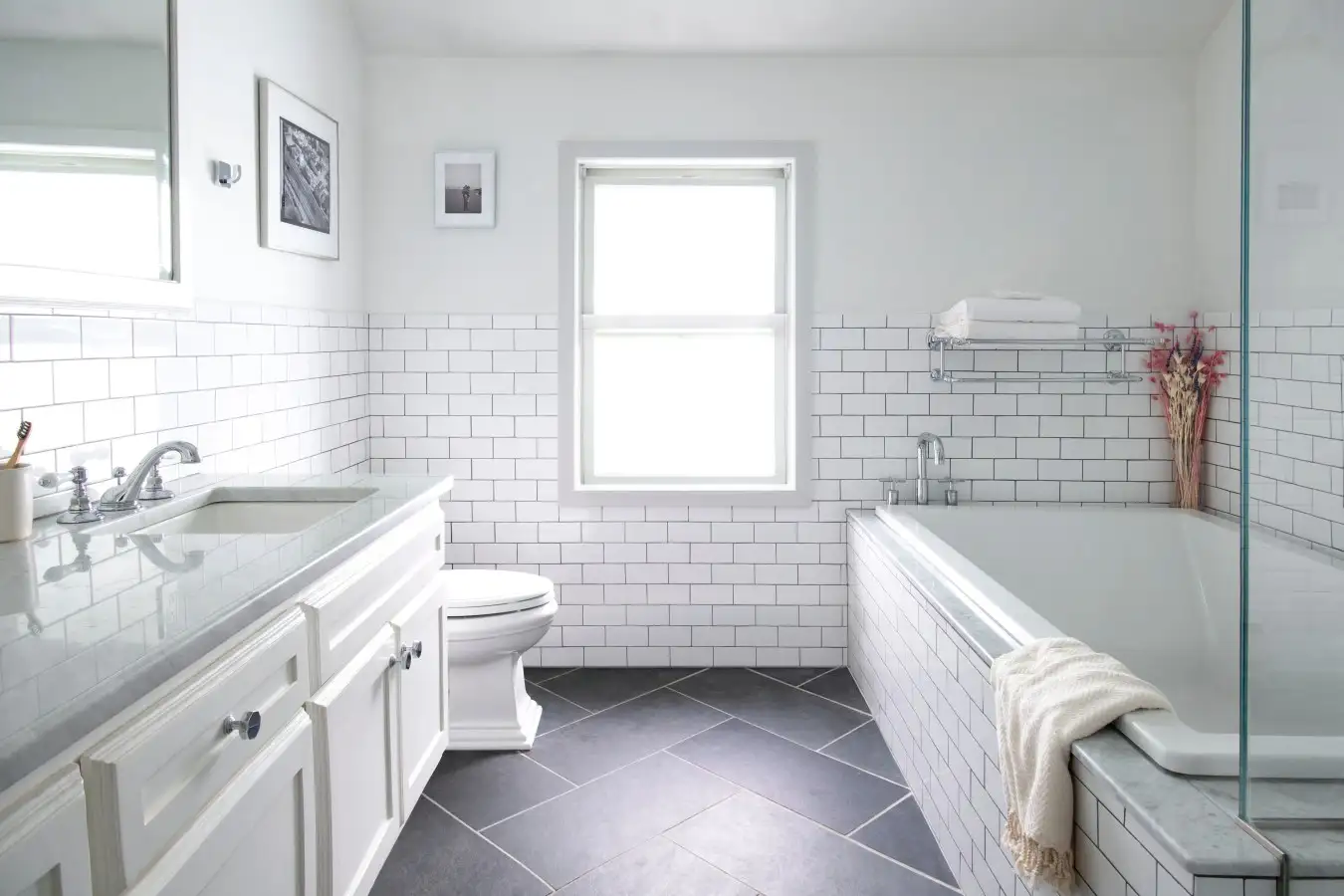 Modern Farmhouse Nursery
When it comes to decorating your baby's nursery in a modern farmhouse style, opt for comfortable furniture pieces, natural materials, and plenty of storage options. When you select a crib, breastfeeding chair, and changing table, think about your baby's comfort more than about your aesthetic pleasure. All the pieces that you purchase have to be functional and not too delicate.
Of course, a soothing ambience is highly important! Think about unusual ceiling wallpapers. For instance, scenes of skies and birds. Hang a light fixture that looks like the sun to complete your ceiling décor.
When you select window treatments for your baby's nursery, you should enhance your light control. With Roman shades, it's an easy task!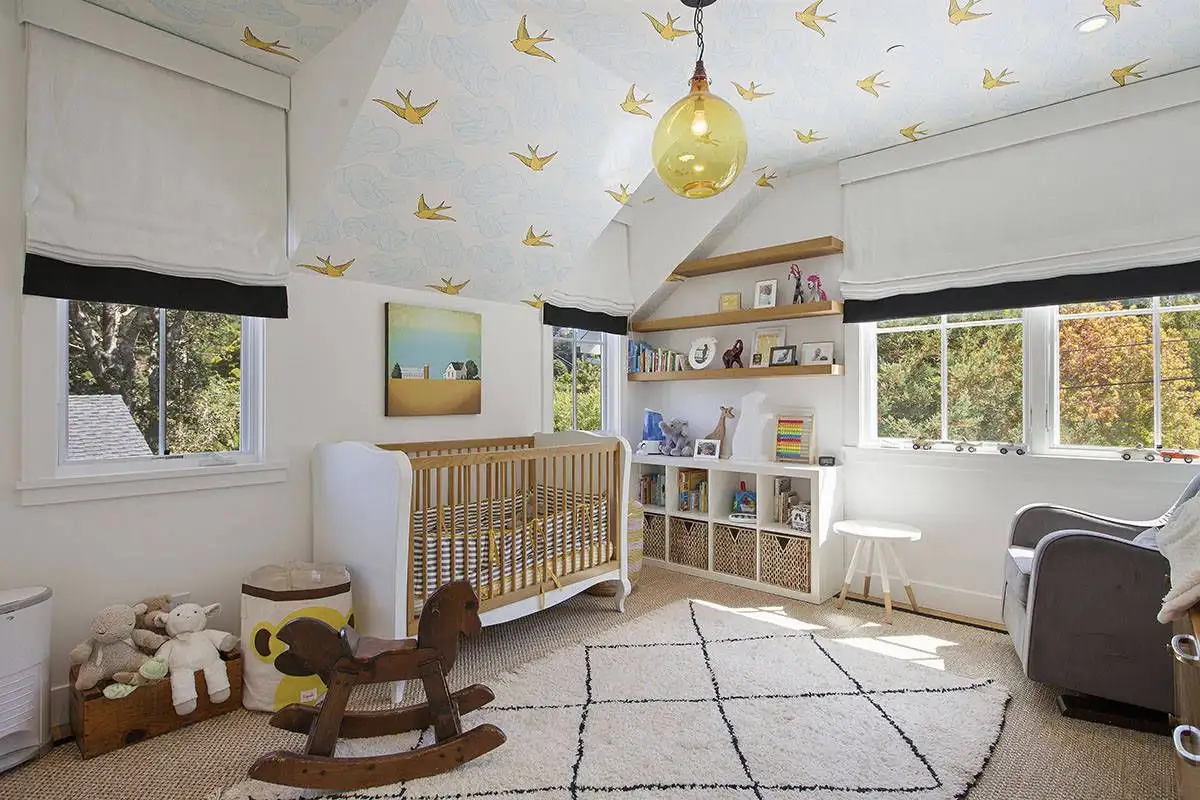 Modern Farmhouse Kids' Room
If you're decorating a kid's room in a modern farmhouse style and you have enough space, allow yourself more freedom in general design concept and details.
A modern farmhouse room for your child isn't only about neutrals and a standard bed. Of course, to make your daughter's mood great every day, you can paint the walls in pink instead white, buy a large bed with a high-quality mattress, and use plenty of inspirational accessories. Play with textures and patterns, and add unusual details and accents!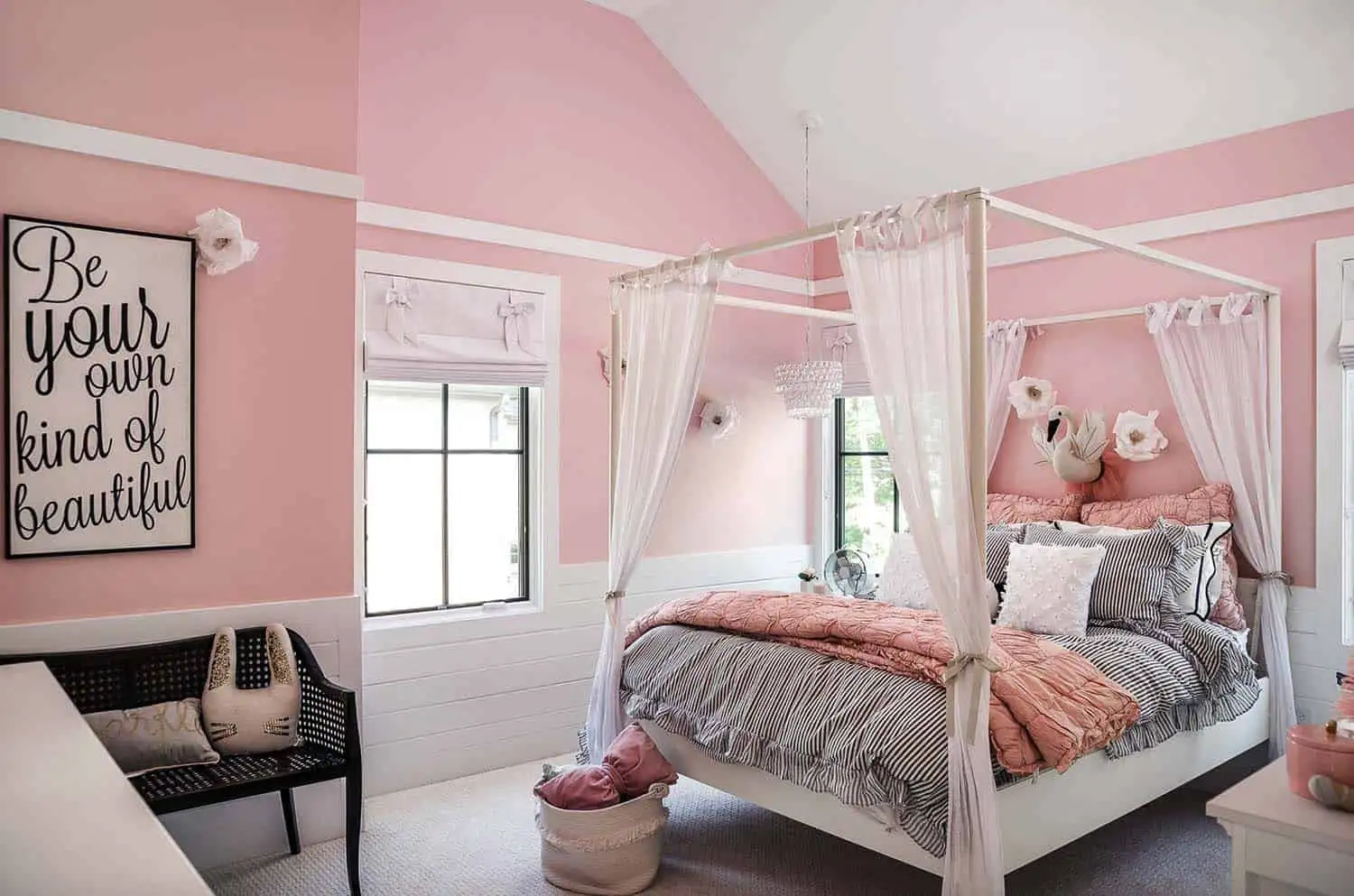 If your kids' room is tiny and you need to organize a sleeping space for two kids, a bunk bed is must-have! This space-saving solution gives you the possibility to decorate this bedroom for your children with other necessary pieces, such as a table, a closet, and stands.
Select a white bunk bed to stick with a modern farmhouse style. Neutrals, geometric prints, and color accents are all that you need to create a cohesive look inside your kids' bedroom.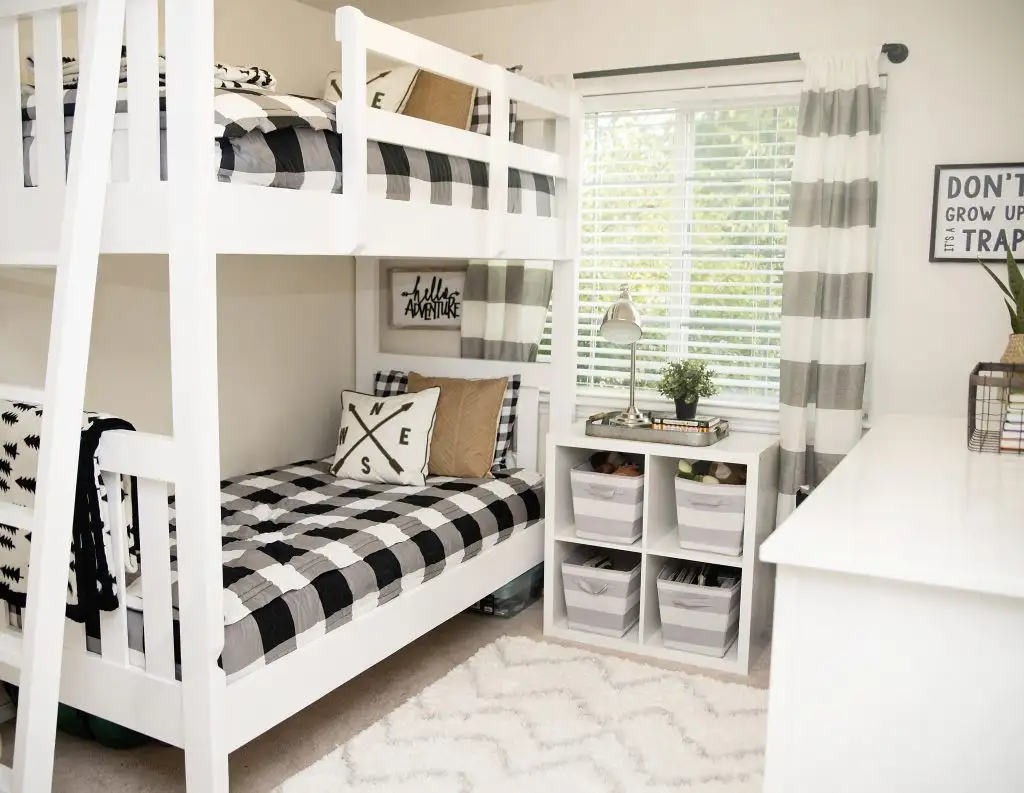 Not every child likes to sleep on the top of the bunk bed! If your kids' room is small, but you have the room to place two separate beds, it's recommended!
For materials, opt for wood or metal. If you select this last option, you'll add a dramatic touch with a modern character to your stylish kid's room.
Don't forget about inspirational accessories! Wall décor is the best choice, because it saves space. Hang pictures, photos, letter wall art (to display the names of your children), and other elements to make your kids' room lively and cozy!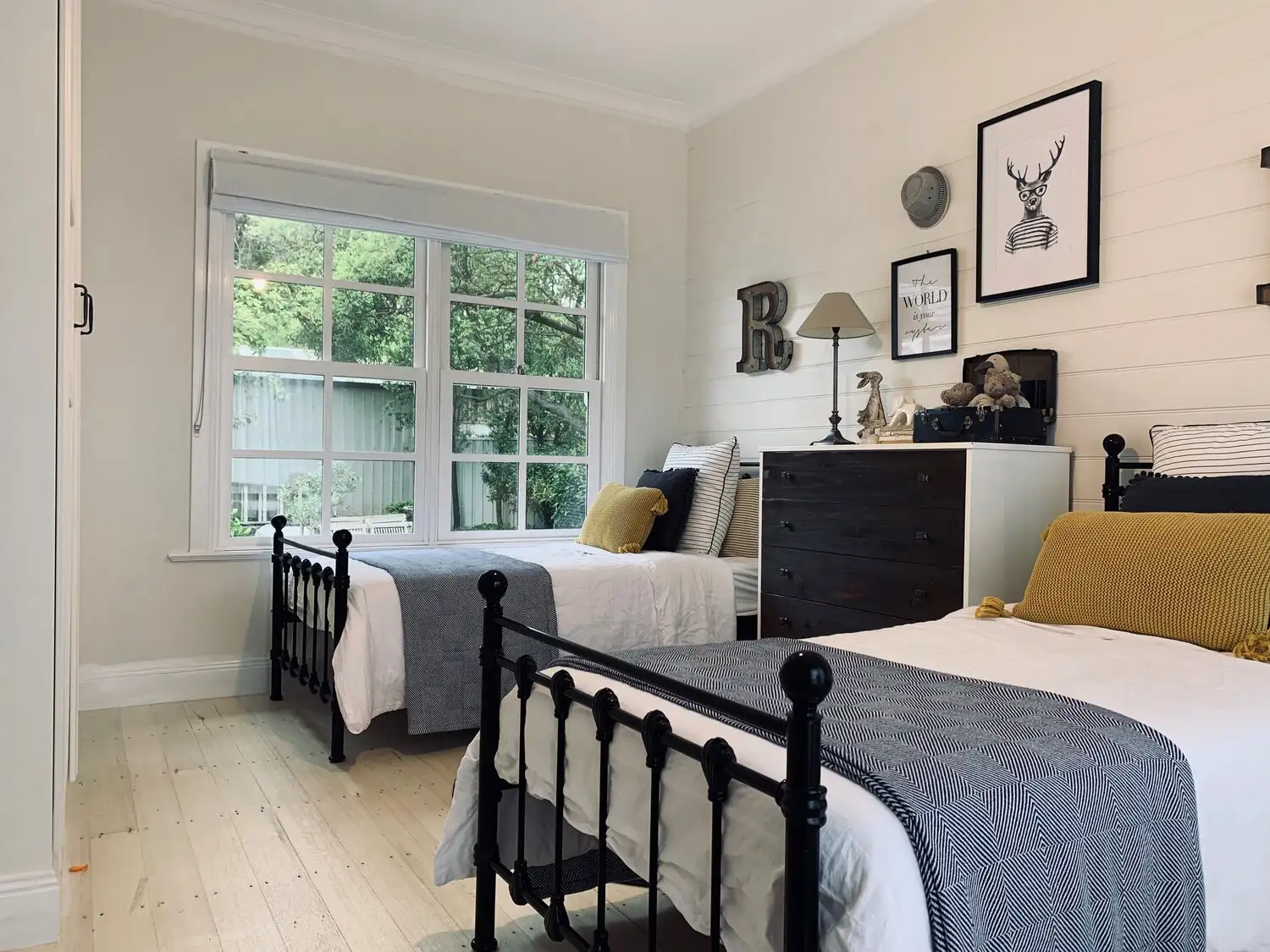 Modern Farmhouse Playroom
To organize a space where your child's games can be both more fun and more educational, decorate a playroom with plenty of sporting and developmental equipment. The main idea is to have a big area rug where your children can play and enough storage space where they can store their toys and other items.
A modern farmhouse playroom looks Scandinavian, but with bold accents. It's really important because children are better able to perceive bright colors. Opt for geometric-printed area rug to emphasize the modern character of your kid's playroom. You can enjoy the cheerful games playing with your children there!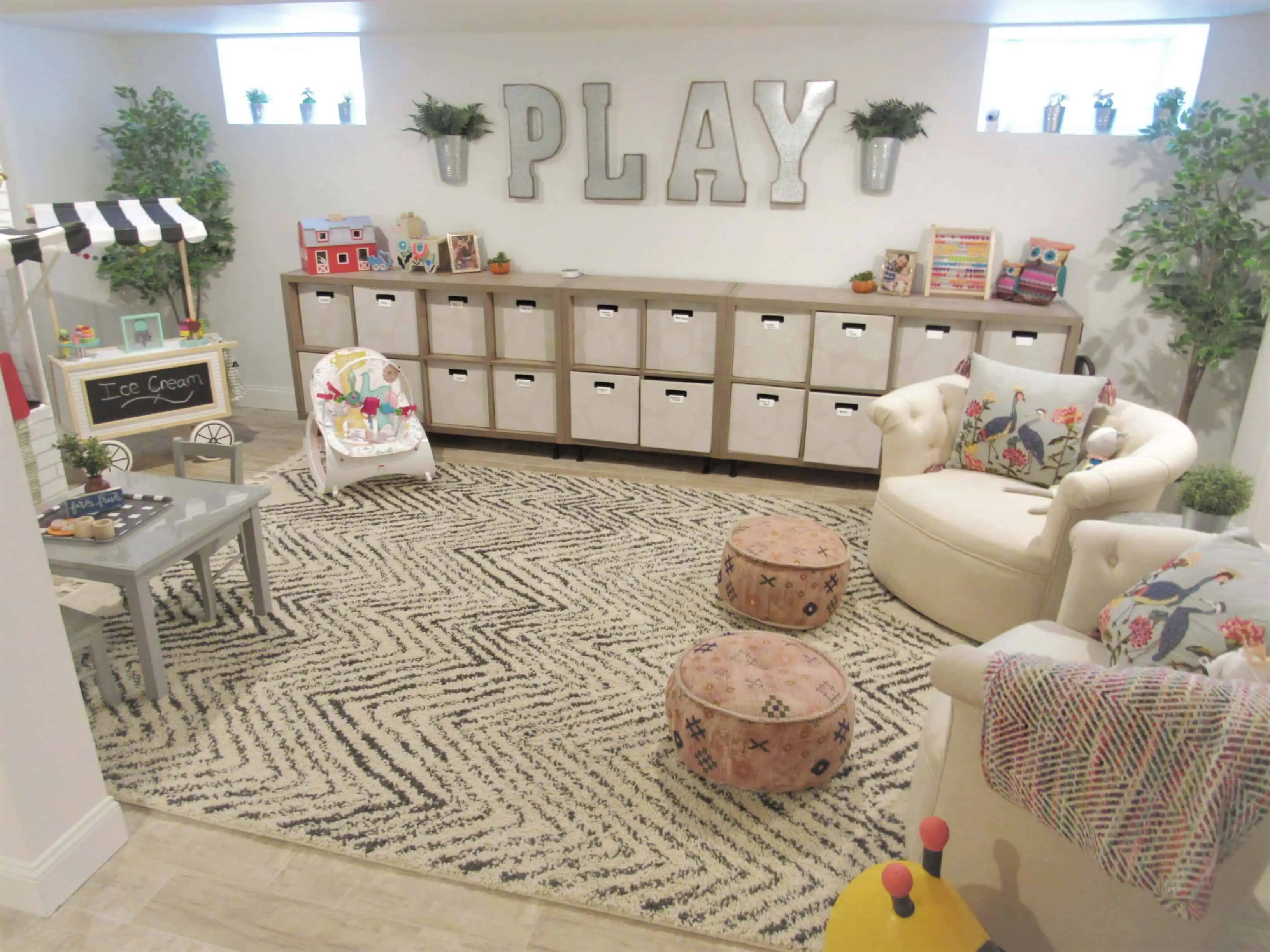 Modern Farmhouse Home Office
A home office in a modern farmhouse style is all about this moment. Today you decide what comfortable armchair to purchase, which will inspire you in this period of your life. Of course, with a minimalist approach, your home office décor is timeless.
You can select an armchair made of high-quality materials which provide support for your back. But feel free to opt for a more common chair like in a living or dining room, if it gives you aesthetic pleasure. This chair has to be comfy, that's the main thing.
If you have large windows, just install shades made of natural materials without additional drapes or other window treatments. In this case, you'll have a decent view to be inspired every day!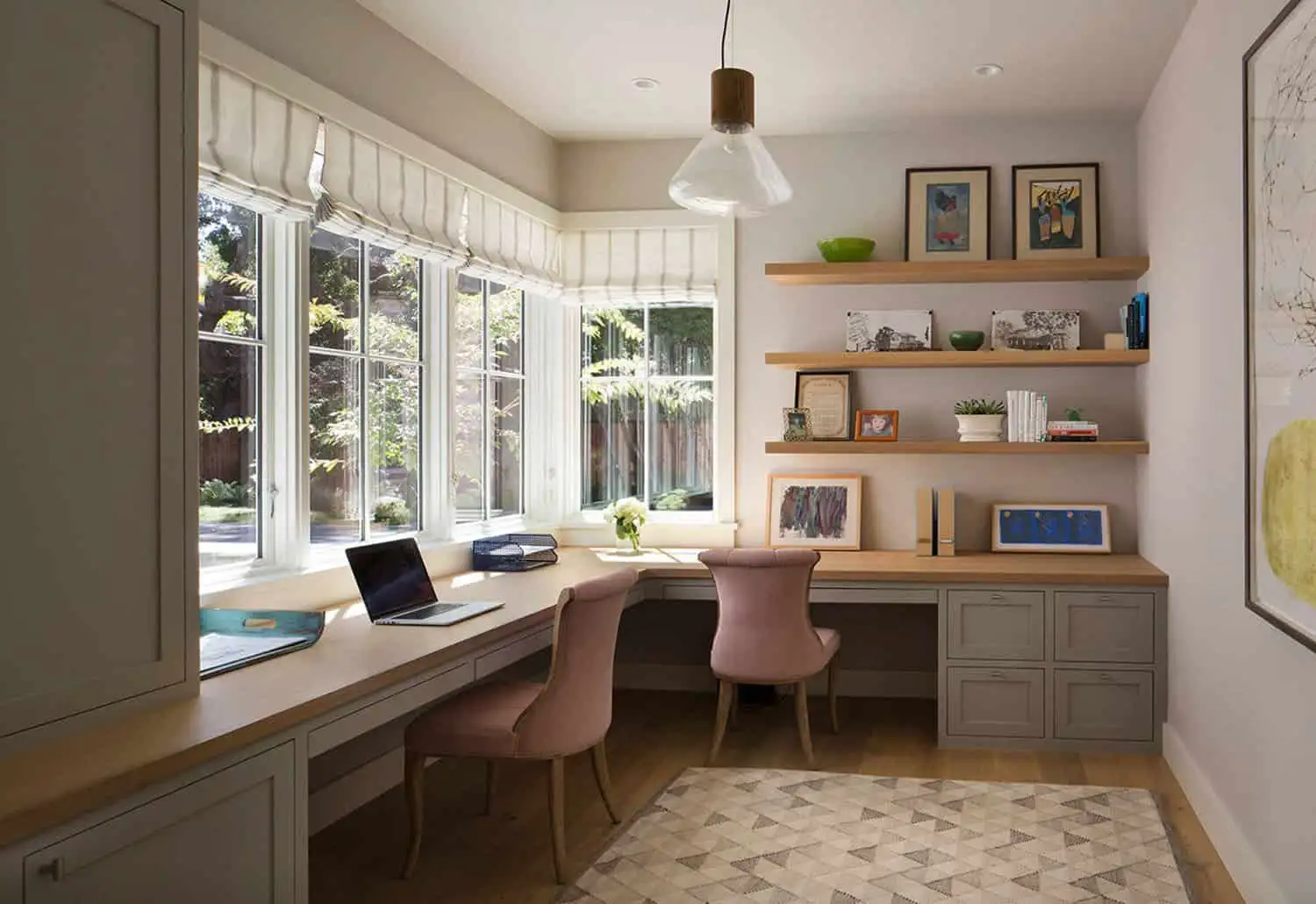 Modern Farmhouse Laundry Room
Doing laundry isn't everyone's favorite task. But if you organize a functional, inspirational laundry room, you'll enjoy not only a color theme, but also lovely knick-knacks. Mix white with wine red, use a lot of wood, and don't be shy about using unusual storage buskets to emphasize the beauty of traditional farmhouse accessories with modern accents. To enhance a modern farmhouse appearance, just use urban tiles!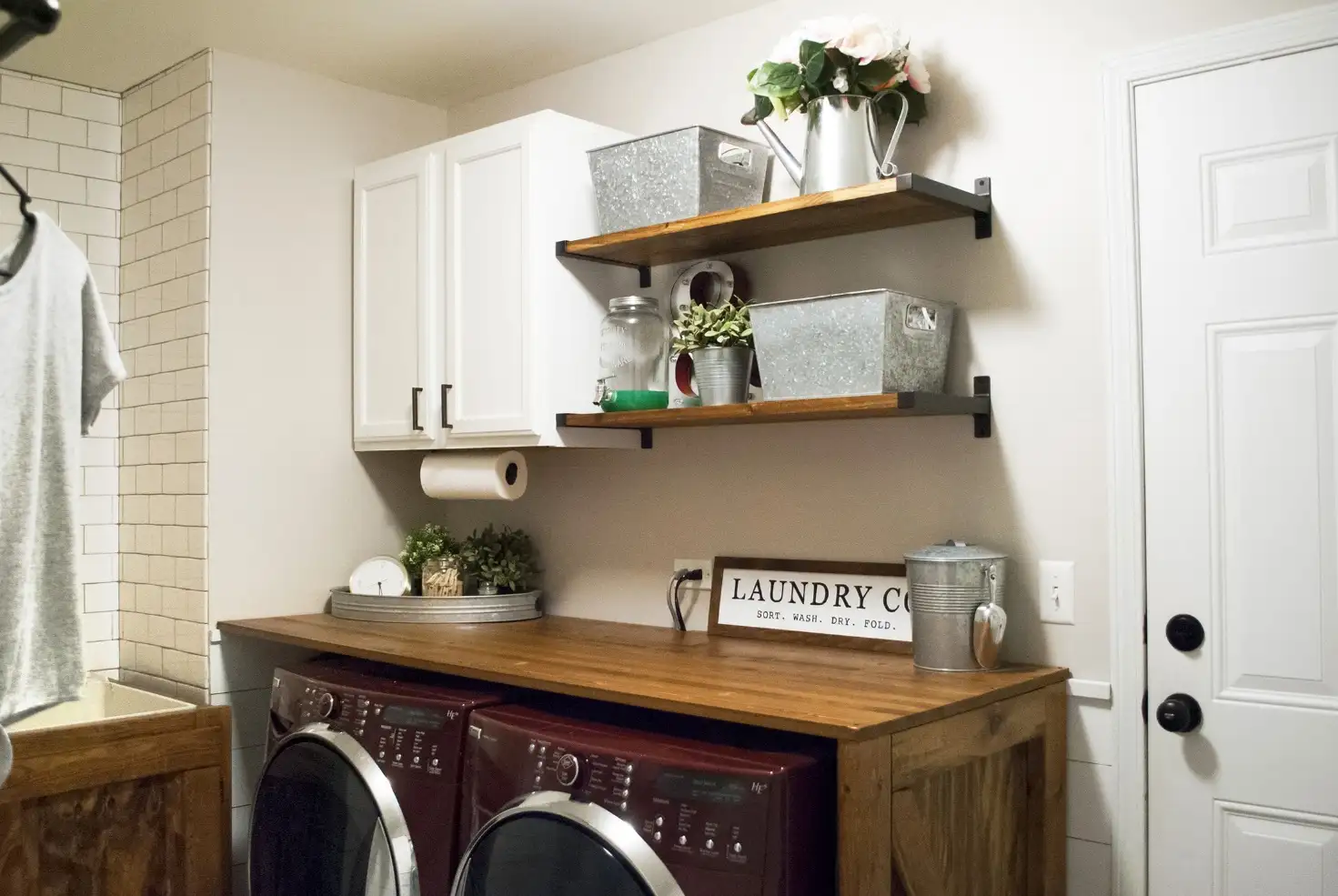 Modern Farmhouse Mudroom
When you decorate your mudroom in a modern farmhouse style, make it white and airy. This color theme brings spaciousness to tidy mudrooms. Also, of course, it's stylish!
Make sure that each child has her or his own storage space and a hook with their things. Place baskets with symmetry to create an orderly look!